Last Updated on June 10, 2020 by Leyla Kazim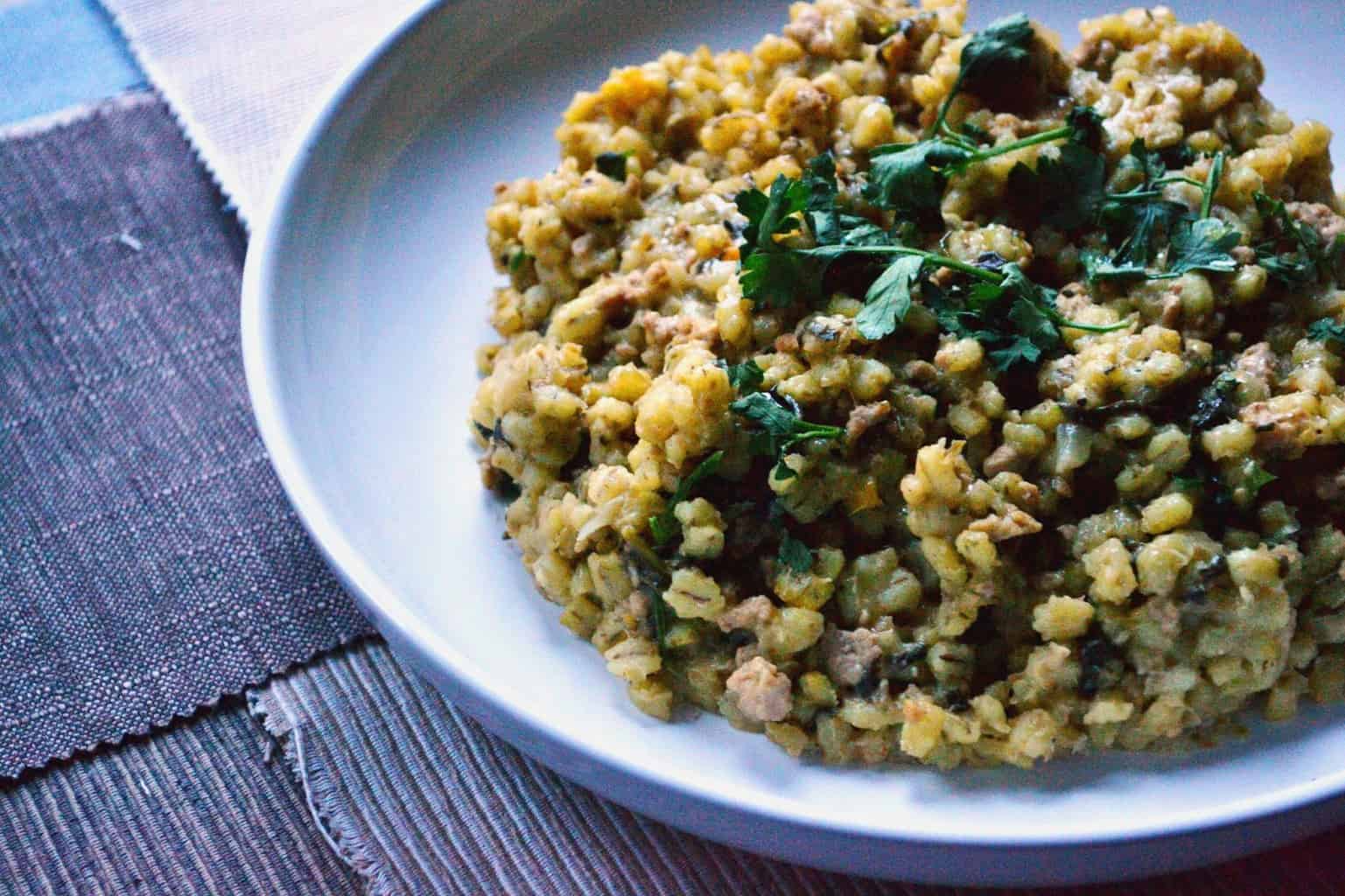 Well, I've finally managed to get back into the kitchen – it's been a while. Where I belong, some may say. Also, where I'm in my element. I think the lack of culinary exercise of late is down to a combination of a few nights spent in town trying out possibilities for the 'London Cheap Eats' part of the blog (some have made it, some haven't) and Matt making most of our meals when I have been around, just because I haven't had a chance to or I've been down right lazy when it comes to cooking up a storm. A bit of a hindrance for a food blogger, but it happens.
This recipe is incredibly simple. It is an orzotto which is essentially a risotto but made with pearl barley instead of rice. Pearl barley is my preference for this type of dish as it has a nutty flavour and retains a wonderful bite, unlike rice which can get a bit too mushy if you're not careful. You also don't need to follow the somewhat laborious process of adding one ladle of stock at a time – just pour most of the stock in, stir occasionally and keep an eye on the liquid level. A sprinkle of luxury is added to this dish in the form of delicate golden saffron strands which gives the whole thing a wonderful glow.
Pearl barley, pork mince and saffron orzotto
Makes 4 portions
Extra virgin olive oil
1 small onion, finely chopped
150g pork mince
200g pearl barley
120g spinach, roughly chopped
1 litre stock (vegetable or meat, or combine)
A bunch of flatleaf parsley, finely chopped including the stalks
Salt and freshly ground black pepper
A large pinch of saffron strands (optional)
Tip Pork mince often comes in packs of 500g. If you want to use up the whole lot, scale up all the other ingredients to make more portions which freeze really well. Great mid-weak saviours when you can't be bothered to cook anything.
Heat about one tablespoon of the oil in a large saucepan, add the onion and pork and cook, stirring, until the onion is soft and the pork browned.
Stir in the pearl barley and spinach and cook for a couple of minutes.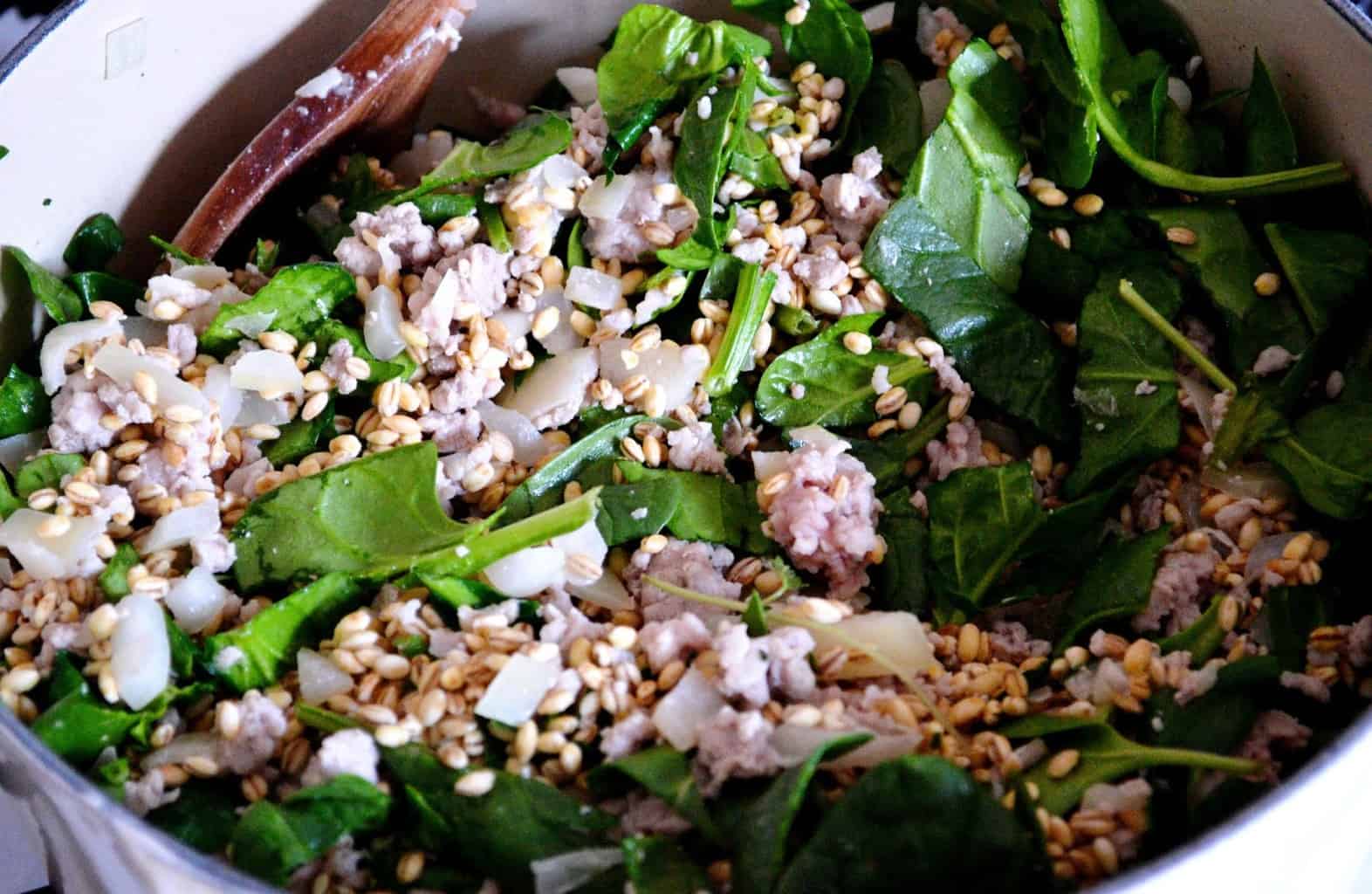 Add most of the stock (leaving some behind) and the saffron and give everything a good stir. Put the lid on with a slight gap and leave to simmer until the pearl barley is cooked – check the packet timings for an estimation of how long it will take. Keep an eye on the water level – if it gets low before the grains are cooked, add the remaining stock. Be sure to scrape the bottom of the saucepan with a wooden spoon every now and then to prevent the pearl barley sticking and burning at the base.
Tip The saffron adds a wonderful rich colouring to the orzotto but if you don't want to make a special trip to buy some, then you can leave it out.
Remove from the heat, mix in the remaining oil and parsley and season with salt and black pepper. Plate up and drizzle with a little extra virgin olive oil. Serve immediately or allow to cool and portion up to keep in the freezer.
This is one of my favourite mid-week recipes. Enjoy.
Alfiyet olsun.