Last Updated on June 10, 2020 by Leyla Kazim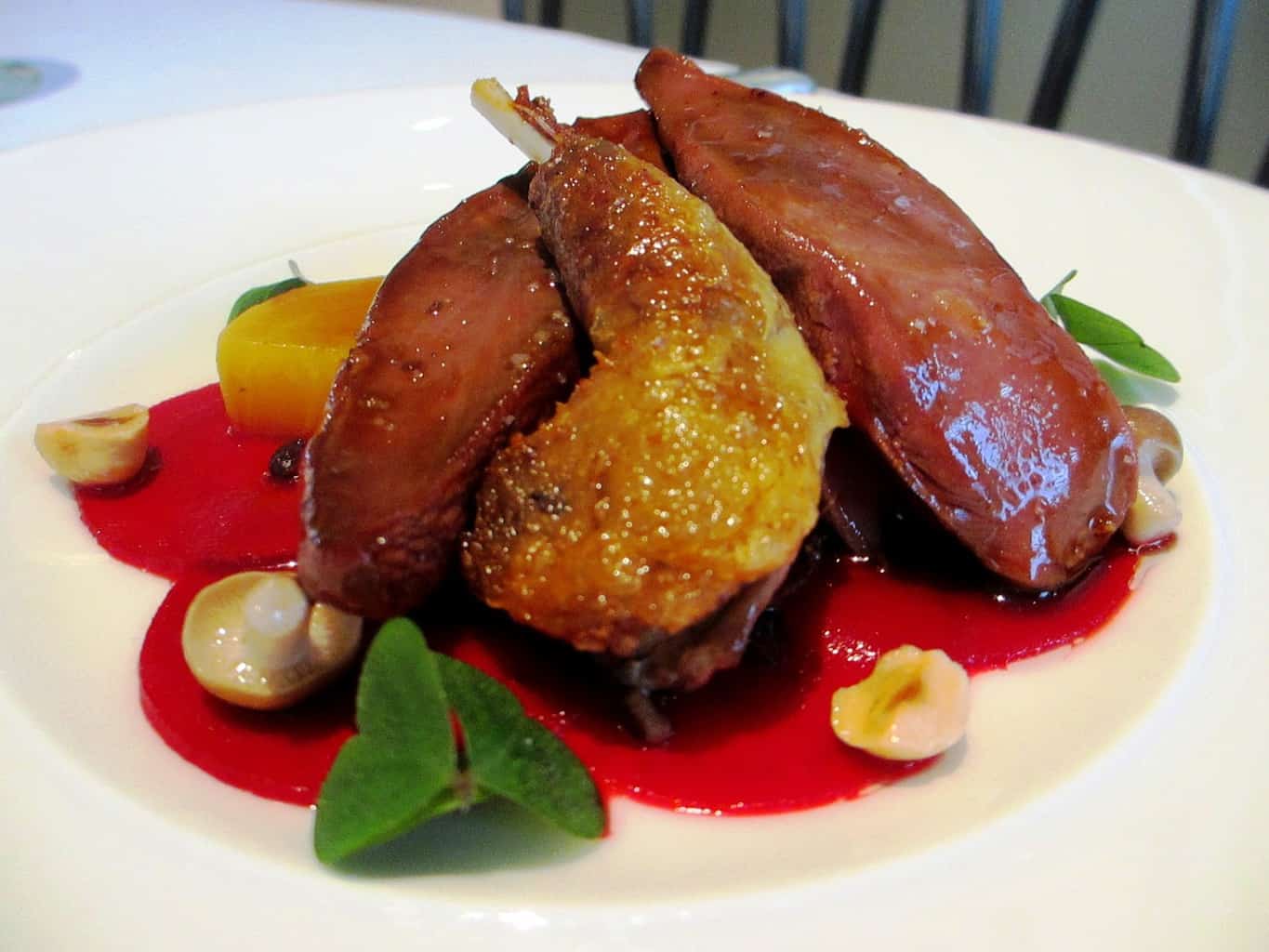 Slow poached breast of pigeon with confit leg,
pickled beetroot, hazelnut and girolle mushrooms
The way to my heart is wholly and unashamedly through my stomach. Gifts involving food at any time of year are eagerly anticipated and received with great pleasure and appreciation be they pots of something tasty brought home from a local farmer's market, jars of homemade goodness from friends, breakfast in bed, cupcakes from colleagues, and so on.
Matt told me that on Saturday we'd be leaving the house at midday sharp but would not reveal the destination. After spending most of the morning feverishly knocking up two batches of panettone dough ready for their first prove while we would be out (blog posts for these to come), I was rushing all over the shop sporting a dusting of flour in my hair. Dressed with little thought and ready to leave, Matt looked me up and down in my jeans and element braving jumper and with unimpressed eyebrows exclaimed 'you need to wear something nicer than that'. Right, thanks. Nice dress thrown on, a slick of lippy and we finally left.
A crisp, dry and rather gorgeous afternoon walking through the beautiful residential streets of Knightsbridge, and I suddenly find myself passing through the doors of Petrus, one of Gordon Ramsay's Michelin starred restaurants. Turns out part of my Christmas present this year was a slap up lunch – oh yes please.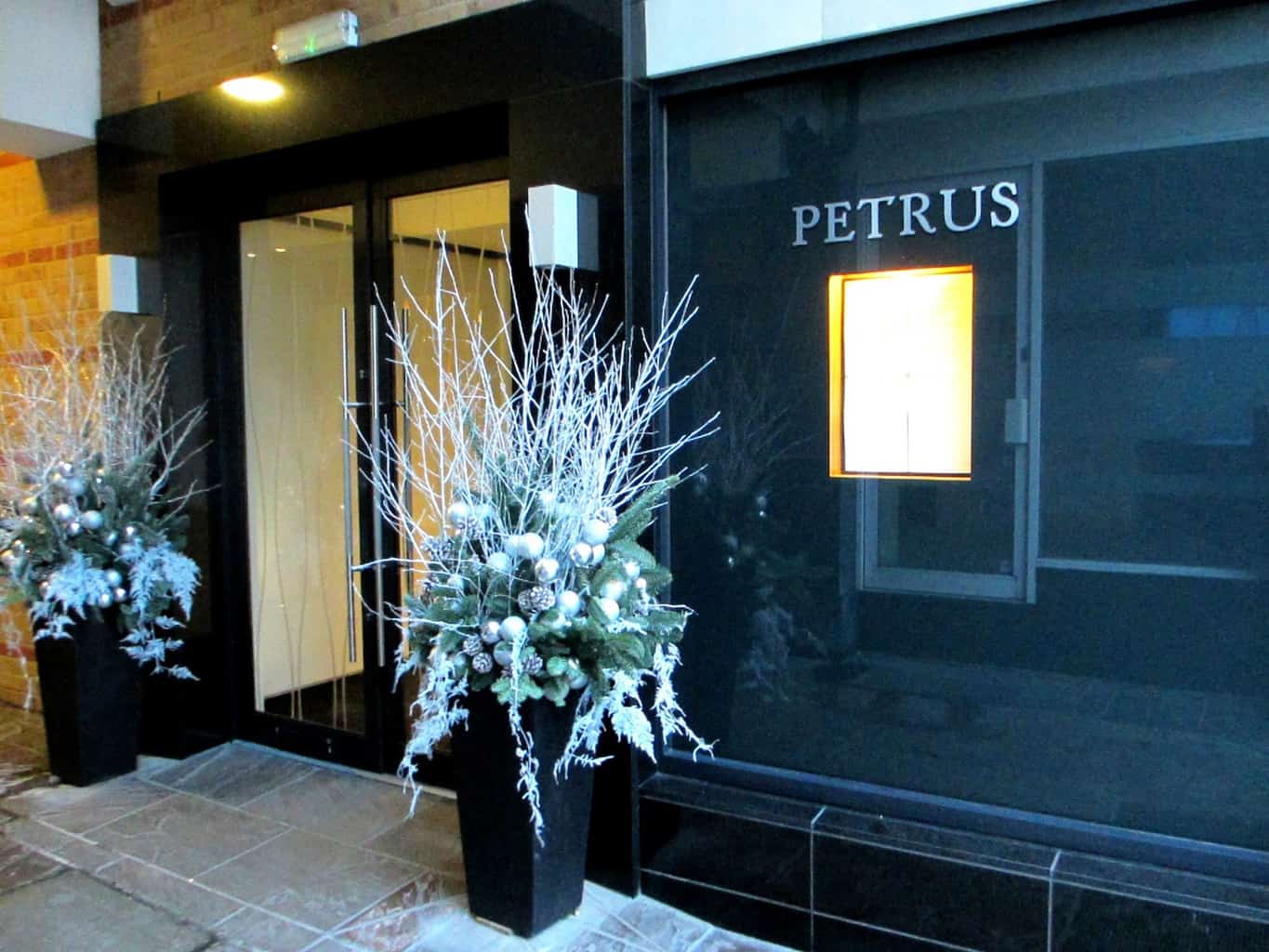 Pleasant and warm staff de-robed us of our winter armour and directed us to a table for two in the corner. I was soon presented with what I initially thought to be a Tolstoy masterpiece – turns out it was in fact the wine list. The leather bound book of a menu could have anchored a cruise ship. Thankfully, the section for wines by the glass was brief and in the first chapter so I was able to choose a reasonably priced red without having to contend with the whole content. An entry of note I did spot – a 1945 Petrus at £19,500. Maybe next time.
From the dining menu, we each opted for the three course a la carte (£65). I chose the red mullet to start and venison for main. Matt opted for the pigeon to begin with, followed by the beef. Before our starters arrived, we were presented with an amuse-bouche in the form of a pork croquette with thin apple shavings, sitting atop a celeriac velouté. Tasty shredded pork encased in a crispy deep fried coating with a hint of sharp sweet apple and earthy celeriac, it certainly did the job in igniting our appetites in preparation for the start of our meal.
First courses were presented shortly after. My red mullet was served with small and sweet clams; light, soft and silky coriander gnocchi; and a delicate lemongrass sauce poured over the dish by the waiter. The skin on my fillet was wonderfully crispy with the flesh perfectly opaque and well seasoned. Before Matt was a plate of perfectly pink pigeon breasts and a confit leg – the best thing on the plate. Crispy leg skin retaining the flavoursome fat encasing a conservative but delicious package of meat, easily breaking away from the bone. The pigeon was served on wafer slices of pickled beetroot with hazelnuts, and the plate was dotted with quaint apricot yellow girolle mushrooms providing a hint of nuttiness to the dish.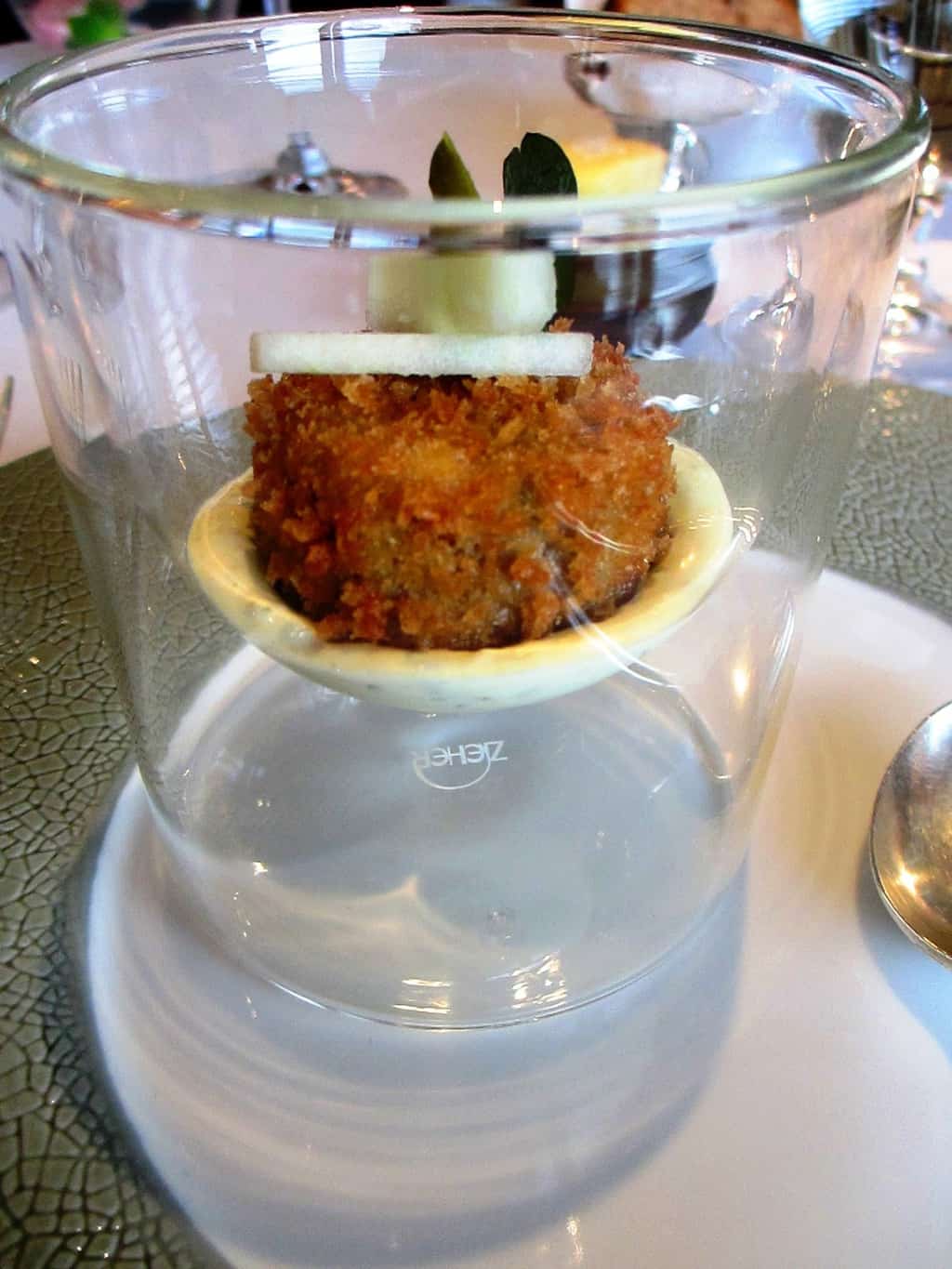 Pork croquette amuse bouche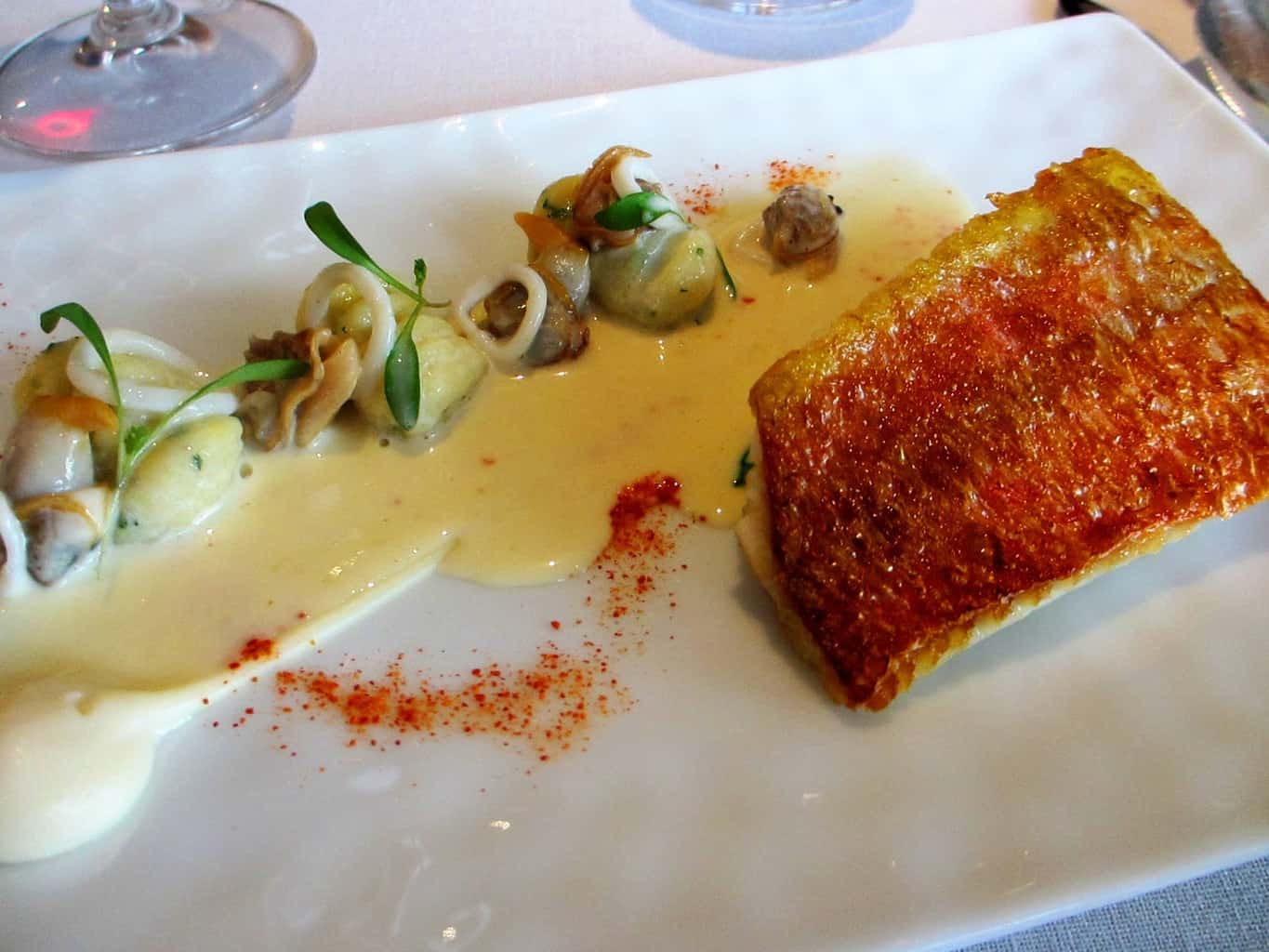 Pan-fried fillet of red mullet with clams,
coriander gnocchi and a lemongrass sauce
For the main, my roasted venison loin was served sliced and pink. Succulent, gamey, and topped with a juniper berry sauce, it was quite delicious. Also on the plate was a small tower of Stilton macaroni resting on a layer of venison shin. The combination of cheesy pasta alongside a hunk of quality meat was sublime. It reminded me of the Mauritian roast beef with cloves and garlic my mum makes that is always accompanied by macaroni cheese. Turns out red meat and cheesy pasta is a winning combination. Roast pear and shavings of the fruit fresh provided welcome hints of sweet and tart respectively. Matt had a rich fillet of Casterbridge beef cooked medium rare with a roast onion that had been stuffed with braised shin for a tasty surprise. There were a couple of nuggets of bone marrow on the plate which were highly anticipated, but in fact added little to the plate as a whole. The dish was due with a Barolo (wine) jus but as Matt doesn't drink alcohol (or want to consume it in any form), he requested a sauce without the wine present. The staff and chef were highly accommodating and instead presented the beef with an earthy cep jus.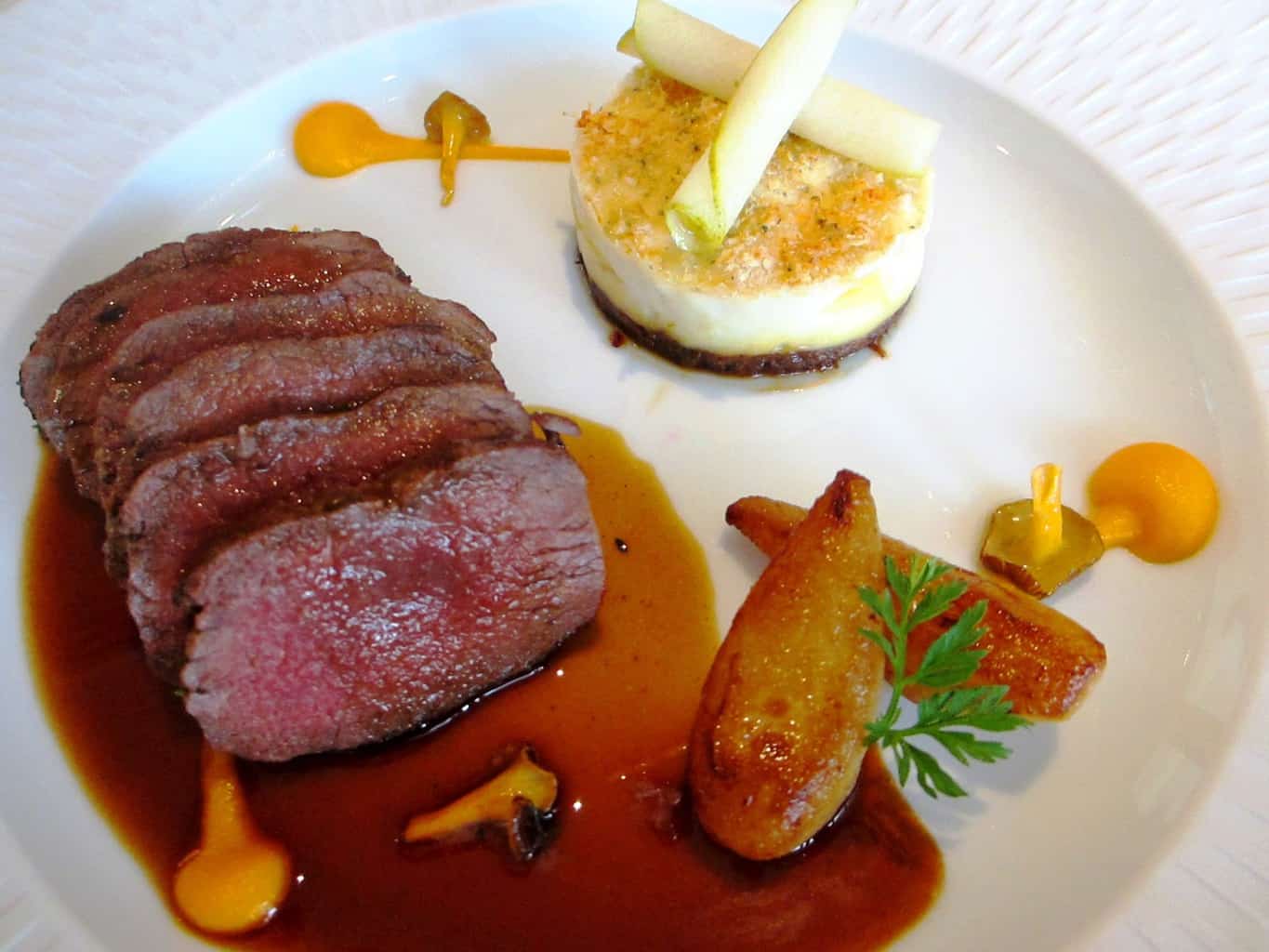 Loin of venison with a juniper berry
sauce and Stilton macaroni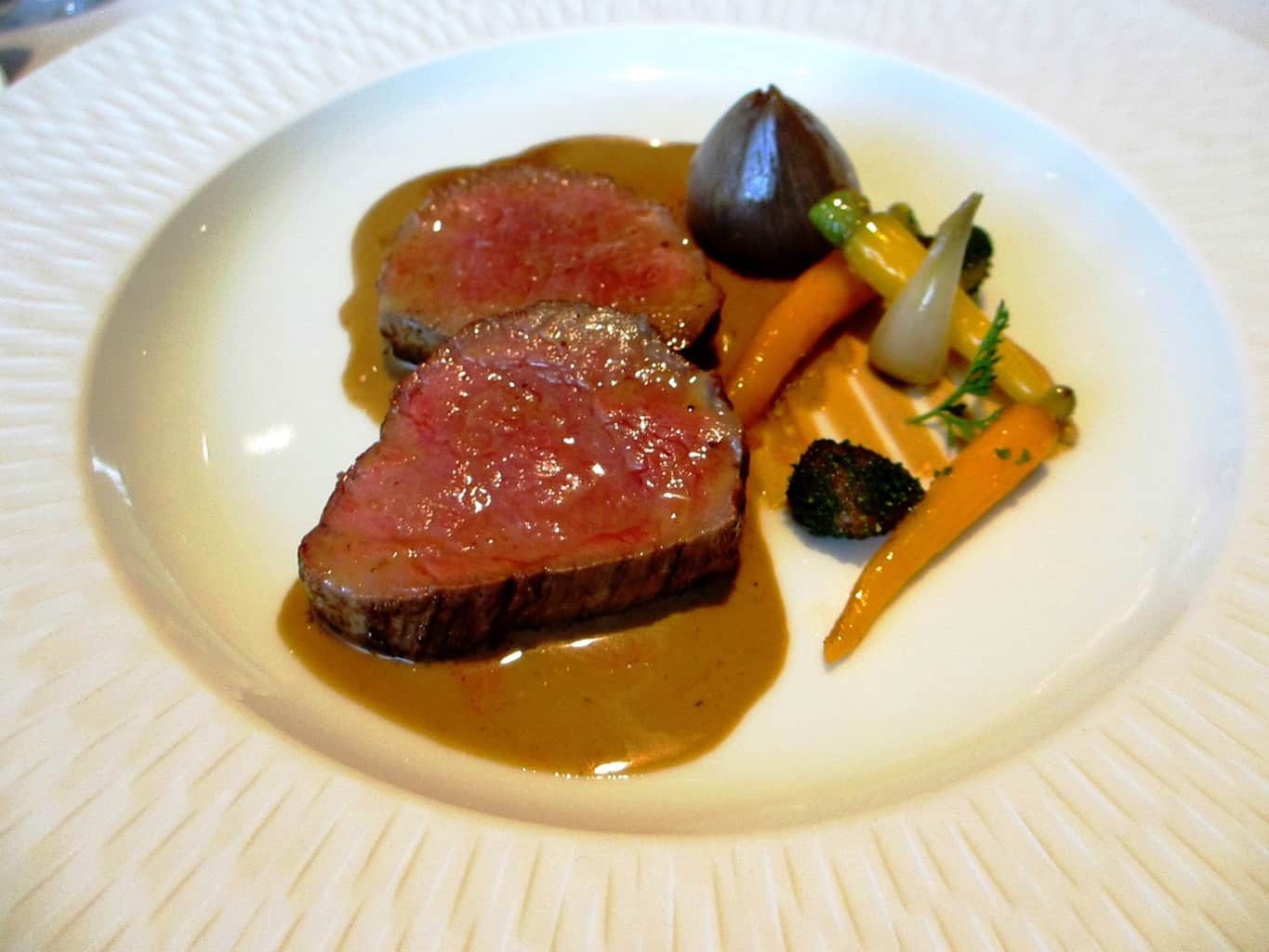 Fillet of Casterbridge beef with roast onion,
braised shin, bone marrow and Barolo jus
After our mains we were handed small ice cream cones filled with white chocolate, passion fruit and my first encounter of something that left me in fits of giggles – popping candy. I was quite surprised I hadn't come across this before as I know it's been around for ages – either way, it's great fun. The saliva dissolves the sugar coating of the small nuggets releasing the pressurised pockets of carbon dioxide on the palette, much like a muted firework display taking place on the tongue.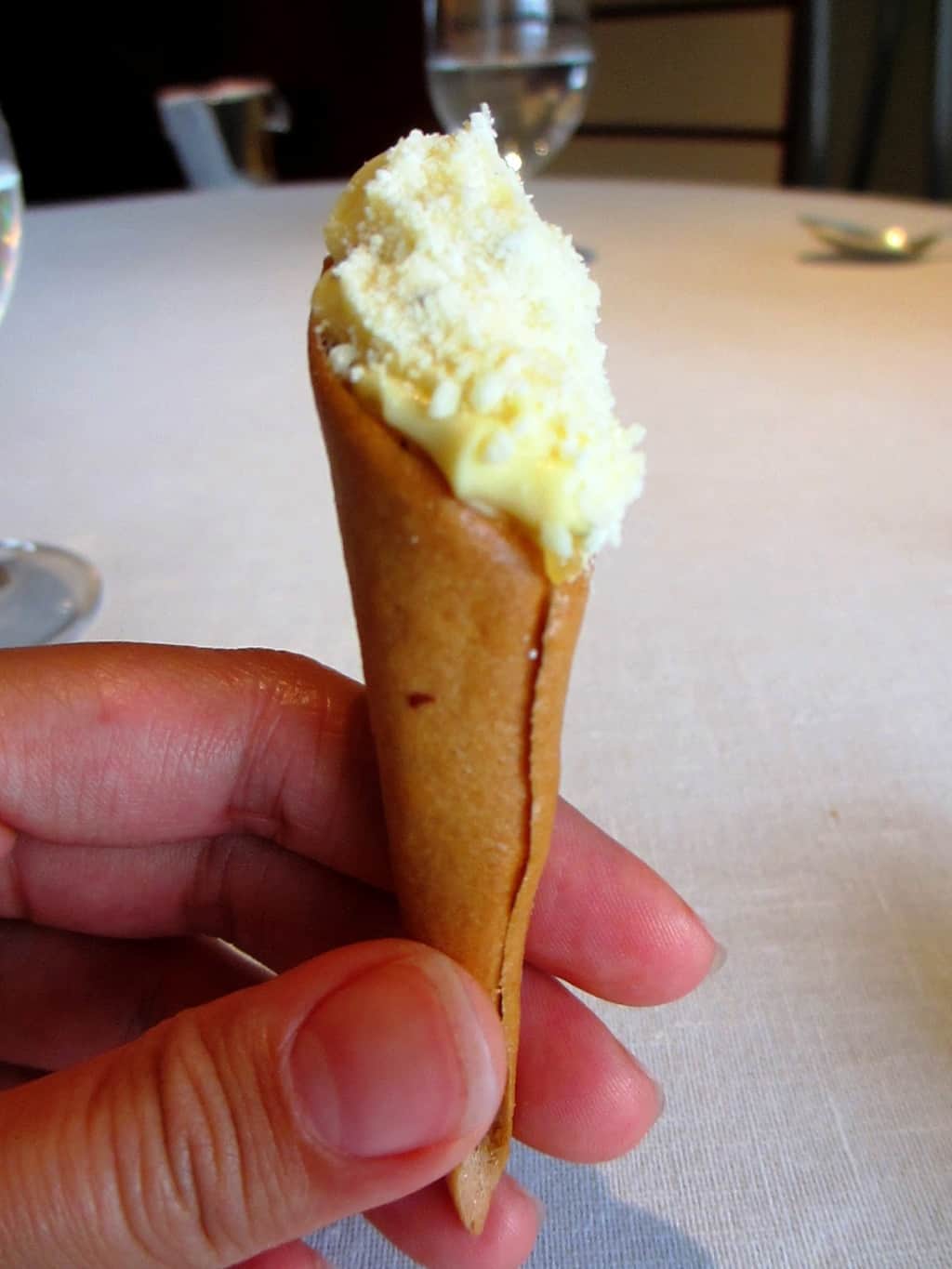 Passion fruit and white chocolate
– with popping candy!
For dessert, I ordered the blackberry parfait with a chocolate ganache, lime and vanilla cream. I have to say that unfortunately, I didn't care for this plate. So much so that I left it unfinished. Perhaps I chose the wrong dish, but I was expecting pangs of tart from the berry presence. Instead I felt the parfait was lacking and uninspiring and the ice cream had barely a sniff of lime. I do love tart, sour and citrus flavours and this dish didn't have enough of them when it was needed. Matt had the chocolate sphere with milk ice cream and honeycomb. The sphere arrived on the plate resembling a large and glistening tea cake. The waiter poured over a hot chocolate sauce causing the dome to melt and collapse, revealing the ice cream inside surrounded by sticky sweet honeycomb – a pleasant way for Matt to round off his meal.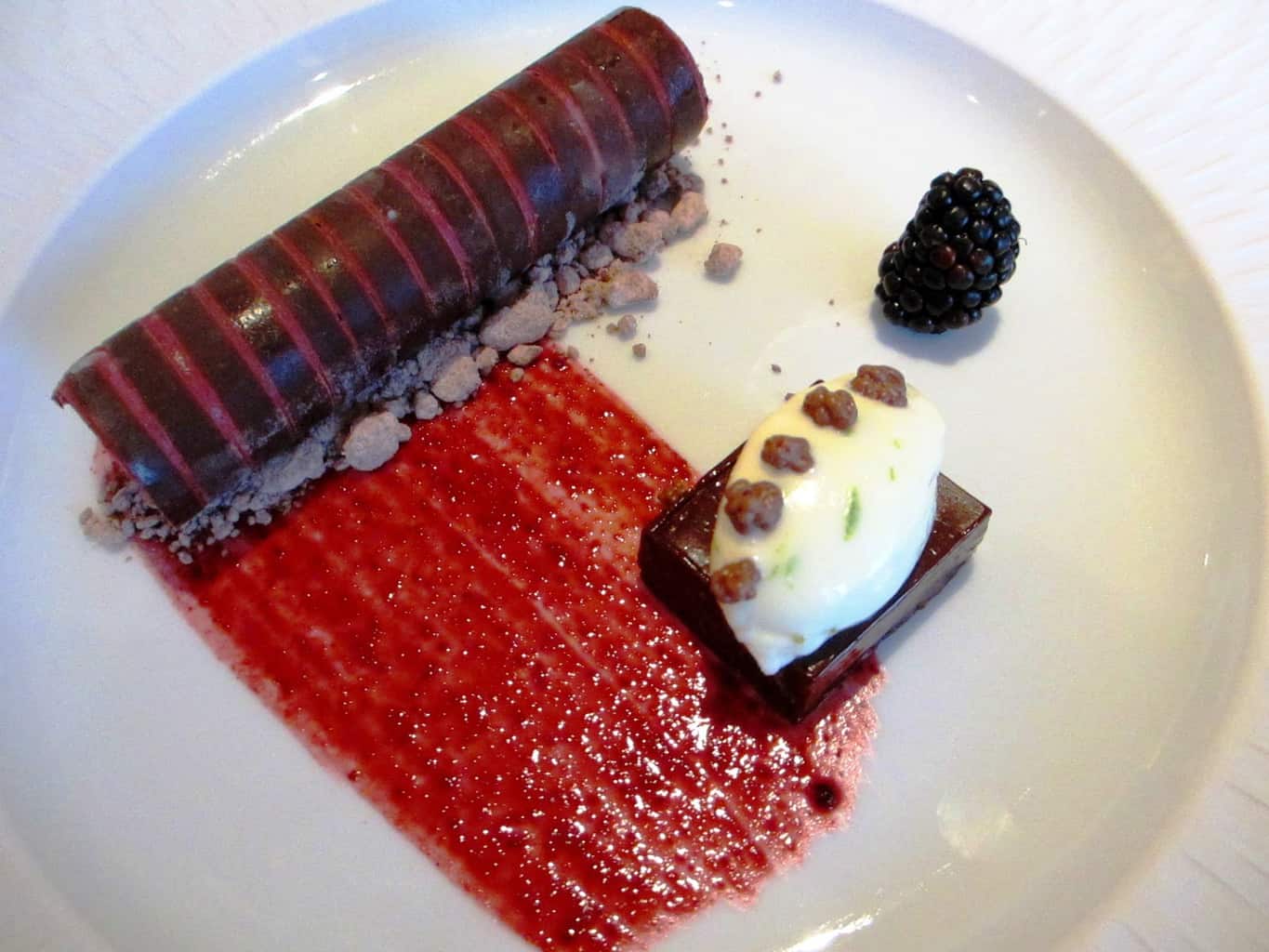 Blackberry parfait with chocolate ganache,
lime and vanilla cream
Throughout dinner the front of house staff were warm and attentive without being overbearing. Matt ordered a coffee post-meal which we took in the foyer by the window seated on soft sofas by the Christmas tree. It came with cocoa covered almonds and a box of dark and milk chocolates. With our stomachs already fit for bursting, a beaming waiter presented us with our final consumables for the afternoon, a bowl of liquid nitrogen with the evaporating cloudy gases theatrically bellowing over the rim – I thought only Heston did this sort of stuff? In the bowl were two Armagnac and white chocolate lollipops. As they had the alcohol present, the waiter brought Matt an un-prompted alternative in the form of a little pot of honeycomb and the consideration was appreciated. This of course meant I had both of the lollipops, and they were very pleasant indeed.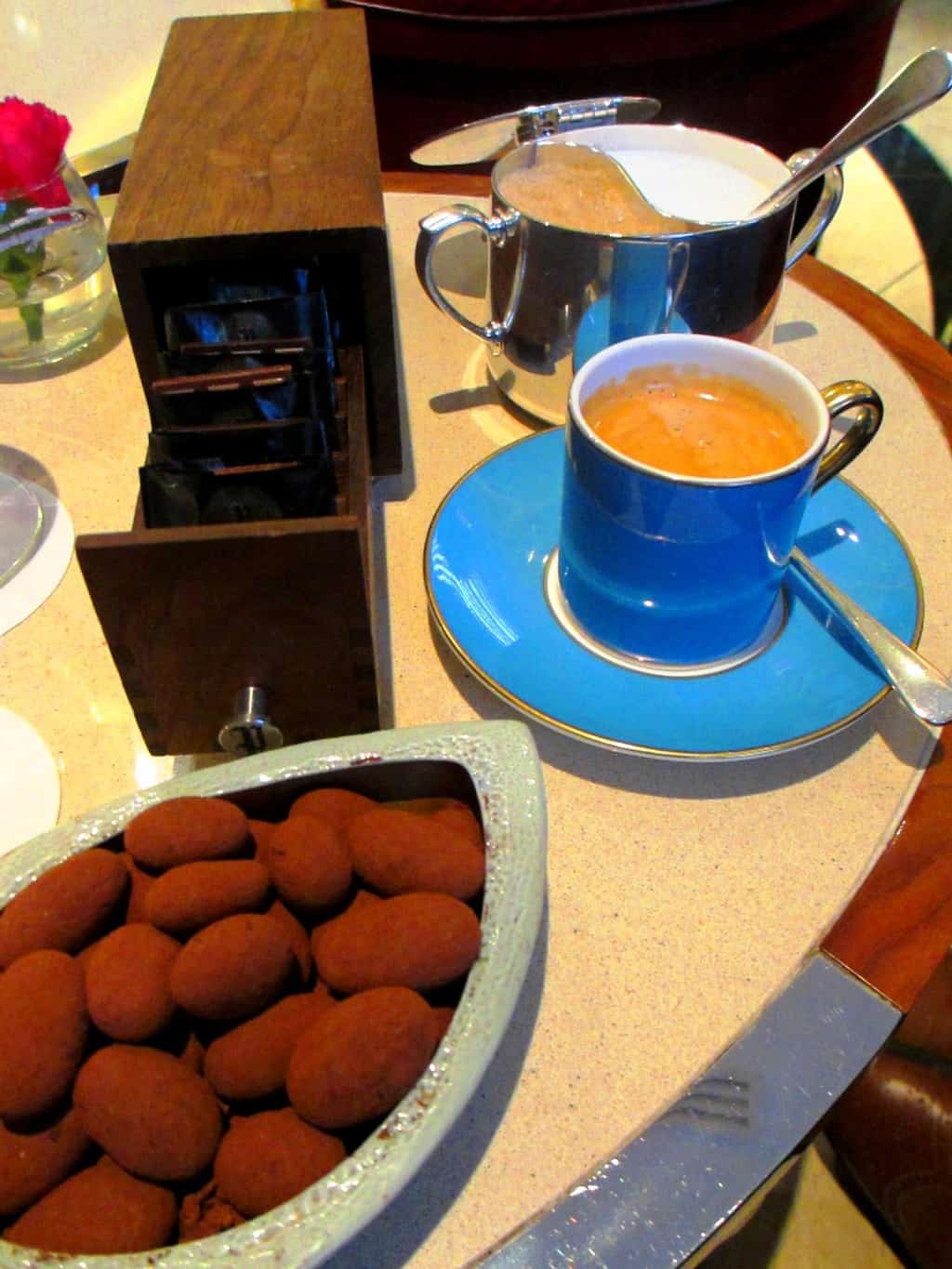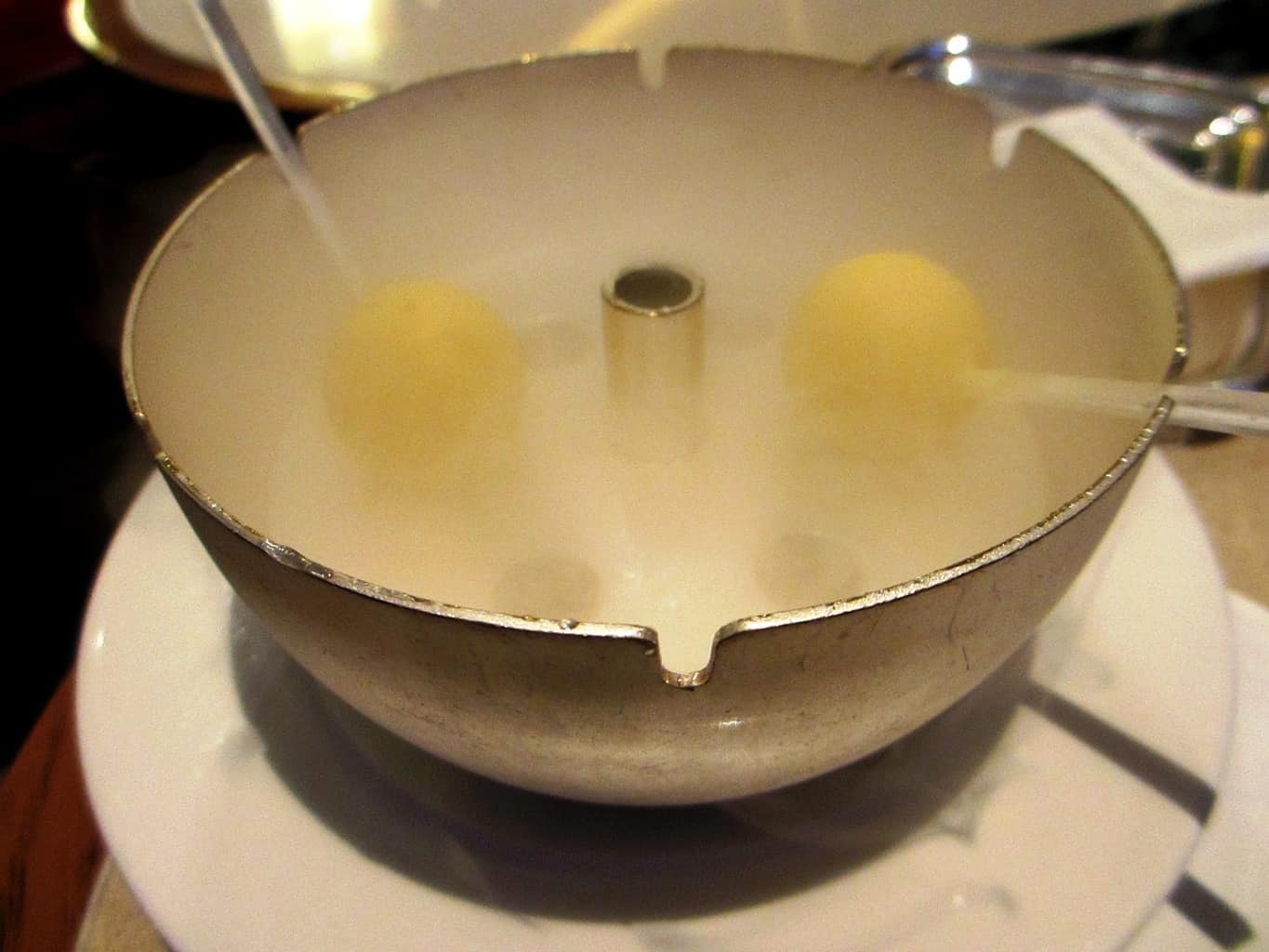 Armagnac and white chocolate lollipops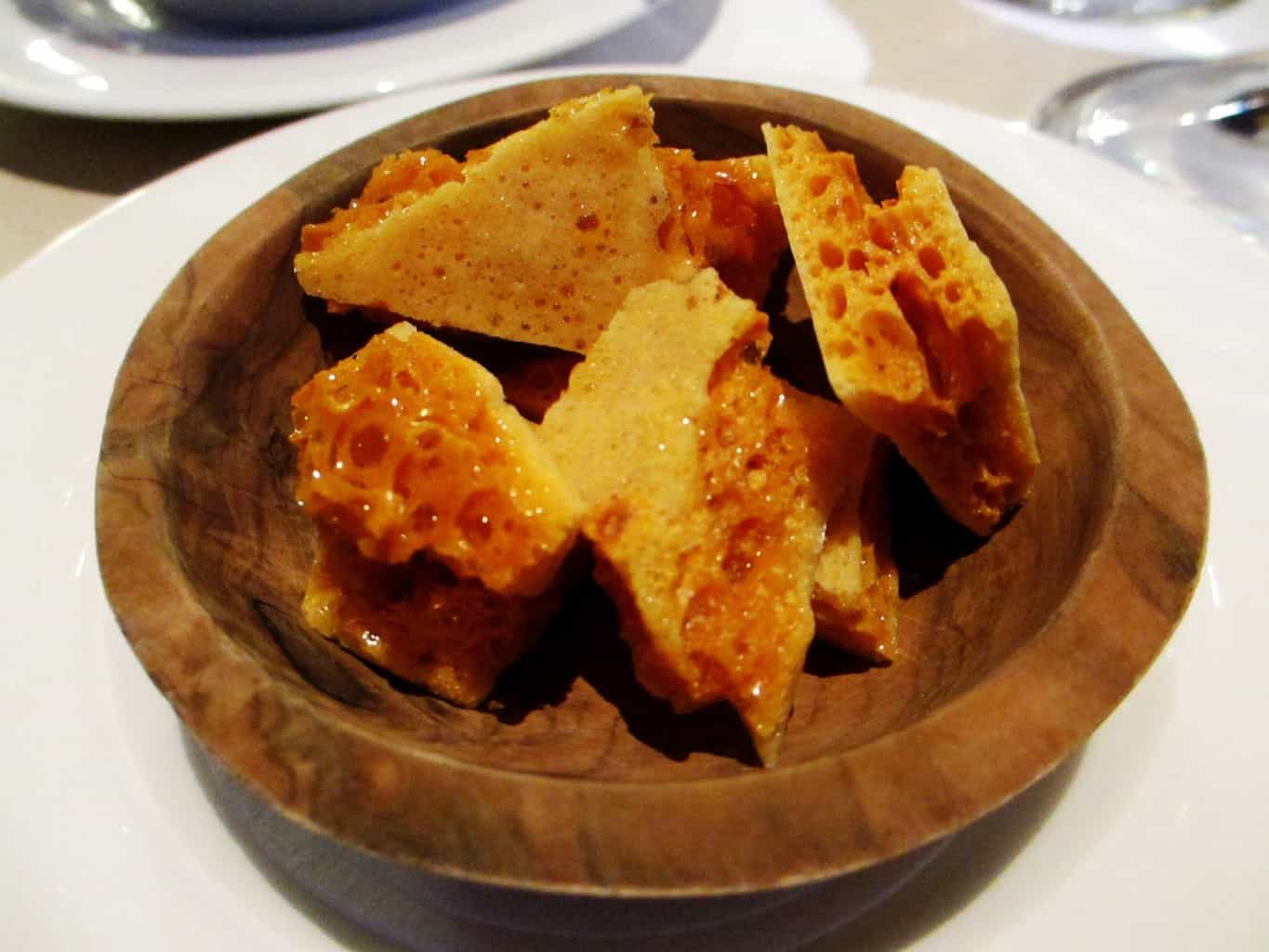 Honeycomb bites
We were even asked if we would like to see the kitchen and the chef's table which I was quite excited about. Lead down a set of stairs, we were taken through some doors into a good sized kitchen heaving with chefs, cleaning down after the lunch service and beginning the preparations for the evening service. Wonderful looking fresh ingredients were dotted about the place, I spotted some beautiful purple green artichokes and the tiniest of carrots getting stripped and trimmed. The chef's table is a great example of how one should be – not behind a screen but instead perched just to the side of where all the action is happening.
The lunch was of a fantastic quality with wonderful flavours – I put the dessert failure down to perhaps expecting something that was in fact never intended. As well as inventive and exciting dishes, it's the staff that also make these experiences what they are. And it was one of great pleasure. I recommend a visit and if you have any spare change, perhaps indulge in that 1945 bottle.
Alfiyet olsun.