Last Updated on June 17, 2020 by Leyla Kazim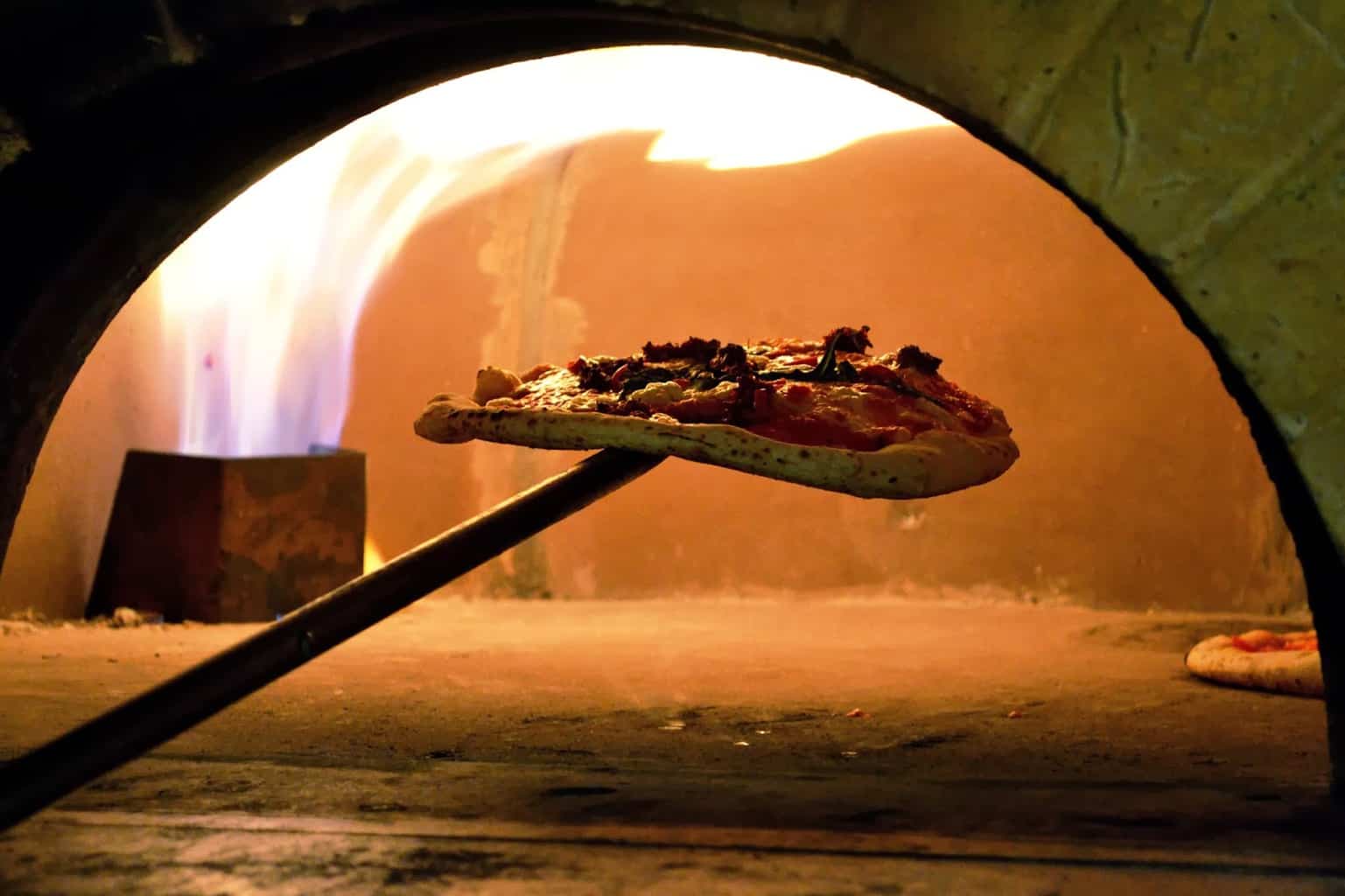 Part of the charm of street food in London is that the nomadic vans, shacks and kerbside fixtures dishing out all manner of specialist eats have an air of uprising about them.
There's a 'we have incredible products to share with the city and will bloody well do so without the need for a fancy pants restaurant with a front door, proper kitchen and seats to sit on. Our sails of success are powered by the winds of hard graft, self-belief and social media. We are clear of the obstacles bricks and mortar present – sky high rents, oppressive overheads and walls – we are free to lay our hat where we please. Punters will entertain scandalous queues under hemorrhaging heavens to get their hands on our offerings because they know just how good they are. And we will continue on in our endeavour to bring great food to the streets of London no matter what – vive la révolution!' sort of vibe.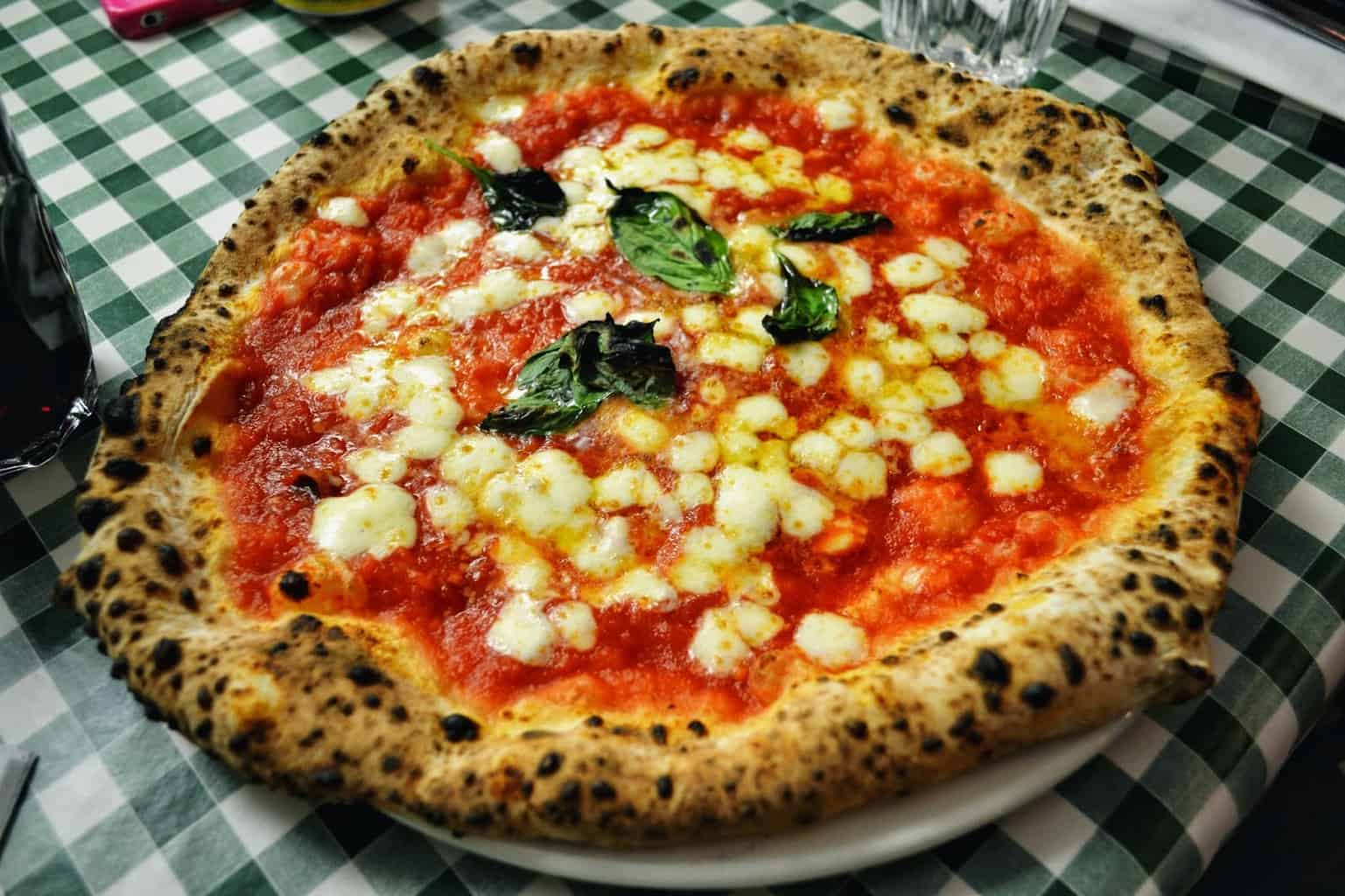 And with this gutsy defiance and commendable persistence comes a following. An avid following. One that grows by the power of word-of-mouth and Instagram and culminates in dribbling disciples willing to traverse previously unchartered zones to clutch these holy grails of snack-attacks, followed by the obligatory sticky-fingered tweet.
And yet it seems the true benchmark of success of a street food trader is the transition to stationary selling at a fixed address, in a real building complete with premise number and postcode, also known as a restaurant. And many have progressed down this route with great success.
Think Patty & Bun (started as a pop-up, now fixed on James Street W1), Pitt Cue Co. (began as a food truck on Southbank, now found on Newburgh Street W1), and Yum Bun (an old regular in Hackney's Broadway Market, now on Featherstone Street EC1) to name a few.
To this list add Pizza Pilgrims. Taking their launch on Dean Street, Soho in August of this year from a three-wheeled green Piaggio Ape complete with pizza oven driven here all the way from Italy and a presence in Berwick Market, to prime real estate in one of London's most bustling food quarters. The boys' (brothers Tom and James Elliot) done good.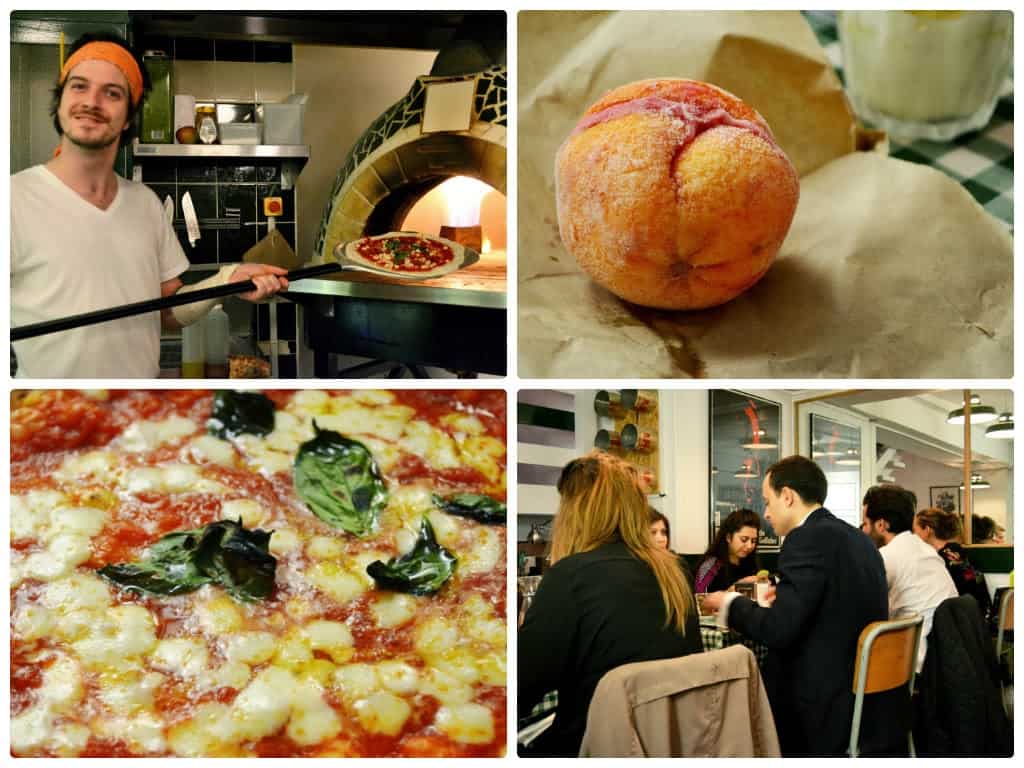 Now I've eaten pizza in Naples and with no hyperbole intended, it was one of the best things I've ever consumed. The sort of meal that on first bite, the wide-eyed unspoken stare of 'ye GODS – did you just experience the same thing I did?'' towards your dining companion is all you can manage as your brain attempts to process the pleasure receptor overload.
With a benchmark set so high, I'm not sure a Neapolitan pizza made outside the region will ever match what I ate in Naples, and in all honesty I don't expect it to (air miles of ingredients travelled, absence of technique passed down through generations, the tenacity of resident Neapolitans safeguarding the authenticity of their prized pizza demonstrated through the execution etc. will all play their part). But Pizza Pilgrims certainly make a commendable effort.
They're careful to advertise their wares as 'Napoli inspired' on the website which is a fair description considering the menu of toppings extends beyond the only two variations you would ever find in a true Neoplitan pizzeria – a marinara (tomato sauce, oregano, garlic, no cheese) or a margherita (tomato sauce, cheese, basil).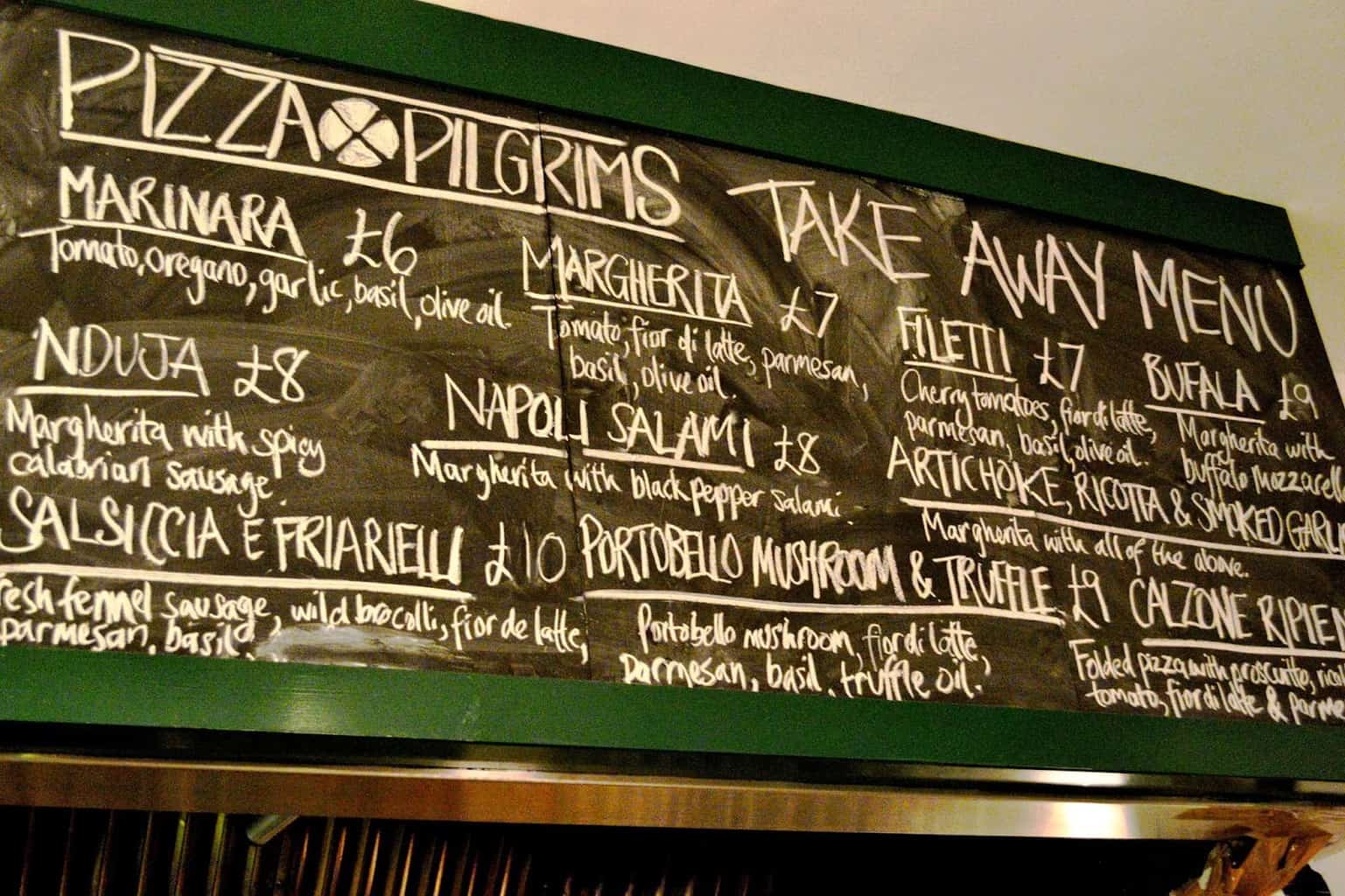 I stuck to the margherita to establish grounds for the fairest comparison against what I ate in Italy and because I wanted to give the few ingredients present the chance to take centre stage and have a waltz over my tongue.
Certainly the best component of the pizza was the base – edges soft, risen and blistered from the circa 450-480C heat treatment of the oven, middle elastic and slightly chewy. It was very good.
The chosen cheese of the establishment is fior di latte*, mozzarella made with cow milk rather than buffalo milk, and therefore quite a bit cheaper. While the former is certainly acceptable for an authentic Neoplitan margherita according to the original Italian Ministry of Agriculture document defining "Pizza Napoletana" for the EU (yes, such a thing exists and rightly so), my personal preference is made-that-morning milky buffalo mozzarella, creating a slightly soupy sloppy puddle of cloudy goodness in the middle of the pizza base, ubiquitous in quality margheritas across Naples. The cubetti of fior di latte used here was rather uninteresting and added little to the plate.
*The folks at Pizza Pilgrims HQ have kindly pointed out to me (post post-publication) that there is in fact a menu item of Bufala – a margherita with buffalo mozzarella. How I missed this on the night is not entirely clear (although also not wholly unbelievable – caught up in the excited anticipation of a good meal I've missed lots of things on menus before). It is this I will certainly order on my return.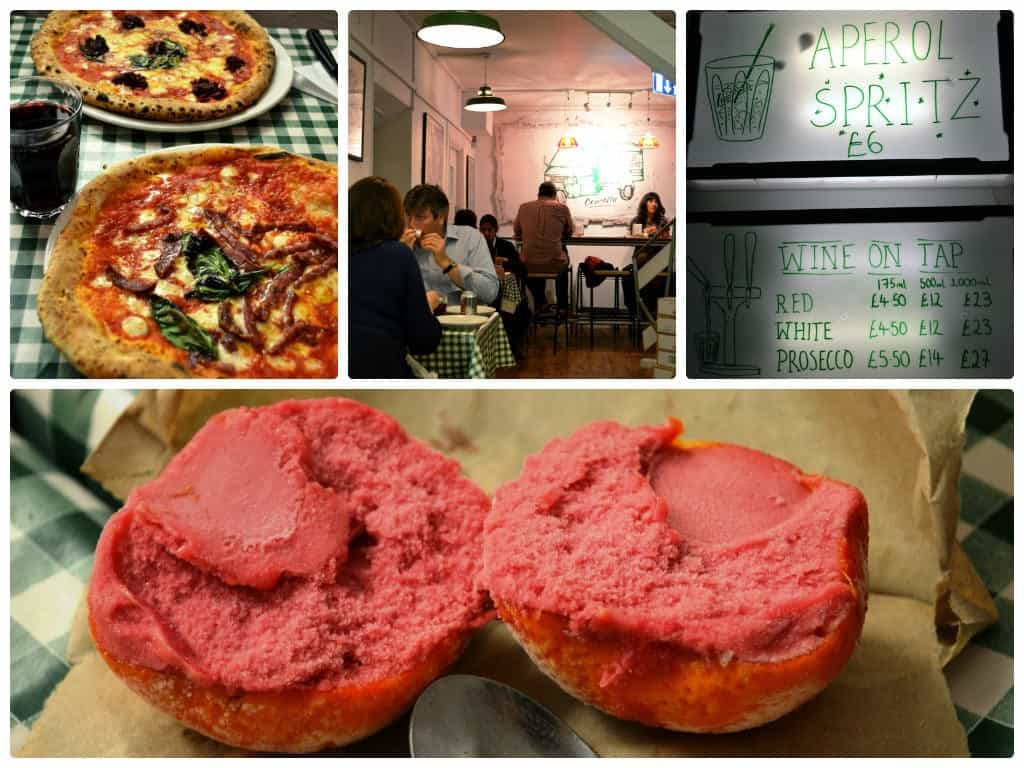 In addition, I'm a garlic fiend (think roasted cloves into double digits consumed in one sitting) and the tomato sauce used in the margherita had no presence of it. Which is in fact correct, authentically speaking (it's the marinara's that can contain garlic, less so the margheritas). But there was a garlic shaped hole in my pizza (figuratively) that needed filling. With garlic.
But I did enjoy it. And I finished it, even ahead of my two companions despite getting my pizza last out of our trio as I was initially brought one I did not order (the music is loud and I can see how marinara and margherita can sound similar, but the waitress should have confirmed before leaving the table). It was good enough to make a blog post, which means I would return. But on return I would order the marinara – exclude the cheese, add the garlic and enjoy the excellent base.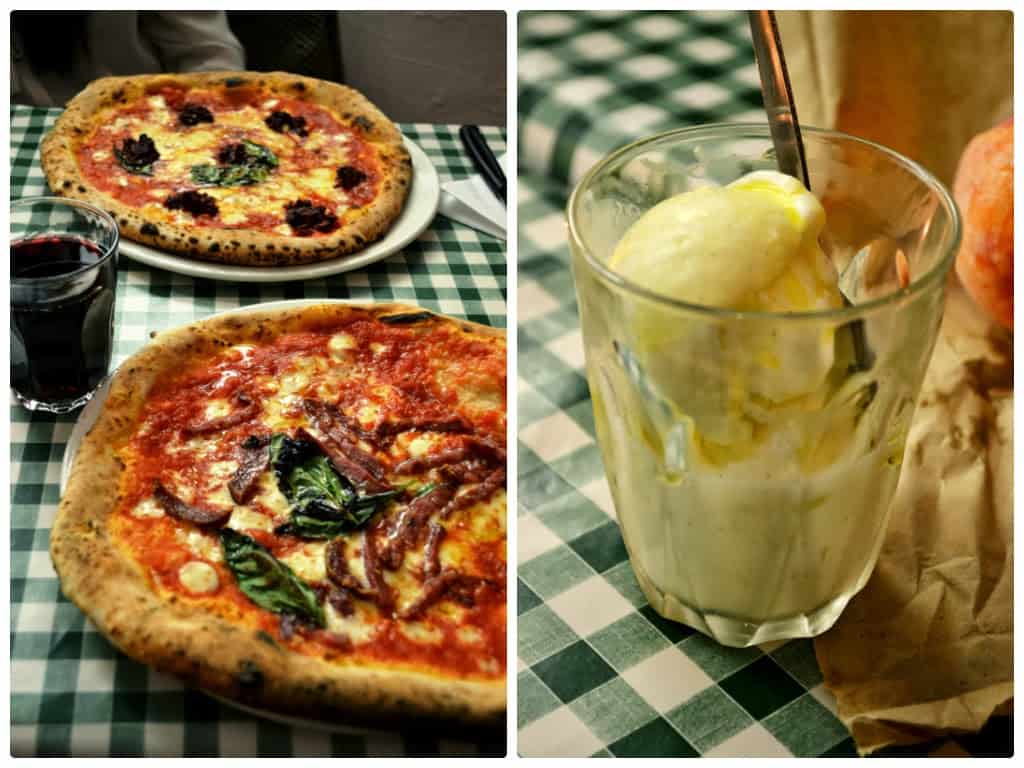 The other reason to pop my head round the door once more is for the frozen desserts supplied by Gelupo based in Piccadilly Circus and one of the best places to get a gelato in town. Vanilla ice cream with a drizzle of extra virgin olive oil and sea salt crystals – a novel flavour combination for me and one I thoroughly enjoyed. Not to mention the blood orange sorbet served in the orange skin which was rather tart and sweet and wonderful and delivered in a brown paper bag. Cute.
The venue is loud, happening and relatively hip. Full of tourists, the young after work crowd and some Italians if my ears served me correctly. With the main dining area below ground, walls are adorned with Italian poster paraphernalia, table cloths are green and checkered, and it is altogether relaxed with a warm but slightly industrialised feel.
A central spot to hang out and eat pretty good, very reasonably priced pizza. The location does not lend itself at all to the feel of the genuine, narrow, washing line adorned, speeding scooter festooned death-trap that is a true Napoli back-street. And neither does the venue, but I don't think it's trying to. What it does do is make a decent stab at creating an authentic Neoplitan pizza here in London town for the flocks of people who continue to come and eat it. The regular clientele won't be going anywhere else for pizza any time soon.
Good for: catching up with friends, a quick cheap bite, a longer cheap bite
Liked lots: pizza base, oven, location, Gelupo ice cream and sorbet
Liked less: the choice of fior di latte over buffalo mozzarella (they do have buffalo mozzarella margheritas – I just missed it on the menu – see above comment), the music that was too loud for easy conversation, you can't make reservations (could result in queues on busy evenings)
My rating: 3/5
Afiyet olsun.