Last Updated on June 17, 2020 by Leyla Kazim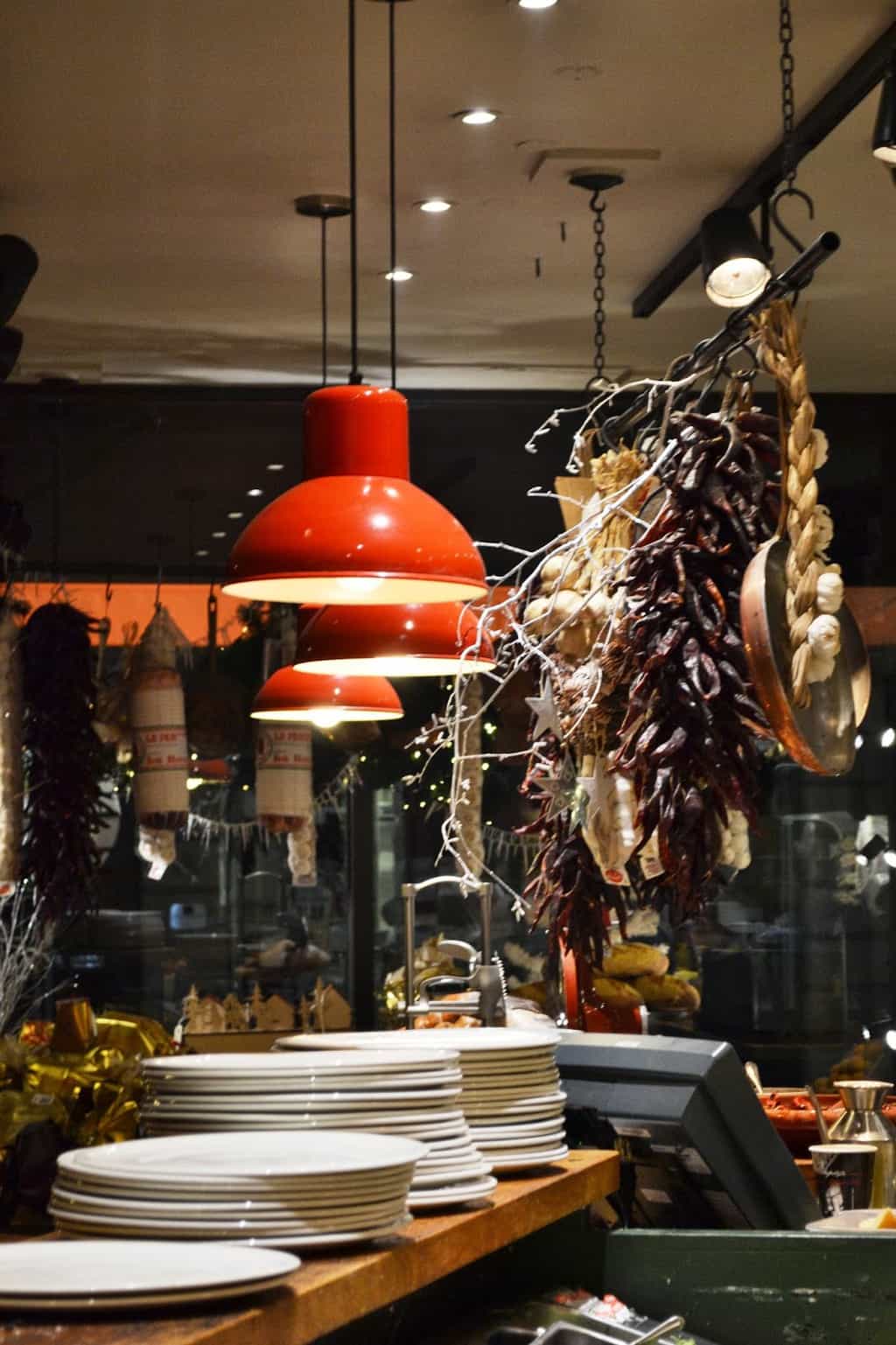 There is no fresher hell than Oxford Street during the festive season. Step off public transport and say hello to the modern day version of Dante's Inferno, all nine circles of it.
Oxford Street is a strip of commonplace retailers and awful eateries. Along with the evil sibling that is Leicester Square, it is a place for tourists, out-of-towners and where patience goes to die. The closer someone lives to it, the less likely they will be found on it.
Almost every slack-jawed teenager, disorientated tourist, blinkered jogger, bullish bus, kamikaze rickshaw driver, meandering shopper and light-jumping cyclist within an arbitrary radius occupies this 1.5 mile stretch of arterial London road in the run-up to Christmas.
Entertain the area between the hours of 11 – 8 any day of the week and prepare to wade through full on family forces on day trips from the 'burbs refusing to break their 5-person-wide formation, walk into oncoming traffic to get past the hordes lacking any sense of urgency, and sport bruised shoulders from all the barging. Unless my destination is Soho (for some of the best eating in town) or the Selfridges food hall, I try to avoid the area at all costs. Hell is (a lot of) other people, as Sartre so tersely put it.
Not everyone will agree with the grumbling grinch that lies within me. Some find delight in the festive shopping mania and the gaumless I'd-rather-be-playing-GTA faces of the spotty Saturday staff hauled in to match the crowds. And if these people are determined to brave the madness, there is a very real need for places that can relieve them of it. Refuges allowing shoppers to seek comfortable shelter and regain personal space whilst refuelling on decent food in pleasing surroundings are imperative. Ponti's Italian Kitchen strategically located a stone's throw from Oxford Circus station does just that, and rather well.
The Ponti's Group is a UK Italian chain with a handful of subsidiaries. You have Caffe Italia found in airport terminals; Ponti's restaurants in Watford, Wimbledon, Liverpool Street Station and Bluewater Shopping Centre (where I spent too many hours of my youth selling trainers in Footlocker then upgrading to skirts in Zara); and two Ponti's Italian Kitchen's on Duke street and John Princes Street (Oxford Circus), both in W1.
The concept of the latter is to showcase quality ingredients from the Emilia Romagna region of Italy, where the roots of the family that has run the restaurant since 1963 lie. The Oxford Circus location is an altogether different kettle of pesce to the rest; befitting of its location, well thought out and believably authentic.
Strings of garlic and dried chillies suspended from the ceiling furnish the pizza bar at one end of the restaurant alongside a small deli, with cured meats and Italian biscotti mingling with the warm glow from the Christmas decorations in the windows. A Wednesday evening at 7pm and almost every table was occupied (and not all by tourists).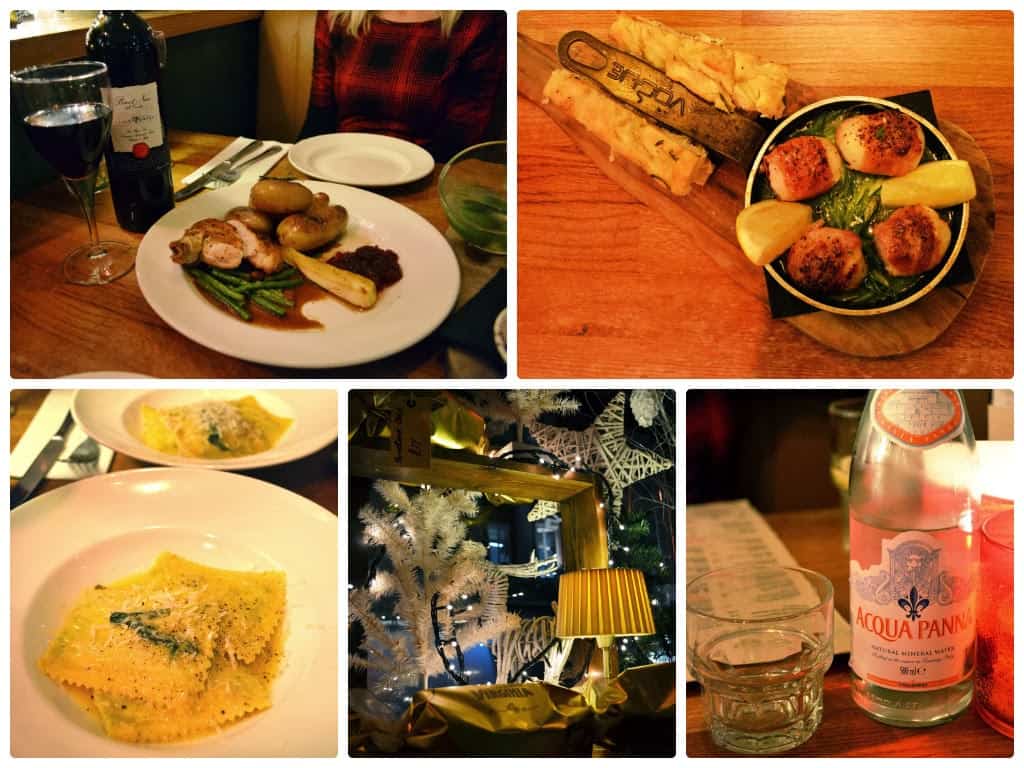 Sweet roasted butternut squash was served with wilted greens, very fresh and milky buffalo mozzarella and salty, crunchy nuggets of Parmesan breadcrumbs. Briny black olive tapenade and ice cold fleshy green olives from Puglia accompanied beautifully brittle flat Sardinian bread. Scallops wrapped in crisp parma ham were soft and seasoned and well acquainted with the garlic butter they were cooked in, served still in the pan alongside warm focaccia.
The cured meats were those of quality: salame piacentino (made from pigs reared in Emilia Romagna and Lombardy and then processed exclusively in the province of Piacenza), capocollo (Italian cold cut made from dry-cured whole pork shoulder or neck), Parma ham, cherry tomatoes, Parmigiano Reggiano, green olives and more bread.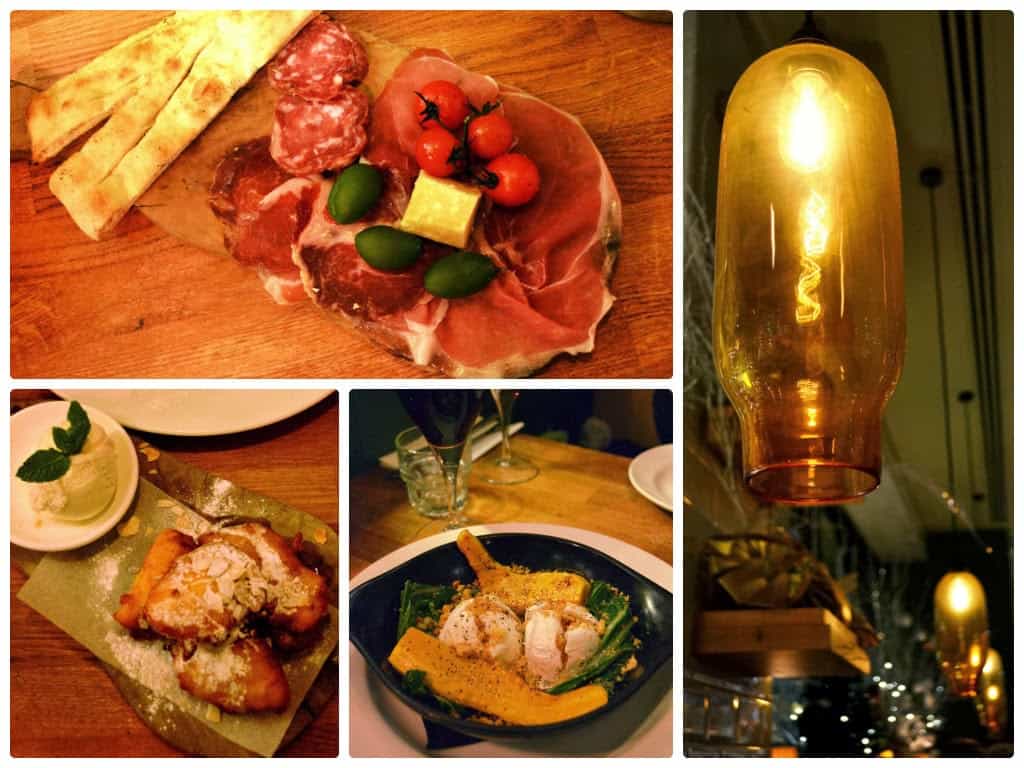 Pollo alla piastra is a Christmas menu option and saw garlic and thyme roast chicken sitting alongside, honey glazed parsnips, cranberry sauce and roast thyme potatoes. An unobtrusive plate with meat that was well cooked, but who goes to an Italian restaurant for Christmas-spiked roast chicken? Not me. Stick to the pasta.
Which was really very pleasant. Large delicate ravioli parcels generously stuffed with spinach and ricotta, drizzled with sage butter, topped with a crispy leaf, fantastically seasoned and very satisfying.
Side-stepping Christmas pudding which is wasted on me (I find it too rich, boozy and intense), the bomboloni were exquisite little packages of hot and sticky delight; doughnuts filled with sweet ricotta, glazed in acacia honey and with a wisp of citrus from lemon zest, served with vanilla pod ice cream and a second stomach in which to find room.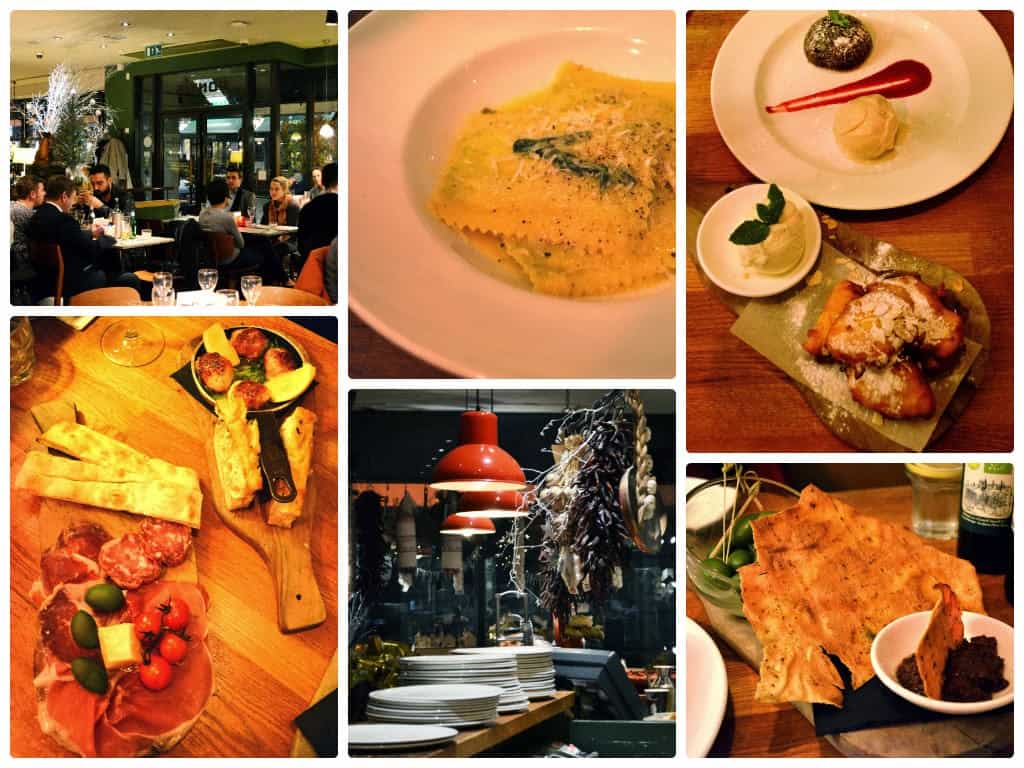 Four hours and almost two bottles of very good Pinot Nero from Emilia Romagna later, my companion and I rolled ourselves out, the final table to leave. You won't find ground-breaking innovation, mind-blowing flavour combinations, or reductions painted onto your plate with a brush here. What you can expect are quality ingredients executed simply, in a warm eating-at-nonna's-house atmosphere, in a very central location, for very reasonable prices.
Have a seat and stay a while, or at least until the shops have closed.
Liked lots: atmosphere, service, central location, ravioli, wine, the deli to buy imported Italian goodies
Liked less: the Christmas menu (I never like Christmas menus)
Good for: forgetting just how much Christmas shopping there is left to do, and the limited time in which to do it; whiling away a few hours; taking refuge from the madness beyond the door.
My rating: 3.5/5

Find the menu on Zomato.
Afiyet olsun.
Note: I was invited as a guest to review this restaurant.