Last Updated on November 17, 2022 by Leyla Kazim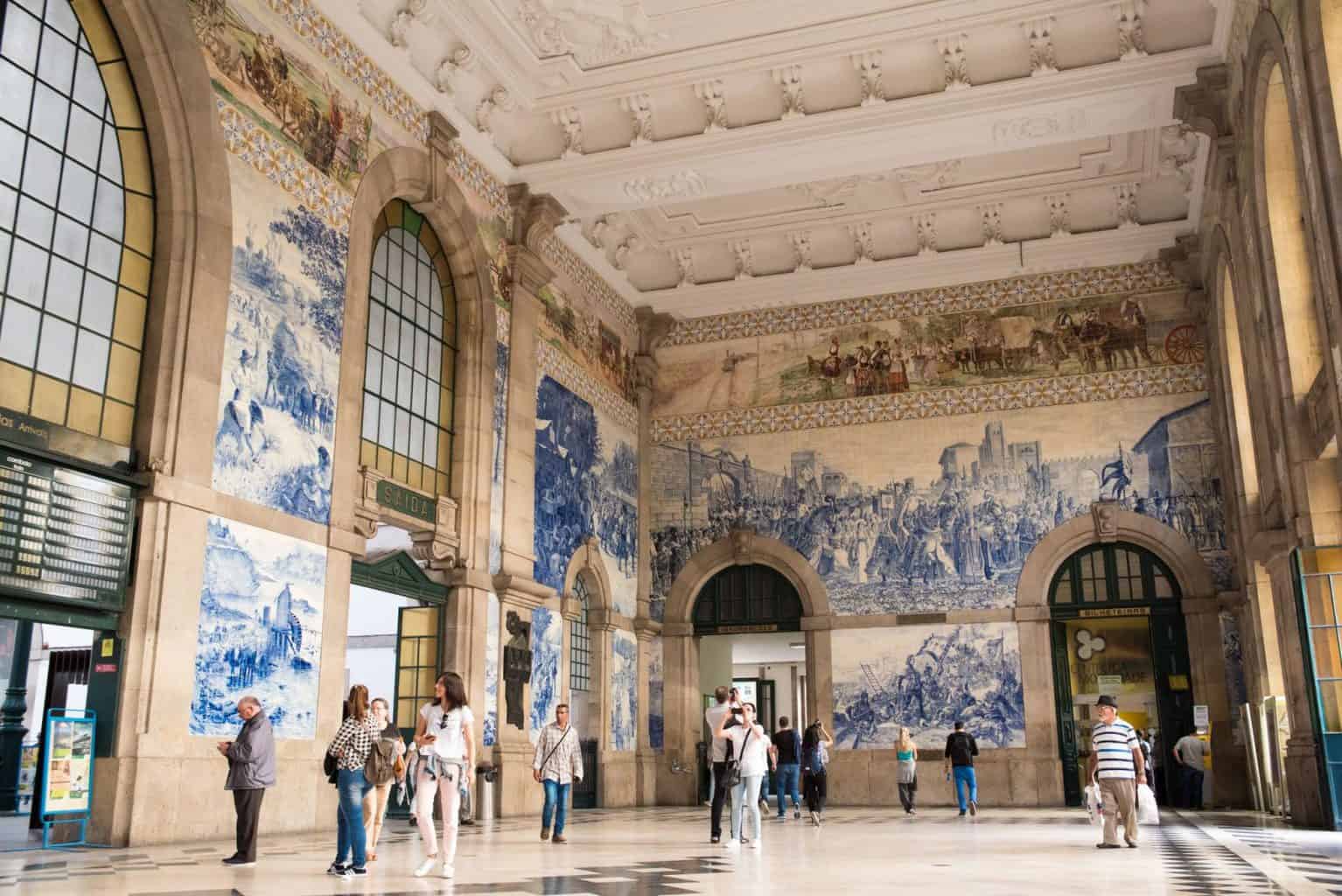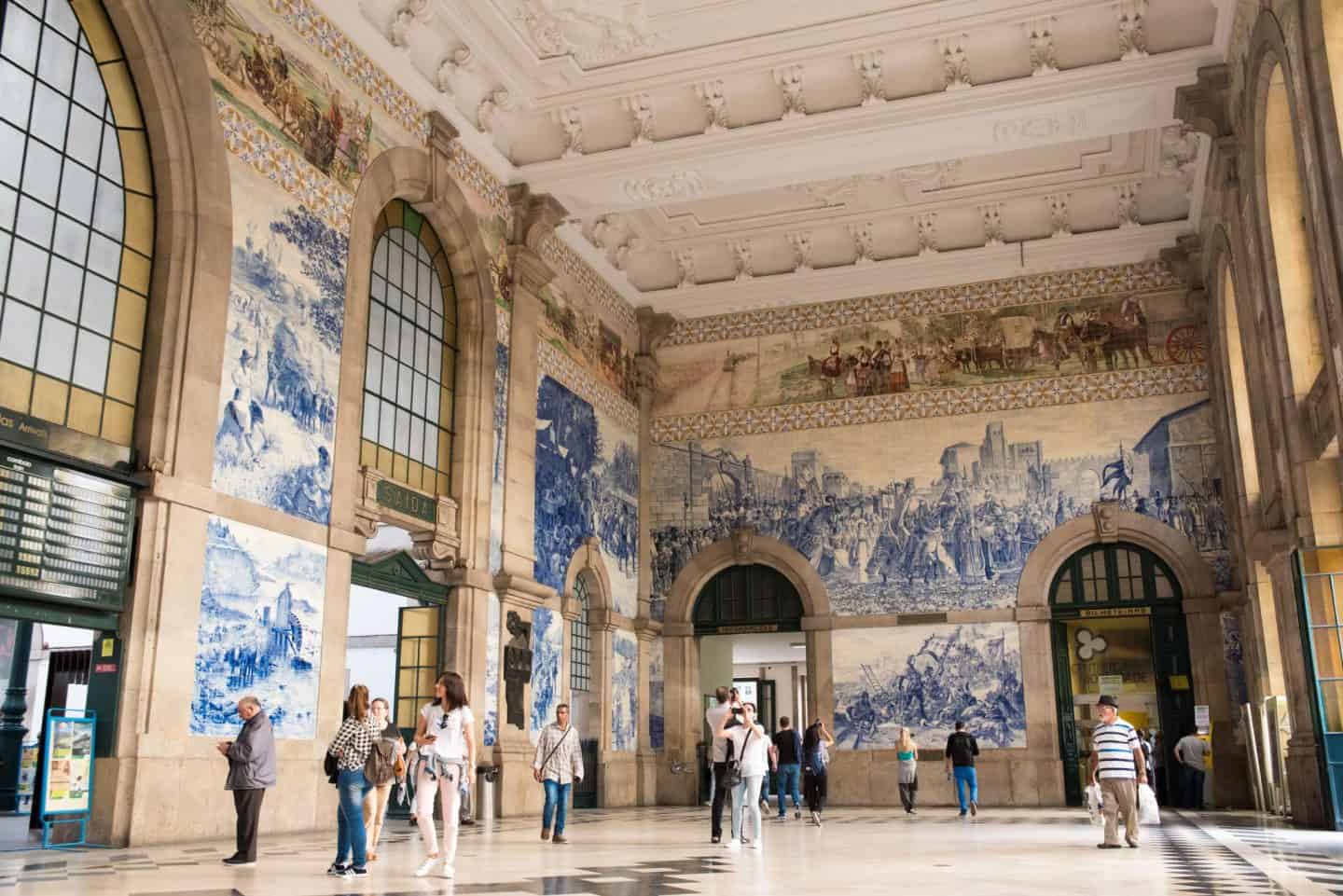 Organised group travel: my first time on a travel tour
I've never been on an organised travel tour abroad before. Well ok, I have. But they've always been designed for "media" – journalists, bloggers, writers etc. How they work is a few people will be sent somewhere, usually with a cool and curated jam-packed agenda. It will often be hosted by a tourism board, and the plan will be to showcase the area and all it has to offer.
Flights, meals, activities, experiences, accommodation, and ground transport are all sorted in advance by the organisers. Plus, there's a comprehensive itinerary, although often a bit too ambitious, with little free/down time. There isn't really anything to think about other than making sure you don't forget your passport.
This type of travel tour is more often than not awesome (if not excruciatingly exhausting). But when I write up the experience, I'm always left thinking that it would be a real challenge for someone to replicate themselves.
How I plan my own travel
When I take my personal, non-work related trips, I spend inordinate amounts of time researching and planning. This is particularly true when it comes to where and what I'll be eating (see TRAVEL | Is VizEat the future of authentic local dining experiences in people's homes?).
I want the best food for the best price. I want to make sure I'm not 'settling' when there might be a superstar tin shack around the corner. And I want to indulge in as much superlative eating as my finite time and budget can possibly allow. This all requires significant forward planning.
When I went travelling for eight months with my partner back in 2015, I 'planned' for two whole years. I ended up with a gargantuan spreadsheet that would have crashed most computers, with a row for each day of the circa eight months we would be away. What started off as a simple budgeting tool grew into a colour-coded, multi-layered, multi-columned, pivot tabled behemoth. It became the life of two people for most of a year in cell form. So yeah, I can get carried away with pre-holiday research.
My ideal travel formula
My ideal travel formula is as close to the following as possible:

MAX. COOL EXPERIENCES +
BEST NON-TOURISTY AND AUTHENTIC PLACES TO EAT +
SOLID ACCOMMODATION +
PLENTY OF PHOTO OPPS +
SUPPORTING AND INTERACTING WITH THE LOCALS

= MIN. EXPENSE AND MIN. STRESS
A lot like Einstein's theory of relativity, (when it's achieved) it's a thing of beauty.
It turns out that a travel tour with Intrepid Travel – 'small groups, big adventures and responsible travel' – involves my magic formula, almost down to a T. They do all the researching, planning, organising and booking on your behalf. Unique experiences, non-touristy places to eat and ways to see things, solid accommodation, for a very reasonable fee. Add to that the feel good factor of their sustainability initiatives, and it's a winning combination.
They're so closely aligned to how I travel anyway, that I will seriously be considering an Intrepid Travel group travel tour for my personal trips going forward.
An invite to experience an Intrepid group travel tour first hand
I was invited to an abridged version of their Real Food Adventure – Galicia & Portugal tour. We experienced five out of what would usually be the full eight day trip, skipping the stops in Spain.
For first-time group travel participants like me, here are 10 things you can expect from Intrepid's food-focussed travel tour. This one took us through Porto, Lisbon, and the Alentejo region in Portugal.
But before that, here's a short video I stitched together from the trip:
1) Fab group tour dynamic and small numbers
One of the things Intrepid Travel really pride themselves on are their travel tour small group numbers. That number does vary depending on where and how they're travelling, but we're talking an average group tour size of ten people. Which means you can legitimately all eat together in a restaurant, or all fit into a bar. You can actually do the real life, everyday things, without standing out like a sore thumb.
There's nothing more touristy then seeing a group tour of 30+ parading through the small cobbled streets of an ancient town, with the leader brandishing an umbrella above their head. Shudders. Intrepid Travel's small groups mean you stay under the radar, and travel, eat and sleep the local way. But there's still enough people in them to create a good social vibe.
I heard stories of people making friends for life, and there even being a few marriages, thanks to Intrepid's travel tours. And where there are marriages, babies often follow. To think, you as a travel company, have been the catalyst in helping create new life. That's a pretty big deal.
And I actually have a friend who has been on a few Intrepid Travel tours, who has stayed close friends with those in his group. He never shuts up about how great they are. I can now totally see why.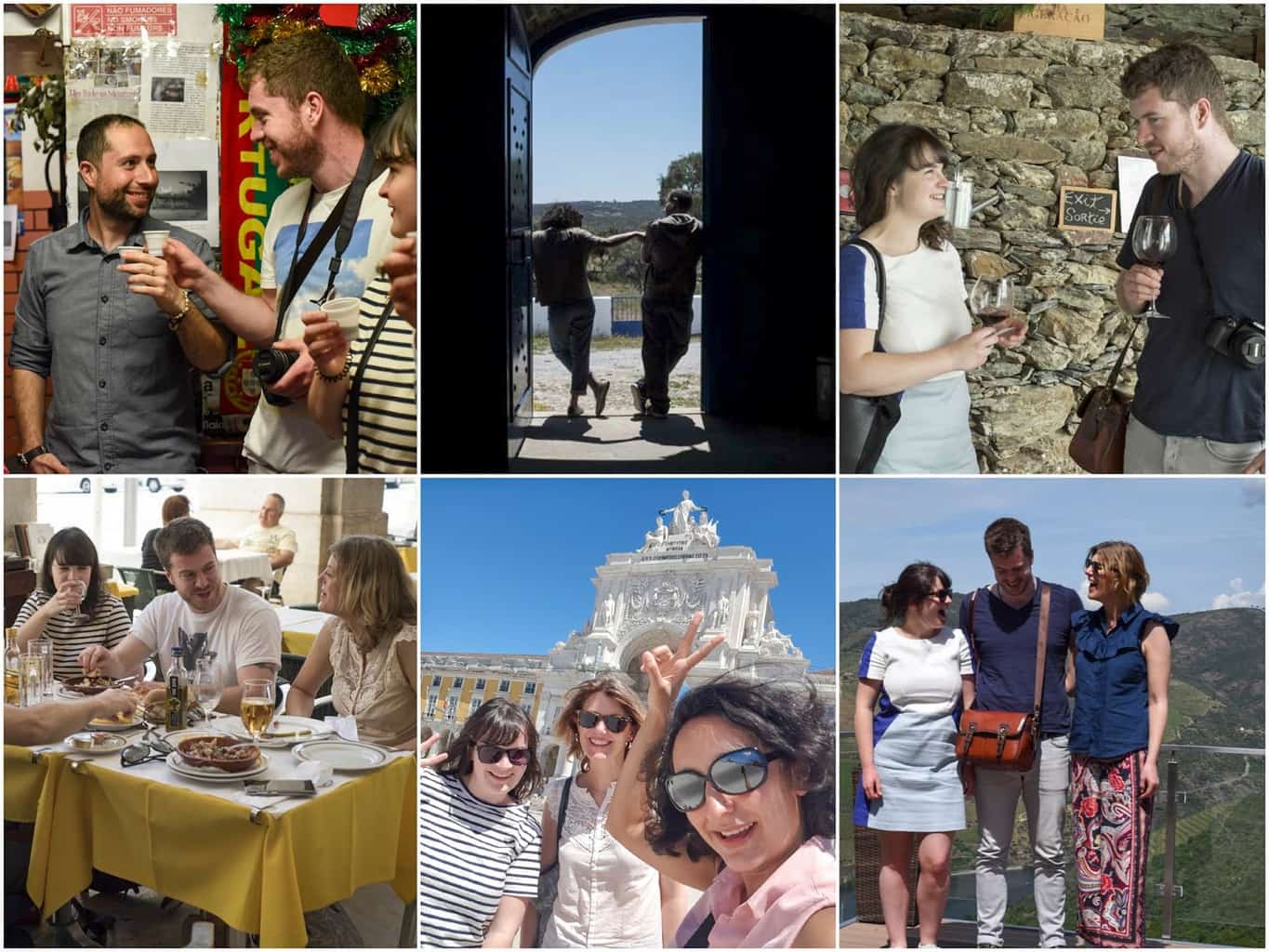 good times with our little Intrepid Travel group
2) Urban Adventures local guides and knowledge
Everyone knows that the best people to help you get under the skin of a new destination are those who call that place home. It's the natives that will show you the cool hidden spots, the hang-outs where only the locals go, the hip new joint that's just opened.
I was really impressed that whilst we had Marco from Intrepid Travel with us throughout our whole trip, every time we reached a new destination, we met with a new local guide who lived there.
Many of those were from Urban Adventures, a division of Intrepid Travel that focuses on day long city tours (or shorter). They take travellers to the most interesting places to meet locals, and really find out what makes a place tick.
One of my favourite local tours from the trip was when Joana from Urban Adventures met us in Lisbon. She walked and talked us through the Mouraria District with its fabulous street art, and the Alfama District where Fado music was born. She also took us to a cool hole-in-the-wall bar to sip on some Ginjinha, a Portuguese liqueur made from sour cherries, which went straight to my head.
I also really like the fact that the restaurants the meals are eaten in vary depending on the guide, as each will have their own favourites. Nothing is set in stone, and because the group is small, things can be flexible.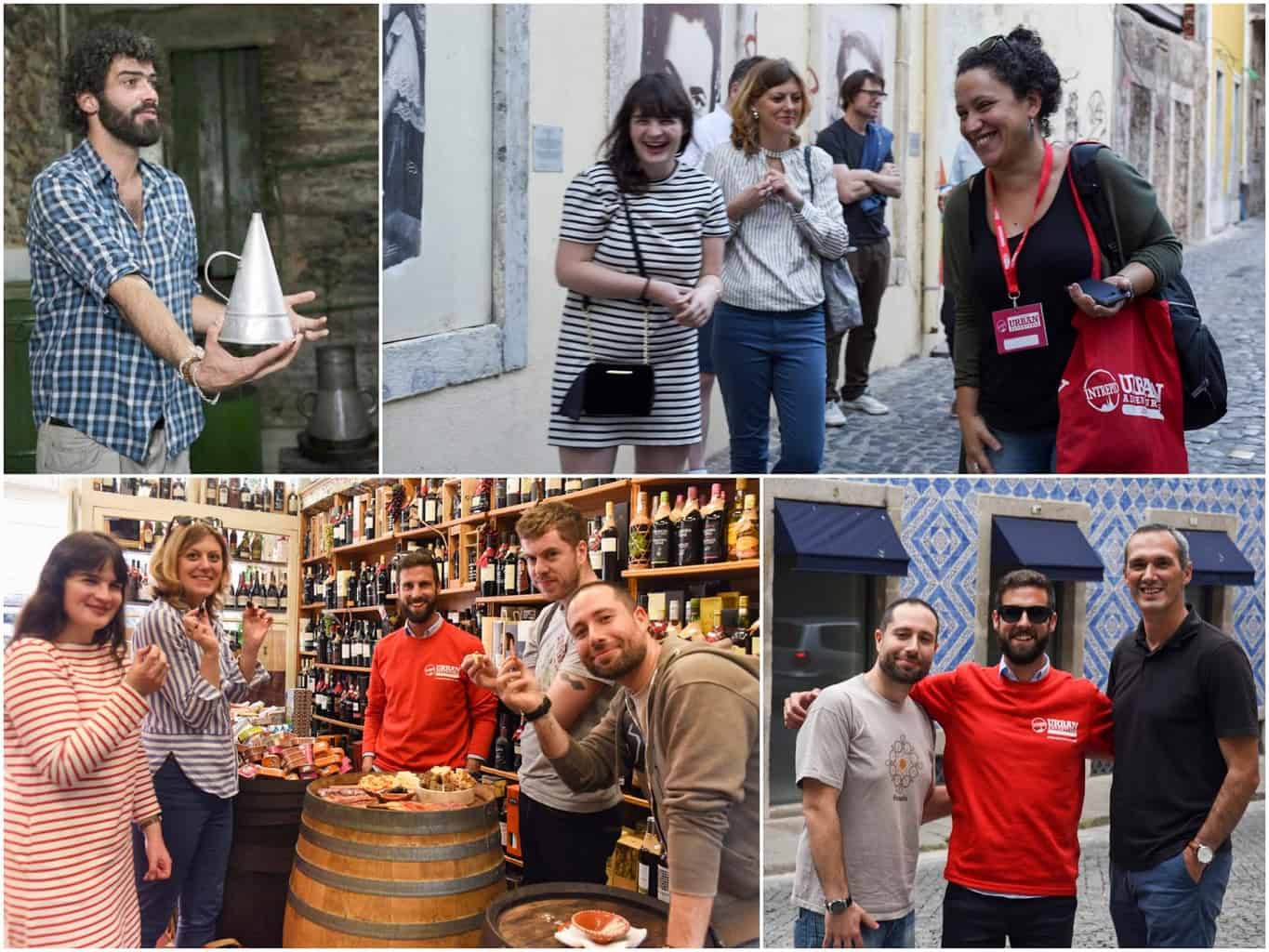 our fab local Urban Adventure guides throughout the trip
3) Solid travel tour accommodation
One thing I'd mentally prepared myself for was accommodation that left a lot to be desired. For some reason, I'd associated group travel with having to deal with a few compromises.
Sure, you'll get all these cool and unique experiences, with a small group of people you really get on with, and you're making memories that will last a lifetime. But, you might have to share a room, or there won't be showering facilities, or your bed is in a pig shed.
Shows what I know. The accommodation was in fact a solid highlight, in all three places we stayed. Intrepid Travel have a budget for beds, and their people on the ground source the best value-for-money rooms. What they guarantee are 'simple, clean and well located hotels', but what I experienced was much more.
Particularly in Lisboa Tejo Hotel, which seemed to have just finished refurbishing all its rooms to a really high standard and design. And even more so, the Herdade da Amendoeira farm stay in the Alentejo region. A positively bucolic setting in rural Portugal, with converted cattle sheds transformed into exquisitely furnished rooms in the style of traditional old Alentejo houses. It was fully equipped with air conditioning and other mod cons. A truly glorious corner of the world.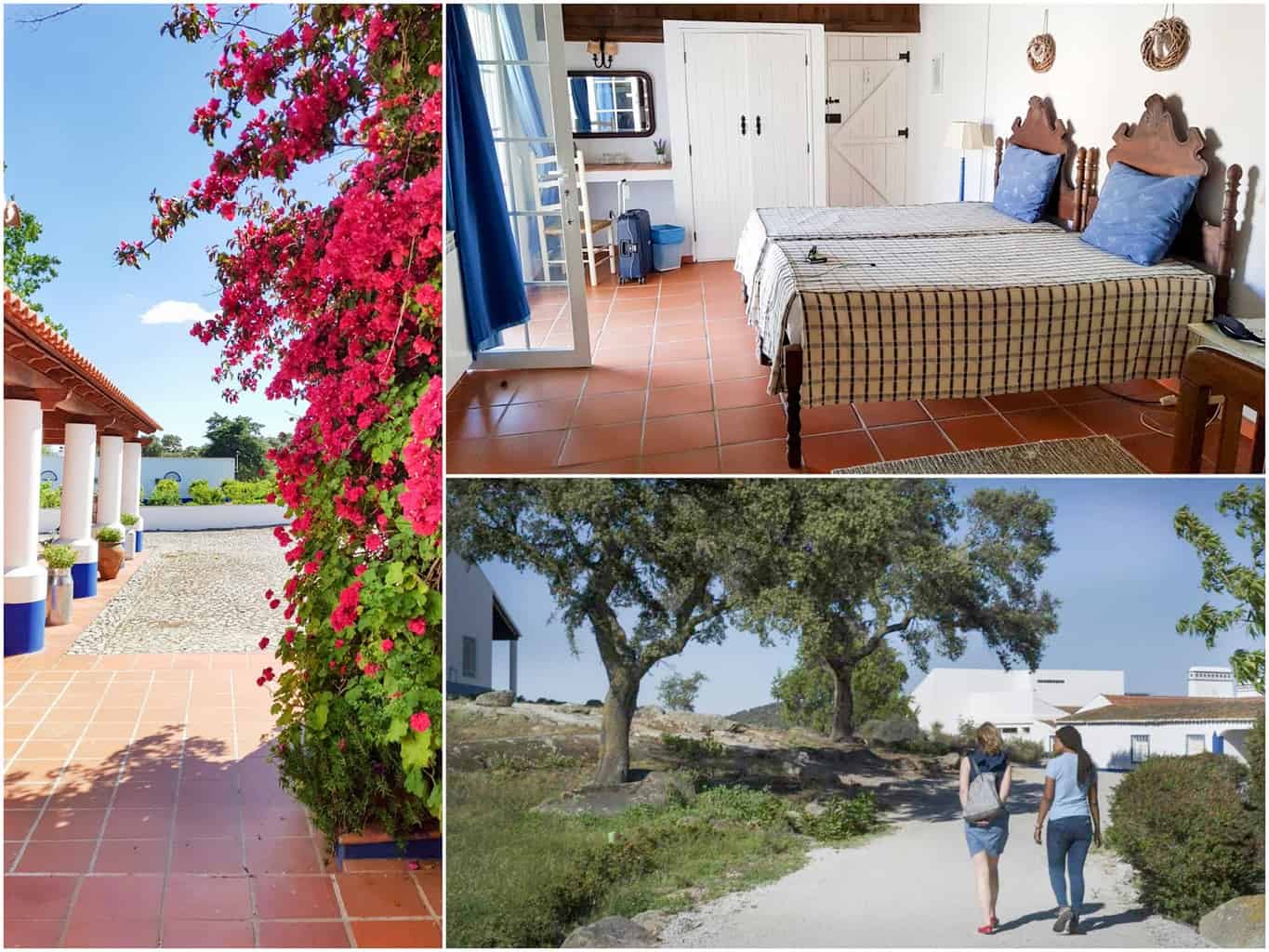 Herdade da Amendoeira farm stay in the Alentejo region, Portugal
4) Beautiful sights
As someone who takes a lot of pictures, and likes to share a lot of those on Instagram, one of my high priorities when I travel is seeing and capturing beauty, in all its forms. I'm happy to report, there was no shortage of that on this trip.
From the expansive vistas across Portugal's fertile and wine-producing Douro Valley, to the spectacular tiled facades of Porto's buildings. Not to mention the stunning view out the window from our table in Raiz Restaurant in Porto. I barely pulled the camera away from my face the whole trip.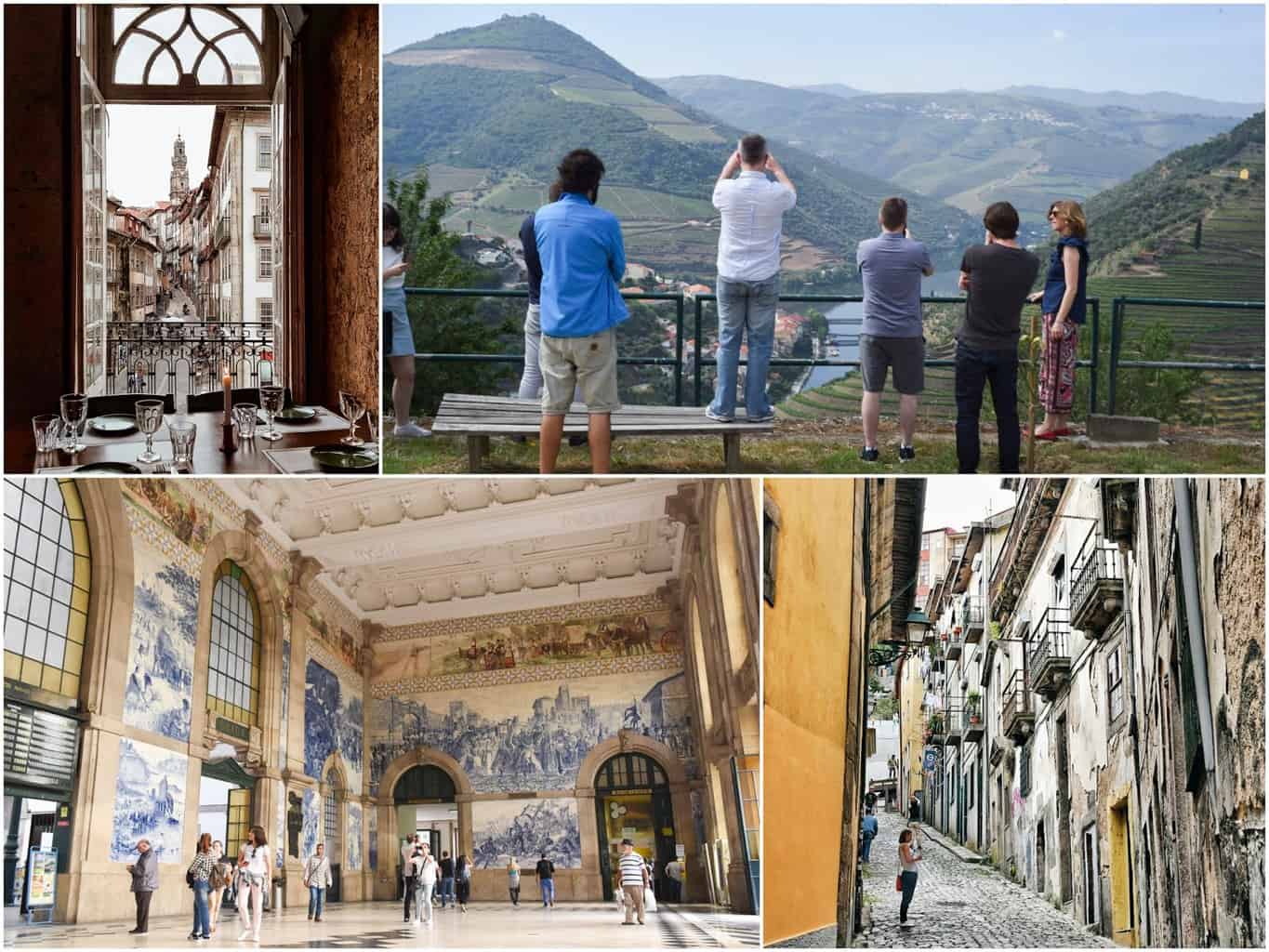 lots of great sights and photo opportunities, Portugal
5) A lot of food and wine
There was no missing the fact that this was a food tour. Of course, a travel tour from Intrepid will always be punctuated with the day's meals. But in between those meals, we did even more eating and drinking. I was in my element.
On our first day we went on an Urban Adventures walking food tour, stopping to graze on local delicacies along the way. From codfish cakes paired with a caramel and aniseed liquor called Eduardino, to local cured meats and cheeses, to a whole Port tasting.
Our time in the Douro Valley was understandably focused around wine – my kind of day. With two winery visits and several tastings under our belt, we also stopped off at a small and very old olive oil producing plant, to see how it was done in the old days.
The lunch from that day, in a traditional restaurant up on a hill, was one of my favourite meals from the trip. Roast turkey (I was gnawing on the bones long after the staff had cleared our plates), local fish, fresh salad, roast potatoes – simple food cooked really well.
And then there was the evening meal at the farm stay (I really did like that farm stay), which was another stellar feed. Vegetable soup, slow roast pig cheeks, roast potatoes, fried eggs from the roaming chickens on the farm, superbly seasoned rice, and more salad. Home cooked food wins for me every time, and it was great to experience some of that on this trip.
some great eating with Intrepid Travel in Portugal
6) Plenty of free time
The thing that has put me – and I reckon a lot of other people – off from considering a group travel tour before, is the thought of spending all of my time around other people. I am someone that loves (and needs) my own space, and company. And the threat of having to share both for a whole week is frankly, terrifying.
Have no fear. It turns out Intrepid Travel is fully aware and appreciative of this common desire, and so strike a perfect balance between included activities and 'me time'.
Not everything is scheduled; not all meals are planned. If you stumble across a cool cafe that you want to chill out in on your own before you head to the next destination, you'll have plenty of time to do that.
And because all the nitty gritty stuff involving crossing borders, negotiating prices, and organising logistics is taken care of, you can maximise your time off and focus all your energy on having the experience of a lifetime. Amen to that.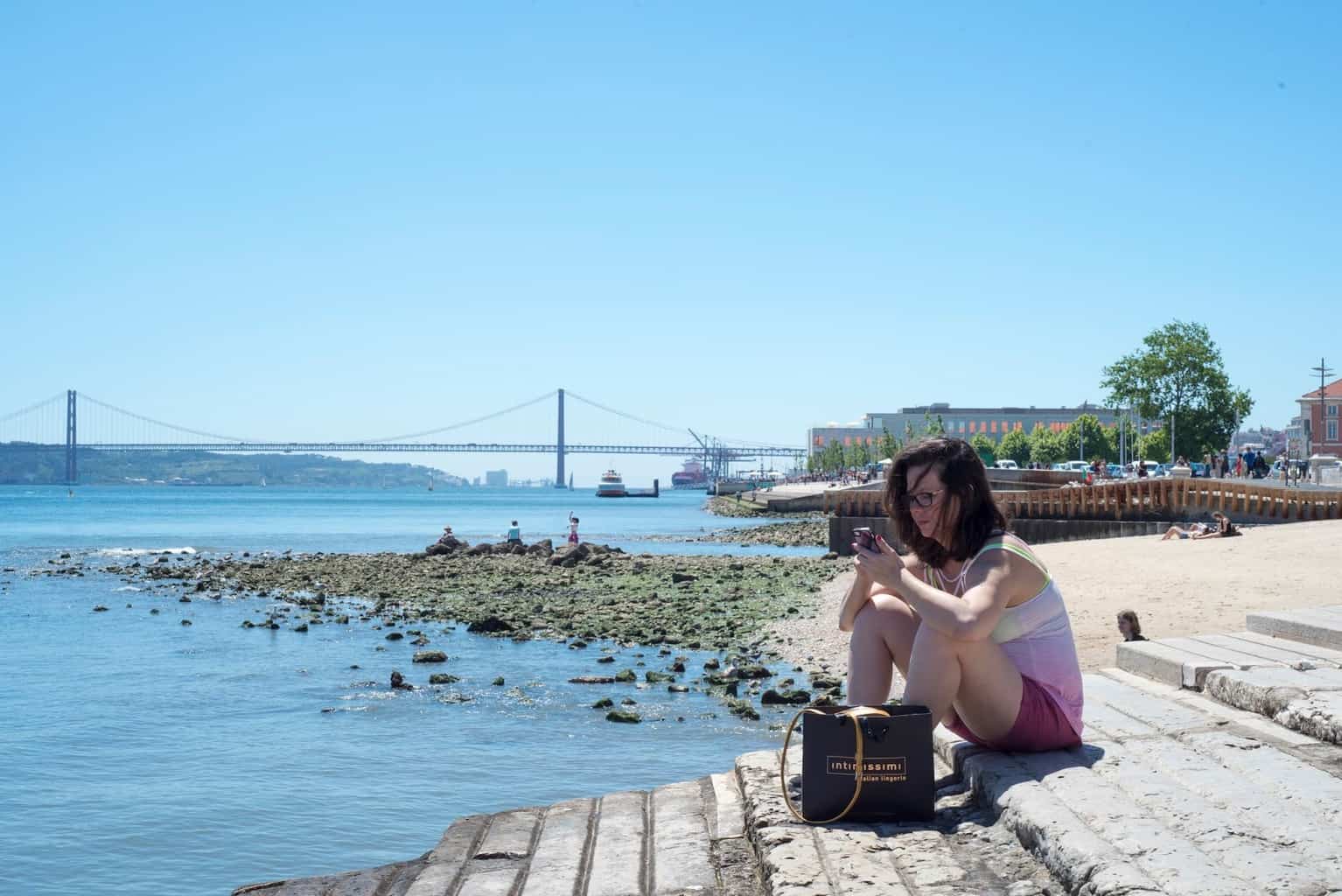 down time in Lisbon
7) Sustainable and responsible travel
Here's something that's pretty cool: the majority of Intrepid trips are Carbon Offset. That's over 800 trips! And they're also low impact by design, meaning they try to use public transport where possible (the train from Porto to Lisbon was great fun). They also aim to stay in locally owned and simpler styles of accommodation (again, that farm stay 💙), and eat at locally owned eateries.
Then there's the whole local guides thing. It translates to economic empowerment, meaning people can earn a living and support their families through tourism. They don't have to commute for hours, or leave their home altogether, in order to make money. Intrepid end up putting your hard earned bucks into local hands and economies.
There are a few other cool responsible tourism initiatives they can shout about, and you can find more in this report:
A Kilimanjaro trek for women's land rights across Africa
Raising $700,000 for Nepal after the earthquake of 2015
Their decision to remove orphanages from our itineraries
A drive to employ female tour leaders in India
Their progress towards becoming a B-Corp – a certification for businesses to want to benefit society as well their shareholders
It's comforting to know you're giving your hard earned money to a company that takes responsible and sustainable tourism very seriously.
Pinhao train station, Portugal
8) Getting out of the city
I loved the fact we ventured out of the cities, something I find quite a challenge to achieve on my personal trips.
My partner doesn't drive, and I have no experience driving on the right hand side (I really need to address that). When it comes to travel, if you don't hire a car, or don't join some sort of tour, it's quite difficult to get out of the city and into the countryside. So I was really pleased to see Intrepid Travel had a healthy mix of urban and rural on this tour.
From Porto we drove for about an hour and arrived at the simply spectacular Douro Valley, where we visited wineries and drank all the wine (you couldn't do that if you hired a car). Also, the roads down the sides of the valley were barely wide enough for a Mini, and excruciatingly steep. I categorically would not have been comfortable driving there anyway. Hence why it's best to have a local behind the wheel, who could probably navigate those tiny roads with their eyes close (our driver's eyes were firmly open).
And then from Lisbon, we headed to the Alentejo region and stayed on a working farm (oh yes, that farm stay).
9) Unique, real life experiences
I've wanted to try my hand at making cheese since about Christmas 2005. I was determined someone would get me a Lakeland cheese making kit for Christmas, but it never came to be.
No worries. Because I got to have a go at making fresh goat's cheese on a farm in the Portuguese countryside, from that morning's milk, whilst the goats bleated away in the field next door. I'm not sure it gets more authentic than that. Much cooler than any Lakeland kit.
This is a great example of some of the unique experiences Intrepid Travel will weave into a travel tour, that you won't find through a search engine. The little noodle bars, the backstreet bodegas. Or the live Fado performance Joana took us to in a Lisbon restaurant, that had me covered in goosebumps through all three courses of my dinner.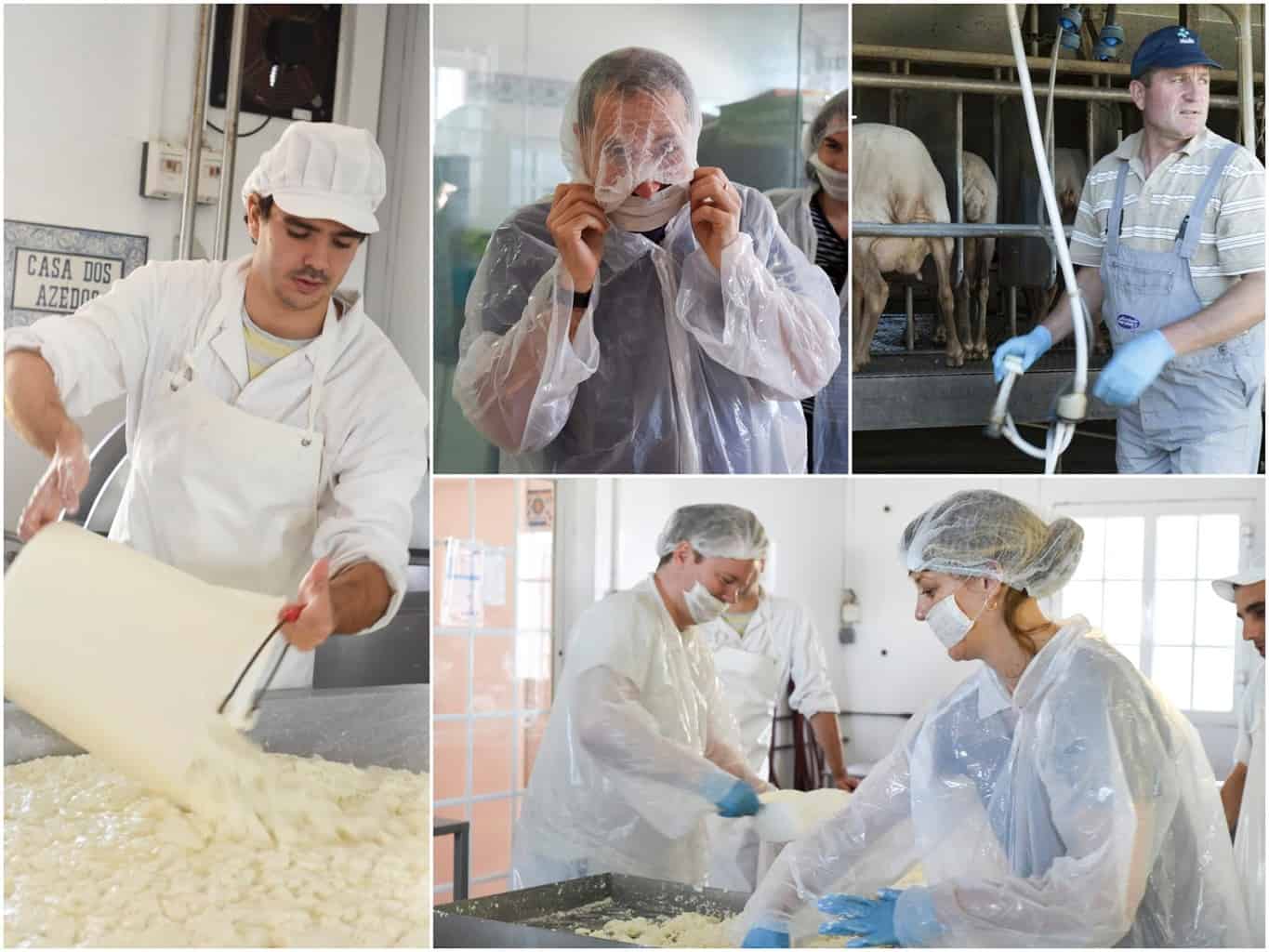 getting hands on with cheese making, Herdade da Amendoeira farm stay
10) Really good value
Firstly, take a look at the Intrepid Travel website and their prices. You'll notice, they're not expensive. Then when you realise all the stuff that's included, it becomes increasingly apparent how these guys offer unbeatable value.
They offer three styles of travel, all of which come with more inclusions than you might expect on a typical group tour. Whilst another guide might drop their clan off at the Taj Mahal and leave them to it, the local leaders Intrepid Travel work with will give you great value the whole way.
Have you been on an organised group travel tour before? If so, how did you find it? Would you do it again? What were the highlights of your group tour? Would you consider group travel now you've read about my experience? Let me know in the comments below!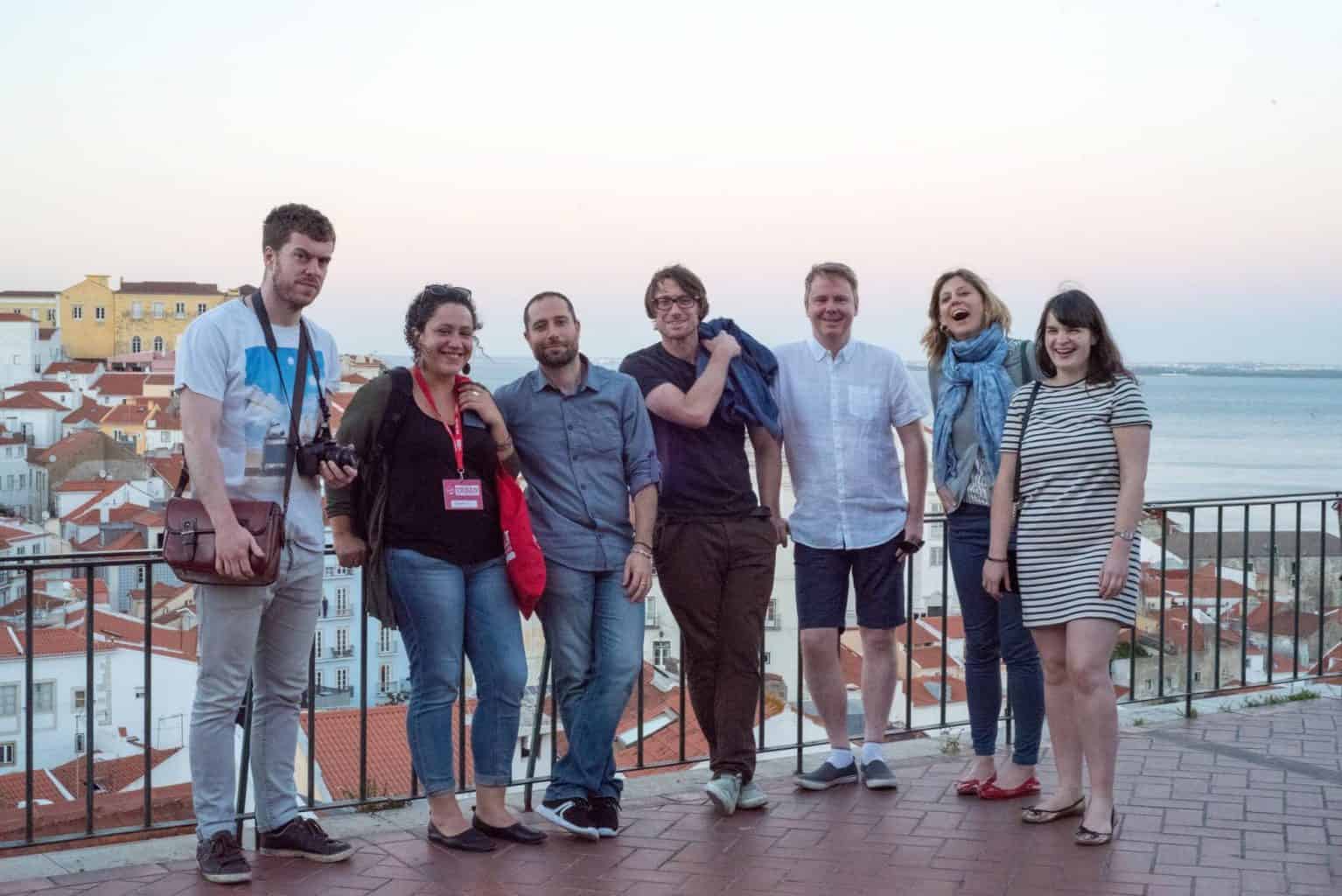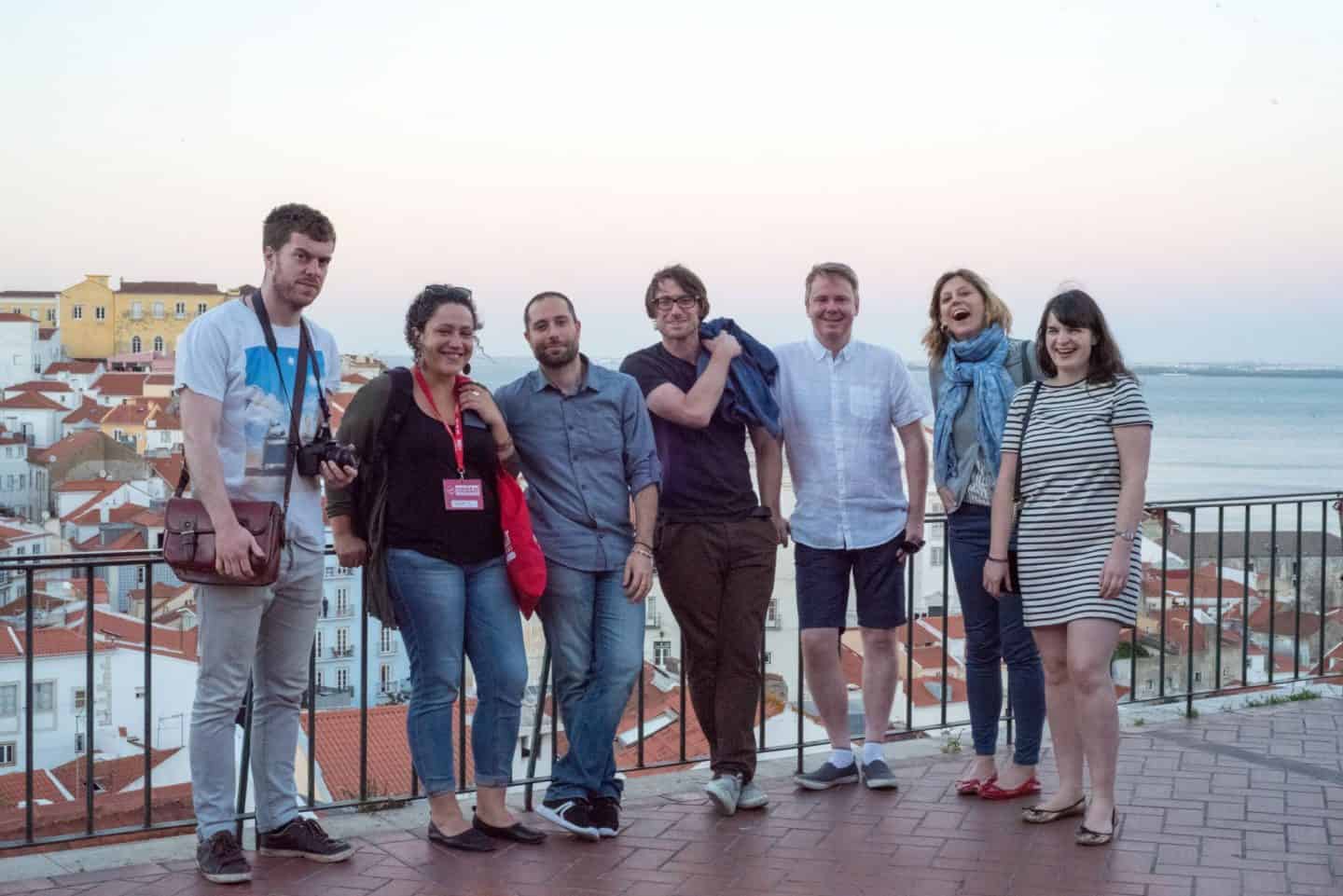 Related posts
Note: This is a sponsored post in partnership with Intrepid Travel. I'm honoured they invited me along to experience this trip – I had an absolute blast. I'd love to try out more Intrepid trips! It's been great fun and a pleasure to collaborate on. All views remain my own, as always.