Last Updated on June 10, 2020 by Leyla Kazim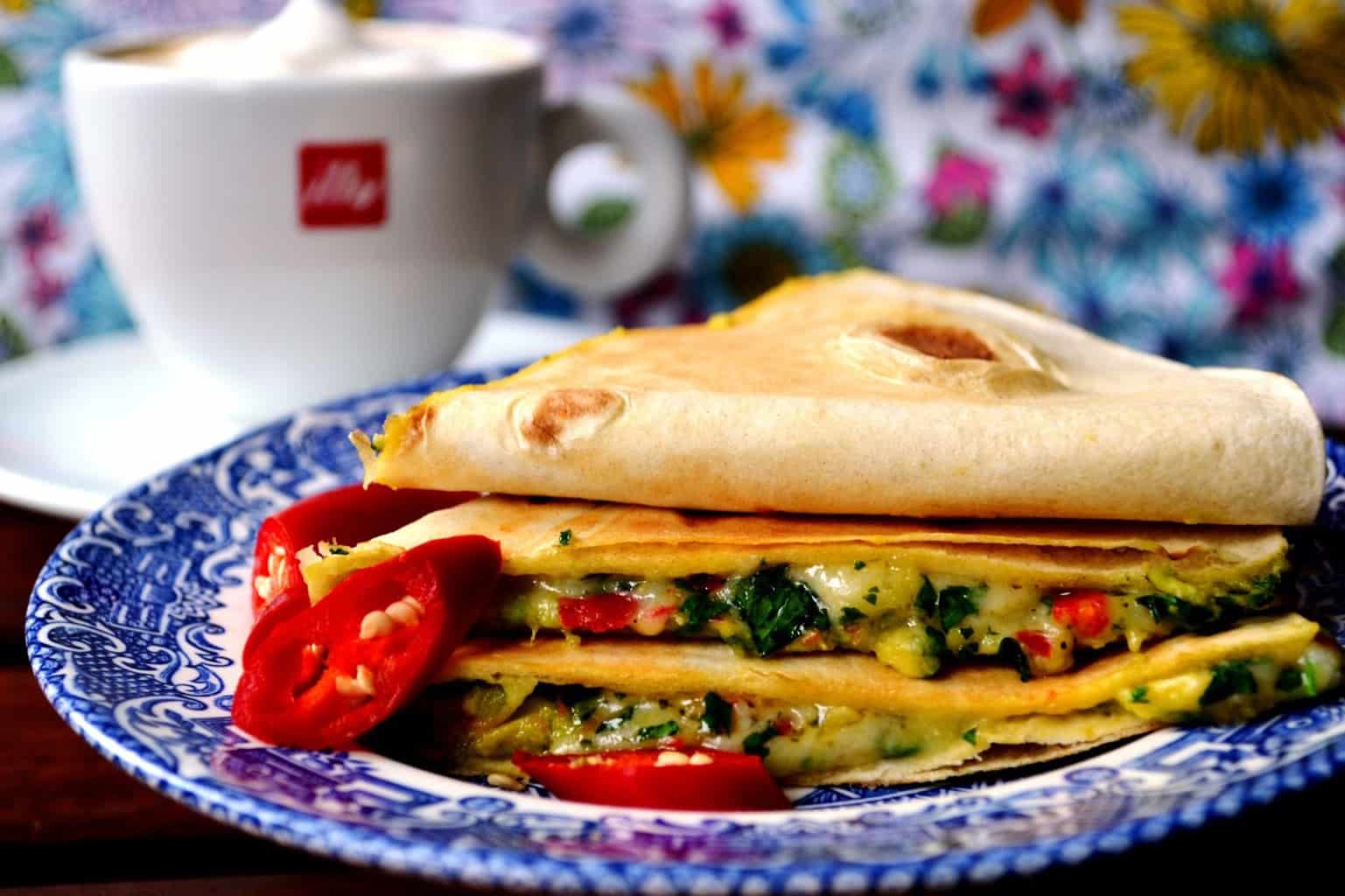 It's been a while since I've cooked up a storm. The past six posts I've written have been about restaurant reviews rather than kitchen concoctions. And ashamedly, today has been no different. There are few better ways to start the weekend than with a hearty breakfast and one of my favourites is this Mexican number. This is not something I ever make as it's Matt's recipe, and it's excellent. I urge you to combine this with a coffee – I've discovered that a hot mouth from the chillies combined with coffee is a flavour combination that works spectacularly together.
Matt's Breakfast Quesadillas
Makes enough for six wraps, each cut into three resulting in 18 triangles.
This will feed two for two mornings.
Guacamole
4 avocados
1/2 small red onion, finely diced
2 tomatoes, pulp removed and diced
2 large red chillies, finely chopped
Handful of fresh coriander, roughly chopped
Lime
Salt and pepper
Remaining ingredients
180g strong mature cheddar, grated
1 red chilli, finely chopped
Handful of fresh coriander, roughly chopped
Soft flour tortillas
To make the guacamole, remove the flesh from the avocados into a bowl. Add the onion, chillies, coriander, lime, tomatoes and salt and pepper to taste. Use a fork to mash up the avocados and mix everything together – you can make this as smooth or rough and chunky as you like. I prefer the latter.
In another bowl, mix the grated cheese, chopped chilli and coriander. Heat a frying pan on a low to medium heat, don't use any oil. When hot, place a tortilla in it and cover half of it with guacamole and sprinkle the cheese mixture on top of this. Fold the uncovered side over and turn over so both sides have browned and the cheese has melted. Cut into three triangles and eat immediately. Repeat and enjoy. Serve this with a strong coffee.
If you think eating chillies at breakfast time is a bit strange, give it a try. The slight heat combined with the sour punch from the lime is a perfect way to wake you up and get the blood flowing. Make like the Mexicans – olé!
Alfiyet olsun.
This recipe can also be found on the Your Local Guardian website.