Last Updated on August 19, 2020 by Leyla Kazim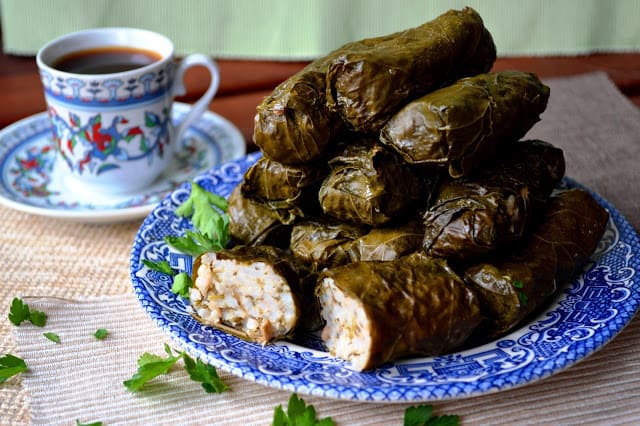 vine leaf dolma stuffed with rice and herbs

Whenever I'm entertaining a number of people, and I've got the time on my hands, my go to party dish will always be meze. Any sort of meze is a great option for a casual gathering, as they're often small and can be eaten with fingers. But there is surely no better meze than little plump and juicy dolma. My goodness, I do love a lemony stuffed vine leaf.
I recently knocked a few of these up to take along to a family shindig, and took a load of snaps of the process with the intention of writing this up as a recipe on the blog. But I sort of never got round to it. Then the nice folk from Expedia got in touch, asking if I had a Greek-inspired dish I'd like to share (these guys have some great holidays to Greece going on – my advice is hit the Med in September to November – sublime weather, not too hot and no crowds), and I was like – DO I!
So now I've had the push to finally get this up on the blog. Which is handy, because people asked me for the recipe, and now I have something to send them.
Dolma is a generic word given to any vegetable stuffed with something, usually rice, meat or a combination of both. The most typical and recognisable dolma is that of rice, herbs and spices encased in a vine leaf, rolled up into a short and fat cigar. As well as it being a favourite of Greece, you'll find this dish in many other countries around the Mediterranean including Turkey, heading east to the Middle East, and also heading back west to Eastern Europe (common in Bulgaria, I hear).
It's a lot of fun to make and not difficult, if a little time consuming. This recipe is one that I've flavoured to my own palate and I think it works well. Follow the technique but feel free to adjust the amount of herbs and spices to your own tastes.
Vegetarian vine leaf dolma stuffed with rice and herbs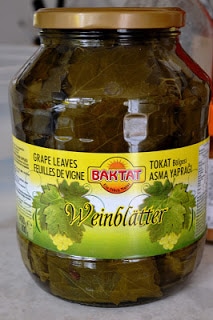 vine leaves in brine from TFC
Makes about 40
450g vine leaves pickled in brine (either from a jar or vac-packed)
2 medium onions, diced
A handful of pine nuts, dry toasted
370g white rice, washed in cold water and drained
Juice from 3 1/2 lemons
Dried mint flakes
1/8 tsp ground cinnamon
1/2 large bunch of flat leaf parsley, chopped finely (including stalks)
1/2 large bunch of dill, chopped finely (including stalks)
1/2 large bunch fresh mint, leaves chopped finely
120ml good quality olive oil
Tip You'll find the vine leaves in any Mediterranean supermarket. TFC (Turkish Food Store) is a great one and where my vine leaves are from; there are a few dotted about London.
The most time consuming part of this process is finding usable vine leaves from your pack and preparing them. I find the easiest way to tackle this is to put the mass of squashed leaves in a big bowl of warm water and swish them about a bit – this helps to separate them.
You then need to pick out ones that are not too big (otherwise your dolmas will be huge) and are not torn. Rinse these under warm water to remove the brine, pat dry, break off the stem and repeat until you have a decent pile of leaves ready to use. When you do come across ones that are torn or a funky shape, use these to layer the bottom of a large saucepan. This will be the pan you cook your wrapped dolmas in and the layer of leaves at the bottom will stop them from burning.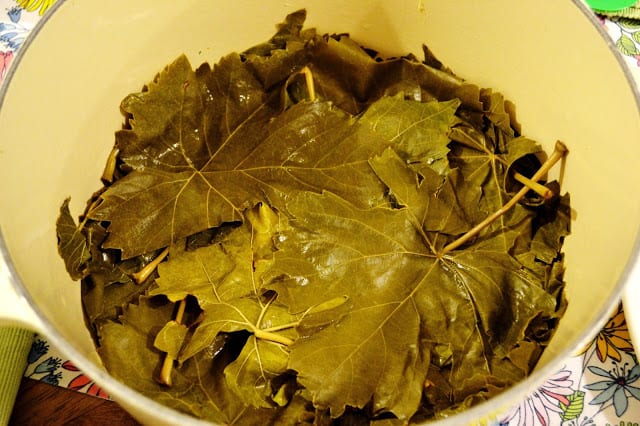 layer the base of a heavy-bottomed saucepan with a load of vine leaves – use the torn ones

Use one tablespoon of the olive oil to gently fry the onions on a medium heat in another saucepan, until cooked and softened, but not browned. Add the already toasted pine nuts and sauté for a few more minutes. Add the rice and stir constantly for 5-10 minutes until the rice begins to turn translucent. Now add the juice from two and a half lemons and the dry spices – a good pinch of cinnamon and around three heaped tablespoons of dried mint. At this stage, season with a decent amount of salt and pepper too. Stir thoroughly.
Add 1-2 cups of boiling water and simmer on a low / medium heat for 15-20 minutes until the water has been absorbed. At this stage, your rice will be half cooked.
Turn the heat off and add your finely chopped dill, parsley and mint and stir thoroughly. I blitzed these herbs in a food processor to get them nice and fine. Be sure to include the parsley stalks – it's where most of the flavour can be found. Allow your rice mixture to cool before handling it.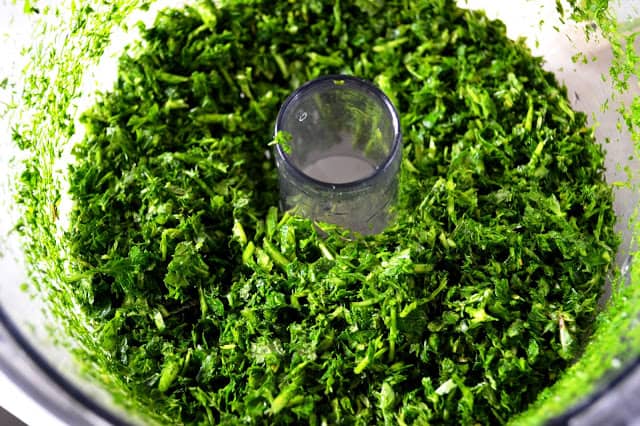 you can either finely chop or blitz your herbs in a food processor
Tip As this whole process is quite lengthy, you can split it up into two parts as I do. In the morning I made my rice mixture and while that was cooking, I separated out the leaves, rinsed them, dried them and kept them in a little pile. Once your rice is cooked and has cooled, be sure to transfer it to the fridge until you're ready to start the assembly of the dolmas which can be done later on in the day.
Now you have the task of hand rolling 40-odd vine leaves, which isn't as daunting as it initially sounds. Get your leaves and rice filling and sit somewhere comfortable like the dining table.
Now you can begin.
Step 1 | Lay a vine leaf flat with the veins facing upwards
Step 2 | Place about a tablespoon of rice mixture in the middle of the leaf and shape into a fat cigar
Step 3 | Fold the bottom of the leaf up to meet the rice, fold in the sides, and then roll up towards the point of the leaf. You should be presented with a short and fat dolma
Repeat until you've used up all of your rice mixture.
Step 4 | As you create the dolmas, place them in your saucepan (that you've already lined with leaves) with the open fold underneath and pack them in tightly so there are no gaps between them, or they'll unfold during cooking. You'll probably end up with two layers.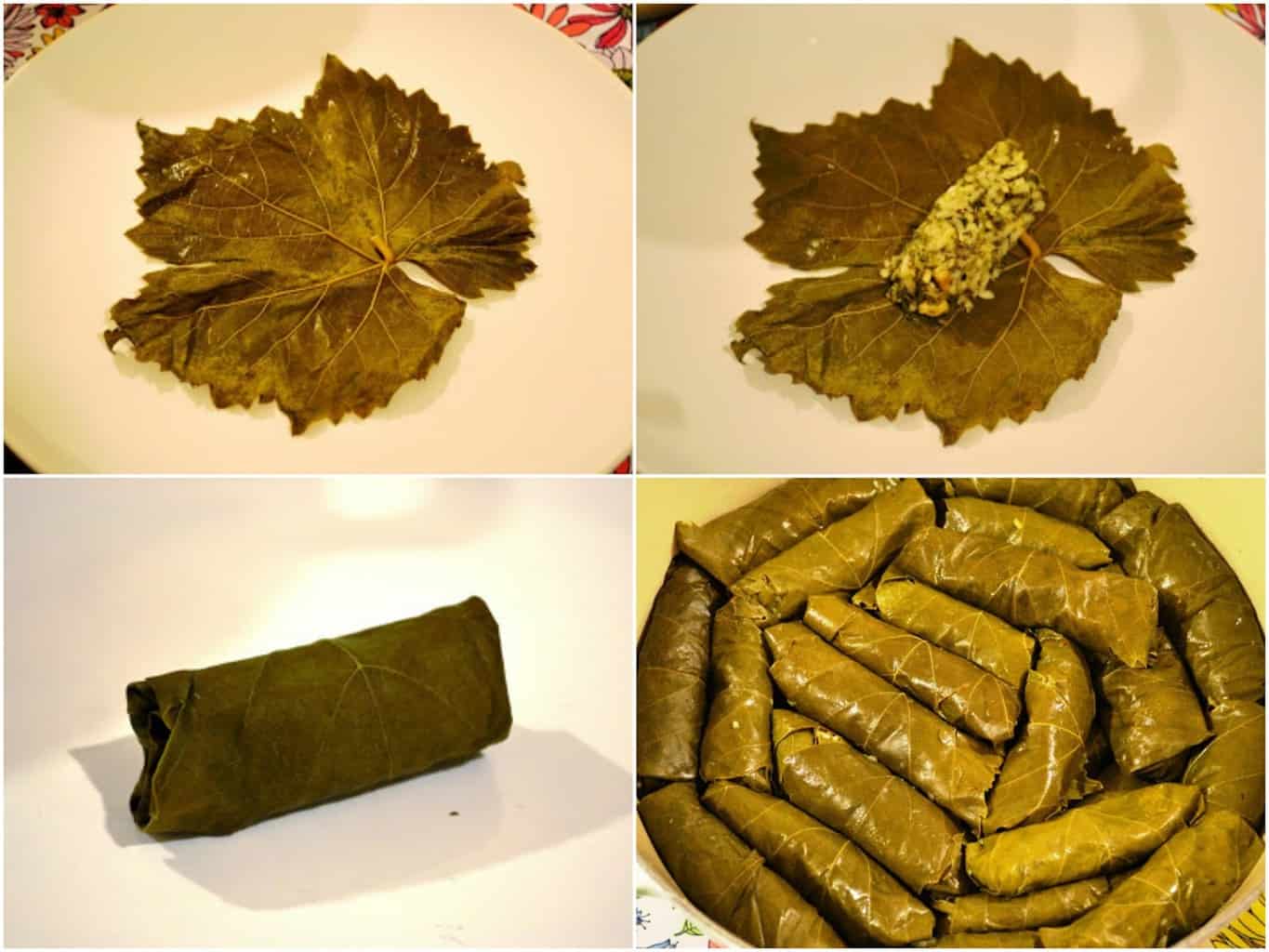 steps 1 – 4 of hand-rolling the dolma, from top left
You now need to cook (steam) these dolmas until the rice is tender. To do so, add water to the pan until it reaches about half way up the sides of the dolmas, the juice of one lemon, and the rest of the olive oil. Put the lid on and bring the water up to the boil then turn it down so it's gently bubbling. Leave this for 40-50 minutes or so, or until the water is absorbed or the rice is cooked, whichever comes first. Take a dolma from the top and test it to check if the rice is tender. Be sure to keep an eye on the water level – if it runs out and the rice is not yet cooked, just add a bit more.
When cooked, remove them from the pan and allow to cool. Serve with lashings of lemon juice – don't allow anyone to eat one without it. As so often is the case with lovely food coming out of the kitchen, expect these to disappear in a fraction of the time it took to make them *heavy sigh*.
It's worth mentioning that Expedia have a nice little blog area that combines two of my most favourite things in life – travel and food. Check out their World on a Plate for the best type of inspiration – international food!

Related posts
Recipe | Turkish lahmacun
Recipe | Turkish spring lamb with green beans
Recipe | Menemen with sumac yoghurt
Recipe | Falafels with salsa