Last Updated on June 10, 2020 by Leyla Kazim

'When de drink de rum, when de girl drink de rum
Dey only want roti, mix it up with some curry'
http://www.youtube.com/watch?v=sGMpr-quR7Q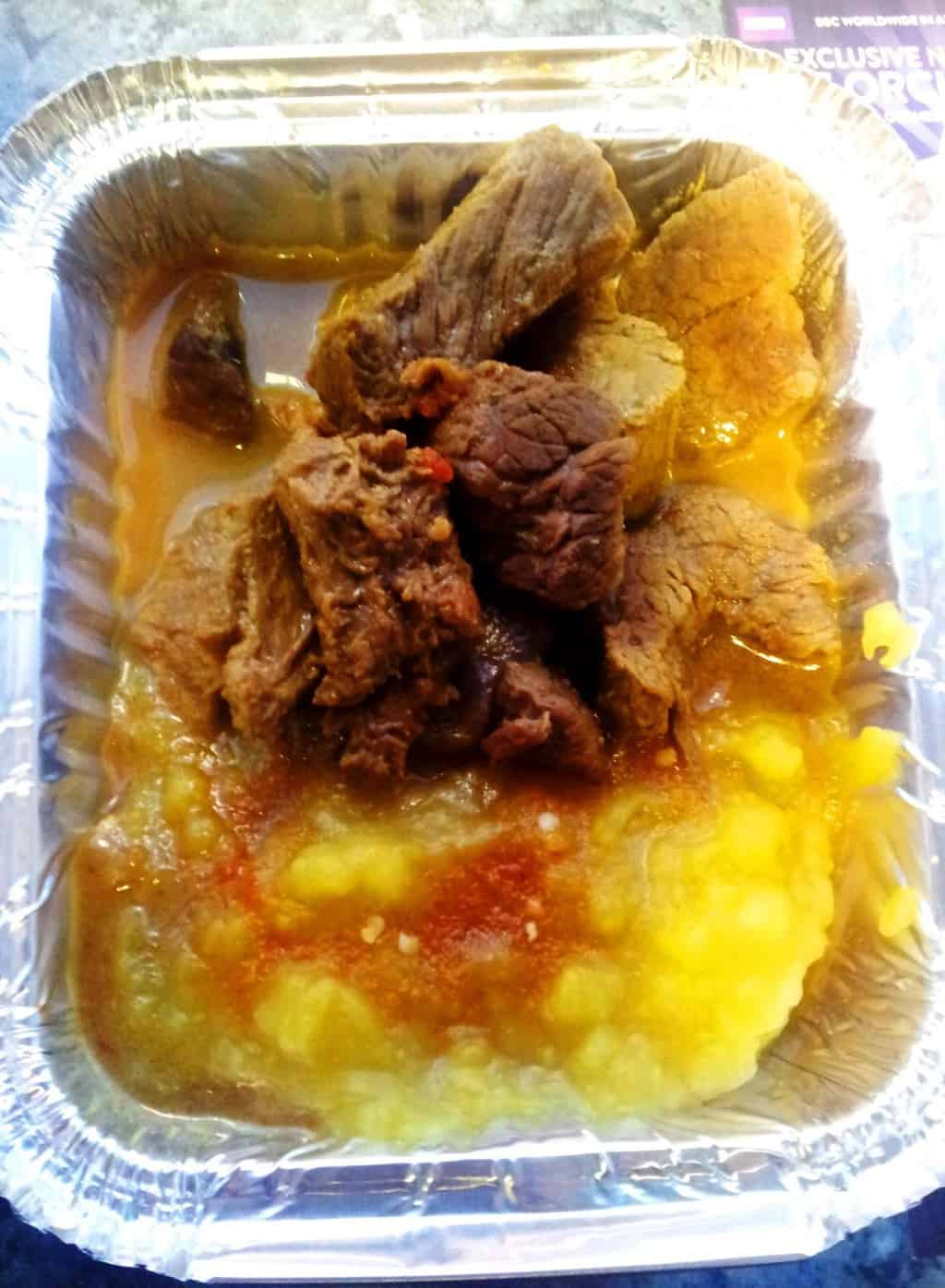 Trinidadians love their curry and roti, it turns out. They even sing songs about it, which I highly approve of. Catchy ones too; I challenge you to listen to that and not move. Tonight, I was certainly drinking. Not rum, although it could have turned out that way if I had stayed out longer than I did. Mine's a vodka lime and soda if we're on the spirits. It was a good friends last day at work – he is moving to the country to start a new chapter in his life. It was his leaving drinks, and my stomach needed some lining.
While colleagues had noticed and even sampled the Caribbean Roti Joupa in Clapham North before, it only caught my attention when I saw it featured on Paul Hollywood's Bread series which is currently being aired. He paid Roti Joupa a visit to take a look at how they made a certain type of roti there called Bus-Up-Shut (here's a recipe for it I've found online if you're interested in having a go). There was a lot of technique involved of which Paul attempted and spectacularly failed at, followed by vigorous hitting with long sticks so the bread became crumpled and slightly shredded – hence the name sounding like 'bust up shirt'. This place is around a 10 minute walk from where I work and so was a perfect option for a, cheap, speedy and quality meal for the evening – roti and curry was exactly what I fancied.
Roti Joupa is mostly a take-away establishment but does have a few bar seats inside if you would rather eat before moving on, two of which Matt and I managed to secure. Wanting to see what we could get for £8 each (for the purposes of the blog), we probably over ordered and were presented with a huge amount of food. I ordered a portion of goat curry, bus-up-shot (roti), and a macaroni pie (baked macaroni). Matt ordered a chicken curry roti, poulourie (little balls of split pea flour fried and served in a thin sweet chutney sauce, usually mango or tamarind) and a hot double (fried bread filled with curried chickpeas – like a hot chickpea sandwich). We of course tried each others food for future reference.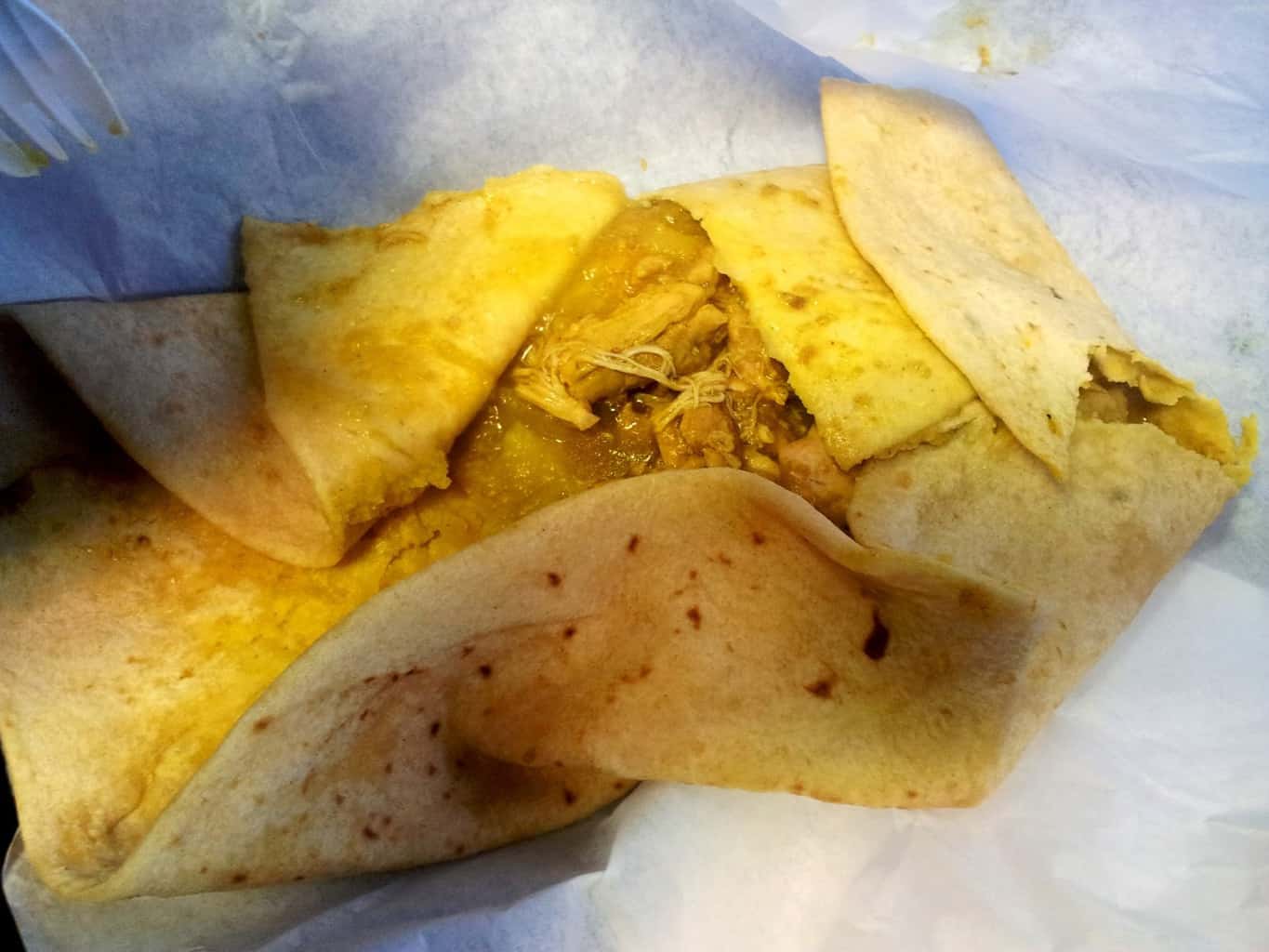 chicken curry roti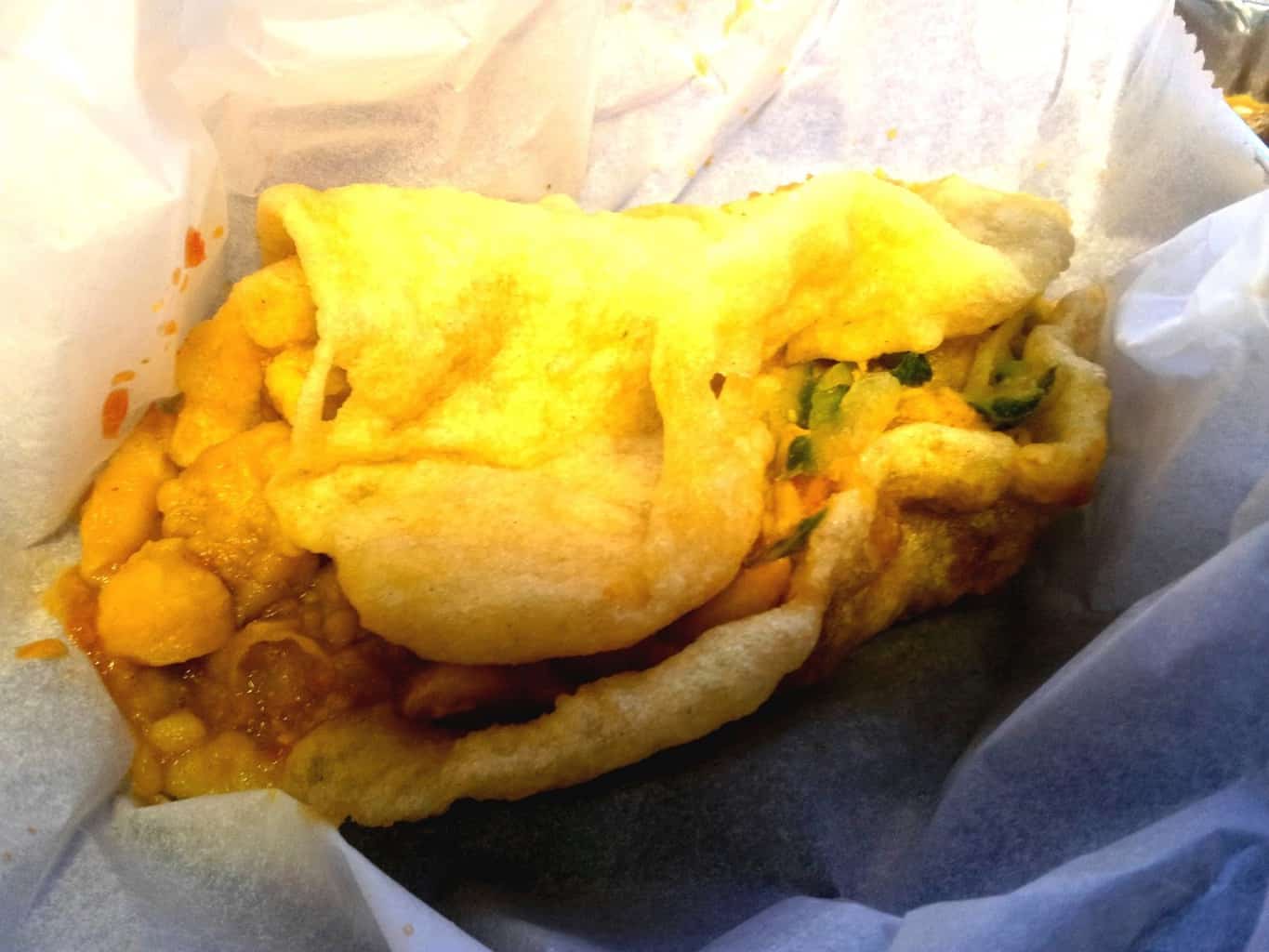 hot double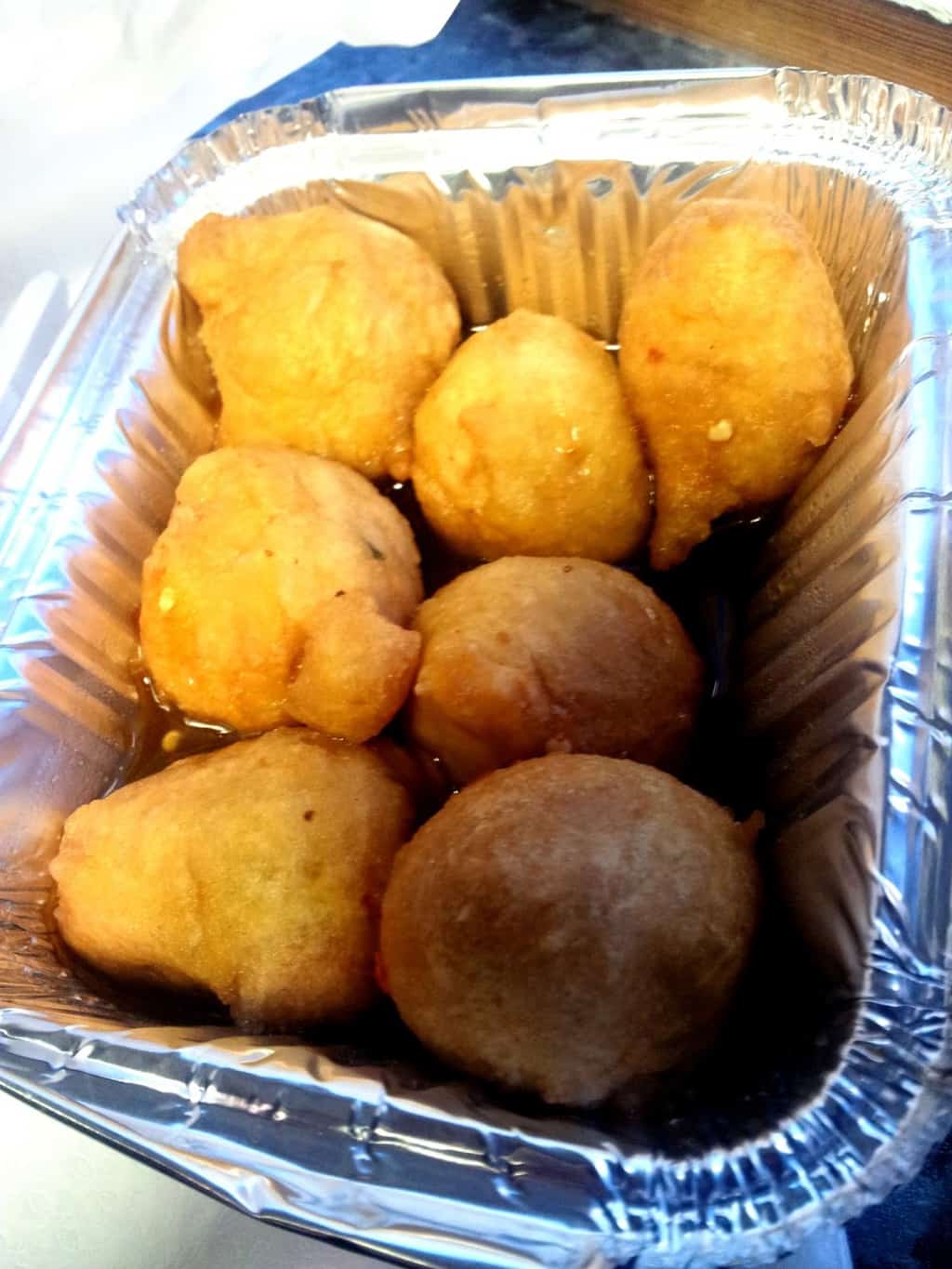 pholouri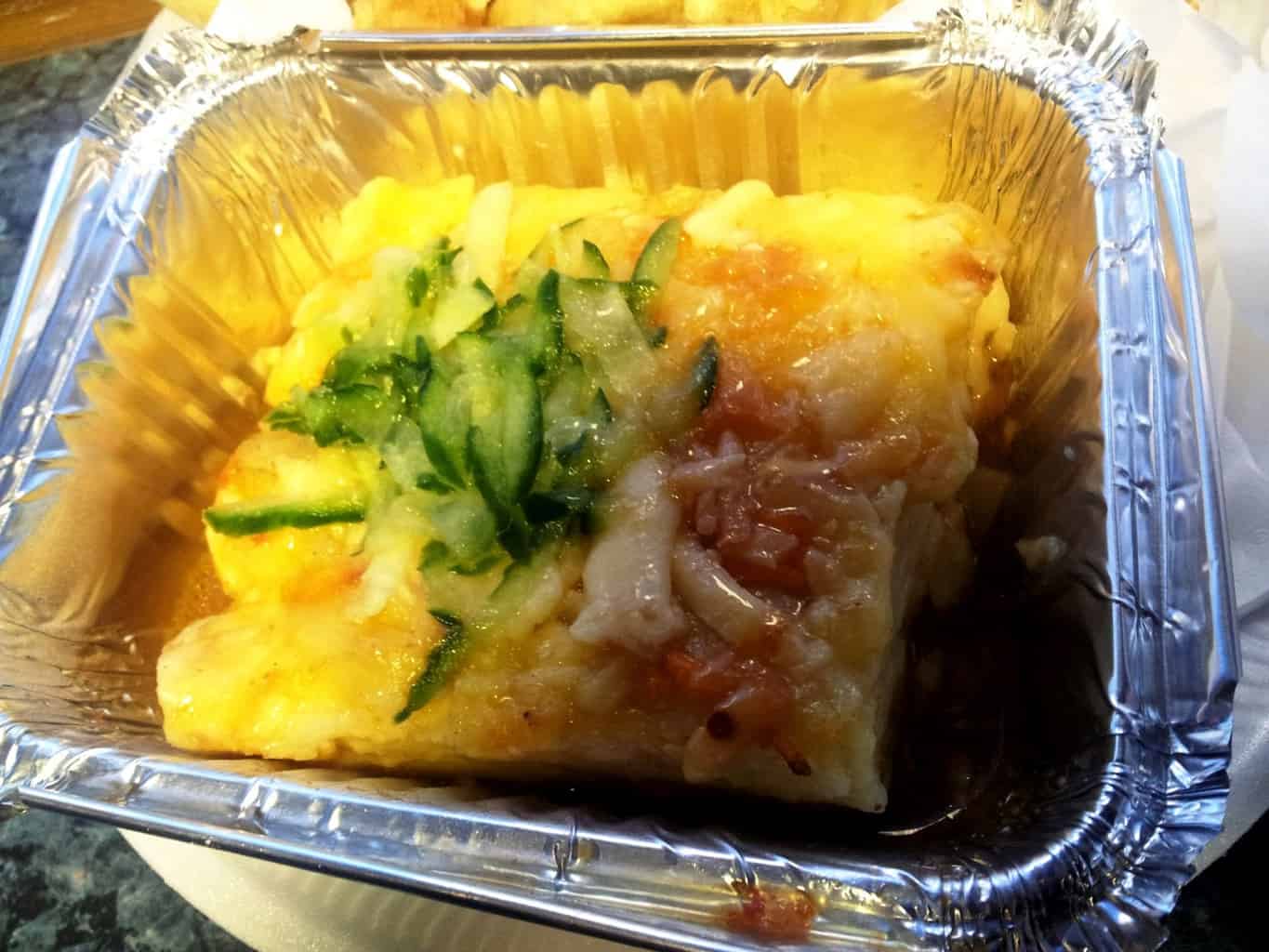 macaroni pie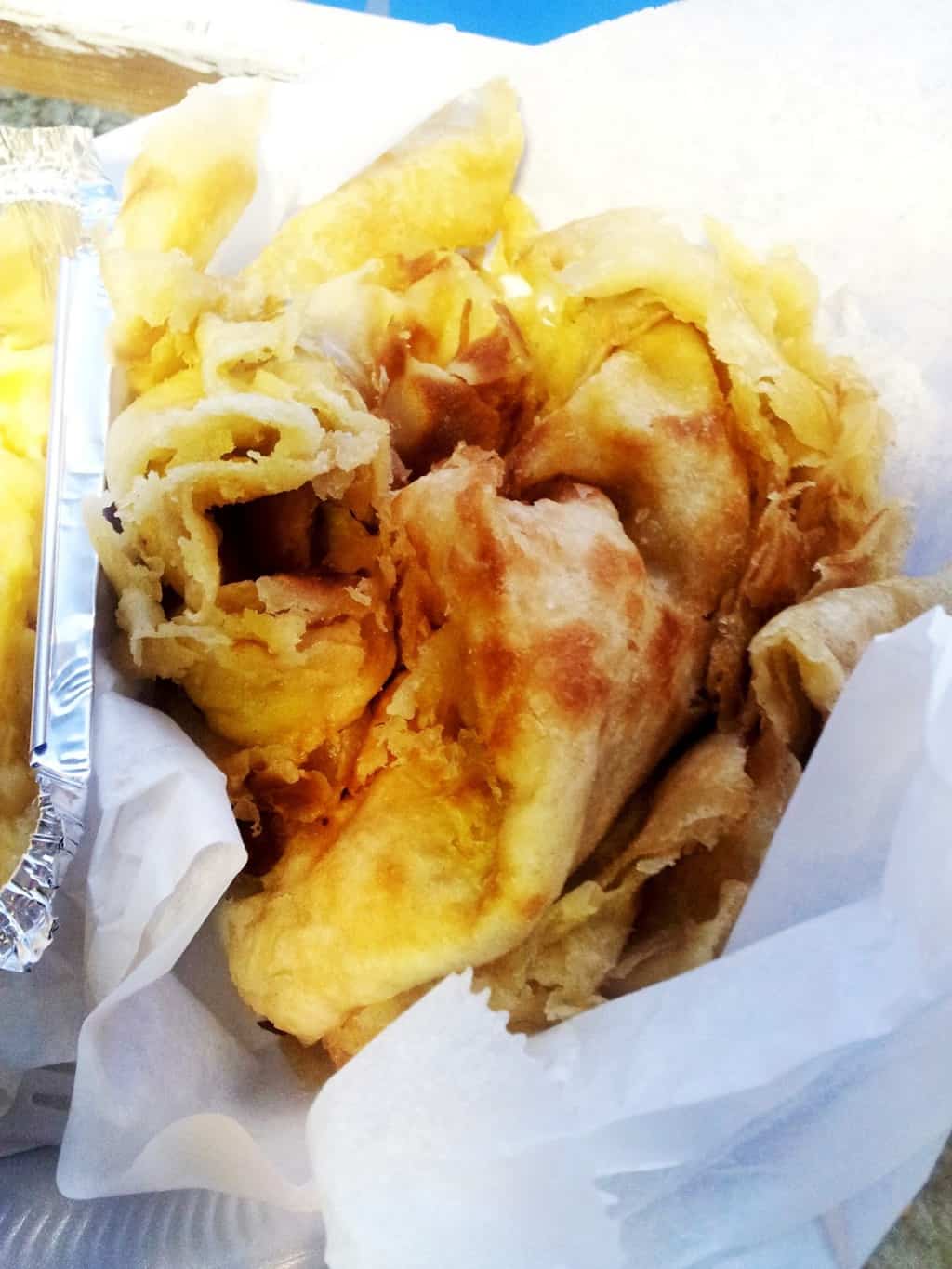 bus-up-shut
The goat curry was my favourite – succulent chunky pieces of moist meat wonderfully spiced and eaten with the thick but light and soft bus-up-shot roti. A very pleasing combination. The chicken curry roti had generous amounts of meat and while it had a good flavour, I had definitely come out top with the goat as it wasn't quite on a par with it. The polourie balls would be quite dry and dense on their own but worked very well with the sweet sauce they were presented with. I expected the hot double to be in the form of two rounds of fried bread with the channa sandwiched in between, but the chickpeas seemed to be wrapped up in roti instead – I didn't mind as the bread here is excellent. The macaroni pie was a welcome mediation away from everything else and I happily dipped a fork in and out between mouthfuls of curry. We packed parts of what we couldn't finish tightly back into their foil wrapping, asked for a carrier bag and marched on back to the pub laden with doggy bags to consume when we would eventually get home.
This is a great choice in place of a filth-burger from the chicken shop when the stomach starts to rumble, and for the following reasons: it's truly authentically Caribbean and full of native regulars taking home good food reminding them of sunshine; while there's quite a bit of frying involved, the ingredients are of quality; the roti is truly excellent (if Paul Hollywood visited, you know it must be good); you can get serious bang for your buck; ; they play soca music while you wait. I'm going tomorrow at lunch time before another evening of drinks – I'm already looking forward to it.
Liked lots – bus-up-shut; goat curry; soca music playing; smiling staff
Liked less – lack of seats; homeless person sometimes staring at people eating through the glass
Good for – quick bite to eat; lining the stomach; sampling traditional Trinidadian cuisine

The bill
Me
goat curry £5.00
macaroni pie £1.50
bus-up-shut £1.50
Total £8.00
Matt
curry chicken roti £5.00
hot double £1.50
poulouri £1.50
Total £8.00
Alfiyet olsun.