Last Updated on June 10, 2020 by Leyla Kazim
I know a great local Indian (where Indian people eat too, believe it or not). Also a fabulous Thai, a wonderful Turkish mangal joint (obviously) that also does a mean buffet breakfast, and even my favourite places to go for Korean (which is New Malden in general as it has the largest population of Korean ex-pats in Europe and is a 10 minute drive from my home – a wonderful coincidence, I know).
However, I don't believe I can say the same for my local Iranian (or Persian, if you like). I don't think I have a local Iranian. In fact, I think I've been to one Iranian restaurant ever, which was actually pretty good if I recall correctly. But my point is, unless I live in the wrong part of town or have been a bit slack in my dining establishment observations of late, I just don't think there are that many Iranian restaurants out there.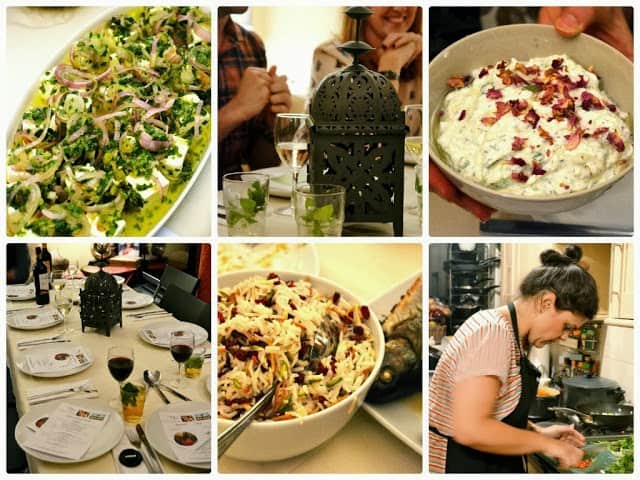 The thing is, I know I would really enjoy Iranian food. Partly because it sits next to Turkey to the east which means a delightful mingling of ingredients, dishes and techniques across the border in both directions (and we all know how much I love Turkish food). Partly because food from the rest of the Middle East is some of the best out there – think labneh, hummus, falafel, manakeesh, baba ghanoush, fattoush. And partly because as I understand it, Iranian food is based around meat, fish, rice and vegetables often with the use of fresh green herbs, fruits and nuts, and characteristic flavours such as saffron, dried limes, cinnamon and parsley, and what's not to like about all of that.
Whether there are great Persian eateries out there or not, I need little excuse to snap up the offer of a three-course-eleven-dish home cooked Iranian extravaganza, executed with all the love and attention of someone out to impress the in-laws by wowing them into submission.
And that's pretty much what Sabrina Ghayour knocked out of the park at one of her Persian Kitchen Supper Clubs, held in her apartment in West London last week. While she toiled in the kitchen, persuasive aromas penetrated our olfactory bulbs moments before plates with equally impressive aesthetics were delivered to the table.
A huge platter of feta swimming in lemon, herbs and shallots required all the self-control of a recovering addict to prevent me from picking off every last cube – zingy, creamy and salty and a joy smashed onto the warm lavash flat bread, then dragged from rim to rim to mop up the divine marinade dregs. Aubergines were dealt with in that way that anyone who has eaten them like this wishes for them to be dealt with forever more, with flesh disintegrated into smoky magnificent mush after the fruit is held against a naked gas flame until the purple skin chars and blackens. Combined with garlic, tomatoes and eggs, this produced an exceptional aubergine dip which will in one way or another almost always involve itself in a Middle Eastern spread.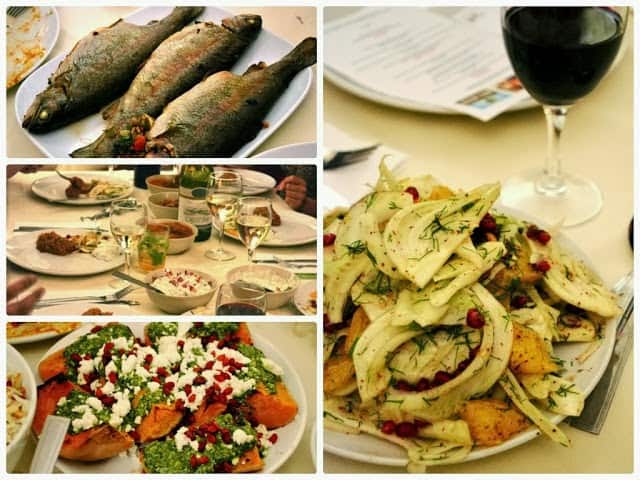 Regular readers may recall my vocal distaste for the fresh hell that is liquorice and all associated flavours: aniseed, fennel and so on (see my post the 10 most hated foods of the nation). Well, turns out that is no longer entirely accurate. Sabrina presented us with a fennel and Sicilian orange salad with a fresh dill, sumac and lemon dressing and it was, well, utterly gorgeous. Crisp raw vegetable, zippy dressing and the aroma of orange all up in my grill, mastication punctuated with bursts of the ruby jewels that are pomegranate seeds. The presence of aniseed was mild with any hard edges softened by the citrus. Turning what I thought I knew I liked right on its head, thanks Sab.
With these were spiced lamb meatballs with fragments of sour cherry wallowing in a rich San Marzano tomato sauce, so tender you could squash them between your tongue and the roof of your mouth with negligible effort. And because Iranians, Turks and everyone else over that way are at the complete mercy of yoghurt, there were bowls of it thick with dried mint, golden raisins and rose petals making the rounds.
Mains consisted of three handsome whole trout packed with a citrus-spiked herb and pine nut stuffing, and a slow roast shoulder of lamb dark with a concentrated spice blend and readily shedding its flesh from the bone at the whisper of a fork. Hunks of tangerine coloured squash topped with a vibrant green pistachio pesto, crumbled feta and piquant red barberries provided splashes of colour, while the steamed basmati rice with sugar, almonds, pistachios, sour orange peel and barberries was one of the most aromatic dishes I've ever waved my nose over and an entirely novel and delightful way to consume this otherwise very ordinary carbohydrate, even if the citrus peel was just a little too bitter for my preference.
The evening soon reached a point where myself and the other eight guests were floundering in our digestive juices, with only one able to entertain the dessert of spiced carrot, pistachio and almond cake at the table – the rest of us opted for a doggy bag to enjoy the next morning post food coma and with a very necessary strong coffee.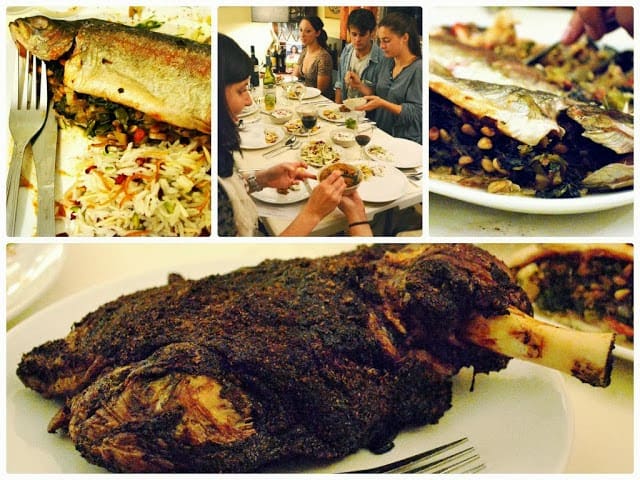 I've been to a handful of pop-ups and supper clubs in my time, but this was my first experience of dining in someone's home, on their turf, in their personal space, with a bunch of people (bar a friend I brought with me) I've never met before. But it's a superb format – like-minded individuals with an appetite for the unrivalled accolades of home cooked food who are after an evening of good chat, good wine (BYO of course) and an introduction to a cuisine and style of cooking they may not have been exposed to before.
Not to mention all this was cooked in someone's kitchen, in their home, with a normal domestic oven and hob and cupboards and plastic green chopping boards like the rest of us. Which leads us to believe that perhaps we could cook this stuff too. Which I'm sure is part of the whole point of Sabrina's endeavours – to bring Iranian cooking to the masses and into our lives.
Sabrina has worked in some of London's finest 5 star hotels, Michelin-starred restaurants and top catering companies, and has since turned her had to running her own events and catering business, teaching private cookery classes, and of course hosting these increasingly popular dinner evenings from her home. She has a whole host of other supper clubs coming up over the next few months covering a range of cuisines. I strongly suggest getting in touch with her to find out what and when and how to get in on the action. You can reach her on Twitter @SabrinaGhayour or drop her an email at [email protected].
My rating: 4.5/5
Cost: £40 (please note this may vary)
Afiyet olsun.