Last Updated on June 10, 2020 by Leyla Kazim

A delicious three course sit-down meal, in a pleasant venue, in London, for
under £8? 'Impossible!' I hear you cry. Actually very possible; allow me to
share.

The list of establishments to try and test for the new 'London Cheap Eats'
section of the blog has been fast growing thanks to my own contributions and
that of fellow Londoners I know. The first destination on this pocket friendly
journey of culinary discovery was suggest by my good friend Aarti; we were to
pay a visit to Saravana Bhavan in Tooting, a vegetarian restaurant serving south Indian
food.
'You can have dinner there for £3.50', Aarti exclaimed.
'Don't be ridiculous', said I.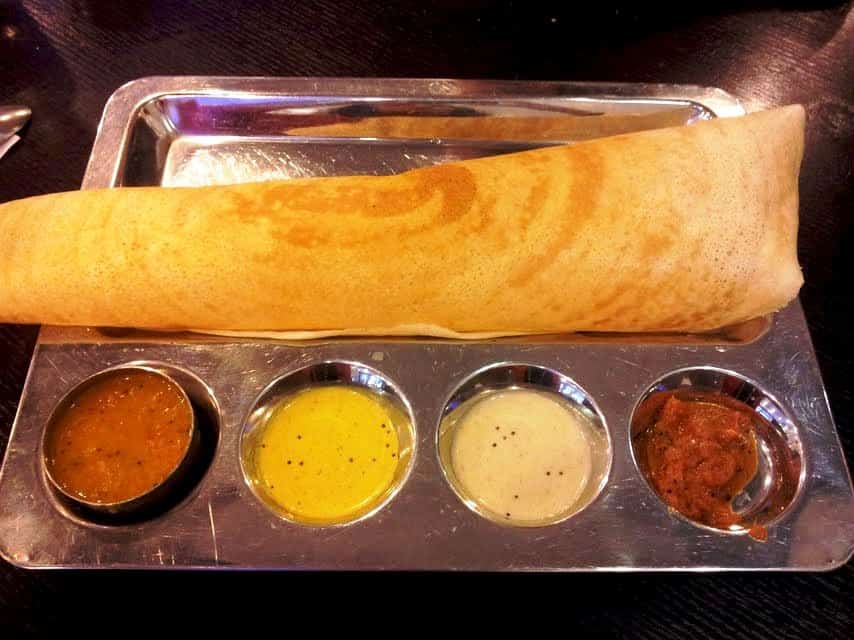 kara dosa
In order to provide a fair and objective review of the meal and
to balance out Aarti's preference of legume over loin (she is herself a
vegetarian), we invited along another good friend of ours, Chris. I would say
Chris is happy to plunge his muzzle into the pleasures of cooked meat slightly
more so than the average person, and along with my presence (firmly on the
fence when it comes to my preference of a dish with meat over a dish without –
I would say I enjoy both equally), the three of us provided a good snapshot of
the culinary preferences of the general population.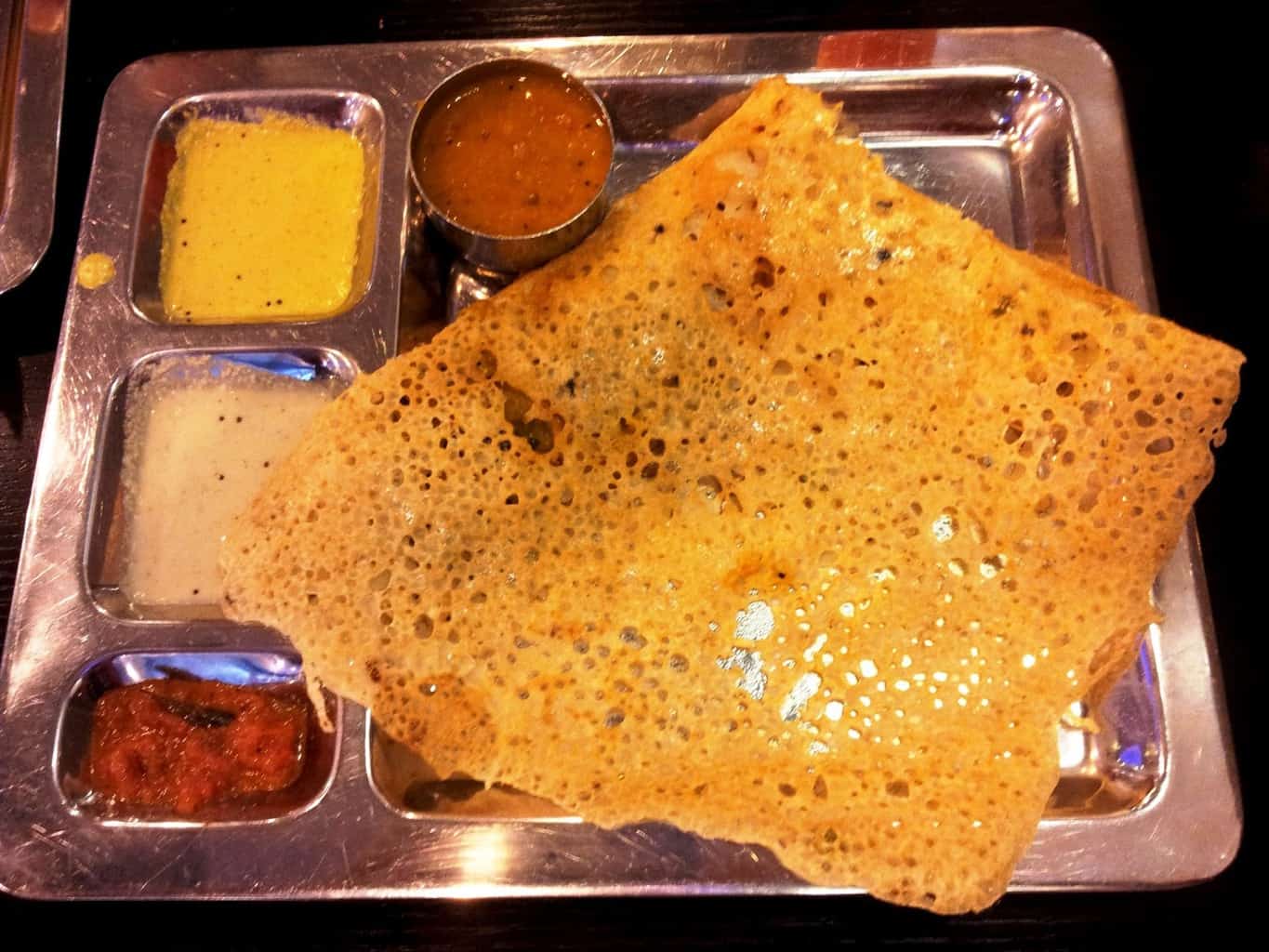 rava masala dosa
Aarti was familiar with all of the dishes on the menu and so we entrusted her to order whatever she thought was good whilst keeping the £8 budget per head in mind. She advised we each start with a dosa and if we were still hungry, order some sides after. If we were still hungry? This was me and Chris she was dealing with – hunger post just one course consumed is almost a certainty.
A dosa is a very thin and crispy flat bread, almost crepe-like. They are served with dips and often contain a filling. Aarti ordered two rava masala dosas (made from semolina and encasing a spicy potato and onion filling) and one kara dosa (made from rice and with the same filling). These were served on large stainless still plates to accommodate the huge pancakes, along with built-in compartments filled with a range of chutneys. And these were so good, so good. The bread on its own was excellent, savoury and speckled with spices and traces of cashew in the kara dosa. Start dipping the bread in the chutneys and side curries and another layer of pleasure is added to the experience; chilli, coconut, lentils, tomatoes. Then you reach the spiced onion and potato filling of the dosas – completely delicious. Chris and I were both very pleasantly surprised at the huge amount of flavour in these dishes containing no meat. Whilst the dosas made considerable dents to our hunger pangs, we had no plans to finish yet and still had money to spend. High-rollers.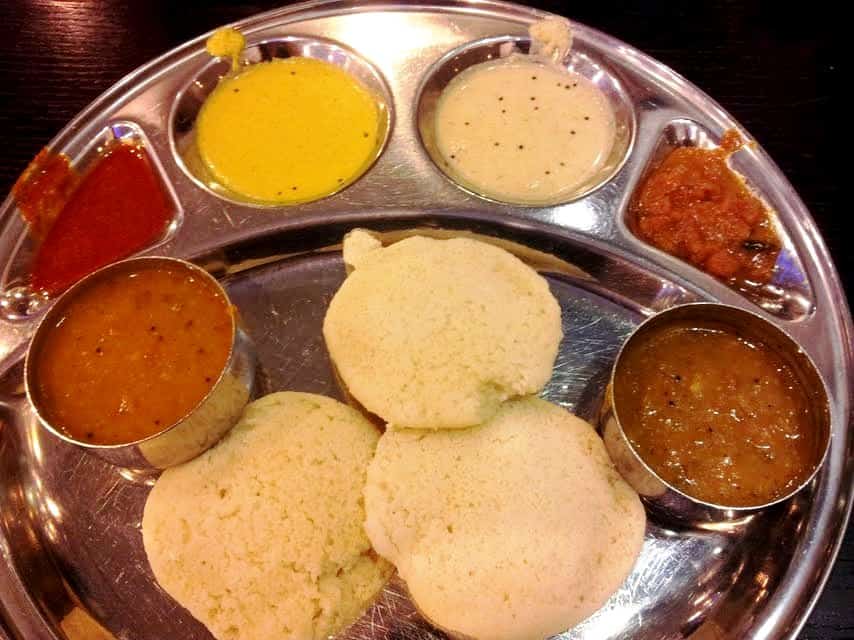 hot idly
Aarti went on to order two plates of sides to share between the two of us (three would have been too much after those large first plates) of which she assured were, like the dosas, typical of the south Indian cuisine. The first of these were two pieces of medhu vada – fried lentil flour doughnuts served with a coconut chutney and sambar (curry made of pigeon peas). While these were a little dense and dry on their own, the delightful dips still rendered them completely enjoyable. The second plate consisted of three pieces of hot idly – steamed rice and lentil patties with a wonderful texture served with the same variety of chutneys and sambar as the dosas, and a sort of chilli paste which was my favourite dip on the table. Grainy, savoury and hot.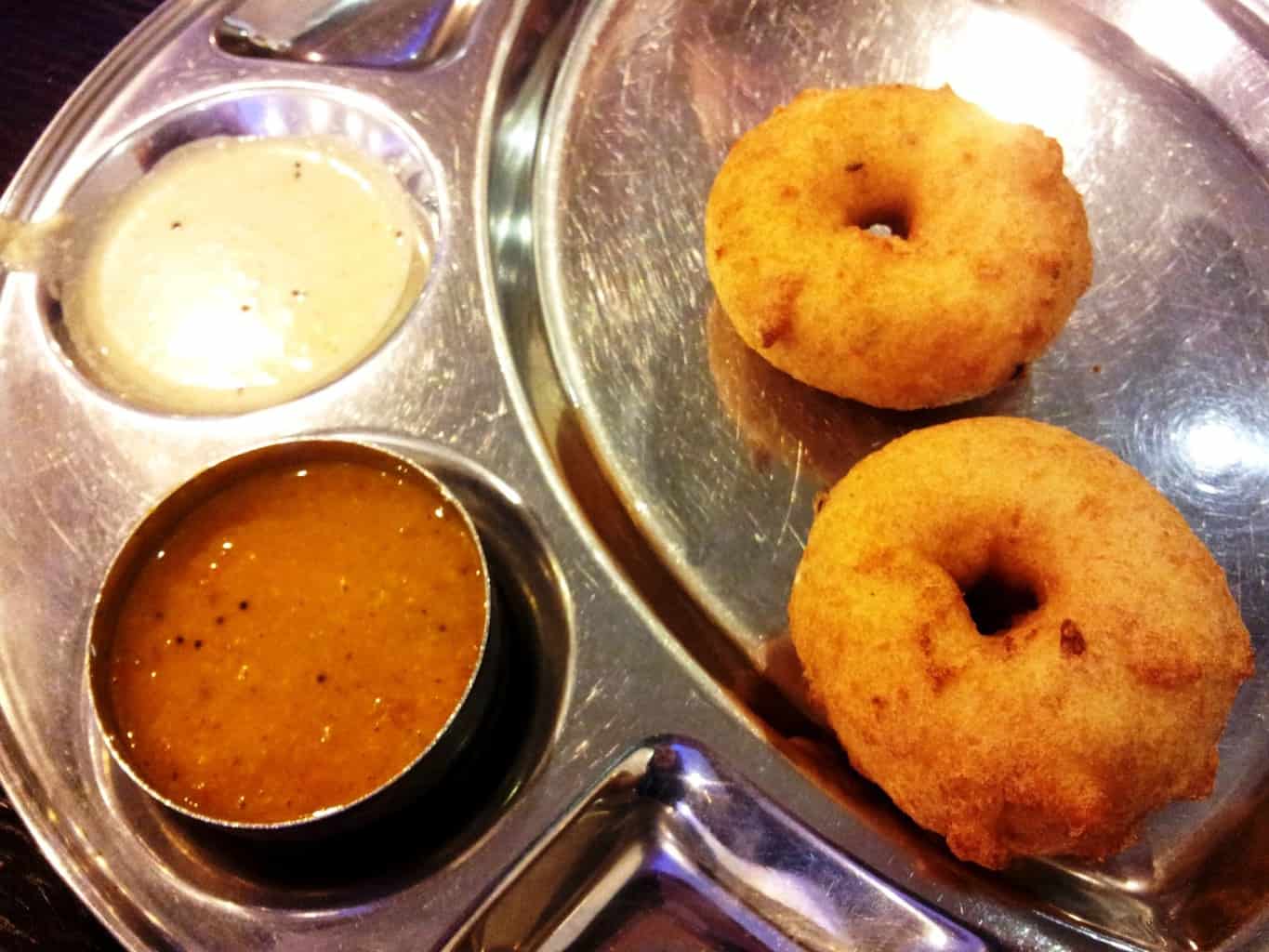 medhu vada

To help cool off our tongues, Chris and I ordered a pistachio and malai
flavoured kulfi respectively – a frozen dairy dessert served in a plastic cone
and popular in the Indian sub-continent. One of the waiters noticed us
struggling to extract the very cold and solid ice cream from the plastic and
swiftly stepped in to assist. He popped it in the microwave for a few seconds
and returned it upright on the plate. The malai flavour to me seemed to be the
intense flavour of milk and was certainly the better of the two and a fantastic
way to wrap up the meal. Aarti's choice for dessert was a large glass of almost
luminescent passion fruit juice.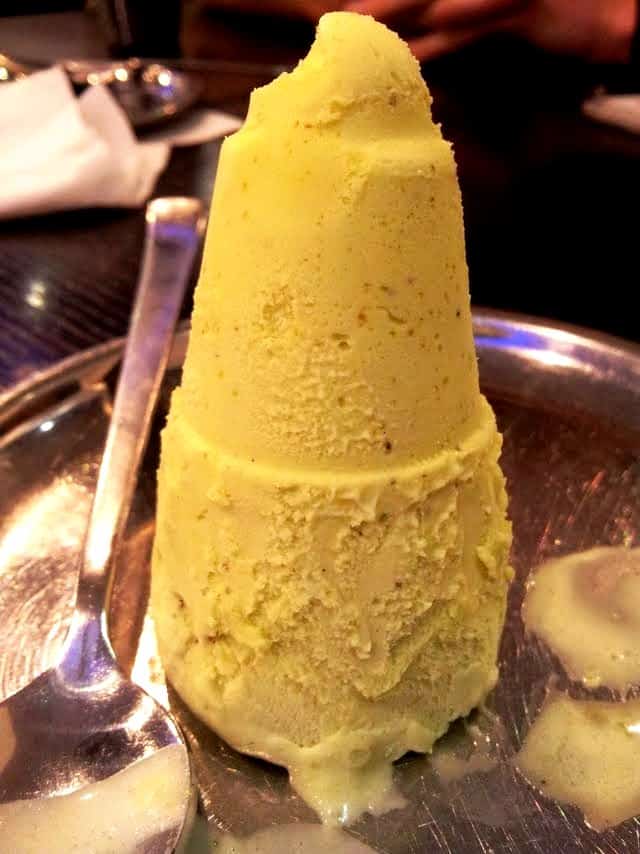 kulfi
Whilst the façade of Saravanaa Bhavan leaves quite a bit to be
desired, the interiors do not reflect the same sentiment – modern, clean and
slick with very accommodating waiters. The food we ate was all
delicious and filling whilst being reasonably healthy – almost all dishes low
in saturated fat.
I'm
really pleased Aarti suggested this place because it's great. They have a few branches in London but this one is only a
five minute drive from where I live and between my work and home. Handy, that.
It won't be the last they see of me.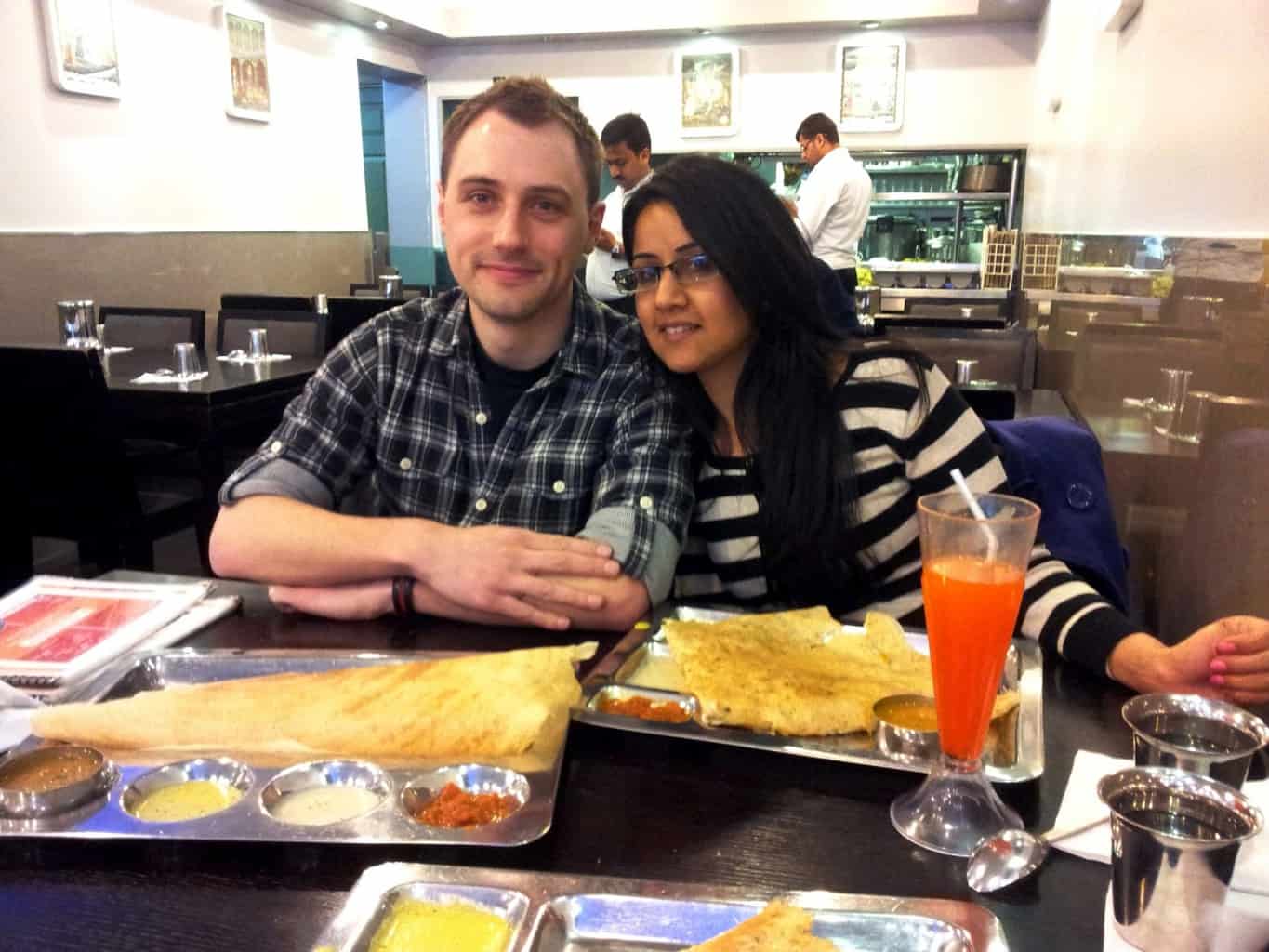 Chris and Aarti
Liked lots – the food; the obscenely low prices; close free bay parking in the evenings; food is low in fat; clean and modern interior; the staff; the chutneys
Liked less – it's close, but not outside my house – dammit
Good for – vegetarians; a healthy curry; traditional South Indian food; families and friends
The bill
Me
rava
masala dosa £3.45
medhu vada £1.45
kulfi £1.50
Total £6.40
Chris
kara dosa £3.45
hot idly £2.45
kulfi £1.50
Total £7.40

Aarti
rava masala dosa £3.45
passion fruit juice £2.75
Total £6.20
I
believe that's a three course meal in London for under £8 – done.

Alfiyet olsun.