Last Updated on September 7, 2017 by Leyla Kazim
Scarfes Bar, Rosewood Hotel
The Indian venues I have recently stumbled across – stuffing me with all things keema and seekh and sambar, cooked in tandoors and on tawas, and served in pretty copper karahis – have been doing it quite well. It seems I'm on a good-Indian roll. The most recent is Scarfes Bar, stashed away in the splendid Holborn neoclassical landmark that is now the Rosewood Hotel.
In a similar vein to Zumbura, Scarfes Bar is about as far from the well-worn and tired Indian high-street restaurants of yesteryear as you could hope to achieve. Firstly, it's not a restaurant – it's a bar. A beautiful, stately bar. A bar with the atmosphere of a drawing room and the sophistication of a gentlemen's club. A bar you would equally be chuffed to find out was the destination of a first date, or the location of today's business meeting. A bar with live music in the evenings and potions that make you squiffy after one if the day is warm.
It has a roaring fire (burning in June, even) and weighty wooden tables with velvet and leather chesterfield armchairs. Should the occasion call for an appreciation of the arts, the shelves are stocked with over 1000 antique books hand-picked by a Portabello antique dealer, and the walls are embellished with one-off paintings by renowned British artist and caricaturist Gerald Scarfe, who lends his name to the space.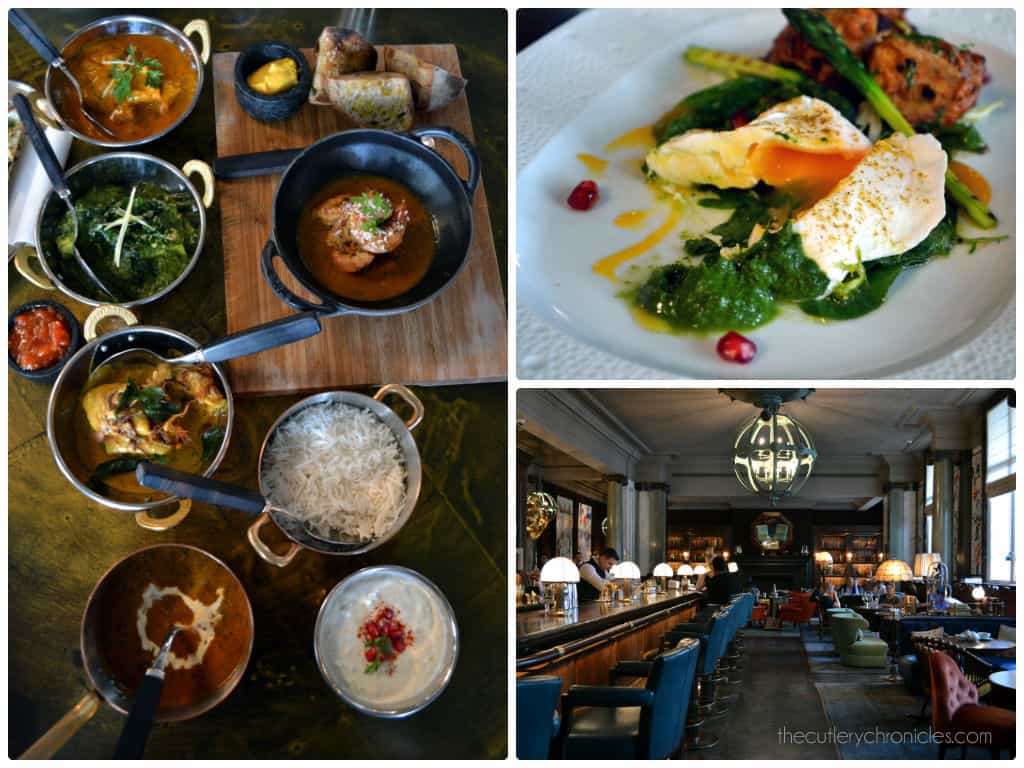 Scarfes Bar, Rosewood Hotel
Don't forget to relieve yourself, because the journey to the lavortary across the lobby provides a glimpse into the hotel's elegant opulence. The £85m refurbishment of this building – opening as the Rosewood Hotel in October 2013 – is evident. The overall aesthetic is modern, monochrome and metropolitan. "I've found the place I want to get married – here," cooed my interior designer lunch partner. "You can tell they don't get any riff-raff – I really like that."
She could be right. Around us, there are mostly meetings – papers strewn across tables, suits made for air conditioning on hot days, a lot of mundane chat about 'deliverables' and 'actions' that our heady cocktails did wonders at tuning out. Expected, I suppose. We're next to Chancery Lane and close to Farringdon.
And so it is here you'll find a mostly Indian lunch-time menu to partner with over 200 single malts and a specially-curated cocktail list that has few other intentions than to get you hammered – they're no wall flowers. The food pares down to light dishes and bar snacks in the evening, and head chef Palash Mitra (previously at the Cinnamon Club) is behind it. I say 'mostly Indian'; there are a few European-style casseroles thrown in for – what I can only assume – is good measure.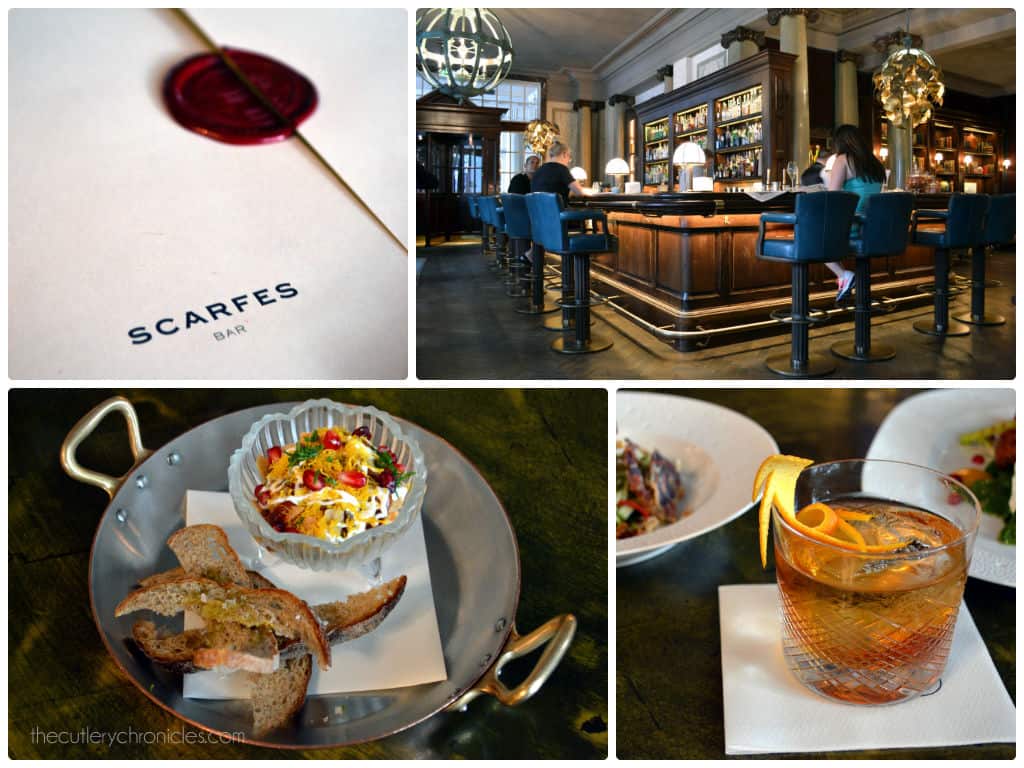 Scarfes Bar, Rosewood Hotel
There was a chaat (which I can't find on the online menu) tart from tamarind, with a touch of heat and a flourish of plump pomegranate jewels; dug out with crisp sourdough, it was very pleasant. Crisp soft-shell crab with chorizo oil had a great texture, sat on a bed of sweet apple matchsticks, but could have done with a dollop of hot paprika mayo – or something similar – to loosen things up (£12).
Grilled asparagus and a runny egg accompanied soft hunks of well-spiced chicken tikka, arranged elegantly on a lot of hot green chutney; a brunch-time winner (£9). There were firm oblongs of paneer cooked with a mush of punchy spinach concealing generous slithers of ginger and fenugreek – very good (£19). Then there was flaking-away fresh-water fish from south India in a rich gravy with glorious hits of cardamom (£17), and glossy black daal marbled with yoghurt.
King prawns with garlic and parsley – hailing from the slightly misplaced non-Indian entries – singled itself out by arriving on a board with crusty quarters of bread and a golden mound of what I think was a saffron mayonnaise. It was good (£17).
The cucumber raita was strained and thick, which pleased me greatly (I'm not the biggest fan of watery yoghurt – £4). Blistered and coriander-speckled naan was the preferred utensil of choice for the great job of sauce excavation that lay before us (£3.50).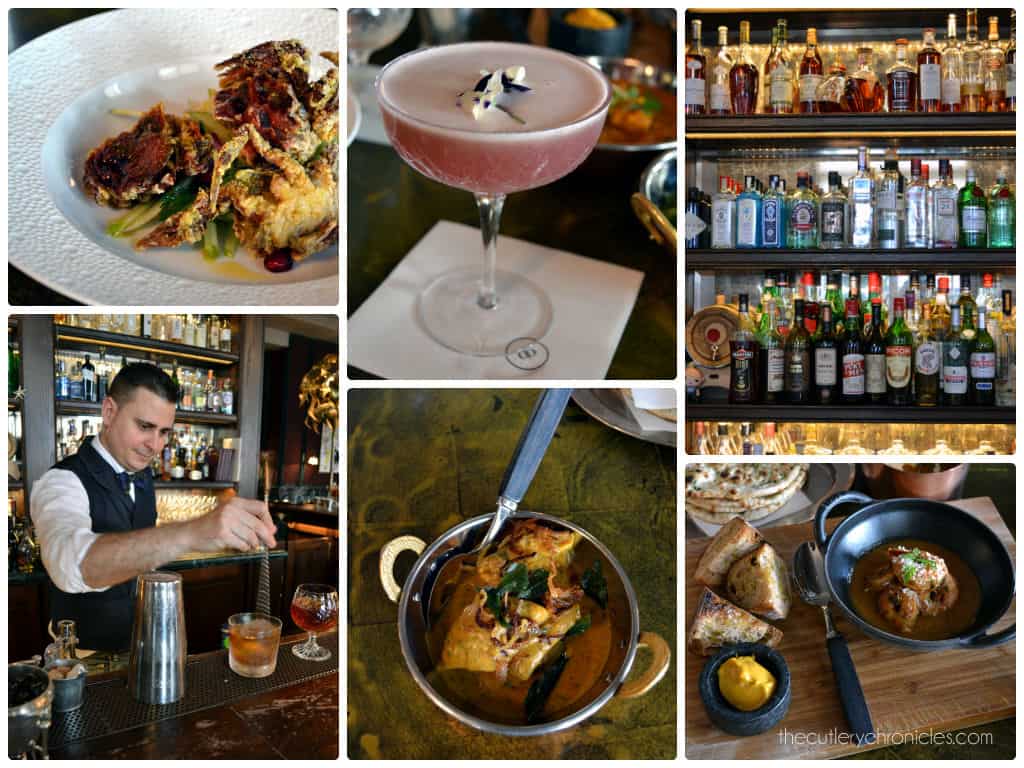 Scarfes Bar, Rosewood Hotel
Scarfes Bar, Rosewood Hotel
If our dapper cocktails – plying us with their English sparkling wine, homemade vinegared shrub syrup, 18-year-old whiskeys, spice formulas that have seemingly been allocated hashtags (#GI08 – whatever that is), Victorian lemonade and elderflower foams – didn't provide enough booze for a weekday lunch, the Bailey's chocolate pot administered a final dose. It's boozy and wanton, with a mousse bottom layer, frozen dark chocolate shavings, crunchy dark chocolate balls, and delivered on one of those antique books (£6).
The pricing seems a little haphazard. Starters, sides and desserts are reasonable. Some mains are down-right spendy for what they are. And cocktails come in at £14.50. One could very easily, and under the influence of such splendid surroundings, end up with a sore wallet at lunch. They know their target market, and their target market (I suspect) are people who 1) work close by or 2) have the sort of funds that enable them to stay at The Rosewood in the first place.
The evening snack menu is nothing but reasonable, ranging from £5.50 for a smoke salmon pot with bread, to £13 for a burger or club sandwich.
I fully plan a revisit. It's the after dark entertainment I'm after, with candlelight, live music and a higher level of general room inebriation. The connoisseurs behind the bar are calling me.
Liked lots: cocktails, food, interiors, staff, Giovanni – the wonderful bar manager
Liked less: some of the lunch mains feel steep
Good for: work, pleasure, impressing a date, solitary dining with a good book
My rating: 3.5/5
Afiyet olsun.
Note: I was invited as a guest to review this bar.