Last Updated on June 10, 2020 by Leyla Kazim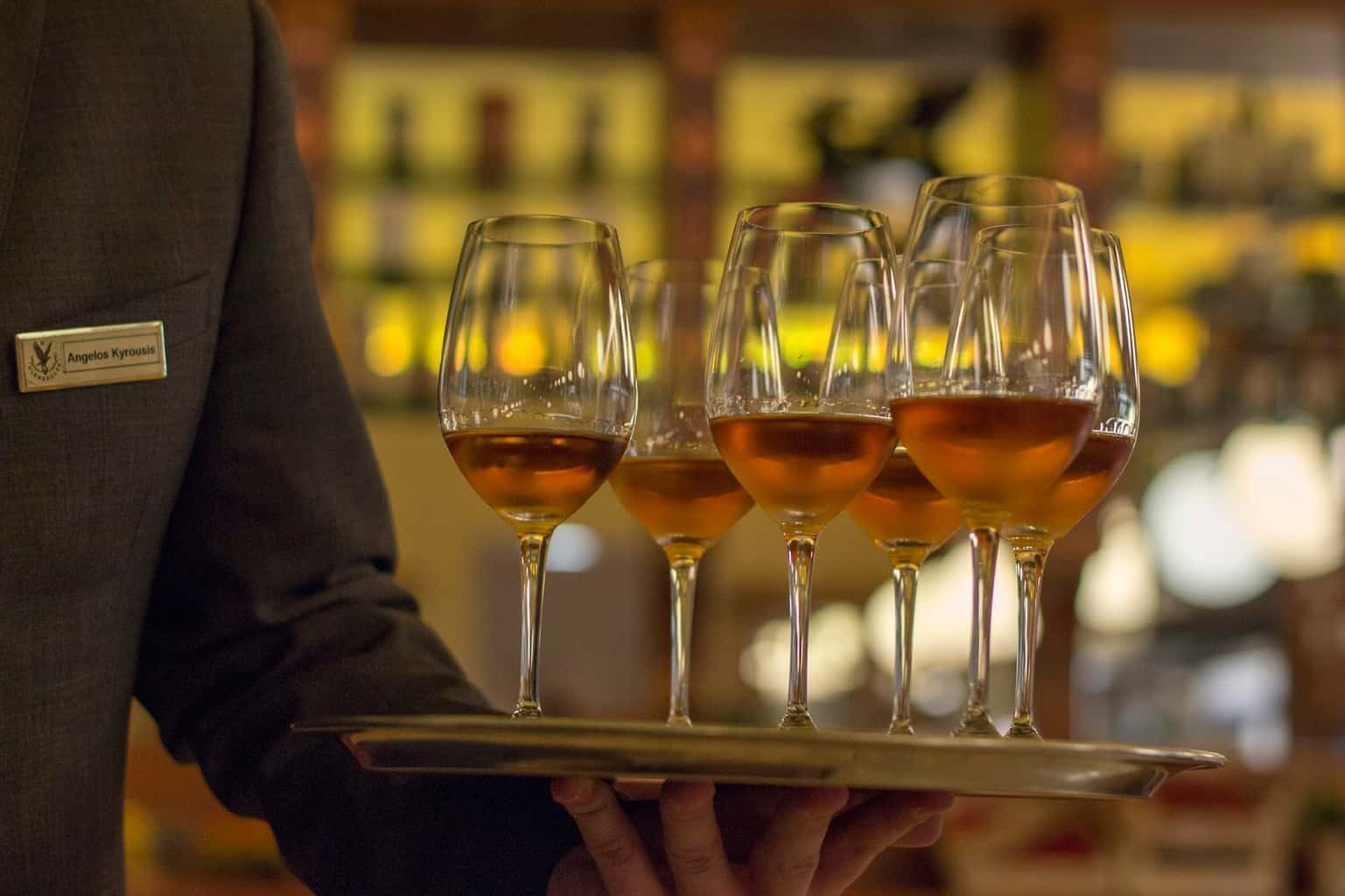 Food provenance is not the first thing you associate with a 232-room hotel. Such a big operation, with most taken rooms at double occupancy, translates to a lot of mouths to feed. Even more so when said hotel is set amongst 850 acres of Perthshire countryside; it's a good hour drive from the nearest dining competition the cities of Edinburgh and Glasgow can offer.
Guests sleep at Gleneagles, they pursue leisurely activities there, and they eat there. It's a destination hotel of great comfort; once you're within its fold, there is little desire to leave. With eating options outside of the hotel mostly removed from the equation, Gleneagles could easily fall into the sorry culinary abyss so many resorts end up getting lost in – not caring.
They could offer mediocre fodder three times a day, because it's not like guests can eat anywhere else. Sure, it would manifest as a blip on otherwise glowing TripAdvisor and Booking.com reviews – "great service, grounds, activities, rooms, spa – food is so so" – but visitors would still come, for everything else.
But they don't do this. Gleneagles is so far from that abyss, that they're at the other end of the spectrum entirely. Through their numerous restaurants, passionate staff, and local sourcing, they showcase the Scottish larder in all its glory. And my, what a glorious larder it is.
Along with a few others, I was invited to stay at Gleneagles to experience the food offering, and get a behind-the-scenes look at what goes into it. We met with some of the local family-run businesses that supply the hotel, spoke to and dined with chefs, handled a lot of feathered game, got a tour of Scotland's only two-Michelin starred kitchen, quizzed the Gleneagles Director of Food and Beverage (previously at The Savoy), ate a lot of very good food, and understandably, got quite tipsy.
I was struck by the level of unbridled passion for good produce and good eating I encountered with almost every person I met associated with food at the hotel. They were all really nice, really welcoming, and really good at what they do. I've written a little about them below by way of appreciation and thanks.
Should you ever find yourself staying at Gleneagles, your stomach will thank you for it.
Gleneagles suppliers
Stuart Tower Dairy
Stuart Tower Dairy farm is home to 90 beautiful Holstein cows. Most commercial farms have 200-250, so relatively speaking, it's a small operation. The animals are out grazing during the summer months, and are fed on grass and wheat silage, barley, soya and beet pulp during the winter.
The commoditisation of milk meant owners and husband and wife team, Neil and Lindsay Butler, had to diversify in order to add value to their product. In 2006 they dabbled in ice cream, and have not looked back since. It now accounts for around half of their business.
Each majestic lady produces around 8,500 litres of milk a year, some of which goes into the 40,000 litres of ice cream in 200 flavours made at the farm. It's this stuff that's supplied to Gleneagles.
Milk pumped the morning of our visit was poured into the ice cream machine (no snip at £30,000 – that's some investment), churned for a while (with only a little air included), and pushed out of a big nozzle, much like a bigger and more expensive Play-Doh Fun Factory toy press. Two litre containers were filled for each of us, full of rich, smooth and dense ice cream.
They have a large parlour located in converted steadings on the farm, and a patio overlooking the Strathmore valley, where you can sit a while and enjoy whatever flavour ice creams happen to occupy their displays that day.
Neil mentioned they appreciated such a big enterprise as Gleneagles supporting the local, independent businesses. And rightly so.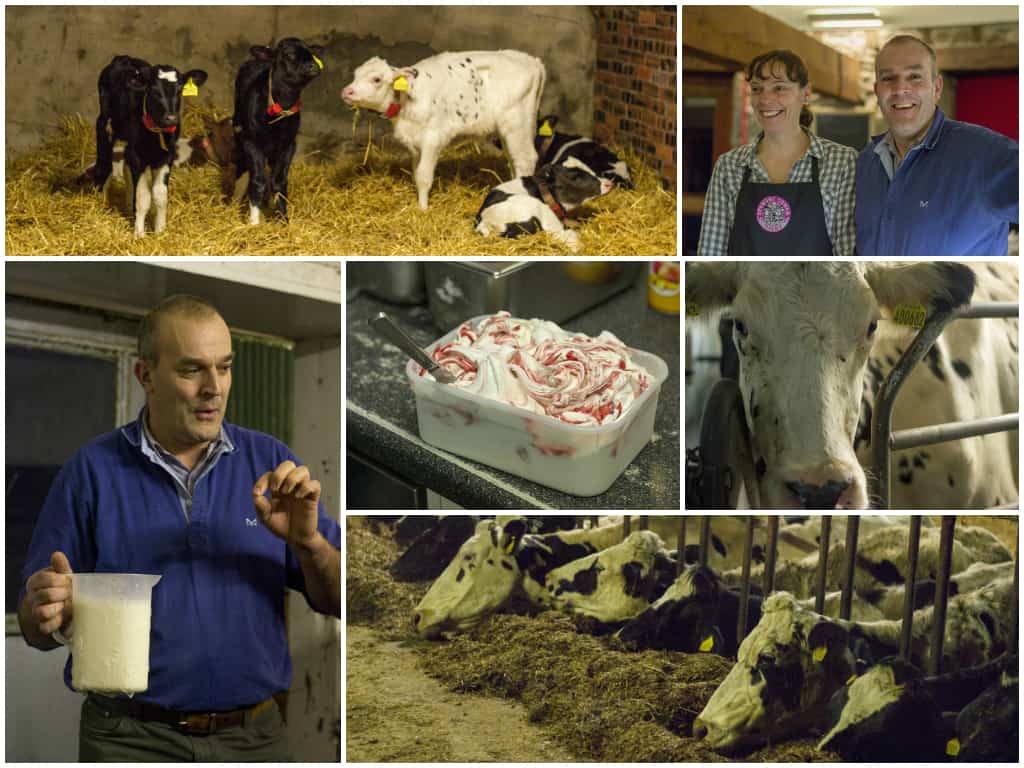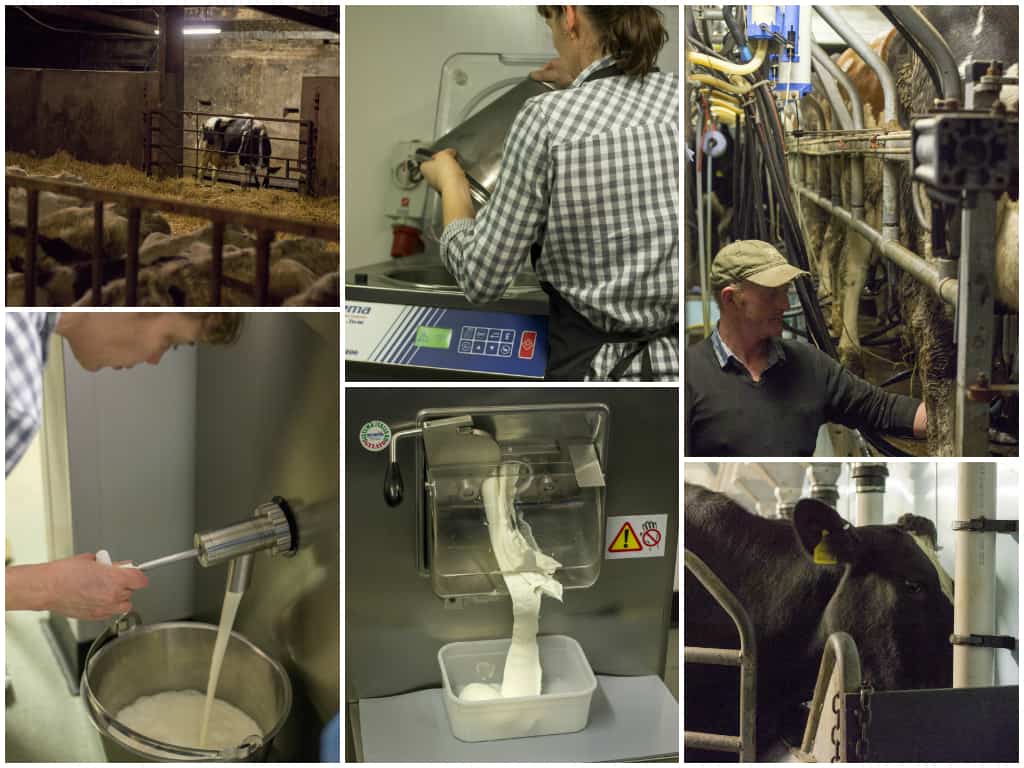 George Campbell & Sons Fishmongers
Current owner, Ian Campbell, has worked at George Campbell and Sons since 1977, but the business has been going strong through four generations since 1872. It's supplied seafood to Gleneagles, almost continuously, since the hotel opened 90 years ago.
Around five fishmongers work through the night every evening to prepare catches that come in from the bountiful cold waters in and around the country, for delivery to clients in the morning. Machines are available that fillet and pin-bone hauls, but here it's all done by hand. The last van leaves at 8am, and their geographical positioning means they can reach 90% of the population of Scotland within 90 minutes; that means supremely fresh products.
We were joined by Alan Gibb, Executive Chef at Gleneagles, and Colin Bussey, Alan's predecessor, who retired in 2008. Colin, not one to take to retirement too easily, has since started a small consultancy business, and in this capacity has worked with George Campbell and Sons to come up with around ten fish-based food products, to sell to retail customers in their shop.
Our advertised "light" lunch there was anything but, but I do think it was my favourite meal during my stay. A spread of these products was cooked up by Colin and helpers just before our arrival, and it was exquisite. There were subtly spiced potted shrimp cooked with mace, nutmeg, butter, cayenne and lemon zest, still warm and wobbly smoked salmon and leek quiches, velvety mackerel patés and the biggest scallops I ever did see.
We watched one of the fishmongers, Gus McKenzie, deftly fillet a whole host of sparkling fish and prepare our scallops before lunch. From Loch Broom and plucked from the water just hours before, the latter were grilled, served on Stornoway black pudding from Macleod & Macleod*, and doused in a little buerre blanc. Simply put, the most impeccable morsel of food I've had in some time.
* Note: this is the best black pudding that is available, anywhere. And confirmed by people who know a lot more about black pudding that I do. I've had it a few times since, and nothing comes close. I think they ship to the rest of the UK.
www.georgecampbellandsons.co.uk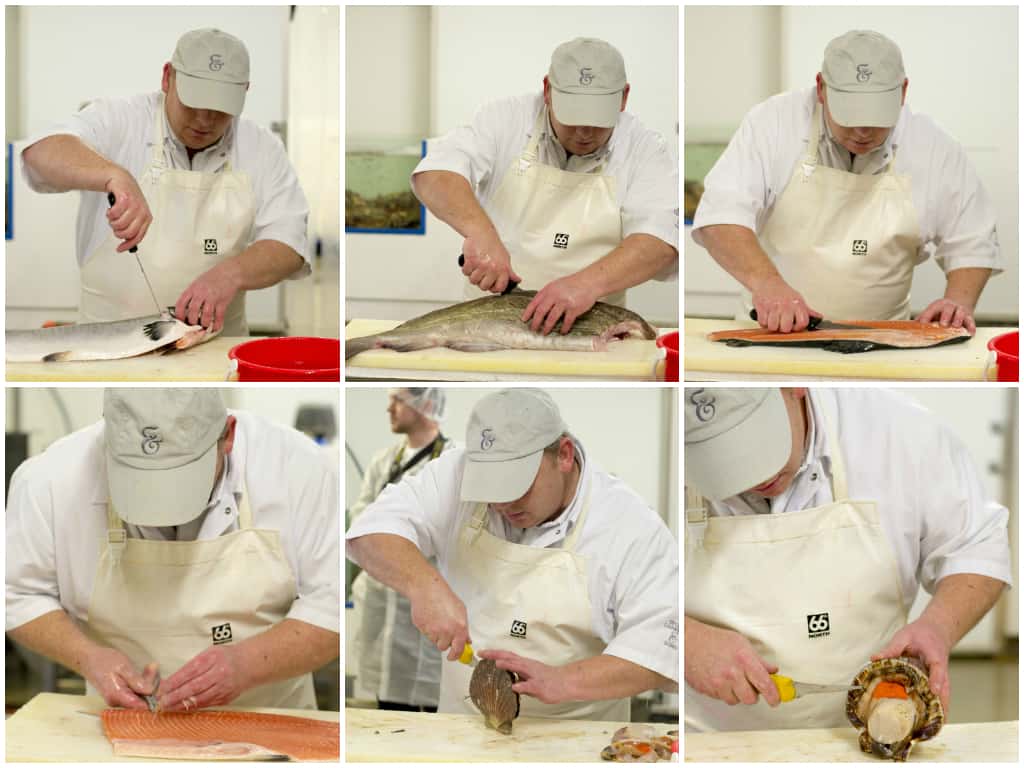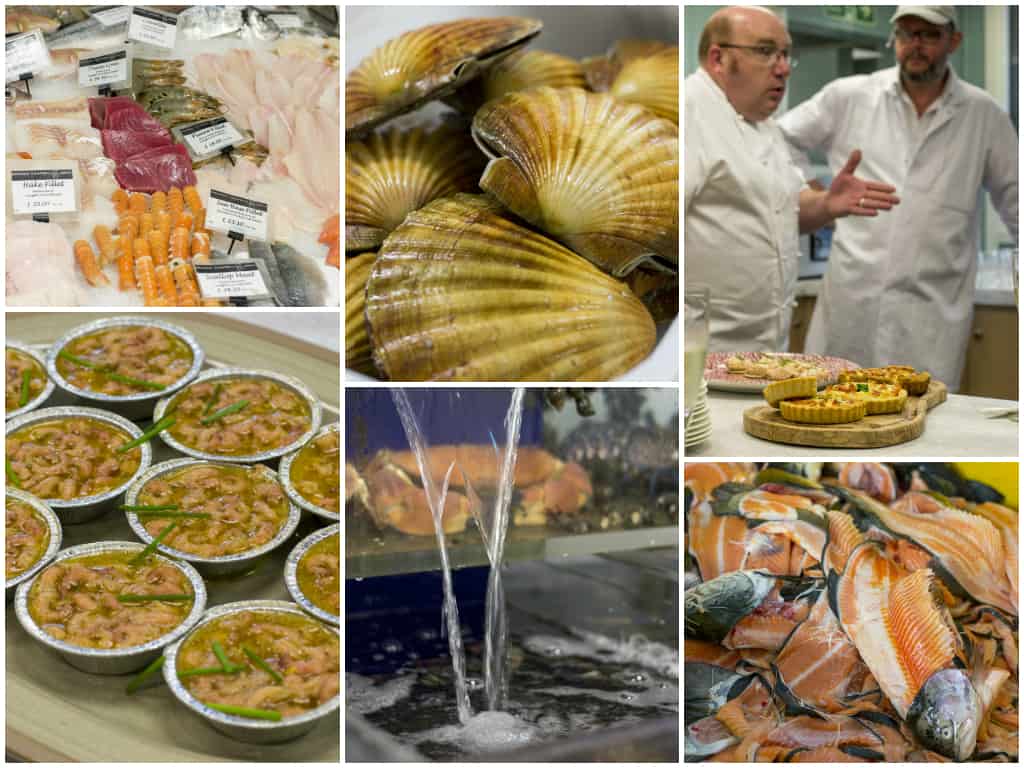 Gleneagles restaurants & bars
Strathearn
The grandest of the restaurants at Gleneagles, The Strathearn is a time capsule transporting guests to a dining experience from a bygone era. Holding firmly onto the days when French food was fancy, service was silver, and half of the menu was cooked at the table, the restaurant is an ode to the grown up gastronomy of our yesteryears.
Expect dulcet notes from a grand piano played in the corner, and your dinner to arrive under those grand silver domes. There are alabaster columns, art deco lighting fixtures, and old-fashioned three-pronged candlestick holders that look a lot like Lumière from Beauty and the Beast. Crêpe Suzettes are flambéd, smoked salmons are sliced, and beef wellingtons are carved – all at the table, with great theatre and showmanship.
The menu is a mix of French and British classics and boasts the bounty from Scotland's cold waters, some of which is supplied by George Campbell & Sons (see above). Think oysters from Argyll, Hebridean crab, Scottish lobster and langoustines and the ubiquitous smoked salmon.
There's a lot of locally sourced meat on offer too – foie gras, lamb from the mountains, venison, chicken, game from the moor, steak and the evening roast from the trolley. On our visit it was the beef wellington, and it was as spot on as it can get. Dry flavoursome pastry, beef pink throughout – quite wonderful.
Three courses including dessert is £60.00, four courses including dessert is £70.00.
The unrivaled epicurean endurance test that is the Gleneagles breakfast is also served in The Strathearn each morning – more on that here.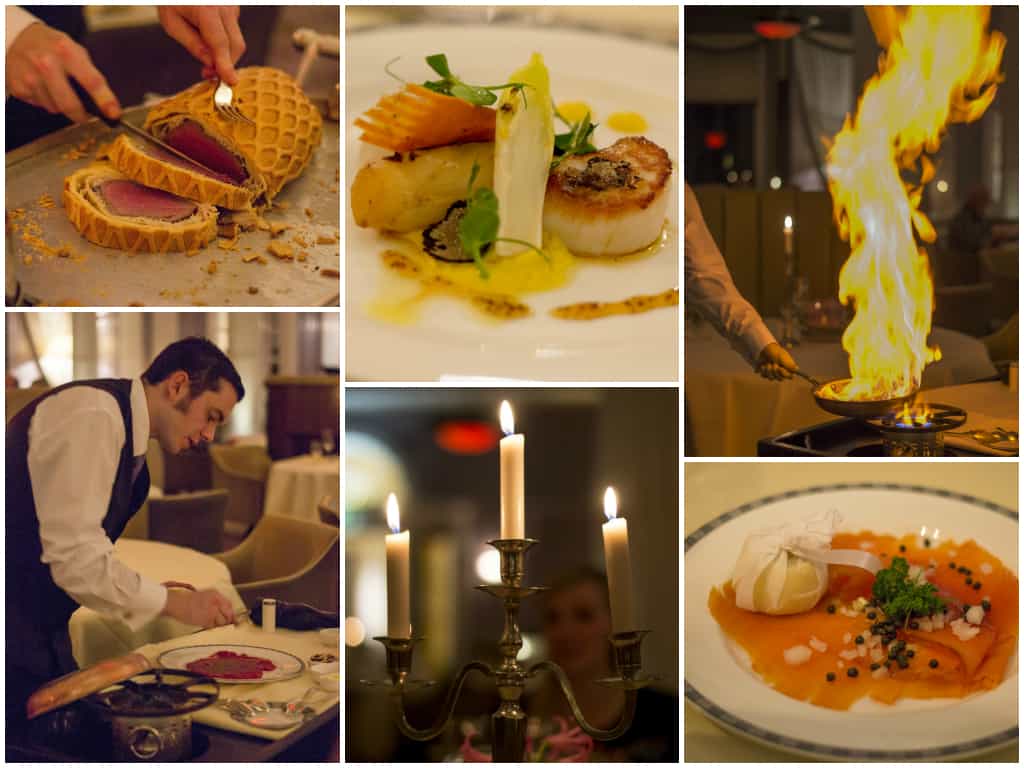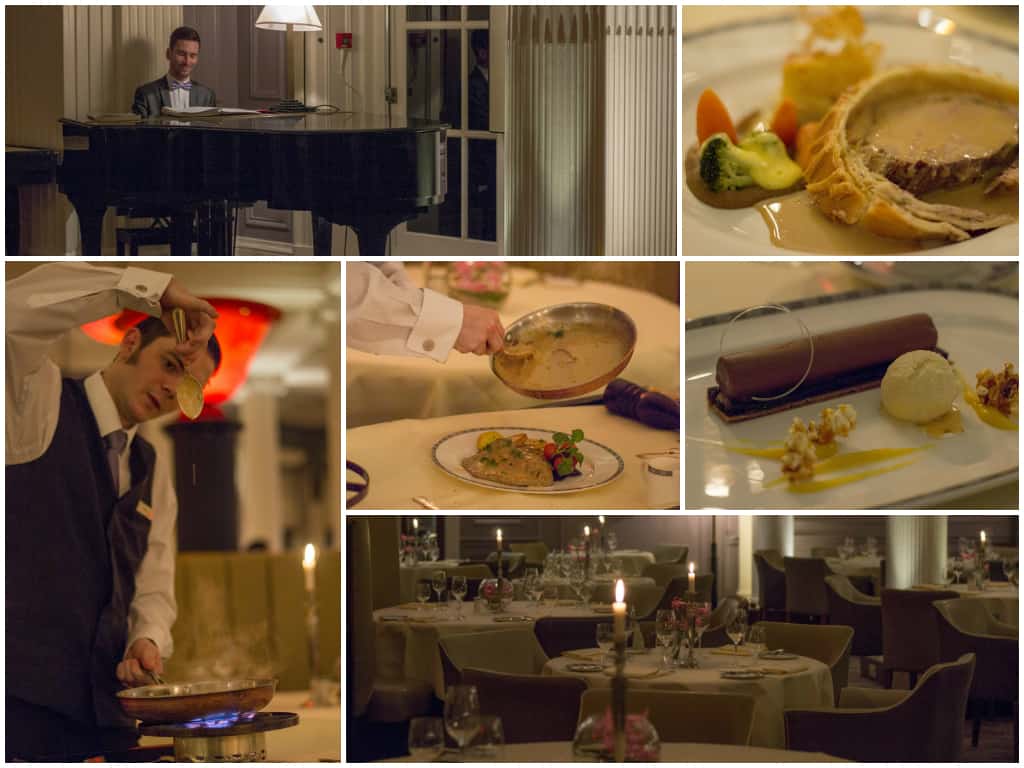 Deseo
An altogether more casual experience, Deseo focuses on Mediterranean-inspired dishes in relaxed and family-friendly surroundings. Expect to find an array of tapas, pastas, pizzas, regional plates such as Escalope "Milanese", charcuterie, and cheeses.
At the rear of the restaurant you'll find a food emporium. Here, they showcase the ingredients used in the kitchen, as well as boasting a fridge packed with prime cuts of pure pedigree Scotch beef from breeds such as Belted Galloway, or the indigenous Highland.
Local butcher, Simon Howie, has created a meat version of a wine list; the "breed book" gives diners the opportunity to select their beef in the same way they would a fine wine or whisky, and there's a different "guest" breed featured weekly.
Game Dinner
We dined at Deseo twice during our stay. Our first experience was at the chef's table in the food emporium. The focus of this meal was game, and we were joined by Gleneagles Director of Food and Drink, Alan Hill, as well as the man who supplies Gleneagles with this meat, Neil from Ochil Foods.
Shooting since the tender age of 11, Neil regaled us with stories of hunting seasons, the coveted and rare delicacy of woodcock, the leanness of venison (only 4% fat – lamb is 28%, beef is 40%), and the ongoing challenges of encouraging supermarkets to get over the occasional presence of lead shot in the meat, and stock more game.
Paul Devonshire, Gleneagles Executive Sous Chef, was tasked with cooking our game dinner that evening. There was delicately flavoured partridge carpaccio with a herb encrusted and deep fried quail's egg, pheasant in a life-affirming broth with a hint of chilli and ginger, succulent grouse breast marinated in double cream and thyme and topped with fried julienned leeks, hearty venison and hare with Stornoway black pudding (there it is again – the best), and an apple bavarois to finish. The accompanying wine flight, bottles plucked from the hotel's 17,500-strong cellar, made for a solid marriage.
The Chef's Table Experience costs £720 for a table of eight and includes your own chef, waiter and menu offering.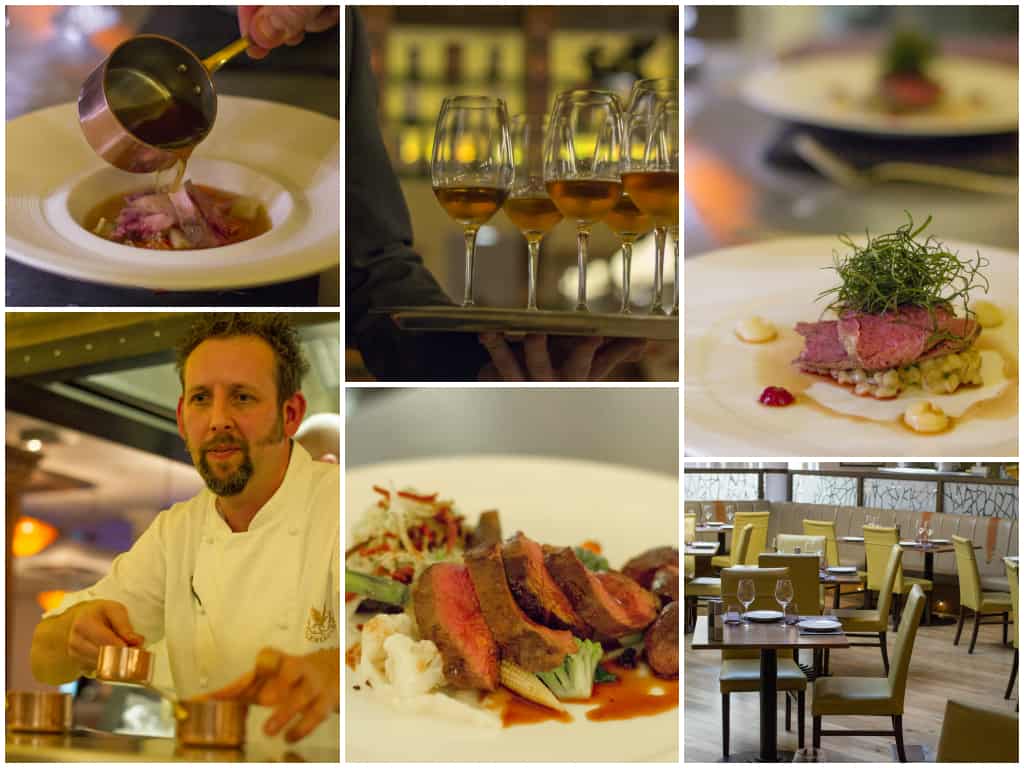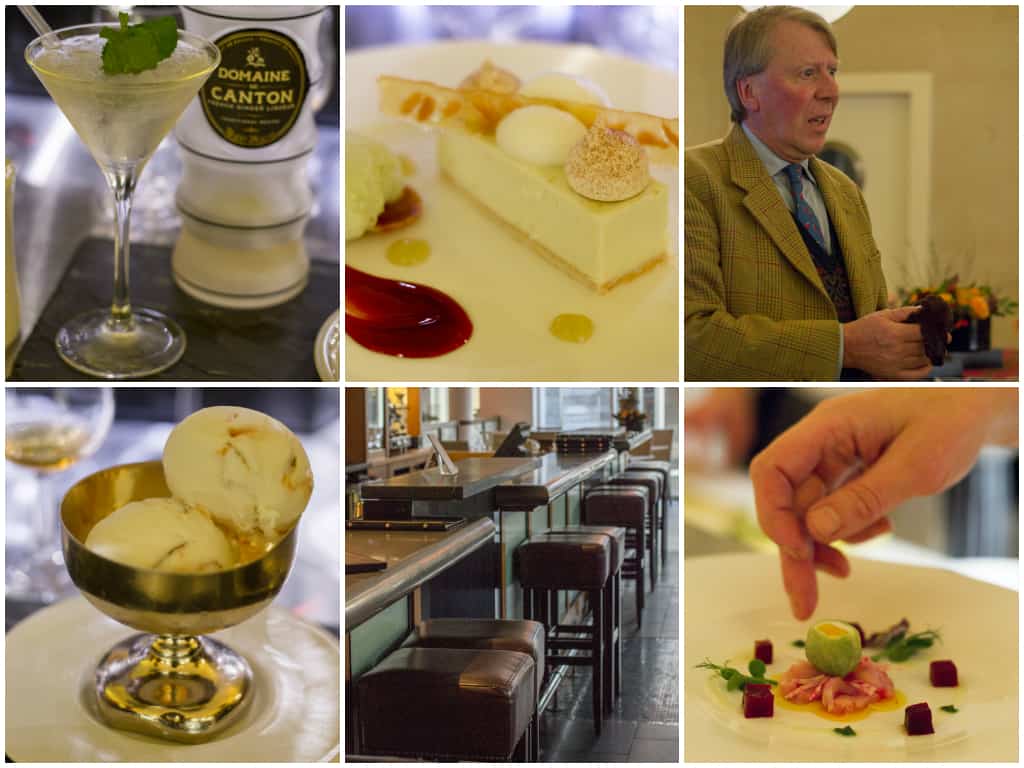 Truffle Lunch
Round two at Deseo was a celebration of that fantastic funghi we love to stick our noses into around this time of year, the truffle.
Cooked for us by Gleneagles Executive Chef Alan Gibb (he was with us at the fishmongers, remember), we were treated to a black truffle pizza with parmesan and basil, scrambled Arlington eggs with white truffle, a truffled macaroni cheese with capers and parsley, and a sensational chicken dish with winter truffles, fluffy potatoes, chicken liver, carrot and cauliflower – like a poshed up and proper impressive roast. Truffle, truffle, truffle.
A fantastically pungent lunch, and only two hours after an epic Strathearn breakfast. A bit of a struggle, but we managed to muddle on through – it was too good to pass.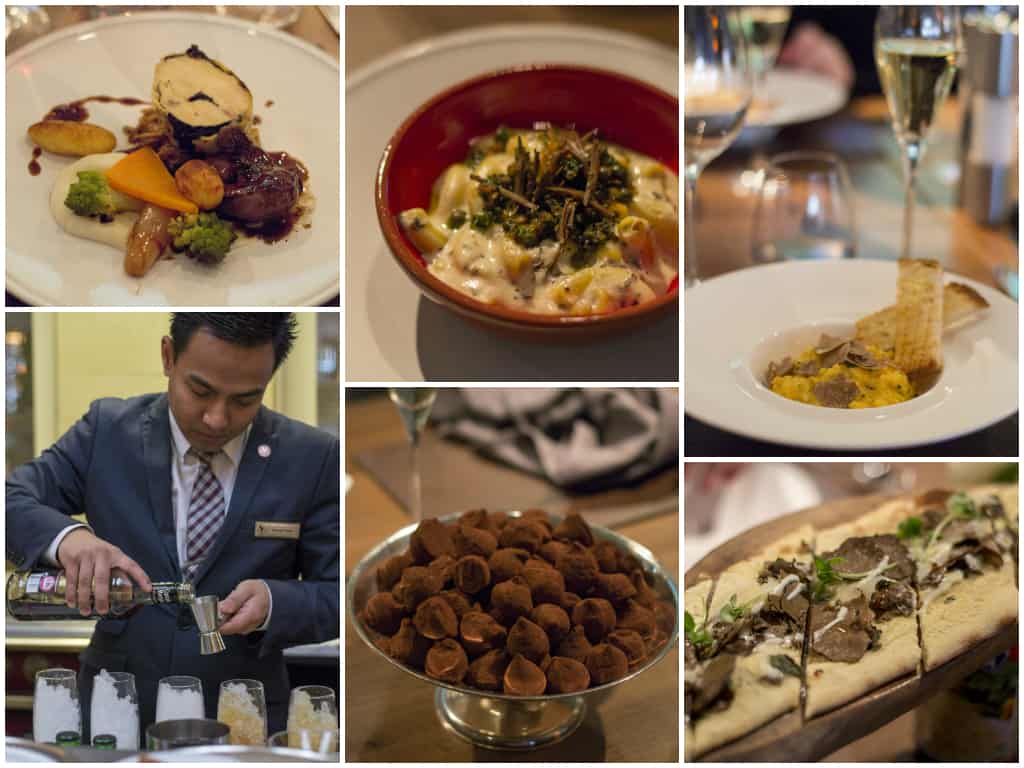 Andrew Fairlie
We didn't get to eat here (gutted). But we did receive an exclusive tour of the kitchen during preparation for an evening service. It's a small and intimate venue, with just 17 tables, and it boasts the only two Michelin stars in Scotland, which it has retained since 2006.
They only offer evening dining, and they have a one-year-old kitchen garden off-site on private land, the location of which is kept a secret. Three full-time gardeners tend to it and supply the Andrew Fairlie kitchen with most of its produce.
We were informed that one of the highlights on both the a la carte and degustation menus is Andrew's signature smoked lobster, relinquishing an intense smokiness from a twelve-hour infusion over whisky barrels. I'll take two.
If you want a table, book (way) in advance.
The Blue Bar
Alan Hill also joined us at the hotel's The Blue Bar, a unique edition to the Dormy Clubhouse. This is a covered outdoor luxury, with sumptuous Bentley leather seating that heat up, emblemed blankets and a roaring fire pit.
Open by invitation only, this is the place to retire to post slap up meal, smoke a fine Cuban, and chat with friends into the night. The bar is stocked with Johnnie Walker Blue Label, and some regular guests keep their own bottles, tagged with the owner's name, behind it for each time they visit.
A big thank you to all those involved in what was a truly splendid couple of days spent with great people, in a wonderful part of the world.
The Gleneagles Hotel, Auchterarder, Perthshire, Scotland PH3 1NF
T: 0800 704 705 (UK Freephone) or 1 866 881 9525 (US Freephone)
www.gleneagles.com
@Gleneagleshotel
Related posts
SCOTLAND: Gleneagles, Perthshire – Hotel Review