Last Updated on June 10, 2020 by Leyla Kazim
Following on from my previous post, another cuisine rarely suggested when considering a night out on the town to sample the delights on offer, is Mauritian. My mum is from the motherland itself, and despite this I don't believe I've ever eaten in a Mauritian restaurant. Not because I haven't wanted to, of course. I just don't think I've ever come across one.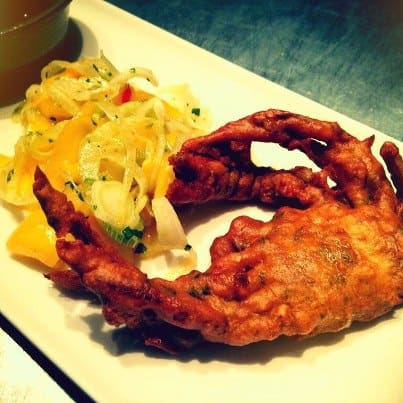 Course 4: spiced soft shell crab with mango and fennel
salad and sweet and sour tamarind
Actually, that's a lie of sorts. Since moving to South West London around a year and a half ago, I was almost beside myself with excitement when one day I found myself wandering through the stalls of Merton Abbey Mills (next to Colliers Wood tube station), only to hear a conversation in that oh-so familiar language and accompanying accent; a sound I only ever associate with being around family from my mother's side – Mauritian creole. With ears pricked, I was directed straight towards the source of this warming and unmistakable exchange of words and I soon found myself standing in front of a stall – a Mauritian food stall. Laden with home made Mauritian food. Including butter bean curry with roti, gateau banane (deep fried banana fritters), little jars of tiny bullet chillis, seriously hot Chinese chilli oil, and all sorts of other excellent edibles. Almost squealing with excitement, I systematically began to purchase my way through the produce on display whilst getting to know the lady holding the fort. If you're ever in those parts on the weekend, be sure to say 'hi' and grab a curry laden roti or four.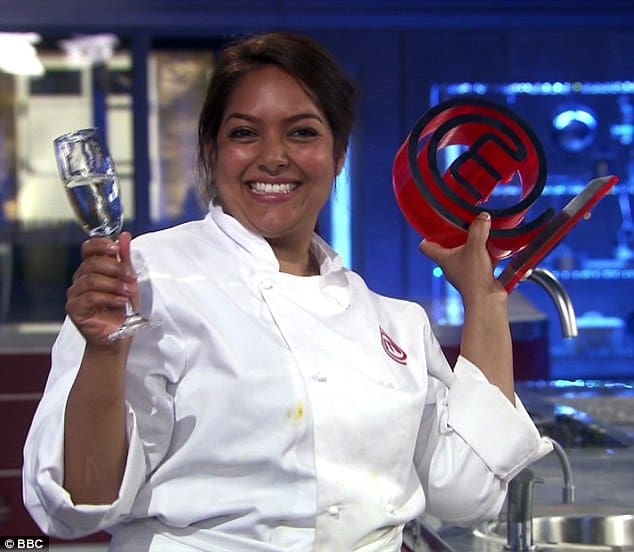 Shelina Permalloo –
Masterchef 2012 winner
One person who I believe has done great things for the cuisine is Shelina Permalloo, the very lovely winner of Masterchef 2012, a British-Mauritian and a self-proclaimed mango addict (who isn't?). I recall watching the series and feeling a sense of pride when she would throw back to her Mauritian roots during invention tests or when they had to come up with three course meals for the judges to sample. In most of the episodes she managed to treat the audience to vibrant and colourful plates of food from her heritage and every time she did, I was left writhing in stomach-growling pain from knowing just how good they would taste, but not being able to get my chops around the spectacle on the screen. Torture in its modern form.
So when I recently noticed a tweet from @shelinacooks herself speaking of a Mauritian pop-up restaurant she would be hosting (and more importantly cooking at) in London, I almost smashed into my laptop in a fervent frenzy to purchase tickets. This was perfect – it was my turn to arrange dinner with my two good friends Mel and Gavin, and what a better introduction to a cuisine they probably hadn't sampled before and that was so close to my heart. And let me just check those details again – five courses for under £30? I didn't even bother confirming the availability of my friends before buying the tickets – as if anyone could turn that down.
'So Mauritian food – it's just Indian cooked by French people, right?', at least an attempt from Gavin at deciphering this underestimated and lesser-known cuisine. But incorrect, all the same. Sort of. As I've mentioned in my Mauritian butter bean curry post, Mauritian cuisine is a wonderful mash-up of the tastes from a range of far flung lands. The tiny island manages to churn out people from all different ancestral heritages due to the numerous settlers that have made the island their home over the ages. In Mauritian food you will find influences from France, Africa, China, Portugal and India with many of the dishes completely unique to the island.
The meal was held at The Thatched House – a pub in Hammersmith and a part of London I don't venture to all that frequently. The front of the pub and bar area were soon heaving with clientèle, the majority present for the culinary delights soon to be bestowed upon them alongside what were most likely a few regulars no doubt confused by the sudden influx of people anticipating a slap up and exotic dinner. On entering, I immediately spotted Shelina and what I believe to be the two other finalists from Masterchef 2012, feverishly toiling away in the open-fronted kitchen. Once it seemed full headcount had arrived and the kitchen was ready to begin service, we were soon ushered towards the back of the venue where tables were laid for 60-odd guests ready to receive their dinner.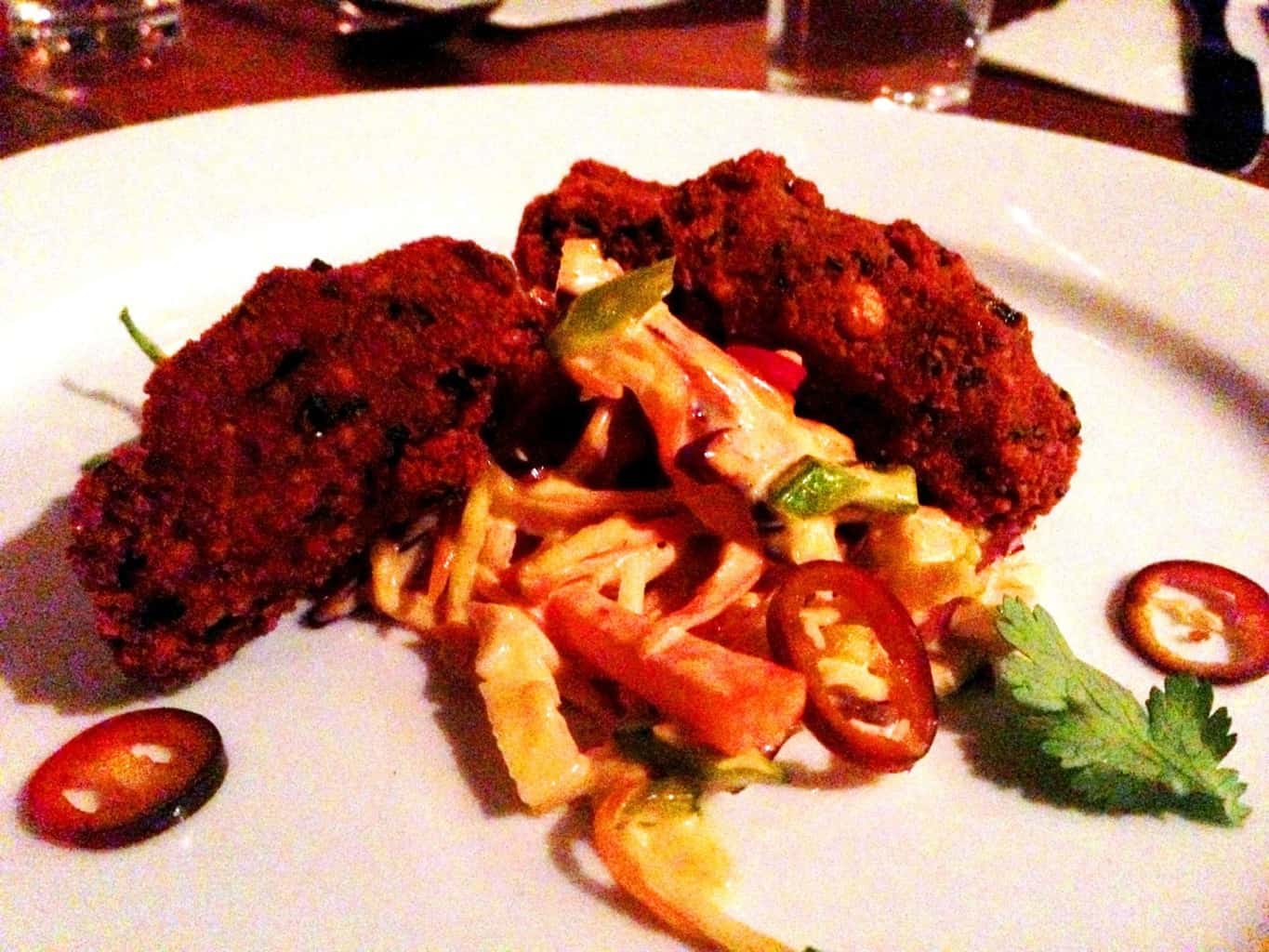 Course 1: Chilli Cakes with Mauritian Coleslaw & Mango Mayo
The first course consisted of chilli cakes with Mauritian coleslaw and mango mayonnaise. These were harder than expected, in fact proving quite difficult to pierce with a fork in order to cut into bite-sized chunks. While the texture wasn't quite there, the flavour was good but all three of our palettes would liked to have been on the receiving end of a bigger hit of chilli in the cakes themselves. With our table being from Chinese, Tamil and Mauritian backgrounds, none of us are afraid of heat but I think the meals may have been tailored to a more Western palette, which I supposed is understandable.
Round two delivered to us a plate of fragrant king prawns with Creole sauce (rougaille) and pickled papaya. Vowzers. In all it's simplicity, this was one of my favourite dishes of the evening. A bed of a wonderfully flavoursome rougaille, taking me right back to the smells from my mum's kitchen, topped with some big fatty bombom prawns. Rougaille is a typical Mauritian sauce using plum tomatoes, garlic, thyme, and chilli and it was quite excellent. Add to that pickled papaya and you have a winning dish in my eyes – pickled anything always slides down my gullet with little resistance. Mel and I had no problems dipping the prawn heads into the sauce and sucking out the brains with gusto, even stealing some of Gavin's – his fire for prawn entrails burning less brightly.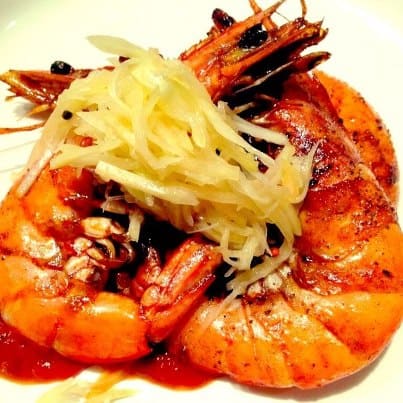 Course 2: Fragrant King Prawns with
Creole sauce and Pickled Papaya
Third up was a course I highly anticipated after first reading the menu when booking the tickets – open roti with mutton curry, pickled red onions and a coriander and coconut chutney. I challenge anyone to tell me that doesn't read fabulously. And in reality, it met expectations. The roti was perfect – not too thin and happy to encase chunks of tender mutton devoured with fingers – no use for cutlery with this dish. Flavours were defiant and this pleased me. There was still room for more heat for my own personal palette, but this lacking did not detriment the overall quality. The only real faltering is that I could have done with more of it for the amount of roti there was. Or in other words, being greedy.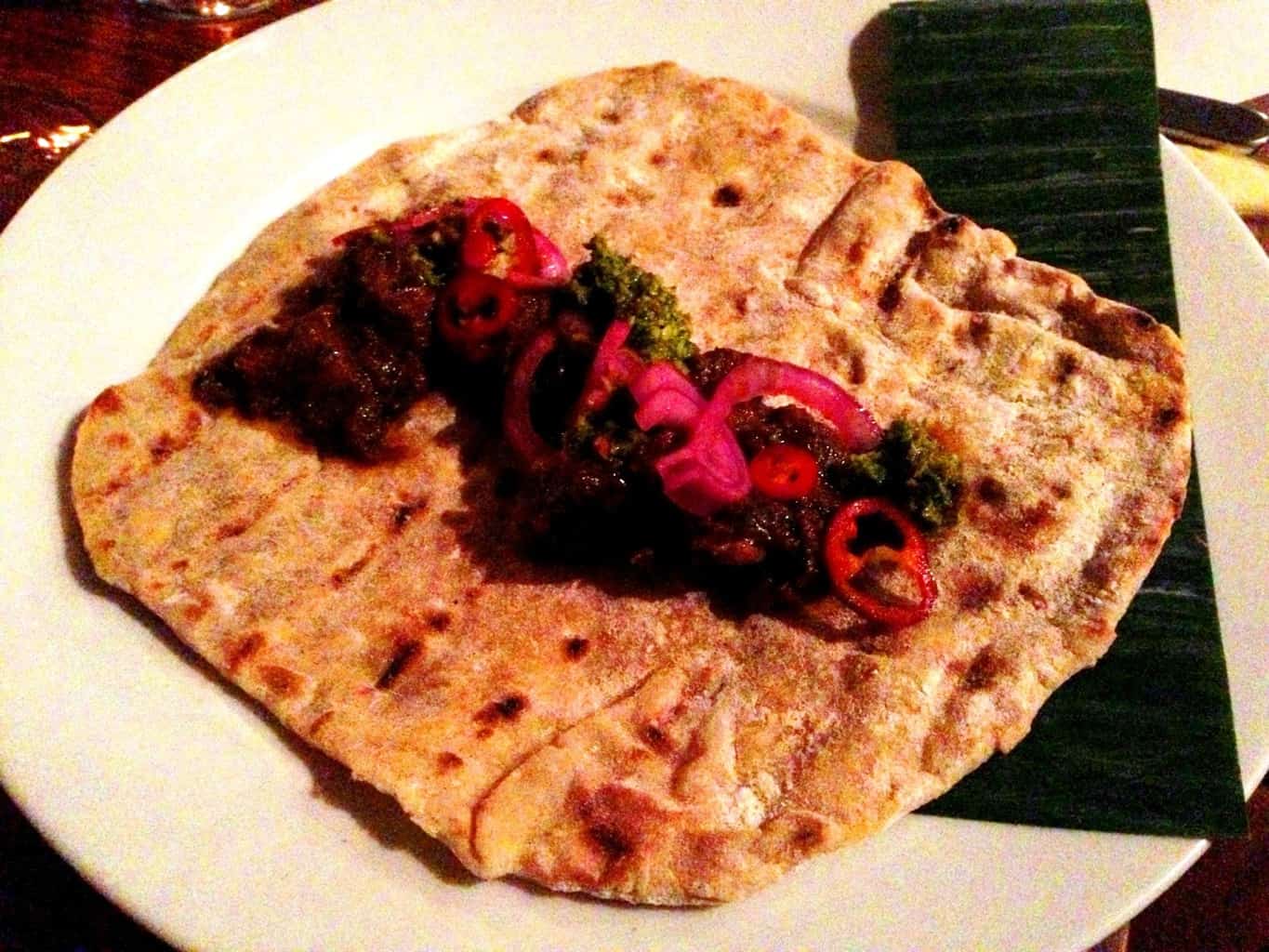 Course 3: Open Roti with Mutton Curry, Pickled Red Onions
and Coriander & Coconut Chutney
Course four certainly looked the part – a whole soft shell crab encased in a spiced batter, a mango and fennel salad and sweet and sour tamarind. However it was a little disappointing when it came to the eating. While the latter two mentioned were tasty enough, I felt the crab itself was lacking something, something to really wallop the chops. Was it acidity? Spice? Chilli? Seasoning? Maybe all of the above. Unfortunately, I found it leaning towards bland when compared to the other dishes and what I was expecting.
Mistakes can be permitted and that aside, the five courses were topped off with molasses biscuits, mango, lime, toasted marshmallow and a rum caramel. Yes please. Densely chewy sweet biscuits sliced through by the citrus from the lime and all beautifully complimented by the other flavours on the plate. My companions found this course to be too sweet for them which was interesting as I didn't, and I am severely lacking in a sweet tooth. I soon relinquished a position of defence once I realised the situation meant more dessert for me.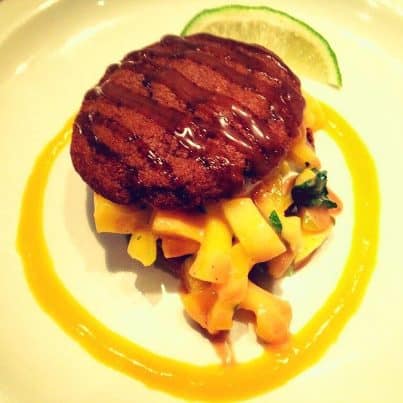 Course 5: molasses biscuits with mango, lime,
toasted marshmallow and rum caramel
The five solid courses were topped off with a sixth liquid – a shot of spiced (and strong) Mauritian rum. While I'm almost certain it was supposed to be sipped and savoured, Gavin decided to hark back to our university days and launch it down the gullet in one swift movement – and each respectfully to their own.
All in, the food was a delight. A couple of the courses could have been improved (namely the chilli cakes and soft shell crab), but an equal proportion of the dishes were quite magnificent (the praws with rougaille and the mutton curry). Shelina made sure to visit each table after service was over with a beaming smile and tentatively asking 'was it ok?' – I think she did great. As someone who is half Mauritian, I'm proud of Shelina's achievements in helping raise the awareness of this wonderful and diverse cuisine and I hope she continues to do so. I'll be waiting in line to taste anything else she plans to cook and share for the future. Did I mention she also lives down the road from me in Tooting? I may knock on her door for a cup of rougaille some time.
It's worth visiting her website as she has many recipes on it (including some from this evening) and I believe most of them to be Mauritian. It's not a difficult cuisine to try out and I'd suggest everyone to give it a go: shelinapermalloo.com
To sign off, a quote stolen from Shelina's website:
"You gather the idea that Mauritius was made first and then heaven, and that heaven was copied after Mauritius" – Mark Twain, 1896.
I should probably get myself over there at some point.
*cough*honeymoon?*cough
Alfiyet olsun.
Note: as the venue was quite dark I have stolen some of the photography from Shelina's Facebook page. Apologies for the two grainy ones that are still my own.