Last Updated on June 10, 2020 by Leyla Kazim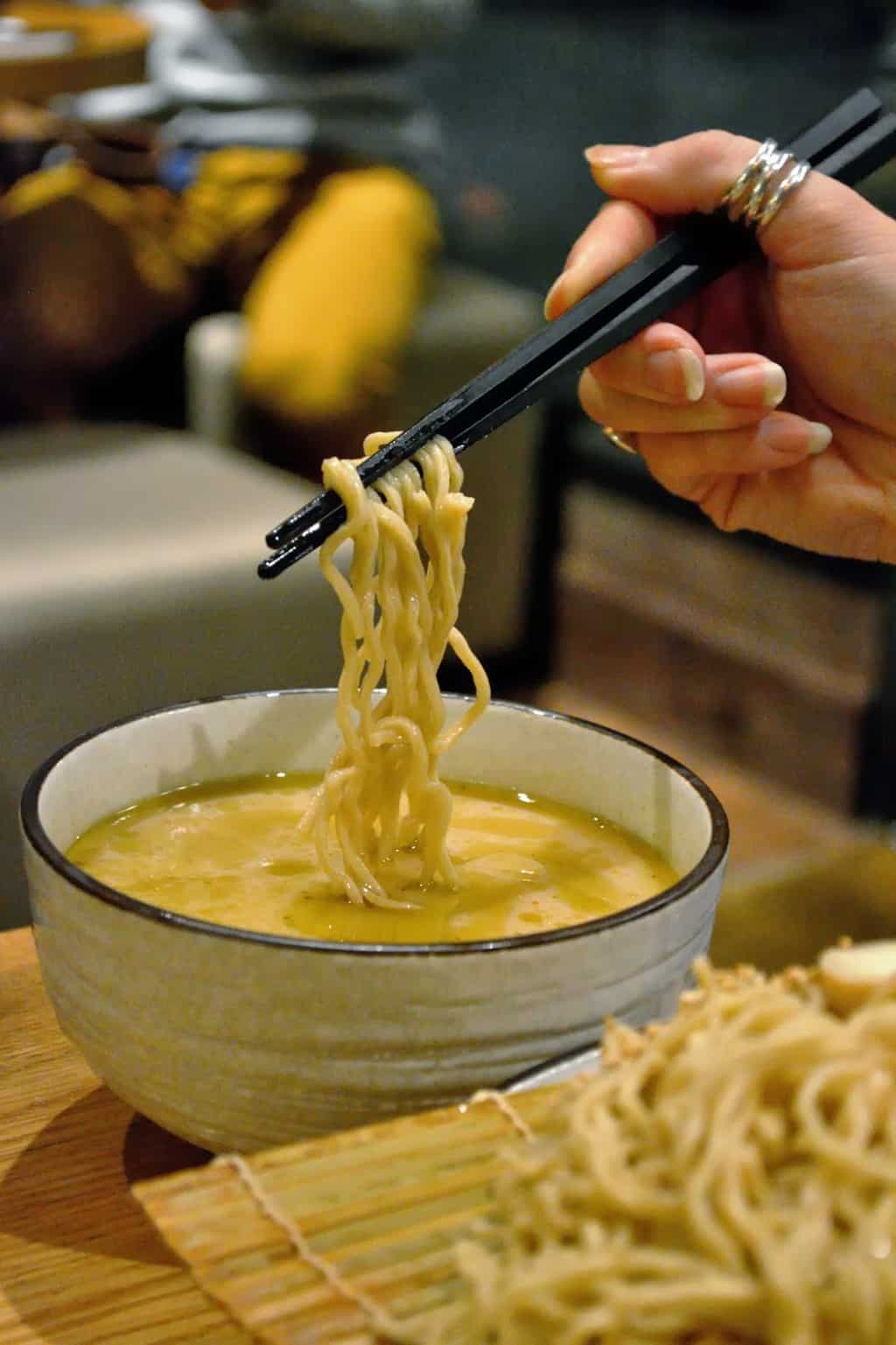 The amount of words on a menu are directly proportional to how long it takes to place an order. Too much and blinking eyes struggle to digest what's on offer while stomach rumblings grow stronger.
With no less than fourteen ways of ramen to choose from at Shoryu each with lines of text beneath, the first minutes of my maiden visit were filled with the internal anguish of attempting to decipher the differences. It turns out they are mostly the same with one or two additional or held back ingredients to distinguish them; I'm sure this could have been articulated in fewer words.
In a restaurant proud of its Hakata-born Executive Chef cooking up ramen dishes from the region, the inclusion of a 'Piri Piri Tonkotsu' in these offerings had the dial on my gimmick-radar twitching. I believe I am correct in thinking Hakata is in Japan, and not Portugal.
Despite these initial shortcomings, the karaka tan tan tonkotsu was presented with all the appeal you would expect from a spicy bowl of hot broth and noodles on a chilly evening. It looked great – cloudy thick white miso stock vibrant from the chiu chow chilli oil, fried mince pork (rather than barbecue pork in most of the others), lemon and garlic. And in fact even more garlic as the bulb fiend within me made full use of the well received pot of cloves complete with crusher at the table.
The stock was fierce and with a level of depth, and with the added cloves would do wonders at blasting any cold into next winter. While I'm the first to appreciate fire in my food, this love wanes when the heat is at the expense of any other flavour: the character from the mushrooms, bean sprouts, spring onion and ginger were suppressed to whimpers, the nitamago egg was lost in the chilli, the nori may as well have been absent, and the pork was at least visually present if little else.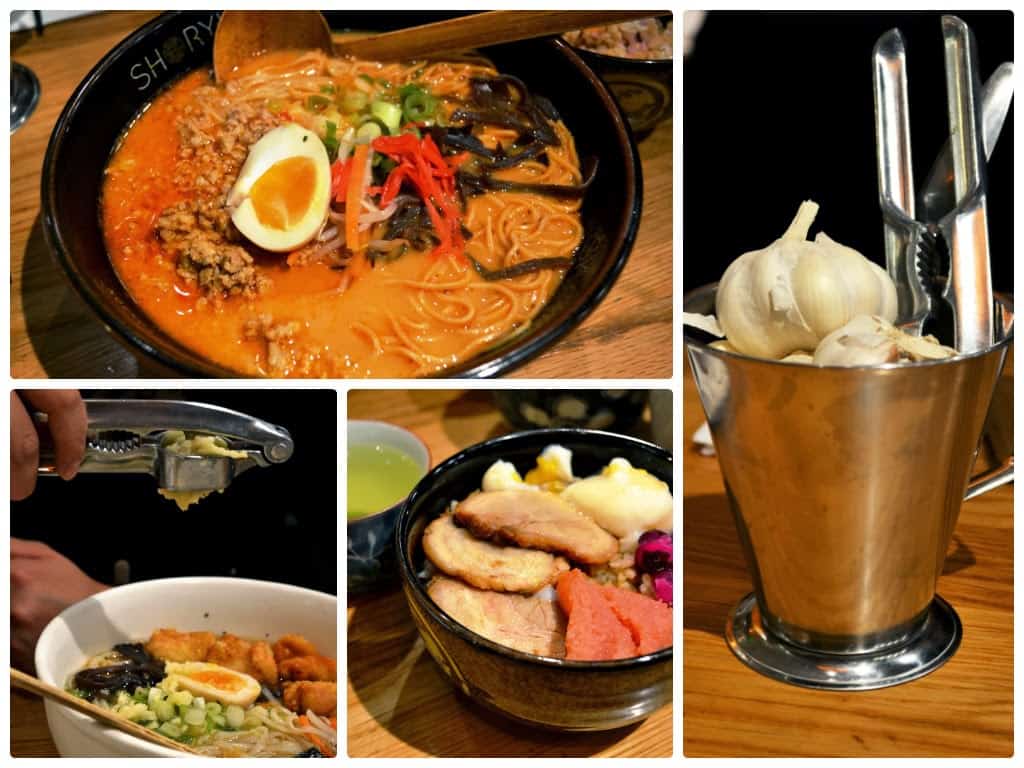 Satisfying a rumbling stomach it achieved with success, as one would expect a large amount of liquid and noodles to do. But provide insight into the intricate balance of textures and flavours accustomed to a bowl of very good ramen, it did not.
I ate it though, and it certainly wasn't unpleasant. For what I physically required in that moment (a quick and filling bite pre-theatre), it met my needs. But happiness in the present is shattered by comparison with the past and it was impossible not to do so with my only other ramen venture to date, Tonkotsu.
They make their noodles fresh each day with a machine on sight shipped from Japan. Their marinated nitamago egg halves are spectacularly savoury with soft middles. The broth is heavy with the flavour of pig and its disintegrated fat. The menu is brief and clear with just five ramen offerings done very well. Their waiters don't wear hachimaki headbands. And orders don't get 'lost in the kitchen' arriving 15 minutes later than the rest.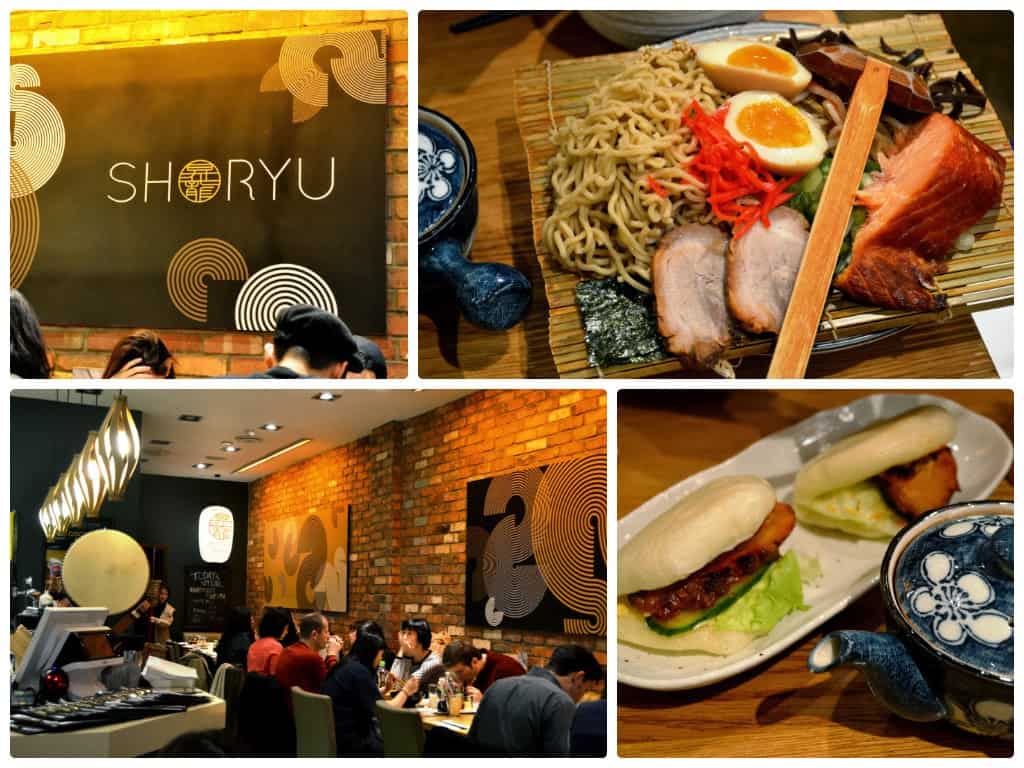 Fire and ice tsukemen had ramen sitting on ice topped with hot smoked salmon, some pork and the halved egg, served with a side bowl of warm wasabi-tonkotsu dipping sauce. Which you know, looked nice.
While the barbeque pork belly on its own had merit, in the hirata buns it was served with a mayonnaise and an uninspiring pairing of iceberg lettuce and a slice of cucumber. On paper the side of shoryu genki don flirted with its enticing list of components: rice, bbq pork, mentaiko caviar, onsen tamago (first sampled not long ago at Luiz Hara's excellent Japanese supper club), pickles and seaweed. In reality it was 90% rice, the egg white was undercooked, the caviar was mostly a mass of skin, and the pickles were barely sour. I left most of it.
Part of me wishes I had stuck to the signature shoryu ganso tonkotsu ramen to understand if they get the basics right. To appease this curiosity, and because there are a few people I respect who really quite like this place, I would give it another chance.
When I next fancy ramen, and Tonkotsu is too far.
Liked lots: crushed garlic cloves on tap
Liked less: seated on small stools; nowhere to hang bulky coats; the 'lost order'; too much chilli oil in broth;
Good for: dinner if you're an Asian student as most of the clientèle seemed to be
My rating: 3/5
Afiyet olsun.