Last Updated on May 19, 2021 by Leyla Kazim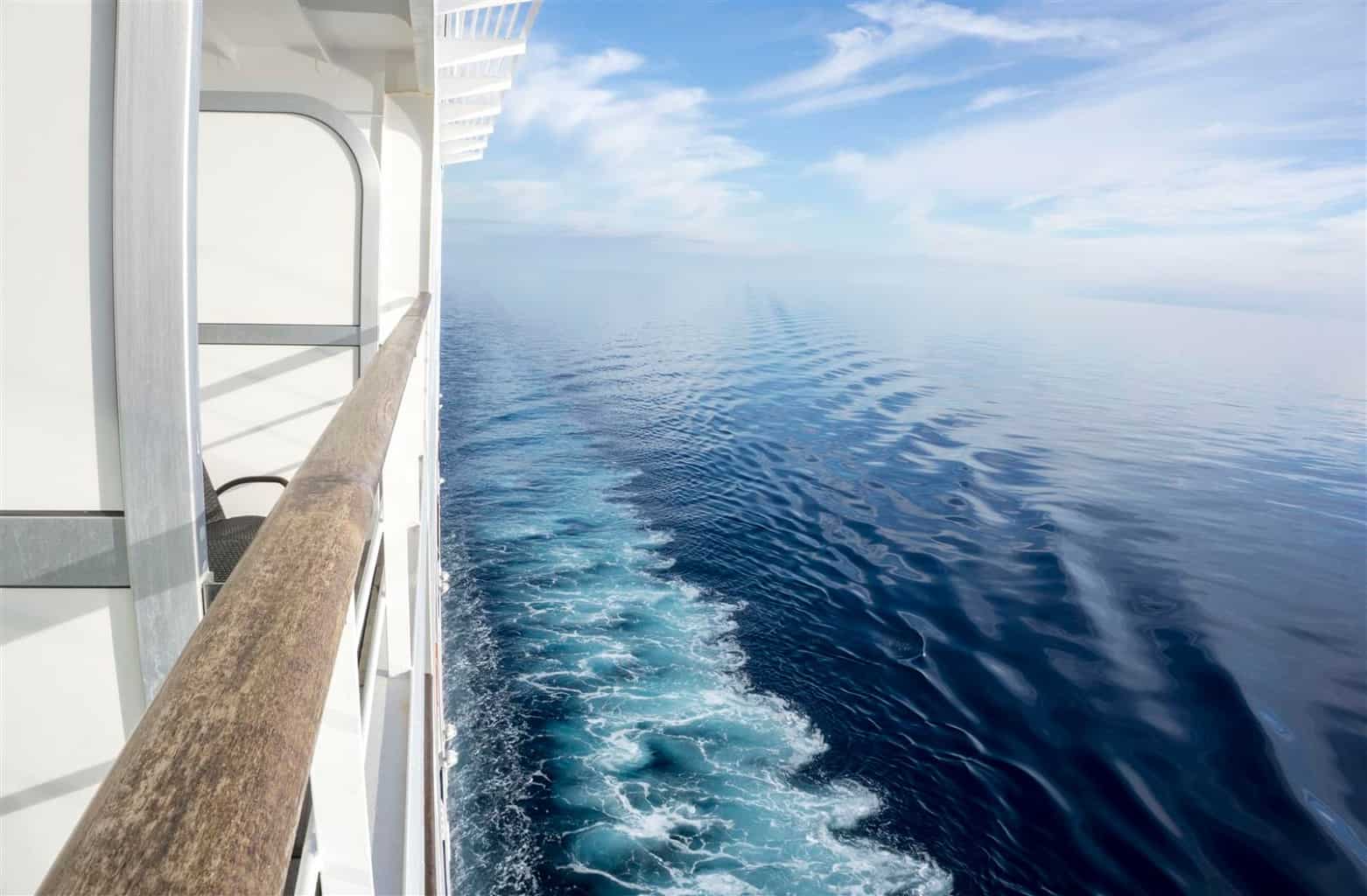 view from my cabin aboard Silversea's Silver Spirit ship
In a nutshell
The newest and largest cruise ship from Silversea's fleet of eight, the exclusive Silver Spirit accommodates an intimate 540 guests, 376 crew, and some of the most spacious lodgings at sea.
All suites have an ocean-view, with most having private verandas you can step out onto to take a deep breath of that salty sea air, and they all come with a butler. Yep.
I spent seven days on it; it was an excellent week.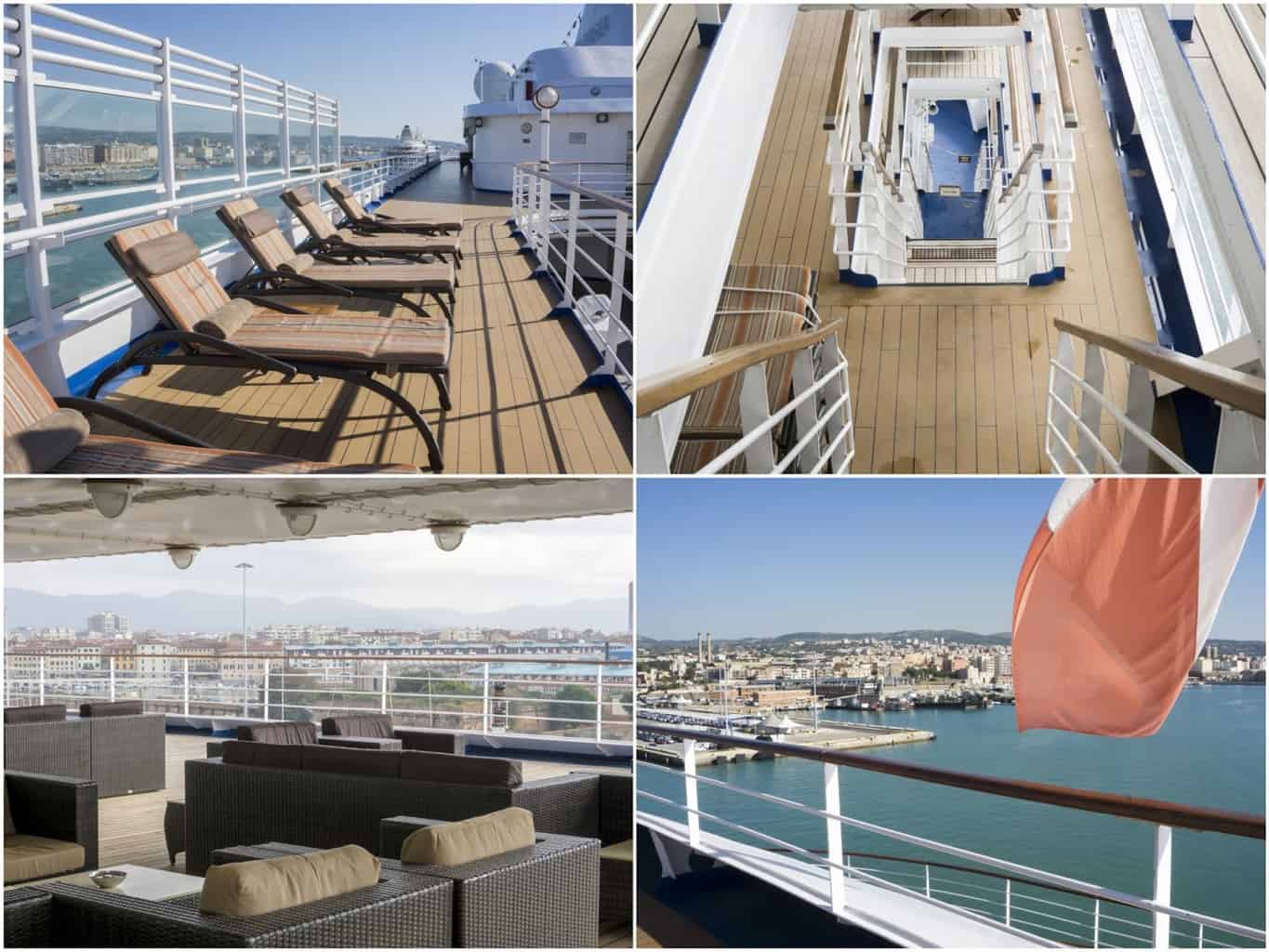 Silversea's Silver Spirit
Silversea's Silver Spirit
Where is it?
Well, it really could be anywhere.
The fleet of eight, as a collective, sail to over 800 destinations on all seven continents, more than any other cruise line. These ultra-luxury vessels are small and nimble, meaning they can slip up narrow waterways into the heart of a city, or tie up right at the pier while others need to anchor off shore. And that is very cool indeed.
Think of cruising on up into the centre of St. Petersburg, around the tip of Cape Town, along the oil-rich sheikdoms of the Middle East, across bustling Sydney Harbour, or through breathtaking Chilean fjords.
The Silversea Cruises destination guide is split into Africa and the Indian Ocean; Alaska; Asia; Australia and New Zealand; Canada and New England; Caribbean and Central America; Mediterranean; Micronesia, Melanesia, and Polynesia; Northern Europe and the British Isles; South America; and Transoceanic.
But this particular week-long trip was the last Mediterranean voyage of the year. We set sail from Livorno in Italy, visiting Monte Carlo, Marseille, Porto Mahon (Menorca) and Palma de Mallorca, before disembarking in Barcelona.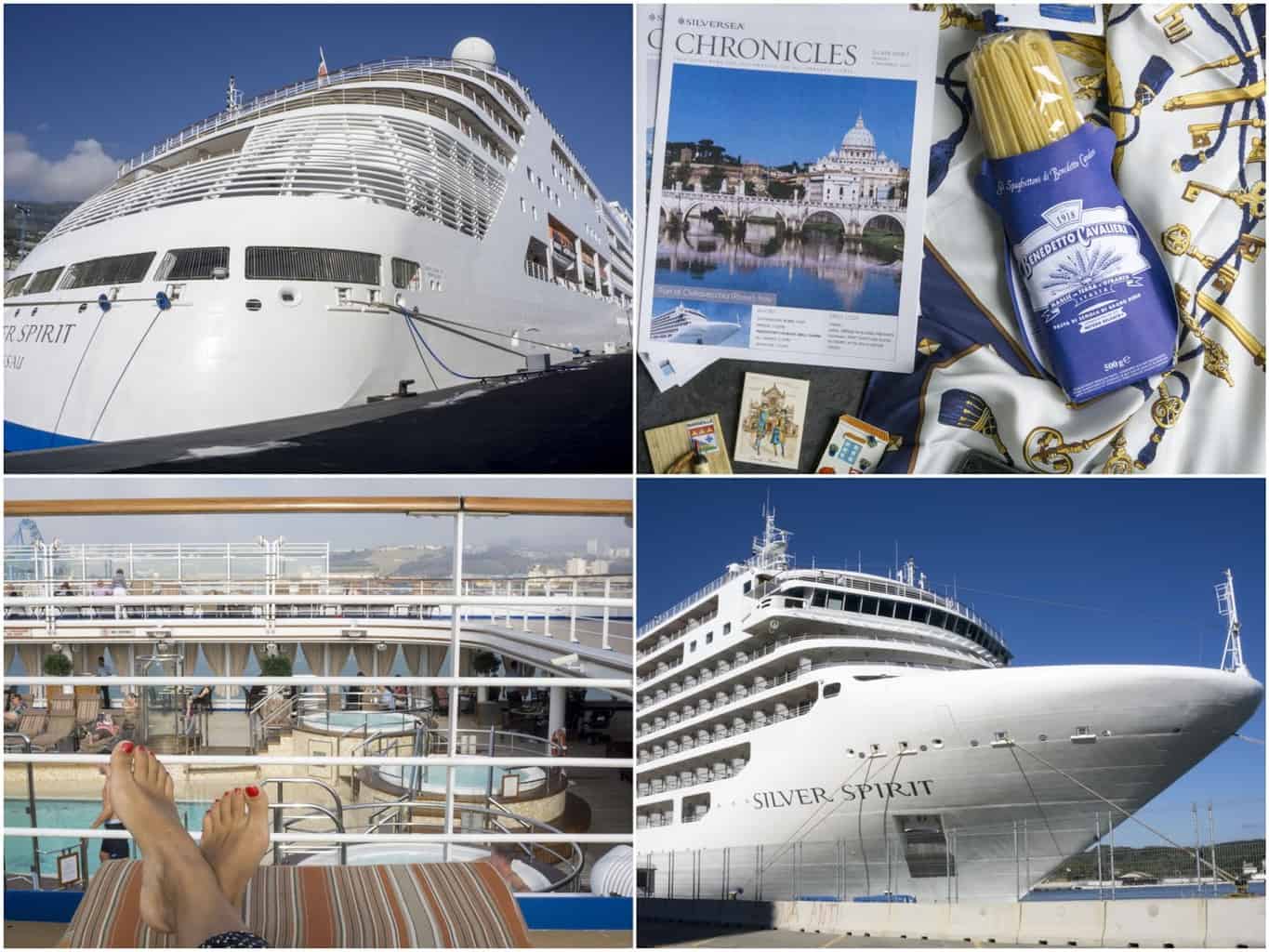 Silversea's Silver Spirit
Style and character
The Veranda Suite. I was really impressed with it. Mostly because it was a good deal larger than a lot of fancy hotel rooms I've stayed in.
Incredibly generous in its proportions, with enough space for a bath tub (apparently very rare – verging on unheard of – in cruise cabins), separate walk in wardrobe, a huge bed, more storage space than my own bedroom, a living room area with a sofa and armchair that can be partitioned off with a curtain, and floor-to-ceiling glass doors, opening onto a private teak veranda, with patio furniture.
And they're not even the biggest suites; they're second from bottom from an option of six. The bottom entry – the Vista Suite – has the exact same proportions, just without the veranda.
They weren't kidding when they said they had some of the most spacious accommodation on the seas.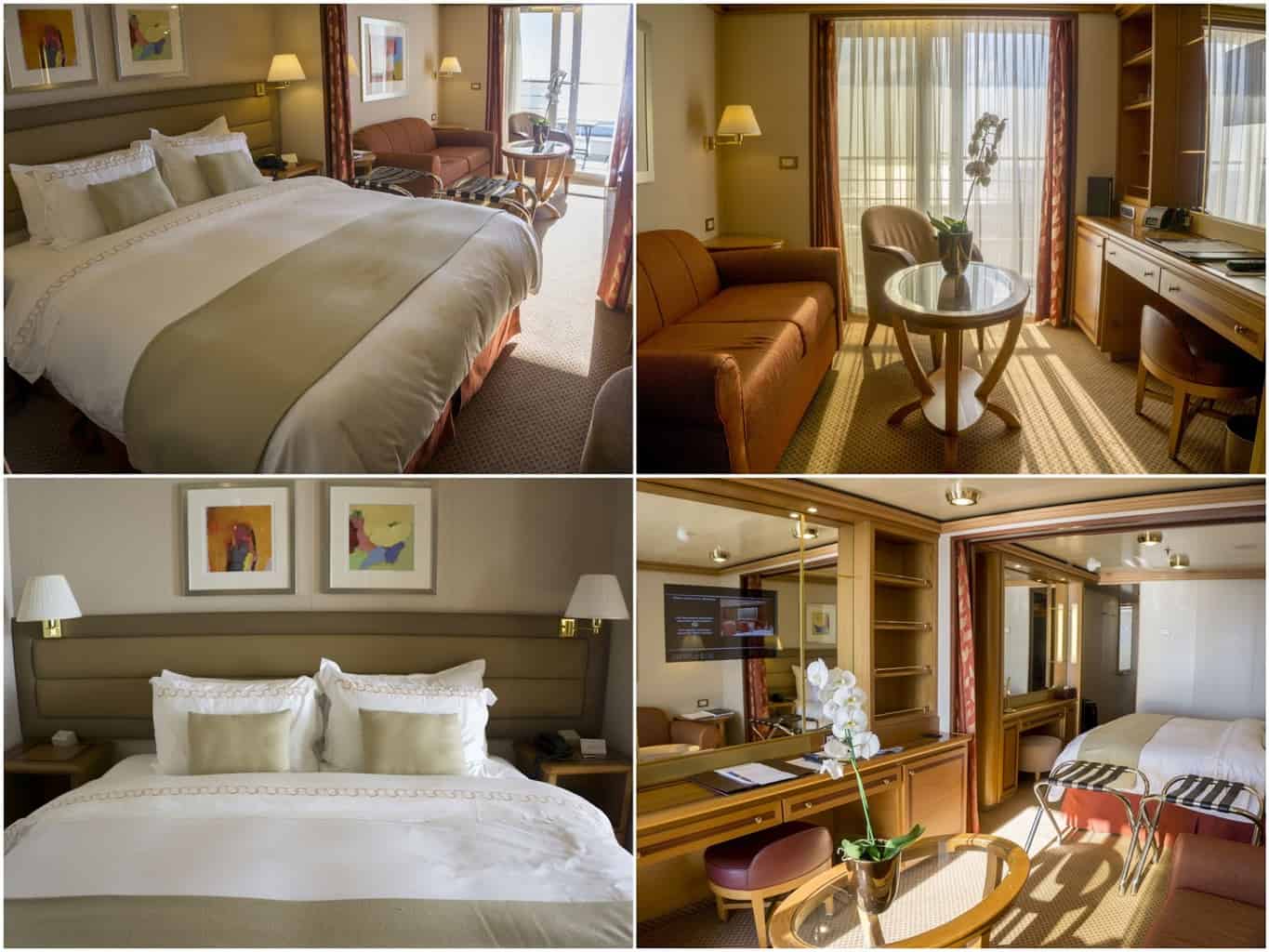 cabin aboard Silversea's Silver Spirit
l
I'm told this is a small vessel, in the grand scheme of cruise ships. Some of the real monsters can hold thousands of guests; I assume just like like massive, hellish resorts with too many screaming kids, but in the middle of the ocean. So good luck escaping that.
But it's weird, because Silver Spirit felt huge to me (so who knows what those towns-at-sea must feel like). It took me a good few days to figure out where everything was, and to stop getting lost. And actually, for the number of guests it holds (540, so lets half that to get the number of rooms), it is big.
The amount of space per head is so generous, that sometimes you'll be in a part of the ship and not spot another soul. Apart from the exemplary staff who'll know you're there, then sidle on over to see if you'd like a drink with that spectacular bruising sunset you're enjoying. Go on then.
Then there's all 8,300 square feet of the on board spa, with nine treatment rooms, indoor and outdoor relaxation areas, an outdoor whirlpool, and the ceramic-tiled Thermal Suite – an exclusive spa area with heated lounge chairs. They've even got a connecting private Hammam (Turkish bath) Chamber, one of several treatments unique to this particular ship. I wouldn't even know where to get a Hammam in London.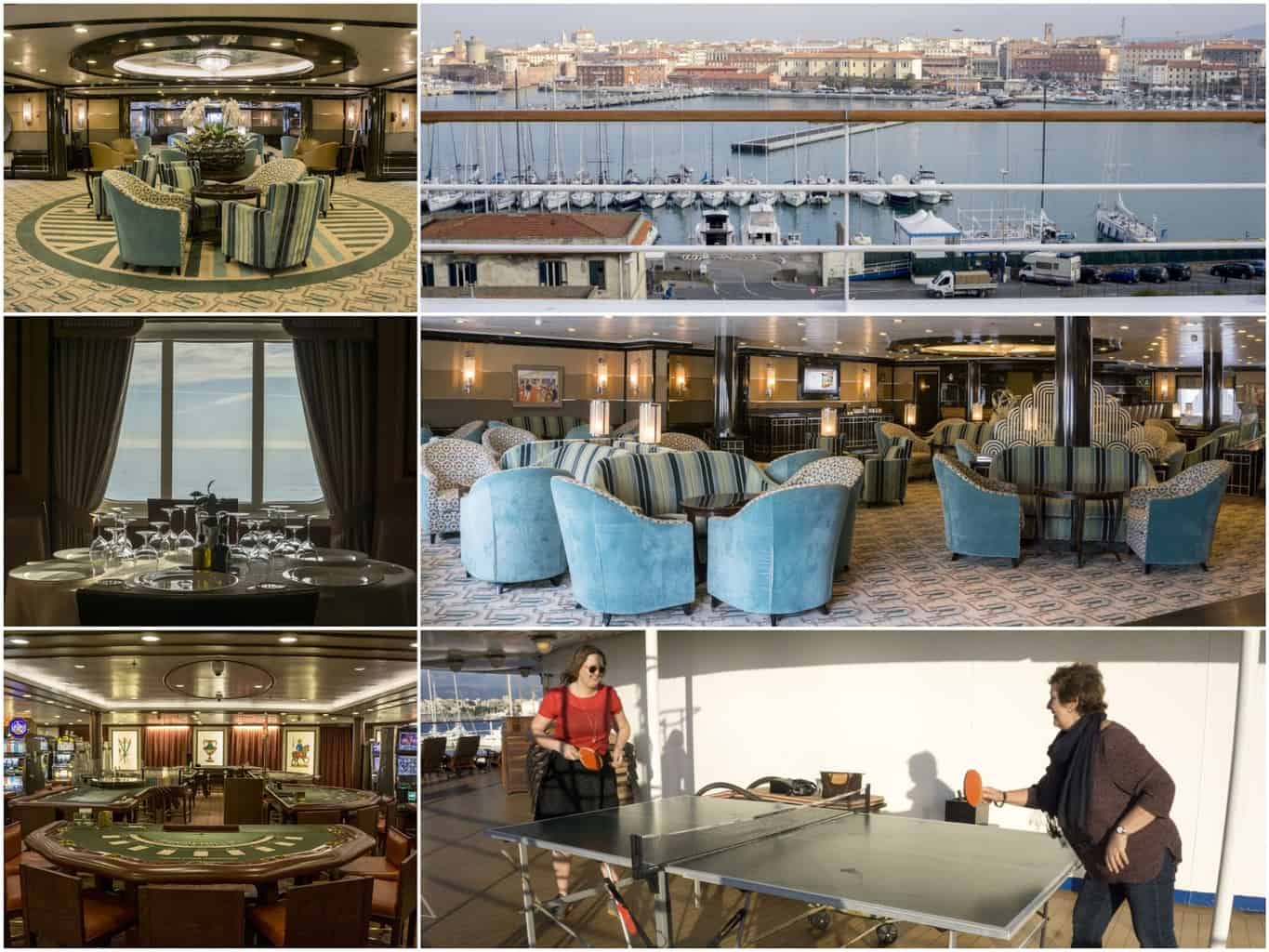 public spaces on Silversea's Silver Spirit
Should you be itching to spend some money – easier said than done considering all food and drink on the ship is included (you heard, see What's unique below) – there are plenty of opportunities. You can while away late night hours trying your luck at roulette, blackjack or slot machines in the onboard casino, get spendy in the strip of high-end boutiques selling the likes of Bulgari, Gucci and Swarovski, or opt for some pampering in the beauty salon.
The pool deck is furnished with chaise lounges arranged in the sun and shade, bubbling whirlpools and a pool that's heated when in cooler climates. Staff are dotted about at the ready with an oversized towel and your favourite tipple as you emerge from it.
The well equipped fitness centre is very necessary evil to work off the inevitable over-indulgence, and the Show Lounge theatre hosts a load of entertainment, from full-scale production shows and classical soloists, to cultural entertainment and feature films. It's also the place you'll find people doing lectures on stuff they know a lot about. During my stay, there was a talk by Alexandre Renoir, the great-grandson of the great French impressionist Pierre-Auguste Renoir, and himself a successful artist.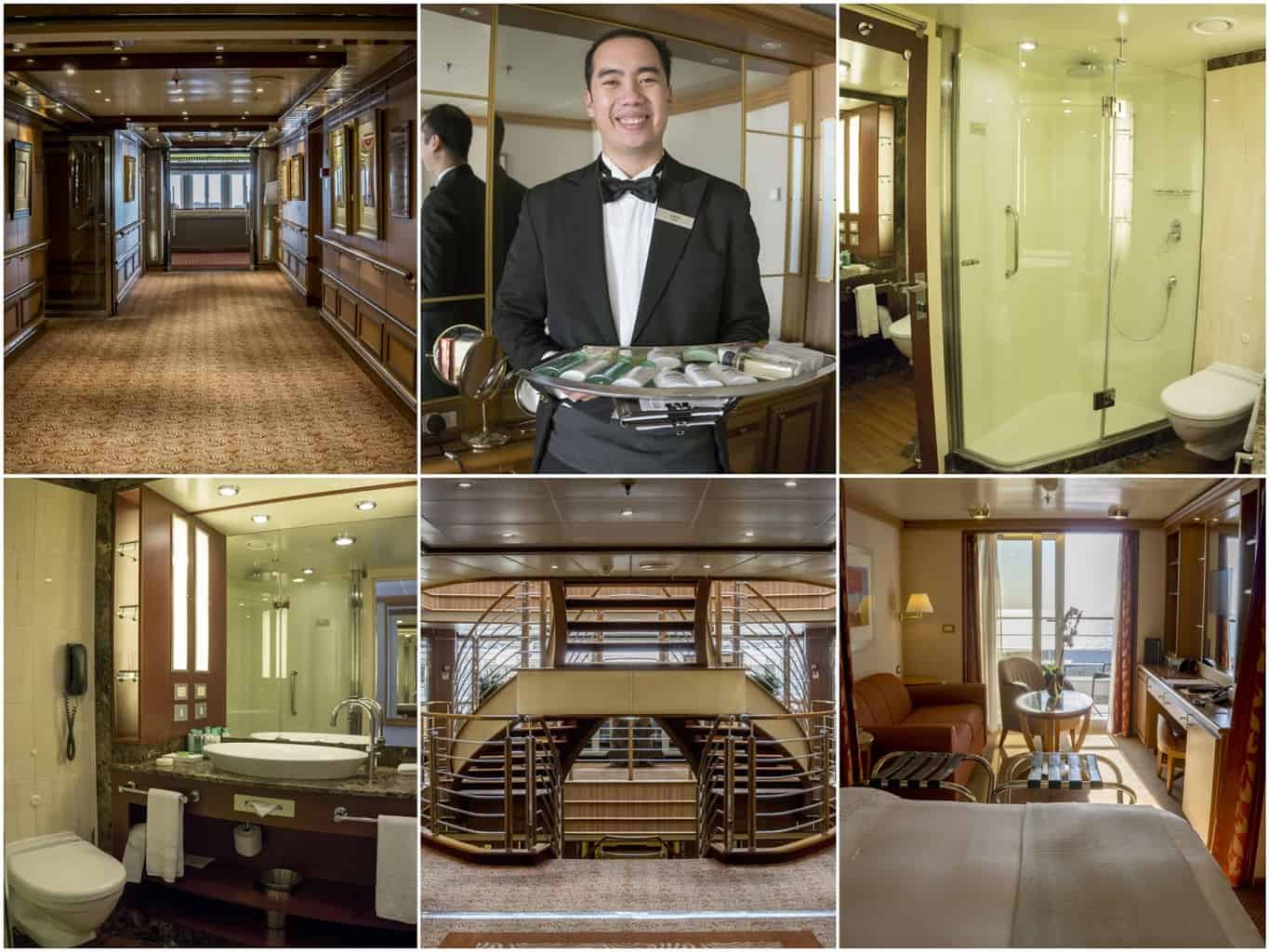 Silversea's Silver Spirit
What's unique?
All inclusive. This truly is an all-in offering. Apart from shore excursion tours, the casino, beauty salon and spa services, and a minimal surcharge at a couple of on-board restaurants, everything on the ship is included in the fee.
From room service, to your minibar being stocked with the premium wine or spirit of your choice (a whole litre-bottle's worth, by the way), all food and alcohol across the ship, shuttle buses into town at the docked ports (where applicable), even gratuities. Gratuities! There are few things more awkward in life than a loitering bell boy making endless small talk until you slip him a note. Not here – joy.

Butler for everyone. What is luxury living if it doesn't involve a butler. Not luxury enough, darling. Which is why on Silversea ships, every guest has a supremely smart tuxedo'd butler at their beck and call, in all suites, in every category. And they're the only cruise line in the world to do that.
Family-run. In a world of multi-national conglomerates, Silversea is owned and operated by one family — the Lefebvres of Rome. This means genuine pride in ownership, that uniquely Italian passion for embracing la dolce vita, and a personal commitment to maintaining the high standards of cruise excellence that have been the cornerstone of the company from the very beginning.
Fine art for sale. Silver Spirit doubles up as the Andrew Weiss art gallery. Every corridor on every deck is lined with exquisite pieces of fine art. There were so many, we were convinced they couldn't be genuine. There also seemed to be no security around them. "Where are the motion-detector laser beams, guards, alarm systems?" I asked a member of staff in earnest. "What if someone steals them!". The response, "Where will they hide? There's only one way off this ship, and no one is getting past with a Picasso." Good point.
Not to mention the price tags seemed pretty reasonable – $35,000 for a genuine Picasso? Bargain (if you have that sort of money)! But real they were, and for sale they were too.
Art Curator Rami Ron was available for walks and talks through the collection, and special guest Alexandre Renoir (mentioned above), was also on board to chat all things creative. It's not every day you walk past pieces by Dali, Rembrandt, Warhol and Renoir, on the short saunter from your bedroom to breakfast.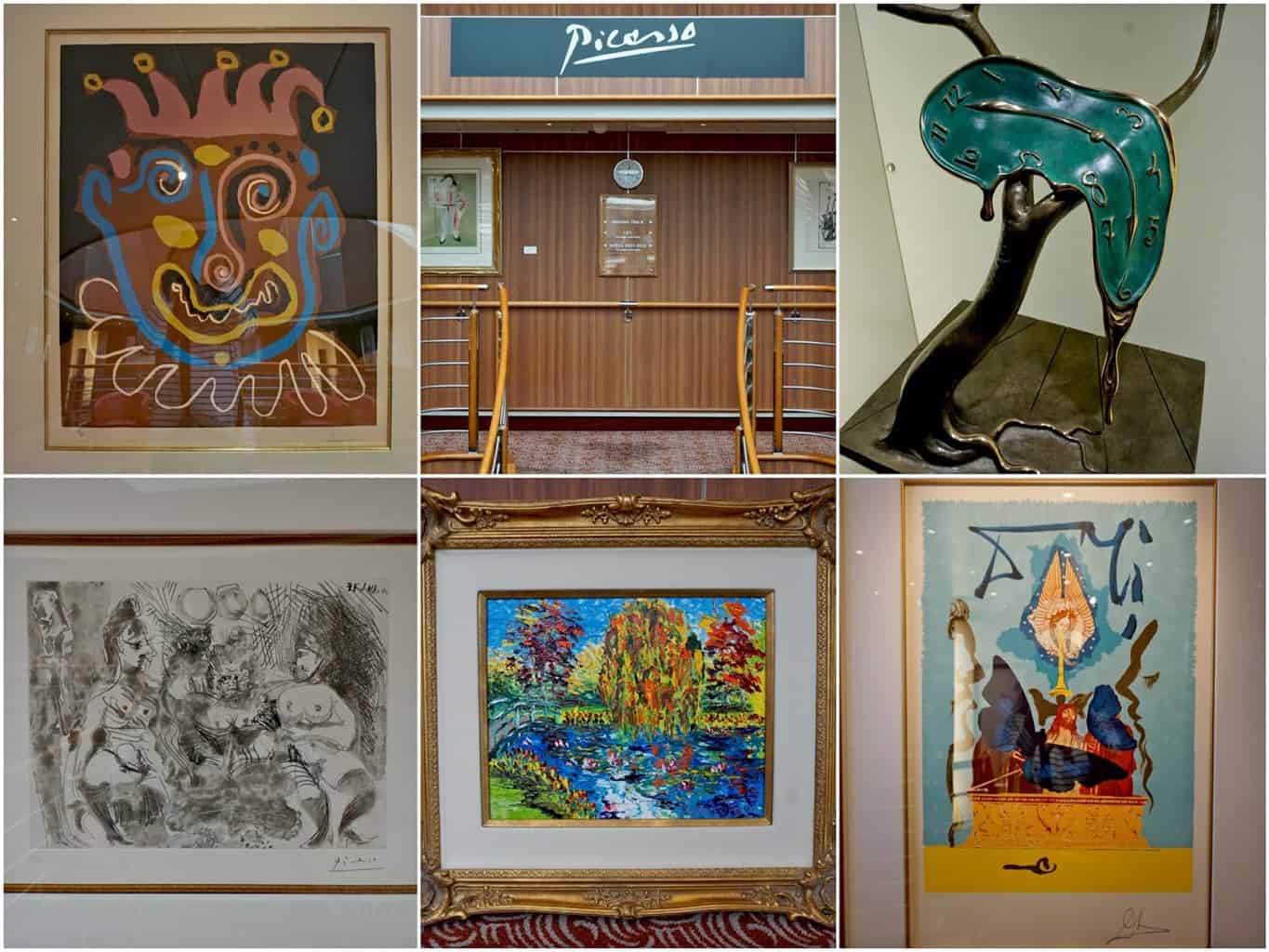 fine art for sale in the Andrew Weiss gallery aboard Silversea's Silver Spirit
Who goes?

Cruise ships: for the newly wed, the nearly dead, and the very well fed. Such was the well-worn sea-faring phrase my shipmate Karen from Lavender and Lovage shared with me, in an exercise to point out that second category didn't seem to apply on Silver Spirit. "This ship has a far lower average age than any other I've been on," she divulged.
Whilst the majority are 50+, there were many considerably younger couples, and two or three generations of families enjoying a holiday together. We spotted only one very elderly person confined to a wheelchair (a much more common sight on other ships, Karen told me); everyone else was sprightly and ready to party, whatever their age.
It was quite apparent that some had been on this ship many times before. I spotted a few guests at check-in embracing staff members like an old friend, with arms flung open wide.
Taking that to the extreme, we shared a cocktail with a couple who have spent the best part of the past three years aboard this ship, travelling the whole world in what they call their 'second home'. They keep the same suite, and they will even keep their luggage on board despite an upcoming three week hiatus ashore before it sets sail on a new venture.
Endless days of azure ocean views, being waited on hand and foot, and all the booze and food you can handle. That's no bad way to spend a few bob.
Silversea's Silver Spirit
Breakfast
Your choice where you have it – gazing out over serene waters from your cabin veranda, an al fresco buffet whilst enjoying the port views of wherever you've docked that morning at La Terrazza, or an a la carte offering from The Restaurant.
The spread is an impressive one. Expect the likes of a daily fruit or vegetable Vitamix blend, freshly baked bagels, muffins, rye crisp breads, pumpernickel, cold cuts, assorted cheeses, smoked salmon, juice-sweetened muffins, pastries, pancakes, waffles.
There's fresh fruit including grilled peaches with acacia honey, cereals and granola with fresh berries, breakfast couscous with honey and dates, an egg station, a choice of English, Canadian or American bacon (get the American!), hash browns (rejoice – these are hardly ever at breakfast buffets), cumin-scented egg-white omelette florentine, bacon and spinach souffle, and a whole load more.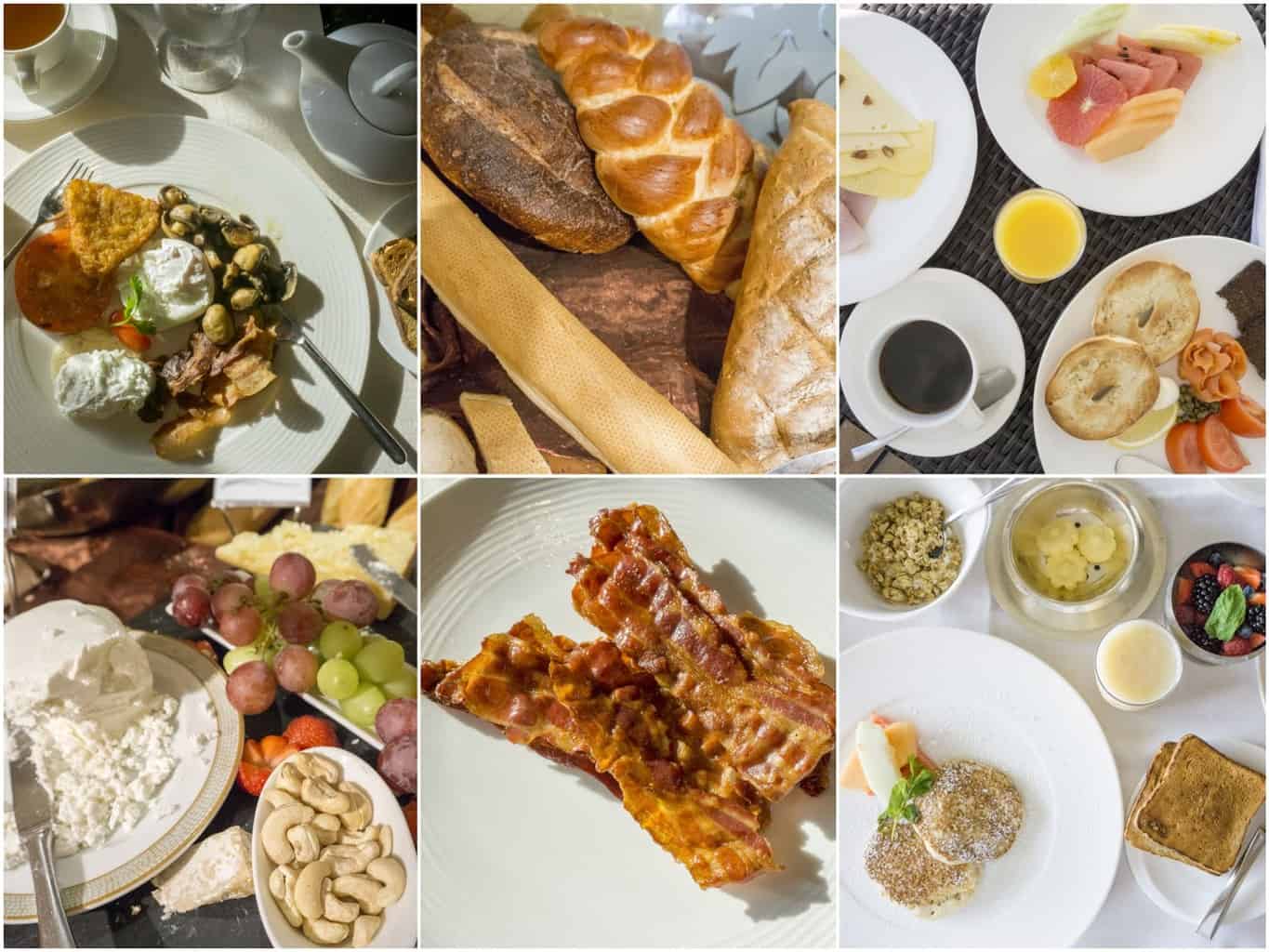 breakfast aboard Silversea's Silver Spirit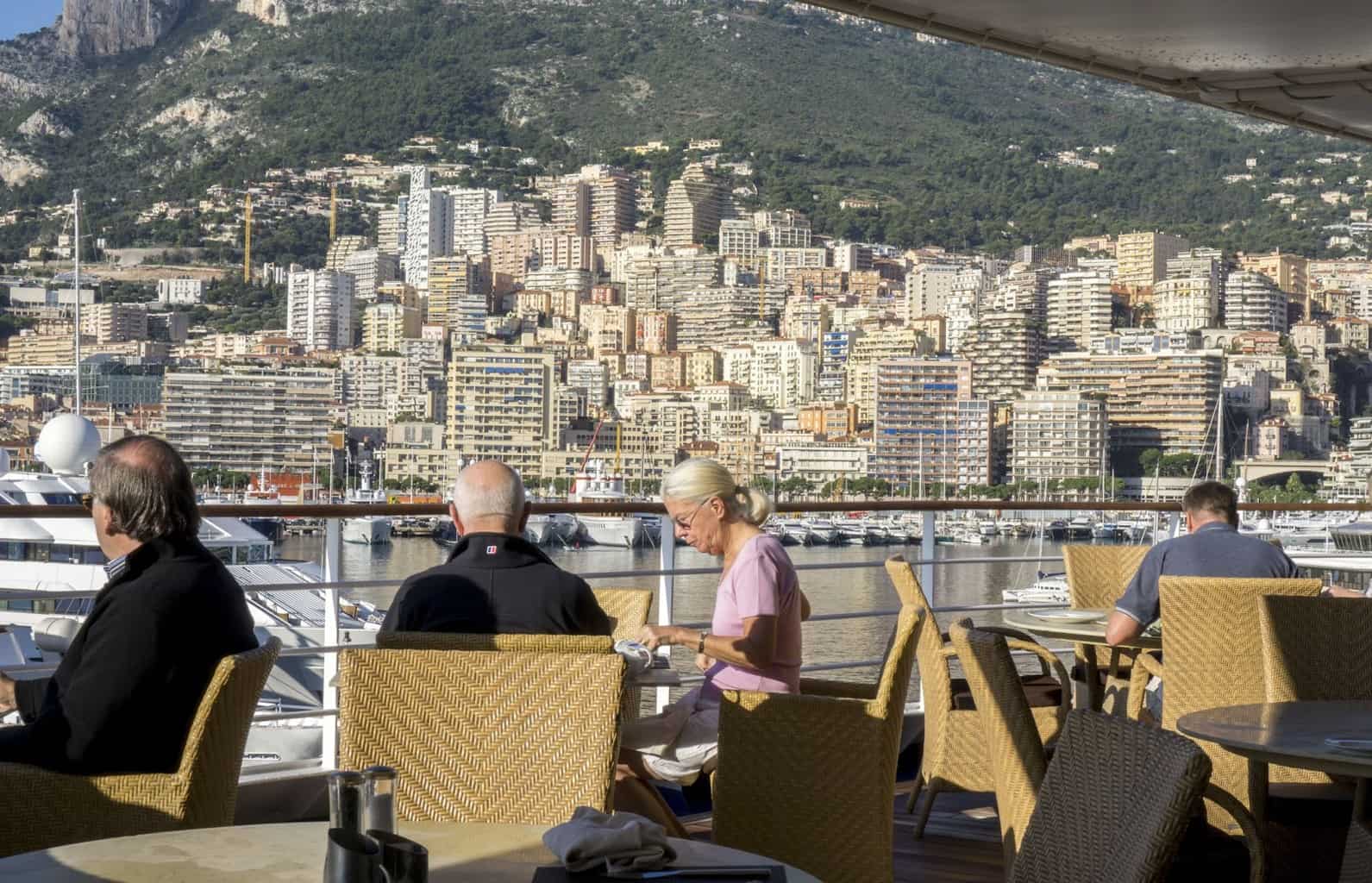 breakfast at La Terrazza aboard Silversea's Silver Spirit, docked in Monaco
l
Dining
With Italian culture orbiting around the epicentre that is food, you would expect dining to be a high priority at Silversea. And, it is. For starters, they have a partnership with the prestigious Grands Chefs Relais & Châteaux.
La Terrazza is also the only restaurant at sea to be approved by the very well-respected international movement that is Slow Food.
Then there's the sparkling crystal, shining silver and sweeping ocean views in the ship's main dining room, The Restaurant, with impeccable continental and regional dishes. Or there are the hot rocks that take centre stage in the evenings at The Grill – DIY table-top lava-stone cooking at its most theatrical. Throw on a cut of Sterling Silver Premium rib-eye, watch it sizzle, and give your compliments to the chef (that's you).
Seishin showcases regional dishes from Japan, as well as China, Thailand, Vietnam and India, from Kobe beef to spider lobster, sake pairings, and a buffet sushi and sashimi bar for lunch.
There's a lot more to say about food and dining and all the amazing eating had on this particular trip, as it was one of Silversea's gourmet cruises. So I'm going to stop here, and save the rest for another post.
(And here is that post – SILVERSEA: A gourmet 7-day cruise through the Mediterranean).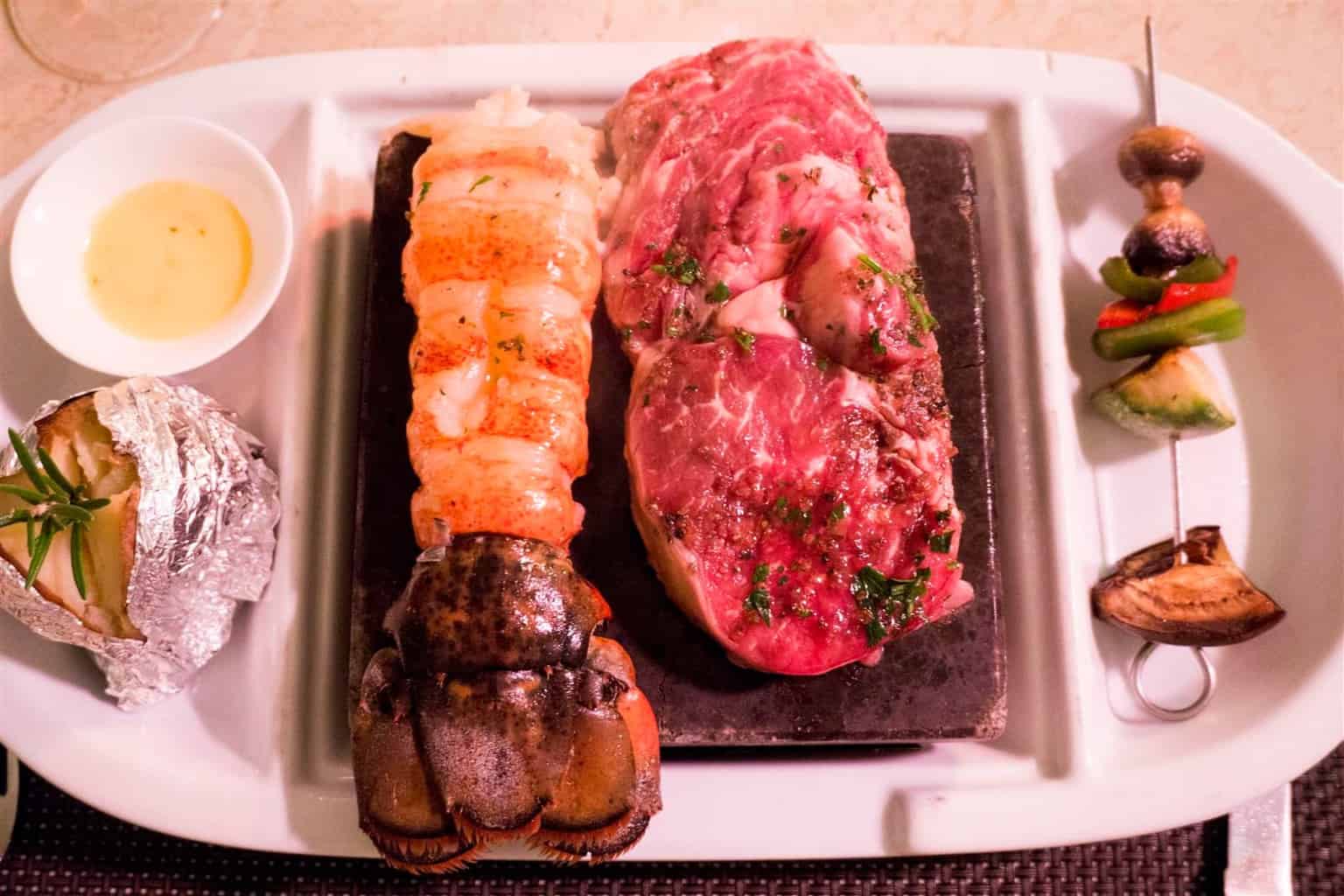 Silversea dining sneak peak – lobster and steak
l
Service
There's a really key point to Silversea when it comes to staff; all gratuities are included in your fare. This means all that commendable service you receive on their ships – and trust me, there will be a lot of that – is motivated solely by the desire to execute great hospitality. And that makes a big difference.
From the point of check-in, guests are greeted with an outstretched, white-gloved hand presenting a flute of champagne from a silver tray. There's a staff-to-guest ratio of nearly one to one, and they're all trained by the prestigious The Leading Hotels of the World. Not to mention the butlers receive their training from The Guild of Professional English Butlers.
They're not only very good at what they do, they clearly enjoy it. In fewer hospitality venues have I seen such great comradery amongst staff, and between staff and guests. Everyone, including those at work, seem to be having a bloody great time. They're very, very good at making the ship feel like an exclusive club, and you a preferred member of it.
A special thank you must be given to our butler, Albert. As every other member of staff seemed to do on this ship, he went out of his way to outdo expectations when it came to service. One night, we asked Albert if he could arrange a few drinks for us in one of our cabins, for a little pre-dinner in-room party. We were expecting a few glasses laid out, some ice, and perhaps him there to pour.
What we actually got were balloons, flashing disco lights and a music playlist, and an impressive glowing table centrepiece, adorned with nibbles and a specially made chocolate-mousse birthday cake (superb) Albert managed to coax from a very busy galley. He stayed with us until we were ready to go down to dinner, topping up our glasses with fizz, mixing up gin and tonics, and slicing up the Menorcan salami we'd purchased earlier on in town that day.
Bravo and thank you, Albert.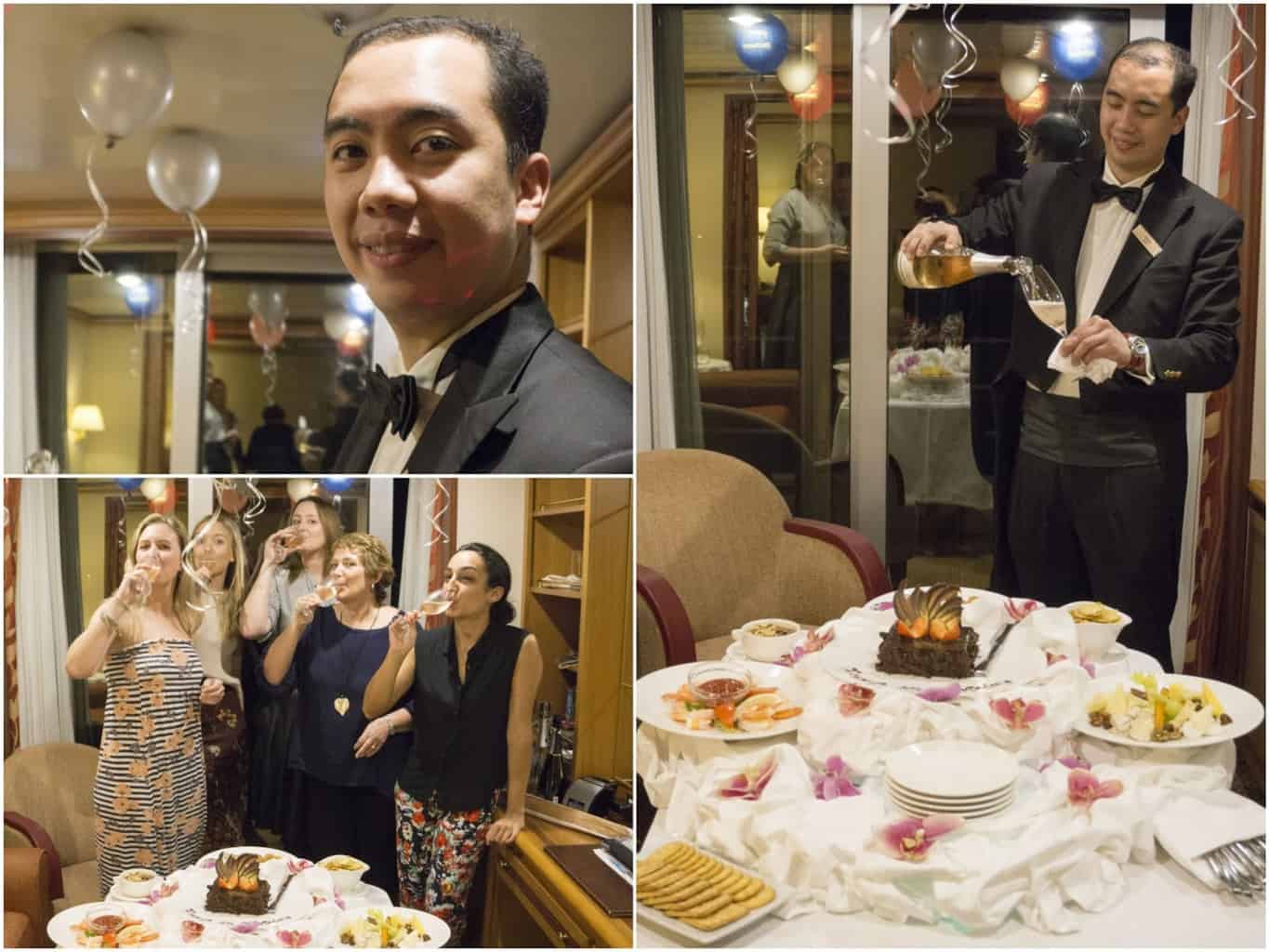 the in-cabin pre-dinner party our fabulous butler, Albert, arranged for us
l
Liked lots & liked less
Liked lots
All of it. Truly, I liked all of it, a lot.
Particularly the morning we docked in Monaco. I woke up, pulled back the curtains bleary-eyed, and was greeted with this magnificent view, right in front of me. One of those cities that looks best from the water. Good morning indeed!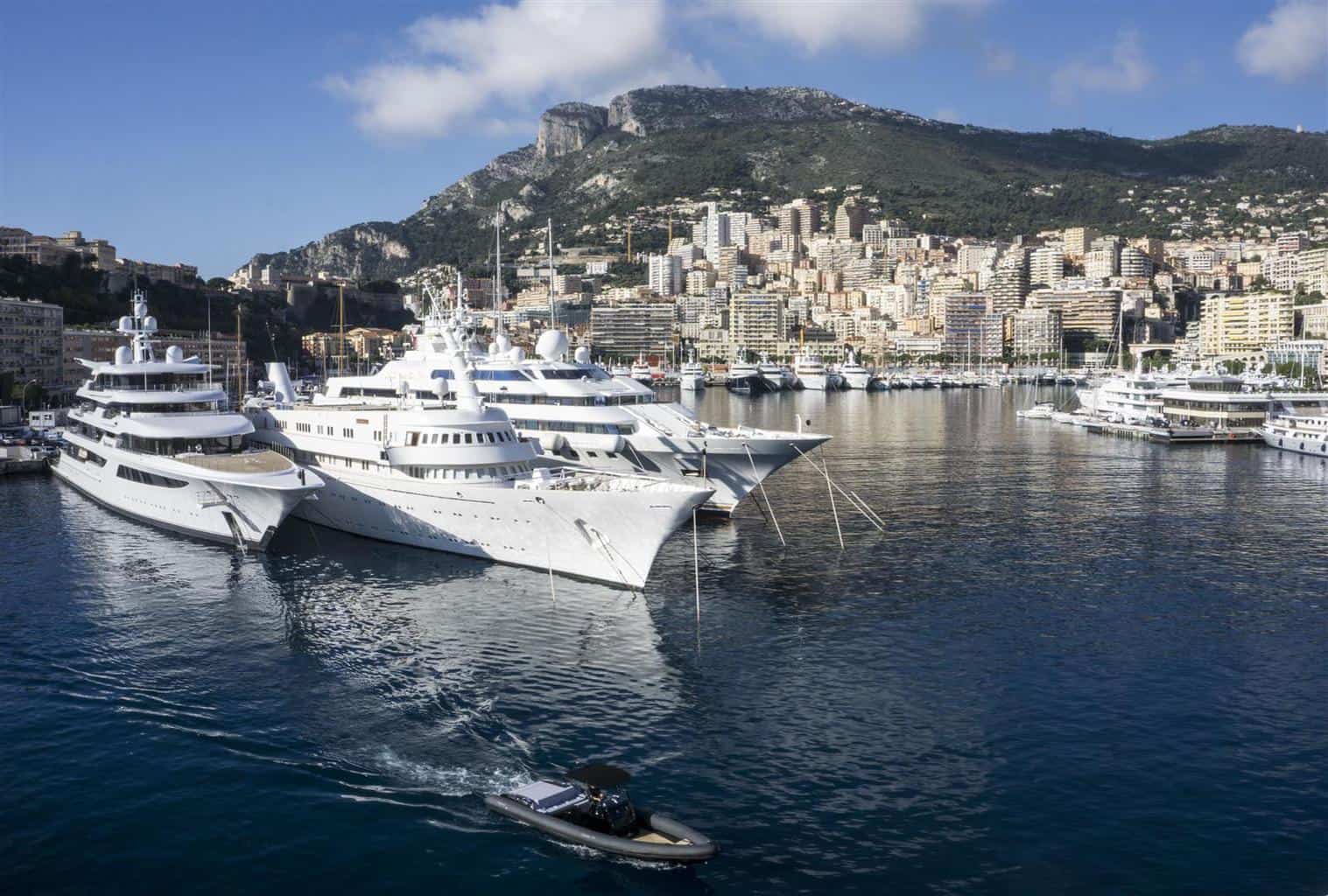 Docked up in Monaco – yacht central. View from my cabin's veranda
l
Also, standing on my private veranda in my pj's before bed as the ship glided elegantly through inky waters, which became a nightly ritual. Looking up at a dark starry sky, the fresh sea air, the cathartic sound of gently swishing waters. Glorious.
I didn't really want to leave.
Liked less
The cabin was crying out for a kettle. And an iron and ironing board. You have to go to the laundry room – one on each deck – if you what to get the creases out of your shirt. When I popped in, there was someone already using the iron, so I had to wait for them to finish, awkwardly standing behind them in a very cramped space.
I think it's a safety reason. But to counteract that, in that room there's a self-serve washing machine and dryer. Which means if you're at sea for a lengthy amount of time, you can get your clothes clean without having to pay for a laundry service. So that's good.
Price point
There are lots of variables that affect this. But taking a look at the website now, today, a similar 7-day cruise around the Med (slightly different stops), aboard Silver Spirit in April 2016, starts from £1950 per person.
And remember, that's all-inclusive. Best to give them a call on the number below for an accurate quote.
Contact
Tel | +44 844 251 0837
www.silversea.com
@Silversea
#silverseamoments
Disclaimer
Note: Silversea kindly hosted this trip as part of a media package – thank you to everyone involved for a truly wonderful and unique experience.


A special note also goes out to Addison Lee Cabs who whisked me to the airport when it was too early for public transport, and also met me on arrival when I returned to London. Their free in-car wifi and charging stations are particularly handy when you forget to do all those important things before running out of the house.

Their loyalty service is also worth reading up on if you're a regular cab user – ClubLee gives some worthy discounts and exclusive offers.


Related posts
SILVERSEA: A gourmet 7-day cruise through the Mediterranean