Last Updated on June 10, 2020 by Leyla Kazim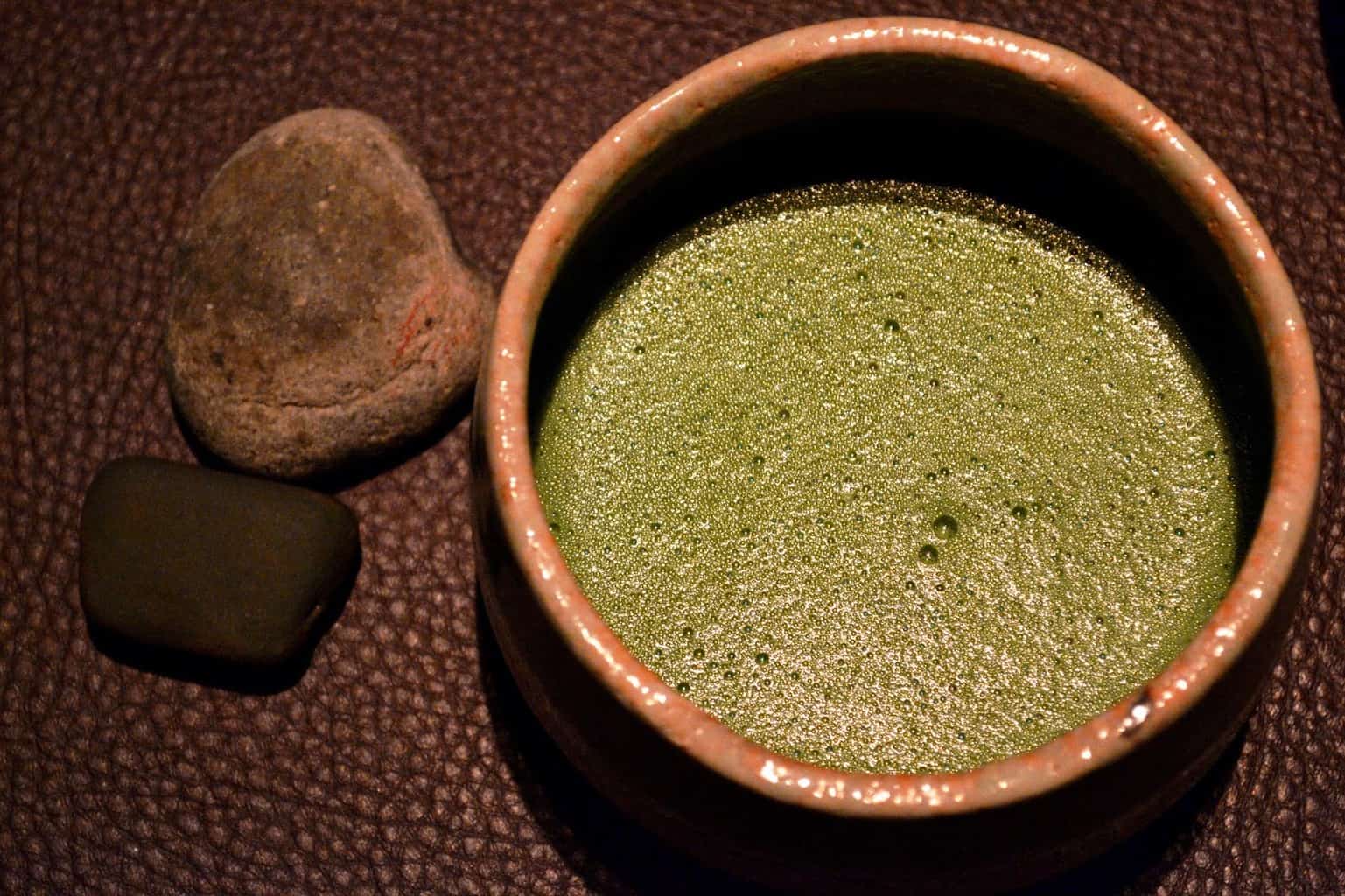 There is a lot of water in Scandinavia. There's a lot of water all over the planet to be fair, but in Scandinavia it's everywhere.
Sweden is made up of around 30,000 islands that on a map look like clay shooting shrapnel scattered across belts of water and the sea. Denmark consists of a peninsula, Jutland, and an archipelago of 407 islands. Great lakes and rivers litter the Scandinavian land like holes in a sieve. And where there are vast expanses of unpolluted, cold and clear waters, there will be excellent things to eat from them.
When I visited Stockholm, I ate more cured salmon in five days than I did in the previous 12 months. You can even fish for the stuff in its waters; fishing for salmon in a capital city – imagine that.
So it comes as no surprise that some of this fine flesh will make its way into the stomachs of residents and visitors alike in the form of sushi. In Denmark's capital of Copenhagen you will not only find one of the greatest restaurants in the world making the most of the abundance of fresh Nordic produce, but also one of a chain of eight sushi restaurants found throughout Denmark and voted one of the best in Copenhagen, Sticks'n'Sushi.
A couple of fellow food bloggers (@yummychooeats and @edgwareviabank) and I were after a Wimbledon dinner venue that could accommodate our discerning palates and photography penchants.
We three are all suckers for the firm and sparkling flesh of spanking fresh sushi and it turns out Sticks'n'Sushi have had their first UK branch in Wimbledon for some time, soon to be followed by a second opening in Covent Garden in the autumn.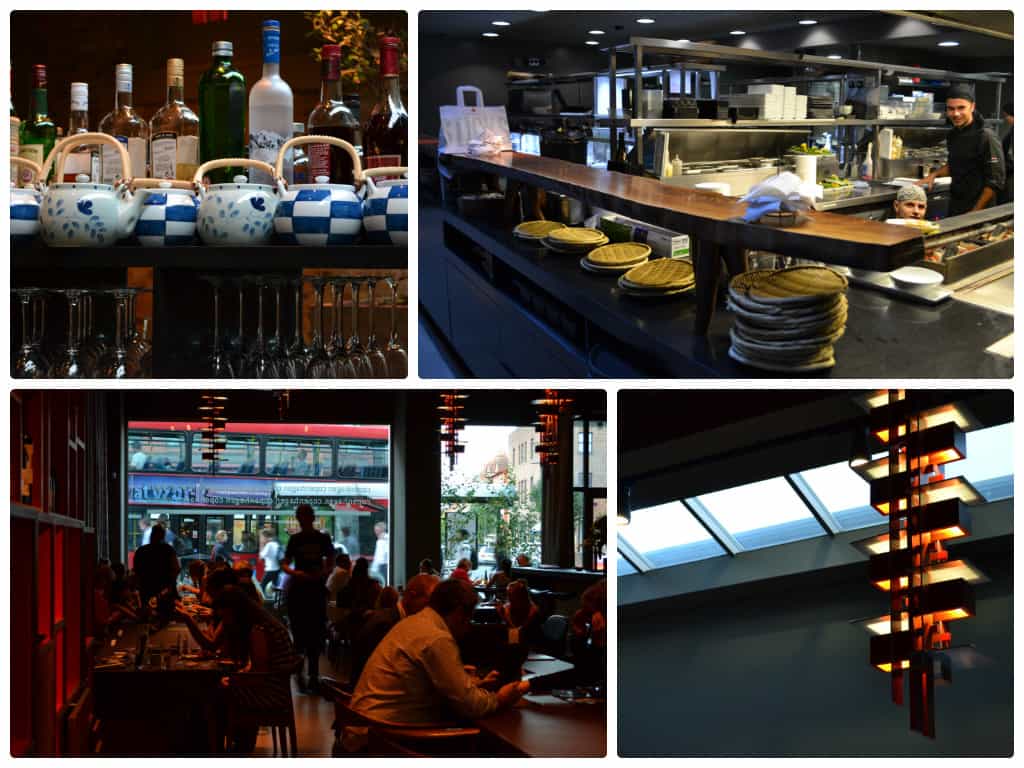 Fully glass fronted, the space within is cavernous to the point that first time visitors exclaiming on entry, 'it's massive in here!' must be an all too common greeting for the staff.
The space used to house horse carts (so our very pleasant waiter Jordan informed us), reflected in the carriage wheel design incorporated into the ends of the long dark tables stretching across the space, ideal for large parties and communal dining.
Above this layer of activity is a huge expanse occupied only by large contemporary Japanese-style lighting hanging from the lofty ceiling. The rear of the premises is home to a bar and the open kitchen and the whole of one side of the restaurant is bordered by the original brick work.
Staff are kitted out in black, the lighting is dim and the atmosphere is sophisticated but informal with unobtrusive monotonous beats of generic house music providing a backdrop for conversation.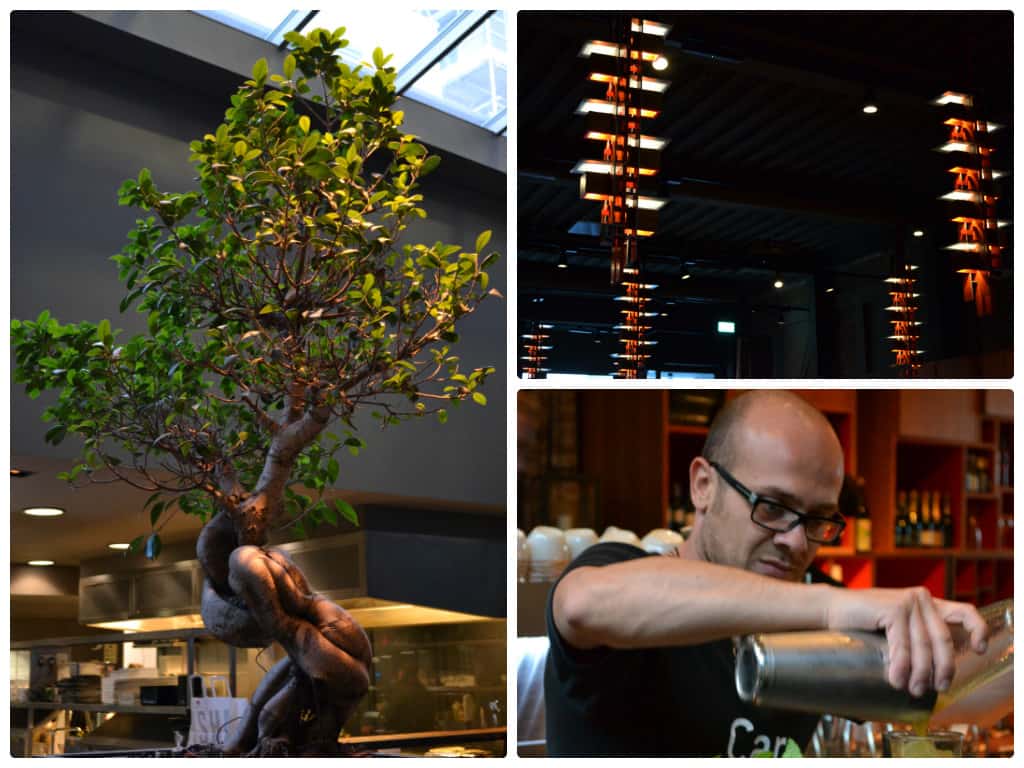 Dominico behind the bar rustled up some impressive fruity virgin cocktails (driving involved), that included raspberries, passion fruit and ginger. Fresh and tart and a good accompaniment to perusing the two beautifully photographed menus.
After much deliberation, we decided on the Sticks'n'Sushi set menu for three, encompassing both sticks (yakitori) and sushi.
The cold elements were presented first and on our plates we found shrimp, halibut, salmon and tuna nigri (sliced raw fish sitting atop a moulded ball of rice). Alongside sat uramaki (inside out rolls) working very well with the flavour from the toasted sesame seeds sprinkled on top.
Two slices of futomaki (big rolls) finished off the plate, encasing seared fish, spicy sauce, avocado, cucumber, chilli, red onion, ginger, and unagi sauce (a thicker and sweeter soy) – incredibly flavoursome, sweet and savoury. The raw fish of the nigri was so yielding and delicate it almost disintegrated on the tongue, with soft rice beneath.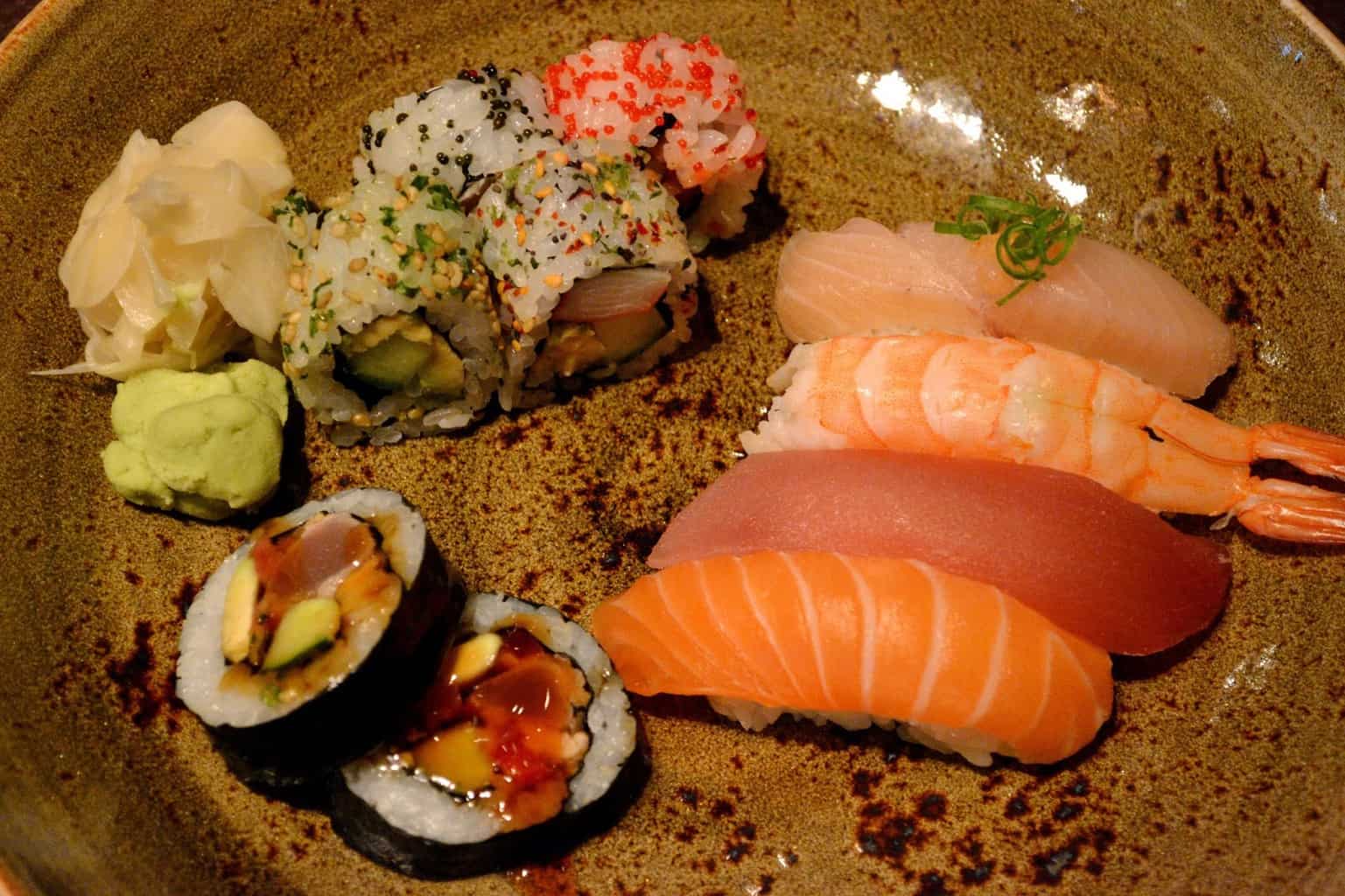 The second half of this set menu soon followed, with hot skewered sticks straight from the kitchen.
Perfectly opaque and moist chicken breast pieces smothered in a chilli sauce, juicy and fat chicken meatballs (tsukune) sticky with sweet soy, and crunchy asparagus wrapped in crisp salted bacon – all the sticks carrying a smoky charred flavour from the grill and served with al dente edamames sprinkled with coarse salt to busy the fingers in between conversation.
The intention was to supplement this platter with a small selection from the a la carte menu, but by the final bite we were already rolling in our digestive juices and ready to move onto something sweet.
Green tea and latte – two words used to describe quite opposing and never-to-meet beverages. For we all know, milk is not to be added to green tea.
With much gratitude, Sticks'n'Sushi have shown me an enlightened path. Take fine matcha green tea powder, combine with boiled water, hot milk and whip up into a creamy soft drink. The result is a warming bowl of bubbles with all the comforting qualities of a mug of hot chocolate, but vibrant in colour, less sweet and infinitely healthier. A mildly bitter aftertaste secures its grown up status.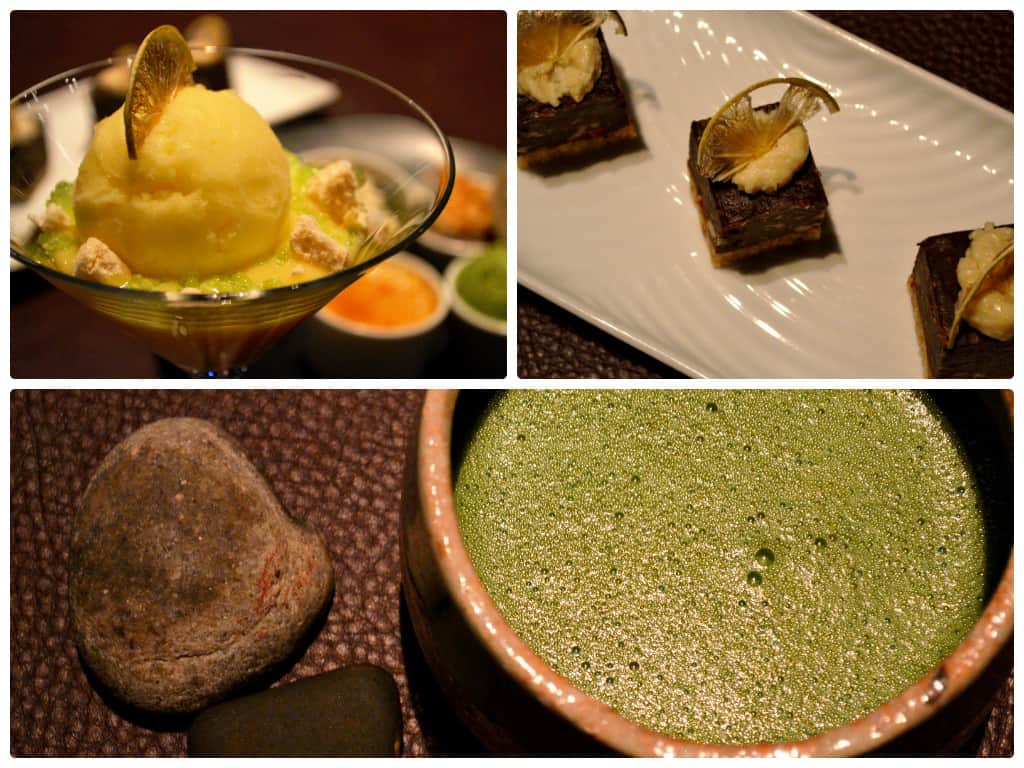 A dish of Four Tasters delivered an almost impenetrable popped rice case covered in white chocolate and housing a sweet miso paste, possibly one of the finest and smoothest vanilla crème brûlées I've encountered, and a rich chocolate fondant with gooey centre.
There was also another appearance from my new favourite ingredient – matcha green tea, this time in the form ice cream. A delicate almost neutral yet comforting flavour – quite something.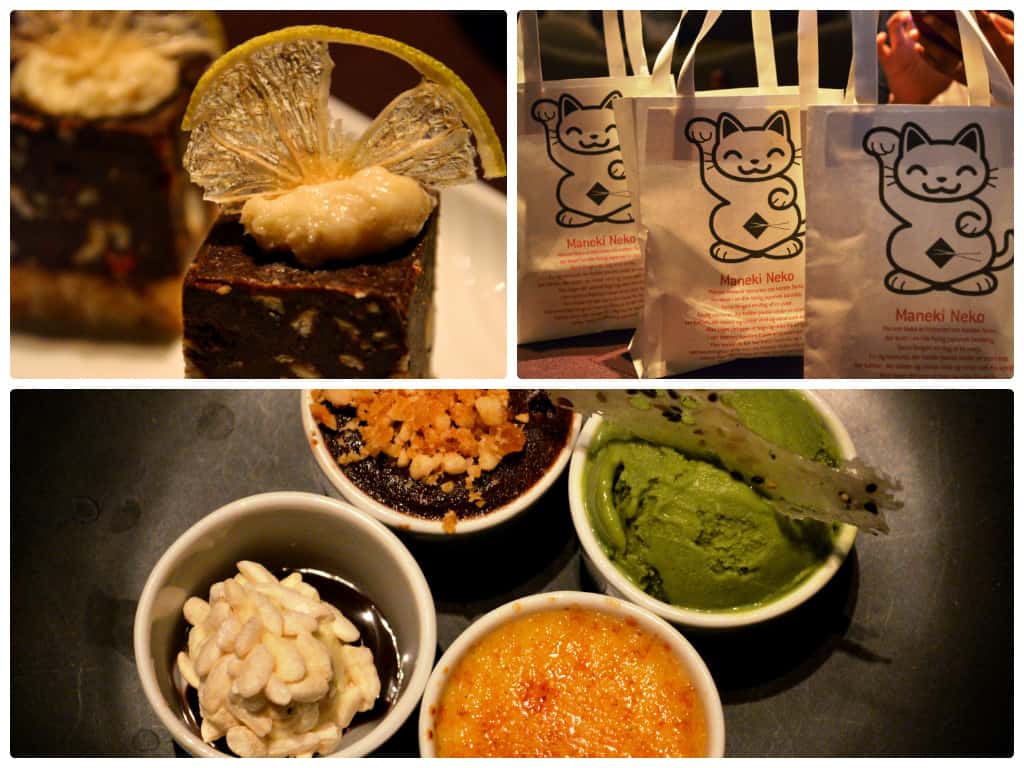 A Martini glass contained the second of our shared desserts – yuzu (Asian citrus fruit) sorbet, orange, lemon meringue, lemon curd, small lemon pearls, and dried lime. My Mediterranean heritage dictates that the juice of lemons may as well run through my veins, and a dessert like this is so far up my strada, it's into a different postcode.
Acting like a palate cleanser, the level of tartness and flavour from lemon was at the exact high intensity required in any citrus based dessert. An utter joy to devour.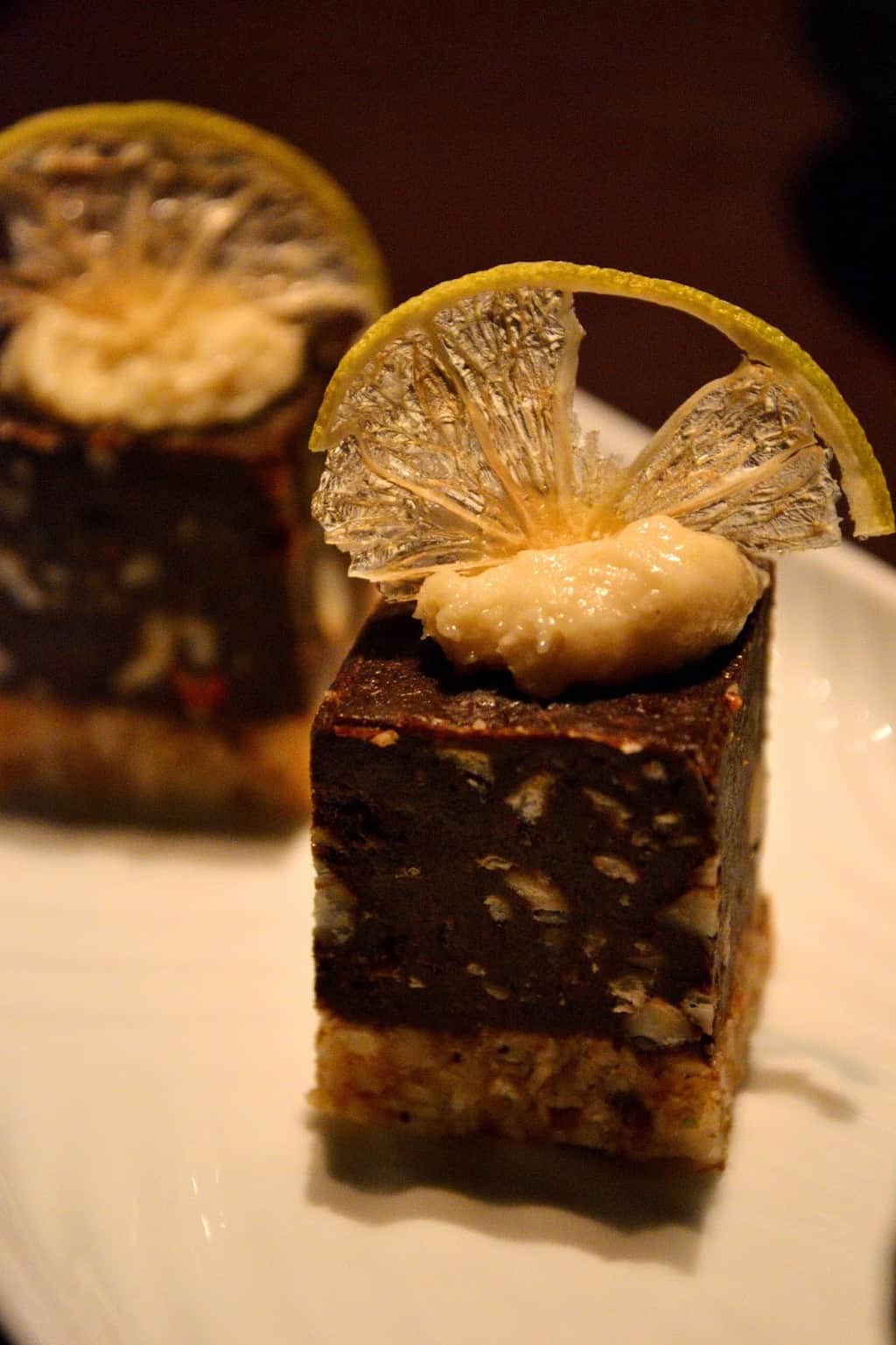 Three small pieces of raw food cake wrapped up proceedings, of which none of us were able to entertain as a result of top trouser buttons undone at least an hour previously, and so they were packaged for us to sample at home.
Organic brazil nuts, dates, coconut, orange, cacao, goji berries, matcha tea (YES), spiruline, cardamom and cinnamon formed the small and dense cubes, decorated with lime cream, cashews and coconuts.
So many components in a complex and healthy tasting bite that married very well with my morning coffee the next day.
As I've shared many times before, Japanese cuisine is up there in my top three. I've sampled sushi in many different restaurants which when done well, is difficult to match.
While the name above the door in my mind does not reflect the slick interiors and quality fare, Sticks'n'Sushi exceed expectations when it comes to exciting menus and exceptional dining experiences.
Combine this with the Nordic influences in both aesthetics and service, and you'll find yourself in a restaurant you will be coming back to.
Liked lots: warm staff, interiors, abundance of space, sharing platter menu, yuzu dessert, matcha tea, excellent sushi, bonsai tree, clay crockery, as much attention to desserts as mains, Nordic influences, the exciting menu
Liked less: little natural light reaches the rear so a challenge for food shots – not exactly an issue
Good for: a different type of sushi restaurant, large groups, communal dining, trying new ingredients, combining sushi with yakitori.
My rating: 4/5
Afiyet olsun.
Note: I was invited as a guest to this dinner.
This review can also be found on the Your Local Guardian website.