Last Updated on June 10, 2020 by Leyla Kazim
This weekend there was a pretty significant football match taking place, if football (soccer for those over the pond) is your thing. Old time rivalries between the two North London clubs, Arsenal and Tottenham, were due to rear their ugly heads.
Matt is a serious football fan. And a deadly serious Spurs supporter. Deadly serious like the venom from an Inland Taipan. So serious, that I initially had plans to stay well away from the house from the 4pm Sunday kick-off onwards so as to avoid the stress / tension / flying objects, but they fell through.
I instead managed to preoccupy myself with some seriously hard graft in the garden for most of the match. This did result in a pre-dinner amuse-bouche of a hefty ibuprofen dose however – digging doesn't half do the back in.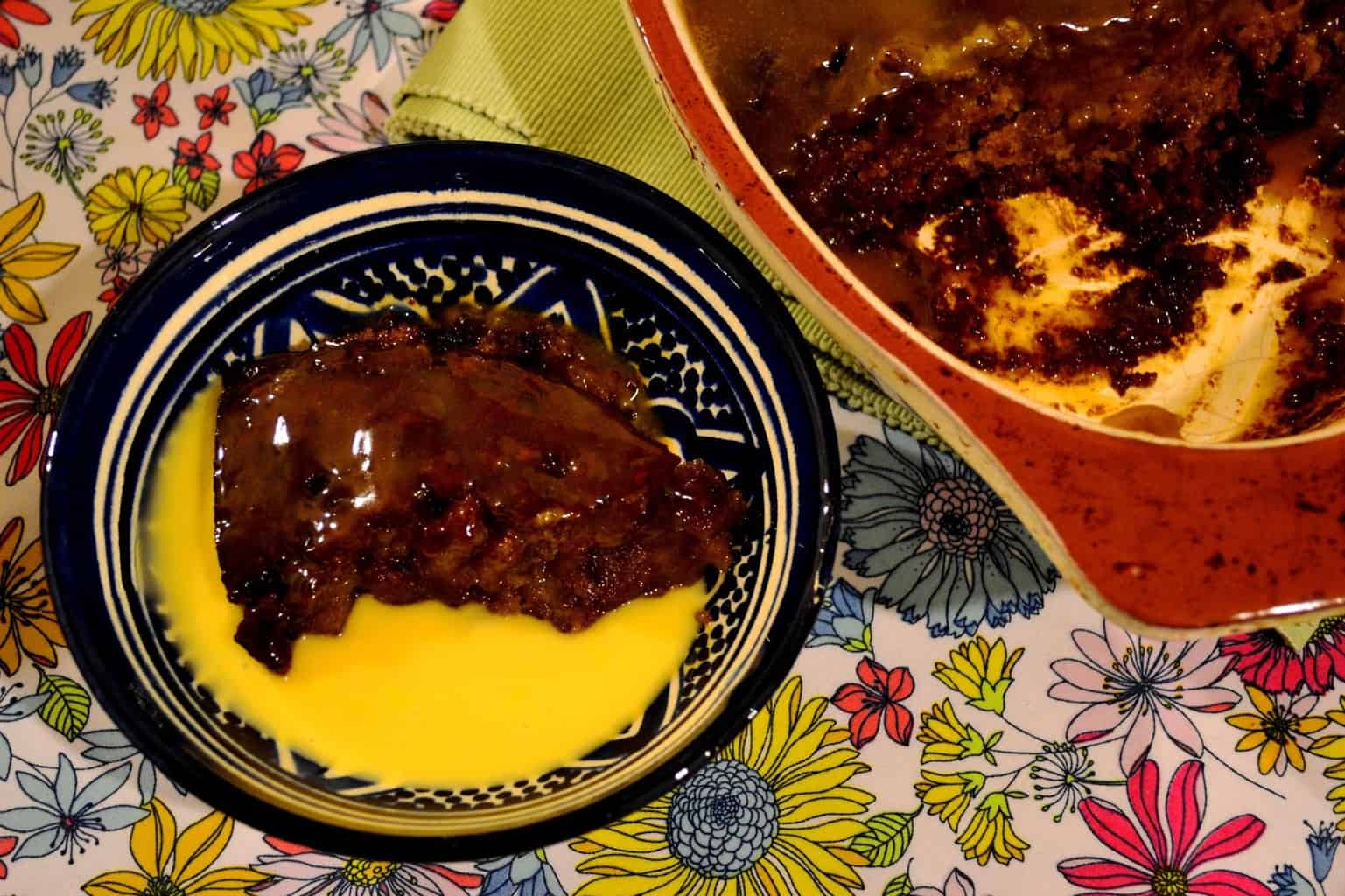 Matt invited two of his friends over to share in the joy / pain of whatever the result would be – one Arsenal fan and one Spurs fan. Perhaps he was hoping the weight in favour of his own team would help bring down the opposition.
The former turned up patriotic in his Arsenal shirt. Now for someone who wouldn't even consider having a red car because of the team that colour represents and doesn't own a single item of red clothing for the same reason, allowing this shirt to even pass over the threshold was progress, if nothing else. Matt did initially jest 'You're not coming in with that on' as he threw his friend a jumper to conceal the sin. At least, I think he was joking.
While Matt tasked himself with preparing all the savoury food for the guests, I was assigned the enviable job of conjuring up a dessert. When there is a requirement to feed several mouths with something sweet, simple and satisfying, it's near impossible to go wrong with a classic like sticky toffee pudding.
A depth of almost caramel-like flavour from the dark muscovado sugars – sweet and sticky and not too heavy. And the fact that it can (and in fact should) be prepared the night before makes it near perfect for entertaining. This is a recipe taken from deliciousmagazine which I have tried and tested several times – I'm yet to encounter a sticky toffee pudding that tastes as good, let alone better.
Sticky toffee pudding
Makes 6-8 portions
For the sponge
75g butter, softened plus extra for greasing
180g medjool dates, stones removed, finely chopped
1 tsp bicarbonate of soda
75g golden caster sugar
75g light muscovado sugar
2 medium free-range eggs, lightly beaten
180g self-raising flour
1 tsp baking powder

For the toffee sauce
125g unsalted butter
80g dark soft brown sugar
40g golden caster sugar
1 vanilla pod, split with the seeds scraped out
200ml double cream
Preheat the oven to 180°C/fan160°C/gas 4. Grease a 2.5 litre oven proof dish and set aside.
Put the dates in a bowl and cover with 275ml hot water. Sprinkle on the bicarbonate of soda and set aside for 10 minutes.
Beat the butter and sugars together with an electric hand mixer until light and fluffy. This needs a decent amount of time – do it for around 10 minutes. Gradually whisk in the eggs, beating well between each addition.
Tip If the mixture begins to curdle whilst adding the eggs, mix in a tablespoon of your flour.
Sift over the flour and baking powder and fold in, then add the dates with the water they were sitting in – mix until all fully combined. The mixture will be very wet but don't worry. Pour into the greased dish and bake for 30-35 minutes until the sponge is just coming away from the sides of the dish.

Meanwhile make the sauce. Melt the butter in a heavy-based saucepan. Add the sugars and vanilla pod, then stir well until the sugar has dissolved. Add the cream and bring up to a vigorous simmer, then bubble for 5 minutes.
Once the sponge is cooked, pierce all over with the thin end of a chopstick or skewer and pour over the hot toffee sauce.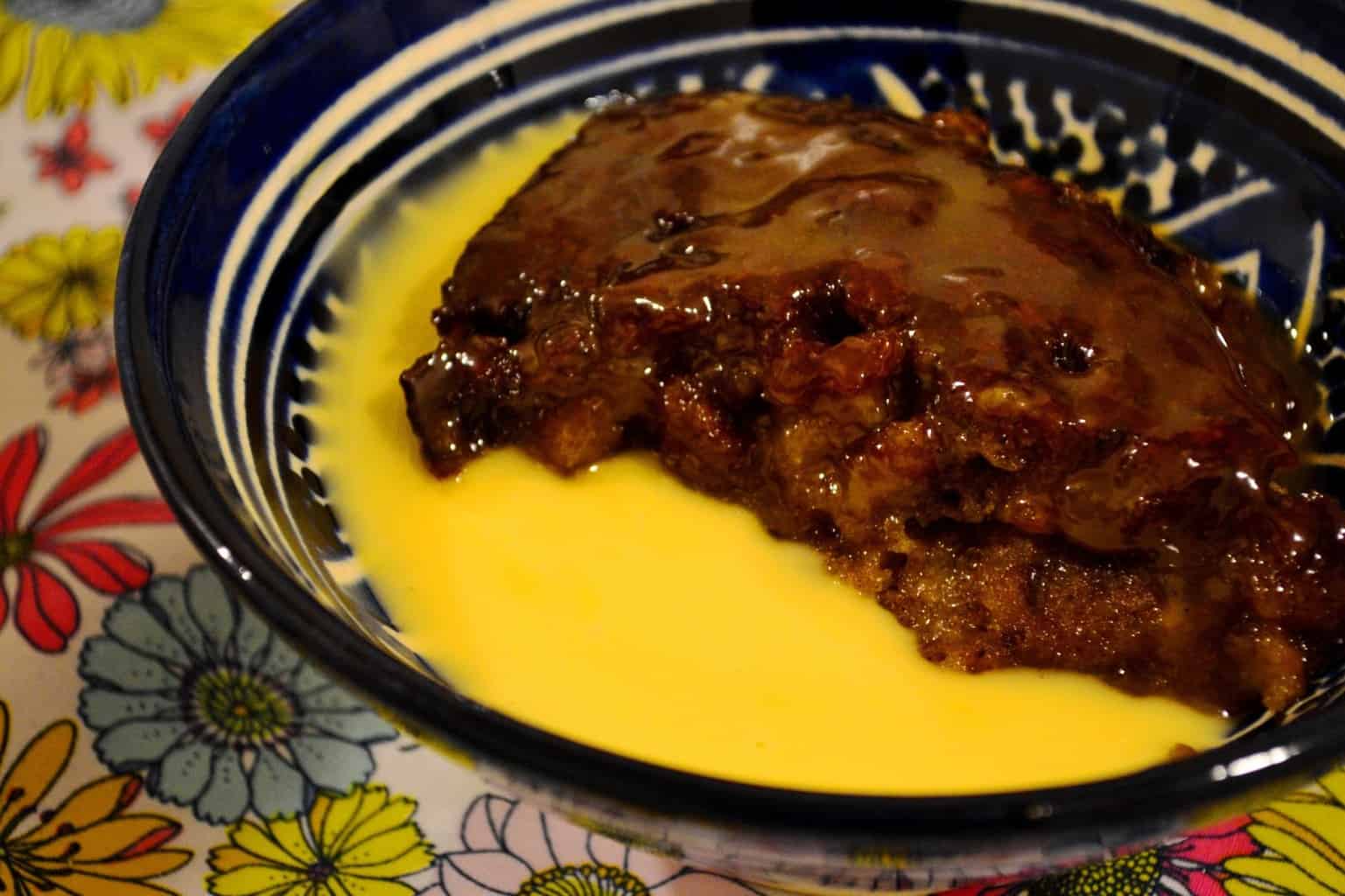 Tip To get ahead and allow the flavours to mellow and mingle, make the sponge and sauce the night before. Allow both to cool and keep them separate, covered and in the fridge. When you want to serve, heat up the sponge in the oven and warm up the sauce in a pan until both are piping hot. Pour the sauce over the sponge.
Serve this dessert in generous portions. Everyone I know is partial to it sitting in a pool of custard. Others will like it with ice cream. Either way, scoff and enjoy.


Turns out the match went in favour of Spurs. Which is just as well otherwise my walls could have found themselves decorated in a new shade of muscovado brown.


Alfiyet olsun.