Last Updated on November 17, 2022 by Leyla Kazim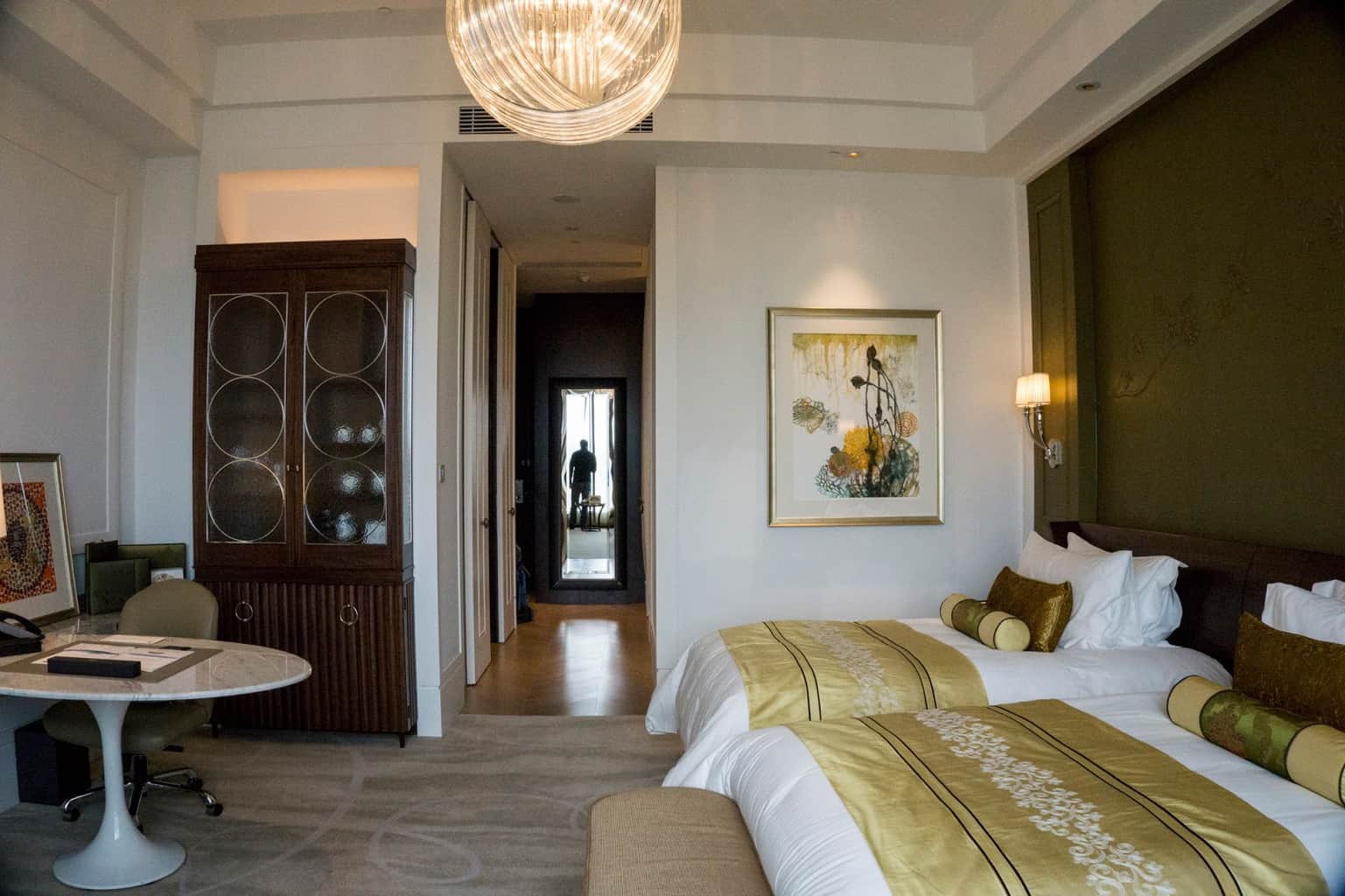 In a nutshell
Arguably Taipei's most prestigious address. Only a few months old but several years in the making, it's been created with the most exquisite level of detailing at every turn. It's a destination that celebrates craftsmanship, design, personality and superlative service. In short, staying here is a quite fabulous experience.
Where is it?
The hotel is located on Dunhua North Road, within walking distance from Taipei Arena. It's a 15 minute drive to Xinyi shopping and business district and Taipei 101, five minutes to Songshan International Airport and 40 minutes from Taoyuan International Airport.
It's also a six minutes walk to Taipei Arena MRT Station and seven minutes to Nanjing Fuxing MRT Station.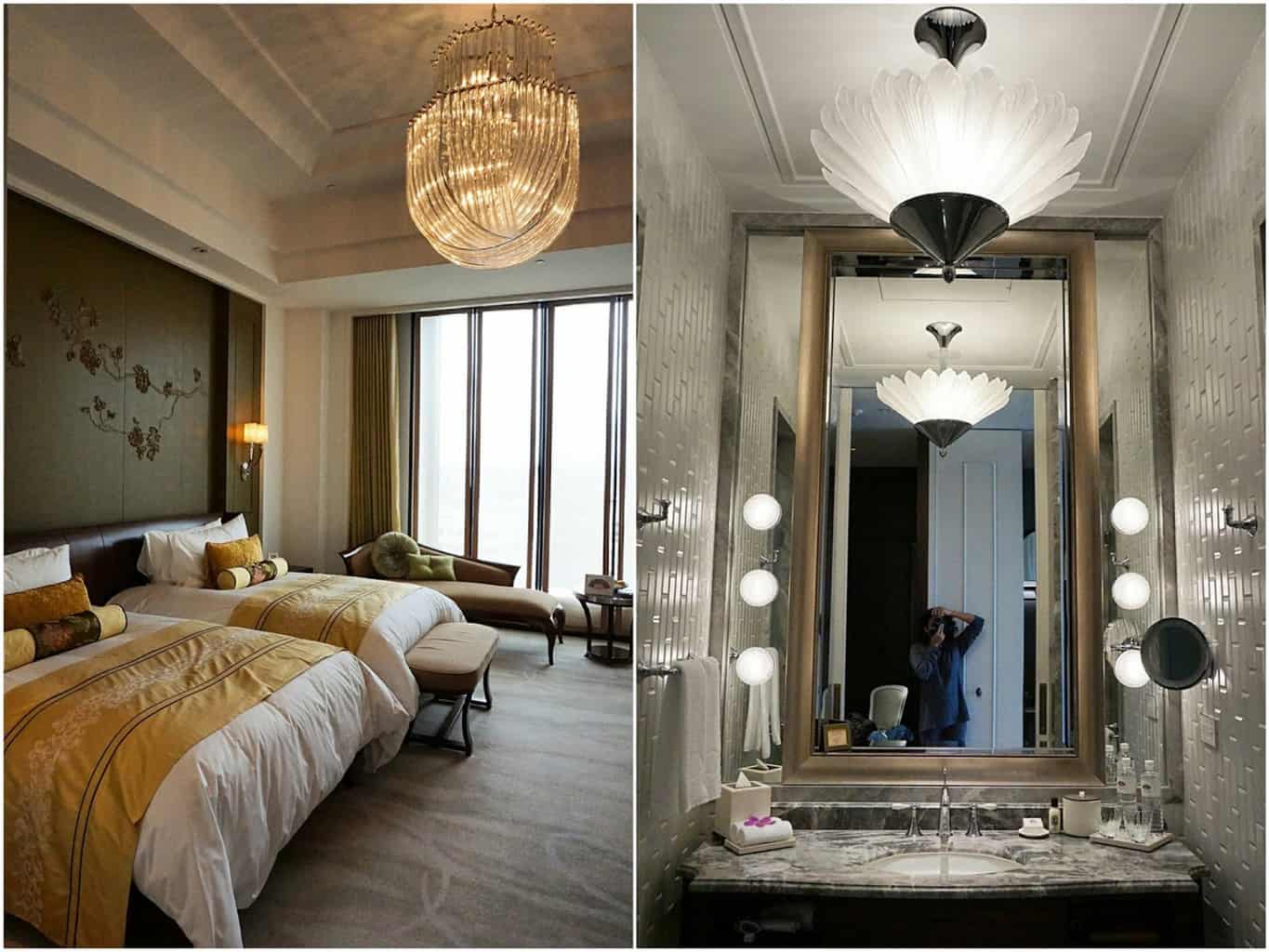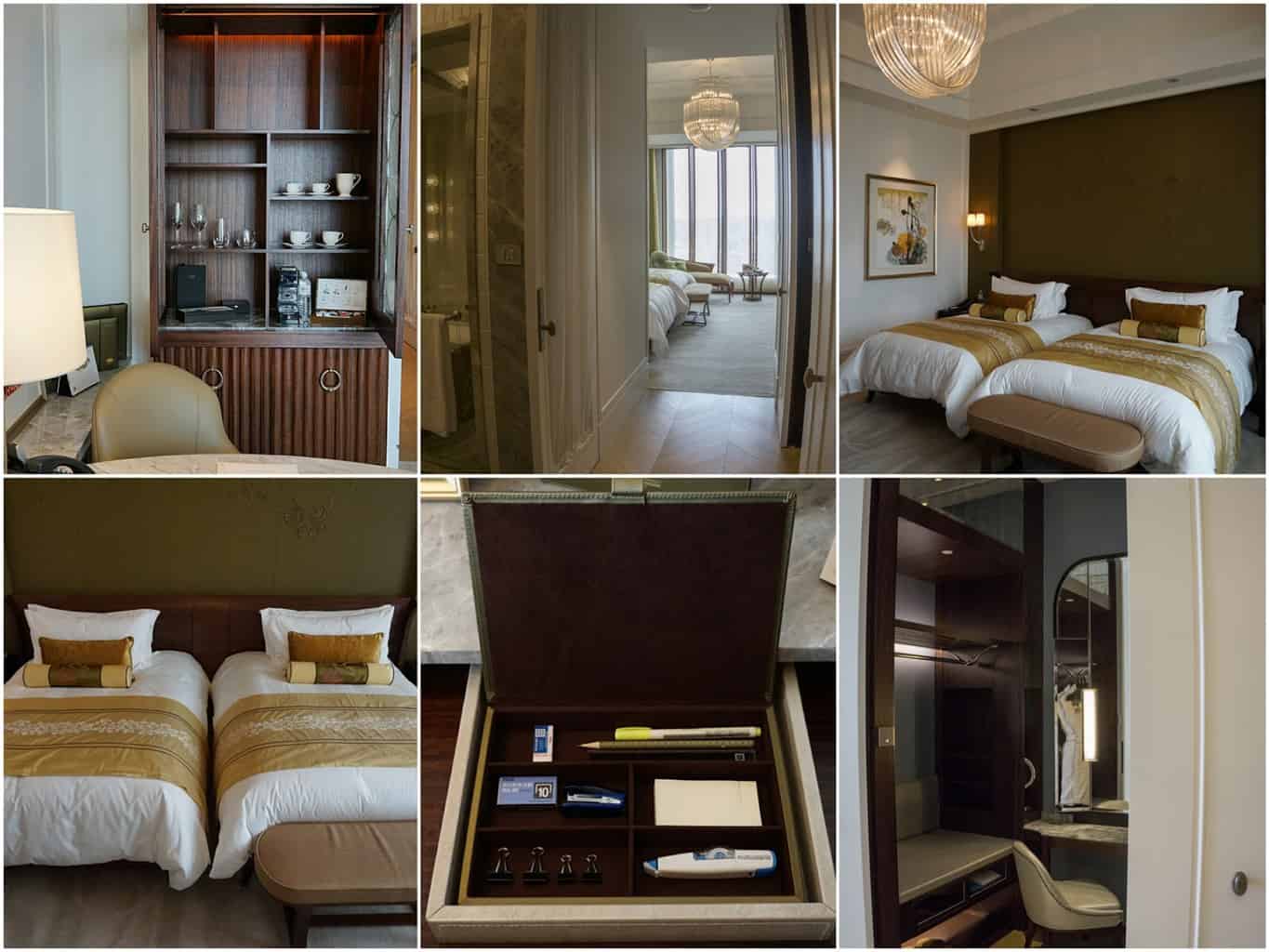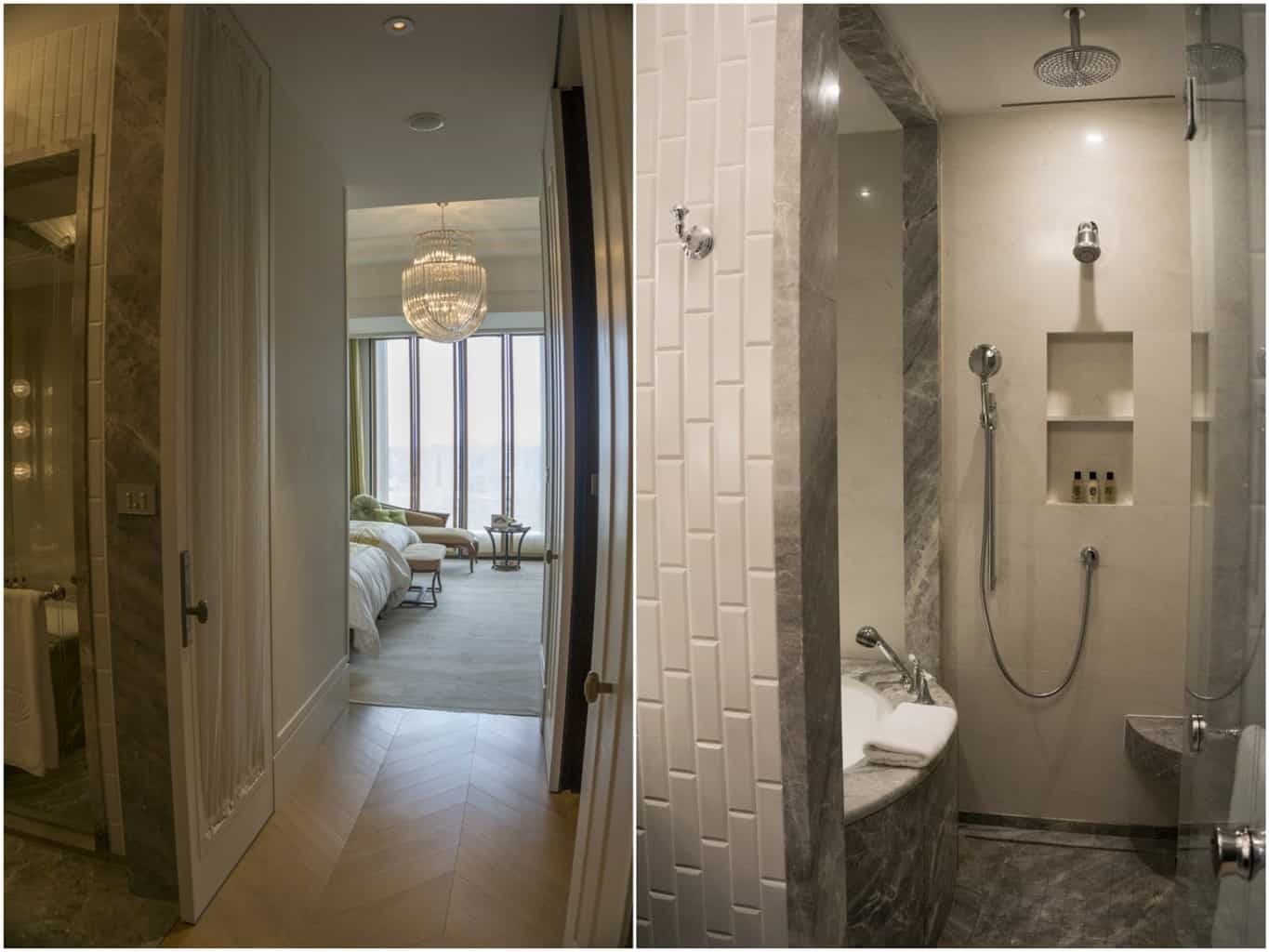 Style and character
Architecture, design and artistic flare are at the heart of this hotel – every turn has yet another stunning thing to look at. The place is so photogenic, I could spend a week just snapping the striking lighting fixtures alone, which the hotel has won awards for, incidentally.
A lot of this is thanks to leading international design consultant WATG, who turned westward for inspiration, a move in step with a city that has an affinity with European design.
The scheme is bold and borrows from classical European architecture, the frontage dominated by marble columns, cut stone, arches, pediments and stucco-dressed walls. Elsewhere, there's an open-air courtyard, formal landscaping, garden terraces and water fountains – reminiscent of grand Italian and French residences – and they all serve to ramp up the romance of the place. Which it has, in spades.
Then there's London-based interior design agency Four IV to thank too, renowned for its work in the luxury retail sector – they're responsible for many of the public areas. They picked up on the European theme of the exteriors, but added a contemporary spin, and they've done it very well. The intention is for guests to feel as though they're walking into a French château, but they've also injected modernity through their choice of materials.
The interiors sing with embellishment. There are French flourishes everywhere – panelling, chandeliers, metalwork, etched mirrors, alabaster reception desks, bespoke rugs, striking lounge furniture and curiosity cases filled with old artefacts.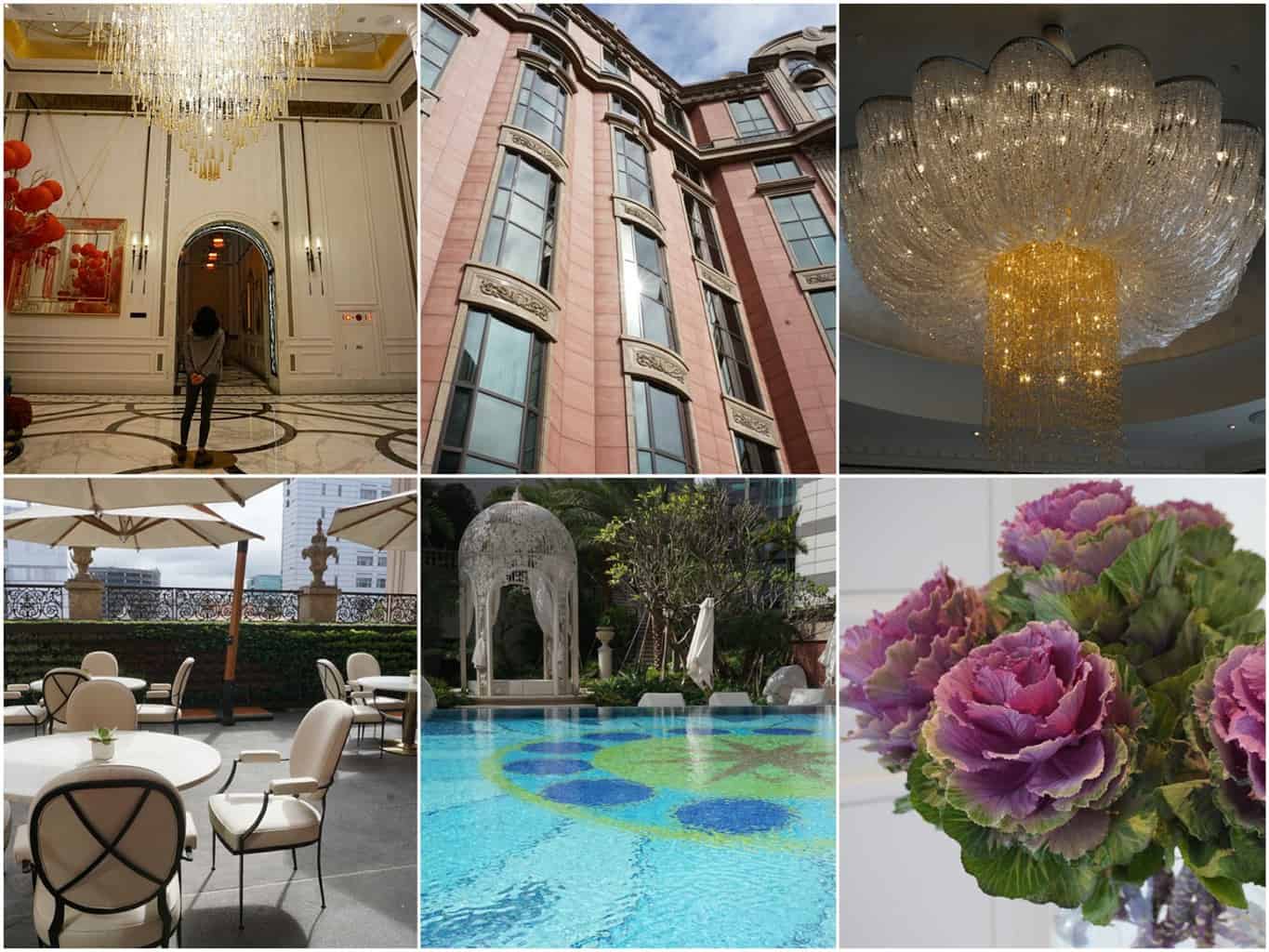 In the guest rooms, British designer Helen Amy Murray's hand-sculpted leather panels are displayed as opulent headboards for beds swathed in 480-thread-count linens. There are walk-in wardrobes with dressing tables, fully loaded technology and stationery kits, grey-toned marble bathrooms with deep soaking tubs and Diptyque products, and lofty ceilings heavy with chandeliers.
The rooms help emphasise the residential ambience of the whole property, so instead of a traditional desk there are marble-topped tables engraved with a chequerboard pattern, for example.
In summary, every corner of this building is utterly exquisite, both inside and out.
What's unique?
All rooms have a hidden valet box, accessible from the corridor by housekeeping who have the keys to open them, and by guests from a door to the side of the room entrance in the hallway.
This means you can receive clean laundry, your morning paper, room service, and anything else you might want sent to your room without having to see anyone. Handy if you're having a day where you look like hell.
The Oriental Club is an exclusive part of the 6th floor, available to those staying on the Club floor. It includes perks such as pressing of garments and use of boardrooms. But what's particularly good are the quality hors d'oeuvres available all day, and the help-yourself bar in the evenings. You can fill your boots on dim sim, breads, pastries, cheese, exquisite little desserts, savoury snacks, and more. And we did.
The hotel also has one of the largest spas in the country, spread over two floors, and the Mandarin Cake Shop with pralines and chocolates created by the World Chocolate Master Frank Haasnoot.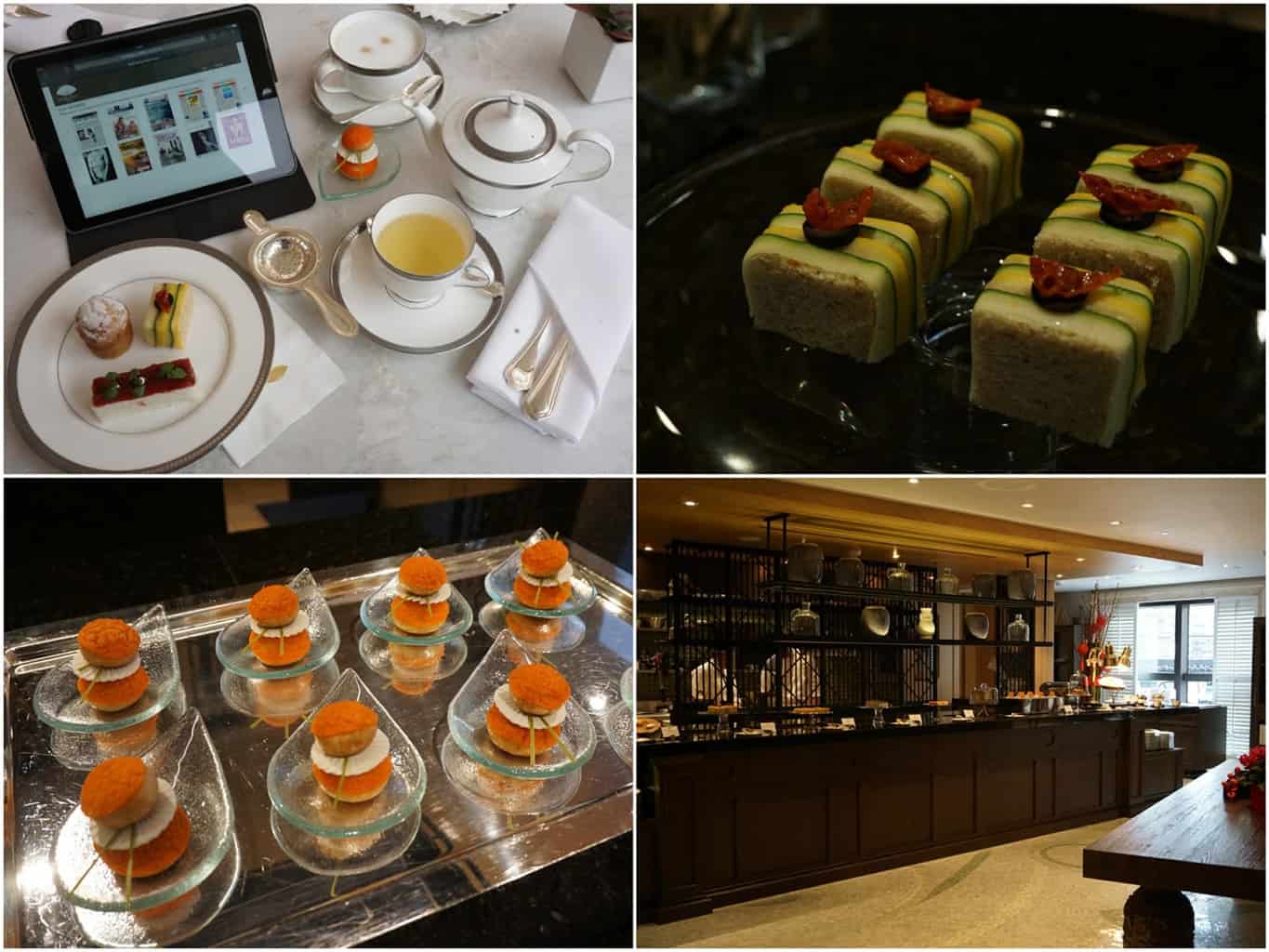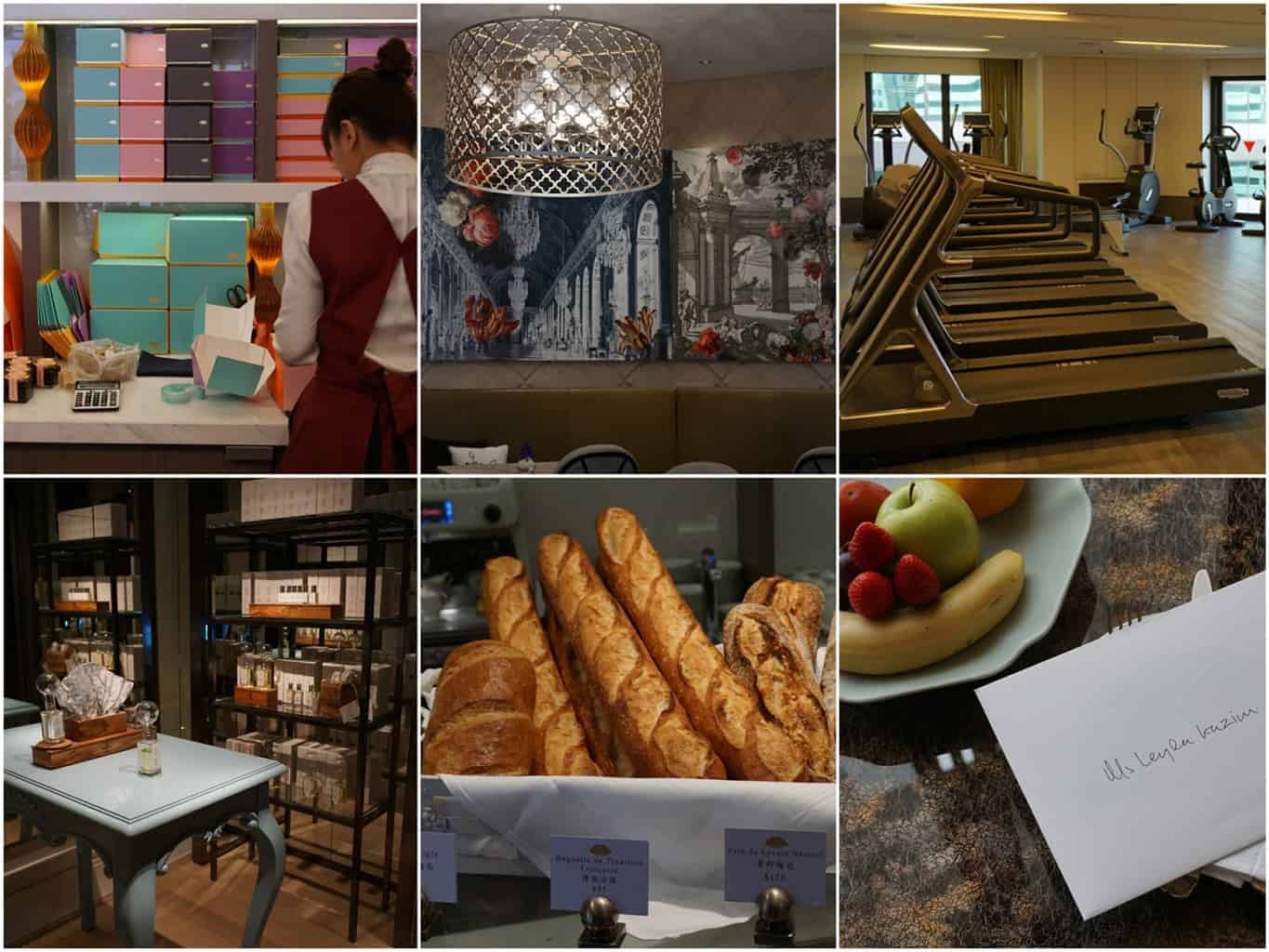 Who goes?
Quite a few Taipei residents were seen using the restaurants, likely not actually staying at the hotel but paying a visit to enjoy the dining experience and gorgeous surroundings.
To be honest, I don't recall seeing that many guests during my short time there. Which just goes to show how good they are at discretion
Breakfast
This is held in the restaurant Café Un Deux Trois, taking the culture of a French brasserie and immersing it in the Taiwanese way of life.
I absolutely loved the space – a seamless coming together of understated materials, fabrics and finishes, with fantastic use of mirrors. At breakfast, there were noticably not that many people considering the size of the hotel – perhaps they all order it to their room.
As you might expect, the Mandarin Oriental Taipei does not do gratuitous spreads covering every breakfast item imaginable – they're far more refined than that.
Instead, there is an elegant and impeccable offering of select classic French breakfast items: pastries, baguette, fruit, paté, muesli, smoked salmon, berries, cheese, charcuterie. There's also a glossy menu card with a choice of both Asian and French cooked dishes made fresh to order.
Next to the restaurant there's an outlet of high-end perfumery Fueguia 1833 should you wish to splash out an exclusive scent after your meal.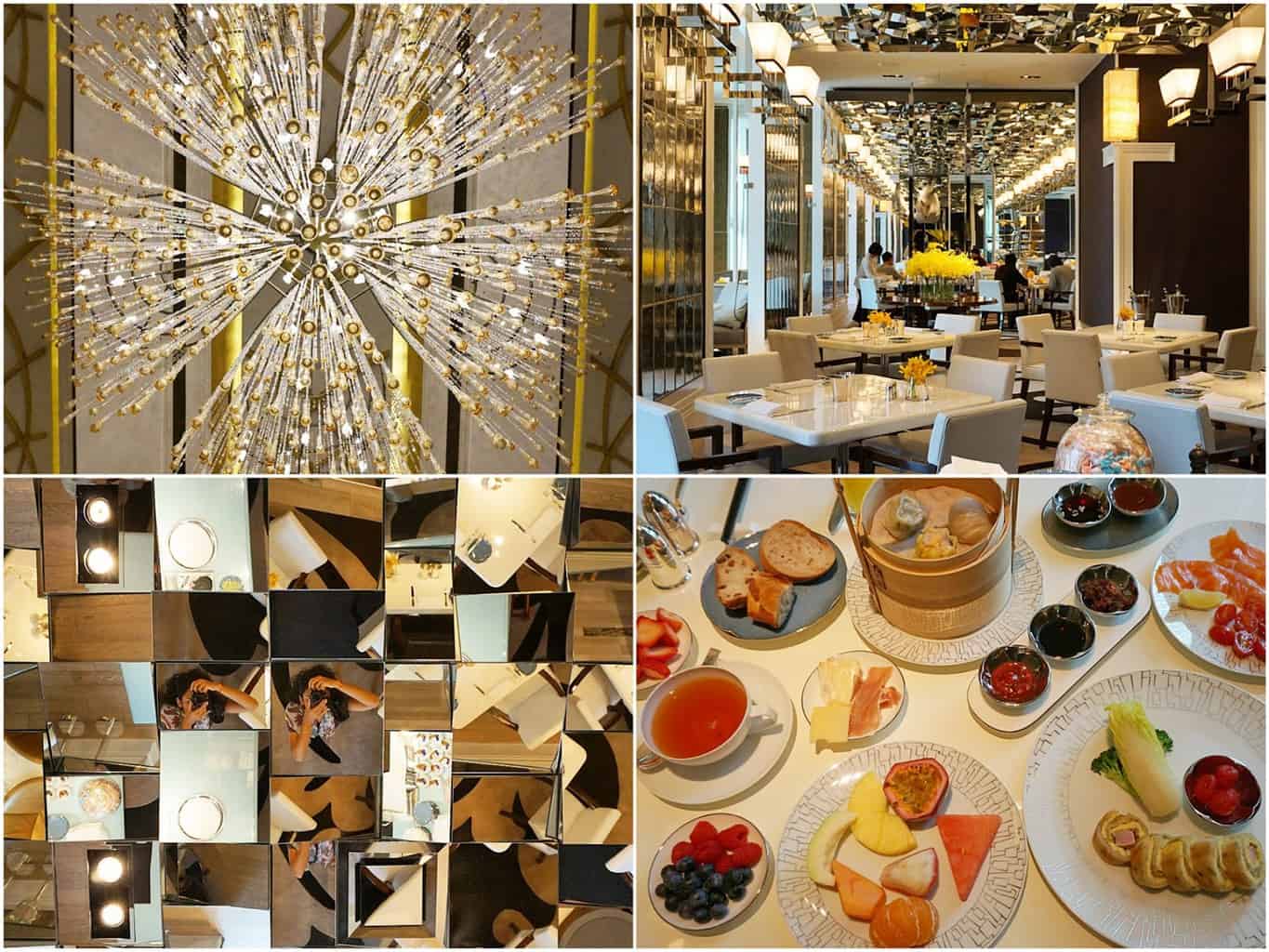 Dining
As with two of the hotel's other signature restaurants, Bencotto was designed by consummate lifestyle visionary Tony Chi. Born in Taiwan, Chi moved to America as a boy, and it was in New York that he founded his own design studio in 1984.
The restaurant is overseen by Michelin-starred chef Mario Cittadini. Based on a country house with an open kitchen at its heart, it specialises in home-cooked Italian recipes.
The head chef is himself from Tuscany, spent four years working in Beijing and has been at Bencotto since 2013. He told me that where other Italian restaurants in the city adapt to local taste, here they stay true to the cooking.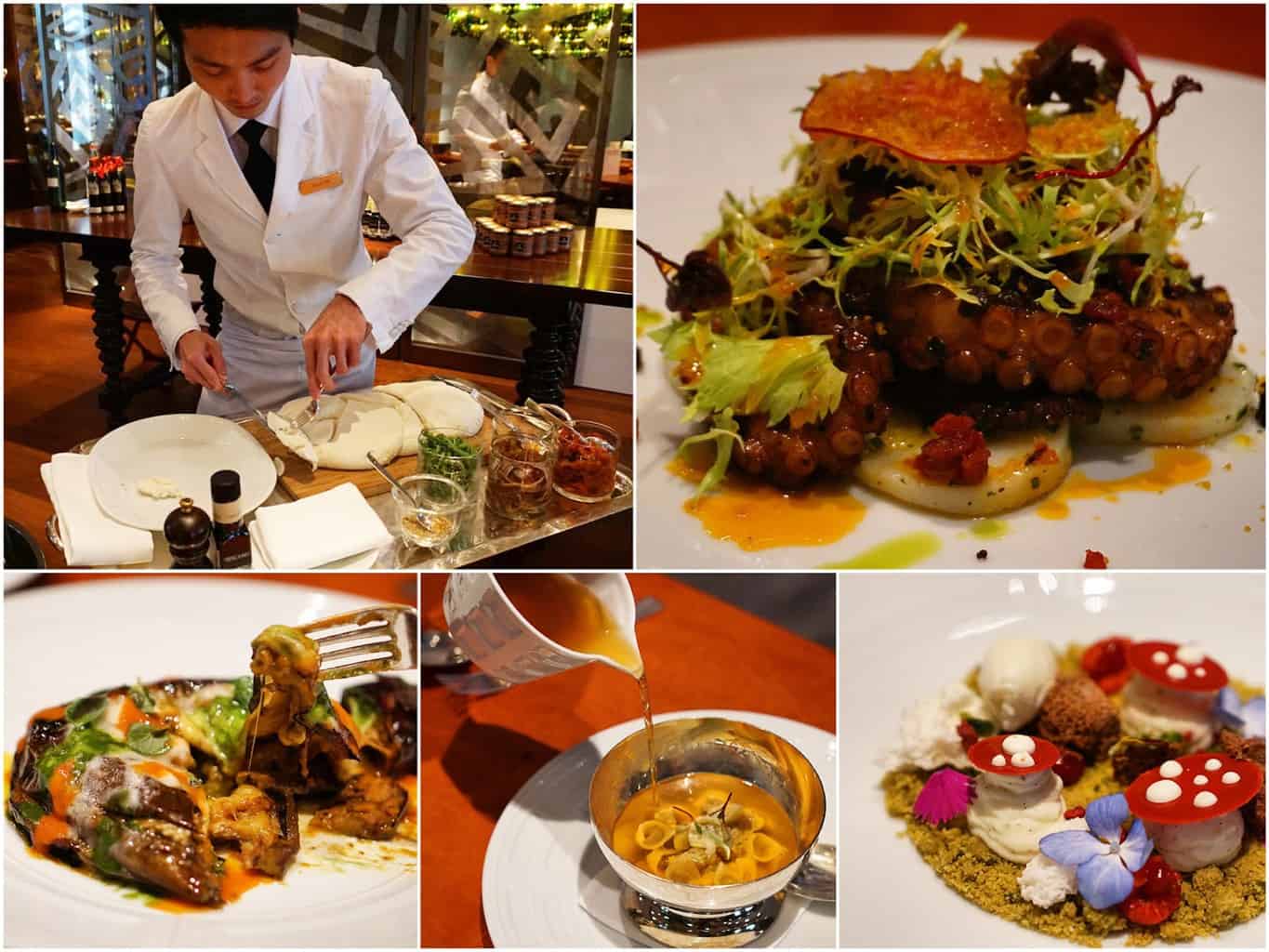 There was a treccia campana di bufala, show-stopping in it's gargantuan flaccid presence. Exclusively produced for Bencotto and flown in from Naples with table-side carving, the platter is trussed up with anchovies, sun-dried tomatoes, dried oregano, basil leaves, and the like. I had to ask the waiter to stop carving for fear he'd give me the whole trolleys worth and that I'd eat it all.
There was slow-cooked char grilled octopus with potatoes, lemon, golden beets and dill, and a voluptuous nduja, bell pepper coulis, seared spanner crab and marjoram risotto. The parmigiana di melanzane was spot on – not too cheesey as is so often the fate of this dish.
My favourite though (after all that godamn fantastic campana di bufala), were the gorgeous little al dente tortellini stuffed with braised pork and beef, sitting in a chicken consomme. A great example of Asian and Italian fusion without confusion, the firm little dumplings full of meaty cheesy flavours. Fantastic.
There was a great looking dessert like something from the illustrations of a fairytale book, a garden scene of pistachio soil, meringue, panna cotta toadstool stems, chocolate caps, freeze dried raspberries. Lots of prettiness and textures.
And of course, tiramisu. A little runny for my preference, but with good flavours and the crackles of popping candy, which I'm still not bored of.
There's a lot of energy in this restaurant and genuine warmth from the staff. There's no tablecloths, no stuffiness, just solid cooking without pretension.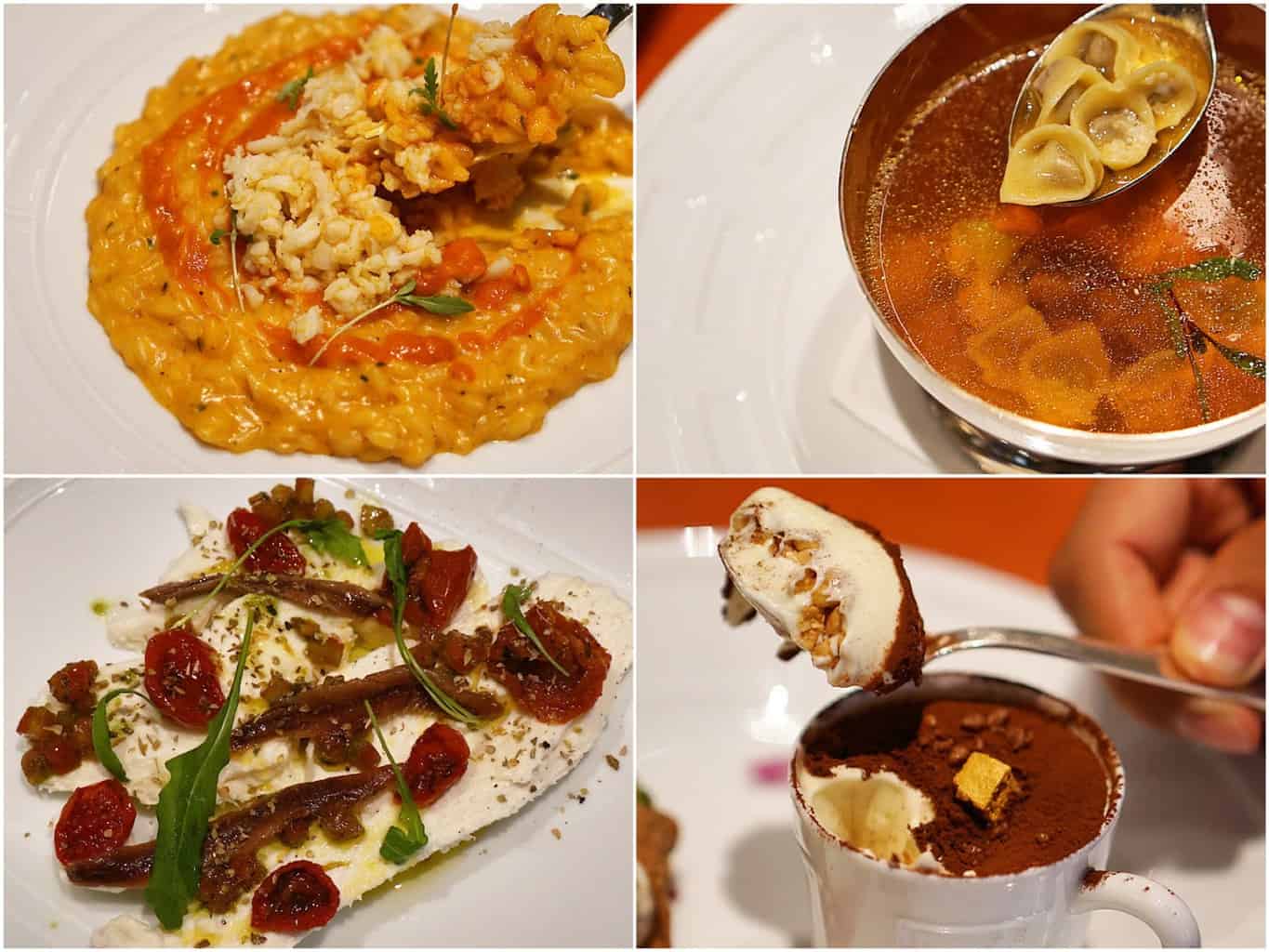 Service
Staff are extremely courteous and polite, calling lifts, opening doors, always with a smile – it's an area I can find no fault in.
Liked lots / liked less
Liked lots. I liked pretty much everything, and a lot. But I think the interior design tops it – I was so impressed with every placement of every single furnishing, painting, door knob, light fitting, and the rest.
Oh, and that 1400 kg lobby chandelier, made from 50,000 pieces of Murano glass – swoon.
Also that when you log onto their wifi, the first page is a full media library of daily international newspapers and magazines to download.
Liked less. Checking out – please can I live here?
Price point
Prices from around £390 a night for a Deluxe King to £780 for a City Suite.
Contact
158 Dunhua North Road Taipei 10548
+886 2 2715 6888
www.mandarinoriental.com/taipei/
@MO_Hotels
Note: I stayed as a guest of this hotel.