Last Updated on June 10, 2020 by Leyla Kazim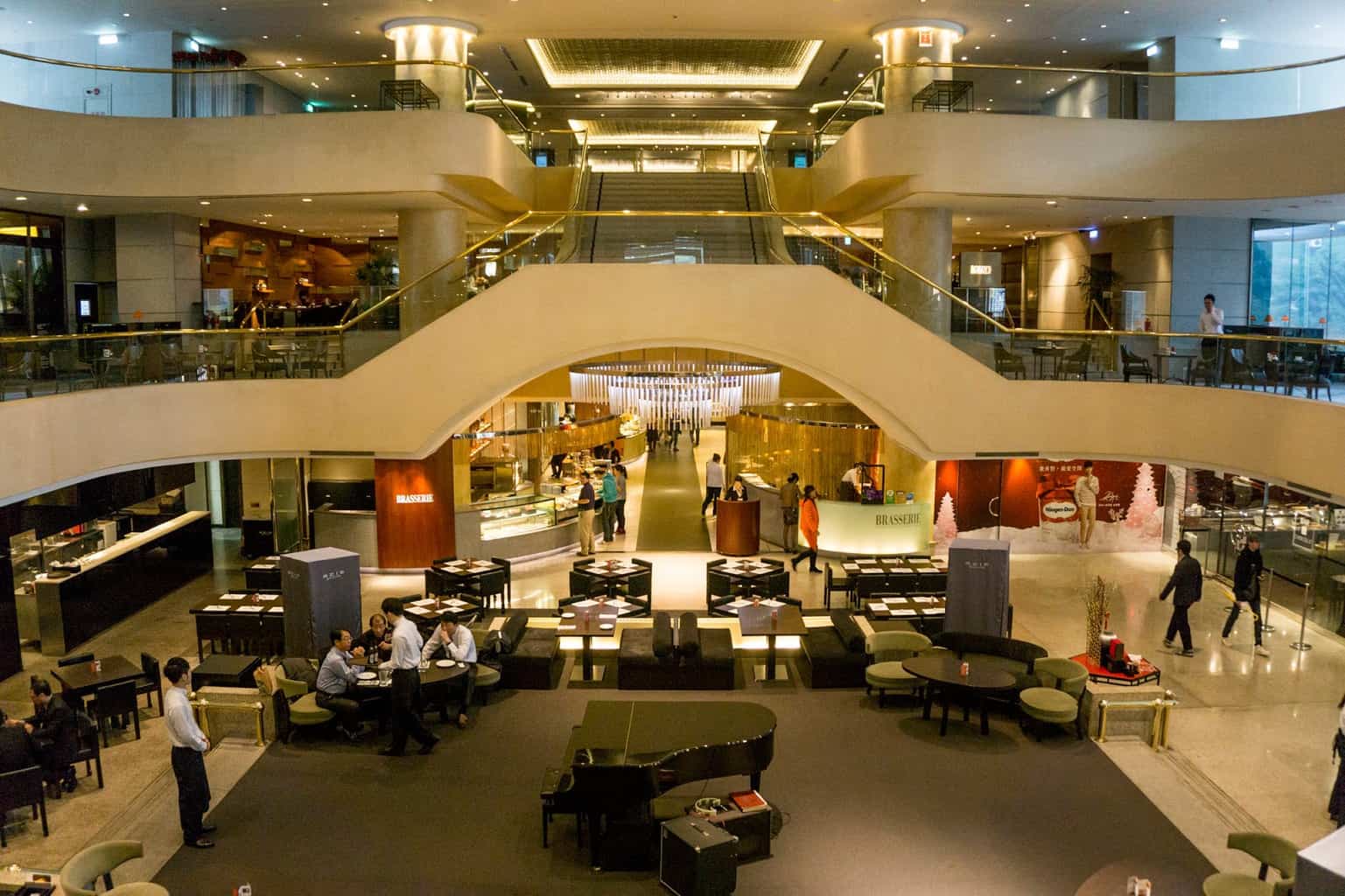 In a nutshell
A multi-award winning five star luxury property with 60 luxurious suites and over 470 deluxe guest rooms – some of the most spacious amongst the high-end hotels in Taipei.
Where is it?
Situated in the Zhong Shan district, it's minutes away from key attractions and shopping destinations and close to the central business district. They offer a wide array of transport and connection options via road (the BMW transfer was particularly enjoyable), rail and air.
It's easily accessible via the Taipei main railway station and is near Zhong Shan MRT station Exit 3 (MRT Danshui line), which is a five minute walk away. Chang Kai Shek International Airport is 45 minutes by road.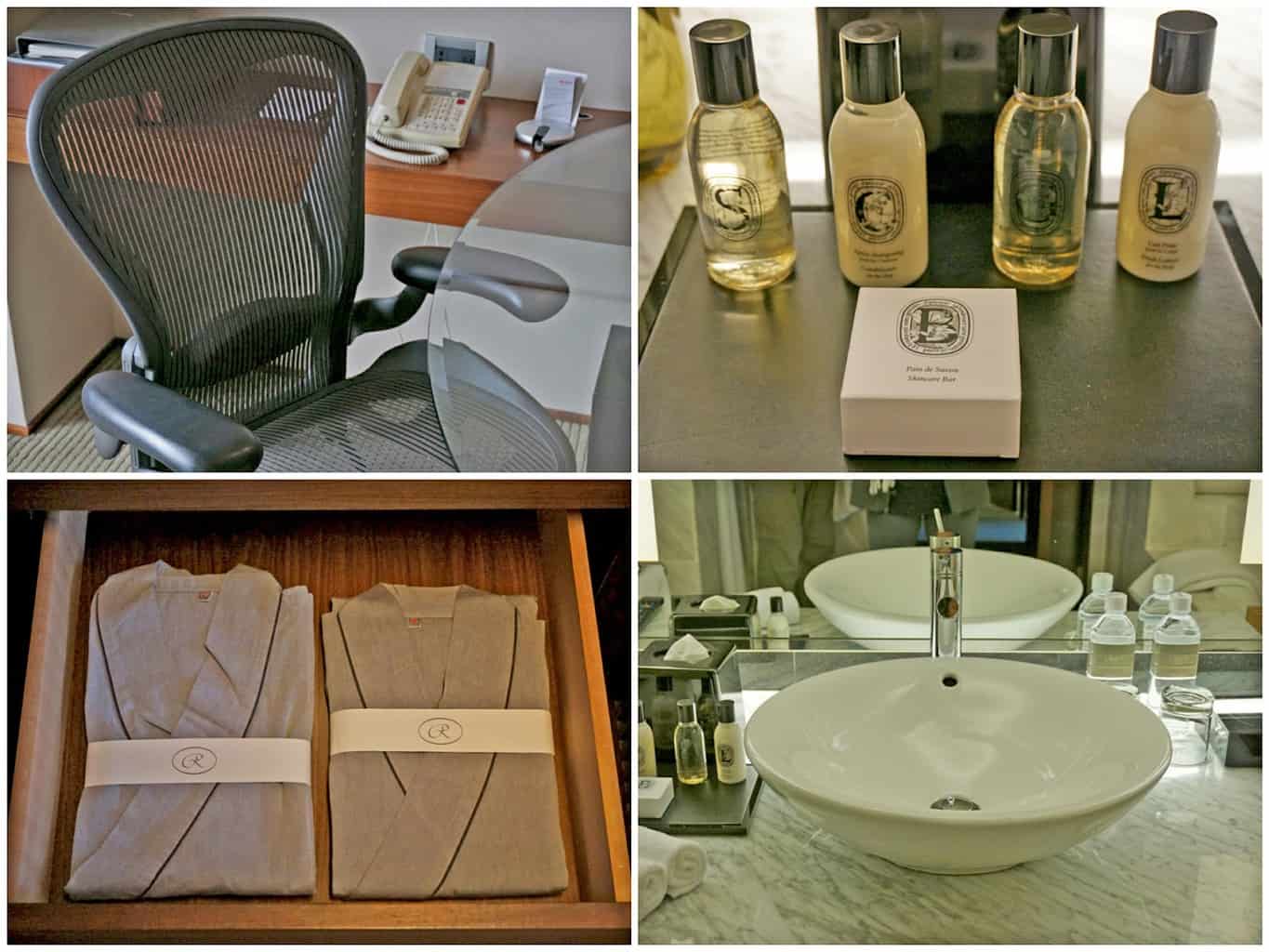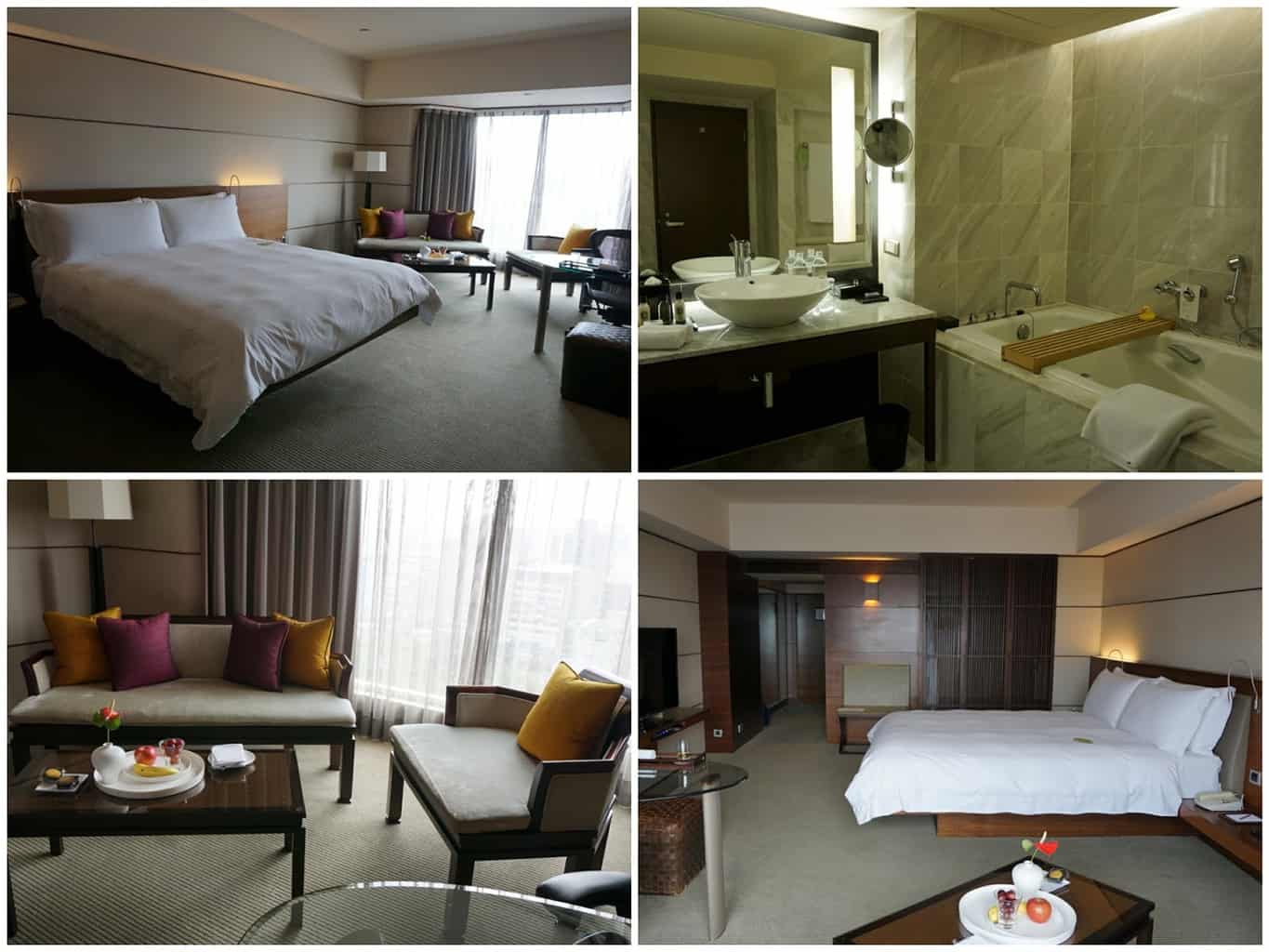 Style and character
When we first entered the hotel, before being whisked off upstairs for an in-room check-in, we thought the area straight ahead, beyond the lobby, was a shopping mall (main picture). It's sprawling and bustling, and we only later realised it's in fact a continuation of the hotel, namely housing the seven drinking and dining options.
An attached mall though, there still is. The Regent Galleria can be found in the hotel's basement, also accessible from the street. Think luxury brands, jewellery shops sparkling with diamonds, and deep pockets. Perfect for the high-flying business man who might want to buy his wife a gift before heading home.
The Tai Pan rooms are exclusively and discreetly located on the upper two floors of the hotel. Effortlessly slick and quite masculine in their design, they have dark wood, muted hues, and are so very well done. It was right up my street – I particularly liked the wardrobe's clean lines and slatted form. From certain angles the bed looked as though it were floating, and the desk had one of those very high-end Herman Miller chairs.
It's one of the few hotels I've come across that have fluffy slippers, as opposed to those lacklustre flat ones; it's little touches like these that help guests feel as though they could very well be at home
In the bathroom there was lots of marble, a TV, one of those whizz bang Japanese-style toilets with seventy-five functions, and Dipthyque toiletries, both his and hers.
The rooms on this floor come with perks such as 20% off laundry, the complimentary pressing of one set of business attire, luggage packing and un-packing, personalised wake-up call with a morning drink delivered in bed, and probably the best bit, access to the Tai Pan lounge (more on that under 'what's unique').
You can tell a lot of thought has been put into tailoring these rooms for the 'Tai-pan', a word used to refer to senior business executives or entrepreneurs. The focus is on comfort, quality and understated elegance, and it doesn't go unnoticed.
What's unique?
Regent Taipei is the only hotel in Taiwan to house in excess of 50 of the world's luxury designer boutiques in its Regent Galleria shopping mall. It probably ends at window shopping for us mere mortals.
The 24hr Tai Pan lounge, accessible for those staying on the Tai Pan Club Floor, is kitted out for its target market.
Designed to reflect the pace and sophistication of Taiwan's thriving business sector, the lounge has state-of-the-art business facilities with magnificent views of the city's well-tended parks and gardens. There are workstations, meeting rooms, wireless internet access, multimedia conference capabilities, commercial secretarial services, and a very well stocked library from magazines to cook books.
But what's particularly good are the quality hors d'oeuvres available all day, and the help-yourself bar open in the evenings. You can fill your boots on dim sim, breads, pastries, cheese, exquisite little desserts, savoury snacks, and more. And we did.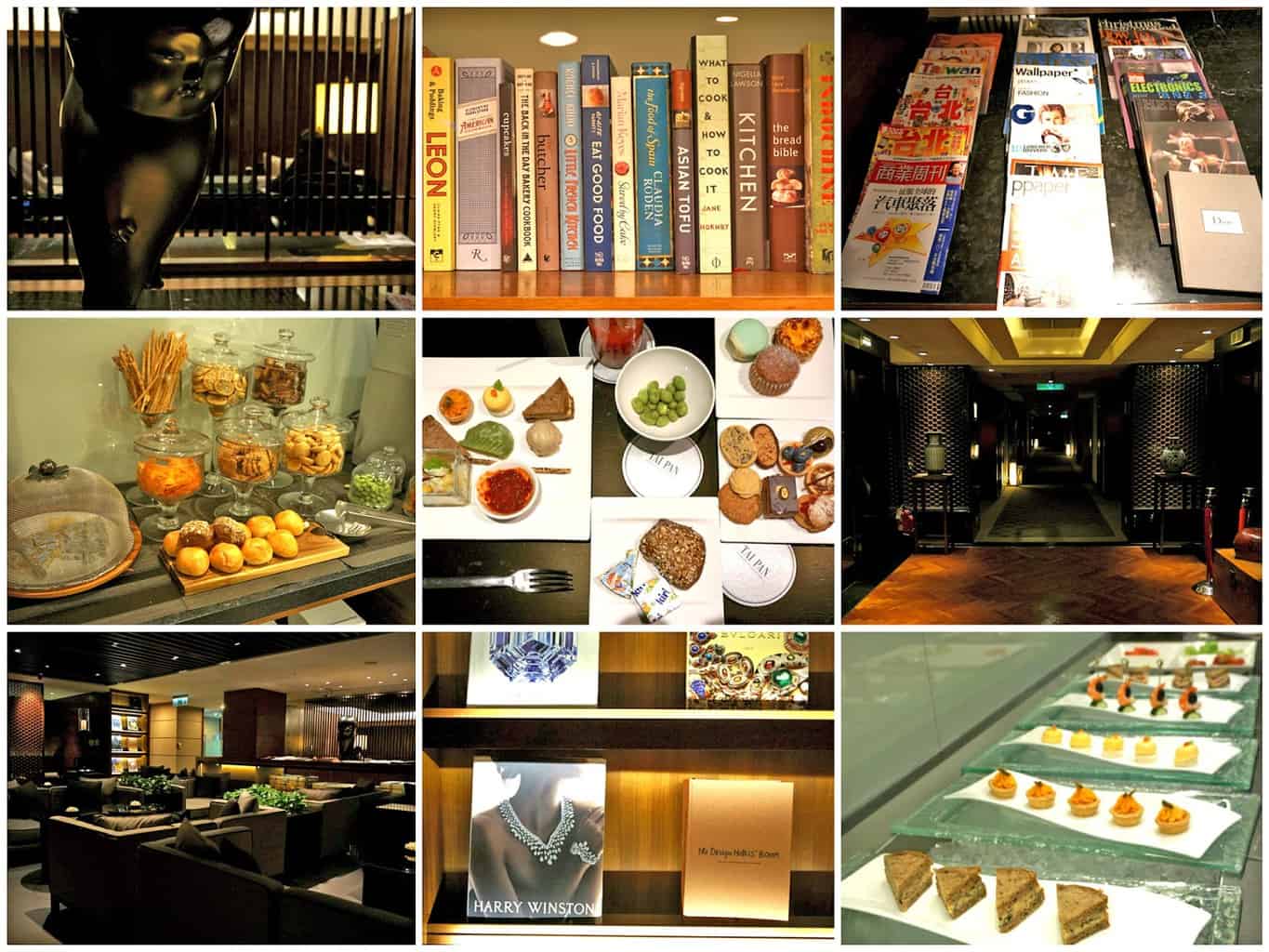 Who goes?
I think a lot of businessmen use this hotel, but it doesn't feel like a business hotel, in that it is both homely and bustling – I tend to associate them with being dull and lonely places.
There were certainly lots of suits walking around, having meetings in various public spaces, but there were also tourists, many of them Japanese. Whoever the guests were, everyone seemed to be rather pleased with the place.
Breakfast
An event to look forward to – get there early and savour it for a while. It's held in the Brasserie, and it's a big operation. Towards the back of the restaurant the walls are floor to ceiling glass, flooding the space with light and surrounded by the greenery of the grounds. It's a lovely place to enjoy your first meal of the day – ask to be seated in this area.
The offering reflects the international clientele, including western dishes, Japanese, and continental.
The local cuisine is great and a lot of it is made to order, including dan dan noodles, Taiwanese nigiri (really good), turnip cake, fried dough sticks. There's a whole load of glorious steamed veg like sweet potato, corn, pumpkin and yams, fish dumpling soup, pork gyoza, scallion pie, pork dumplings, peanut and rice milk (loved this), sesame pocket bread with Chinese croissants, congee, and more.
There's an abundance of freshly chopped and exotic fruits, every type of pastry you could desire, and freshly baked loaves.
This restaurant also offers all-you-can-eat buffets at lunch and dinner, and while this dining format isn't that popular in the UK, it's hot in Taipei, and the tables at Brasserie are some of the most sought after in town.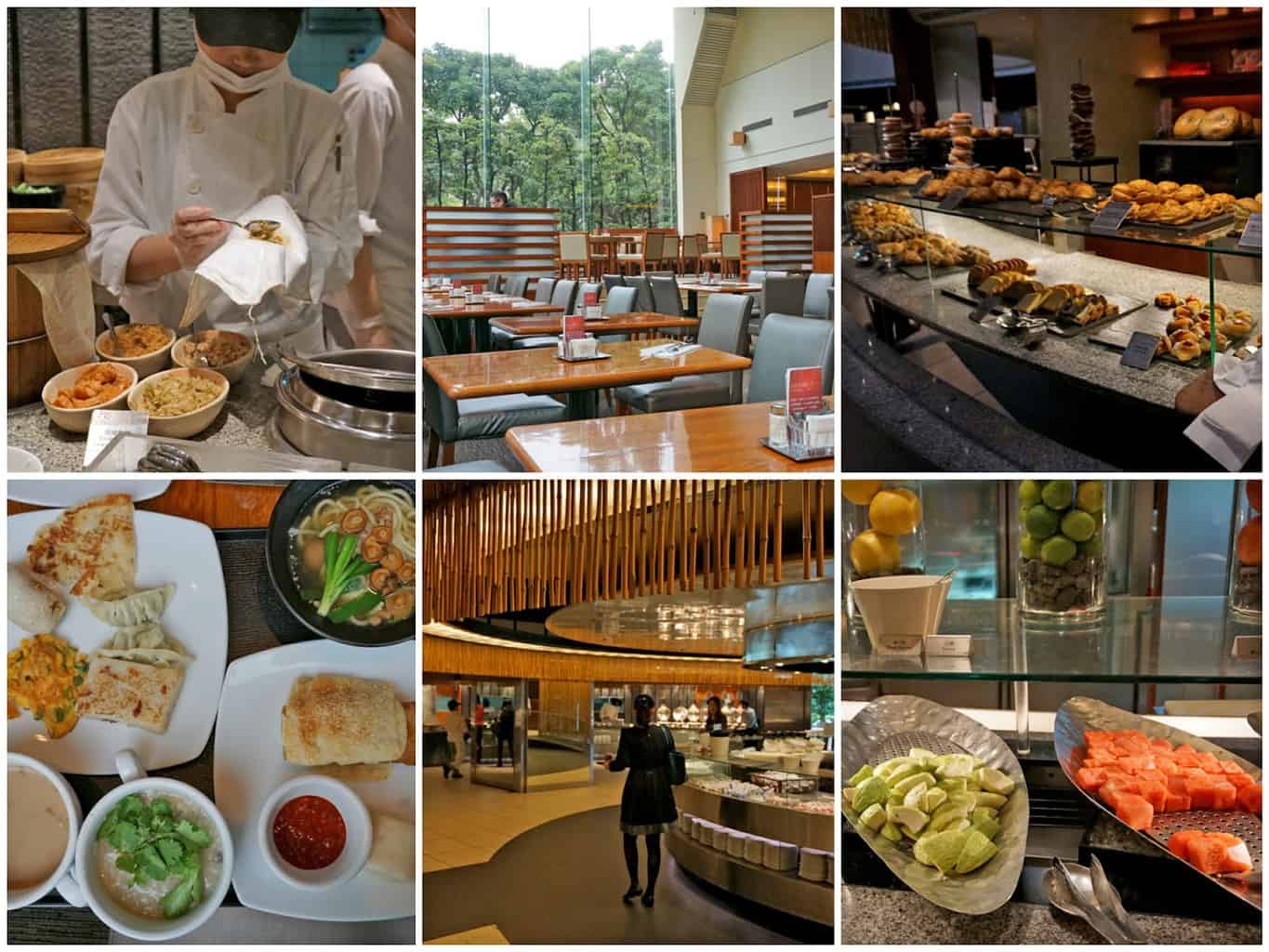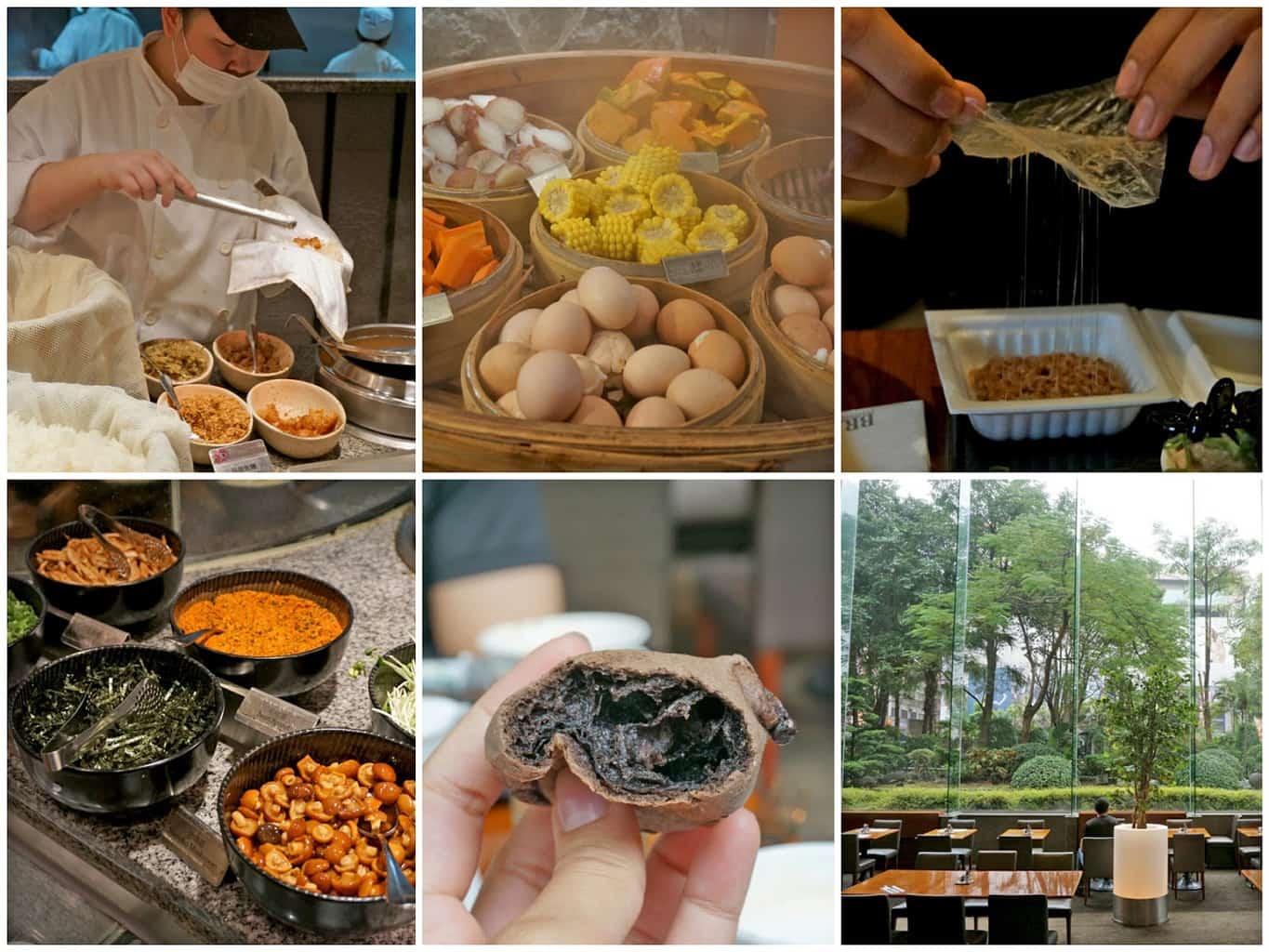 Service
Little cards are provided in the room with popular destinations written on them in Mandarin as well as English, so you can point at where you want to go to a taxi driver and not have to worry about communication problems.
Staff are extremely courteous and polite, calling lifts, opening doors, always with a smile. There's a fleet of pretty impressive stretched Mercs available for airport transfers and the experience of staying there as a whole is top draw.
Liked lots / liked less
Liked lots. I liked pretty much everything, and a lot. But I think the perk of the Tai Pan lounge, with all that reading material, complimentary food and drink, and exclusivity, tops it.
Liked less. If I really had to pick something – and it's hard – it would probably be the exterior of the building, which is nothing spectacular and doesn't reflect the grandeur that lies within. But that's really being picky.
Price point
Prices from around £170 a night for a Superior Double room to £400 for a Junior Suite.
Contact
No 3, Lane 39, Section 2, ZhongShan N, Rd. Taipei 104
+(886 2) 2523 8000
www.regenttaipei.com
Note: I stayed as a guest of this hotel.


Related posts


Week 6: TAIWAN – Taipei
TAIWAN: Mandarin Oriental, Taipei
TAIWAN: The Okura Prestige, Taipei