Last Updated on June 17, 2020 by Leyla Kazim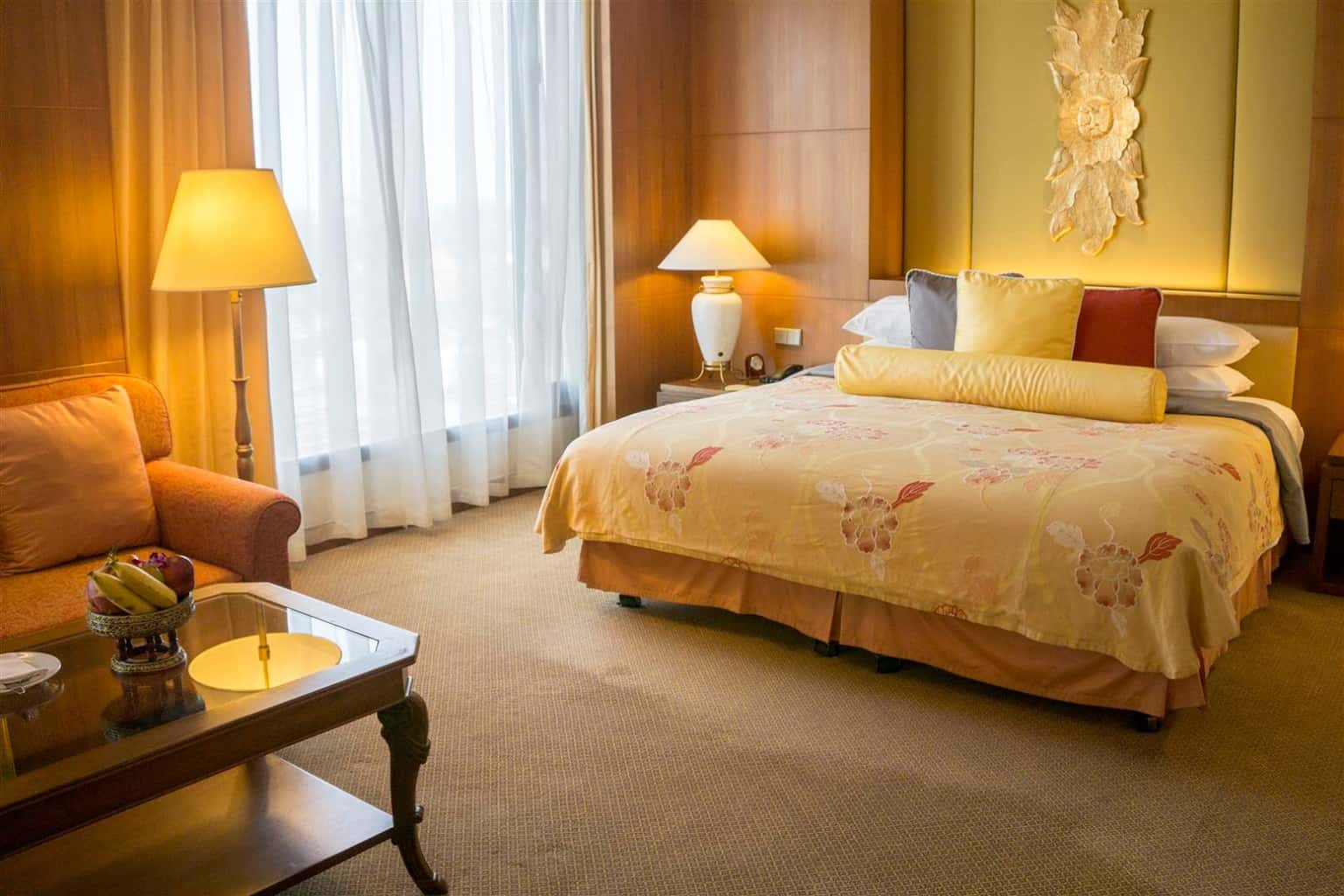 Shangri-La Hotel, Chiang Mai
In a nutshell
Once you're past the front gate of this five star property, the clanging of tuk-tuks is traded for distinctive Northern Thai decor, serene gardens, and 281 rooms and suites so plush, you'll be tempted not to venture back out into the crowds.
Where is it?
In northern Thailand, Chiang Mai was once the capital of the Lanna kingdom. The city may not have Bangkok's international acclaim, but it's made its own name for itself by offering great deals on handicrafts and an up-and-coming foodie scene (and what a great scene it is) – minus as many people and as much traffic as the capital.
The hotel can be found in the middle of town, a ten minute drive from the international airport, and within walking distance of the legendary Night Bazaar, cultural centres, a load of temples, shops and boutiques.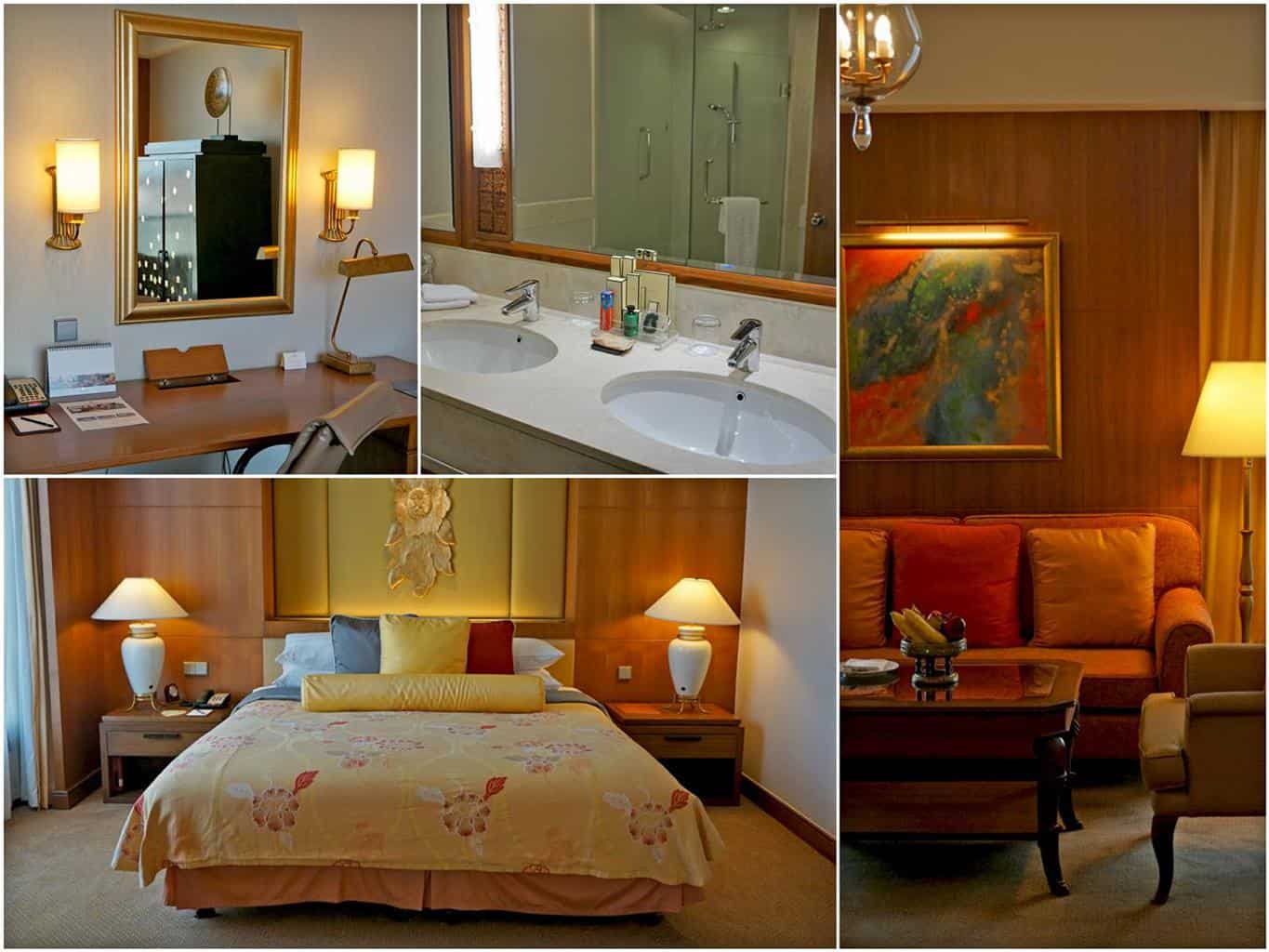 Shangri-La Hotel, Chiang Mai
Style and character
Though the hotel features the luxury touches that come standard with the Shangri-La brand, the property's vibe reflects the region's Lanna heritage.
Even though it wasn't one, the very generous 58 sqm of our Premier Room in fact felt like a suite, what with two sets of large windows, one with a balcony, a sofa, desk, arm chair and day bed. There were speakers in the bathroom, a combination of rich fabrics and teakwood, special touches such as local celadon tea sets, Thai silk pillows, bed runners, and artwork.
Along with the main swimming pool, there's an outdoor jacuzzi and yoga pavilion, as well as sauna and steam room facilities in the large health club. Shangri-La's Chi spas typically highlight treatments and ingredients from across Asia, and this beautiful outpost does the same, along with several locally influenced choices.
I particularly liked the notepad in the toilet, should you be struck by a bolt of creativity whilst on it.
What's unique?
I reckon it's worth splurging a little extra to be a Horizon Club guest. Benefits include bespoke holiday and business travel planning, as well as the following selection of perks:
Private check-in/check-out in your room. Plus the option of a late check-out until 4pm (subject to availability)
A dedicated Club Concierge to take care of all your needs, including special travel arrangements and basic translation services
Tea, coffee or another hot beverage of your choice, delivered to your room with your wake up call

Horizon Club guests also get to use the private lounge – the biggest perk – where complimentary facilities include daily breakfast, evening cocktails and canapes, beverages served all day, newspapers and magazines, suit pressing and shoe shine service.
We spent quite a lot of time in there.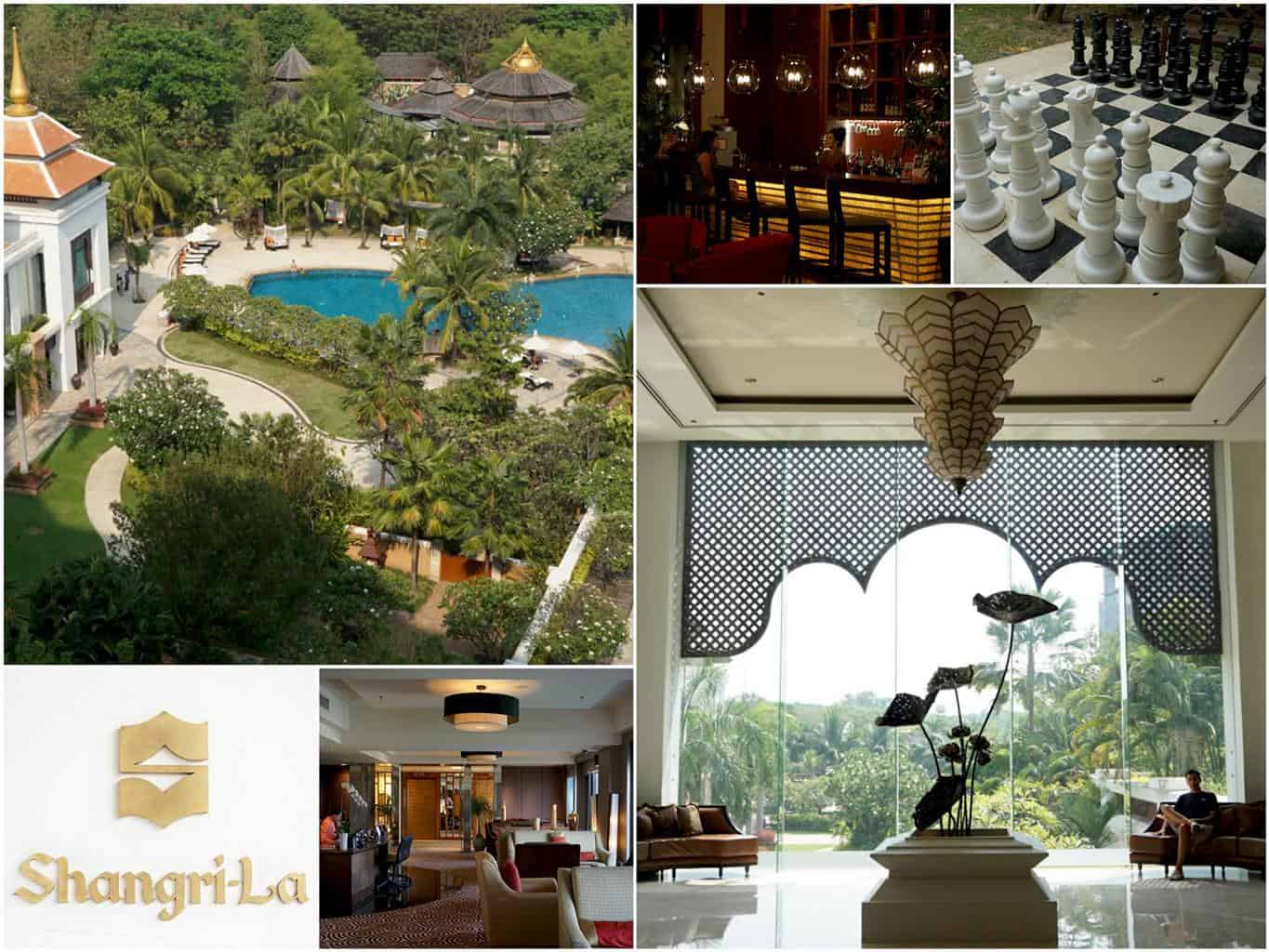 the grounds at Shangri-La Hotel, Chiang Mai
Who goes?
Guests were mostly leisure as Chiang Mai isn't much of a business destination. Many were from China, which is to be expected with the brand.
There were also a lot of families at the hotel during our stay; children could be heard from the other rooms. Expect many kids at breakfast, more than I've seen in any other hotel. It almost had a bit of a resort feel to it.
If you want to enjoy the property away from all of the little ones, I'd advise opting for a Horizon Club room, and therefore access to the Horizon Club lounge – a whole different atmosphere.
Breakfast
Served in the bright and airy all-day dining restaurant Kad Kafé – one of the four drink and dining options available within the property – and recognising their diverse client base, it's an international offering.
I particularly enjoyed the crab congee with ginger, fried shallots, fried garlic, pork floss, pickled cabbage, spring onions, century egg, and Chinese sausage.
Expect the likes of cereals, dried fruit, fresh fruit, a waffle and pancake station, oat cookies, fancy mango and papaya jams, peanut butter, Nutella, freshly baked breads, brioche, cake, smoothies shots, fruits.
There's a big noodle station, and an egg station, both making them to order, and a whole lot more.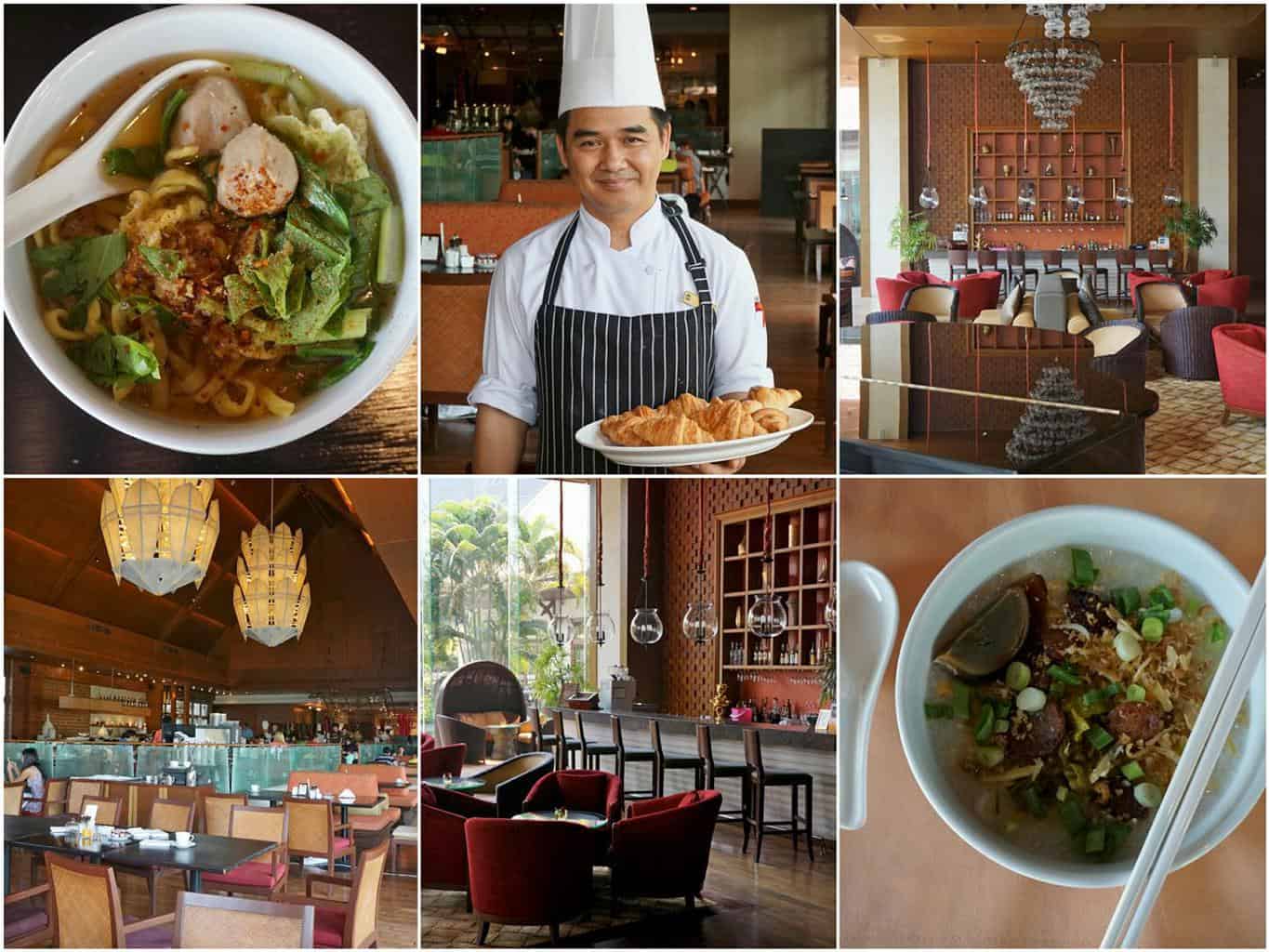 breakfast at Shangri-La Hotel, Chiang Mai
Dining
A quite fantastic Szechuan meal was had at the chef's table in China Kitchen (formerly Shang Garden) full of heat and spice and all things bloody wonderful.
The kitchen team is lead by Chef Chen from Chengdu in China, who had joined just a few days prior to our stay. He couldn't speak English or Thai, and his staff couldn't speak Chinese. It was fascinating watching them communicate in the 'language of the kitchen' – hand gestures, head nods and shakes, a lot of eyes, and smiling and laughing.
There was a fabulous in-your-face bowl of Szechuan beef with mushrooms – one of my favourites from the evening. Hot, savoury, numbing to the tip of the tongue.
There was pork, with vegetables and chilli, and deep fried fresh water prawns with a fruit salad – grapefruit, watermelon, dragonfruit. Sounds weird, but actually very good.
But the star of the show was the plate of wonderfully fresh egg noodles, made by Chef Chen daily. With sichuan chilli and a chilli, sesame and peanut sauce. Could have cleared buckets of the stuff.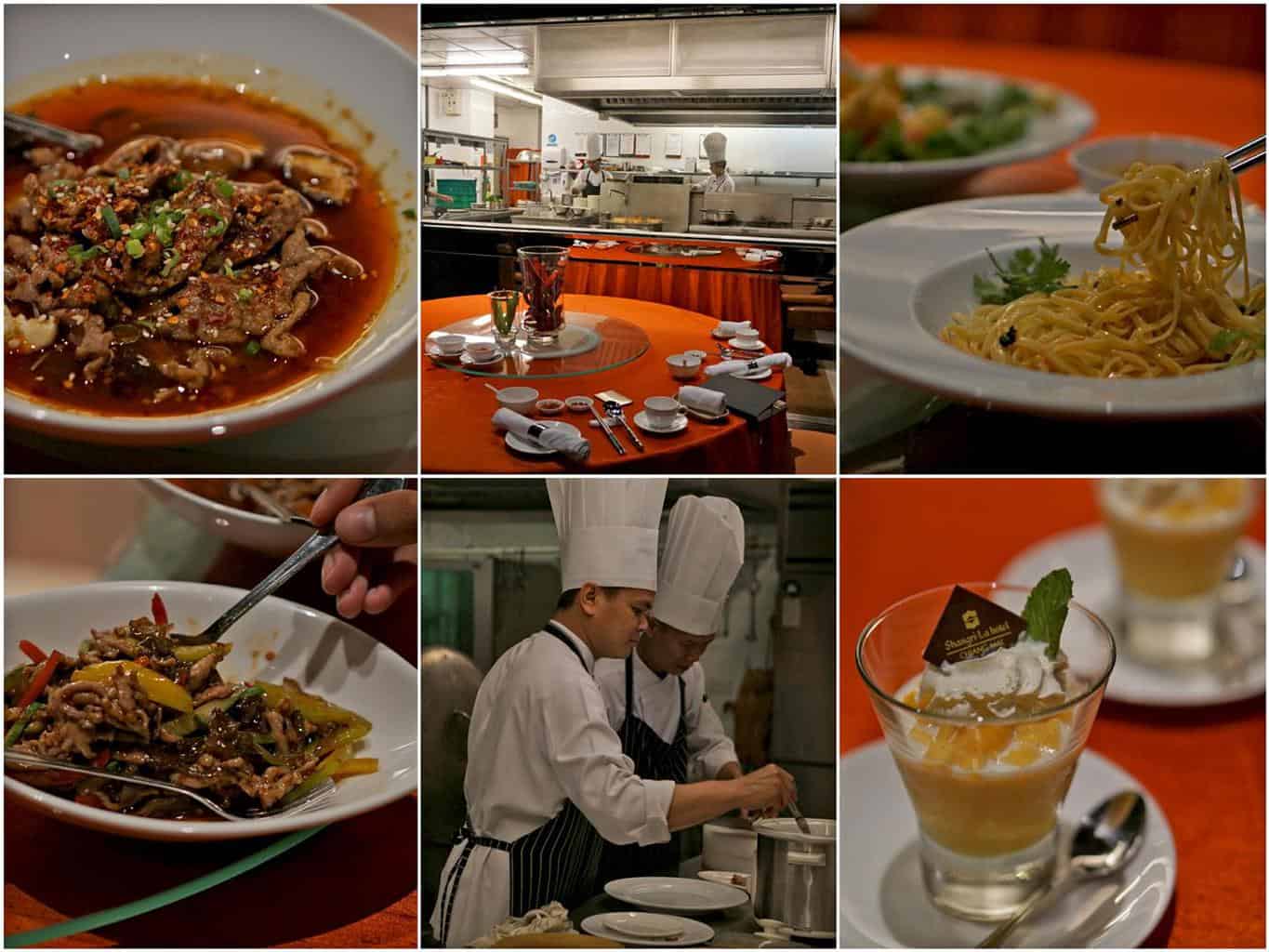 dining at China Kitchen at Shangri-La Hotel, Chiang Mai
Service
There's exemplary service throughout the property, but particularly in the Club Lounge. I like that the hotel provides cards for you to note down a specific member of staff's name and hand it in, should you want to praise their service.
And just as you've settled down on a lounger by the pool, someone will pop over with face sunscreen, water, fruit and insect spray. Nice touch.
Liked lots / liked less
Liked lots – there are environmentally friendly glass bottles used for the in-room water provided, which get refilled at the bottling plant, wherever that is. Removes the need for plastic.
Liked less – there was building work on a huge site directly in front of our room – condos we think – which got a bit irritating. But that's probably complete by now. To be fair, it's hard to get away from building work wherever you are in Asia; the continent is progressing fast.
Price point
Prices from £160 for a deluxe double to £310 for an executive suite.
Contact
89/8 Chang Klan Road, Muang, Chang Khlan, 50100 Chiang Mai
+66 53 253 888
Website
@ShangriLaHotels


Note: I stayed as a guest of this hotel as part of a media package. All views remain my own.
Related links
Week 16: THAILAND – Chiang Mai
Week 17: THAILAND – Songkran Festival in Mae Rim & Chiang Mai