Last Updated on November 17, 2022 by Leyla Kazim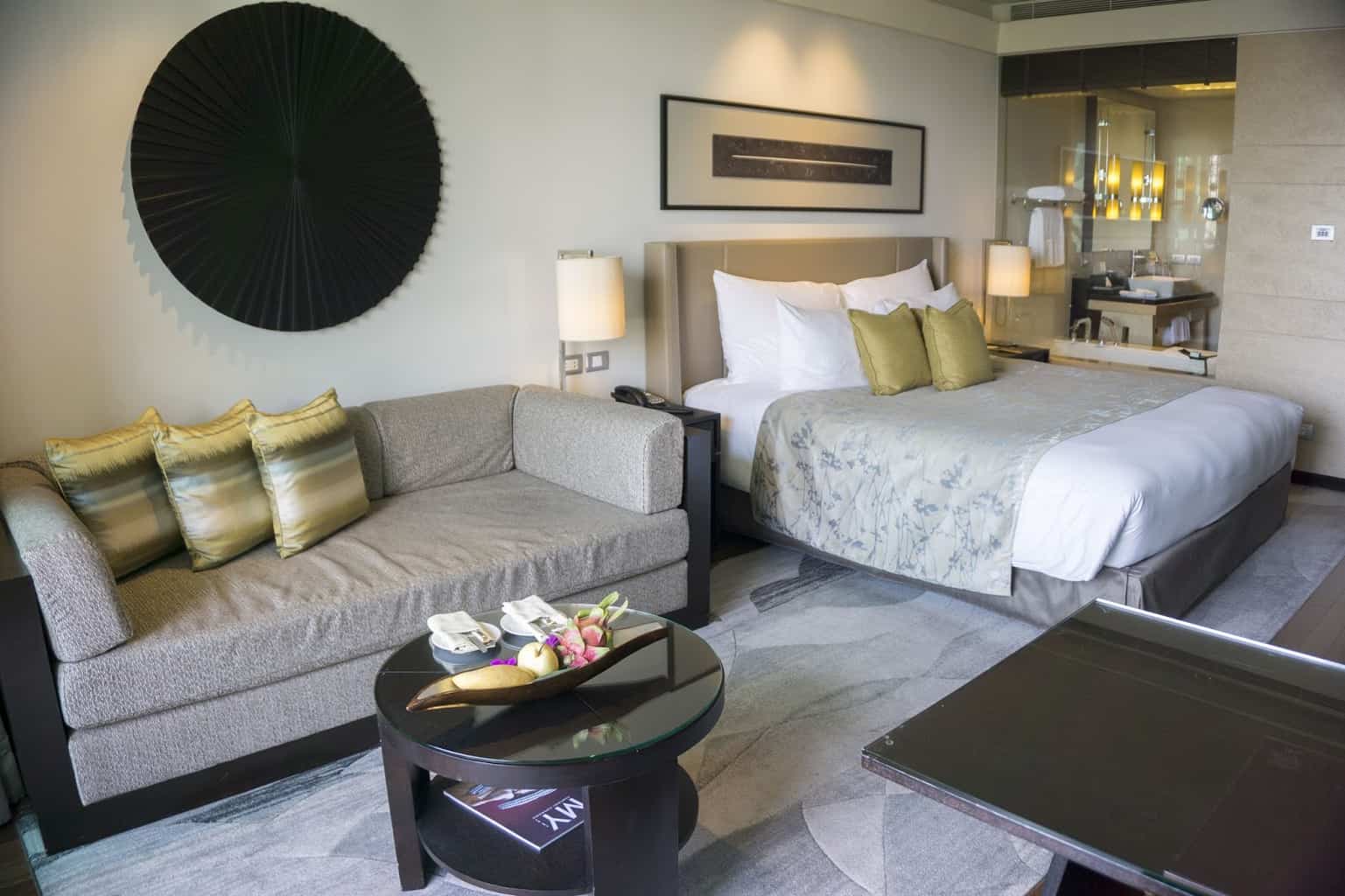 Siam Kempinski Hotel in Bangkok
In a nutshell
A circular, eight-storey luxury hotel complex centred around tropical gardens and salt water pools, found in prime downtown Bangkok with direct access to the Siam Paragon Shopping Mall.
Where is it?
You'll find it in the epicentre of Bangkok's premier shopping and entertainment district, and very easily accessed by BTS Skytrain, the most convenient way of getting around the city.
It's also a stone's throw from the other major shopping hotspots including Central World, MBK and the markets of Pathuwan. It's 30km or around a 45-60 minute drive from Suvarnabhumi International Airport.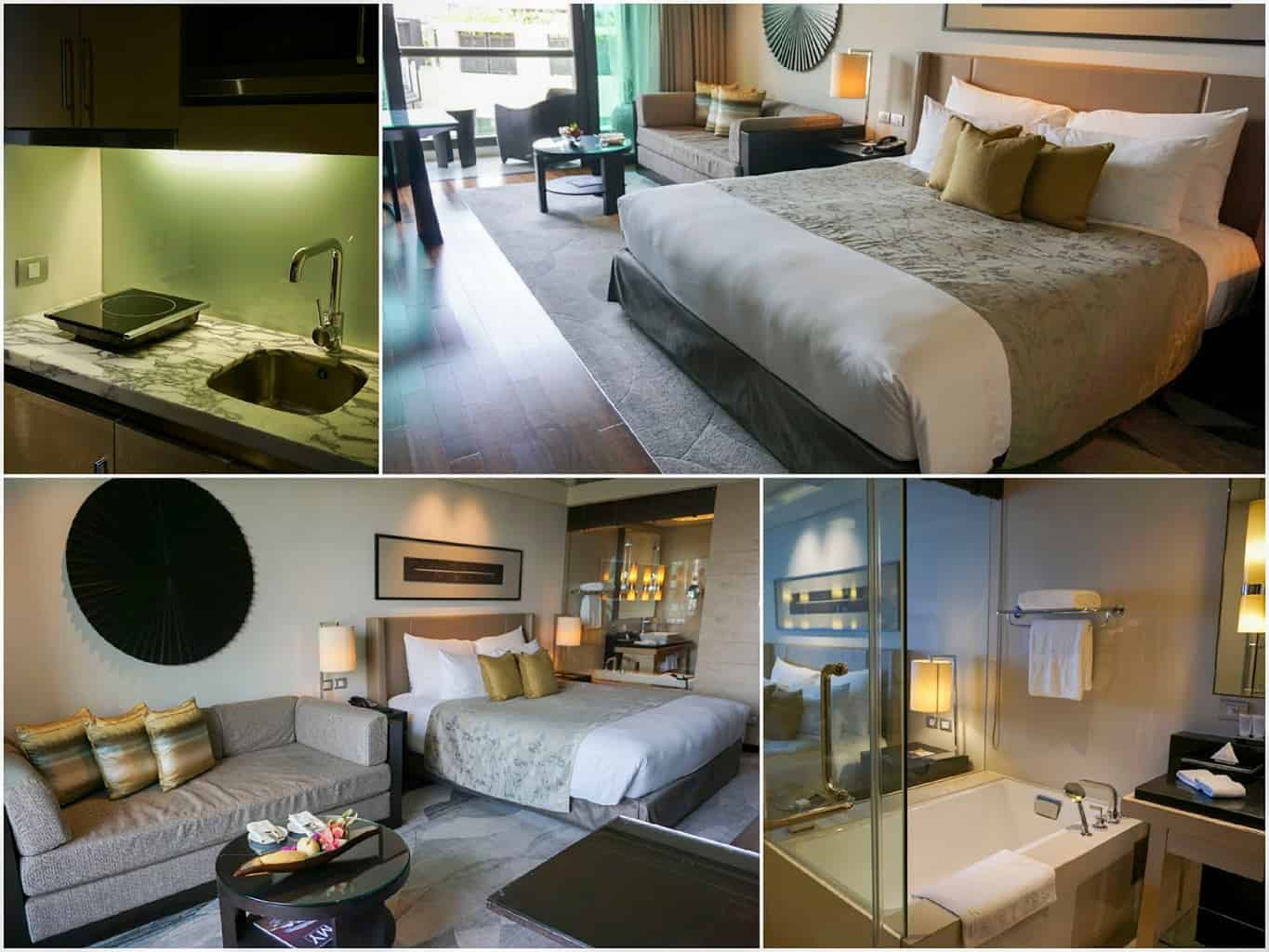 bedroom at Siam Kempinski Hotel in Bangkok
Style and character
This is a big, glossy, city-centre hotel with some resort-style flourishes, including a sprawling swimming pool and gardens, and an tip-top spa and gym. It's a hard to beat location if you're up for a bit of serious shopping whilst in town.
The building boasts 401 plush rooms and suites, featuring contemporary interiors, embellished with unique Thai elements such as paintings and silk curtains, and many of the rooms overlook the beautiful central garden and pools. Ours felt like a studio flat, with a lounge area, kitchenette, nice big fridge, pots, stove and wine glasses. Expect top brands for the gadget geeks, such as YAMAHA amplifiers and HD Power TV.
The lobby and public spaces are a world of glass and marble dotted with elegant furnishings, delicate Thai artworks and ornate displays of exotic flowers.
What's unique?
The hotel's labyrinthine corridors, pillar-less halls and spacious rooms are adorned with one of the largest collections of Thai art ever assembled in a hotel.
Then there's that direct access to two lines of the BTS Skytrain, making traffic-free travel across the city entirely possible. Direct access to Siam Paragon Shopping Center is available through the sky bridge located on Floor 2.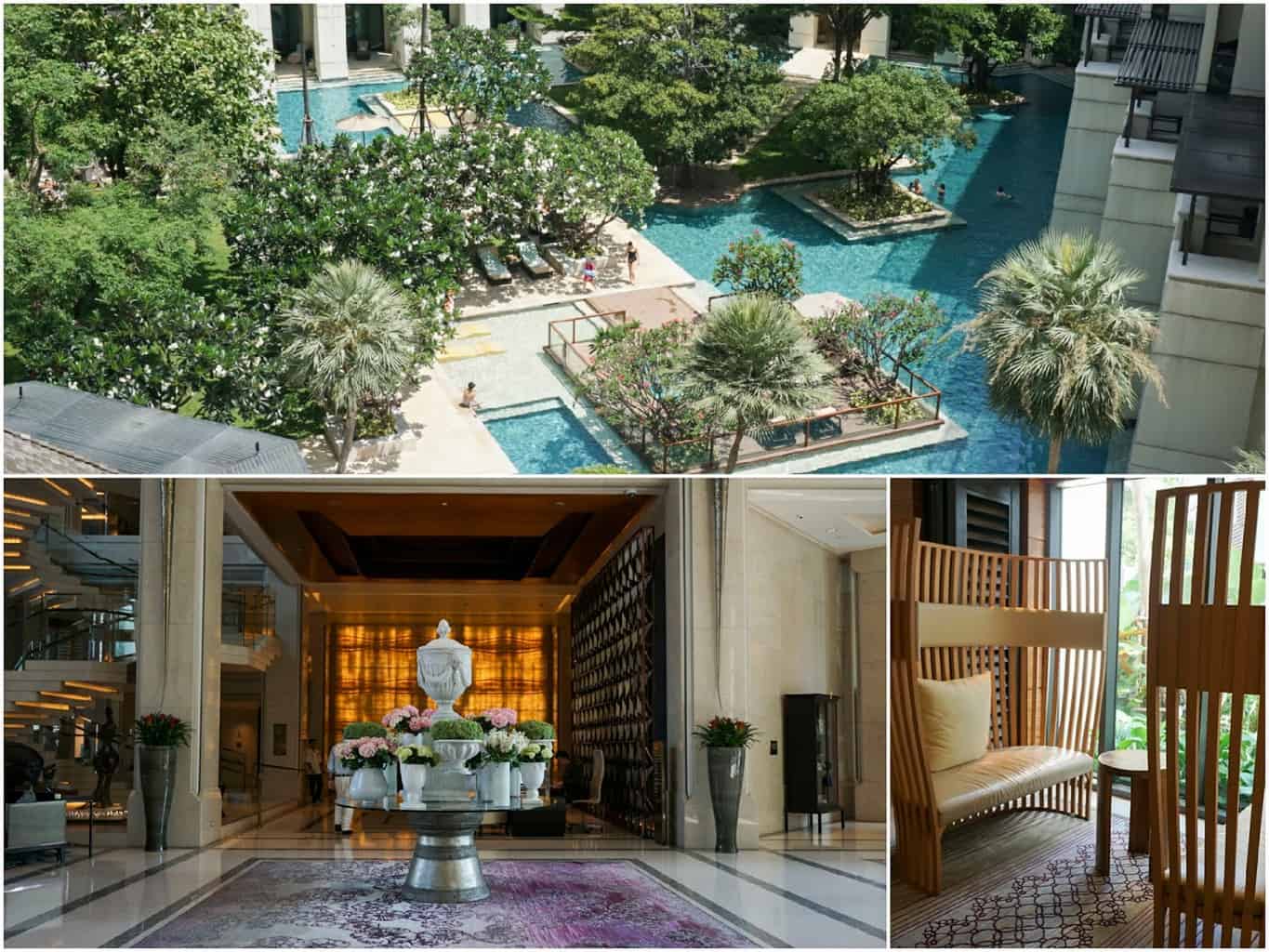 grounds of Siam Kempinski Hotel in Bangkok
Who goes?
I spotted many Asian guests, with a good proportion of Westerners. There weren't that many solo travellers (who are usually on business), although I'm sure they were there, and I think it's the high-end resort-feel of the place that attracts families.
Breakfast
Served in the bright and airy all-day dining restaurant Brasserie Europa – one of the five drink and dining options available within the property – and recognising their diverse client base, it's an international offering.

Expect breads, pretzels, pastries, babka and a range of jams. Vegetable biryani and noodles. A Middle Eastern section (which we launched ourselves upon – hugely well received after weeks of Asian food) with hummus, fried halloumi, white cheese, labneh, pita, tahini and olive oil.
There's miso, congee, pork floss, salted eggs, pork dumplings, and a noodle station making your choice if dish fresh to order. Smoked salmon, salads, cheeses, tomato and mozzarella salad, cold cuts, smoothies, a juice bar, a posh egg menu cooked to order, and even sparkling wine. The homemade coconut ice cream was terrific, and yes, I had ice cream for breakfast.
I liked the fact they didn't shut up shop as soon as 10.30 arrived, as so many other hotels do. In fact, people were sauntering in as late as 10.30, and they were still seated and greeted with a smile.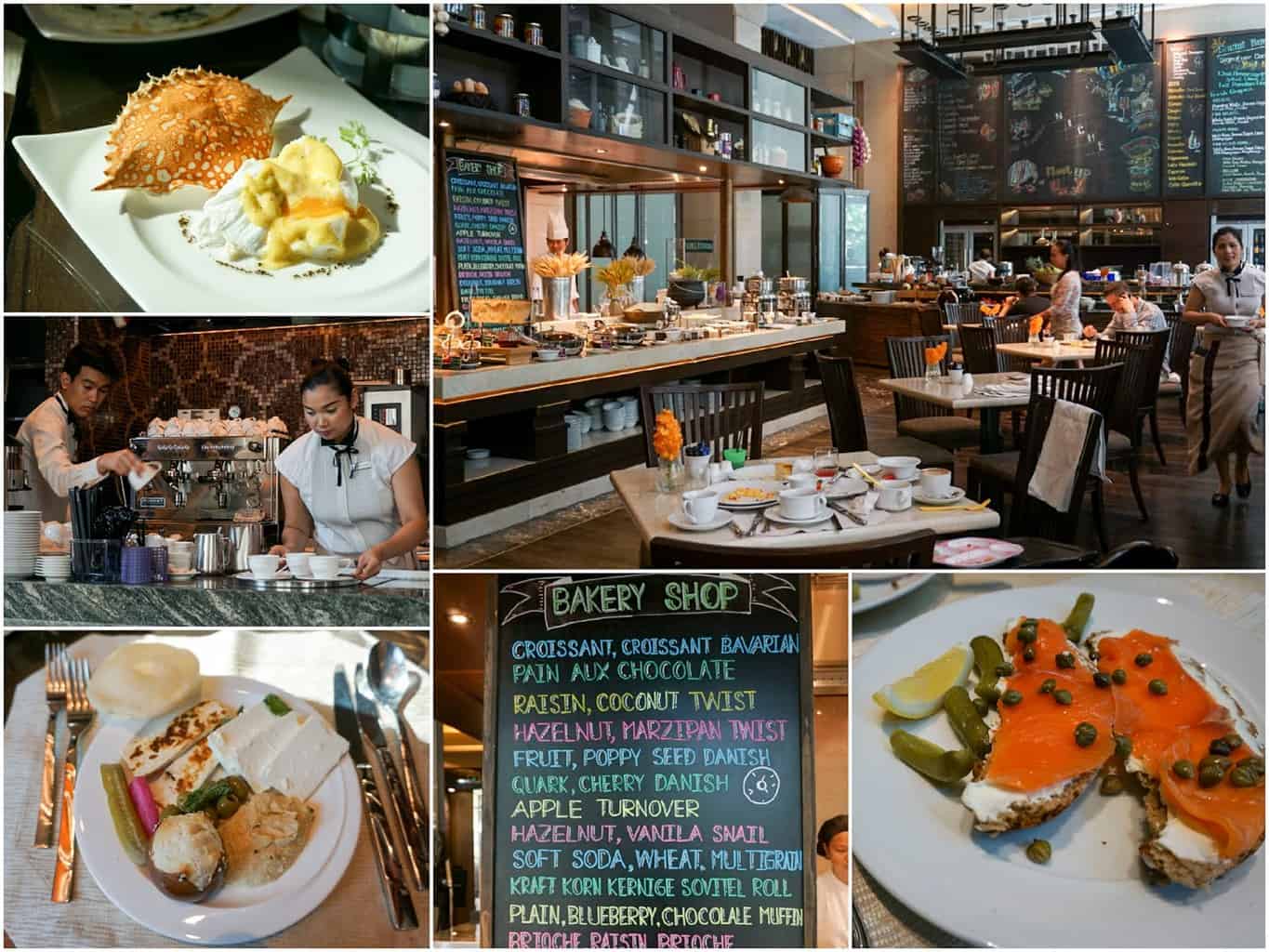 breakfast at Siam Kempinski Hotel in Bangkok
Service
All the staff members were wonderful, and service was of the highest order, as you would expect from such an esteemed hotel name.
Liked lots / liked less
This was an all round, very pleasant stay indeed. Guests receive a little pot of Thai aromatics as a gift on departure. Like a really strong Viks – great if you have a cold!
I noticed quite a few scuff marks on the furniture and wall of our room, and several hand prints on the glass between the bathroom and the bedroom. Our room preparation may have been a little rushed, as we did check in early.
Price point
Prices from £90 a night for a deluxe double to £145 for a villa.
Contact
991/9 Rama I Road, Pathumwan, 10330 Bangkok
+66 02 162 9000
Website
Note: I stayed as a guest of this hotel as part of a media package. All views remain my own.
Related links
Week 16: THAILAND – Chiang Mai
Week 17: THAILAND – Songkran Festival in Mae Rim & Chiang Mai
THAILAND: Review of Shangri-La Hotel, Chiang Mai
THAILAND: Review of Shangri-La Hotel, Bangkok