Last Updated on November 17, 2022 by Leyla Kazim
'Garlic sauce, chilli sauce?'. Possibly the most pertinent question to ask anyone under the influence at 2am on a Friday night. The only acceptable answer to which is of course, 'both'. Plus extra pickled chillies.
Few would dispute the kebab has a firm foothold in the market of the post-pub and club hordes seeking the satiety only hot salty meat and grease can provide once the night buses begin. But the breadth of offerings from this staple of Turkish cuisine (and so many others) stretches far beyond messy late night encounters.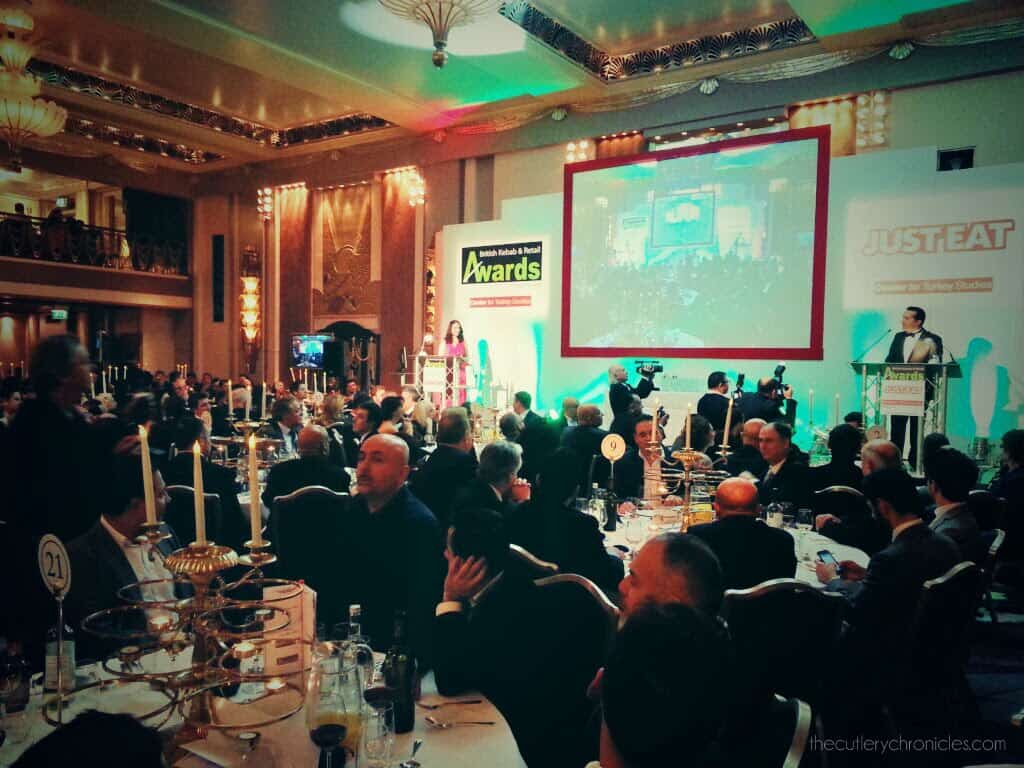 The heights to which a quality kebab can be elevated when executed with the care, skill and expertise passed down through generations is beginning to reveal itself. The kebab, in its fullest sense, is making inroads into Britain's competitive dining industry.
A quick glance at Wikipedia and you'll find no less than 39 entries under 'Turkish kebabs'. From the İskender (doner meat served with yogurt, tomato sauce and butter – my favourite) and kuzu incik (lamb shanks mixed with peeled aubergine, chopped tomatoes and cream), to the kuyu kebabı (whole lamb cooked over a low heat in a pit for hours) and ciğerli kağıt kebabı (lamb liver mixed with meat and marinated with thyme, parsley and dill), the list is long and inviting. And where better for the country to declare its love for this glorious food stuff than at the annual British Kebab Awards, now in its second year.
With the full force of five star treatment such an event deserves, the Ballroom of the Park Lane Sheraton hosted last night's gala event sponsored by Just-Eat, pleasing a heaving crowd of press, politicians, food writers, celebrities, chefs, and the nominees.
A round of applause to the organisers for quashing fears of generic hotel catering fodder in favour of a Turkish menu (with a few Indian entries), and to the chefs themselves for rustling up a really good spread.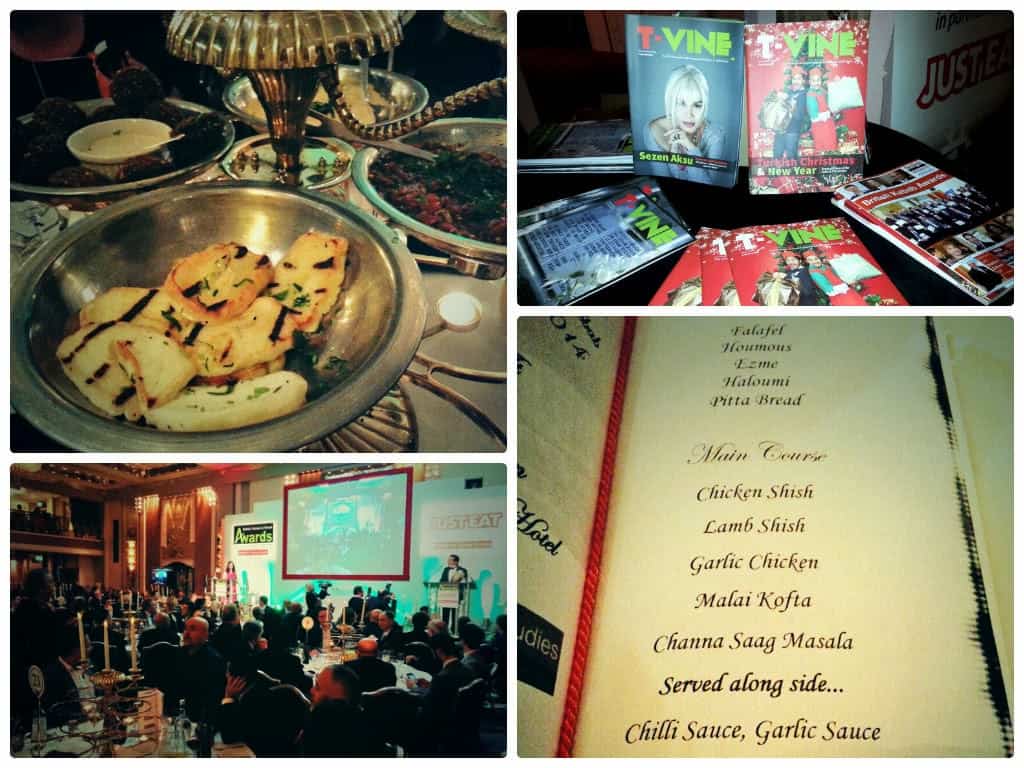 Nominations and Judging
Nominations were taken from both the general public and local politicians, as well as directly from businesses wishing to put forward their own name. Submissions fell into any number of 12 categories including: Best Newcomer, Best Chef, Best Value, Best Takeaway in (and outside) London, Best for Fine Dining, and more.
The point scoring process involved all areas that contribute to an award-worthy meal; as well as taste, notes were taken on health and hygiene, the dining environment, and service. Those with the highest hygiene rating of 5 bestowed by their local authority received an automatic 500 point boost, and any recommendations from local councillors and politicians, after consulting with their constituents, received a further 250 points. Every public vote from then on scored 2 points.
The question on all of our lips is, does the judging panel get to taste their way through these crème de la crème nominations? Yes (quickly followed by 'how do I get on it' – lucky sods). From kitchen cleanliness to storage facilities to the kebab experience as a whole, assessment is thorough with the reports collated, worked through and winners decided last week.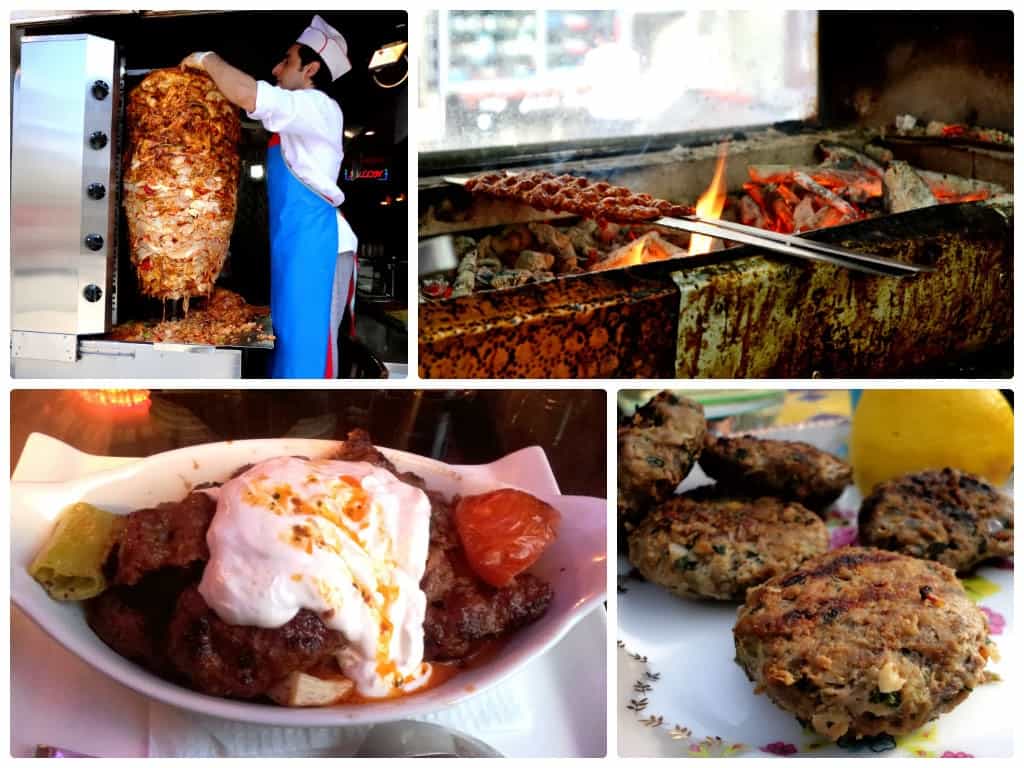 Winners
Many congratulations to all the nominees, and in particular the winners. Take note and add these to your eating out hit list – I already have:
JUST EAT BEST DELIVERY RESTAURANT
Mozz Restaurant – 887 green lanes, London, N21 2QS
BEST NEWCOMER KEBAB RESTAURANT
Kervan Gokyuzu – 183 High Road, Wood Green, London, N22 6BA – WINNER
Efes Restaurant – 230 commercial road ,London E1 2NB – HIGHLY RECOMMENDED
YOUNG RESTAURATEUR OF THE YEAR
Mazlum and Serdar Demir – brothers of Skewd Kitchen, 12 Cockfosters Parade, London, EN4 0BX
BEST CHEF AWARD OF THE YEAR
BEST YOUNG CHEF OF THE YEAR
Haydar Polat of Troia Restaurant
BEST RELATED BUSINESS OF THE YEAR
QUIK CUT– quik-cut.com, 73 Thurlstone Road, Penistone, Sheffield, S36 9EF
OUTSTANDING CONTRIBUTION TO THE KEBAB INDUSTRY (three awards)
VATAN CATERING – Mill Mead Industrial Centre, N17 9QU
TEES LTD – Cromwell Industrial Estate, Staffa Road, E10 7QZ
EFES NAVSTAR LTD – 76 Kilbirnie Street, Glasgow
BEST VALUE RESTAURANT
Likya Ocakbasi – 68-70 Golders Green Rd, London NW11 8LN
BEST TAKEAWAY KEBAB SHOP OUTSIDE LONDON
Best Kebab at 5 West St, Southend on Sea, Essex SS2 6HH – WINNER
Bullring Chippy – 4 St Johns, Worcester WR2 5AH – HIGHLY RECOMMENDED
BEST TAKEAWAY KEBAB SHOP IN LONDON
The Best Turkish Kebab – 25 Stoke Newington Road, N16 8BT – WINNER
Charcoal Grill – 12 Chase Side, Southgate, London, N14 5PA – HIGHLY RECOMMENDED
CUSTOMER SATISFACTION
Kazan Restaurant – 93-94 Wilton Road, Victoria, SW1V 1DW – WINNER
Capital Restaurant – 271 Fore St, London N9 0PD – HIGHLY RECOMMENDED
FINE DINING
Sheesh Chigwell – Ye Old Kings Head, High Road, Chigwell, Essex, IG7 6QA – WINNER
Hazev – Discovery Dock West, 2 S Quay Square, Greater London E14 9RT – HIGHLY RECOMMENDED
For a sector worth £2.2 billion to the British economy each year and responsible for 17,000 businesses employing 70,000 people each week, the kebab industry is certainly not one to shake a soggy pitta at.
As both the daughter of a Turkish Cypriot and a food nut, I'm thrilled to see the kebab and those who are really good at making them, get the recognition they deserve.
Afiyet olsun.