Last Updated on June 17, 2020 by Leyla Kazim
'Where should I go to eat game in London?' is a question I've been asked more than once, the answers to which can be determined quite simply.
Any good, seasonal restaurant with a kitchen that knows what it's doing will likely spend most of the year looking very forward to 12th August, the start of the shooting season. Expect the menus at these sorts of places to be trussed up with some level of pheasant, partridge, wild duck et al. over autumn and winter, and for them to do a decent job with them.
For example, I've had very good pigeon at Petrus, particularly exceptional grouse liver with sweetcorn and hazelnuts at Lyle's, and a good amount of well-cooked venison in a lot of other places.
Like looking for your favourite pair of socks and finding them in the microwave, another place to find decent game in town is one you would never think to look – a whisky bar in a Knightsbridge hotel.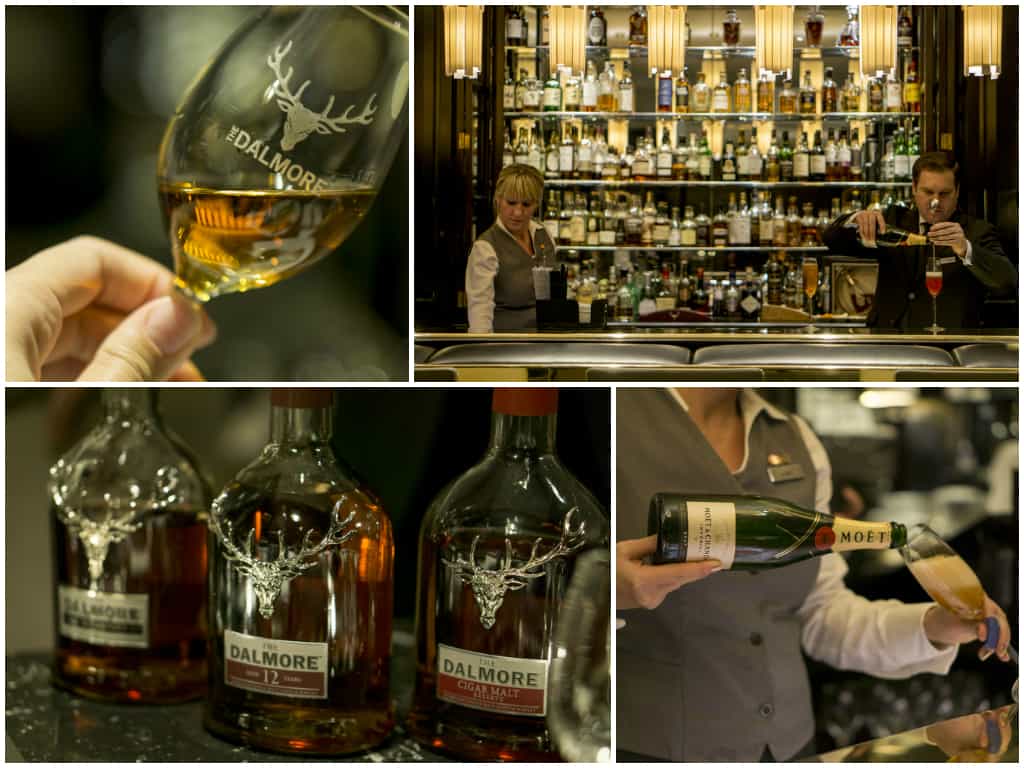 Admittedly, The Park Tower Hotel is as unsightly as you would expect a giant cement-pineapple monstrosity to be, paling in comparison to the opulent and beautiful Mandarin Oriental on the opposite side of the road.
It looks like a towering 1960's communist government office block, or a massive battleship-grey hand grenade. Either way, it's far from attractive from the outside (a lot nicer in, let me assure you), which undoubtedly makes it difficult for people to consider there could be anything worth eating within its walls.
But if you find out a little about the executive head chef commandeering the kitchen at The Hyde Bar (and also at acclaimed seafood restaurant One-O-One – both of which are in this hotel), it becomes a little more believable.
The family of Brittany-born Pascal Proyart have been in the restaurant business for three generations. He himself spent a decade working in hotels and restaurants across Europe after training at "Les Sorbets" Hotel School in Noirmoutier, and he gained two Michelin stars at the Sea Grill in Brussels, and another two at Le Divellec in Paris.
He counts the likes of chef Eric Chavot (from one-star Brasserie Chavot in Mayfair and two-star The Capital Restaurant in Knightsbridge) amongst his good friends, whom he often fishes with. Chavot taught Proyart a lot about food from the South West and Proyart in turn taught Eric a lot about fish.
He is also a chef's chef, esteemed by his peers. Aussignac (from one-star Club Gascon) believes he "deserves fame and recognition" and even Alan Yau is a fan, describing Proyart as "amazing."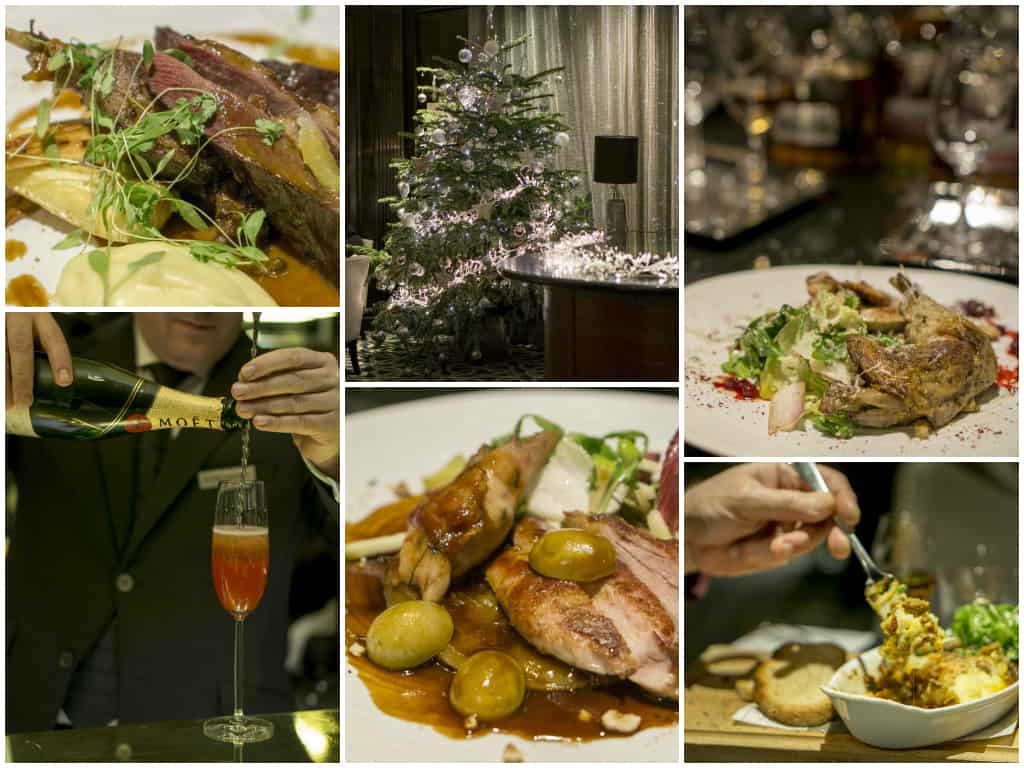 With the kitchen credentials out of the way, let's look at The Hyde Bar as a venue itself.
It is unmistakably a bar, there's no doubt about that. Rather than a restaurant with a lot of spirits, for example. It's a bar that just happens to have a decent kitchen and a load of game waiting in the wings.
Whilst I'd say it's one tailored towards men seeking the feel of a private members club – with its wood panelling, 100 international whiskies, one of the finest cigar lists in London (so we're told) and an outdoor cigar terrace – there are still good wines and cocktails available for those who prefer their drinks a little softer.
As you'd expect from a bar, it doesn't start to get lively until after 9.30pm, when a jazz singer will begin to croon at a grand piano in the corner. As you'd also expect from a bar, the people in it were mostly drinking, with snacks or small plates as food accompaniment, rather than full on game dinners which, I suspect, they had little idea was even available.
But game there was, and out of the nine dishes available that evening, six we did try.
To partner the seasonal menu and make the most of what this place is particularly good at, three Dalmore whiskies have been selected by Bar Manager Victor Durbaca. The idea is for their rich flavours, hints of autumnal fruits, and aromatic winter spices to compliment the hearty meat-laden dishes. The chosen trio: The Dalmore 12 year old, The Dalmore Cigar Malt Reserve and the King Alexander III.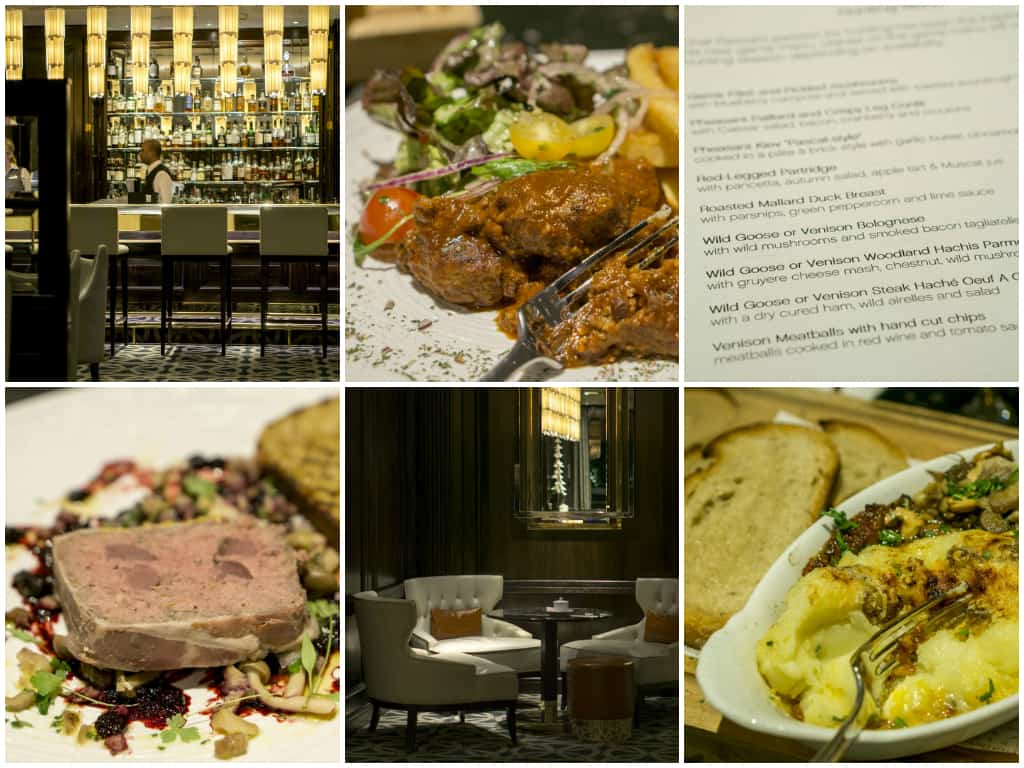 There was a chunky and rustic wedge of game paté with pickled mushrooms, a fruity blueberry compote and a slice of very smoky sourdough that felt fried but wasn't at all greasy (£14). A plate of pheasant paillard with a flaking crispy confit leg came with a sprightly Caesar salad, bacon, croutons and sharp hits of cranberry (£19).
There was the breast from a red-legged partridge, with porky bits, an autumnal salad with tart slithers of apple and grape halves, and a Muscat jus – very good (£17). Roasted duck breast was fantastically dense and full of iron, making best friends with the chewy edges of caramelised parsnips, and a green peppercorn and lime sauce (£20).
Then there was a hearty and cheesy parmentier – much like a Shepherd's pie – with venison mince and loaded with Gruyere (£19). And whilst the venison meatballs cooked in red wine and a tomato sauce were a little sweet for me, the hand cut chips they came with were textbook – crisp shells, fluffy middles (£21).
Robust red meats with a whisky flight set in a bar with a cigar terrace must be the blueprint for an ideal evening for many a father, mine included. My dad declared in rapturous voice to Victor, that before that evening, he had only ever enjoyed whisky as an aperitif prior to food. Thanks to this meal, however, he was now wiser to the compliments carefully selected whiskies can give to a meal, much in the same way as wine pairings. And I second that.
Good, seasonal game, from an esteemed and well-decorated chef passionate about hunting, in the whisky bar of a Knightsbridge hotel that looks like a concrete version of those trigger-point foam rollers you find in the gym.
London, you are full of surprises.
Liked lots: both Victor and his replacement at the end of his shift, Santo, provided exceptional service
Liked less: One of the dishes arrived quite cold. After informing Santo, the remaining were piping hotel and delivered with much apology. Minor gripes like this are inconsequential when taken on board and corrected with the right attitude, as here. It's a shame the outside of the building can't get a face transplant though.
Good for: Being an anti-vegetarian; a good range of game to choose from; taking someone who appreciates whisky; staying for a few drinks after.
3.5/5
Find the menu on Zomato.
Afiyet olsun.
Note: I was invited as a guest to this restaurant.