Last Updated on June 17, 2020 by Leyla Kazim
"L'chaim!" my non-Jewish dining partner correctly exclaimed as we raised our glasses of crisp rosé to Papi (aka 'The Godfather' and one of the owners) who had been regaling us with stories, and the spread that lay before us.
"Ah, you know l'chaim!" Papi enthused, suitably impressed by the cultural reference (a Hebrew salutation meaning "to life!" and used during toasts).
"Yes I do," my friend smiled, momentarily basking in the recognition before continuing. "I have a lot of Jewish friends. I grew up with a lot of Jews. I live in North West London, you see."
"Ah yes. When I moved to this country, I asked where all the Jews were. I was told north west London," Papi recalled.
"So I made sure I lived south."
We duly threw our heads back with merriment at the punch line, delivered with a twinkle in his eye and the expert timing of an uncle with a great sense of humour.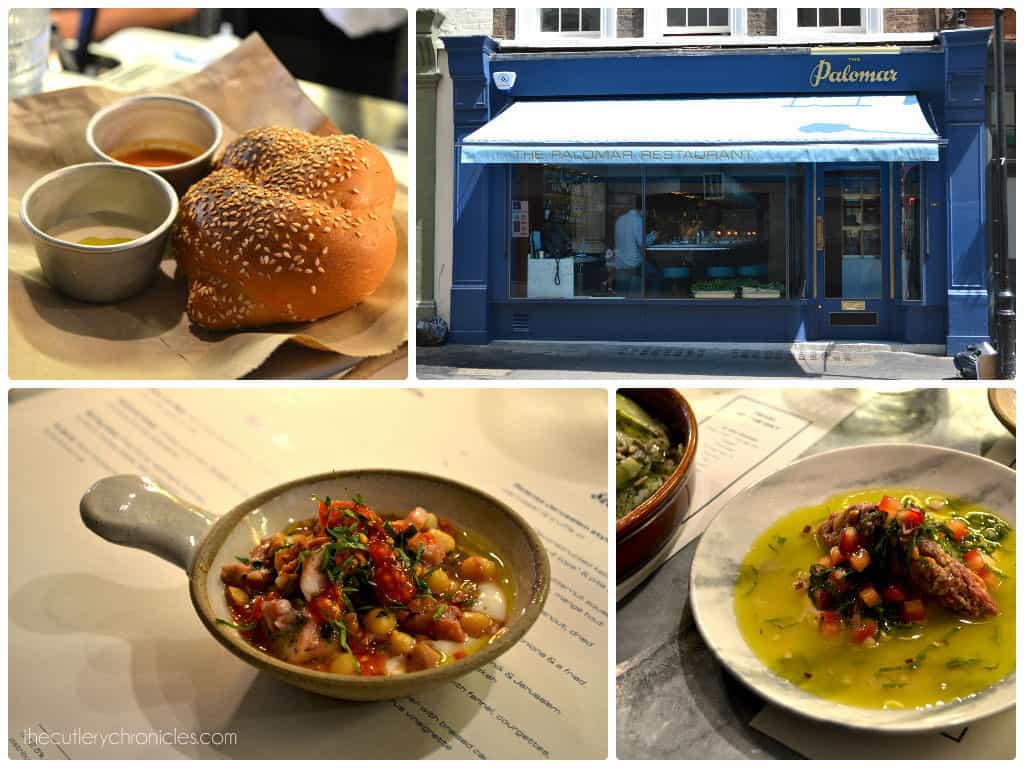 We first met Papi about ten minutes prior to this. Moroccan head chef Tomer Amedi – stationed in front of us at our bar seats – around the same time. In those short ten minutes, we had been treated to shots of lemon and ginger infused vodka, tasters of menu items we hadn't ordered, and a glimpse into the chef-love PDA's we all know exist but usually remain hidden behind closed swing-doors, here on full display in The Palomar's open kitchen.
If the intention is to make guests feel as though they've been welcomed into the home of a Jewish family – which front-of-house member and our excellent waiter Jason openly divulged – then they're nailing it.
The Palomar is the first international foray from the people behind Jerusalem's hottest restaurant, Machneyuda. Yossi Elad (Papi), Uri Navon and Asaf Granit have come over to open a restaurant serving food from modern-day Jerusalem, with a menu that takes influences from southern Spain, Italy, north Africa and the Levant.
Striking royal blue frontage and a pink neon sign in handwritten font greet you on entry. The main area is long and narrow with the kitchen running the full length of the bar, and enough space behind the 16 stools for no further breadth than that of a single-file throng.
I've heard some lamenting over this design; busy evenings see those waiting for the coveted (and non-reservable) bar seating doing so in that lane directly behind diners, which must result in inevitable elbow-bashing and frustrated waiters.
But I hear they do the sensible thing of taking your number and calling once a space becomes free, so there's no need for your clan to hang around like penned-in cattle. Alternatively, you can retire to the wood-panelled dining area at the rear – with space and reservations and tables – but I suspect that's a lot less fun.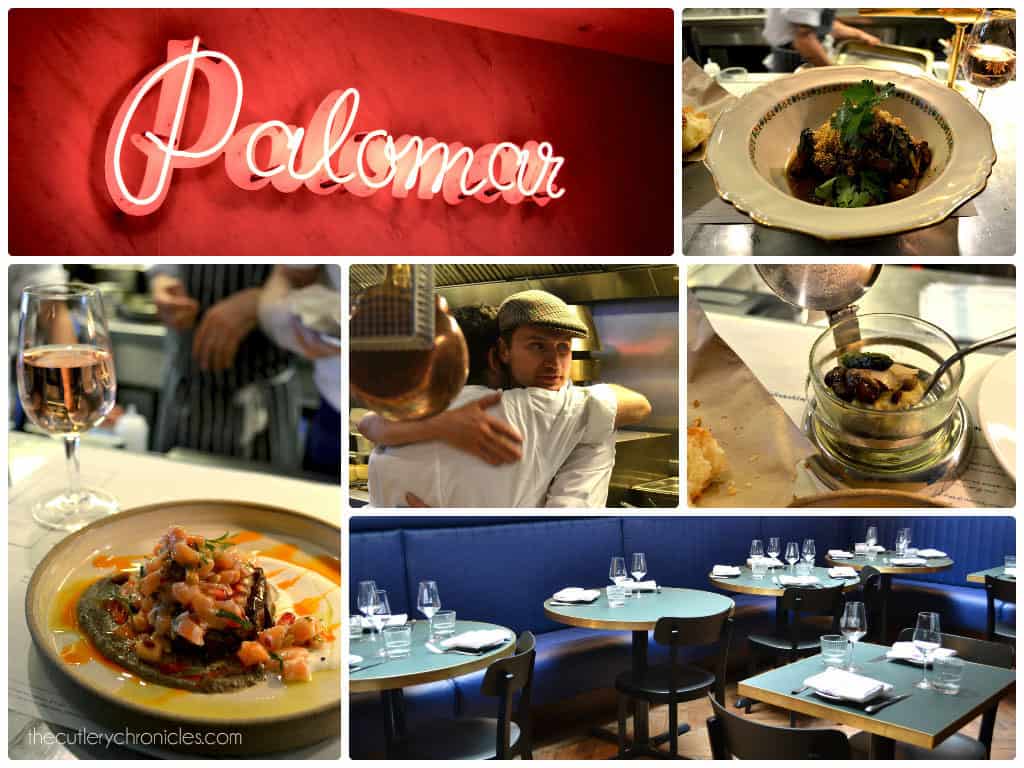 There was a salmon tartare starter special with the soft crunch of pine nuts, parsley, pomegranate, yoghurt, and fried aubergine lightly cured with paprika, the latter a recipe from Tomer's mother. All components great in their own right, and together a plate of unbridled joy. The 'Jerusalem way' of polenta is apparently a smooth cheesy mass with truffle oil, mushrooms and Parmesan which is as good a way as any (£5).
As was the zippy little taster of polpo à la Papi, disclosing the secrets of yielding octopus seasoned with the saltiness from mulukhiyah leaves, in cahoots with nutty chickpeas, spinach, yogurt and a touch of chilli (£8.50). Be sure to order the spring salad of shaved fennel, asparagus, kohlrabi, sunflower and poppy seeds with a tangy feta vinaigrette, because it's very good (£7).
A neat quenelle of hand chopped beef fillet from the raw section, bound by bulgur, tahini, herbs and pine nuts, was doused at the table by a lime green union of olive oil and lemon juice resulting in a sea of nectar surrounding the tartare island (£8.50). It was very good, but something similar from Arabica Bar & Kitchen is yet to be matched.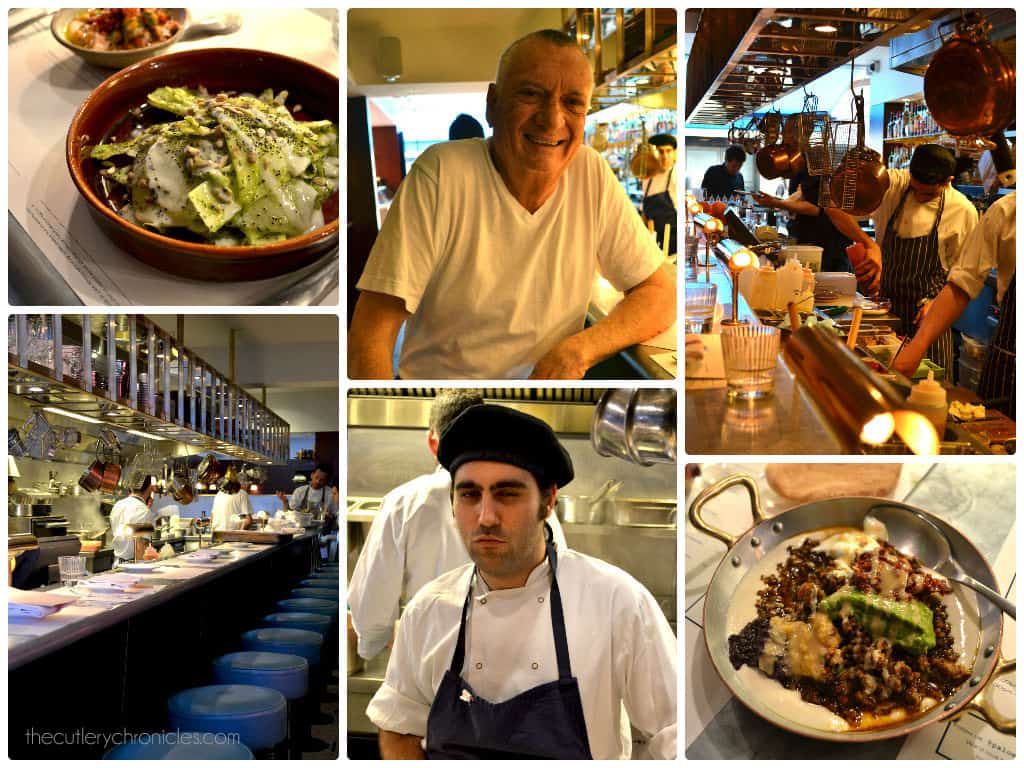 Then there was the ox-tail special with preserved lemons, challah breadcrumbs and cool bits of bull vertabrae I paraded in front of my dining partner's face. Presenting it in a deep bowl with steep sides made it a little tricky to eat, and the meat could have been flaking more, but the dregs were great excavated by some freshly broken challah bread.
The deconstructed kebab – with minced meat, yoghurt and tahini – was a fine dismantle. The "four toppings" involve peppery watercress pesto, cured lemons, kalamata olive tapenade and harissa. Unveiling layers of flavour that jostle each other for centre stage, but united, put on a great show (£9.50).
We relinquished decision-making to Tomer for dessert. "One Basboussa!" he cried, to the instant feedback of "Yes chef!" from the kitchen infantry. Shortly after, a warm semolina cake with whipped yogurt, orange syrup, ground walnut brittle and a sensationally sour tuile was served and consequently cleared within neighbouring minutes (£6).
The Palomar uses ingredients I naturally gravitate towards thanks to, I suspect, the Levantine blood that partly occupies my veins. Give me meat with yoghurt and lemon, lashings of great olive oil, the bejewelment of pomegranate seeds, mushed up aubergine and tahini – or any variation around these stellar things – and I'm there and most likely, enjoying it.
I like that conversation is interjected by the battle cries of "One shakshukit, two tortellini, one hamusta, one malabi" and "Yes chef!" every few minutes. I like that waiters come around from behind and the side to top up water and clear plates with a sleight of hand that's barely noticed. I like that one chef wears a flat cap, and that the reaction I got from our waiter when going for the specials was the verbal equivalent of wetting one's pants with excitement. I like the copious amounts of gorgeous olive oil used in most dishes, and the hearty bread to mop it all up.
"Is this a family-run business?" I enquire, as our meal draws to a close.
"No, it's not," Papi responds, a knowing look shot over to Tomer. "We're more than family. Just not by blood."
L'chaim to that.
Liked lots: It's an intimate space with a lot of room for creative expression; a pleasure to receive a bill that's half of my last few meals (I suspect not ordering a whole bottle of wine helped)
Liked less: I can imagine it gets a little cramped in the evening, but lunch was a spacious and languorous affair
Good for: Jewish food that isn't from a deli; interacting with the restaurant's great characters; a glimpse into the workings of a kitchen; solo dining at the bar
My rating: 4/5
Find the menu on Zomato.
Afiyet olsun.