Last Updated on June 17, 2020 by Leyla Kazim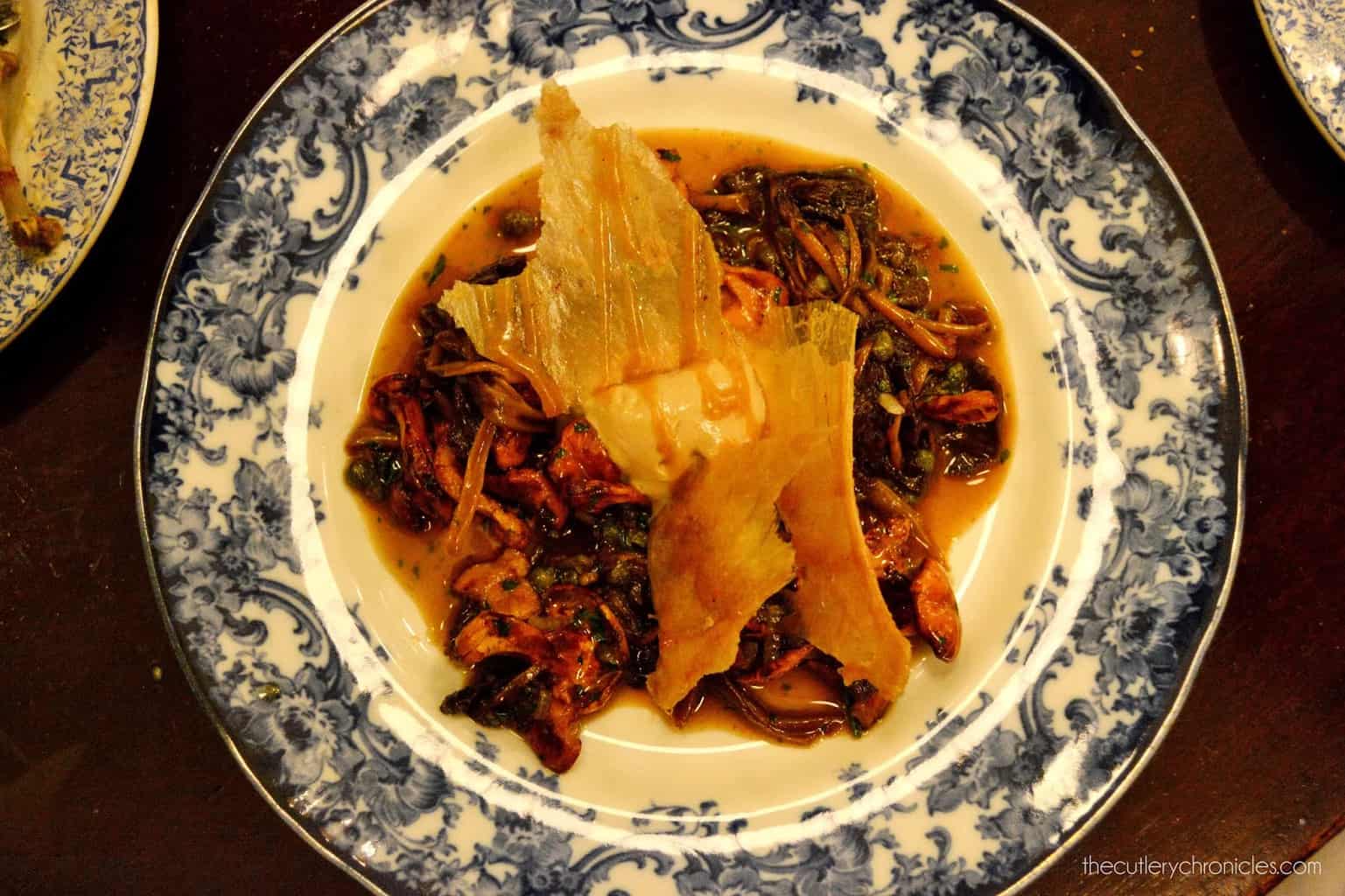 Life is full of decisions we would rather not make. Do the dishes or eat off paper plates indefinitely? Devise a long term career plan or just make it into work each morning and hope for the best? Accept my mother's friend invite on Facebook or actively avoid the issue?
None more so than the daily dilemma of what to eat that evening. Whether at home and faced with the meagre offerings from the tail end of the week's shop, or in a restaurant toying between the duck or pork whilst tagging the tweet about your plight with #firstworldproblems (please don't), deciding what to eat can be a challenge.
Take this fickle element out of the equation and I am thrown back to the simpler days of my childhood; 'you will eat what I give you and you will finish it'. Thankfully, my parent's cooking was and still is great, so I always did. When a restaurant plays mum for the evening (albeit one that lets me drink a lot more wine), I am both grateful and drawn to it. 'Finish it!', you say? 'Enjoy it!', you demand? Well, MAYBE I WILL.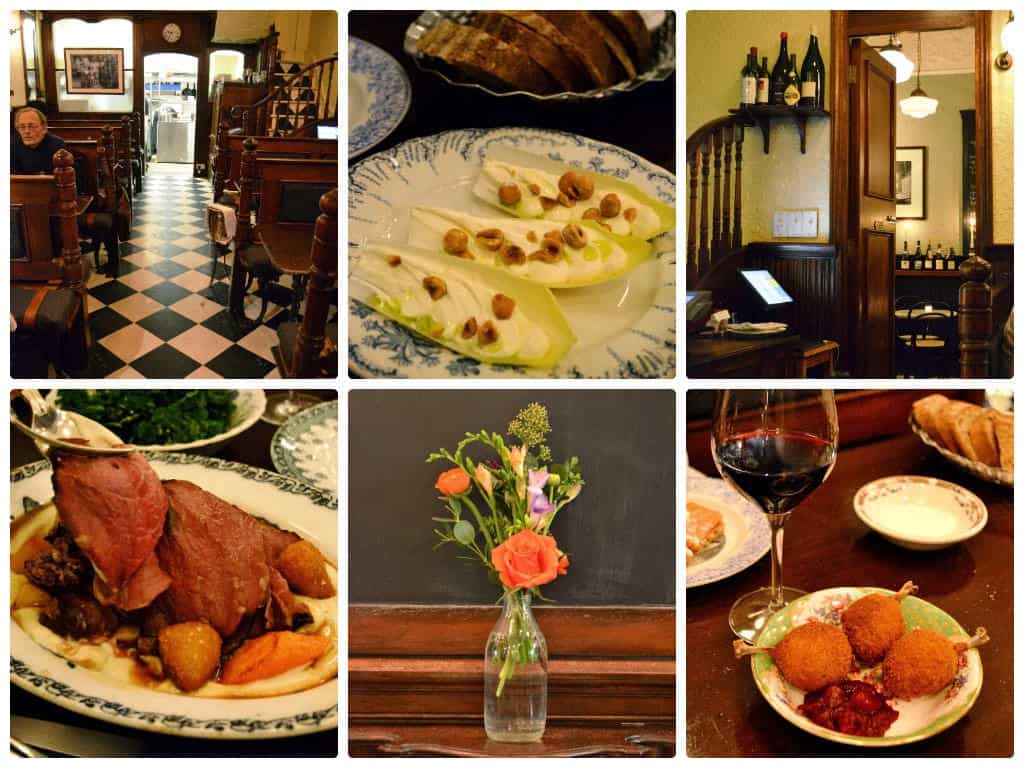 Both of which happened at The Quality Chop House on Farringdon Road, where the chefs write three menus each day based on the produce delivered that morning. In the evening you'll find a set menu in the Dining Room for £35 with four starters, a main and a dessert, all for the table to share. There is no picking, no choosing – you receive it all and you ultimately enjoy it all.
It's full of old-world charm and that type of shabby chic floral bijoux crockery that in the hands of the wrong host and along with a room full of kitsch chintz can be utterly nauseating. But against the stalwart-Grandad masculinity of dark wood panelling, a handsome check floor and the creaking booths of a Grade-II listed establishment in its 145th year (opened in 1869), it is thoroughly charming.
Great textures were found in the smooth, delicate mounds of goat curd on bitter chicory, topped with toasted hazelnuts and a drizzle of fruity oil. Smoked salmon, horseradish crème fraîche and dense rye linked pinkies and promised to be best friends forever. Soft and gamey slow-cooked partridge leg meat was re-shaped and breaded around the bone into pleasing spheres.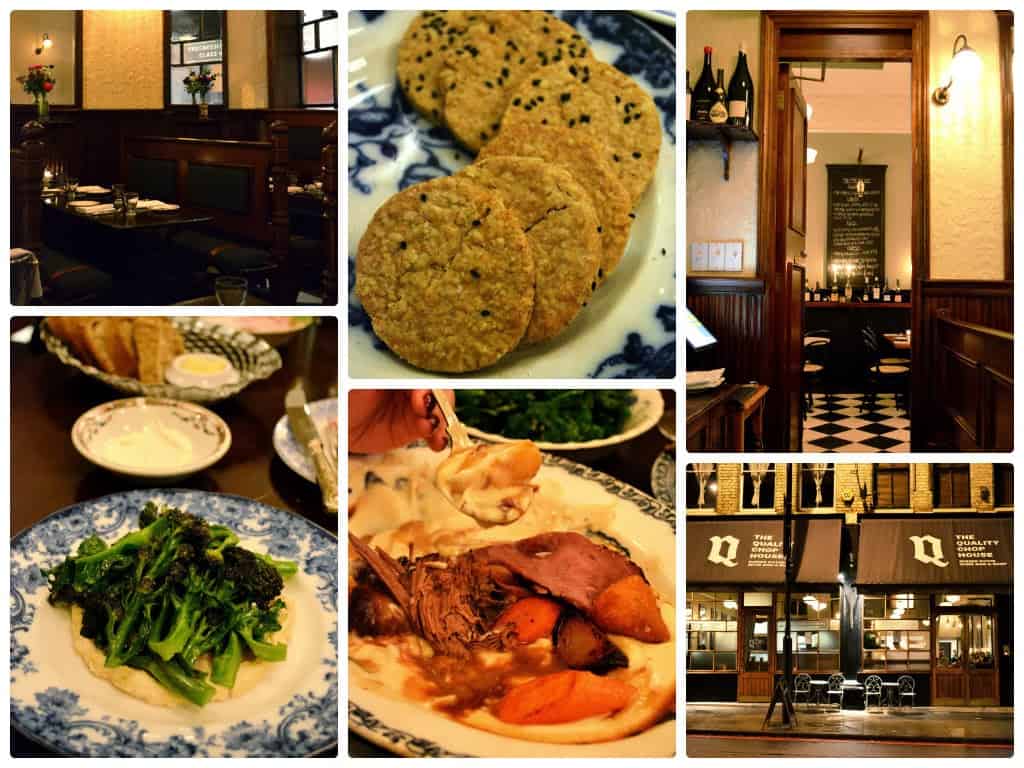 A bed of salty smoked cod's roe expertly seasoned the purple sprouting broccoli, still with good resistance between the teeth. And the plate of earthy wild mushrooms with an effortlessly glossy chicken liver parfait had a few sails of crisp chicken skin at the centre and tasted even better than that reads.
A huge platter of silverside and smoked brisket, celeriac purée and golden beetroot, breaded bone marrow and roasted carrots flounced its way onto our table, all showy and attention seeking, with a great sense of celebration and sharing that family Sunday lunches do so well (even though it was Wednesday). The meat was either pink or flakey, both desirable adjectives for beef. The side of kale was vibrant and well seasoned. And the plates were cleared in their entirety.
Tart rhubarb with meringue, flaked almonds and ice cream was the sort of dessert you could have three of. The cheeses were bold and British, seducing with their first whiff and crumbly oatcake comrades; that day Tunworth, Montgomery, Colston, Innes Brick. Petit fours were dark chocolate covered honeycomb bites, essentially high-end Crunchie and what the hell is not to love about that.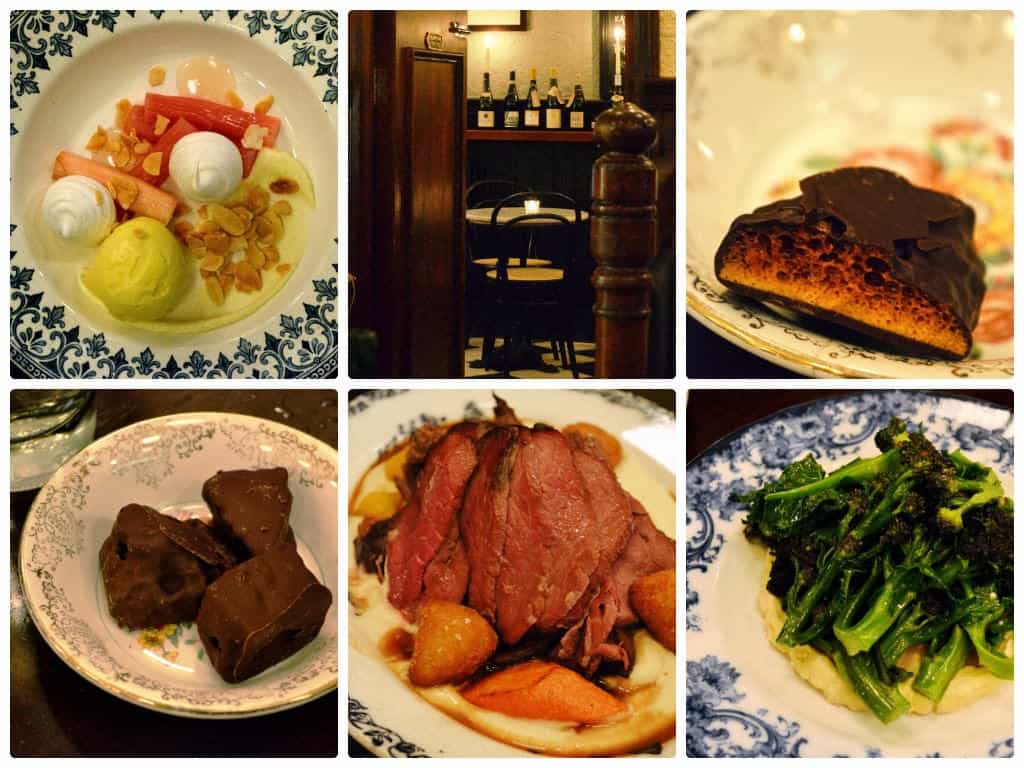 For those who prefer to exercise their freedom of choice, the Wine Bar (the room next door) has a daily-changing a la carte of which I hear very good things. Next door to that is their Food Shop and Butchers selling all manner of stock from British cheeses and charcuterie to their own produce; think conserves, preserves, smoked fish, terrines, parfait, pies, sweet treats, a daily roast meat sandwich or hot sausage roll, and more.
The Quality Chop House is a rare breed: self-assured and unfussed cooking without pretence, showcasing quality ingredients and with good wine. It's the sort of reliable, honest food you can imagine eating every day, if you had a larger bank balance and higher metabolism. It's just as well I don't live any closer.
Liked lots: interiors, wholesome hearty food, wonderful warm welcome, relaxed atmosphere, the illusion I could quite easily eat this stuff every day; value for money, kindly substituting two portions of rhubarb for cheese and including it as part of the menu, the wine
Liked less: the kale was a little too seasoned but who the hell cares, we finished it
Good for: everyday eating, unfussy great food, buying produce
My rating: 4/5


Find the menu on Zomato