Last Updated on May 19, 2021 by Leyla Kazim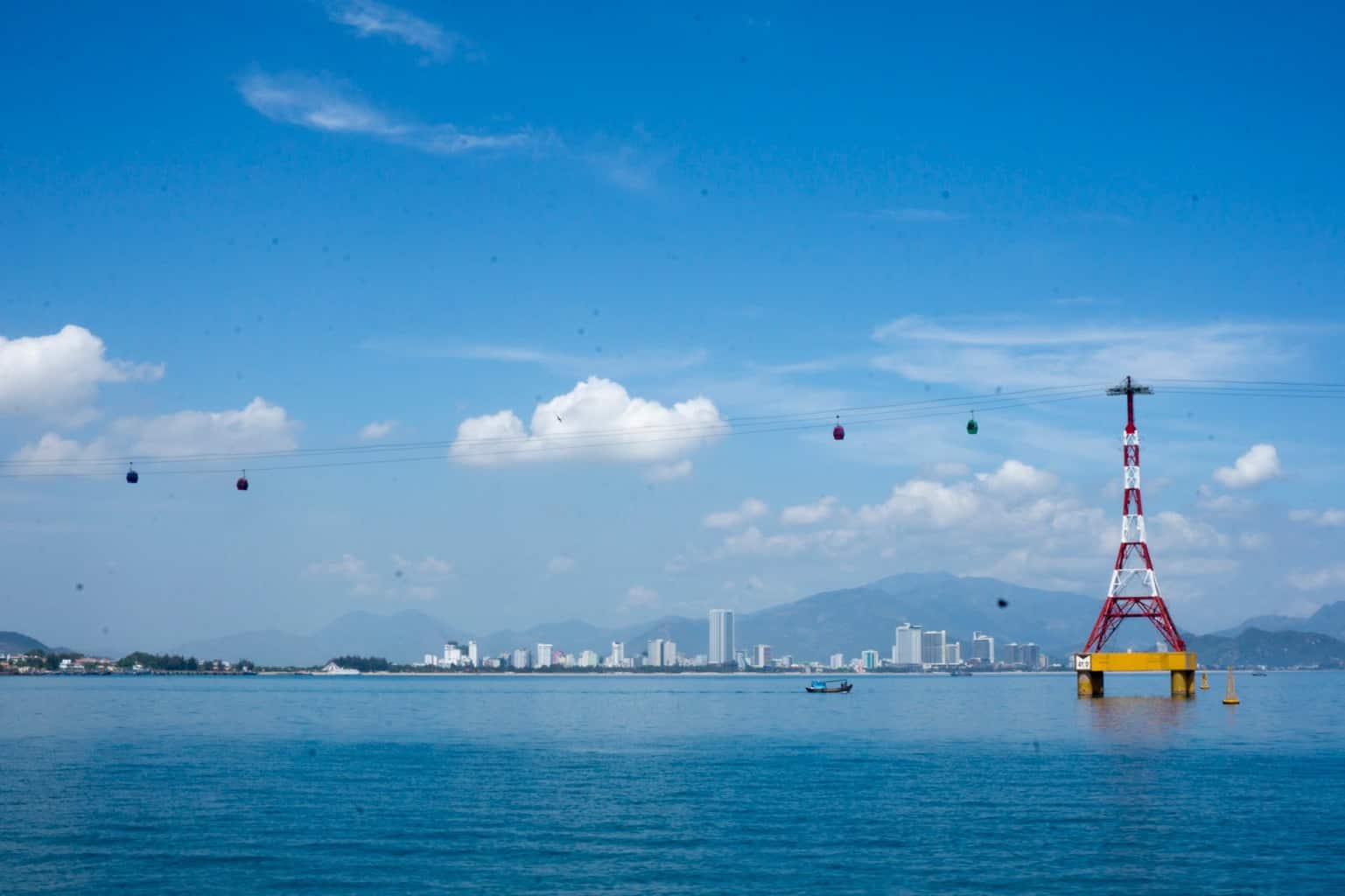 the longest over-water cable car in the world, from the mainland to Vinpearl Island
l
In a nutshell
An exclusive luxury resort set on its own private island in one of the world's 30 most beautiful bays, with 84 coastal villas, and even its own amusement park.
Where is it?
Off the coast of Vietnam's popular Nha Trang and a leisurely 15-minute cable-car ride over the waters of Nha Trang Bay, you'll find Hon Tre or Bamboo Island, adding texture to the area's picture postcard sunrises and sunsets.
This island belongs to the premium leisure chain Vinpearl. On it you'll find three accomodation resorts: Vinpearl Resort, Vinpearl Premium (recently opened), and where I stayed, Vinpearl Luxury. The island is also home to the entertainment mecca that is Vinpearl Land Nha Trang.
The surrounding waters are home to rare ecosystems with many coral species, fish, molluscs, crustaceans and sea-grasses. In terms of venturing off the island for some exploring, you can take a boat trip along the coast for fishing villages and more bays. The Po Nagar Cham Towers can be found in Nha Trang, along with the Thap Ba hot springs and the 200-year old village of Phu Vinh.
Nha Trang is a 40 minute drive from the airport and as well as the cable-car option to get over the water, you can also take a ferry. Guests of the most high-end of the three resorts, Vinpearl Luxury, get to experience a chartered ride from the airport followed by a really swanky 7-minute speed-boat.
My advice, sit outside at the top with the wind in your hair. Pretend it's yours and pretend you're driving. It feels good.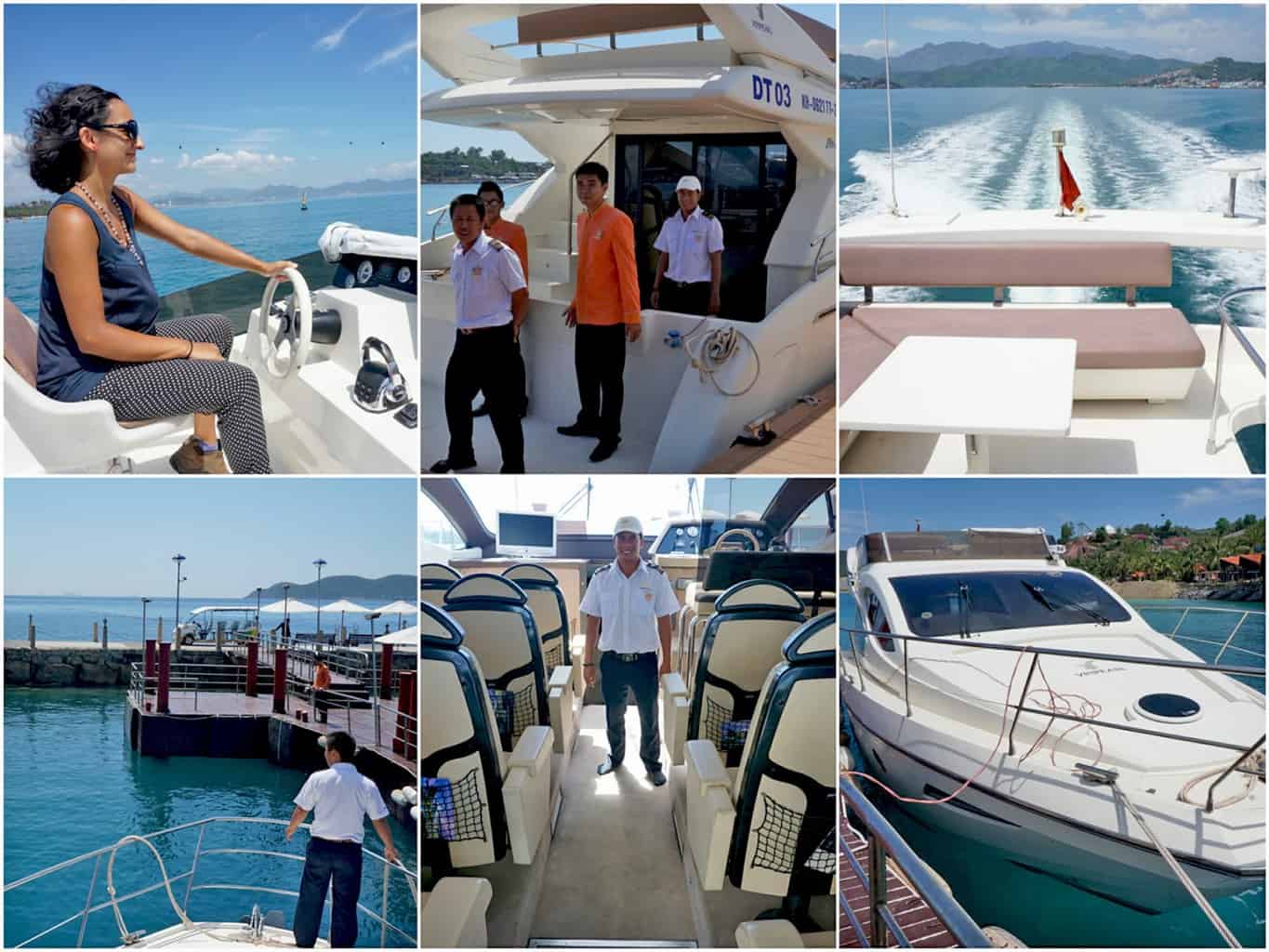 feeling pretty swish on the speedboat from the mainland to Vinpearl Island
l
Style and character
When the island was sold of to a single developer, they didn't waste time in completely transforming the place.
In less than ten years they renamed it, constructed two resorts (a third recently opened this year), an excluseive golf course, a cable car across the bay to get to it, a theme park, a waterpark, and an aquarium. And they've marked out their claim with a huge Hollywoodesque "Vinpearl" sign that shines brightly into the night for all to see.
There's a wide selection of plush villas at Vinpearl Luxury, with luxurious rooms that provide very high standards of comfort and indulgence. They all have attached balconies, some of which boast some very lovely views of the ocean and the island's white sand beaches.
Each villa combines the deep tones of natural wood with soft colours on the walls and bright furnishings, and each has its own private jacuzzi out the back that's not overlooked.
Particularly handy if you fancy getting rid of those tan lines.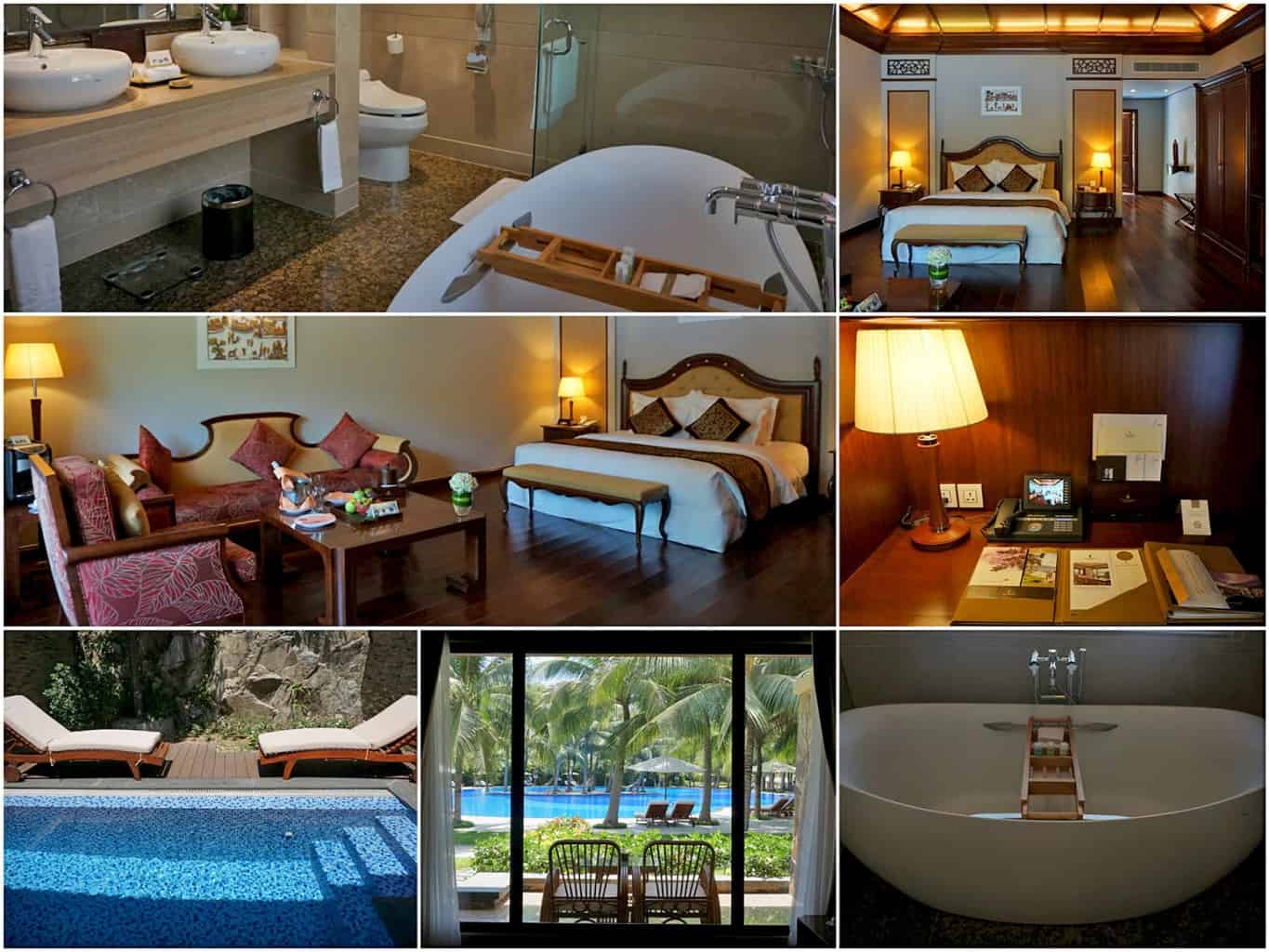 What's unique?
The fact it's on its own island is a big one.
Then there's the myriad of diversions available on it.
There's the newly opened 18-hole Vinpearl Golf Club, part of a stunning par-71 championship layout. If that sounds like too much hard work, there's also the over-water Vincharm Day Spa with the individual treatment rooms set on stilts right over the sea front, along with tennis courts and snorkelling tours.
And then there's the endless entertainment available at Vinpearl Land, including an aquarium and amusement park complete with two-storey arcade games room and 4-D cinema. And even their own water park.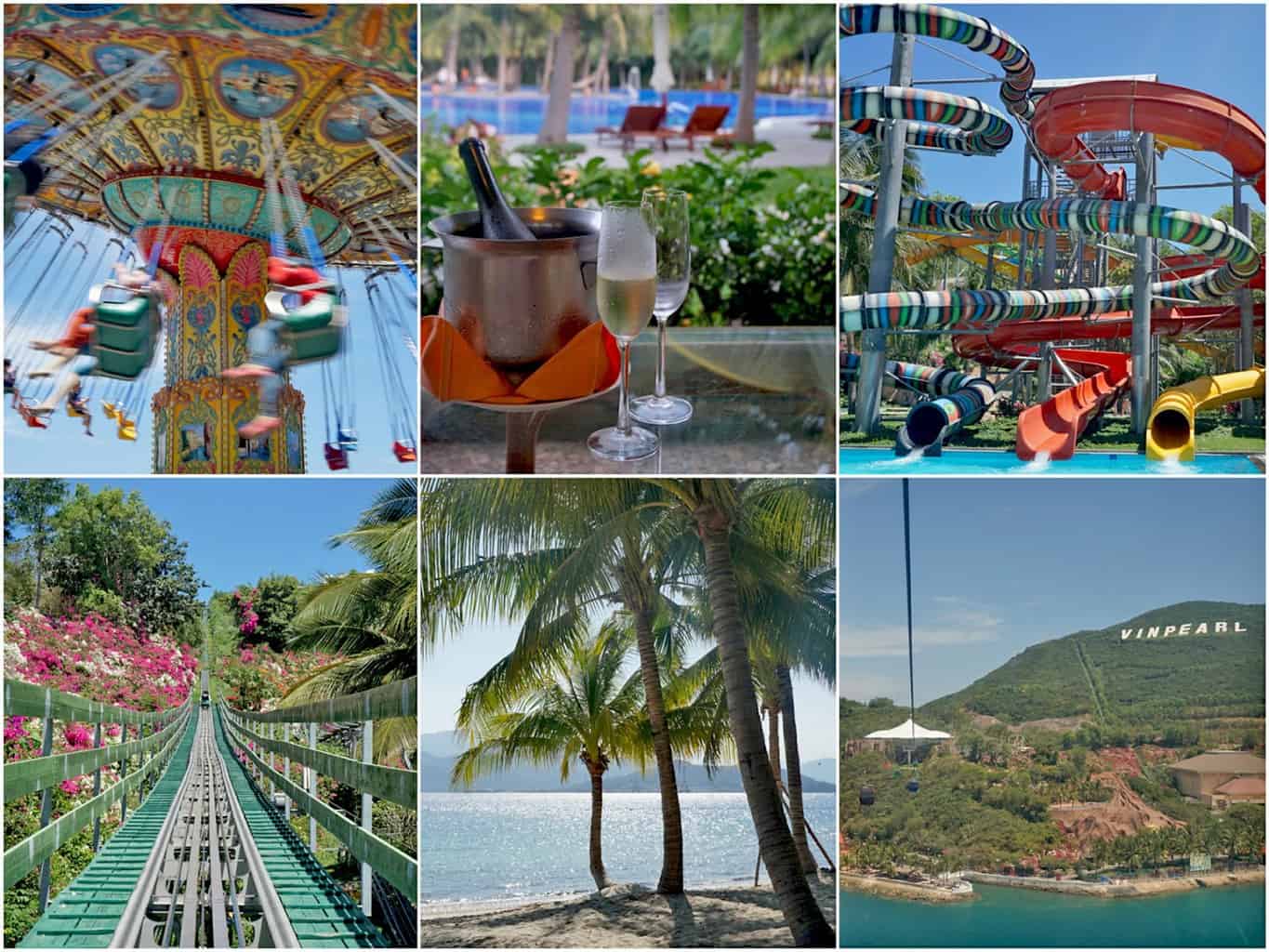 Vinpearl Land, Nha Trang
Who goes?
Vinpearl is a playground for Vietnam's new rich and their international counterparts. The exclusive access, luxury resorts and the pricey golf course help pull in a certain clientele.
In terms of nationalities, the main three are Russians (there are a lot of them in general in Nha Trang), Australians and Vietnamese. We got chatting to a British couple on their second visit, who said they'd never seen any other Brits there, and so assumed we were Australian.
Those staying at the Vinpearl Luxury resort have full access to the whole island, including the private beaches and the hours of entertainment available at Vinpearl Land. But the people who stay at Vinpearl Luxury are generally there to relax and get away from noise and roudy kids, so tend to stay on the resort. It has everything you could possibly desire, so it's easy to see why.
During our stay, the resort was at about half capacity, so wasn't particularly full. But we barely saw anyone at all, as it's quite sprawling. A generally really peaceful place to be.
It's possible to visit the island with a ticket that just gives you access to the amusement park, rather than staying at any of the resorts, and many will make a day trip to do this. You will therefore come across a lot more families, children and people in general in these areas, and a lot less at the actual resorts.
During peak season I can imagine the entertainment areas are overrun and queues are long.
grounds of Vinpearl Luxury, Nha Trang
l
Dining
The buffet breakfast is served in the Blue Lagoon Restaurant, also open for buffet lunch and dinner and is the only one of the two dining options (there is a second a la carte restaurant) included in the full-board package.
You can expect local dishes at breakfast such as banh khot (small Vietnamese pancakes), banh cuon (rolled rice cakes) and banh chung (rice cakes with pork).

There were lots of freshly baked breads and pastries and the likes of peanut butter, whole tubs of Nutella, an array of freshly cut tropical fruit, a noodle soup station making bowls fresh to order, oatmeal, compotes, a pancake station and more.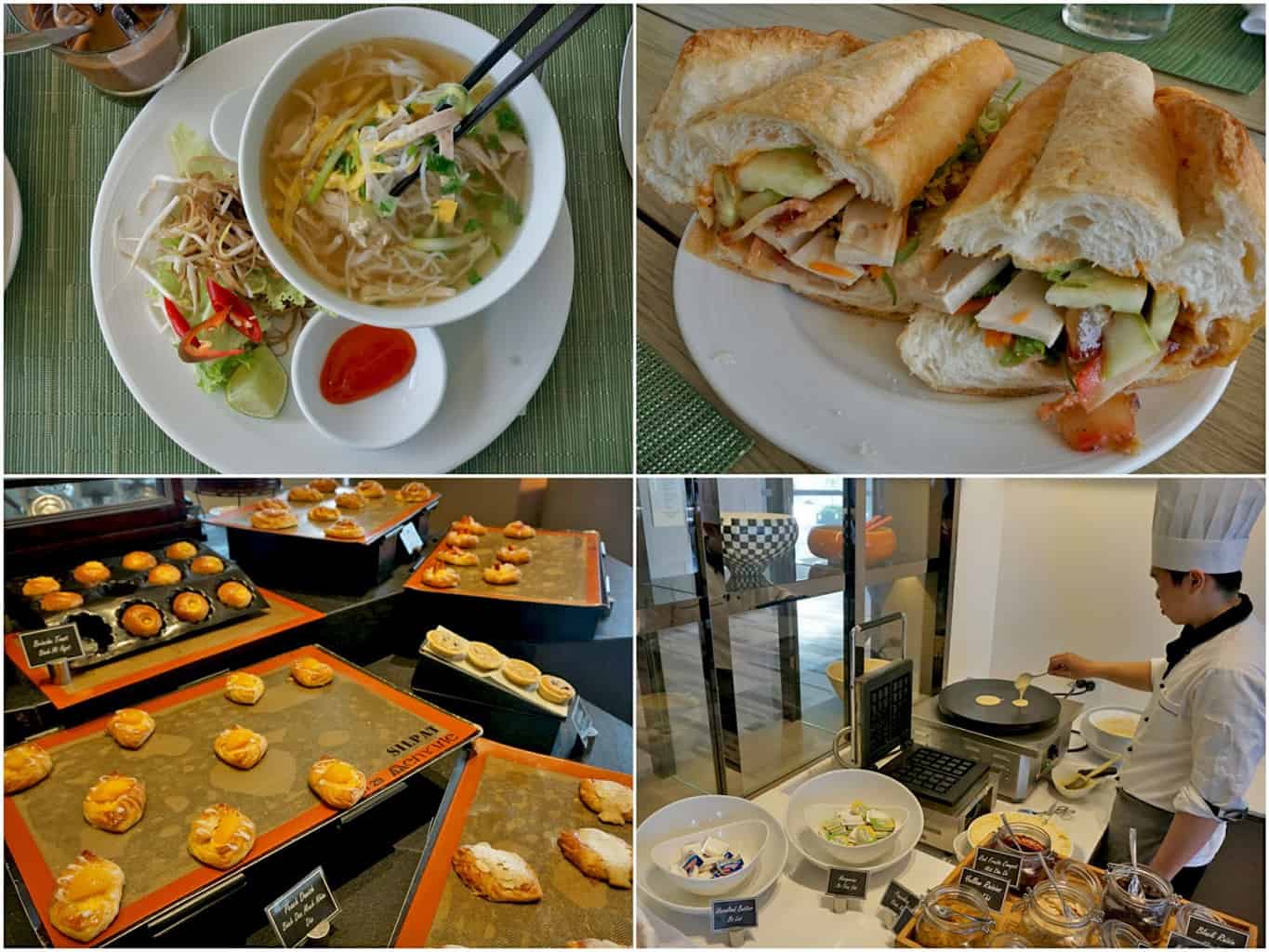 breakfast at Vinpearl Luxury, Nha Trang
l
Lunch and dinner were further impressive spreads, dishes varying with each meal.
There's a really wide range of offerings showcasing international cuisine. From the likes of dim sum and wonton noodle soup with char sui, to roasted quail, salted fish with rice, and snails.
The BBQ available in the evening was particulary good. Your choice of fat prawns, juicy scallops, tender chops and succulent slabs of beef cooked al fresco to order and to your specification, and as much of it as you want. I really enjoyed the simplicity of letting quality pieces of meat see some brief heat, and nothing more.
There were also steamed crab legs, of which I ate about 25, doused in lemon. And some fantastic salmon sashimi, of which I had a similar amount.
And the mangoes. Oh my, the mangoes. Available at every meal sitting, and some of the best we had in Asia. We were dipping great hunks of their ambrosial flesh into the chocolate fountain, devouring two or three each at every go. I was averaging about eight mangoes a day. It was a bit obscene, really.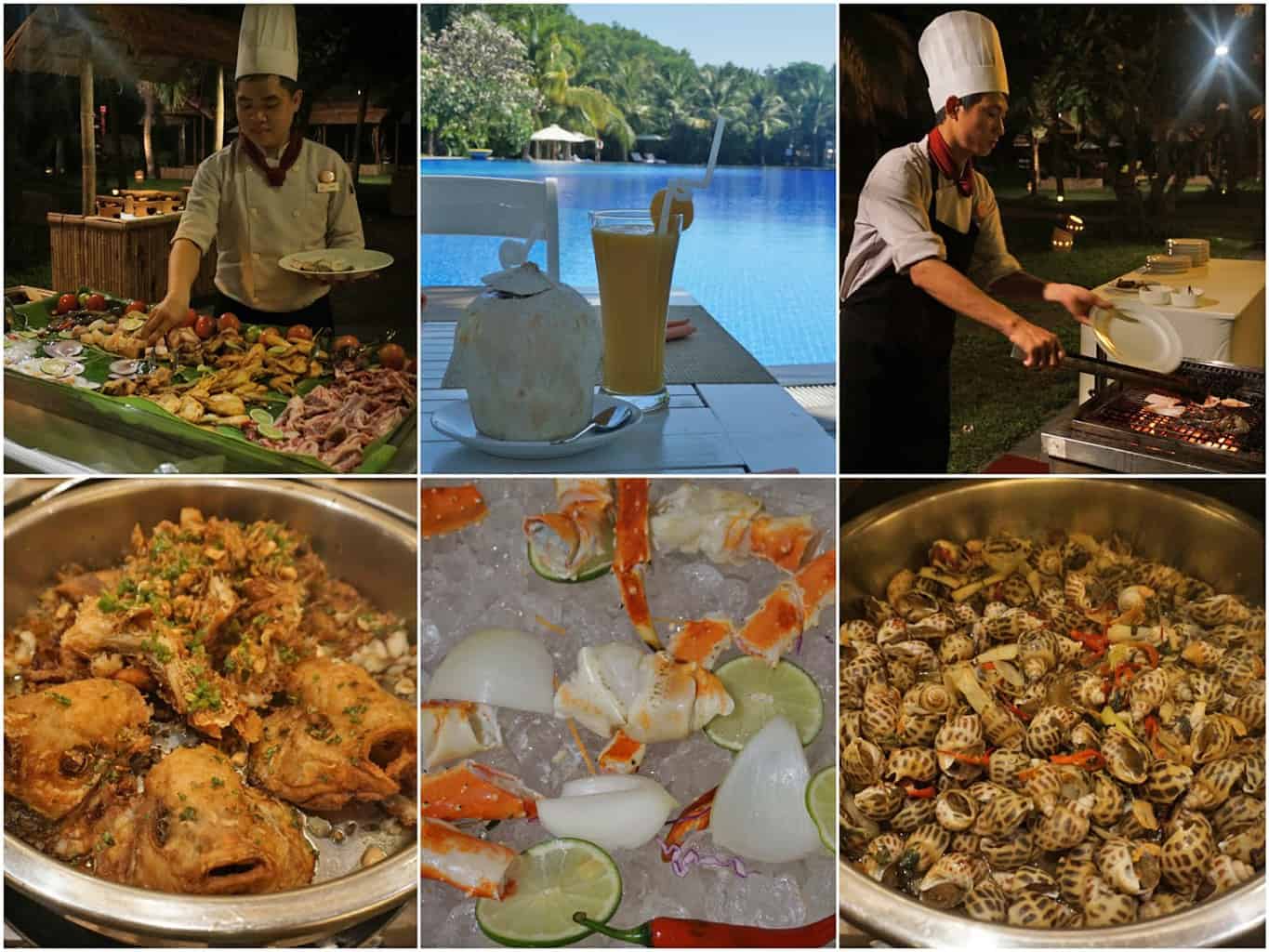 buffet dining at Vinpearl Luxury, Nha Trang
l
Service
As you would expect at such a luxury resort – with the price tags to match – the service is impeccable. From remembering and addressing each guest by their name, to replacing your cutlery when you pop up to refill your plate, before you even realised they might need replacing.
The staff make a concerted effort to engage with every guest, but not with banal annoying chit chat that feels forced, but really genuine conversation that was a pleasure to engage in. So, well done to all the staff members at the resort, they are a great asset.
Then there's the very nice touch of a bottle of chilled prosecco waiting in your room at check-in. Seeing as my partner doesn't drink, that was all for me.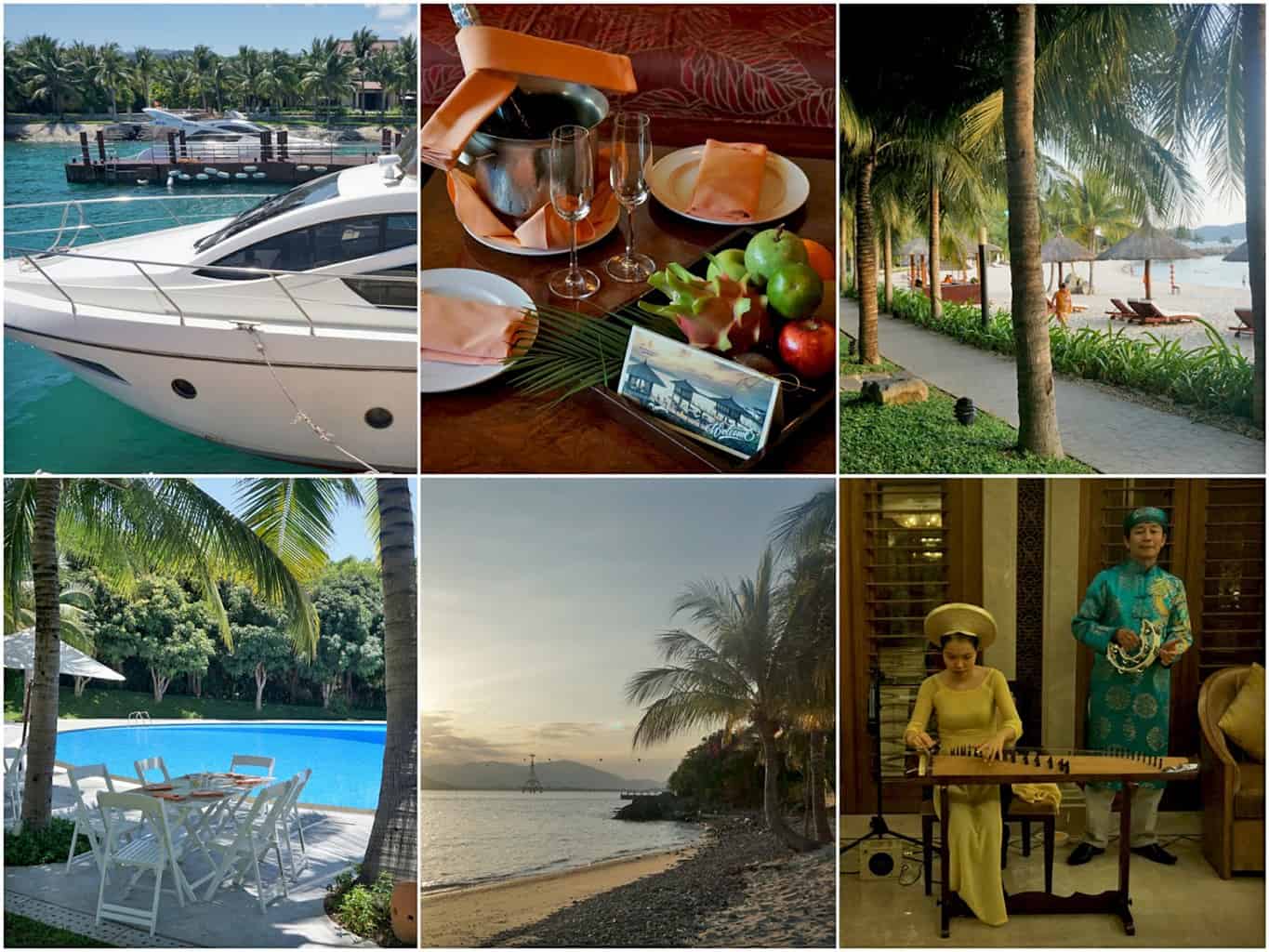 Vinpearl Luxury, Nha Trang
l
Liked lots / liked less
Liked lots. The beach. It's exclusive, so was practically empty. Powdery white sand stretching over 400m around the island with limpid calm and shallow waters. It was hard to leave.
Liked less. Only a couple of niggles. There were no salts or bubbles provided with the bath. And there were no soft drinks included in the buffet meals. But that's it really.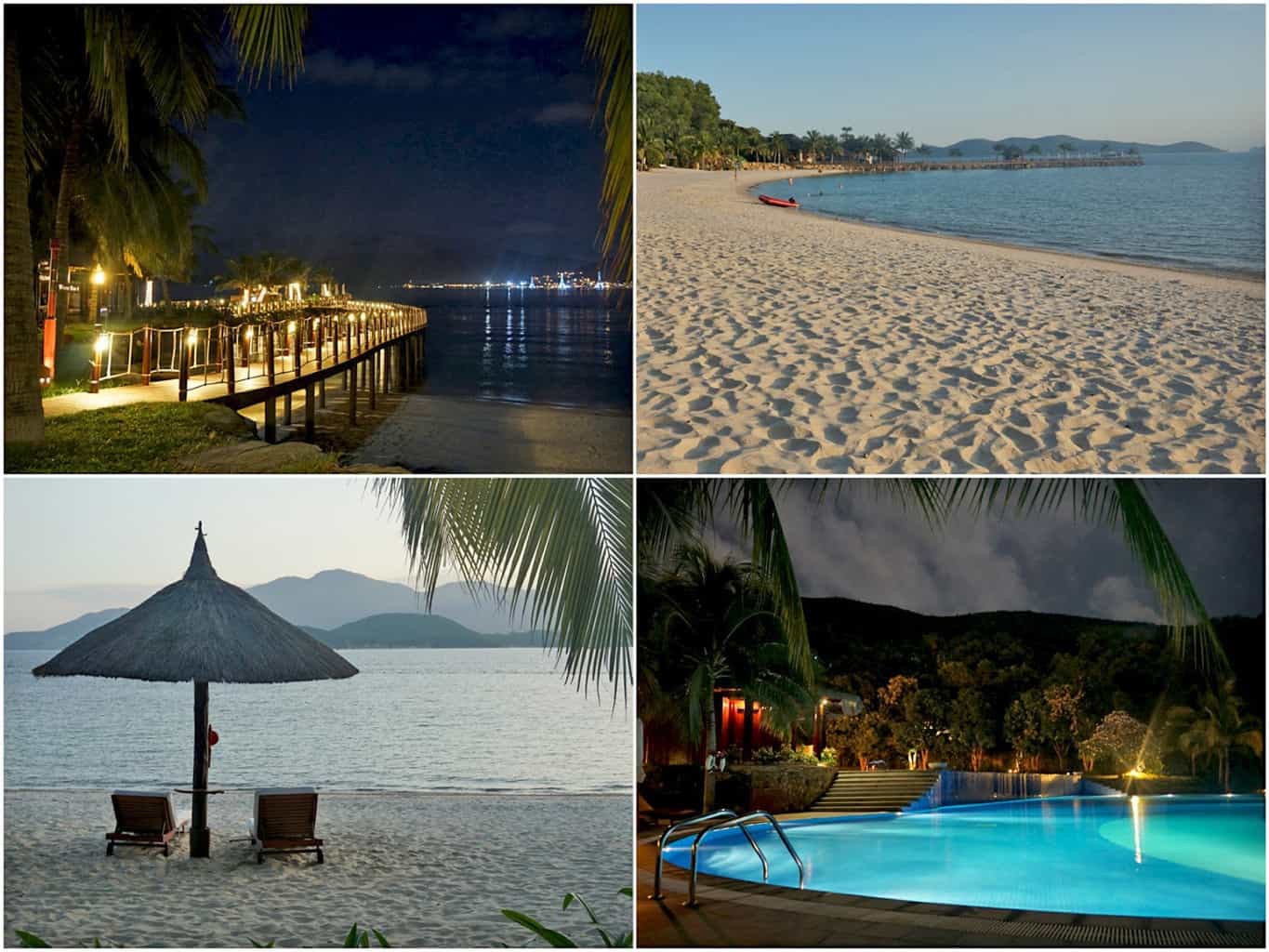 Vinpearl Luxury, Nha Trang
Price point
Prices from around £360 a night for a villa with a garden view, to £490 for a Grand Duplex Villa, full board.
Contact
Hon Tre Island, Nha Trang
+84 8 39 111 177 2
Website
Note: This stay was kindly hosted by Vinpearl Luxury. All views remain my own.
Related links
Week 11: VIETNAM – Da Lat → Nha Trang
VIETNAM: Review of InterContinental, Nha Trang