Last Updated on November 17, 2022 by Leyla Kazim
This is a sponsored post in partnership with Visit Britain. All views, text and images remain my own, as always.
The Gower Peninsula was the first place in the UK to be recognised as an Area of Outstanding Natural Beauty back in 1956 – how's that for a prestigious badge of honour.
But stunning landscapes are only part of why you need to visit this spectacular nugget of southwest Wales.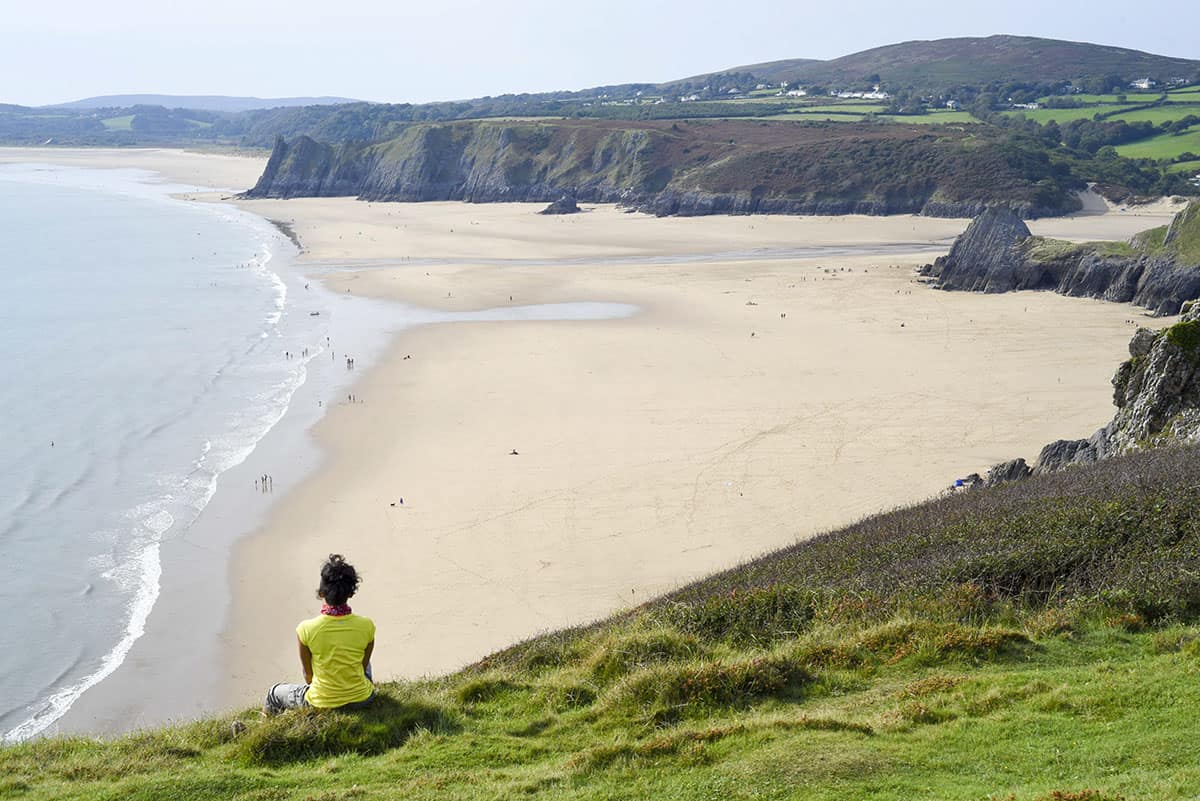 7 reasons you need to visit Swansea, Mumbles and the Gower Peninsula
Wales, we finally meet
Why it's taken me my entire life thus far to visit Wales, I'm really not sure. I've been to Northern Ireland (Belfast and Giant's Causeway) and Scotland (Edinburgh and the inner Hebrides). But never Wales. Until now.
I'm mighty glad I finally have, and that the 29 km-long Gower Peninsula was my first taste of this country.
From wild moors and limestone cliffs to sparkling sandy beaches, Gower is a geological goldmine with seriously inspiring scenery. Right up my alley.
It's easy to get lost in the majesty of the landscapes. But the region – particularly the fishing village of Mumbles and the city of Swansea – has heaps more to offer than just thrilling vistas and bracing fresh air.
In case that wasn't enough.
Here are 7 reasons why I think you need to visit Swansea, Mumbles and the Gower Peninsula in southwest Wales.
1. Walk some of the breathtaking and bracing Wales Coast Path
The Wales Coast Path opened in May 2012 and it's one of the few coastal footpaths in the world to follow a national coast.
The whole thing is a whopping 870 miles long and 39 miles of that makes up the section known as the Gower Coast Path.
It would take the average walker four to five days to complete the latter; a nice challenge but maybe a bit much for a fleeting visit to the Gower Peninsula.
But walk the Wales Coast Path to some extent you really must. Almost every path on Gower opens up a new and rewarding perspective, a different aspect of the peninsula's varied and captivating landscape.
It's a haven for hikers, cyclists, surfers and wildlife alike. And there are few things more life affirming than lungs full of fresh sea air against the iconic backdrop of the Welsh coast.
Here's a good range of self-guided walking itineraries in the Gower Peninsula of various lengths.
I would say, if you're planning on doing just one or two short walks, make sure they include Three Cliffs Bay, Rhossili Beach and Worms Head, the latter two of which are in the same place.
There are several 90 minute routes available that take in the best of the best. And many of these walking routes are supported by public transport, check out the 'Walking By Bus' walks specifically.
What's fun in particular about Worms Head – Gower's rocky promontory that snakes out into Rhossili Bay – is that you can actually walk out to it at low tide.
But do check the tide times, displayed on a board near the causeway. It's only reachable for two hours either side of low tide.
Miscalculate and you could end up stranded. It happens.
2. It has some of the best beaches… in the world!
Don't be surprised if Rhossili Bay rings a bell; the beach here has scooped up a whole host of awards and accolades over the years. Including the best beach in the UK and one of the top 10 beaches in the world!
Rhossili Bay dominates Gower's western coastline, a glorious three-mile stretch of sand facing the Atlantic full-on. It features towering cliffs and Worms Head at the southern end, dunes at the other, and a genuine shipwreck in between.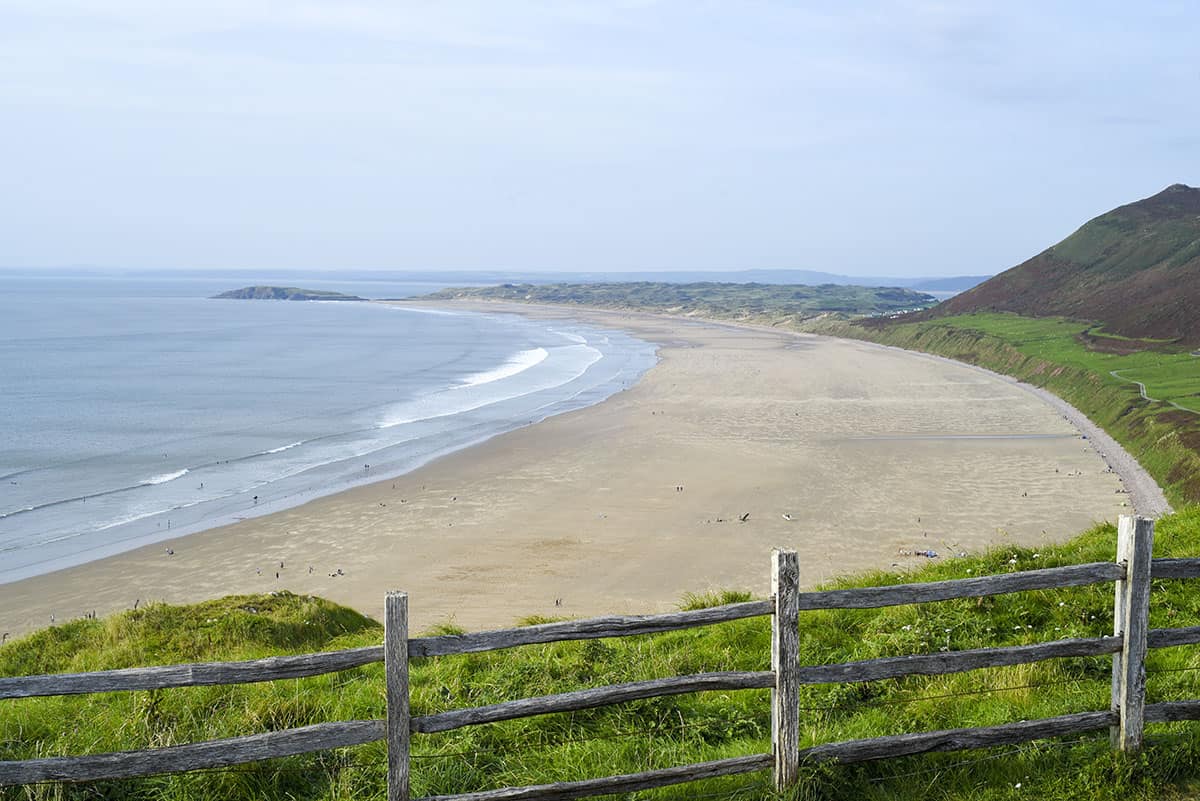 But I have to say, I preferred the impact of Three Cliffs Bay for its all encompassing natural beauty.
As I walked to the edge of the grassy cliff top mounds and the spectacular bay was revealed to me below, I had a moment. A moment where I had to just sit and breathe it all in.
Who knew Wales looked like this.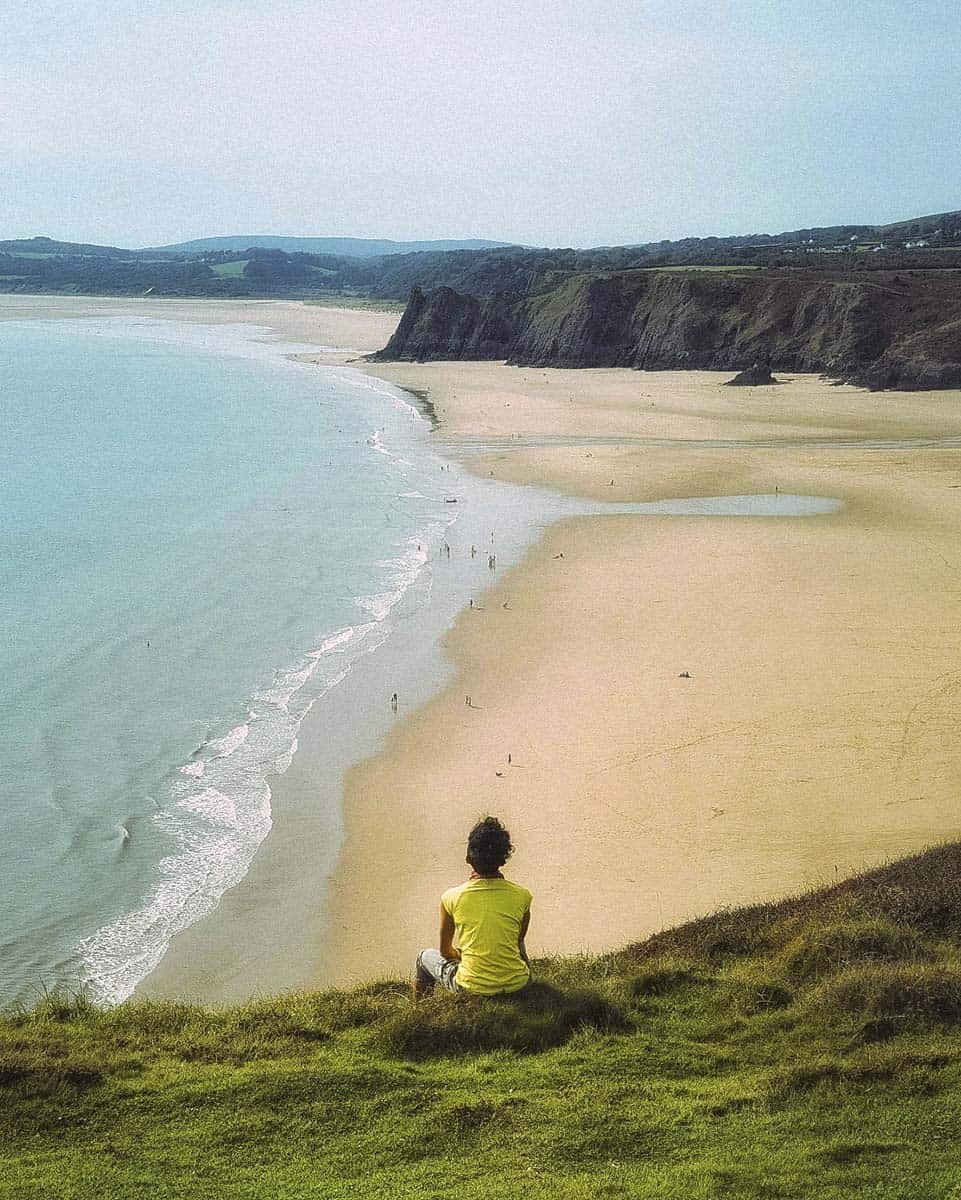 3. Sample the famous and wonderful local seafood
If a seaside seafood shack is run by a man born on a fishing boat who only first set foot on land at the age of 17, I need to try the fish he's selling.
The formative years of Chris Price might sound like a scene from Waterworld. But along with Sarah Kift, the pair opened Gower Seafood Hut on dry land back in 2016, and they've been hugely popular across the peninsula and beyond ever since.
They cook and sell produce from their horsebox on the Promenade in Mumbles, priding themselves on using locally-sourced fish from Swansea Bay and around the coast of Gower.
Expect a tight menu including crispy chilli prawns, breaded plaice goujons, whitebait and calamari. But don't miss the cold options – the cockles and dressed crab were glorious.
They operate seasonally every year from March until September. By which time they are likely done with being battered by the weather and pack up shop until the following spring.
Grab your seafood of choice, settle down on the pebble beach and on a sunny day, there have got to be few better places to eat seafood in the Gower Peninsula.
Gower Seafood Hut is open Tuesday to Sunday 1pm – 7pm, closed on Mondays.
4. Explore the cosy and cosmopolitan fishing village of Mumbles
Mumbles is a bustling Victorian (and quite large-for-a-village) fishing village at the western edge of Swansea Bay, often referred to as the 'Gateway to Gower'.
Its accolades include being birthplace of Catherine Zeta Jones and host to the world's first passenger railway, which ran between Mumbles and Swansea docks.
It's also where you'll find Oystermouth Castle, the Victorian Mumbles Pier and lots of independent restaurants, shops and galleries such as Gower Gallery.
Have you even visited the coast if you haven't had an ice cream? The answer is of course, no.
There are two main players in Mumbles: Verdi's on the seafront and Joe's Ice Cream Parlour. Locals will often pledge allegiance to one over the other, but I'd suggest visiting both to make up your own mind as to which is superior.
Any excuse for an extra ice cream. These were great. But still to this day nothing touches the superlative hazelnut gelato I had in Sicily.
Do walk up the steep but short Village Lane for a lovely view down onto the water and for the colourful and characterful houses.
5. Dine out at innovative and contemporary Welsh restaurants
There are some really great places to eat in Swansea, Mumbles and the Gower Peninsula.
The aforementioned Gower Seafood Hut is a must when in Mumbles. But for a proper sit down meal, don't miss intimate Môr closeby.
I received both superb food and service here. The emphasis is on simple and healthy food, beautifully cooked, served in a welcoming and informal environment.
I would suggest starting your evening at sister space Elwyn for small plates, craft beers and natural wines.
An excellent Sunday lunch was had at Pant-y-Gwydr, an elegant and simple French bistro serving genuine Gallic food with quiet attention.
But what's particularly interesting is alongside the hearty and traditional meat-based dishes, there is a separate and very creative vegan menu.
You could start with half a dozen escargots served with garlic butter and move onto a vegan whole wheat and courgette risotto. Or begin with a vegan courgette gateau and move onto a classic confit duck.
I can't think of a better restaurant I've encountered to take a group with varying dietary requirements. Of course, don't miss dessert. Or the cheese plate (for the non-vegans).
Other restaurants in the Gower Peninsula that cropped up during my research, but that I didn't get to dine at include:
Michelin-starred The Beach House in Oxwich
Slice, possibly the most intimate of Swansea restaurants with just a few tables
Family run country pub and restaurant at the King Arthur Hotel in the quaint village of Reynoldston
Be sure to book ahead to avoid disappointment.
6. Check out the 'best large indoor market in the UK'
Send me to a new destination and one of the first things I'll do is scout out the local market. Especially if it's been named the Best Large Indoor Market in the UK.
Say hello to Swansea Market, full of history, a lot of tasty things and really friendly people.
Dating back to the 14th century, it's the largest indoor market in Wales with over 100 stalls selling a treasure trove of local produce and traditional Welsh goods.
I found great coffee at Storm in a Teacup, an authentic and fiery Thai lunch at Thai Taste, and lots of eco-friendly and vegan goodies at Brontosaurus.
This is also the place to pick up local delicacies. Stuff your bags with delicious (and addictive) Welsh cakes fresh and warm from the bakestone. They served as excellent fuel for the day's hike.
And be sure to pick up some laverbread which is, in fact, nothing to do with bread. It's cooked seaweed made into a paste and used as an ingredient in many Welsh dishes, often at breakfast.
I tried it at home with scrambled eggs and smoked salmon on muffins and I must say, it was quite delicious.
Swansea Market is open every day from 08:30 to 16:30 and closed on Sundays.
7. Don't miss the stunning (and free!) botanical gardens
I am a person who simply cannot ignore a botanical garden.
If a city has one, it is a certainty that you will find me in it at some point during my visit. After travel and food, plants are very much my thing.
Step onto the scene the compact but exquisite Singleton Botanical Gardens in Singleton Park. It houses one of Wales' premier plant collections with spectacular herbaceous borders and large glasshouses.
I was met with rock gardens, ornamental gardens, wildflower meadows, herb gardens, spectacular tree specimens, a Japanese bridge, unbelievable dahlias, and more.
An hour or two would be enough to soak up everything. But it's also the perfect spot in which to sit on a bench with a good book in the sunshine and while away longer than that.
Also, it is free to enter – total bonus!
FAQs
If you have any questions about my trip to Swansea, Mumbles and the Gower Peninsula not featured below, do let me know in the comments and I'll be sure to answer them as best I can.
How do I get to Swansea, Mumbles and the Gower Peninsula if I don't have a car?
There are fast and frequent train services linking all regions of the UK to Swansea Bay, either direct or with one easy interchange.

Direct trains run from London Paddington, Bristol Parkway, Cardiff, Newport, Hereford, Shrewsbury, Crewe and Manchester to the Swansea Bay area.

I went from London Paddington and it was approximately a 2 hour train ride.

To travel onto Gower and Mumbles, you can buy a bus ticket for onward travel from your destination station when you buy your train ticket at principal National Rail stations.

Plus, bus tickets give unlimited bus travel for one day in Swansea city and Mumbles (not valid in most of Gower), Neath, Port Talbot and valleys at a modest add-on fare.

Or you can use the local taxis. A taxi from Swansea into Mumbles took about 15 minutes and cost around £13.

You can find more info on travelling around Swansea and the Gower Peninsula here.
How do I get to the Wales Coast Path if I don't have a car?
'Walking by Bus' is a City and County of Swansea initiative to encourage sustainable tourism and healthier lifestyles by promoting short walks linked to bus routes. Which is a really great idea.

Take a look at Swansea Bay Without A Car for lots of really useful information.
Can I take a pushchair or wheelchair on the Wales Coast Path?
Recent upgrades mean that some sections of the Wales Coast Path are now accessible to pushchairs and wheelchairs – there are sections between Limeslade and Caswell Bays – meaning even more people can enjoy the coastline.
How far is Rhossili Bay from Swansea?
Rhossili Bay is one of the furthest points of interest from Swansea at about a 40-45 minute drive.

It's connected to Swansea by bus routes but as we were short on time, we decided to take a taxi which costs about £45.
Where should I eat in Mumbles?
I'd recommend having a casual lunch on the pebble beach at Gower Seafood Hut when it opens at 1pm. Afternoon drinks and a couple of small plates at Elwyn. Then a full dinner at intimate Môr closeby.
Where should I stay in Swansea?
I had a very pleasant stay and great service at Morgans Hotel, the suite of which I'm told Catherine Zeta Jones has previously stayed in. If it's good enough for a Hollywood star…
What Gower beach should I visit?
I visited two of the big hitters: Three Cliff's Bay and Rhossili Beach, the latter having won many awards over the years.

But actually, I preferred Three Cliff's Bay. I think it might have been because the sun was shining.
I'd love to hear your thoughts!
Have you ever been to Wales? Are there any parts of Wales you'd love to visit? What are your favourite Swansea restaurants? Had you ever heard of laverbread? Have you ever tried a Welsh cake? What do you think are the best beaches in Wales? Where in Wales should I visit next?
I always love hearing from you 😊