Last Updated on May 19, 2021 by Leyla Kazim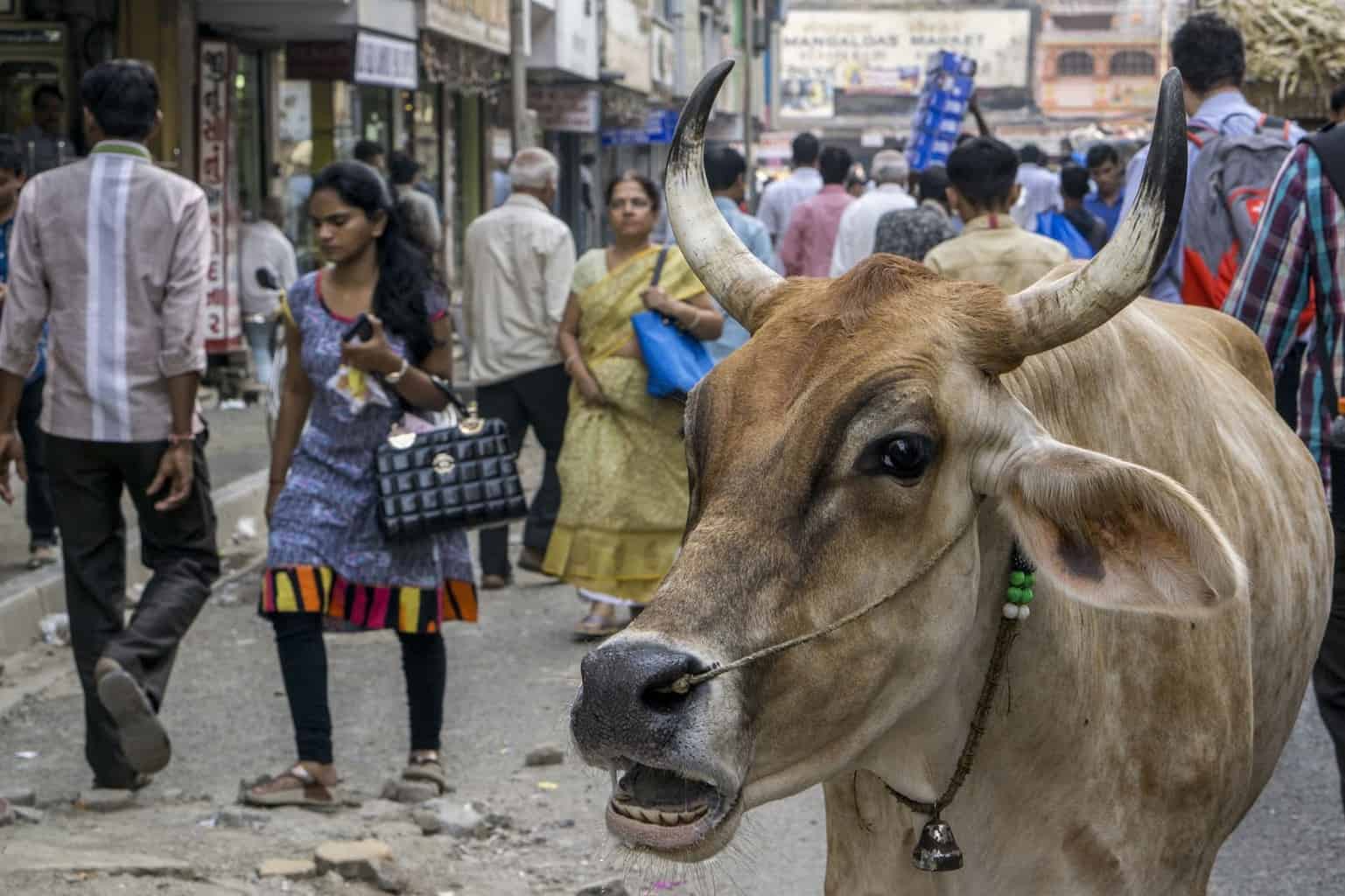 Image of the week: Crawford Market, Mumbai (more images at end of post)
l
Where in the world
Mumbai for three nights. Flight to Goa. Three nights in South Goa.
Thoughts
Mumbai is as chaotic and alive as I expected it to be. I feel like I've barely knocked on its door with just three days there, but we're back in a couple of weeks to visit a relative of Matt's, and I'm very much looking forward to round two.
The first of the senses to get a full on assault are the ears. Horn-honking is unrelenting. It's custom to honk when you overtake the car in front, to act as a warning. As everyone is always overtaking and undercutting everyone else, every car honks all of the time. Constantly. It does not stop. The driving here – particularly from the taxi drivers who rent a different car each day and therefore don't care if the one they're in gets scuffed – is the most suicidal I've seen. There is no concept of lanes, car widths, speed limits, keeping to one side of the road, keeping any sort of distance, braking, or seatbelts.
I braced myself for the poverty – the homeless, the desperate, the wretched. Whist whole families call little more than a corner of road their home, look past the the superficial layers of possession and ownership so important in the western world, and you'll often see faces that seem content and dare I say it – even happy. The children smile and play, pots of food bubble over portable gas stoves, and families sit around to eat together and play card games at meal times.
Yes, the city is dusty and polluted and pretty grubby in places, and the rats are much bigger than the ones in New York, and entirely fearless. But they're all symptoms of a city with a lot of people and a lot of industry. Indians are an enterprising lot – there's evidence of work or trade in every nook and cranny of the city. Be that from the women selling strings of flowers to passers-by for a few rupees, to the guy who's sole business is selling single cigarettes and tea from his portable stall, to the suited hotshot city lawyers and bankers, to the thin but supernaturally strong elderly men hauling fully loaded wooden carts the length of two cars up inclines. These people are not afraid of hard work, and they've each found their own way to earn a crust.
With hard work, comes much needed rest. If it's a flat surface area, don't be surprised to find someone sleeping on it. And deep sleep they seem to manage, dead to the world amongst the commotion and smog and cows and endless activity. More often than not, it's workers catching some shut-eye between shifts, as the commute home might be too far for them to bother. Especially true if they've come from far-off villages in search of work and have yet to find, or can't afford, a roof over their heads.
Then there's the other end of Mumbai's spectrum – the glossy, polished, well-heeled part. The affluent shop in Whole Foods and Marks and Spencers in the pristine air-conditioned malls, speak to eachother only in English, and live in some of the most expensive real estate in the world. Business is booming in Mumbai, and it's not hard to tell who's benefiting.
I couldn't help but notice barely any westerners out and about in the city – we must have seen a handful over the three days. I don't doubt they were there, I just suspect they were holed up in their five star hotels missing out on all the action and fantastic food outside. Which is a great shame.
Goa is a Facebook check-in dream. Plush hotels, beautiful sunsets, gorgeous beaches, great nightlife. It's a place where people stay in their resorts, and spend most of the day lazing about taking shots of palm trees and 'I <3 Goa' they've scrawled into the sand. There are also a lot of Russians there, so much so that some restaurant signs are only in Russian.
I didn't get a chance to get around much for a proper feel of the place, which is annoying (see transport note further down). But I did eat some great food (also further down), catch a few rays and find the time to write this post. So, silver linings.
The best things I ate this week
What to eat in Mumbai
Sabudana wada. Soaked sago (tapioca balls), potato, ground peanuts, chilli, coriander, lemon juice, rolled into balls, then deep fried. I had this at Prakash in Dadar, Mumbai. Cheap as chips, and featured in the New York Times no less. Thank you to @imbevda for taking us here.
Misal. Two types of lentils, puffed rice, potato, fried savoury bits, onion, coriander, lime, topped with a spicy gravy. Also at Prakash.
Raj kachori. A big puri filled with yoghurt, chutneys, sprouts, chana (chickpeas), potato, fried crispy bits. At Elco in Bandra, Mumbai. This place started as a streetfood stall and got so popular and successful that they moved to bricks and mortar – a common story in London too. Thank you to @lovetolivetoeat and @toxicbaker for taking us there.
Chicken dhansak. Had at the legendary Ripon Club in Mumbai. A Parsi members-only institution, famed for their mutton dhansak buffet on Wednesdays (but chicken the day we visited). Dhansak is a Parsi dish of daal, meat (mutton or chicken) with caramelised rice. Thank you to pastry chef and distant relative of Matt's, Mehernosh of @celebrations_fine_confections for inviting us in and hosting us. Also enjoyed with Indian food and wine writer @antoinelewis.
Kharvas. It's the milk from a cow when it has just given birth, therefore at it's most rich, cooked down with sugar, cardamom, a bit of nutmeg and saffron. It's made into a wobbly solid that's cut into and sold as slippery cubes. I bought some off a street vendor in Mumbai, after reassurance from a local foodie first. Tastes like rice pudding.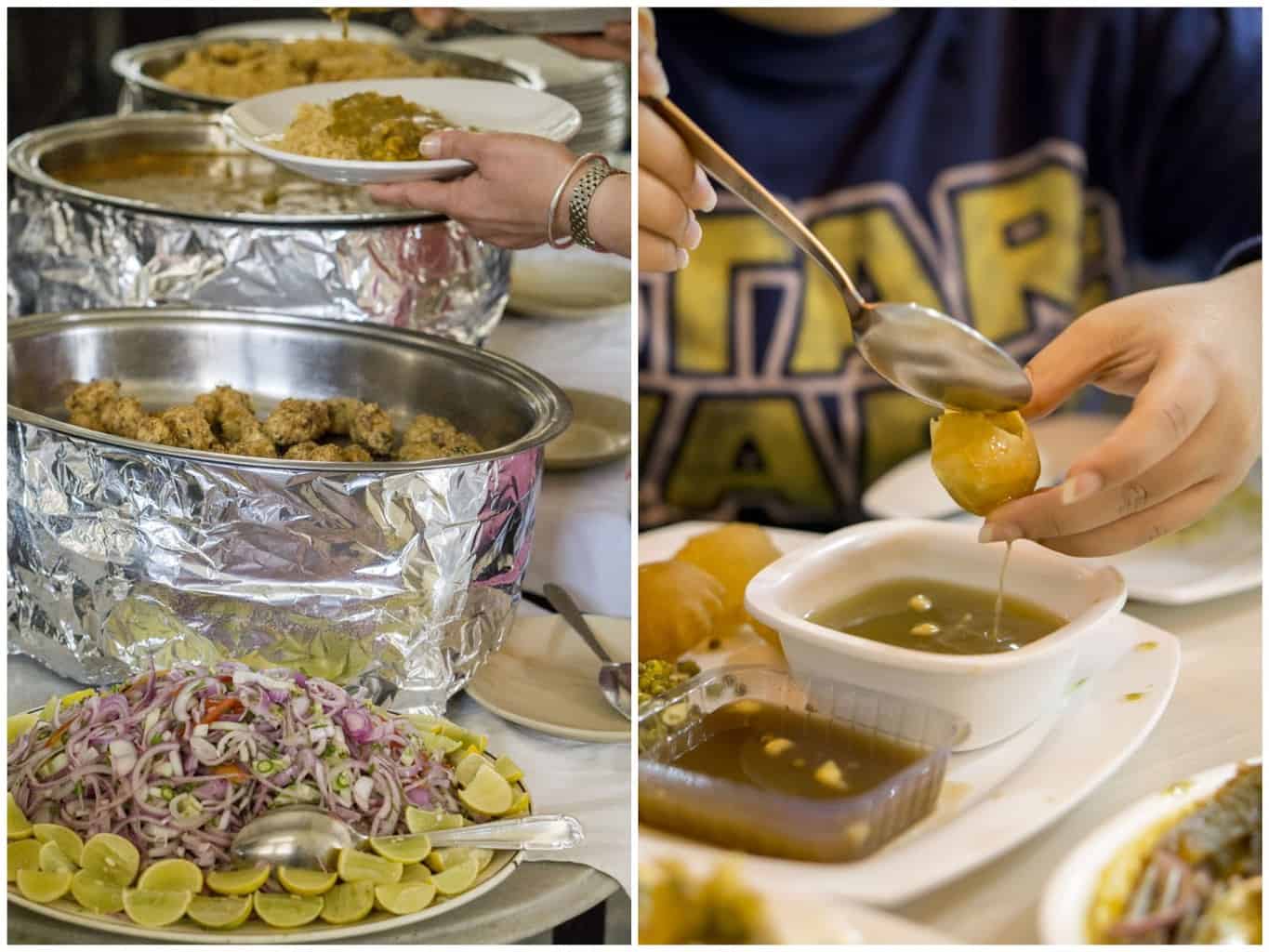 left: chicken dhansak buffet at the Ripon Club, Mumbai right: pani puri at Elco, Bandra, Mumbai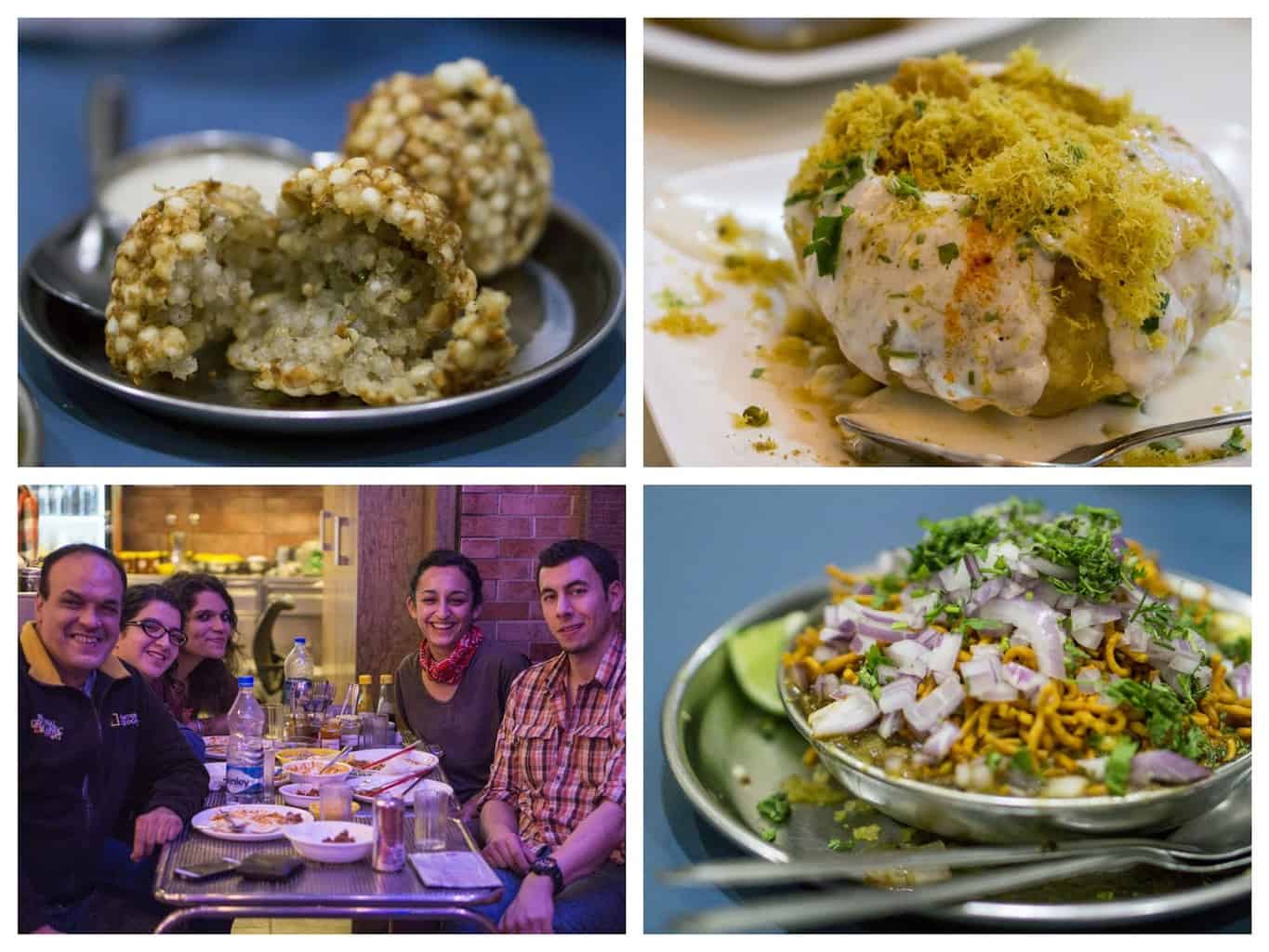 From top left: sabudana wada; raj kachori; myself and the other half with Jagruti (@lovetolivetoeat), Jahan (@toxicbaker) and Sameer (@FoodBloggerAI); misal
What to eat in Goa


Beef assad. A dish typical to the region, expect outstandingly tender chunks of roast beef in a spicy gravy, cooked with garlic, turmeric, onions, vinegar, cinnamon, cloves and cardamom. It reminded me a lot of a Mauritian roast beef dish my mum makes, and I suspect any similarities between Goan and Mauritian cuisine are thanks to the Portuguese influence.
This was had at Fisherman's Wharf in Salcette, south Goa. It was recommended, and didn't disappoint. It was in fact so good (and so reasonable), we went back a second night. Order from the 'Stay Goan' part of the menu, and expect fiery dishes full of flavour at around £2.50 each.
Also very much enjoyed there were the masala fried crab (sucking on legs with spicy red crab juice dripping down your forearms – fantastic), prawn balchao (prawns in a spicy red gravy), chicken carfreal (marinated in a paste of chillies, coriander leaves, ginger, garlic and peppercorns), and pan-fried kingfish in Goan spices.
Street food must-eat
I'd come to Mumbai having already heard about vada pav. They're sometimes referred to as the city's take on a vegetarian burger; seeing as it's fast food, cheap, and a filling betwixt two buns, that's sort of accurate. But let me tell you, I'd have these over a burger most days.
They are spicy potato balls deep fried in gram flour, with a lick of hot garlic green chutney, all between two halves of a soft bun. They are salty, spicy and the cheapest thing we've had. 30 rupees for these two, which is roughly 30p.
You can get them on every street corner in Mumbai, but there are only about five stalls that do them particularly well. We had ours from Dheeraj Vada Pav in Juhu, opposite Mithibai College, Vile Parle West in Mumbai. Thank you to @lovetolivetoeat and @toxicbaker for taking us there.
A strong contender for favourite thing to pass my lips this week.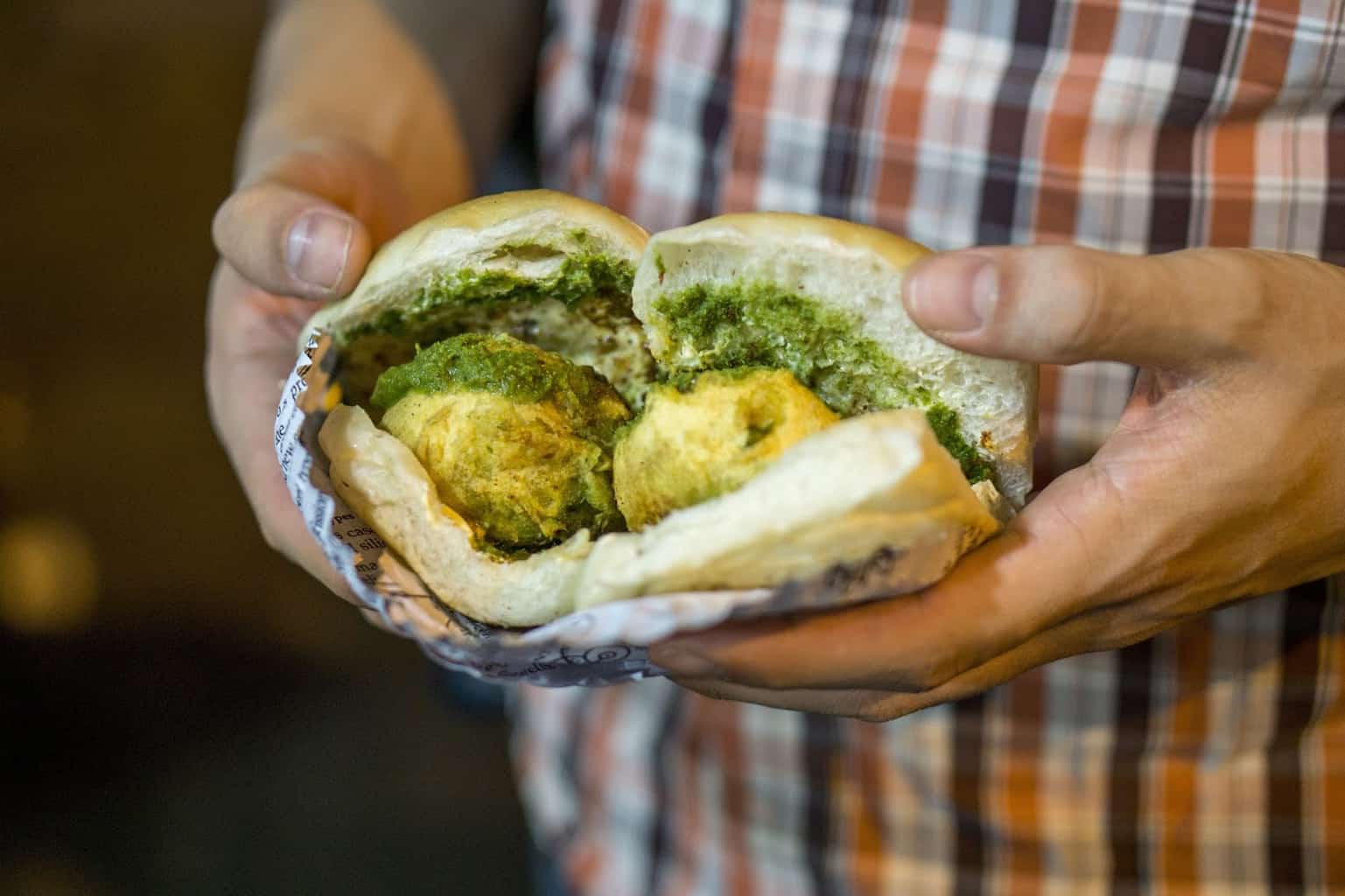 vada pav – Mumbai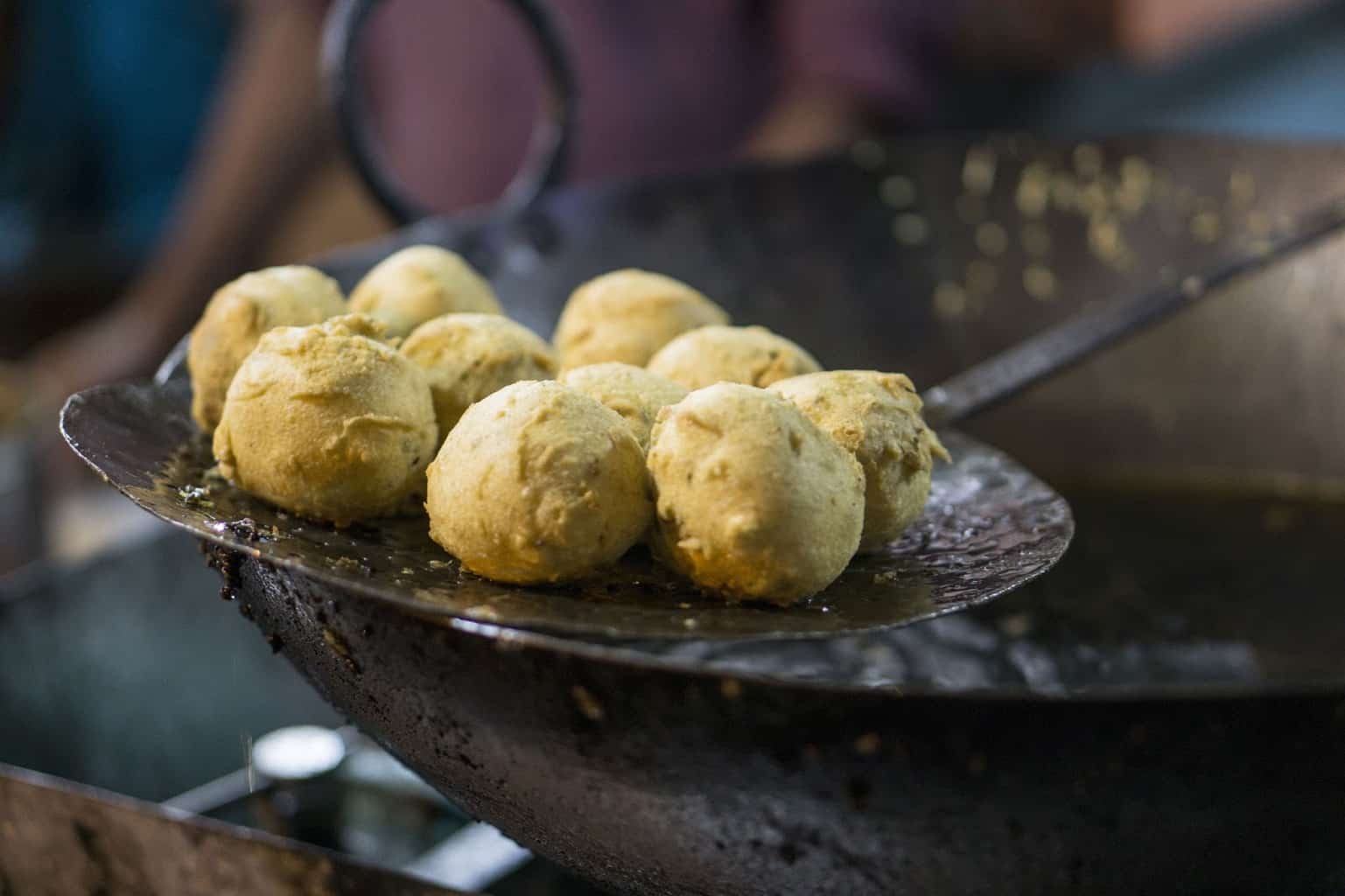 vada pav, Mumbai
Local lingo


Faadu – superb.

Said in the Hindi slang of Mumbai, which is generally used by the working class – locals in market areas, people on public transport etc. Not considered a very stylish or cultured dialect, but you might rouse a surprised smile if you say it to a trader after you've haggled him down for a kaftan at Crawford Market.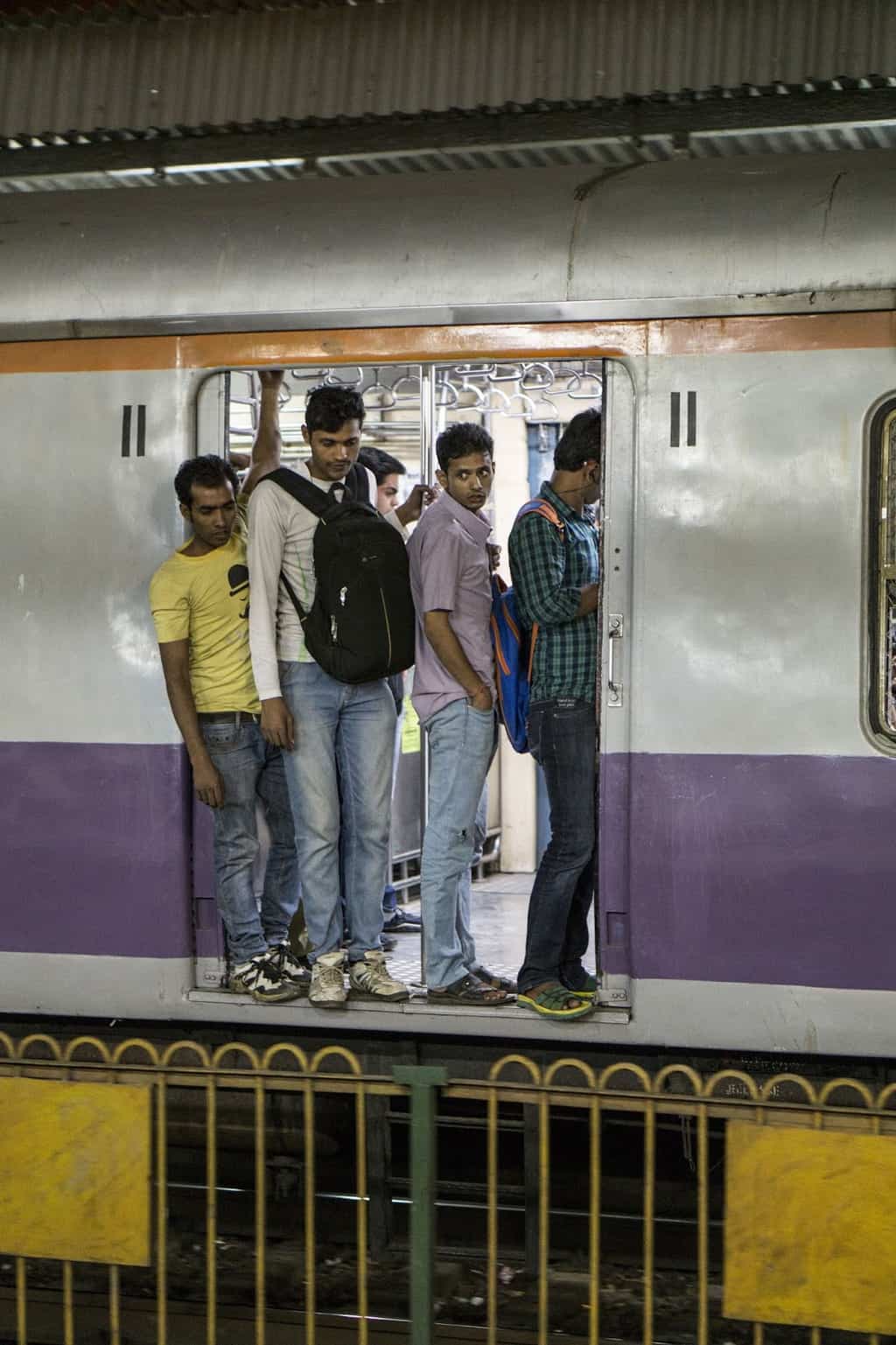 train travel in Mumbai
Did you know?
I'd always seen Indian trains travelling along with their doors open in films and documentaries on TV, but I don't think I quite realised they stay open, for the whole journey, even when steaming along at 40-50 miles per hour.
When it's rush hour and there are more bodies on board than the transport can contain, the last in hold on with one arm, barely enough floor space to place a foot, with most of their bodies hanging out of the door. The local who was with us said he'd seen people die in front of his eyes falling onto the tracks during the daily commute.
My insider tips
Crossing the road. Every time you do so in Mumbai, you dice with death – there's no sugar-coating it. Pedestrian crossings are rare to non-existant.
Their occasional presence at the really big junctions are mostly pointless, considering the kamikaze taxi drivers and auto-rickshaws have little concept of red lights, slowing down because a child might be crossing, or the value of life in general.
So, to minimise the chance of injury, I was advised by a local to follow these instructions when crossing the road: 1) walk in front of the oncoming traffic with purpose 2) turn towards the car careering towards you at 35 miles an hour and raise your hand as a signal for it to stop, and the most important bit 3) make assertive eye contact with the driver as you're doing this.
Commit and be decisive and they will likely spare your life. If you're not, don't be surprised to go home with a broken foot (which has happened to this local in question – twice).
in the death wish taxi, Mumbai
Beggars. In terms of the poverty, there is a lot of it about, but most of the poor have a great sense of pride and would rather sell you something or offer a service than beg for money. That said, you will likely get a street urchin holding an almost-newborn tapping at your taxi window when it gets stuck in traffic at some point.
I was told by the locals that most of these kids work in gangs and have to take the money they earn back to their pimps – for want of a better word – and to not give money to them as it encourages the set-up. If you do feel you would like to do something, it's better to buy them some food and give them that instead.
Getting around in Goa. There isn't much in the way of public transport in Goa, so you can only really get around by taxi (much more expensive than in Mumbai) or by hiring your own transport.
There aren't really pavements or too much street lighting amongst the narrow and winding roads between villages, so it's not much of a walk-around place either. If you want to explore, you could risk the roads and rent a moped or car, but I'd advise getting a bicylcle and cruising along the beaches instead, which I saw a few people do. The driving here isn't much better than Mumbai, and as in the capital, don't expect working seatbelts in the cars.
Highlight / Lowlight
Highlight Surviving one particular fifty minute taxi journey to Bandra in Mumbai. In a car with no seatbelts and a driver with what can only be described as a suicide mission. Prayers were said; I'm not religious.
Lowlight A meal at Susegado Restaurant in The Leela Hotel in Goa. It took an hour for any food to arrive, it came wrong, cold and dry, they didn't have yoghurt (you serve Indian food – what?!), and it took three attempts to take a payment. Mostly a lowlight because it was Christmas Day, and Fisherman's Wharf was just next door at a quarter of the price, four times as good, but they were fully booked.
Next week
Fly to Bangalore which is acting as a quick stopover for one night before we move on to Mysore, where we'll be for a few days including New Year's.
Postcards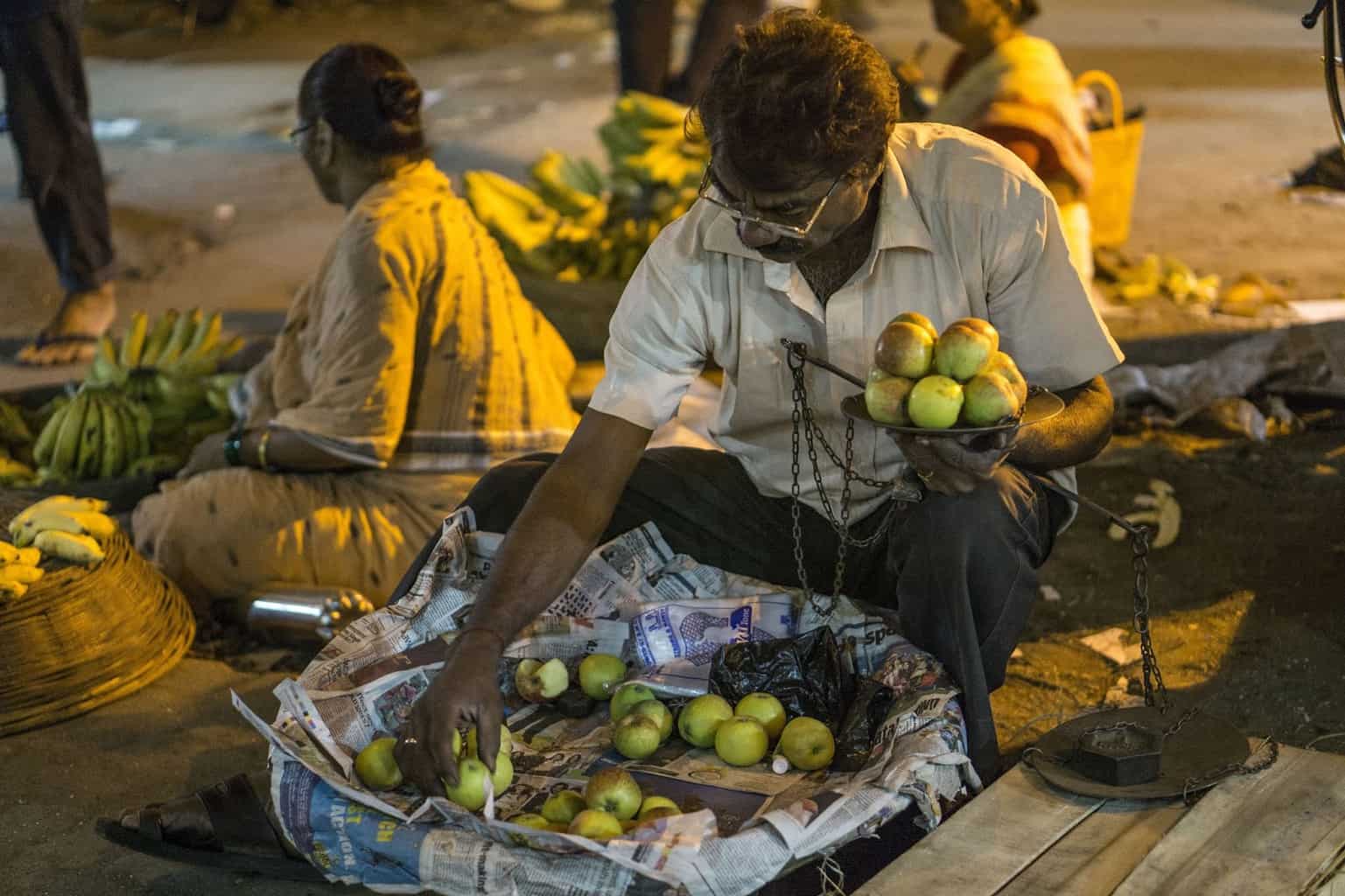 market scene, Mumbai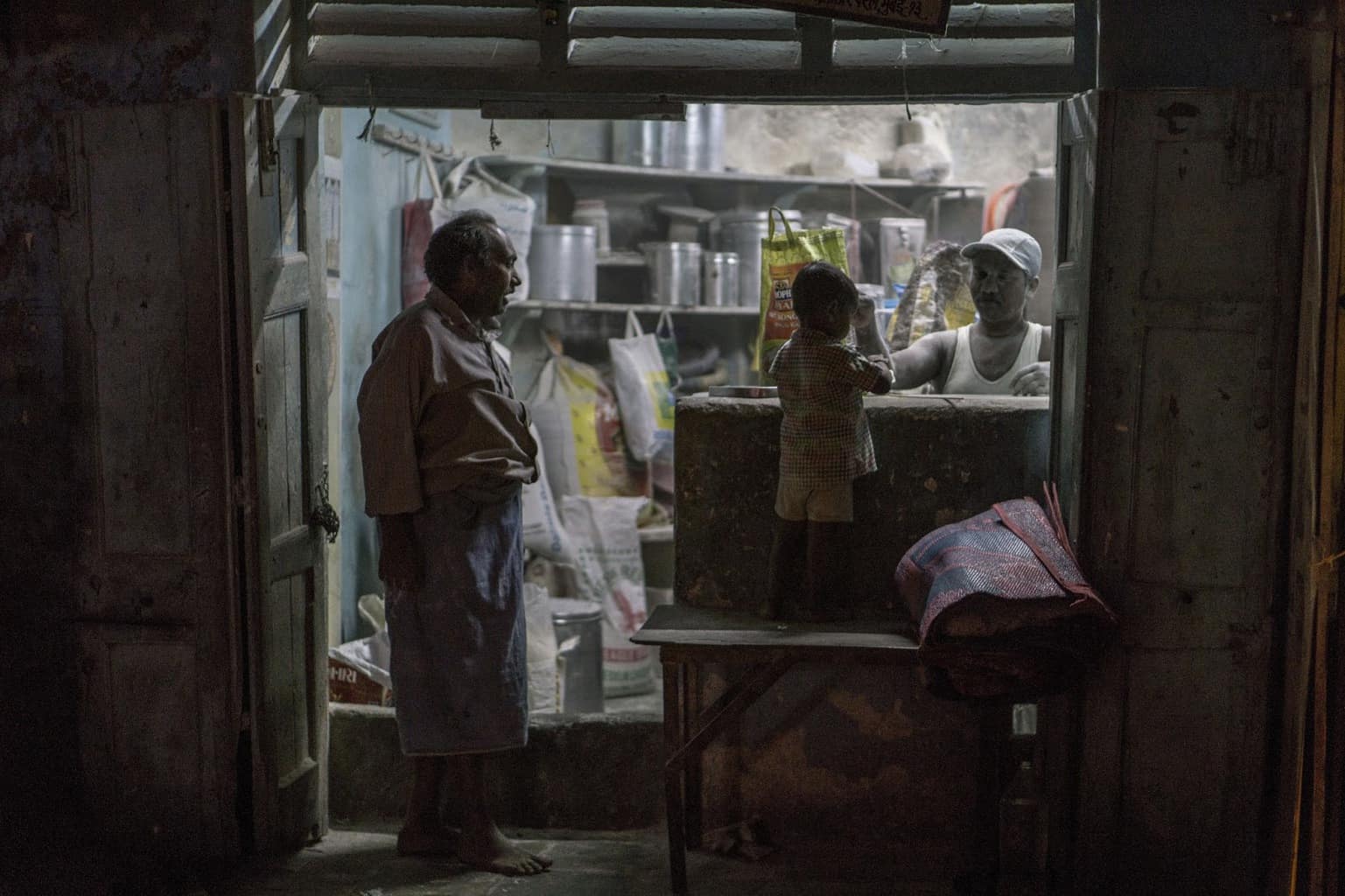 flour shop, Mumbai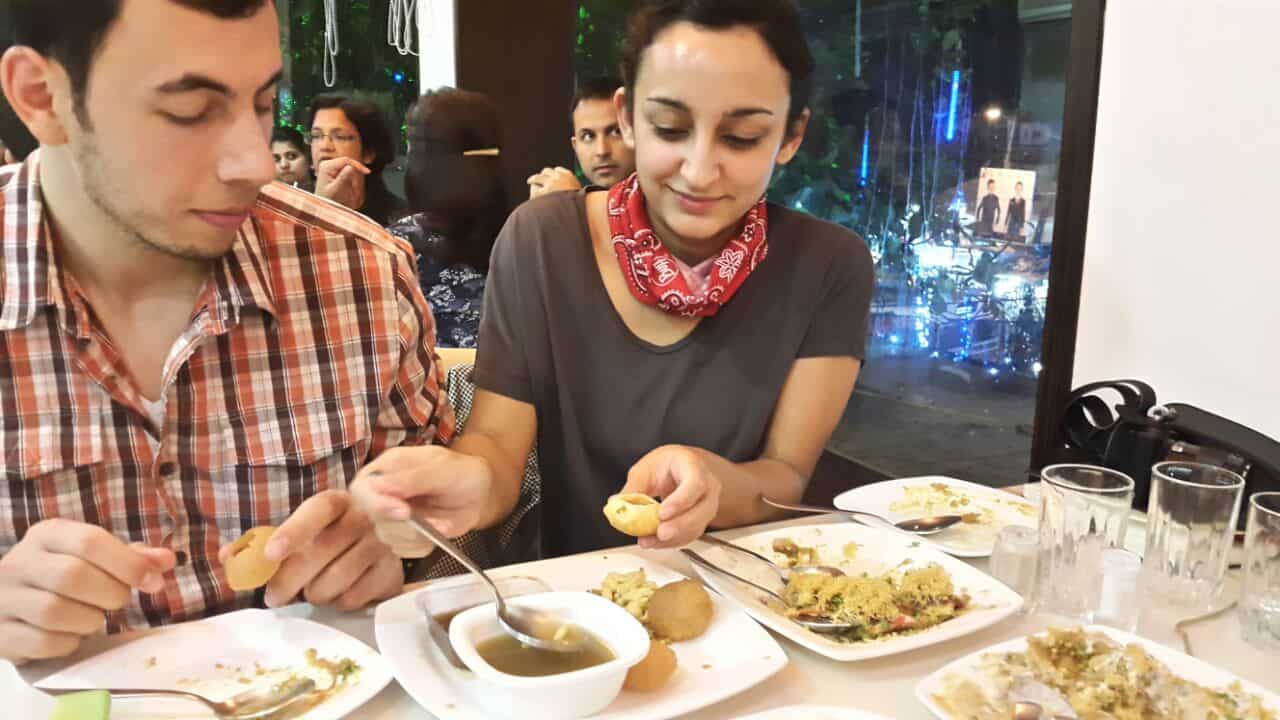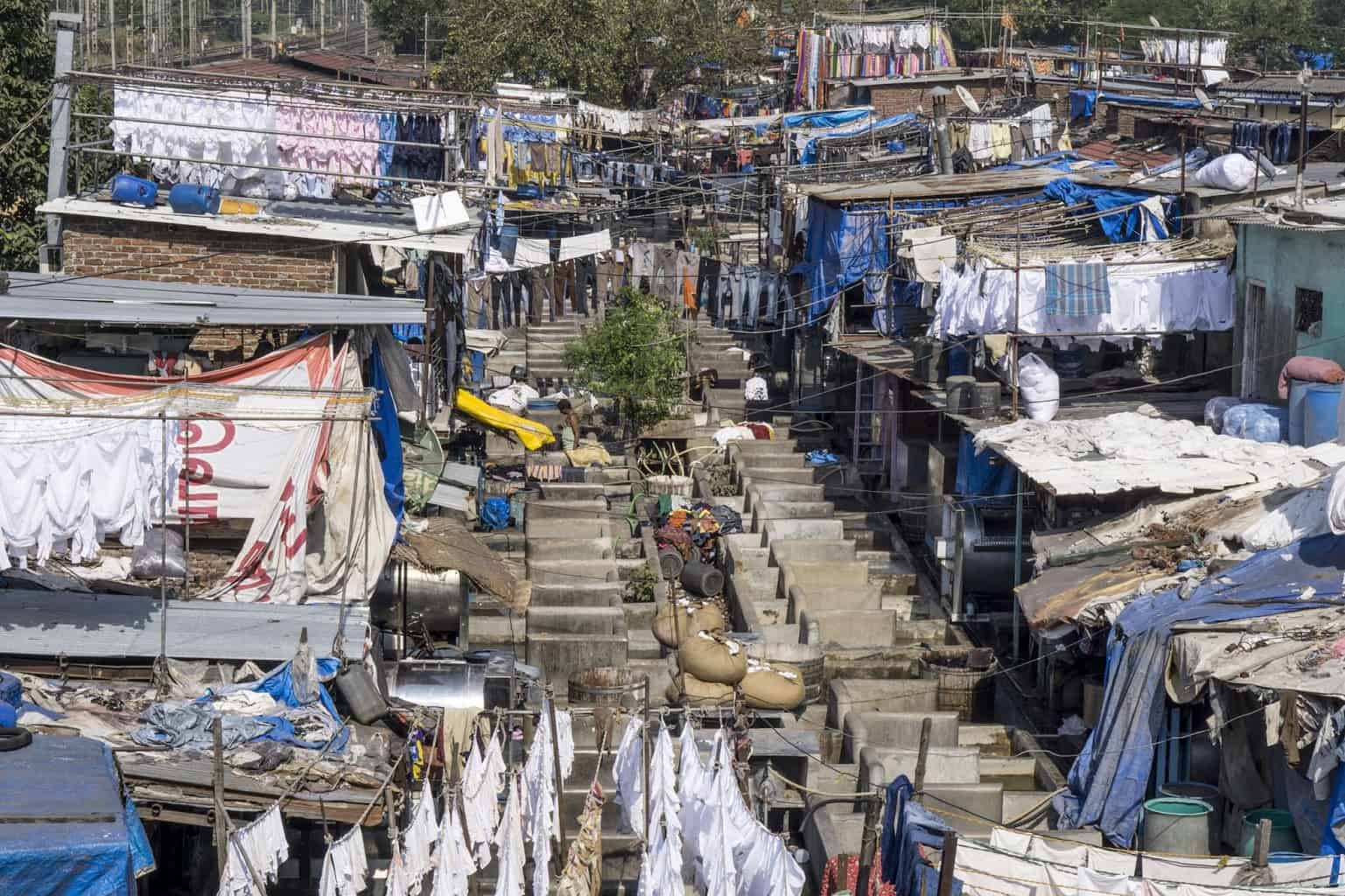 Mumbai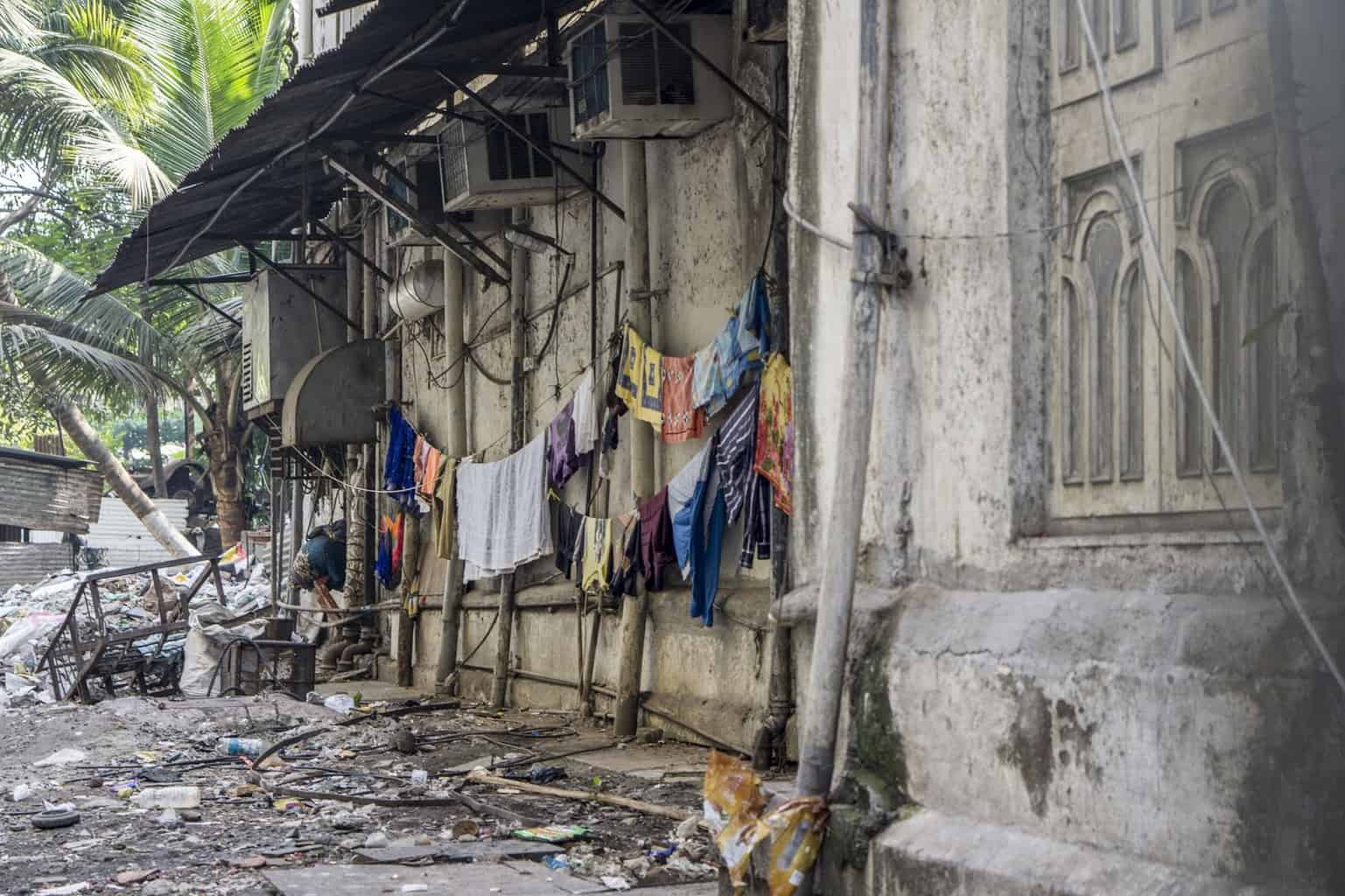 Mumbai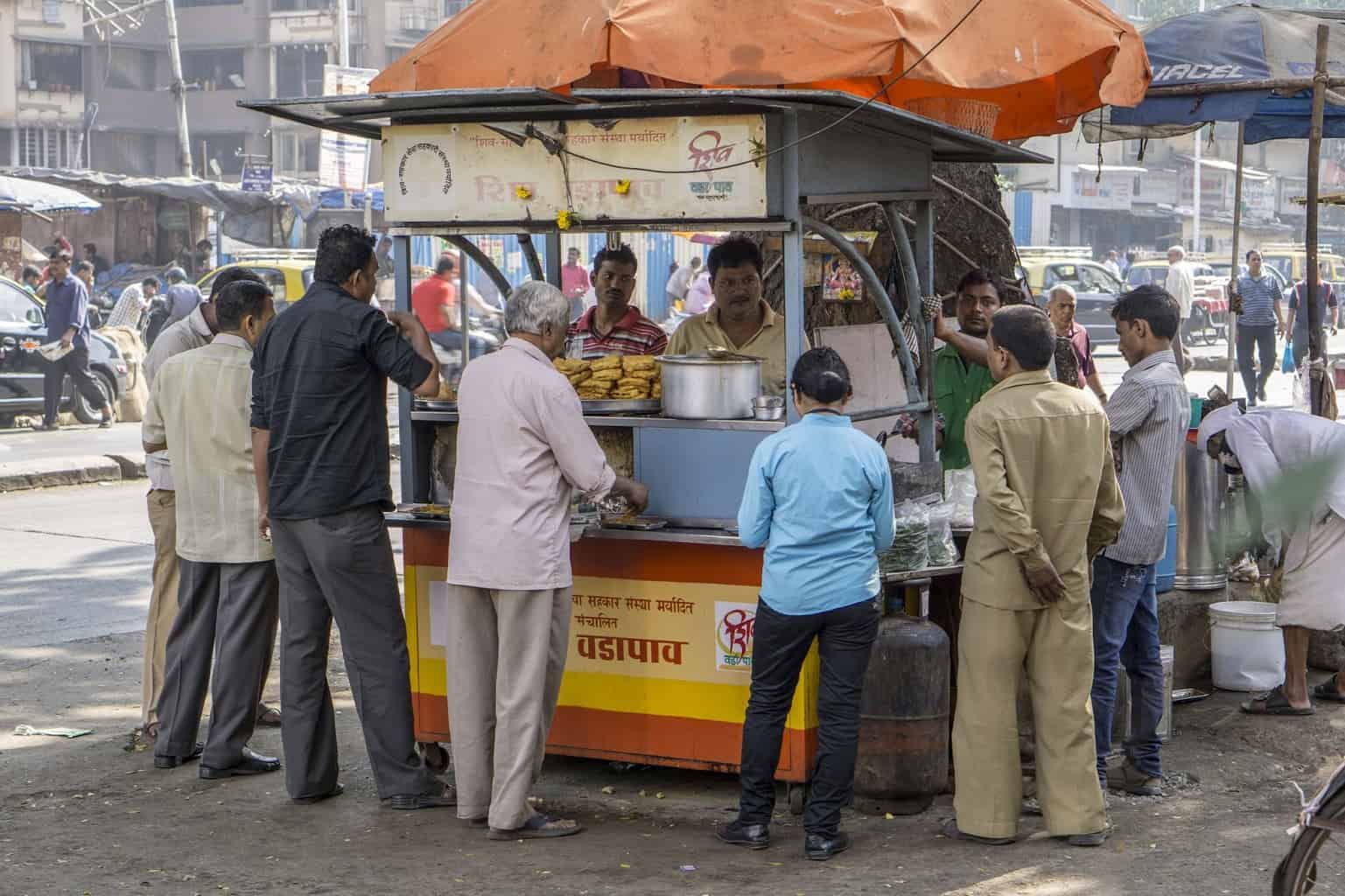 street food vendor, Mumbai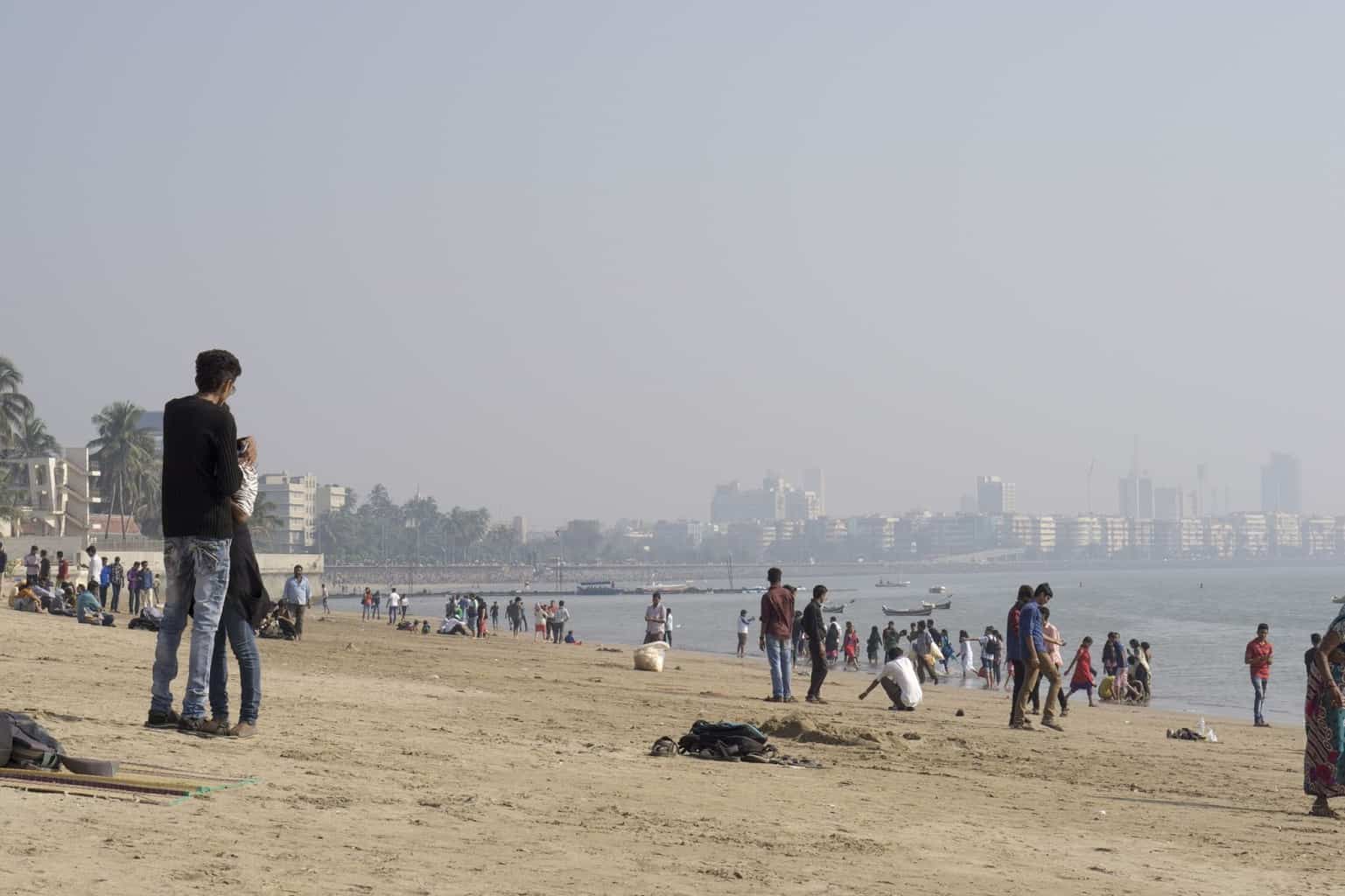 Chowpatty Beach, Mumbai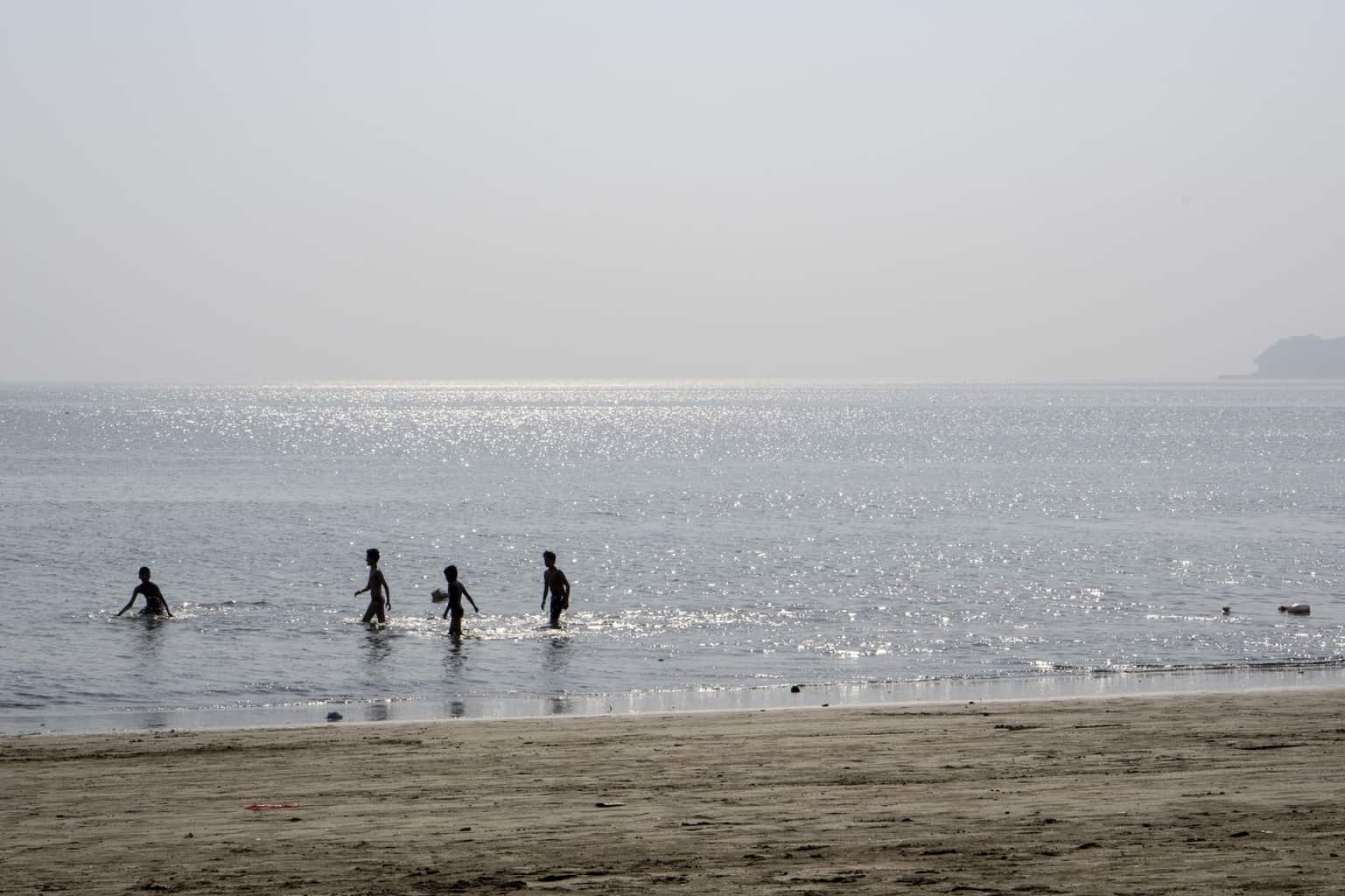 Chowpatty Beach, Mumbai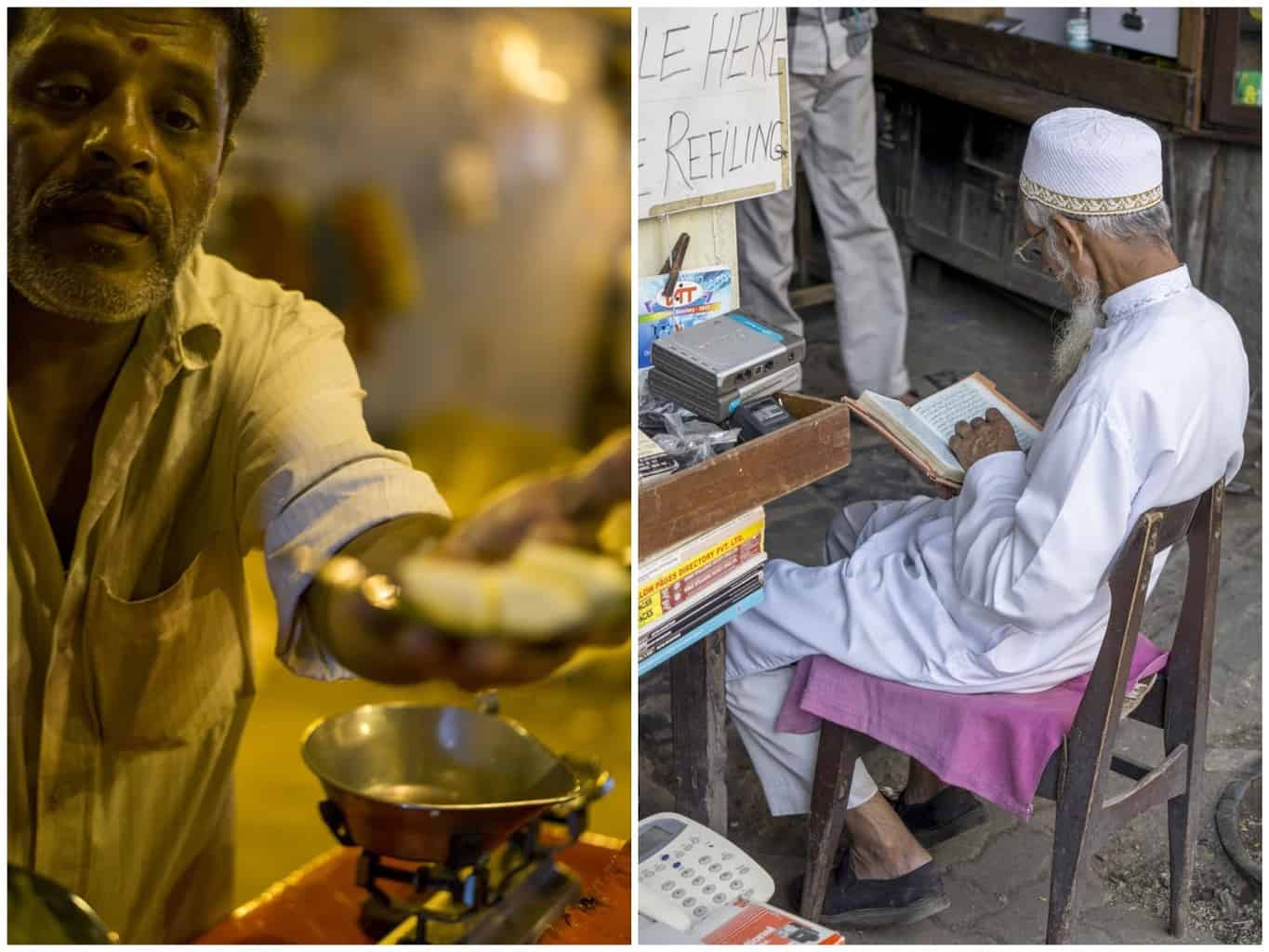 Mumbai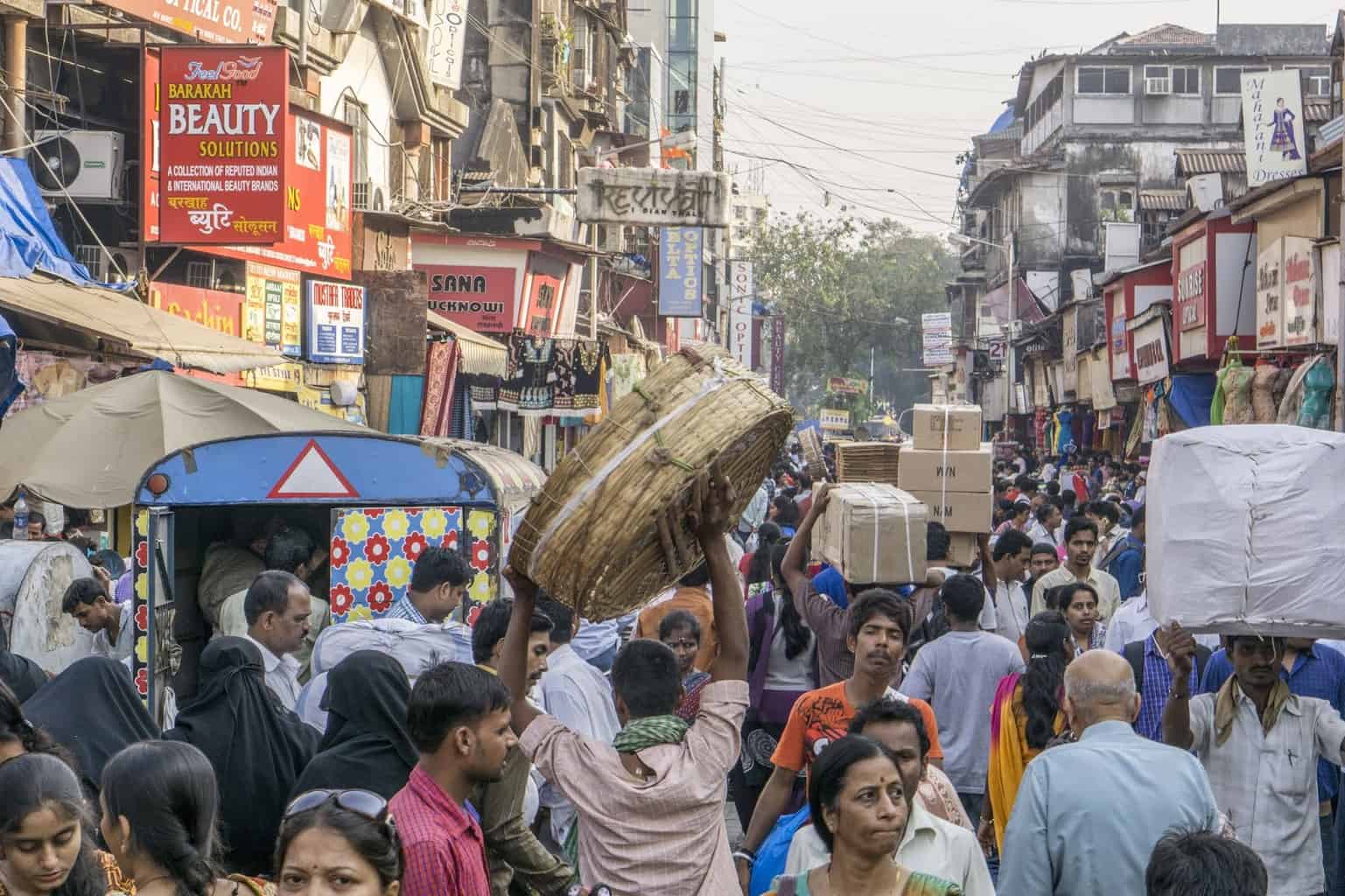 Crawford Market, Mumbai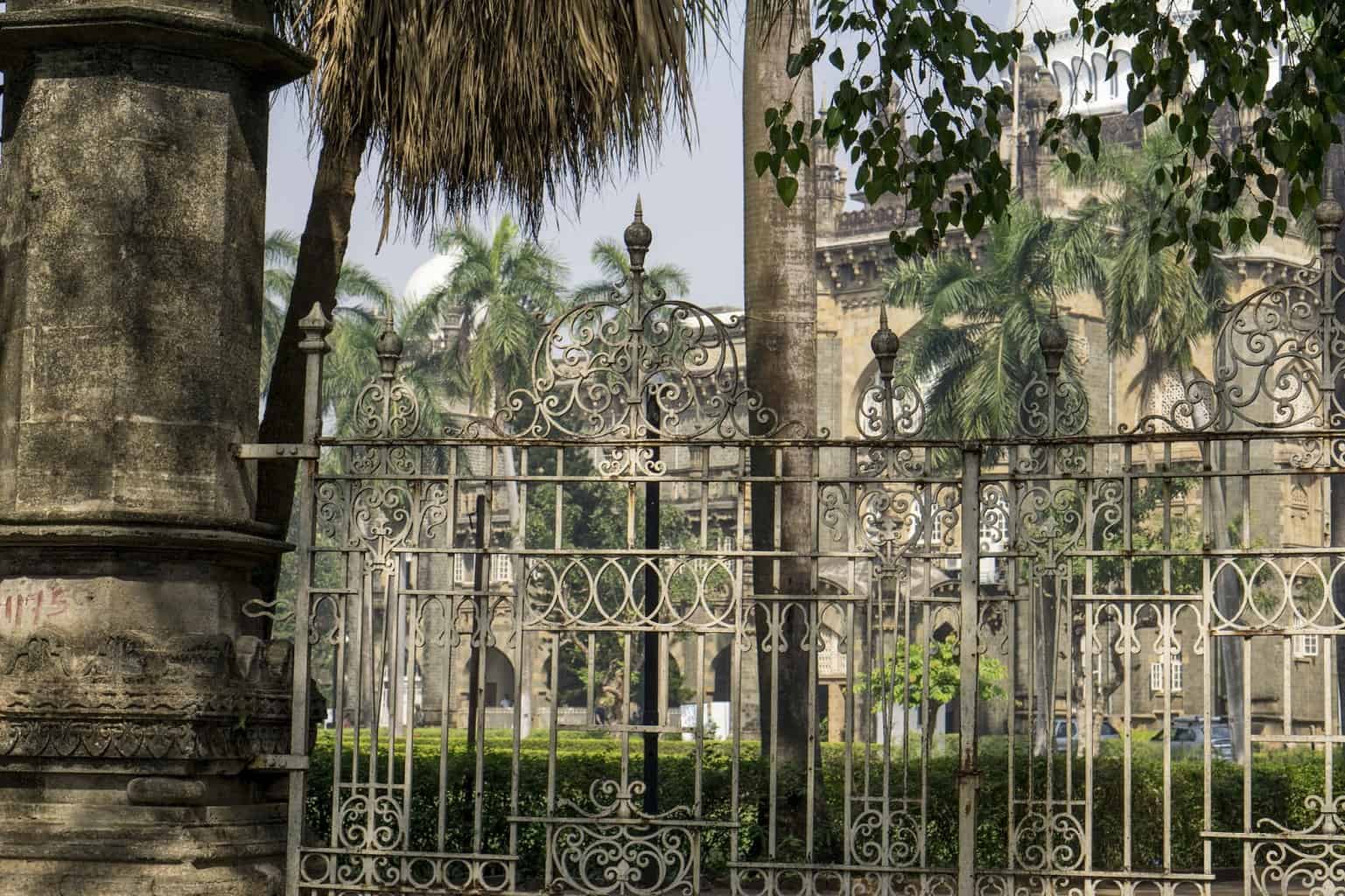 Mumbai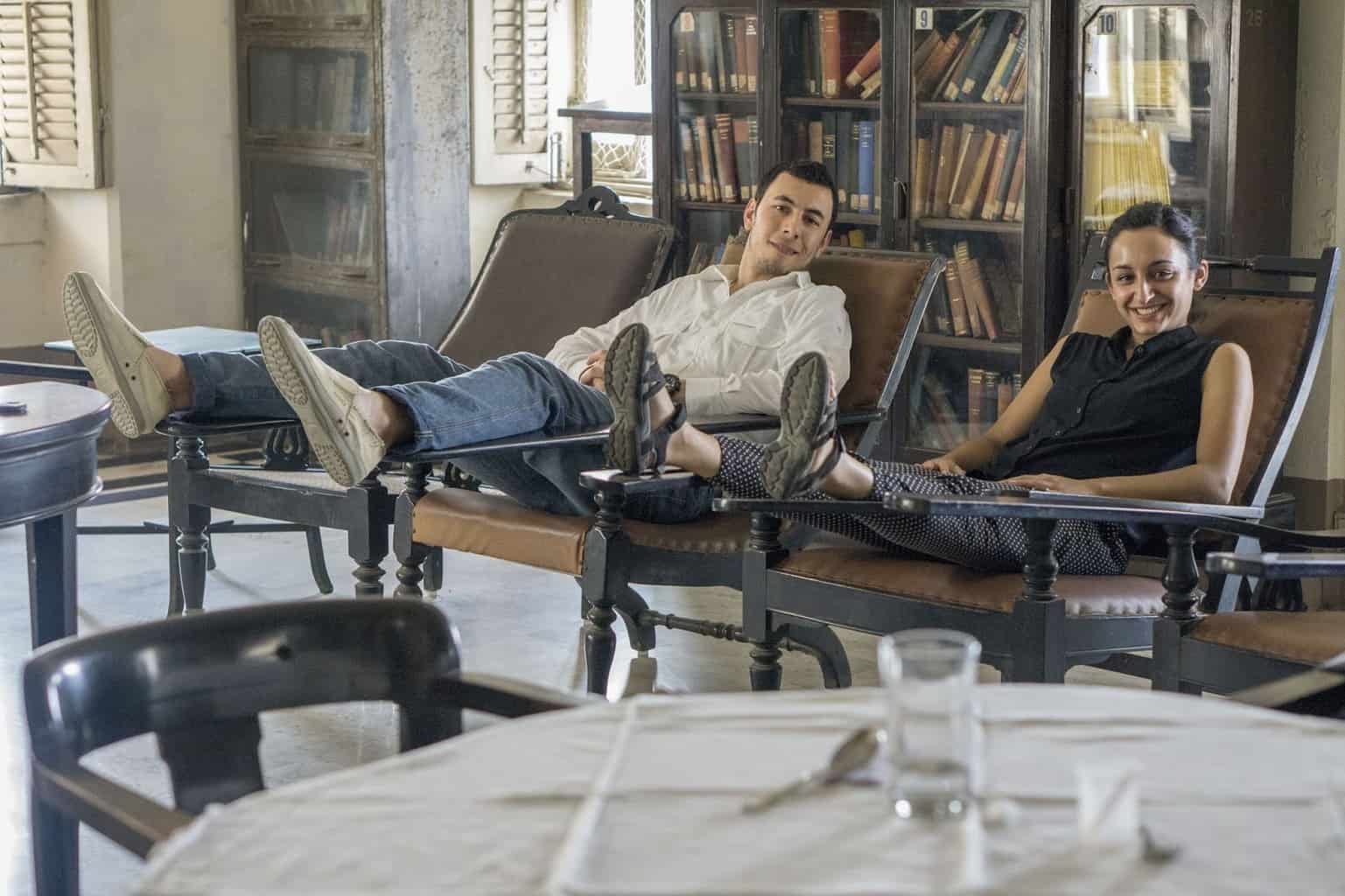 reclining on the 'fornicator' chairs at the Ripon Club, Mumbai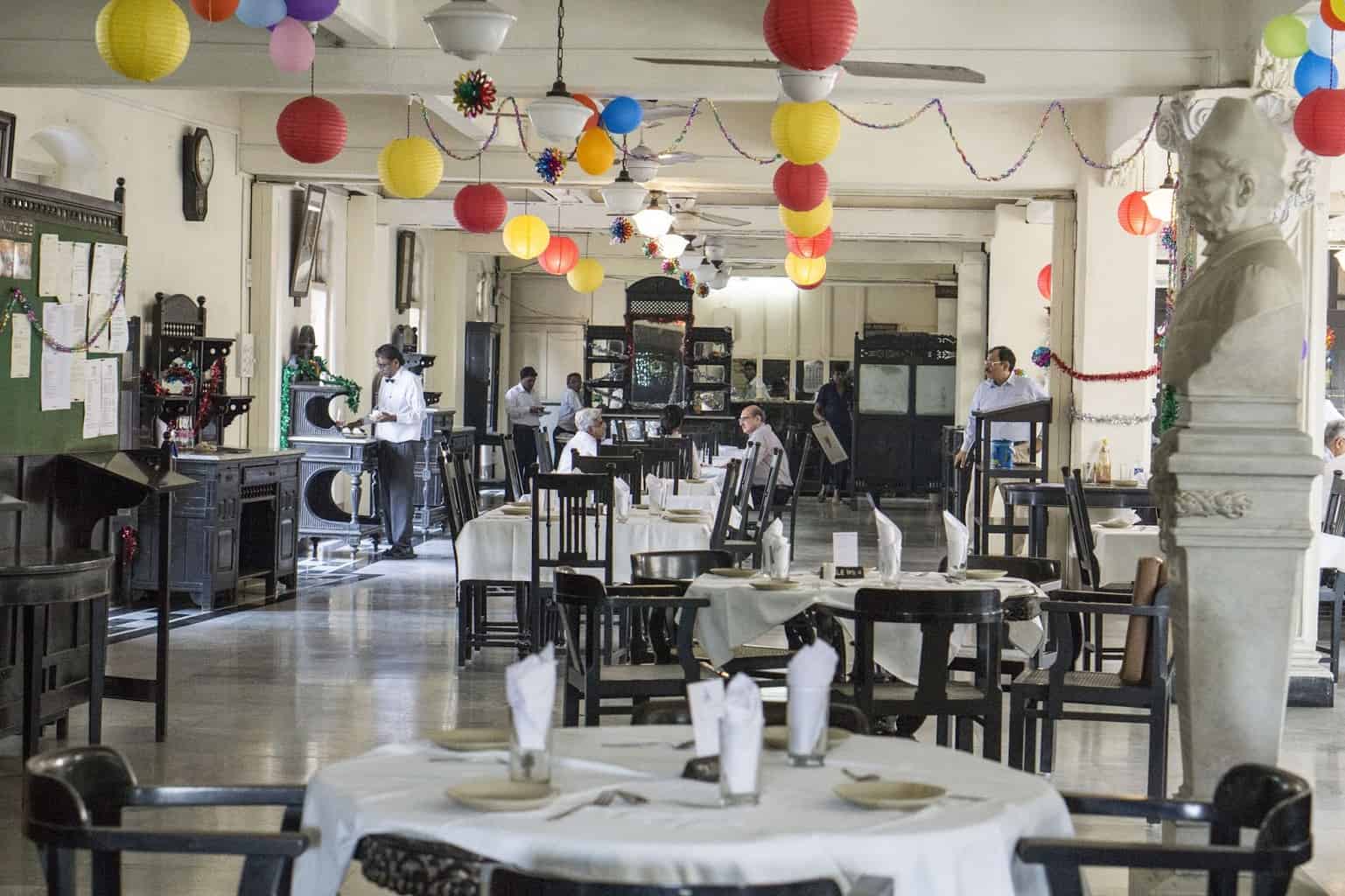 the Ripon Club, Mumbai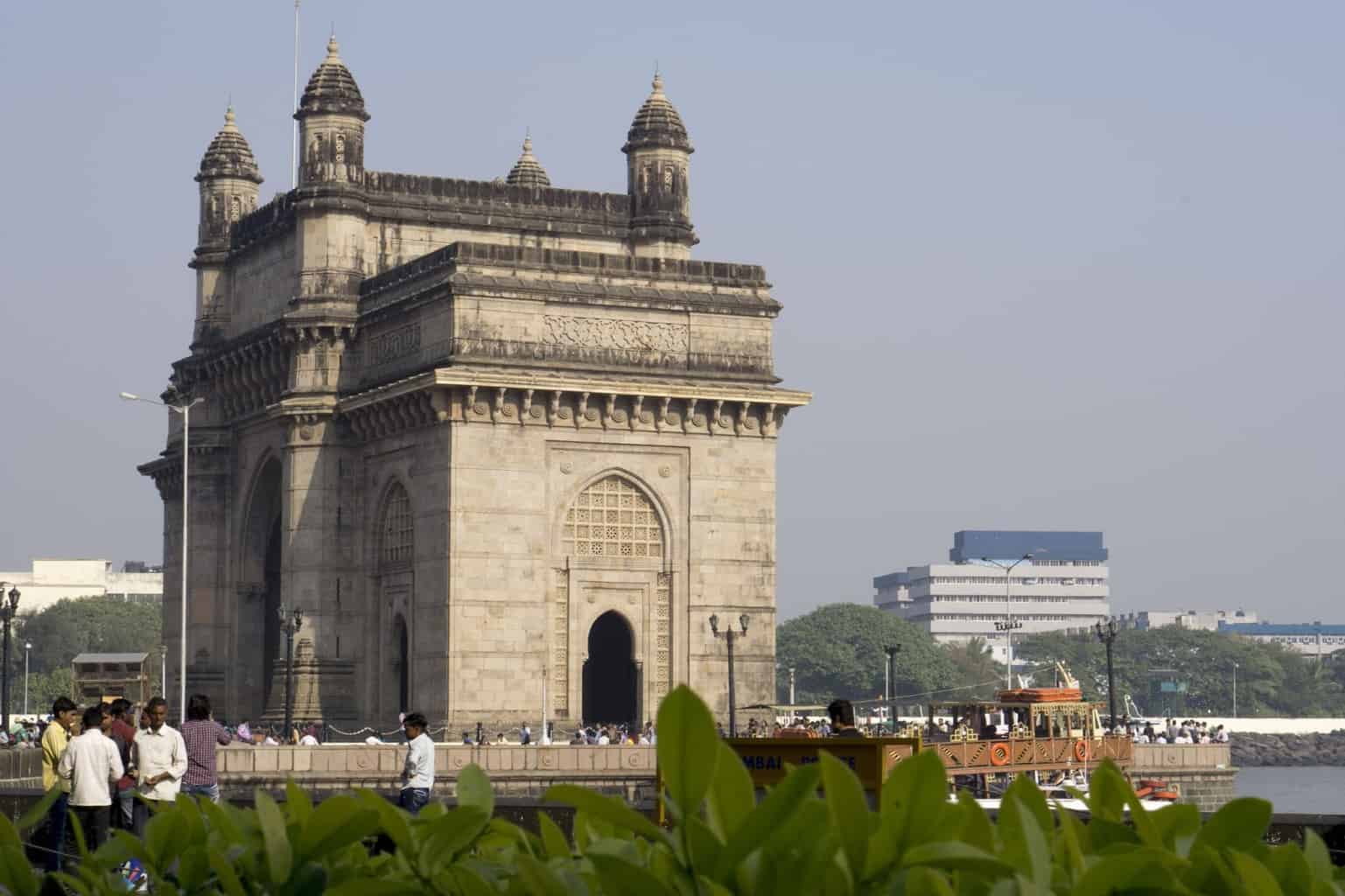 the Gateway of India, Mumbai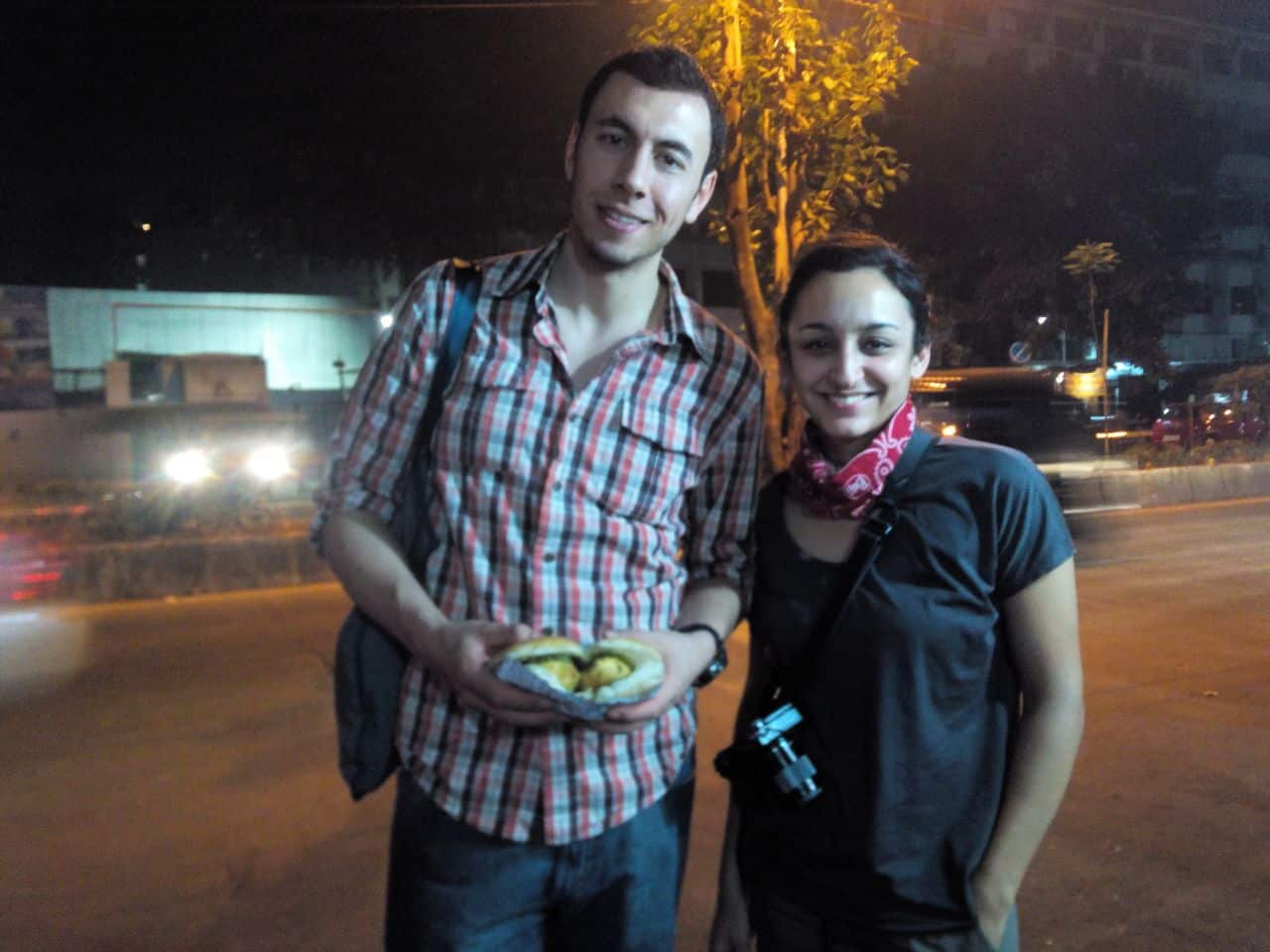 before ploughing into the vada pav, Mumbai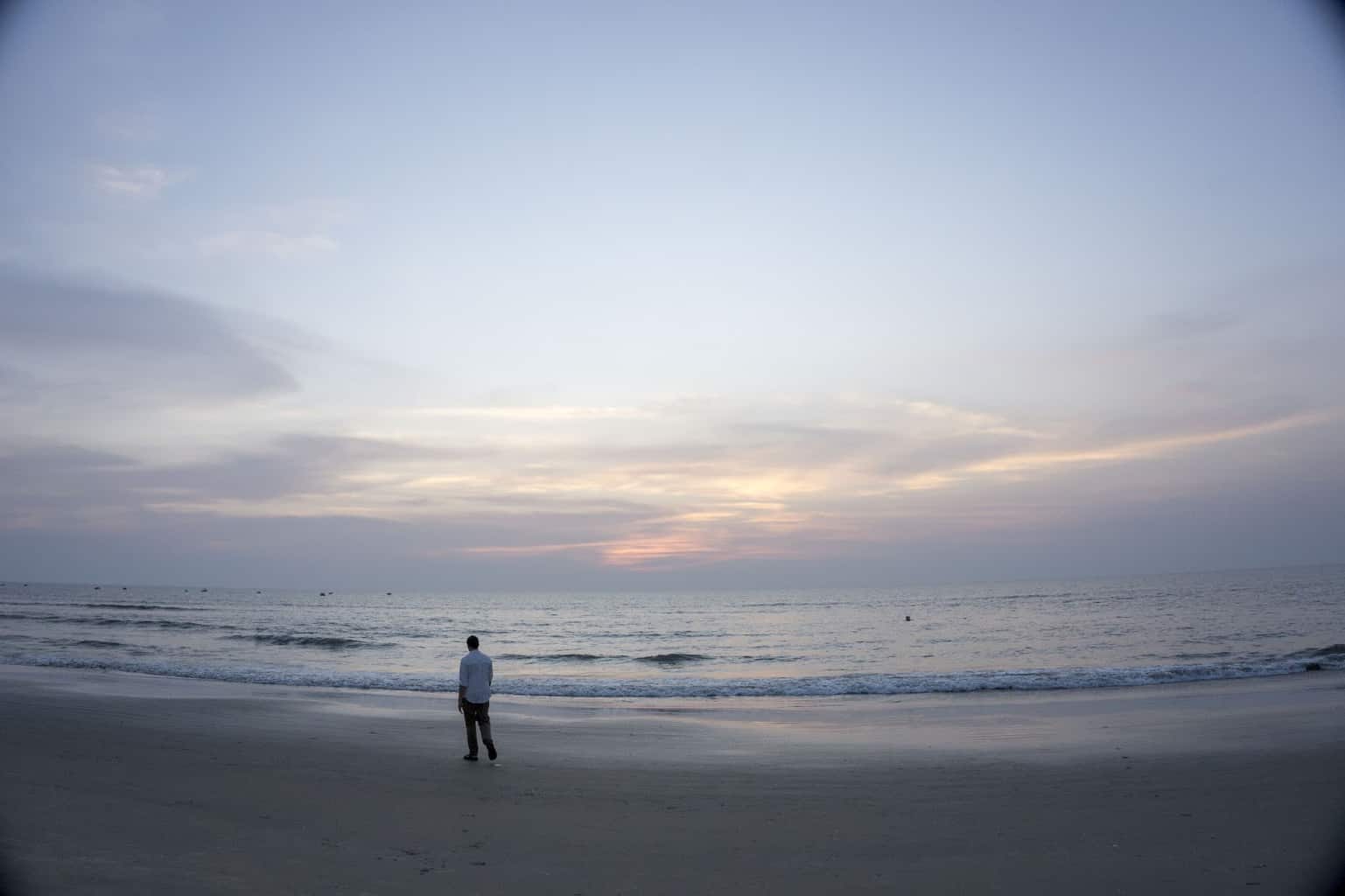 Cavelossim Beach, South Goa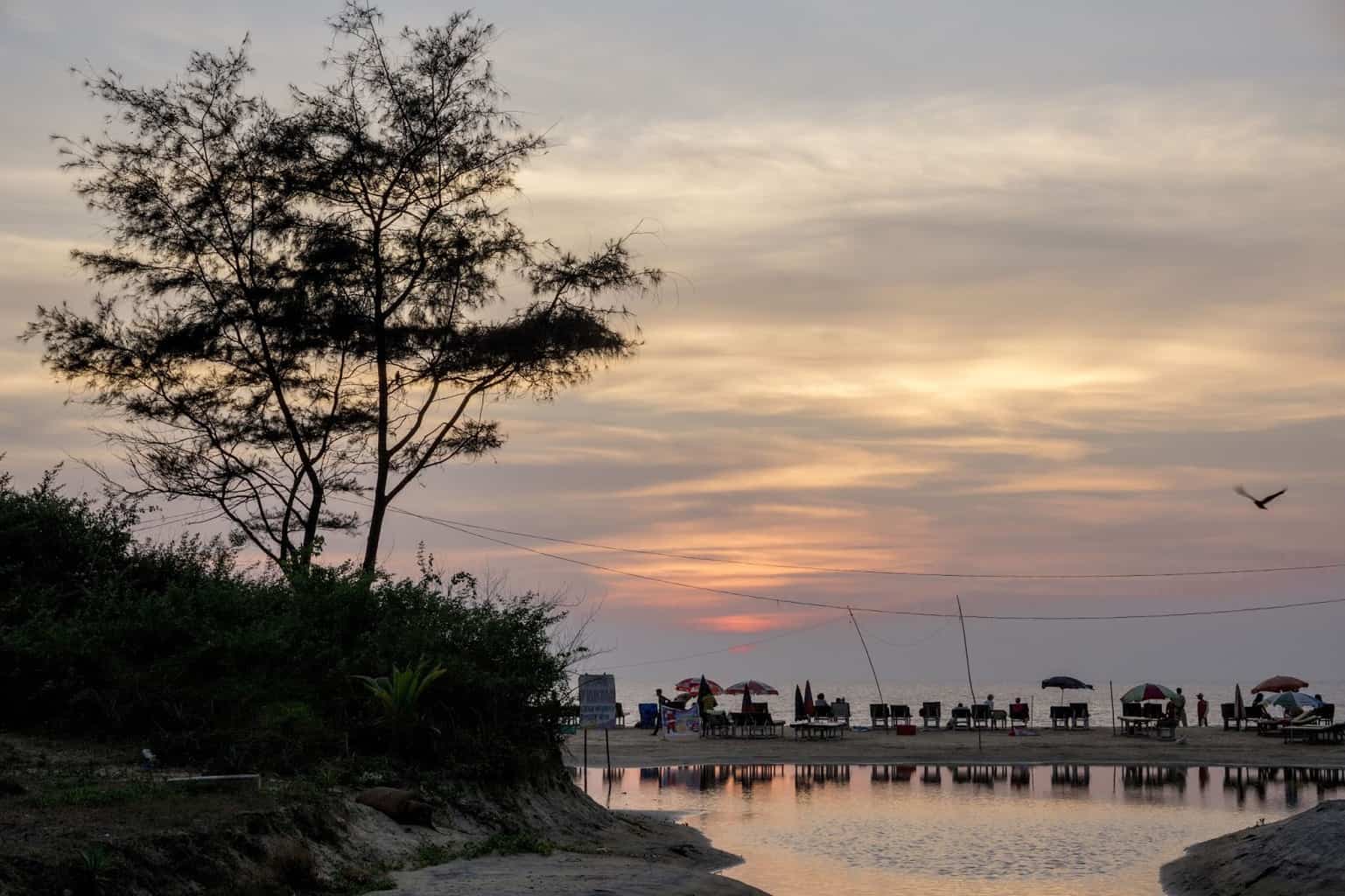 Cavelossim Beach, South Goa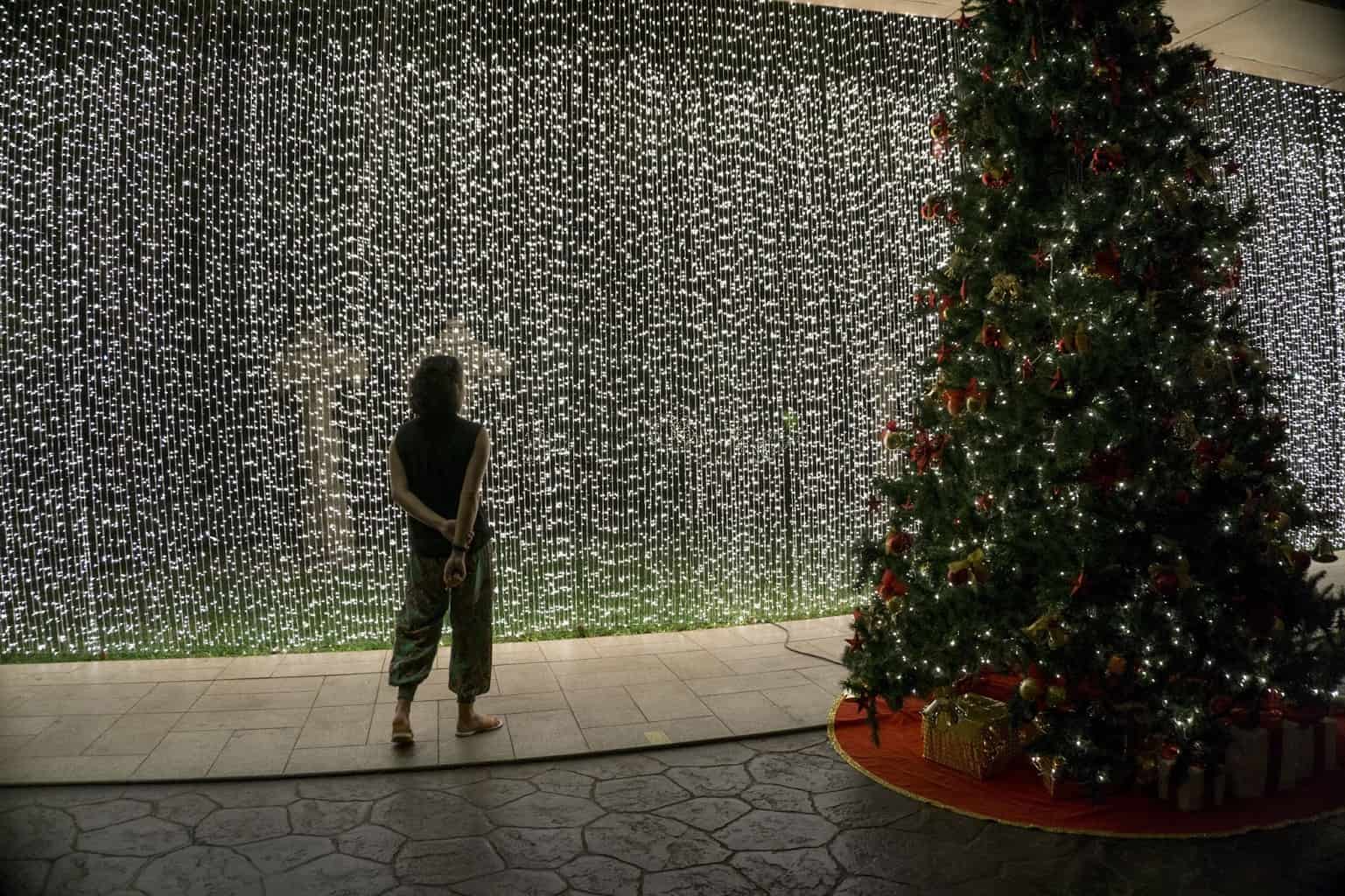 Related posts
Week 0: Gone travelling. London – see you in nine months

Week 1: INDIA – Mumbai → Goa
Week 2: INDIA – Bangalore → Mysore → Wayanad
Week 3: INDIA – Kochi → Allepey → Kollam → Madurai
Week 4: INDIA – Pondicherry → Chennai → Mumbai

Week 5: INDIA – Varanasi → Udaipur → Jaipur → Delhi
Week 6: TAIWAN – Taipei
Week 7: CHINA & VIETNAM – Hong Kong → Hanoi
Week 8: VIETNAM – Sapa → Hanoi → Ha Long Bay → Hanoi

Week 9: VIETNAM – Hue → Hoi An
Week 10: VIETNAM – 6 day / 5 night motorbike tour from Hoi An to Da Lat
Week 11: VIETNAM – Da Lat → Nha Trang
Week 12: VIETNAM – HCMC → Mekong Delta → HCMC

Week 13: CAMBODIA – Siem Reap (and Angkor Wat) → Phnom Penh
Week 14: CAMBODIA – Sihanoukville & Koh Rong Samloem Island
Week 15: CAMBODIA – Kep
Week 16: THAILAND – Chiang Mai

Week 17: THAILAND – Songkran Festival in Mae Rim & Chiang Mai
Week 18: THAILAND – Bangkok → Koh Phangan
Week 19: THAILAND – Bangkok
Week 20: MALAYSIA – Penang → Borneo

Week 21: AUSTRALIA – Melbourne
Week 22: NEW ZEALAND – Auckland → Rotorua → Turangi → Whanganui
Week 23: NEW ZEALAND – Wellington → Nelson Lakes → Hanmer Springs → Christchurch
Week 24: NEW ZEALAND – Lake Tekapo → Mount Cook → Queenstown → Milford Sound

Week 25: NEW ZEALAND & USA – Queenstown → Hawaii
Week 26: USA – Hawaii (Big Island) → San Francisco (Oakland)
Week 27: USA – San Francisco
Week 28: USA – Los Angeles

Week 29: MEXICO – Mexico City
Week 30: MEXICO – Oaxaca
Week 31: MEXICO – Mérida (plus Uxmal and Kabah)
Week 32: MEXICO – Tulum (plus Sian Ka'an Nature Reserve)

Week 33: USA – Postcards from Washing DC & Cape Cod
Week 34: HOME (LONDON) – The best and worst from the past 8 months – Part 1