Last Updated on June 10, 2020 by Leyla Kazim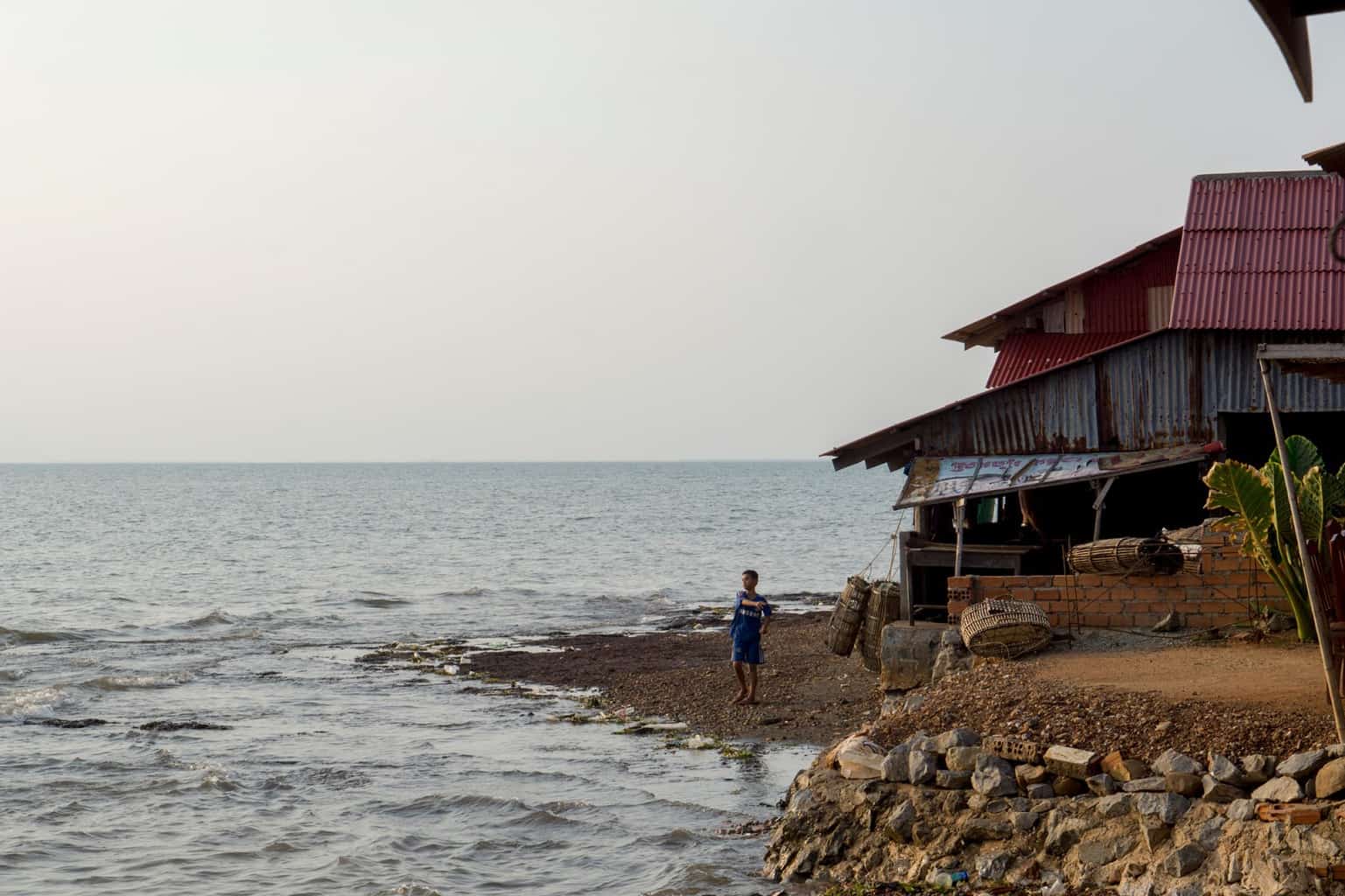 Image of the week: A boy throwing rocks into the sea. Kep, Cambodia
More images at the end of post
l
Where in the world
A two hour drive from Sihanoukville to Kep, where we stayed for six nights in a traditional Cambodian house on stilts at Khmer Hands.

Thoughts
Kep, the sleepy seaside town that was once the playground for the French and Khmer elite. That was, until, it faded from view and memory under the brutal Khmer Rouge occupancy in the 1970's. Since liberation, it's a spot that's been gradually re-developing to something of its former glory. And it's certainly one to linger in.
Activities aren't endless, but that's part of its charm. It's a place in which to meander, eat some crab, sit a while.
But you can also take in the beautiful French colonial building ruins, perhaps get a boat out to Koh Tonsay (Rabbit Island), laze on Kep beach, do a bit of kayaking, explore the limestone caves a little further out, go fishing. A bicycle is a good way to get around – there isn't much traffic.
Kep's National Park – a great green lushly blanketed hill overlooking this town – is prime for a good hike of its 8km circuit. Trails are well signposted and amongst the jungle you'll come across a butterfly farm and a couple of pit stops for a cold drink, but do take your own supplies and be finished before dark. By foot is best. You'll spot lizards, monkeys, squirrels and work up a good sweat doing so.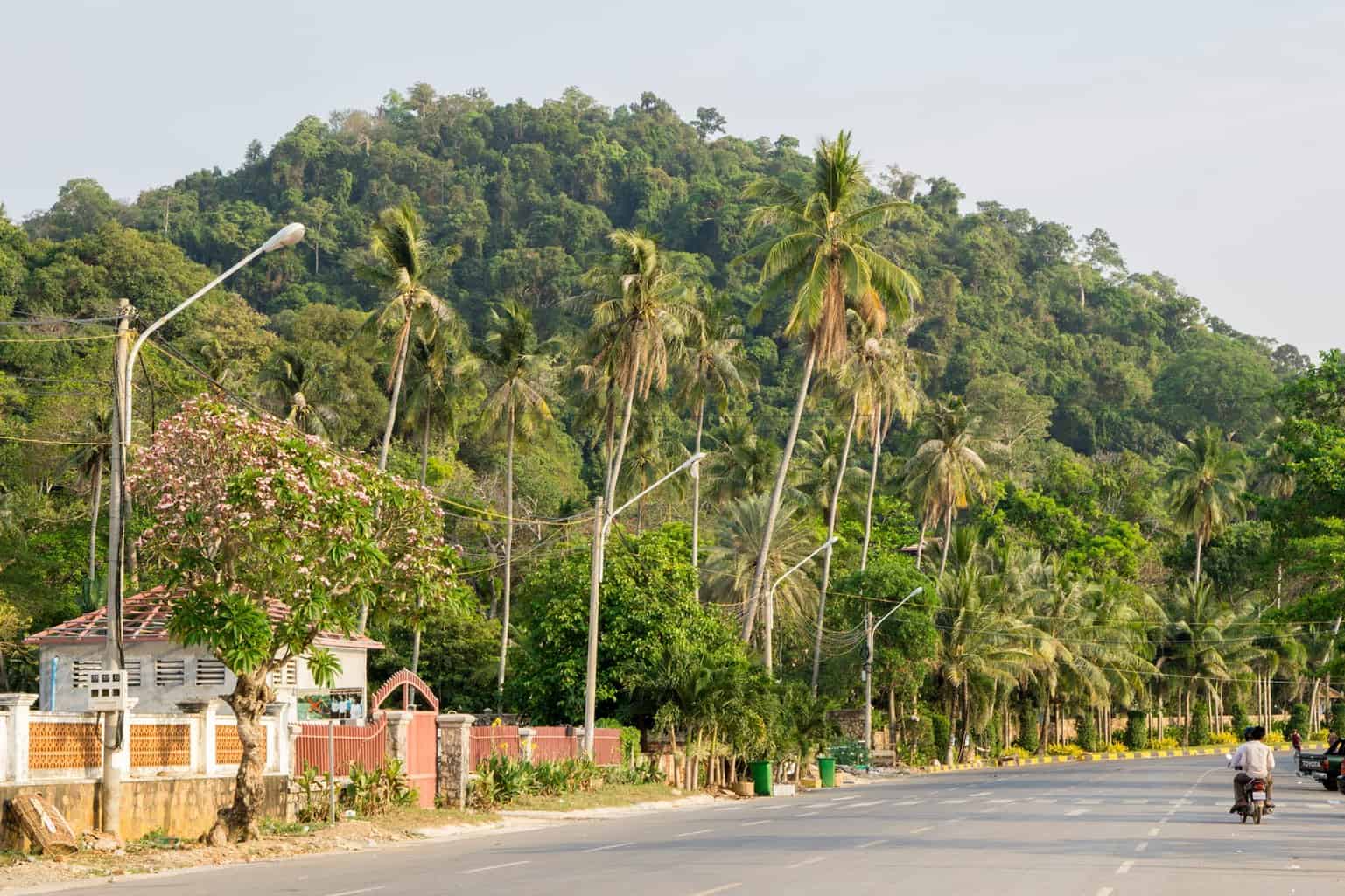 Kep National Park. Kep, Cambodia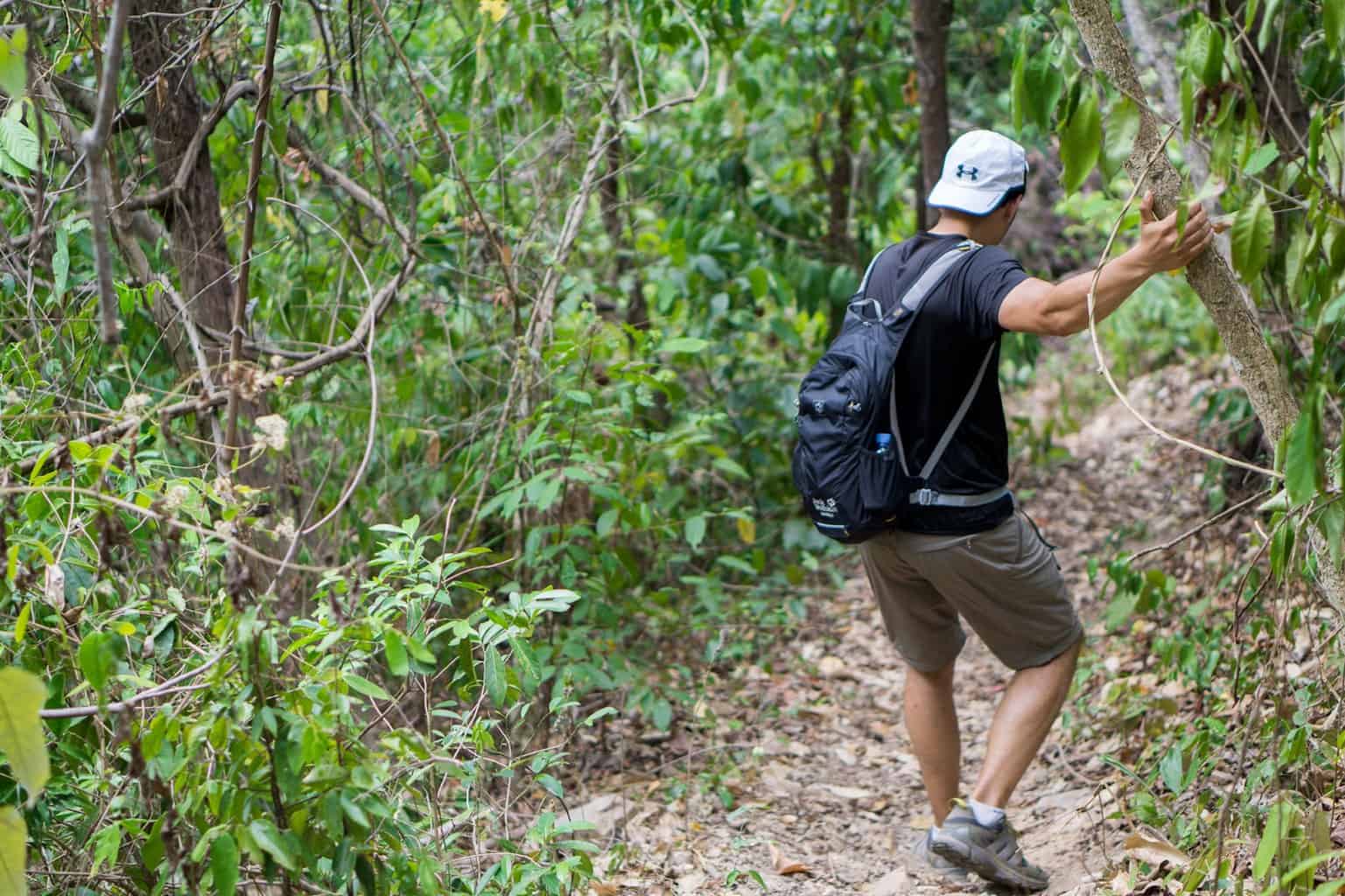 hiking through Kep National Park. Kep, Cambodia
And then there's the crab market down by the shore, bustling with morning activity. Watch cages being hauled from the water, followed by a flourish of interest as patrons gather round and dip in a hand to feel for what's fat and what's good.
As well as individual customers, the catches are sold on to the street food vendors that cook them for you, and the strip of restaurants lining the water – take a look at Where to eat in Kep and Street food in Kep below.
Seafood reigns at the dinner table here.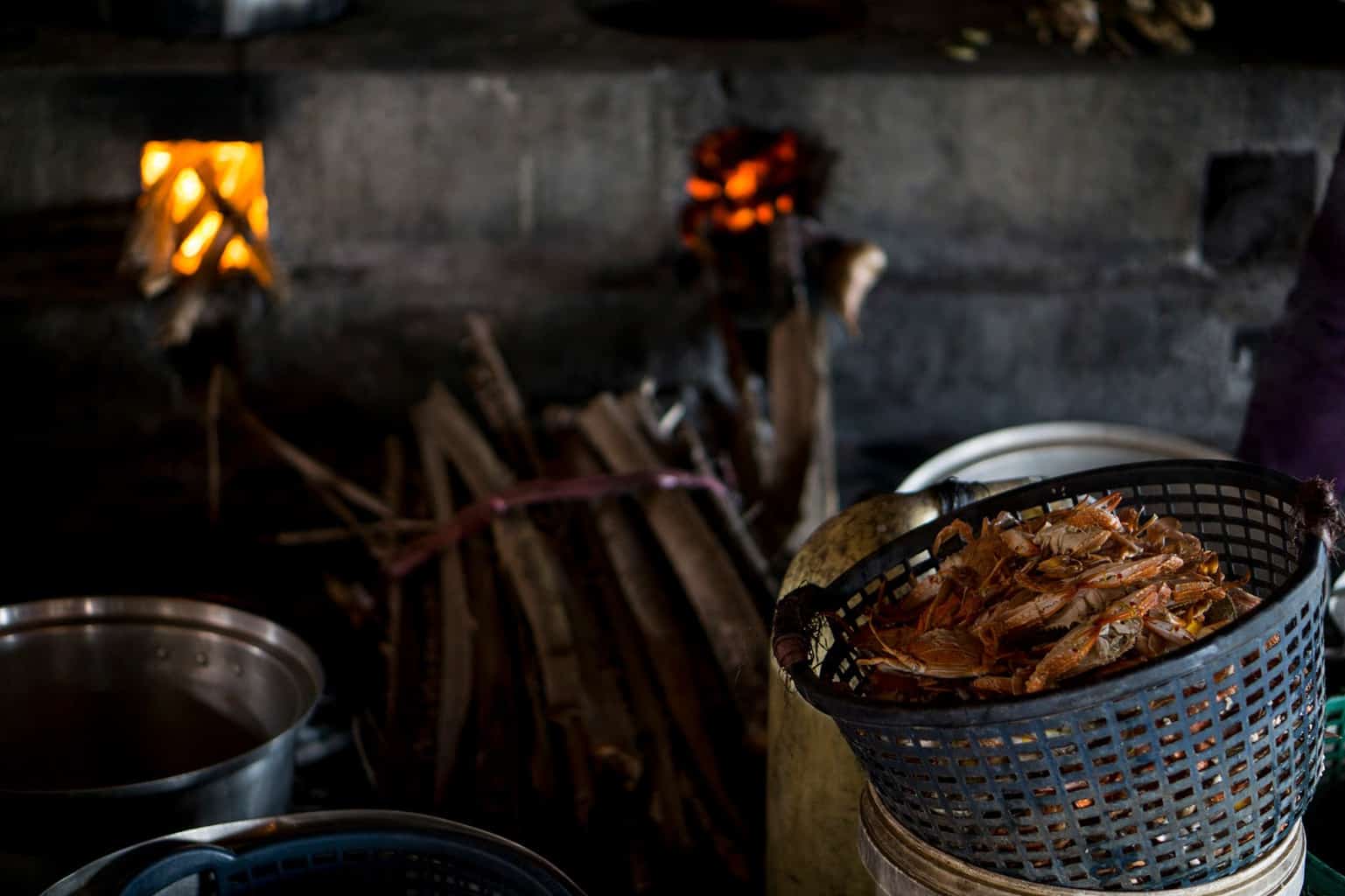 Crab market. Kep, Cambodia
Where to stay in Kep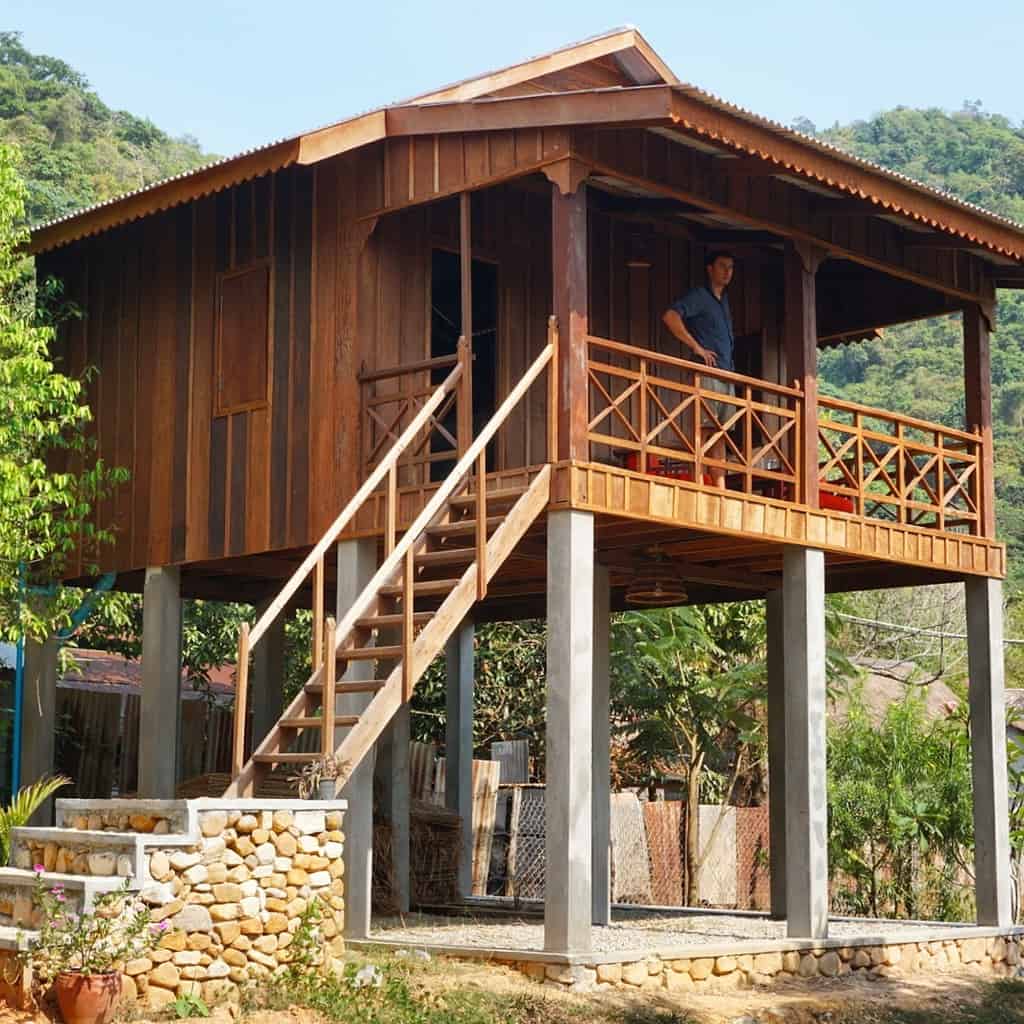 our traditional Khmer home for six nights
in Kep, at Khmer Hands
I can't close without mentioning the quite lovely stay we had at Khmer Hands during our six days in Kep, thanks to wonderful owners, hosts and husband and wife team, Chris and Noemie.
Khmer Hands currently has eight basic but comfortable huts to rent, with some raised on stilts as is the traditional Khmer way.
But the place also doubles up as KeyLight Learning, a training centre for locals. It has an an onsite school to teach the necessary English and hospitality skills that enable them to get jobs in the area, and stay with their families. Rather than moving to Thailand to find work, for example.
Really commendable stuff. And the staff here are all examples of this; a very lovely bunch.
It's particularly interesting to hear about Chris's background, originally from California.
He's travelled and lived all over the world, for most of his life, but has chosen to make a family and settle down in this corner of it. Which is a great testament to it, I reckon.
And so, it's our final week in, what has turned out to be, a very surprising country.

our traditional Khmer house,
Khmer Hands
Before I began these travels, I was told that Cambodia is 'fourth world'. I wasn't really sure what that meant; perhaps insight into the country's infrastructure, progression, ambitions.
But if there's one glaring observation I've made during my time here, it's that the place is developing, and fast.
There wasn't a single morning of our three week stay where we weren't woken up by the sound of construction work. Which whilst a bit irritating, is a sound indicator that Cambodia is going places.
People I have spoken to who have lived in the country for a few years now, always speak of the great strides it's taken during that time.
Chris himself has been in Cambodia for seven years. He mentioned when they first moved to Kep, there were only six guest houses in the area. Now there's 60.
I hope, as Cambodia continues to find its feet and work hard at catching up with its neighbours, it doesn't lose its charm and identity in the process.
The best things I ate this week
Where to eat in Kep
Crab with local green peppercorns.
There's a long strip of restaurants overlooking the water at the crab market in Kep, some westernised to attract the tourists. But Srey Pov, one of the more authentic ones, was one of the handful recommended by Chris at Khmer Hands. And it did not disappoint.
There are few things more joyous when it comes to food than working your way through a plate of crabs. Cracking legs, sucking flesh, rooting around in the offally nooks. We had them fried with green peppercorns from Kampot, about a half hour drive down the coast, and an area famous for growing these fiery little beads of heat.
The peppercorns are still on the stalk; you can put the whole thing in your gob and pull it out clean. There was also a plate of succulent squid that had the same treatment, and juicy grilled prawns with a lime and pepper dipping sauce.
We went back a second night. Got more crab – hard not to. And also their fish amok, which might have been the best plate of food I had in Cambodia. It's a famous Khmer dish – fresh boned fish, rich spicy coconut custard, steamed in a banana leaf cup. Gosh, I could have cleared three.
Srey Pov, (the strip of restaurants at the crab market), Psar Kadam, Kep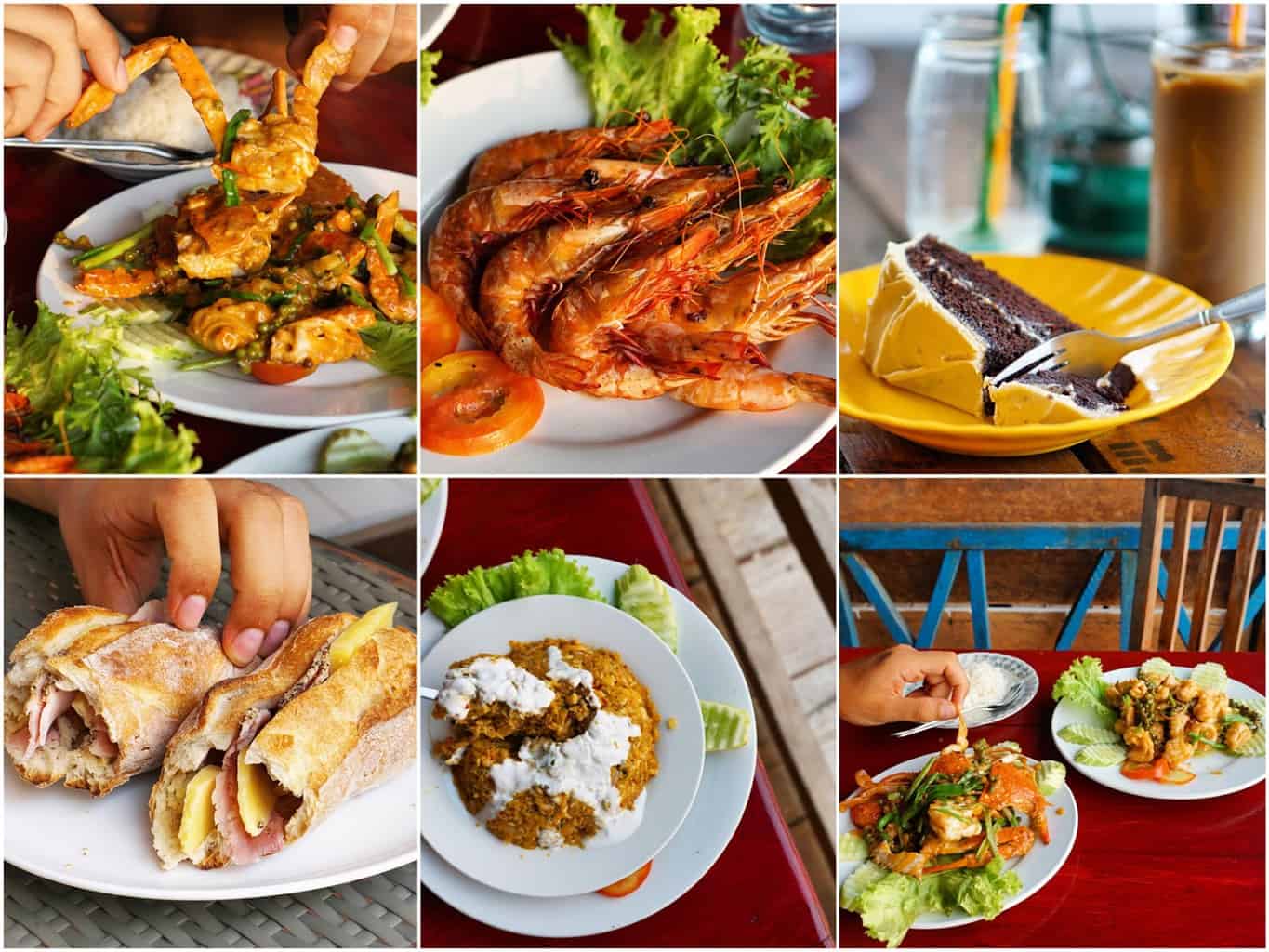 from top left: crab and prawns at Srey Pov, cake at Kep Coffee, cheese and ham baguette from L'Epi D'Or, fish amok and more crab from Srey Pov
l
Cake at Kep Coffee.
After 8km of sticky hiking through Kep National Park, I did a good job inhaling these. A fantastically sour lime juice, iced coffee and chocolate cake with peanut butter frosting.
The American owners of Kep Coffee are good friends with Chris and Noemie, and their sweet treats came recommended by them. It felt mighty good to be eating some homemade cake, let me tell you. And I hear their pizzas are top draw too.
Kep Coffee, Road 33, Behind Sokimex Petrol Station, Kep
Real French baguettes at L'Epi D'Or.
We paid a visit to Kep's only bakery for breakfast, L'Epi D'Or. They have two bakers in the kitchen – a French guy and a local Khmer guy. The place is pretty new on the scene too.
The baguettes are French. Not light Asian-baguettes made with rice flour. Actual proper chewy crusty baguettes made with wheat. And proper ham. And proper cheese! Simple pleasures that have been greatly missed. It might have been the best breakfast I've had in Cambodia.
God bless those French and their colonisation skills.
L'Epi D'Or, by Kep Beach


Anything from Khmer Hands
One of the great things about this place is that they will freshly cook you something tasty at any time of day. Breakfast isn't fixed to certain hours – you could order from the breakfast menu at dinner time if you wanted.
We hung out at Khmer Hands quite a bit, which meant we also ate there a lot. They offer a whole load of local dishes, there's a few western classics, filling sandwiches, pancakes, burgers, and all reasonably priced.
We often went for the omelettes with fried potatoes or fresh fruit in the morning. Noemi's secret soup was also a winner, as was the chicken with ginger (and loads of ginger, which is how we like it), and chicken with Kampot pepper (I have no pictures as it was usually too dark).
You don't have to be staying at Khmer Hands to eat there, so definitely pay a visit if you're in the area. It was really only the prospect of crab at the market that pulled us away from the place.
At the moment, the dining area is by the reception at the back of the site and is just a few tables. But the construction mentioned above was for a whole new and larger restaurant area, raised on stilts, right at the front. From what I could see, it promises to look pretty swish when complete.
Khmer Hands, Pepper Street, Kep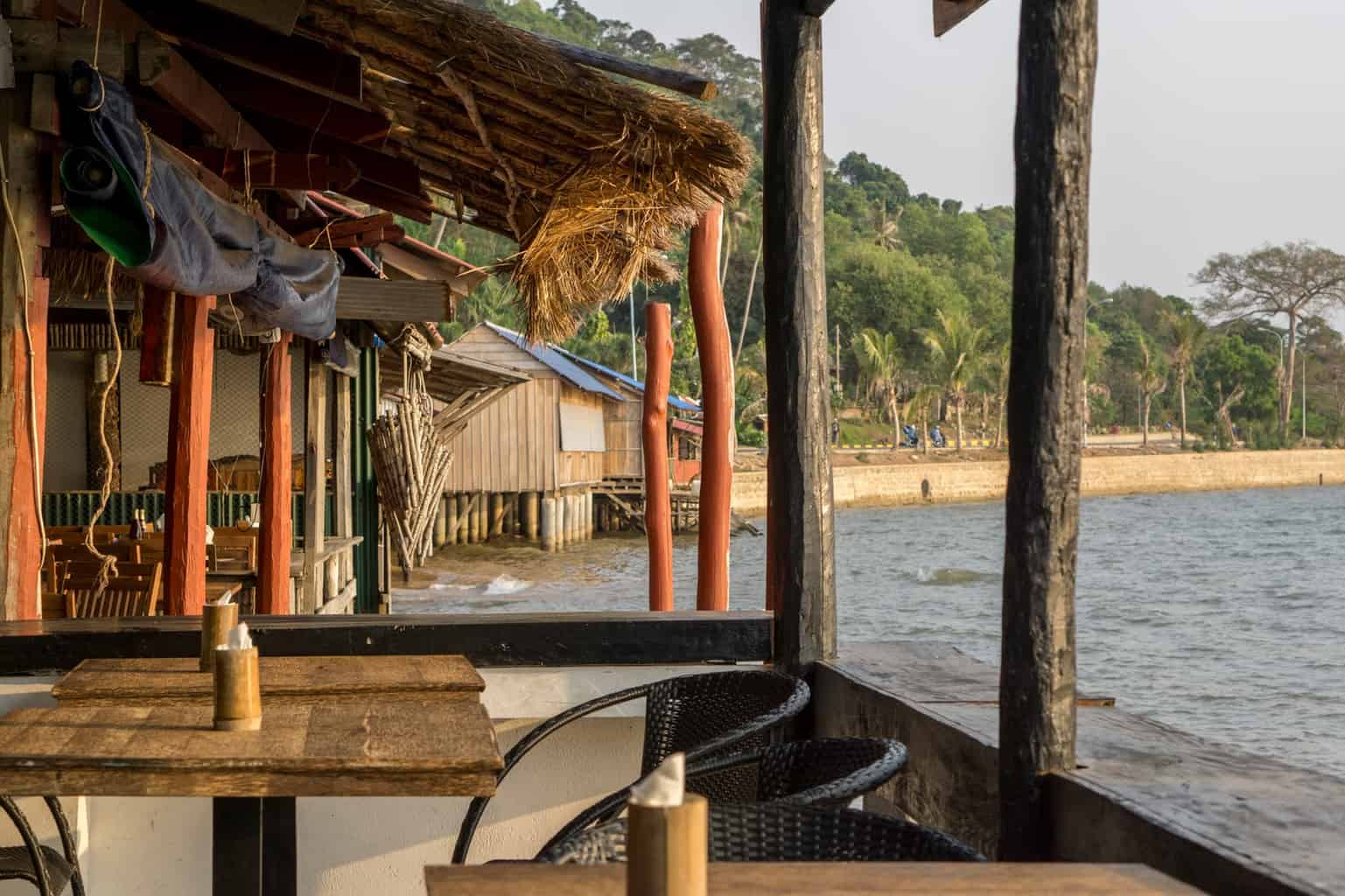 Seafood restaurants along the sea front. View from Srey Pov. Kep, Cambodia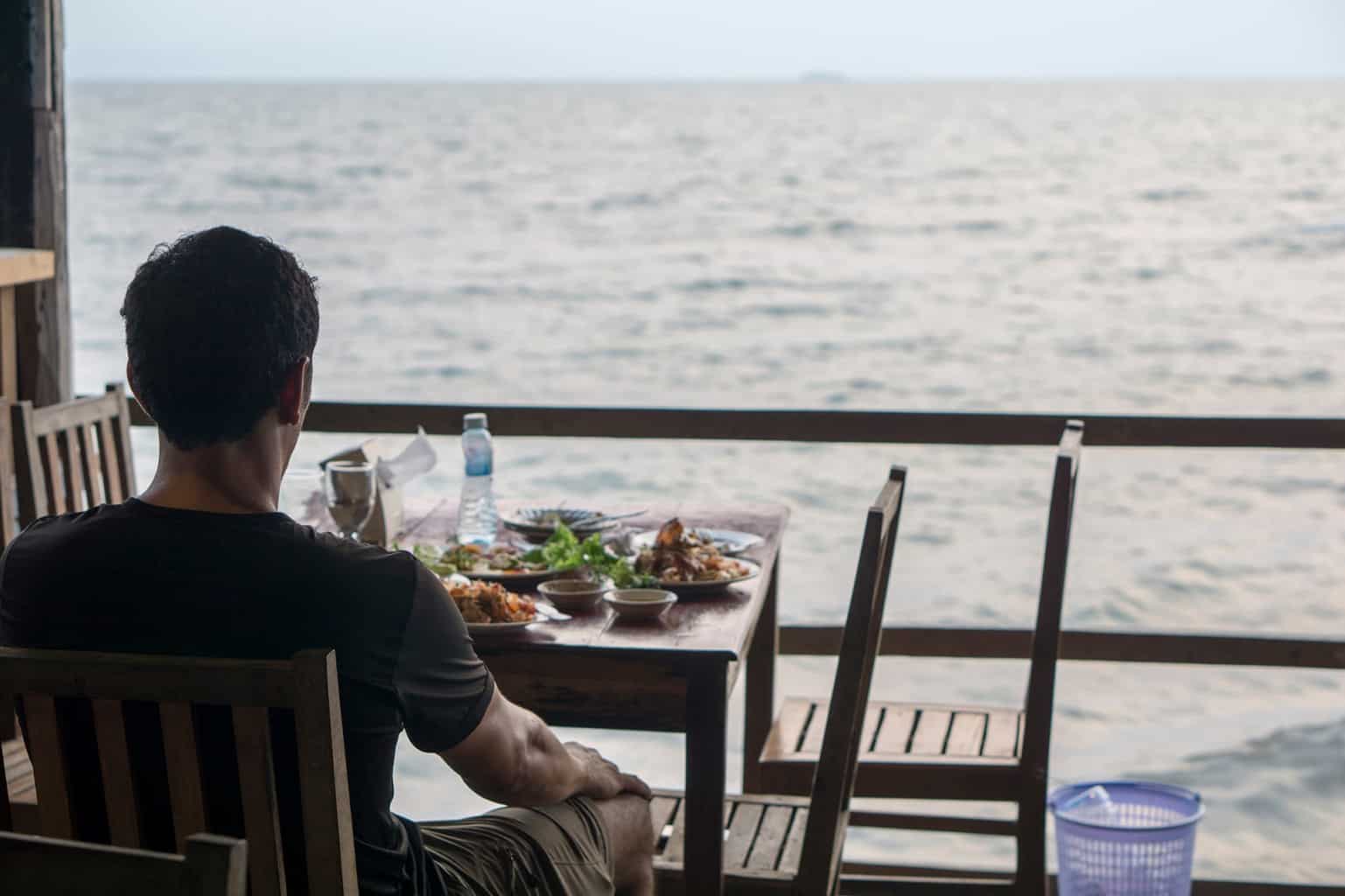 Dinner in Srey Pov. Kep, Cambodia
Street food must-eats

Street food in Kep
Head down to the crab market and you'll find all sorts of things from the sea skewered on a stick and grilled over coals. Little squid, big fish wrapped in banana leaves, cooked crab you can take away in a polystyrene box along with some rice.
Get there early in the day for the freshest catch and have a seafood picnic for breakfast on the waterfront.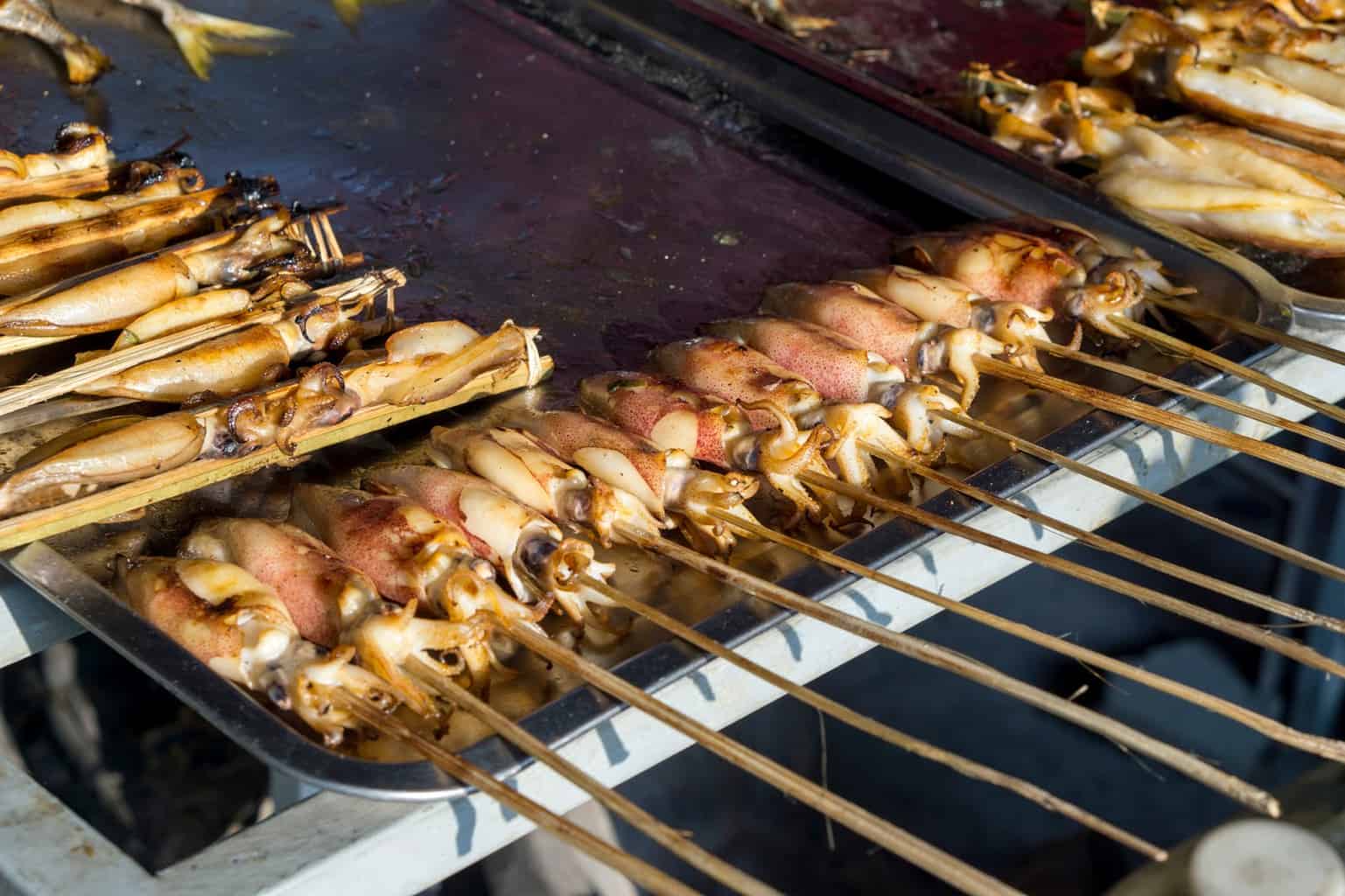 Squid street food at the Crab Market. Kep, Cambodia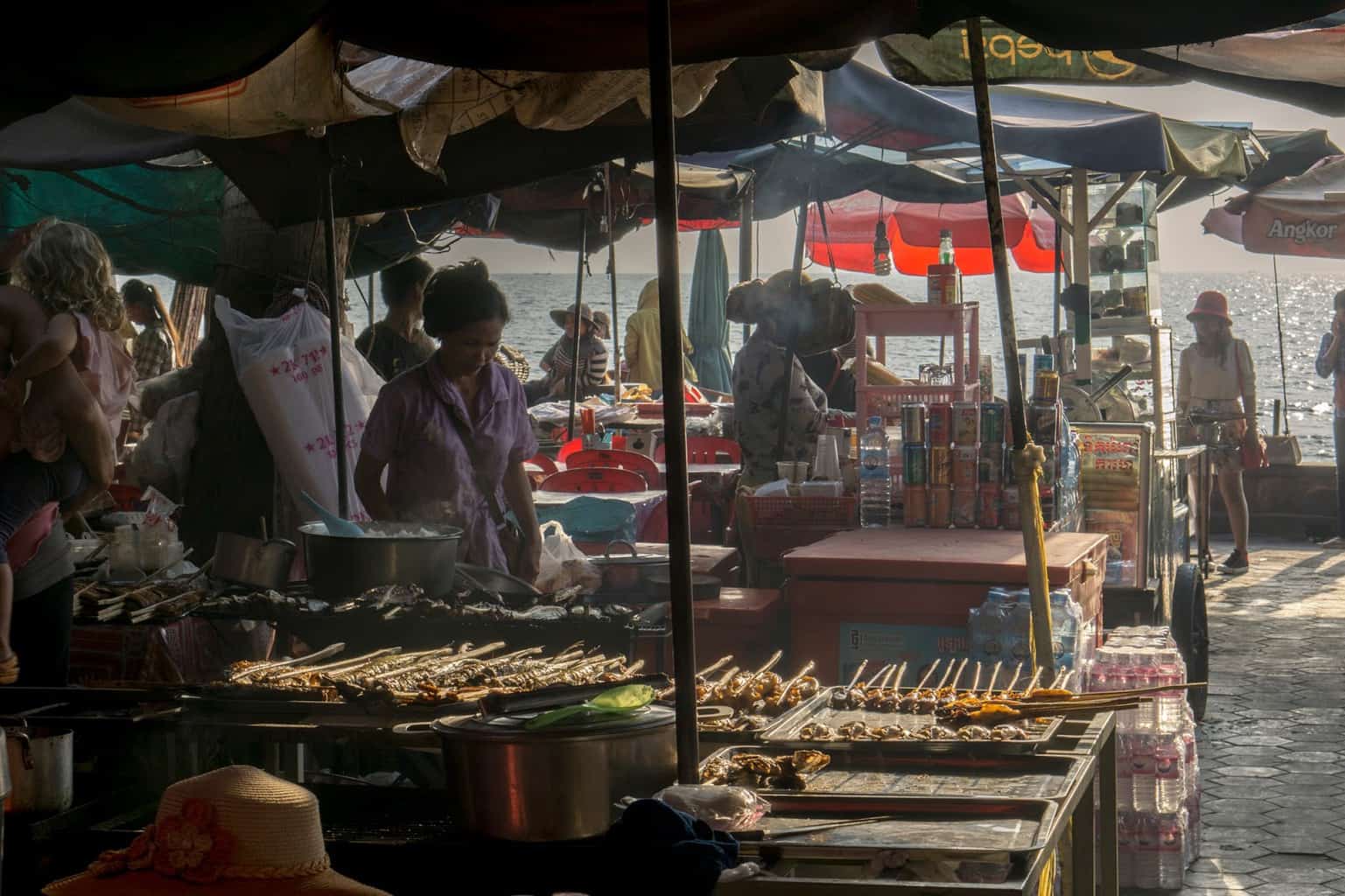 Crab market. Kep, Cambodia
Did you know?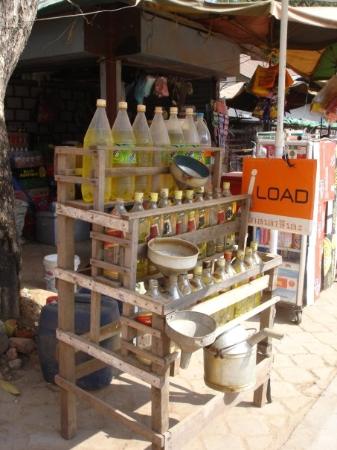 mystery roadside yellow
liquid for sale – revealed
Mystery yellow liquid for sale. Every time Matt and I were in a car passing through rural Cambodia, or in a tuk tuk in the city, we would see roadside vendors with rows of 2 litre soft drink bottles filled with a yellow liquid for sale.
We'd been racking our brains as to what they could be. Some sort of home brew? Big bottles of funky looking tea? Pee?
Then Matt declared triumphantly one day, 'I've figured out what the yellow liquid is. It's petrol!'
I did a quick Google search and low and behold, he'd got it. Sure enough, we witnessed someone buy one of these bottles and funnel it into the tank of his scooter the next day.
I'm not sure that's the safest way to be storing petrol. But hey, welcome to Cambodia!
My insider tips
Keeping insects from your light. The one real annoyance about sleeping in an unsealed property is that once it gets dark, putting on the room light means you'll get every insect surrounding your hut, coming into your hut.
On the first night, we had the main light off but kept the smaller bathroom light on, whilst I was on my laptop on the bed under the mosquito net.
Loads of really tiny little flies, far smaller than the net holes, managed to get through – it seemed they were attracted to the white of the bed sheet. They were all over it, and the white towels in the bathroom. They didn't bite, more an annoyance. Once we turned the lights off, they soon disappeared.
It's no fun stumbling around in the dark all evening though. What we figured out is that if you turn on the torch function of your mobile phone and position it high up, somewhere like a shelf or ledge, and point the light downwards, insects don't seem to see the light source.
It's more than enough light to illuminate a space for you to see what you're doing. Problem solved.
W
Highlight / Lowlight
Highlight. Those who have visited SE Asia will be familiar with the nocturnal call of the Tokay geckho. I first heard it this week; the unsealed huts at Khmer Hands make it feel as though you could be sleeping out in the open, such is the racket from the night time critters – bring ear plugs.
This reptile's call is surely one of the most comical in the animal kingdom. Because after the initial chatter, with each repeat, it sounds like it increasingly just cannot be arsed.
It's like this lizard has given up on the whole prospect of finding a mate. It ends on a 'what's the point' tonal fall. I think it's truly excellent.
Have a listen below (ignore the video) and tell me this doesn't make you chuckle.
Lowlight. The first night in the hut was a really terrible sleep. It turns out foam mattresses and I are not friends. The depressions made by the weight of the body is the exact opposite to what my lower back – and the pain I occasionally get in it – needs. I woke up very achy and acutely tired.
But it was nothing a few blankets to pad out the depressions couldn't sort out for the following nights.
Next week

Country number six! We say farewell to Cambodia and hello to Thailand. Specifically, the city of Chiang Mai in the north.
Postcards
Kep, Cambodia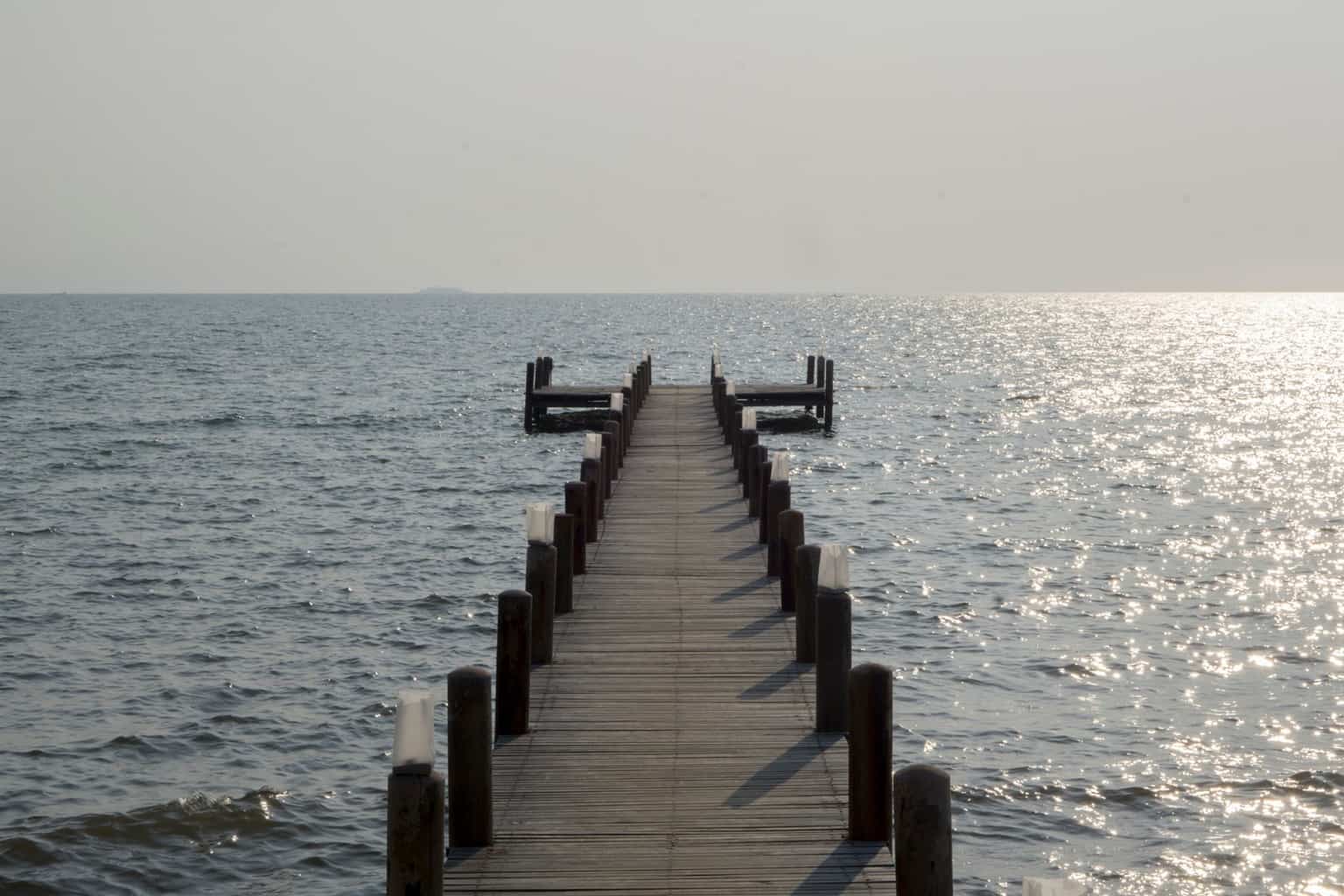 Kep, Cambodia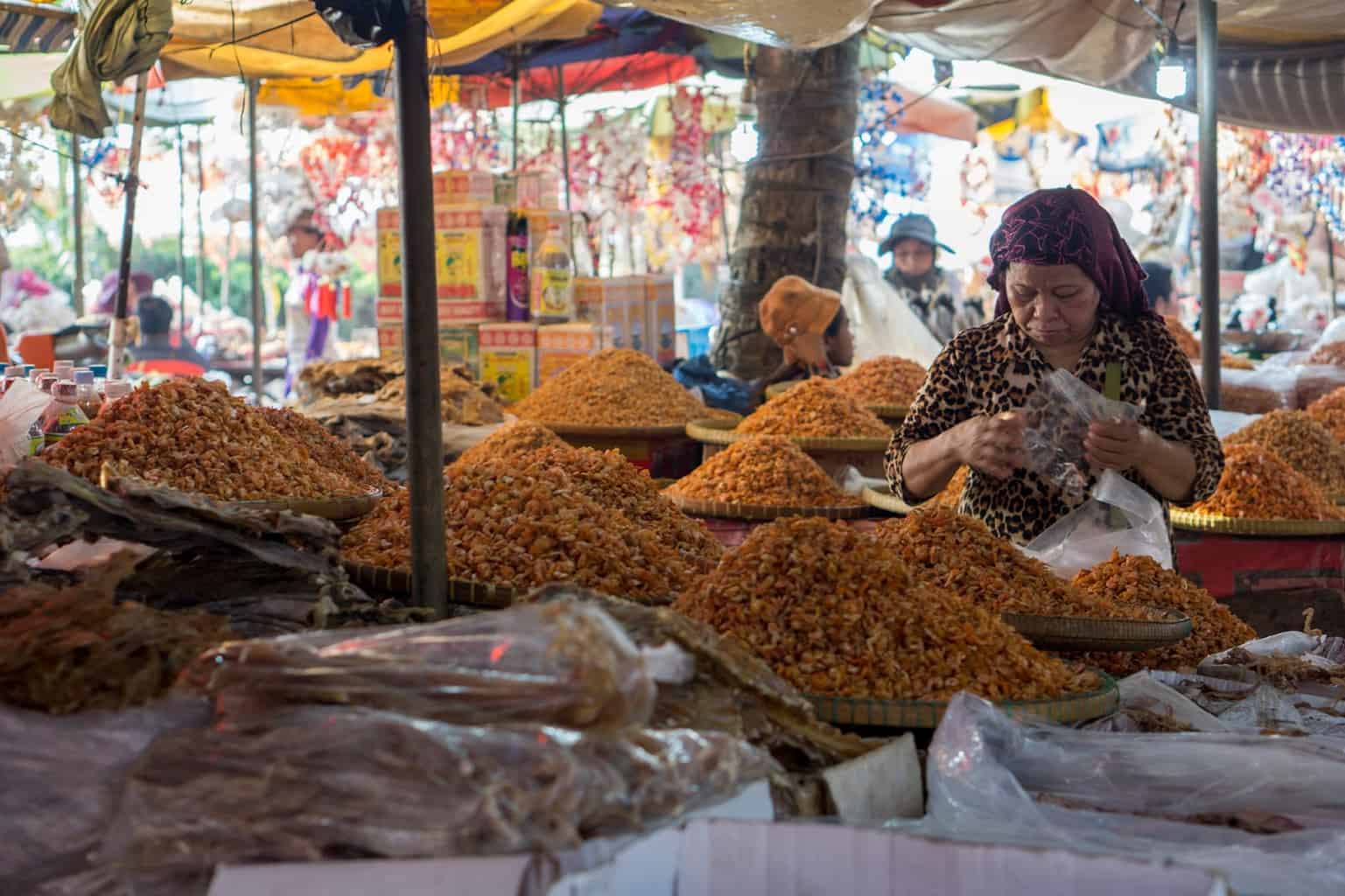 Crab market. Kep, Cambodia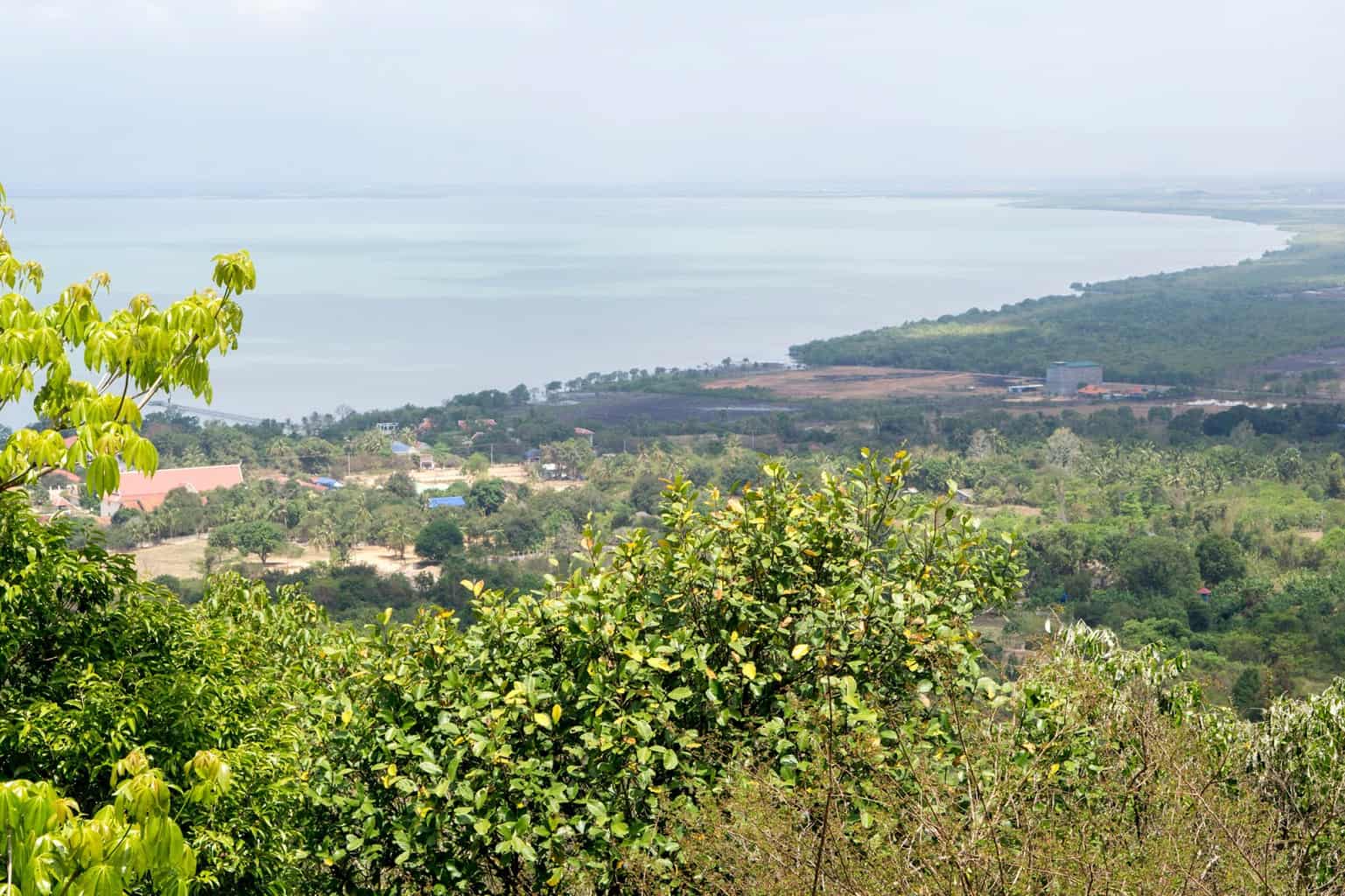 View from the top of Kep National Park. Kep, Cambodia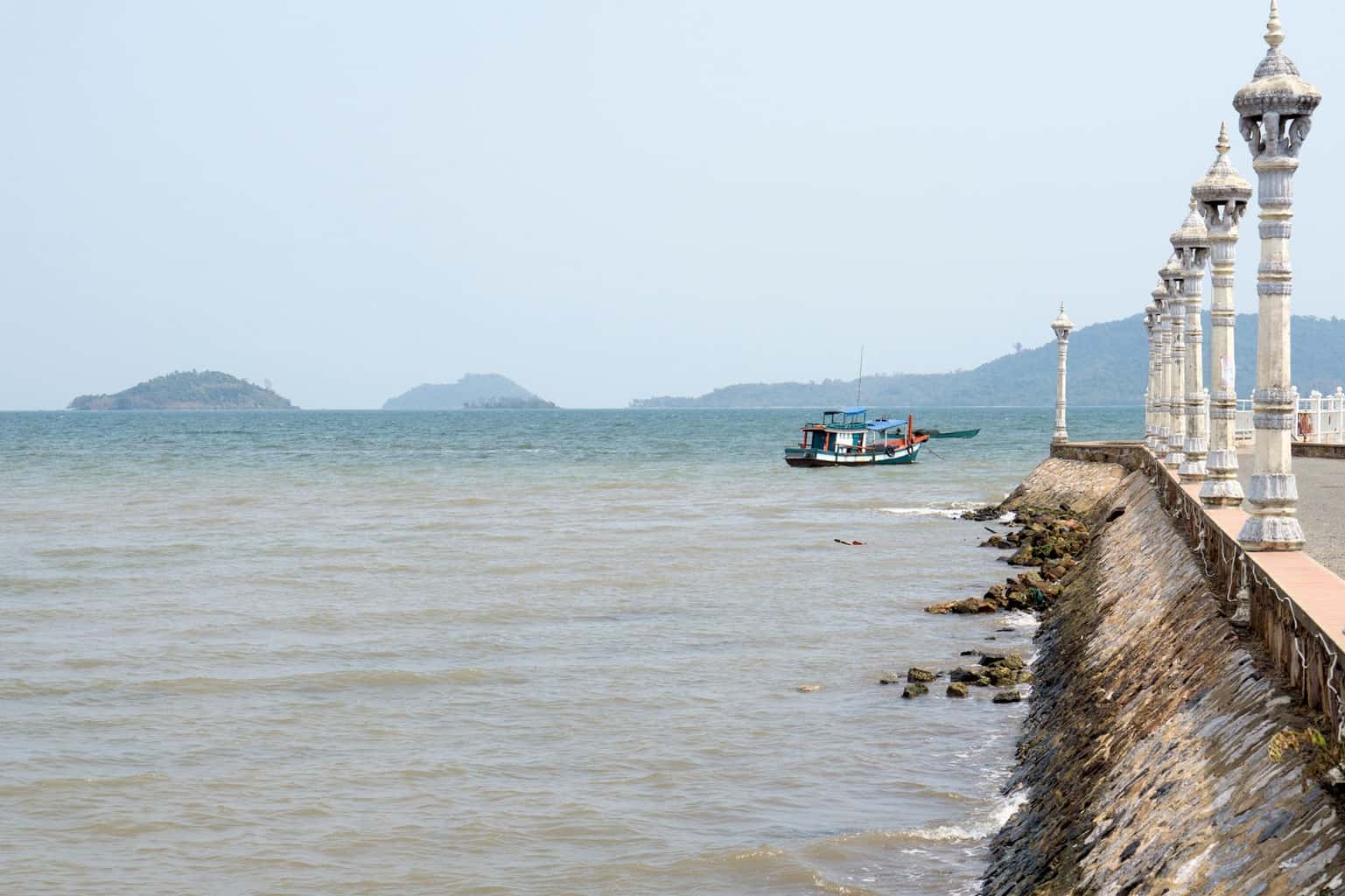 Kep, Cambodia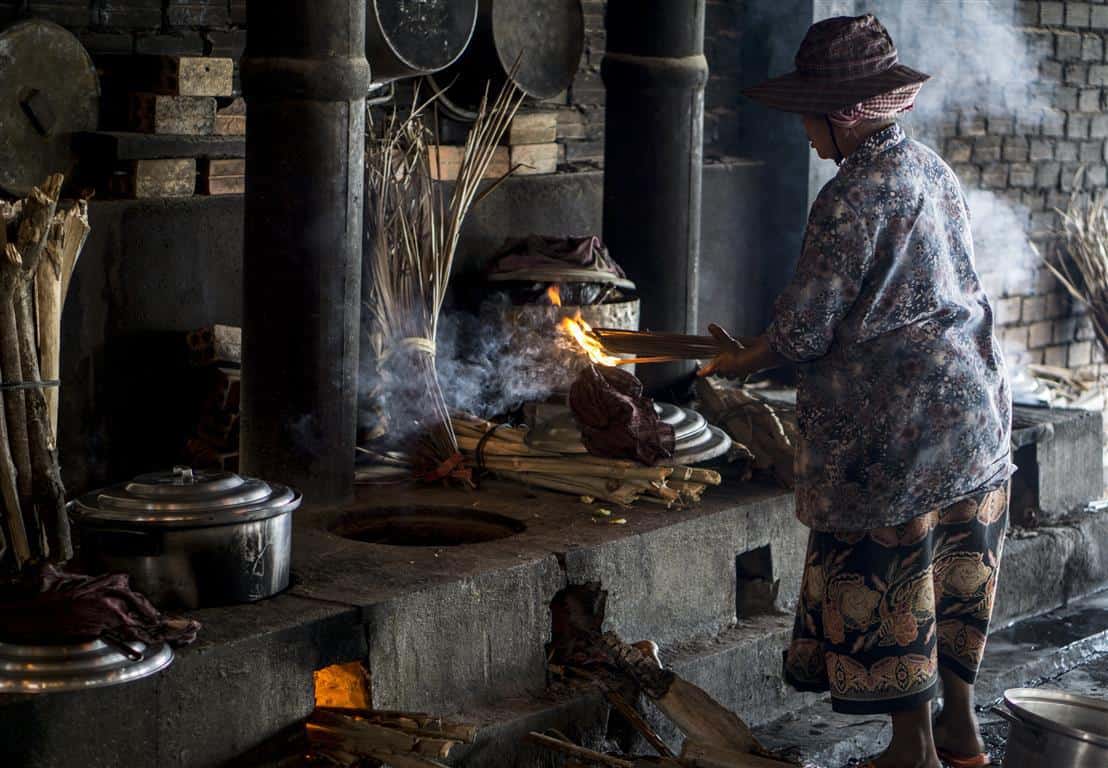 Crab market. Kep, Cambodia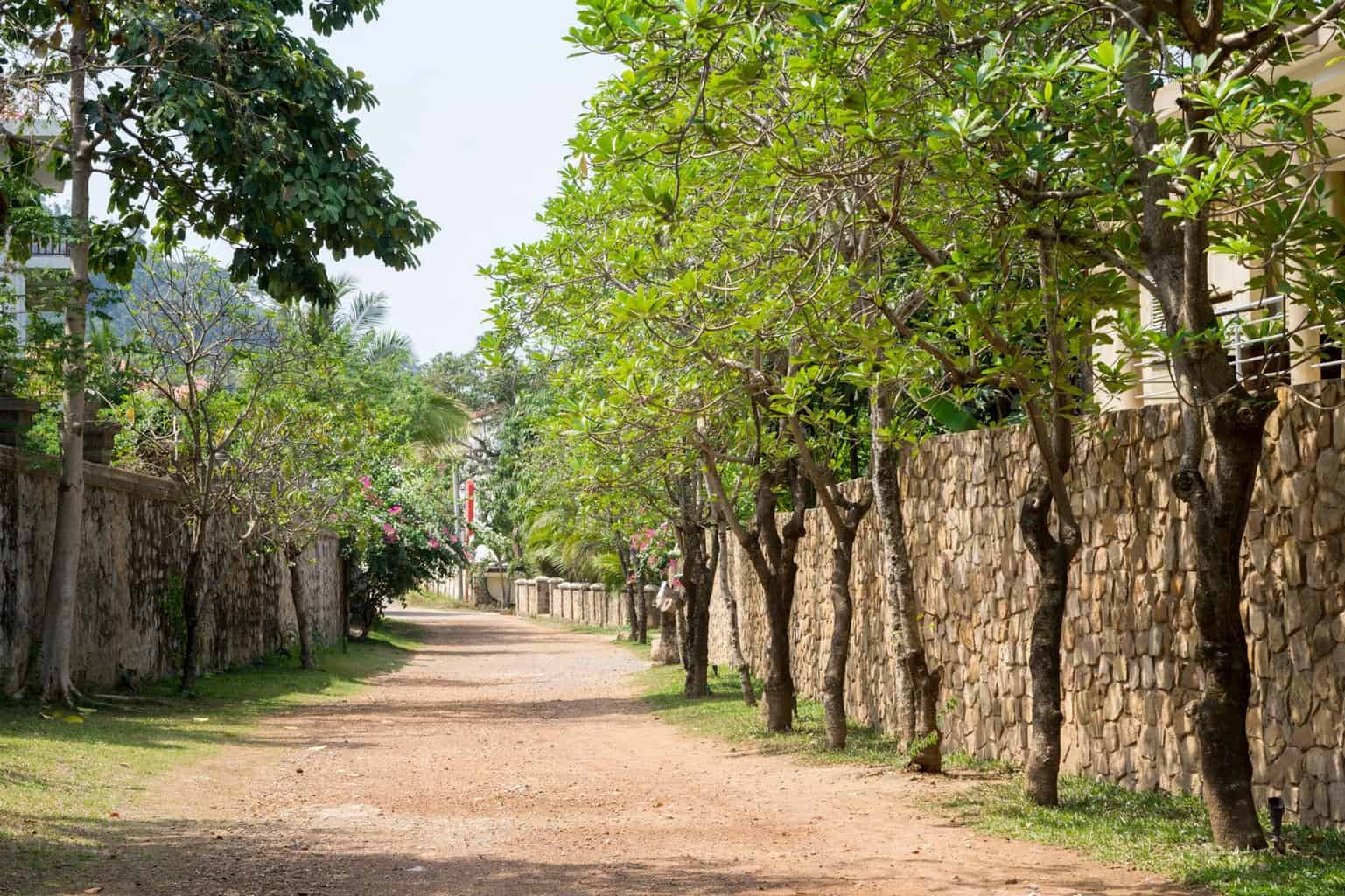 Kep, Cambodia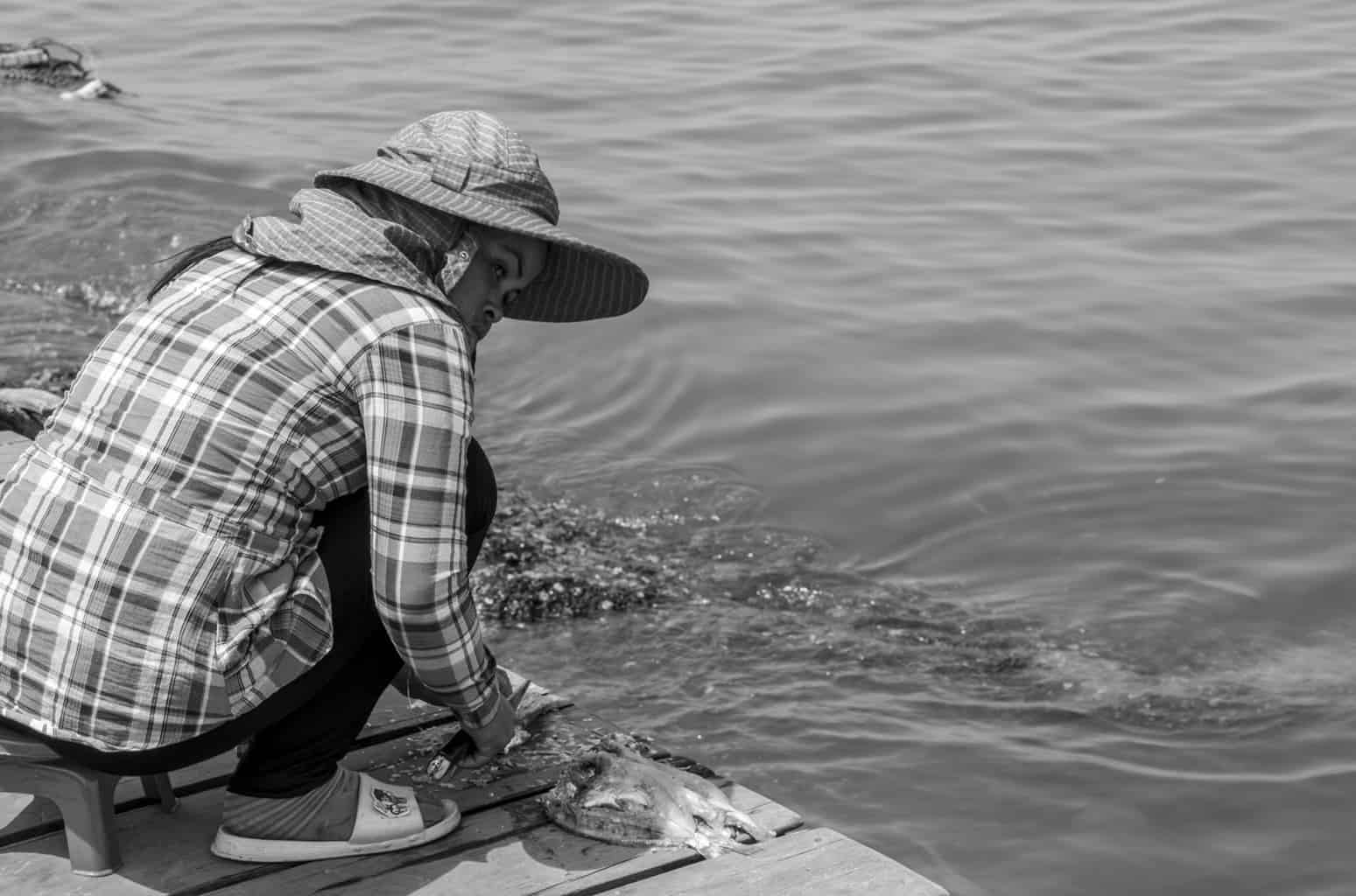 Kep, Cambodia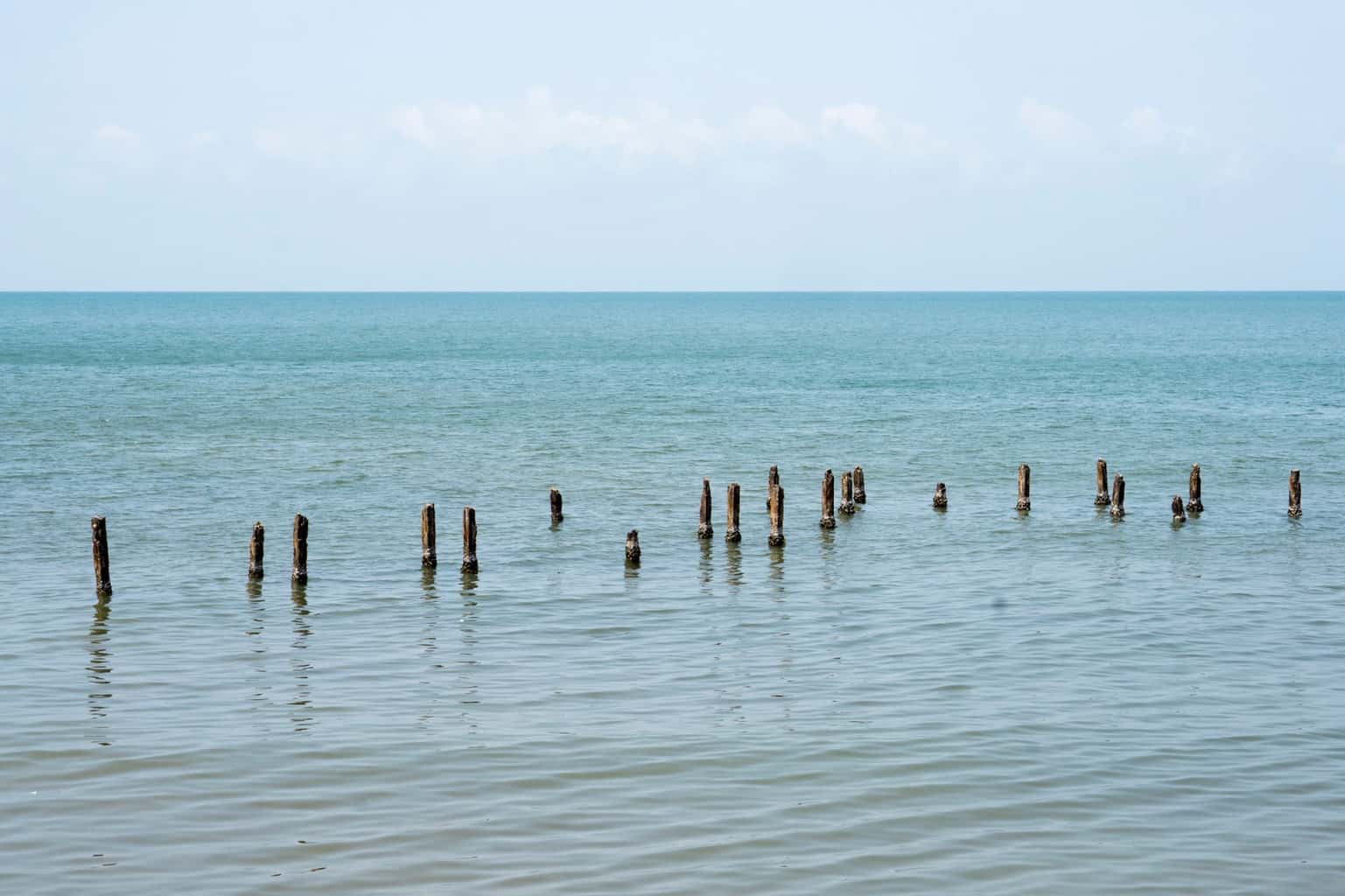 Kep, Cambodia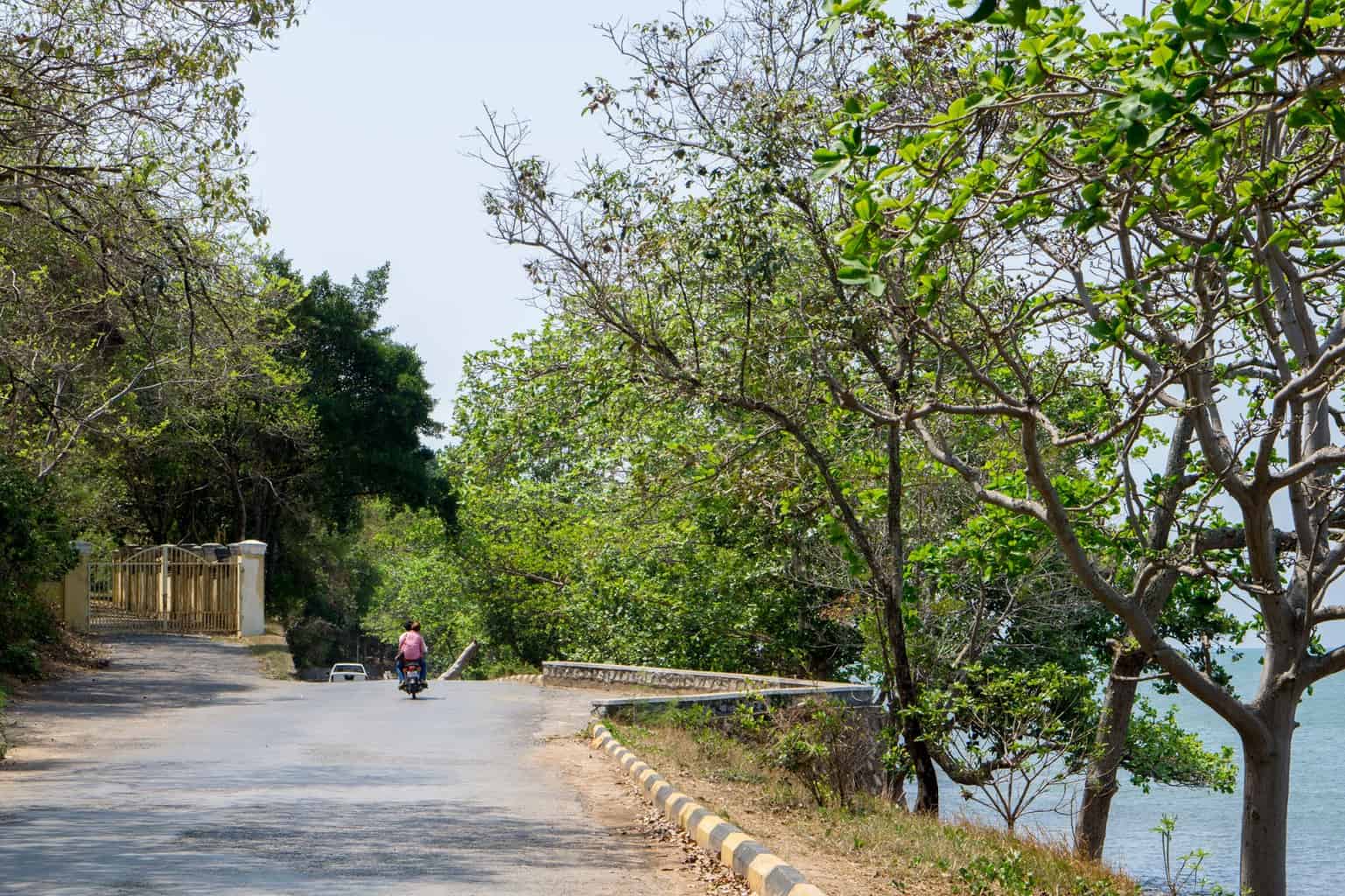 Kep, Cambodia









Related posts
Week 0: Gone travelling. London – see you in nine months

Week 1: INDIA – Mumbai → Goa
Week 2: INDIA – Bangalore → Mysore → Wayanad
Week 3: INDIA – Kochi → Allepey → Kollam → Madurai
Week 4: INDIA – Pondicherry → Chennai → Mumbai

Week 5: INDIA – Varanasi → Udaipur → Jaipur → Delhi
Week 6: TAIWAN – Taipei
Week 7: CHINA & VIETNAM – Hong Kong → Hanoi
Week 8: VIETNAM – Sapa → Hanoi → Ha Long Bay → Hanoi

Week 9: VIETNAM – Hue → Hoi An
Week 10: VIETNAM – 6 day / 5 night motorbike tour from Hoi An to Da Lat
Week 11: VIETNAM – Da Lat → Nha Trang
Week 12: VIETNAM – HCMC → Mekong Delta → HCMC

Week 13: CAMBODIA – Siem Reap (and Angkor Wat) → Phnom Penh
Week 14: CAMBODIA – Sihanoukville & Koh Rong Samloem Island