Last Updated on June 17, 2020 by Leyla Kazim
Image of the week: monk-lings catching leaves blown from the trees in a temple courtyard on a blustery afternoon
More images at the end of post
l
Where in the world
A short flight from Phnom Penh in Cambodia to Chiang Mai in north west Thailand, where we did a healthy stint and stayed for seven nights. Hello country number six.
Thoughts
Thailand. Arguably the most accessible and easy to negotiate of the Southeast Asian countries. The place that almost everyone who's been to this part of the world has visited.
Well, we finally meet. And my first impressions? What took me so long.
The first thing I notice about Chiang Mai, Thailand's largest city in the north, is that there is order. Traffic rules and lanes are obeyed, drivers slow down on the approach as you cross the road (I haven't experienced that for a while), and pavements are free from the clutter of motorbikes.
It's quite a contrast from Vietnam's Ho Chi Minh City, for example, where to counteract one way traffic, motorbikes create a new lane going in the opposite direction – on the pavement. It's fun trying to work out if you as a pedestrian are in fact safer on the road.
(But Vietnam is not even close to the road pandemonium that is Mumbai, which can only be described as death-defying, should you survive it).
Attitudes are respectful and polite. I love the greeting of the palms together sawatdee ka (see My insider tips below) and the fact people will stop and let you pass in a crowded space, rather than barging through.
In a country known as 'the land of smiles', smiles are a currency unto themselves, where exchanging one with someone in passing goes a long way. I do, to everyone, and almost always get an even bigger one in return. It makes you feel good; I sometimes forget that as a Londoner.
An observation I can't help but make; there's a higher number of fuller figures here. In a continent that's known for its sleight frames, I put this down to the heavy presence of western chains – Starbucks, Mister Donut, Dunkin' Donuts, and the rest. Even Tescos and Boots have made it to Thailand.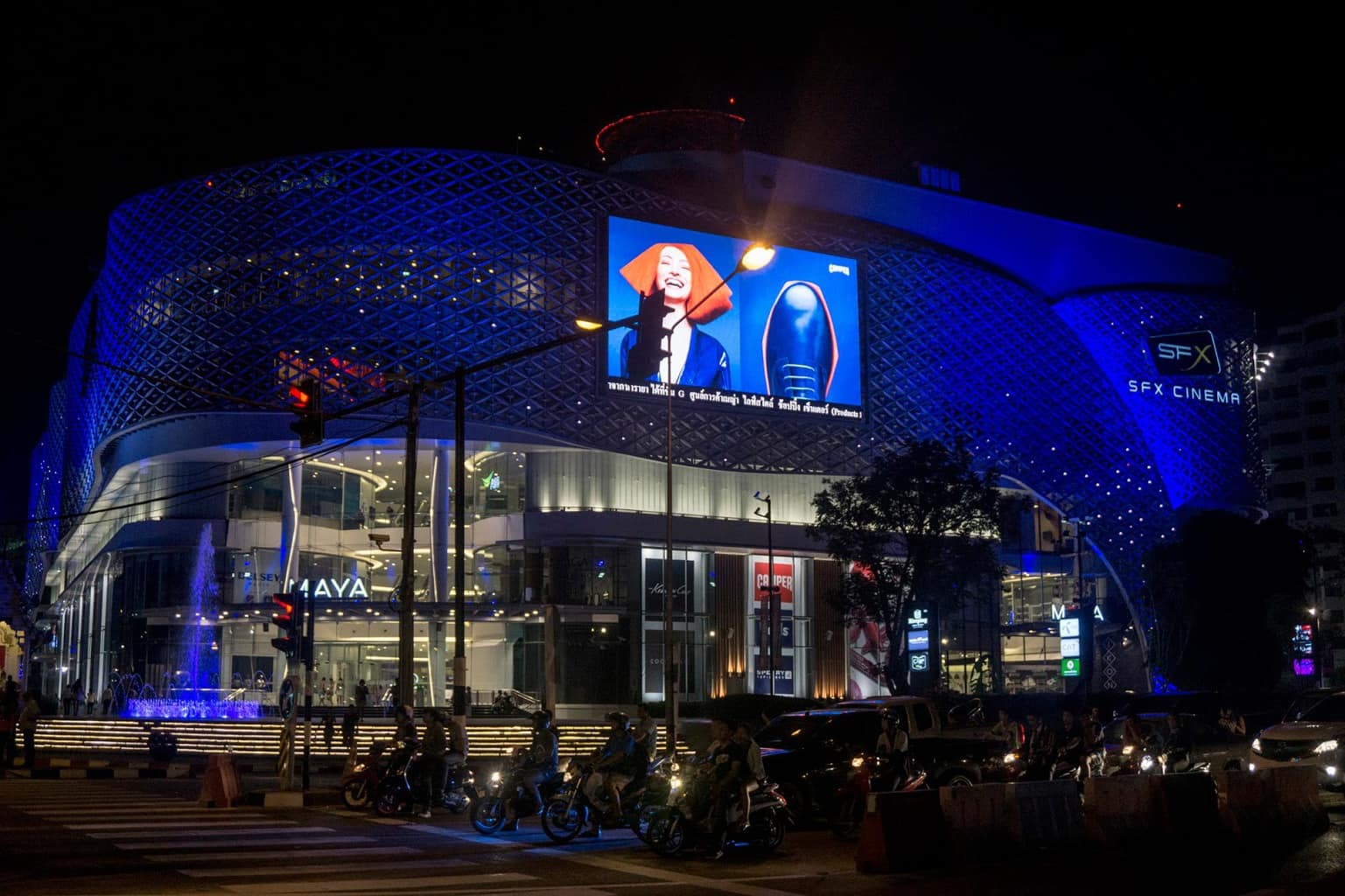 Mall in Nimmanheminda, Chiang Mai
l
The presence of the west is always a good indication of an Asian city's wealth. It means the overseas want to invest, which leads to more progression. This can also be seen in the fact that there are noticeably a lot more cars here, as opposed to the motorbikes and mopeds which dominate the roads in Vietnam and Cambodia. More cars, more money.
We spent a lot of time in the trendy area around Nimmanheminda (where our accommodation was) where you can't walk five feet without coming across another hip and independent cafe. It's where the young urban professionals come to play with its glossy malls and specialist boutiques – yuppie-central.


I like the cacophonous chatter of birds settling down to roost on the overhead electricity cabling every evening we'd walk back to our room. I liked the courtyards of temples more than the temples themselves (once you've seen one..), with monks going about their day and quiet spots to sit in the shade. I like that the city is not too chaotic, laid back and surrounded by hills; the calls of the countryside just a short drive away.
And I love that great looking food is absolutely everywhere on the street, and that the Thais are clearly obsessed with it. Kindred spirits (a load on food below).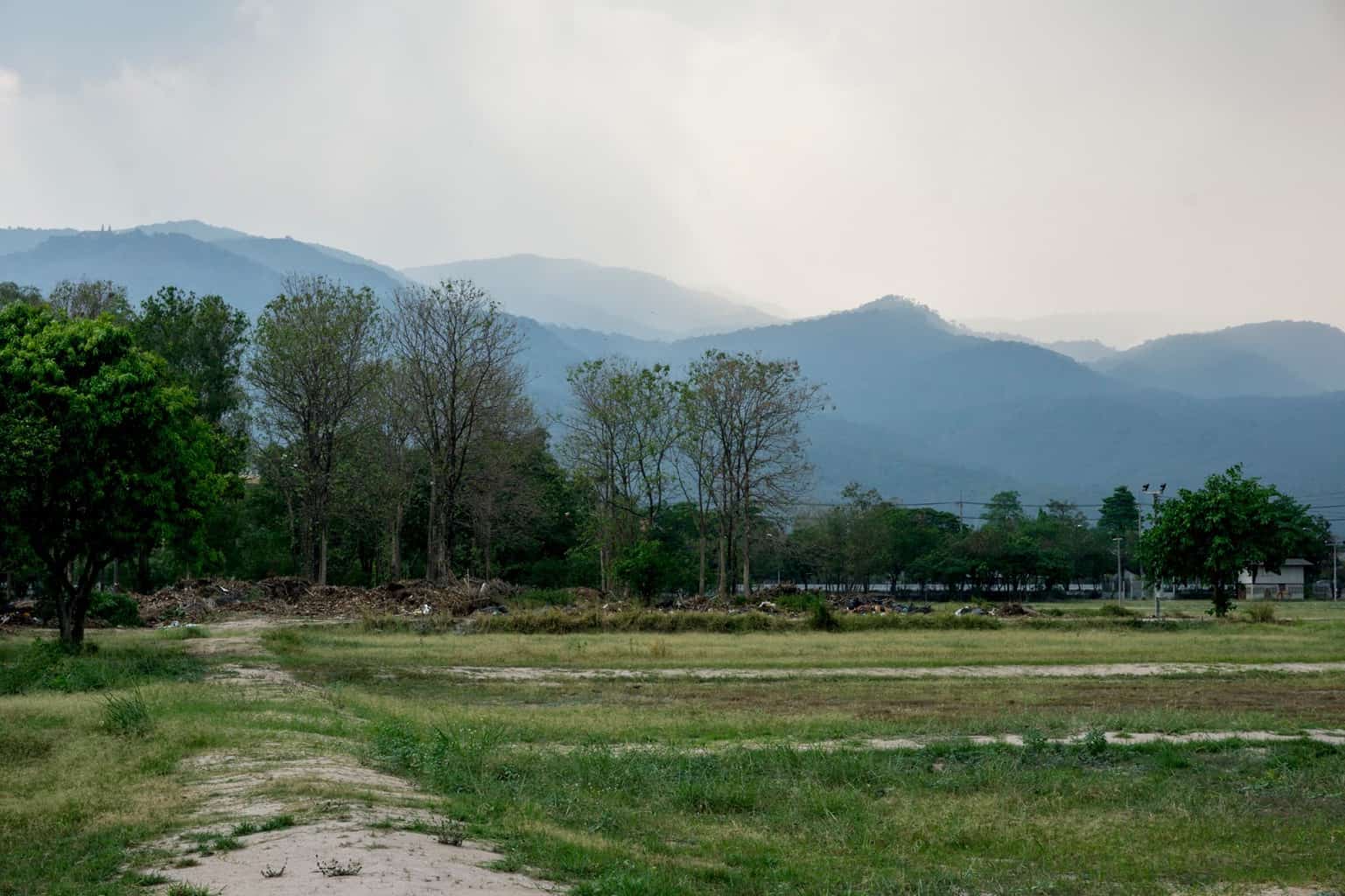 Chiang Mai's surrounding hills
l
I've been in a constant state of sweat for the past week; it's been hitting the high 30's. I've had two afternoons occupied by monster smog-related medication-resistant hay fever attacks, and I've paid for the chillies in my meals most mornings.
But holy heck, I am loving Chiang Mai.

The best things I ate this week
Where to eat in Chiang Mai


Oh Northern Thai food, how I am falling for thee. With your pork, sticky rice, Burmese influences and dry herbs. There is so much more I want to try.
Virtuous eating and fine coffee beans.
Both Food 4 Thought and Bay's Café were just outside the door to our Air BnB room in Chiang Mai, and both had a strong following.
The former is a western-style health food restaurant turning out wholesome creative dishes free from nasty chemicals. The latter is the adjoining coffee hut run by Bay, specialising in fine beans and the pour over method.
I had a doorstop sandwich made with tofu sesame bread (cool, huh), pumpkin, apple, cranberry, cheese, bacon, and spiced pumpkin sauce, and it was great.
But they're probably most famous for their fully loaded mega-wraps, with daily handmade tortillas, ours stuffed with chickpeas, carrot, peppers, wasabi, mustard mayo and avocado (pic below). There was also a Mexican-style second with chicken, cheese, sour cream, veggies, brown rice and tomato salsa which was stellar, with a great kick.
And Bay rustled up a couple of pour overs at the slow bar, using local beans from Doi Saket in Chiang Mai province. It took about 10 minutes, but good things come to those who wait.

Both found at 5/5 Moo 1, Soi Sudjai, Tanon Khlong Chonlapratarn, Tambon Chang Phuak, Amphoe Mueang Chiang Mai, Chiang Mai 50300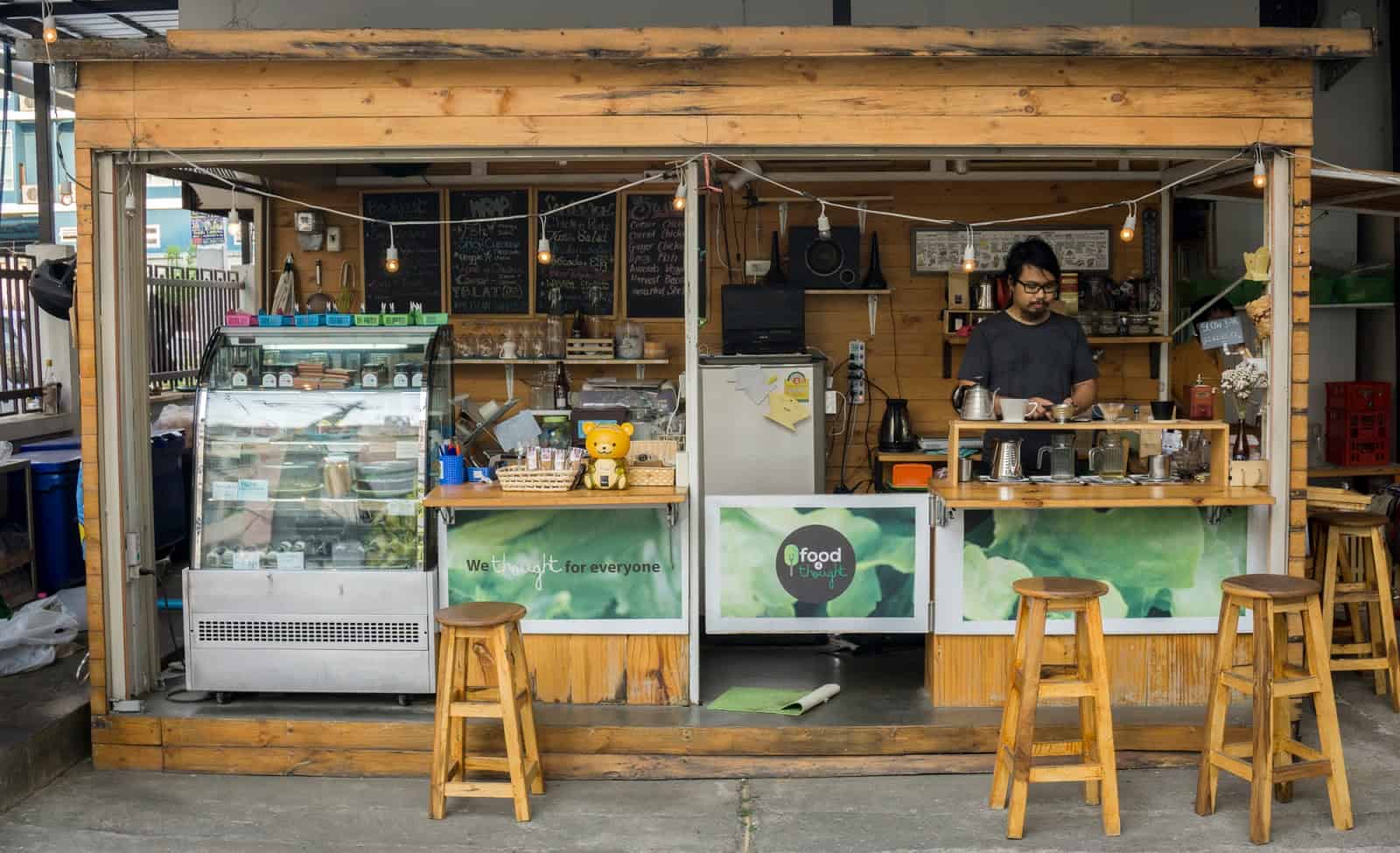 Bay at the slow bar in Bay's Cafe, Chiang Mai
Nam prik ong; 'Thai bolognese'
Nam prik ong is a type of northern Thai dip (nam prik), of which there are many. This one is mild and with minced pork and tomato. It tastes a lot like a really good ragu, and when I spoke to John Chantarasak – half Thai and a chef at Thai restaurant Som Saa in East London (excellent by the way, go if you find yourself there) – he told me it's also known as 'Thai bolognese'.
It comes with a pile of crisp pork rinds (deep-fried pig skin, around which it is almost impossible to exercise self-restraint) for good pork-on-pork action, as well as blanched veg – winter squash, green cabbage, carrots, long beans. It seems to be quite similar in format to Cambodia's prahok ktis, but different flavours. Both are sublime.
You'll find this everywhere, but we had this at Khun Mor's, a reasonably priced restaurant considering its Nimmanhemin location, consistently turning out well prepared and authentic northern Thai food with no gimmicks.
Khun Mor's, Western end of Nimmanhemin Soi 17 (near Nimmanhemin Rd itself)
Sichuan heat at Shang Garden
Chef Chen is from Chengdu, China and joined Shang Garden at the Shangri-La Chiang Mai as Executive Head Chef just days before our visit.
He can't speak English or Thai, and his staff can't speak Chinese. The restaurant kindly hosted a meal for us at the chef's table with a view into how this kitchen worked; it was fascinating watching them communicate in 'the language of chefs' – hand gestures, pointing, head nods and shakes, a lot of eyes, and smiling, laughing. It seemed to work.
With him, Chef Chen brings Sichuan specialities. The bouncy, daily made dan dan noodles with Sichuan chilli and a chilli, sesame and peanut sauce was my favourite. The Sichuan beef with mushrooms, a close second. Both packing punches. Both exceptionally moreish.
Shang Garden, Shangri-La Chiang Mai, 89/8 Chang Klan Road, Muang, Chiang Mai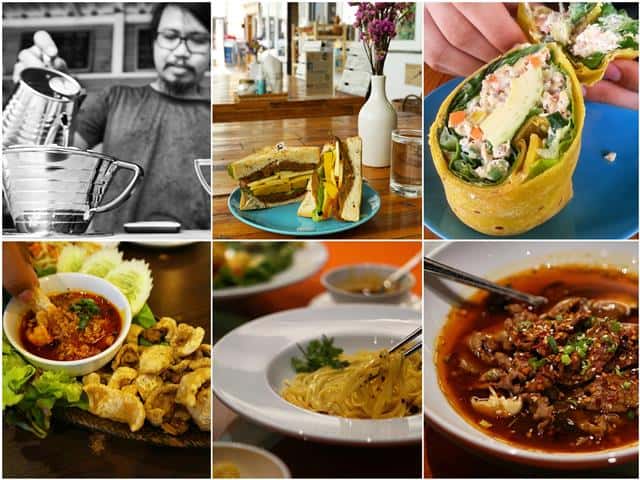 top: Bay's coffee, the tofu sesame bread sandwich, and a loaded wrap from Food 4 Thought
bottom: nam prik ong dip, and the sichuan noodles and sichuan beef from Shang Garden
S
Street food must-eats
Street food in Chiang Mai
Warorot Market is a buzzing hive of daytime activity, and arguably the best place in town to witness and take part in local Thai shopping at bargain prices. It's two minutes walk north from the Chiang Mai Night Bazaar and sits beside the Ping River.
Inside on the ground floor, and around the outside edges, you'll find the food. And boy, is there a lot of it.
I barely made a dent; every time I turned my head there was something else, just as appetising as the current thing I was scoffing, outrageously flirting with me.
My advice: graze. Keep buying snacks and bites until you can't stomach another. Then come back the next day and do it again.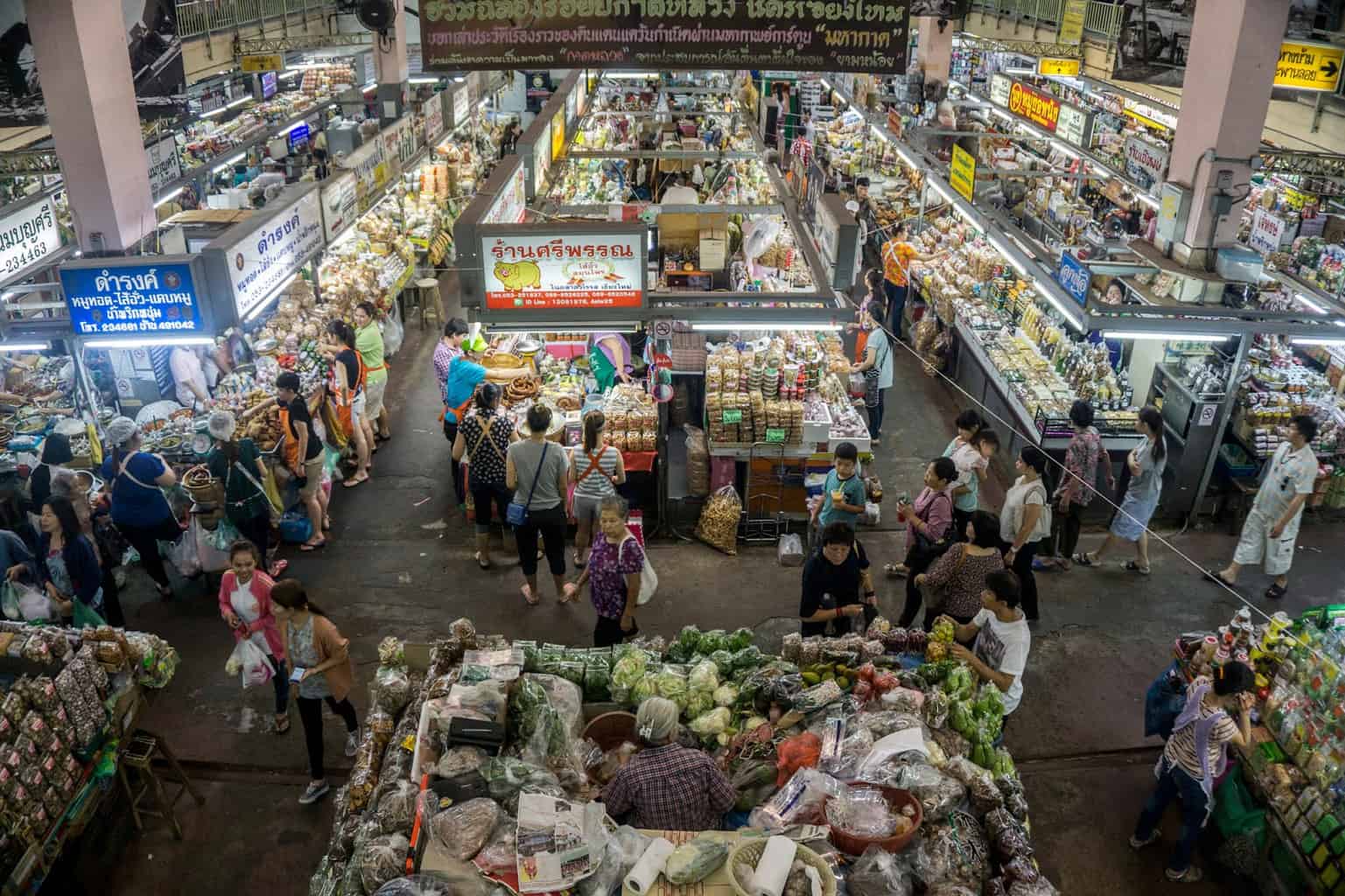 Warorot Market, Chiang Mai
l
Below are just a handful of things to look out for. I'll be back in Chiang Mai in a week or so; Warorot market will be seeing me again.
Sai ua (aromatic Northern Thai sausage) at Dam Rong.
Gorgeous. Bloody fantastic. Scalding hot pork sausage crammed to bursting with a heady mix of lemongrass, kaffir lime leaves, galangal, red chilli paste, and the rest. So much flavour within those skins. You'll find these everywhere, but Dam Rong is the most popular in Warorot, and consistently busy.
You'll pay for it by the weight – use your hands to indicate what length of sausage you want – and they'll chop it up for you. Eat it straight from the bag. Rice? No need.
These guys also specialise in moo tod (fried pork). Succulent, lightly battered loins you can gnaw on as you browse the aisles for your next snack.
Khai soi (curry noodle soup)
And then, to the seated restaurant area of the market – down a few steps from the ground floor – with a row of hair-netted women tossing noodles and pounding the hell out of curry pastes.
They're a line of different establishments, serving an array of full meals to hungry shoppers fading in the Chiang Mai heat; noodle soups, curries, inviting vats of miscellaneous steaming stuff I couldn't identify. Point at anything and you won't go far wrong.
We had pork khao soi (curry noodle soup); another northern Thai dish (along with that sausage above) I was told to seek out.
Burmese-influenced, and also seen in northern Laos, it's a mix of boiled and deep-fried egg noodles, pickled cabbage (there's a lot of this about, excellent), raw shallots, lime, ground chillies, the meat of your choice, and a broth made from curry paste and coconut milk. Thumbs up.
Khao kriap pak maw (sweet / savoury dumplings)
Somewhere between a dessert and a savoury dumpling, it'a hard to tell. More evidence of that finely tuned Thai skill; balancing sweet with salty.
The skins are rice flour and tapioca starch, stuffed with a delightful package of minced pork, coriander roots, garlic, black pepper, peanuts, palm sugar, soy sauce, radish.
The colourings are natural – green from pandan leaves and blue from pea flowers. Topped with a drizzle of coconut milk, a sprinkle of crunchy fried garlic and handed over in a banana leaf. I'd say these leaned slightly more towards sweet, so a good one to have at the end of your graze.


Kanom ba bin (coconut pancakes)
Coconut, pandan, chicken, rolled around little sausages – have whatever you fancy. It's a rice flour batter and these ones had shredded coconut. A favourite sweet treat on the streets of Thailand. Mere pennies.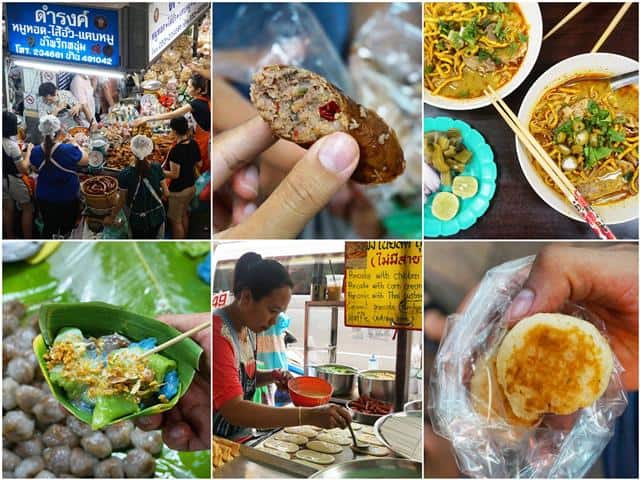 top: the blue sign of Dam Rong, their gorgeous sai ua sausage, curry noodles
bottom: the sweet/savoury dumplings, lady making pancakes, coconut pancake

Then there's a little strip of night time street food stalls near Chang Pheuak Gate (North Gate).
Khao ka moo (slow-cooked pork leg)
The lady to get this from wears a cowboy hat so you can spot her more easily – clever marketing. Her stall creaks under the weight of pork leg, with huge metal vats full of more gloriously braised dark, flaking porkiness.
Take a seat, indicate to the servers how many plates you want, and it will come with rice, pickled cabbage and an egg.
'God. Shall we get another?' said Matt. That good.
Tom yam (spicy soup)
£*#%>&$ hot. Just look at the colour of it. Loaded with galangal, lemongrass, kaffir lime leaves. Spicy, sour, salty, and teetering on the pleasure / pain boundary; I paid for it the next day. But as is so often the case, it was worth it.
Fruit smoothies.
What better option for a refreshing, palate-cooling dessert than fresh and extortionately sweet fruit wazzed with ice.
Street stalls making these slushies are easy to find, along with places selling freshly squeezed juices or just the fruit itself, which vendors will happily cut up for you to eat on the go. Fruit is a very popular snack in Thailand and it's easy to see why; they are heavy with fructose.
My favourite is mango, because I just can't get enough of these alphonso-like SE Asian ones. A whole one goes in, along with water and ice. 40p and better for you than an ice cream.
It's worth noting some places will add sugar syrup which is totally unnecessary, so be sure to ask for no sugar just in case.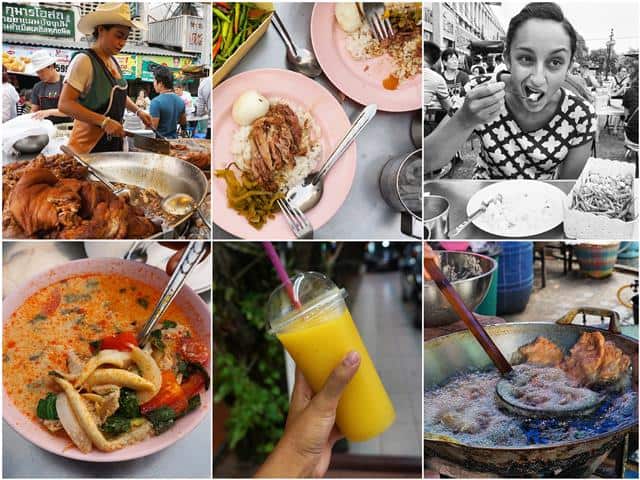 top: khao ka moo (slow-cooked pork leg), my rice face
bottom: chicken tom yam, mango smoothie, sizzling moo tod (fried pork)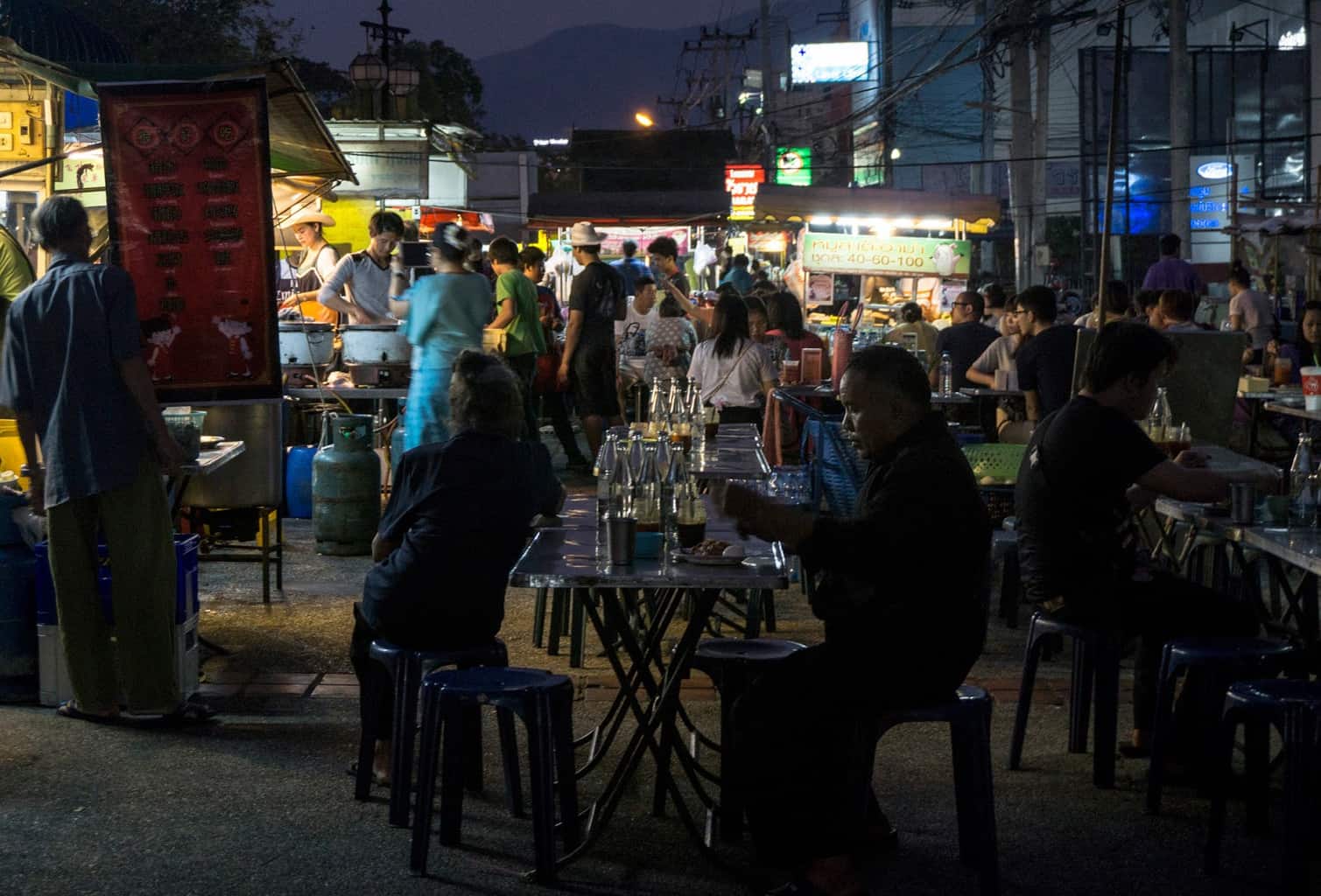 street food near Chang Pheuak Gate (North Gate), Chiang Mai
The crux of the Chiang Mai street food story is, there's loads of it, it all looks great, I'm back in a week, so expect a lot more.
Did you know?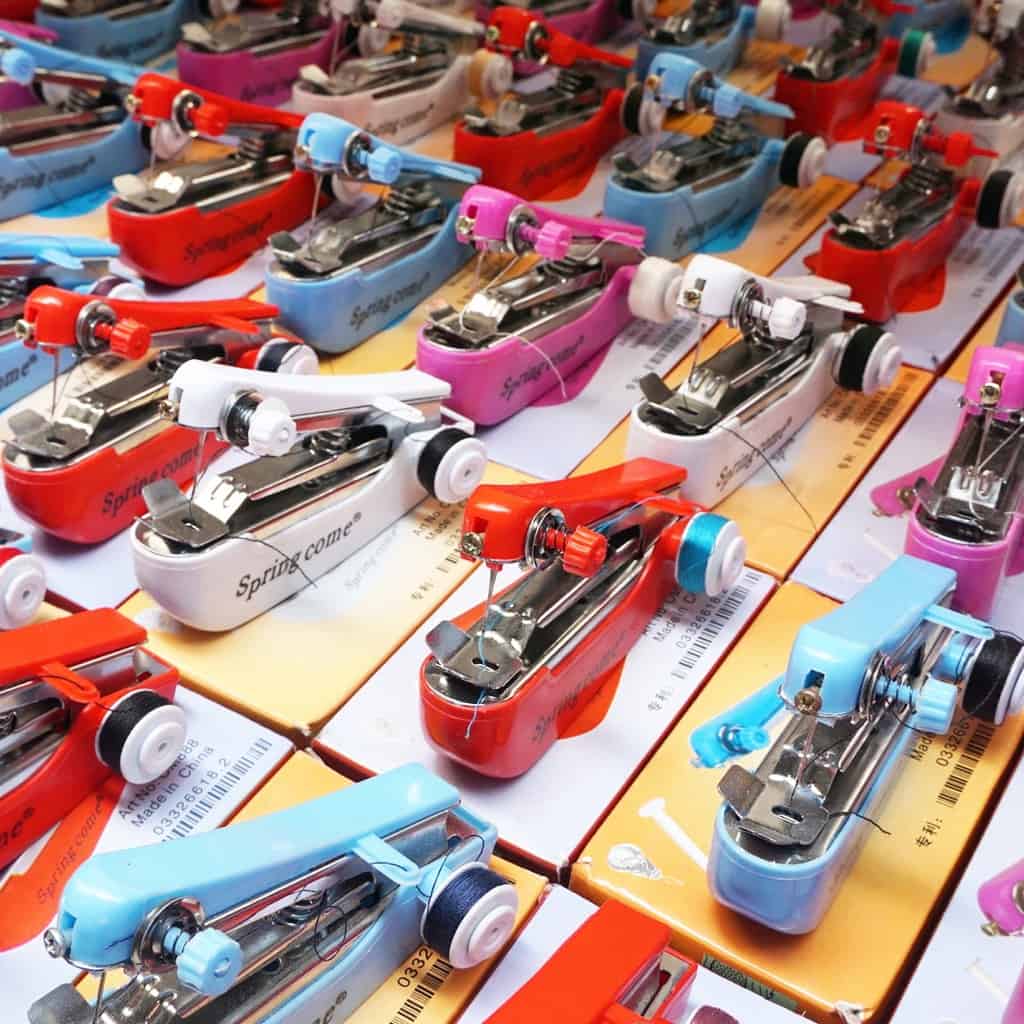 stapler-sized sewing machines
Clever gadgets. This is nothing but ingenious. Stapler-sized sewing machines that whir into action when you squeeze them.
Found for sale at Warorot Market, yours for just two bob. Never put up with a loose hem on the go again. Have these reached the UK? They should.
Mango plums. Marks and Spencer in the UK this week announced that they've started selling Thai mango plums, or marian fruit.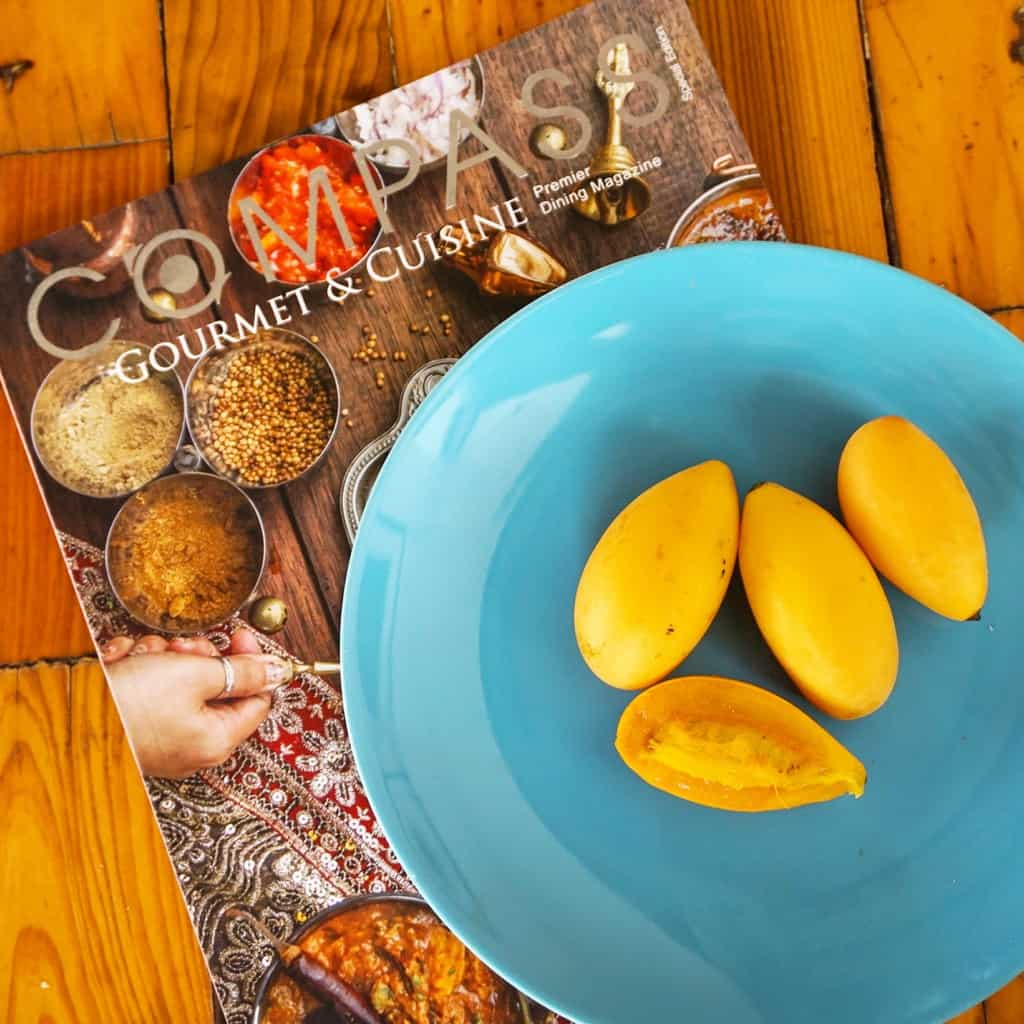 Thai mango plums
Except, they've made it out to be some new and exclusive hybrid they've helped develop: M&S has been working with specialist growers in Thailand for several years to create the new fruit.
Not really. It's not a 'new fruit'. They've been around in Thailand for ages and are available for sale everywhere here.
Regardless, they're lovely. Basically plum-sized mangoes with slightly tougher but edible skins. Although they'll be priced £1 each in Marks, which is extortionate.

My insider tips
Temple dress code. Temples are a place of worship and regarded highly by Thais. When you plan to visit them (and there are a lot of them in Chiang Mai's old quarter), wear full-length trousers (boys and girls) and sleeves up to the elbows.
Or, ladies, carry a shawl with you to cover your shoulders. And of course, take off your shoes before entering.
Thai greetings. It's quite incredible just how effective a respectful greeting is at breaking down cultural barriers.
When entering a business establishment, meeting someone or just passing an elder in the street, saying sawatdee ka (if you're female) or sawatdee khap (if you're male) will in return receive a wide and warm smile.
If you also put your palms together (as in prayer) and bring your thumbs to your chin – or to your nose when addressing the elderly – you'll have a new brigade of Thai friends in no time. The same phrase can be used for goodbye too, which is useful.
Here's a handy article on nine useful Thai phrases to learn, all easy to pronounce, and they'll get you a long way.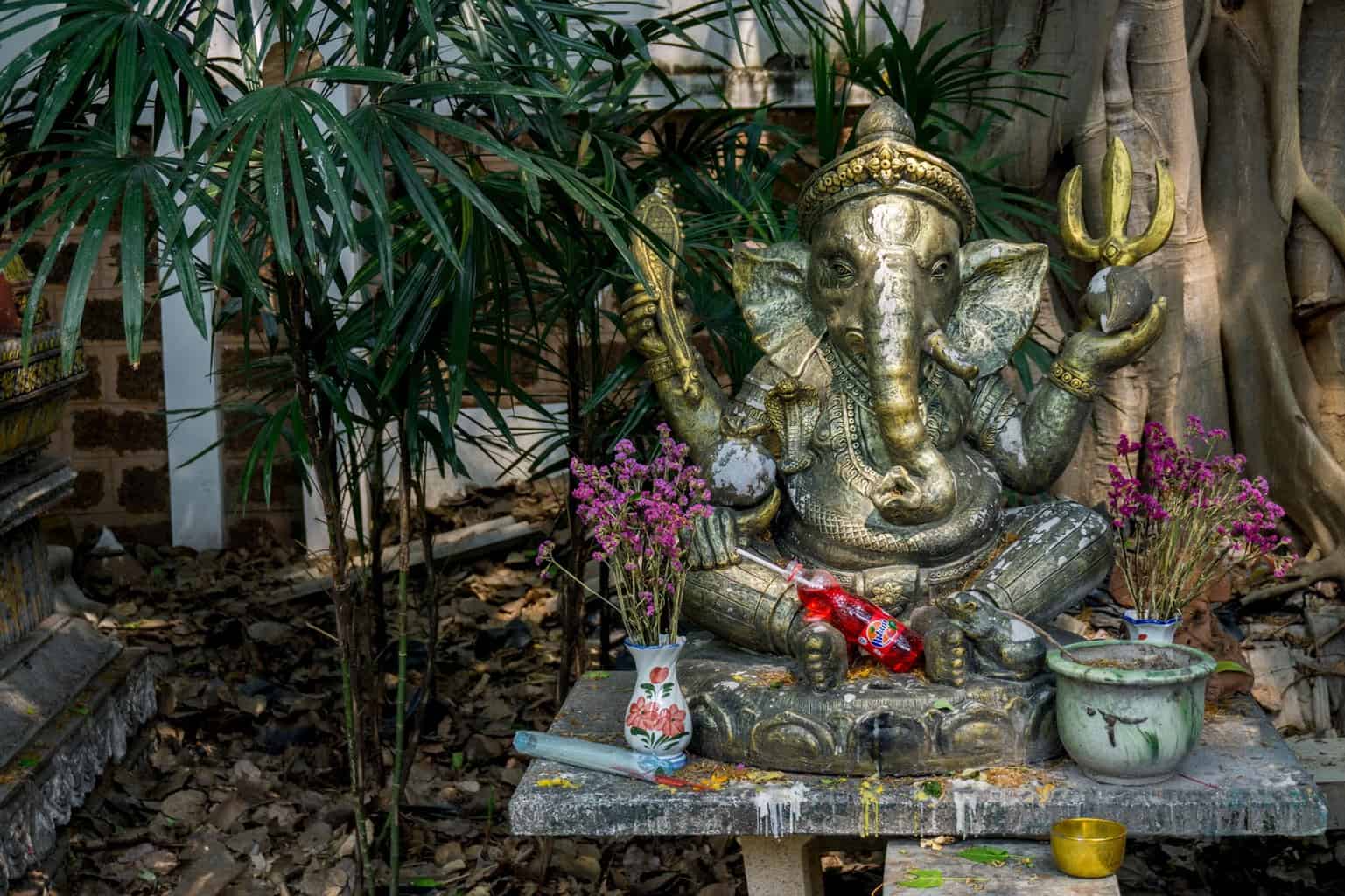 temple courtyard, Chiang Mai
W
Highlight / Lowlight
Highlight. The cats at Food 4 Thought. A mum and three gorgeous very playful kittens.


Lowlight. We came across a small, hot and weak chicken chick, sitting on its own in a plant pot in a temple courtyard. There were lots of hens around with their energetic broods, but this one was alone.
I picked it up and moved it to a spot where it had a better chance of joining the others, and left it a bit of water.
It was chirping away for ages, but no hen came. It stopped after a while, it must have been exhausted. We had to leave. I hope we helped. I hope it didn't fall prey to a snake 🙁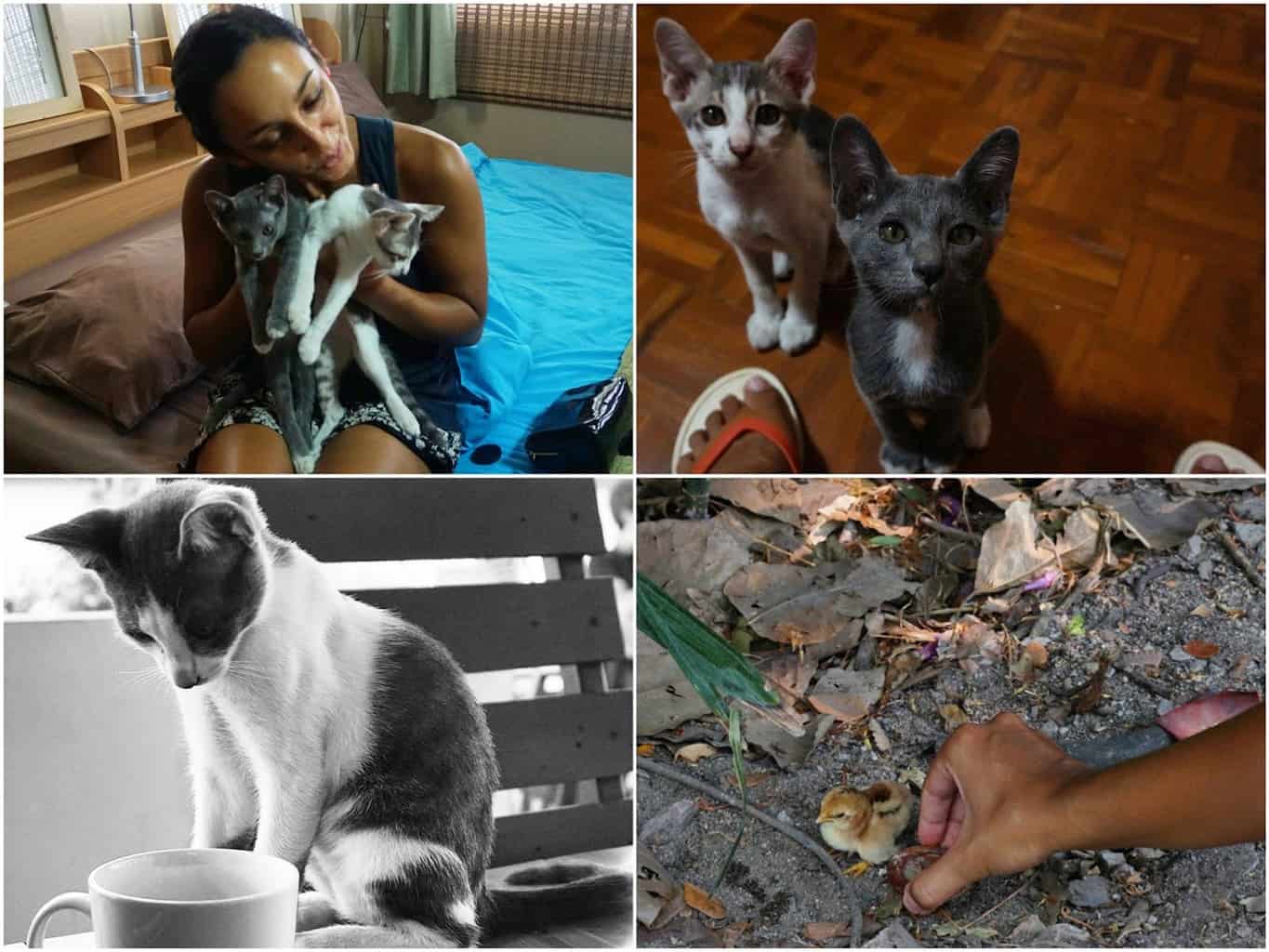 Food 4 Thought cats, and the wee lost little chick
Next week

We were going to head further north to Pai for a few days in the countryside. But it's the time of year when farmers burn parts of their land to prepare for planting, and we heard reports that the smoke, combined with the stifling heat, was unbearable.
So, instead, we're choosing a village in the countryside close by, just a half hour's drive out from Chiang Mai.
Postcards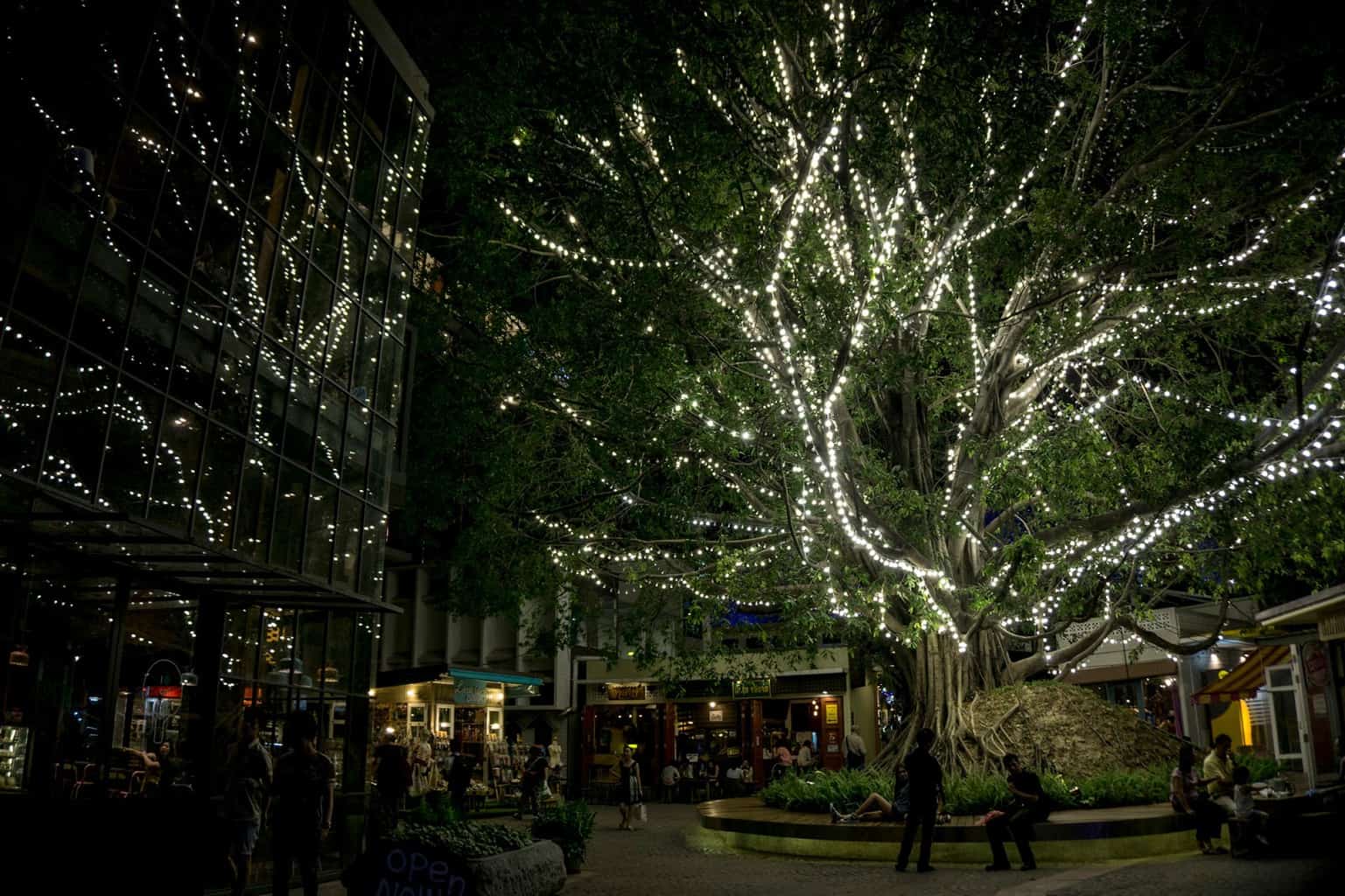 Nimmanheminda, Chiang Mai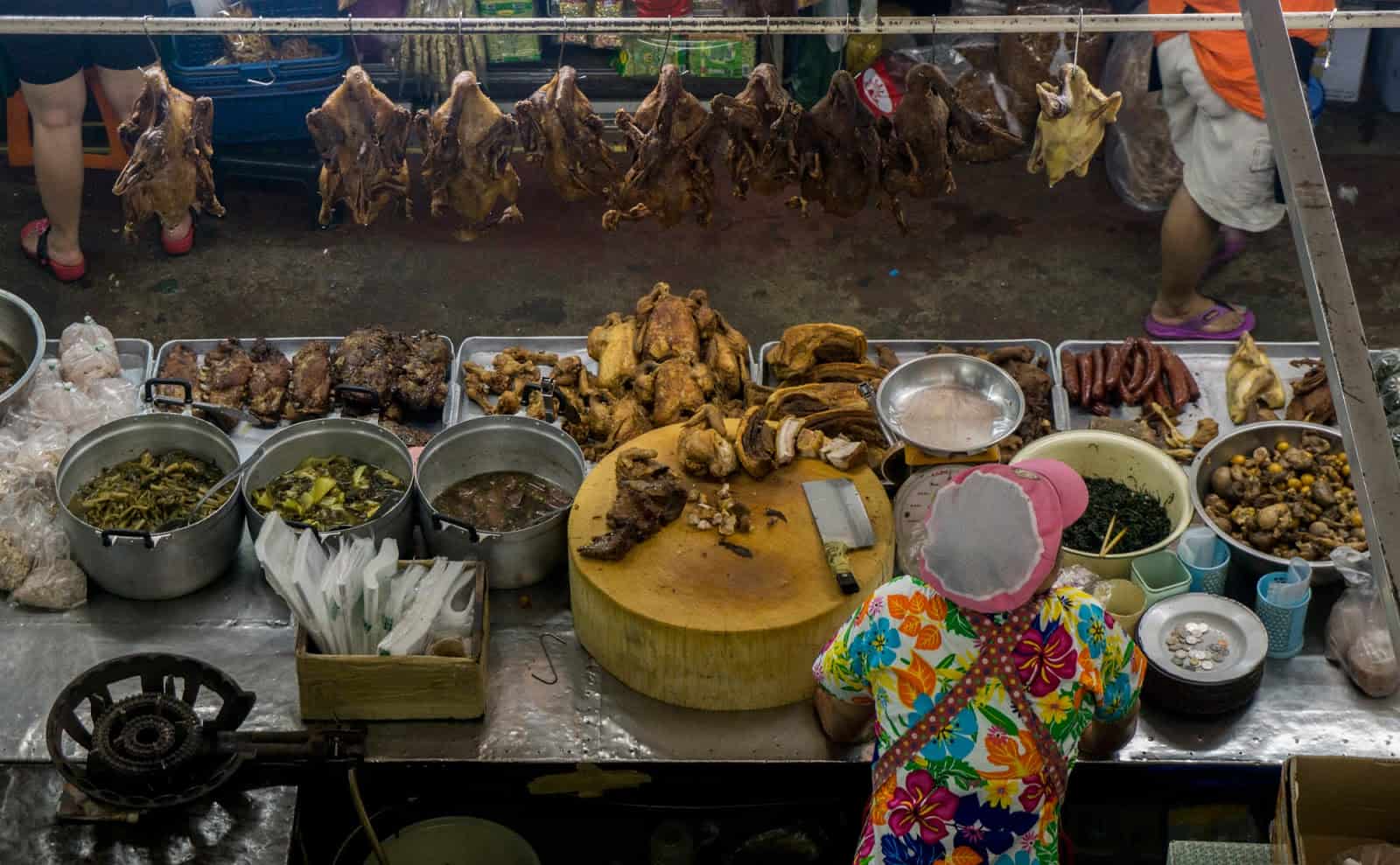 Warorot Market, Chiang Mai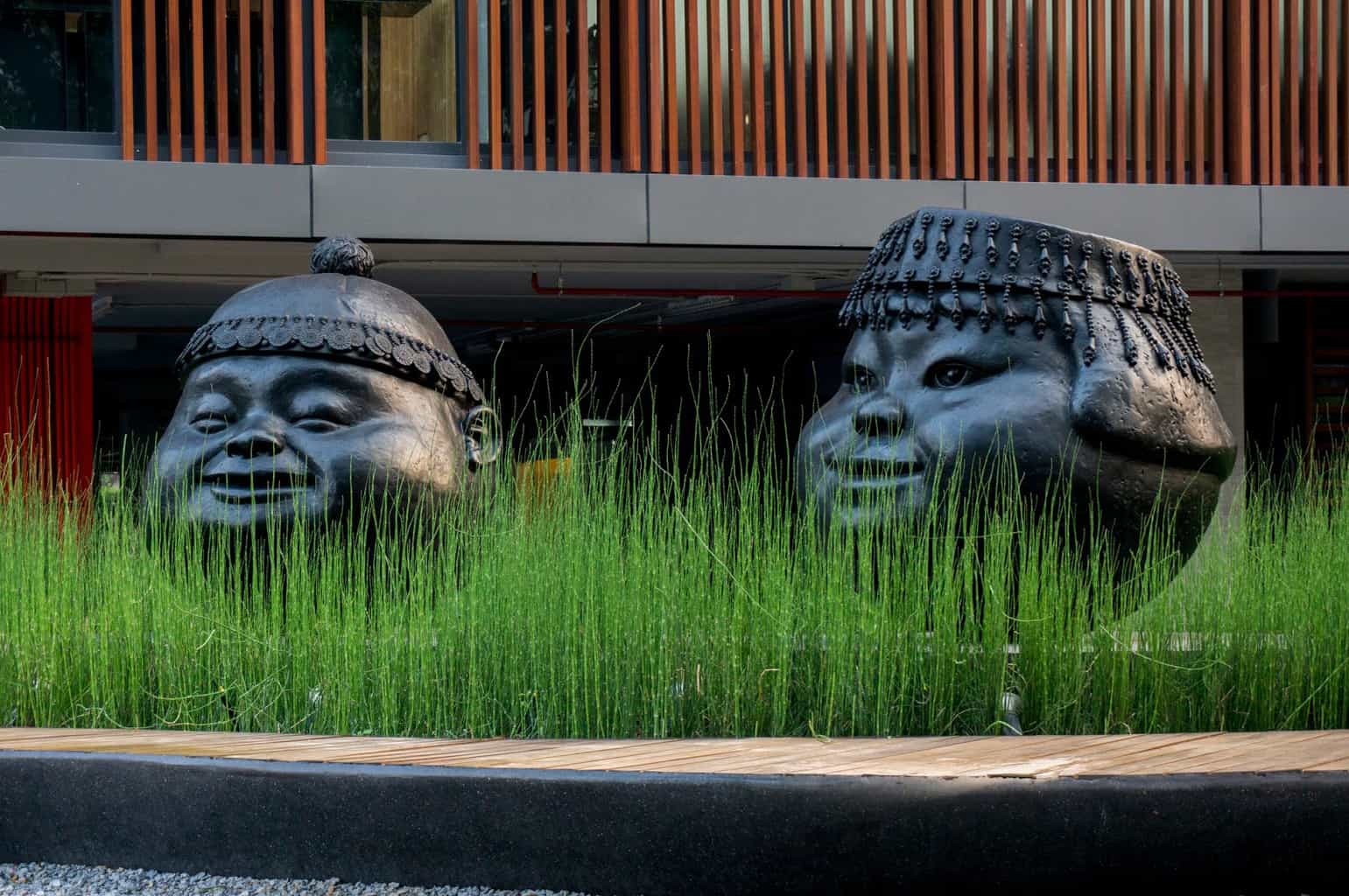 Nimmanheminda, Chiang Mai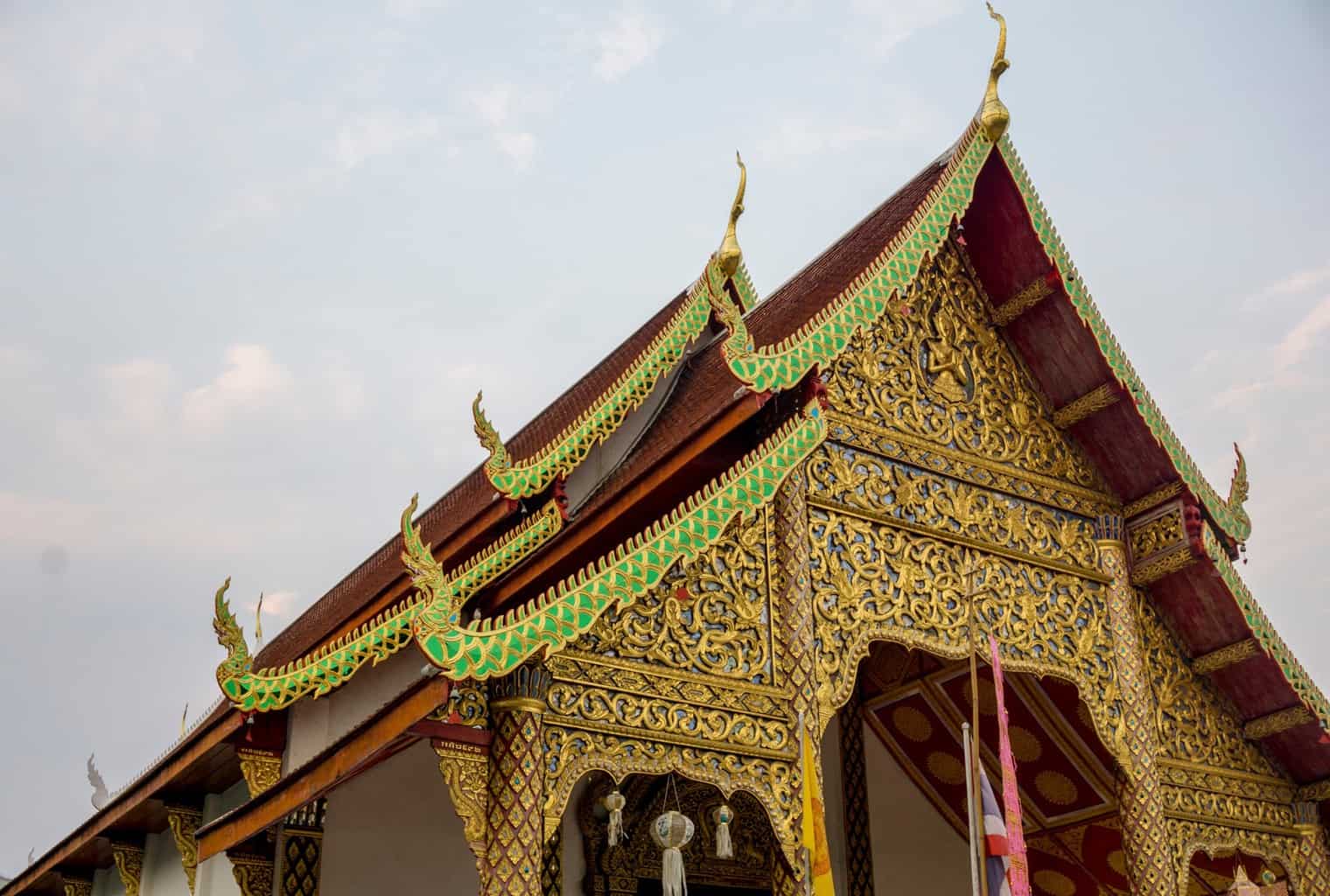 temple, Chiang Mai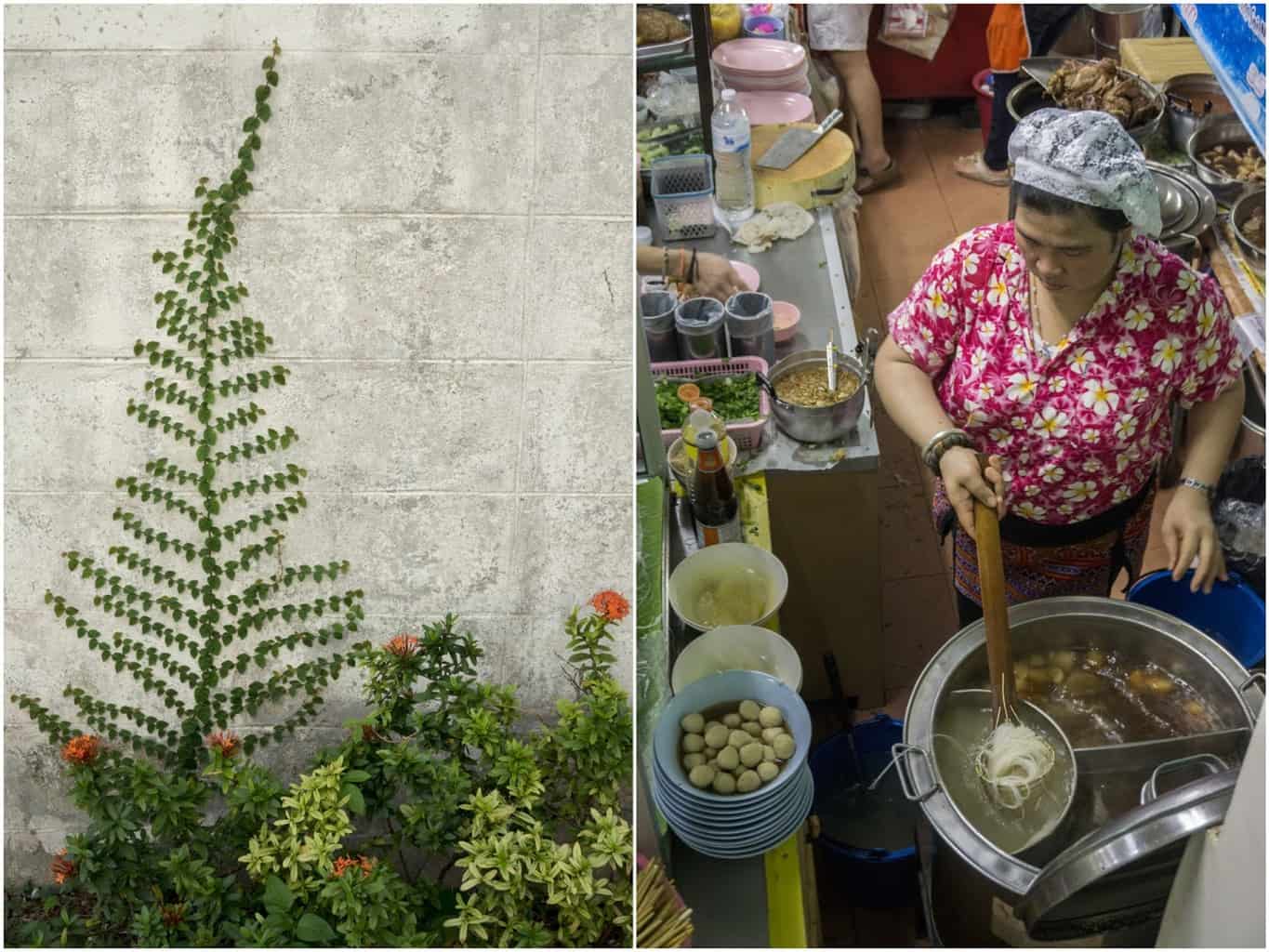 Chiang Mai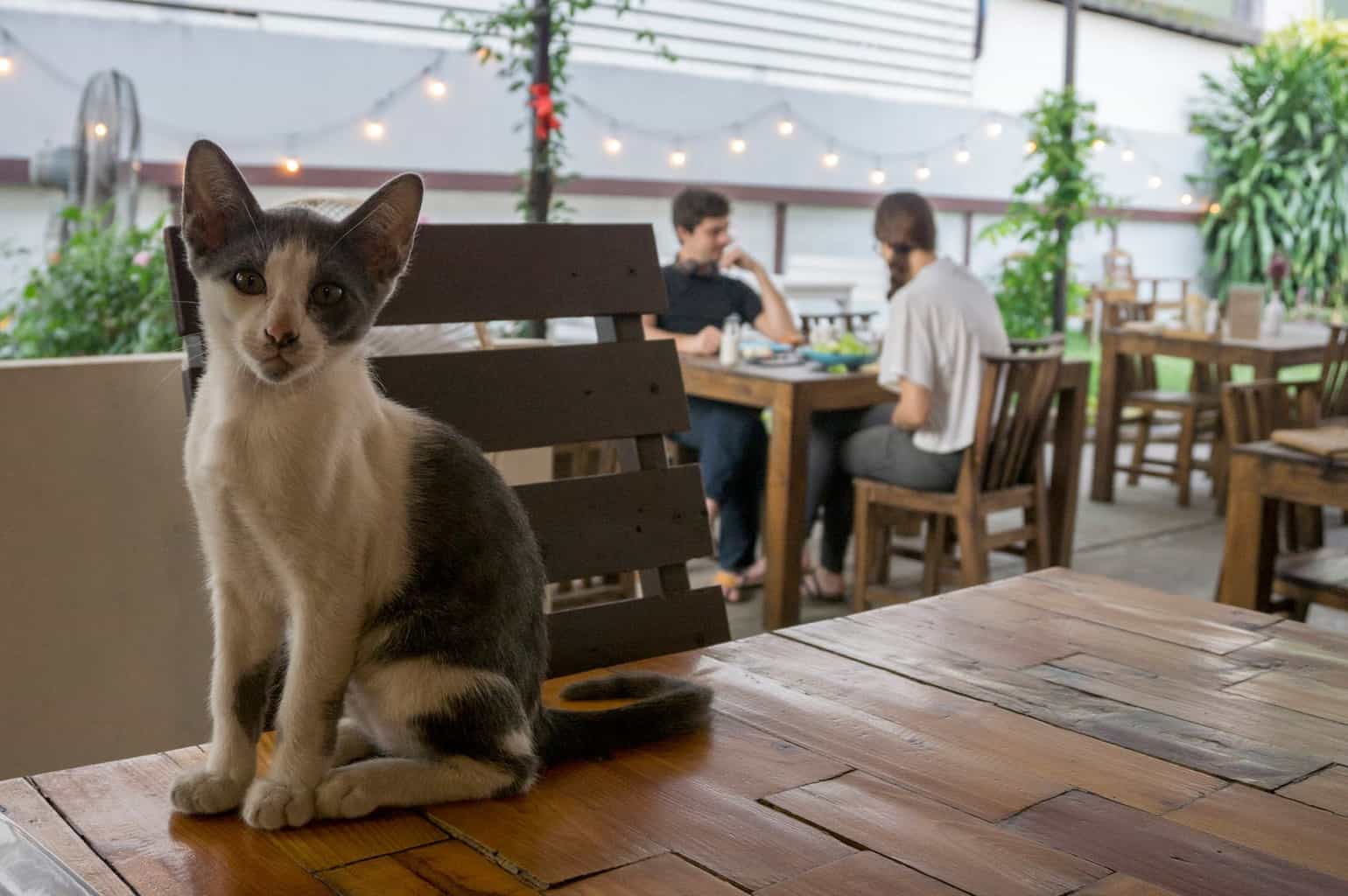 Food 4 Thought cat, Chiang Mai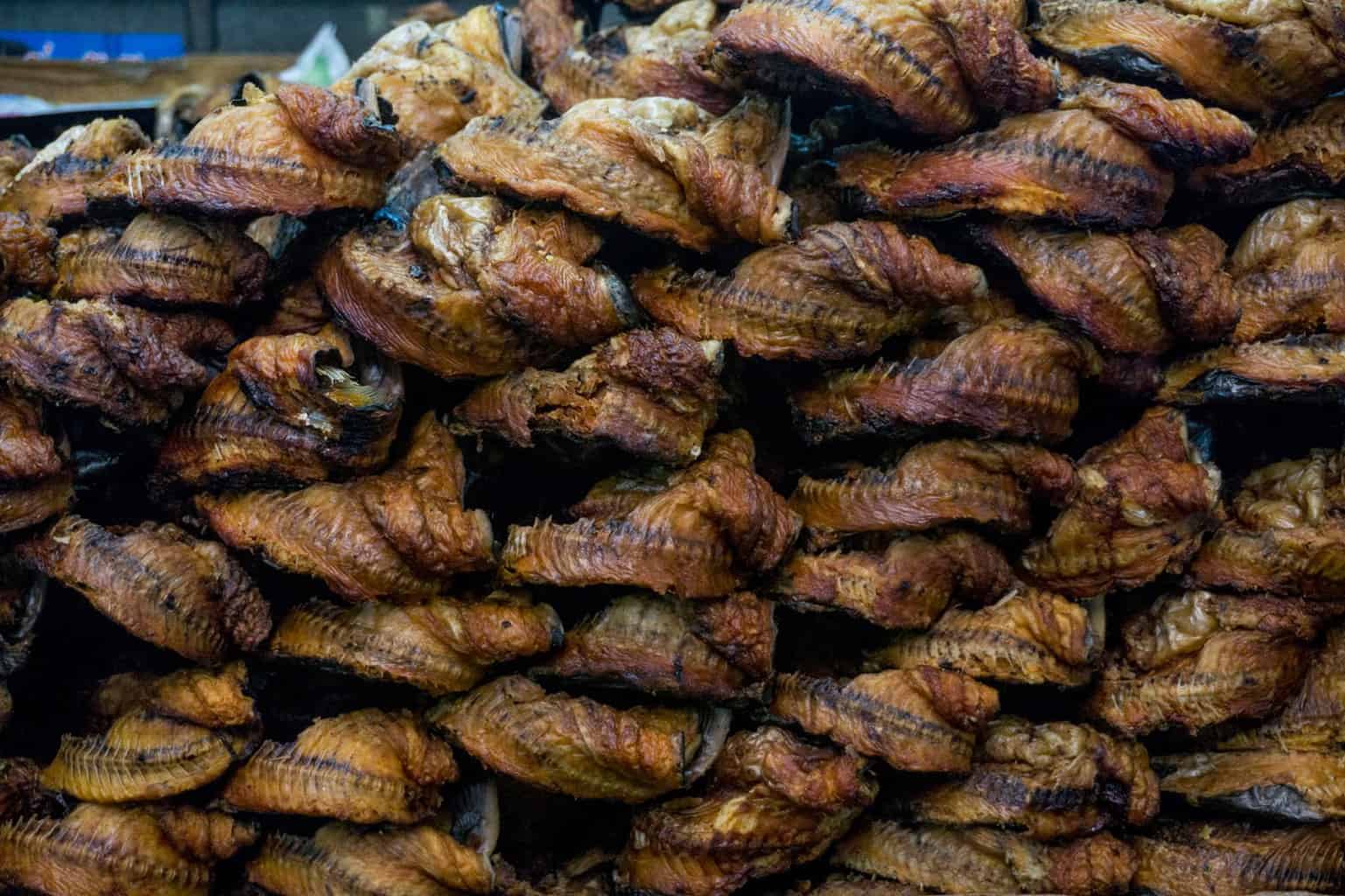 dried fish at Ton Payom Market, Chiang Mai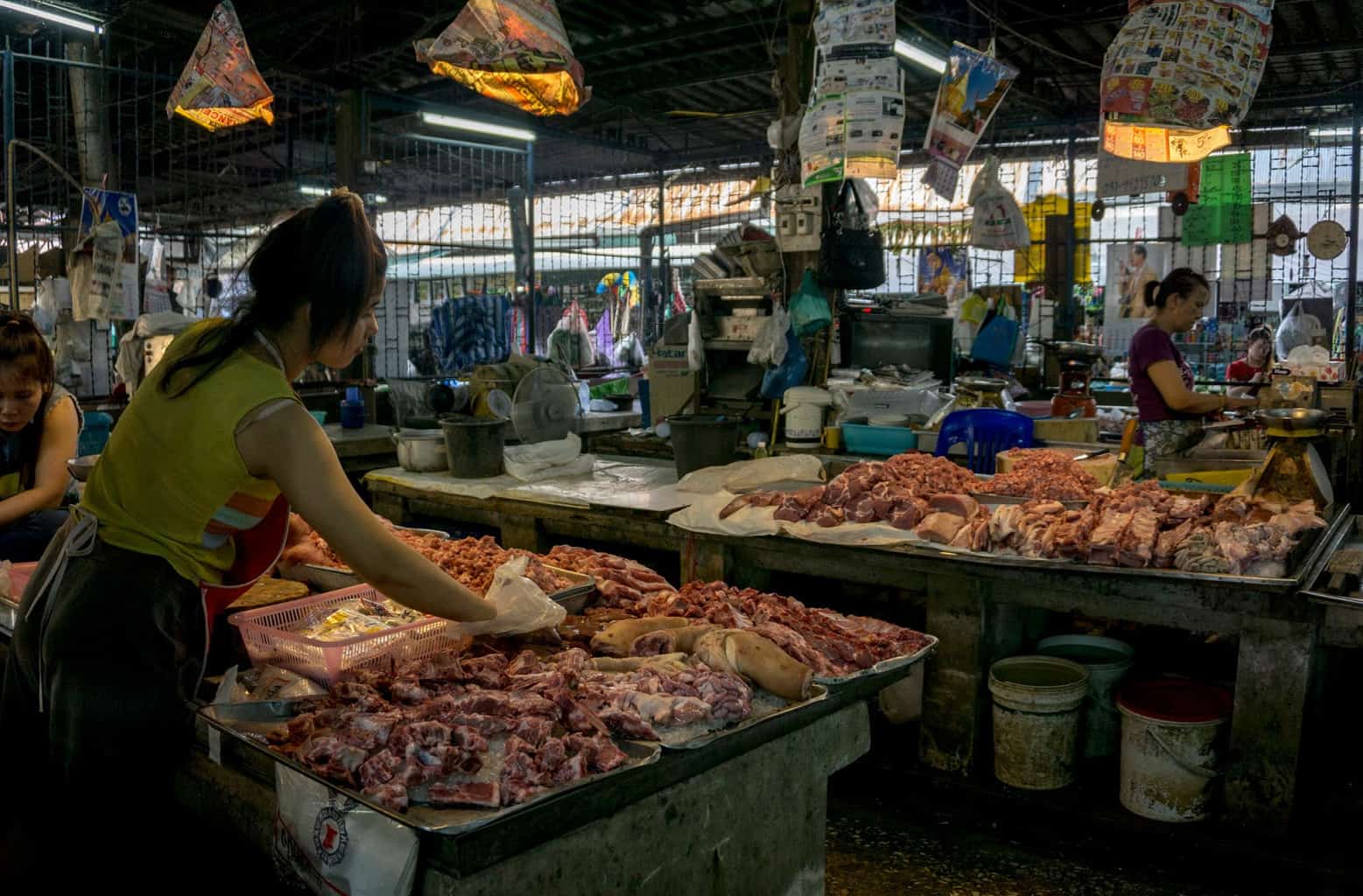 Ton Payom Market, Chiang Mai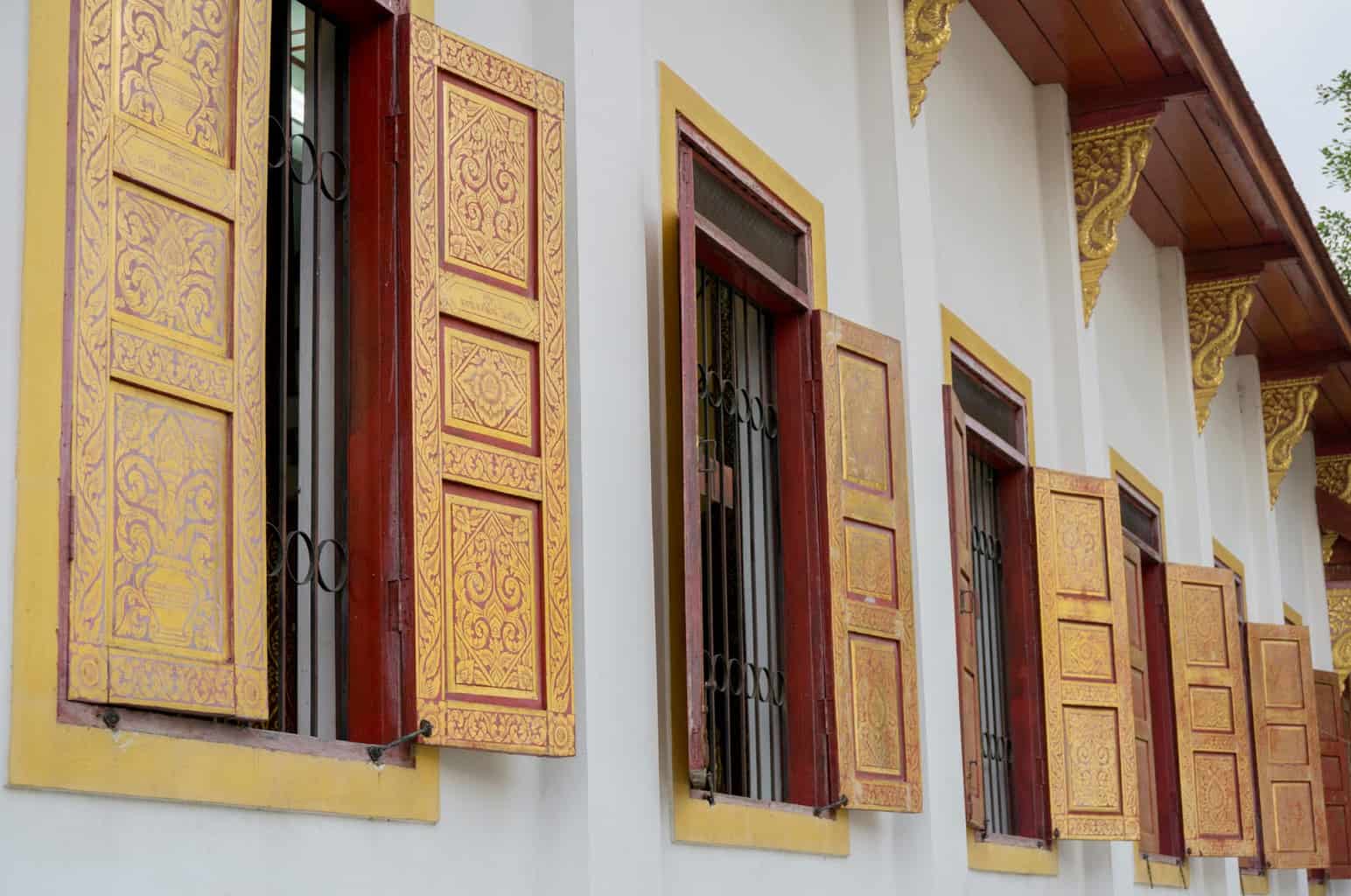 Temple windows, Chiang Mai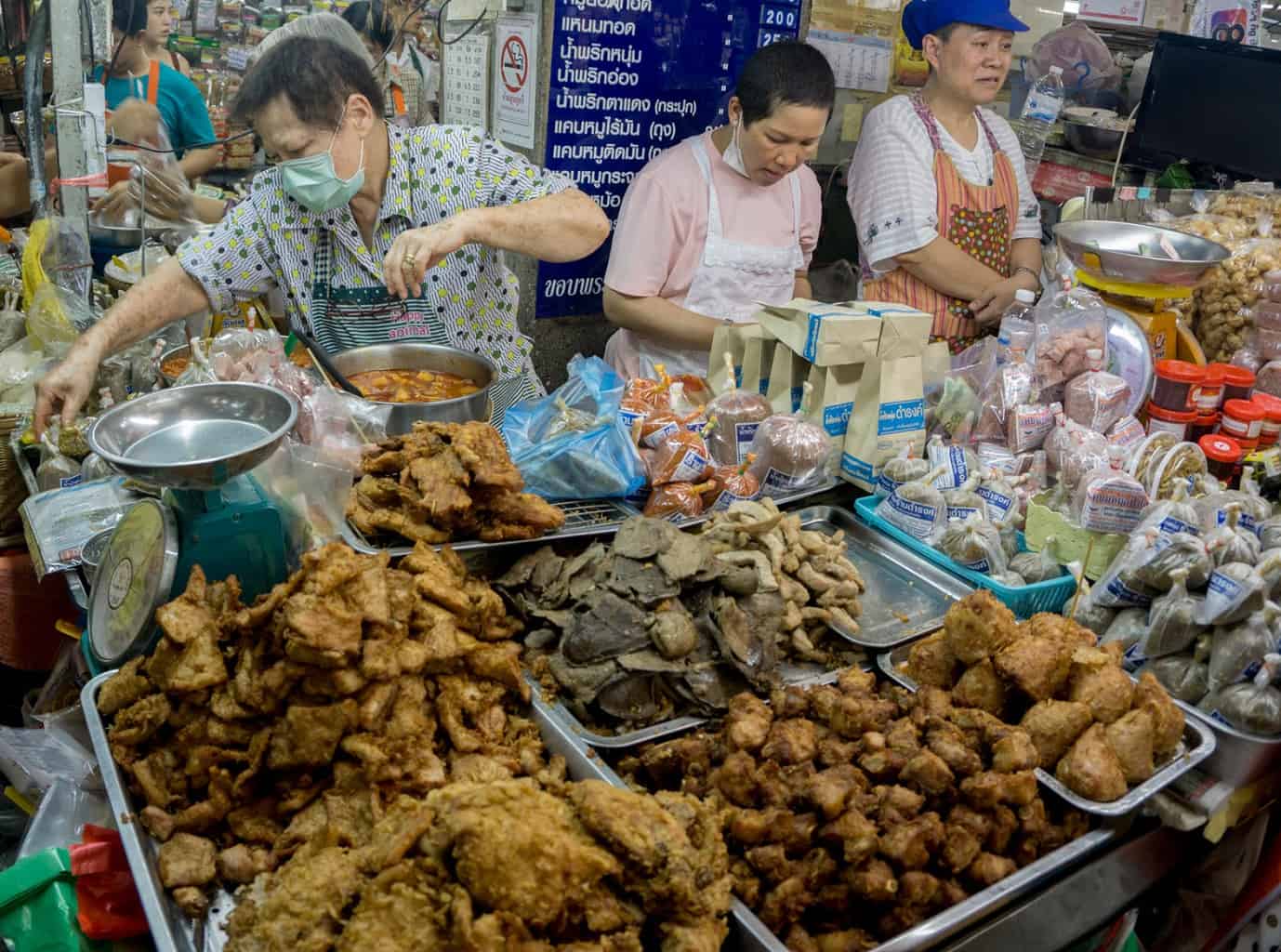 Warorot Market, Chiang Mai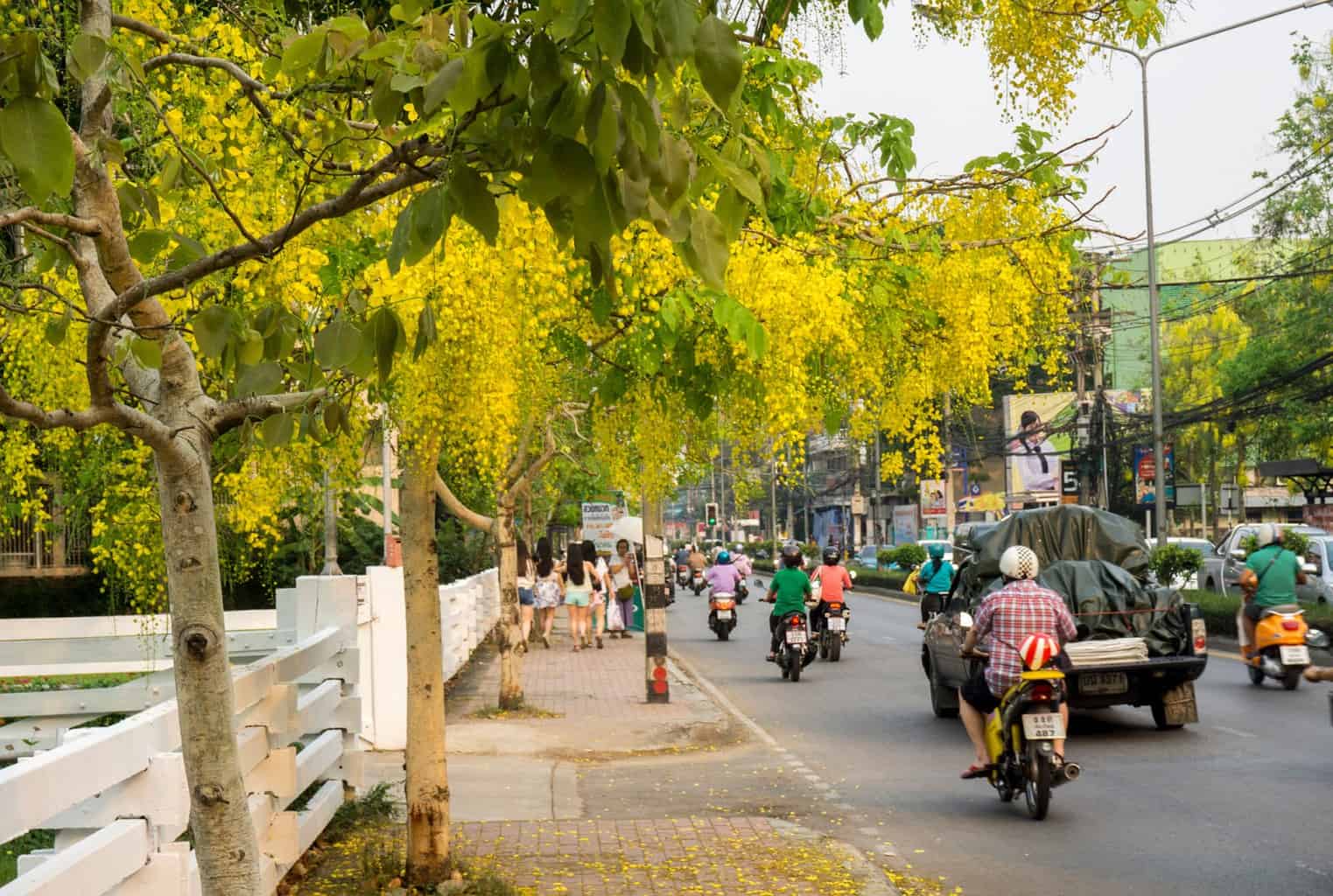 Nimmanheminda, Chiang Mai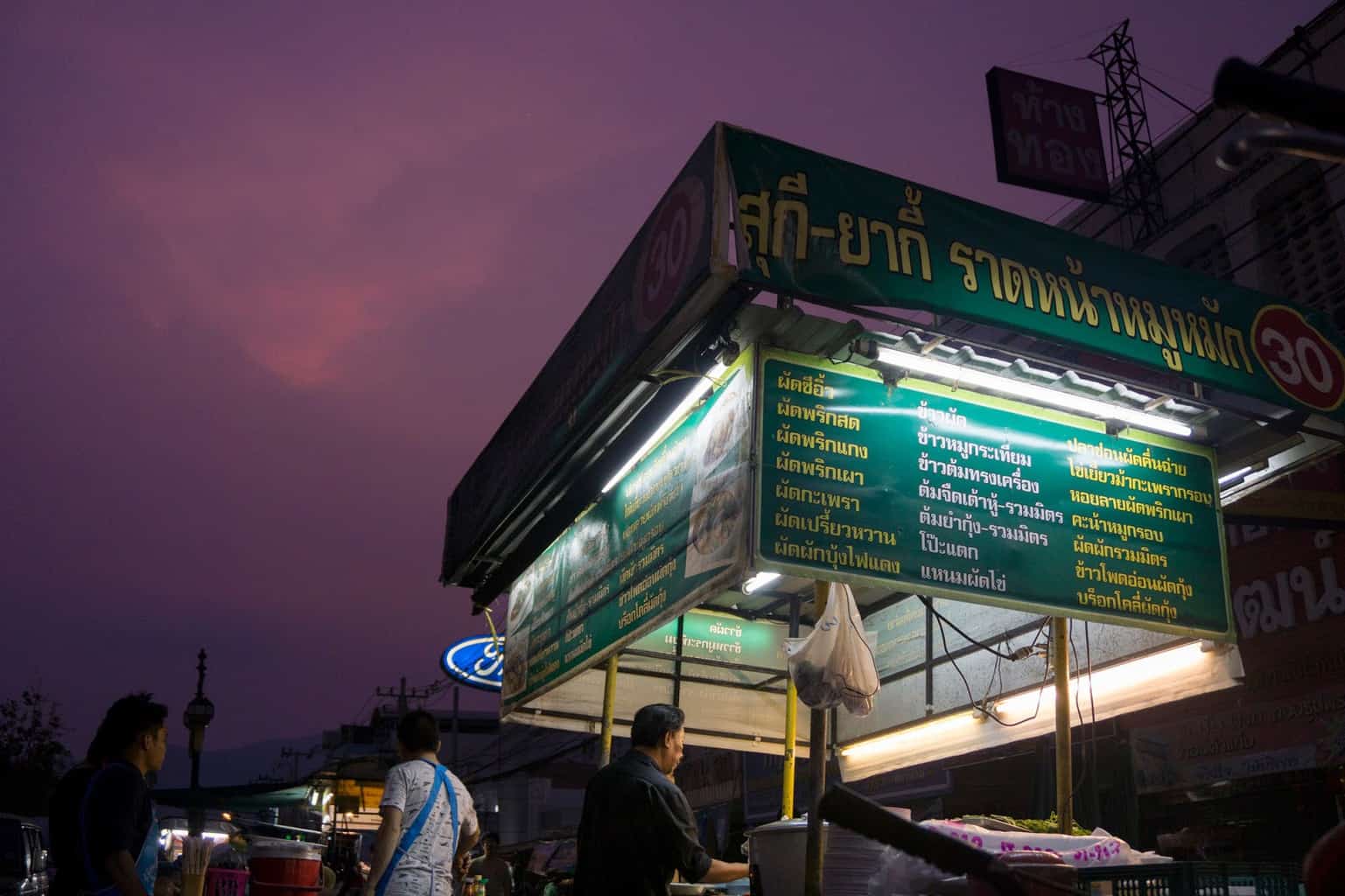 a bruised sky over a street food stall near Chang Pheuak Gate (North Gate), Chiang Mai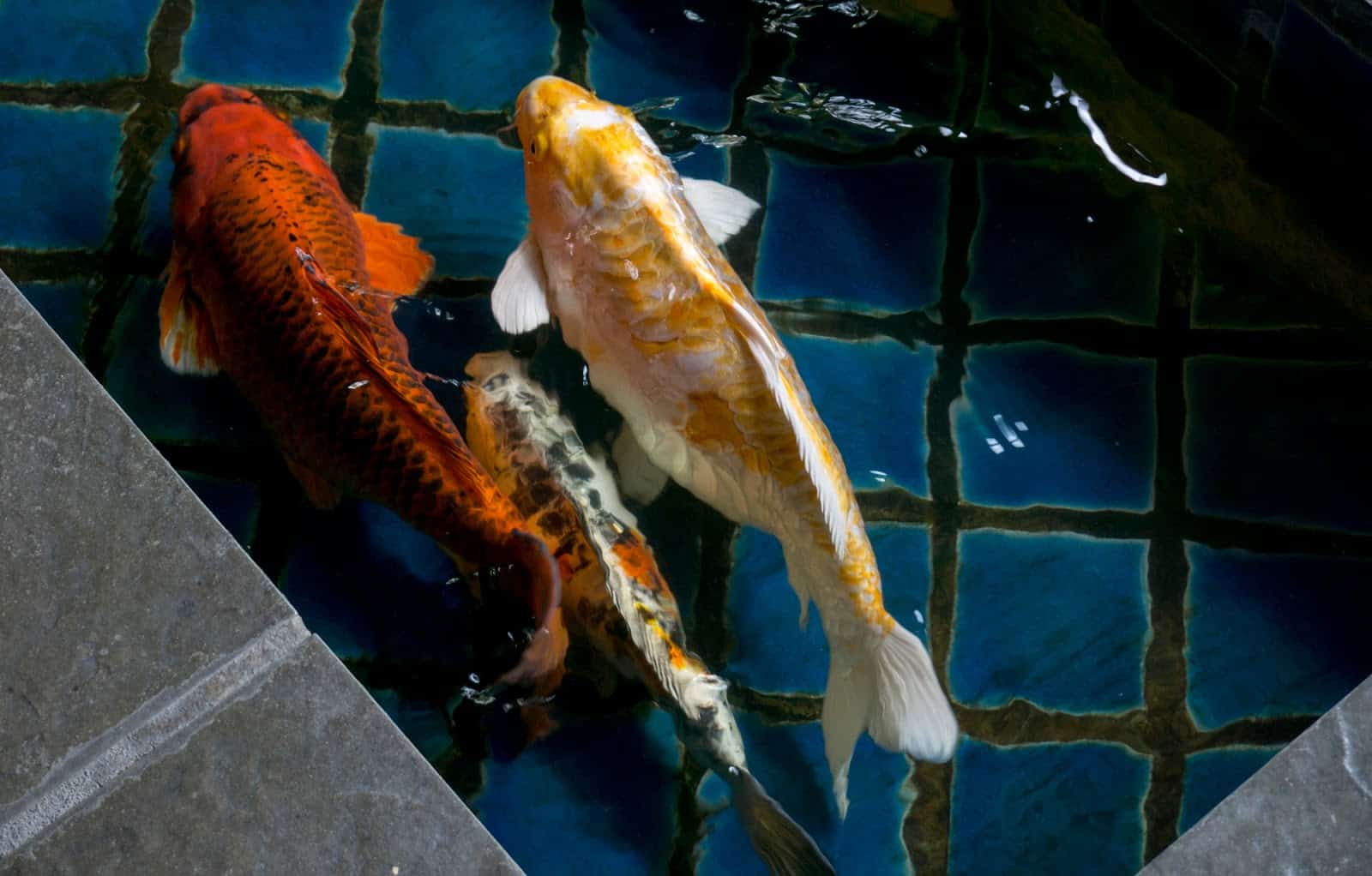 Chiang Mai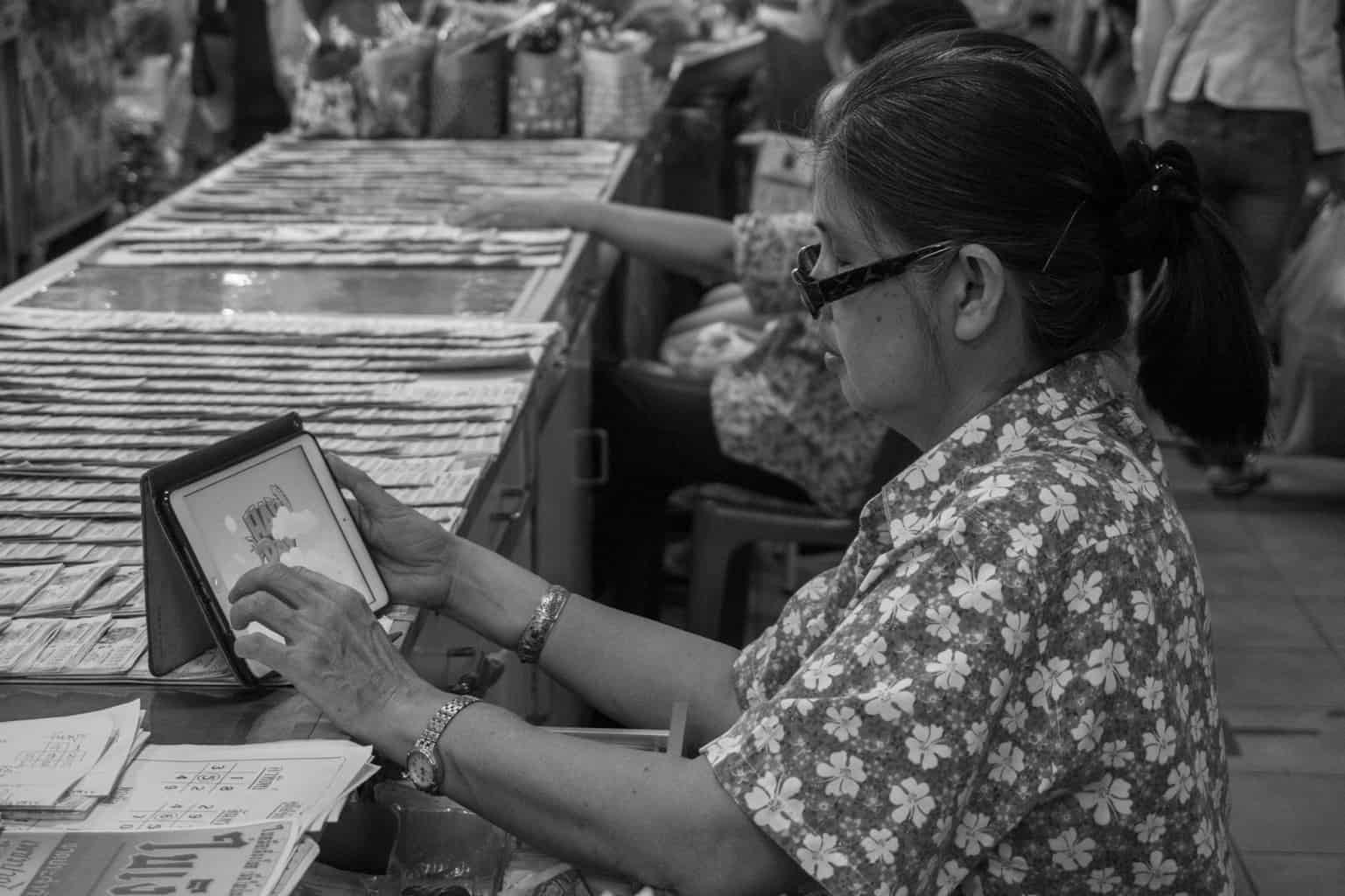 Warorot Market, Chiang Mai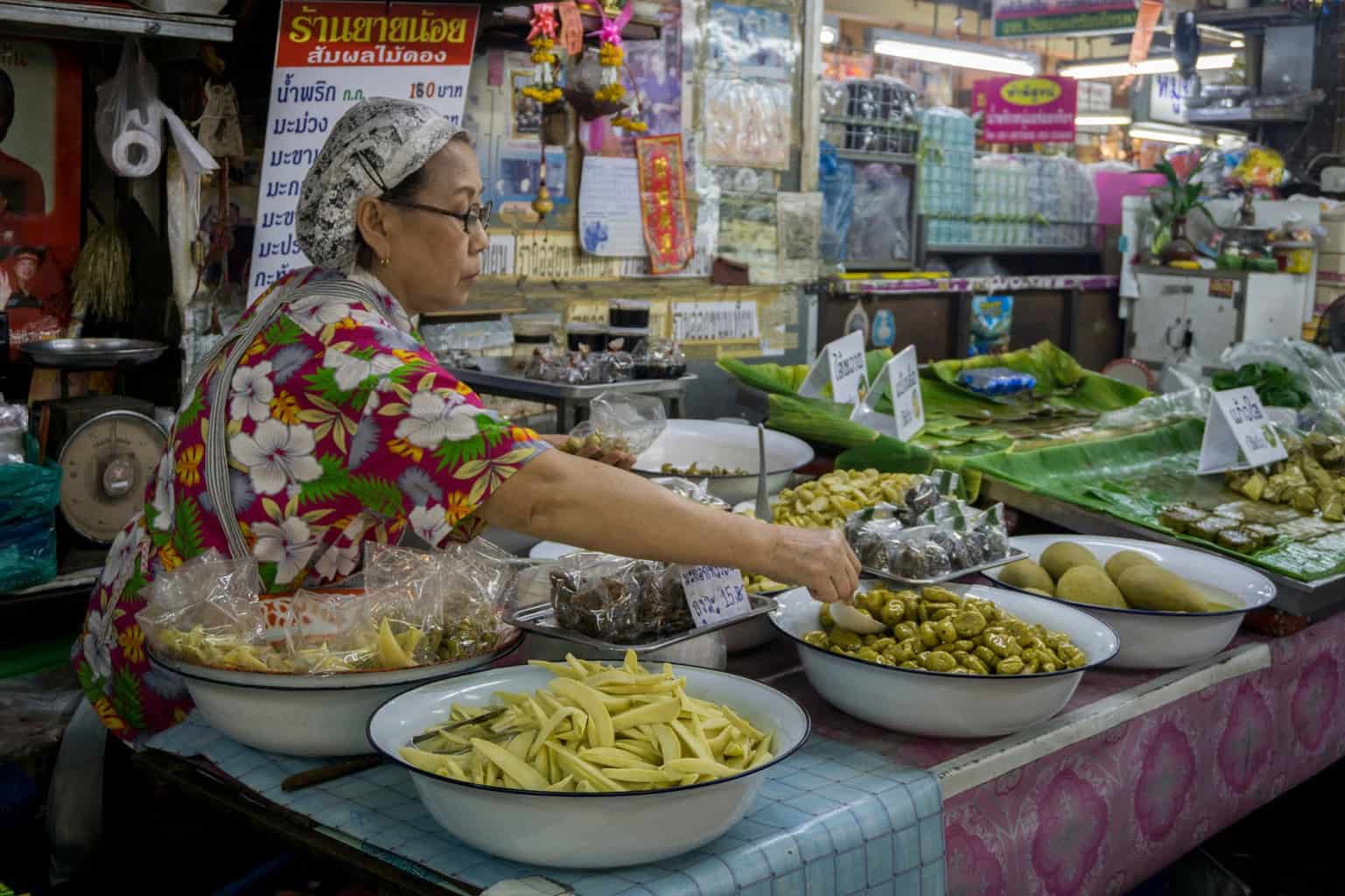 pickle lady, Warorot Market, Chiang Mai
Related posts
Week 0: Gone travelling. London – see you in nine months

Week 1: INDIA – Mumbai → Goa
Week 2: INDIA – Bangalore → Mysore → Wayanad
Week 3: INDIA – Kochi → Allepey → Kollam → Madurai
Week 4: INDIA – Pondicherry → Chennai → Mumbai

Week 5: INDIA – Varanasi → Udaipur → Jaipur → Delhi
Week 6: TAIWAN – Taipei
Week 7: CHINA & VIETNAM – Hong Kong → Hanoi
Week 8: VIETNAM – Sapa → Hanoi → Ha Long Bay → Hanoi

Week 9: VIETNAM – Hue → Hoi An
Week 10: VIETNAM – 6 day / 5 night motorbike tour from Hoi An to Da Lat
Week 11: VIETNAM – Da Lat → Nha Trang
Week 12: VIETNAM – HCMC → Mekong Delta → HCMC

Week 13: CAMBODIA – Siem Reap (and Angkor Wat) → Phnom Penh
Week 14: CAMBODIA – Sihanoukville & Koh Rong Samloem Island
Week 15: CAMBODIA – Kep