Last Updated on June 17, 2020 by Leyla Kazim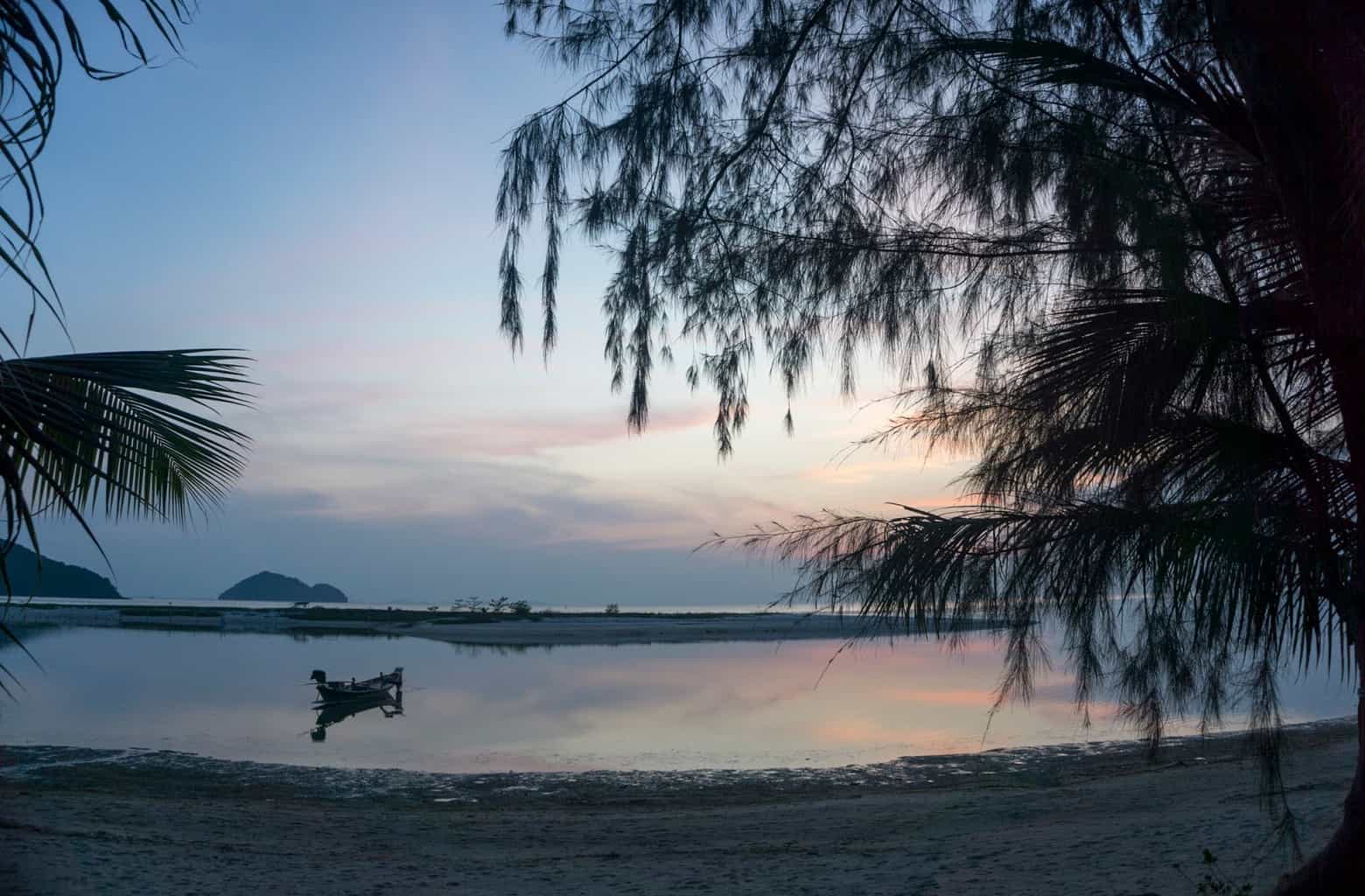 Image of the week: good skies at Baan Manali Resort, Koh Phangan
More images at the end of post
Where in the world
A thirteen hour overnight train from Chiang Mai to Bangkok, where we stayed for three nights.
Then a one hour flight, two hour coach ride and two and a half hour boat to get to the Thai island of Koh Phangan, where we stayed for three nights.

Thoughts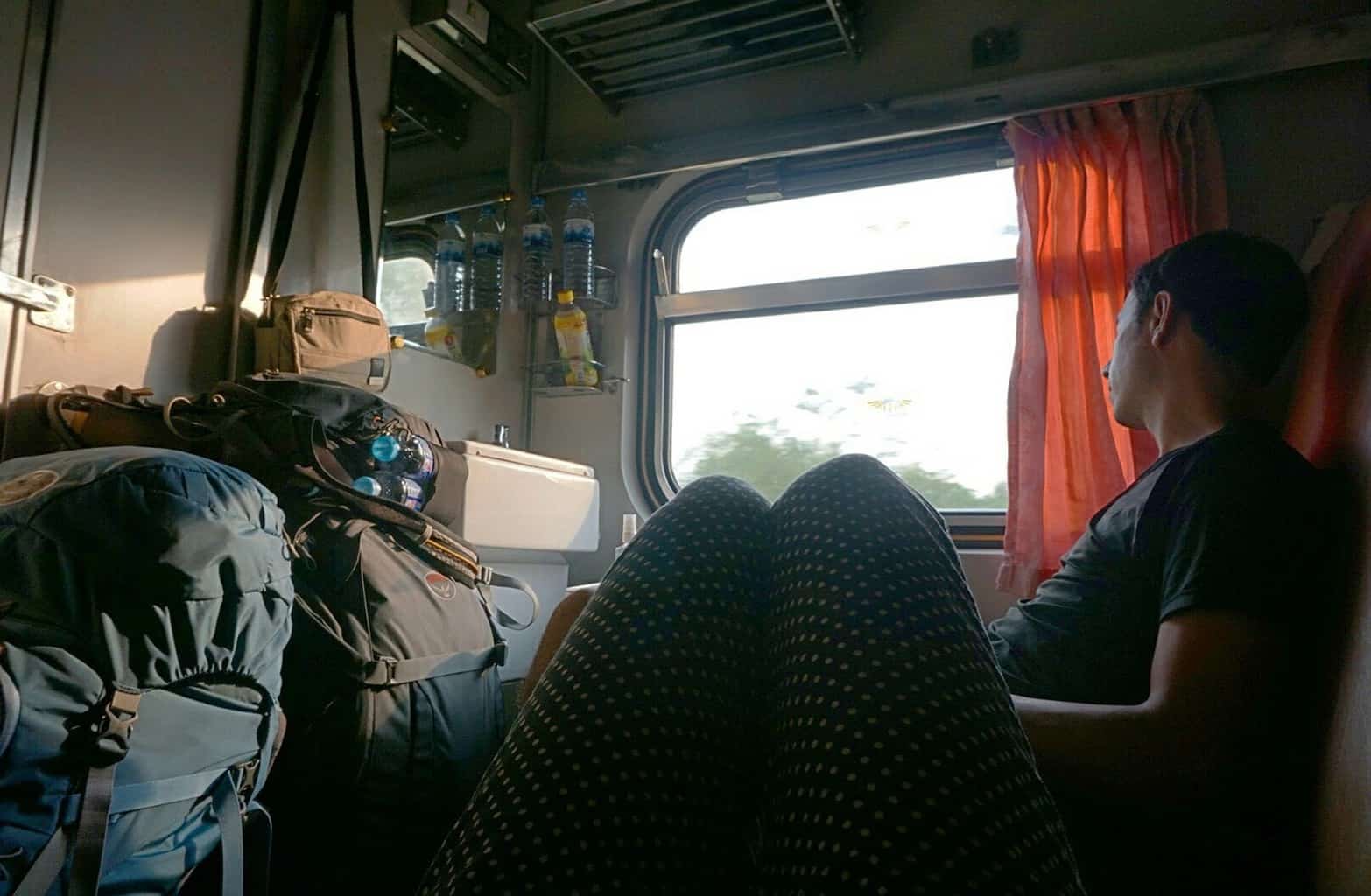 private two bunk cabin on the overnight
sleeper from Chiang Mai to Bangkok
It's been a while since we took an overnight train.
I think the last time was six weeks ago from Nha Trang to HCMC in Vietnam, where the carriages blast classical Vietnamese music at 3am to make sure you're up in time for your stop. Needless to say, it works.
I booked our tickets from Chiang Mai to Bangkok using thailandtrainticket.com about three months ago, and that amount of foresight means you've a good chance of securing the precious few private two-bunk cabins available, complete with wash basin.

We really only tapped the shoulder of Bangkok for a quick hello during this visit. Three days is barely enough to walk round a few blocks, especially when stifling temperatures and high humidity leave you a lot less willing to ditch the AC in favour of exploring.
But we're back next week, for a full week, and I plan to get better acquainted.
But what we did manage to fit in was a rather fantastic food tour with the lovely Chin from Chili Paste Tours, and if I've learnt anything about prioritising the activities of a brief city visit, it's focussing on the eating. A lot more on that under The best things I ate this week below.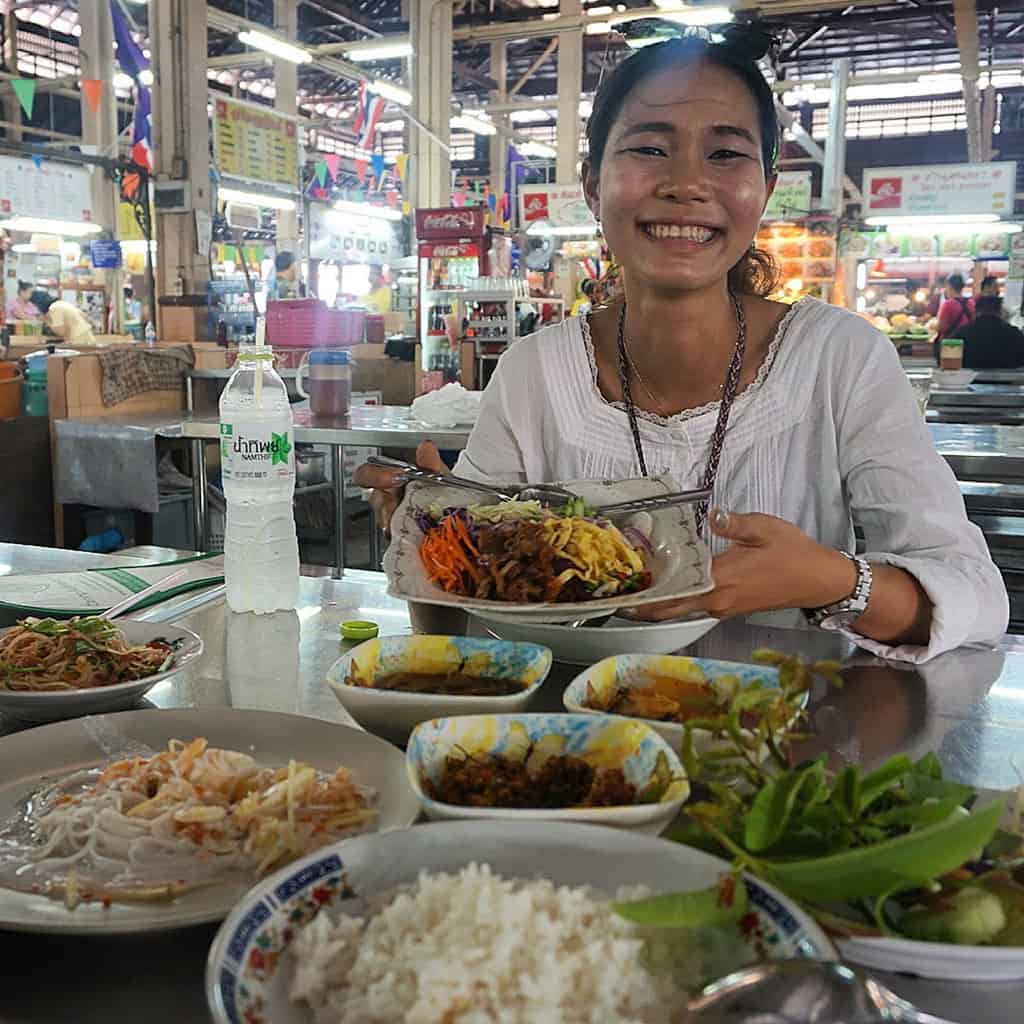 Chin from Chilli Paste Tours, Bangkok
Then it was off to the islands – Koh Phangan followed by Koh Samui – for what was supposed to be a glorious week changing down a gear and lazing under palm trees, before returning to Bangkok for a few more nights.
But after just a single day of sunshine, the skies closed in and the internet spoke of clouds and storms for the foreseeable future.
I also wasn't really feeling the island 'vibe' – too many hippy dippy trippy westerners with bare mid-drifts, hair braids and overtly baggy pants – not much in the way of Thai authenticity around.
That, or it required more time and patience to seek out, both of which I was running low on. The place reminded me of Sihanoukville in Cambodia, but a (thankfully) milder version.
Couple this with the more critical situation of the food beyond our quite lovely bungalow resort (Baan Manali) not being much to shout about, and we made the decision to ditch the beach and return to Bangkok five days earlier than scheduled.
And that can never be a bad thing.

The best things I ate this week
Bangkok food tour
One of the best ways to explore the culinary scene of a new destination is under the expertise and guidance of a local who knows their food. That's why I'm a good guided food tour's biggest fan, and always try to find an expert to show me the ropes when I'm in a new city.
Bangkok is up there with the best of them when it comes to the sheer expanse of its food offering, from market food courts and street side kitchens, to plush malls and award winning fine dining, and everything in between.
We spent a superb morning with Chin from Chili Paste Tours who helped guide our stomachs through the myriad of comestibles encountered on her Old Bangkok Food and Culture Walk, around the area of Banglamphu.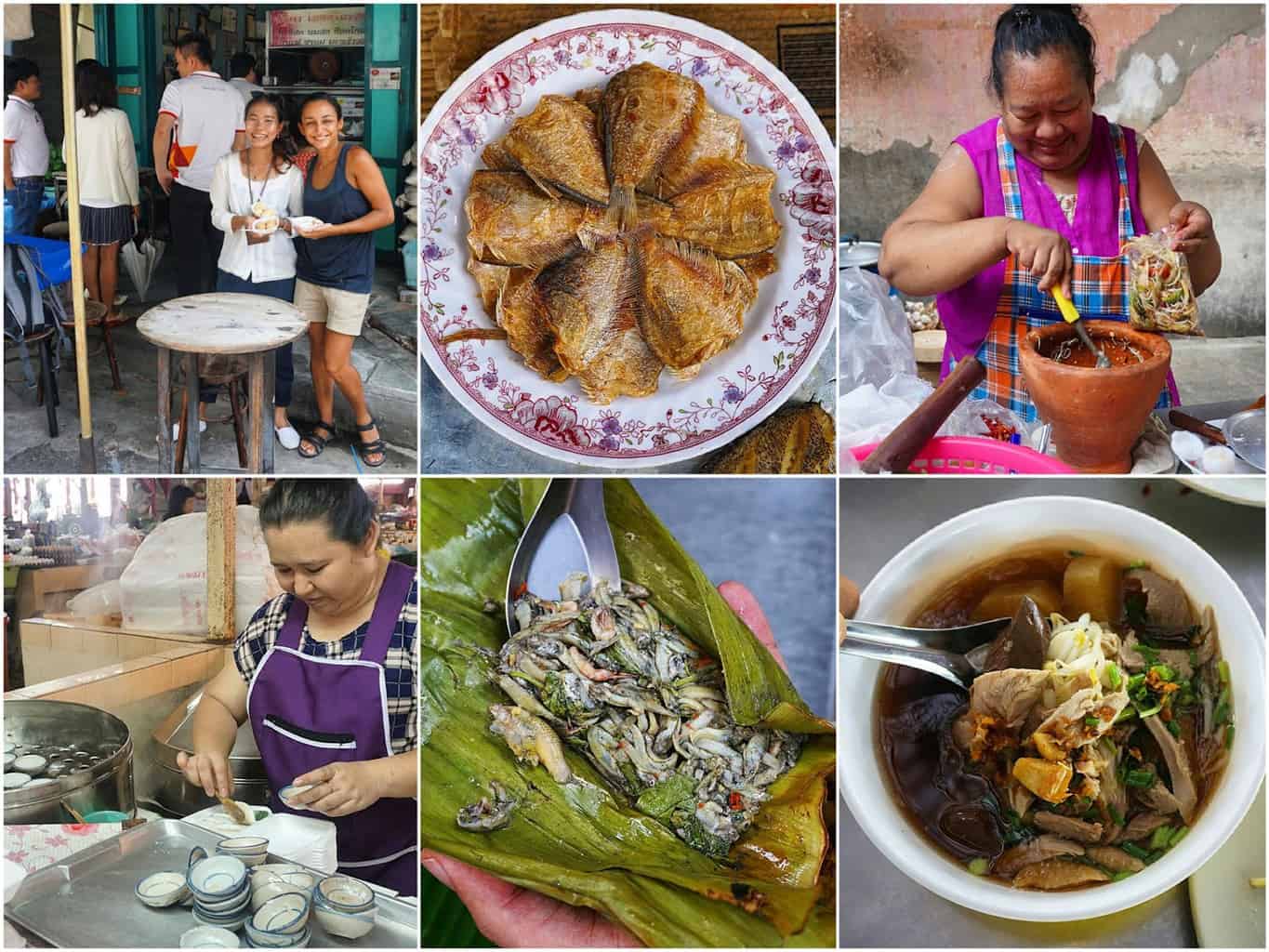 top: Chin and I with ice cream, dried fish, a lady pounding salads
bottom: lady making steamed coconut and pandan custards, little steamed fish, duck noodle soup
With Chili Paste Tours, Bangkok
l
This is, without question, the most food I've sampled on a food tour; full marks to Chin for stuffing us to the hilt.
The tour starts at 9am and can last between four and six hours. What's key is it includes leisurely breaks between all of the eating to allow for a bit of sightseeing, but mostly to give your gut a chance to catch its breath.
Due to time constraints involving hotel check out deadlines, we asked Chin if she could leave out the non-food related bits, to which she duly obliged. But if you have the time, do definitely keep them in for the sake of making the most of your stomach capacity.
Here are some of the things we ate (sort of in the order of the images above and below):
Above image
Kha nhom touy, coconut pudding with pandan leaves
Ho mok pla, fish grilled in banana leaves
Kuay teaw ped, duck noodle soup
Below image
Sai krok pla nham, sausage and fish wrapped in betel leaf
Khi khua takrai, chicken fried with lemongrass
Kha nhom jeen sow nham, sticky rice noodles with pineapple and ginger topped with coconut milk and chilli
Some of the best ice cream found in Bangkok, from Nattaporn – Thai tea, mango and coconut
Kha nhom lueam kluen, purple rice cake with coconut and mung bean
Kha nhom jeen nham ya tai, southern curry with sticky rice noodles
Gang som, southern sour curry with steamed taro and young green papaya
Yum wunsen, glass noodle salad with smoked shrimp
Krua kling, pork mince stir fried with a spicy southern paste
No image
Gang tai pla, southern curry with belly fish and bamboo
Pla goong, shrimp salad with lemongrass
Kha nhom leb mue nang, colourful sticky rice flour cakes with coconut milk
Spicy Isaan bamboo shoot salad with fermented fish
Like I said, a lot of food.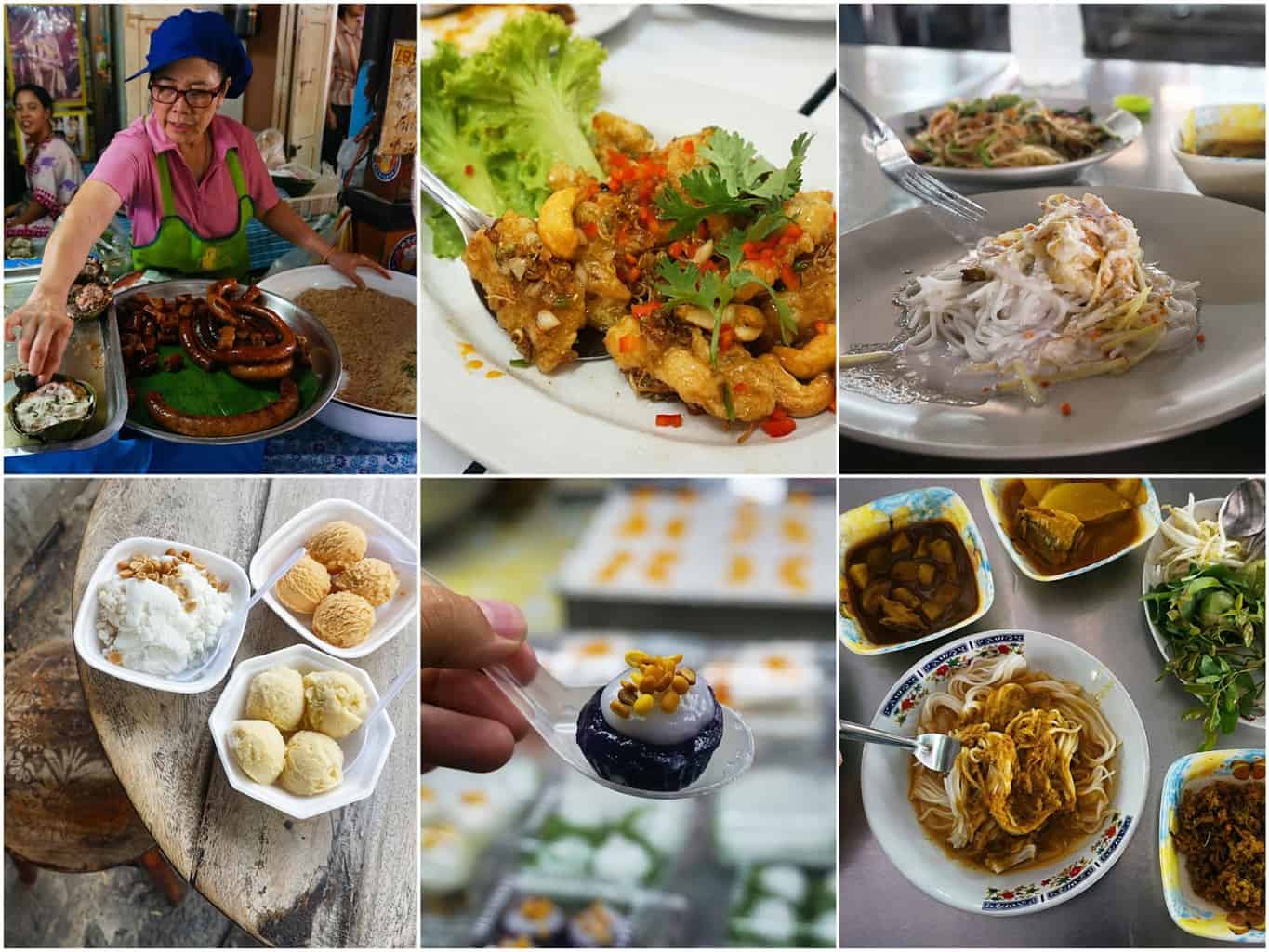 top: lady making sausage wrapped in betel leaves, lemongrass fried chicken, noodles with pineapple, ginger and coconut milk
bottom: great ice cream from Nattaporn, colourful sticky rice flour cakes, southern and central Thai dishes
With Chili Paste Tours, Bangkok
l
I can't recommend Chin highly enough. She's bubbly, informative, easy to chat to, speaks great English, and we got to try a hell of a lot of food that we likely wouldn't have without her.
Incidentally, Chin was recognised on my Instagram by John (see who he is below under Street food must-eats) who said he thinks Chin is good friends with his friend 'Anne'. Anne confirmed this, and told us Chin had showed her around the Isaan region of Thailand one time.
And then when I looked up who Anne was, it turns out she is Luxembourg cookery show host and cookbook author Anne from Anne's Kitchen, and did a talk at a class I attended at Leith's one time.
So, we were duly impressed with the 'small world' square we made with all of that.
All of Chin's tours are privately guided. The Old Bangkok Food & Culture Walk is available Monday to Saturday and costs 1700 baht (around £35) per person.
Note: This tour was kindly hosted at a discounted media rate. All views are my own.
Street food must-eats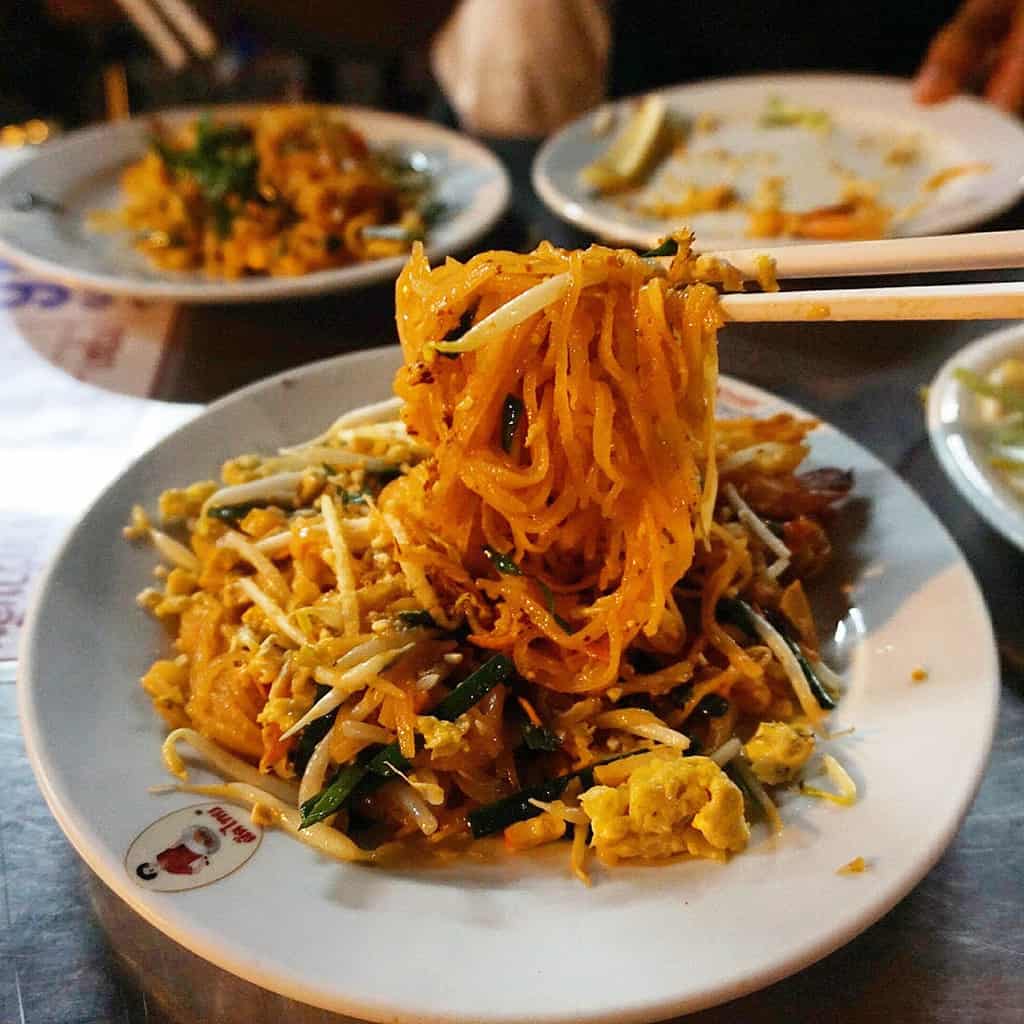 pad thai at Thip Samai, Bangkok
Street food in Bangkok
The best pad thai in town.
I had been in Thailand for two weeks and realised I was yet to have a pad thai, arguably Thailand's most internationally recognised dish.
Well, it turns out this is because I was saving it for one of the best.
There were snaking queues and a half hour wait by 6pm (woks are lit at 5pm). But the pad thai at Thip Samai in Bangkok was really very good indeed – the best I've ever had, most certainly.
We tried a few entries from the menu, and the best from a very good bunch was what's being cooked in the video below (have a watch).
It's pad thai haw kai goong sot, where the cooked pad thai noodles are wrapped in a thin layer of egg. It's probably superior because the egg mix has some sort of magical flavourings added, who knows. But it was glorious.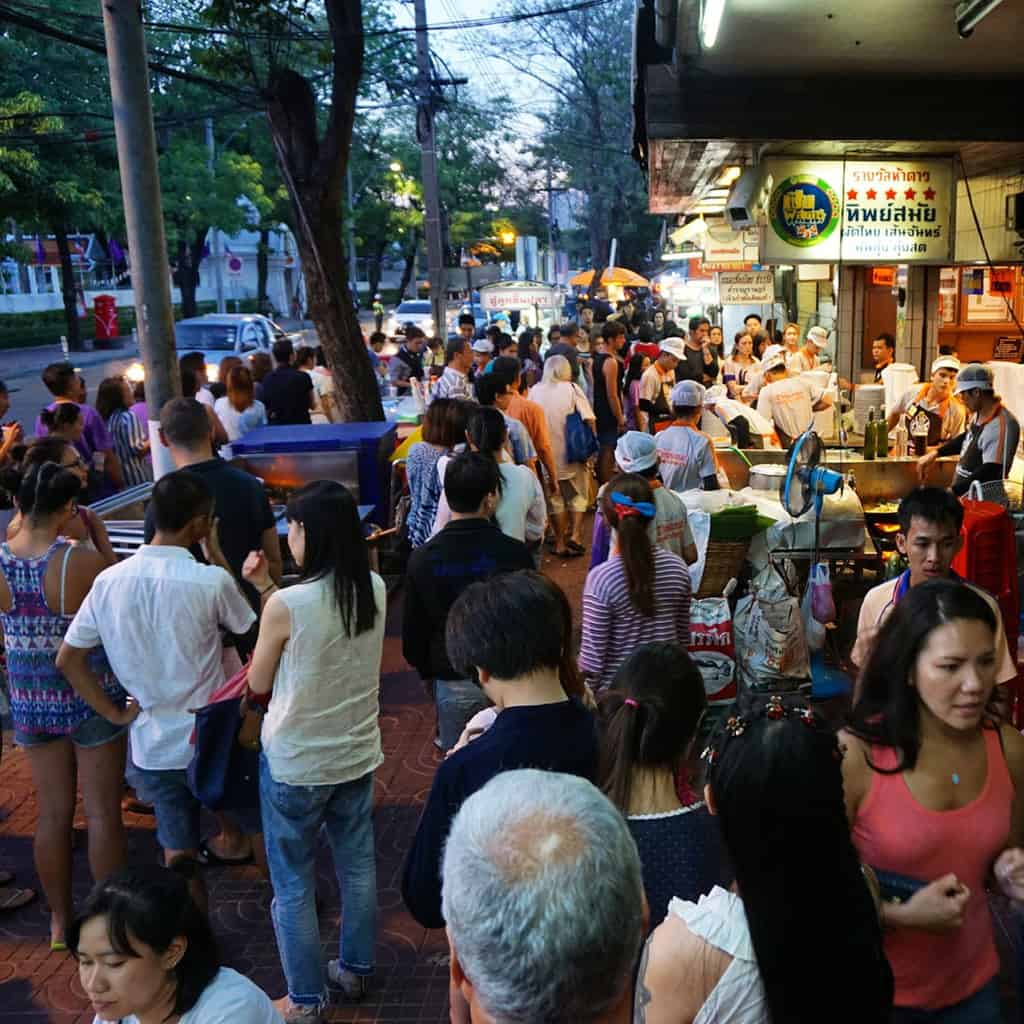 6pm queue at Thip Samai, Bangkok
It actually moves pretty quickly
The noodles are soaked in sauces and oils which gives them their great colour. Massive handfuls are added to fried prawns, then tofu, baby prawns, spring onions, bean sprouts, etc. are tossed in the mix.
There are several different wok stations each loaded with around 10-15 portions being cooked at a time, and the place had a huge number of take away orders, often in bulk, as well as those eating in.
These were so good that Matt annihilated three whole plates to himself (the fact we hadn't had lunch may have helped).
This doesn't have to be street food if you don't want it to; you can request a seat inside the restaurant. But if you're willing to sit on the pavement, you'll get your dinner sooner.
This is a definite visit for both the food and theatre if you're in Bangkok.
Thank you John Chantarasak (half Thai and a chef at Thai restaurant Som Saa in East London – excellent by the way, go if you find yourself there) for the awesome recommendation.
Pad Thai Thip Samai, 313 313 Thanon Mahachai, Phra Nakorn, Bangkok. Open daily 5pm – 3am.
It's just a few minutes walk from the Giant Red Swing near Chinatown Bangkok, and very close to the Golden Mountain.
Did you know?
Recognition for a third gender in Thailand
In January this year, it was announced Thailand's constitution would soon include the term "third gender" for the first time, in a move to empower transgender and gay communities and ensure them fairer legal treatment.
Homosexual, transgender and transsexual people play key roles in Thailand's entertainment industry, and nowhere is that more prevalent than in Bangkok. So this is good news for a lot of people.
Well done, the Thai government.

My insider tips
Public transport in Bangkok
The Skytrain (BTS) and underground (MRT) rail systems connect the main shopping, entertainment and business areas of the city. They're fast, air conditioned, reliable and very comfortable.
However, if there's more than one of you, it may well be cheaper getting a taxi. The Bangkok taxis are cheap, metered (with a minimum fare of 35 baht / 70p), the cars are new, and they're easy to hail.
For example, getting the train across town from where we were staying would have cost us 60 baht (about £1.20) each. A taxi for the two of us to the same destination cost just 60 baht. That's £1.20 saved, which is the price of both your street food dinners.
W
It's worth noting that if you have a tight schedule, a taxi might not be the best choice as traffic can get bad in Bangkok. What I've noticed though, is they don't seem to be traffic jams, just excruciatingly long red lights.
Even so, our taxi fares have remained cheaper than two train fares. Motorbike taxis (drivers wear orange vests) are a good option for nipping between the traffic.
Then there are also tuk tuks, which are not metered, but are good fun (see the above video I took). Have an idea of how much a fare should cost before you get in one, and agree on the price beforehand.
Highlight / Lowlight
Highlight.
Thank the powers that be for the Arab travel market. Because it often means good Middle Eastern food (so basically, Turkish food), can be found where they choose to holiday. And quite a few of them are in Bangkok.
Thanks to the indispensable online resource of where and what to eat in Thailand that is Mark Wiens, who writes for both his own website Migrationology as well as Eating Thai Food (both of which I've referred to at least once a day since being in the country), we realised our hotel was a mere 700m from a Lebanese restaurant that Mark sings the highest praises of.
And this guy knows what's good.
Let me tell you, as someone who's half Turkish, the absence of hummus, white cheeses, and lamb kebabs (or lamb full stop) has been one of the hardest things to endure since travelling. You just cannot find this stuff in Asia.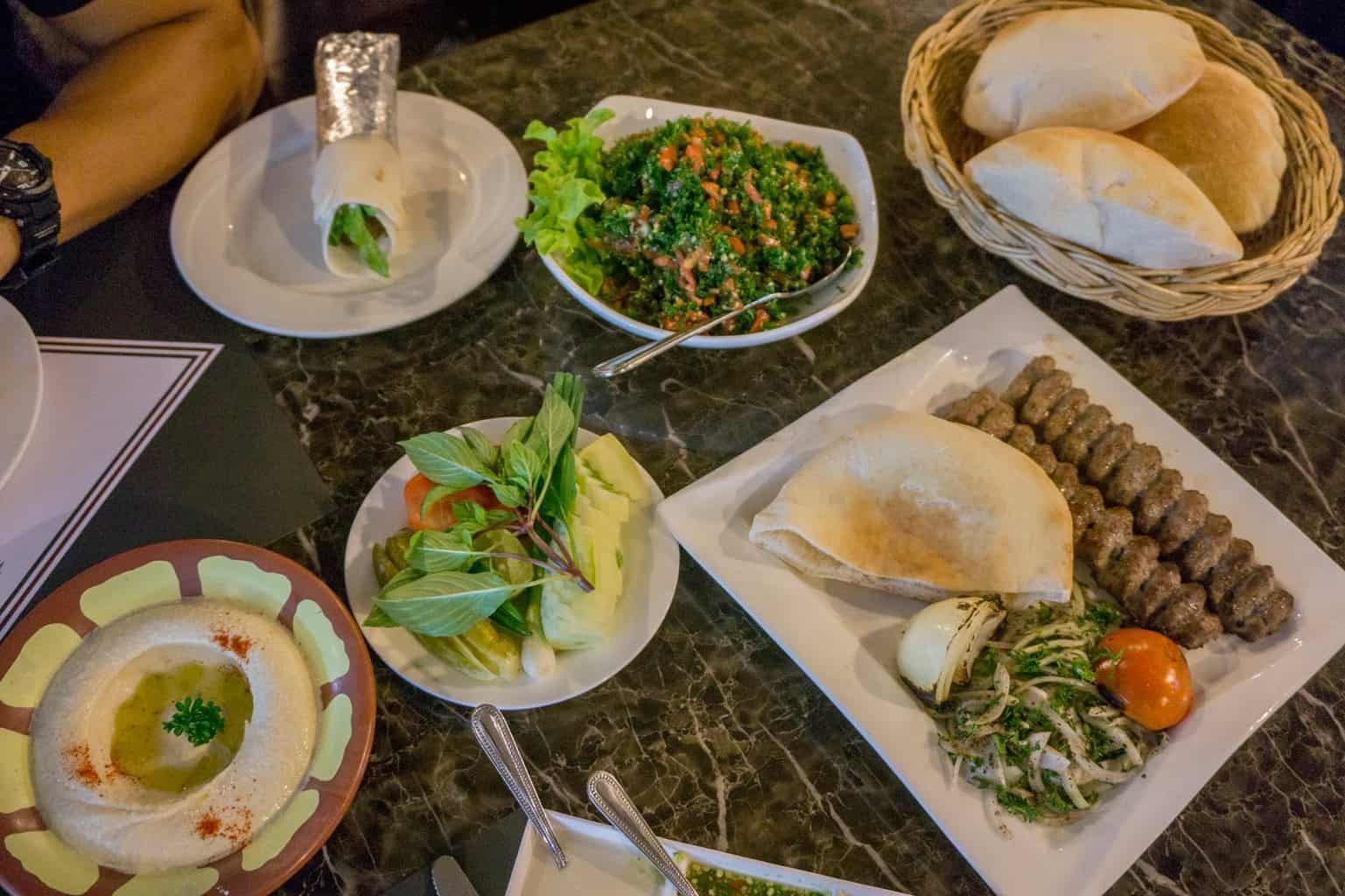 All of the joy at Beirut Lebanese Restaurant, Nana, Bangkok
l
We over ordered, we ate it all, and we ate it hard and fast. I can't remember the last time I tasted parsley, or strained yoghurt, or garlic that wasn't in a stir fry or curry.
It was a rapturous meal. Everything was spot on. And not just because we were starved of these flavours. Looking past the blind frenzy with which we inhaled what was in front of us, the food would have been very good on any day.
We might have left feeling like we could have been sick, such was the speed of our eating. But holy hell, we also left feeling really, really good.
Beirut Lebanese Restaurant, Sukhumvit Road Soi 2, Basement of the Phloen Chit Center, Khlong Toey

Lowlight.
Going to Koh Phangan felt like a bit of a waste of time. We only ended up staying there for three days, and only one of those was sunny. What's the point of being on a beach if you can't sunbathe?
Cutting our time short and returning to Bangkok five days early was definitely the right decision, but we lost a bit of money with late hotel cancellations and having to change our flight. More of an annoyance than anything else.
At least I got a couple of decent sunset snaps.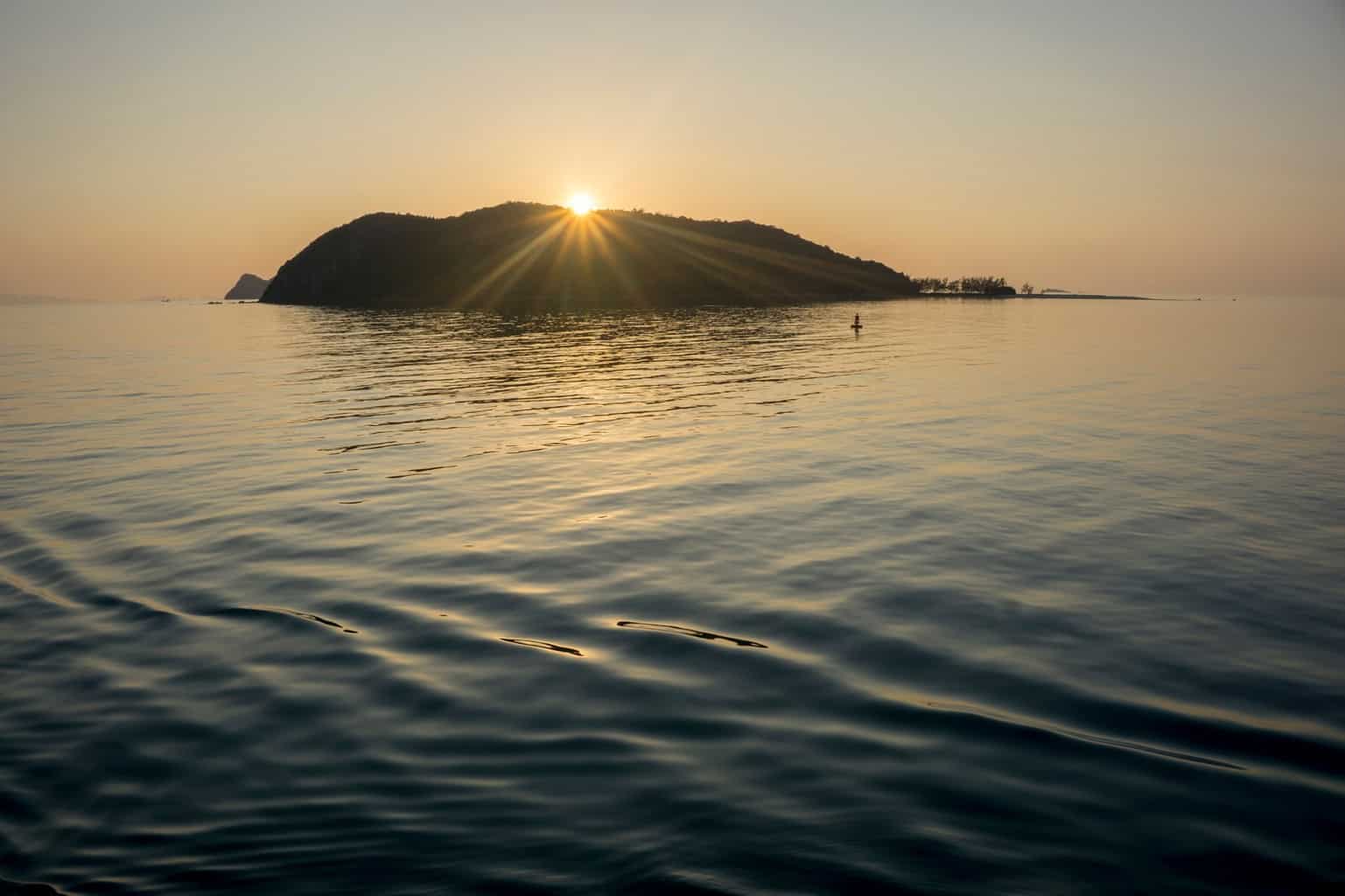 arriving by boat at Koh Phangan
Next week

A whole week back in Bangkok. Whoop.
Postcards
Bangkok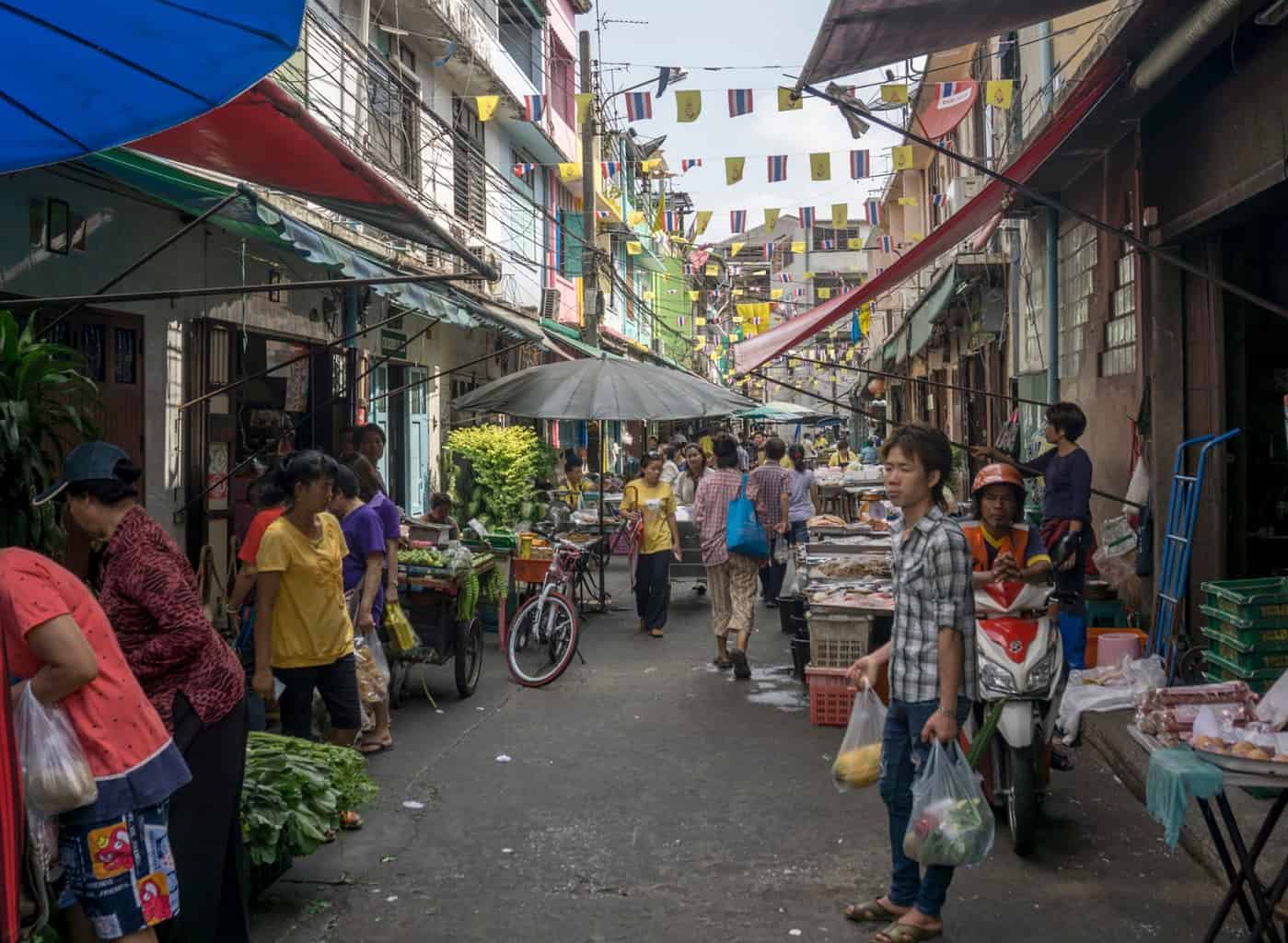 market scene, Bangkok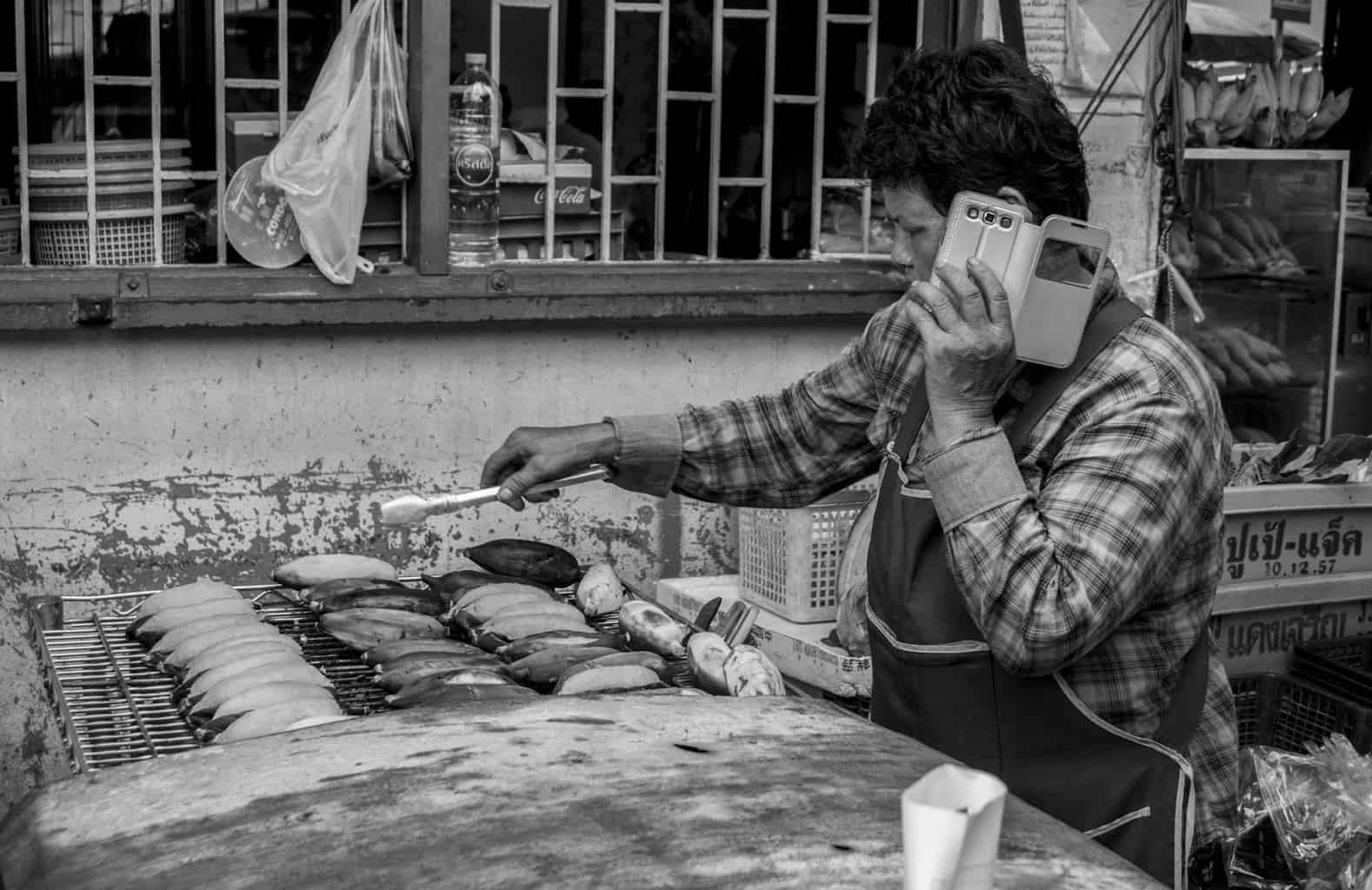 multi-tasking market scene, Bangkok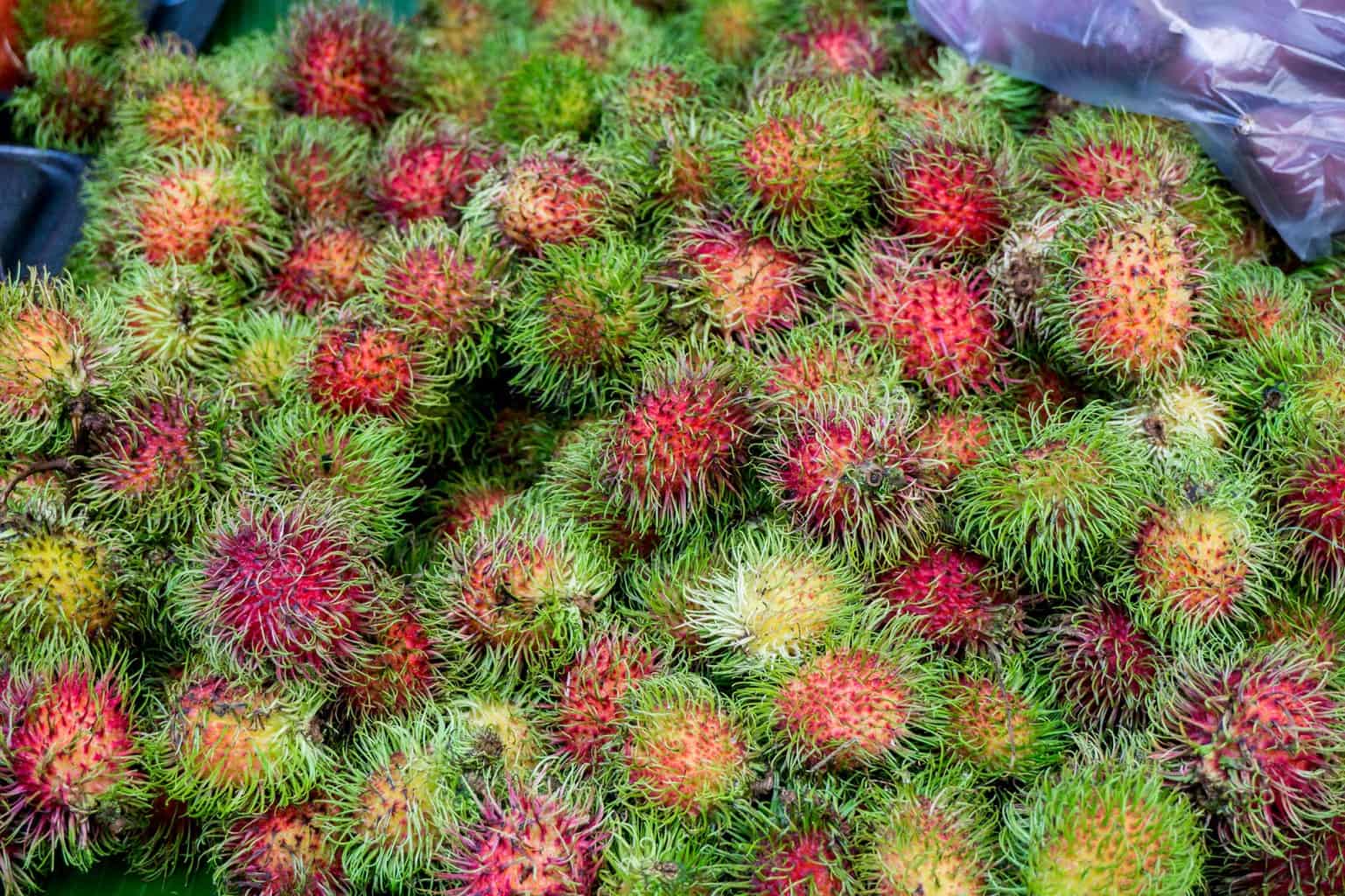 hairy rambuten fruit, Bangkok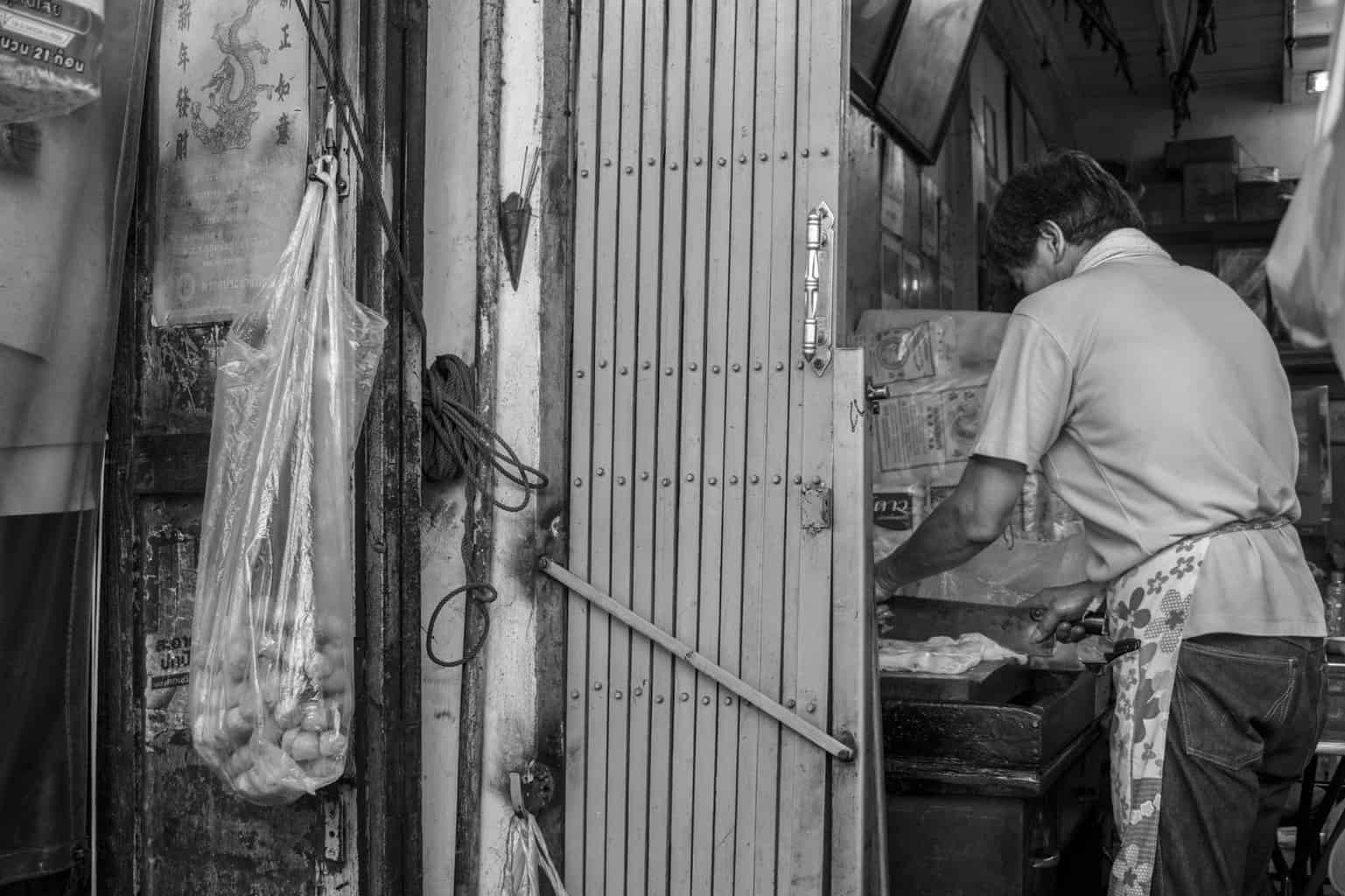 cutting up freshly made noodles, Bangkok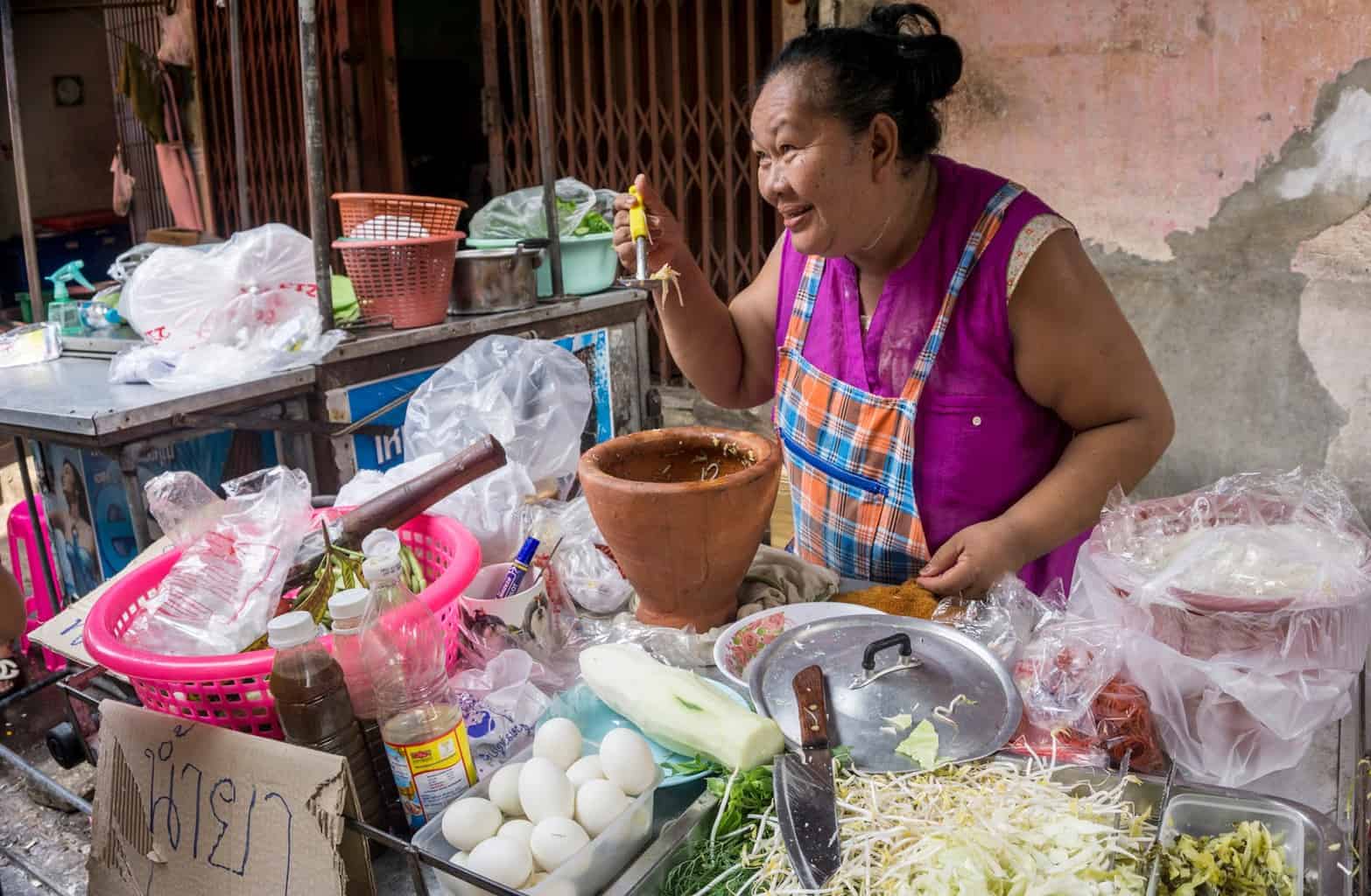 'Want to try some?', Bangkok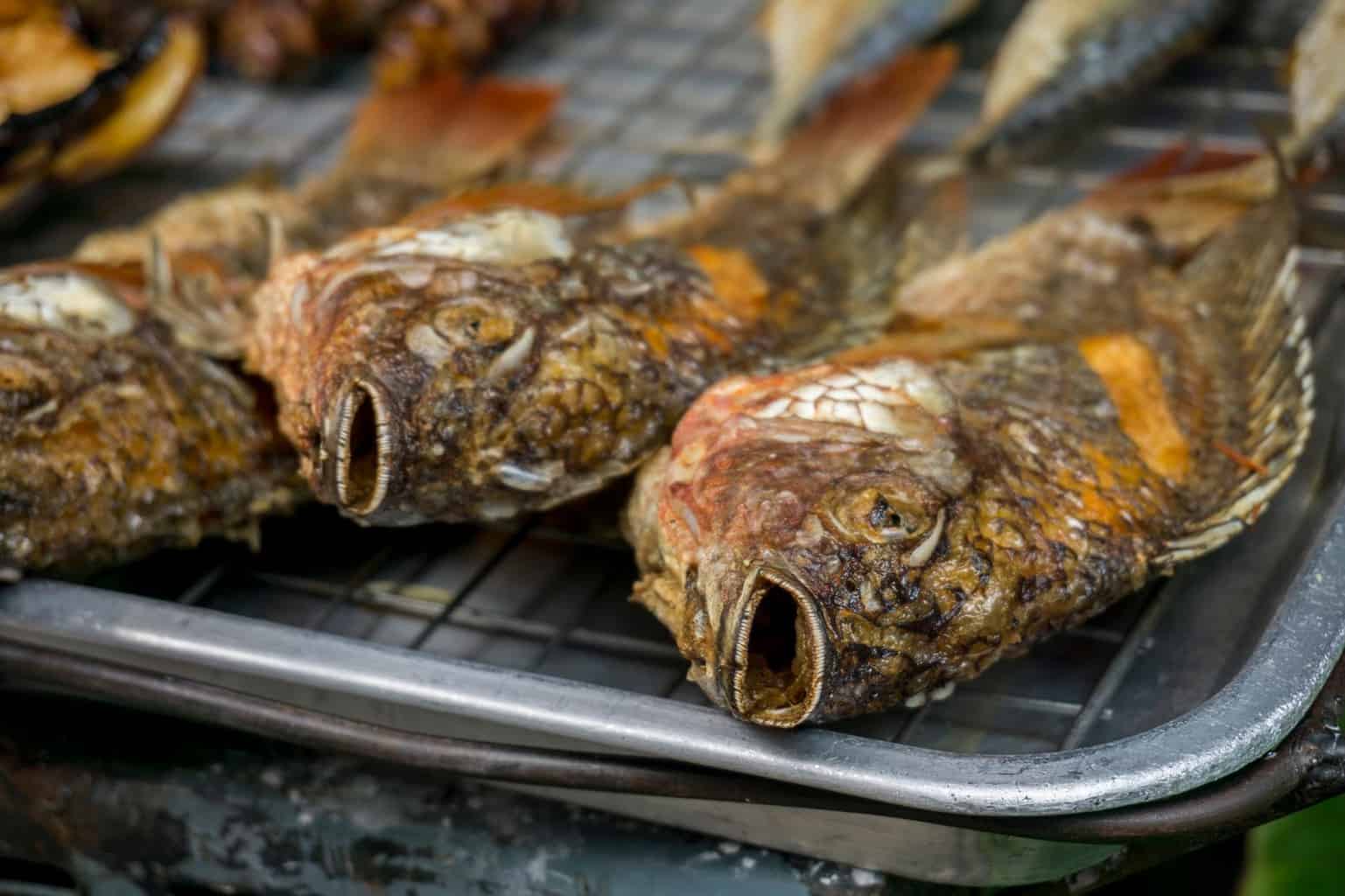 market scene, Bangkok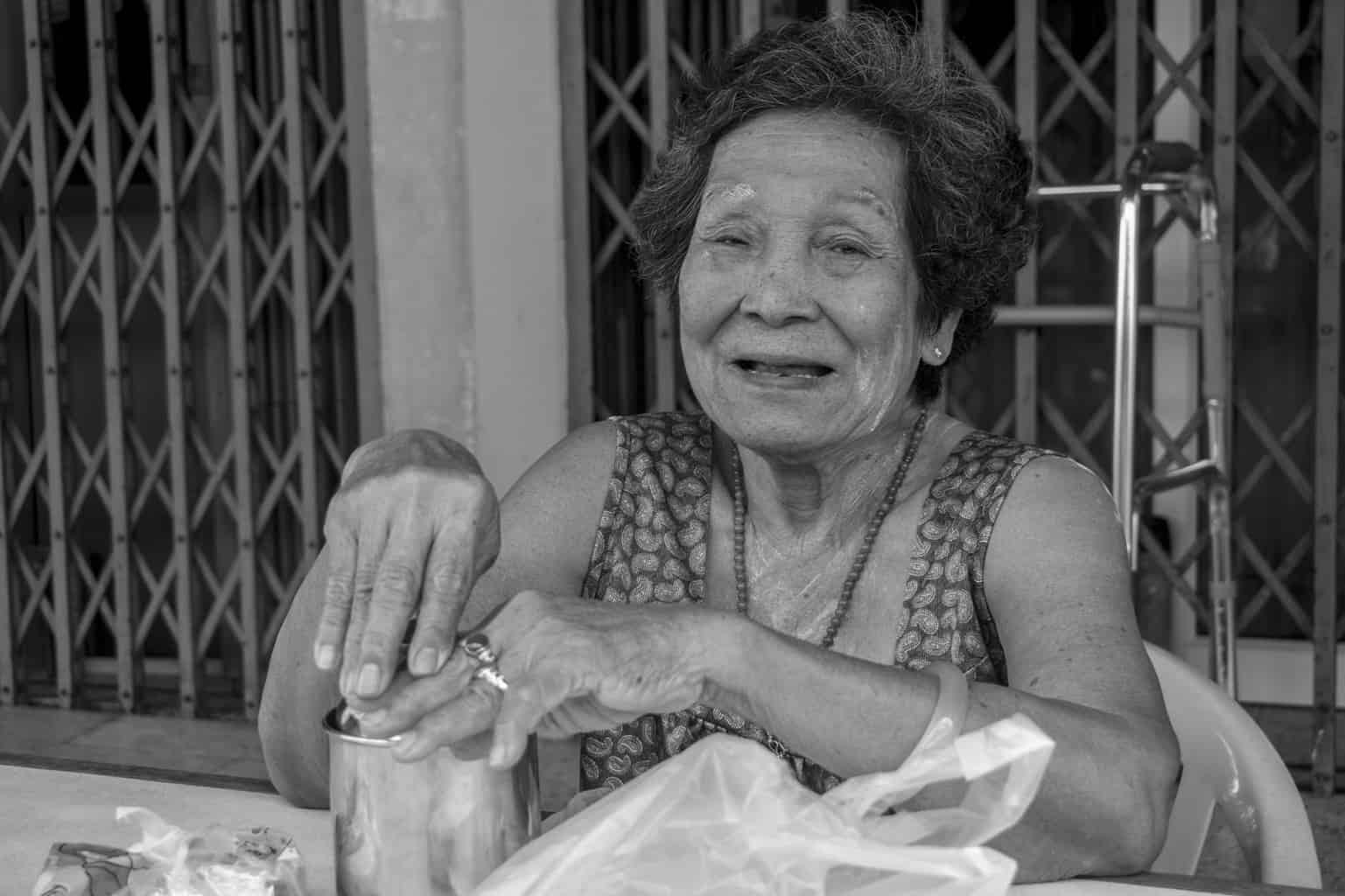 86 year old market trader, Bangkok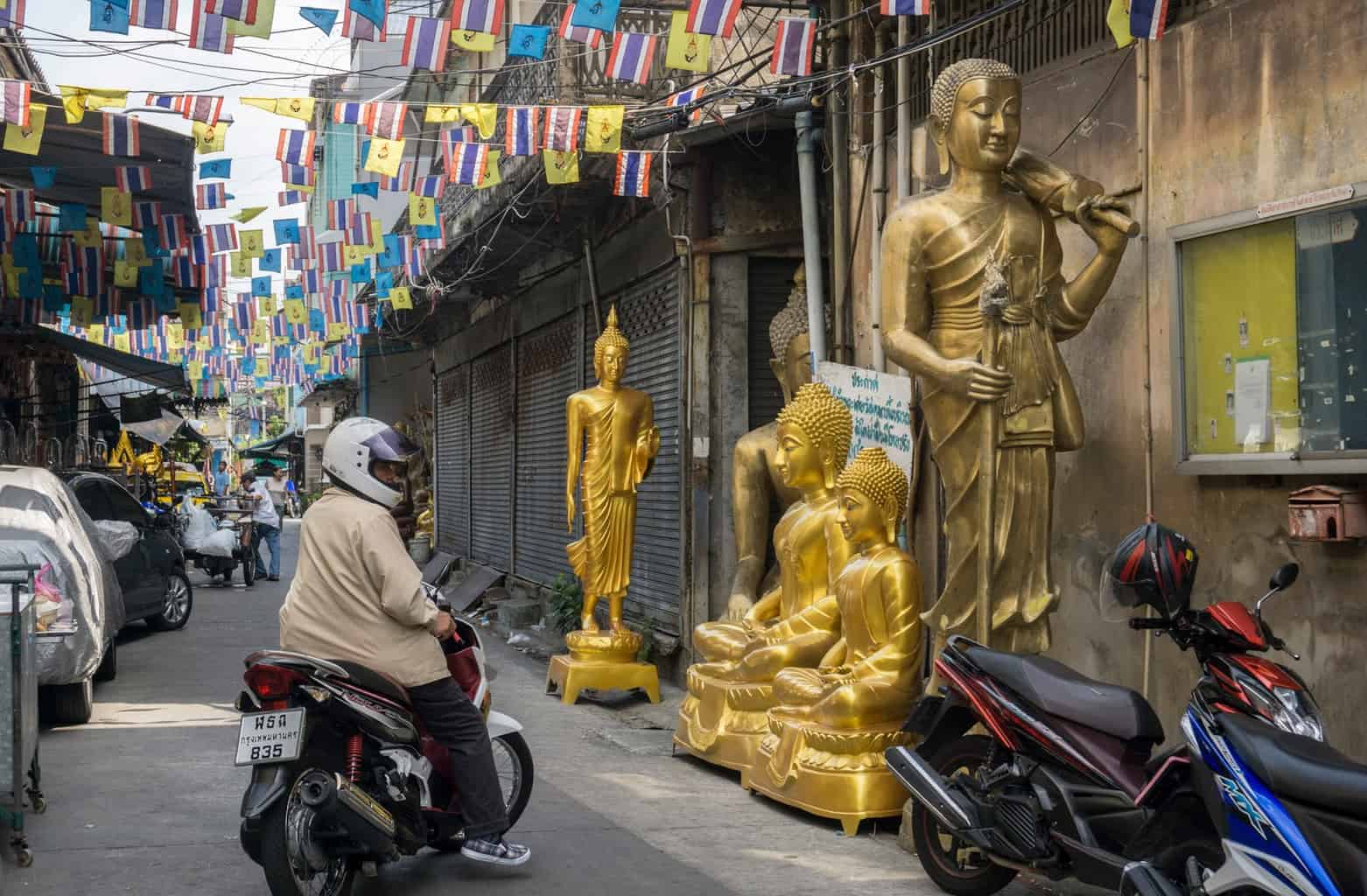 Bangkok's back streets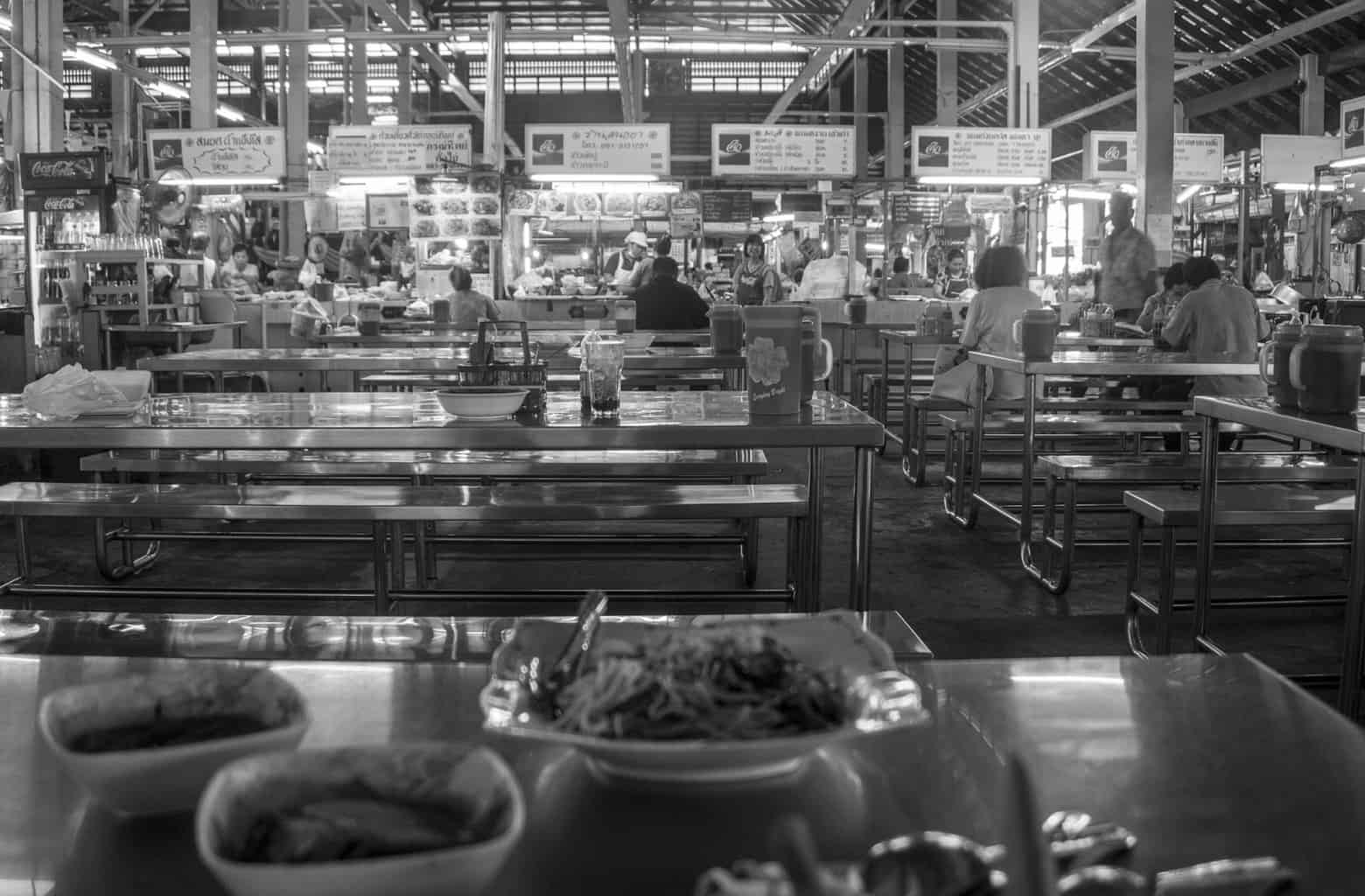 food court lunch, Bangkok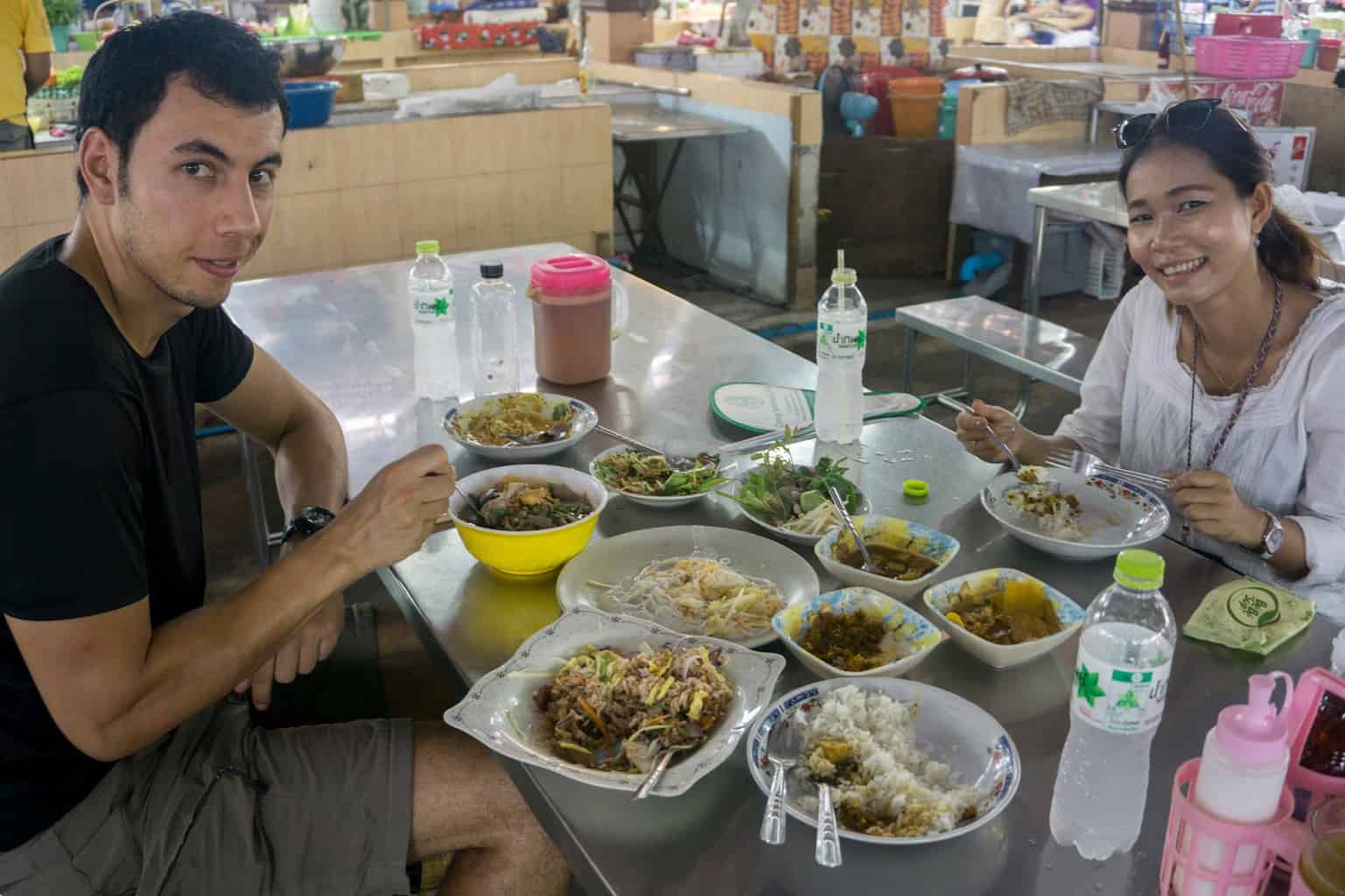 southern and central Thai eating with Chin from Chilli Paste Tour, Bangkok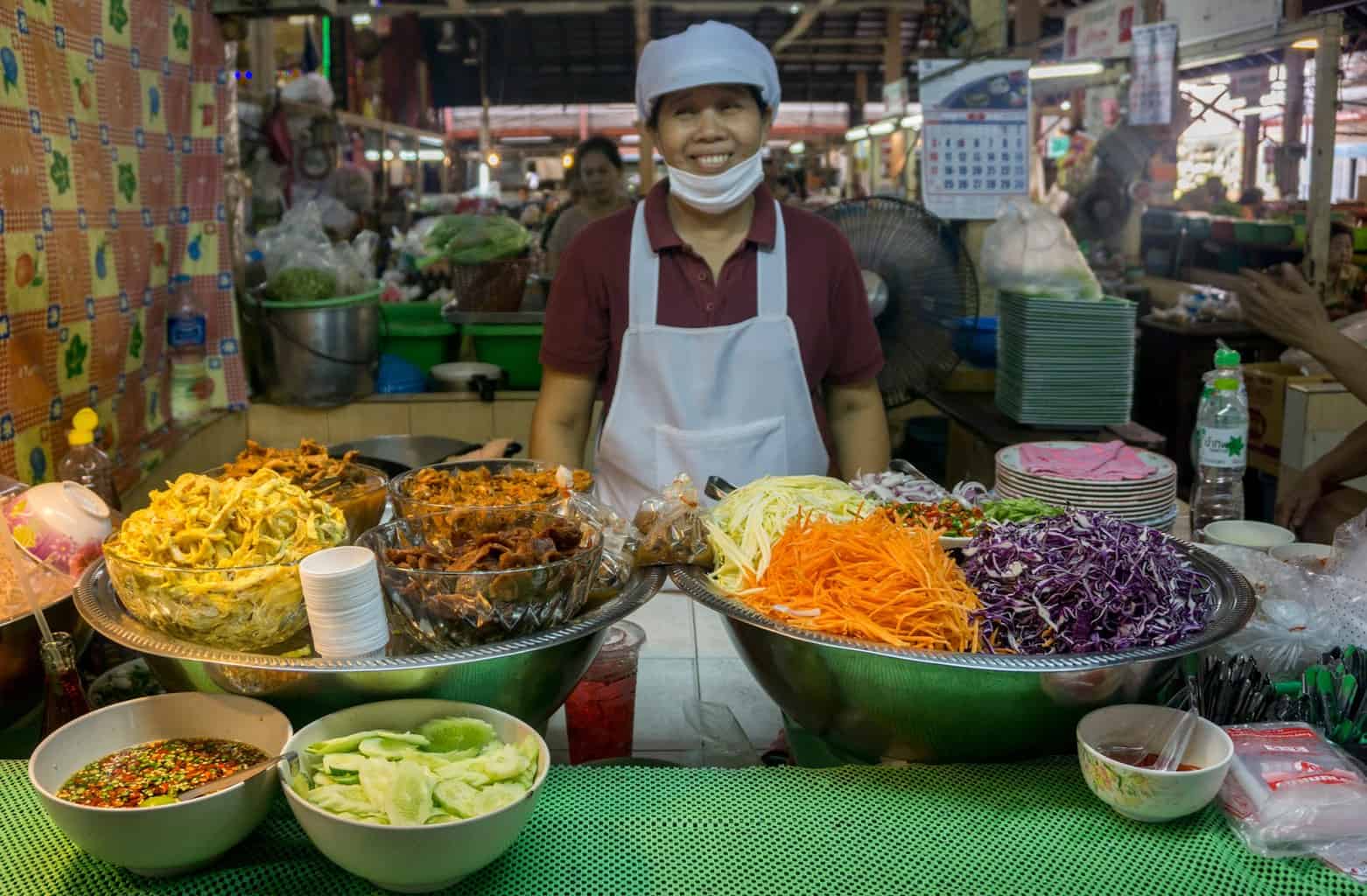 food court scene, Bangkok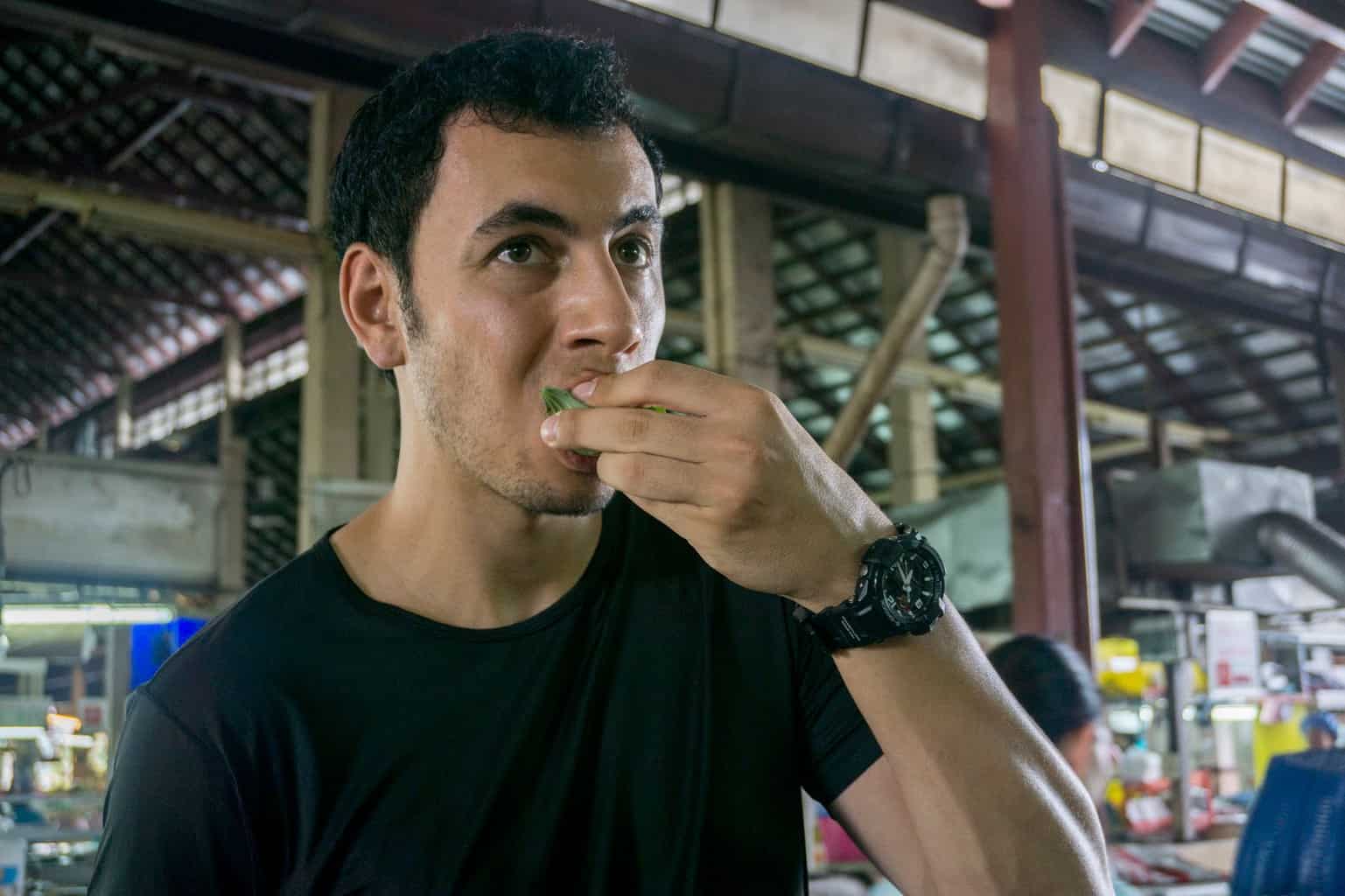 food court grazing, Bangkok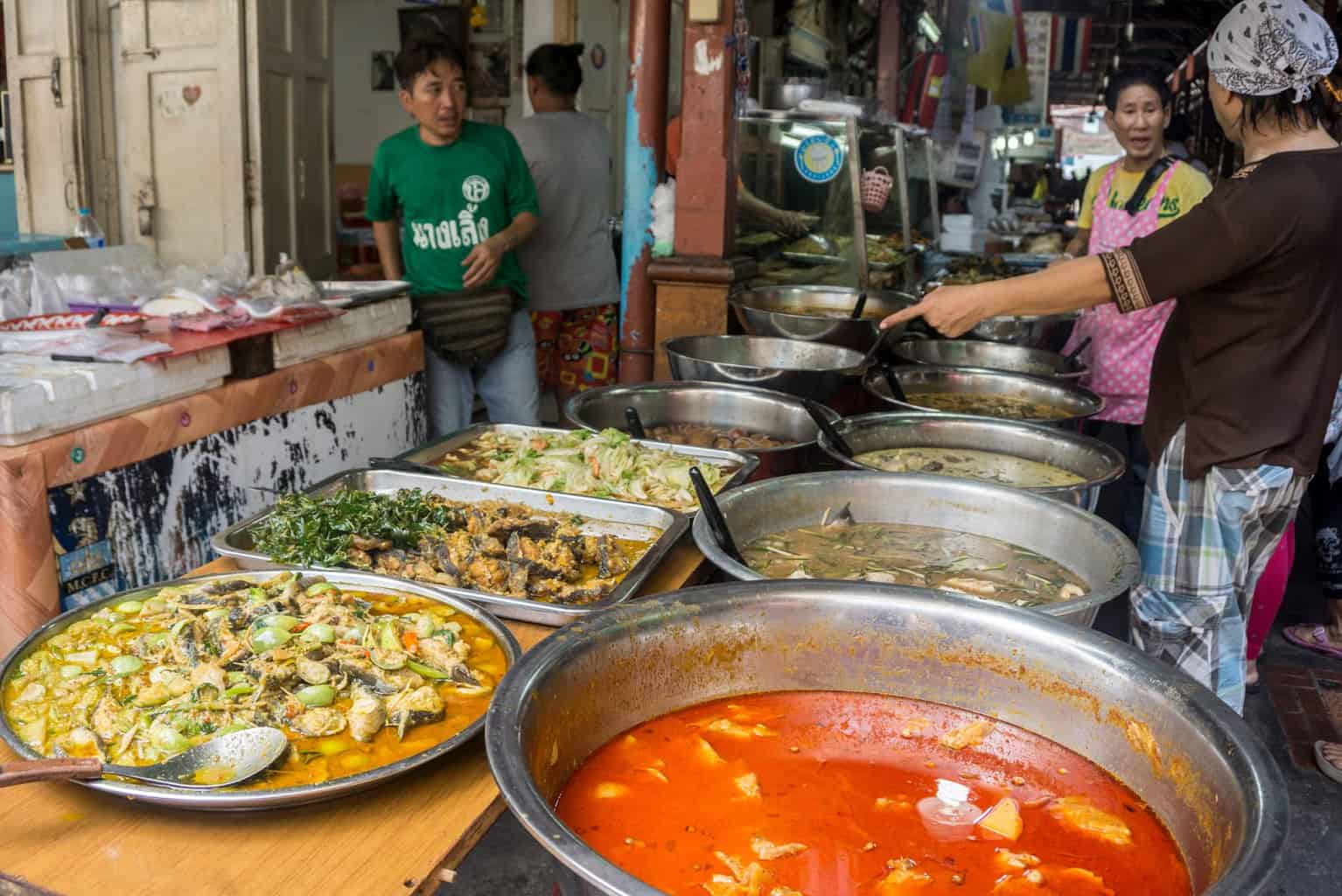 food court scene, Bangkok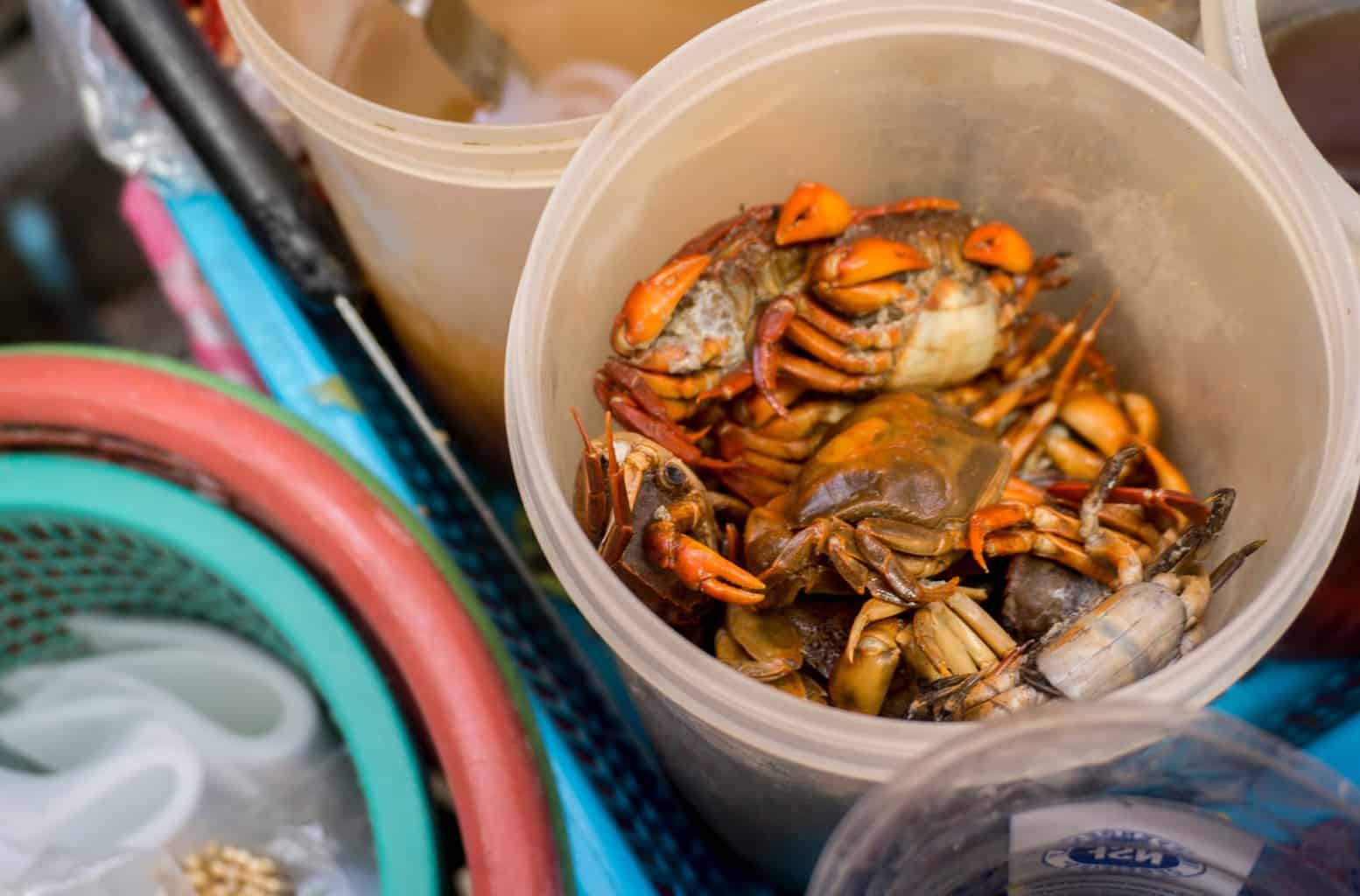 market scene, Bangkok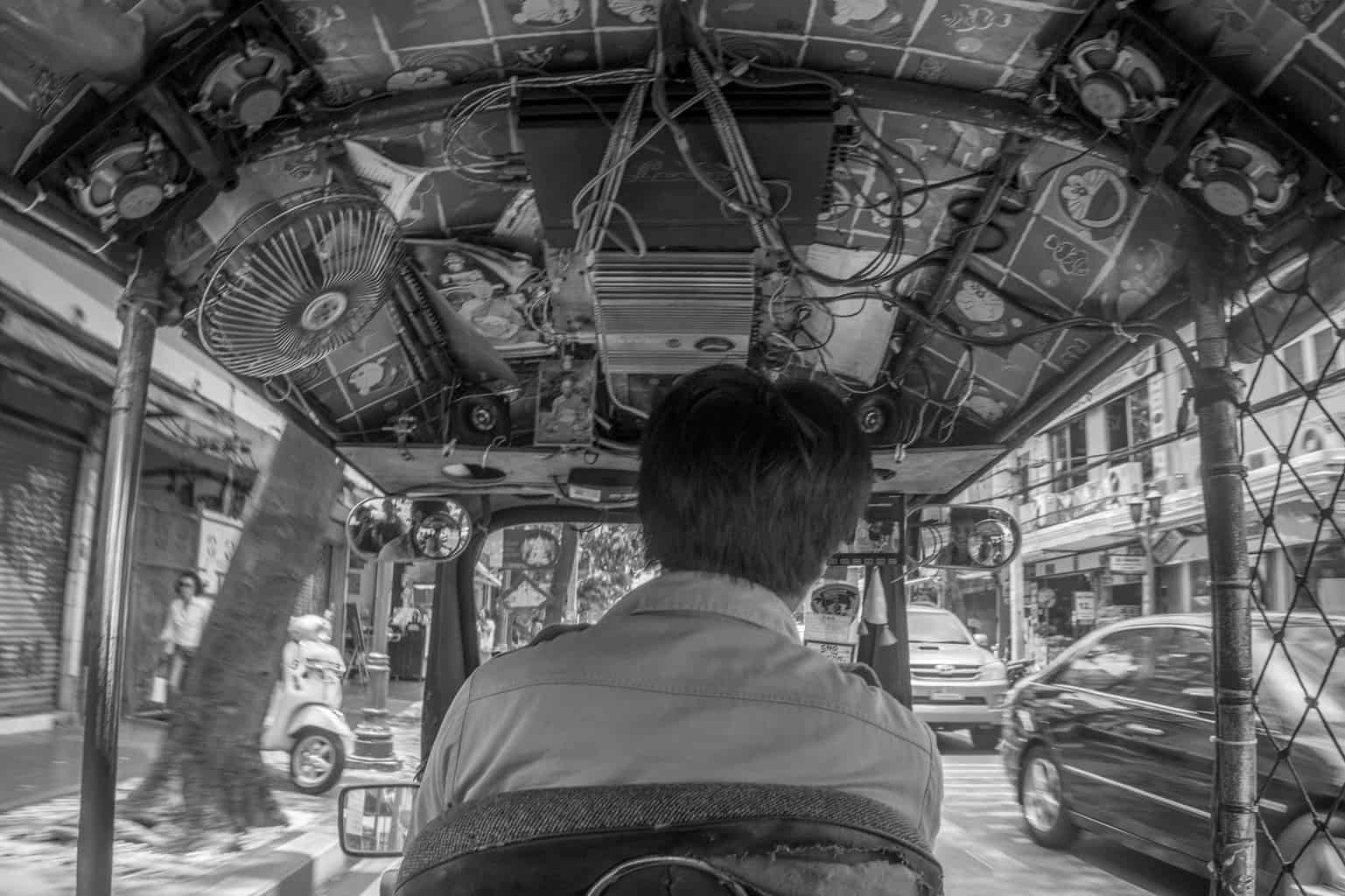 tuk tuk ride, Bangkok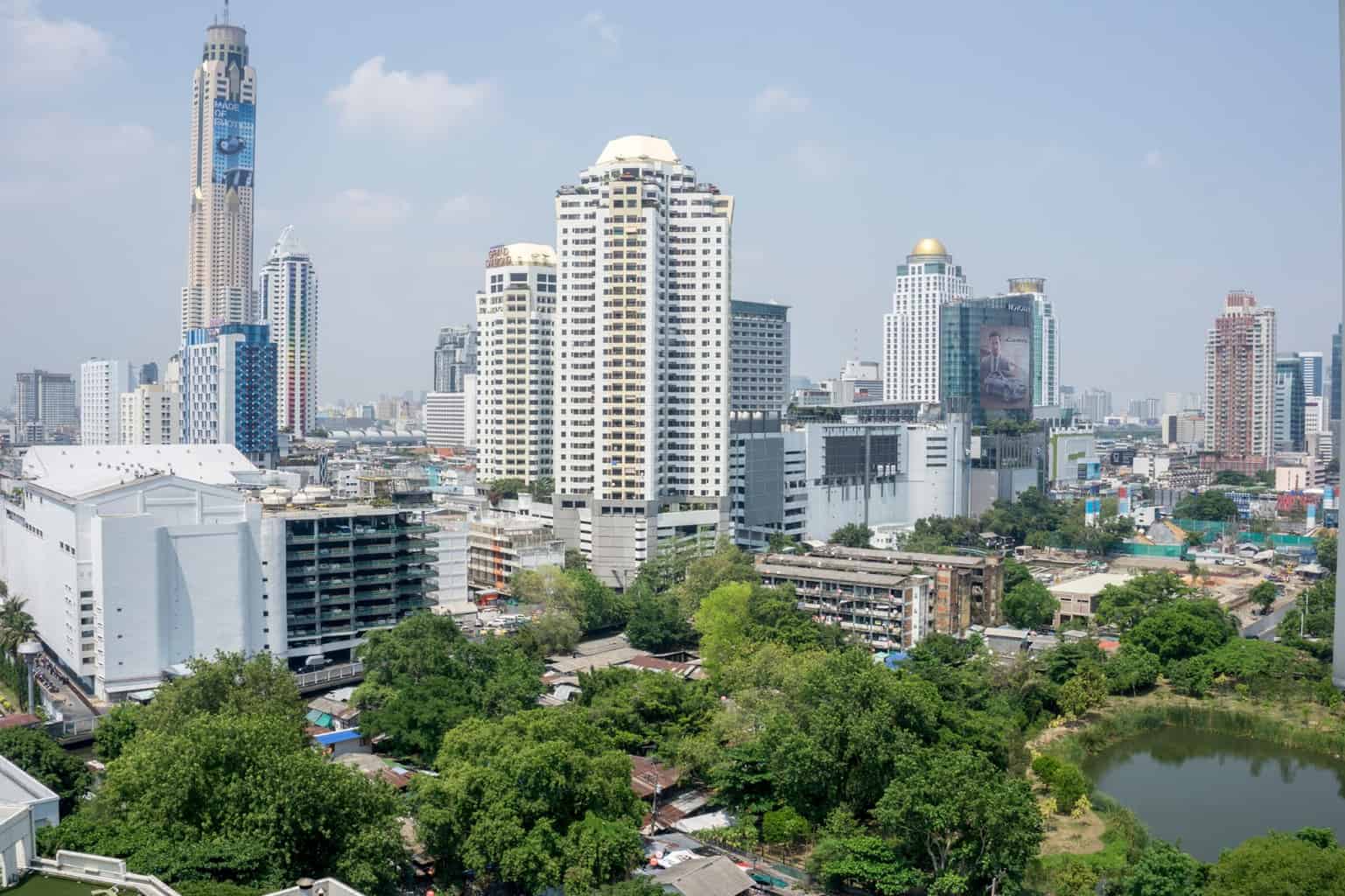 Bangkok skyline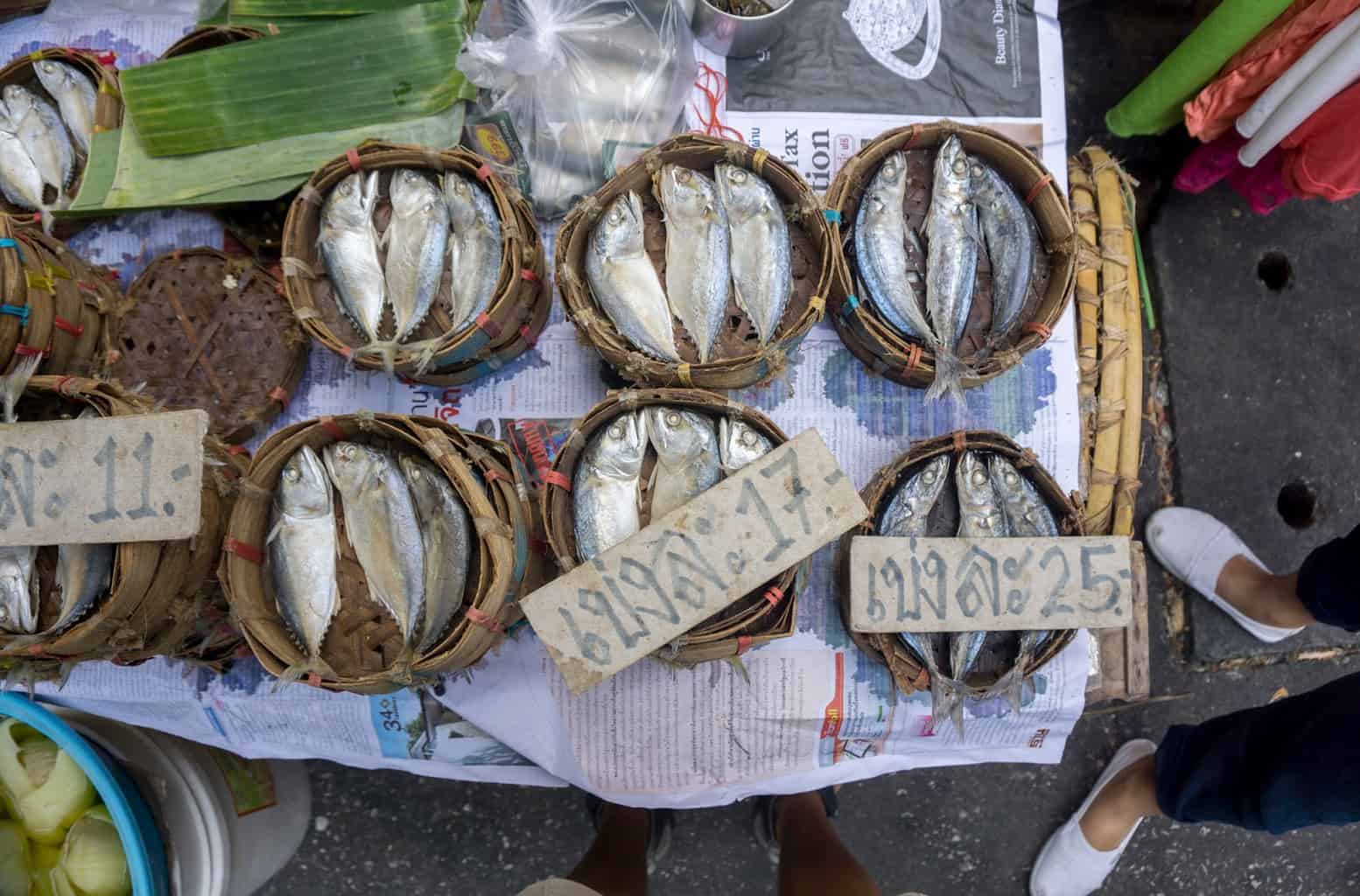 market scene, Bangkok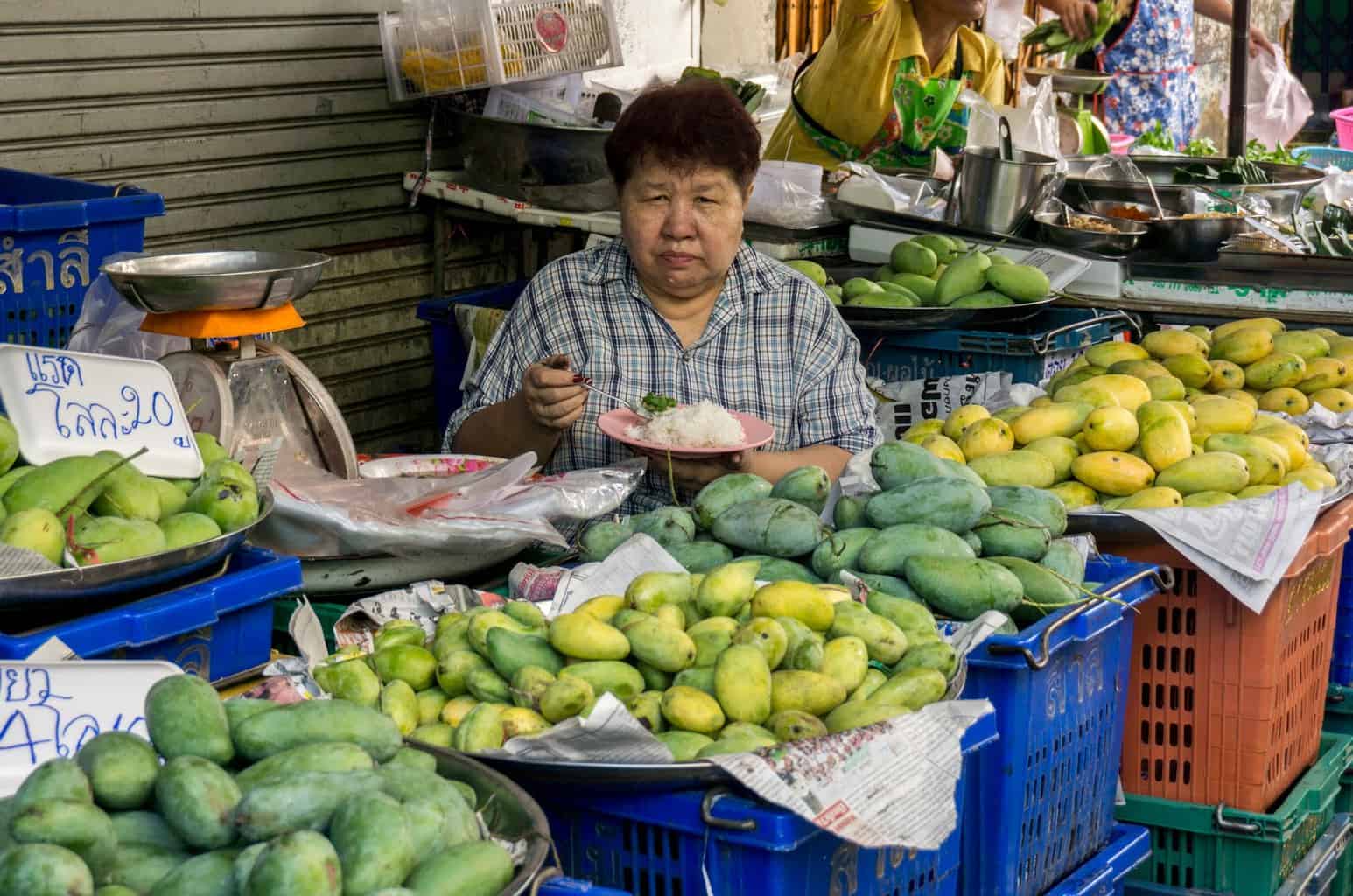 I pull the same face when my lunch is interrupted, Bangkok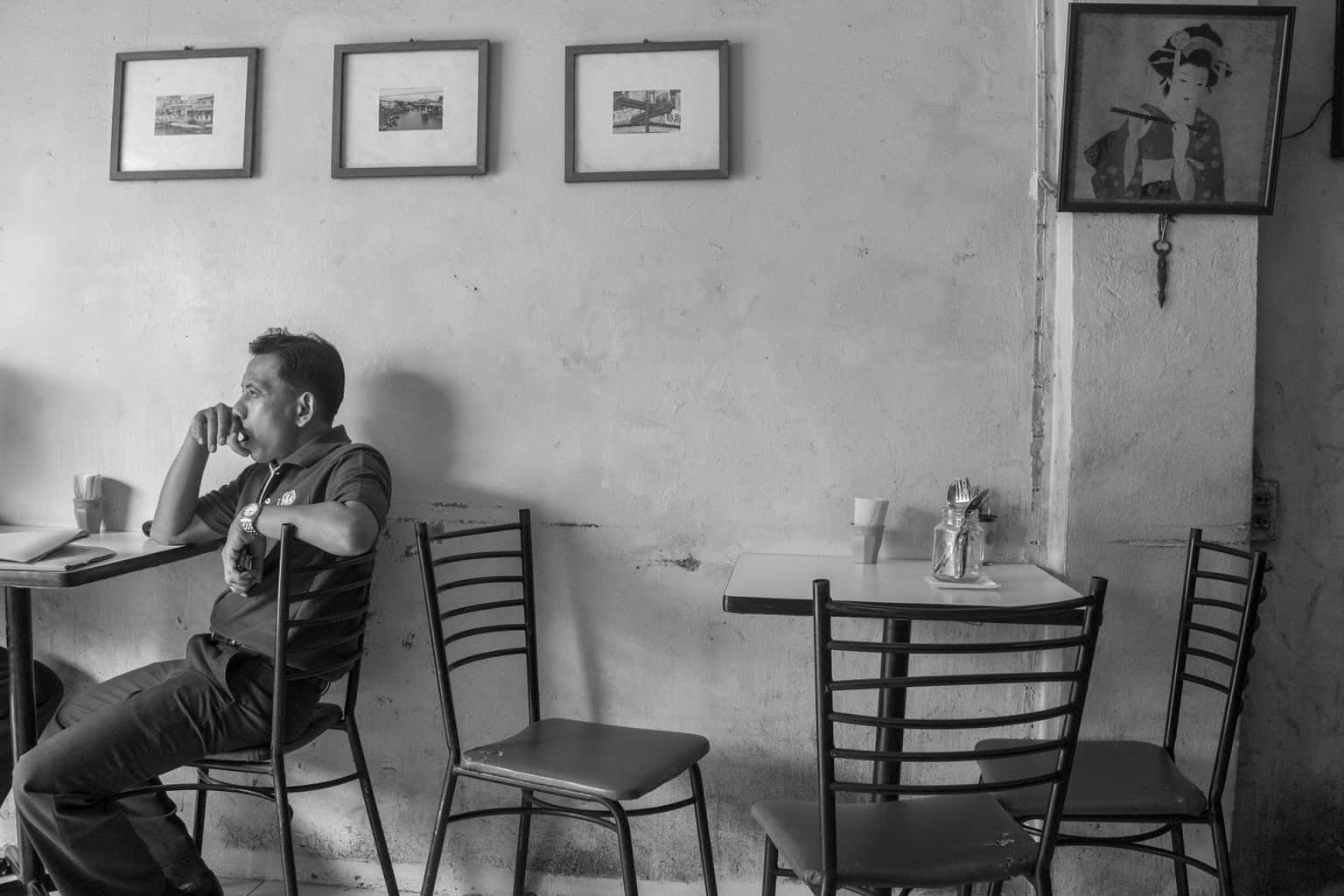 Som Hom's Kitchen, Bangkok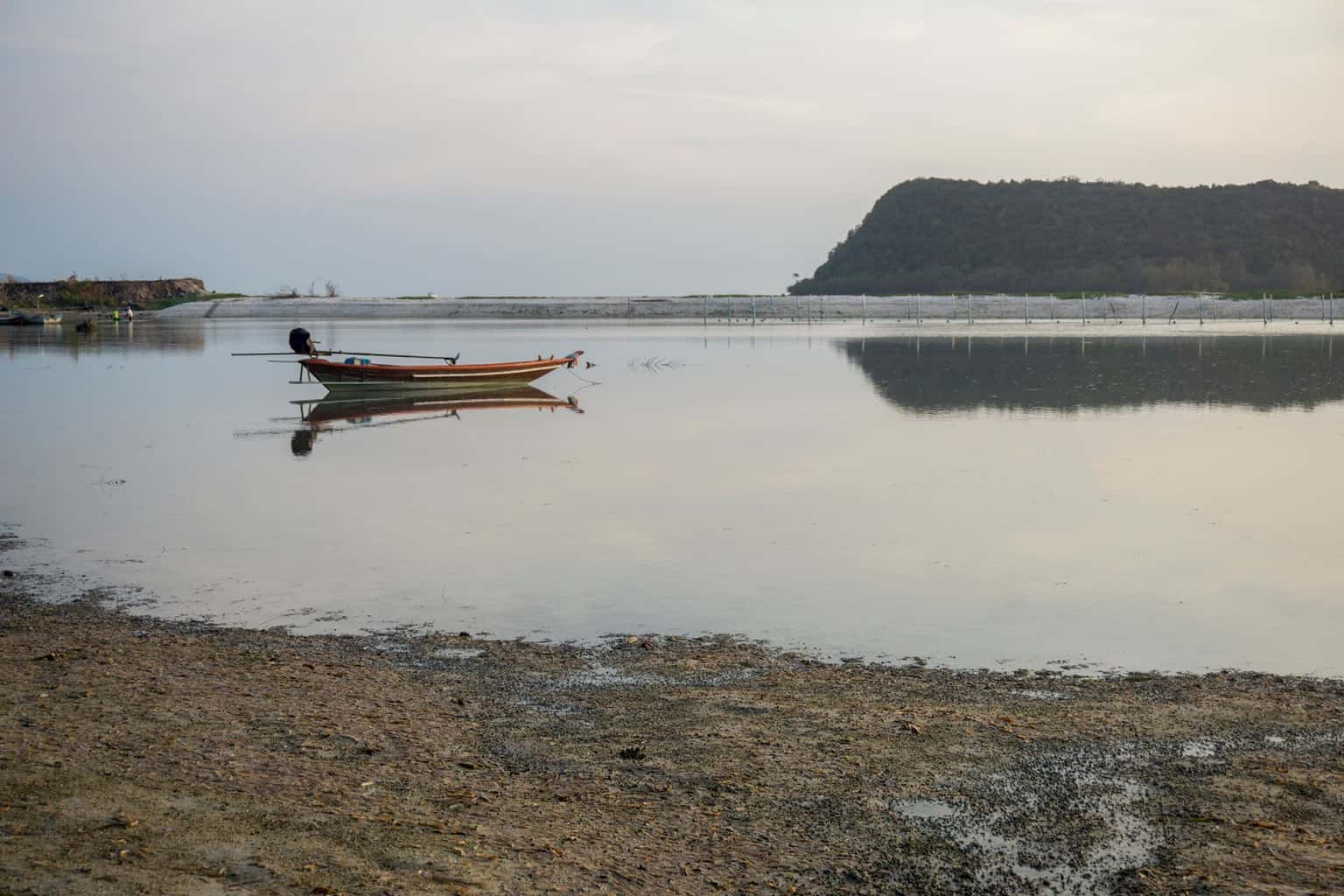 Baan Manali Resort, Koh Phangan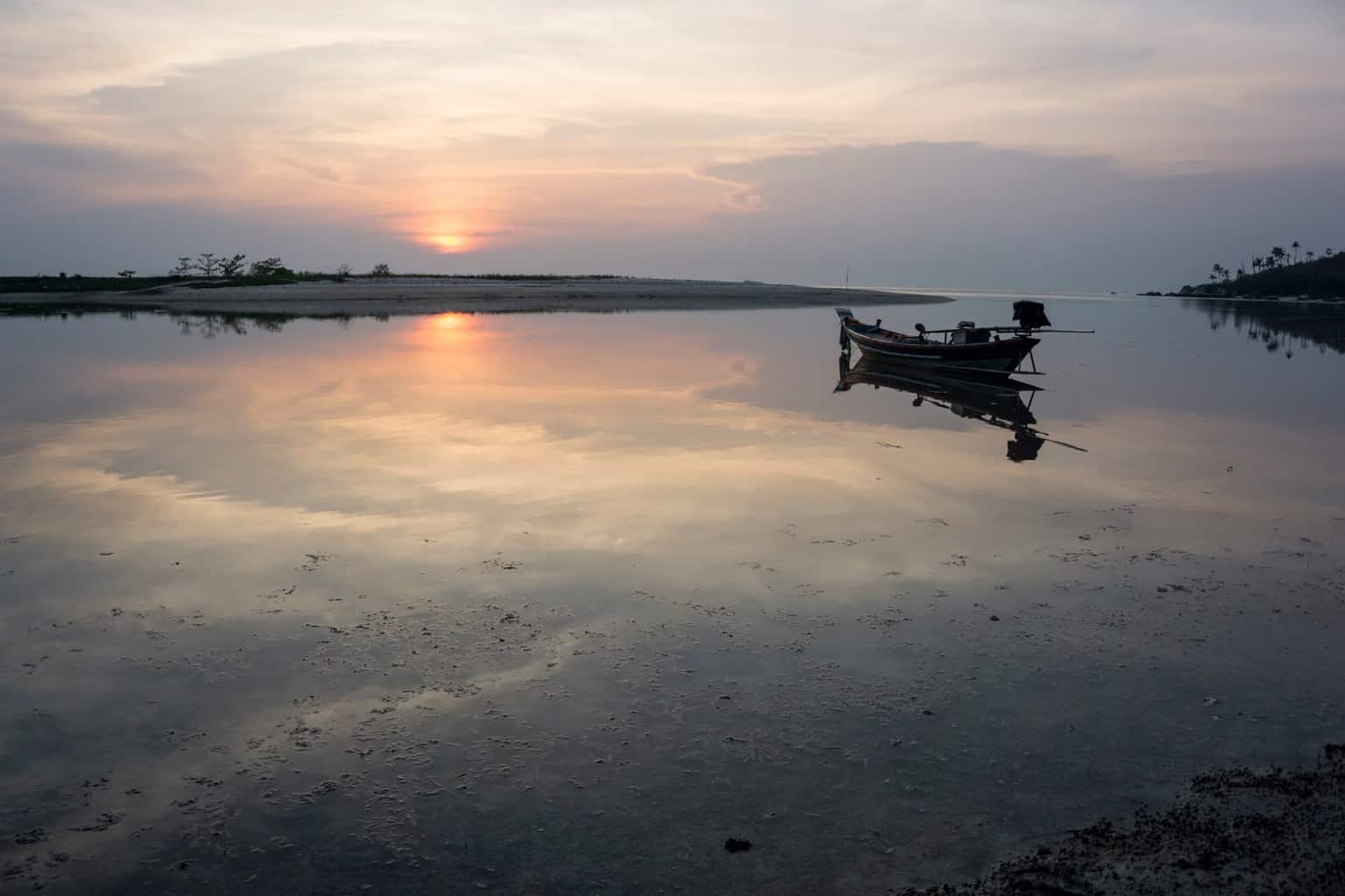 Baan Manali Resort, Koh Phangan




Related posts


Week 0: Gone travelling. London – see you in nine months


Week 1: INDIA – Mumbai → Goa
Week 2: INDIA – Bangalore → Mysore → Wayanad
Week 3: INDIA – Kochi → Allepey → Kollam → Madurai
Week 4: INDIA – Pondicherry → Chennai → Mumbai


Week 5: INDIA – Varanasi → Udaipur → Jaipur → Delhi
Week 6: TAIWAN – Taipei
Week 7: CHINA & VIETNAM – Hong Kong → Hanoi
Week 8: VIETNAM – Sapa → Hanoi → Ha Long Bay → Hanoi


Week 9: VIETNAM – Hue → Hoi An
Week 10: VIETNAM – 6 day / 5 night motorbike tour from Hoi An to Da Lat
Week 11: VIETNAM – Da Lat → Nha Trang
Week 12: VIETNAM – HCMC → Mekong Delta → HCMC
Week 13: CAMBODIA – Siem Reap (and Angkor Wat) → Phnom Penh
Week 14: CAMBODIA – Sihanoukville & Koh Rong Samloem Island
Week 15: CAMBODIA – Kep
Week 16: THAILAND – Chiang Mai
Week 17: THAILAND – Songkran Festival in Mae Rim & Chiang Mai