Last Updated on November 17, 2022 by Leyla Kazim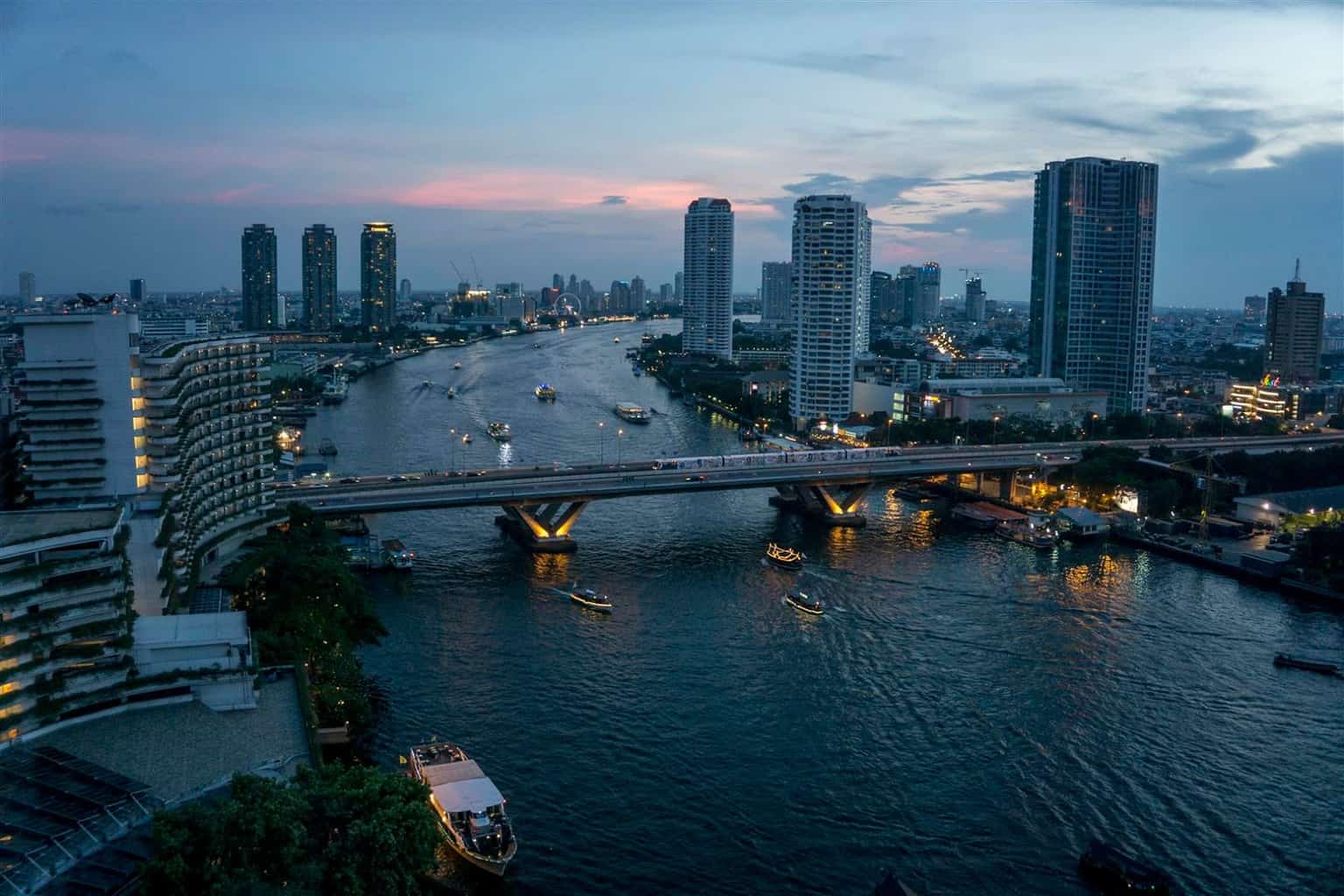 Image of the week: Bangkok skyline by night, view from the Shangri-La Hotel
More images at the end of the post
l
Where in the world
A 25 minute boat journey from Koh Phangan to Koh Samui, where we took a short flight back to Bangkok, staying there the whole week.

Thoughts
My preconception of Bangkok was largely lifted from the film The Hangover II, which sees a group of unwitting amnesia-stricken stag do party-goers retrace their steps through the strip clubs, tattoo parlours and cocaine-dealing monkeys of Bangkok, to locate their missing friend and make it to the wedding in time.


I'm sure some truth can be found in that if you're on the search for it, and Bangkok certainly has its fair share of sleaze strips (more on that later). But by and large, the city is a civilised, respectful, sprawling metropolis, full of smiles, the familiar chaos of a capital, and racing towards the future.
You'll find 200-year-old village homes sitting in the shadows of slick climate-controlled megamalls that use the same amount of juice as whole provinces.
Buddhist temples with golden rooftops shimmering in the sunlight share space with the 'go go bar girls' on the scout for that evening's source of income.
Soaring skyscrapers play host to trendy rooftop bars for tourists, expats and the city's young urban professionals, while street food shacks, some unpacked from the back of a motorcycle, serve up some of the best grub in town.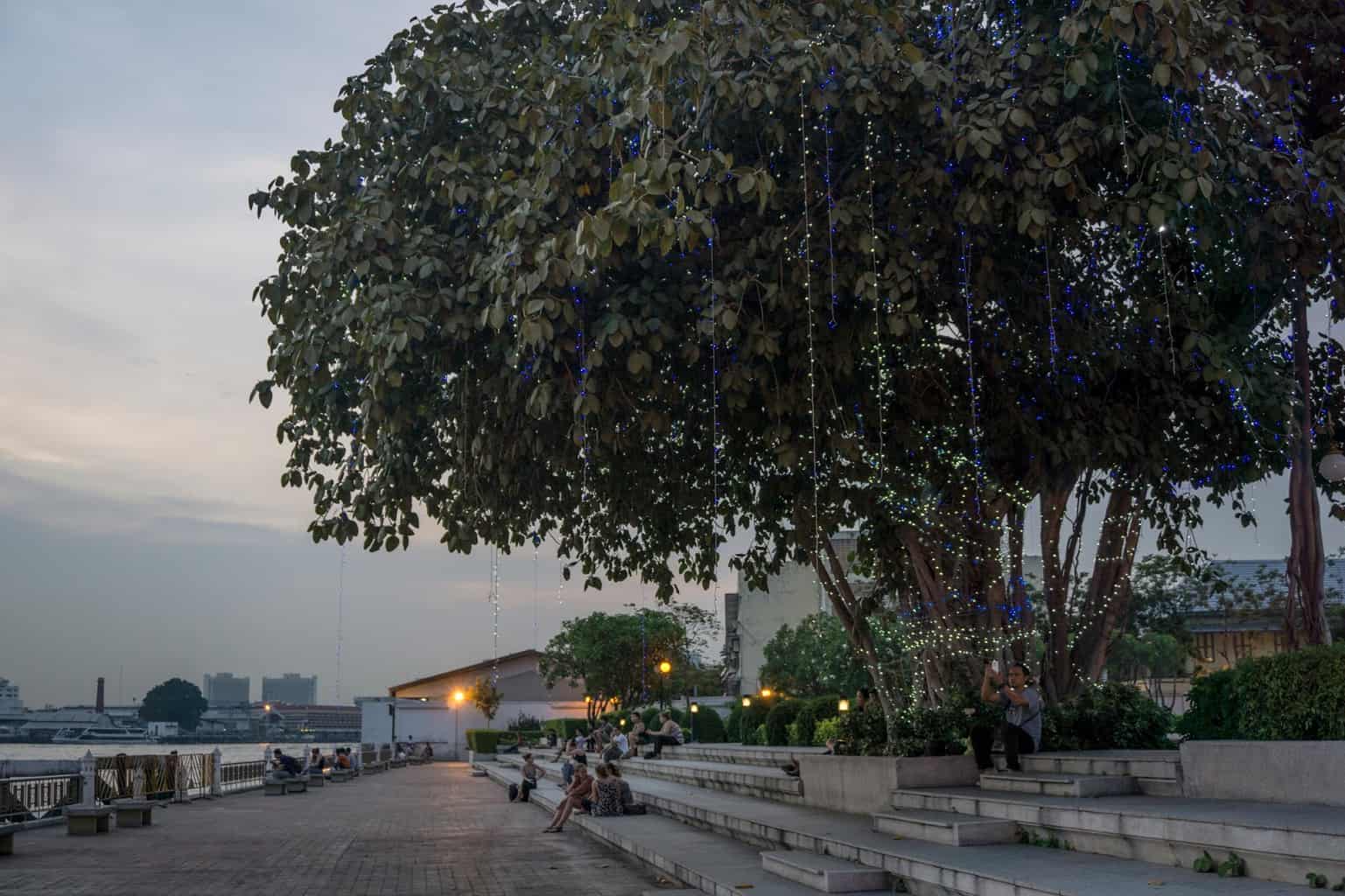 Bangkok
l
It would be remiss, though, to visit Bangkok and not wander around the city's sex trade hubs, out of curiosity if nothing else.They play a huge role in the city's entertainment industry, and to truly understand a place, one must bear witness to both the good and the mucky.
It's an odd sight for a first-time visitor to the country, to see old overweight western men so brazenly parading the streets like peacocks with young, sleight Thai girls on their arm. Or sit in a restaurant where the same western male stereotype is this time with a young Thai boy, both eating their meals in sullen silence with not a scrap of conversation or eye contact exchanged between them.
But the thing that struck me the most, was the openess of it all. Yes, clearly, these people are with prostitutes. But this is Bangkok, a city known for its sex tourism, and people barely bat an eyelid over it.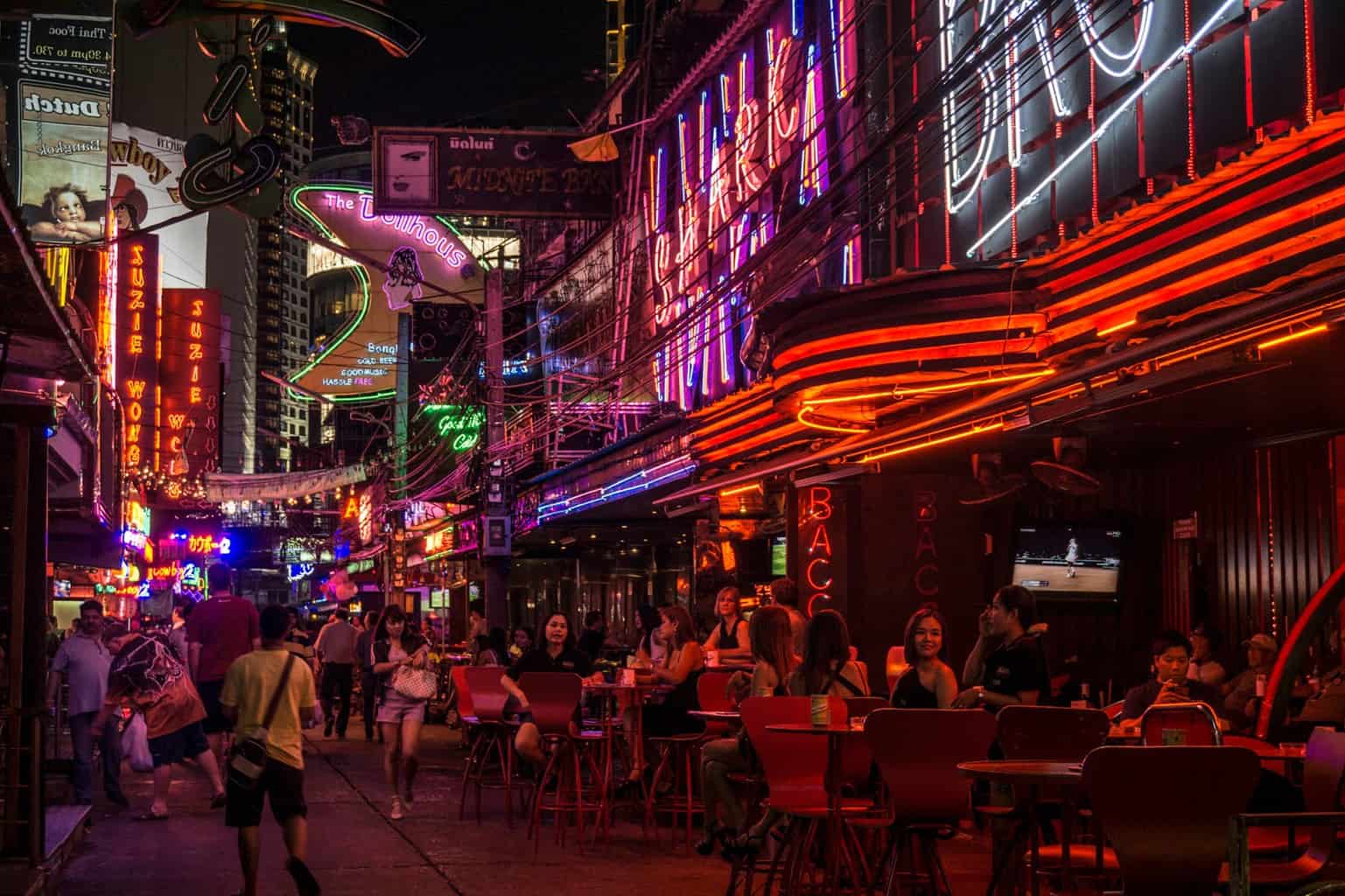 Soi Cowboy, Bangkok
l
Walk through the streets around Soi Cowboy (above, and a lot of where The Hangover II was filmed, incidentally) and you'll see stalls flogging obscene sex toys and packets of viagra to unassuming middle-aged men visiting from India, directly next to another selling pretty ornamental soaps in the shapes of fruit and veg to a little girl and her mother.
Girls launch themselves in a high-pitched tirade of 'hellooooo, where you froooom?' as soon as they spot Matt (who is always at least ten feet in front of me), then respectfully retreat and move onto another male once they see me. I had a guy whisper in a very serious tone, directly into my ear as I walked past him, 'ping pong show?' to which I replied, 'I'm alright for now, thanks.' I like how he directed that at me, rather than Matt.
(If you want to find out what a ping pong show is, Wikipedia can help).
You might see a local working girl trot in her stripper heels into a 7/11 convenience store, wearing little more than a bra and knickers, buying mouthwash and floss for her next client hanging back behind her, who has a halitosis problem. All this whilst a robed Buddhist monk passes by outside (ok, he's probably in the wrong part of town).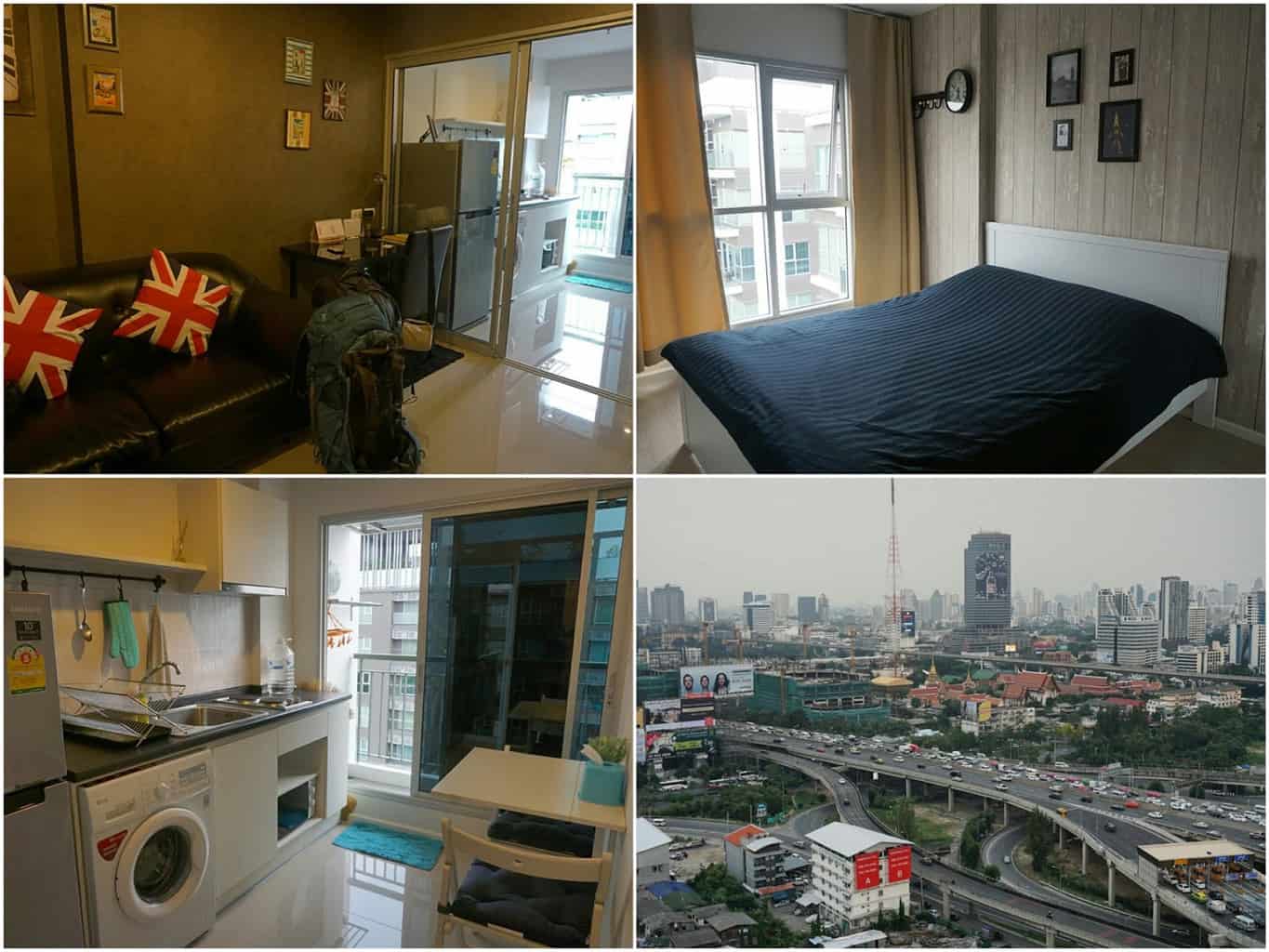 Airbnb apartment
near Central Plaza Mall, Bangkok
I don't know nearly enough about what I'm sure is a complex and multi-faceted industry with a lot of history, to pass judgement on anyone involved. But it is indisputably a big part of Bangkok's identity, and it's fascinating to observe.
Despite all of that, the thick heavy air, constant state of sweat, smog, or perhaps because of it all, Bangkok is totally rocking, and I love it.
I've been here a total of 10 days (over two visits) and it's not nearly enough. It's a place I could totally envisage living in, staying permanently in one of the many flash condos punctuating the skyscape, like the one we secured through AirBnB (right).
Not that I plan to live here, don't worry, parents. But visit again, most definitely.

The best things I ate this week

One of the reasons I think I could live in Bangkok? Because the food is so – freaking – good. And cheap.
And if there's one thing that makes me fall hook line and sinker for a place, it's what it can feed me with.
Bangkok food tour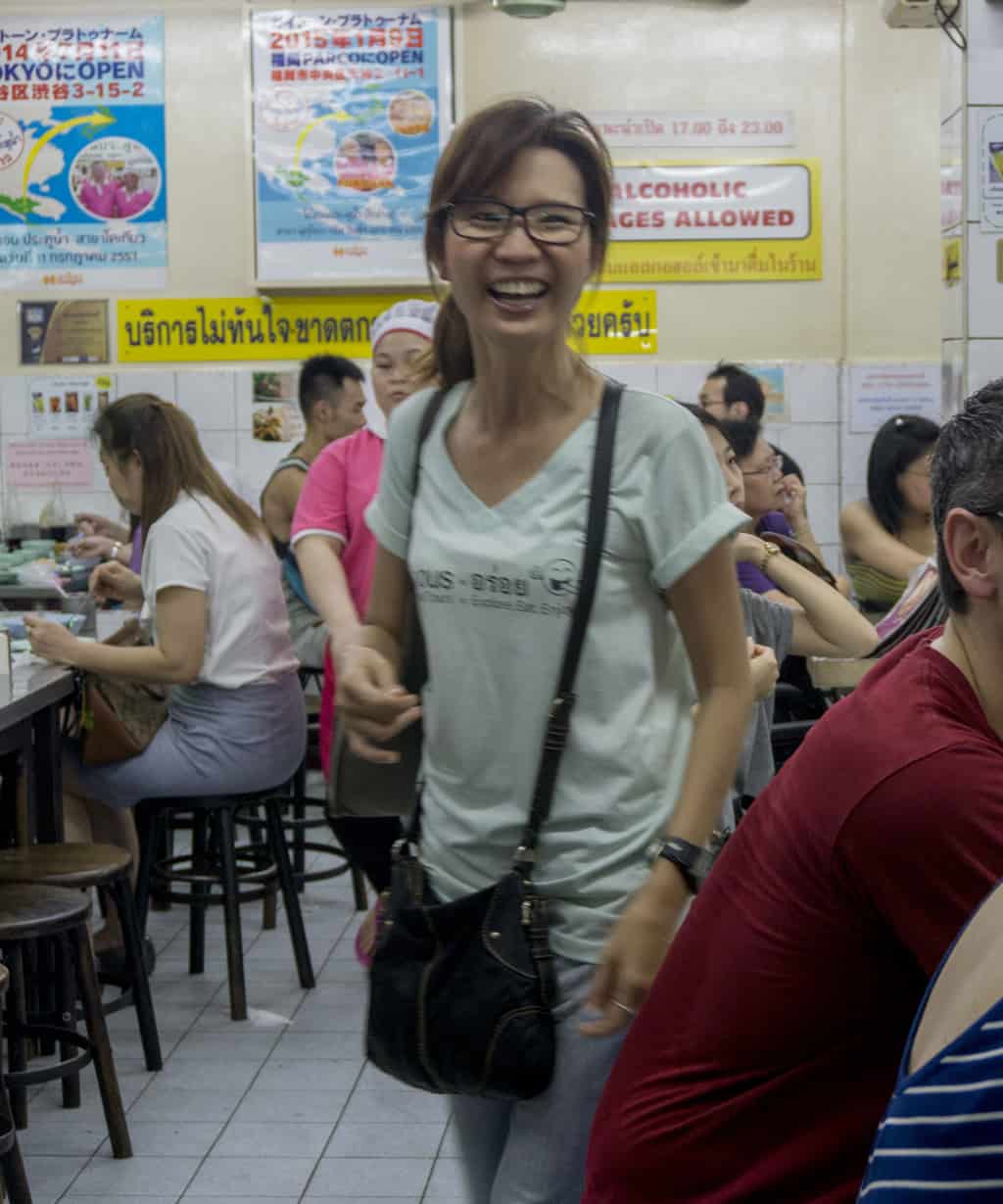 Mod from Bangkok Food Tours
As I mentioned last week, there are few better ways to quickly get acquainted with a city's food scene than by taking a food tour.
This week I joined an effervescent Mod (bubbly guide from Bangkok Food Tours), and a few other overseas visitors, for a night time group outing that saw us ferried around the city by tuk tuks, for a showcase of Bangkok's late night dining haunts.
The Best Eats Midnight Food Tour by Tuk Tuk starts at 8pm, follows a series of around seven tastings – as well as a visit to Wat Pho, the night time flower market, and a rooftop bar for a beer – and finishes around 12.00 – 12.30am.
Whizzing through the manic streets of Bangkok in the cool of the late eveing gives a different perspective to the city (in a similar vein, see the excellent night time food tour we did in HCMC, Vietnam on the back of mopeds), particularly when visiting deserted sites that would otherwise be overrun with hoards of tourists during the day (like Wat Pho – see Insider Tip below).
I'd been in Thailand for a couple of weeks already, so a few of the items on the tour were not new to me. But then, there's no such thing as too much of the good stuff.
First up was khao man gai (Thai chicken rice) at a place called Khao Mun Gai Ton Pratunam that's been doing it for over 40 years, and plates were moving briskly. Here, the rice is cooked in chicken broth and chicken fat for maximum flavour.
The sauce condiment to drizzle over this dish is important; I have had better elsewhere at other khao man gai stalls in Bangkok (see street food around Victory Monument below), with a stronger flavour, but this sauce certainly wasn't bad. A bit of blood pudding and chicken liver, with a sticky rice and mango chaser from a stall next door, and we were well on our way.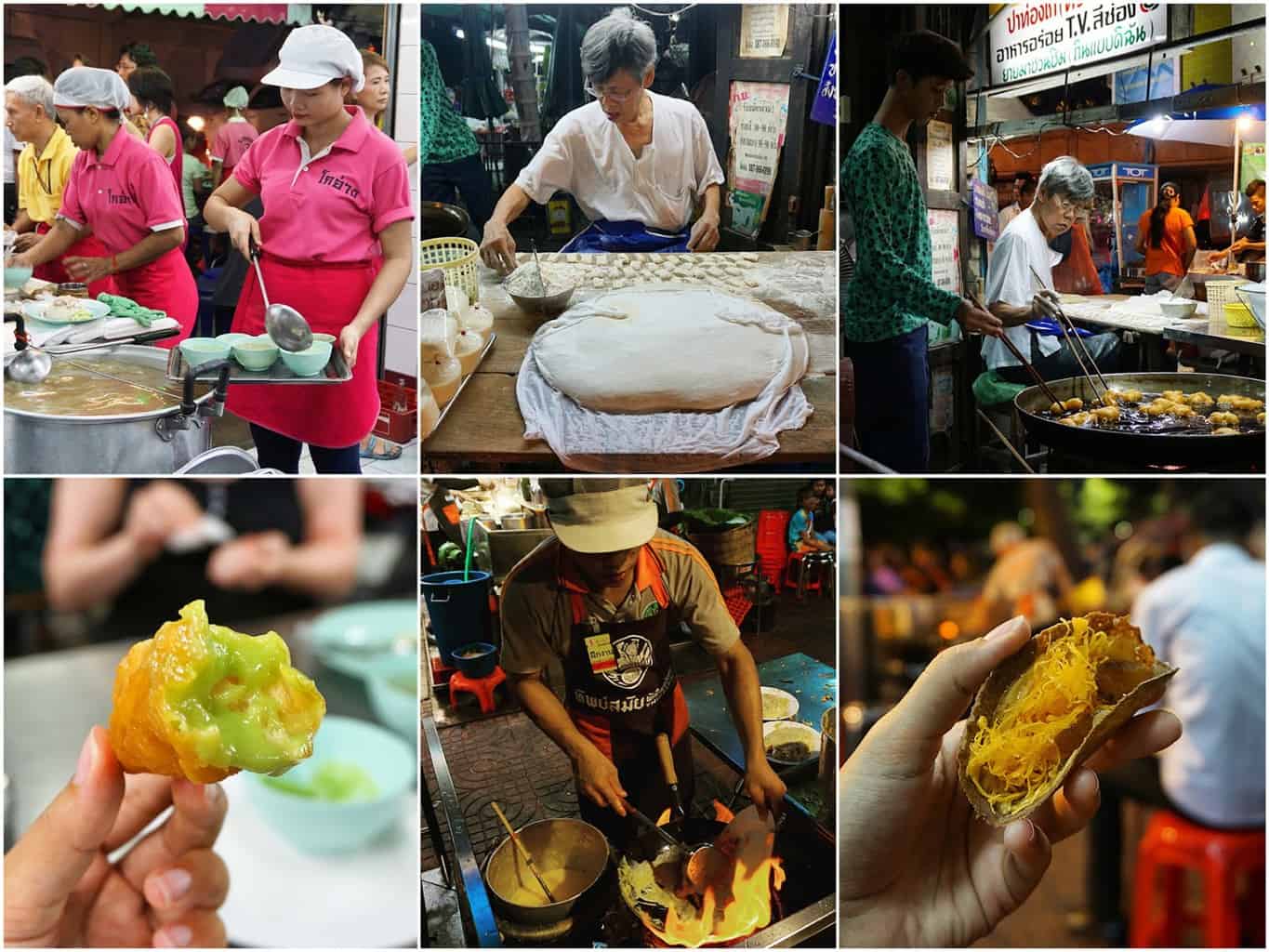 top: serving broth with Thai chicken rice, donut (patongo) dough, frying donuts
bottom: donuts with green pandan custard, cooking pad thai, Thai dessert
With Bangkok Food Tours
l
Also across the road was what I presume were a father and son duo making and frying patongo (Thai donuts) from a great flaccid mound of dough, to be dipped in a green custard, luminescent from pandan leaves. Piping hot, fresh from the fryer, a touch of salt in the dough, and quite lovely with the sweet dip.
I suspected the 'best pad Thai in Bangkok', as advertised in the tour description, might be Thip Samai, which we went to and very much enjoyed last week (to the extent that Matt annihilated three plates of the stuff).
And I was right, but it was good to eat it again, and to know that there is little difference in the length of the queue at 6pm or 11.30pm (check out the video of them wrapping noodles in a thin layer of egg in last week's post). It does move quickly though.
But without hesitation, the best plate from the tour, and a new one for me (bonus), was the fried noodle dish kuay teow kua gai, which Mod mentioned is also known as the 'Asian carbonara'.
Wide rice noodle ribbons (sen yai) are fried in pork fat over charcoal until charred, crisp and smoky. Then, pieces of boneless chicken that have been marinated in salt and pepper are added. An egg is then either mixed in by the chef, or the plate arrives at your table with the egg cracked sitting proud on top, which you mix in yourself like in the video above. Hence the 'carbonara'.
I wasn't expecting so much flavour from something so simple, but then isn't that always the way. Smoky crisp noodles, salty peppery chicken, wet from the runny mixed-in egg, add chilli flakes, pickled chillies, served with a bowl of broth heavy on the lime. Utterly splendid.
I've eaten my way through two food tours in Bangkok, both good, but each catering for a slightly different audience. My advice would be to take this one with Bangkok Food Tours early on in your visit; it's a great introduction to Thai cuisine and Thai street food.
Then, once you're acquainted with the well loved staples, you could move onto the Old Bangkok Food and Culture Walk from Chili Paste Tours (covered in last week's post), for off the beaten track items and more adventurous eating.

Bangkok Food Tours are held in groups. The Best Eats Midnight Food Tour by Tuk Tuk costs 1900 baht (around £38) per person and includes a drop off back to your hotel.
Note: This tour was kindly hosted by Bangkok Food Tours. All views are my own.
Lunch at Nahm

It wouldn't be right to visit Bangkok and not dine at Nahm, the restaurant that's repeatedly topped the Asia's 50 Best Restaurants charts. Although, it got bumped to the number 7 spot this year, replaced by progressive Indian restaurant Gaggan, also in Bangkok.
And so the set menu for lunch was booked, and at just 1500 baht (about £30) per person, it's a steal for what you get. Two appetisers, your choice of a salad, soup, curry, and stir fry (to share), and both desserts on the menu.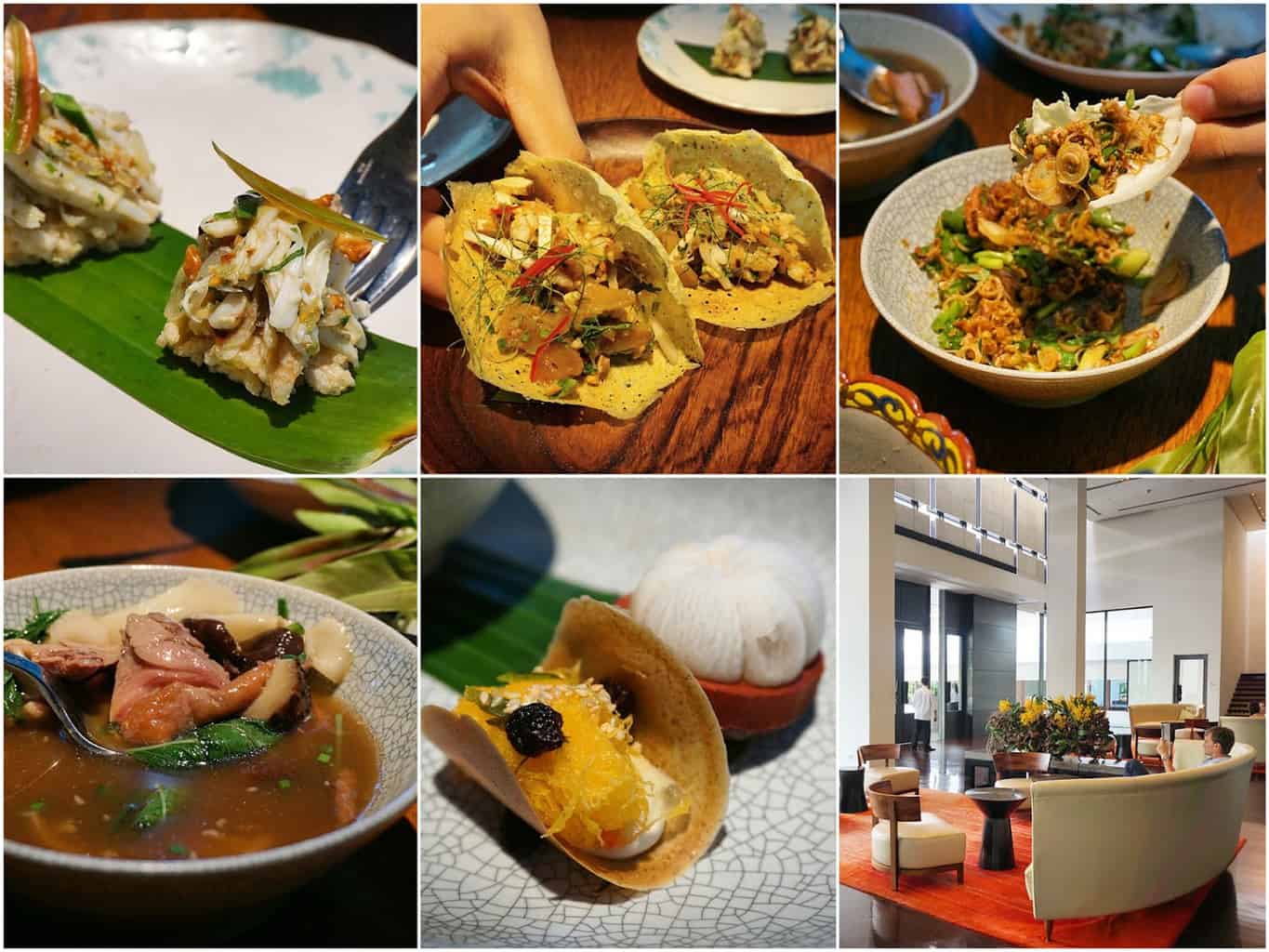 lunch at Nahm, Bangkok
l
My favourites from that day's pickings, ordered in the collage above from top left: blue swimmer crab with peanuts and pickled garlic on crunchy rice cakes; prawn and coconut wafers with pickled ginger and strips of tofu – like a really light, sweet and sour taco; a Chiang Mai larp salad with guinea fowl scooped onto raw veg; a roast duck, Thai basil, and young coconut soup; sweet thai wafers with poached persimmons and golden duck egg noodles.
Nahm (inside the COMO Metropolitan Hotel), 27 South Sathorn Road, Thung Maha Mek, Sathon, Bangkok.
Street food must-eats
The best places for street food in Bangkok
Bangkok is known as the 'street food capital of the world', so it's probably little surprise that this is the largest section of this post.
When good looking stuff to eat flirts from every corner, it's difficult to know where to start. My advice would be firstly, take a look at this great Top 16 Bangkok Street Food Sanctuaries article written by Mark Wiens for guidance on where to head.
Below is what we got up to.

Yaowarat Road in Chinatown
A common theme I've found during these travels through Asia, is that some of the best street food stalls and markets can be found in a city's Chinatown; those Chinese sure do know how to eat well.
Armed with little more than the name Yaowarat Road (the main neon sign-lit street that runs through Bangkok's Chinatown), we wondered along it one evening, pulling up two stools at whoever was bumping with business and had good looking stuff on display.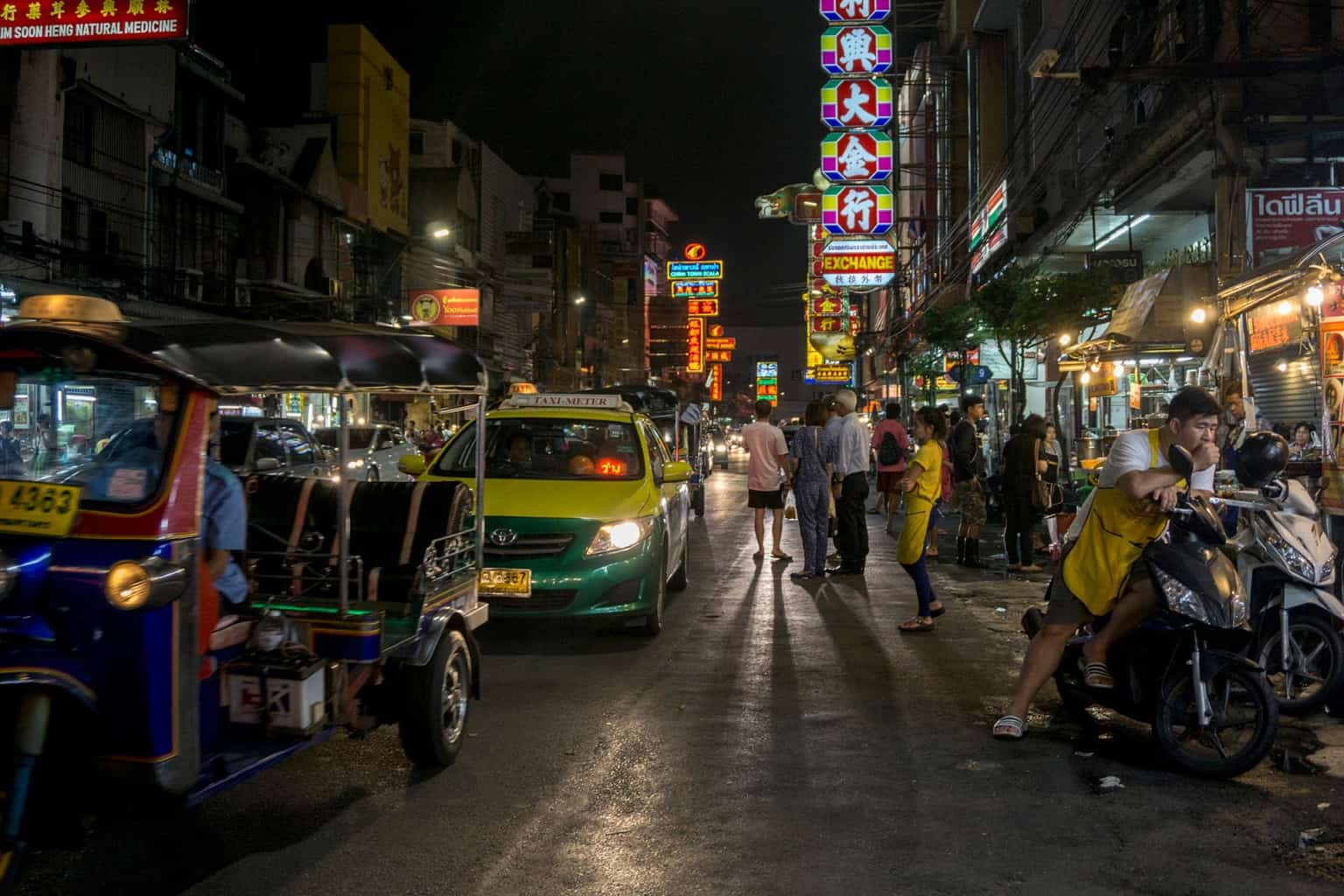 Yaowarat Road, Chinatown, Bangkok
l
As Mark mentions on his really helpful all-things-Thai-food website Migrationology (do check it out for where and what to eat anywhere in the country, and lots of other countries for that matter), Yaowarat Road is a cut throat environment for street food vendors, meaning only the really good ones survive.

Therefore, you're almost guaranteed a good meal from these parts, wherever you choose to eat.

I had a hankering for noodles and roast meats. Specifically, duck. And at that moment, walked past a great roast duck display; what's that if it isn't fate lending a helping hand with my eating decisions.
First stop, beautiful thin springy wonton noodles, slicked with a little oil, succulent bird meat with crispy skin, broth for spooning on the side, about £1 for a bowl.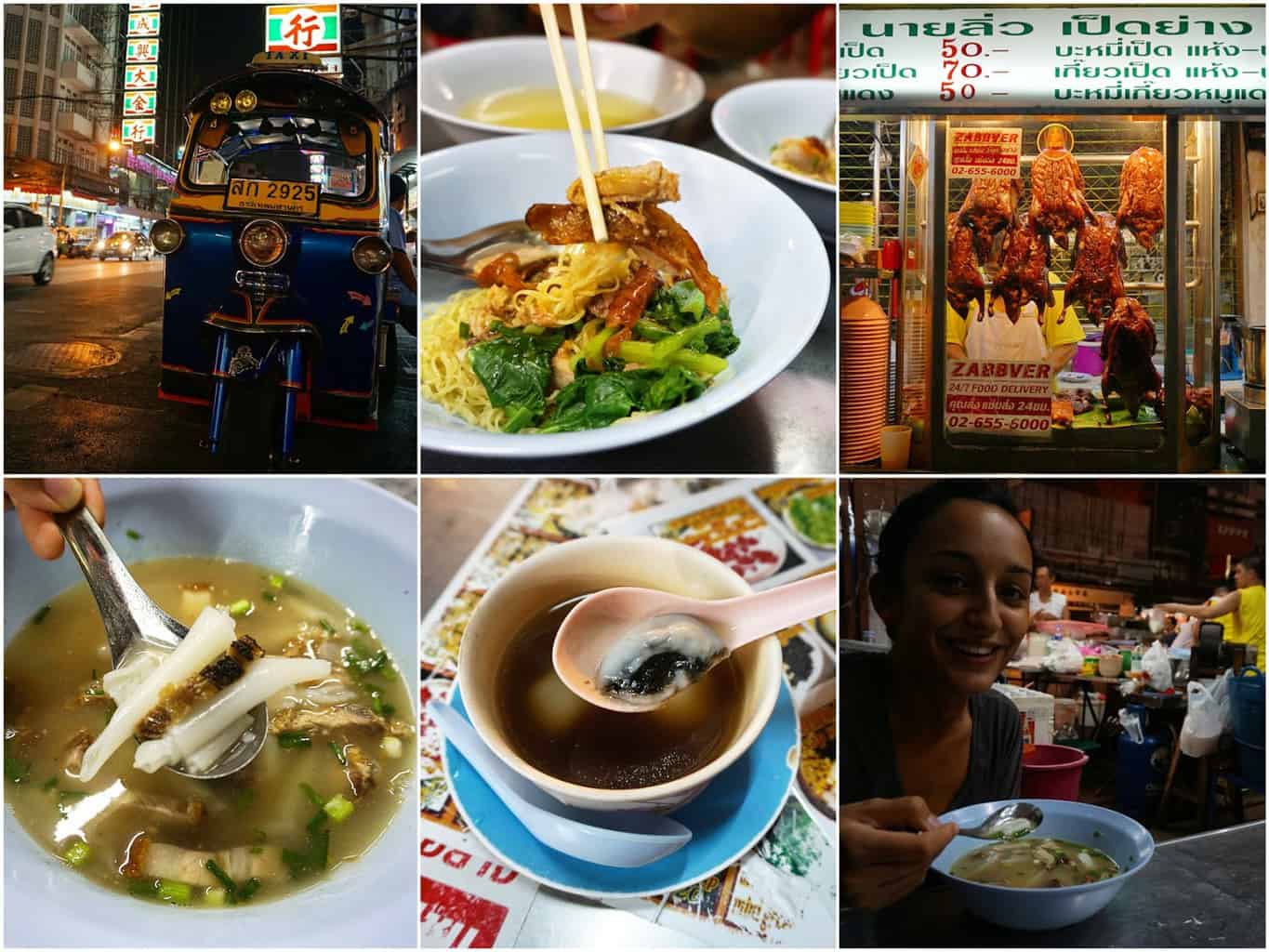 top: tuk tuk in Chinatown, roast duck and wonton noodles, roast duck display
bottom: pork and noodle pepper soup, sesame dumpling ginger soup, Chinatown face
Yaowarat Road, Chinatown
l
A few meters further down the road, another place, this time an open restaurant with the kitchen on the street, also swamped with eager clientèle. I spotted a young guy who looked like he could speak English and asked if he had a menu.
"We don't have a menu, but we do char siu (BBQ) pork with noodles in a pepper soup." Sold.
It's actually a dish called kuay jab nam sai, and it's rolled up rice noodle triangle shapes, all parts of the pig (if you wish), swimming in a porky black pepper soup that's heavy on the pepper. Gorgeous. £1 for a small portion, which is actually rather large.
It turns out this place is pretty famous and is generally a stop on food tours that work this area. It's called Kuay Jab Uan Pochana and you'll find more info on it here.

Kuay Jab Uan Pochana. Located in the heart of Yaowarat Chinatown on Yaowarat Road in between Soi 9 and Thanon Yaowa Phanit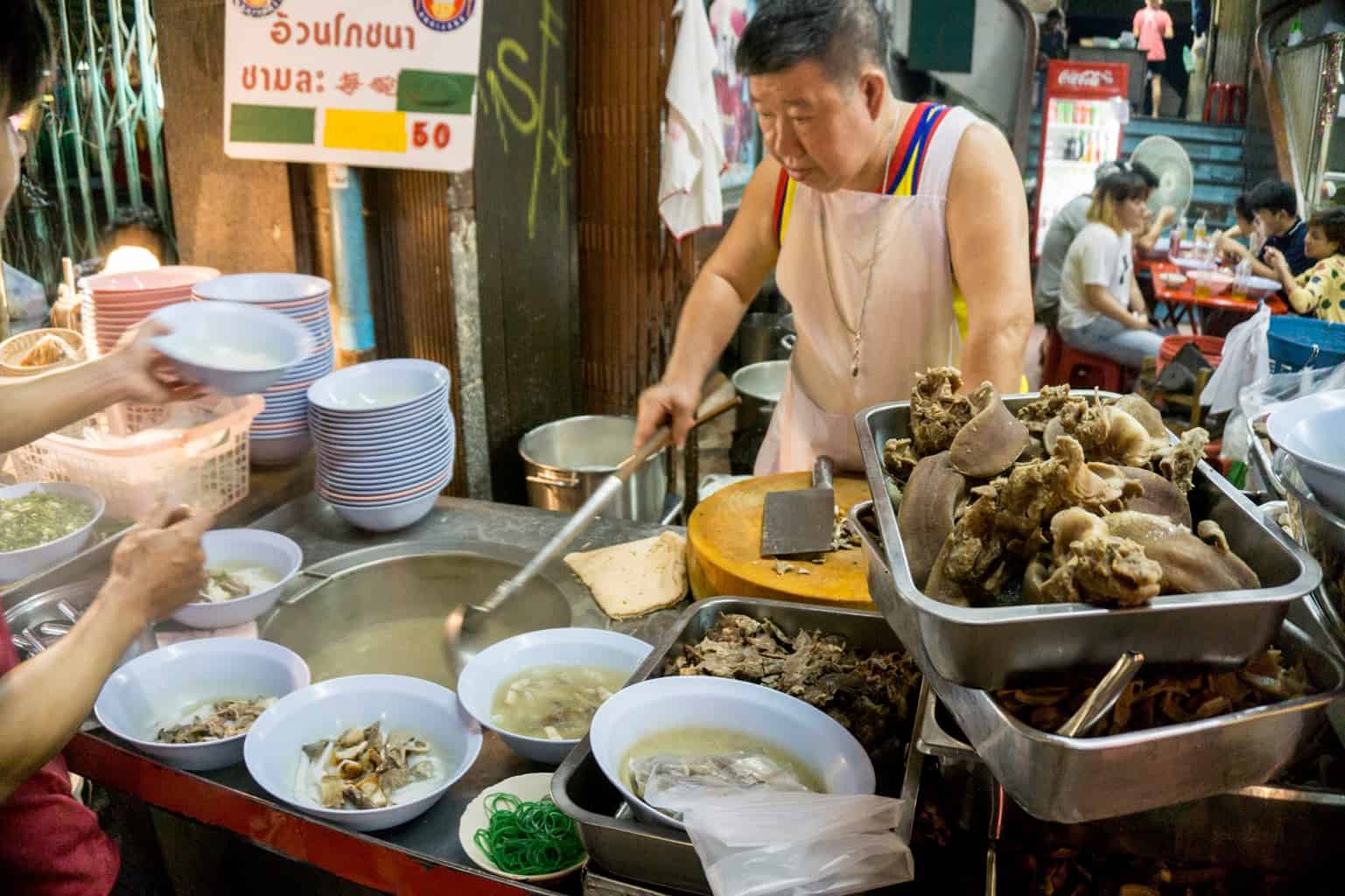 char siu pork and pepper broth at Kuay Jab Uan Pochana, Yaowarat Road, Chinatown
l
I'd read about the warm Thai dessert bua loy nam khing, which are dumplings filled with a black sesame butter in ginger water, and it read like a dream.
They're two of my favourite flavours, so I was keen to seek it out. There are some great looking dessert stalls on Chinatown's Yaowarat Road, so this is easy to find. 60p for a powerfully soothing bowl of life affirming joy, with sweet nutty dumplings. A real pleasure to eat.
The easiest way to get to Chinatown is by taxi, but alternatively you can take the MRT to Hua Lamphong station, and then walk to Chinatown from there (10 mins) or take a tuk tuk / motorbike.
Sukhumvit Soi 38
This is a short strip of street food stalls which is a great introduction to the country's kerb-side dining scene.
Here you'll find the well-worn favourites (pad thai, mango sticky rice, papaya salad), menus are in English as well as Thai, vendors speak a good amount of English, and you'll notice quite a few tourists.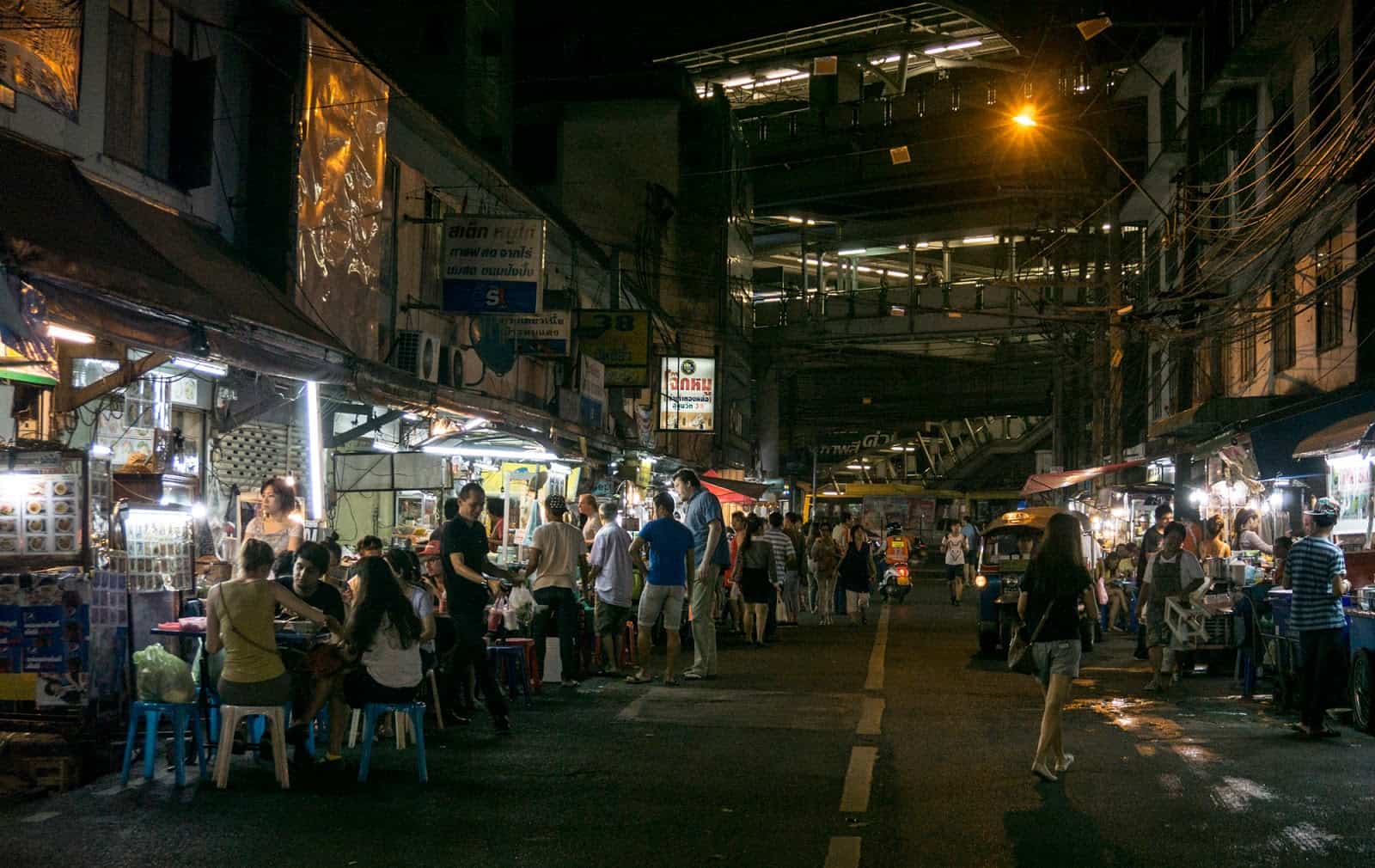 street food stalls on Sukhumvit Soi 38, Bangkok
l
We started with 10 little skewers of tasty chicken satay for £1, with a lightly pickled cucumber and onion salad and peanut dipping sauce.
We sat in the back to eat them, where a rat ran past my foot and a small cockroach landed on the table. We've been in Asia long enough for this to barely raise an eyebrow these days – imagine the pandemonium that would follow a similar scene in London.
Then it was a few stalls down (the same place Mark gets his salad with raw crab from here) for some som tum mamuang, green mango salad. This was excellent. Hot, sour enough to make your gums ache, and heavy on the fish sauce. Just how I like it. With sliced shallots, roasted peanuts, and a Thai quiz show on the box.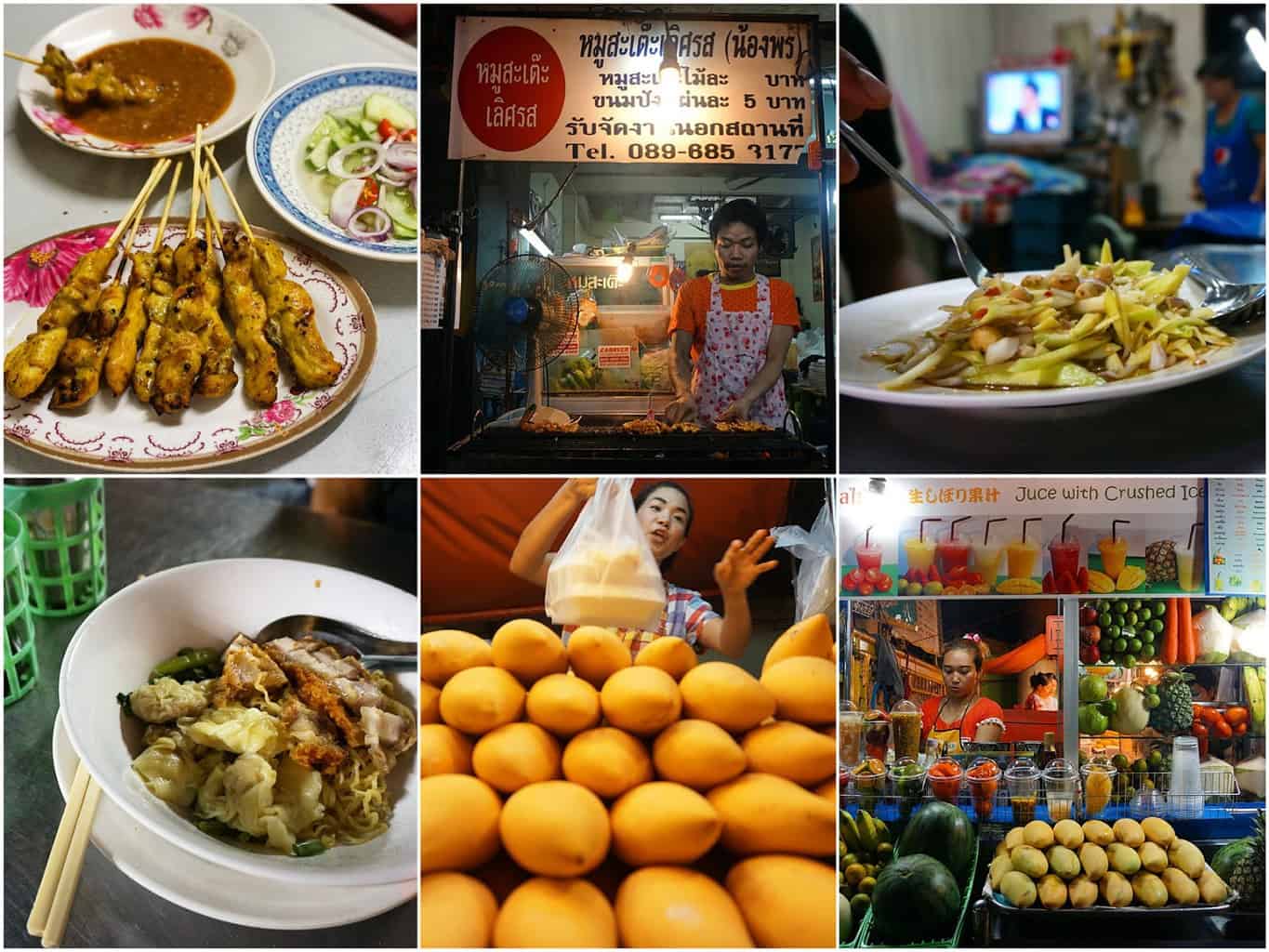 top: satay skewers, satay stall, green mango salad
bottom: dry wonton noodles with crispy pork, mango sticky rice stall, fruit shake stall
Sukhumvit Soi 38, Bangkok
l
Then came some wonton noodles from a stall towards the end of the strip, that I later learnt has been serving this stuff for over 40 years. It was busy (what drew me), and we ordered dry wonton (pork and prawn dumplings) noodles with soup on the side, topped with crispy pork. This was very good. I loved the wonton noodles in Hong Kong, and this reminded me of them a lot.
Dessert came in the form of some mango sticky rice from the lady with piles of the fruit neatly arranged at the front of her stall, in the small cul-de-sac on the right shortly after you enter the road. And then a mango shake because I can't get enough of these Asian mangoes.
We returned to the strip on a separate night, guided by the irrepressible desire that had gripped us that day to devour a sloppy, juicy, really good burger. It had been four months since the last one, and western cravings were getting the better of us.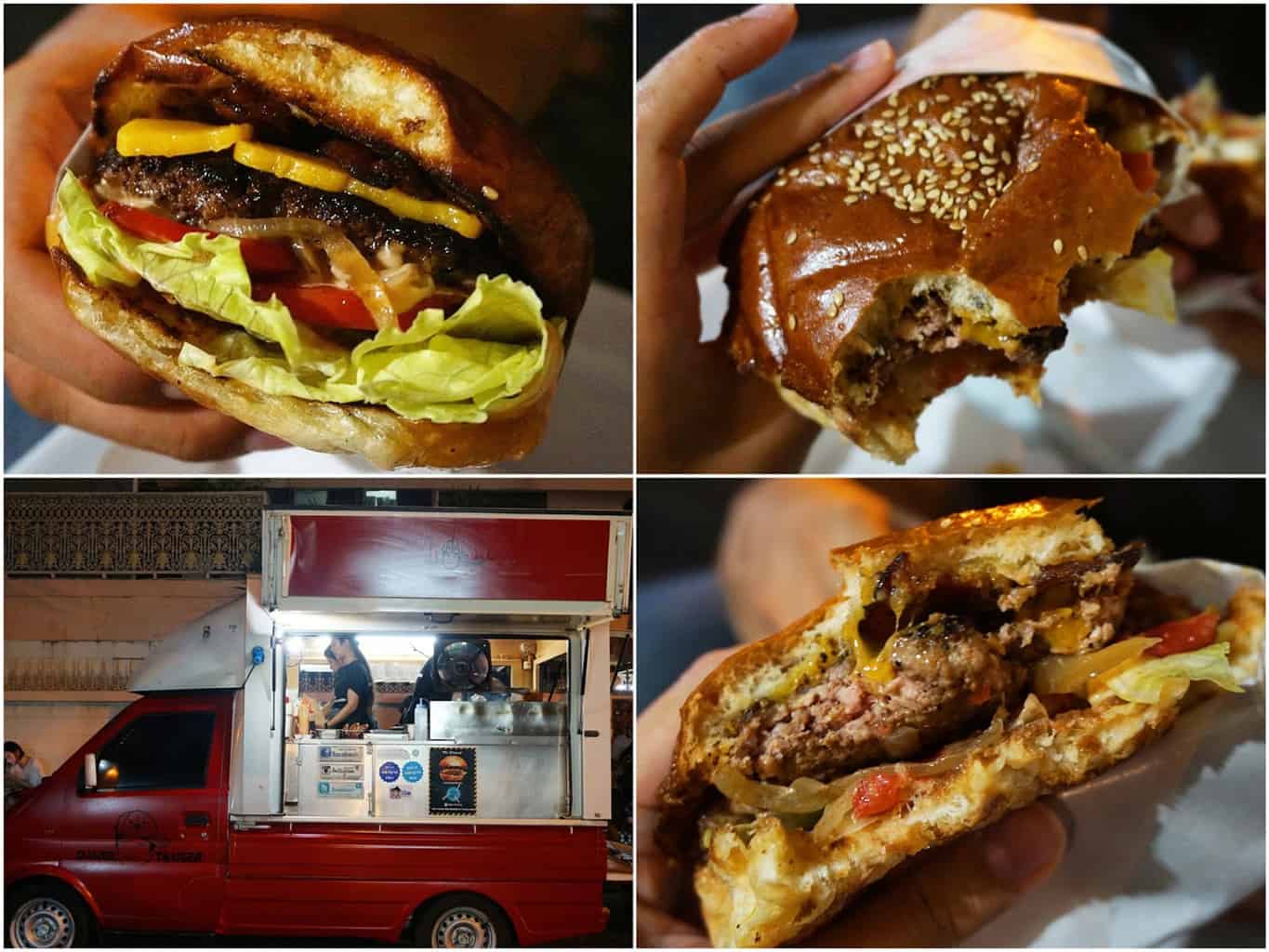 'The Steve' burger from Daniel Thaiger at Sukhumvit Soi 38, Bangkok
l
A quick social media straw poll on where to get the best burgers in Bangkok, and I was unanimously directed to Daniel Thaiger's street food burger truck, more often than not found on Sukhumvit Soi 38 (check his Facebook page though, as he does move around).
Everything, including sauces are made from scratch. There was a charred patty shell, yielding juicy middle, crisp bacon, glossy toasted sesame bun, lettuce, tomato, some sort of super sauce, and burger juices down my arm. 'Hit the spot' didn't quite cover it.
To get to Sukhumvit Soi 38, take the BTS Skytrain to Thong Lo station. Exit 4 (you'll see the street perpendicular to the station as you are on the skywalk), walk down the steps, then make an immediate u-turn, and you'll be there.
Victory Monument
On a fleeting day where the temperature mercifully dropped by about 10 degrees to a far more sociable 25C, I left my hair down, threw on a light jacket and headed to Victory Monument for dinner shrouded under grey drizzly skies; it could have almost been London.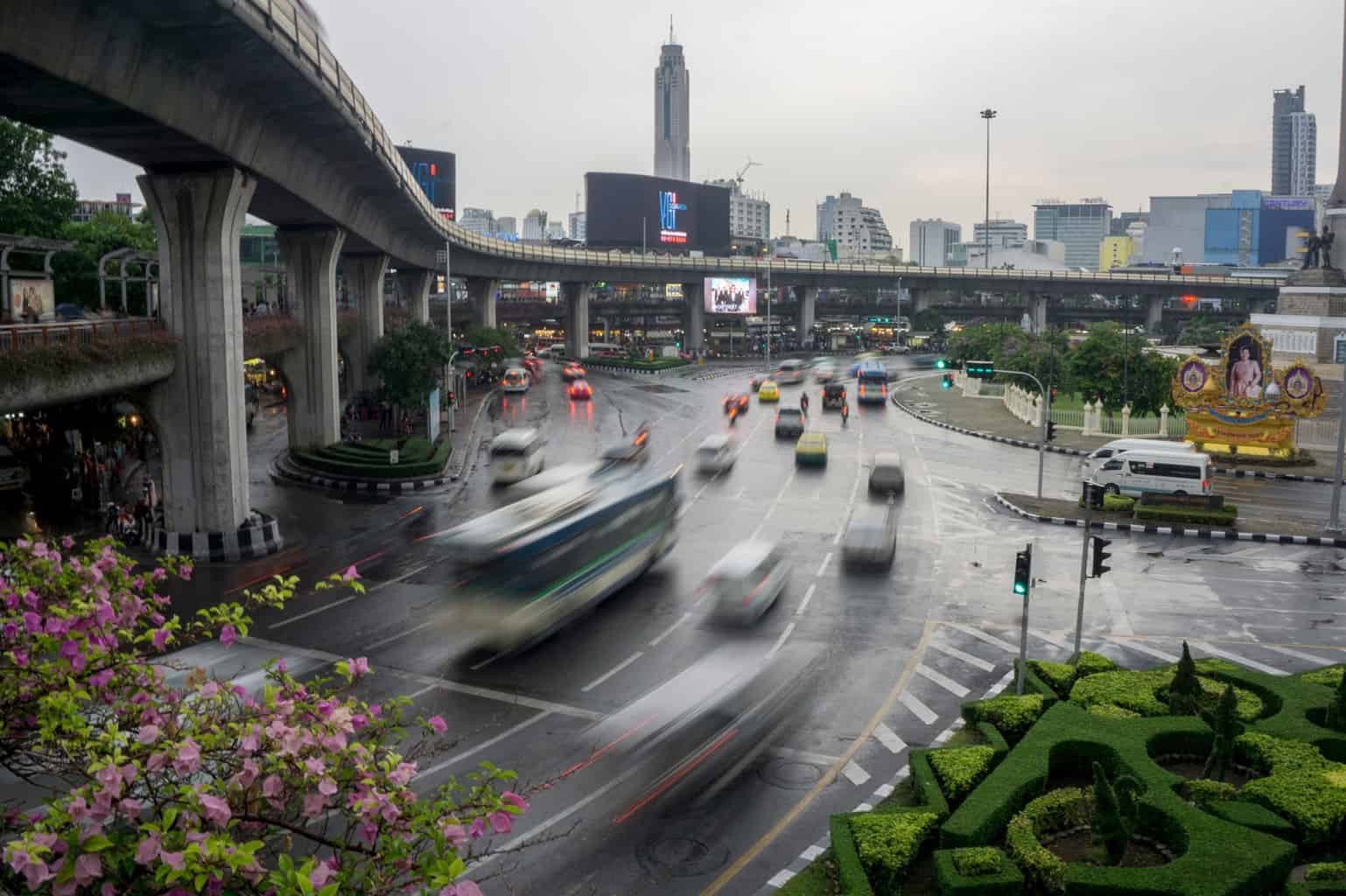 the Victory Monument roundabout, Bangkok
l
There's a whole load of cracking street food around the Victory Monument roundabout; it's like a circular grazing route. Do a lap, and stop at whatever takes your fancy.
Our first was for kaeng kiaw wan gai (Thai green curry with chicken), and some other sort of dry curry with pork, I think. Not entirely sure what it was, but it looked good so I pointed to it and got some.
Then there was some khao man gai (boiled chicken over rice), the Thai version of Hainanese chicken rice (from Singapore). Juicy meat, fragrant jasmine rice cooked in the chicken broth, bowl of broth for spooning, an excellent accompanying chilli dip. All of the comfort for 70p.
And finally, a central curry with rice noodles and fish balls, with six fully loaded plates of garnishes to fill your boots with.
To get there, take the BTS Skytrain to Victory Monument station, Exit 3 or 4, and start exploring by walking around the monument first.
In the bottom right of the collage below I've also included a picture of a honey pear, because the fruit in Thailand is some of the best I've had. These honey pears are enormous, obscenely sweet, and take about half an hour to eat.
Either my fruit selection skills have dramatically improved, or the produce on offer in Thailand is consistently great. Not a dud item in three weeks.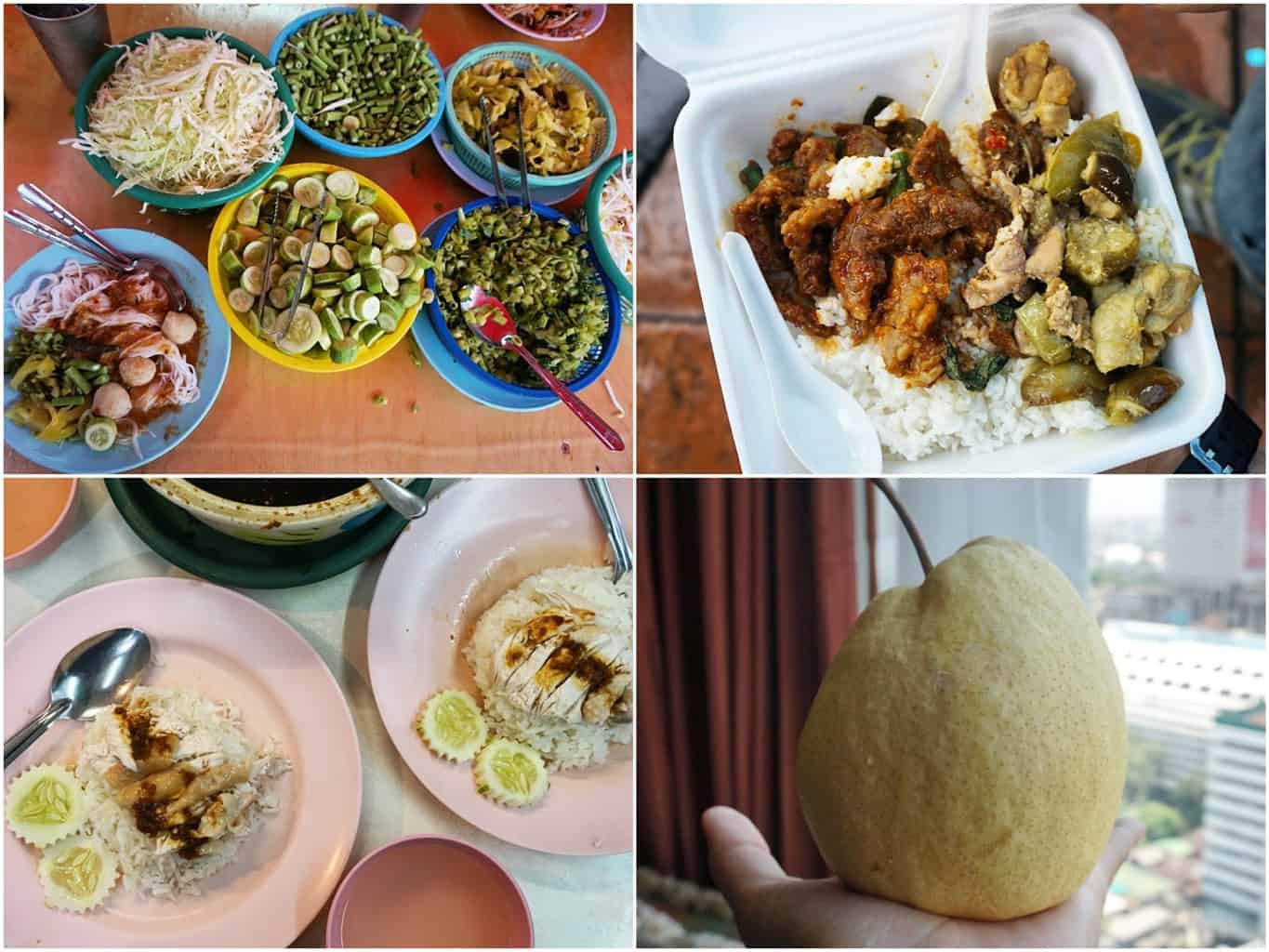 top: central fish curry, Thai green curry and dry pork curry
bottom: chicken and rice, honey pear
Around Victory Monument
l
Did you know?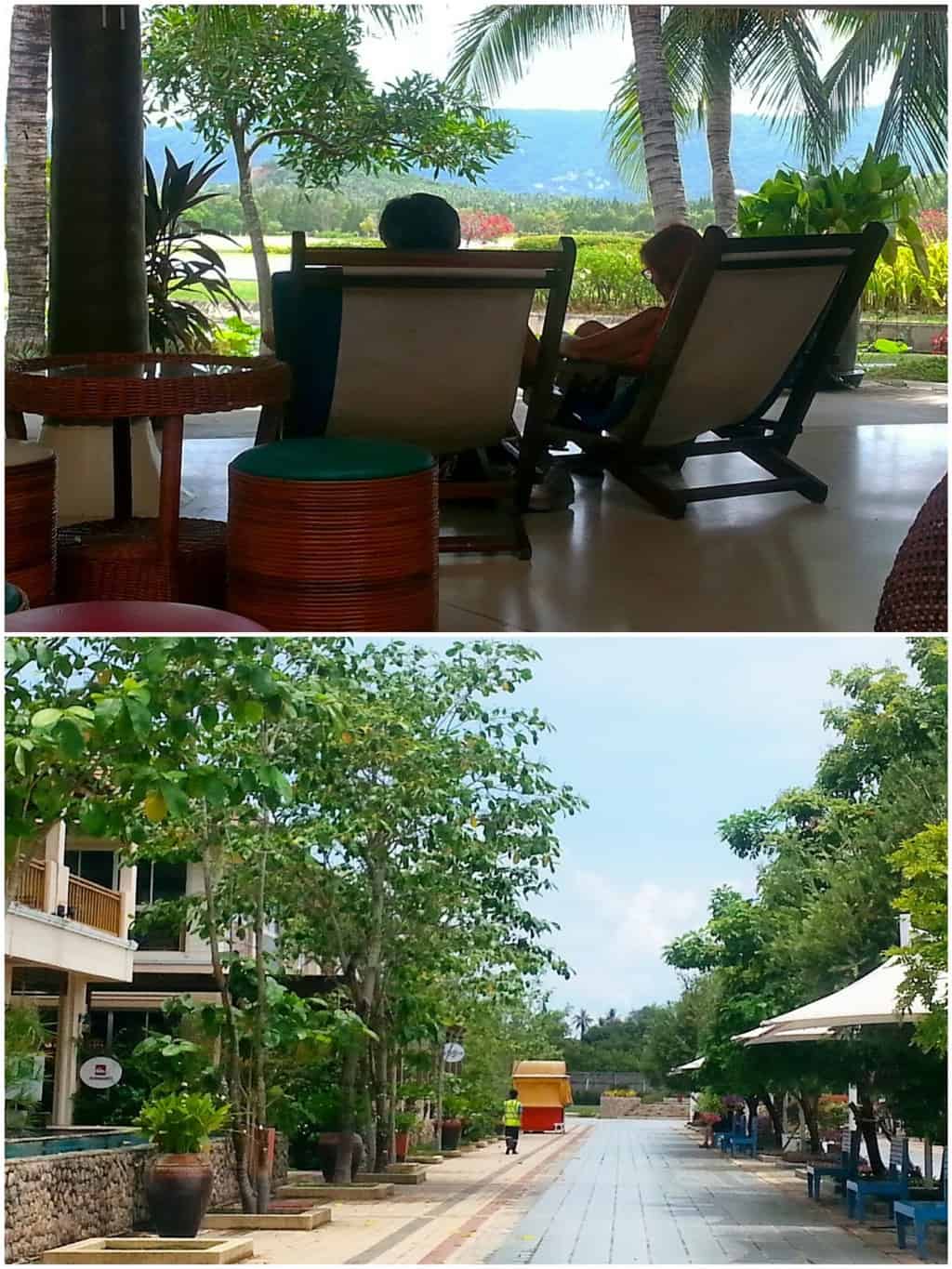 top: departure gate
bottom: walk to departure gate
Koh Samui airport
Koh Samui airport is the quaintest, most laid back I've ever come across. It's privately owned by Bangkok Airways, and has been designed to be completely in tune with its natural surroundings.
You'd have no idea you were in an airport if it wasn't for the occasional, infrequent plane taking off or landing.
The walk to the departure gates is a tree lined avenue flanked by boutique shops and eateries.
The departure gates themselves are littered with deck chairs overlooking palm-fringed grounds that would be more at home in a five star resort.
The shuttle bus that ferries you to the aircraft is a quaint tram.
And, Bangkok Airways provide complimentary food and drink at the departure gate while you wait for your plane.
The whole airport is open, which is gorgeous. But that does mean there's no AC, so everyone quietly melts.
My insider tips
Wat Pho by night
I only realised one of Bangkok's largest and oldest Buddhist temples – Wat Pho (pronounced Wat Po) – could be visited at night, when I was on the above Bangkok Food Tour.
Our group turned up at around 10pm and because there's no one at the ticket office at this time, it looks as though you don't need to pay for the entrance fee.
The opening times are listed until about 5.30 pm, but Mod informs me it's actually open until around 11.30pm – quite the difference. However, we only spotted people as part of tour groups in it at this time, so I suspect you need to be part of one to not be stopped by the guards.
Still, it means you can get some alternative night time shots, there's hardly anyone else is around, and it's a damn site cooler.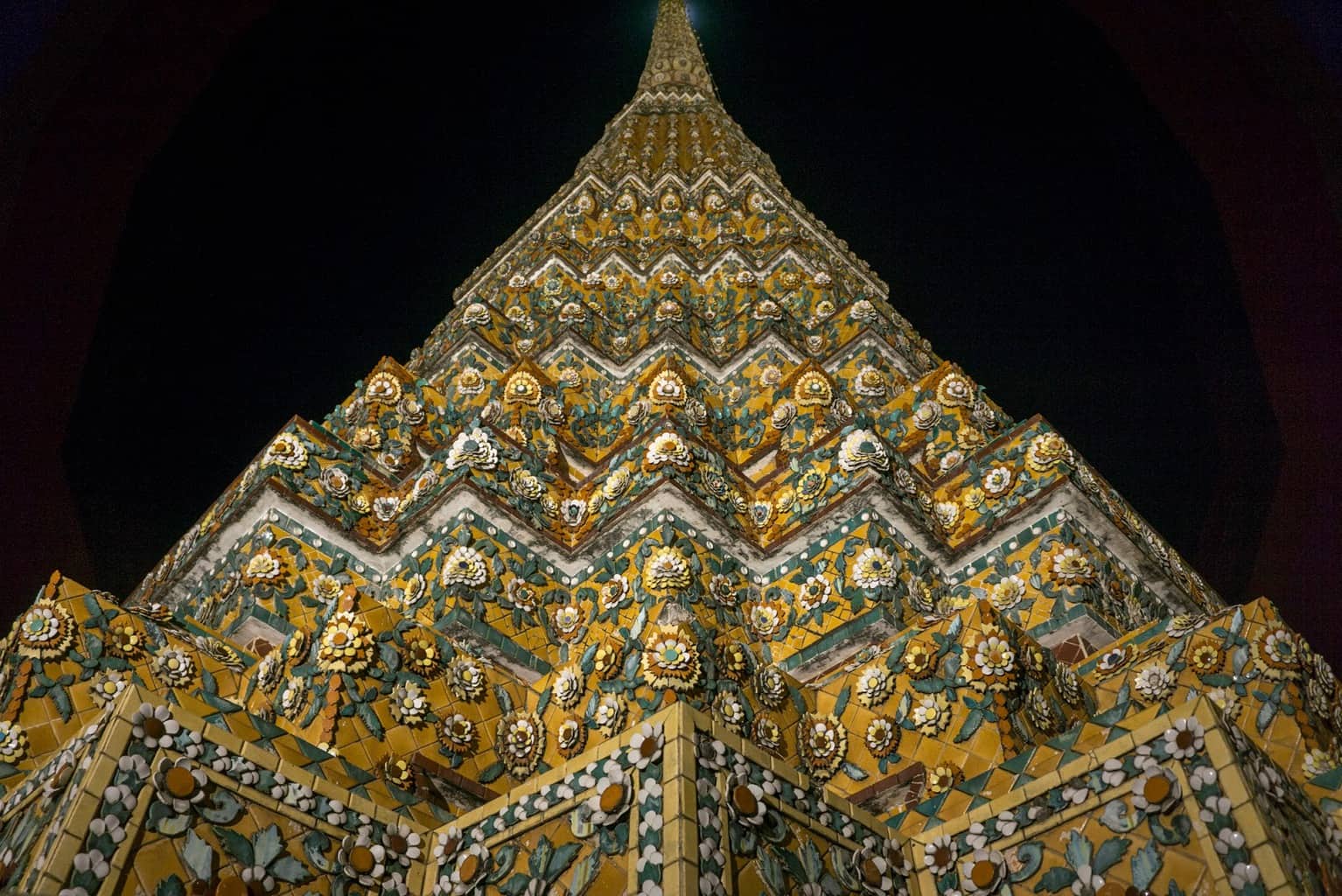 the stupas of Wat Pho by night, Bangkok
l

Highlight / Lowlight
Highlight.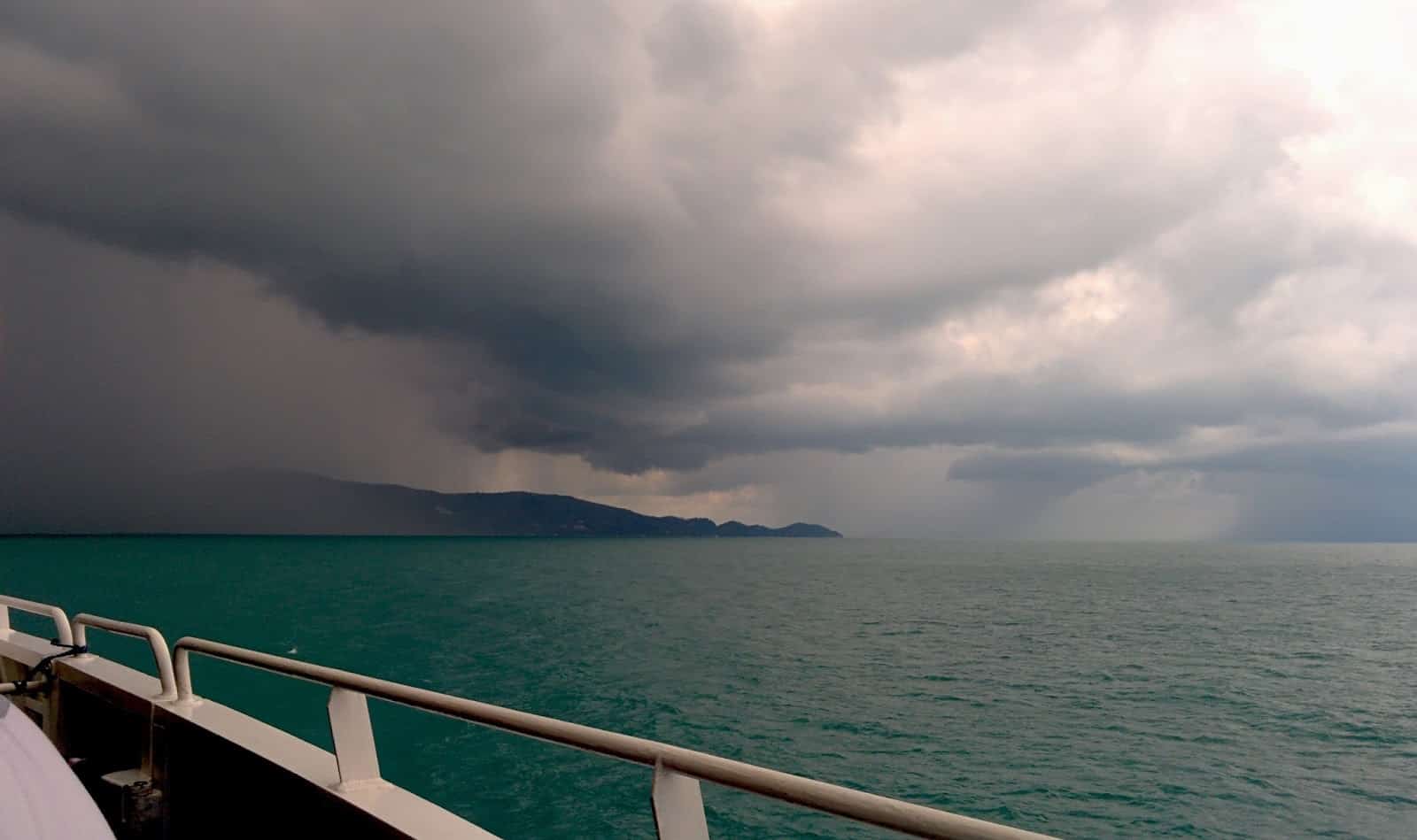 thunderstorm over the sea
between Koh Phangan and Koh Samui
We had to take a short 25 minute boat ride from the island of Koh Phangan to Koh Samui (the latter of which has an airport).
We moved away from clear blue skies and directly into a thunderstorm.
We were on the boat, with rumbling thunder resonating and lighting striking the water all around us. It was pretty exciting / scary.

The second undisputed highlight of the week was having access to a washing machine, over which I did a little victory dance.
For the first time in weeks, every item of our clothing armoury was put through a hot cycle. Before then, we'd been relying on the portable washing machine, The Scrubba, to get our clothes clean. Which actually does a pretty good job.
But it sure felt good knowing our clothes were getting a mechanical seeing to.

Lowlight.
Probably just that these were our last few days in Bangkok, and in Thailand as a whole. I got myself a matcha soft serve ice cream to cheer me up.
Next week

We bid a teary farewell to Thailand, and hello to our final Asian country, Malaysia.
Postcards
Bangkok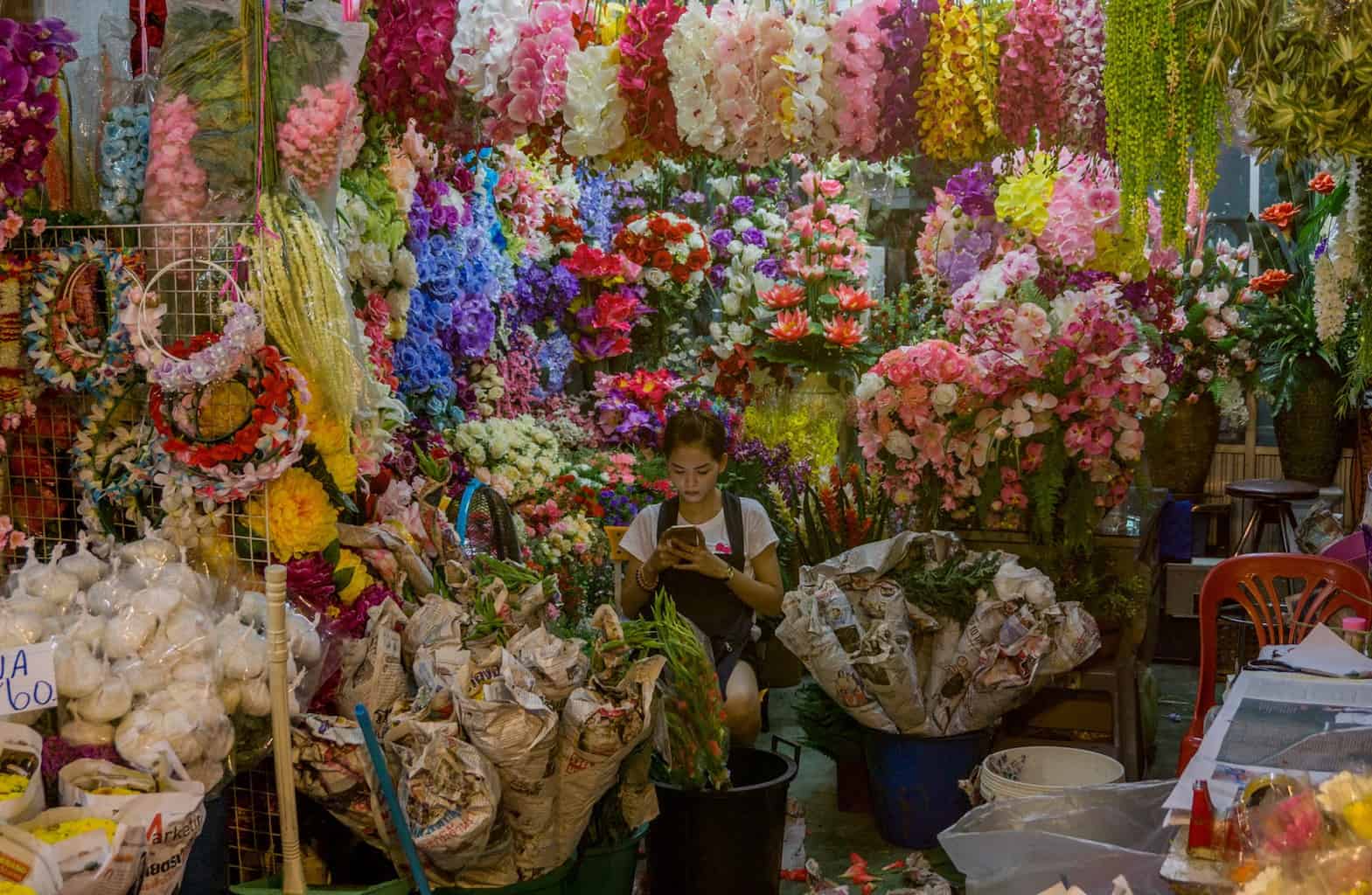 night flower market, Bangkok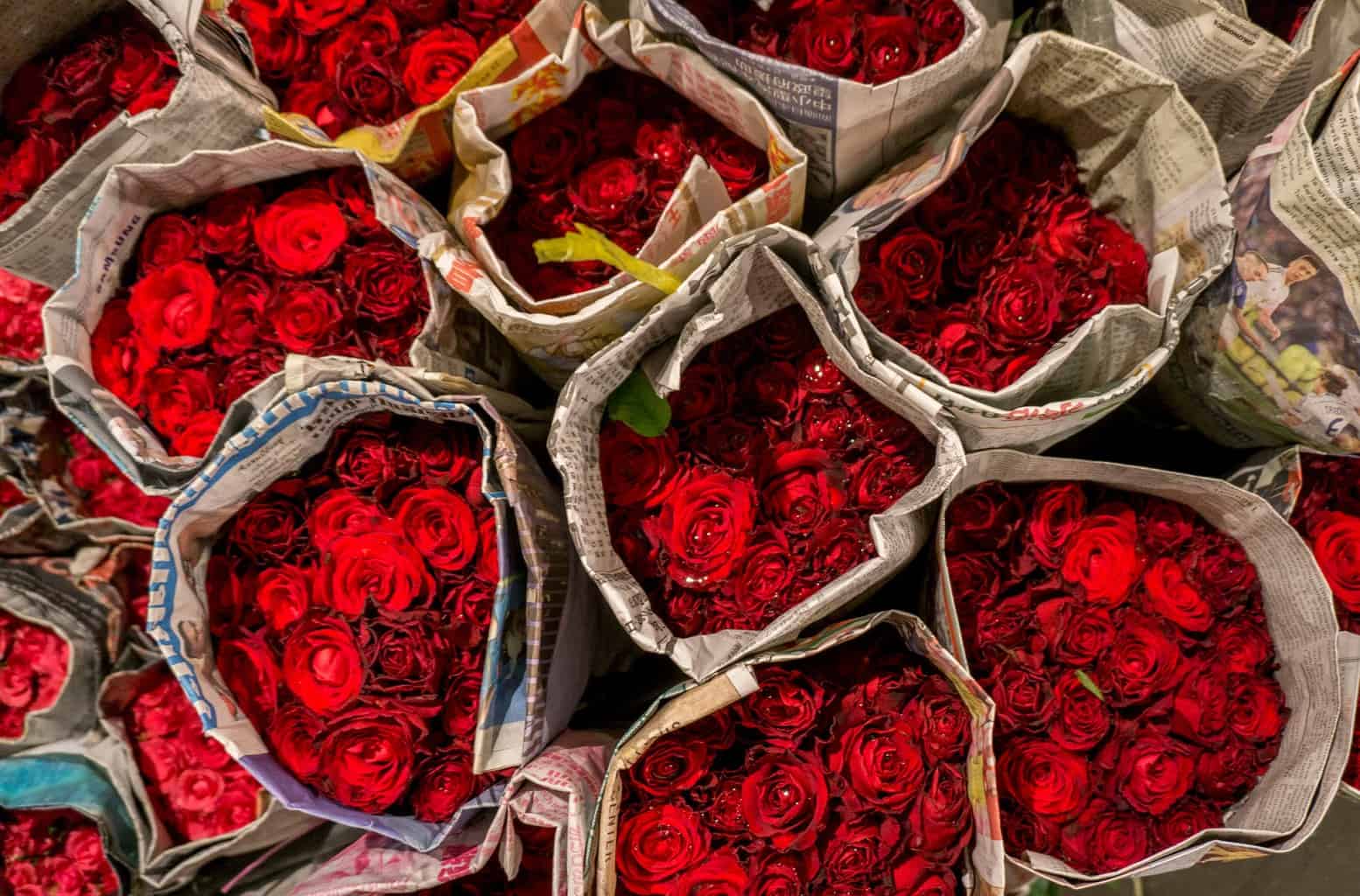 night flower market, Bangkok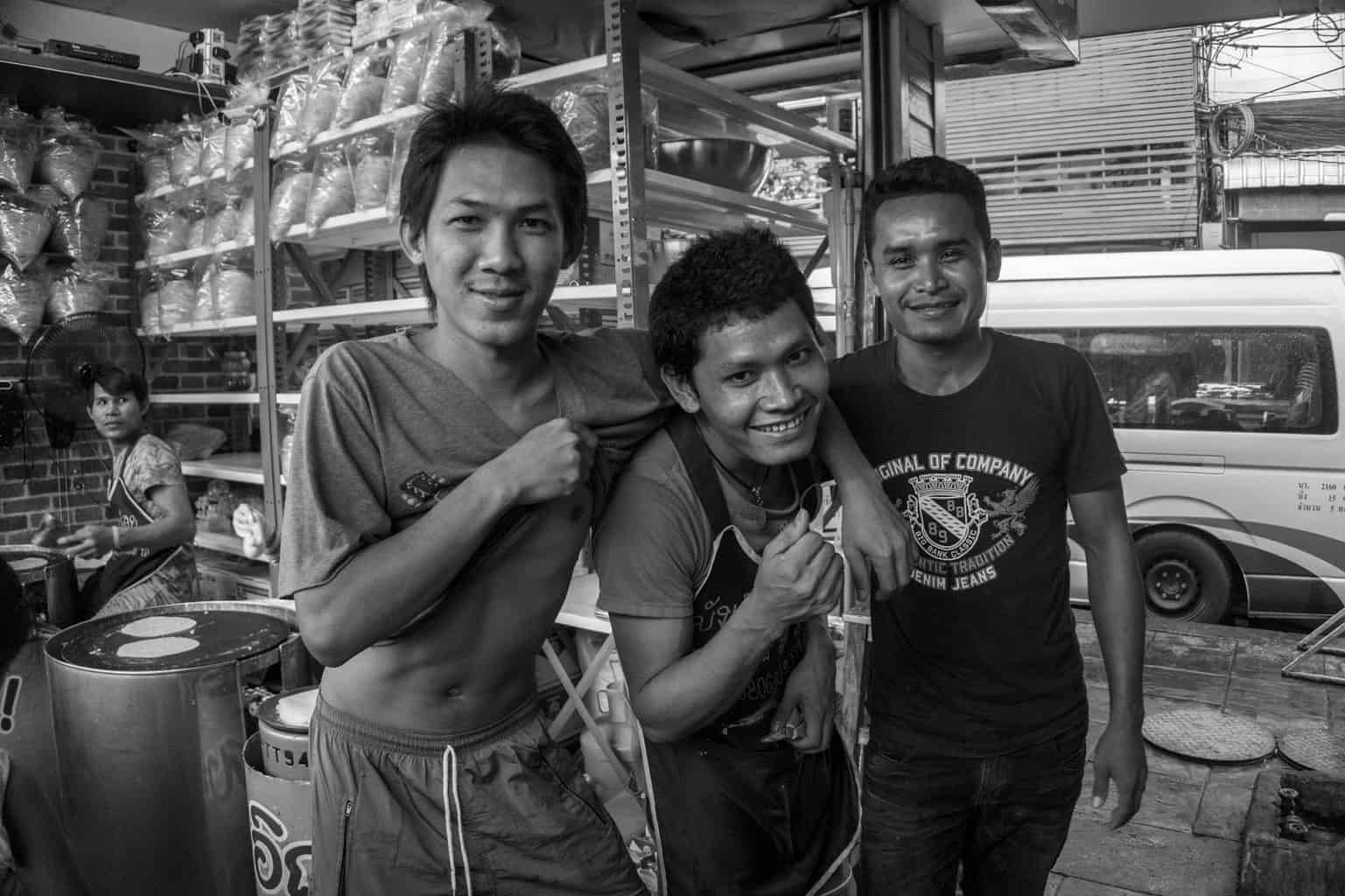 Bangkok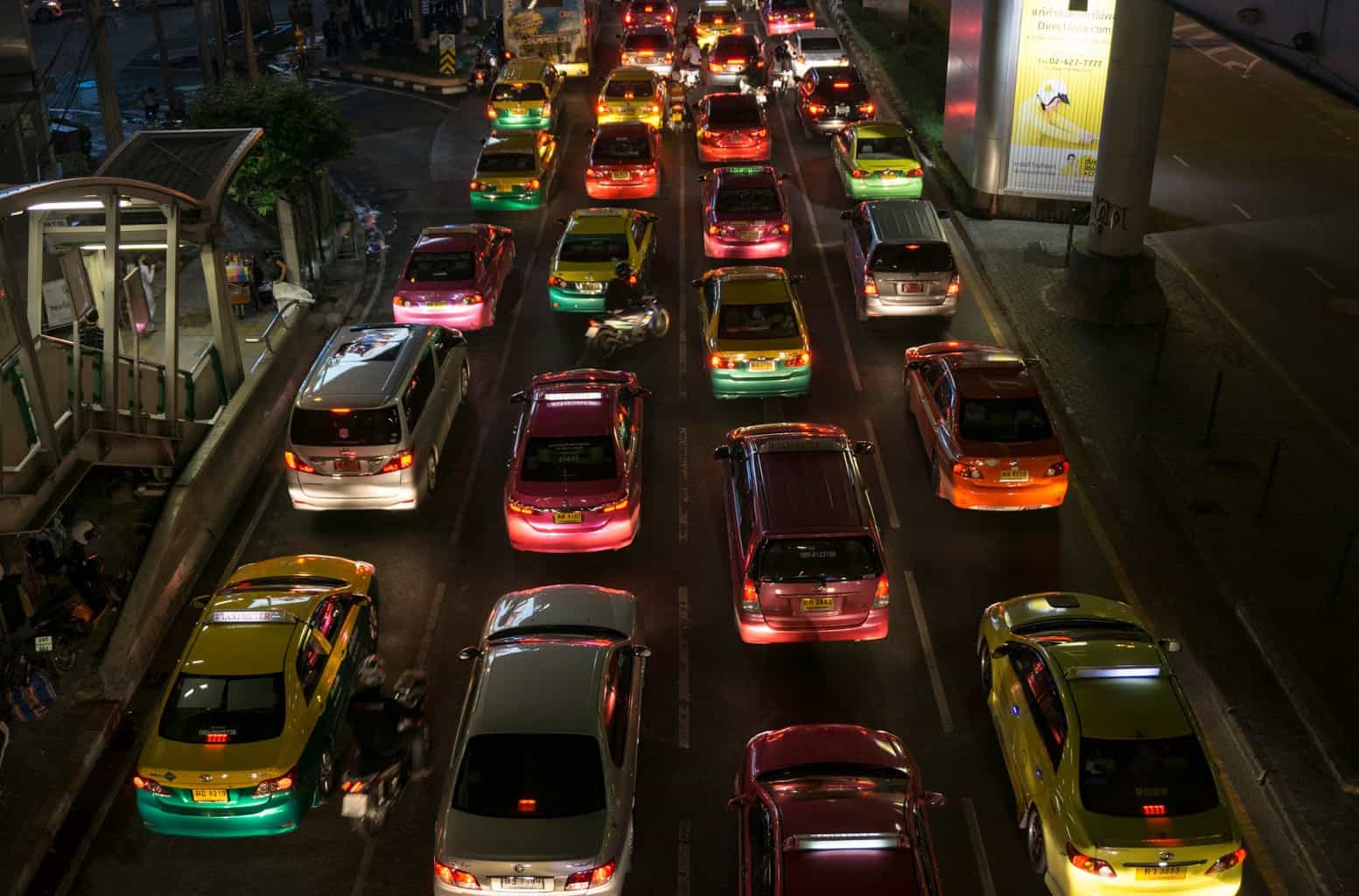 colourful Bangkok taxi cabs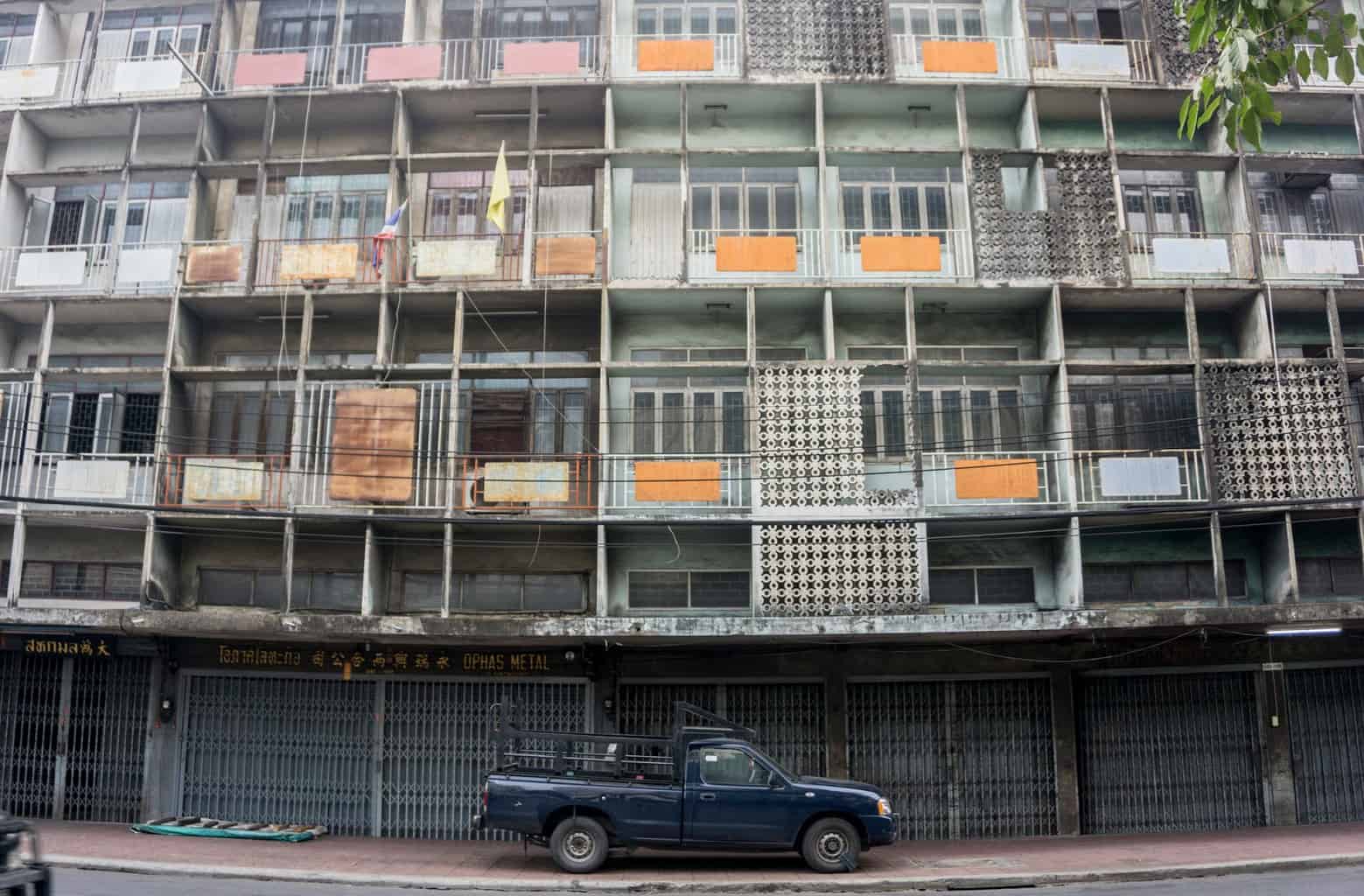 Chinatown, Bangkok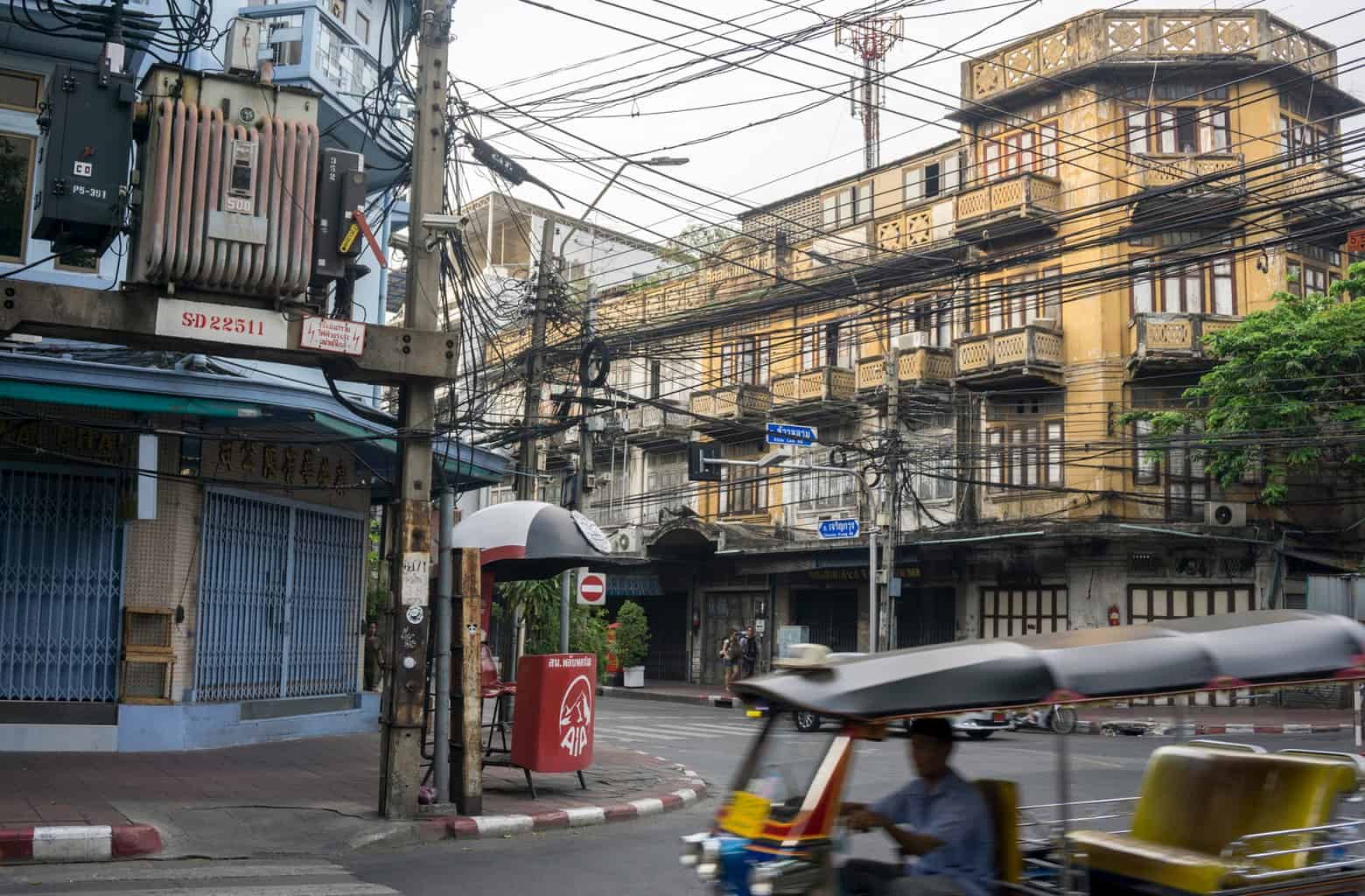 Chinatown, Bangkok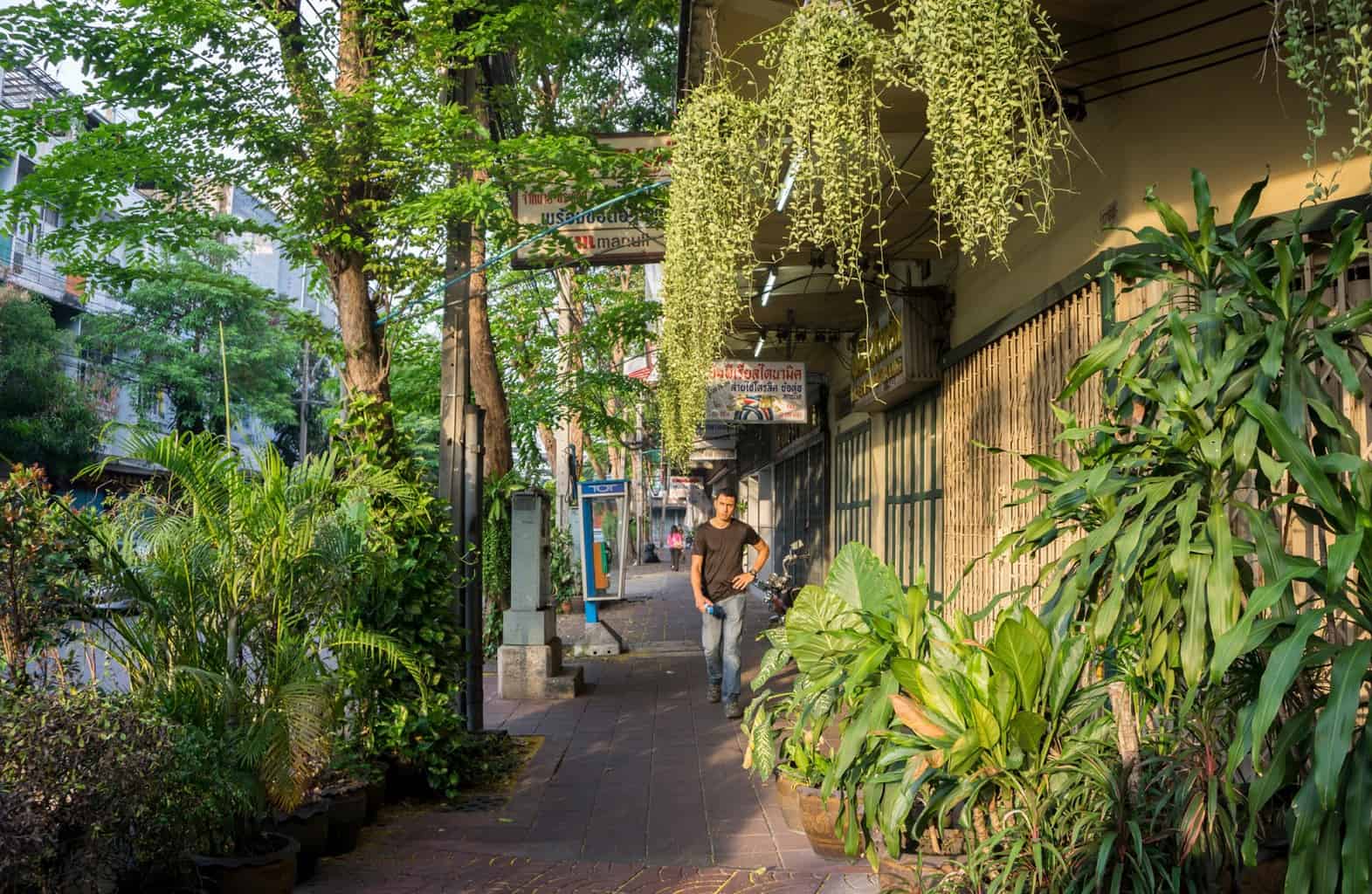 Chinatown, Bangkok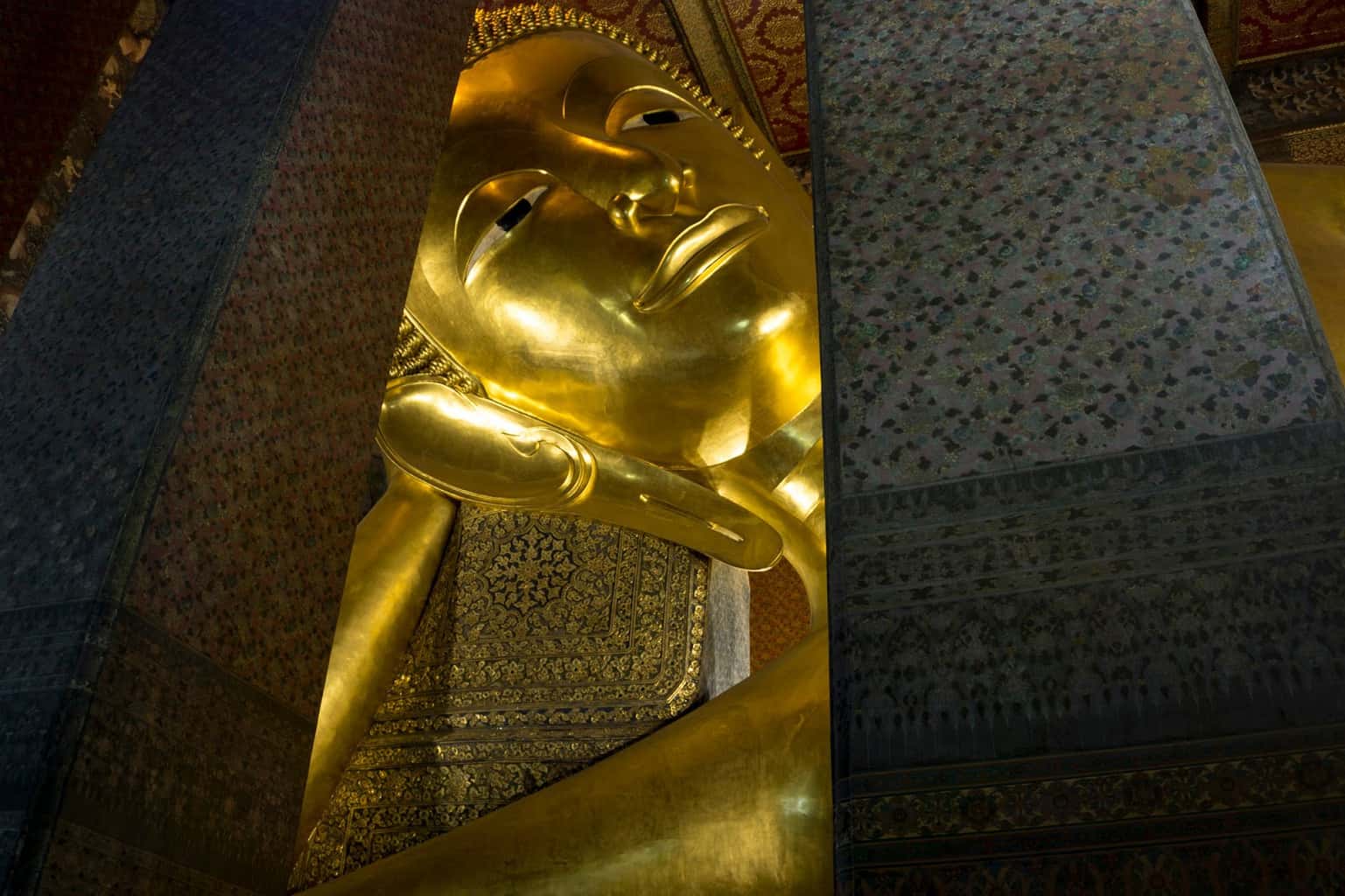 Reclining Buddha, Wat Pho, Bangkok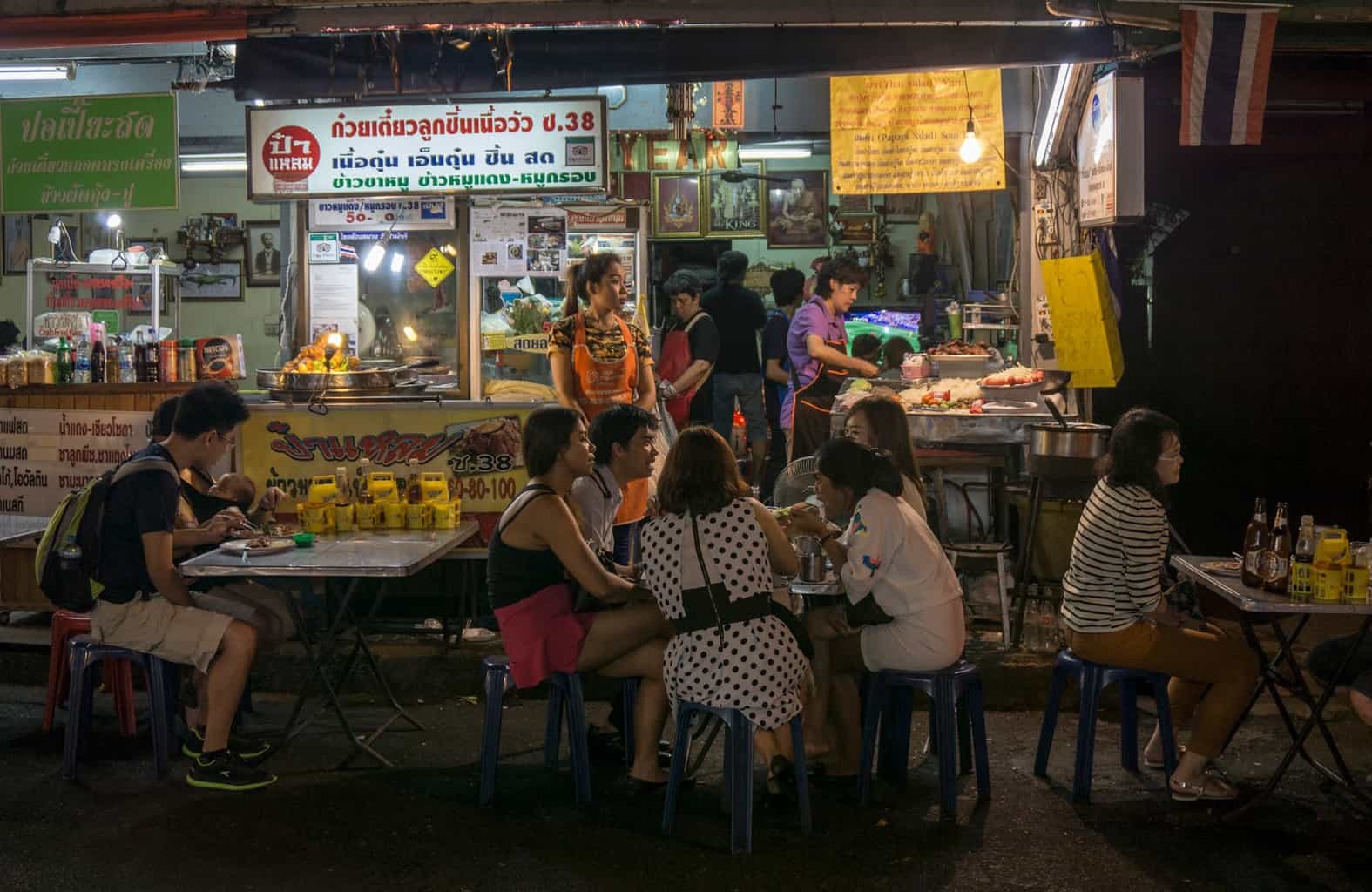 Sukhumvit Soi 38, Bangkok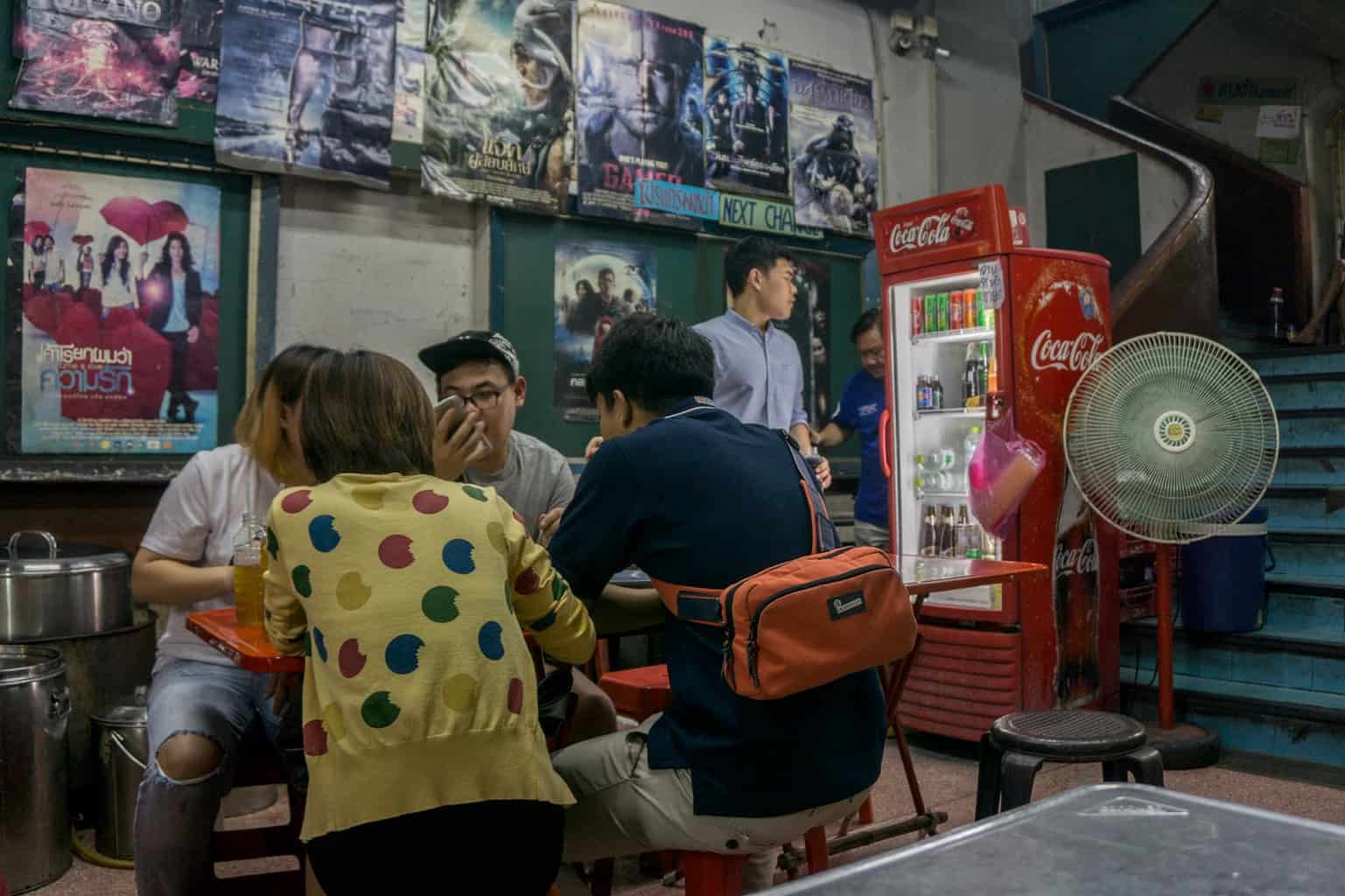 Chinatown, Bangkok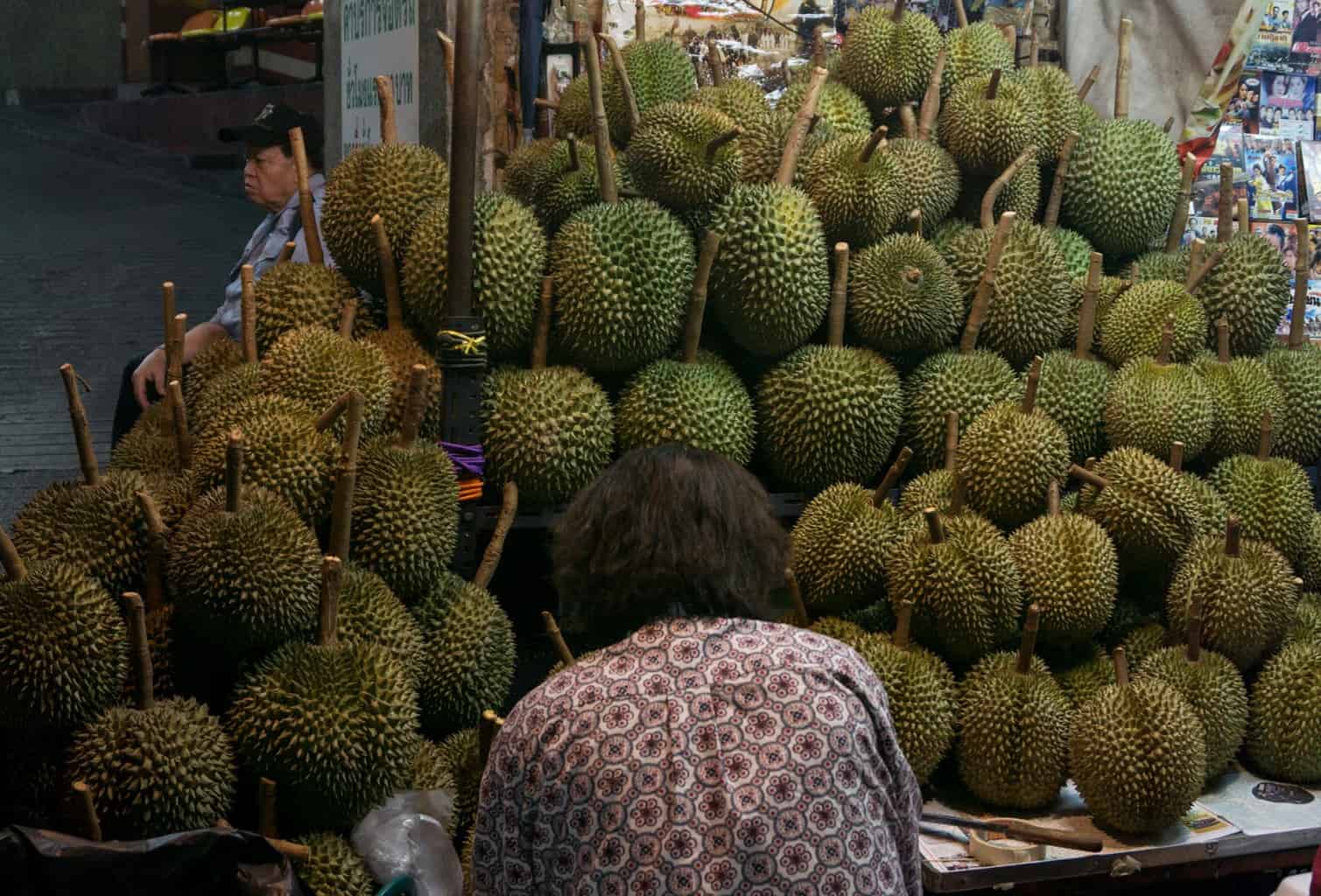 durian seller, Bangkok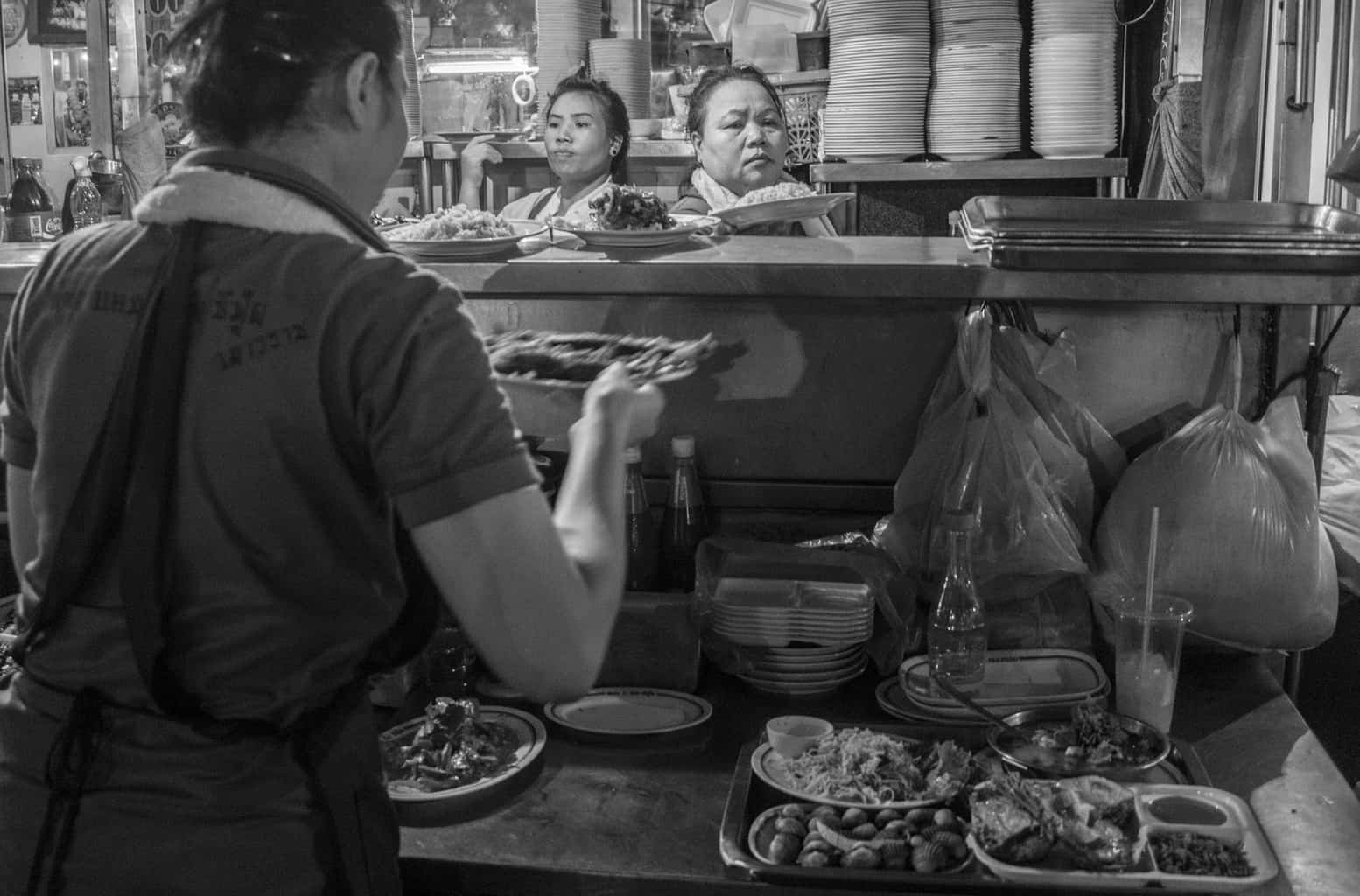 Chinatown, Bangkok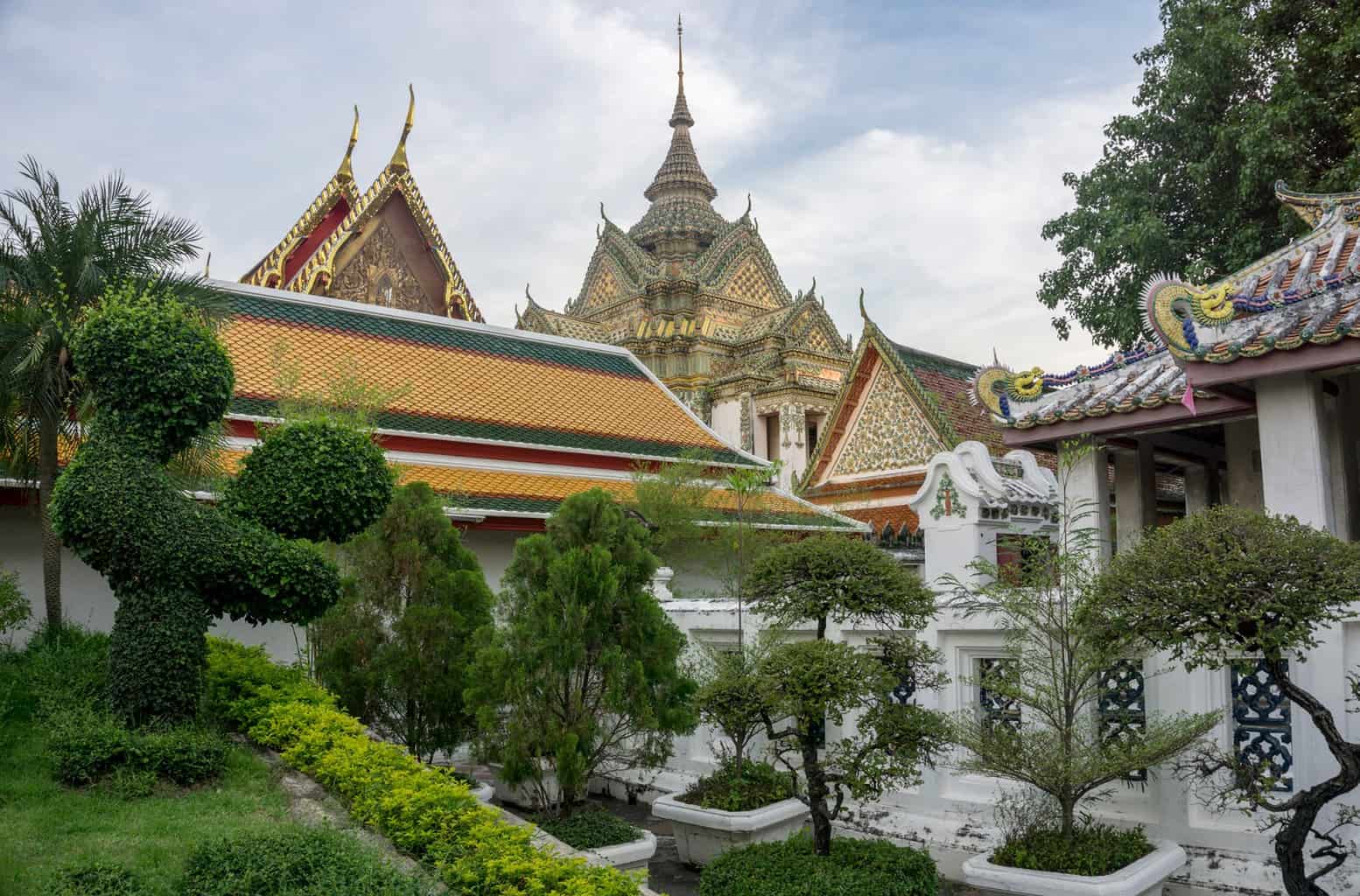 Wat Pho, Bangkok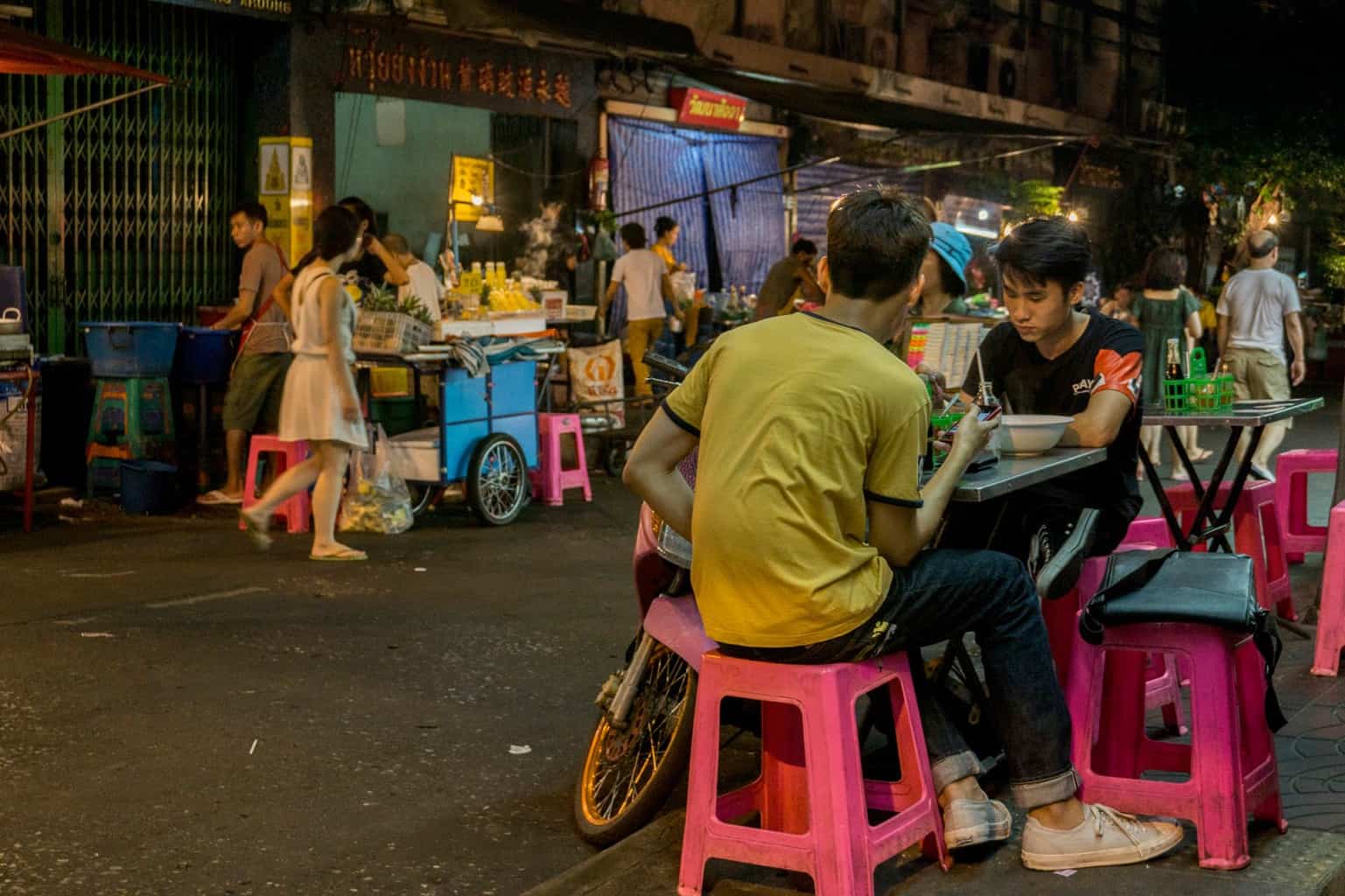 street food dining on Sukhumvit Soi 38, Bangkok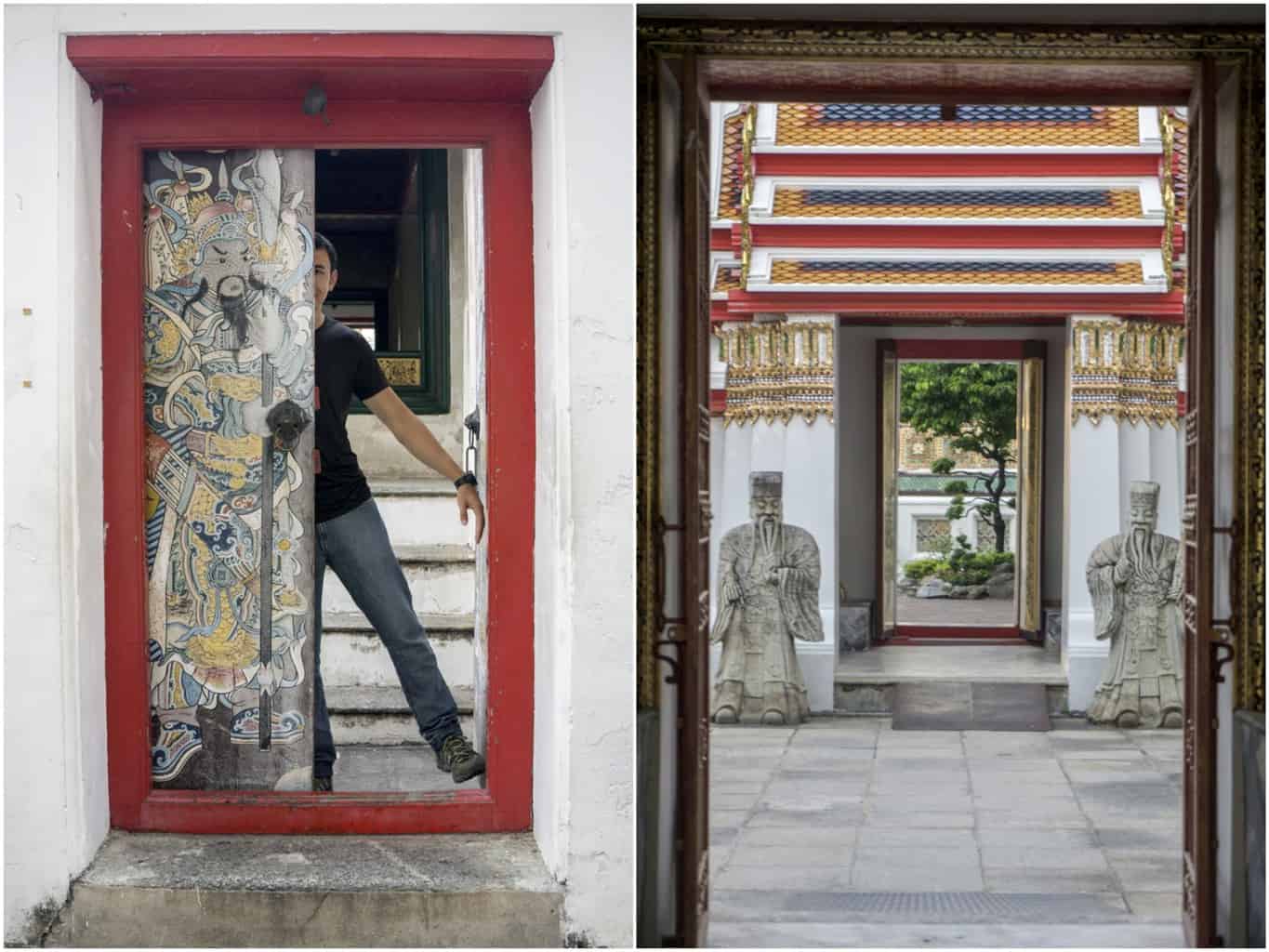 Wat Pho, Bangkok




Related posts

Week 0: Gone travelling. London – see you in nine months


Week 1: INDIA – Mumbai → Goa
Week 2: INDIA – Bangalore → Mysore → Wayanad
Week 3: INDIA – Kochi → Allepey → Kollam → Madurai
Week 4: INDIA – Pondicherry → Chennai → Mumbai


Week 5: INDIA – Varanasi → Udaipur → Jaipur → Delhi
Week 6: TAIWAN – Taipei
Week 7: CHINA & VIETNAM – Hong Kong → Hanoi
Week 8: VIETNAM – Sapa → Hanoi → Ha Long Bay → Hanoi


Week 9: VIETNAM – Hue → Hoi An
Week 10: VIETNAM – 6 day / 5 night motorbike tour from Hoi An to Da Lat
Week 11: VIETNAM – Da Lat → Nha Trang
Week 12: VIETNAM – HCMC → Mekong Delta → HCMC
Week 13: CAMBODIA – Siem Reap (and Angkor Wat) → Phnom Penh
Week 14: CAMBODIA – Sihanoukville & Koh Rong Samloem Island
Week 15: CAMBODIA – Kep
Week 16: THAILAND – Chiang Mai


Week 17: THAILAND – Songkran Festival in Mae Rim & Chiang Mai
Week 18: THAILAND – Bangkok → Koh Phangan