Last Updated on September 13, 2021 by Leyla Kazim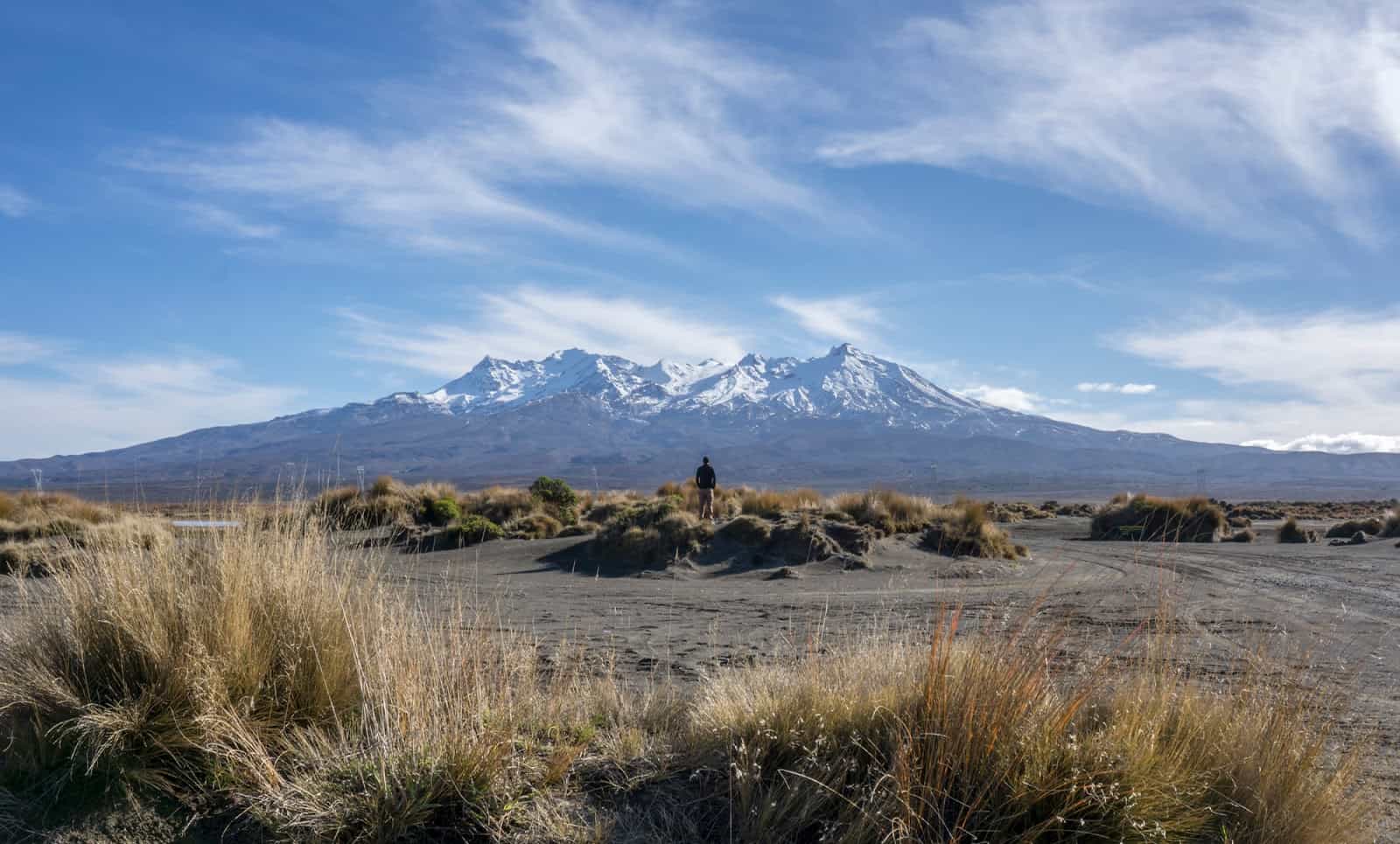 Image of the week: Mount Ruapehu, one of the world's most active volcanoes – New Zealand
More images at the end of post
l
Where in the world
A three and a half hour flight from Melbourne to Auckland. We stayed in the city for three nights before picking up a hire car and heading south.
A night was spent each in Rotorua, Turangi and Whanganui.

Thoughts

The first thing I've realised since being in New Zealand, is just how many people I know back in London who are Kiwis. They've been making themselves known via social media, nodding approvingly at my activities and getting homesick through vicarious travel.
The second thing that's occupied my brain since being here, is that I'm struggling to understand why these people ever left New Zealand in the first place. Because this country, quite simply, has it all.
Here's a quick flick through its repertoire.
Glacial valleys, alpine lakes, mountains, rivers – sights to give you shivers. It rides the joint of two tectonic plates, so boasts volcanic landscapes, is home to one of the world's most active volcanoes, and has geothermal activity galore. A great place to see this is at Orakei Korako near Taupo – a world of gushing geysers, hot springs and bubbling mud pools.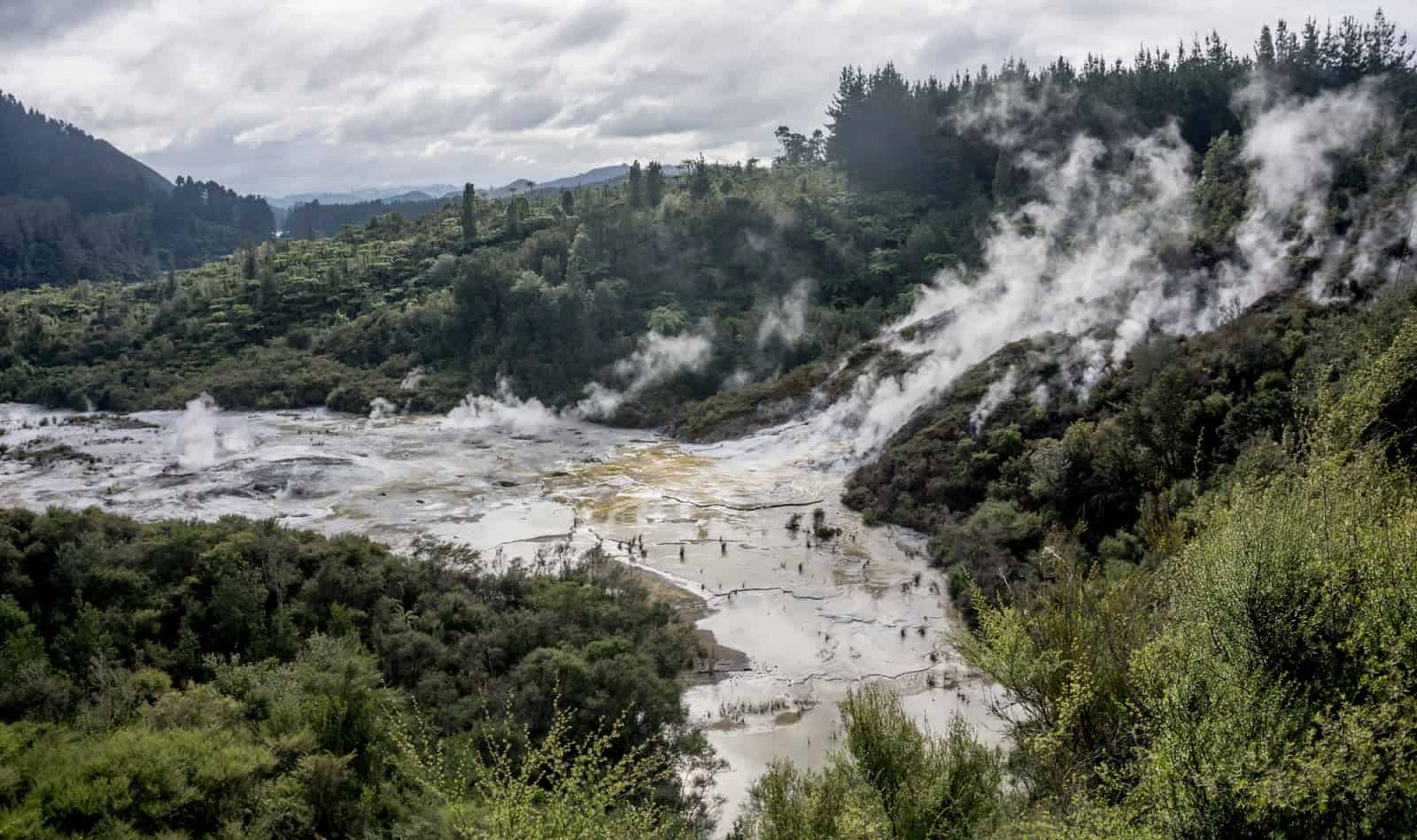 not smoke, but highly active, bubbling, steaming geothermal activity
Orakei Korako – New Zealand
l
It has the Maori people, whose culture is an integral part of the life of Kiwis (see Highlight below), and its varied environments mean within one country, you have both places to ski and beaches on which to sunbathe.
Its unique evolutionary history due to its solitary position on the planet means a whopping 70% of its wildlife is endemic i.e. they can't be found anywhere else. That's tens of thousands of species of insects, animals and plants that only exist in New Zealand. Which makes for some very special wildlife spotting.
It has wild and rugged coastlines of remote untamed beauty, and the beaches on the west coast have black sand thanks to the volcanic iron content present. They stick to a magnet like the iron filings from your school science days.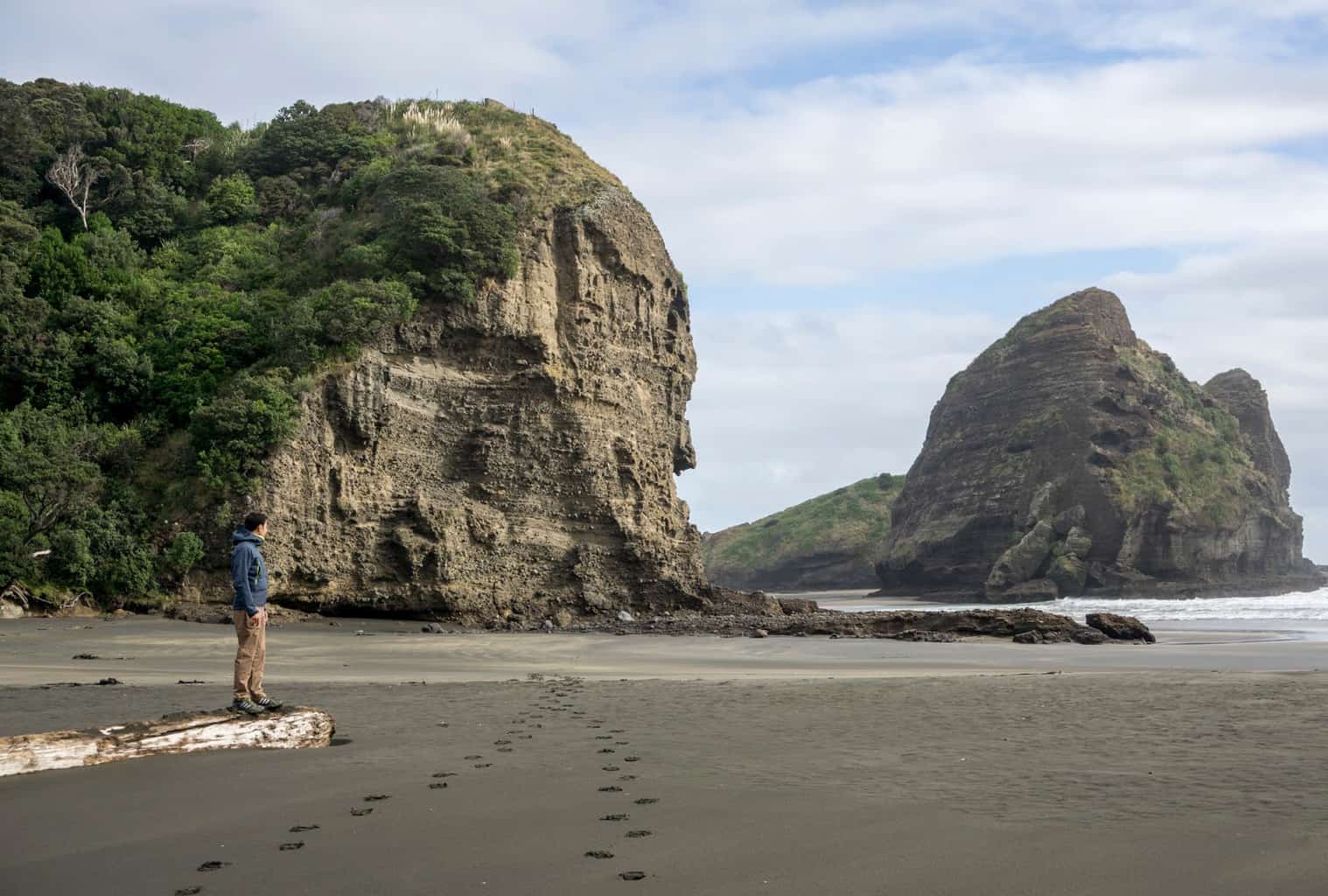 the black sands of Piha Beach, Auckland – New Zealand
l
I mean, I could go on.
In fact, I will.
New Zealand's clear skies and low pollution (both light and smog) mean it has some of the best dark skies for star gazing in the world. In fact, Lake Tekapo on South Island is ranked as the second best place on the planet to observe the night sky. It's actually part of a UNESCO dark sky reserve, meaning it's protected by law from light pollution, in order for it to stay that way.
It has vineyards making award winning pinot-noir. Its cold clear waters are home to an incredible array of delicious creatures from the deep, and its endless lush rolling hills and farmland rear world-famous lamb and beef.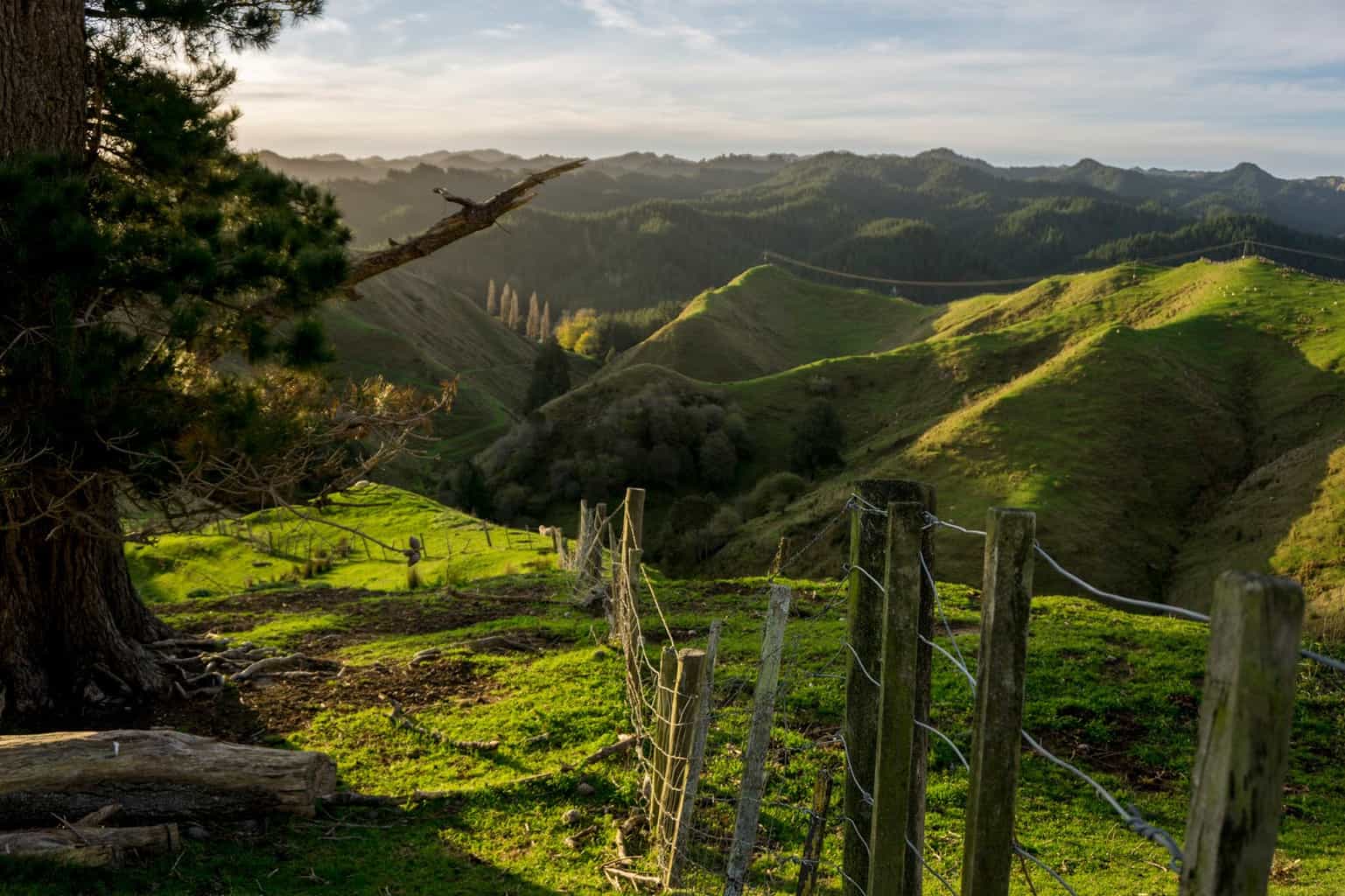 Middle Earth all right. Endless rolling hills dotted with sheep – New Zealand

It's small enough to easily visit different parts during one holiday, they drive on the correct side of the road (the left, hurrah!), it's so clean that its not unusual to see kids go barefoot in the street, they make great coffee, the people are awesome, and it has bustling metropolitan multicultural cities.
I am yet to find a downside, except maybe the very tight immigration laws (see lowlight below). Also the fact that it is days away from 95% of the rest of the world. But as someone said on Twitter, 'that's a bad thing?'.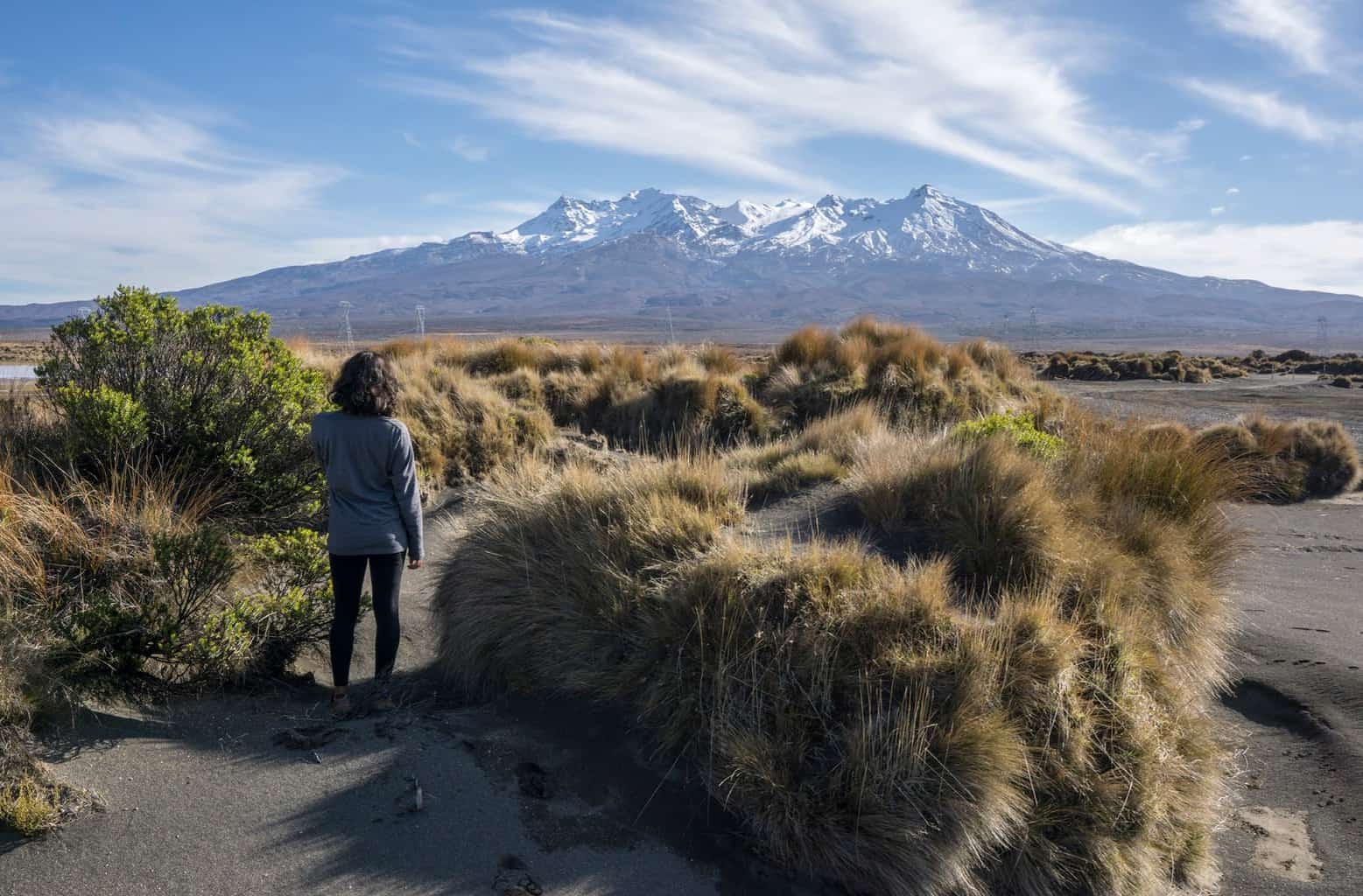 taking a moment to appreciate our glorious planet, Mount Ruapehu – New Zealand
l
And all this gushing from the constraints of the North Island; we haven't visited the South Island yet – that's next week.
When I tell the Kiwis I'm meeting how much I am loving their home, their response is 'if you think the North is beautiful, wait until you get to the South Island. You ain't seen nothing yet!'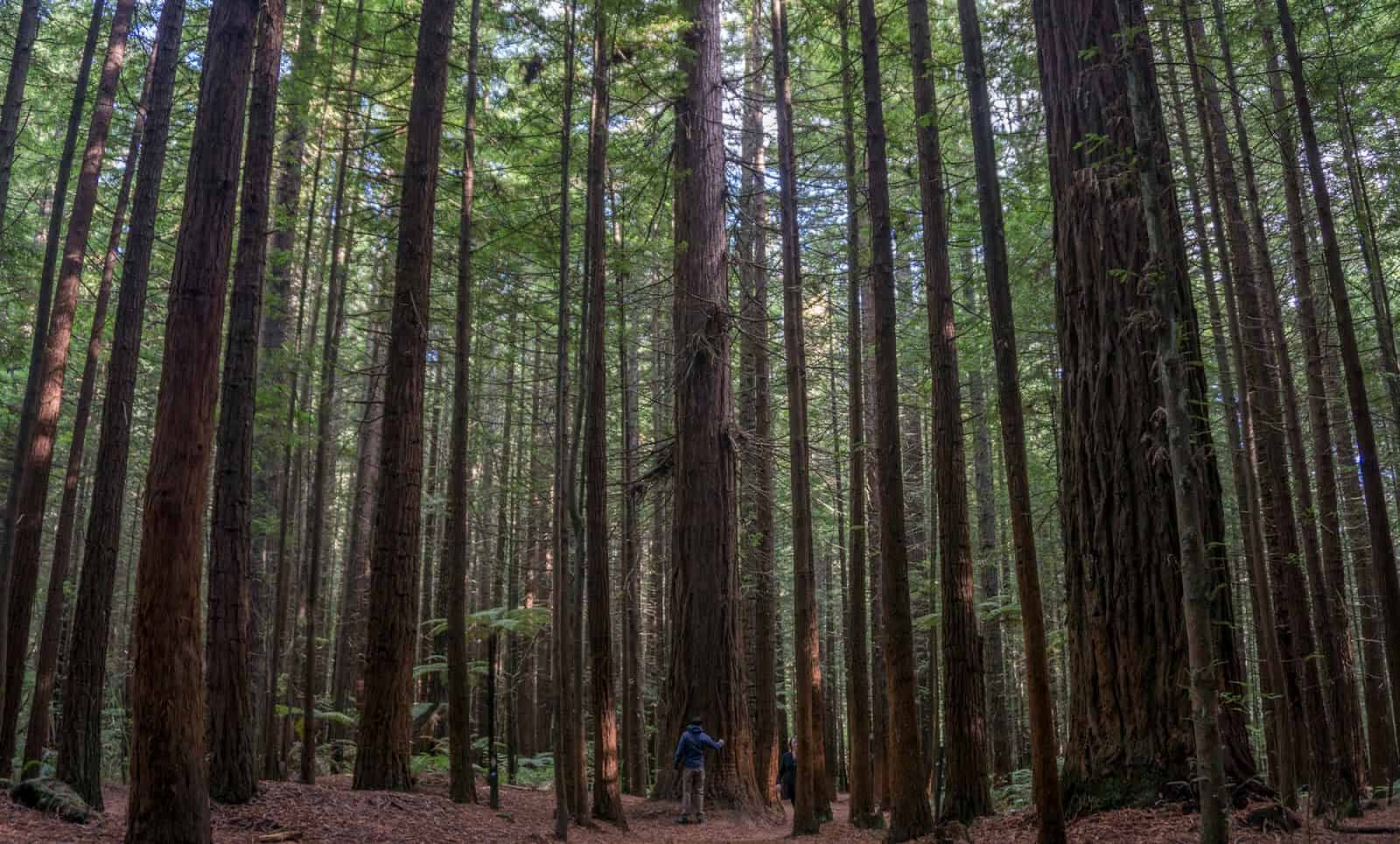 the majestic towering Redwood trees of the Whakarewarewa Forest,
Rotorua – New Zealand
l
A special note must be given to the New Zealand's tourism website, one of the most thorough, comprehensive and downright inspiring travel resources I've come across.
Particularly useful are the driving itineraries. We've been following Auckland to Invercargill in 14 days, for its promise of wild places and the glorious outdoors, adding extra time in the cities to pad it out to three weeks and slow down the pace. It tells you exactly what to do and see at each stop to ensure you're making the most of it.
Readers, we may well be in my favourite country from this whole trip. New Zealand, I knew I'd fall hard for you before I even got here. You have so far lived up to every expectation. Please keep it up.

The best things I ate this week

Sticking with last week's theme, we've been watching our pennies in the money-sucking black hole that is the developed world by relying on supermarket forages most of the time.
But everyone needs a treat now and then. Here are our favourites from the week.
Ugly bagels, Auckland
The bagels at Best Ugly Bagels are hand-rolled and cut, simmered in sweet honey water, then cooked in stone ovens running on New Zealand's greatest natural fuel – Manuka hard wood. Here a T. A. B. (tomato, avocado, basil, lemon and fennel infused olive oil) and a YODI (pastrami, Swiss cheese, habanero mustard, pickle). These were beauts, great light texture on the bread.
Best Ugly Bagels, 3A York Street, Newmarket, Auckland
Noodle and whisky bar, Auckland
Barley miso ramen at whiskey and noodle bar Chop Chop Noodle House in Ponsonby Central; cool part of town. Chilli tofu, mushrooms, courgette kimchi, smoked miso butter, and rye noodles. It hit the spot .
Chop Chop Noodle House, 140 Ponsonby Rd, Ponsonby Central, Auckland


Coffee pit stop, Hamilton
The drive from Auckland to Rotorua is a good three hours, requiring a coffee bisection. Roasters Rocket Coffee know their stuff and brew a fantastic cup. They'll also let you check out their big roasting machines out the back. Nice folk.
Rocket Coffee, 302 Barton Street, Hamilton (down an alley on the rive, east side of Barton Street)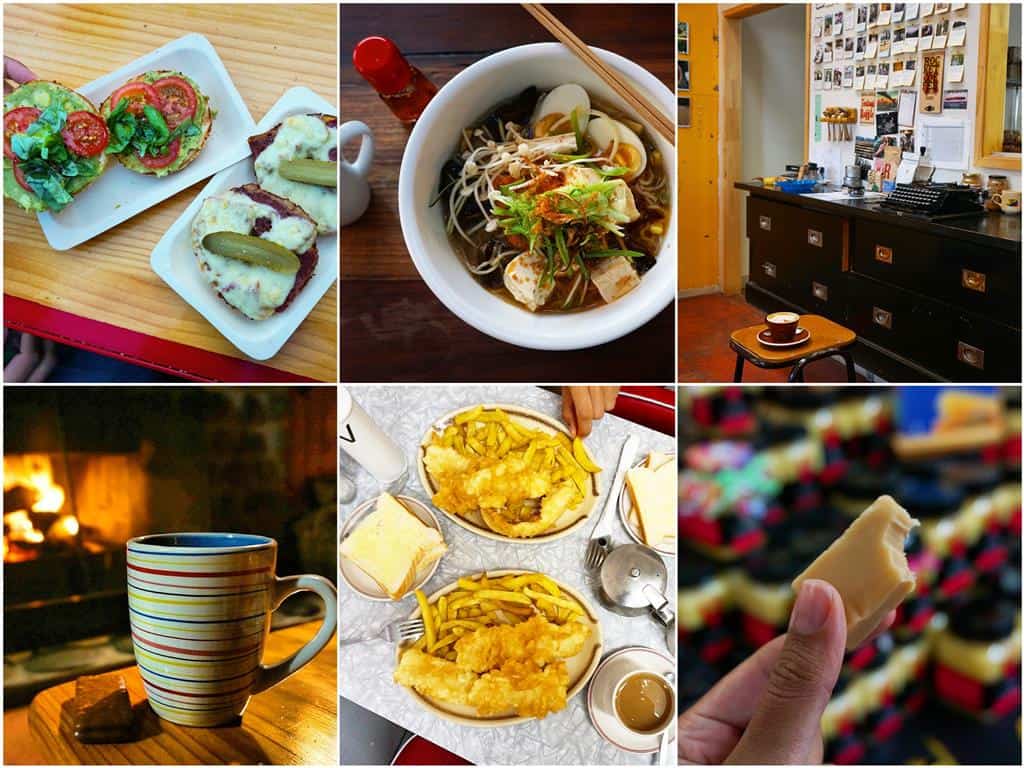 top: bagels from best ugly, barley miso ramen, Rocket Coffee
bottom: tea and a Tim Tam, fish and chips, Manuka honey fudge
l
Tea and a Tim Tam
It started to chuck it down just as we pulled into Sportsmans Lodge in Turangi, and they'd just stoked the fire in the lounge. Tea, Tim Tam – timing.
(for those who unfamiliar with Tim Tam's, they are essentially what we in the UK call Penguins)
Fish and chips, Wanganui
When the calls of home come a'knocking, they shouldn't be ignored. And it was about time we sampled some of New Zealand's famed seafood. Fish and chips, bread and butter, pot of tea, retro seats – Friday night was a good'un. Georges Fisheries was recommended by our lovely AirBnB host Donna, and is also referenced in the Lonely Planet.
Georges Fisheries, 40 Victoria Ave, Whanganui
Manuka honey fudge, Taupo
Huka Honey Hive is a great place. It's New Zealand's largest showcase of honey products with free tastings, live bees, mead (honey wine), honey skincare products, honey ice cream, more jars of dark and glorious (and expensive) Manuka than you can shake a stick at, and a load more. They also sell Manuka honey fudge, which is just dreamy.
65 Karetoto Road (off Huka Falls Rd And SH1), Wairakei 3377
Did you know?
Maori facial tattoos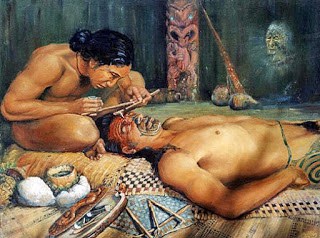 traditional Maori tattoo scene using chisels
l
You may have seen Maori tribal tattoos before, but the traditional way in which they were applied in days gone by was rather brutal.
Tattooing started at puberty, accompanied by a lot of rites and rituals. As well as making a warrior attractive to the opposite sex, the tattoo practice marked both rites of passage and important events in a Maori's life.
First the skin was graved with deep cuts, using a bone chisel with either a serrated or very sharp straight edge. The cuts would only be allowed to partially heal, in order for them to scar.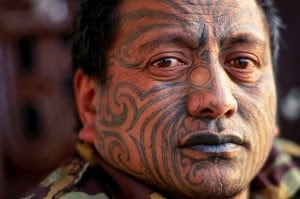 modern day Maori facial tatooing
During the mid-heal, the second stage involved opening up the scars, this time with a chisel that had been dipped into a sooty pigment. Essentially, colouring in the wounds. The eventual results were raised black scars on the face and body.
It was a painful and long process, and many died from infection or loss of blood. But it was considered better to have died whilst receiving the body markings, than never to have been tattooed at all.
Some Maoris still get their faces tattooed today, but tend to favour the less deadly modern methods that swap chisels for needles.
My insider tips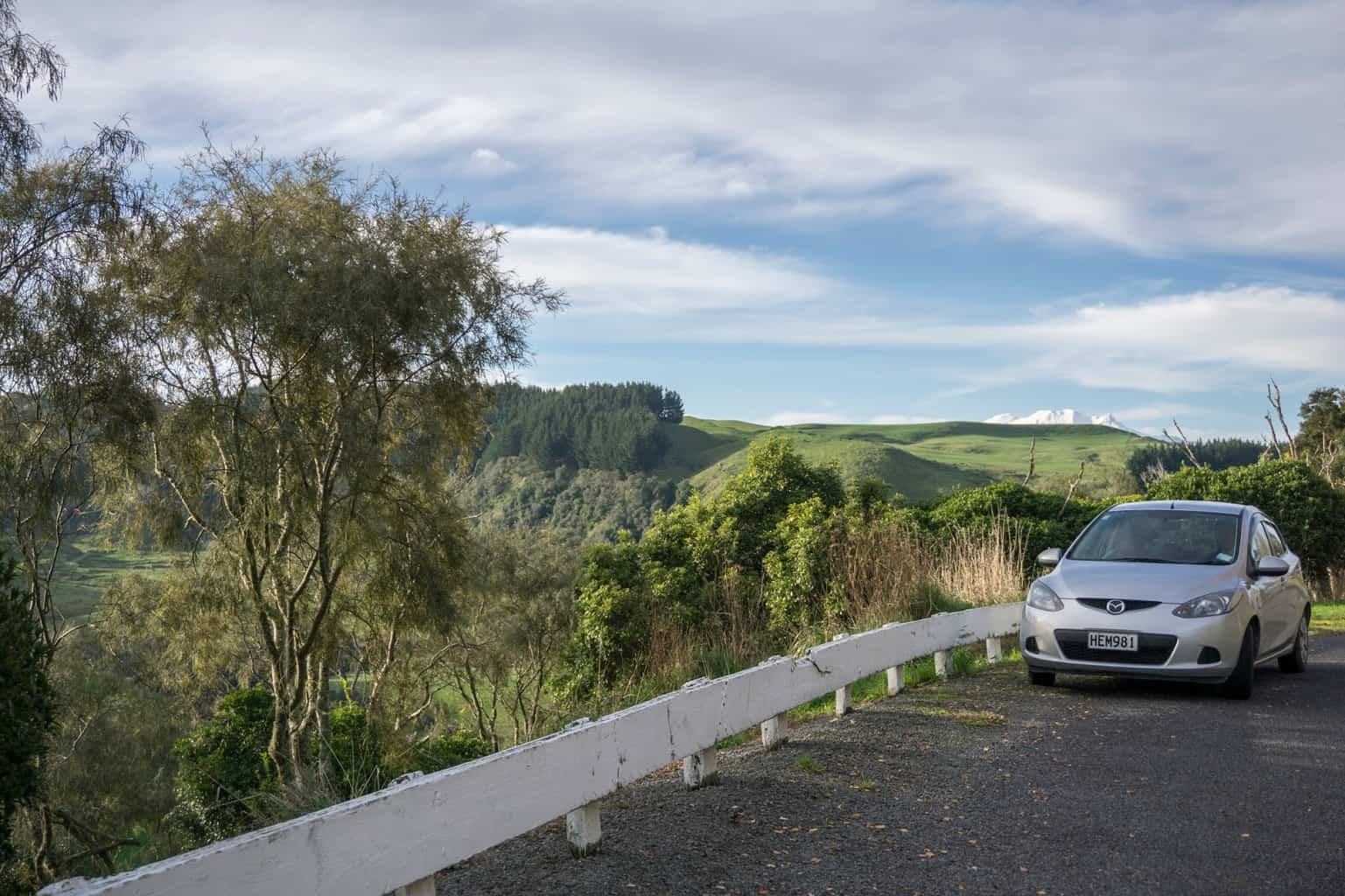 driving pit stop, New Zealand
l

Free sat nav

There seems to be something incredible to see or experience every five minutes in New Zealand, so hiring a car really is the best way to get around.
The freedom it gives you will allow you to make the most of this spectacular country, and I think it's worth every penny.
Car rental companies will offer the option of a sat nav, adding a minimum $10 or so a day to your bill.
Whilst they're necessary to navigate the country with ease, over a three week hire, that would work out at another $210 (about £105).
Instead, buy a car mount to hold your phone (£5) and download a GPS application for free. We used NAVMII downloaded from Google play store.
It's worked a treat so far.

Highlight / Lowlight
Highlight
An exceptionally fantastic evening of ceremonial rituals, powerful cultural performances and storytelling was had at the Tamaki Maori Village in Rotorua.
Set in a village in the native Tawa forest, about a 20 minute drive out from Rotorua, it's a interactive and hands-on place that brings to life the world of Maori New Zealand before the Europeans set foot upon these shores, showcasing the sights, sounds and activities of days gone by.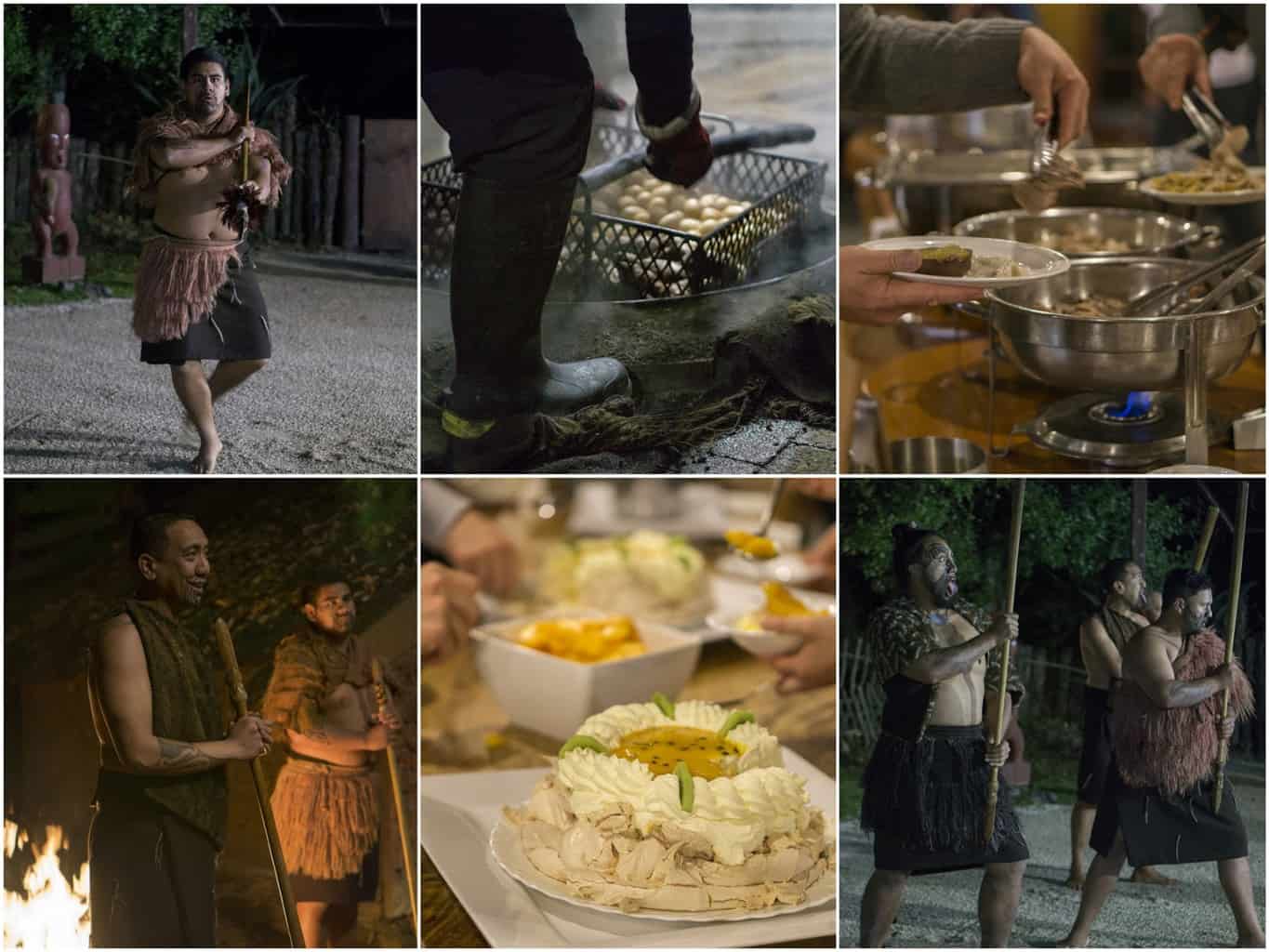 an evening at Tamaki Maori Village, Rotorua – New Zealand
l
For me, one of the most spectacular parts of the evening was firstly, the beginning. After being picked up from your hotel and driven to the site, all visitors congregate around the village entrance to witness and share in the very spiritual powhiri; the ancient ceremony of welcome.
Part of that is the te wero (the challenge), where tribal warriors perform intimidating gestures whilst sizing up the visitors, to ascertain if they've come in war or in peace.
At this point of the evening laughing, smiling or mimicking the warrior facial expressions is prohibited out of respect for what is a very significant ceremony to the Maori people. It's a real spectacle; here's a snapshot.
And then there was the concert of cultural performances held before the dinner.
Guests are ushered into the main village building (essentially a theatre), where the village members perform traditional songs (so very fantastic by the way, I've since downloaded a load of Maori music to listen to whilst driving), impressive weaponry displays, and the world famous haka – the Maori war dance. A real thrill to witness up close and personal.
Here's a snippet of the haka below.
And then there was the glorious (and all-you-can-eat) hangi, or feast. Around 150 people are fed with meat and vegetables cooked the way the Maoris used to, in their own juices in underground ovens using white hot stones (you can see a crate of potatoes being lifted out of the ground in the collage of images above).
There was chicken, lamb, vegetables, gravy, cranberry and mint sauce, mussels, fish – it was basically an awesome Christmas dinner. Then a load of desserts; sponge pudding with custard, passion fruit pavlova, tinned peaches.
It's buffet, so you can really fill your boots. I might have over eaten, but it was all so simply but very well done, that it was hard not to. It's also the night I discovered kumera, the purple-skinned New Zealand sweet potato; it's the most glorious sweet potato I've ever had.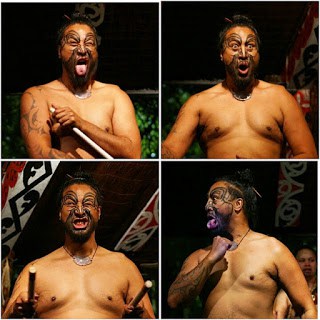 some of the pūkana (facial expressions)
made during the haka war dance
If you're visiting New Zealand, discovering traditional Maori culture and performance is a must. And this has got to be one of the best experiences going.
The thing that stood out for me was that even though these performers do this day in, day out, it is very apparent that they genuinely love it, and relish in perpetuating the heritage that means so much to them.
Another commendable point to note, there might have been a total of 150 people that night (the thought of which would usually have me running for the hills).
But at no point did it feel like such a big operation. Apart from the dining hall and in the theatre, those 150 are split into smaller groups the whole night, to allow better interaction with the villagers and the activities.
It's a fantastically executed evening of education, insight, culture and feasting, and I'd recommend it to everyone.
An evening at the Tamaki Maori Village includes 3.5 hours of Maori cultural experience, the buffet dinner feast and transport to and from your Rotorua accommodation.


Prices: Adults $110 (£55), 10-15 year olds $60 (£30), 5-9 year olds $20 (£10). Student and family group discounts available.

Note: This evening at the Tamaki Maori Village was kindly hosted at a discounted media rate as part of the Explore New Zealand Programme. All views remain my own.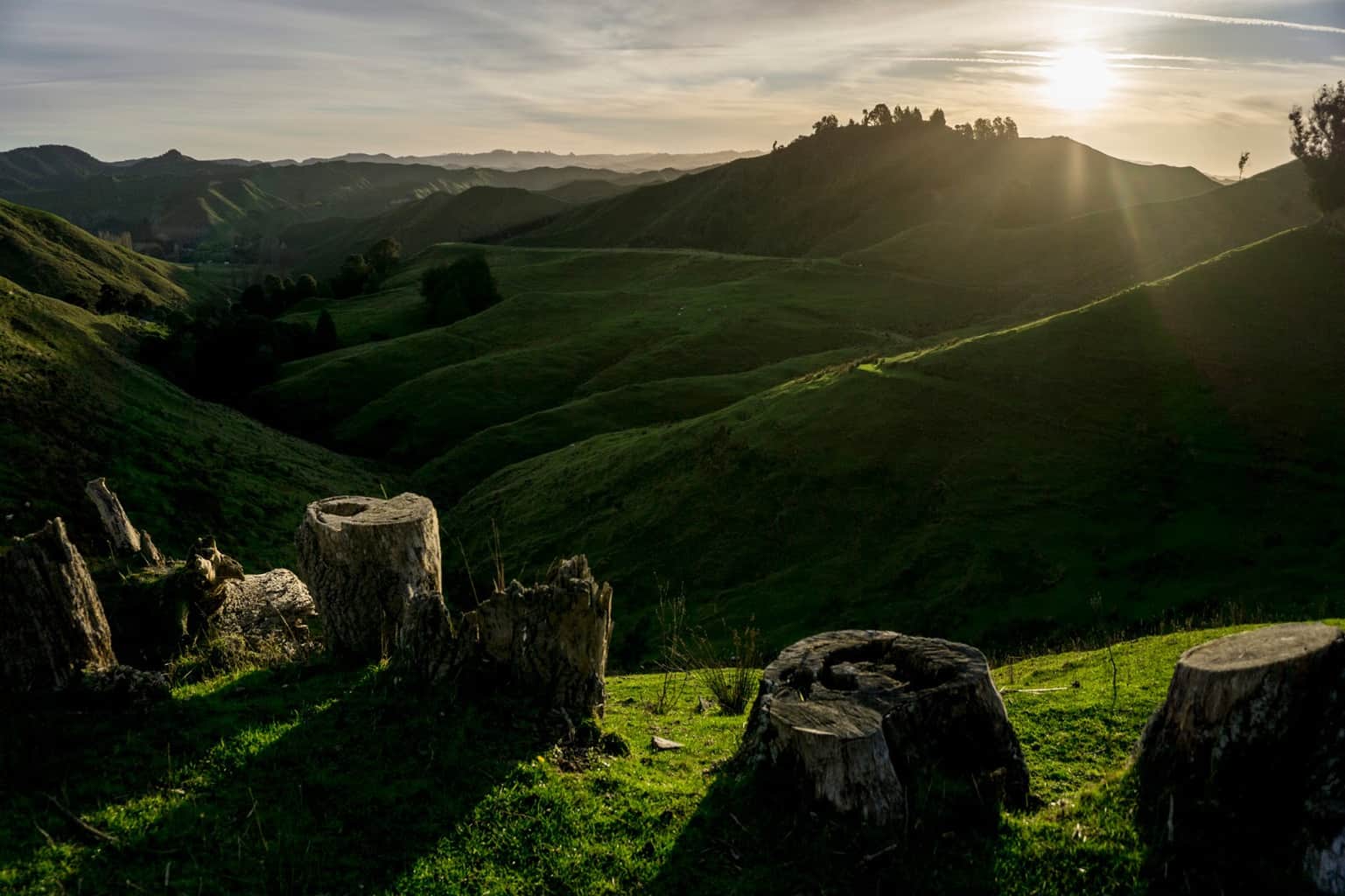 sun setting over New Zealand's verdant rolling hills
Lowlight

Airport pandemonium
Half an hour or so after checking into our flight from Melbourne to New Zealand, our names were called out over the airport tannoy. This wasn't going to be anything good.
The lady who checked us in had called ahead to New Zealand immigration to confirm what she had suspected.
Firstly, for New Zealand to let you in, you need to prove you intend to leave it at some point i.e. not stay there indefinitely. This means you need your tickets leaving New Zealand booked before you arrive in New Zealand. No problem. We're off to USA (Hawaii) after, and our tickets were already secured.
However, because New Zealand has what seems to be the strictest immigration rules known to man, not only do you need to prove you will be leaving New Zealand, we also needed to prove we'd be leaving the next country too, i.e. leaving the USA.
What leaving the USA has to do with entering New Zealand, I still don't understand. We wouldn't be leaving the states for almost two months, we simply hadn't booked that far ahead. And to add to that, because it was the states, New Zealand wouldn't accept flights to neighbouring Mexico or Canada, the flights had to be further afield. What?!
And then, the final straw. We might have had our flights to Hawaii secured, but had we applied for the ESTA yet (online form you need to fill in when travelling to the USA that checks you're not a criminal, along with other things, and allows you in)? Well no, we hadn't, as the flight to Hawaii wasn't for another three weeks.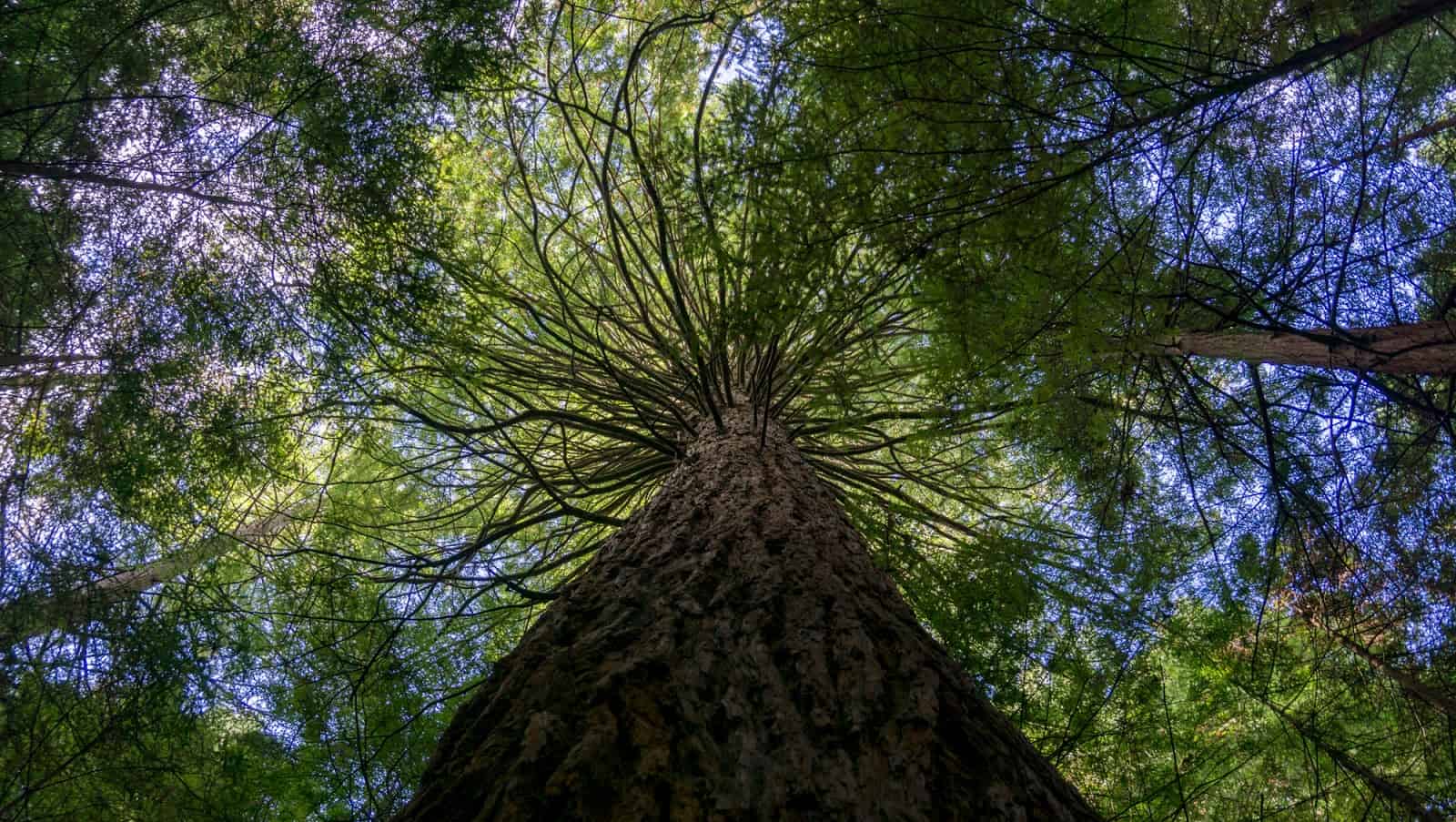 here's a peaceful Redwood tree to ease the stress of the airport pandemonium reading. Whakarewarewa Forest, Rotorua – New Zealand
l
Well, we needed it to get into New Zealand. Because as New Zealand immigration sees it, if your ESTA hasn't been approved, you're not guaranteed to get into the USA, which means your not guaranteed to be leaving New Zealand with the tickets we've shown them.
Cue a mad rush on the laptop in the half hour before boarding to i) buy plane tickets from the States to anywhere, just to show them something (other than Canada or Mexico – the latter of where we are actually going after), that we could cancel as soon as we get into NZ without having to pay a fee and ii) applying for two ESTA's and hoping the site wouldn't go down, they'd get approved immediately, and we didn't have distant criminal records that might have slipped our mind.
We managed it. We gave the lady who checked us in all the details to note down, and send through to the other side if they ask. We get on the plane. We get to New Zealand. We get stamped straight through immigration, with no questions or requests to see paperwork.
Typical.
Next week

We continue driving south to spend a few days in the city of Wellington, then we head over the Cook Strait to South Island.
Postcards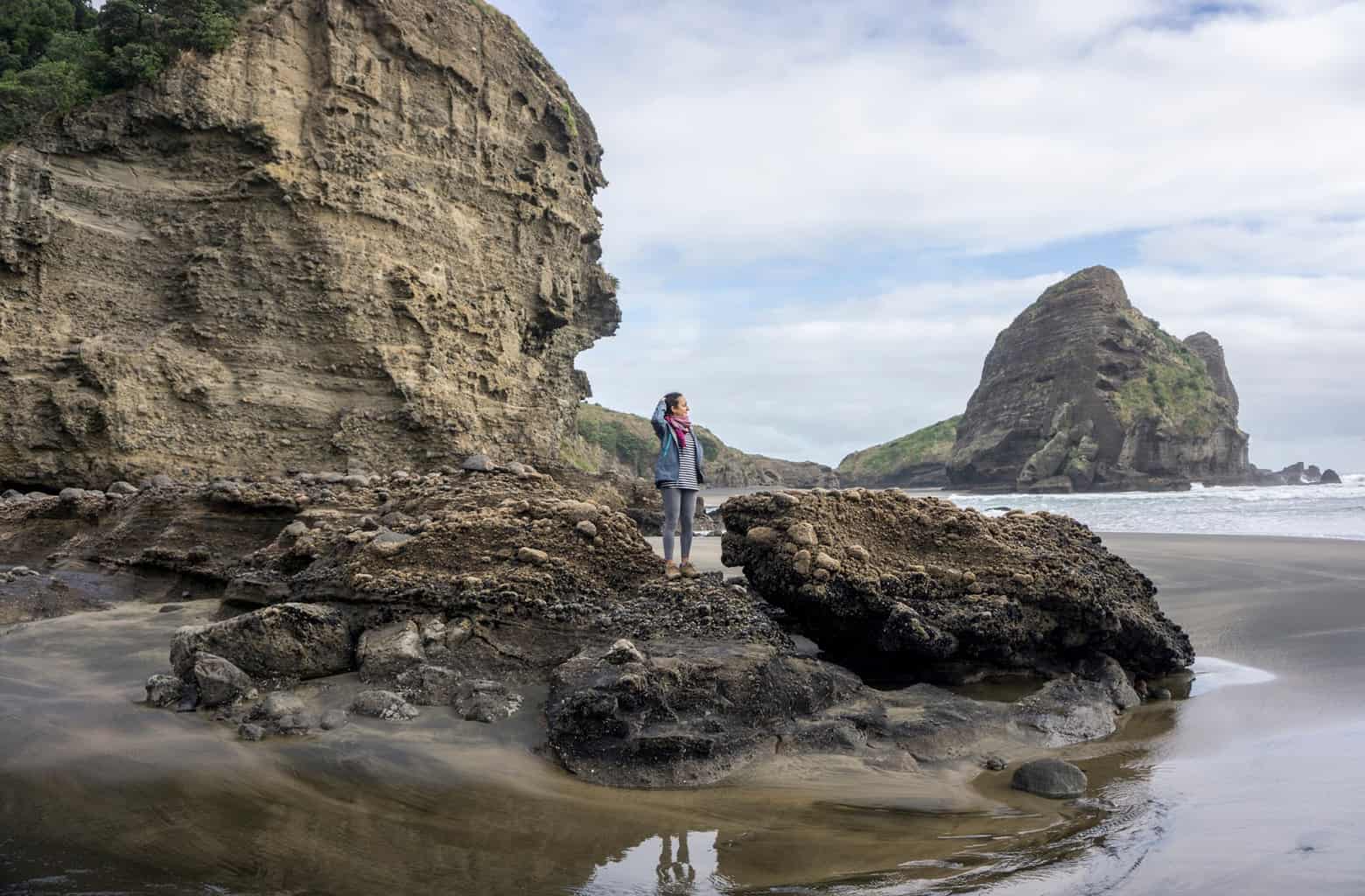 the west-coast black sands at Piha Beach, Auckland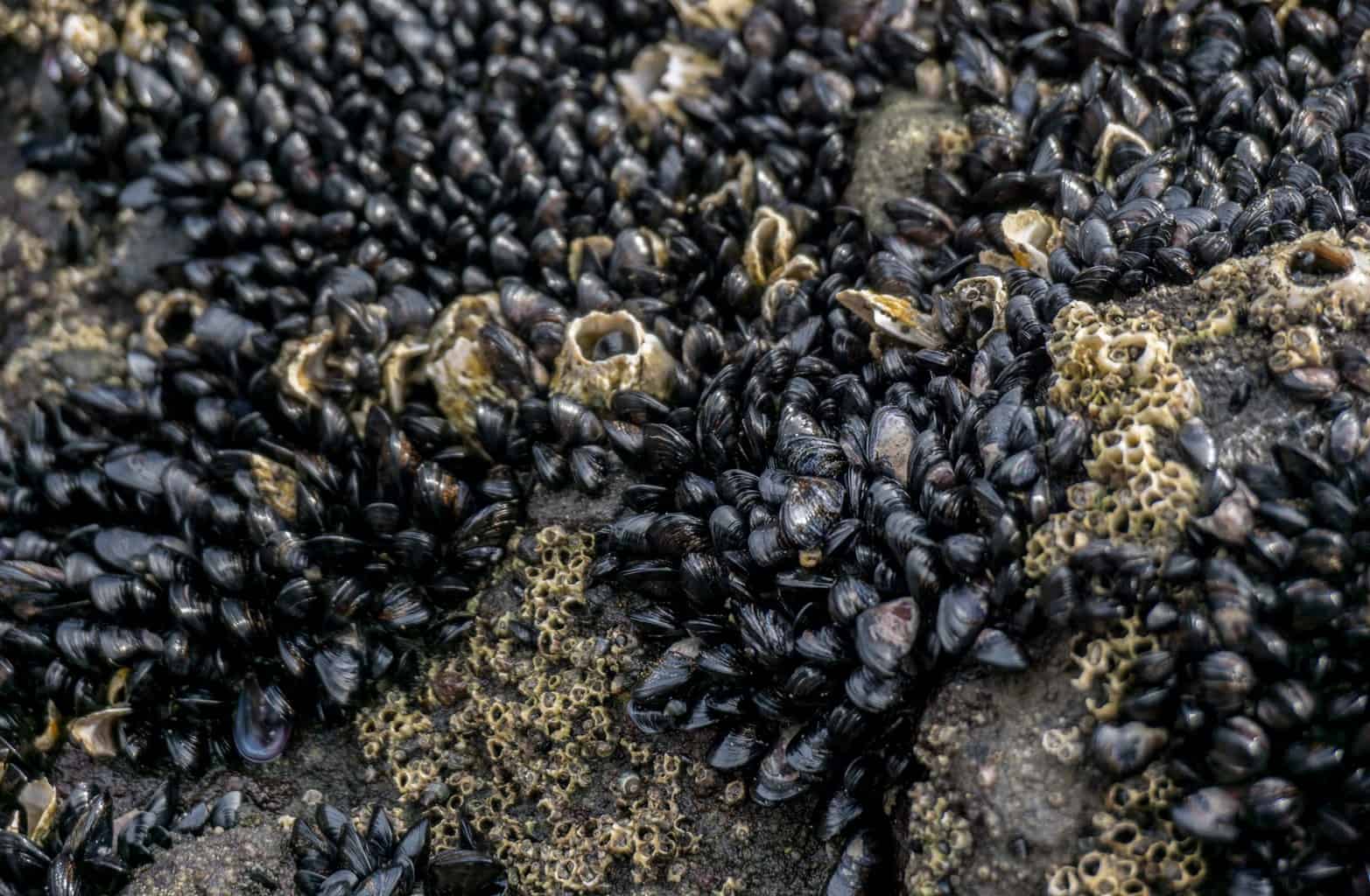 Piha Beach, New Zealand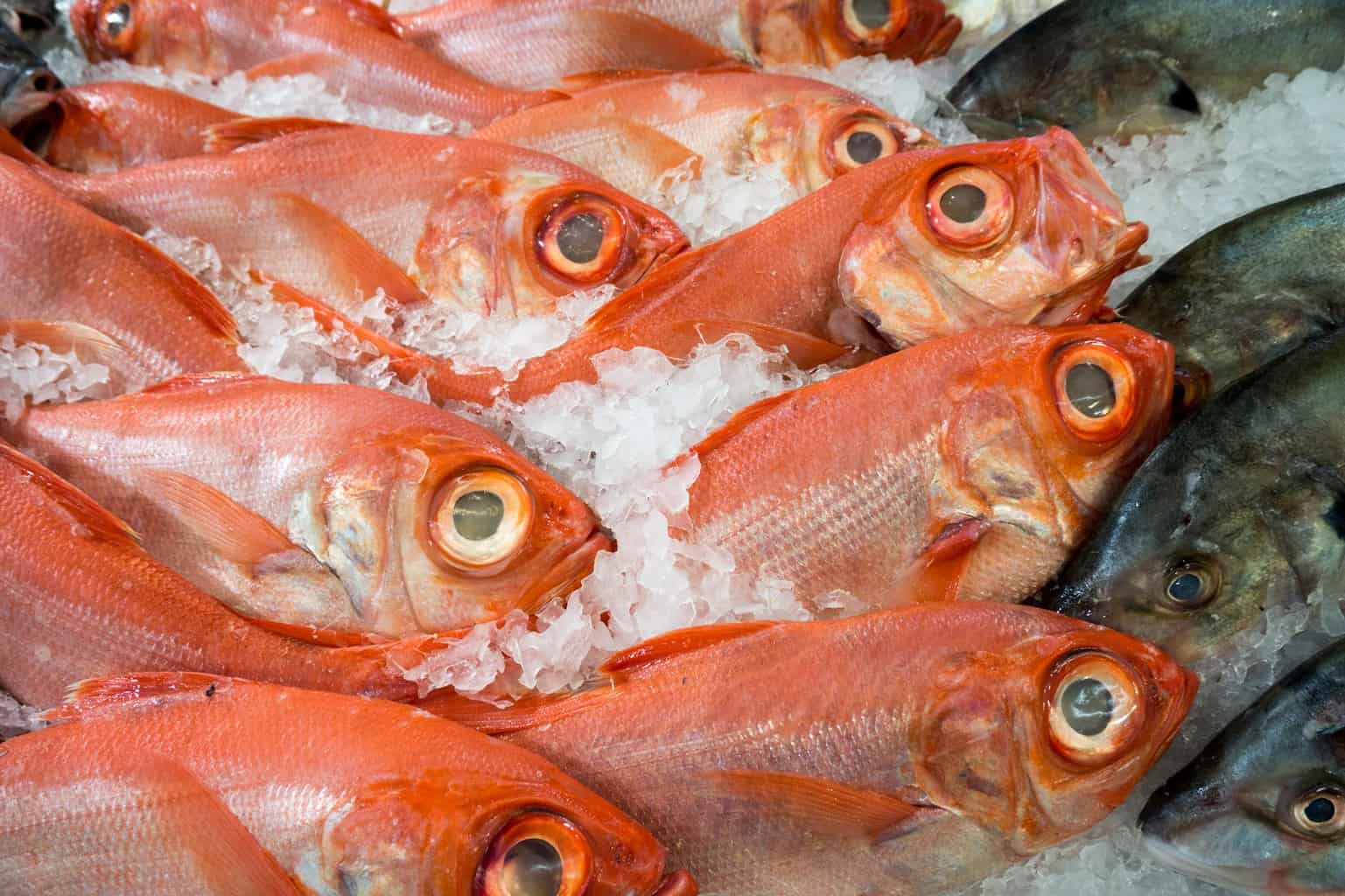 Auckland Fish Market, Auckland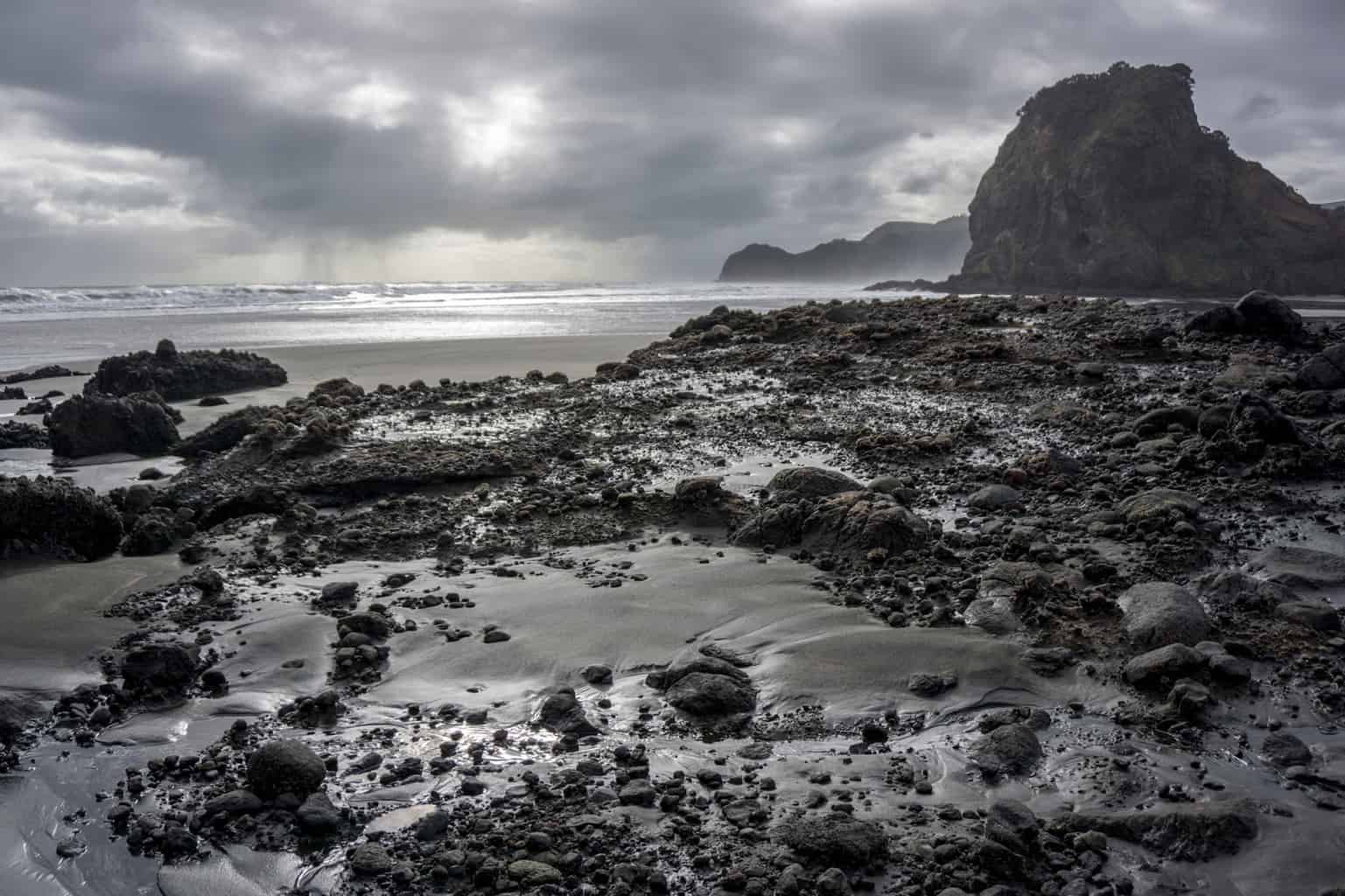 the west-coast black sands at Piha Beach, Auckland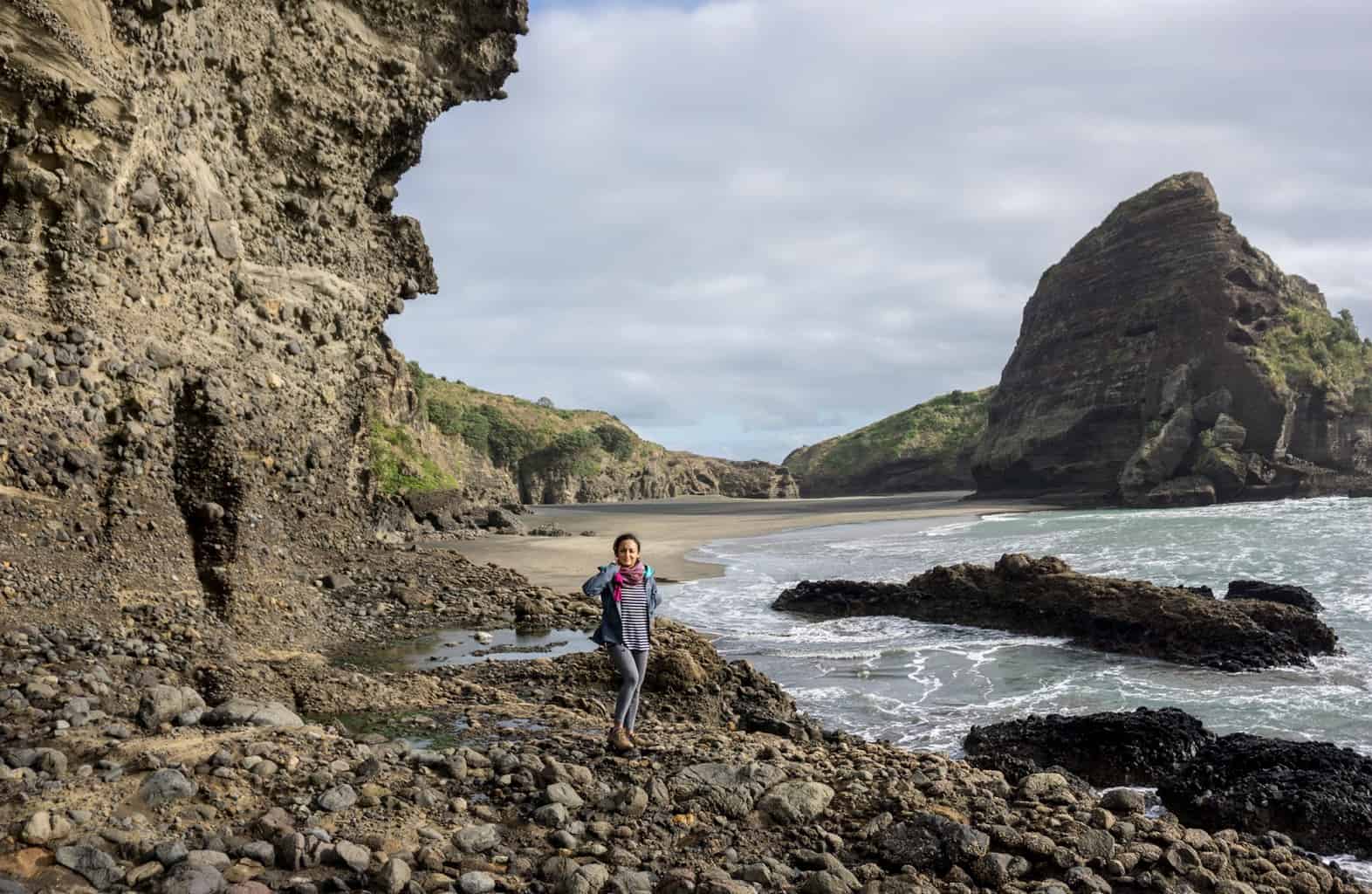 windswept at Piha Beach, Auckland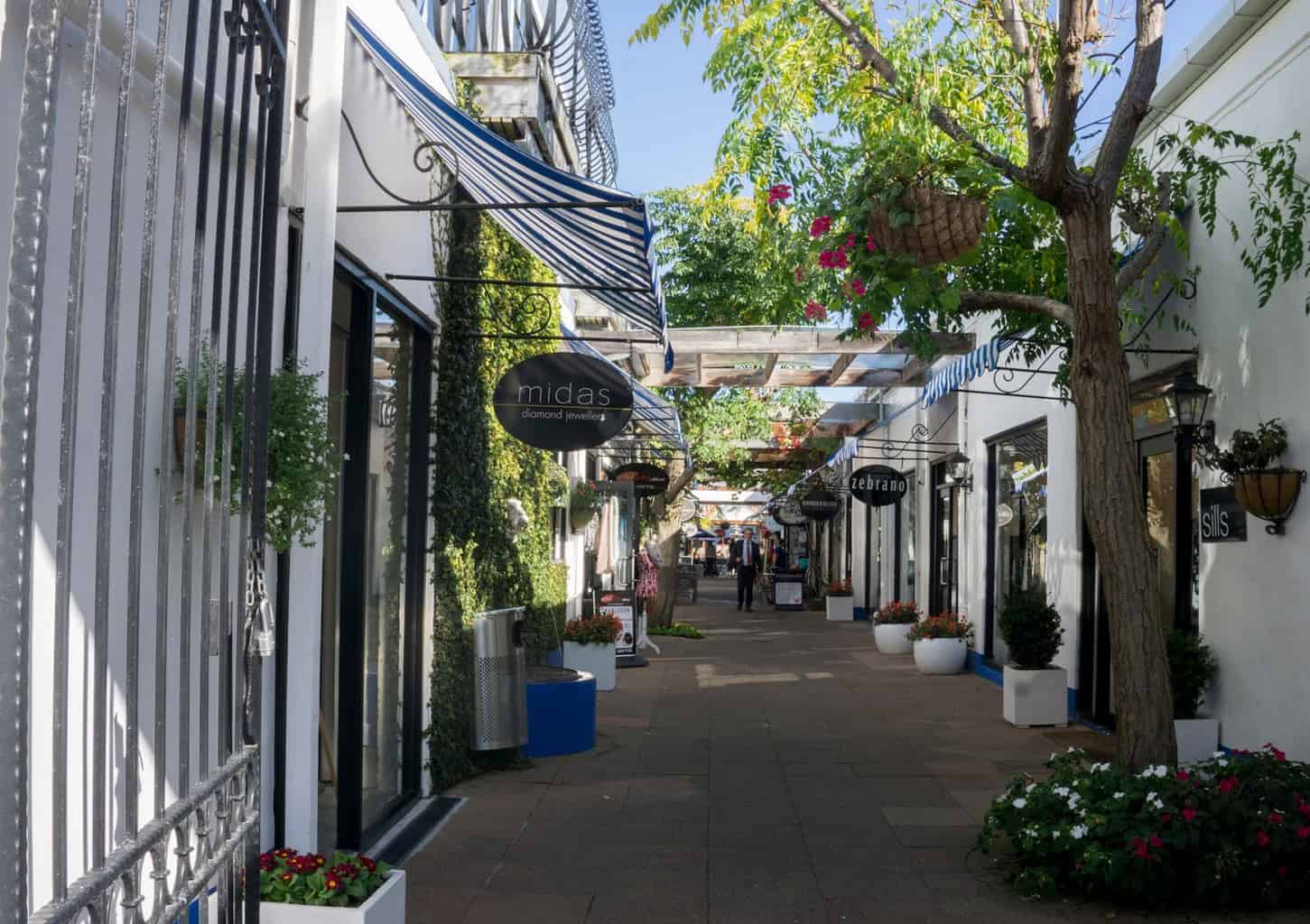 Hamilton, New Zealand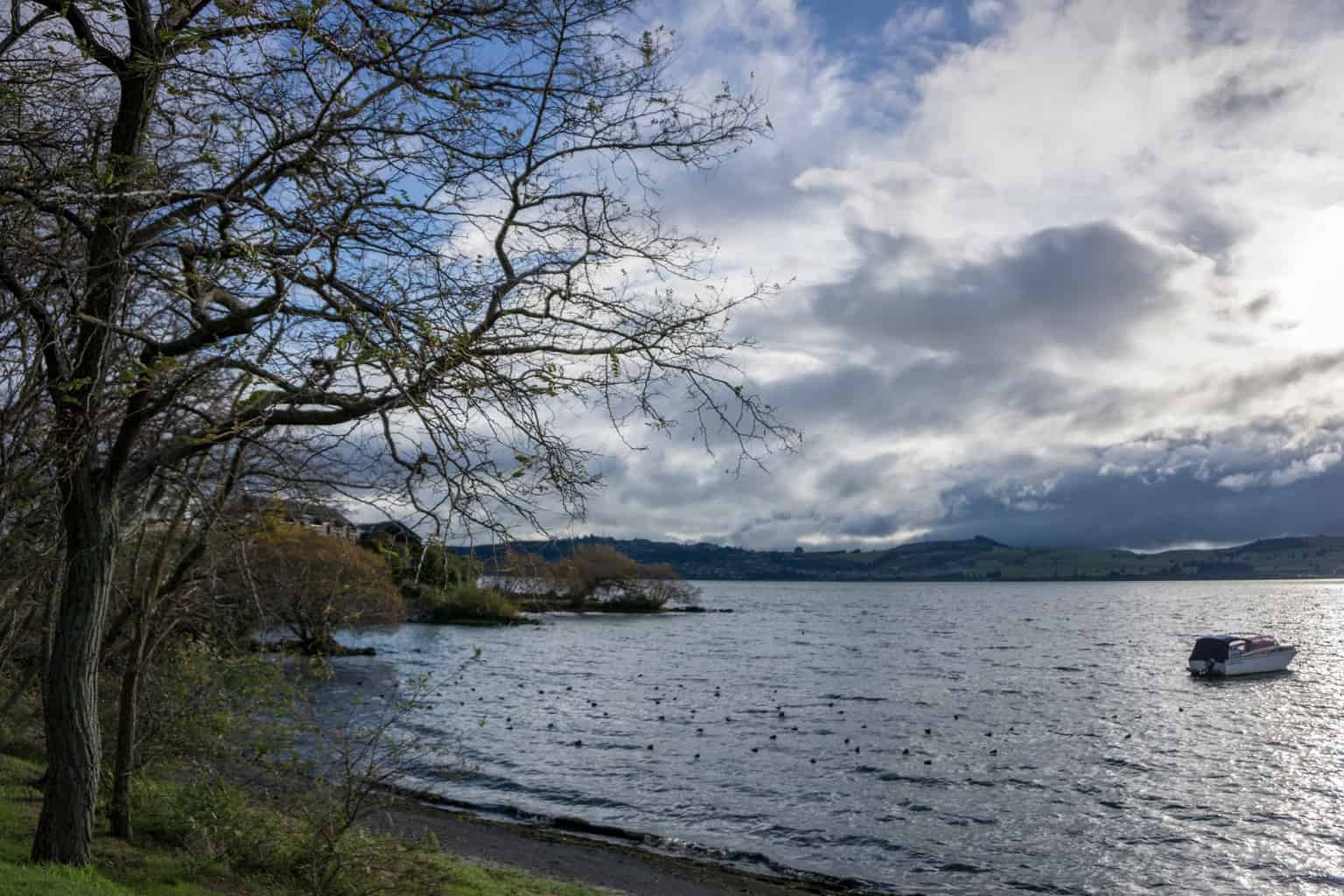 Lake Taupo, New Zealand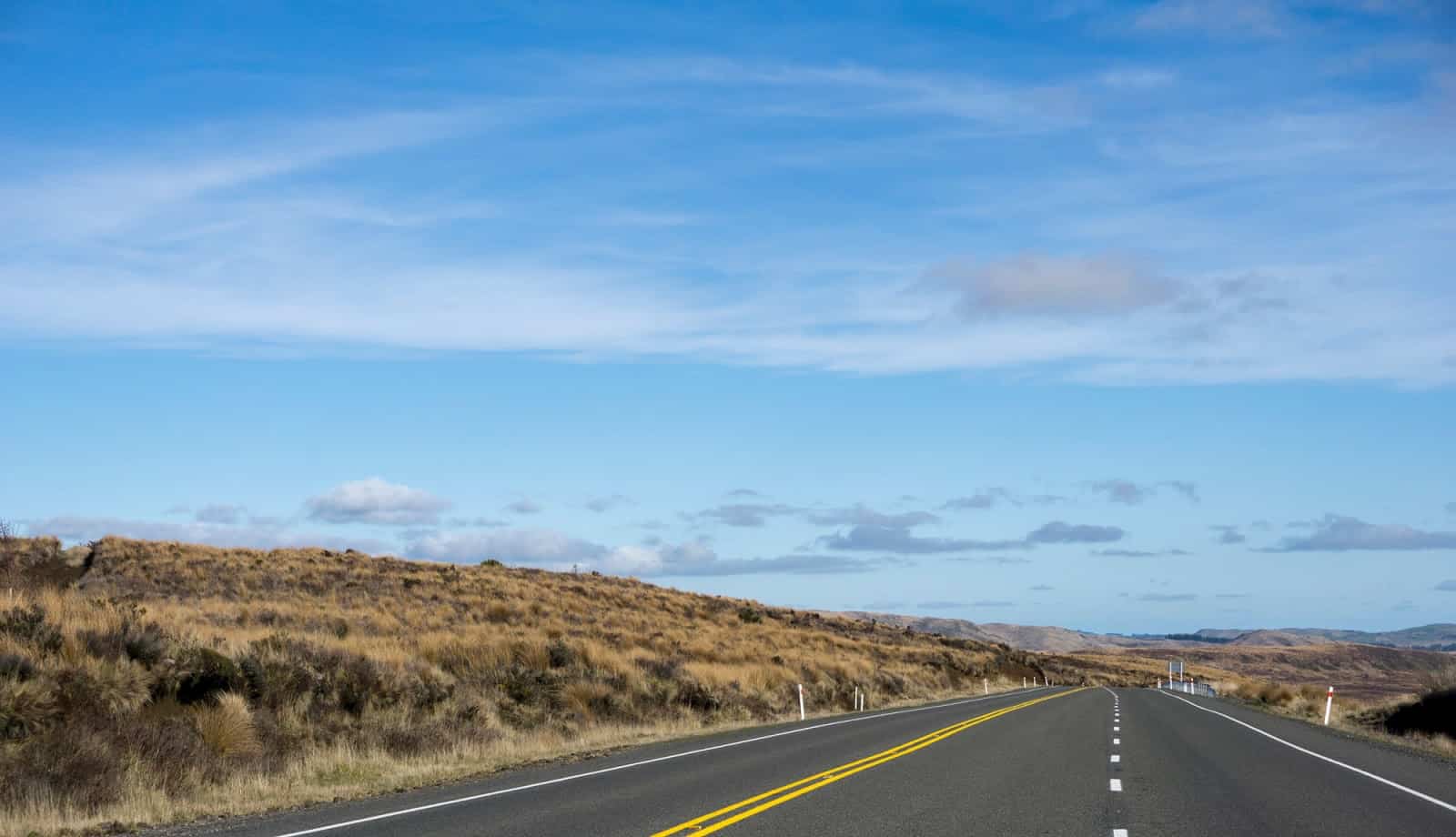 great roads for driving, New Zealand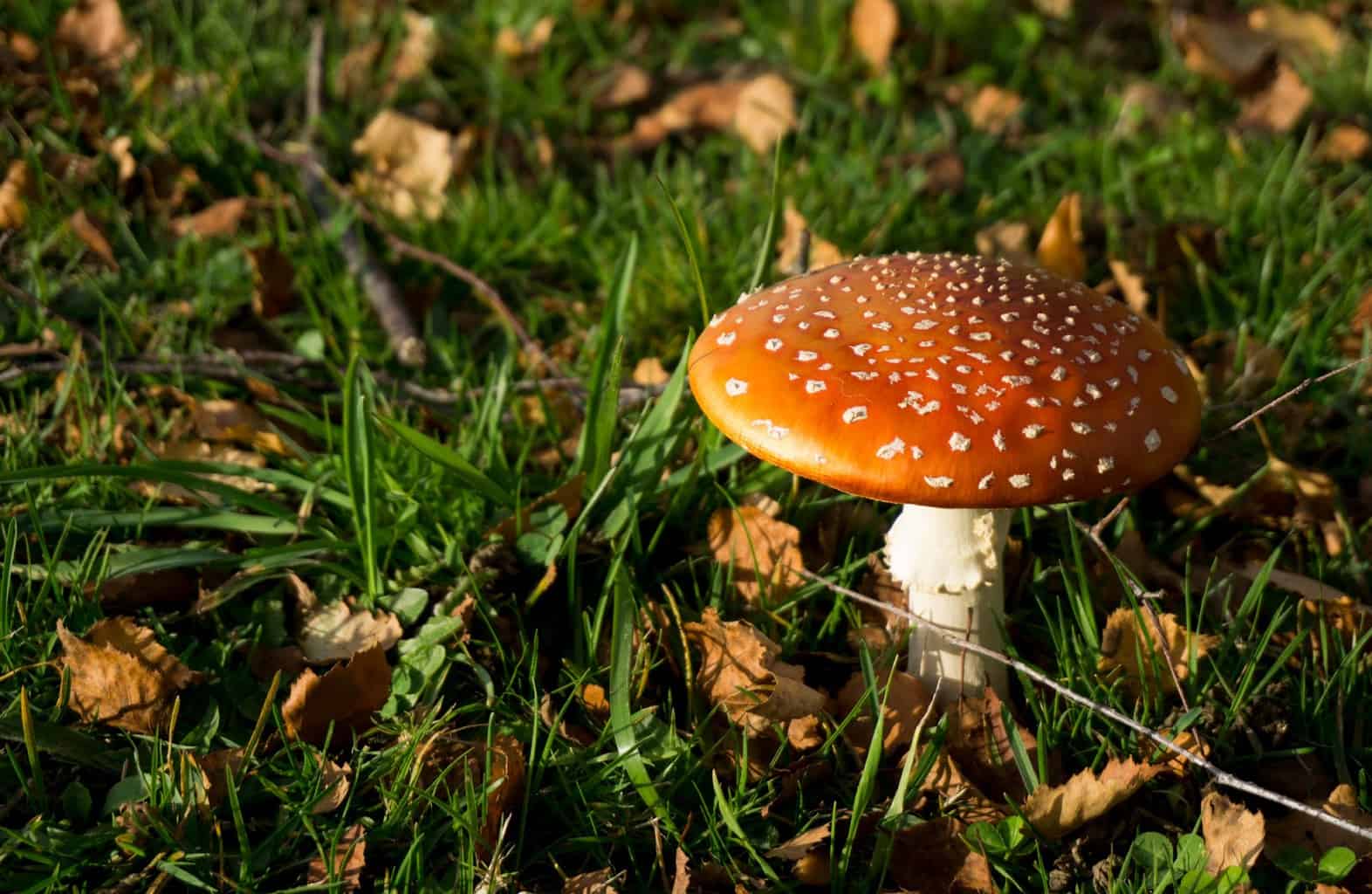 New Zealand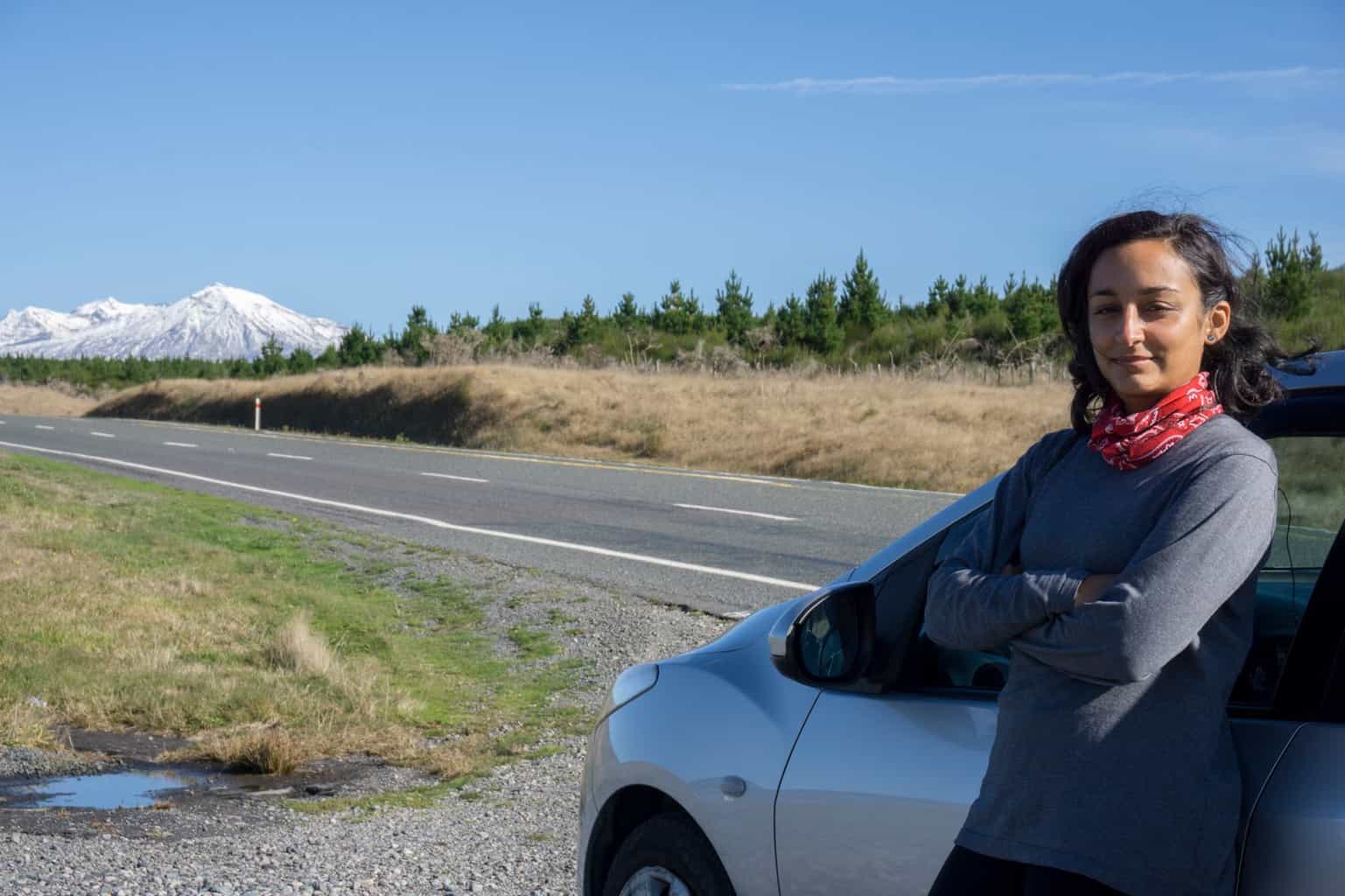 driving pit stop, New Zealand
Related posts
Week 0: Gone travelling. London – see you in nine months

Week 1: INDIA – Mumbai → Goa
Week 2: INDIA – Bangalore → Mysore → Wayanad
Week 3: INDIA – Kochi → Allepey → Kollam → Madurai
Week 4: INDIA – Pondicherry → Chennai → Mumbai

Week 5: INDIA – Varanasi → Udaipur → Jaipur → Delhi
Week 6: TAIWAN – Taipei
Week 7: CHINA & VIETNAM – Hong Kong → Hanoi
Week 8: VIETNAM – Sapa → Hanoi → Ha Long Bay → Hanoi

Week 9: VIETNAM – Hue → Hoi An
Week 10: VIETNAM – 6 day / 5 night motorbike tour from Hoi An to Da Lat
Week 11: VIETNAM – Da Lat → Nha Trang
Week 12: VIETNAM – HCMC → Mekong Delta → HCMC

Week 13: CAMBODIA – Siem Reap (and Angkor Wat) → Phnom Penh
Week 14: CAMBODIA – Sihanoukville & Koh Rong Samloem Island
Week 15: CAMBODIA – Kep
Week 16: THAILAND – Chiang Mai

Week 17: THAILAND – Songkran Festival in Mae Rim & Chiang Mai
Week 18: THAILAND – Bangkok → Koh Phangan
Week 19: THAILAND – Bangkok
Week 20: MALAYSIA – Penang → Borneo

Week 21: AUSTRALIA – Melbourne