Last Updated on June 22, 2021 by Leyla Kazim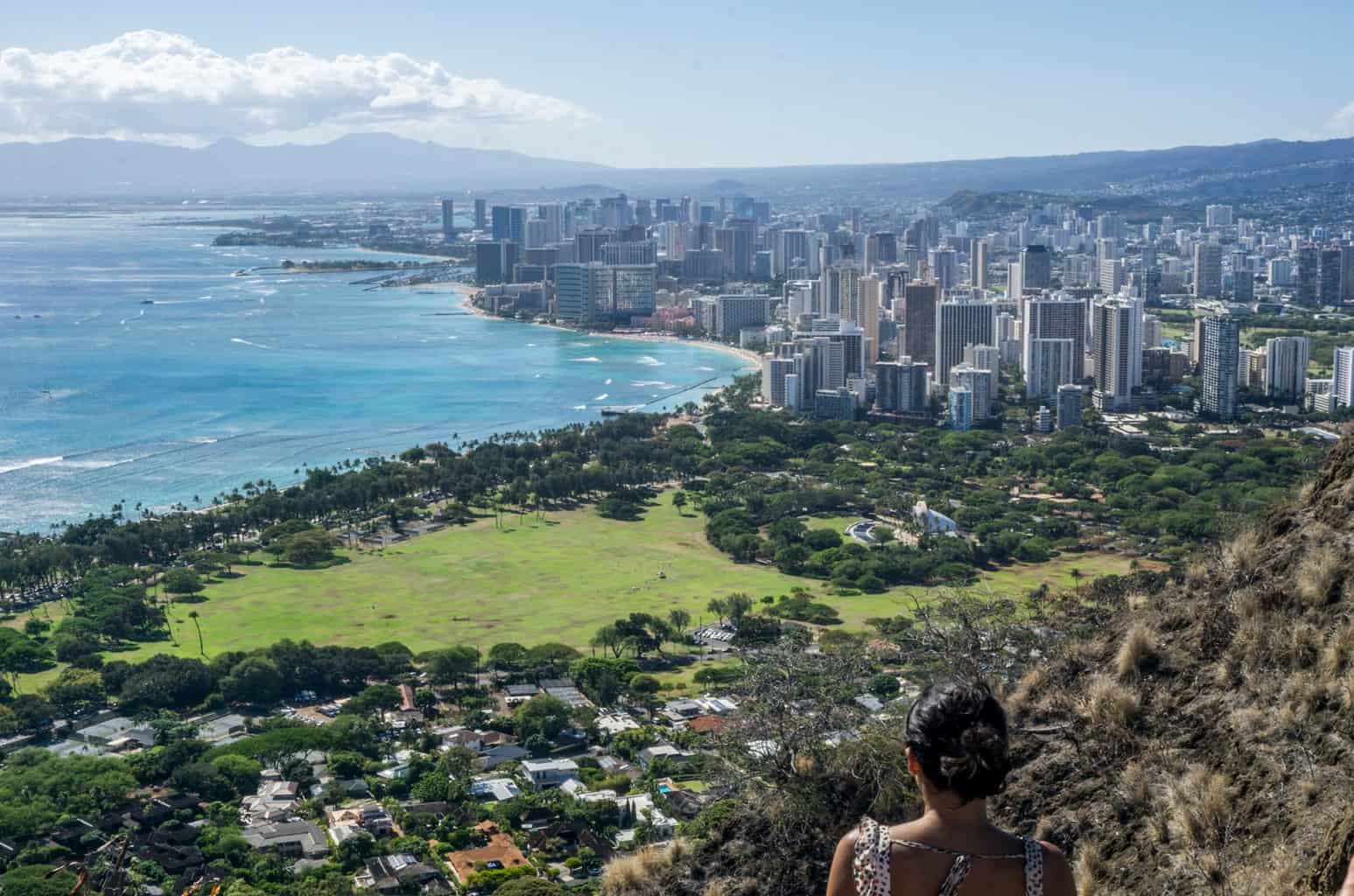 Image of the week – looking over Honolulu at the end of a hot hike
up to the Diamond Head crater (an extinct volcano)
More images at the end of post
l
Where in the world


Two nights in Queenstown, followed by a short flight up to Auckland where we spent a stopover night close to the airport.
The following day, an 8.5 hour flight crossing the magnificent Pacfic, to Honolulu on the island of Oahu in Hawaii, where we stayed for four nights. Hello country number ten.

Thoughts
The only positive about leaving New Zealand is that we got to fly over the International Date Line.
This is the longitudinal line that marks the start of a new day in the Earth's rotation (you can see it on the map above), and is the exact opposite side of the planet to GMT, which runs through London.
Before I lose you with the science bit, this means that even though New Zealand and Hawaii are only an 8hr flight apart, there's a whopping 22hr time difference. The moment we crossed over that line, we went back a whole day. It means I woke up in bed on Thursday 11th June twice, in two different countries.
This is pretty standard for anyone from Australia or New Zealand who ever fly east (to visit America for example), but for someone who lives on the other side of the world, we never get to cross this line! That's the closest I'll be getting to time travel any time soon.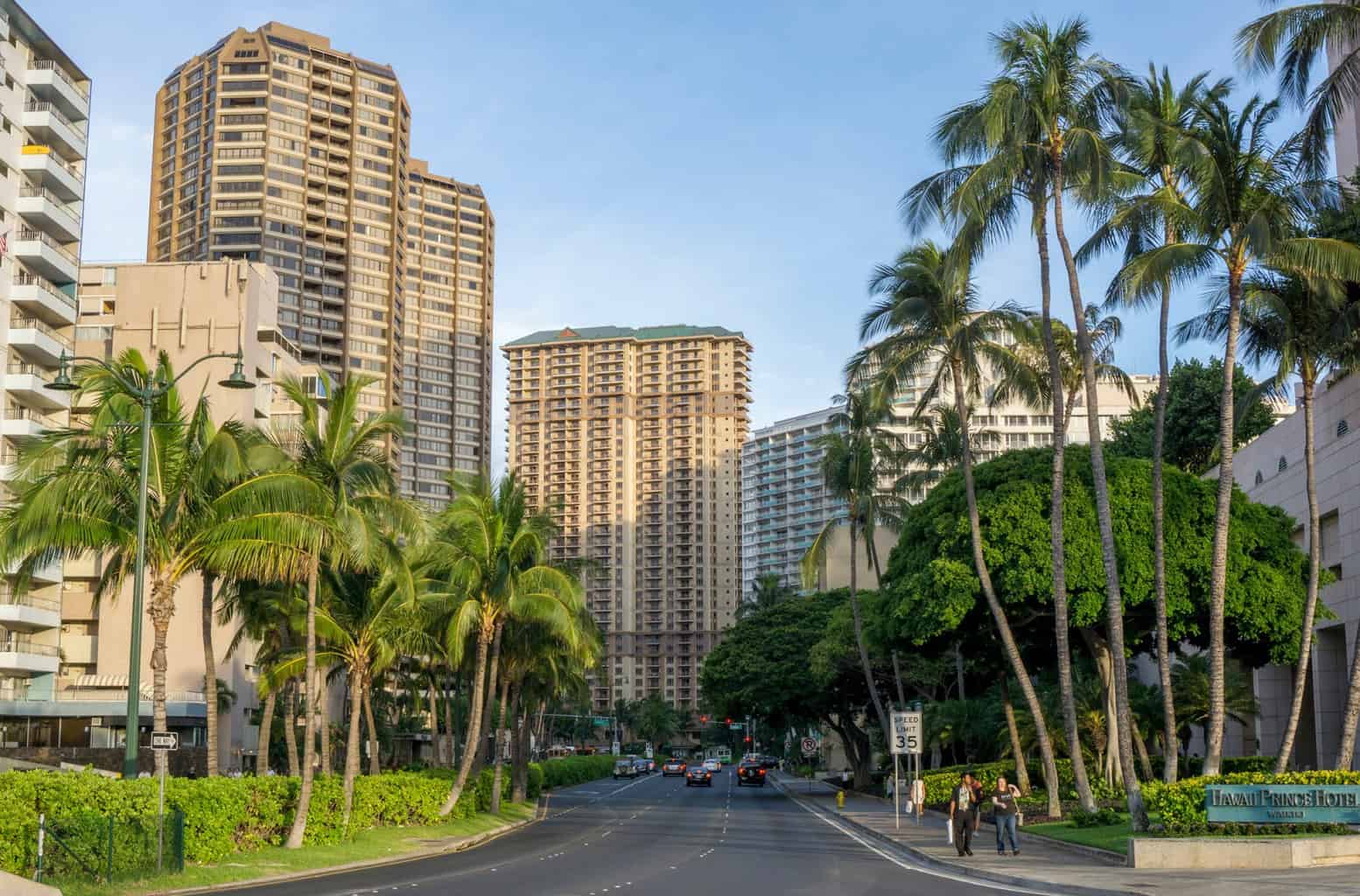 Waikiki, Honolulu – Hawaii
l
In other news, moving from New Zealand to Hawaii feels like a natural progression to me. Firstly, we're gradually working our way back home (London). And secondly, both these countries ride the bridge of two tectonic plates (more science, sorry), which means they both have stunning volcanic landscapes and the mountain ranges, rugged coastlines, rivers and waterfalls to go with it. Hawaii's volcanos are in fact the number one reason it was added to the itinerary.
Whilst I already knew I'd love Hawaii's terrain, I hadn't anticipated how much I'd fall for the Polynesian culture. All the dancing, singing, carnival spirit, warm smiles and great food has brought out the islander in me. I must make a visit to the motherland soon (Mauritius).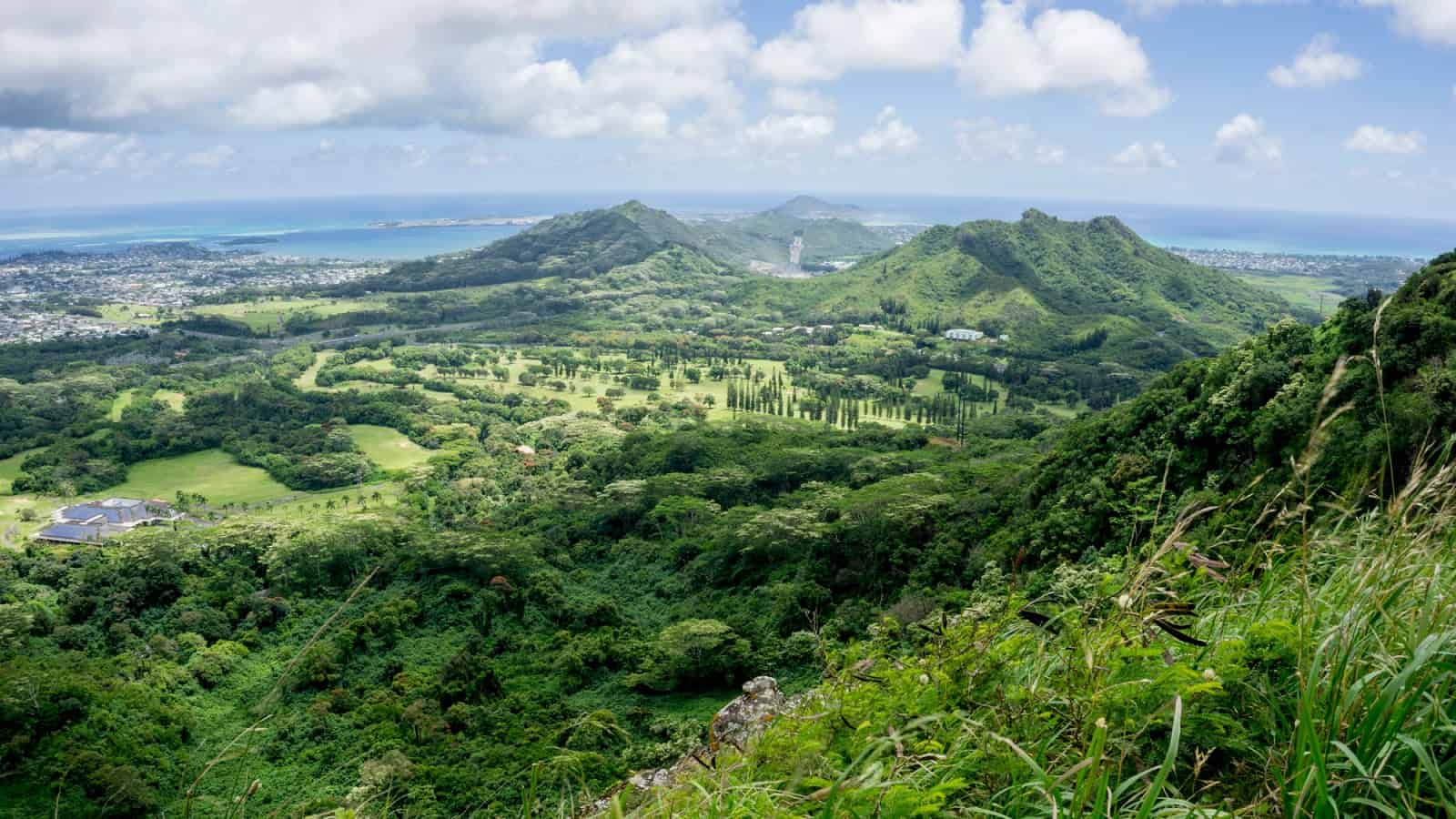 panoramic views of the sheer Koolau cliffs and lush Windward Coast
from Nu'uanu Pali Lookout, Hawaii
l
The ignoramous that I can sometimes be didn't really know what Polynesia was before I got here. For those who also don't know, it's the Pacific islands of Hawaii, Tahiti, Tonga, Samoa, Fiji and Aotearoa (the Maori name for New Zealand).
Which now makes perfect sense. Because when I was at the Tamaki Village in Rotorua, New Zealand watching Maori dance and music performances, my first thought was, "this feels very Hawaiian". Well of course it does. Because all the natives from these islands are Polynesians, and their culture and language overlap a lot.
Should you wish to learn more about Hawaiian culture, and that of the other Polynesian islands, I can't recommend spending a day with the fantastically warm and talented people at the Polynesian Cultural Centre enough.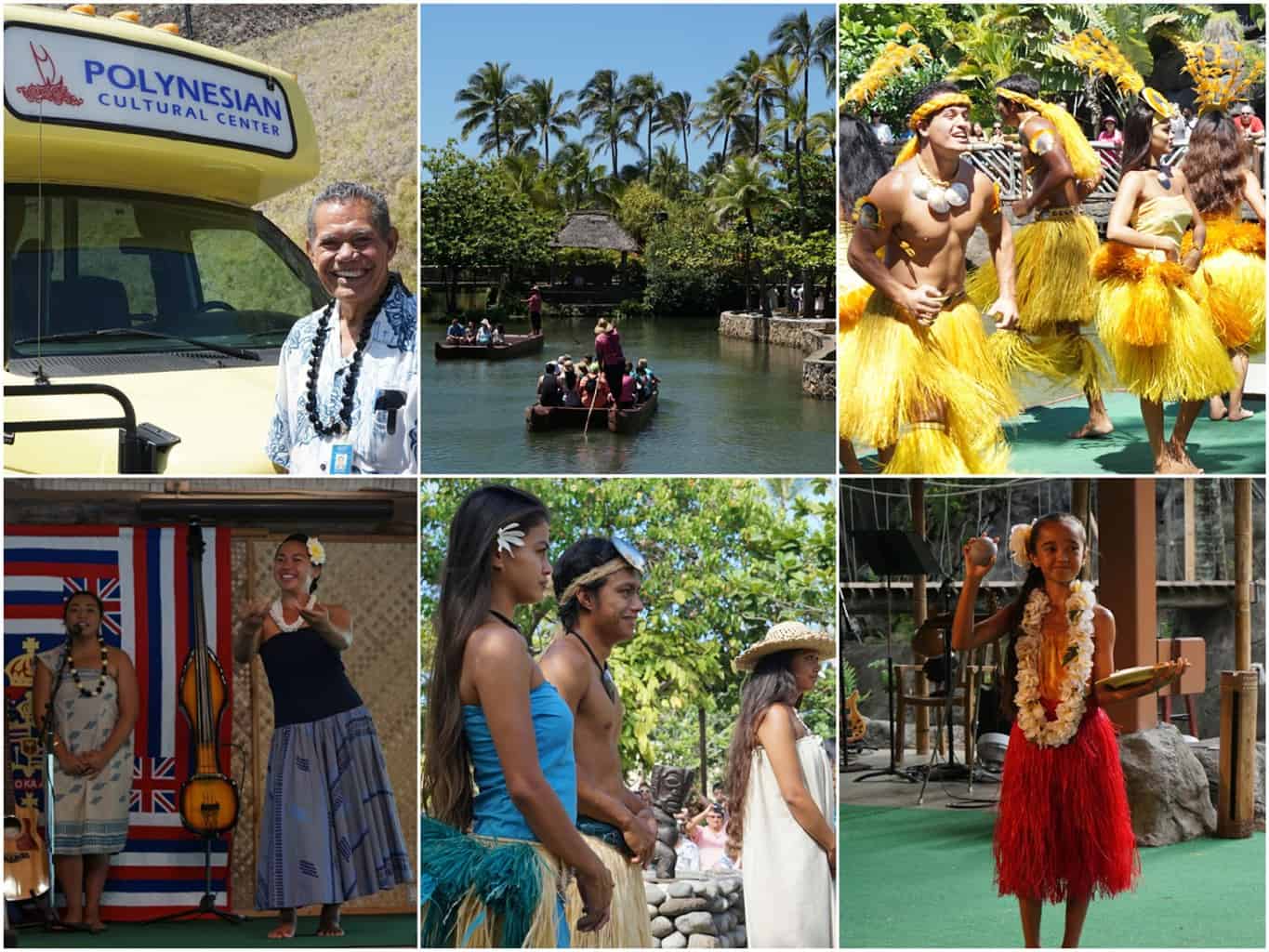 scenes from the day spent at the Polynesian Cultural Centre,
including our awesome island tour guide Henry (top left)
l
It's a facility spanning 42 acres situated on the north shore of the Hawaiian island of Oahu, and is comprised of a series of authentic "villages" representing each of the Polynesian countries. In them you can mingle with the natives, learn traditional techniques such as making fire and throwing spears, watch cultural performances of dance and music, sample local Polynesian snacks, and a hell of a lot more that I just don't have the space to go into.
And that's just wandering around the villages. They have a host of packages that allow you to combine the other things they offer. My suggestion for the must-do's are firstly, their award-winning and totally excellent Ha: Breath of Life evening show held in a covered outdoor theatre against a backdrop of waterfalls and the twinkling night sky. If that was on in London's West End, it would sell out every night.
Secondly, don't miss their full-on and fantastic luau dining experience (the Hawaiian word for a big celebratory feast – see The best things I ate this week below) which is also buffet (score!) and takes place while even more performances go on around you. For example, this 9-year-old demonstrating the traditional Polynesian art of fire-dancing.
That's right, he's nine.
The specific package we were on was the Circle Island Ambassador Package. It's a full day with the first half being a sightseeing Circle Island Tour around the island of Oahu with a whole load of stops and fantastic photo opportunities (lots of my snaps from this at the end of this post).
You're dropped off at the PCC around midday with a few hours to enjoy lunch (try the stalls selling local Polynesian snacks – see The best things I ate this week below), wander the villages, and take part in and watch the cultural activities and performances. This is then followed by the luau feast from 17.30, and finishes with the brilliant evening show.
If ever a day was fully and well spent, it was this one. It's one of Hawaii's top visitor attractions for a reason.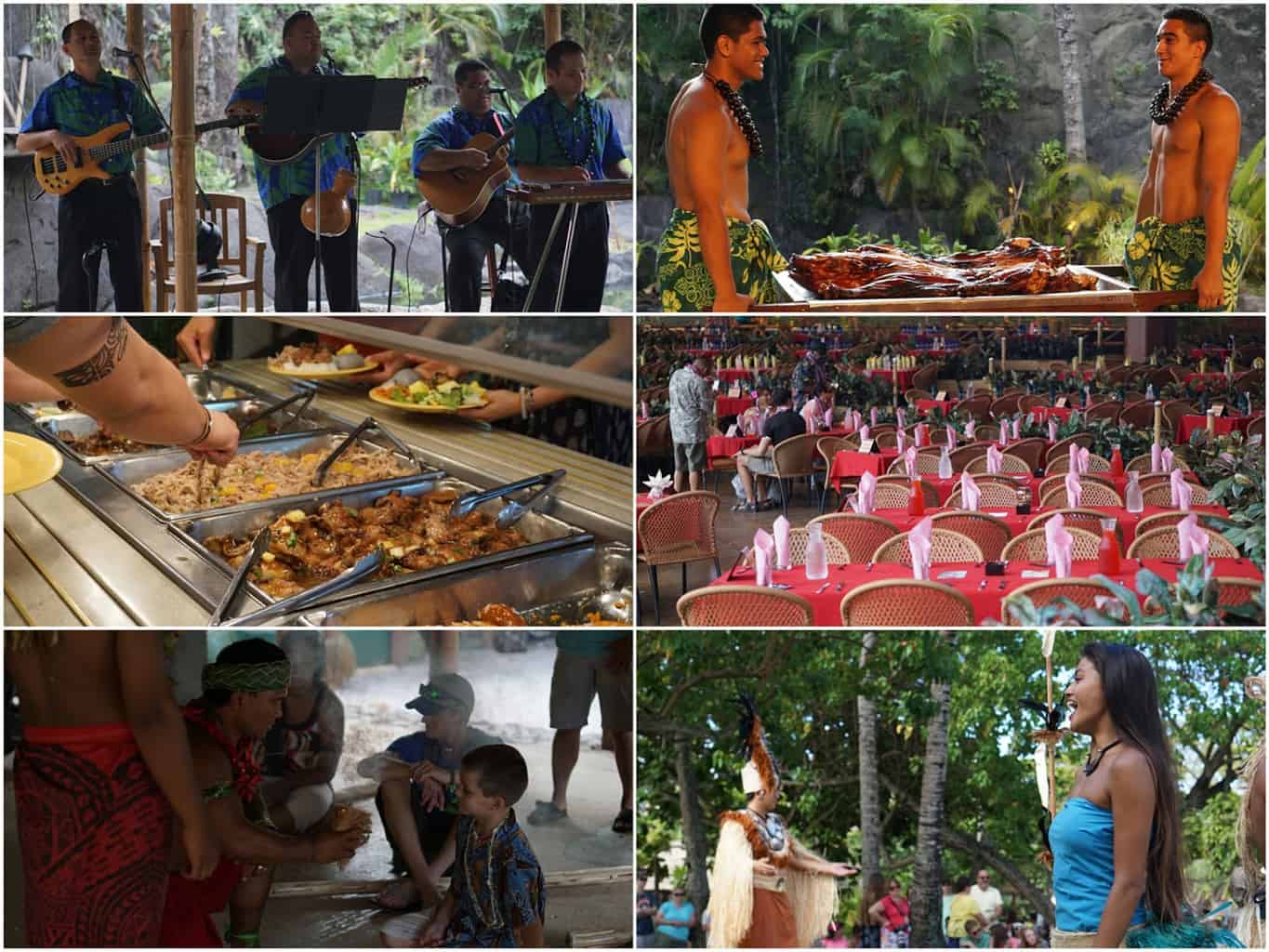 luau dining and village activites at the Polynesian Cultural Centre
l


The ticket combinations are vast and can range from just visiting the evening show to a full day with your own private guide – take a look at the options to decide what would work best for you.
The Circle Island Ambassador Package mentioned above is $196.95 (£126) for adults and $157.56 (£101) for children.
Note: The Polynesian Cultural Centre kindly hosted our day as part of a media package. All views remain my own.
The best things I ate this week
New Zealand lamb
Only on our last day in New Zealand did we manage to try some famous local lamb. Making the most of our fully equipped kitchen at Villa del Lago (see Highlight below), we roasted a shoulder and had it with mash, silverbeet (what we in the UK call chard), and gravy. With a Central Otago Pinot Noir, it was a fitting way to toast a fond farewell.
Ahi sandwich at Diamond Head Market & Grill, Waikiki
This is a picture of their kimchi teri burger. But I actually had the wasabi ahi (tuna steak) sandwich, also in a bun, but didn't get a good picture, mostly because I inhaled half of it before I remembered the camera – it does happen.
It was bloody brilliant. Why has no one replaced a pattie with a tuna steak before? Seafood is big in Hawaii, and their tuna is great. Be sure to get something with it in.
Samoan panipopo and pineapple paifala
The former are sweet bread rolls baked in coconut milk, the latter half-moon pies made with shortcrust pastry, filled with a pineapple and coconut milk custard. Both popular Samoan snacks, Samoa being another Polynesian island in the Pacific. Enjoyed at the Polynesian Cultural Centre.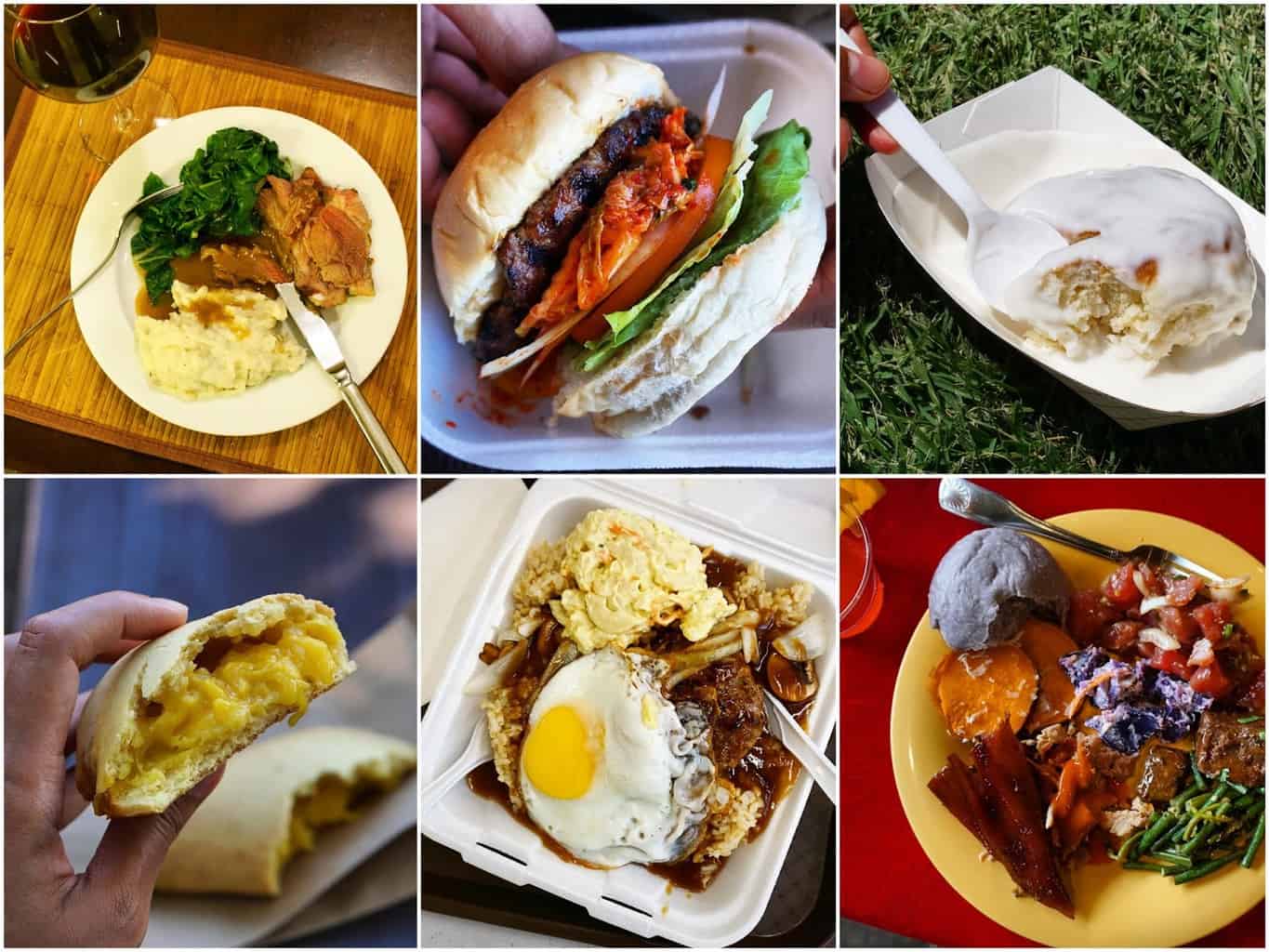 top: roast lamb in Queenstown, Hawaiian kimchi burger, Samoan sweet bread cooked in coconut milk
bottom: Samoan half-moon pineapple pie, Hawaiian loco moco, island favourites
l
Hawaiian home cooking
Loco moco is a popular plate of Hawaiian comfort food. Rice topped with a beef burger pattie, fried egg, gravy, mushrooms, onions, and a side of mac and cheese. It can be found on the other Pacific islands, as well as Japan – it's basically a rice bowl dish. And the Japanese are the second largest ethnic group in Hawaii, don't you know.
Island favourites
The following just some of the traditional Hawaiian dishes enjoyed at the full on luau (celebratory feast) experienced at the Polynesian Cultural Centre:
teriyaki marinated strip loin
lomilomi salmon – raw salted salmon salad with diced tomatoes, onions, chilli
poke (pok-eh) – raw fish salad – here ahi (tuna) – green onions, chilli peppers, salt, soy, sesame oil
kalua – slow-cooked Hawaiian-style pork, shard of crackling
poi – boiled taro mixed with water to form a pink gloop, eaten with meat, acquired texture
sweet potato with grated coconut
bread rolls made purple with taro

Did you know?
I learnt a heap of interesting stuff from our very lovely guide, Henry (originally Samoan but has lived in Hawaii since he was a teenager), during our Circle Island Tour of Oahu, the first half of our day with the Polynesian Cultural Centre.
Imported white sand
Waikiki is probably the most internationally recognised part of Hawaii, with its white sand beaches, palm trees, and strip of five star hotels overlooking the Pacific.
But when the first European settlers arrived in the late 1700's, Waikiki was mostly swamp land. Over time, the area was filled in to accomodate residential districts as well as to gradually transform it into the tourist destination it is today.
That included importing white sand from the likes of Australia and California. So those postcard-perfect images of Waikiki and its snow white sandy beach, mostly fabricated for your pleasure.
Waikiki is in fact an entirely manmade beach. You can feel the solid ground just a couple of inches below your feet through the sand. Who knew (not me, clearly).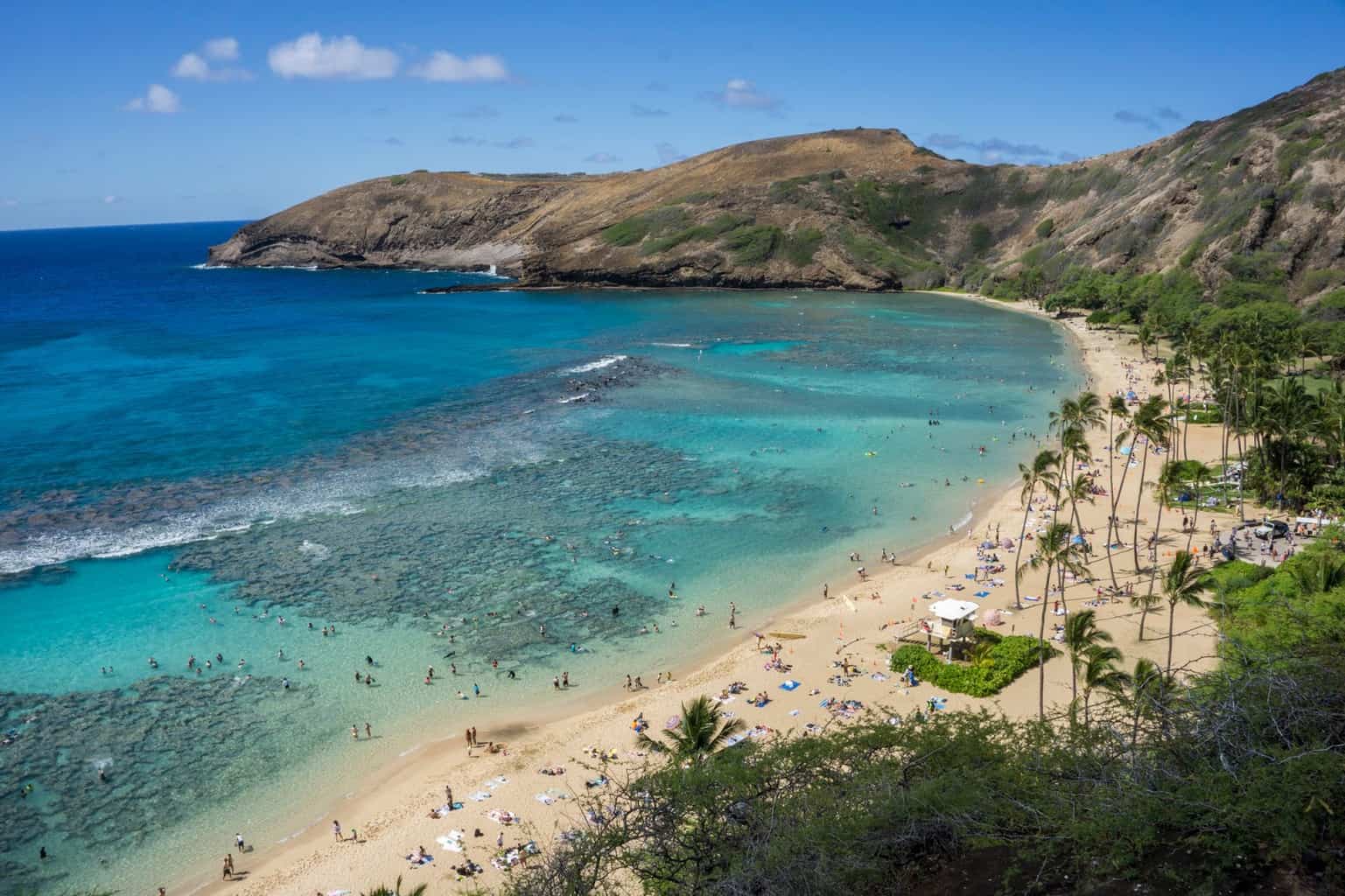 Hanauma Bay, Hawaii
l
Expensive

Hawaii is the second most expensive state in the USA, ranked second only to New York in 2014. Yet it has one of the lowest minimum wages in the coutnry at just $7.75 (around £5) / hour. With living costs through the roof, Hawaii has a high number of homeless living on the streets, against the backdrop of glitzy resorts and tranquil beaches.


Most remote islands in the world
Hawaii is the most remote population centre in the world. The closest mainland is California at 2,390 miles, followed by Japan at 3,850 miles. Bang in the middle of the great gorgeous Pacific.
Grass skirts and hip shaking are not Hawaiian

The grass skirts and hip-shaking often associated with the hula dance of Hawaii has nothing to do with Hawaii – you can blame the movies for that one.
The Hawaiian hula is a very graceful and slow story-telling form of dance all in the movement of the hands. All that sexy shaking is in fact from another Polynesian island, Tahiti. Check out the video below of Tahiti's turn in the canoe pageant at the Polynesian Cultural Centre.
My insider tips
Use AirBnb
AirBnB has really come into its own in Hawaii. For those unfamiliar with it, it's a website that allows people to rent unique places to stay from local hosts in over 190 countries.
A two star hotel doesn't go for much less than $150 (£96) a night in these parts, so if you're thinking of anything decent, expect to fork out a whole lot more (this is an expensive state, see Did you know? above). Add to this that the majority are run down and dated, and they don't make for particularly attractive accomodation options.
If you want to spend a bit of time on the islands and don't have that sort of money to burn, staying in a rented room in a private property is a fantastic alternative. It also means you're in a residential neighbourhood and away from the somewhat souless and artificial strips along Waikiki Beach, for example.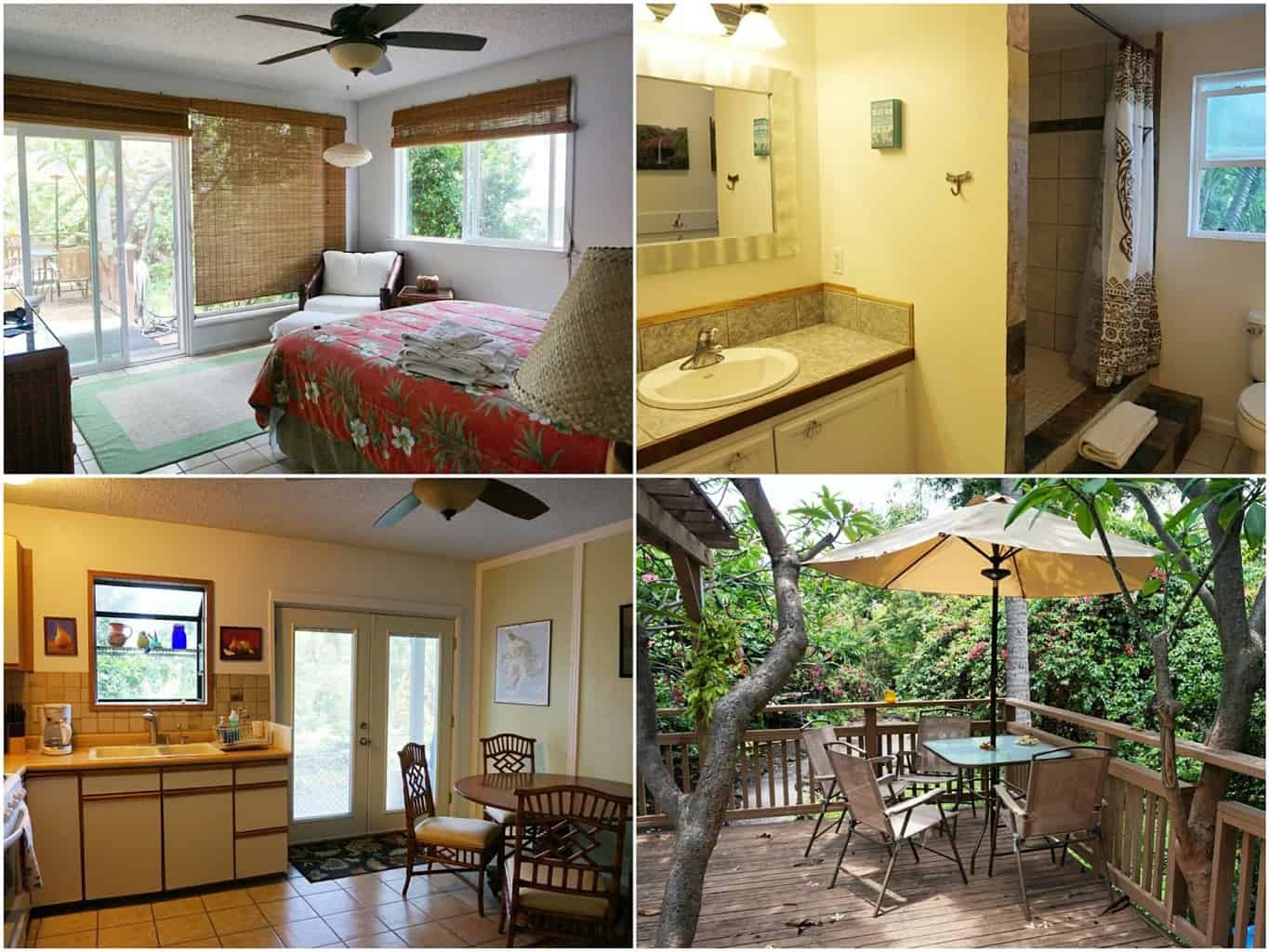 our AirBnB apartment with private deck in Kona on Hawaii's Big Island
– half the price of a dated hotel room
l
It might mean you have to walk a little further or catch a bus to see certain things, but it's great for a more authentic feel of local life, and the accomodation will probably be a damn site nicer too.
Rooms come in all shapes and sizes to suit all budgets; we always select ones with private en suite bathrooms. Some might have kitchen or kitchenette facilities, some might even be whole apartments.
Here's the AirBnB we stayed in Waikiki which was a room with a private bathroom at the back of the house, and where we currently are as I write this in Kona on the Big Island. The latter is a whole apartment with a living room, fully equipped kitchen, private entrance and private deck, all for less than the price of a hotel room. It's bloody lovely.

Pearl Harbour tickets
Whilst it's free to visit the Arizona Memorial at Pearl Harbour Visitor Centre, there's only a limited number of tickets available each day, and you need to reserve them online in advance. It turns out two days isn't enough foresight; the website actually suggests a whopping two months.
They do put 1300 tickets aside each day for walk-ins, but we didn't get there in time for those. But the hour bus ride was not in vain.
Tickets have an alloted time at which you are permitted to enter the memorial, with slots every 15 minutes. If there are any no-shows for any of the slots, the spaces are given to the stand-by line, which we were in. We only had to wait about half an hour before we were allowed through, and we arrived around 2pm on a Saturday.
My advice would be to reserve your ticket in advance if you can. If you can't, arrive at Pearl Harbour in the morning for a chance of either getting a walk-in ticket or getting in via the stand-by queue.
Either way, it's a must-visit if you're in Hawaii.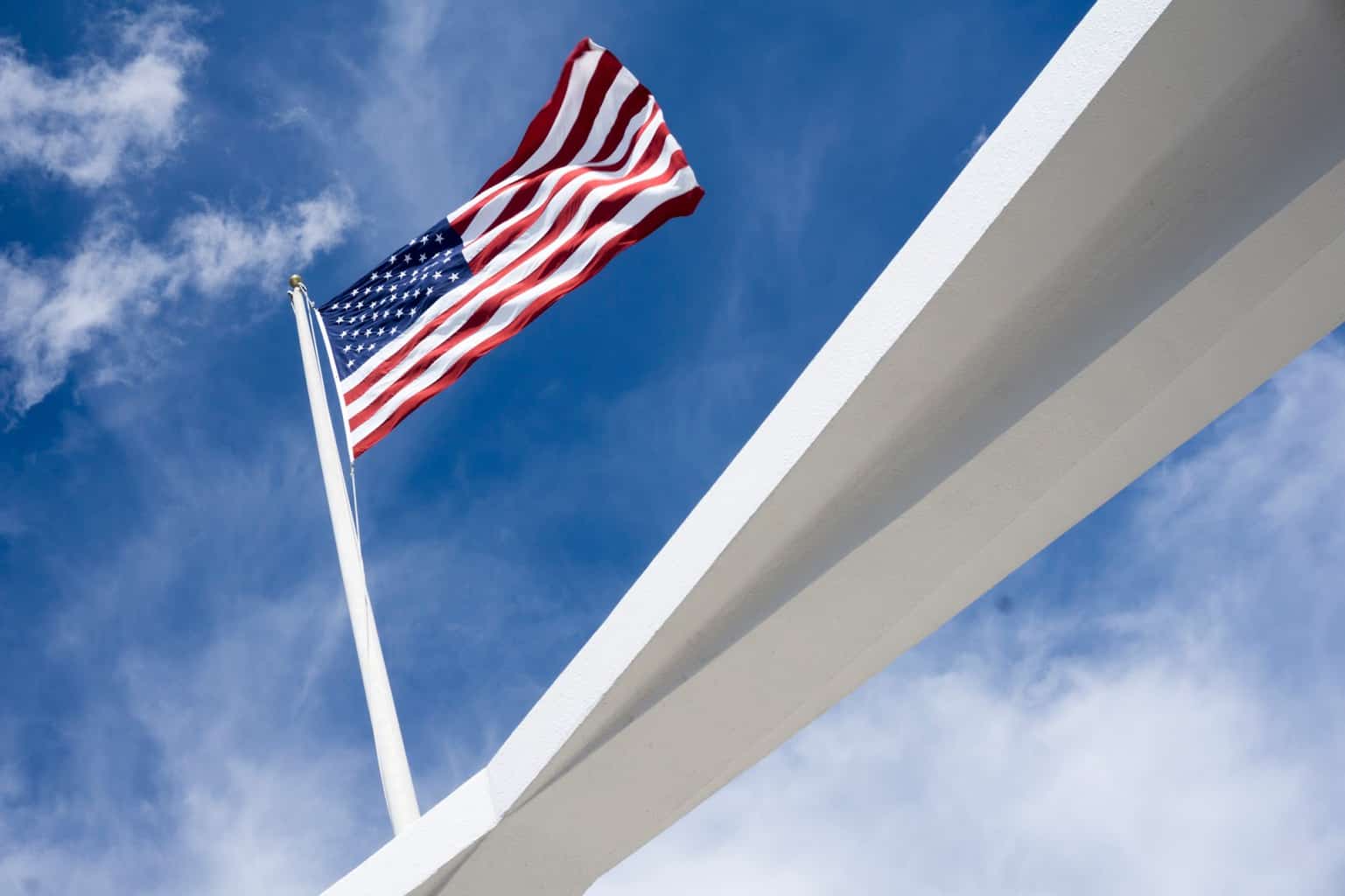 looking up at the Arizona memorial at the Pearl Harbour Visitor Centre, Hawaii
l
Highlight / Lowlight
Highlight
Queenstown apartment
Whilst it was a bit of a heart wrench pulling ourselves away from New Zealand, we wrapped it up in true style staying in a very splendid lake-front apartment at Villa del Lago in Queenstown.
We were upgraded to a two-bed over two floors with a fire, fully equipped kitchen and some incredible views from the balconies (that's right, plural).
We spent a couple of days lolling in the huge space and enjoying the unbridled comforts, cooking home meals, drinking coffee on the balcony, and taking walks along the lake. One of those "imagine if we lived here" places.
I'll be writing more about this great stay in the weeks to come, keep an eye out for it.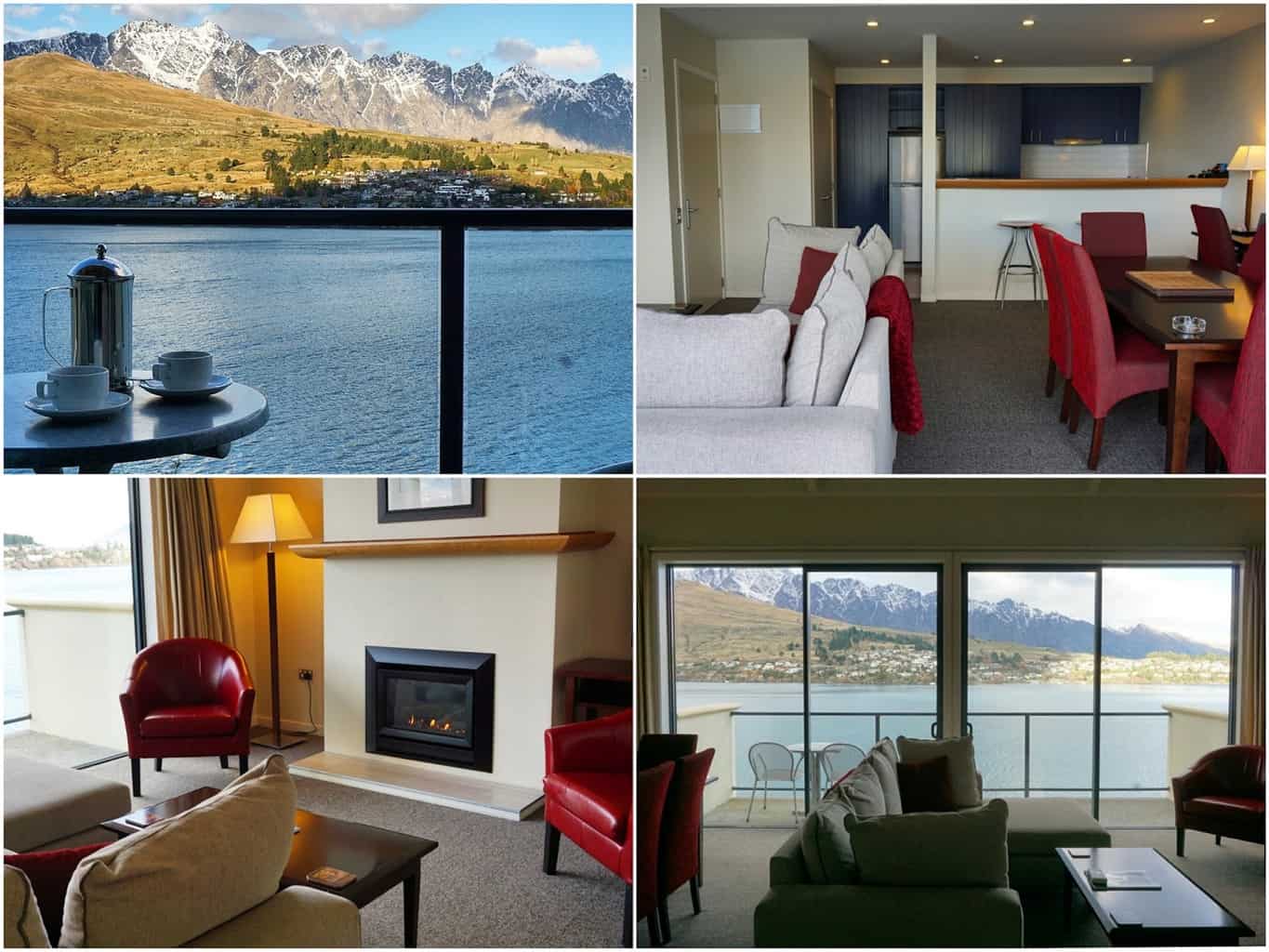 stunning lake-side apartment at Vila del Lago, Queenstown
l
Apprehended by police
We got a bus to Pearl Harbour and accidentally got off a stop early. The whole area is still a very active military base with helicopters constantly flying overhead, and it's the headquarters of the United States Pacific Fleet, part of the US Navy.
We were walking on roads you would't normally find tourists on, where we happened to pass a large military building which I immediately noticed had not a single window. That's very odd, a huge building without any windows at all. What are they hiding? So I got my camera out and took a picture of it, naturally.
After I snapped, I turned back round to continue walking down the road, only to find the Five-O pulled over, flashing their blues. An officer in a hat slowly got out of the car and sidles on over towards me.
"How ya doin' maam? I'm afraid I can't let you take pictures of that. I'm going to have to ask you to go ahead and delete those for me right away."
Yes sir! I immediately obliged, along with a bit of nervous giggling. Where did they come from? Were they watching me up until I took the picture? These guys appeared from nowhere, and they swung the car round and kept eyes on us unti we were well gone. I want to know what's in that building.
Regardless, being apprehended by the Hawaiian state police totally made my day. I feel like I've achieved some sort of movie-related bucket list tick.

Lowlight

We arrived in Auckland from Queenstown at 5pm and our flight to Hawaii the next day was early. It was a bit annoying having to waste a night by the airport in a crappy hotel room that didn't even have a kettle, when it could have been spent elsewhere. But flight times didn't allow for it. Tant pis.

Next week
A flight to the largest of Hawaii's islands, suitably named Big Island, where we'll stay for a few days. Then onwards to the mainland; hello San Francisco.
Postcards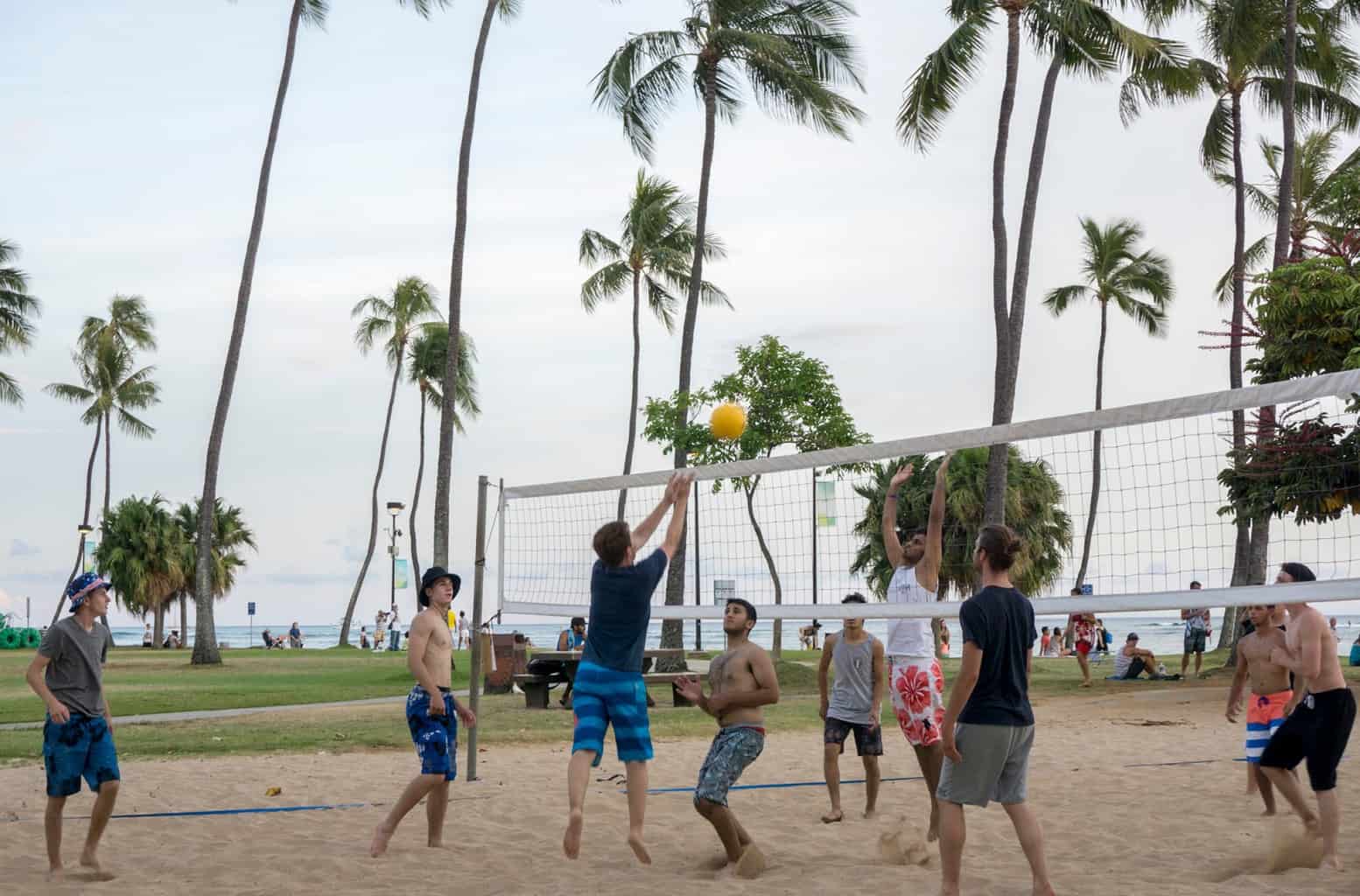 Waikiki Beach, Hawaii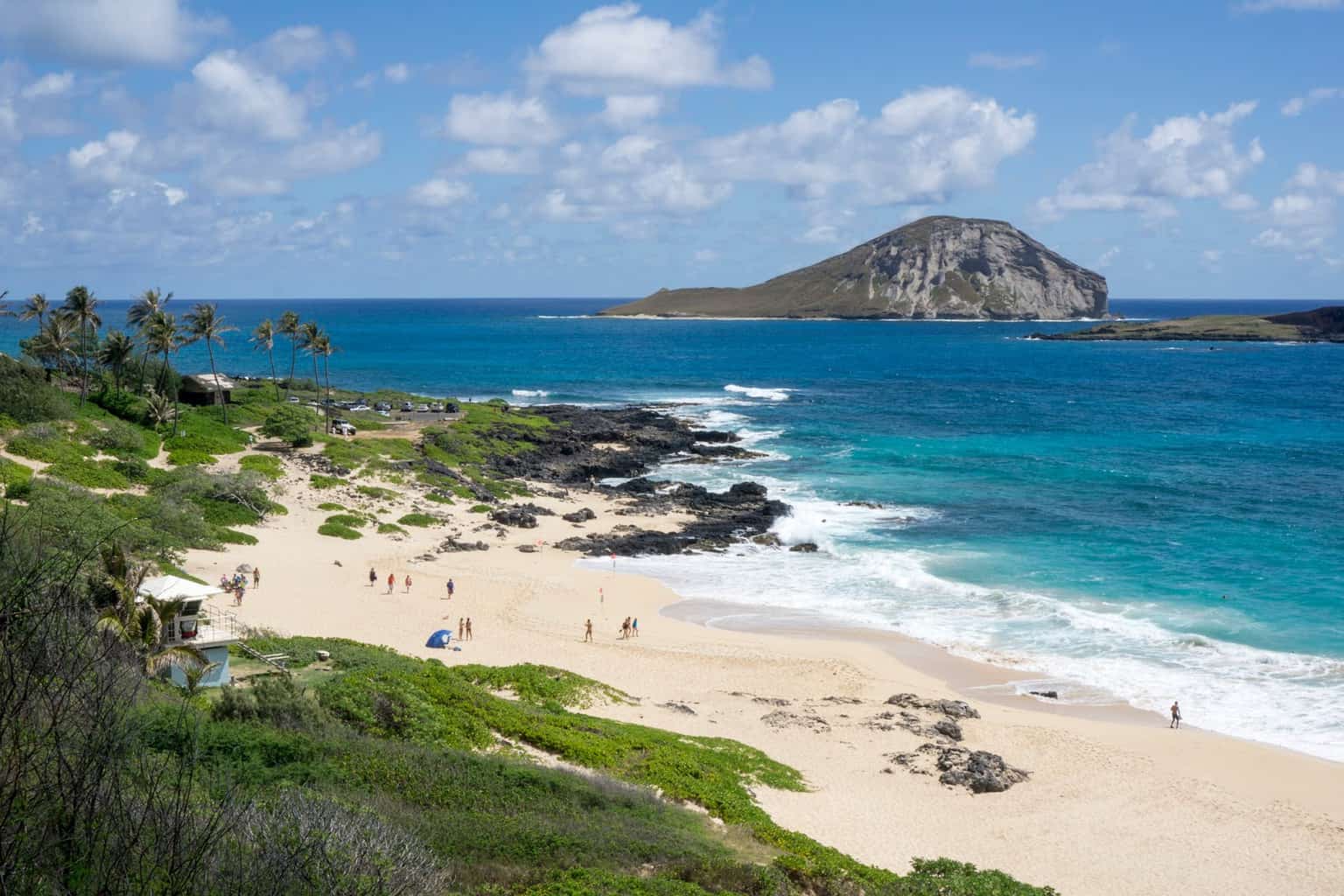 Makapuu Lookout, Hawaii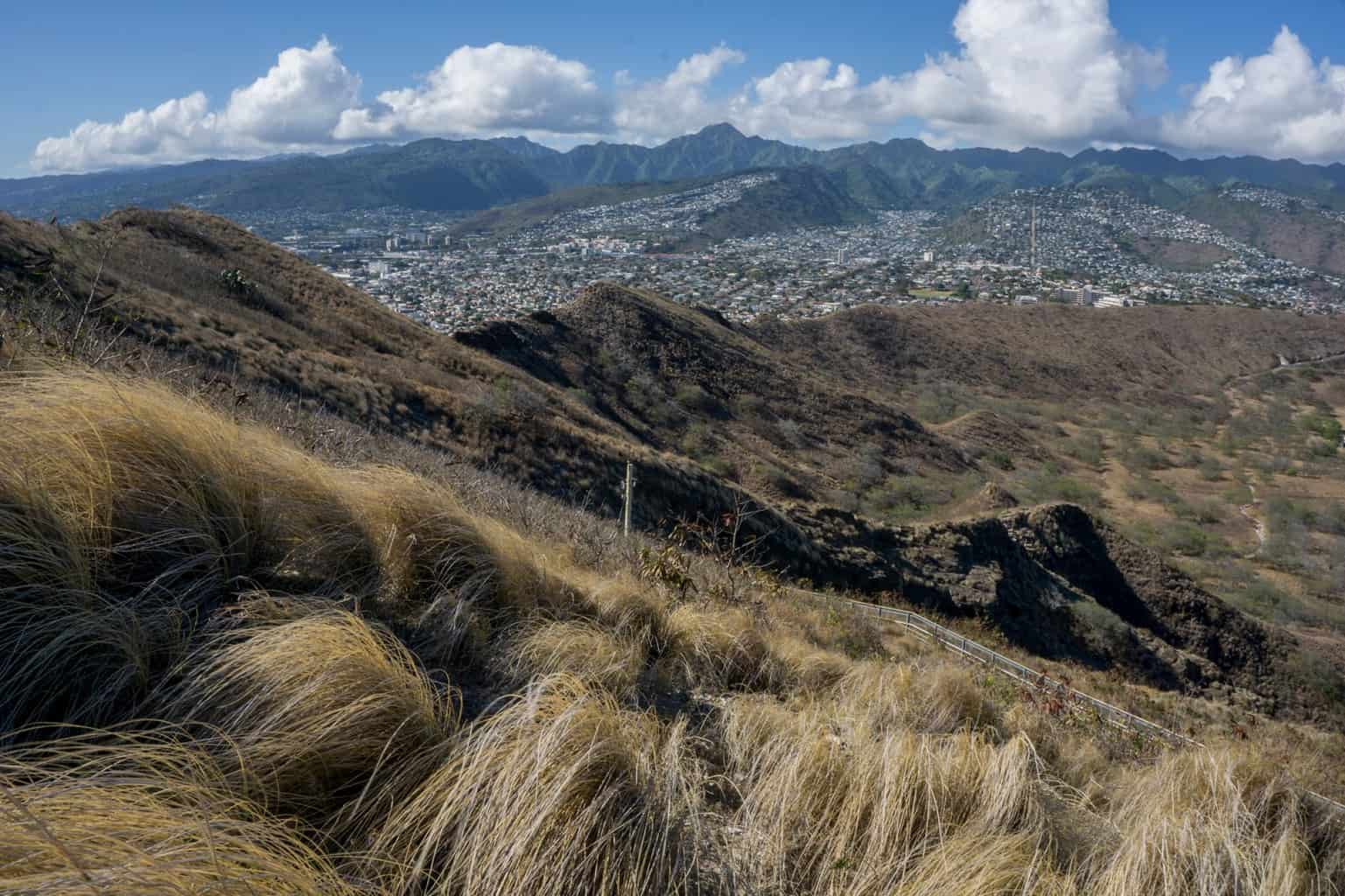 Diamond Mount crater, Hawaii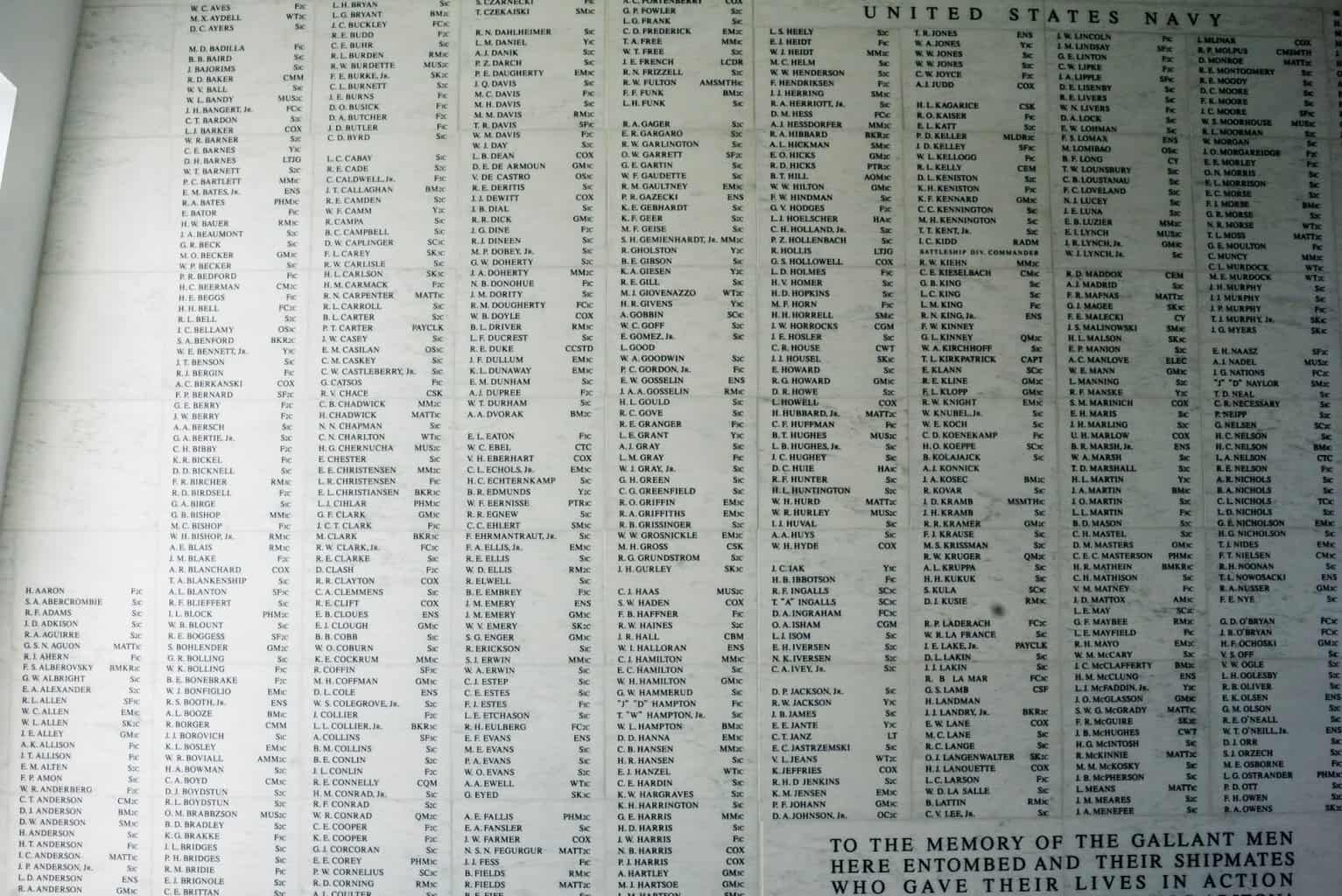 Arizona Memorial, Pearl Harbour – Hawaii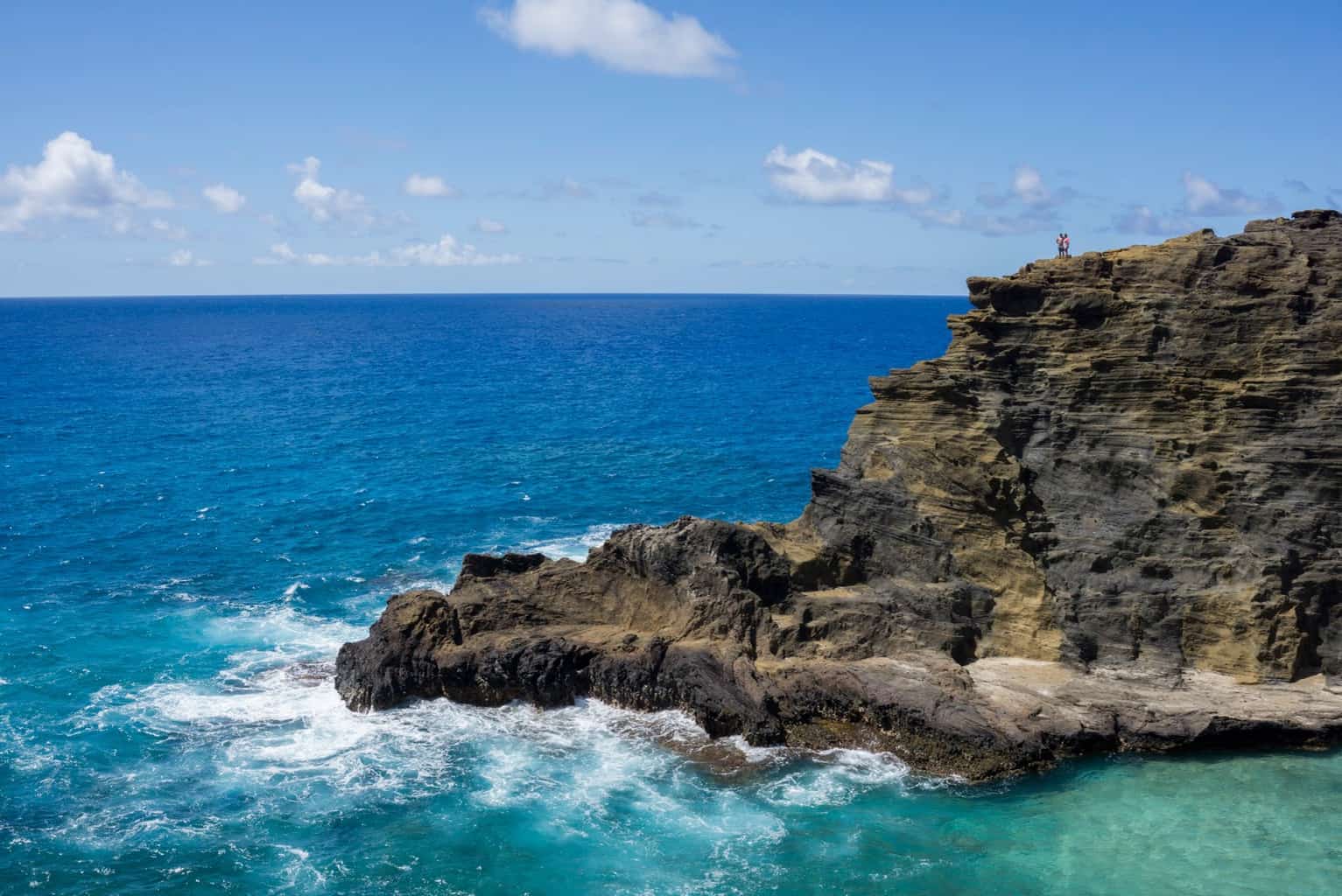 Halona Blowhole, Hawaii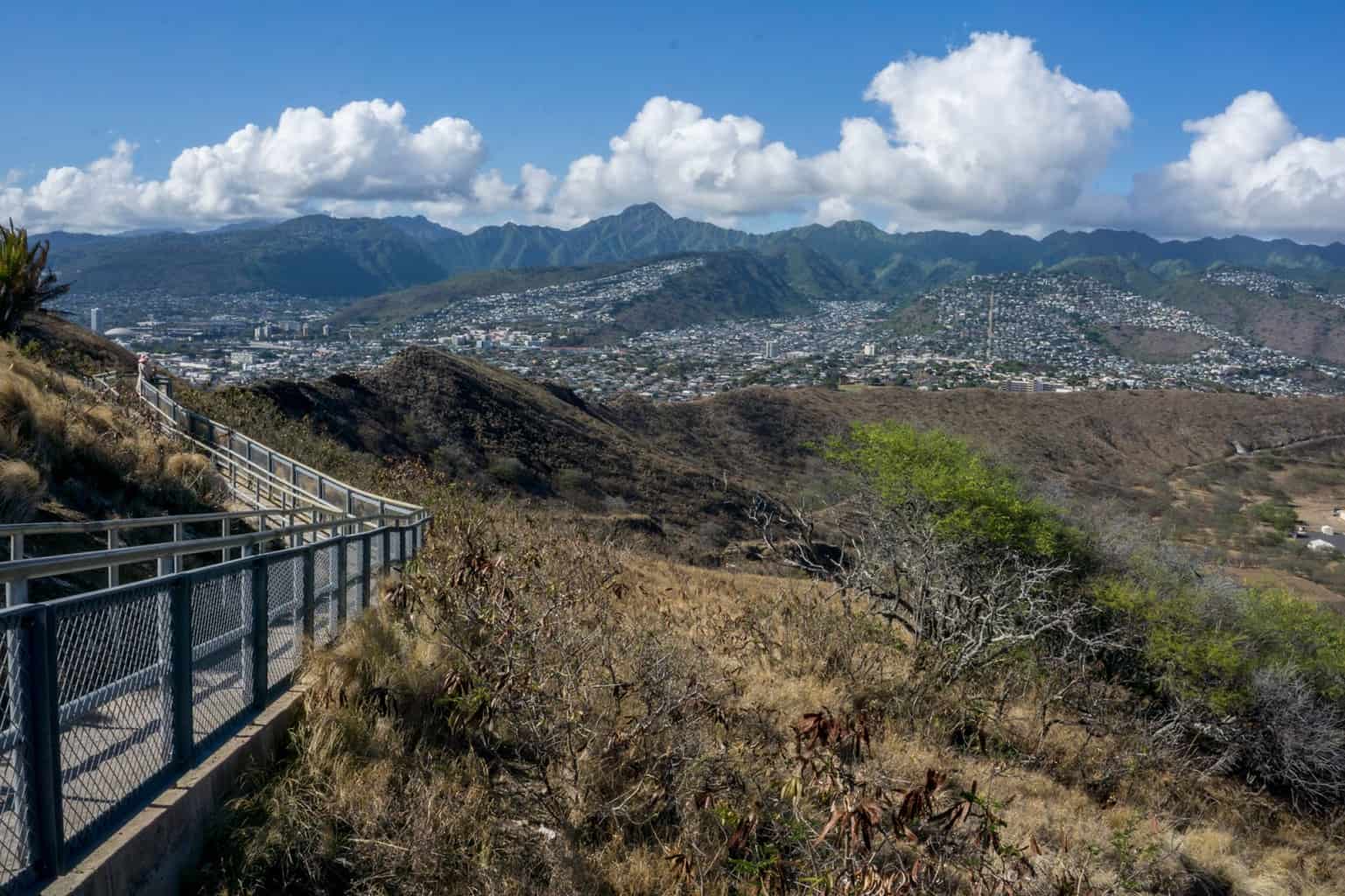 hiking up Diamond Head, Hawaii
Related posts
Week 0: Gone travelling. London – see you in nine months


Week 1: INDIA – Mumbai → Goa
Week 2: INDIA – Bangalore → Mysore → Wayanad
Week 3: INDIA – Kochi → Allepey → Kollam → Madurai
Week 4: INDIA – Pondicherry → Chennai → Mumbai


Week 5: INDIA – Varanasi → Udaipur → Jaipur → Delhi
Week 6: TAIWAN – Taipei
Week 7: CHINA & VIETNAM – Hong Kong → Hanoi
Week 8: VIETNAM – Sapa → Hanoi → Ha Long Bay → Hanoi


Week 9: VIETNAM – Hue → Hoi An
Week 10: VIETNAM – 6 day / 5 night motorbike tour from Hoi An to Da Lat
Week 11: VIETNAM – Da Lat → Nha Trang
Week 12: VIETNAM – HCMC → Mekong Delta → HCMC
Week 13: CAMBODIA – Siem Reap (and Angkor Wat) → Phnom Penh
Week 14: CAMBODIA – Sihanoukville & Koh Rong Samloem Island
Week 15: CAMBODIA – Kep
Week 16: THAILAND – Chiang Mai
Week 17: THAILAND – Songkran Festival in Mae Rim & Chiang Mai
Week 18: THAILAND – Bangkok → Koh Phangan
Week 19: THAILAND – Bangkok
Week 20: MALAYSIA – Penang → Borneo
Week 21: AUSTRALIA – Melbourne
Week 22: NEW ZEALAND – Auckland → Rotorua → Turangi → Whanganui
Week 23: NEW ZEALAND – Wellington → Nelson Lakes → Hanmer Springs → Christchurch
Week 24: NEW ZEALAND – Lake Tekapo → Mount Cook → Queenstown → Milford Sound