Last Updated on June 10, 2020 by Leyla Kazim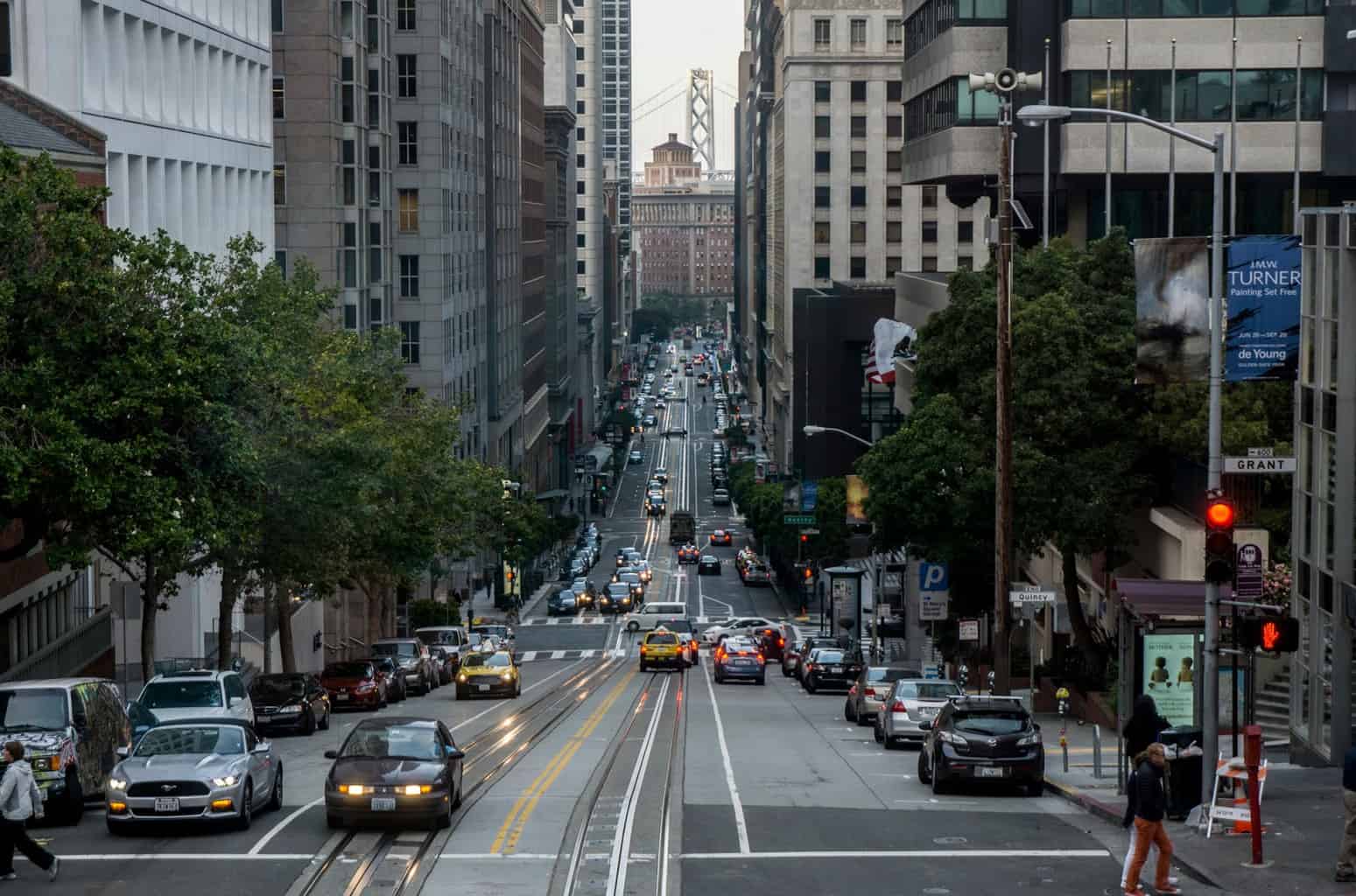 Image of the week: a steep Nob Hill, where the side streets that come off it are at a 45 degree incline
More images at the end of post
l
Where in the world

Still based in Oakland, but this week we ventured across the bay to explore San Francisco.
Thoughts
Why, out of the whole of the USA, did we decide to only visit San Francisco and Los Angeles (next week)? Well, I can certainly answer for SF – a combination of things.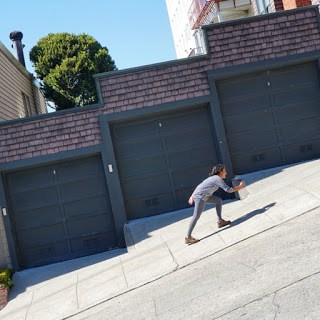 climbing San Francisco's hills
(disclosure: angle may have been slightly
exaggerated by camera tilting..)
Firstly there's the obvious constraints of time and money, otherwise we would have done many more cities in the States.
But San Francisco has been on my list for a while – a mix of friends having visited, telling me they really liked the vibe, and other friends who have up and left London to make a life out here on the West Coast.
The fact it's hailed as "the best restaurant city in America" might have also played a part (see The best things I ate this week below).
It's also a really 'doable' city. It's been built up rather than out, meaning that even though its population is under a million, they're packed in, making it the second-most densely-populated city in the country.
That means it's a lot smaller than people think, roughly square in shape and only about 7 miles each side, making it easy to get around.
I like the fact it's on the San Andreas Fault line, and regular readers will know how much I'm attracted to a place that threatens to shake the very ground beneath my feet. It's also this tectonic movement that's given the city it's famous topography – no less than 71 hills. Steep ones at that.
(Side: I think it only fitting to watch the newly released San Andreas – a disaster movie about the aftermath of a massive earthquake that hits California – while we're here. Must Google film showings.)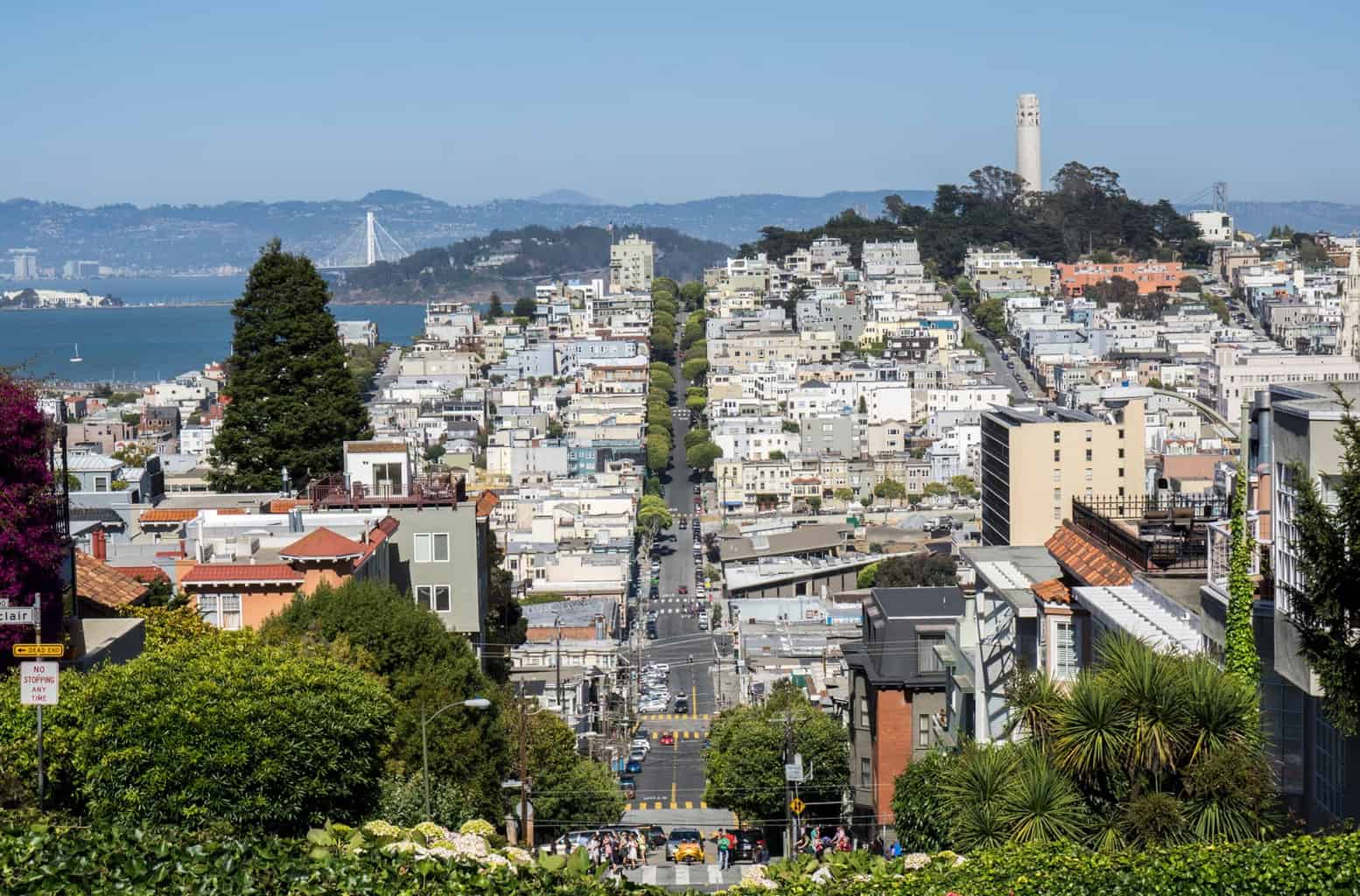 the top of Russian Hill that has a 45 degree incline – great views
San Francisco
l
And then there's the weather. Think strong sunshine without being too hot, enough for red noses and cheeks by the end of the day because you didn't realise you needed sunscreen. The evenings are chilly, with the occasional moody fog rolling in for atmosphere.
San Francisco is actually famous for its fog, which is heaviest in June and July, and can drop the temperature by 10 degrees in just a few minutes. San Franciscans don't leave home without a jumper, any time of year.
Some sort of political protest I think. Note on his chest was written backwards – of course
San Francisco
l
It's also a place that's very accepting of people who are a bit different, and there's a lot of charm in that.
"The world's most gay-friendly city" is now even more friendly since California allowed same-sex marriage in 2013. And even though New York may have surpassed it in diversity, San Francisco is the world's original gay Mecca, with its Castro District still feeling like the center of the gay universe.
I'm a bit gutted we left just the day before San Francisco Pride, actually.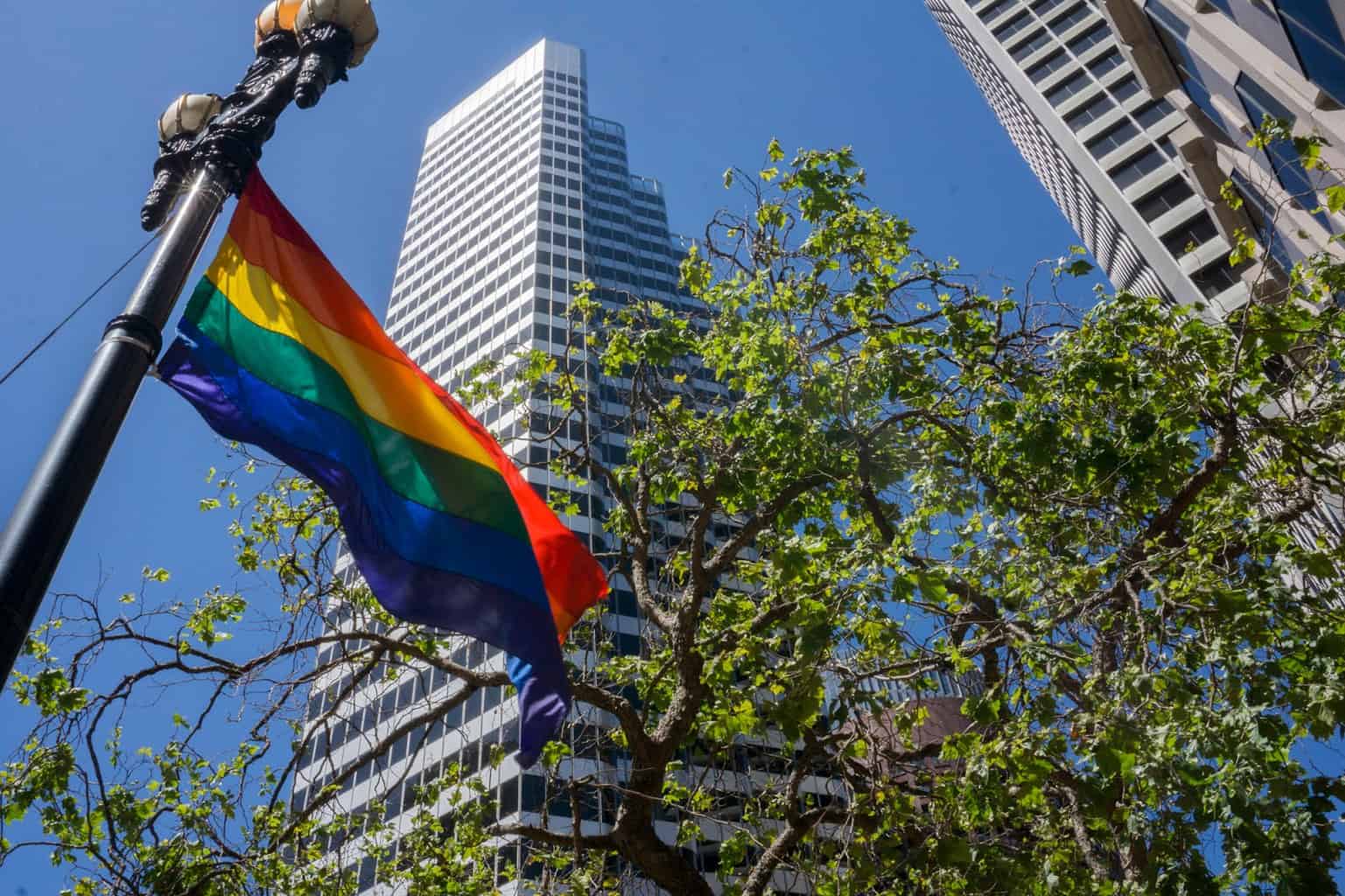 the flags are up in preparation for San Francisco Pride 2015
l
The best things I ate this week


Where to eat in San Francisco


Smoked salmon bagels


A breakfast of large proportions. But then, we are in America. This is the lox platter at Hollywood Cafe in Fisherman's Wharf. There's always a bit of a queue here, probably because it's one of the few places in this touristy strip that does food that's both good and reasonably priced. Only open for breakfast and lunch, closed by 13.45
Hollywood Cafe, 530 North Point Street, San Francisco, CA 94133
BBQ smoked meats
This was a great dinner. As much sensationaly smoked meat at 4505 Burgers & BBQ as you can shake the proverbial at. There were six of us, so we ordered the The Presidential for $99 which feeds six and includes all meats, all fixins, and all sides. Such good value for $18 a head.
Brisket, pulled chicken, pulled pork shoulder, spicy sausage, pork spare ribs, beef ribs, coleslaw, posole (a pre-Columbian stew from Mexico), potato salad, fries with chimichurri, Frankaroni (deep fried macaroni cheese with frankfurter – also pictured), chiccharones (pork crackling) – the very first product they started making.
Note, there's only outside seating, although most of it is covered – but wrap up. And expect queues around dinner time. Get there early for the brisket, which had 'run out' by the time we got there, but some of it thankfully still appeared on our plate.
4505 Burgers & BBQ, 705 Divisadero (at Grove St.), San Francisco, 94117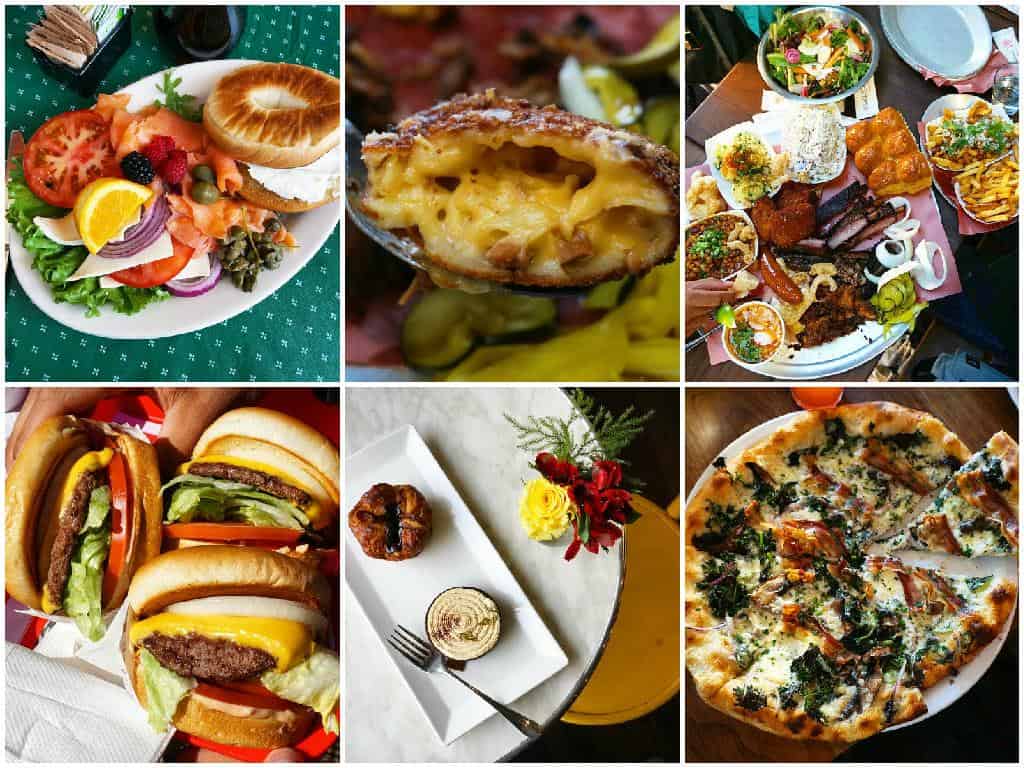 top: lox platter from Hollywood Cafe, deep fried Frankaroni, and all the meat at 4505 Burgers & BBQ
bottom: In-N-Out burgers, pastry and tart from b.patisserie, awesome pizza from Ragazza
Where to eat in San Francisco
l
Cheap and cheerful failsafe burgers
Most of the people I know who visit America from the UK make a trip to an In-N-Out. Firstly, because they have yet to reach our shores, and secondly, because they make fresh and good quality burgers, with great flavour, that are really very good value. This was my first experience, and I was impressed.
I only learnt about the not-so-secret secret menu after – ask for it Animal style when you place your order and in addition to the standard toppings, you'll get pickles, extra spread, grilled onions, and mustard fried onto each meat patty, for no extra charge.
In-N-Out, Anchorage Shopping Center, 333 Jefferson St, San Francisco, CA 94133
Baked goods royalty
Lots of people told me I had to visit b.patisserie, and it's pretty clear why. It's so good we went twice in the few days we were in SF. Expect Parisian and Viennese-style pastries, sandwiches and coffee with an open kitchen and an almost fully female workforce.
They're known for their kouign amann – an uber-buttery and caramelised pastry from Brittany – which I scoffed still warm from the oven with a bit of melted chocolate poured on top. It was pretty busy there on a Sunday afternoon, but I think this may be better than the one I had at Dominique Ansel in New York.
b.patisserie, 2821 California St, San Francisco, CA 94115
Unmatched pizza bases
Divisadero Street has a very cool feel about it with loads of great restaurants. Including neighbourhood joint Ragazza serving Neopolitan style thin crust pizza, and a load more.
Pictured: wild nettles, portobello mushrooms, Olli pancetta, red onion, aged provolone. This was, hands down, the best pizza base I've ever had. Unmatched crispness, almost like it had been deep-fried, but without the grease. Amazing the next day cold too.
Ragazza, 311 Divisadero St. (Between Page & Oak), San Francisco CA 94117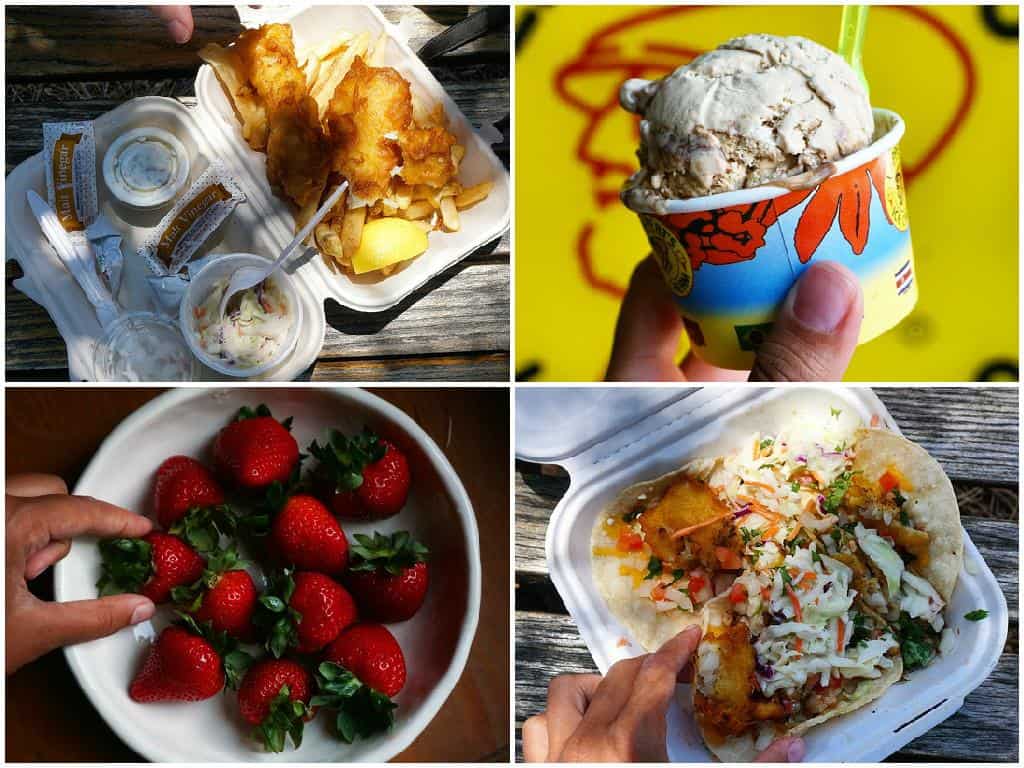 top: fish & chips in Sausalito, Kaui ice cream from Hawaiian chain Lappert's
bottom: Californian strawberries, fish tacos in Sausalito
Where to eat in Sausalito
l
Where to eat in Sausalito
Fish & chips
The houses of Sausalito – the first city you hit when crossing the Golden Gate Bridge from San Francisco – are occupied by celebrities, the retired well-off, and those Silicon Valley techies that make enough money to secure seats on the intergalactic Virgin spaceship. Which means it's hard to find lunch for less than $30.
Except for long-standing, family-run fast-food joint Fish & Chips of Sausalito, doling out fried and grilled seafood, burgers and sandwiches. They get really busy, filled with visitors popping over the water to pay a visit to this very pretty city, rather than locals. Fish and chips, fish tacos, a park bench, Californian sunshine. Job's a good'un.
Fish & Chips of Sausalito, 817 Bridgeway, Sausalito, CA 94965
Hawaiian ice cream
Lappert's Ice Cream is a Hawaiian cafe chain with its mainland outpost in Sausalito, offering coffee and ice cream in tropical flavors, and considered some of the best in the bay. Try the Kauai Pie flavour – coffee ice cream with coconuts, chocolate fudge and macadamia nuts. Lovely stuff.
Lappert's Ice Cream, 689 Bridgeway, Sausalito, CA 94965
Californian fruit
As I mentioned last week, the fruit in California is quite something. As well as eating all of the peaches, I've been scoffing plenty a deep red strawberry too. And when you go into a grocery store, pretty much all the fresh produce is grown within the state – from avocados and melons to asparagus and apples – making it really easy to keep those air miles low. That's the Californian climate for you.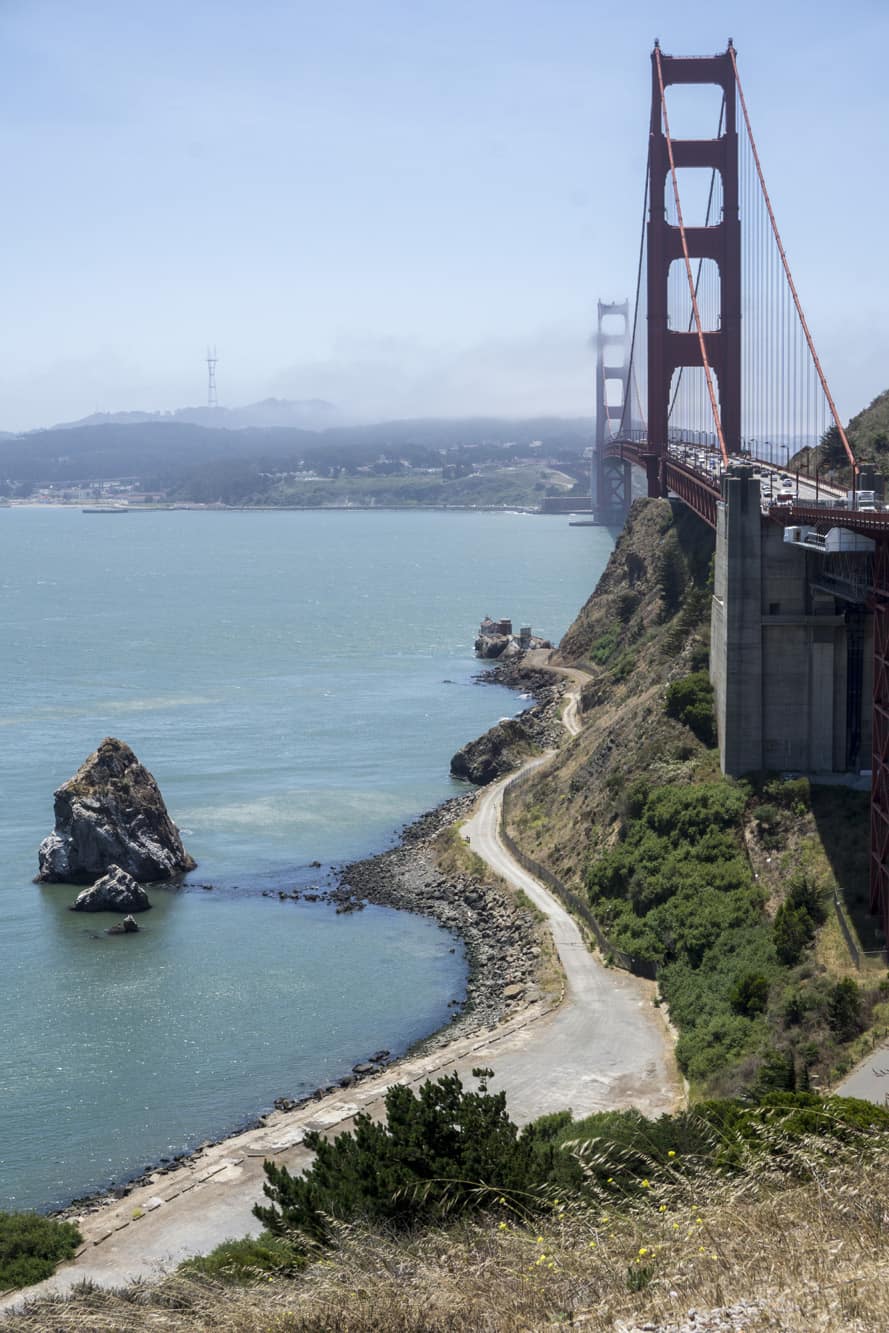 the Golden Gate Bridge
San Francisco
Did you know?

Some interesting snippets I learnt from various people and places during our time in San Francisco.
San Francisco facts
1) You can earn up to $70,000 (£47,000) a year walking dogs in San Francisco, there are that many of them. It's a profitibale indsutry, and people make very successful careers out of it.

2) The iconic Golden Gate Bridge was constructed between 1933 and 1937, and was the longest suspension bridge in the world for 40 years.
Eleven men died making it, falling victim to the 60-70 mph winds the bay sees almost on a daily basis, plummeting to their death in the frigid waters below (they were climbing with no harnesses).
They then decided to put up a safety net – that net saved 19 lives that would have otherwise seen the same fate.

3) The house of Mrs Doubtfire used in the 1993 film is a regular and occupied house in San Francisco, near Billionaires Row in Pacific Heights.
It turned into a shrine when Robin Williams passed away a year ago, with hundreds laying flowers and lighting candles outside the property. His untimely death hit the locals particularly hard, as his home, and where he was found, was in San Francisco.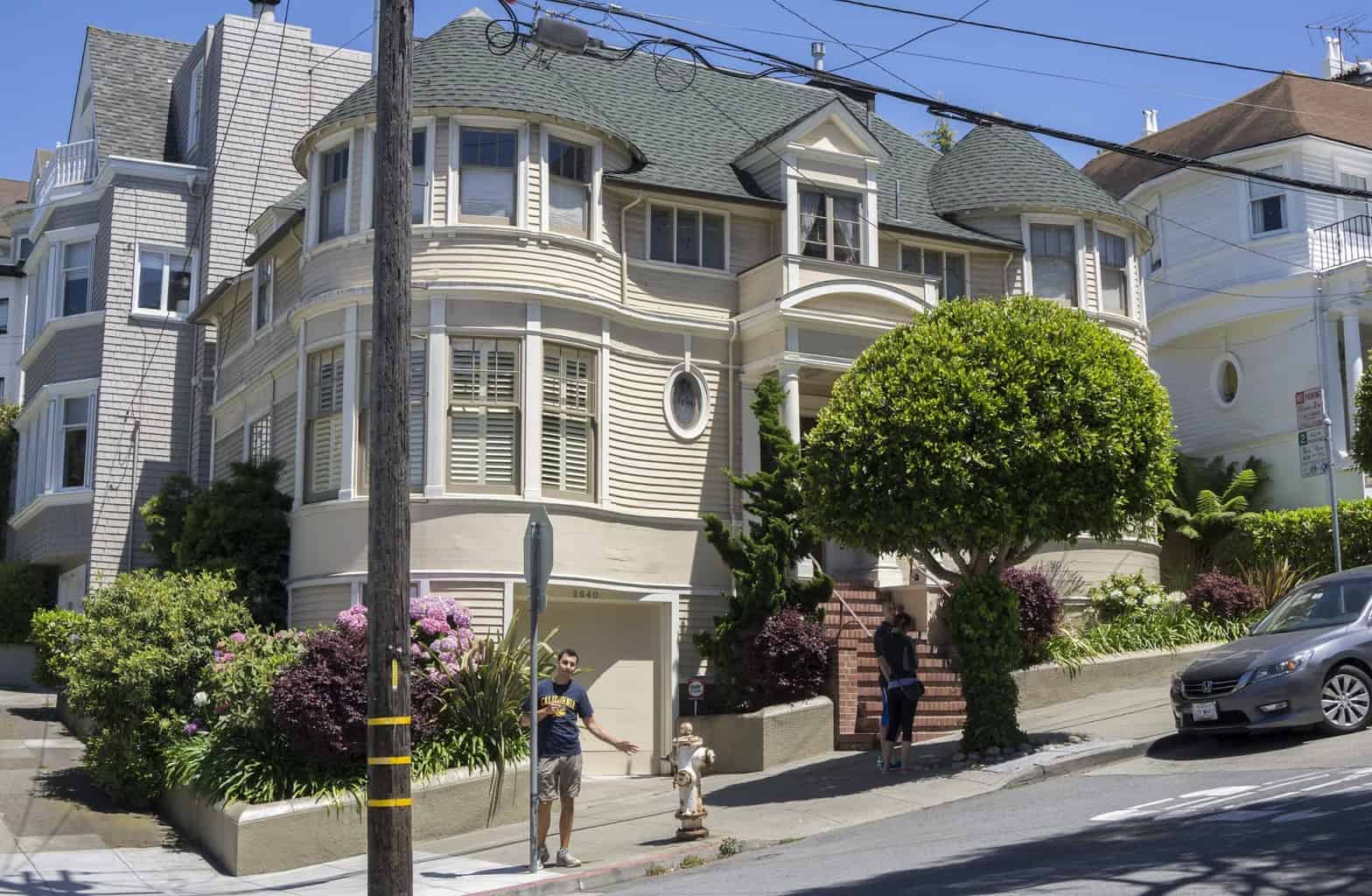 the Mrs. Doubtfire House, San Francisco
l

4) A one block section of Lombard Street on Russian Hill has a famous and quite ridiculous zig-zagging stretch of road at around a 45 degree incline, with eight hairpin turns. It was originally built like that in 1922 to prevent drivers losing control of their cars at the top and crashing. But we have better brakes these days.
It's now driven down mostly by tourists for the novelty. Residents who live on it of course, hate it. But then no one told them to live there.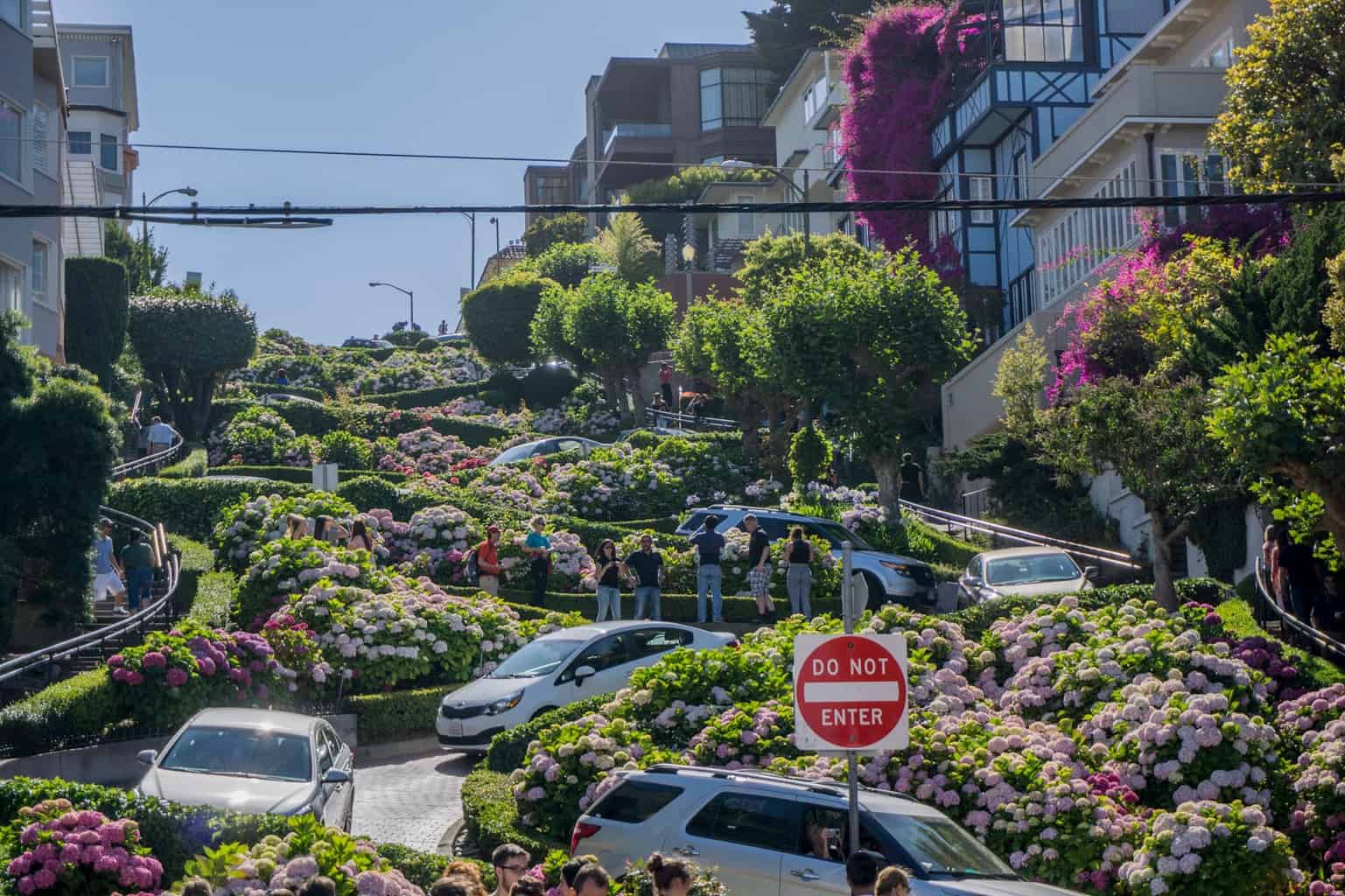 Lombard Road at Russian Hill, San Francisco
l
5) The "inescapable" federal penitentiary and maximum security star of the 40's and 50's, Alcatraz, can be found on its own little island in San Francisco Bay. Several films have been based on this prison, and infamous inmates included Al Capone, who eventually lost his mind to syphilis.
Out of the 14 separate escape attempts by 36 Alcatraz inmates during its 29 years of operation, no one is known to have successfully made it to the mainland – frigid water, strong currents, and the 1.25 mile swim made sure of that.
However, three men who managed to break out in 1962 remain unaccounted for, still with rewards on their heads, listed by the FBI as "missing but presumed drowned". Some believe they've been living it up in South America; all three were learning Spanish in prison at the time of their escape.
Another interesting nugget: Alcatraz was the only federal prison in the USA at the time to provide hot showers. The reason? So the inmates couldn't acclimatise to cold water, which might have given them a better chance of surviving the bay's waters, had they escaped.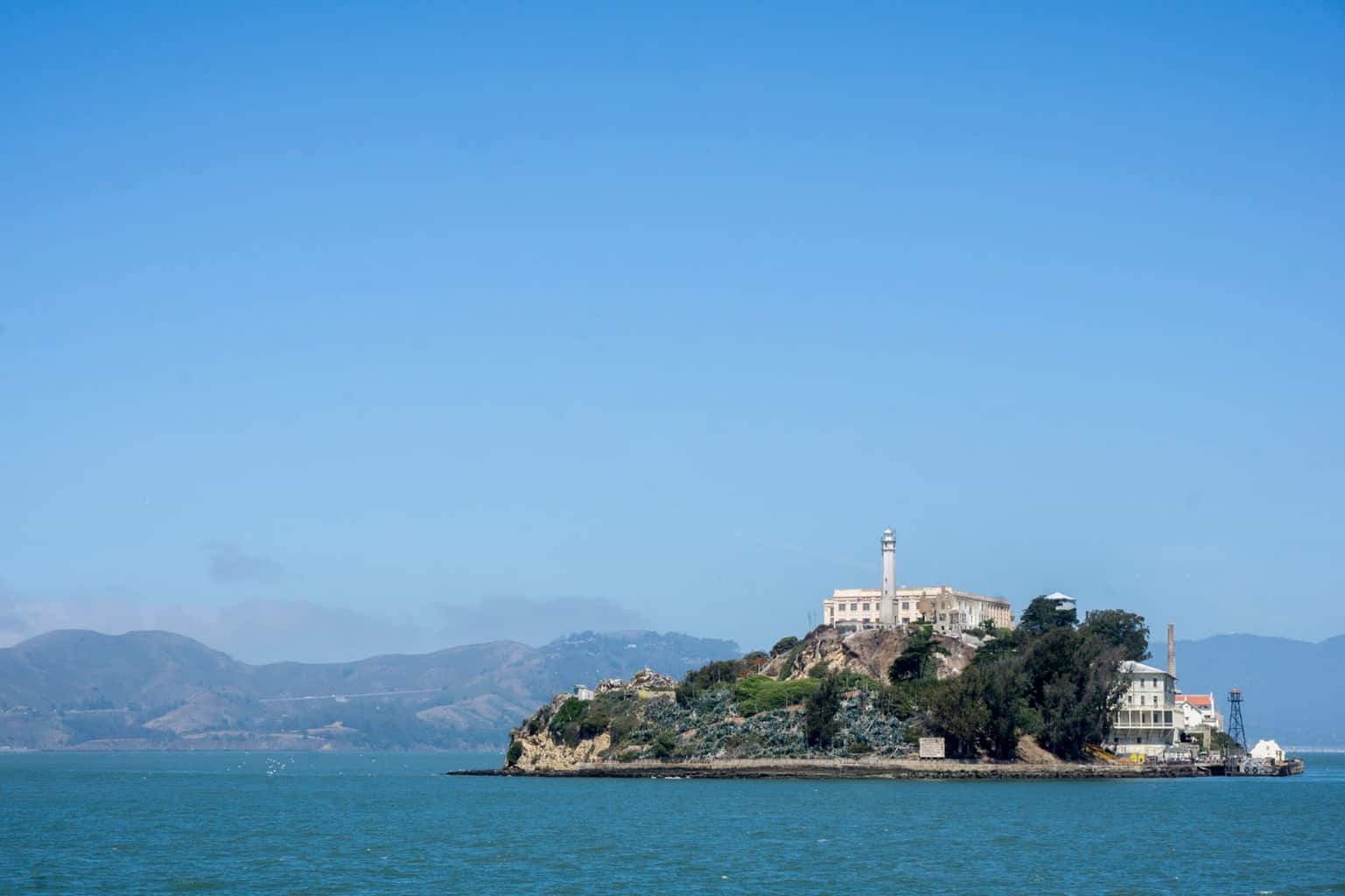 Alcatraz, San Francisco Bay
l
Being a prisoner on the island must have been worse than most. Seeing and hearing normal life continue just over the water, dangled right in front of you, but just out of reach.
At New Year's Eve the prisoners could hear the laughter from the parties on the piers carried over to the island on the breeze, wafting through the building's windows and cell bars. The torture.
If you visit the prison, the audio tour (included in the ticket price) mostly consists of first hand accounts from the inmates who called Alcatraz home – really interesting to hear the stories from them directly.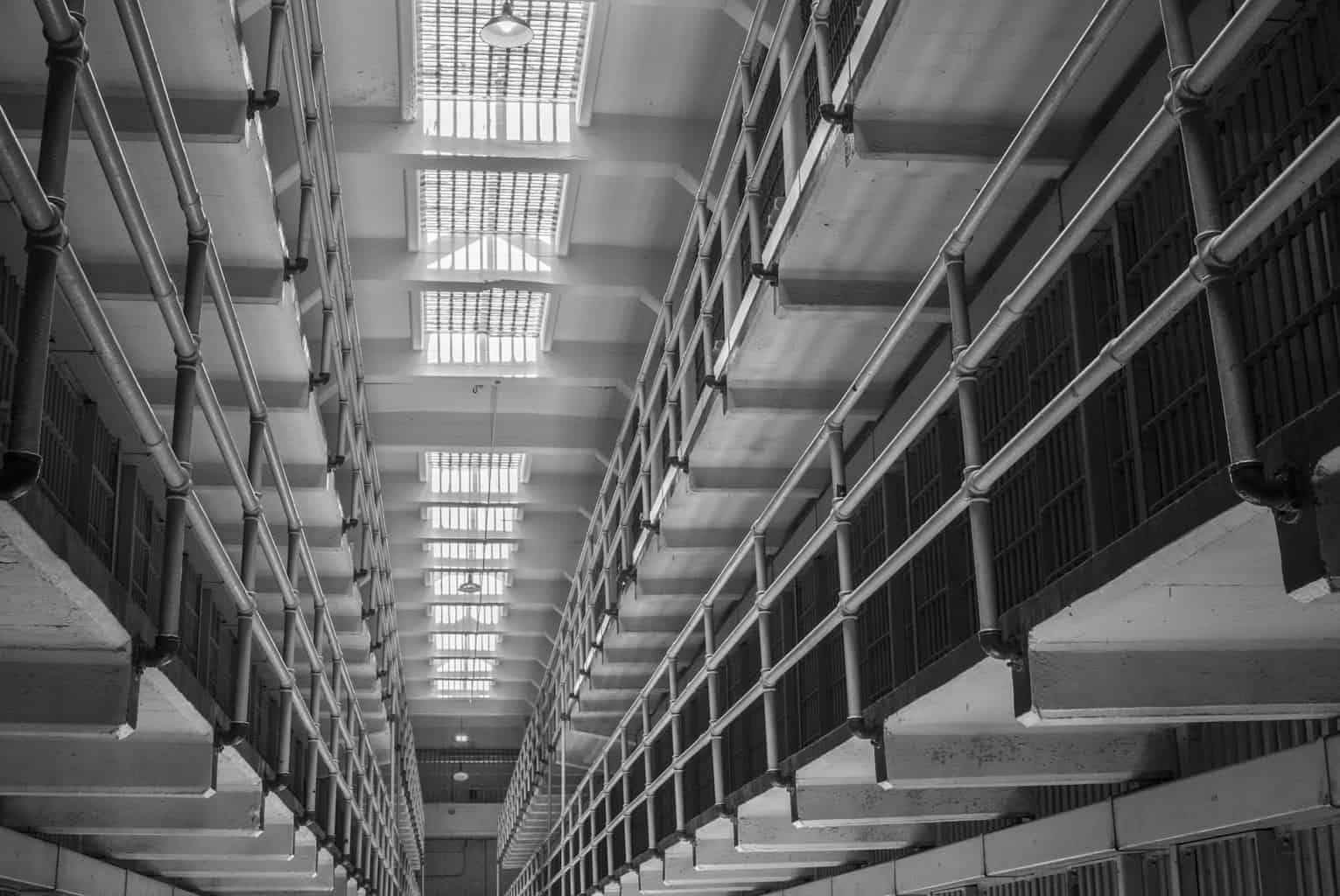 prison cells in Alcatraz, San Francisco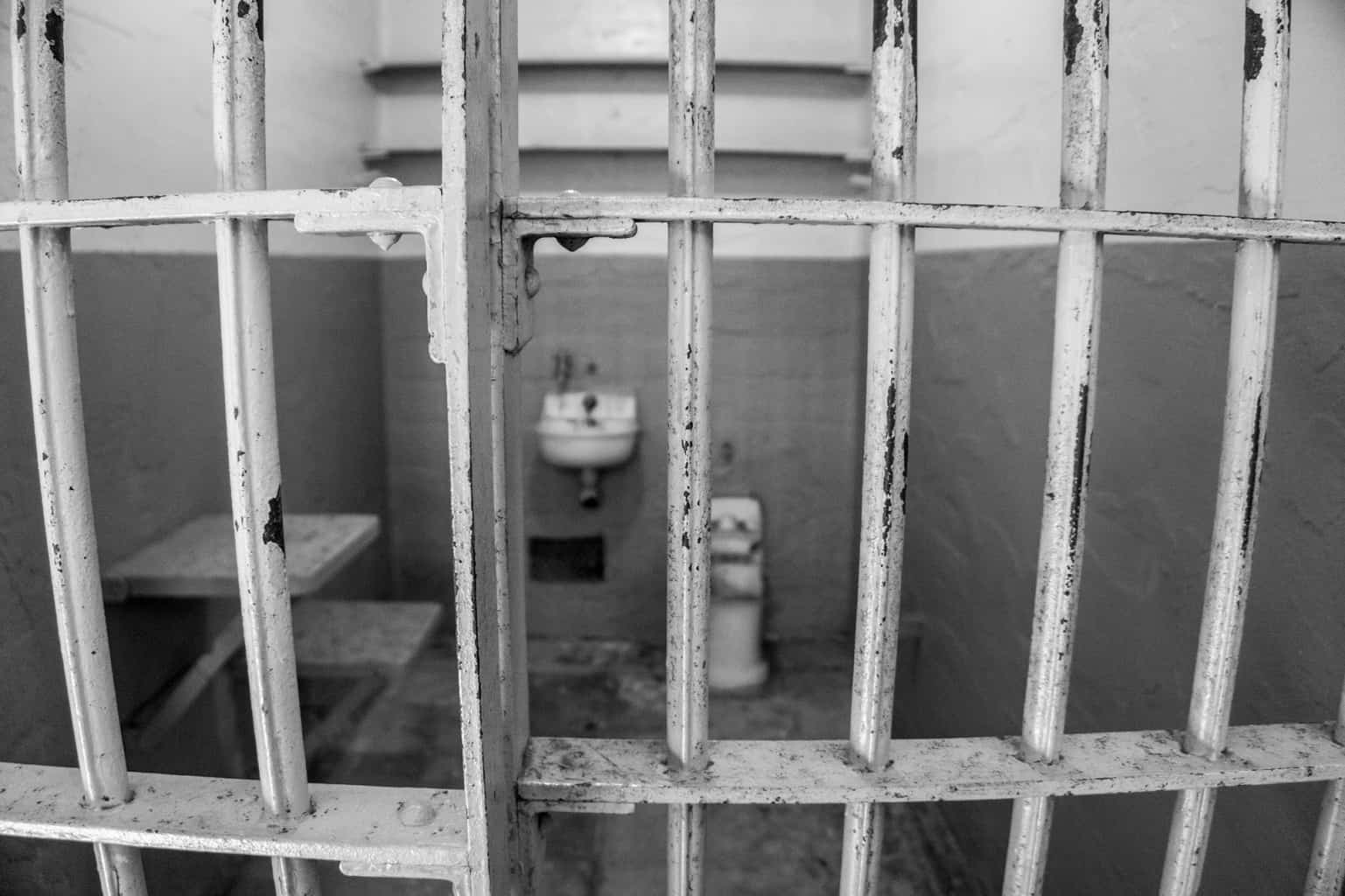 prison cells in Alcatraz, San Francisco
My insider tips
I didn't realise until it was too late that you can in fact walk or cycle across the Golden Gate Bridge – it's not just for vehicles. It's about 1.7 miles, and the winds can really pick up, but that's part of the fun. I really wish we'd done it – next time.
On the other side of the bridge to San Francisco is the very gorgeous city of Sausalito tucked away in the base of the hills that line the San Francisco Bay, where you could stop to have lunch (see The best places I ate this week above for where).
It's certainly worth popping over and spending at least half a day there.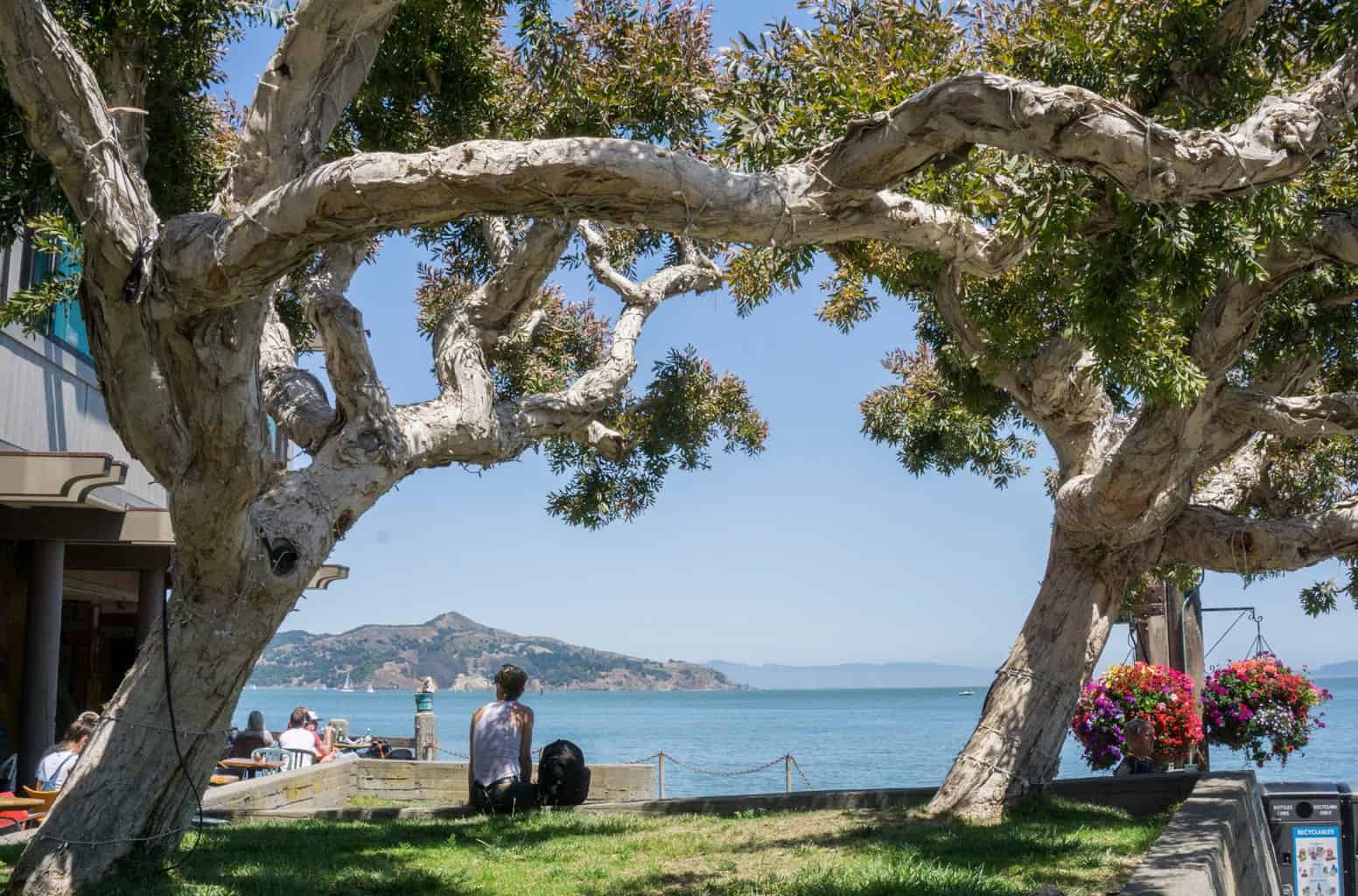 Sausalito, California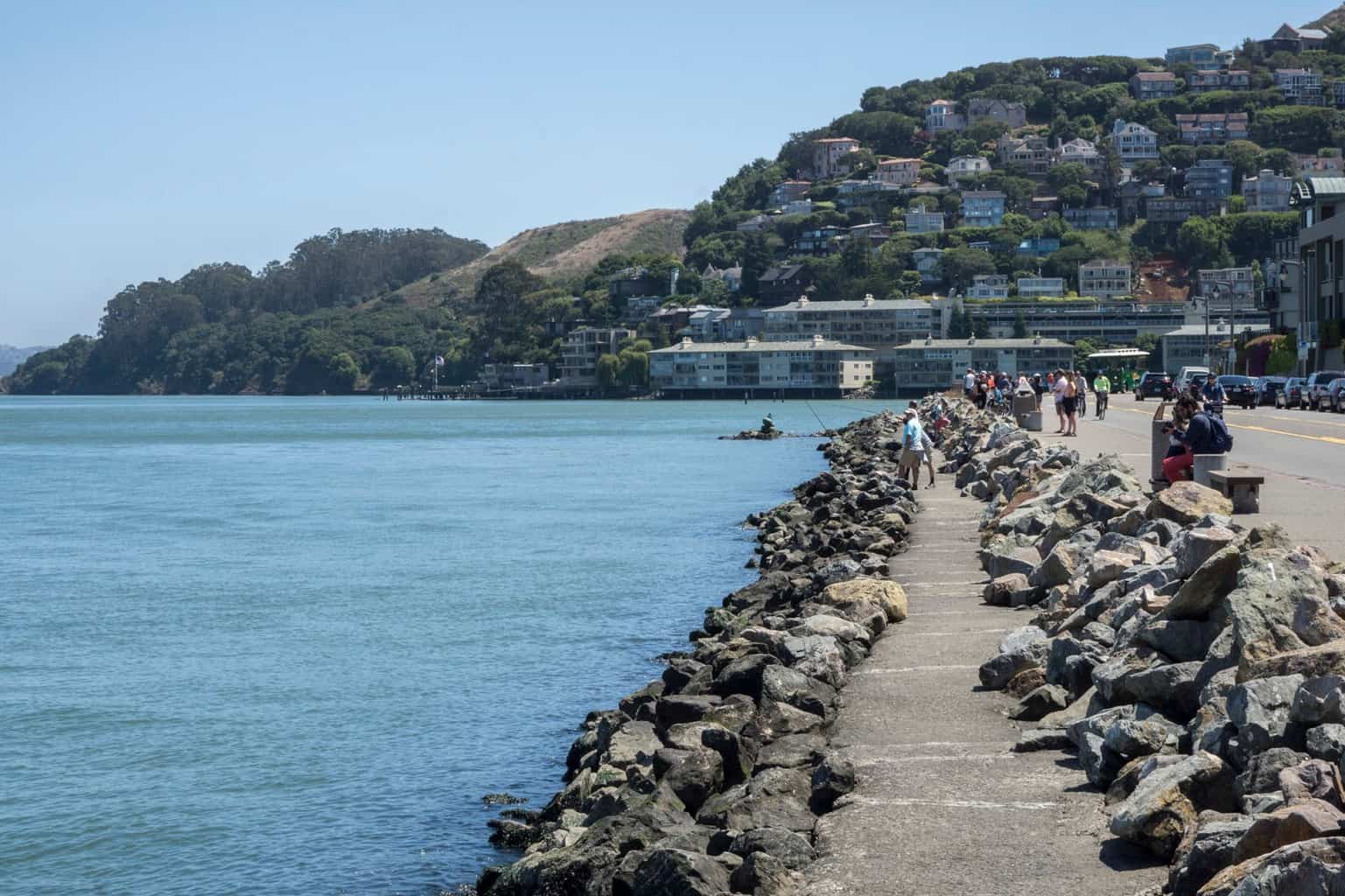 Sausalito, California
l
Highlights / Lowlights
Highlight
Matt's parents and his aunt and uncle joined us for this week in San Francisco, which was lovely 🙂
other people – hooray!
Lowlight

San Francisco certainly lives up to its other name – the "homeless capital of America". I've never seen as many people living on the street, or as many raging crack heads shouting at police at the top of their lungs or stripping on the side of the road, as I have in this city.
As is so often the case, there are many complex layers to why homelessness is so rife here, and why so many of these people seem to have mental health issues. This blogger has done some pretty good research into it, if you're interested in knowing more.
Once you've been here for a few days, you become immune to the people rifling through rubbish bins to eat the leftovers others have thrown away, and cardboard signs asking for whatever cents can be spared to get some food.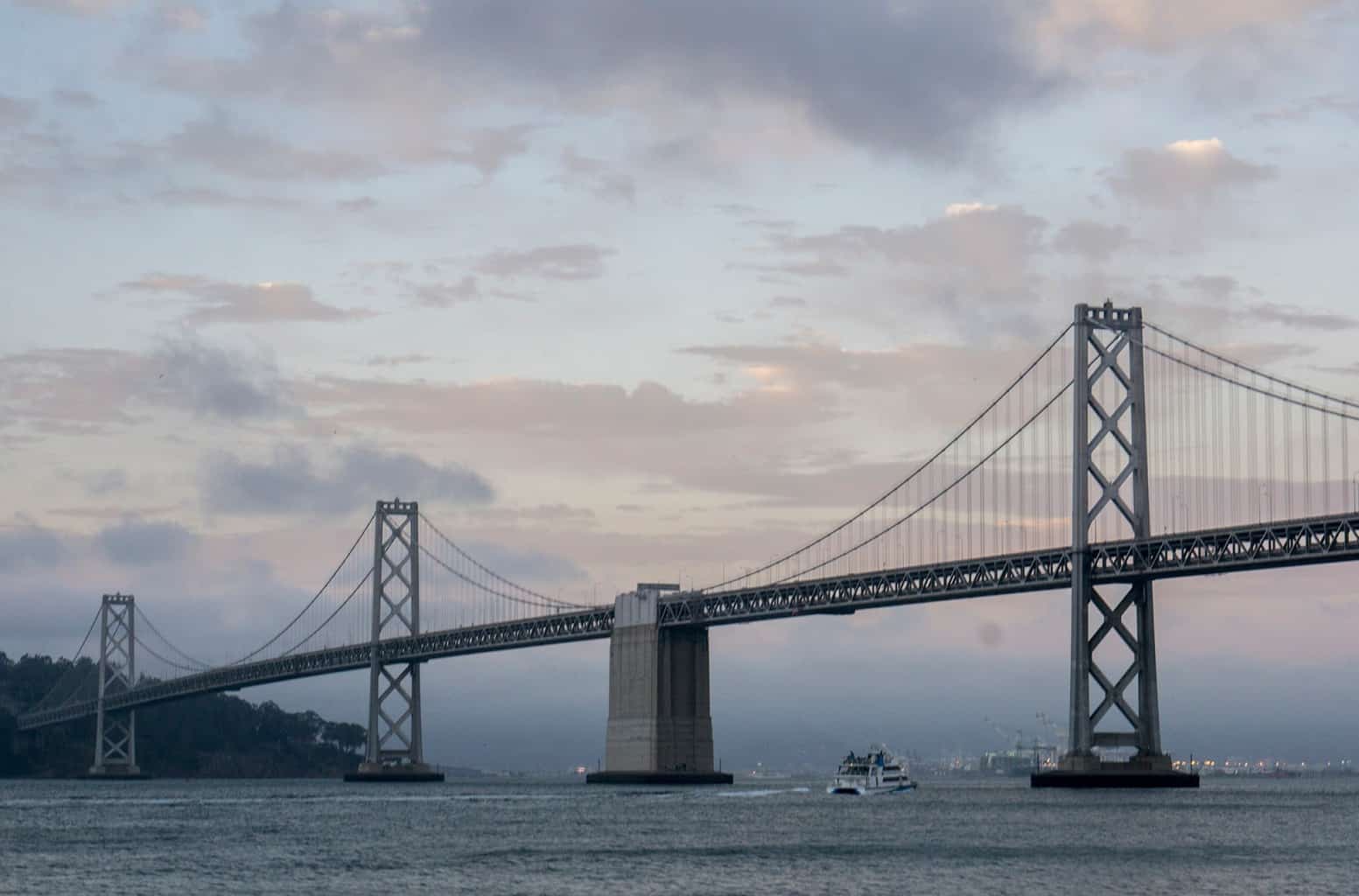 East Bay Bridge, San Francisco
l
One guy got to me though.
We were sitting on a tour bus on the top deck waiting for it to leave from Fisherman's Wharf. Below on the street corner, there was an elderly man with a full beard, who had obviously been homeless for a while. He wasn't begging or holding up a sign, but was deftly making balloon animals and handing them out to passing kids, with a genuine warm smile. He was hoping to catch the eye of the parent to ask if they could spare any change for it, but it rarely happened.
I watched him for a while. Somtimes, a parent would stop to fish out some coins. Other times they'd look at him in disgust and tell their child to give the balloon back. Many saw the child had taken the balloon and just walked off without even acknowledging the man. But he carried on, quietly making these balloon animals on the corner of the street, handing them out with a smile, too proud to beg.
I noticed he also had some tennis balls in his pocket for juggling, and some other similar parifanalia. Was he once a kids entertainer? How did he know how to make these balloons, and so quickly? What series of unfortunate events lead him to live on the streets? Whilst he was chatting to himself occasionally, he wasn't drunk, and he wasn't high. We had a little whip round and someone popped downstairs to give him a few bucks.
A couple of hours later when the bus returned, he was still there. I went up to him and asked him how it was going. "Not bad," he said, with kind eyes. "Still working." I handed him another couple of dollars. The smile that broke out on his face and the several thank you's that followed – heart wrencher.
He tried to give me a balloon. I said it was ok, he could keep it for the next kid.
.
Next week
We're off to La-laa Land, also known as Los Angeles.
Postcards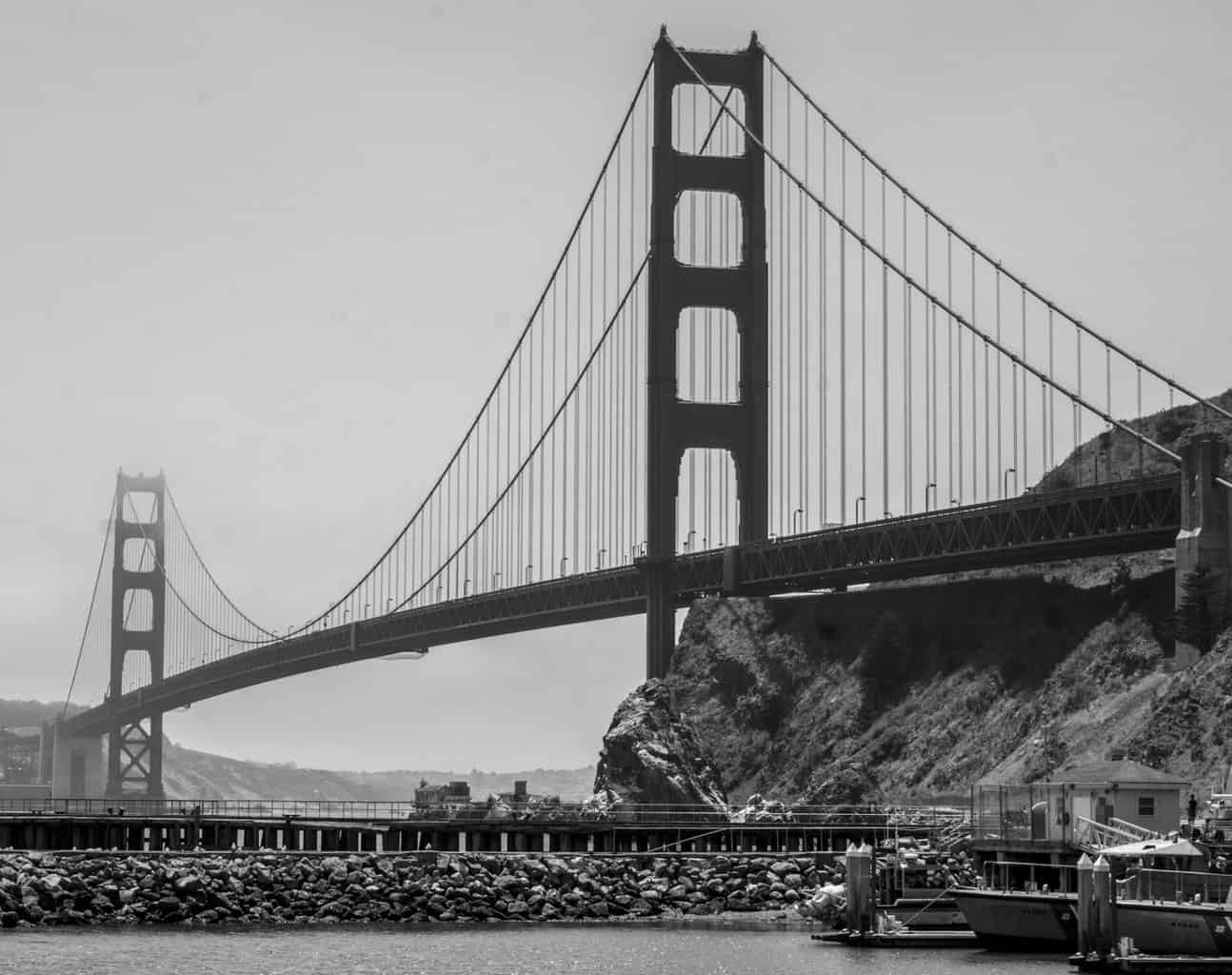 the Golden Gate Bridge, San Francisco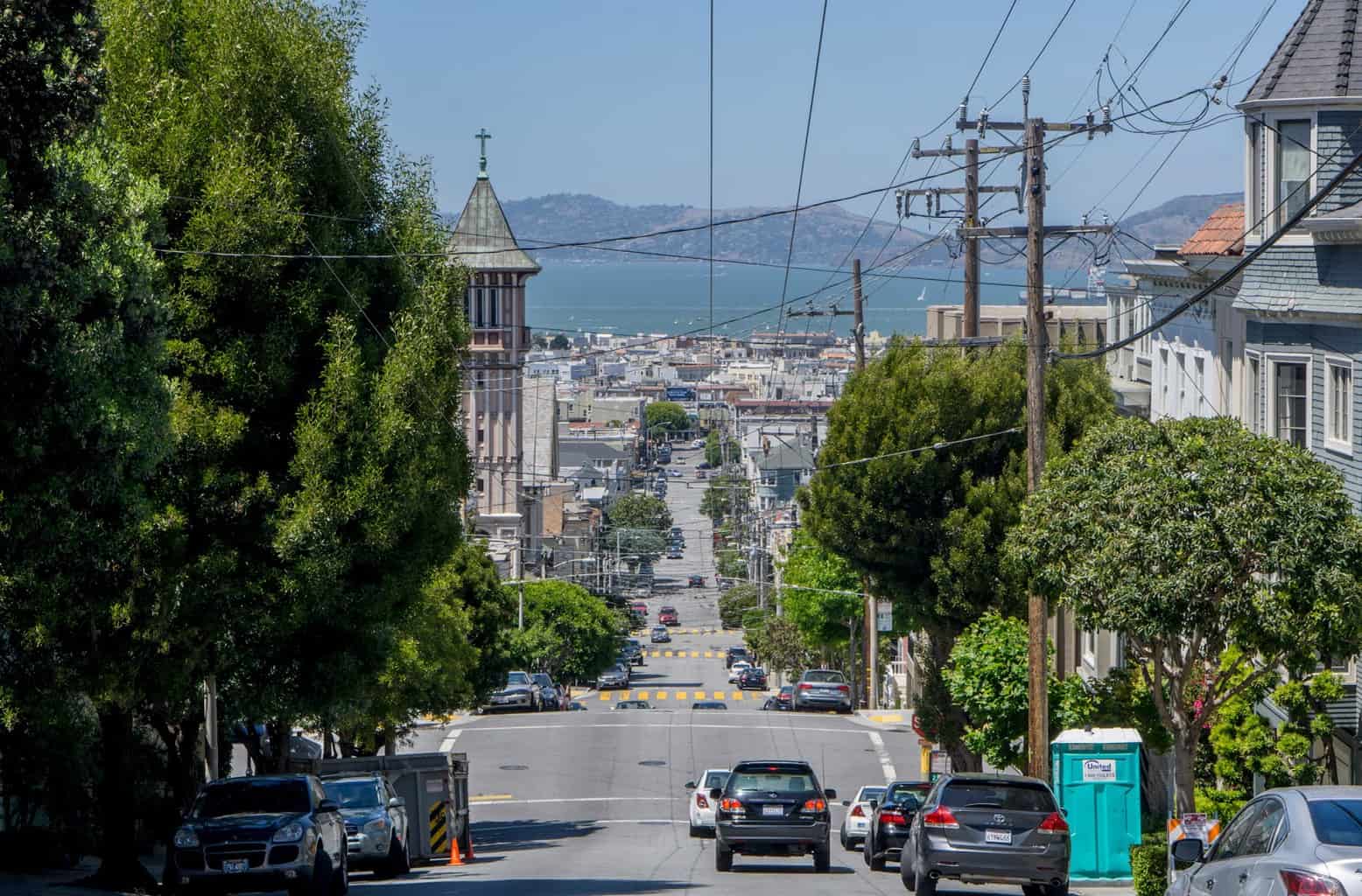 San Francisco hills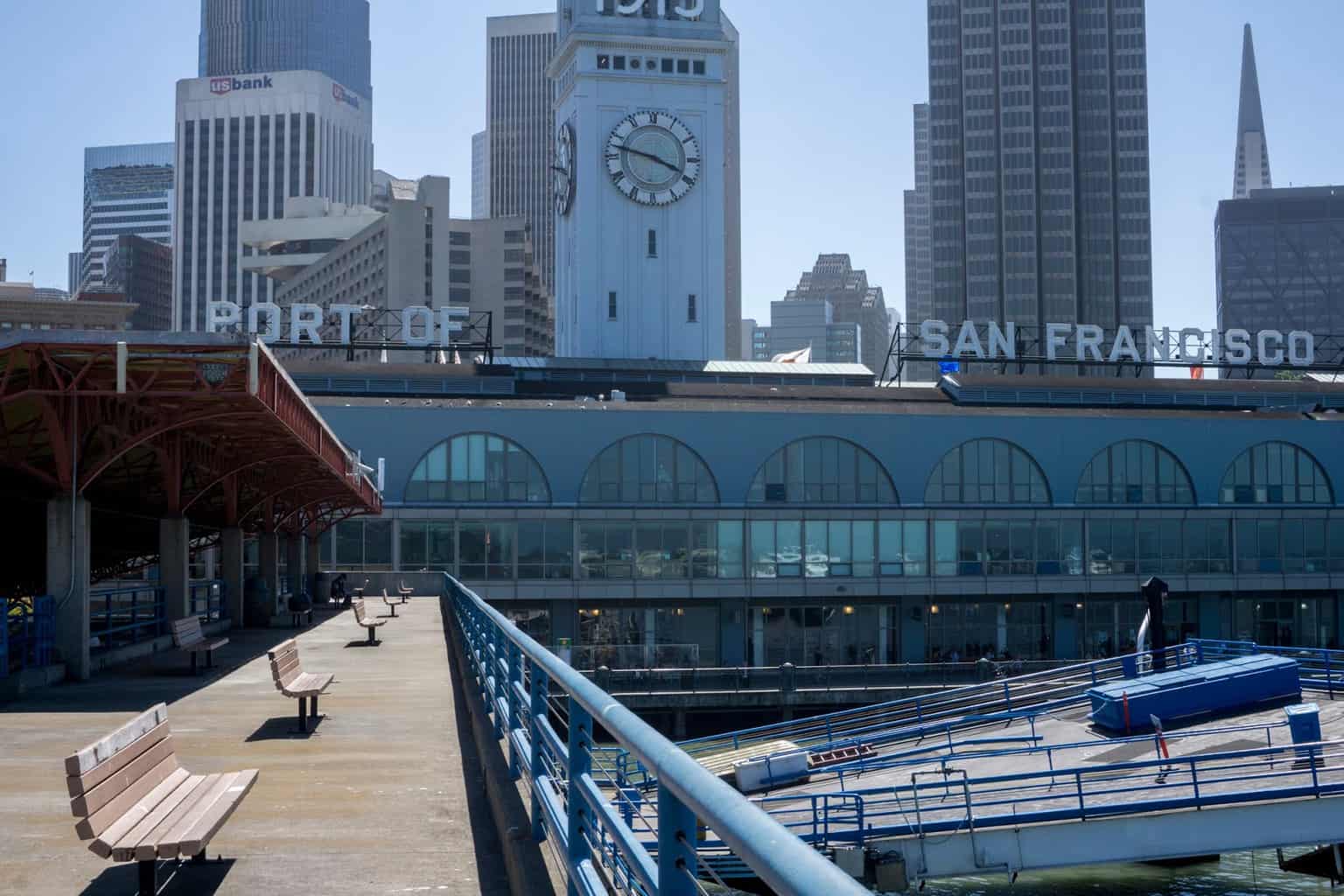 Port of San Francisco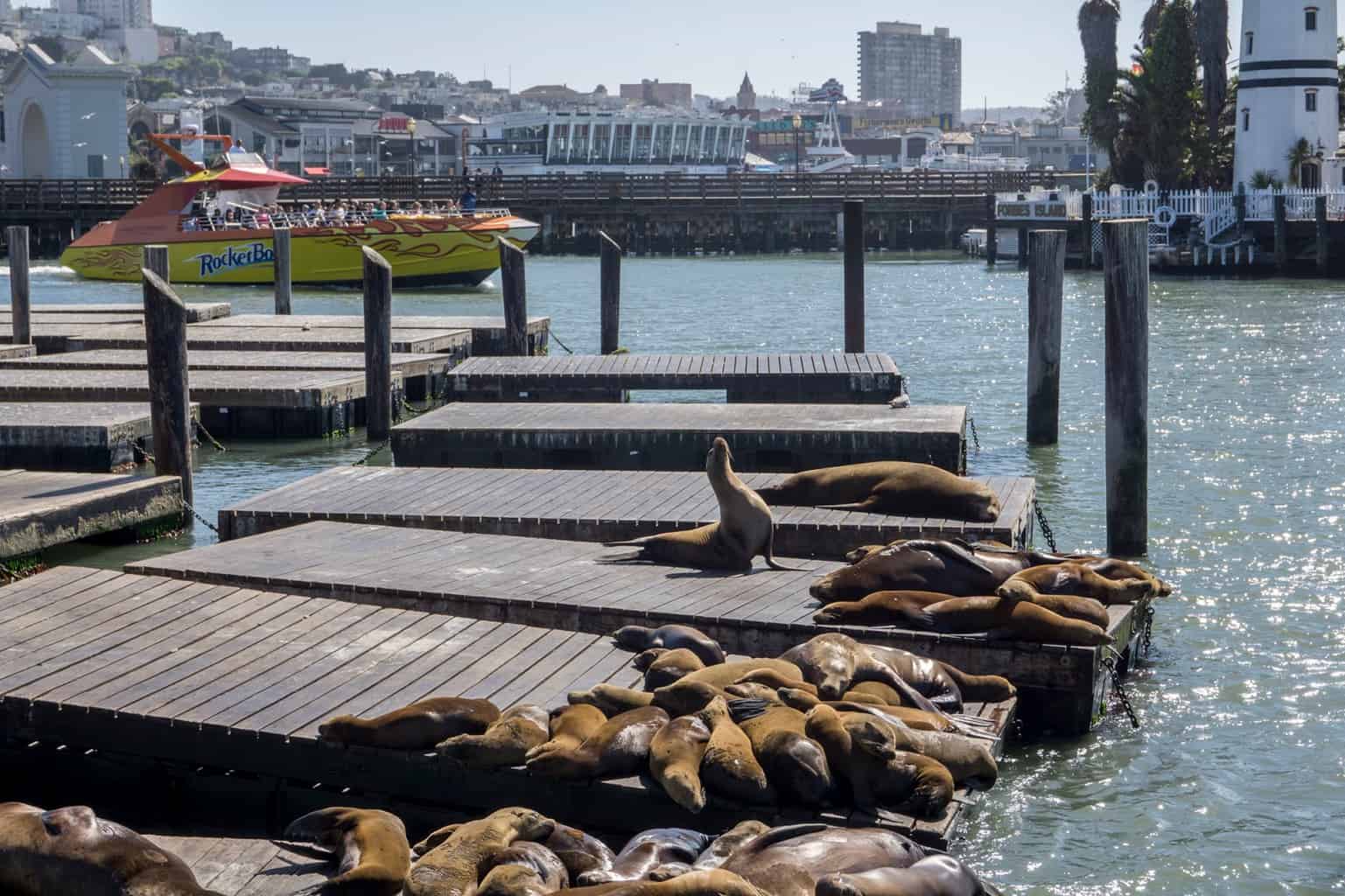 the residents of Pier 39, Californian sea lions – San Francisco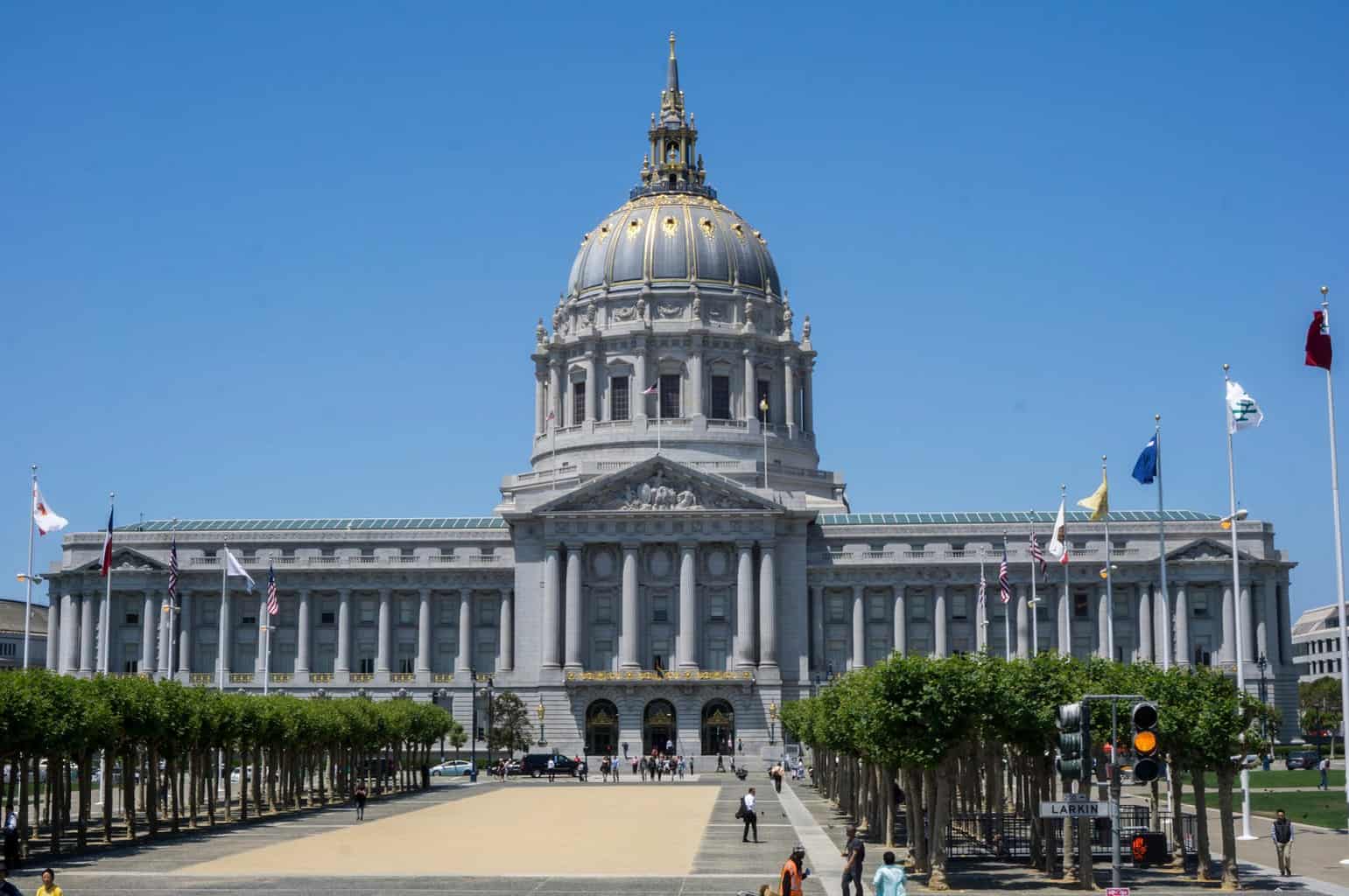 City Hall, San Francisco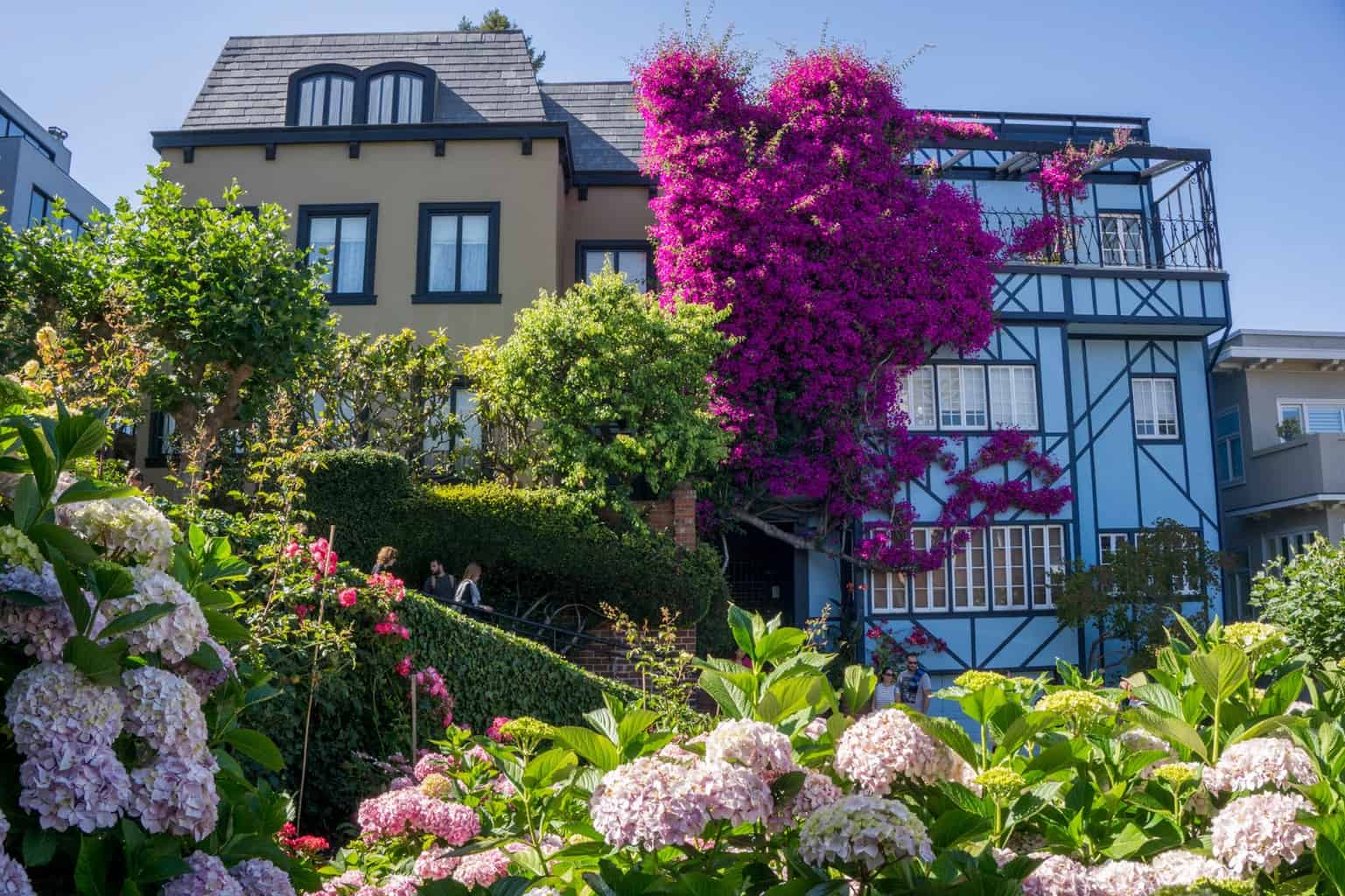 houses on zig-zagging Lombard Street, San Francisco
Related posts
Week 0: Gone travelling. London – see you in nine months

Week 1: INDIA – Mumbai → Goa
Week 2: INDIA – Bangalore → Mysore → Wayanad
Week 3: INDIA – Kochi → Allepey → Kollam → Madurai
Week 4: INDIA – Pondicherry → Chennai → Mumbai

Week 5: INDIA – Varanasi → Udaipur → Jaipur → Delhi
Week 6: TAIWAN – Taipei
Week 7: CHINA & VIETNAM – Hong Kong → Hanoi
Week 8: VIETNAM – Sapa → Hanoi → Ha Long Bay → Hanoi

Week 9: VIETNAM – Hue → Hoi An
Week 10: VIETNAM – 6 day / 5 night motorbike tour from Hoi An to Da Lat
Week 11: VIETNAM – Da Lat → Nha Trang
Week 12: VIETNAM – HCMC → Mekong Delta → HCMC

Week 13: CAMBODIA – Siem Reap (and Angkor Wat) → Phnom Penh
Week 14: CAMBODIA – Sihanoukville & Koh Rong Samloem Island
Week 15: CAMBODIA – Kep
Week 16: THAILAND – Chiang Mai

Week 17: THAILAND – Songkran Festival in Mae Rim & Chiang Mai
Week 18: THAILAND – Bangkok → Koh Phangan
Week 19: THAILAND – Bangkok
Week 20: MALAYSIA – Penang → Borneo

Week 21: AUSTRALIA – Melbourne
Week 22: NEW ZEALAND – Auckland → Rotorua → Turangi → Whanganui
Week 23: NEW ZEALAND – Wellington → Nelson Lakes → Hanmer Springs → Christchurch
Week 24: NEW ZEALAND – Lake Tekapo → Mount Cook → Queenstown → Milford Sound

Week 25: NEW ZEALAND & USA – Queenstown → Hawaii
Week 26: USA – Hawaii (Big Island) → San Francisco (Oakland)