Last Updated on June 7, 2021 by Leyla Kazim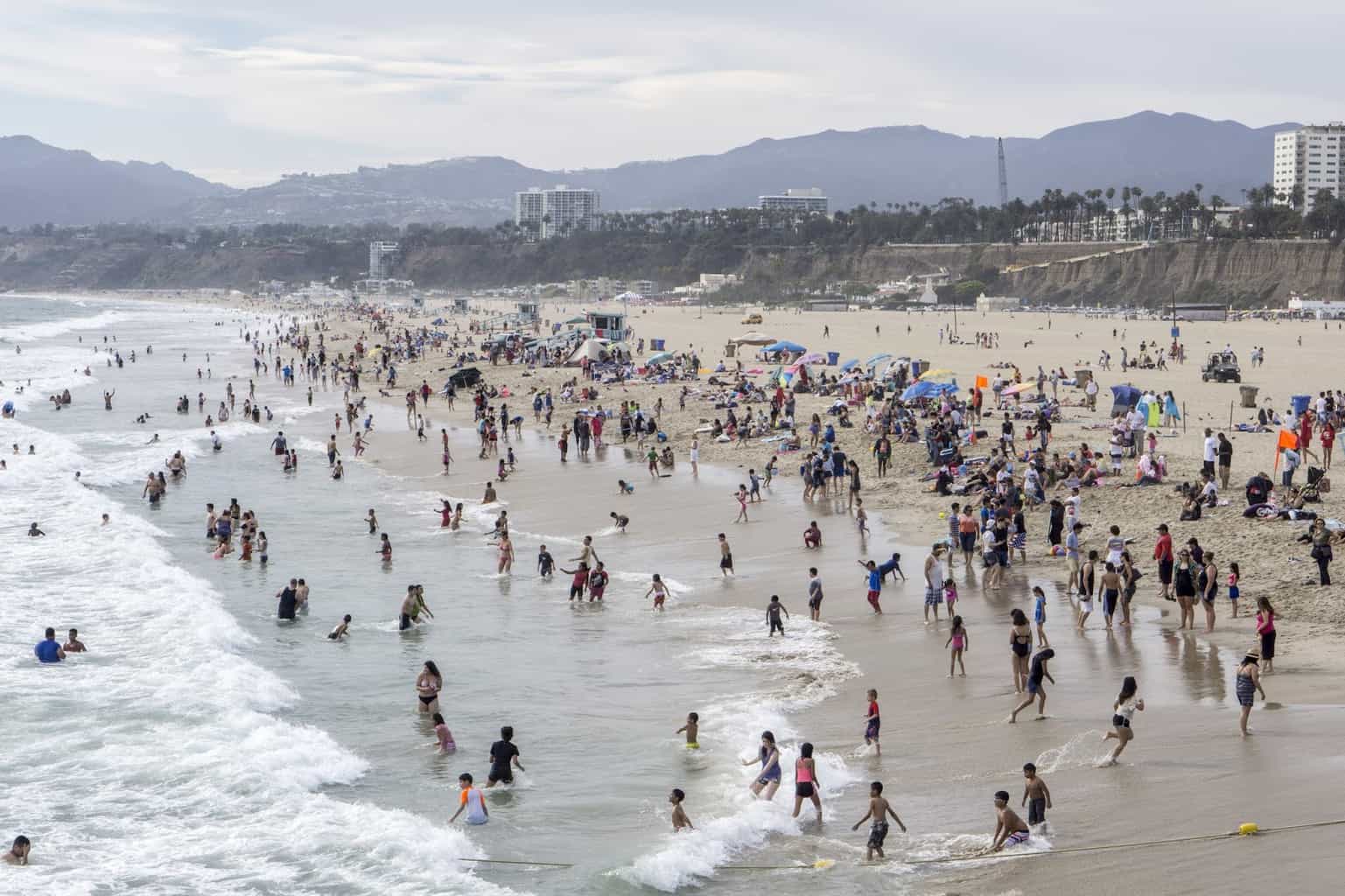 Image of the week; Santa Monica Beach on a Monday afternoon – school's out
More images at the end of post
l
Where in the world

A fifty minute flight from Oakland to our second stop in the state of California, Los Angeles.
Thoughts
A few people I know mentioned, that when they visited LA themselves, they 'couldn't find much to do there' and one even said that 'they found it quite boring'. After being here for nine days, I can understand where those sentiments likely stem from.
I think it's all to do with the size of the place – LA is big. Really big. It's about 44 miles by 30 miles, compared to San Francisco last week, which is only 7 miles by 7 miles. It is categorically not a walking city. Everyone has a car, and everyone drives, all of the time.
It also doesn't have much in the way of iconic landmarks – no recognisable bridge or sky scraper, for example. So I think people get stumped as to what they should be doing and where they should be visiting.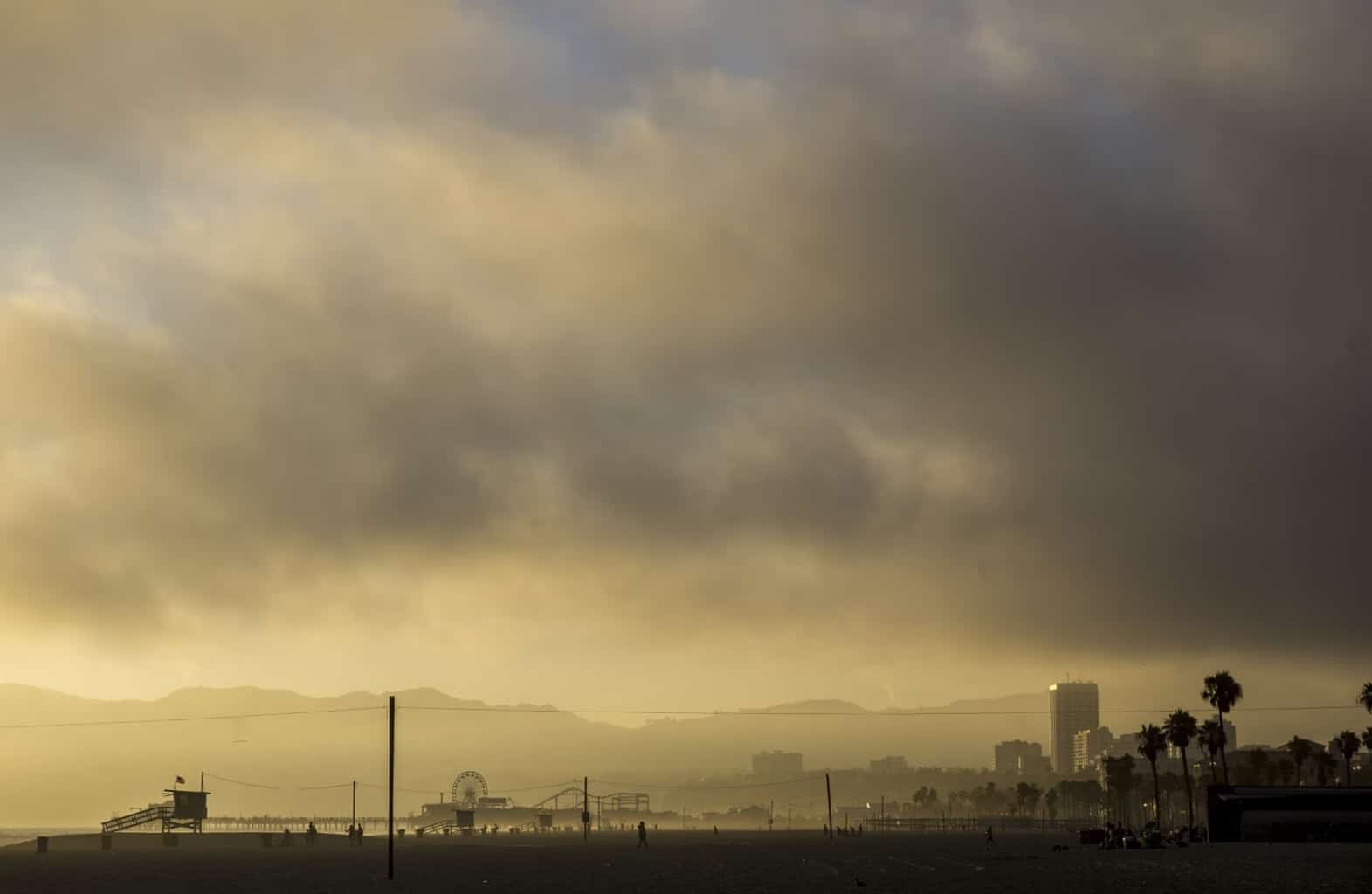 wonderful light at Venice Beach at sunset, Los Angeles
l
But this of course, does not mean there isn't stuff to see and do in LA. It probably couldn't be further from the truth. The playground of the rich and famous, a place full of nonsense and delusion and egomania, a town where status is everything – it all makes for a lot of stories, and dark ones at that. Why else have there been so many songs written about the place?
I remember reading a quote about a city once. It was along the lines of 'I love living here, but I'd hate to visit'. I think this can be applied to LA, in a sense. I get the feeling that to really understand the place and all it has to offer, you need to be here for longer than nine days. Longer than a month, probably.
When it can take 90 minutes to get anywhere by public transport, you find yourself stuck with only dropping by the tourist spots. I'm sure there are some fascinating neighbourhoods to spend the day wondering around in, but it all needs more time to let the place do itself justice.
What a visitor really needs is a local to take them off the beaten track, reveal LA's underbelly, and all the fun that can be had there.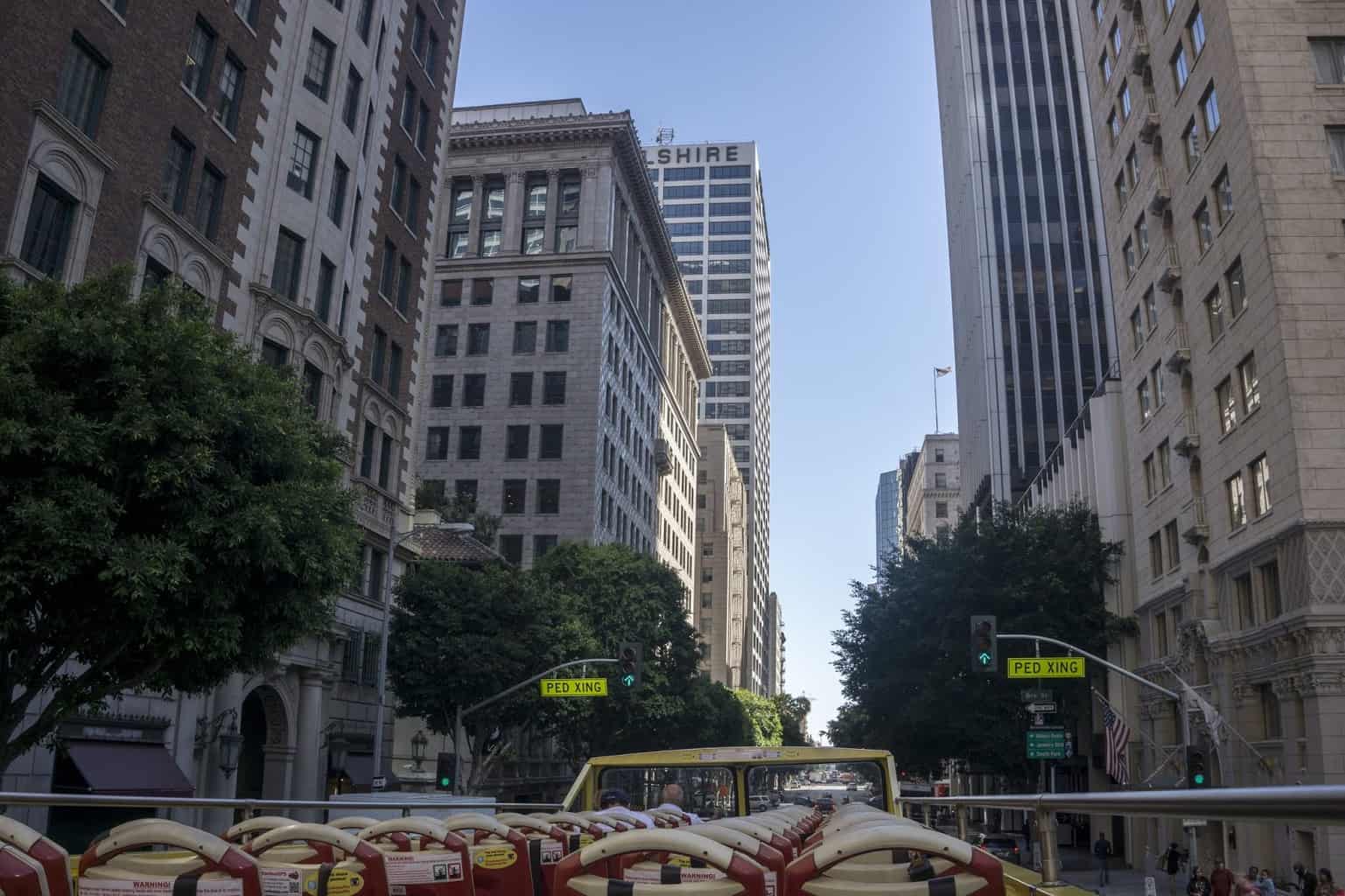 view from the Starline open-top bus, Los Angeles
l
But for those who do visit, it's likely your time here won't be for weeks. And if you're combining a short trip with a large city, and don't plan on hiring a car, there have got to be few better ways of getting your bearings and seeing all the main points of interest than with a hop-on-hop-off bus tour, such as with Starline. The routes they offer combined covers a whopping 100 miles of LA.
Some people say they're touristy. And of course, tourists use them. But so what? I am too, a tourist, and I love the idea of being driven around to the parts of town I should be seeing, with a commentary telling me a load of interesting stuff about what I'm looking at (see Did you know? below for the interesting things about this city I learnt on the tours), whilst catching some rays and being able to look up at the city's great architecture (of which there is a lot, by the way). I've done one of these in San Francisco, in Spain, and even in my home town of London.
Starline offer a range of sightseeing excursions and guided tours that highlight everything from LA's most iconic sights to forgotten chapters of the city's captivating past. Some of their most popular options include the Grand City Tour of LA and their hop-on hop-off sightseeing bus (what we did), but they also offer multilingual tours of Los Angeles attractions, excursions to movie studios and local theme parks, and beach tours that showcase the city's spectacular Pacific coastline (you can see a picture of Santa Monica Bay at the top of the post, for example).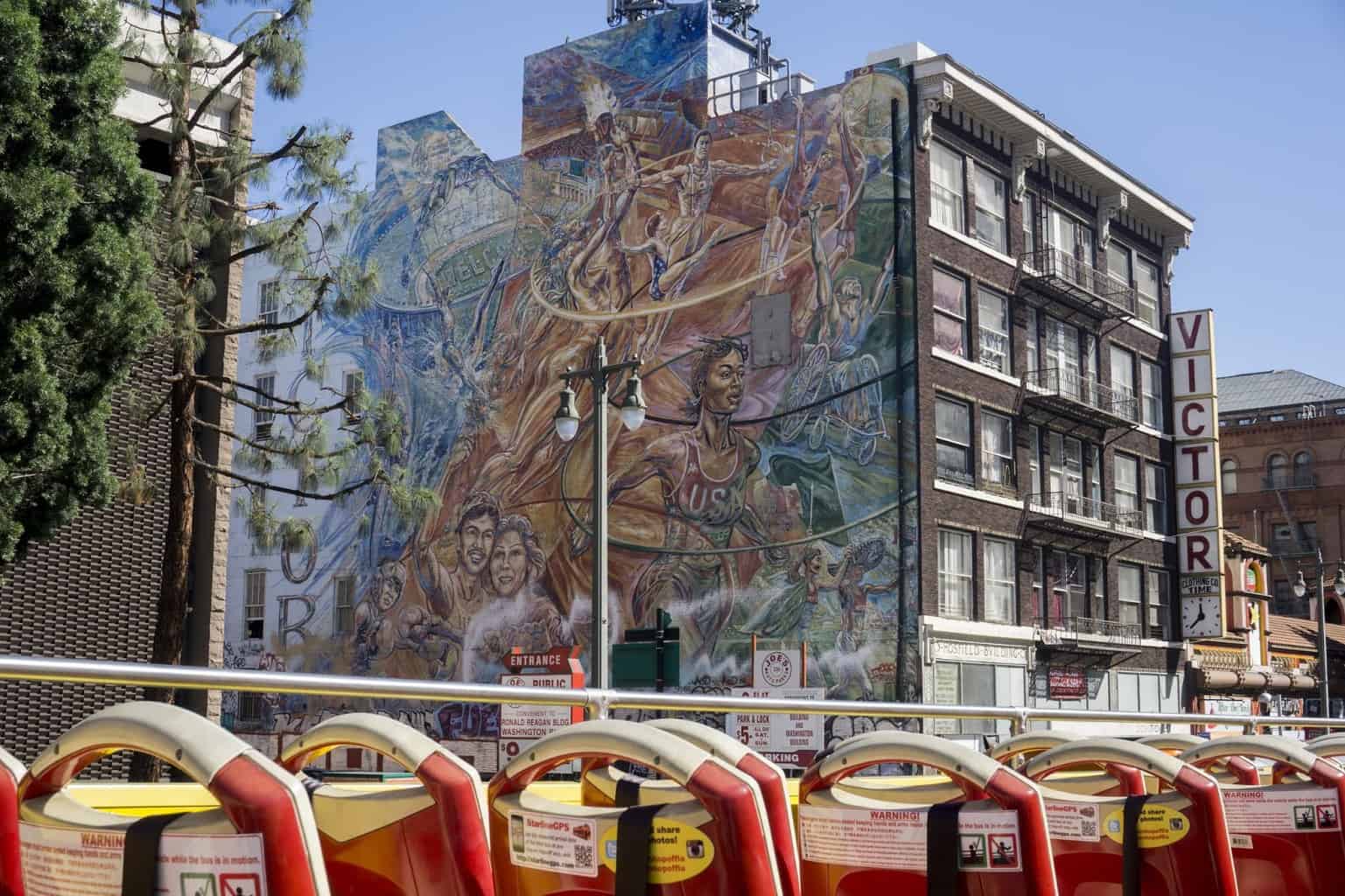 view from the Starline open-top bus, Los Angeles
l
They have a GPS tracker for all their buses so you know when the next is due, meaning you don't have to hang around waiting an age for one. And the photo opportunities from the roof are great (see above), as well as all the places we hopped-off at, most images of which can be found at the end of this post.
We got a three day pass, allowing us to comfortably ride the three main routes, allowing plenty of time to hop-off and explore. Whilst we used public transport to get us to and from town from where we were staying near Korea Town, we pretty much exclusively relied on the Starline buses to get us around once we were there, and they were really enjoyable rides.

There are a whole host of different ticket options available from Starline, but the three day hop-on-hop-off passes we got are $74 (£48) for adults and $45 (£29) for children.

Note: Starline kindly hosted our passes as part of a media package. All views remain my own.
The best things I ate this week

Where to eat in Los Angeles
Taco Tuesdays
Tuesday's in the USA are also known as Taco Tuesdays. Meaning, if you find a place selling tacos and it's a Tuesday, they'll likely be on offer. Such as at Calle Tacos, a family-run Mexican joint on on Hollywood Boulevard, where they're half price at $1 a pop.
Have them with carnitas (pork), beef, chicken, fish and fill your boots at the self-serve bar with pickled veg, roasted chilli peppers and homemade sauces. A good pitstop if you're doing the Hollywood walk of fame.
Calle Tacos, 6508 Hollywood Blvd, Los Angeles, CA 90028
Snickers doughnut
California Donuts is a 24/7 retro-style bakery doling out warm doughnuts, muffins, milkshakes, coffee, and stuffed croissants the size of your face. It's had a queue of at least 15 people whenever I've gone past it, and they dress their baked goods with the likes of Lucky Charms, crushed Oreos, M&M's, and maple bacon.
They're light, fluffy, and despite those sugar-loaded topping options, they're not too sweet. They've also put a Snickers bar inside a doughnut. And it's a 10 minute walk from where we're staying. So well done them.
California Donuts, 3540 W 3rd St, Los Angeles, CA 90020
In-N-Out Round 2: Animal (+ green juice)
Here's a food equation for you. An In-N-Out double-double + the LA arm accessory that is a cold-pressed green juice from Juice Crafters = no harm done? Pretty sure that's how it works.
(This time, I asked for the burgers Animal (see last week's post for reference); could have had another)
In-N-Out, 13425 W Washington Blvd, Marina Del Rey, CA 90292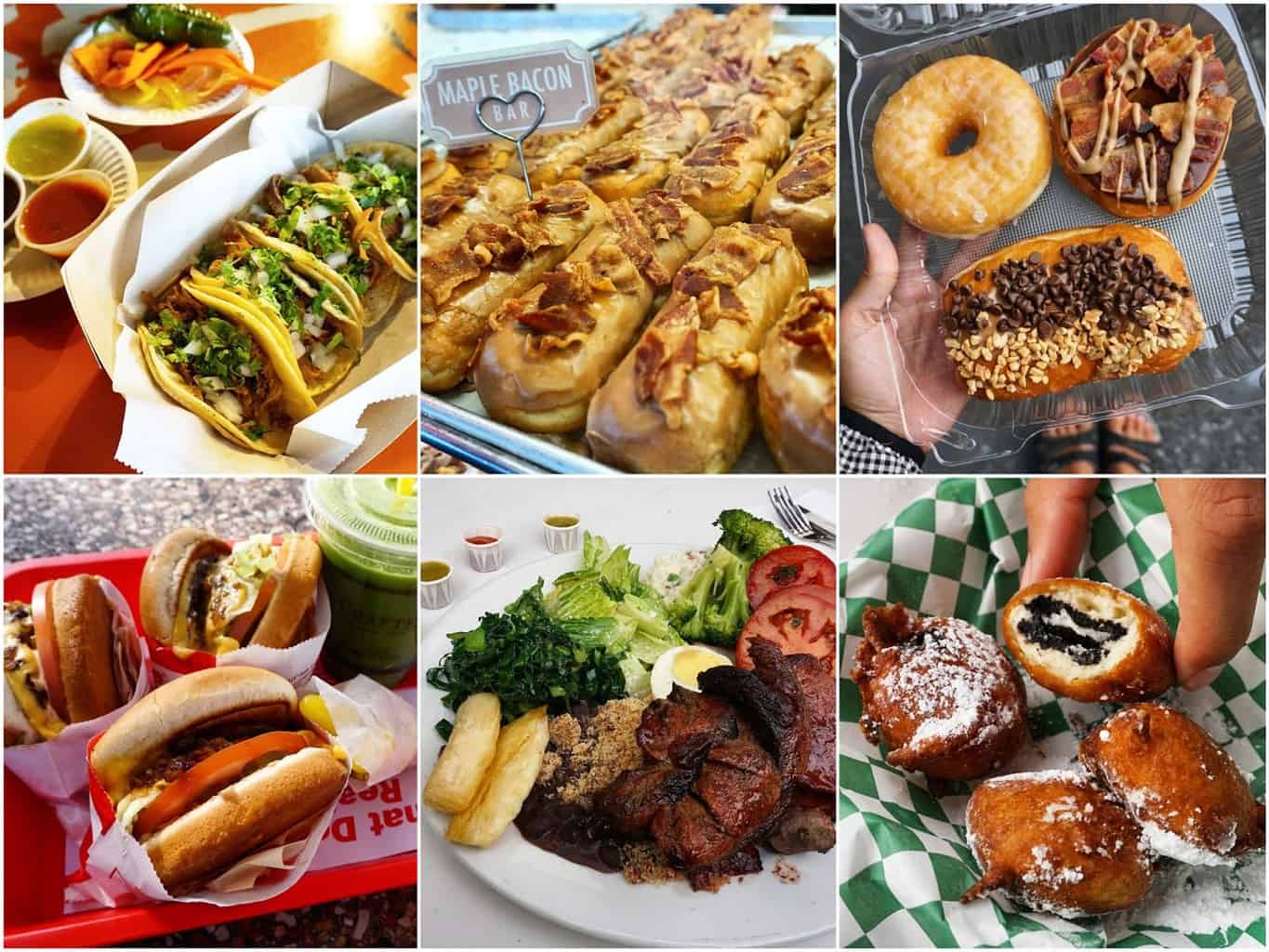 top: Taco Tuesdays, 24/7 doughnut flavours
bottom: In-N-Out and green juice, Brazilian BBQ, deep-fried Oreos
l
Brazilian BBQ
Sirloin cap and lamb churrascaria (Brazilian BBQ), roast yucca, feijoada (Brazilian black beans), yucca flour, and collard greens. Pampas Grill does a buffet of sorts – pile up what you fancy from the bar, get your meat carved to order, get the plate weighed and pay per pound. A solid feed.
Pampas Grill, Farmers Market, 6333 W 3rd St #618, Los Angeles, CA 90036
Hot beach biscuit
There may or may not be deep-fried Oreos to be found at Venice Beach..
Seek them out.
Salvadoran feasting
We've been staying in a fully Hispanic neighbourhood, near Korea Town, where absolutely everything is written and spoken in Spanish. And you know what that means, great eating. Los Molcajetes is a local Salvadoran joint (the country of El Salvador being in Central America) full of locals with their families or getting take out.
They claim to make the best pupusas in LA. A traditional Salvadoran dish of stuffed and griddled disks of slaked cornmeal or rice flour, the ones pictured with revueltas (pork, beans and cheese).
The chicken tamal – a cornmeal dough shell filled with an ingredient, often meat, then steamed in corn husks – was full of flavour, as was the salpicon – minced beef with mint, coriander, onions, radish, beans and rice. And there was a thick, piping hot tortilla. It was a hearty, and inexpensive, feed.
Los Molcajetes, 2748 W Temple St, Los Angeles, CA 90026
Buttermilk short stack
We'd been in the States for almost a month before realising we'd failed to have any fluffy buttermilk pancakes. Which everyone knows whilst visiting America, is against the law. This was swiftly rectified at downtown LA institute, The Original Pantry. Open 24/7/365, it hasn't closed since its first day in 1924. A proper old school diner, great service, frequented by stars, presidents, and the rest. I bet it's a lot of fun at four in the morning
The Original Pantry Cafe, 877 S Figueroa St, Los Angeles, CA 90017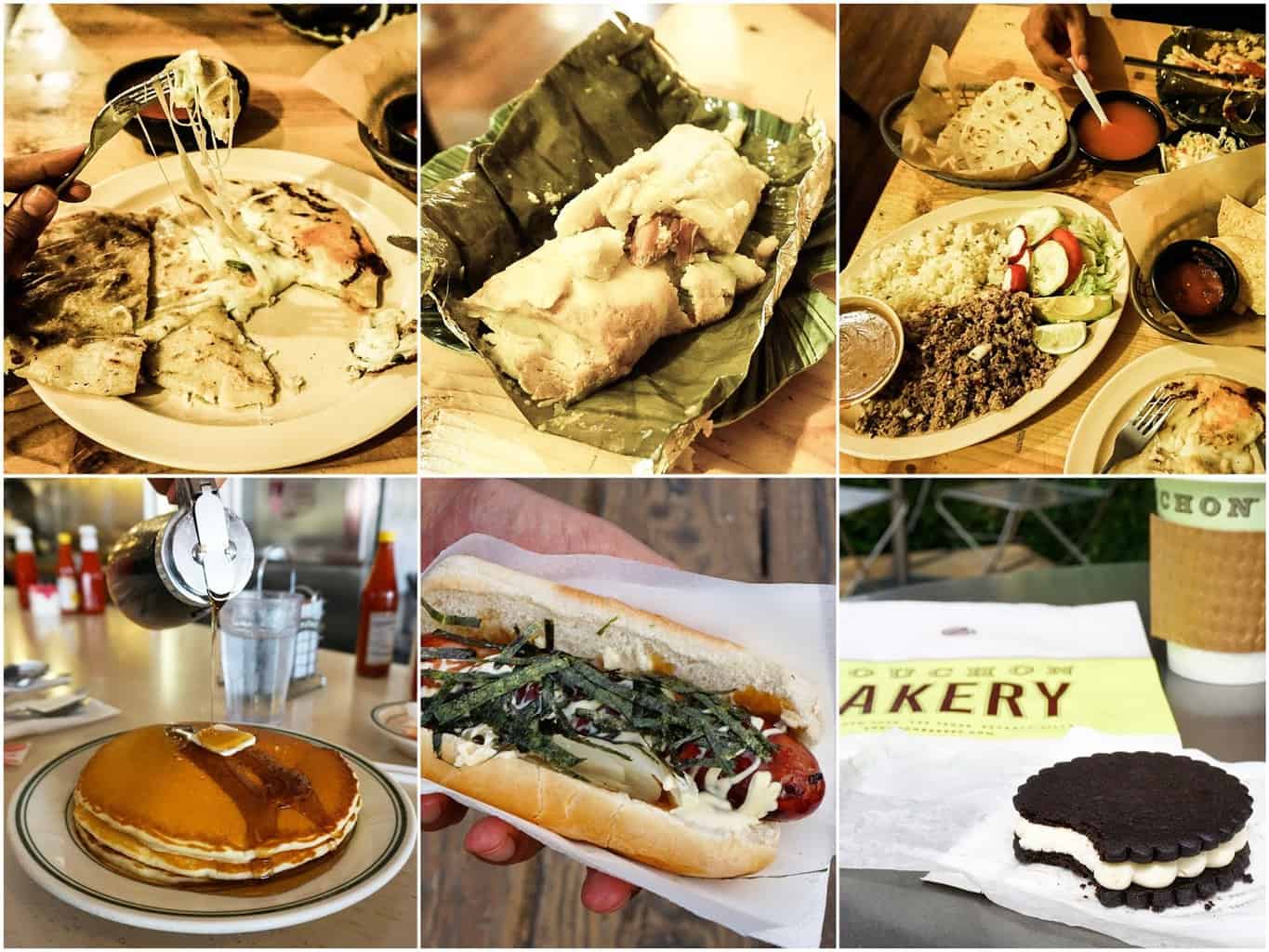 top: Salvadoran pupusas, tamal and salpicon
bottom: short stack of buttermilk pancakes, Japadog, a take on an Oreo
l
Japanese hotdogs
A street food vendor starting in Vancouver, Cananda, the guys at Japadog on Santa Monica Pier have forged a loyal following over the years. They fuse Japanese flavours with the all-American hot dog, so you can expect your dogs topped with bonito flakes, daikon, soy sauce and even noodles. Pictured is their most popular, the Kurobuta Terimayo – Kurobuta pork, fried onions, teriyaki sauce, Japanese mayo, seaweed.
Japadog, Bike Path, Santa Monica Pier

Oreo-style
You'll find high-end sandwiches and French desserts at this tiny counter-serve nook in Beverly Hills with parkside patio seats. Bouchon Bakery is a venture from chef Thomas Keller, sitting alongside the Bouchon Bistro. Make a beeline for the TKO or Thomas Keller Oreo. An elegant, giant Oreo, deeply chocolatey, with a white chocolate based cream that's far more satisfying than sugar paste.

Bouchon Bakery, 235 N Canon Dr, Beverly Hills, CA 90210
Did you know?

I learnt a heap of interesting stuff from the audio commentary on the different Starline Tours Hop on Hop Off LA routes we took around Los Angeles (here's the map of all their routes), including Beverly Hills, Hollywood, and Santa Monica.
Little Tokyo
Little Tokyo is one of the only three official Japan towns in the USA. All three can be found in California, with the other two in San Francisco and San Jose.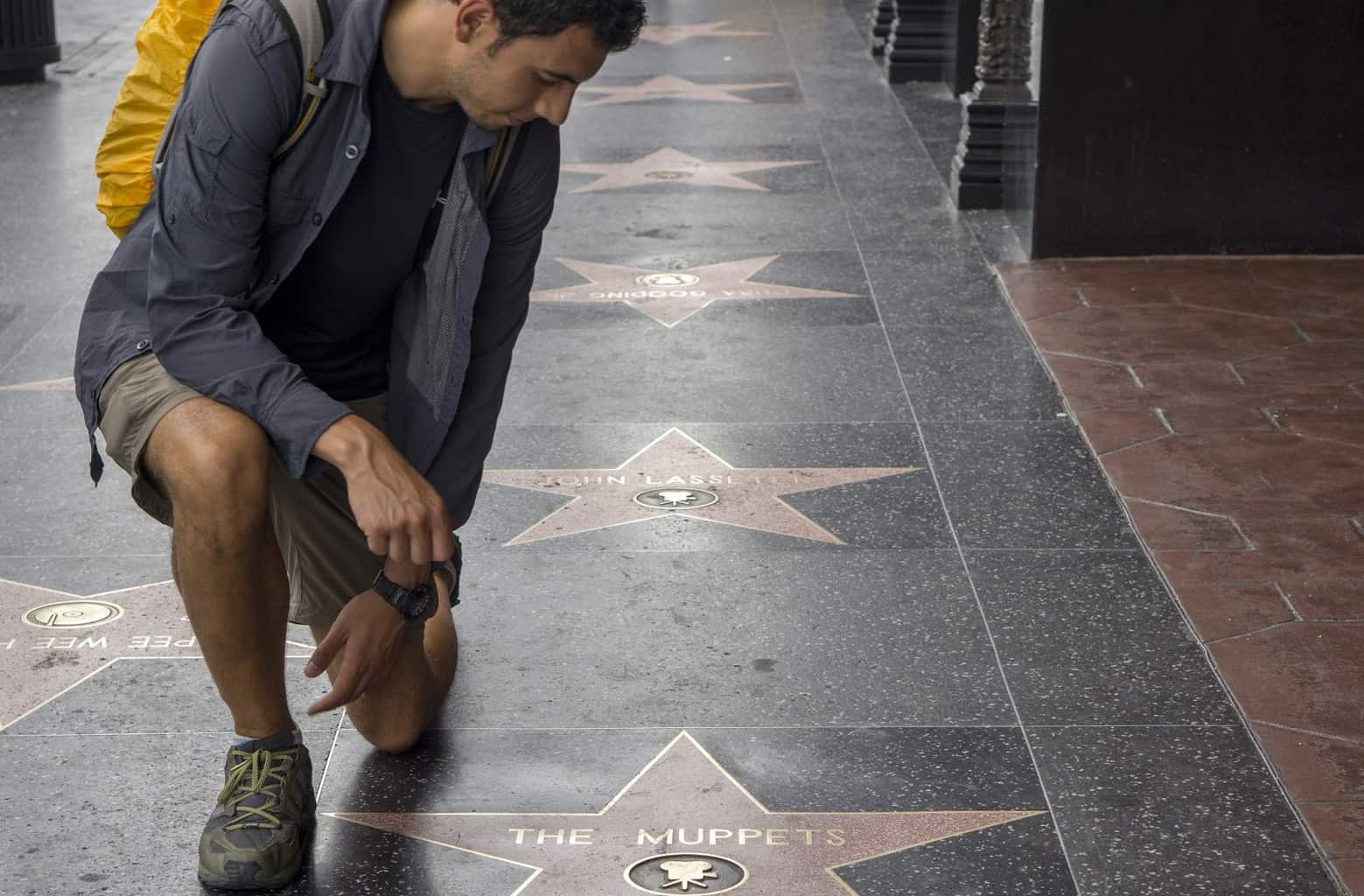 The Muppets on the Hollywood Walk of Fame
Hollywood Walk of Fame
The internationally recognised Hollywood Walk of Fame stretches a whopping 15 blocks down Hollywood Boulevard, and celebrities are not limited to just one star.
There are five categories: Motion Pictures, Television, Recording or Music, Radio, and Theatre/Live Performance, with the category depicted by the icon used on the star. If a celebrity is famous in more than one category, they can have more than one star.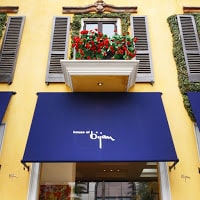 House of Bijan, Rodeo Drive
Beverly Hills
Oil county
Los Angeles is the most populus county (that's a subdivision of a state) in the USA. If it was a state, it would be the 9th largest in the country. It also lies over four major earthquake faults, and is actually one giant oil field. There's oil being pumped from under the Beverly Shopping Centre right now, and there are 3000 active oil wells throughout LA county.
Beverly Hills nuances
The residential streets of Beverly Hills have separate alleyways that run behind and parallel to the houses. Their purpose? For the garbage trucks to skulk down out of sight, so the residents don't have to endure their horror whilst out on their morning powerwalk with the pooches.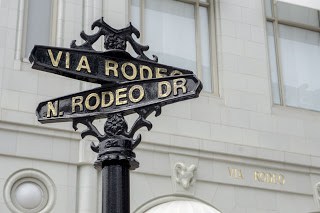 Rodeo Drive, Beverly Hills
In addition, whilst all of the fire hydrants in the state of California are painted yellow, the ones in Beverly Hills are silver. Because you know, the residents thought it would be a good thing to spend money on.
Rodeo Drive
Rodeo Drive – arguably the most expensive stretch of shopping street in the world – was made famous by Julia Roberts when she strutted down it in a mini-dress with a wallet full of Richard Gere's plastic, only to be turned away by snobby sales assistants.
Well, this road also has the House of Bijan, "the most expensive store in the world" we're told. It's a menswear boutique that is by appointment only, and the average spend in one hit is $100,000. These guys dress film stars, presidents and royalty.
I had of course, never heard of it.
My insider tips
uberPOOL
Uber is a great service as it is. We've used them both in San Francisco (where it was launched, but then everything seems to start in SF) and in Los Angeles, but only this week did we discover the UberPOOL option. If you switch it on, the service matches you with another rider heading in the same direction. You both use the same car (up to two people per pick-up) and the fare you pay is greatly reduced for it. Trips are up to 50% less than a standard Uber fare.
We used this option a few times. On one occasion, we were still only charged half price even though there was no second pick-up. So it looks like you still get the savings even if you don't end up sharing the car. Another time, we joined a single traveller heading in our direction. We were in the car for around 40 minutes, going right across LA, and it only cost about $10 (£6). Which is bloody brilliant.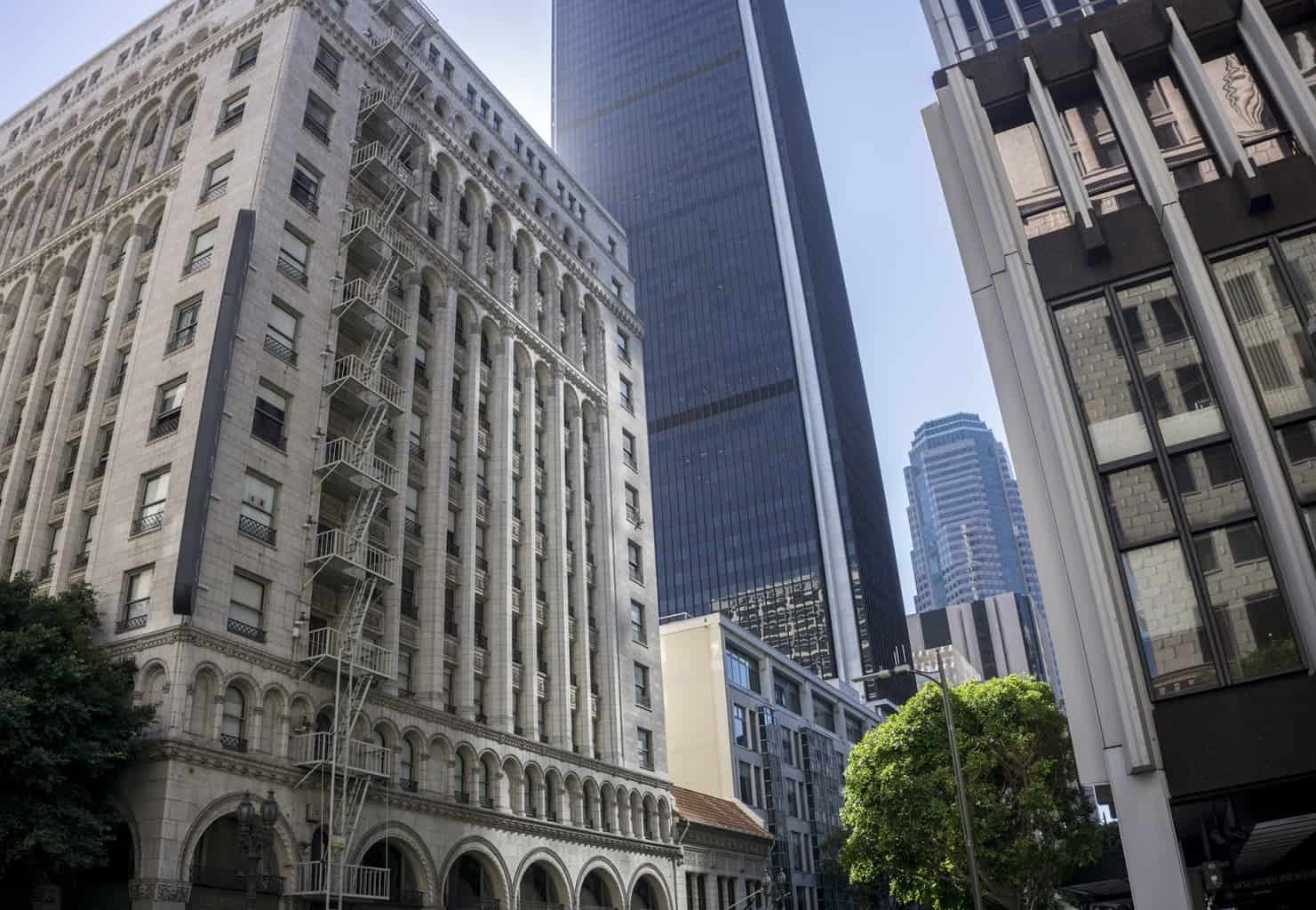 Los Angeles skyline – view from the Starline open-top bus
l
Griffith Park
My other tip would be to definitely hike some of the trails in Griffith Park. The views from the Griffith Observatory at the top are the best you'll get in the city, and if you hang around until the end of the day, you'll get to see the sun setting behind the Hollywood sign.
It's a perfect way to spend half a day closer to nature, away from the endless cars, and get a perspective on just how sprawling Los Angeles is.
The observatory itself is also free, and you can take a look through the telescopes once they set them up around sunset.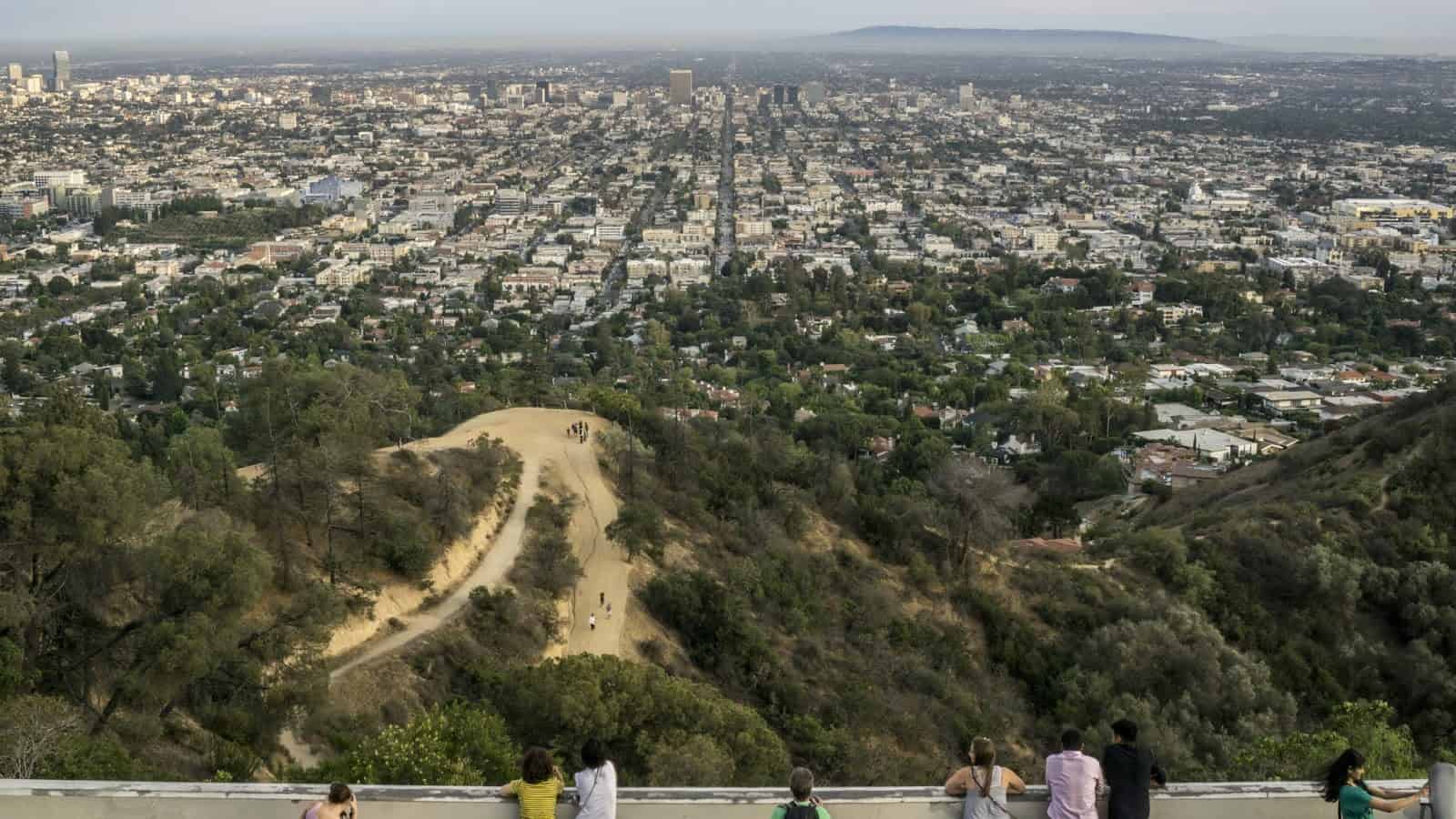 the view after hiking up to Griffith Observatory, Los Angeles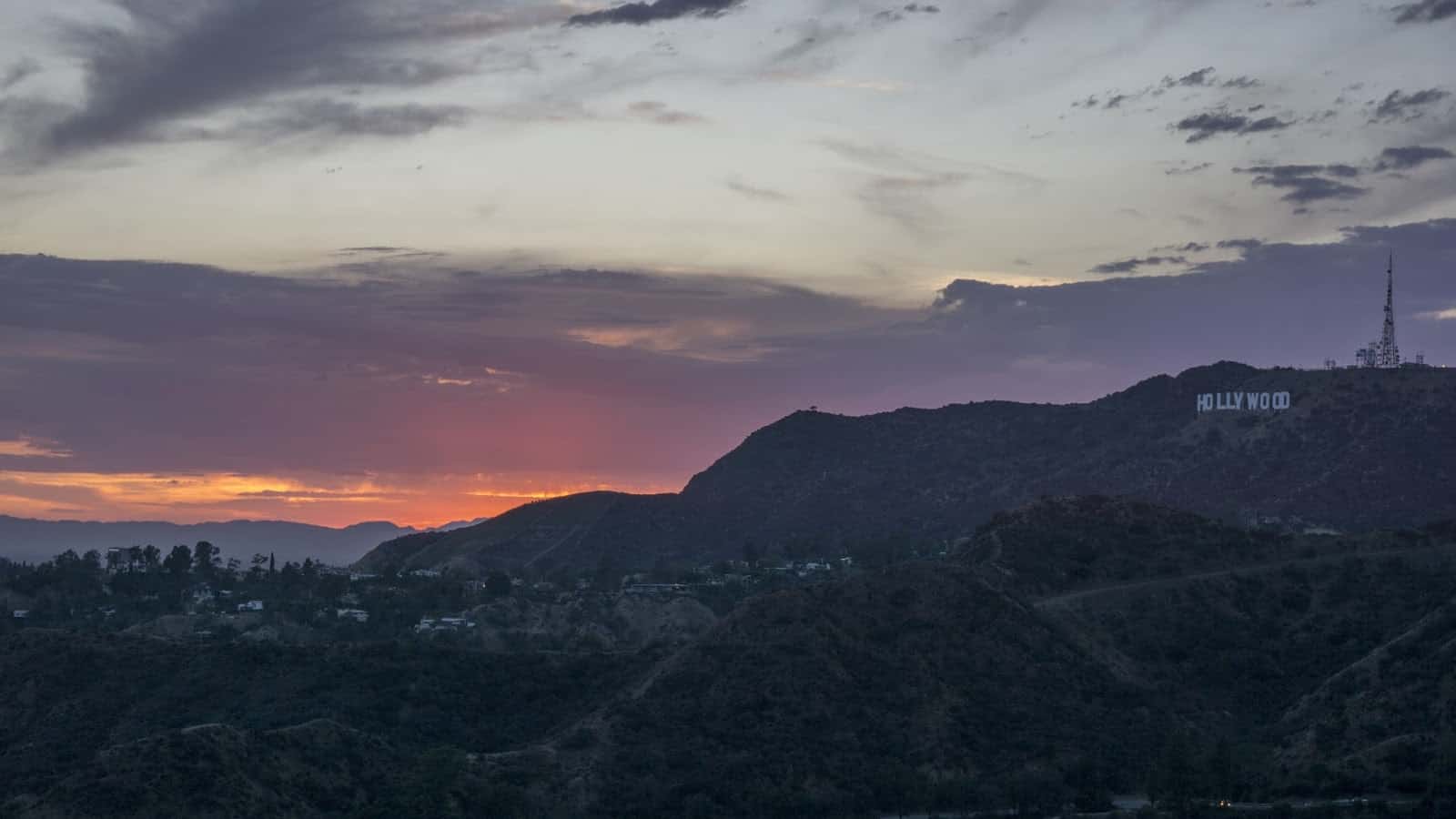 sunset from Griffith Observatory, Los Angeles
l
Highlights / Lowlights
Highlight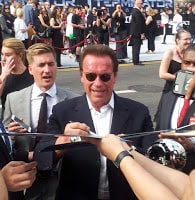 Arnie
On our first day here, whilst I was stuck indoors finishing off last week's post on San Francisco, Matt popped over to Hollwood and stumbled across the premier of the new Terminator Genisys film. And Arnie was there. Our collective one and only celebrity spot during out time in LA.
We're big fans of the multi award-winning American sitcom Modern Family (on Sky 1 if you're in the UK, ABC in America).
The houses of the families used for the exterior shots in the show can be found in LA, and Matt is a big enough fan to drag the both of us on the very long slog to them – a combination of buses and a lot of walking up and down hills (we hadn't yet realised how long it takes to get everywhere at this point) – for a photo op.
If the names Pritchett, Tucker and Dunphy mean anything to you, you find yourself in LA, and you're a big enough fan to want to seek out the houses yourselves, they can be found in very well presented neighbourhoods between Century City and Culver City. These are the addresses – I'd advise to get a cab:
Phil & Claire Dunphy's house: 10336 Dunleer Drive
Cam & Mitch's house: 2211 Fox Hills Drive
Gloria & Jay Pritchett's house: 121 S. Cliffwood Ave. in Brentwood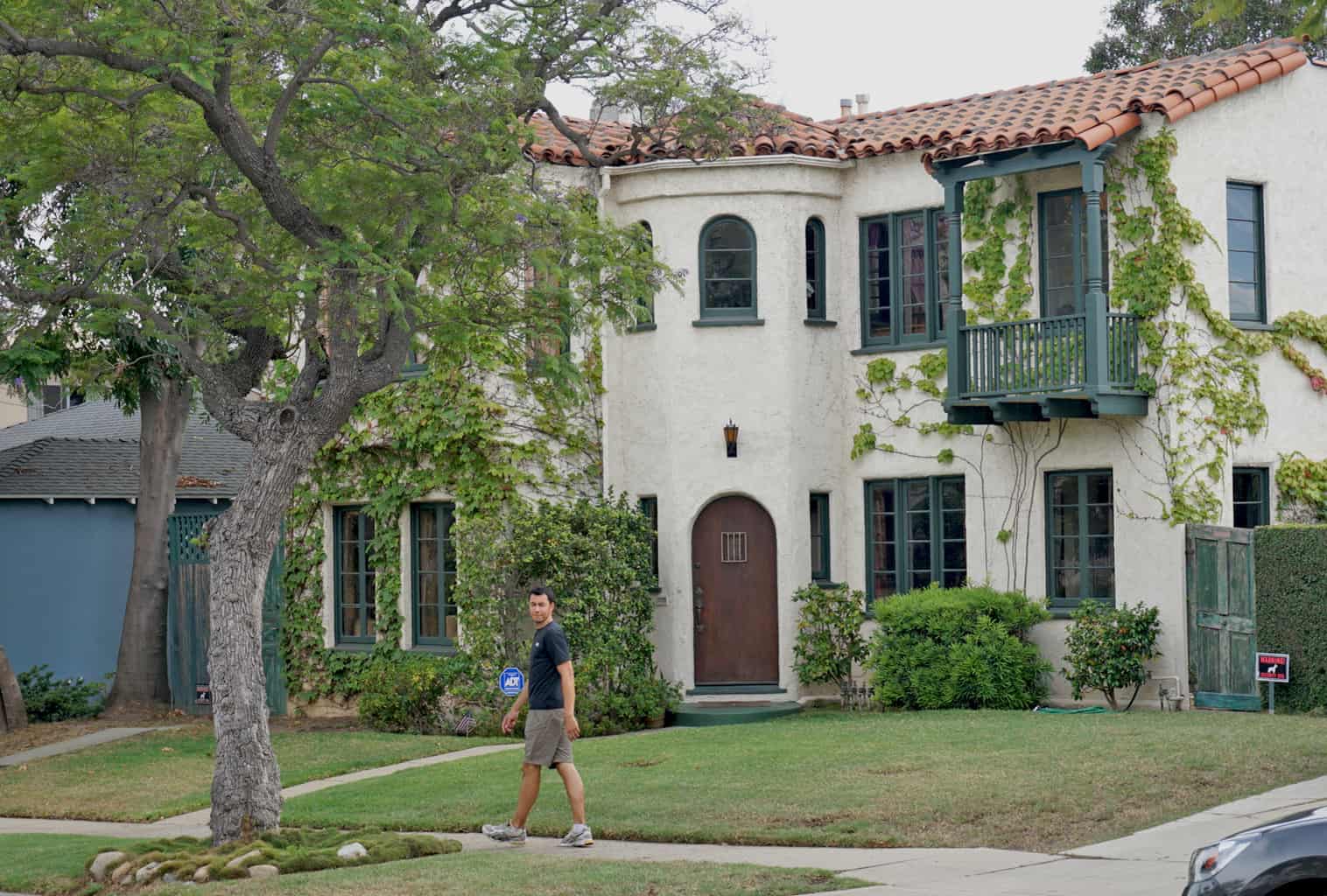 Cameron and Mitchell's House from Modern Family, Los Angeles
Lowlight

As I've mentioned a few times, Los Angeles is not a small place. Public transport is good, frequent, and cheap – $1.75 (£1.10) for a bus fare that could take you right across town – but despite this, it can still take what feels like forever to get somewhere, especially if you're based on one side of the city.
For example, it took over two hours to get to Venice Beach from where we were staying, and that's with hardly any waiting time at the bus stops. We could have flown to San Francisco and back in that time.
Next week
To country number 11, and possibly the one I've been looking forward to the most – MEXICO. We'll be travelling through it for around a month. I'm pretty excited.
Postcards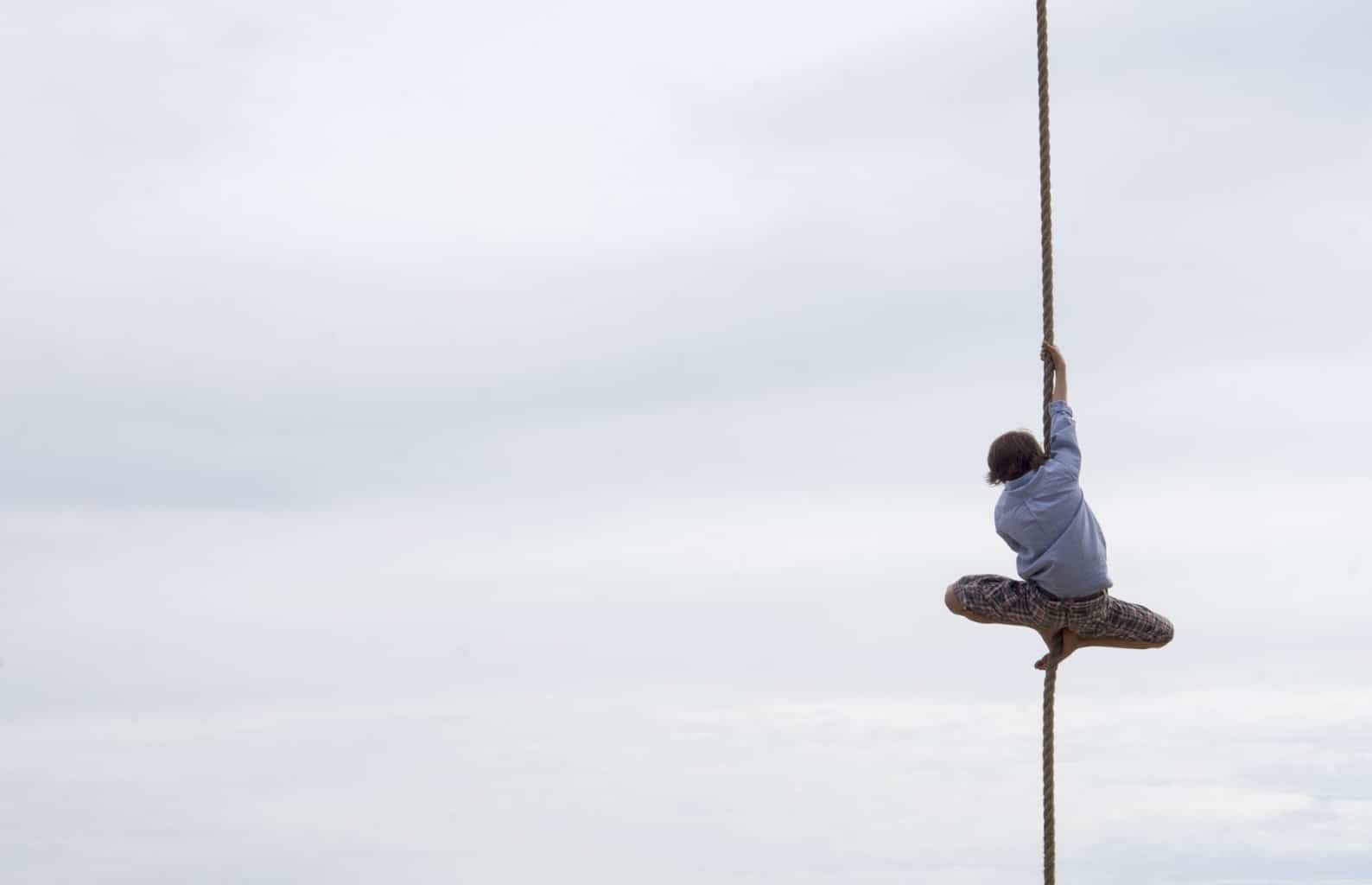 climbing ropes at Santa Monica Beach, Los Angeles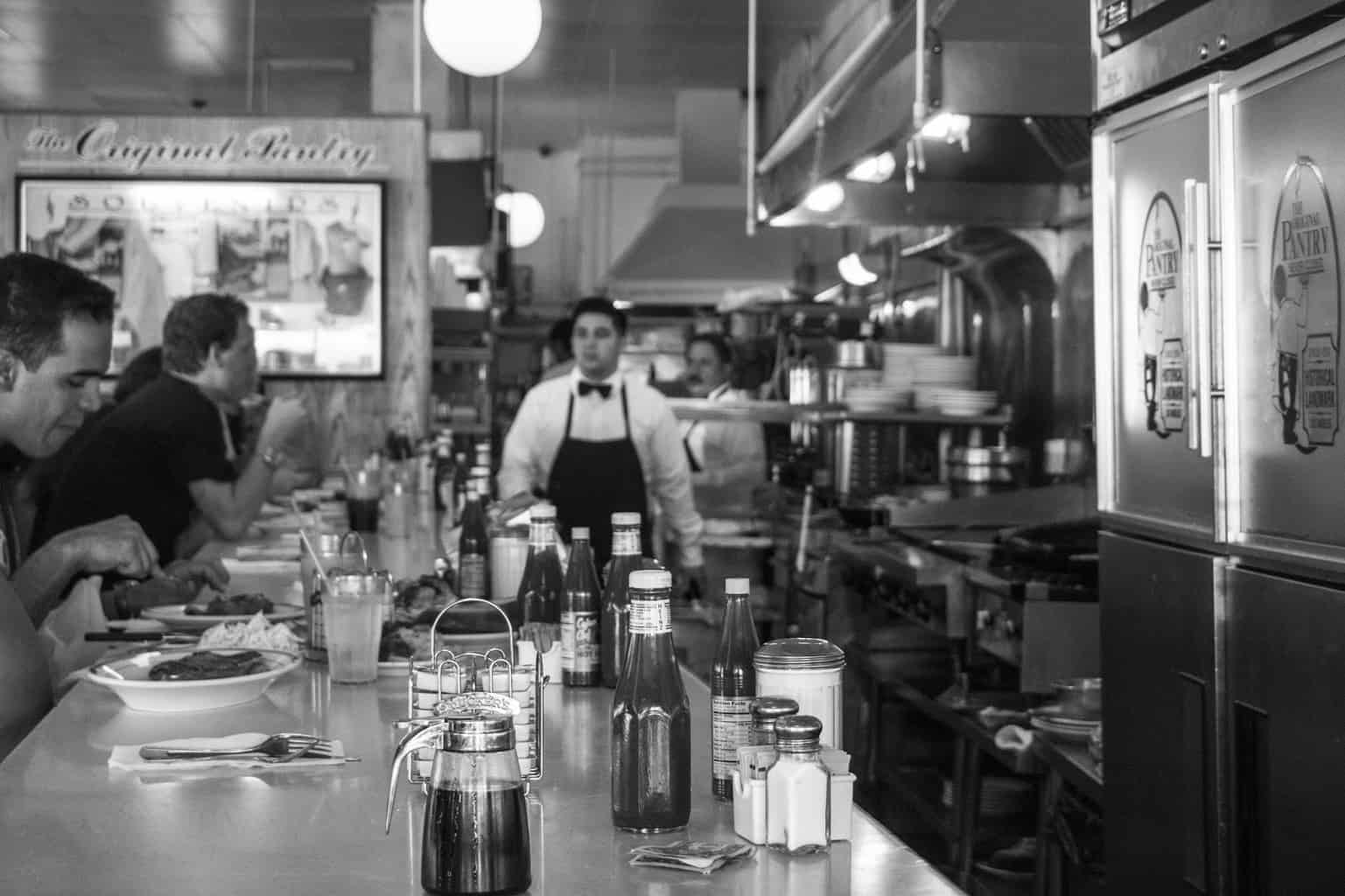 The Original Pantry, Los Angeles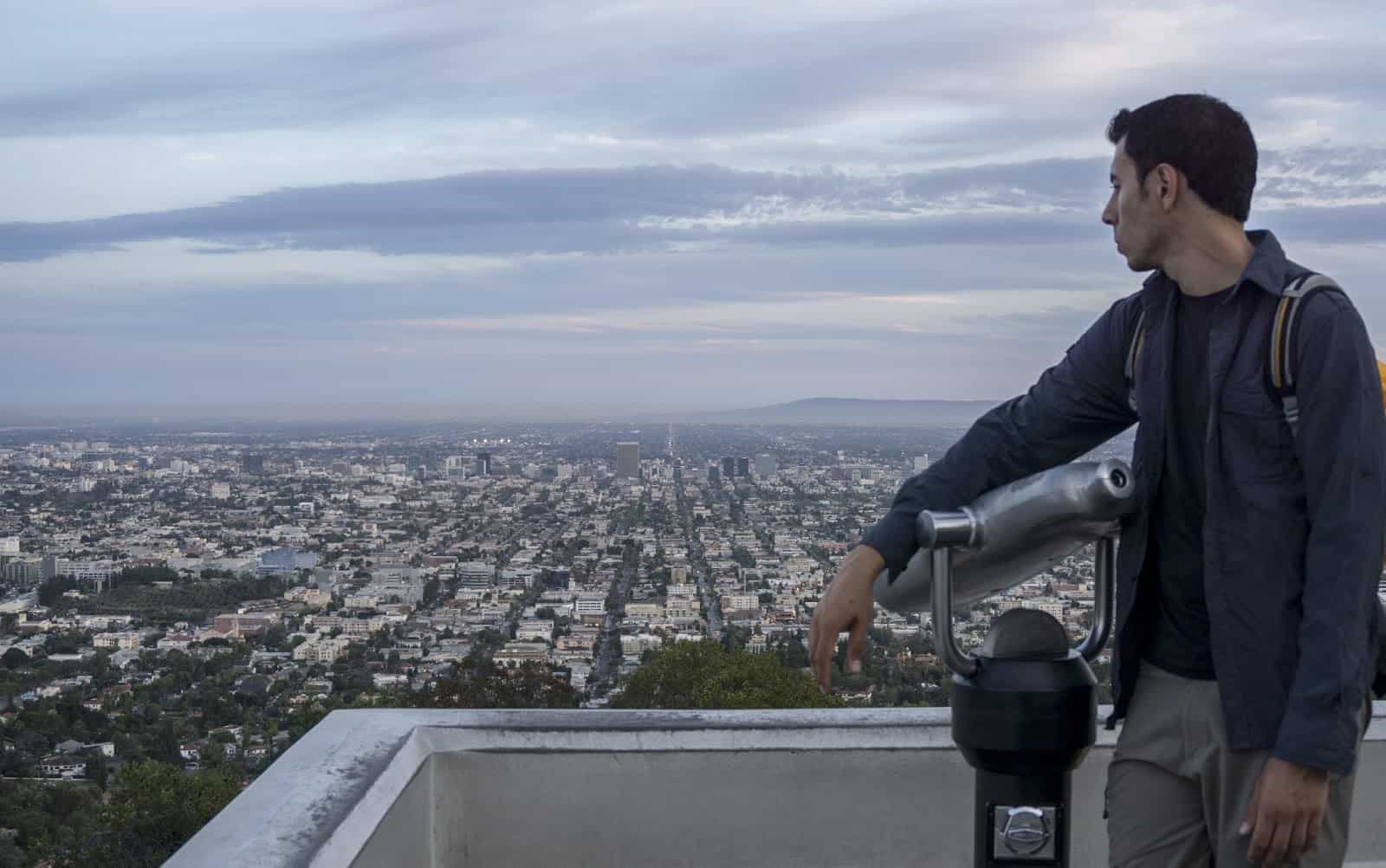 Griffith Observatory, Los Angeles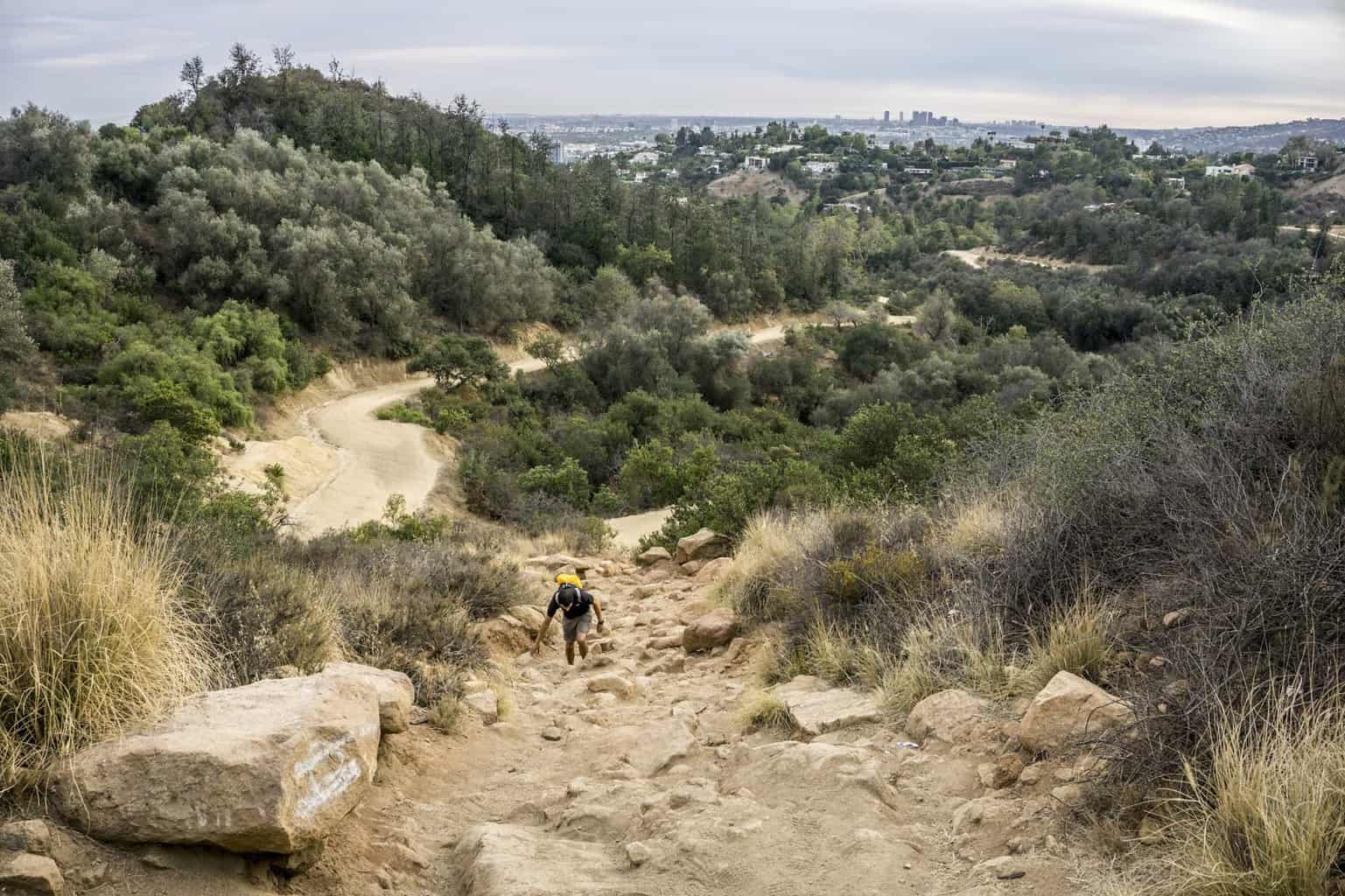 Griffith Park hiking trails, Los Angeles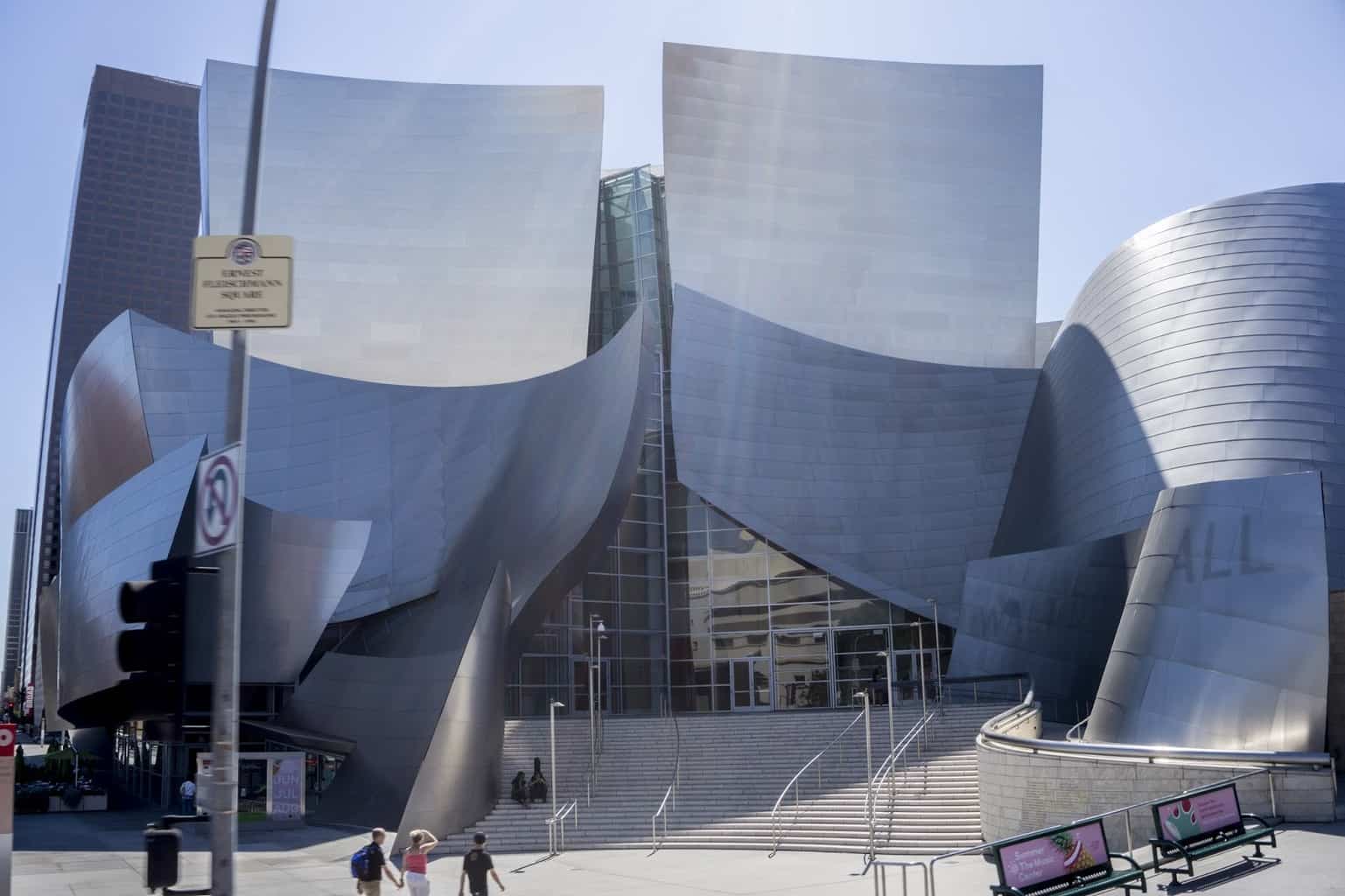 Walt Disney Concert Hall, Los Angeles (taken from Starline open-top bus)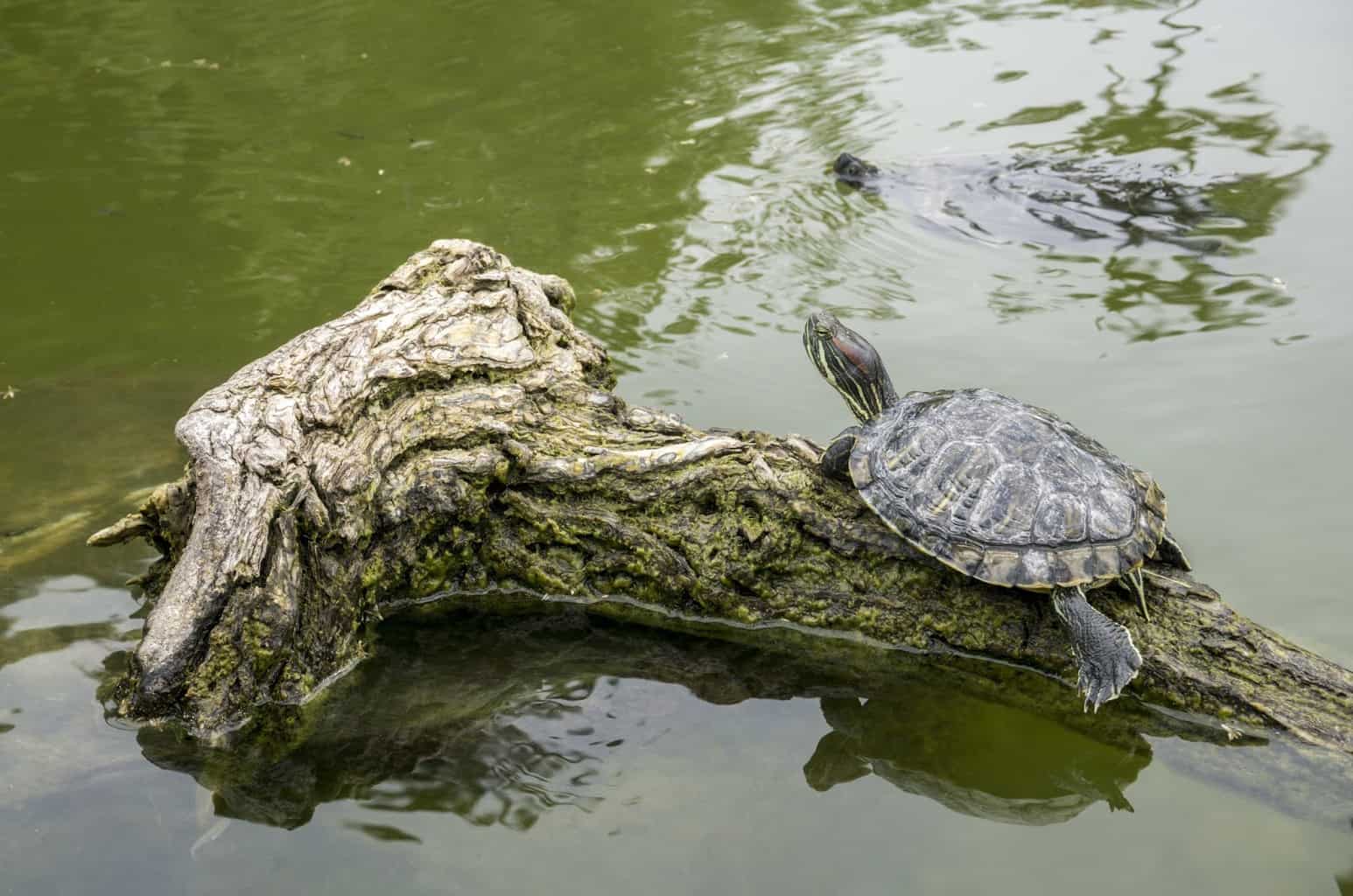 terrapins at MacArthur Park, Los Angeles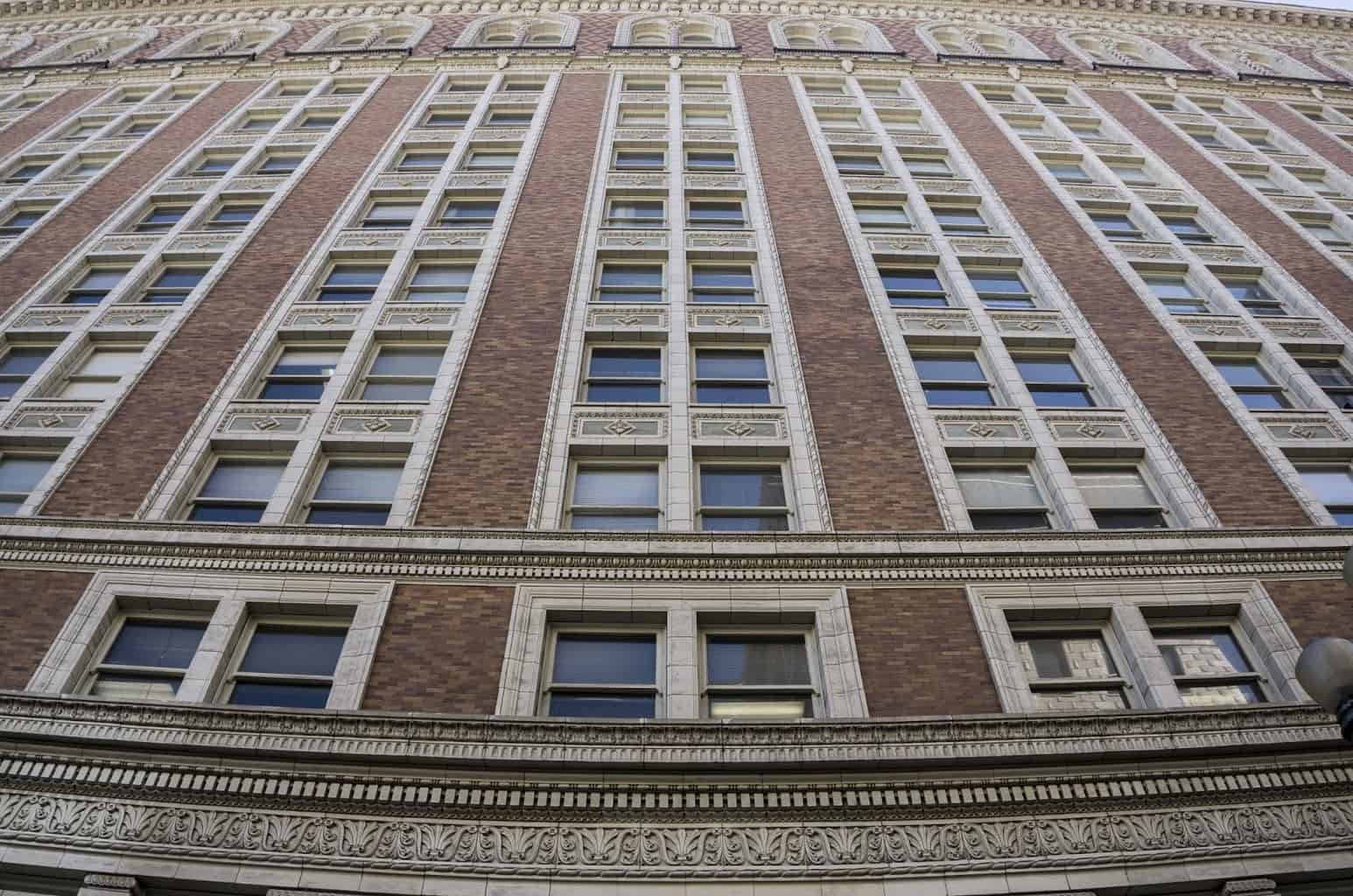 Los Angeles architecture (taken from Starline open-top bus)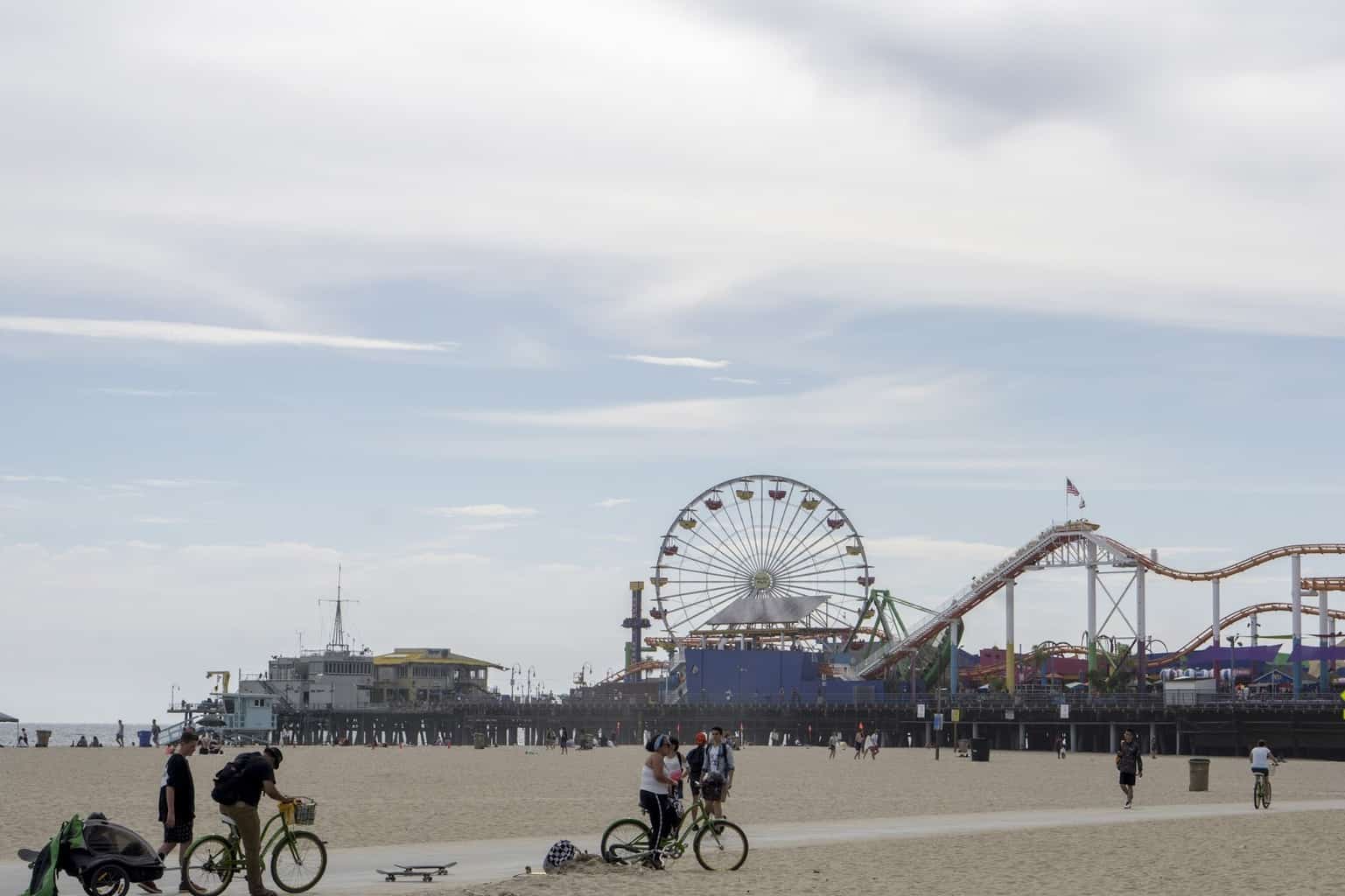 Venice Beach, Los Angeles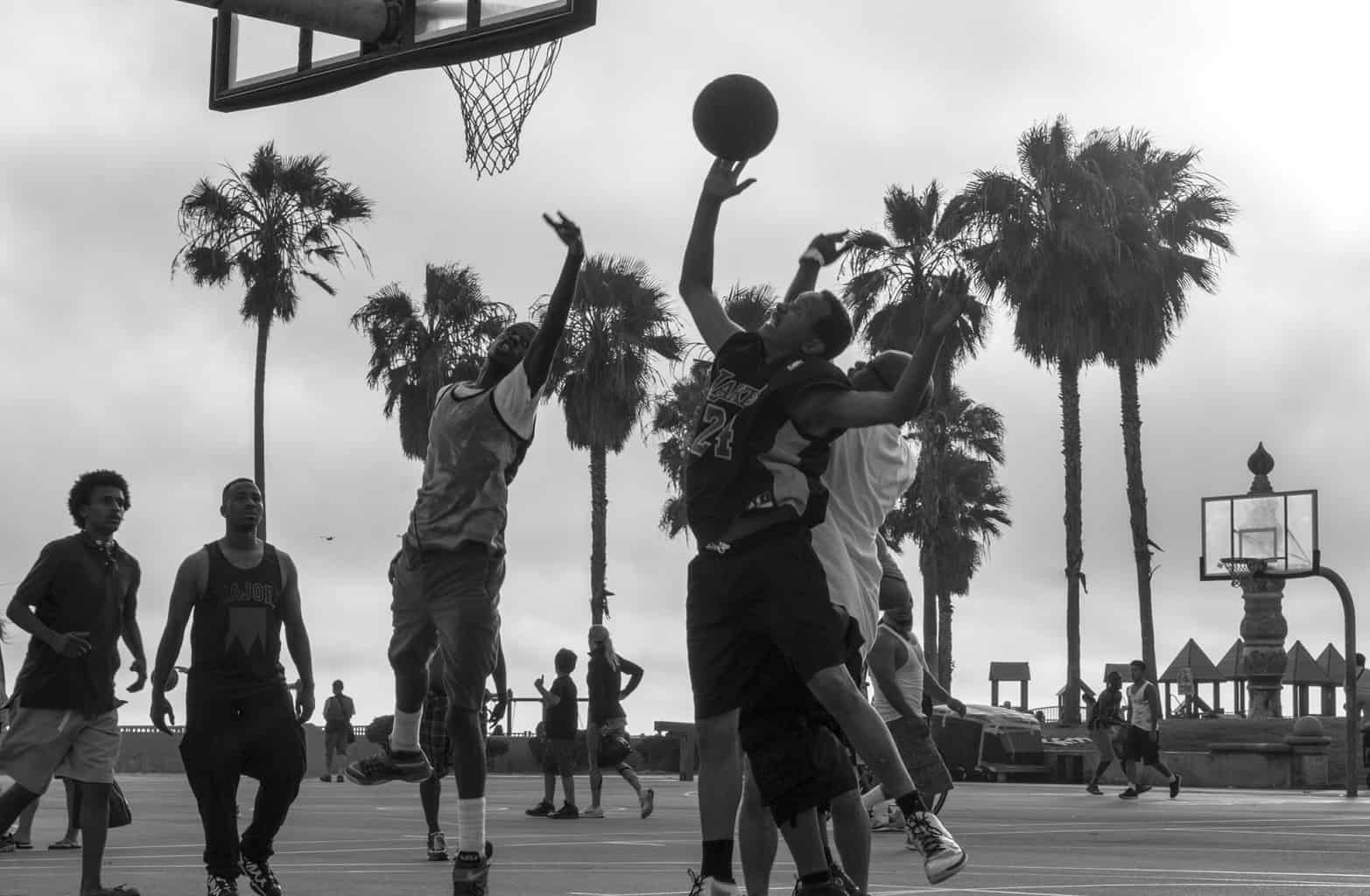 basketball at Venice Beach, Los Angeles

Related posts
Week 0: Gone travelling. London – see you in nine months

Week 1: INDIA – Mumbai → Goa
Week 2: INDIA – Bangalore → Mysore → Wayanad
Week 3: INDIA – Kochi → Allepey → Kollam → Madurai
Week 4: INDIA – Pondicherry → Chennai → Mumbai

Week 5: INDIA – Varanasi → Udaipur → Jaipur → Delhi
Week 6: TAIWAN – Taipei
Week 7: CHINA & VIETNAM – Hong Kong → Hanoi
Week 8: VIETNAM – Sapa → Hanoi → Ha Long Bay → Hanoi

Week 9: VIETNAM – Hue → Hoi An
Week 10: VIETNAM – 6 day / 5 night motorbike tour from Hoi An to Da Lat
Week 11: VIETNAM – Da Lat → Nha Trang
Week 12: VIETNAM – HCMC → Mekong Delta → HCMC

Week 13: CAMBODIA – Siem Reap (and Angkor Wat) → Phnom Penh
Week 14: CAMBODIA – Sihanoukville & Koh Rong Samloem Island
Week 15: CAMBODIA – Kep
Week 16: THAILAND – Chiang Mai

Week 17: THAILAND – Songkran Festival in Mae Rim & Chiang Mai
Week 18: THAILAND – Bangkok → Koh Phangan
Week 19: THAILAND – Bangkok
Week 20: MALAYSIA – Penang → Borneo

Week 21: AUSTRALIA – Melbourne
Week 22: NEW ZEALAND – Auckland → Rotorua → Turangi → Whanganui
Week 23: NEW ZEALAND – Wellington → Nelson Lakes → Hanmer Springs → Christchurch
Week 24: NEW ZEALAND – Lake Tekapo → Mount Cook → Queenstown → Milford Sound

Week 25: NEW ZEALAND & USA – Queenstown → Hawaii
Week 26: USA – Hawaii (Big Island) → San Francisco (Oakland)
Week 27: USA – San Francisco