Last Updated on November 2, 2021 by Leyla Kazim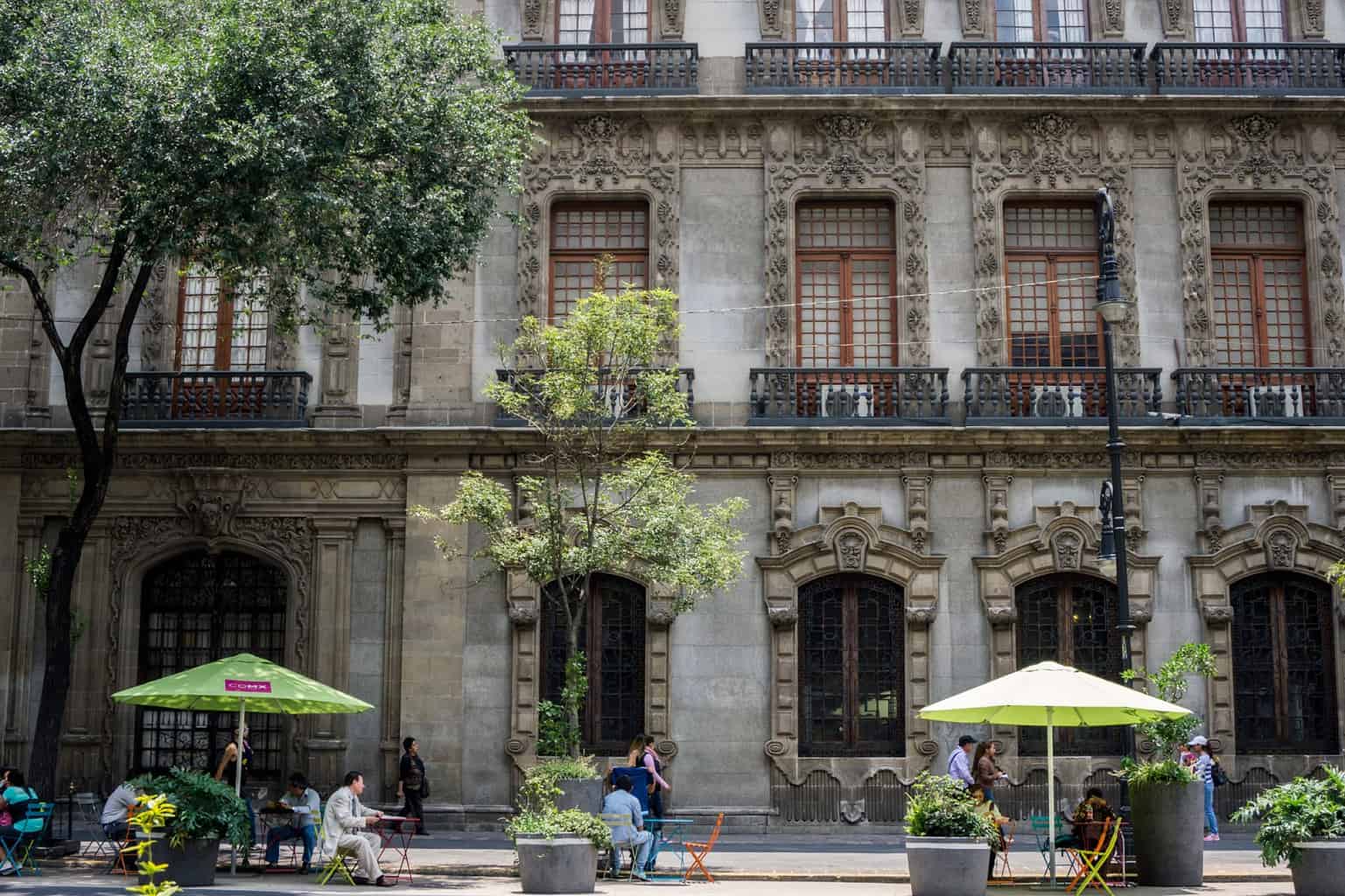 Image of the week: great architecture in the historic centre of Mexico City
More images at the end of post
l
Where in the world

A three and a half hour flight from Los Angeles in California to the capital of Mexico, Mexico City where we stayed for seven nights. Mucho gusto (nice to meet you)!
Thoughts
One of the advantages of having a tanned complexion and hard-to-geographically-pinpoint features, is that it's a great camoflauge. Put us in any country with similar skin tones, and have us stay in an AirBnB in a residential district far from the hotel strips, and the locals will more often than not assume we're neighbours.
Few places have we felt this more than here in Mexico, where absolutely everyone has come up to us in full-throttle Spanish. When we cut them off with yo no hablo español (I don't speak Spanish), they've taken a step back in what I can only describe as a deep sense of shock and embarassed confusion.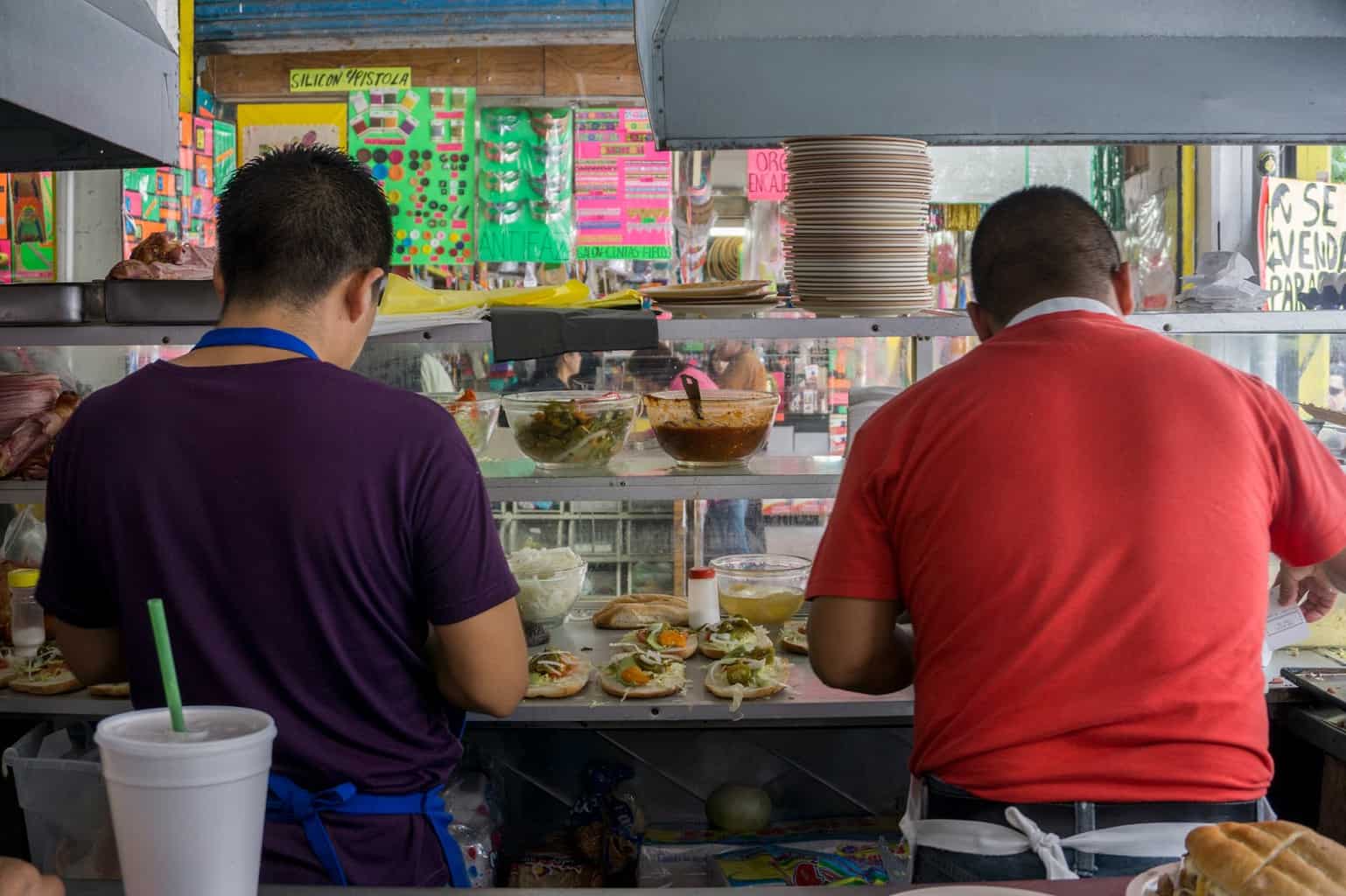 Mexico City sandwiches being made, Mexico City
l
Anyway, my point is, brown skin blends in. There are few things more handy when exploring a new land than looking like you might actually live there. Being inconspicuous means you don't get the tourist treatment. Although, I say inconspicuous. The locals know something's up when they spot a 6″1 Matt and the height of your average Mexican male must be at least an inch shorter than me. And I'm only 5″3.
I'm not sure what I was expecting from Mexico City, but I don't think I was prepared for it to be as clean, tidy, and spruced up as it is. For example, there's Polanco (see The best things I ate this week below for the food tour we had there), the upmarket pocket of the city where Lous Vuitton's grandson lives and where everyone has a good-looking dog. All breeds are respresented, from great danes and dobermans to tiny chihuahuas and British bull dogs.
Of course, it's far from representative of what the rest of country is like; our Polanco food tour guide classes Mexico as 'third world'. But regardless, other parts of town were an equal pleasure to saunter around – where the museums are, the main central square, the residential area our AirBnB was in.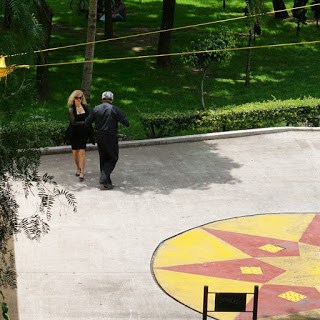 al fresco weekend salsa dancing, Mexico City
I was a little disappointed I saw no evidence of the gang and drug warfare the news is so good at reporting (although, I'm sure it's there if you're looking for it). We barely even saw a single dodgy character during the whole week (and we took the Metro everywhere – see Insider tips and Lowlight below), and no one tried to rip us off*.
The majority seemed genuine, polite, happy to engage, and couples are heavy on the PDA's – all ages hugging and snogging and petting most places you look.
[*Although I'm pretty sure I got mugged off when charged £5 for half a kilo of cherries. But then it was the upmarket Mercardo San Juan (see Best things I ate this week below). And they were fabulous cherries. No regrets.]
They call this time of year in Mexico City the rainy season. Which roughly translates to sunshine all day, followed by clouds drawing in around 4-5pm and a short 20 minute shower you can almost set your watch by. I love how the overcast skies make the brightly coloured buildings pop with vibrancy. It's hardly any rain at all really, yet it means we've spotted less than a handful of tourists. They tend to come over around December.
The city's traffic is notoriously bad, with what would be a Sunday 20 minute journey taking up to two ours at rush hour on a week day. But for the 10th most populas city in the world, outside on the streets, in the open spaces, and around the street food stands, it doesn't seem all that hectic. And there's a completely different feel on the weekends. The streets are quieter, you can get a seat on the metro, people salsa dance in the street, families hire rickshaws to cycle through the parks.
As you might expect, our time in Mexico City was heavy on the food (see The best things I ate this week below). And boy, what food. The street food stalls are some of the best looking I've come across on these travels, more like extensions of kitchens, some even with table (or more accurately, stool) service.

All in, it's been a spiffing week. and we're very much looking forward to what the rest of the country has to offer.
street food stall, Mexico City
l
The best things I ate this week

Two separate food tours this week unveiled a host of superb and authentic Mexican dishes. Both covering quite different ground, they are equally great introductions into the vibrant, diverse and entirely delctable cuisine to be found in this part of the world.

Street food tour in Mexico City
The Mexico City Street Food tour from Eat Mexico is a three to four hour kerb-side grazing extravaganza through the city's business district and nearby residential neighbourhoods, feasting on one of the world's most vibrant street food scenes.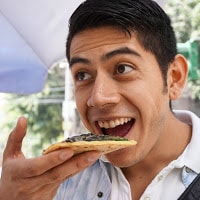 Arturo from Eat Mexico
Meandering from stand to stand, you'll learn about the history of each dish and eat so much that you might end up requesting half portions towards the end. My advice – skip breakfast.
Thank you Arturo for being a fantastic guide and a pleasure to spend the morning with. I particularly like the handy list of useful phrases handed out, to use when ordering street food. And the fact Arturo joined us eating at every stage – most food tour guides don't. What can I say, the man loves his food.
Here are some of the choice wares we enjoyed:
Tamales – stuffed, steamed corn dough
Tamales are masa (corn-based dough), steamed or boiled in a leaf – corn husk, banana leaf, avocado leaf – take your pick. It's an ancient food from the days before the Spanish invaded, pre-dating tortillas by about 500 years to 3000 BC. Here, a striped jalapeno and red salsa tamal with pork. Look for a huge metal pot to spot who on the street is selling them. Often had with an atole, a masa-based drink made with water and sugar, and sometimes chocolate and cinnamon. Mexico City's favourite breakfast for a reason.
Tlacoyos – fried corn dough cakes
Oval shaped masa cakes fried on a griddle, tlacoyos are fatter than tortillas. I had mine stuffed with beans, cactus, cheese, hot salsa and the fungus that grows on the ears of corn from a disease called 'corn smut', AKA the Mexican mushroom delicacy huitlacoche. Entirely excellent.
Chicharrones – deep-fried pig skin
All hail the chicharrones (deep-fried pig skin i.e. crackling), in its glass case. A favourite snack of the Mexican people. I could easily clear that whole box.
Tacos de canasta – steamed and stuffed tortillas
Tacos de canasta are a special type of steamed taco made in advance (rather than to order) by your street vendor, with the flavours developing over time as they sit stacked in the canasta (basket). This one was filled with, cochinita pibil – a traditional Mexican slow-roasted pork dish from the Yucatan. The meat is marinated in a strongly acidic orange juice, and seasoned with annatto seed, imparting the burnt orange colour.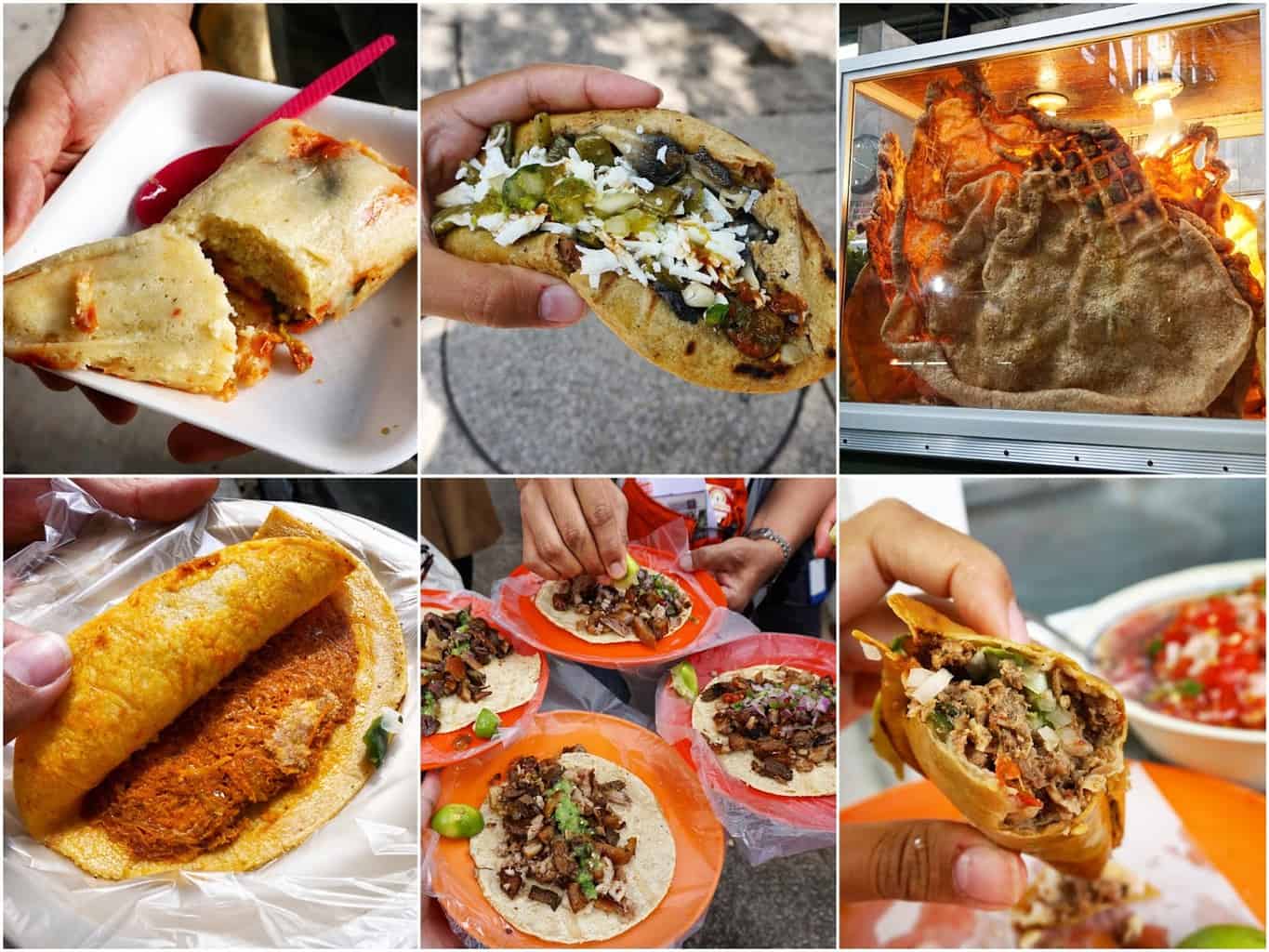 top: stuffed, steamed corn dough; fried corn dough cakes; giant deep-fried pig skin
bottom: stuffed, steamed tortillas; four plates of carnitas; fish-stuffed deep-fried tacos
On the Eat Mexico street food tour
l
Tortilleria – tortilla shop
Tortillas, the life-blood of Mexican cuisine. The starting point for tacos, tostadas, enchilladas, tlayuda, quesadillas, and the rest. Or more accurately, masa is the life-blood, from which tortillas (and other things) are made.
To make masa, you take field corn, dry it, soak it, then cook it in a mix of lime and water (called slaked lime) – this solution helps soften the corn, making it easier to digest. It's then washed and ground into a dough, and this is masa.
Below, you can see the masa dough being pushed into the top of the tortilla-making machine at a neighbourhood tortilleria we visited. A little water and rock salt is added, and out comes perfect, warm, and quite delicious tortillas. These guys make 700kg of them a day.
I had one straight off the machine with a little salt, like nothing I've tried in the UK. What splendid simple pleasures.
Carnitas – mixed cuts of lard-simmered pig
Four plates of carnitas are pictured (four of us including Arturo on the tour), made by braising or simmering pork in lard until tender. Much like confit. You can request which part of the pig you want, but if you come at the end of lunch, you'll likely get it mixed.
On our tortillas, a melody of cheek, leg, nose, other bits, and uterus. Yep, uterus. An offal first for me, not sure I've ever even seen it anywhere. A strong but good flavour, works very well with the blander cuts and some heat and citrus. The stall was hemmed in by suits two people deep, all popping out of the office for a quick stand-up kerb-side lunch. How they don't get it on their shirts, I'm not sure.
Pescadilla – fish-stuffed deep-fried tacos

Pescadilla is the name given to a taco stuffed with some sort of fish stew, then deep-fried until crisp. In mine, nurse shark is cooked with onion, garlic, chilli, tomato, olives, cumin, and a salsa picante (hot salsa). Strong flavour, bit like sardines. Lovely stuff.


Eat Mexico offer several different culinary tours in both Mexico City and nearby Puebla. The Mexico City Street Food tour costs $85 USD (£55) per person, include all tastings, with a minimum of two people and a maximum of six. Discounted rates are offered for groups of three to six.

Note: Eat Mexico kindly hosted me on this tour as part of a media package. All views remain my own.
The biggest Mexico City street food fans? Business people
l
Polanco food tour in Mexico City
The Polanco Mexican Food Tour from Mexican Food Tours is a leisurely 3-4 hour meander through the district of Polanco, arguably the city's most cosmopolitan and upmarket neighbourhood. Stopping at off the beaten path restaurants to sample a splendid range of regional Mexican cuisine, the bits in between are filled with nuggets of cultural information about this very charming part of the city.
I particularly liked that the tour included different types of establishments – restaurants, cantinas (pub-type places), and chocolate shops. As well as chances to taste mezcal at two stages of fermentation. Thank you Luis for being a fantastic guide and a pleasure to spend the afternoon with.
Here are some of the select plates we enjoyed:
Taco villamelon and pulque – bull fighting tacos and early mezcal
A taco villamelon at cantina (a place to go for drinks, accompanied by small plates of great homecooked food) Surtidora Don Batiz. In it, dried beef, chiccharones (fried pig skin), chorizo, and cactus. You unfold and add onion and coriander to taste. Partnered with a thimble of pulque, the milky, sour and yeasty first stage of agave fermentation. Third stage is the tequila or mezcal. Salut!
Surtidora Don Batiz Polanqo, Julio Verne 93 Polanquito
Tamales – stuffed, steamed corn dough, take II
This was a truly excellent tamal from restaurant Tamalli. It was actually better than the one I had off the street. A lot softer, these with coriander (cilantro, if you're American) in the dough, and the green sauce has the chillies griddled first, which gives it a totally different flavour. I could eat these all day. With a chocolate atole, a masa-based drink with a hint of cinnamon. The two together are a stirling breakfast choice.

Tamalli, Emilio Castelar 227-A Col. Polanco Del. Miguel Hidalgo 11550, México, D.F.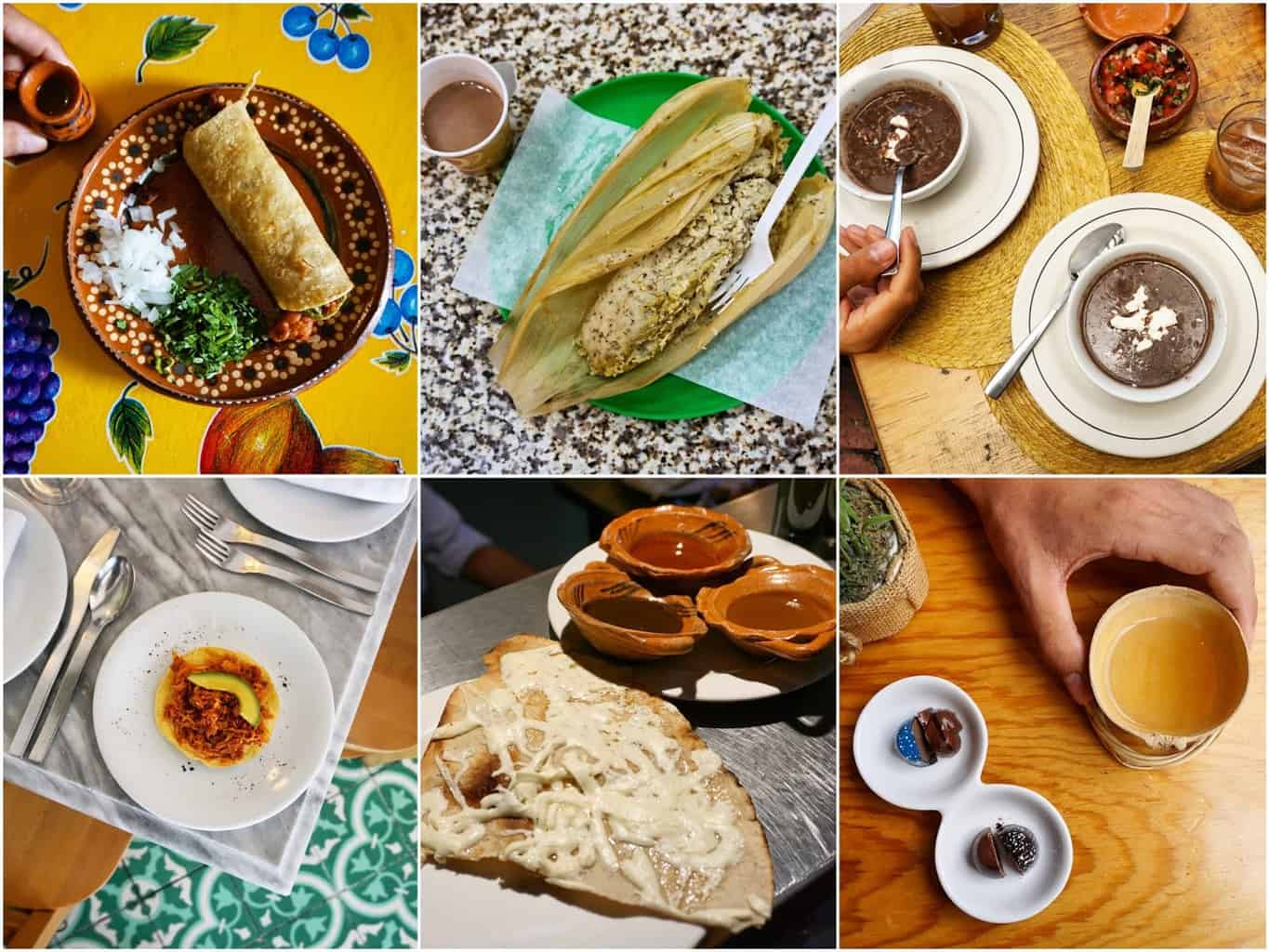 top: taco villamelon; stuffed, steamed corn dough; black bean soup
bottom: marlin toastada, crisp-fried tortilla with cheese; gourmet chocs with mezcal
On the Polanco food tour with Mexican Food Tours
On
Sopa de frijol – black bean soup
A fortifying and quite fantastic sopa de frijol (black bean soup), with noodles and a crumbling of exquisite goat's cheese, can be found at cantina Karisma. Pull up an outside seat and watch the world go by, along with a type of agua fresca drink with tamarind, named after the street it's on, Campos Eliseos (Champs-Elysees).
Karisma, Campos Eliseos No.219 Local 1, Miguel Hidalgo, Polanco, 11560 Ciudad de México, D.F
Marlin toastadas – marinated marlin on crisp tortillas
The people at Agua y Sal Cebicheria will dazzle both with their choice of seafoods and huge array of salts to sprinkle on them – I chose the Hawaiian black. They marinate marlin in chipotle mayonnaise, and will perch a pile on a crisp tostada for you. It's fabulous. They also have a very beautiful floor.
Agua y Sal, Campos Eliseos No.219 Local 1, Miguel Hidalgo, Polanco, 11560 Ciudad de México, D.F
Tlayuda – crisp-fried tortilla with toppings
At Oaxacan restaurant Barro Negro you'll find tlayuda on the menu. A thin, crunchy, partially fried tortilla, ours covered with asiento (unrefined pork lard) and Oaxacan cheese. Along with some mole for dipping (a type of complex salsa, each with around 45 ingredients taking 5hrs to make), and agua fresca de hoja santa, a drink of boiled holy leaf (Mexican pepper leaf), chia seeds, lime, and orange juice.
Barro Negro, Calle Hamburgo 222, Cuauhtémoc, Juárez, 06600 Ciudad de México, D.F.
Mexican chocolates + Mezcal
There were some exquisite gourmet lipstick-shaped Mexican chocolates from Que Bo Chocolates. My favourite was the cajete – a dulce de lece, but with goat milk. Oh, and some mezcal to pair it with in a traditional squash cup.
Que Bo!, Julio Verne 104 local b Col Polanco., 11565 Ciudad de México, D.F.


Mexican Food Tours currently offer three different culinary tours covering Mexico City and Guadalajara. The Mexico City: Polanco Food Tour costs $59 USD (£38) per person, include all tastings and alcoholic drinks mentioned.

Note: Mexican Food Tours kindly hosted us on this tour as part of a media package. All views remain my own.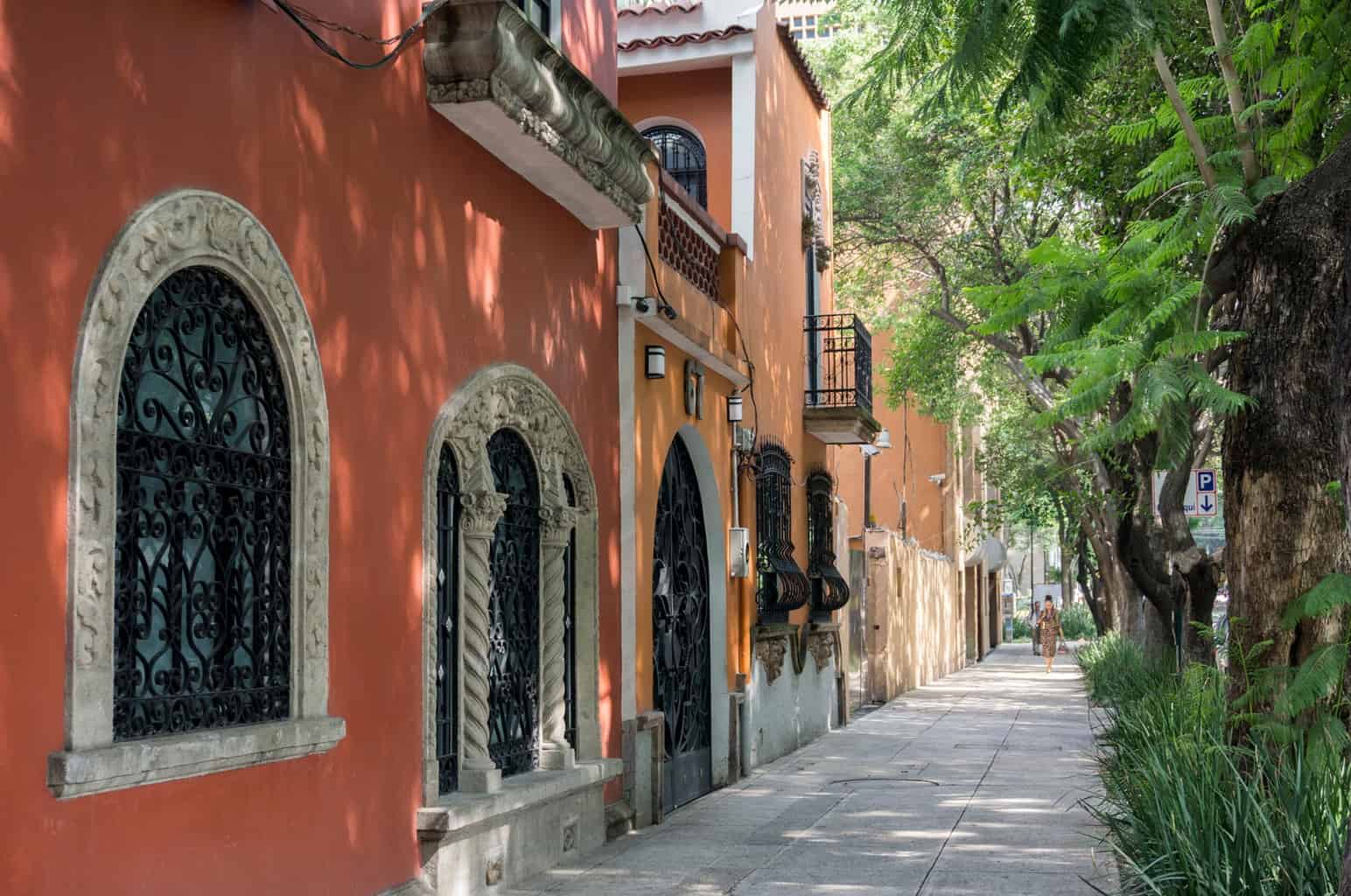 there are lots of pretty pockets in Polanco, Mexico City
l
Where to eat in Mexico City
And then there's the load of stuff we stumbled across ourselves.
Tuna tartare, Mercado de San Juan Pugibet
At the market where you can buy almost anything, the king of imports stocks wares from ostrich meat to bok choi, and flying ants to alien looking asian mushrooms I've not even seen in London. Eyeing up a seafood stall for a snap, I was beckoned by the owner to take a seat. He dealt me up a piquant and fiery plate of tuna tartare, with an oily drizzle of spicy mango salsa, and at no charge. What a lovely señor.
Tacos al pastor – Arab-style pork tacos, El Huequito
Possibly the most chilango (slang for 'from Mexico City') food of all, and arguably the only dish truly associated with the capital itself, tacos al pastor are a legacy of the city's many Lebanese immigrants. A variation of shawarma, it's thinly sliced pork that's been marinated in a chilli sauce, roasted on a spit, sliced off, added onion and coriander, then rolled up in a small tortilla. Juicy, smoky, with added queso (cheese) and sauces. Wonderful, these had at El Huequito.
El Huequito, Ayuntamiento 21, a few blocks south of the Alameda, Centro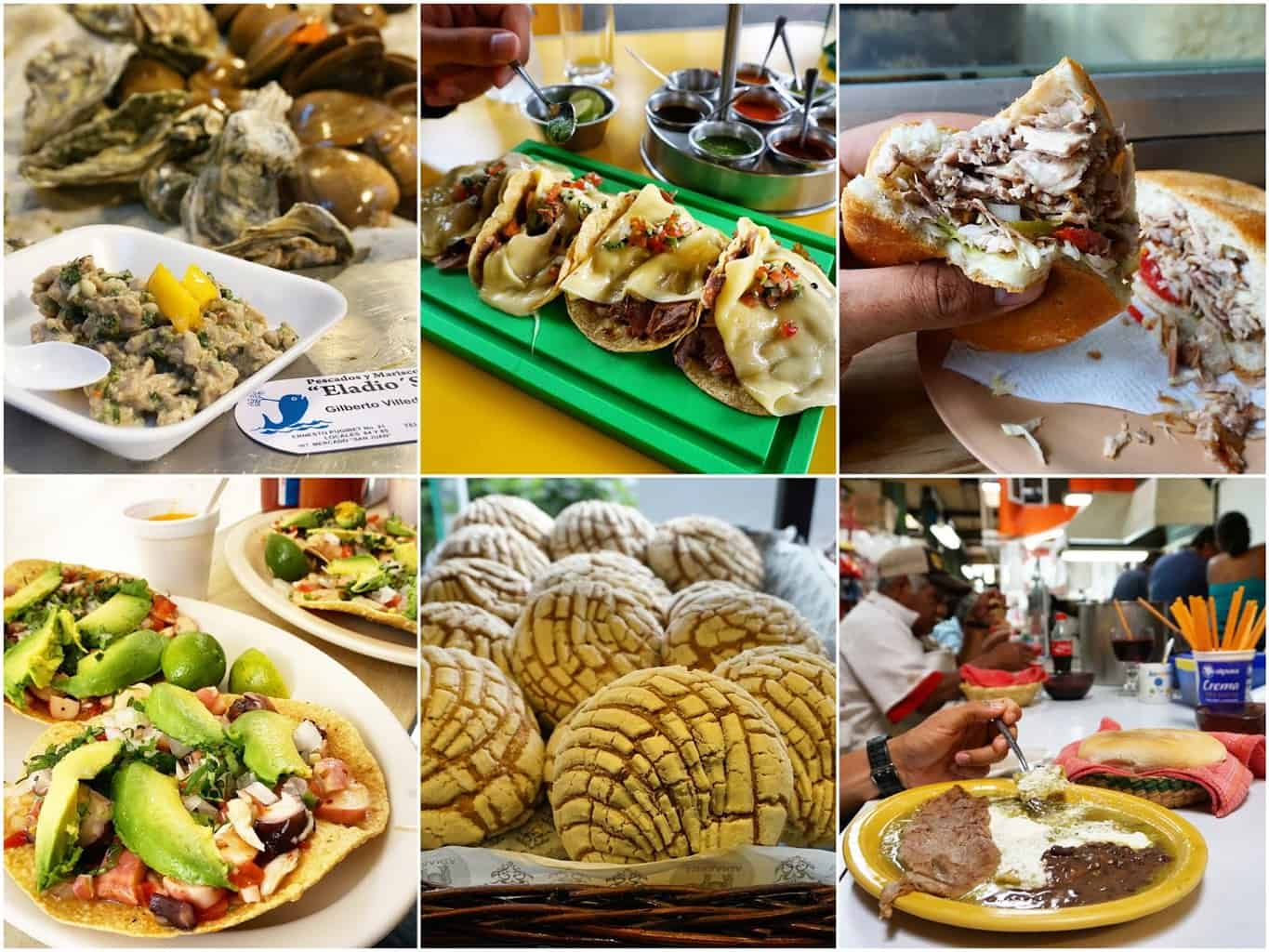 top: tuna tartare; Arab-style tacos, Mexico City sandwich
bottom: octopus tostadas; concha sweet breads, market enchiladas
l
Torta – the sandwich of Mexico City, Tortas Been
My torta was with pierna (with roast pork leg). Also in it, a slick of sour cream, jalapeños, chilli seeds, fat wedges of avocado, tomatoes, and onions. The sandwich fillings are pushed into the bread, then smashed on the griddle for a few seconds. This place was mega busy, and came recommended.
Tortas Been, inside the pasaje at República del Salvador 152, a few blocks east of the Zócalo, Centro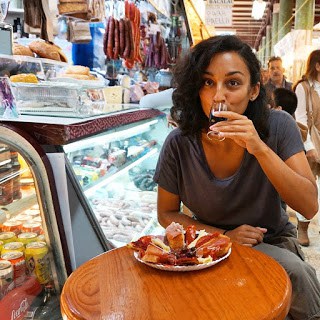 enjoying a platter of cured meats at
Mercado de San Juan
Seafood tostadas, El Caguamo
One of the best places in town for seafood, so I was told by two different locals in the know. At El Caguamo, a street-side tin shack in the historic centre, you'll find deep-fried fish fillets, shrimp cocktails, tostadas and ceviches.
Pictured, polpo (octopus) ceviche on a tostada (crisp fried tortilla). It's different to Peruvian ceviche in that there's no tiger's milk. Instead, lime juice and white herbal vinegar, finished with olive oil, avocado, tomato, chilli, onion, coriander. Under £1 each. So legit, and filling.

Ayuntamiento at the corner with López and López 82 and 83, Centro Histórico
Baked goods, Pastelerias Esperanza
Conchas (shells) are a type of pan dulce (sweet bread), and I've become a little addicted. Light as air, not too sweet, and great with a morning coffee. From the show-stopping Pastelerias Esperanza bakery.
Enchilladas verdes, Mercado de San Juan Pugibet


You can't go too wrong finding a plate of something good in this market. If you head towards the back and left, you'll come across a place with steaming metal pots full of stuff you want to eat. They sell the likes of enchiladas verdes – corn tortillas wrapped around a filling (take your pick of meat), with a green salsa, a side of beans, and topped with some queso fresco (crumbly white cheese). Cravings duly satisfied with a big plate at just over £1.
Mexico City
Did you know?
Sky high city
Mexico City is about a mile and a half up in the sky. It's a city at altitude, a rather whopping 2250m above sea level, and it can take people a good few days to acclimatise to the thinner air. It's also situated in a valley surrounded by mountains and flanked by two volcanoes. So the mix of altitude, heat, and smog can become uncomfortable for some, often leaving visitors feeling exhausted after what would otherwise be a normal day's activity.
Which explains why on the first day, I was panting by the time I got to the top of a flight of subway stairs. "I'm pretty sure I'm not this unfit," I thought. Good news, it was the air. I hope.
Obesity awards
Out of the more populas nations (so, excluding the little Pacific islands that even manage to surpass US and Mexico when it comes to inches around the waist), Mexico is the fattest country on the planet. They've overtaken the Americans, with a whopping seventy percent being overweight and almost one-third registering as obese.
They sure are big here, particularly the women. And the bigger they get, the smaller the clothes seem to get. I'd struggle to fit into some of them, I reckon. It gives a new meaning to letting it all hang out.
In the poor classes there are obese parents and malnourished children. It doesn't help that a bottle of fizzy pop is cheaper than a bottle of water or milk. We witnessed a parent feeding their 1-or-so-year-old coke. It's a very jarring image.
My insider tips
The Mexico City Metro System is frequent, fast, clean, well maintained, and safe. Thanks to it being subsidised, it is also one of the cheapest in the world. It in fact was the cheapest in the world a couple of years ago, when it was 3 pesos per ride; that's about 12p. It then went up to 5 pesos, which it is now. That's 20p. Amazing.
But, there is a caveat. See Lowlight below for the rest of the story.
Highlights / Lowlights
Highlight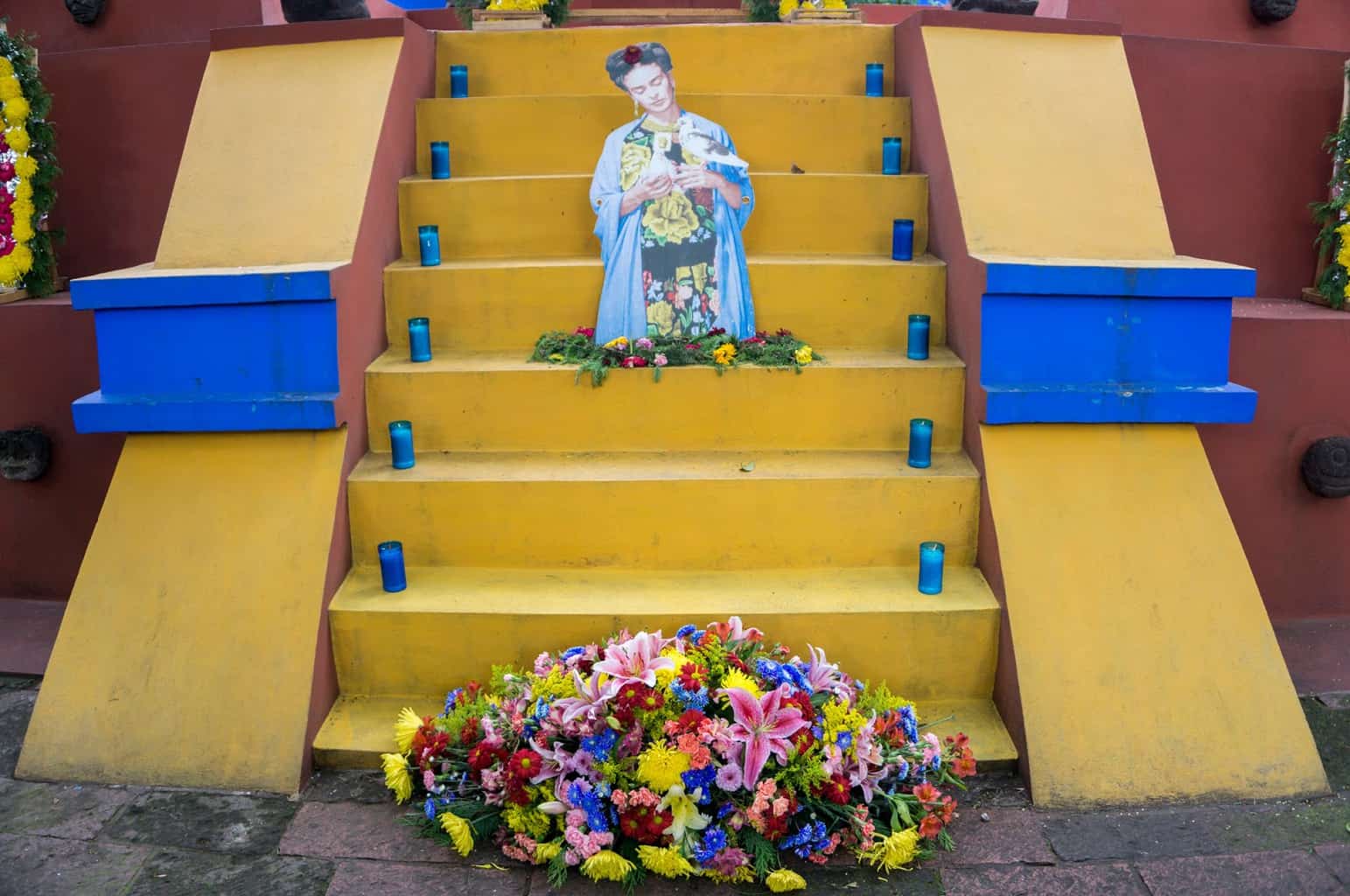 Frida Kahlo museum, Mexico City
l
I entered the Frida Kahlo museum knowing little more about her than her art, her Mexican heritage, her strong political opinions, and that famous monobrow. But I left having learnt a huge amount, and with a great appreciation for her incredible resolve.
For example, I had no idea she was physically incapacitated for most of her life, from childhood polio followed by an almost fatal teen traffic accident in the 1920's. These resulted in a total of 22 surgeries throughout her life, an in inability to have children, and the eventual amputation of a leg. Her physical state influenced much of her work. She concealed all her prosthetics, braces and physical pain under those iconic outfits. A strong woman.
The museum is set in the former 'blue house' of her and her husband, Diego Rivera. It's a splendid building, full of her art work and many stories. A must-visit if you're in Mexico City.
Here's her biography, if you want to know more.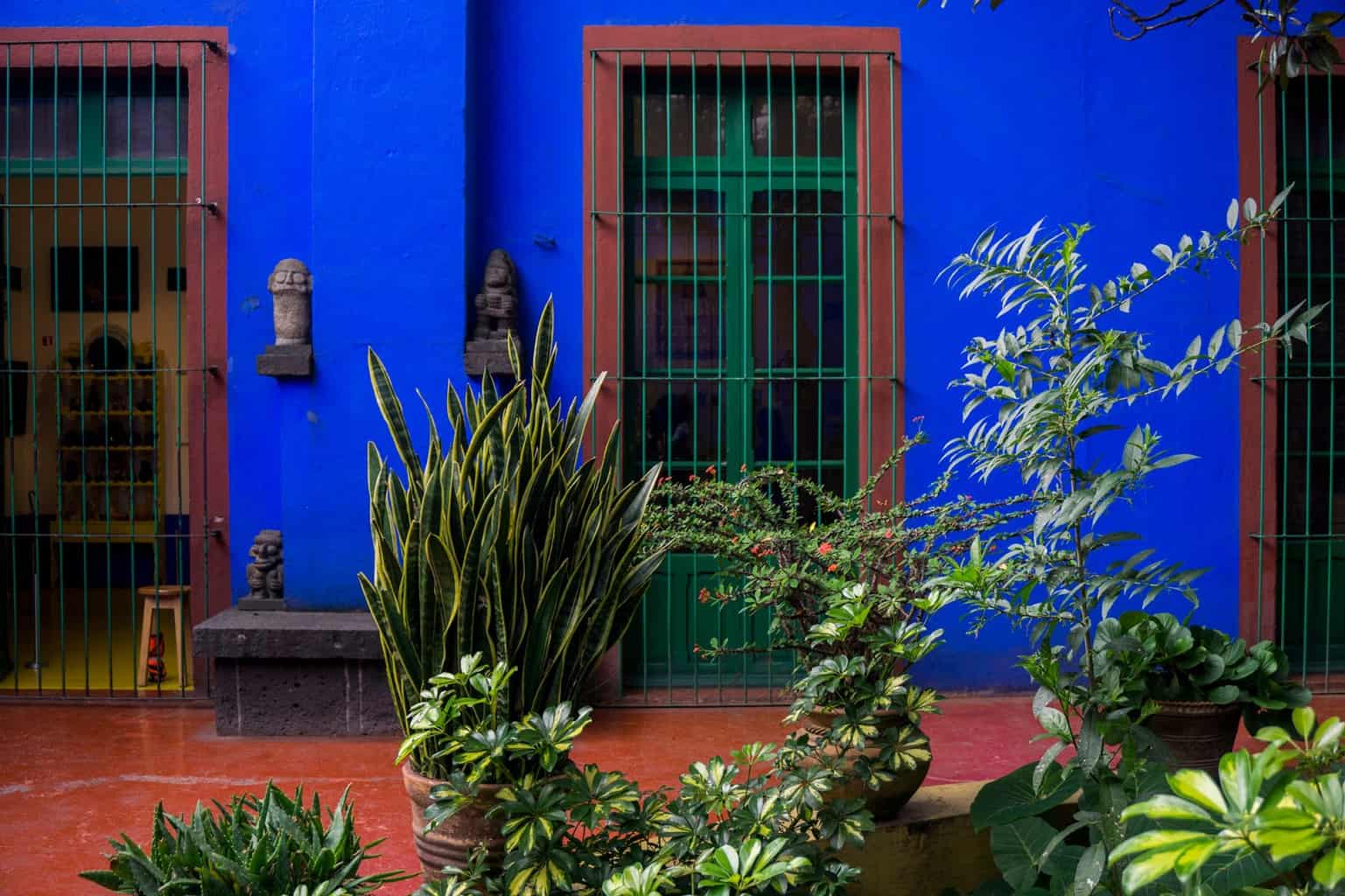 Frida Kahlo museum, Mexico City
Lowlight

Following on from my Insider Tips above..
At least, the metro is amazing, when it's not rush hour. Because rush hour on the metro in the 10th most populus city in the world, is a real-life interpretation of Dante's Inferno. It's as hot as hell, and it probably has more people. I've seen the world-is-ending train station swarms in both India and Tokyo first-hand, and Mexico City is almost up there with them.
We learnt the hard way on our first day venturing out into the city. We were heading home at about 7pm, in the thick of rush hour. It was so bad that Matt had to get off a stop early, but it was a last minute decision. And if you need anything to survive on the Mexico City metro during rush hour, it's foresight.
"Get off here," he spontaneously blurted. "But this isn't our stop," I muttered, with at least three arm pits in my face. "I feel faint," was the response.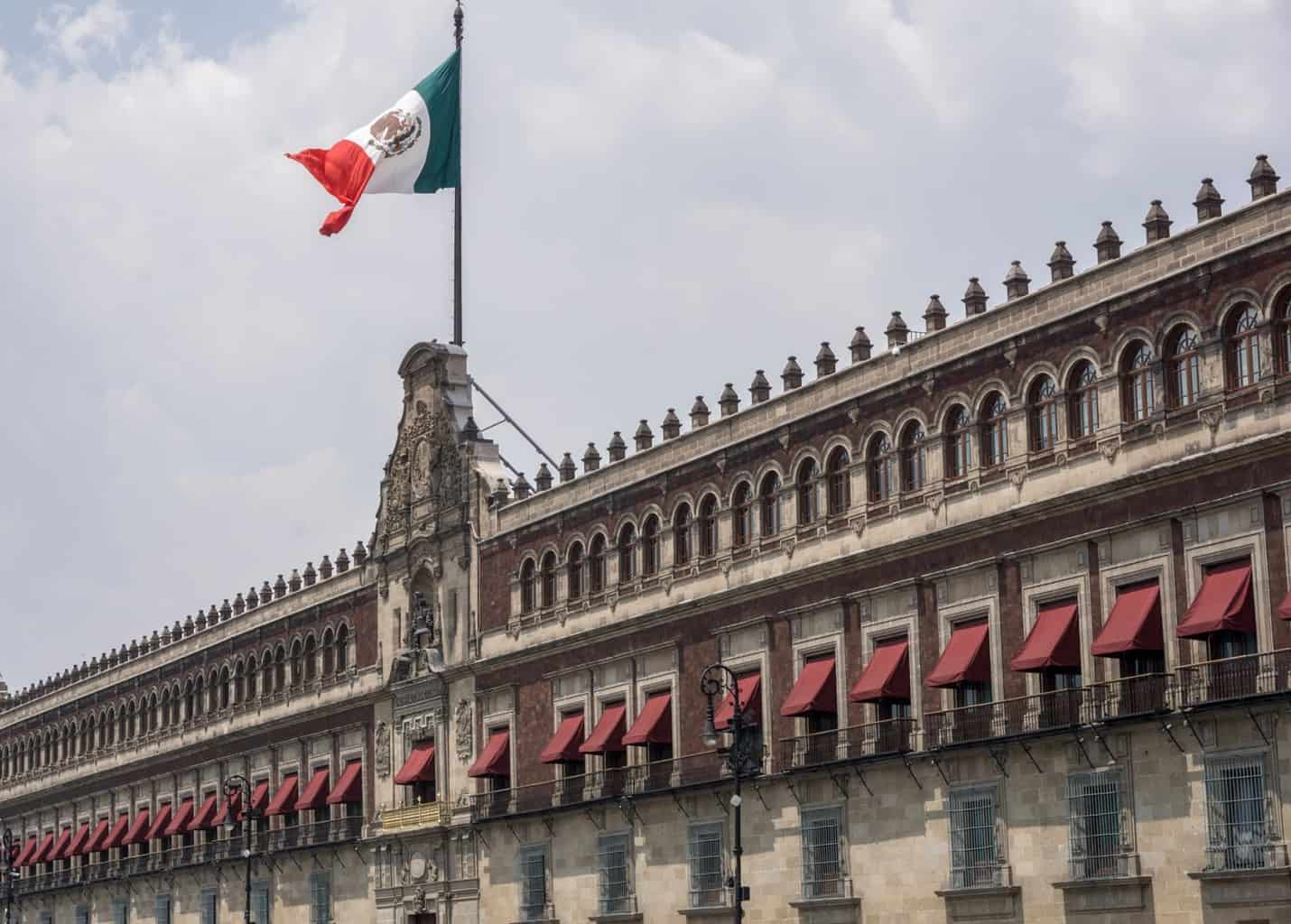 Zócalo (historic centre), Mexico City
l
Foresight, in knowing where you plan to get off in advance, is very necessary. It means you can spend the stretch of journey between the preceeding stop and the one you want to disembark on, manouvering towards the door. I say manouver, I mean barge with the full force your body and current squashed stance allows.
Oh, you've decided you want to get off here just as the doors open? Good luck getting to it. Two feet may as well be two miles when there's 15 people pressed up against each other in the square meter between you and freedom.
And of course, no one will step off to let you off, for fear they lose the precious foot space they've fought for half an hour to secure. And the doors don't stay open for long. I was closer to the door, and I'm smaller, so I managed to squeeze under a few arms and made it to the platform. All I could hear behind me were the cries of a desperate man, a man on the edge. 'POR FAVOR; POR FAVOR,' Matt deplored.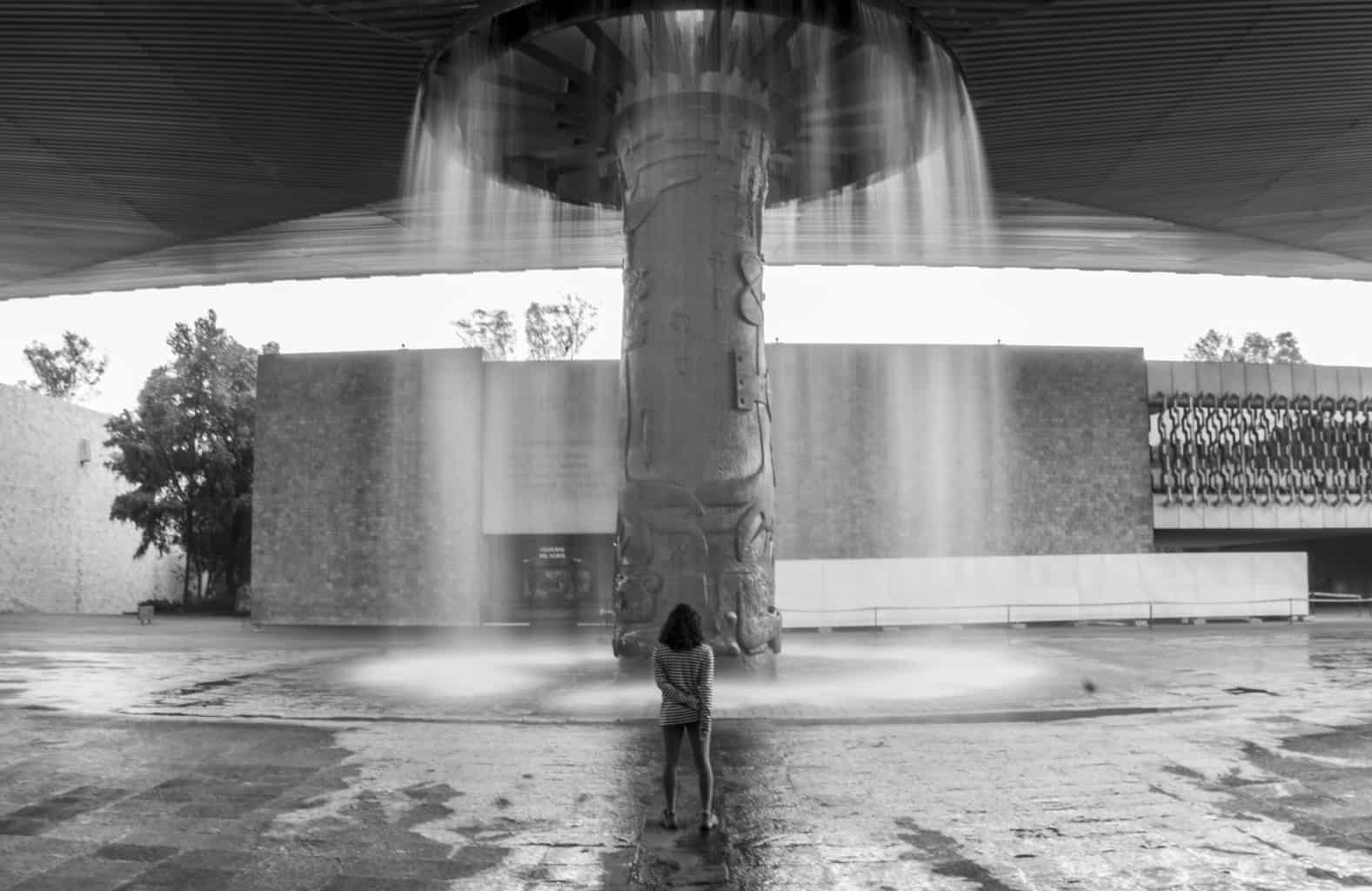 an impressive water feature at the Museum of Anthropology, Mexico City
l
As the doors beeped threatening to close, with a tangled mass of bodies at least five people-deep between Matt still in the carriage and me on the platform, I saw a hand appear through the twisted throng. Like a scene from a disaster movie, I grabbed it and managed to pull him out. It was so tight, some stitching tore on my sleeve in the process.
We collapsed in a heap on the floor and Matt pulled off his three layers. We sat for a bit to cool down, then decided to walk the rest of the way.
For your information, the busiest hours are around 6.30am – 9.30am and 5.30pm – 9.00pm on weekdays. Weekends are much quieter. Quite handily, the end carriages are reserved for woman and children only and are just about doable during rush hour. So do make the most of those if you can.
Next week
Onwards to the colonial buildings and world-famous regional cuisine of Oaxaca (pronounced Wahaca) in southern Mexico.
Postcards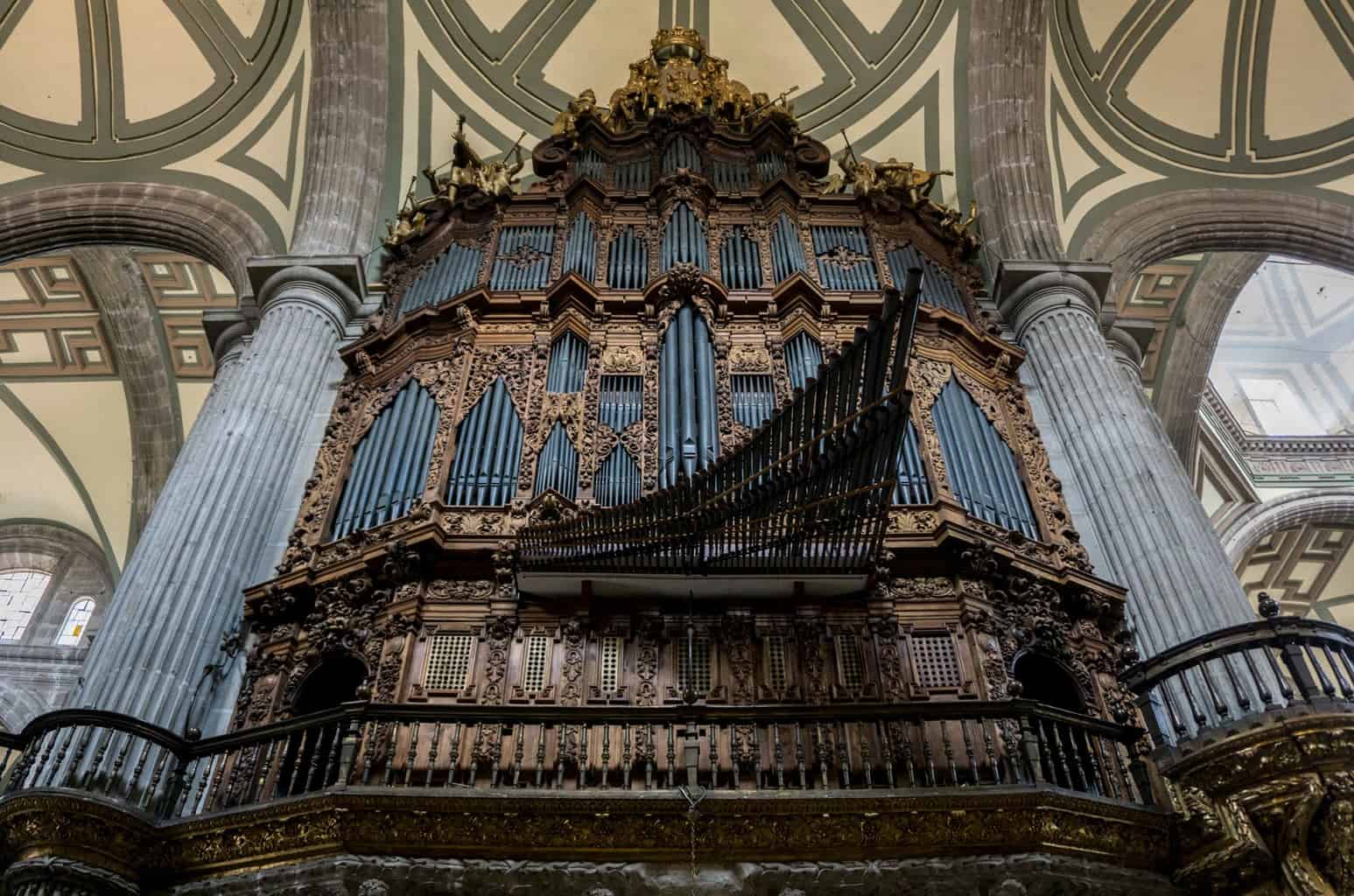 Mexico City Metropolitan Cathedral, Mexico City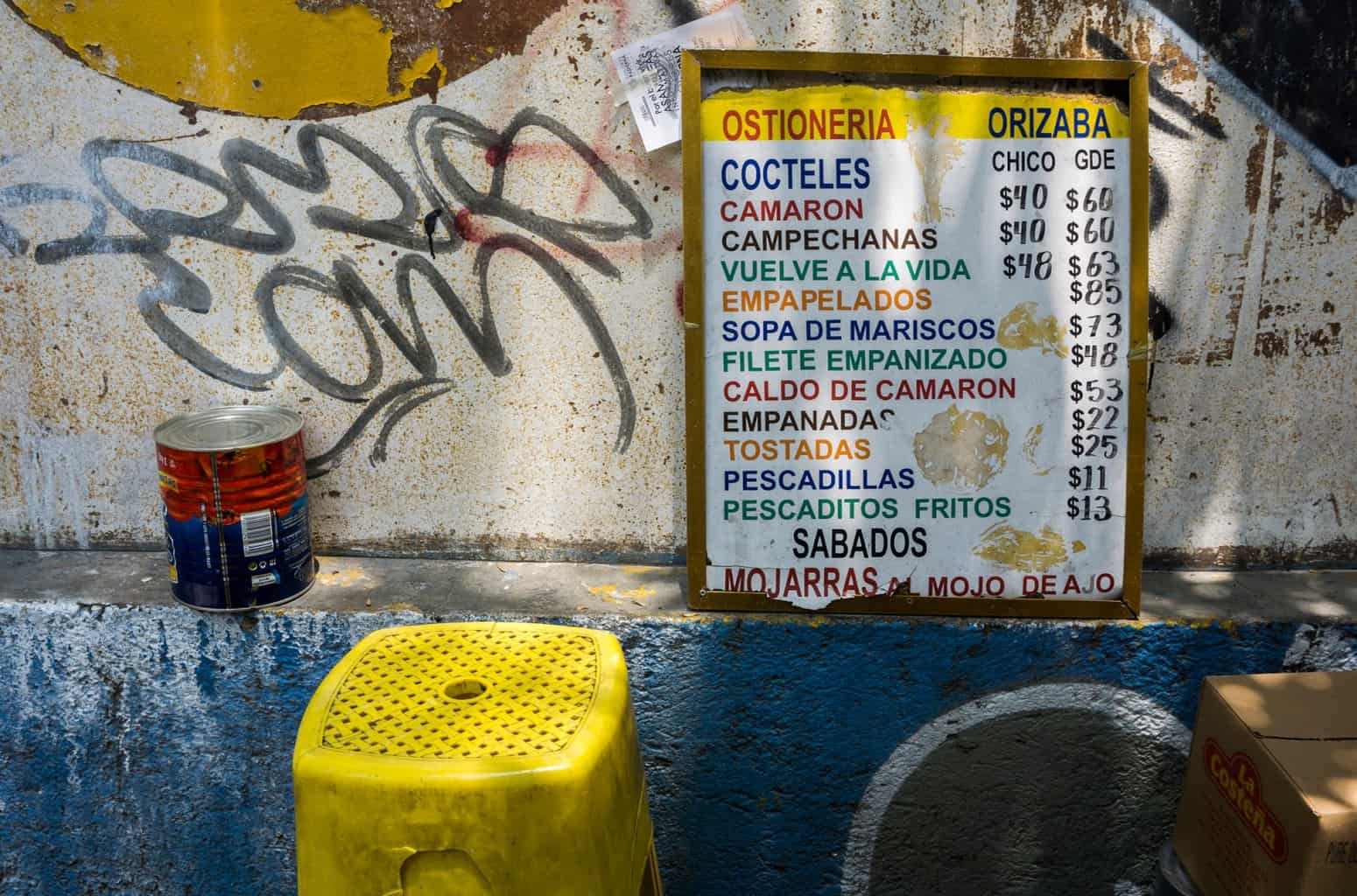 street food menu, Mexico City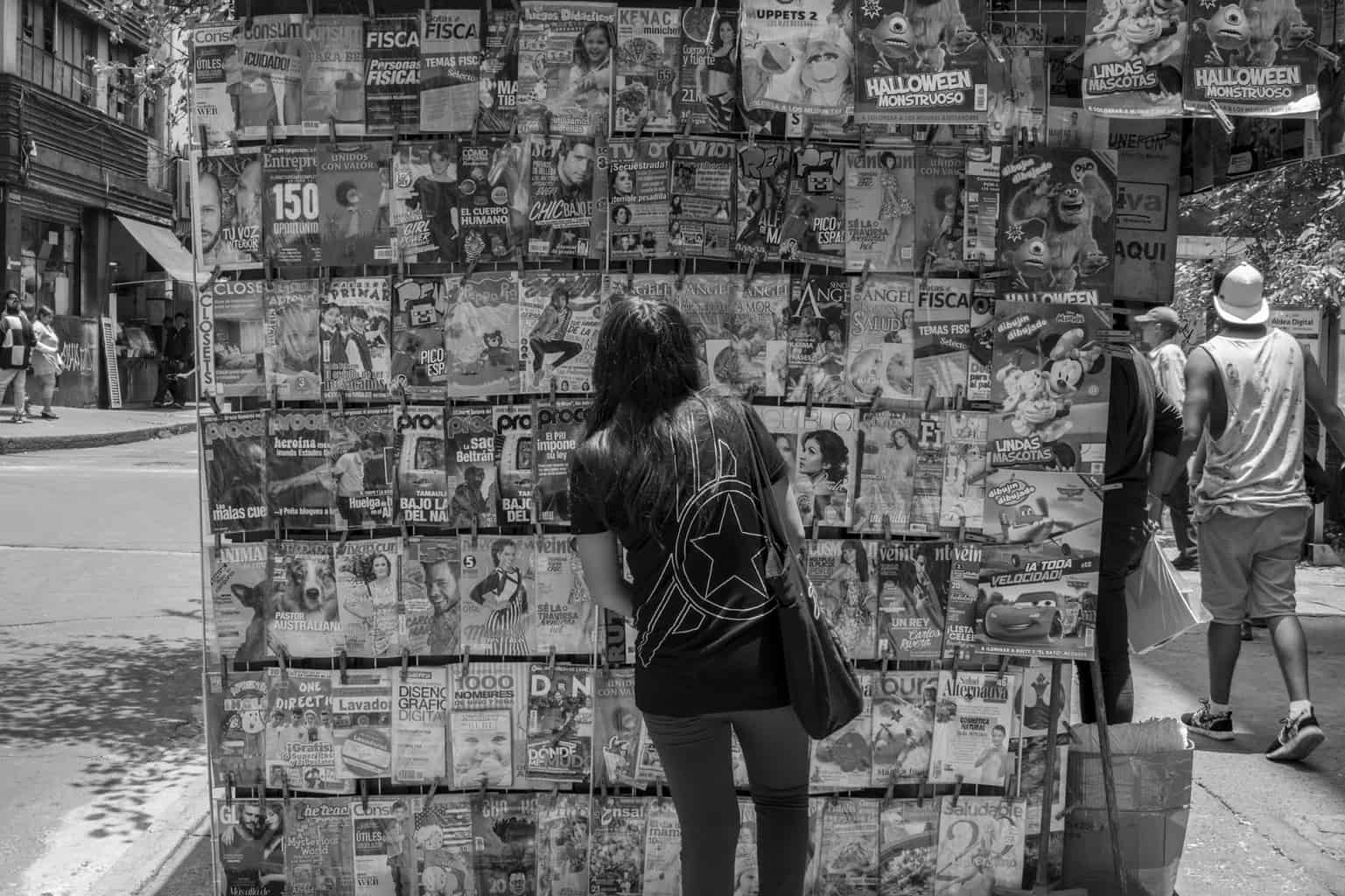 magazine stand, Mexico City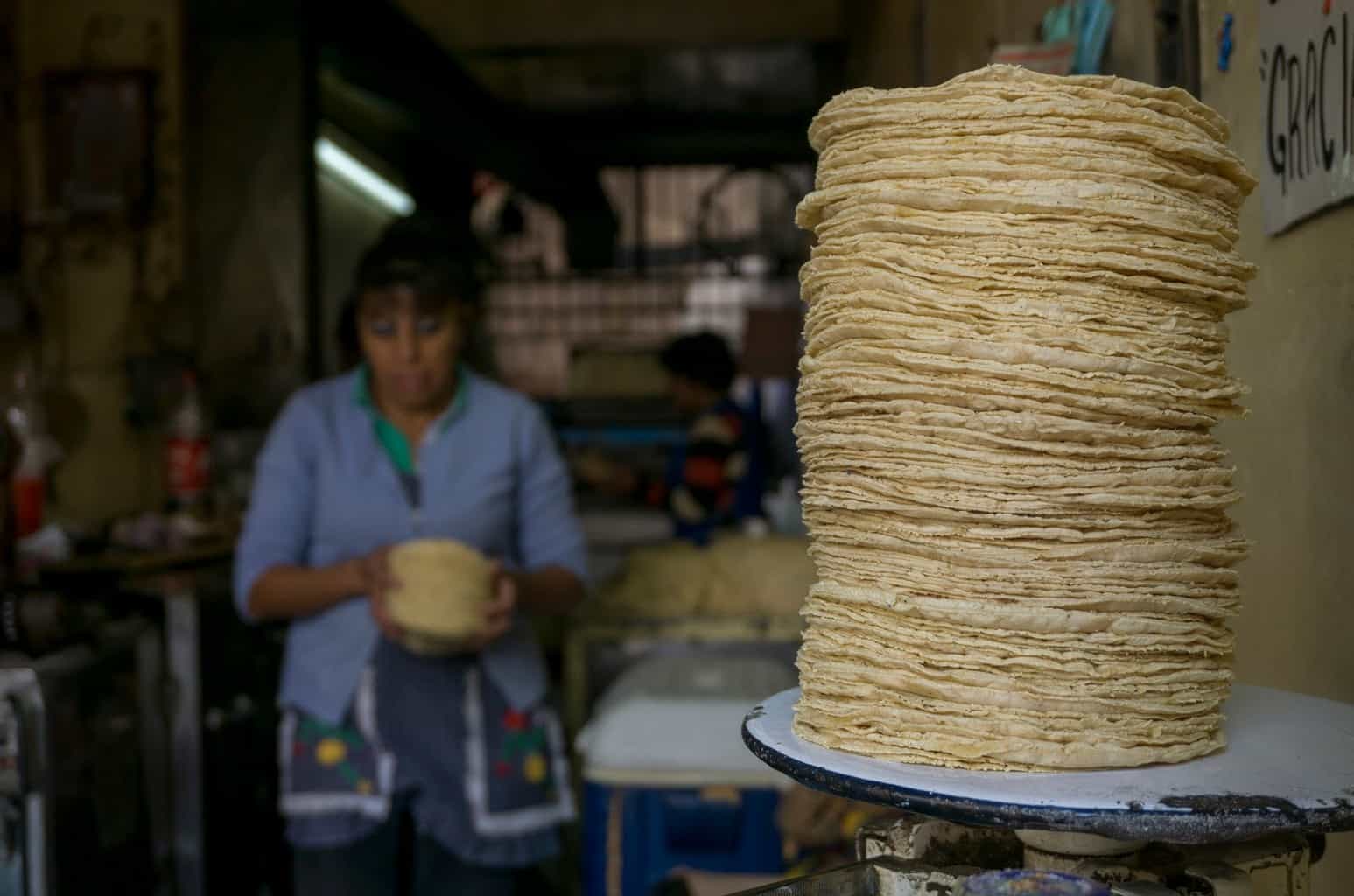 batch of freshly made tortillas, Mexico City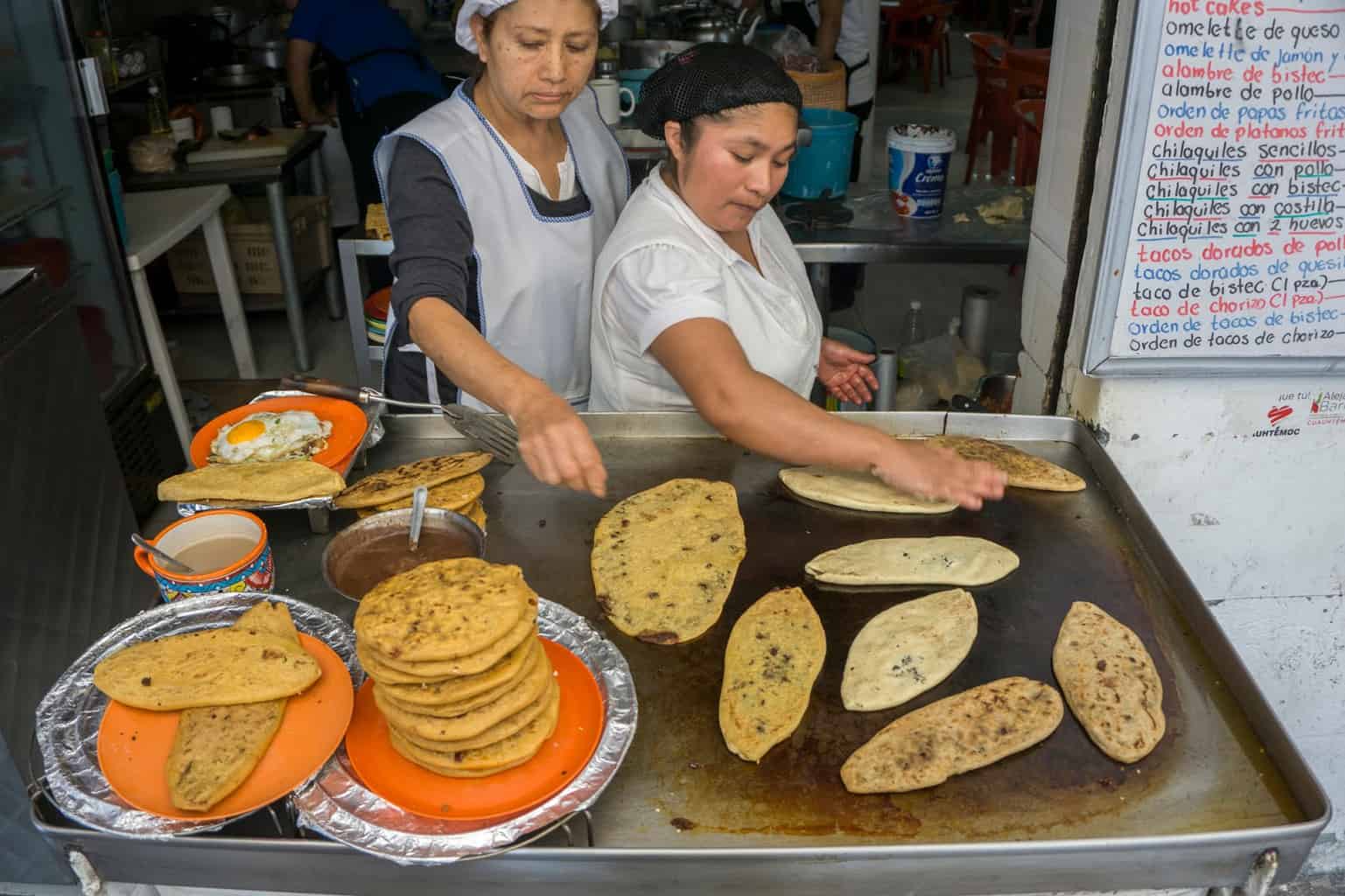 breakfast preparation, Mexico City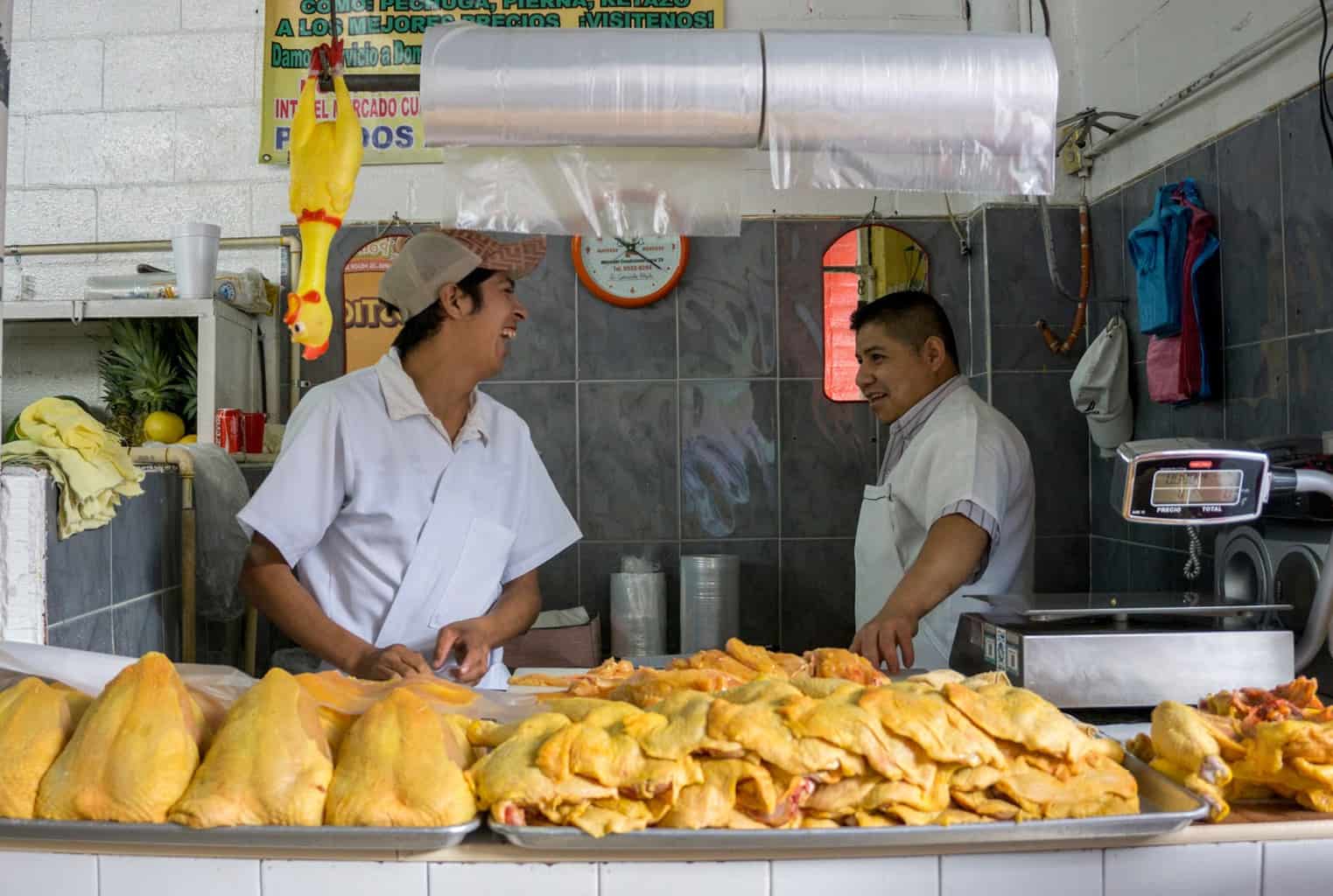 market scene, Mexico City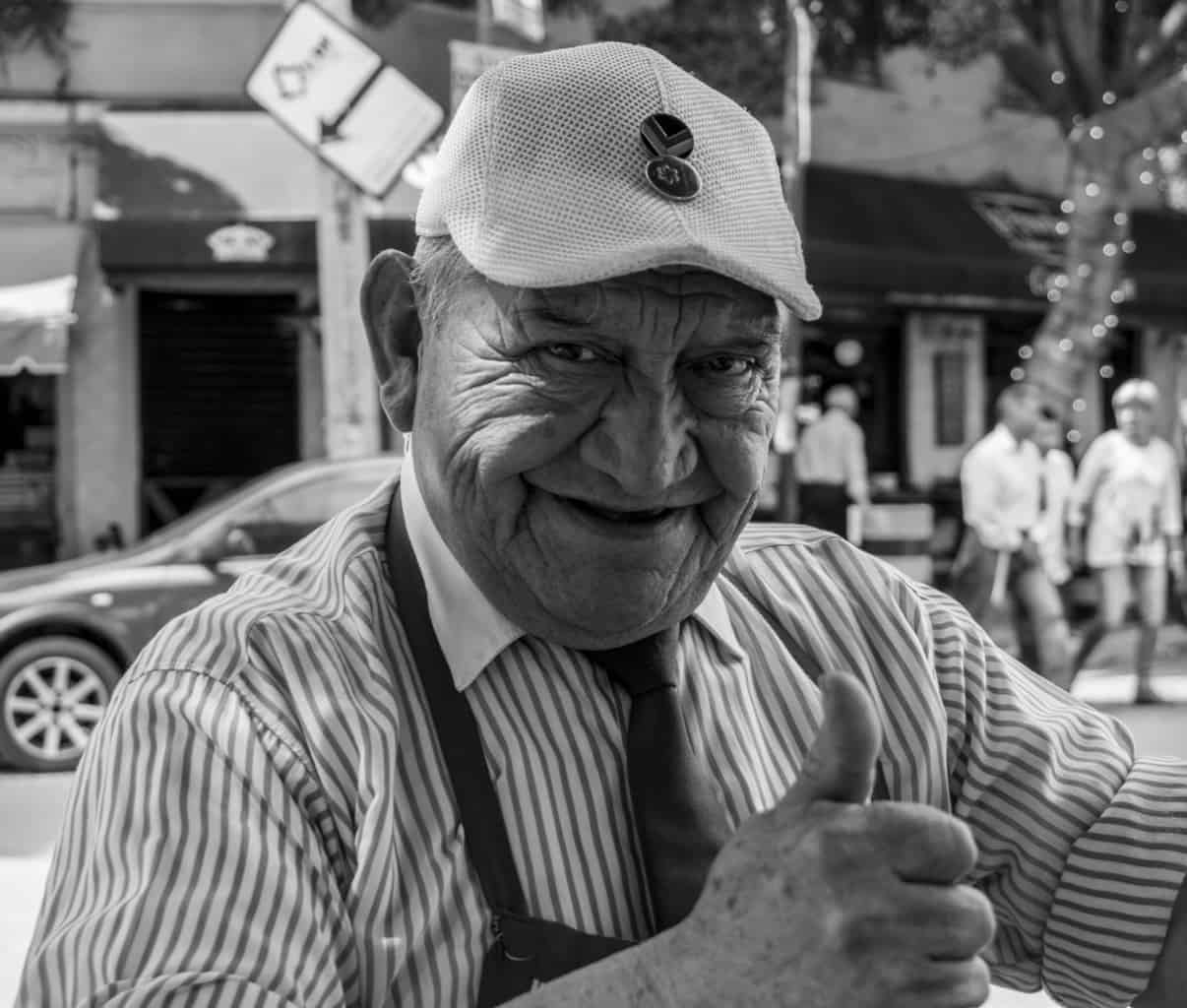 tacos de canasta street food vendor, Mexico City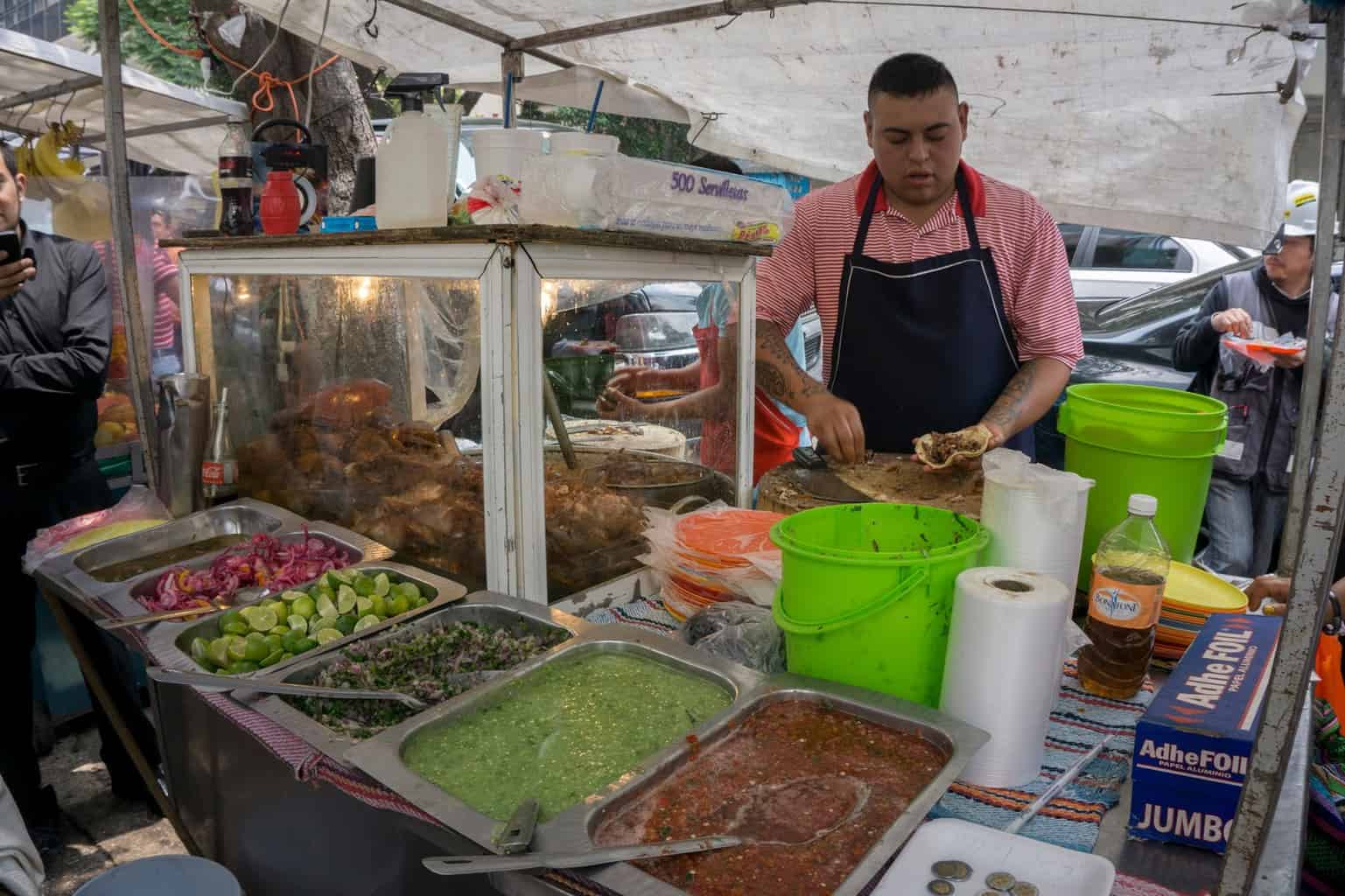 carnitas street food vendor, Mexico City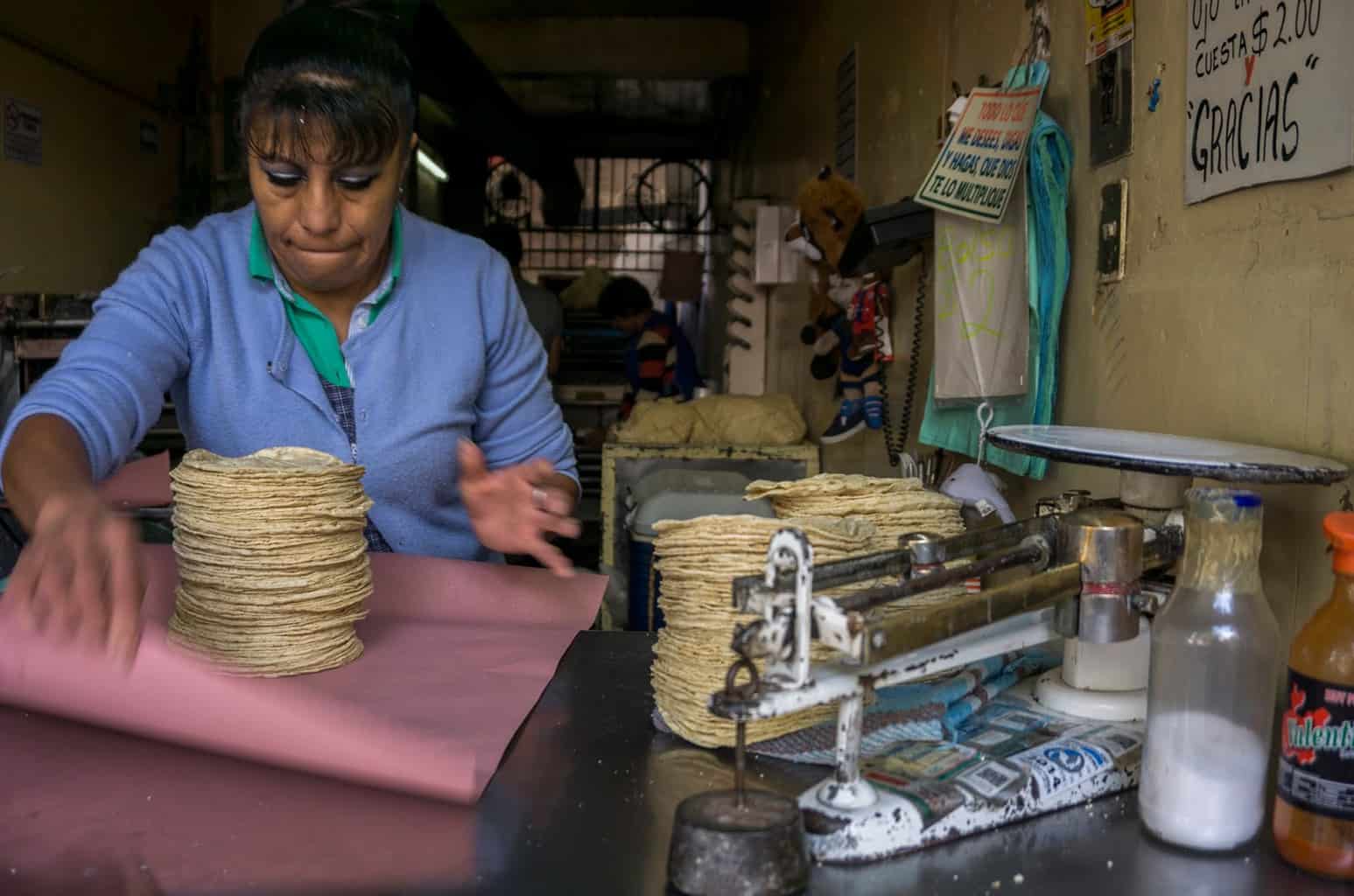 packaging up freshly made tortillas, Mexico City
l
Related posts
Week 0: Gone travelling. London – see you in nine months


Week 1: INDIA – Mumbai → Goa
Week 2: INDIA – Bangalore → Mysore → Wayanad
Week 3: INDIA – Kochi → Allepey → Kollam → Madurai
Week 4: INDIA – Pondicherry → Chennai → Mumbai


Week 5: INDIA – Varanasi → Udaipur → Jaipur → Delhi
Week 6: TAIWAN – Taipei
Week 7: CHINA & VIETNAM – Hong Kong → Hanoi
Week 8: VIETNAM – Sapa → Hanoi → Ha Long Bay → Hanoi


Week 9: VIETNAM – Hue → Hoi An
Week 10: VIETNAM – 6 day / 5 night motorbike tour from Hoi An to Da Lat
Week 11: VIETNAM – Da Lat → Nha Trang
Week 12: VIETNAM – HCMC → Mekong Delta → HCMC
Week 13: CAMBODIA – Siem Reap (and Angkor Wat) → Phnom Penh
Week 14: CAMBODIA – Sihanoukville & Koh Rong Samloem Island
Week 15: CAMBODIA – Kep
Week 16: THAILAND – Chiang Mai
Week 17: THAILAND – Songkran Festival in Mae Rim & Chiang Mai
Week 18: THAILAND – Bangkok → Koh Phangan
Week 19: THAILAND – Bangkok
Week 20: MALAYSIA – Penang → Borneo
Week 21: AUSTRALIA – Melbourne
Week 22: NEW ZEALAND – Auckland → Rotorua → Turangi → Whanganui
Week 23: NEW ZEALAND – Wellington → Nelson Lakes → Hanmer Springs → Christchurch
Week 24: NEW ZEALAND – Lake Tekapo → Mount Cook → Queenstown → Milford Sound
Week 25: NEW ZEALAND & USA – Queenstown → Hawaii
Week 26: USA – Hawaii (Big Island) → San Francisco (Oakland)
Week 27: USA – San Francisco
Week 28: USA – Los Angeles