Last Updated on June 15, 2020 by Leyla Kazim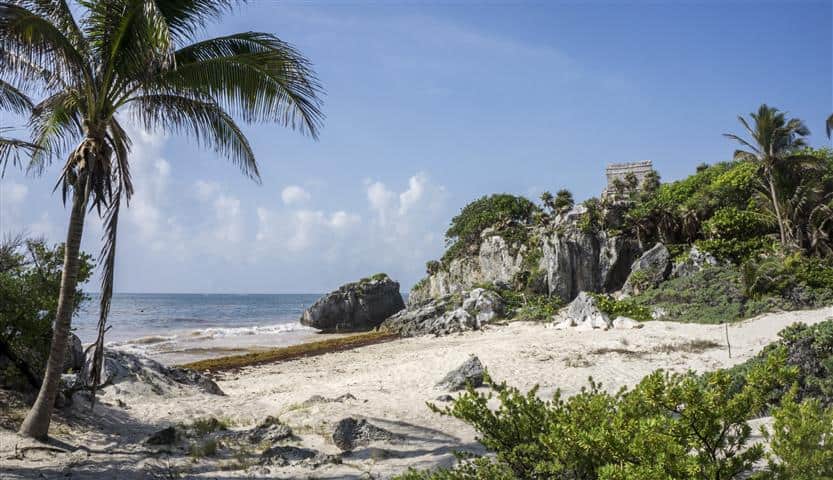 Image of the week: the beach, jagged cliffs and ancient Mayan ruins in Tulum
More images at the end of post
l
Where in the world

A four hour bus ride from Merida to Tulum, where we stayed for four nights. Straight, wide roads through the endlessly flat planes of the Yucatan – another very comfortable Mexican coach journey.

Thoughts
What are the first things you think of when someone mentions Mexico? Perhaps great food, cactii, sombreros (which no one wears), Latin American warmth, chihuahuas, mariachi bands, corn, the Spanish guitar, tequila, Donald Trump's outrageous remarks?
Whilst these stereotypical associations my be the first things that come to mind, I wonder if nature, wildlife and conservation is up there? Because it wasn't for me.
I added Tulum to the itinerary based on the fact it often appears in 'top 10 beaches of the world' lists, and I knew it had some cool ancient ruins dotted along them (see Insider tips below). But little did I know about the 1.3 million hectare nature reserve in these parts (see Did you know? below), or the natural wonders that are cenotes, until I got here.
Coming from someone who's second greatest passion after food is nature, that's pretty poor preparation on my part.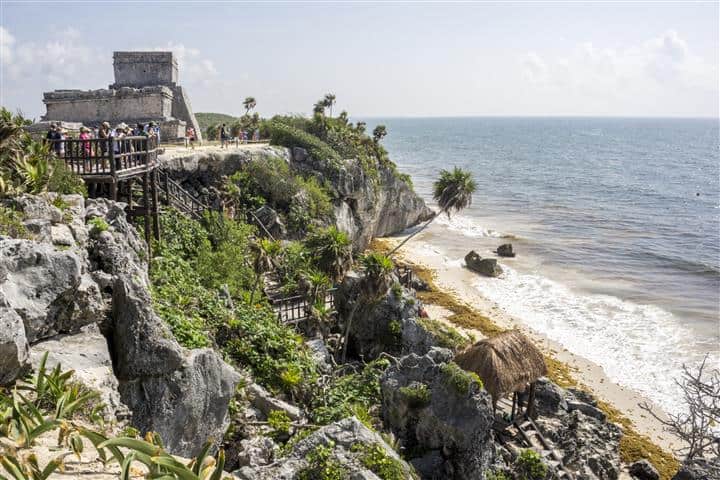 Tulum ruins, Mexico
l
Whilst it may not be immediately obvious, the Mexican Caribbean is the place to go if you love the outdoors and all the critters that live in it. Tulum is a great base from which to launch adventures into the surrounding areas. For example, there are the flamingos at the Celestun Reserve, the menagerie of flaura and fauna to be found in the Sian Ka'an Nature Reserve (see Did you know? below), one of the world's largest barrier reefs to snorkel through, and then there's all of the cenotes dotted about the Yucatan.
It's a great shame I'm not a diver, because if I were, I'd probably have spent a solid few days in the waters of Mexico's cenotes. Pronounced cen-o-tes, they are natural pit or sink holes that come about from the collapse of limestone bedrock that expose the groundwater beneath.
The water in these cenotes are clear and home to a great abundance of wildlife, and they make for some incredible snorkelling and diving. The Yucatan doesn't have any overground water, but below the surface there are endless rivers and caves that make up one of the largest underground waterway systems in the world.
This is our last stop in Mexico, and it's with nothing but a heavy heart I bid this country farewell. There's still so much of it I haven't seen, and so much of it that calls my name. A beautiful country in every sense of the word, I'll be back for it one day.
The best things I ate this week
Where to eat in Tulum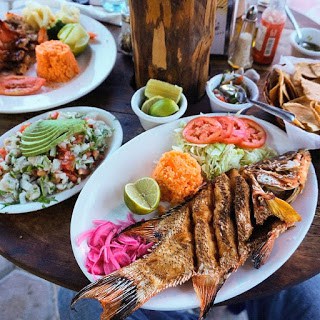 seafood spread at La Barracuda in Tulum
After a week of culinary misery and pitiful portions in Merida – which continued into most of this week – for the first time in many days, I was able to eat real and proper food again. My first meal in Tulum was on our last day in Tulum, at La Barracuda.
And what better way to celebrate this momentous occasion than with raw fish. I like to live on the edge, me.
Well I say raw. It was Mexican ceviche. The fish was denatured from all the lime and it was glorious, mixed with tomatoes and parsley, and furnished with thick creamy slices of pale green avocado, like almost everything in Mexico.
There was also a large pescado frito (deep-fried fish), with thin and crisp fins and tail offering themselves up for an irresistible crunch through, and butterflied prawns a la plancha (griddle).
La Barracuda, Av. Tulum Mza. 2 Lote 3, Centro, 77760 Tulum
Did you know?
Mexican jaguars
I learnt a heap of interesting stuff from our excellent guide Antonio on the Sian Ka'an Kayak & Snorkel Adventure tour with Yucatan Outdoors (more about that under Highlight below).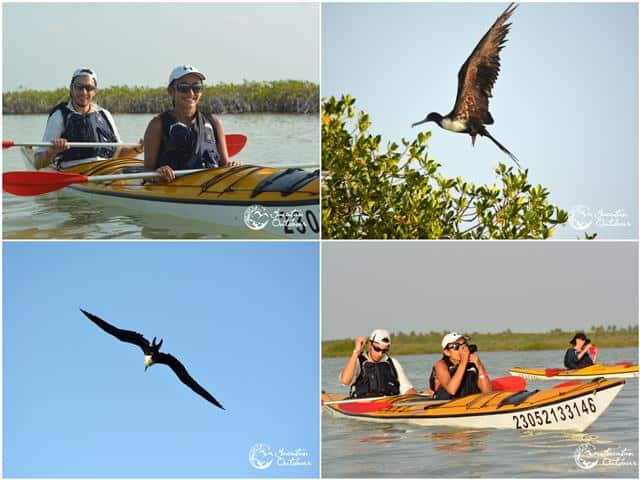 kayaking through the Caapechen lagoon in the mangroves of the Sian Ka'an reserve,
images courtesy of Yucatan Ourdoors
l
Sian Ka'an is about 12km from Tulum town, near Tulum's hotel strip, and is part of UNESCO's Man and Biosphere (MAB) program, which aims to improve the relationship between people and their environment. The reserve covers a whopping 652,000 hectares – or 1.3 million acres – about a tenth of the whole state of Quintana Roo. It's the largest protected area in the Mexican Caribbean and the largest coastal protected area in Mexico.
In it you'll find the Mesoamerican Barrier Reef – the second largest barrier reef in the world at 1300km (second only to the Great Barrier Reef in Australia). I am so gutted we didn't get to snorkel there – see the story about the missed tour in Lowlight below.
an island amongst the Sian Ka'an mangrove waters, home to many species of birds,
taken with Yucatan Outdoors
l
From the hundreds upon hundreds of flora and fauna that can be found within the reserve, the quite spectacular jaguar is one of them. Antonio told us that from the short drive from the entrance of the reserve to their office, people had spotted these magnificent beasts crossing the road right in front of their car. Just imagine witnessing that.
They're known to pick off the odd dog if they're really hungry, and they will eat turtles on the beach. But generally, GPS trackers on those that have collars tell us they tend to stay at least 8 km from human activity.
My insider tips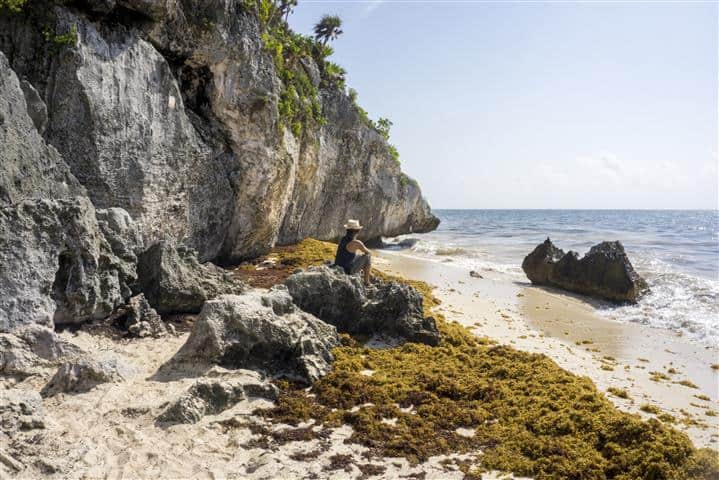 stretch of beach at the bottom of the wooden steps, Tulum ruins
l
Tulum ruins
The iconic Mayan ruins that sit atop the rugged 12m cliffs on Tulum's coastline are part of an archaeological site, so you need to pay to access them. But that doesn't mean you can't still use the small stretch of accessible sand as a normal beach.
Descend down the wooden stairs and you'll reach the shoreline. There's a lifeguard in a wooden hut hidden away between the jagged rocks (at least, I think he was a lifeguard), and you can sit and enjoy the quite spectacular surroundings.
Practically speaking, there's a lot of seaweed about and the waves are a bit harsh for paddling, but for some reason not many people go down those stairs so you'll likely have it to yourself.
And feel free to wear beach clothes at these ruins – lots of people were walking around in swimming gear covered with a bit of loose clothing. It is really, really hot in the summer, so it makes sense to wear whatever works best at keeping you cool.
Point to note, and something which isn't stipulated on the Tulum Ruins website or in guidebooks; whilst the ruins close at 5pm, last entry is at 4.30pm. And they're very strict – see Lowlight below.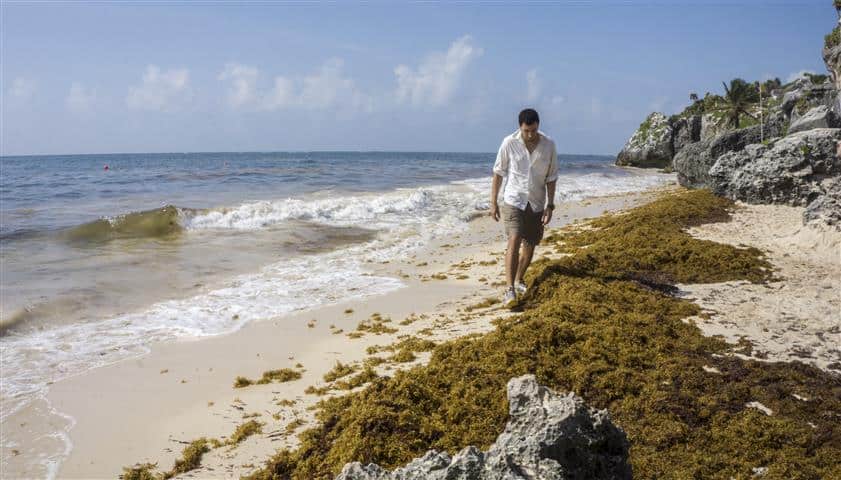 stretch of beach at the bottom of the wooden steps, Tulum ruins
l
Highlights / Lowlights
Highlight
Most certainly getting rid of that sorry gut and being able to eat my first substantial meal for days, one that comprised of more than boiled veg and rice. What joy.
But also, the whole afternoon spent with Antonio, Jessica and Carlos from Yucatan Outdoors on the Sian Ka'an Kayak & Snorkel Adventure tour.
It's a difficult task picking the best bits from what was a sincerely wonderful seven hours with these people. But I'd say the bookends were my favourites – the beginning and the end.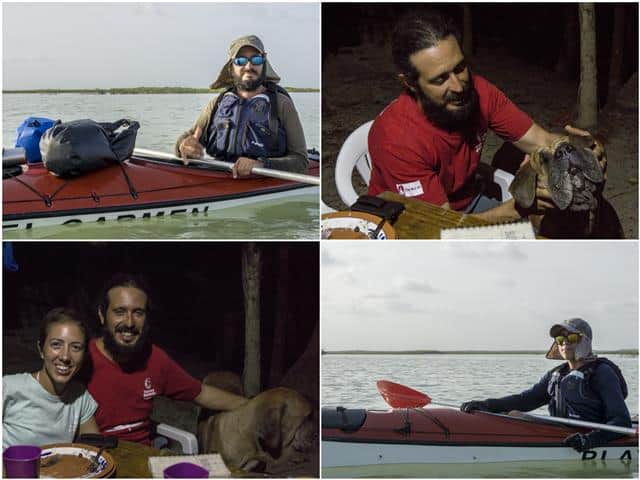 top: Antonio and one of their gorgeous dogs
bottom: Jessica and Antonio, and Carlos in a kayak
taken with Yucatan Ourdoors
l
Picking our way through a short stretch of waterlogged vegetation, balancing on wooden stepping stones covered with angry ants, and ducking the low-lying branches determined to take a swipe at our eyes, we broke through the other side onto quite a sight. A vast and clear cenote, fringed with green, deep and inviting.
We gathered on the small wooden platform jutting out over the water by just a couple of feet, from which the ladder to get in had broken off long ago. Antonio gave us an informative run-down of what was what, and once our snorkel gear was on, we launched into the deep, cool waters and marvelled at the creatures below.
The afternoon sun was projecting a hypnotic light show onto the rocky bottom, like laser beams dancing around a central focal point, that focal point always being directly below wherever you happen to be. It was an effort to pull myself away from it and look at something else.
We saw new parents ferociously guarding their brood of hundreds of offspring in their exact form, just very very tiny – one of few species of fish to demonstrate such behaviour. We eagerly looked for the small and shy crocodile that was understood to live ihere, but it alas hadn't been spotted for months.
Antonio said that if you drink a bit of water from a cenote in Mexico, you will always return to it. I may have swallowed a little, accidentally on purpose.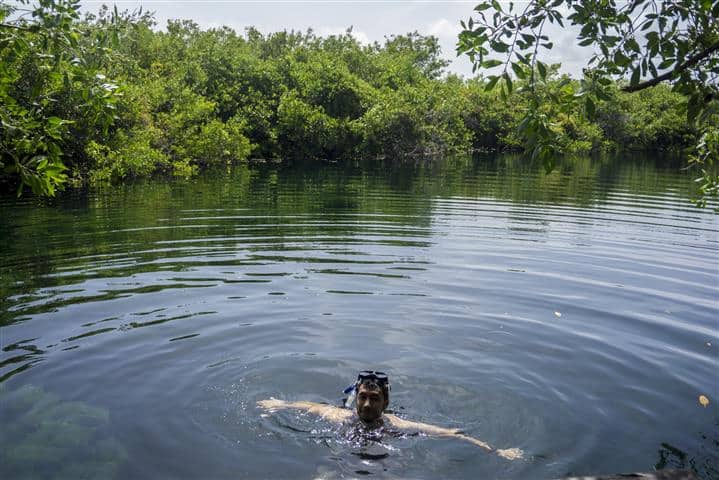 snorkelling in the mangrove cenote,
taken with Yucatan Ourdoors
l
We then kayaked for three or so hours, through the spectacular and shallow mangrove waters, spotting a whole host of birds and fish amongst the menagerie of flora and fauna to be found in these parts.
After our ventures out on the water with the harsh sun beating down on us the whole afternoon, we returned to the rudimentary but entirely practical base camp by the beach in which Jessica and Antonio live. A fascinating place in itself, completely open and powered by solar panels, guided after dark by little more than a solitary bulb and the light of the moon, furnished with drift wood gathered from the shore.
We changed out of our wet clothes, freshened up, and settled down to a well-earnt dinner. A glorious home-cooked Mexican feast over which Jessica had toiled while we were out.
Relleno negro (braised turkey in a sauce of blackened chillies), black beans, guacamole salad, mashed potato, hand made tortillas, ginger rice, and home made lemonade sweetened with honey. At a table overlooking the dark, crashing waves of the Caribbean Sea, their two beautiful dogs dozing at our feet with their massive heads resting on our shoes, we ate and laughed and chatted, and it was wonderful.
Genuine in the truest sense, passionate about what they do, and welcoming beyond what is called for from a tour operator – these people are wonderful. Take a tour with them, and create memories you'll treasure forever.
Yucatan Outdoors offer a number of tours, from snorkelling and kayaking to biking and hiking. The Sian Ka'an Kayak & Snorkel Adventure tour we went on is USD $150 (£96) per person or USD $130 (£83) without the home made Mexican meal.


Note: Yucatan Outdoors kindly hosted our tour as part of a media package. All views remain my own.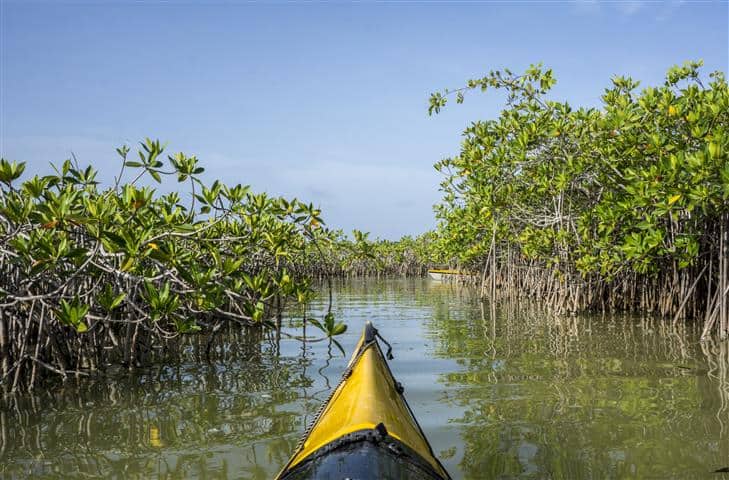 kayaking through the Caapechen lagoon in the mangroves of the Sian Ka'an reserve,
taken with Yucatan Ourdoors
l
Lowlight


You shall not pass


Late one afternoon we got a cab to the Tulum Ruins, then walked the long 800m to the entrance in the unrelenting heat. I say 800m, it was probably double that, as we first followed the masses heading to the public beach rather than the archaeological site, so had to backtrack, sweat in full flow by this point.
We turned up at the gates at 16.33, only to find a guard shaking his head at the small crowd quickly growing from behind a metal chain marking the entrance. 'But it closes at 5pm – there's still half an hour!,' cried the desperate tourists, Mexicans and foreigners alike. 'Just one photo – please!'. It turns out last entry is 16.30, and no one knew about it, because it doesn't actually say this anywhere.
It was our last day in Tulum, our coach was booked the next afternoon. Considering I'd been ill for most of our time here and was only just able to venture out to do stuff, I was really annoyed that it looked like we were going to miss the main attraction.
Something did lighten the mood though. Seeing my abject disappointment combined with the effort it took to get here in the first place, after the rest of the crowd had resigned to the fact they weren't getting in and moved on, Matt sidled up to the guard and muttered something along the lines of 'solo para dos, por favor'.
He discreetly opened his palm to reveal a 100 pesos note. The guard looked down, scoffed, and said no, again, this time with a smirk across his face. Probably because 100 pesos amounts to a grand total of.. £4. I commended Matt's effort at a bribe, but the paltry amount wasn't going to turn anyone. It was about time an attempt at bribery turned up somewhere along these travels.
All was not lost. We got up early the next morning and managed to visit the ruins with plenty of time to catch our coach at 3pm.
Wrong dates for cenote tour
As well as our fantastic tour with Yucatan Outdoors (see Highlight above), we had a second tour booked in for the following day with a different company. It involved being guided around the Tulum ruins, snorkelling in three cenotes, and then snorkelling over the Mesoamerican Barrier Reef – the second largest barrier reef in the world.
But the guy emailed the day before we were due to be kayaking, saying he had given me the wrong date, and it was in fact the same day as the Yucatan Outdoors tour. So we didn't get to do that, and snorkelling over the reef was one of the things I wanted to do the most.
A reason to return, I suppose.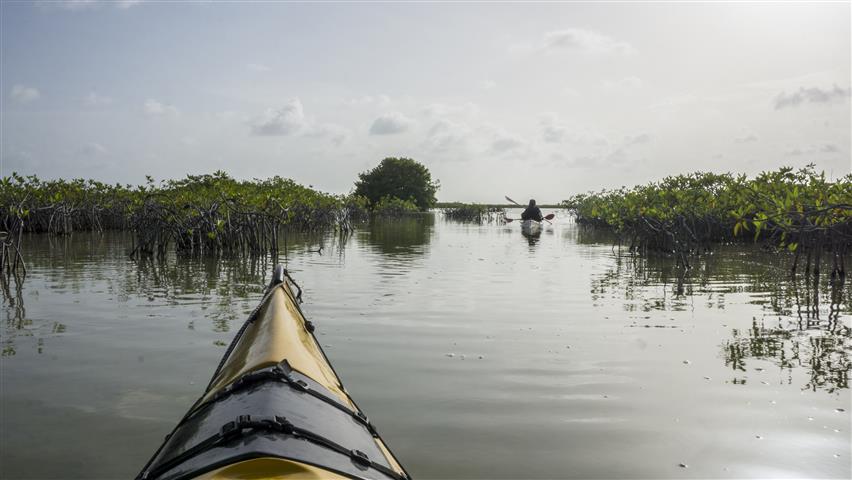 kayaking through the Caapechen lagoon in the mangroves of the Sian Ka'an reserve,
taken with Yucatan Ourdoors
l
An emergency in the mangroves
As we were coming to the end of our three hours or so of kayaking, Antonio asked the group (a small group mind, just myself, Matt and one other lady) which route we wanted to take back.
Now, understand that whilst I was, by this point, well enough to finally leave the bed, get out of the house and do stuff, my gut was by no means 100%. After three hours in remote waters with a harsh sun beating down, I found myself, quite urgently, needing a toilet break.
"Whichever route is quicker," I shouted back over the water. "I – err – need the loo."
"Oh don't worry about that!" enthused Antonio. "That's no problem. You see that corner over there? We'll paddle to it and go round it and give you privacy, and you can just get out of the kayak and do – err – whatever it is you need to do. Come over to us once your done."
By this point, acknowledgement from the guide that it would be ok to relieve myself in a pristine UNESCO protected nature reserve was all I needed to actually go ahead and do it.
There is no shore and there are no banks in these mangroves – just miles and miles of shallow water punctuated with knotted masses of vegetation growing out of the bed. The deed would have to be done right there, in the middle of this remote corner of the world.
We paddled behind a particularly dense tangle of trees. I lifted myself out of the kayak, put my foot down into the shallows on what I expected to be relatively solid ground (the water throughout the mangroves is only a couple of feet at its deepest), only for it to swallow my leg halfway up my shin. Very soft clay, very difficult to keep your balance, and it got everywhere.
Now envisage trying to take off a pair of shorts whilst your feet gradually sink deeper into the ground beneath you, the mud taking a firmer grip around my lower legs the more I tried to pull them out. Matt was inadvertently crashing into me with the kayak at the same time, sending me even more off balance as I screamed at him, 'You need to go away. CAN YOU PLEASE GO AWAY. I can't do this with you right here.'
To quickly wrap it up, he paddled off round another corner, I did what I needed to do – the clay almost reaching my knees by this point – then sheepishly called out, 'you can come back now.' There was little point attempting to get my shorts back on.
We joined the rest of the group. Whilst they all knew I hadn't been well for a few days, and therefore had a good inkling that the break in proceedings wasn't just for a quick pee, they all very tactfully avoided the subject and it was never spoken of again.
And that's the story about the time I needed an emergency toilet break in the middle of a remote nature reserve, squatting over just a foot or two of crystal clear waters with my feet disappearing deeper into the ground, and no current to wash away the shame.
I fully acknowledge that this lowlight, in retrospect, is hilarious.
Next week

A two hour bus ride to Cancun where we bid a teary farewell to the stunning country of Mexico. I'm sure as hell coming back for it one day.
Onwards to the capital of the United States of America – Washington DC. I wonder if the President will be in.
Postcards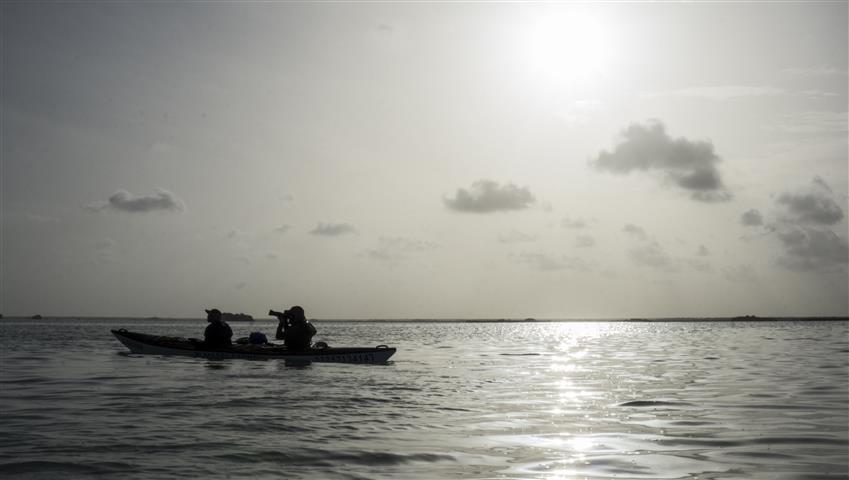 kayaking through the Caapechen lagoon in the mangroves of the Sian Ka'an reserve,
taken with Yucatan Ourdoors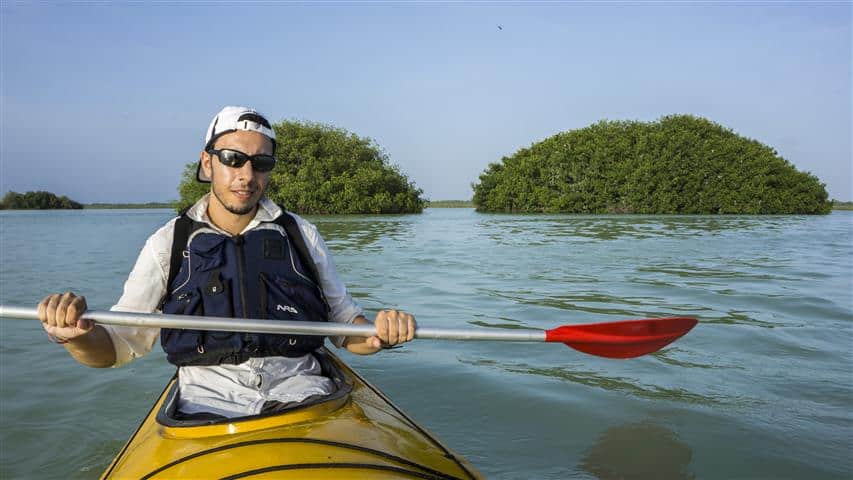 kayaking through the Caapechen lagoon in the mangroves of the Sian Ka'an reserve,
taken with Yucatan Ourdoors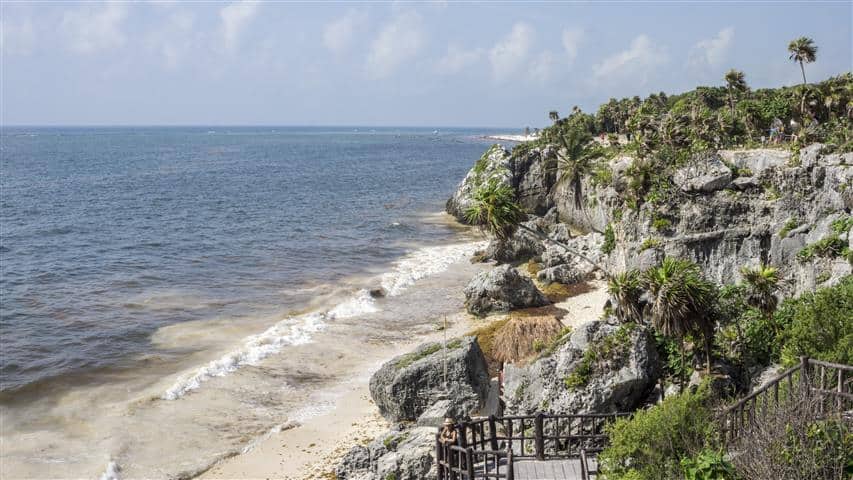 Tulum ruins, Mexico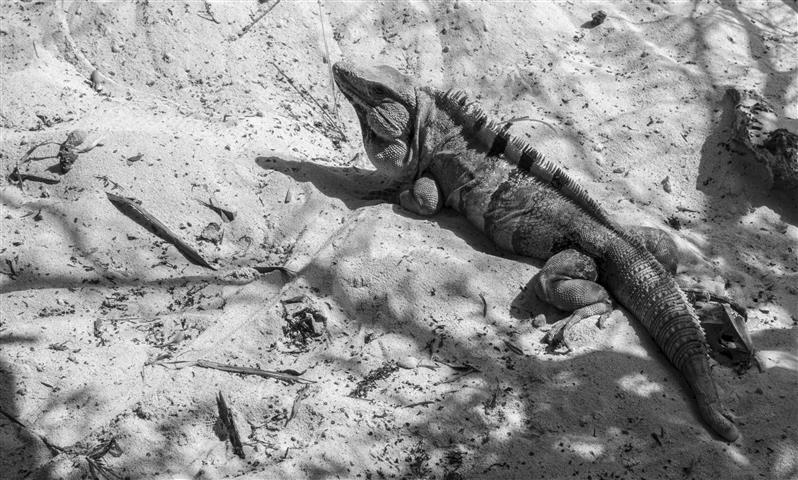 iguana at the Tulum ruins, Mexico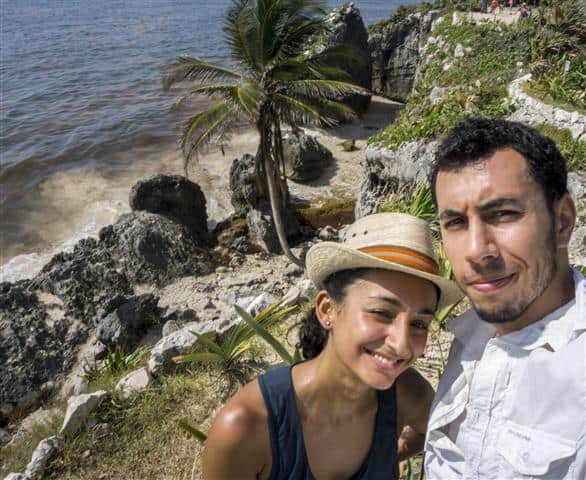 at the Tulum ruins, Mexico
l
Related posts
Week 0: Gone travelling. London – see you in nine monthsWeek 1: INDIA – Mumbai → Goa
Week 2: INDIA – Bangalore → Mysore → Wayanad
Week 3: INDIA – Kochi → Allepey → Kollam → Madurai
Week 4: INDIA – Pondicherry → Chennai → Mumbai


Week 5: INDIA – Varanasi → Udaipur → Jaipur → Delhi
Week 6: TAIWAN – Taipei
Week 7: CHINA & VIETNAM – Hong Kong → Hanoi
Week 8: VIETNAM – Sapa → Hanoi → Ha Long Bay → Hanoi


Week 9: VIETNAM – Hue → Hoi An
Week 10: VIETNAM – 6 day / 5 night motorbike tour from Hoi An to Da Lat
Week 11: VIETNAM – Da Lat → Nha Trang
Week 12: VIETNAM – HCMC → Mekong Delta → HCMC
Week 13: CAMBODIA – Siem Reap (and Angkor Wat) → Phnom Penh
Week 14: CAMBODIA – Sihanoukville & Koh Rong Samloem Island
Week 15: CAMBODIA – Kep
Week 16: THAILAND – Chiang Mai
Week 17: THAILAND – Songkran Festival in Mae Rim & Chiang Mai
Week 18: THAILAND – Bangkok → Koh Phangan
Week 19: THAILAND – Bangkok
Week 20: MALAYSIA – Penang → Borneo
Week 21: AUSTRALIA – Melbourne
Week 22: NEW ZEALAND – Auckland → Rotorua → Turangi → Whanganui
Week 23: NEW ZEALAND – Wellington → Nelson Lakes → Hanmer Springs → Christchurch
Week 24: NEW ZEALAND – Lake Tekapo → Mount Cook → Queenstown → Milford Sound
Week 25: NEW ZEALAND & USA – Queenstown → Hawaii
Week 26: USA – Hawaii (Big Island) → San Francisco (Oakland)
Week 27: USA – San Francisco
Week 28: USA – Los Angeles
Week 29: MEXICO – Mexico City
Week 30: MEXICO – Oaxaca
Week 31: MEXICO – Mérida (plus Uxmal and Kabah)