Last Updated on June 10, 2020 by Leyla Kazim
our full route – we managed to lap the world, and even went a little bit over
Here are some numbers. 11 countries, 68 towns and cities, 34 flights, 23 consecutive weeks popping anti-malaria pills, 7 overnight trains, 96 different beds, all over a period of 34 weeks, and we're finally home.
London, you have been missed.
We've been back a week now. Or is that two? It's hard to tell.
Crossing time zones and hanging out in airports has become such a regular occurrence that I've readily lost all concept of time itself. I'm lucky if I know what day of the week it is. Today's date? You'd have more luck asking a postbox.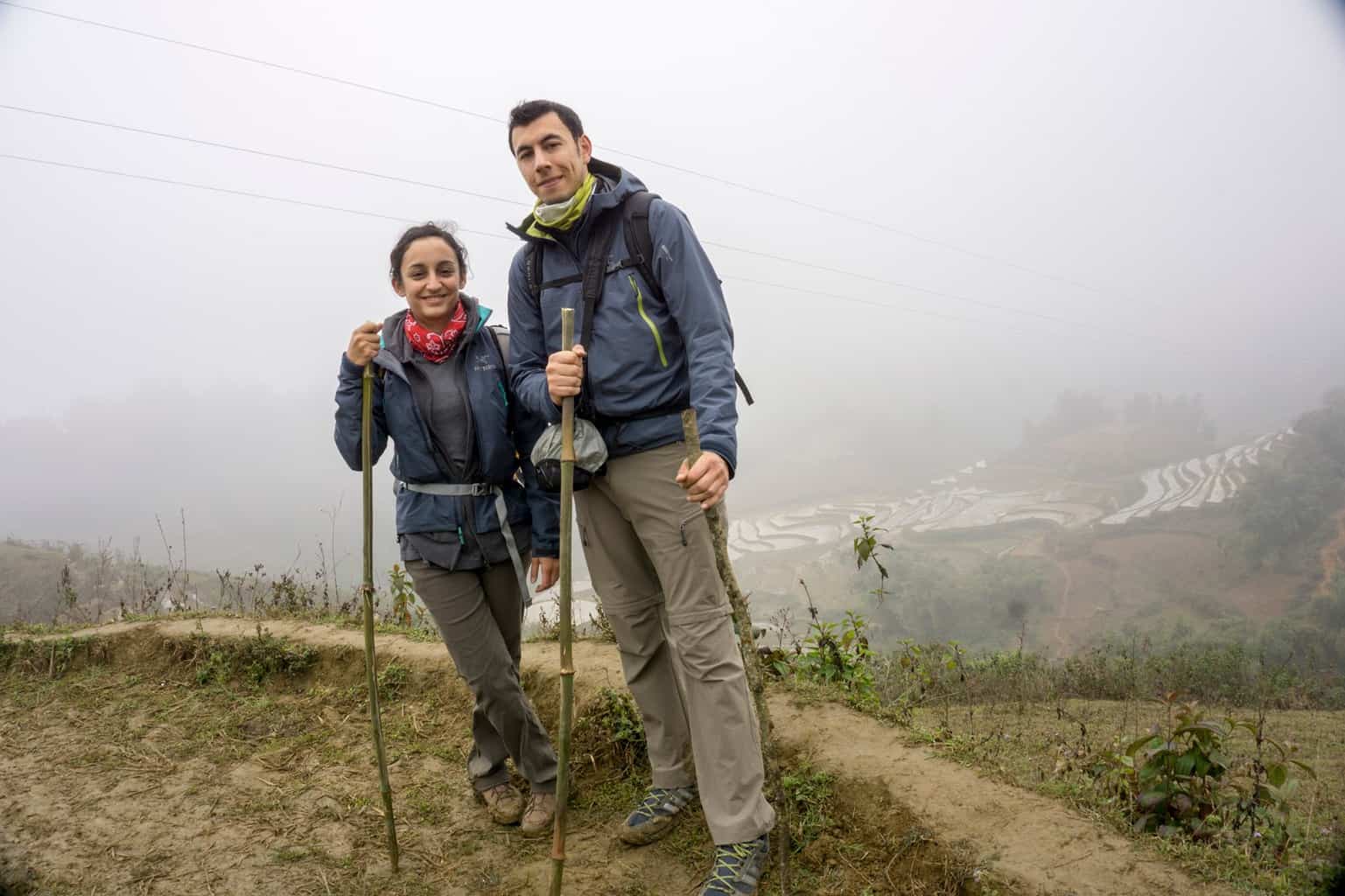 Week 8 – trekking in Sapa, northern Vietnam, to a backdrop of rice paddies
l
I've started doing the rounds of catching up with friends and family. It's great seeing everyone again. But trying to condense eight months of travel into a concise summary that does it even a jot of justice, in response to the first question everyone asks – 'Sooo, how was it?!' – is nigh impossible.
'Yeh, it was good. It was great actually, thanks.' Sorry guys, that's all I've got at the moment. If you want more, I suggest you read the blog posts – it's all there. In person, the stories will come out over time. Give me time.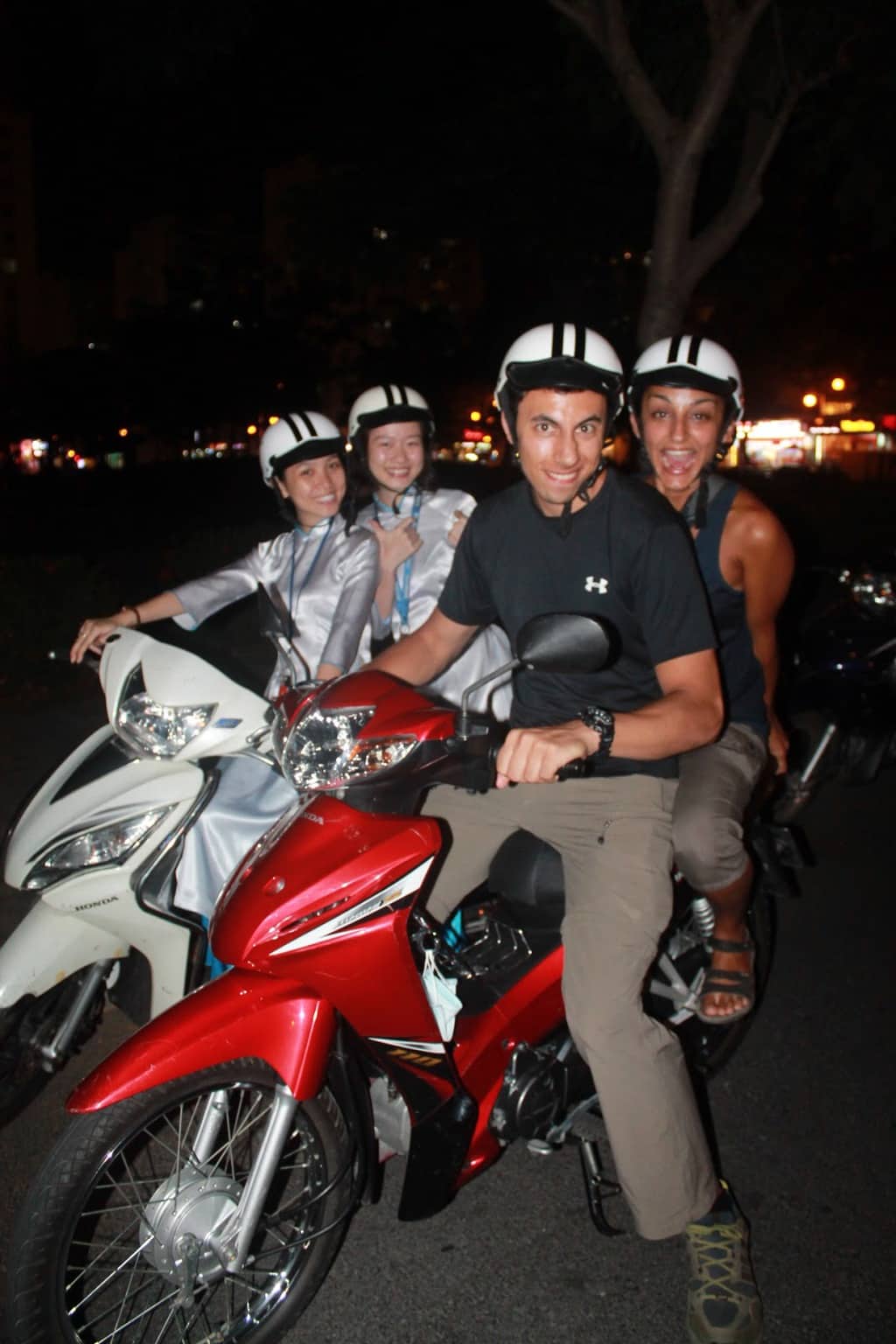 Week 12 – on the XO food
tour in HCMC, Vietnam
Things that have been wonderful since being back: having access to my full wardrobe again. Cylcing between the same five tops and four pairs of shorts for months on end is dull. Not to mention it makes all the photos from our time away look like they were taking over just five days.
Getting my first haircut since December 2014 – that was both a joyous event, and a critically urgent one.
Putting everything through the washing machine. I mean everything. Handbags (not leather, obvs), travel bags, toiletry bags, packing cubes, make-up bags, whole rucksacks – anything we took with us that had a chance of surviving a scalding wash. I would have put the backpack itself in if I could. I did try, it didn't fit. It feels good to have clean stuff again.
Sleeping in my own bed? That's the other one everyone asks. Yeh, that's been alright. But having now laid my head on hundreds of pillows, I realise my ones at home could be a lot better.
I've just returned from 'getting my nails done'; I think the last time that happened was 2003. I'm not a salon-person, but living out of a bag for that amount of time makes you fully appreciate the things that make you look and feel preened and presentable. All those things having been left at home, sacrificed in exchange for a lighter load. On that note, it's great to have my hair straighteners again. Really great.
Things that have been less wonderful: London has been reliably grey and wet since our return; the warm embrace of familiarity. We may have picked the wrong month to come home.
Week 32 – exploring Mayan ruins in Tulum, Mexico
On the way back from the airport we took a tram. On it, I watched a 20 stone man eat his way though 11 rich tea biscuits (I was counting). There wasn't even any tea involved. "Great Britain," I thought.
On the note of public transport, I hadn't really missed the London Underground. I got on it for the first time in eight months a few days ago; I'd almost forgotten it's the only one in the universe with no AC.
But as for my home, I only realised how much I'd missed it once we crossed the threshold, batting away the stringy cobwebs and opening up the blinds and windows. My house, with my things in, decorated the way I want. It feels smaller than when we left it, but I guess the big wide world has that effect.
The other common questions I've been asked are what the extremes were. The weirdest thing we ate, the worst mode of transport, the closest brush with death.
And so, to answer these, and to indulge in my first bout of nostalgia since returning, I thought I'd summarise some of the best and the worst from the trip.
Turns out there's quite a few of them, so this is the first of a three-part series.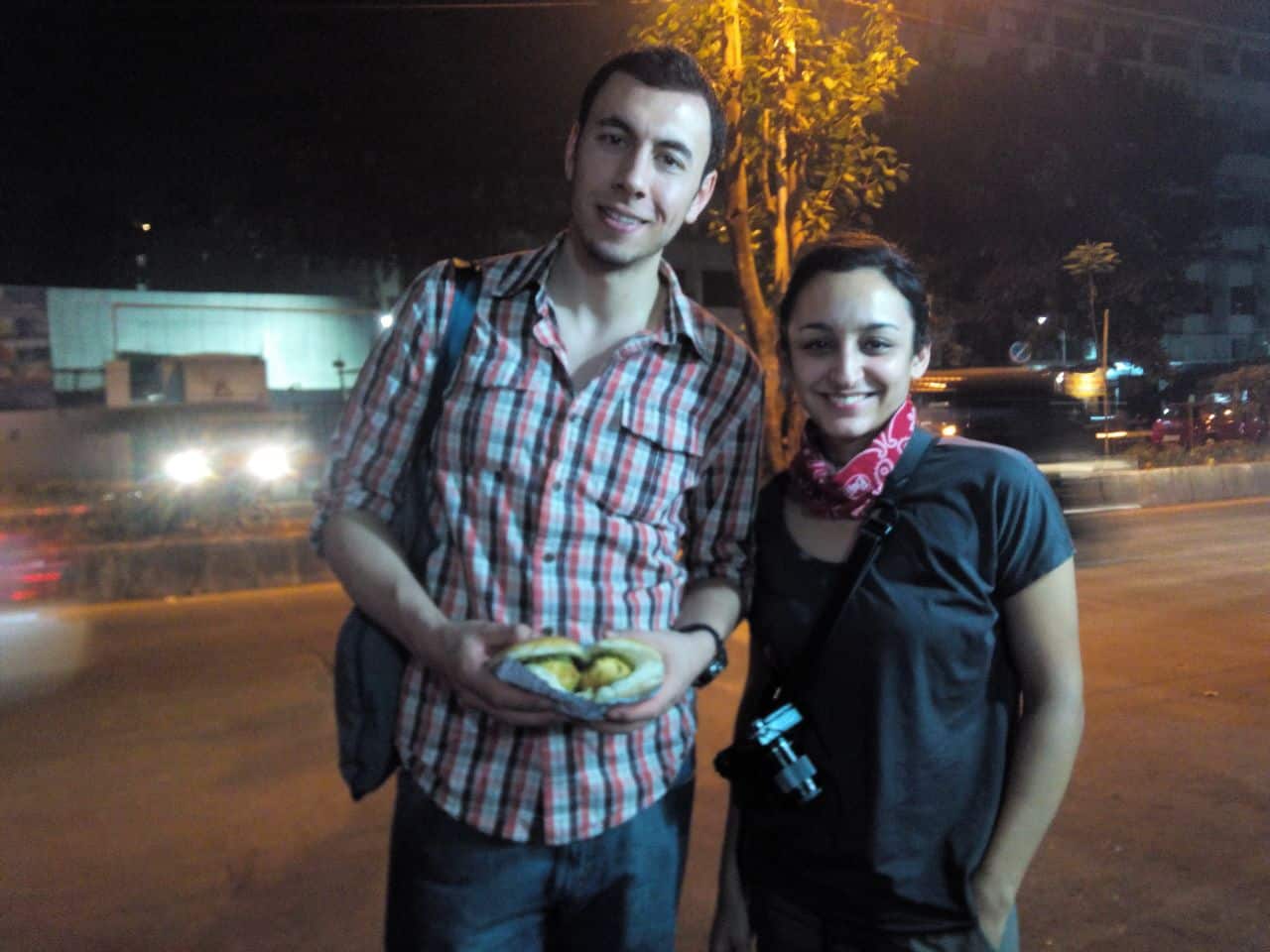 Week 1 – the very beginning, before ploughing into some vada pav in Mumbai
l
Biggest culture shock
Varanasi in India. Colour, filth, smiles, decay, peace, pollution, reflection, chaos, spirituality, tourism – Varanasi is all of India's identities concentrated into a knot of pulsating, exposed, indiscreet life. It's a minute-by-minute assault on all the senses, the full range of emotions, and the human resolve.
The oldest inhabited city in the world, and the holiest site in Hinduism, Varanasi lays bare all the facets of life, from birth until death, side-by-side on the banks of the sacred River Ganges. There is no privacy, discretion or censorship – it's the most intense and unrelenting place I've visited. If I had to sum it up in a single word, I think it would be human.
Varanasi is the place where the dead are brought to be cremated. Piles of sandalwood are sold by weight, measured out on huge scales and charged according to the wealth of the deceased and their family. Pyres are built over the bodies, they're lit, and people sit around them sipping tea while they watch them burn and feel the heat on their faces.
You can walk right through and weave around the fires. I clearly saw feet, flexed with rigor, sticking out from the bottom of a couple.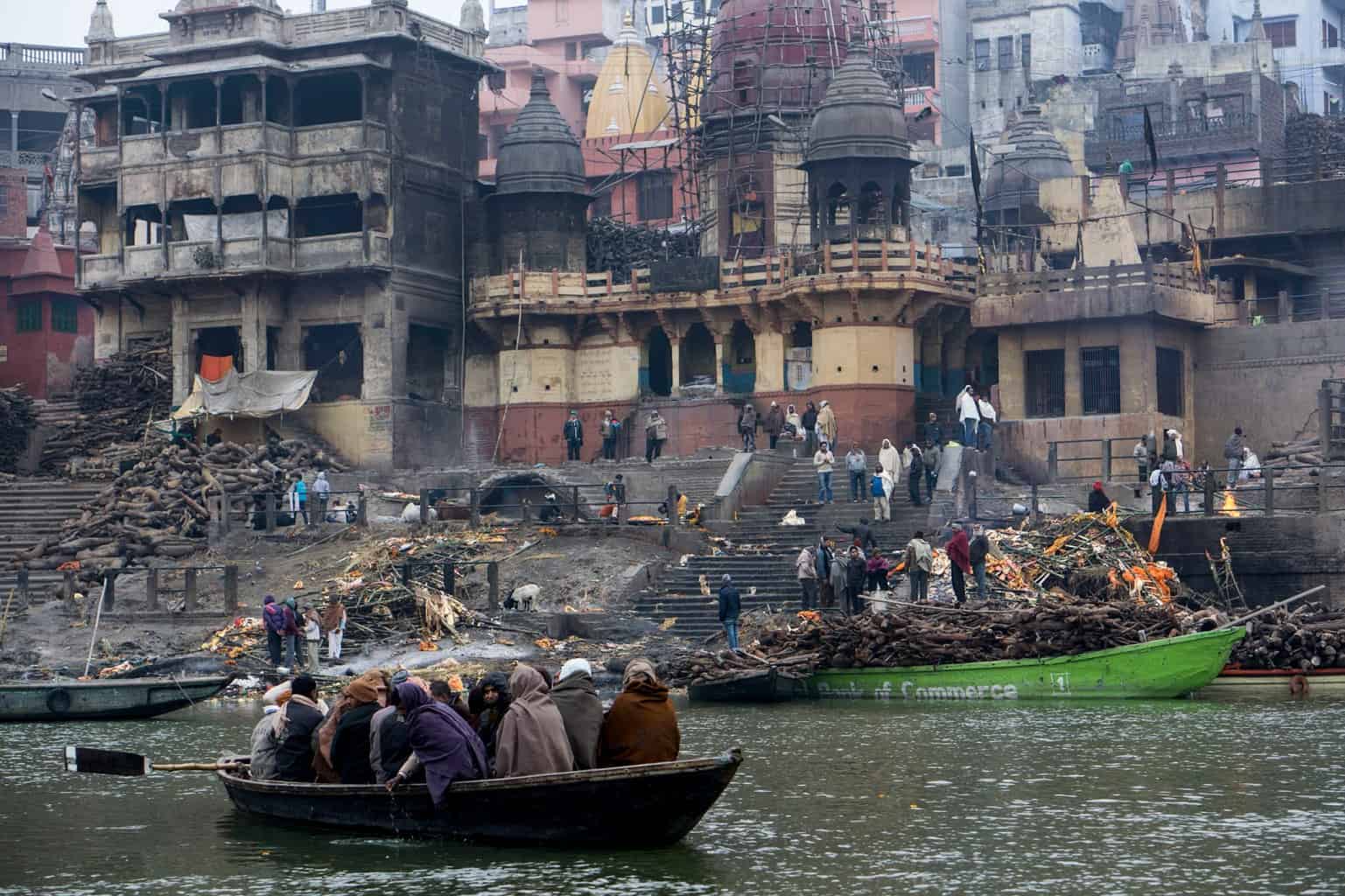 pyres on the banks of the River Ganges, Varanasi
Worst night's sleep
We had our first experience of an overnight sleeper train, from Kollam to Madurai in India, which as a whole, was a lot better than we expected. Apart from a few difficulties, and ignoring the onboard rat which I thankfully didn't see, but Matt did.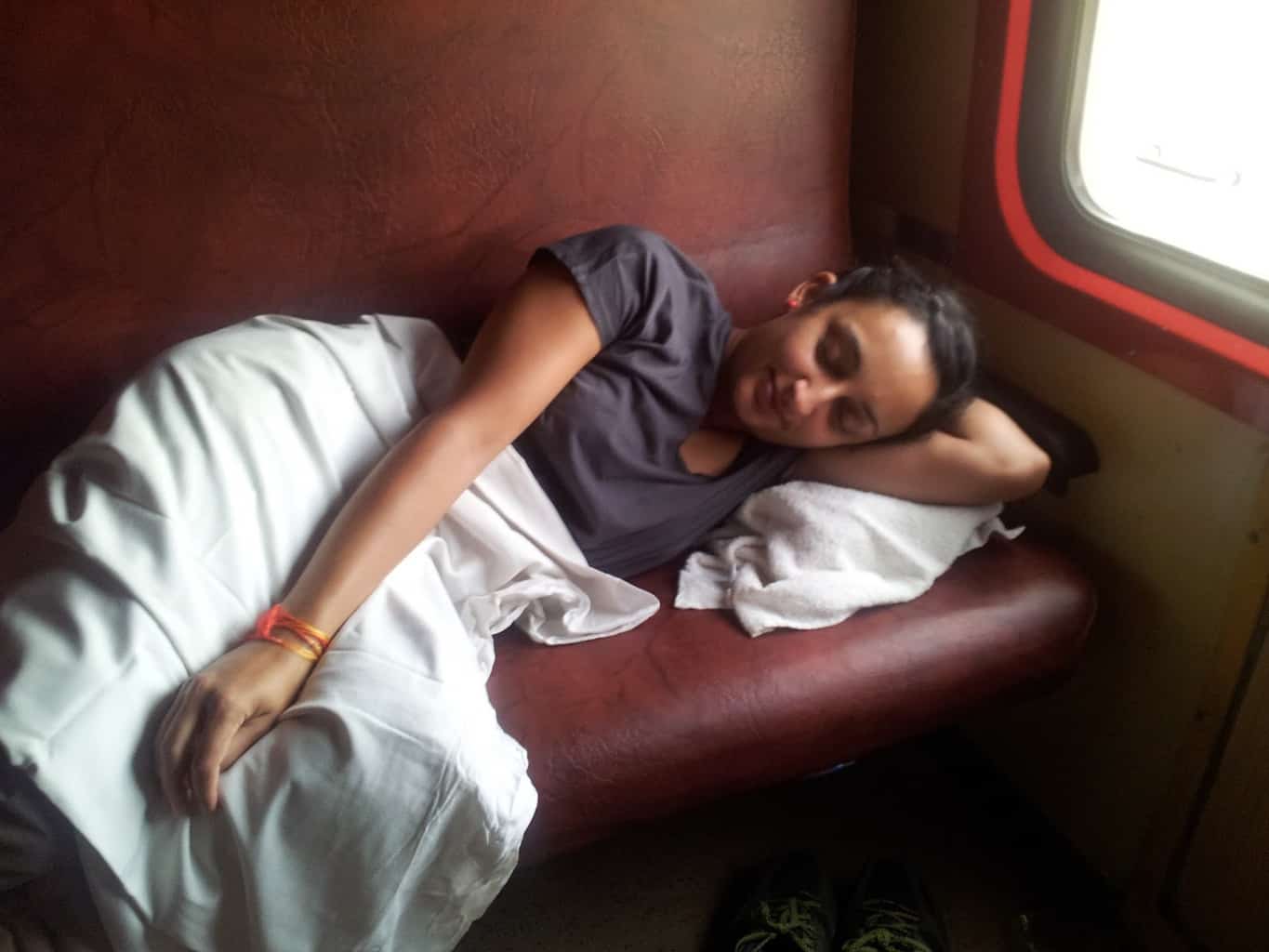 pretend-sleeping on the train
We got on at 2am to a pitch-black carriage which we had to feel our way through to find our seats – in silence so as not to wake everyone sleeping – whilst trying to negotiate two huge bags through the narrow corridor.
We found our bunks, in a compartment shared with two others. With just the light from a phone, we fumbled about until we eventually found the sheets provided and made up our beds, one above the other.
The floor space wasn't huge, so Matt had to put one of the bags on his bunk and lean against it. After a few sweaty minutes trying to be as quiet as we could, we were settled and ready to knock out. Execpt, that was, for the very overweight man in one of the bunks next to us, with snoring that sounded like a wild boar being smothered through a megaphone.
It was the kind of noise that competed with the enormously loud train engine, air conditioning and rickety rattling of the carriages combined, and won. His wife was in the bed above him, and was dead to the world. I can only imagine she has, over the years, become immune to this congested, gasping, reverberating monstrosity, or she's deaf.
With noise-cancelling headphones and music blasted to as loud as our eardrums could handle, this man was still the only thing we could hear. Needless to say, we got no sleep, and had to make up for it when we got to our hotel in Madurai.
The hottest
Merida in Mexico is certainly a contender. We'd somehow chosen accommodation without AC. It seemed we were hotter inside the apartment than out, and there's only so much relief you get from wearing a soaked top that's been in the freezer for 15 minutes. Fleeting respite, before the heat comes back to wallop you round the face again.
In terms of straight up sweat, I'm not sure my body has excreted as much liquid in such a short space of time as when we were in the Borneo rainforest watching orangutans. We stood in the near 100% humidity of the jungle, everyone looking like they'd just stepped out from under a shower.
People were sweating right through their rucksacks, dark patches of moisture on the outside growing with every passing minute. Weirdly, I don't remember feeling it was that hot. The humidity though, it must have been off the charts.
We did get to see two gorgeous orang-utans in their natural habitat though, and that's worth all kinds of discomfort.
orang-utan at the Shangri-La Rasa Ria Nature Reserve, Sabah, Borneo
The coldest
Most of our time away was hot. Not necessarily that sunny, but more often than not, uncomfortably and excessively warm.


New Zealand offered much needed respite from the unrelenting stifling air of Asia; we got there in time to catch the end of autumn (May). And my, what an ideal time of year – endless days of bright, clear, sunny skies and fresh, cool air. They should bottle that stuff and sell it to Londoners.
The coldest of New Zealand was at the top of Mount John at Lake Tekapo for a night of stargazing with the staff from Mount John Observatory. This spot is in fact, the second darkest sky in the world, and therefore, the second best place on the planet to look up at the night sky.
They provide some awesome coats, previously used by a US expedition to the Antarctic. Entirely necessary with the frigid glacial winds ripping through the observatory grounds at that altitude. And really effective. They also handed out hot chocolate – bonus.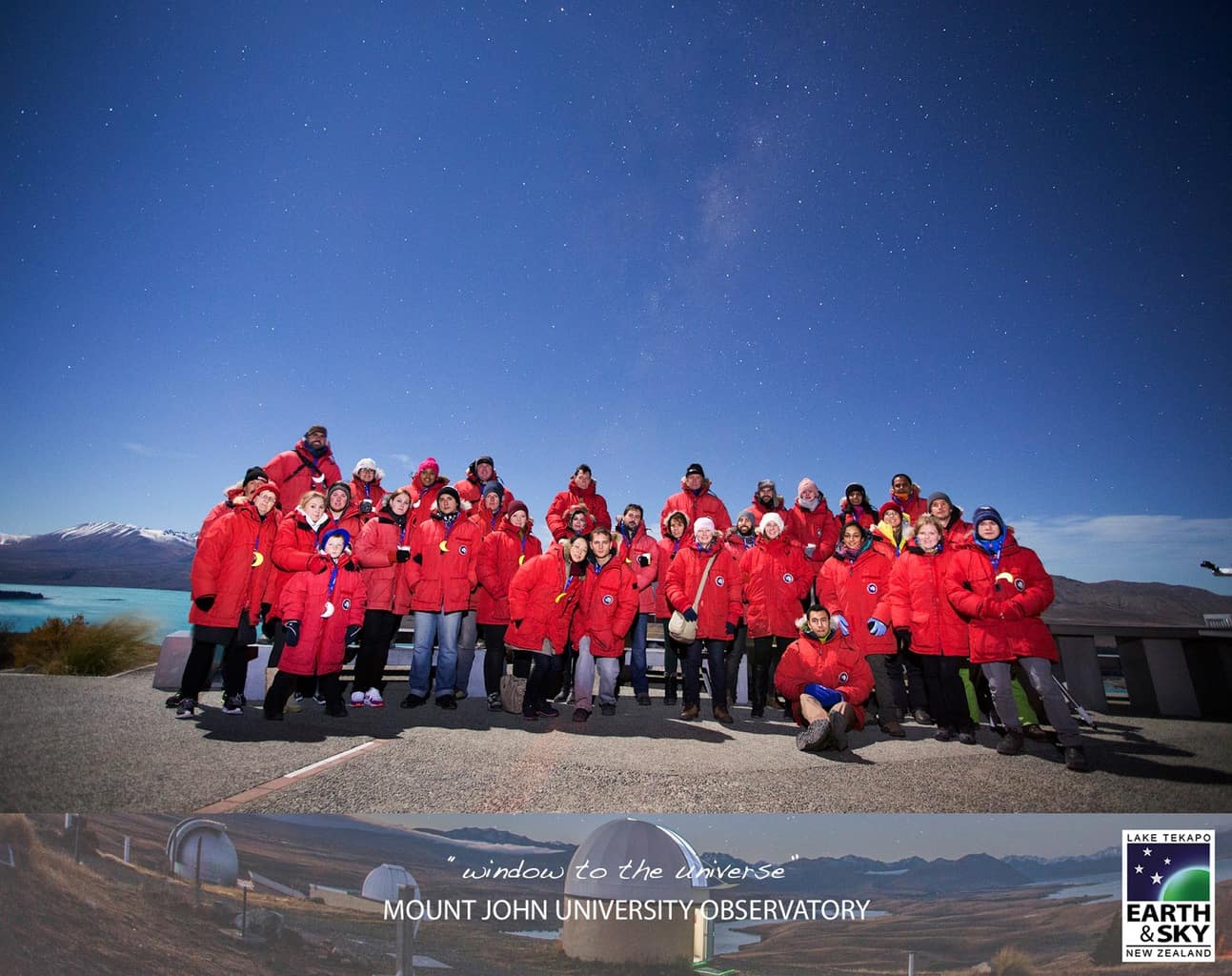 Mount John Observatory stargazing group of 31/05/15
(Matt's sitting on the floor, I'm third from the right in the front row)
l
Most unexpected welcome

When our lovely AirBnB host kindly picked us up from the train station on our arrival in Oakland (San Francisco), and began to talk us through her area, she mentioned in her second or third sentence: "no doubt you've heard about Oakland already.. that it's the armed robbery capital of America".
Oh, is it really. No, we hadn't heard. Looks like that quite useful nugget of insight managed to slip through the net when we were researching where to stay.
We of course managed a very pleasant stay with no weaponry involved.
Best food tour
One of the best ways to explore the culinary scene of a new destination is under the expertise and guidance of a local who knows their food. That's why I'm a good guided food tour's biggest fan, and always try to find an expert to show me the ropes when I'm in a new city.
I ate my way around a lot of food tours while we were away, but I think the superb morning with Chin from Chili Paste Tours in Bangkok may well have been the best.
It was, without question, the most food I've sampled on a tour, and with so much variety; full marks to Chin for stuffing us to the hilt.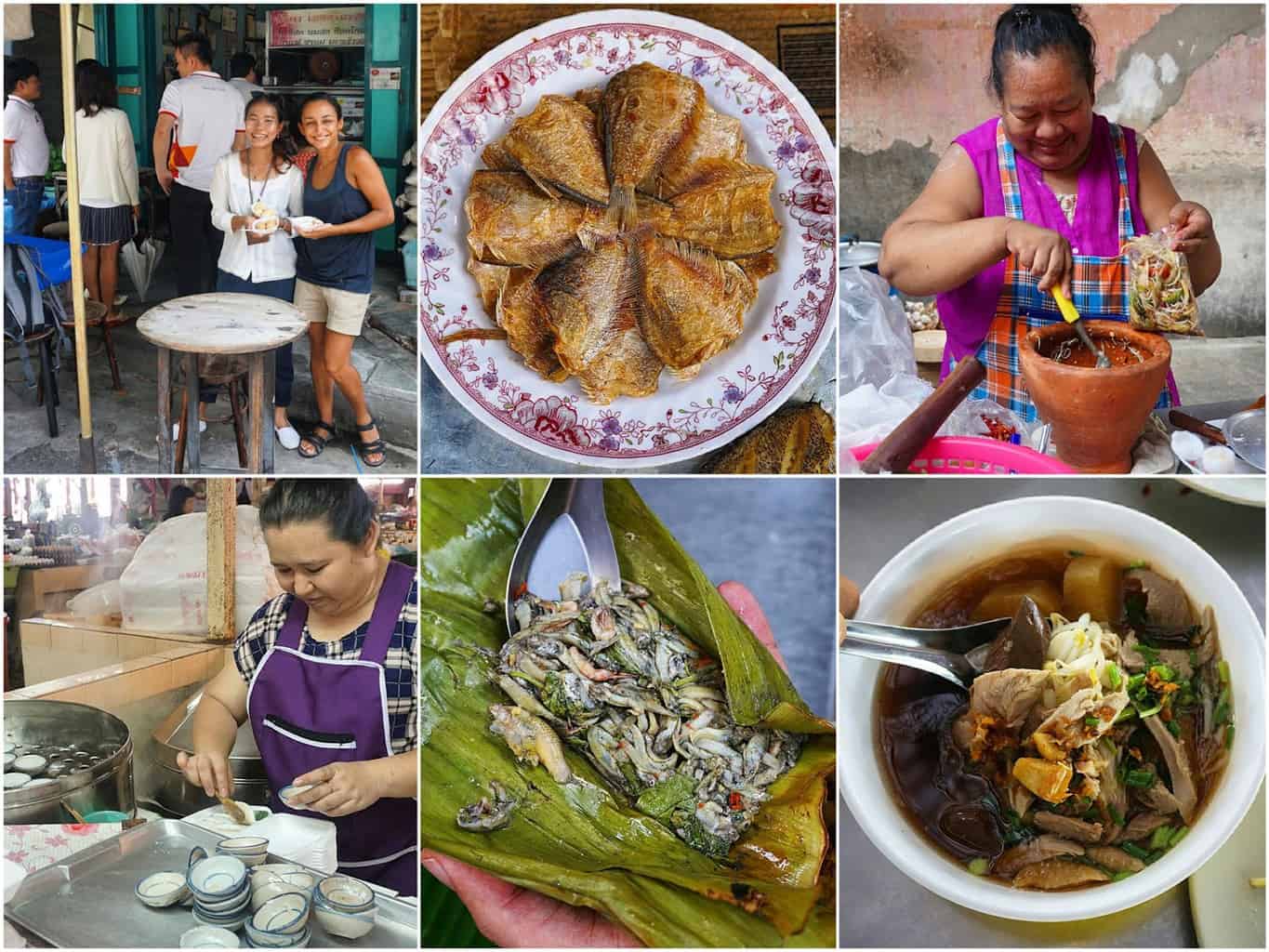 top: Chin and I with ice cream, dried fish, a lady pounding salads
bottom: lady making steamed coconut and pandan custards, little steamed fish, duck noodle soup
With Chili Paste Tours, Bangkok
Most fancy hotel
The Mandarin Oriental in Taipei. Staying there is nothing short of an unashamedly fabulous experience.
Close behind in second place is the sensational ITC Grand Cholla in Chennai. We really loved it there. It's hard not to when you have your own private butler. You heard.
Most ill
On a whole, the powers that be were very kind to us concerning our health whilst away. No one got hospitalised, no bones were broken, no parasites burrowed into our ears to lay their brain-eating eggs.
We didn't get ill throughout India (almost exclusively eating the street food), and we further managed to evade the gurgle guts throughout the rest of our time in Asia. That feat in itself deserves at least a small round of applause; stomachs, take a bow.
But happen to one of us it eventually did, and it happened to me in Merida, Mexico.
I ate something that didn't agree with me. It meant my appetite reduced to almost nothing, I was doubled over with stomach cramps and everything unpleasant that goes with those, and felt sluggish and weak. Then I thought I was getting better, so I had a normal restaurant meal. Which had loads of spices and chillies, as we were in Mexico. Which of course triggered it off again, and made it worse.
It was bad enough to call the Mayan ruins tour company on the morning we were due on it, to plead for them to move us to the next day, which they kindly obliged. I somehow made it through the day without any emergencies until we were back home again in the evening. So that was fortunate. And it was bad enough to not be able to get on a bus to travel to Tulum on the day we were supposed to.

But it didn't end there. There's a quite funny story associated with this bout of illness – check out most inappropriate location for a toilet emergency below.
Worst travel woe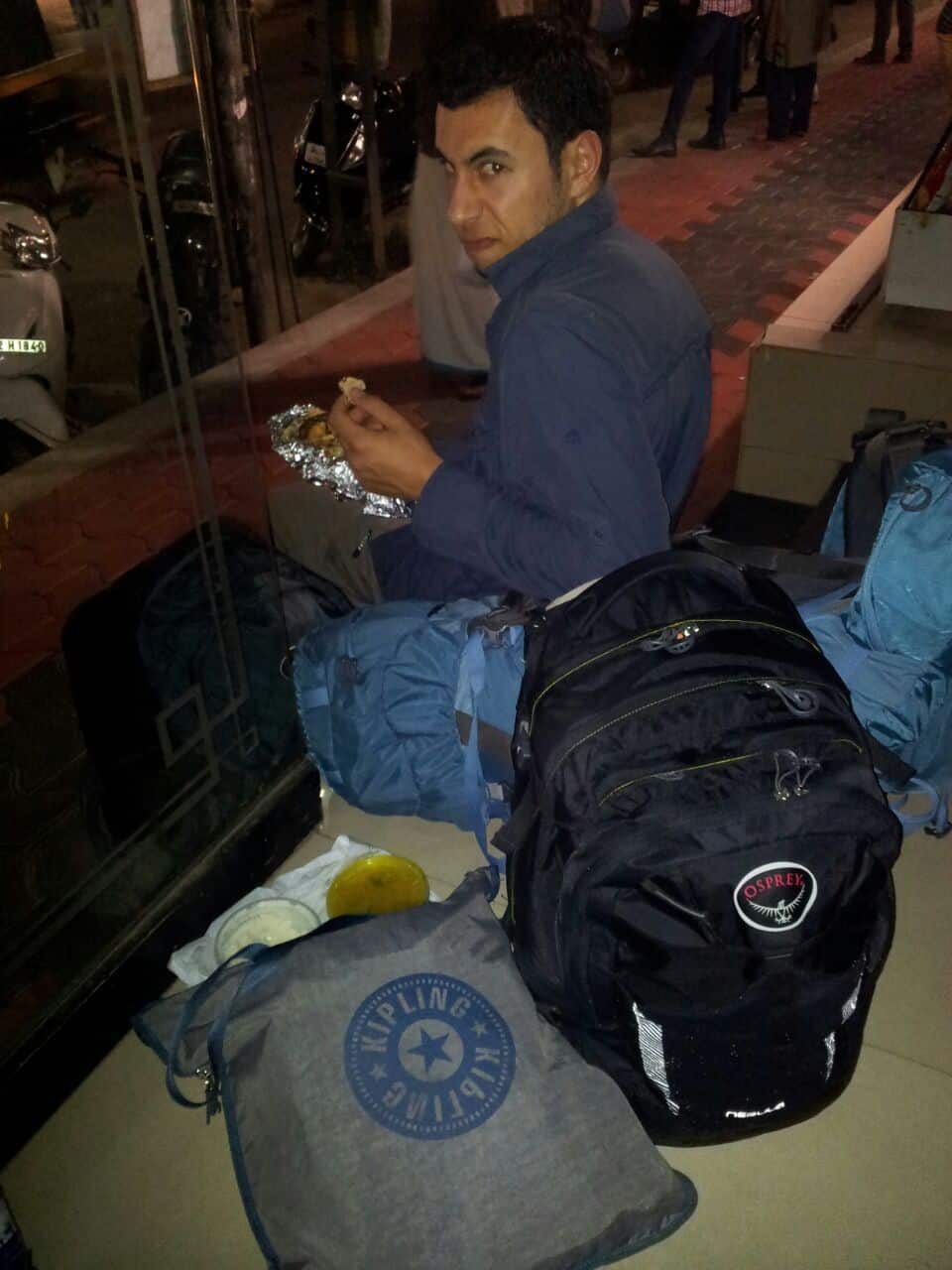 the face you pull after waiting three
hours for a bus by the side of a
road choked with fumes
The overnight coach from Wayanad to Kochi in India.
After waiting three hours for it by the side of a main road whilst setting up a makeshift kerb-side picnic to get some dinner inside us – the whole time inhaling black diesel fumes from every chugging auto rickshaw and dilapidated local bus on its last legs – we had in that time forgotten to take our travel sickness pills.


Cue a seven hour journey sitting at the back of the bus (the worse place to sit if you're not good with motion), the first half of which was spent negotiating hairpin bends and feeling every steering wheel movement of a vehicle that was travelling too fast for the load it was carrying.
Matt is particularly bad with travel sickness. Over the course of those painful 7 hours, he gradually filled up a sandwich bag with the dinner he had just before we got on.
There's nothing like someone else being sick to take you to the brink of Barfdom yourself. So whilst Matt was dealing with his own demons in the seat next to me, I was desperately trying to visualise my way out of the bouncing, swaying, swerving, jolting, braking nightmare I was in.
Long, straight, wide American highways. Long, straight, wide American highways, was the internal mantra and images keeping me from seeing my own dinner twice that night. I think it actually worked.
Add to this we were caked in a day's worth of sightseeing sweat, exhaust fumes and dust, and you have the makings of a very unpleasant journey.
Best wildlife spot
As I've mentioned before, I'm just as happy on a nature trail as I am in front of a great plate of food. Nature and natural history are big passions of mine, and so the creatures I saw during my time travelling made big impacts on me.
Wild elephant in India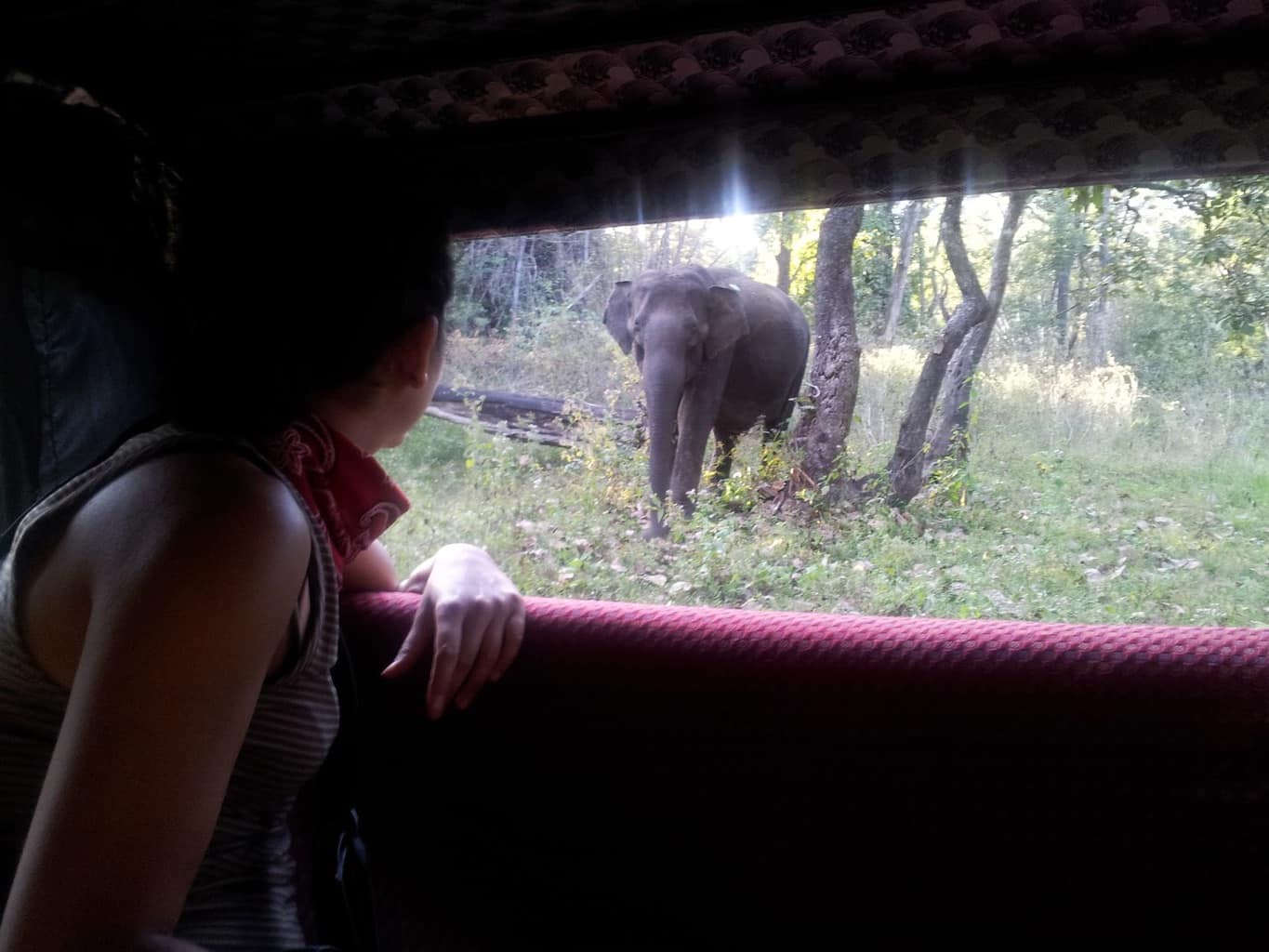 wild elephant in Tholpetty
Wildlife Sanctuary, Wayanad
There was the time we spotted a wild elephant in the district of Wayanad in Kerala, India. We had spent the day being driven around in a jeep with zero suspension that required a titanium strength sports bra to endure.
Body broken and brain rattled, we finished off with a safari at Tholpetty Wildlife Sanctuary in the north of the district.

Driving around on tracks that had our arses coming off the seats by a good six inches, our guide spotted something from the corner of his eye, turned back to look behind the car and squealed 'ELEPHANT!'. There stood a pregnant female, grazing right by the track, with three more just behind her.
I asked if we could turn the enormously loud engine off but apparently the vehicle must be kept running during elephant sightings, should it take a turn and start charging. "Tigers no problem. Elephants – very dangerous," said our guide. Seeing an Asian elephant in the wild – pretty damn cool. And worth the bruised backside.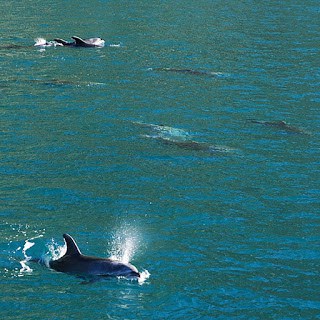 pod of dolphins that joined us in Milford Sound
l
Dolphins in New Zealand
On a cruise through Milford Sound in New Zealand, not only did we get clear skies in what is one of the raniest places on the planet, but a pod of bottle-nosed dolphins came out to join us.
They swam beneath and alongside the boat, effortlessly gliding, splashing about, playing. Utterly magnificent beasts, and way bigger than I would have anticipated.
Fireflies in Borneo
In the Malaysian part of Borneo, we took a fantastic cruise along the Tambalang River and its narrow mangrove creeks at sunset, where we spotted long-tailed macaques, flying fish, a crocodile and an awesome view.
We then took the firefly cruise straight after and visited the same waterways, this time in the pitch black.

The skies were clear, with the dark shadows of the mangroves twinkling like hundreds of fairy lights, mimicking the constellations above. They were full of glowing fireflies, as if the stars had fallen from the sky and got caught in the trees.

I've never seen anything like it, straight out of a dreamworld. Otherworldly, bewitching, magical.
Sea turtles in Hawaii
There are a lot of green sea turtles across the planet, but it's only Hawaii's greens that routinely bask on its beaches (females usually only make land to lay eggs in the sand then return to the sea), and no one can really explain this unique behaviour.
Just a ten minute walk from our AirBnB in Kona in Hawaii, there was a black sand beach, great for snorkelling. In its rocky shallows, present every day almost without fail, there were at least a couple swimming.
You're not allowed to touch them, and you're meant to keep at least 10 feet away. I'll tell you now, I was a lot closer than that. Gorgeous animals, and a real privilege to swim alongside them in the wild.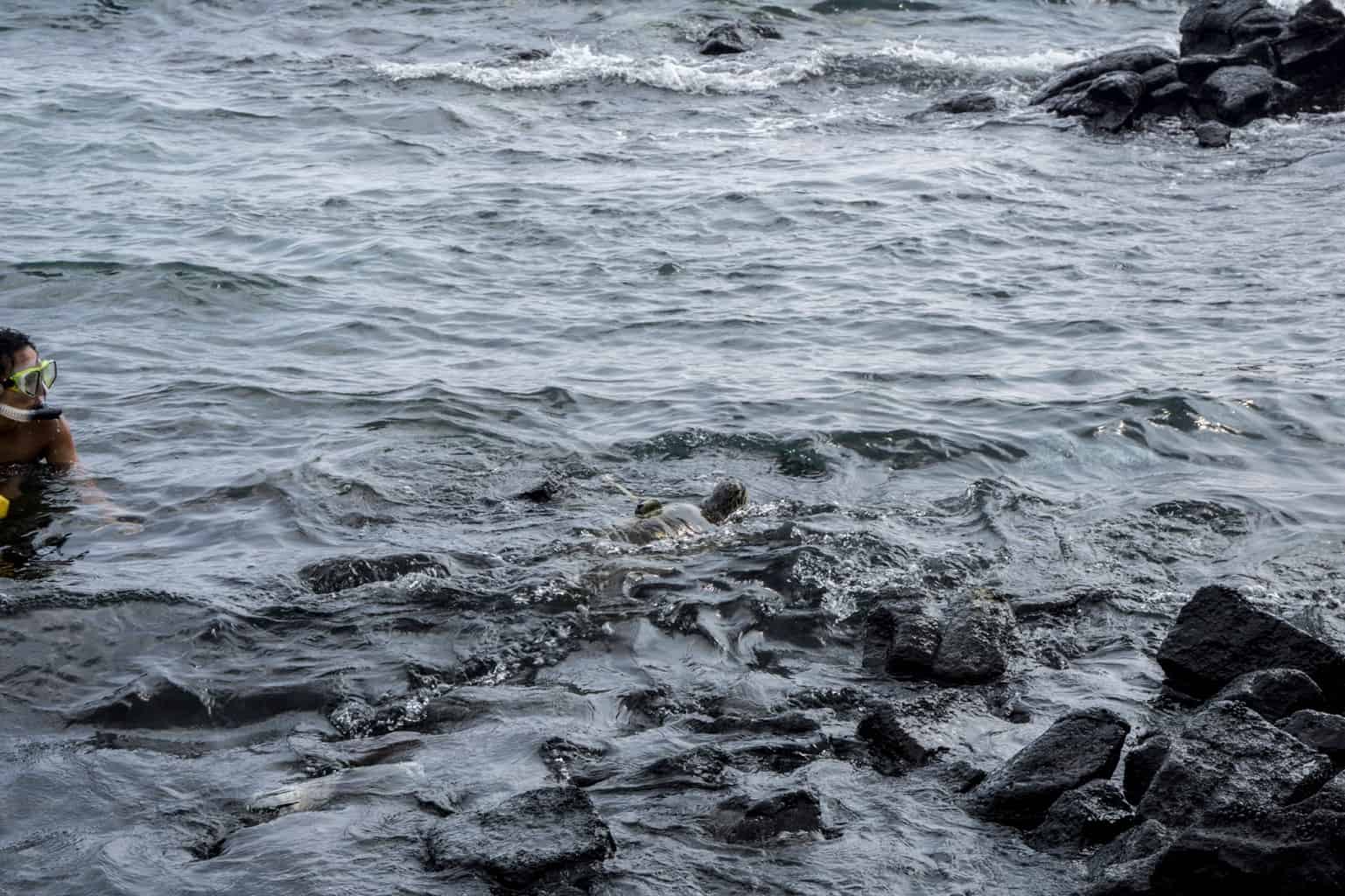 spot me on the left of the image, and if you look closely at the very centre amongst the black rocks, you'll see a little head poking out of the water and a shell with a transmitter attached to it – my snorkelling buddy for the day
Saddest news from home
The start of our eighth week away was a painfully sad day for the London food blogging and dining scene. I might have been thousands of miles away, but the distance did nothing to diminish the feeling of loss. A shining, smiling star. A gentleman in the truest sense, who made everyone laugh, who welcomed all, and who knew how to have a bloody good time.

Eating my way through London again without you around doesn't feel right. We still miss you Wilkes. And we won't forget you.
Strangest foods
Pig uterus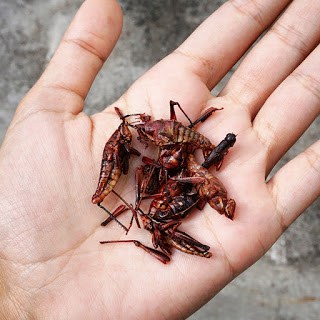 grasshopper anyone?
There was the carnitas tacos in Mexico City. Made by braising or simmering pork in lard until tender. Much like confit. You can request which part of the pig you want, but if you come at the end of lunch, you'll likely get it mixed. No strange thing in itself, who doesn't love a bit of lard-simmered pig?
Except that the 'mix' you get towards the end of the day will be all parts of the pig. Including a hefty portion of pig uterus.
Yep, uterus. An offal first for me, not sure I've ever even seen it anywhere. A strong but good flavour, works very well with the blander cuts and some heat and citrus.
Grasshoppers
Found throughout Mexico, but tried in Oaxaca, chapulines (grasshoppers). Mexicans eat them, nay, love them. Many other insects too – ant eggs, stink bugs, giant winged ants, beetles, scorpions and dragonflies to name a few.
The ick factor is not that different to caviar, prawns and escargot when you think about it, and I love all of those. The texture was good, but the flavour was a little sour and bitter. I can take them or leave them.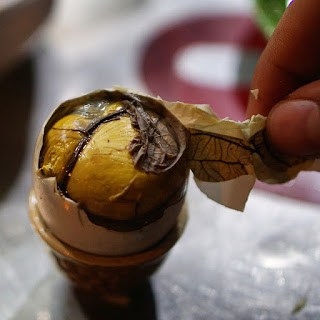 balut
Balut
If you watch Karl Pilkington's An Idiot Abroad, you'll remember the episode in China and his reaction to watching a local eat balut.

This is a developing duck embryo (so, a fertilized egg) that is boiled and eaten in the shell. The result is part hard-boiled egg, part duck foetus, complete with veins, the beginnings of feathers and a feet, a head etc.

The thought of it is quite appalling to me, but it's a popular street food snack in SE Asia, especially the Philippines where it's called balut. In Vietnam, it's actually trung vit long.

The girls on the XO Tour in HCMC in Vietnam will take you to a place that does them, if you fancy trying it. No one was brave enough on ours. Even the girls themselves were recoiling in disgust.

I like to think I'm a relatively adventurous eater, but I'll need a few more introductions before balut becomes something I can envisage putting in my mouth.
Closest brush with death
In a nutshell, every time you attempt to cross a road or get into a moving vehicle in Mumbai.
When you do, you dice with death – there's no sugar-coating it. I genuinely thought there was a more than reasonable chance of my life ending each time I got into a taxi. There is no driving anywhere else I've been on the planet that comes even close to how life-threatening it is in Mumbai.
A family friend who's lived there all his life has had his foot broken (run over) three times. And he's an example of someone who's got off lightly.
Pedestrian crossings are rare to non-existant. Their occasional presence at the really big junctions are mostly pointless, considering the kamikaze taxi drivers and auto-rickshaws have little concept of red lights, slowing down because a child might be crossing, or the value of life in general.
One fifty minute taxi journey to Bandra in Mumbai was especially memorable. In a car with no seatbelts and a driver with what can only be described as a suicide mission. Prayers were said; I'm not religious.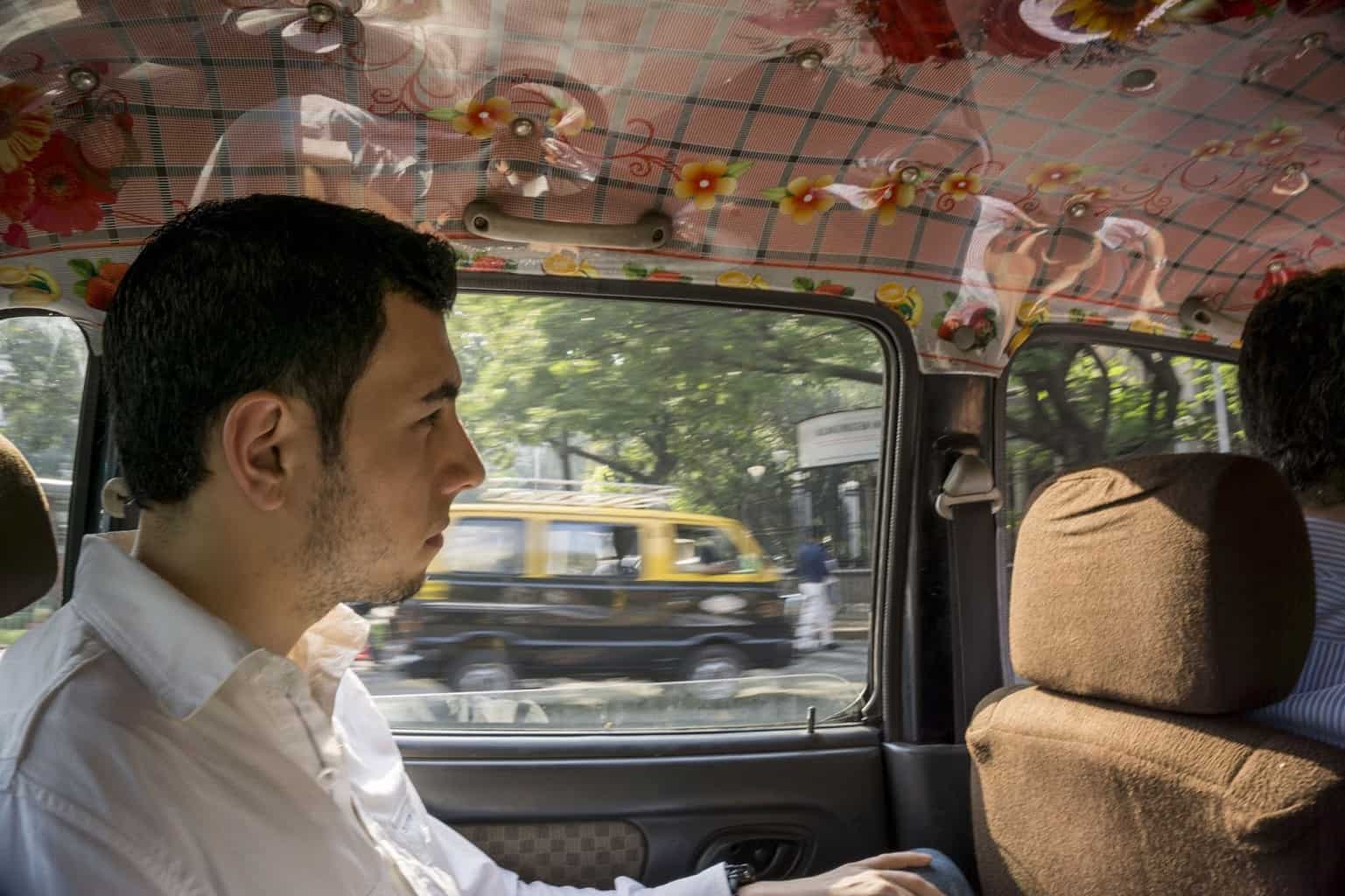 in the death-wish taxi in Mumbai
Most dramatic public transport scene

Getting the metro during rush hour in Mexico City.
The metro system there is frequent, fast, clean, well maintained, and safe. Thanks to it being subsidised, it is also one of the cheapest in the world. It in fact was the cheapest in the world a couple of years ago, when it was 3 pesos per ride; that's about 12p. It then went up to 5 pesos, which it is now. That's 20p. Amazing.
At least, the metro is amazing, when it's not rush hour. Because rush hour on the metro in the 10th most populus city in the world, is a real-life interpretation of Dante's Inferno. It's as hot as hell, and it probably has more people. I've seen the world-is-ending train station swarms in both India and Tokyo first-hand, and Mexico City is almost up there with them.
We learnt the hard way on our first day venturing out into the city. We were heading home at about 7pm, in the thick of rush hour. It was so bad that Matt had to get off a stop early, but it was a last minute decision. And if you need anything to survive on the Mexico City metro during rush hour, it's foresight.
"Get off here," he spontaneously blurted. "But this isn't our stop," I muttered, with at least five arm pits in my face. "We have to. I feel faint," was the response.
Week 13 – Angkor Wat ruins in Cambodia
Foresight, in knowing where you plan to get off in advance, is very necessary. It means you can spend the stretch of journey between the preceeding stop and the one you want to disembark on, manouvering towards the door. I say manouver, I mean barge with the full force your body and current squashed stance allows.
Oh, you've decided you want to get off here just as the doors open? Good luck getting to it. Two feet may as well be two miles when there's 15 people pressed up against each other in the square meter between you and freedom.


And of course, no one will step off to let you off, for fear they lose the precious foot space they've fought for half an hour to secure. And the doors don't stay open for long. I was closer to the door, and I'm smaller, so I managed to squeeze under a few arms and made it to the platform. All I could hear behind me were the cries of a desperate man, a man on the edge. 'POR FAVOR; POR FAVOR,' Matt deplored.
As the doors beeped threatening to close, with a tangled mass of bodies of at least 25 people between Matt still in the carriage and me on the platform, I saw a hand appear through the twisted throng. Like a scene from a disaster movie, I grabbed it, leaned back on my heels, and with the full weight of my body and all my strength, managed to pull him out. It was so tight, some stitching tore on both our sleeves.
We collapsed in a heap on the floor and Matt pulled off his three layers. We sat for a bit to cool down, then decided to walk the rest of the way.
Most memorable weather
Asia is great for weather. Typhoons, monsoons, humidity – enough content for us Brits to talk about it indefinitely. We experienced our fair share of thunderstorms, pretty much a daily occurrence in those parts. But the most memorable was during a short 25 minute boat ride from the island of Koh Phangan to Koh Samui.
We moved away from clear blue skies and directly into the foreboding blanket of a thunderstorm, hanging heavy over the water.
We were on the boat, with rumbling thunder resonating and lighting striking the water all around us. I was certain the boat was going to get hit, and there was little in the way of cover for the passengers on board. It was pretty exciting scary.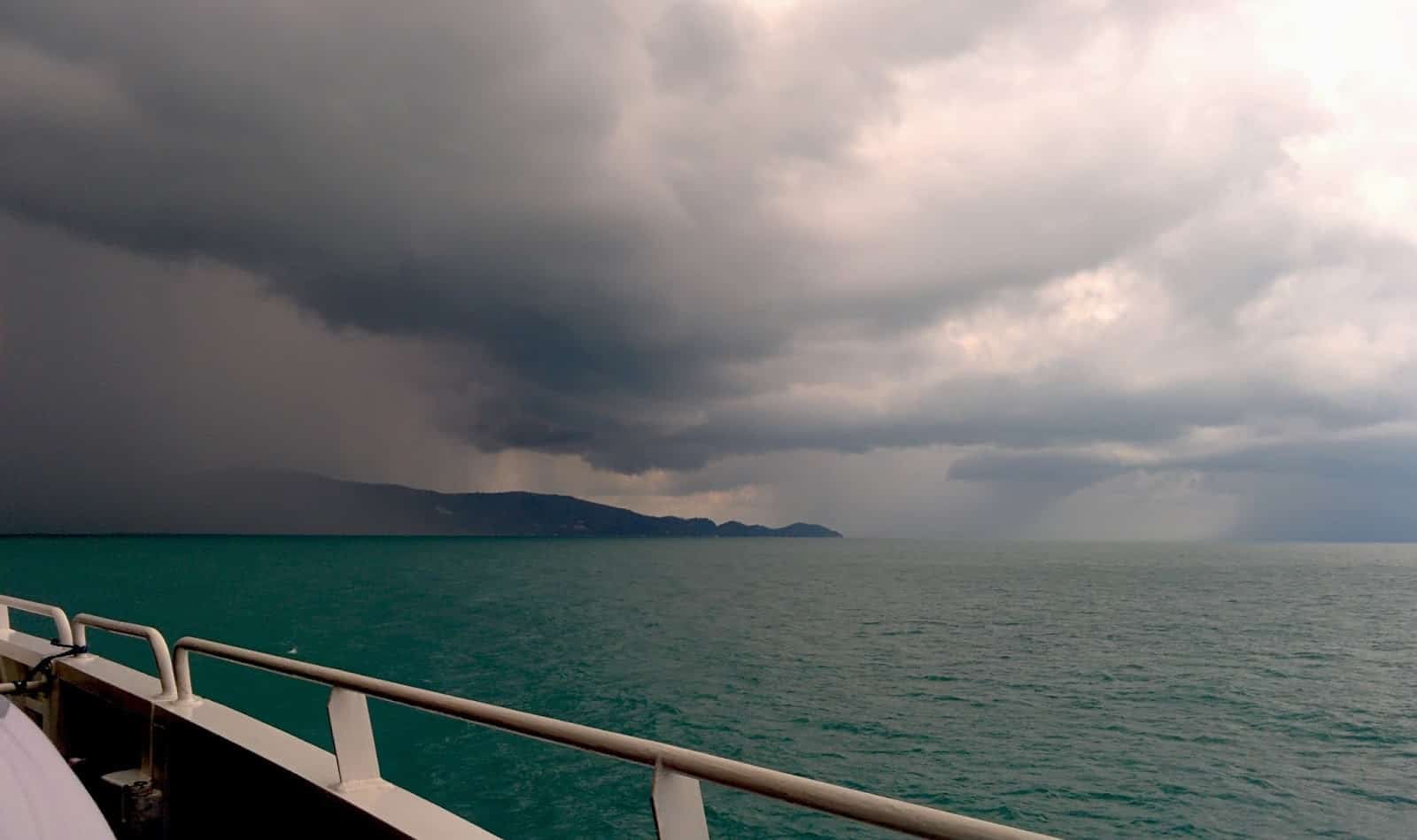 thunderstorm over the sea
between Koh Phangan and Koh Samui
l
Most inappropriate location for a toilet emergency

Remember I'd been ill in Mexico? Bad gut – see above. Well, I was finally seeing light at the end of the tunnel, certainly getting better, and I was well enough to make it out on an awesome three hour kayak tour through the mangroves of the Mexican Caribbean in Tulum.

As we were coming to the end of tour, our guide Antonio asked the group (a small group mind, just myself, Matt and one other lady) which route we wanted to take back.
Now, understand that whilst I was, by this point, well enough to finally leave the bed, get out of the house and do stuff, my gut was by no means 100%. After three hours in remote waters with a harsh sun beating down, I found myself, quite urgently, needing a toilet break.
"Whichever route is quicker," I shouted back over the water. "I – err – need the loo."
"Oh don't worry about that!" Antonio enthused. "That's no problem. You see that corner over there? We'll paddle to it and go round it and give you privacy, and you can just get out of the kayak and do – err – whatever it is you need to do. Come over to us once your done."
By this point, acknowledgement from the guide that it would be ok to relieve myself in a pristine UNESCO protected nature reserve was all I needed to actually go ahead and do it.
There is no shore and there are no banks in these mangroves – just miles and miles of shallow water punctuated with knotted masses of vegetation growing out of the bed. The deed would have to be done right there, in the middle of this remote and quite beautiful corner of the world. It wasn't going to stay beautiful for long.
We paddled behind a particularly dense tangle of trees. I lifted myself out of the kayak, put my foot down into the shallows on what I expected to be relatively solid ground (the water throughout the mangroves is only a couple of feet at its deepest), only for it to swallow my leg halfway up my shin. Very soft clay, very difficult to keep your balance, and it got everywhere.
Now envisage trying to take off a pair of shorts whilst your feet gradually sink deeper into the ground beneath you, the mud taking a firmer grip around my lower legs the more I tried to pull them out. Matt was inadvertently crashing into me with the kayak at the same time, sending me even more off balance as I screamed at him, 'You need to go away. CAN YOU PLEASE GO AWAY. I can't do this with you right here.'
He paddled off round another corner, I did what I needed to do – the clay almost reaching my knees by this point – then sheepishly called out, 'you can come back now.' There was little point attempting to get my shorts back on.
We joined the rest of the group. Whilst they all knew I hadn't been well for a few days, and therefore had a good inkling that the break in proceedings wasn't just for a quick pee, they all very tactfully avoided the subject and it was never spoken of.
And that's the story about the time I needed an emergency toilet break in the middle of a remote nature reserve, squatting over just a foot or two of crystal clear waters with my feet disappearing deeper into the ground, and no current to wash away the shame.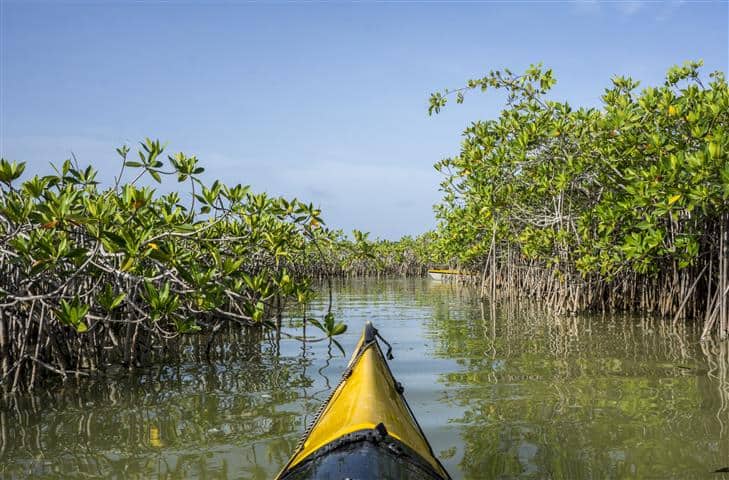 the pristine mangroves of the Mexican Caribbean, that I vandalised
Forgive me.

In Part 2..
Most disappointing places, biggest injury sustained, most awkward thing discovered in an AirBnb, the best beach, our biggest celebrity spot, most impressive cityscapes, and more.
Related posts
HOME (LONDON) – The best and worst from 8 months of travelling – Part 2
Week 0: Gone travelling. London – see you in nine months


Week 1: INDIA – Mumbai → Goa
Week 2: INDIA – Bangalore → Mysore → Wayanad
Week 3: INDIA – Kochi → Allepey → Kollam → Madurai
Week 4: INDIA – Pondicherry → Chennai → Mumbai


Week 5: INDIA – Varanasi → Udaipur → Jaipur → Delhi
Week 6: TAIWAN – Taipei
Week 7: CHINA & VIETNAM – Hong Kong → Hanoi
Week 8: VIETNAM – Sapa → Hanoi → Ha Long Bay → Hanoi


Week 9: VIETNAM – Hue → Hoi An
Week 10: VIETNAM – 6 day / 5 night motorbike tour from Hoi An to Da Lat
Week 11: VIETNAM – Da Lat → Nha Trang
Week 12: VIETNAM – HCMC → Mekong Delta → HCMC
Week 13: CAMBODIA – Siem Reap (and Angkor Wat) → Phnom Penh
Week 14: CAMBODIA – Sihanoukville & Koh Rong Samloem Island
Week 15: CAMBODIA – Kep
Week 16: THAILAND – Chiang Mai
Week 17: THAILAND – Songkran Festival in Mae Rim & Chiang Mai
Week 18: THAILAND – Bangkok → Koh Phangan
Week 19: THAILAND – Bangkok
Week 20: MALAYSIA – Penang → Borneo
Week 21: AUSTRALIA – Melbourne
Week 22: NEW ZEALAND – Auckland → Rotorua → Turangi → Whanganui
Week 23: NEW ZEALAND – Wellington → Nelson Lakes → Hanmer Springs → Christchurch
Week 24: NEW ZEALAND – Lake Tekapo → Mount Cook → Queenstown → Milford Sound
Week 25: NEW ZEALAND & USA – Queenstown → Hawaii
Week 26: USA – Hawaii (Big Island) → San Francisco (Oakland)
Week 27: USA – San Francisco
Week 28: USA – Los Angeles
Week 29: MEXICO – Mexico City
Week 30: MEXICO – Oaxaca
Week 31: MEXICO – Mérida (plus Uxmal and Kabah)
Week 32: MEXICO – Tulum (plus Sian Ka'an Nature Reserve)