Last Updated on September 13, 2021 by Leyla Kazim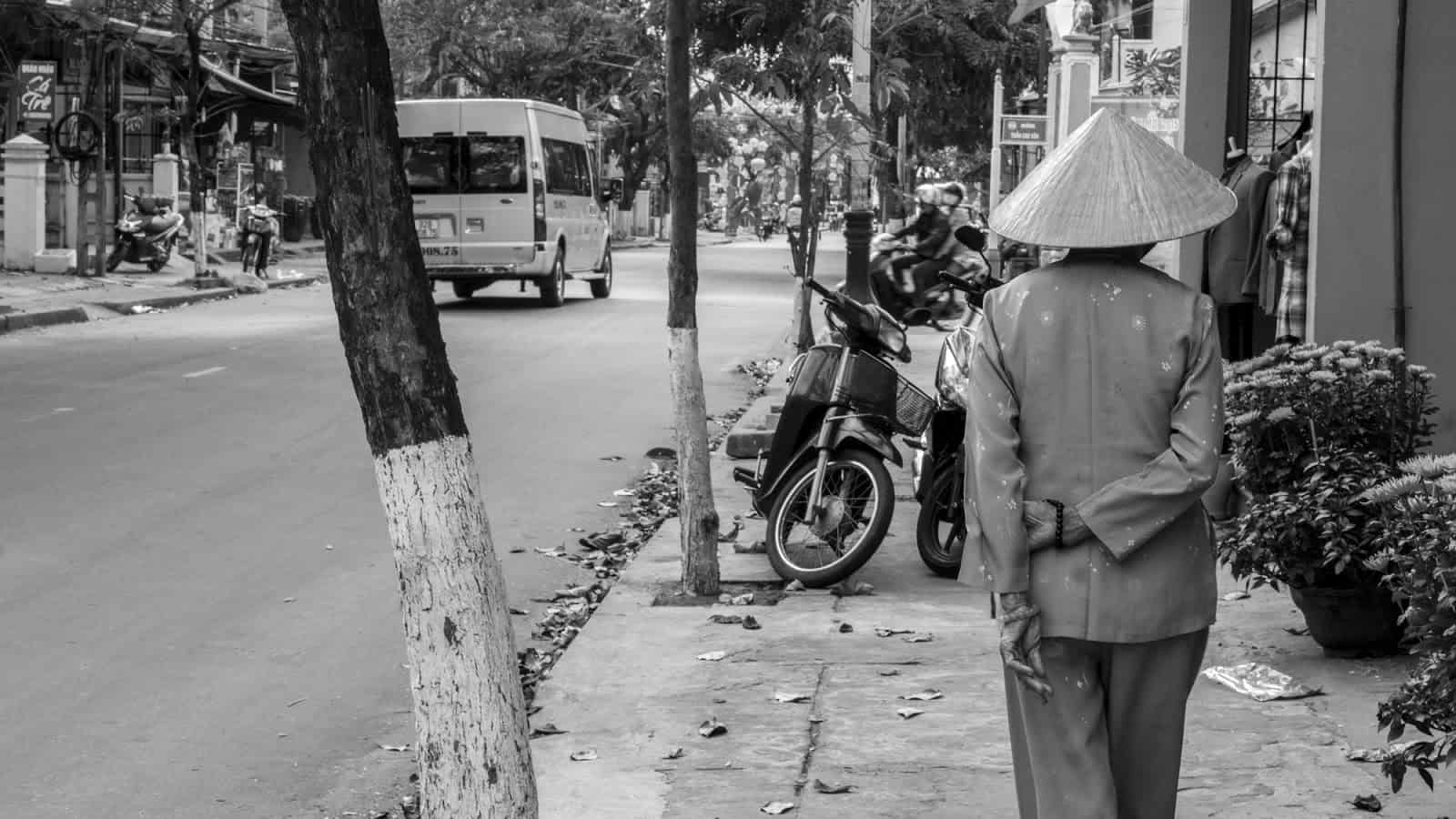 Image of the week: a woman on a street in Hoi An (*a lot* more images at end of post)
Where in the world
A 13 hour overnight train from Hanoi to Hue (pronounced 'Hway', by the way) in the middle of the country, where we stayed for three nights. Then a three hour drive to Hoi An where we stayed for four nights.
Thoughts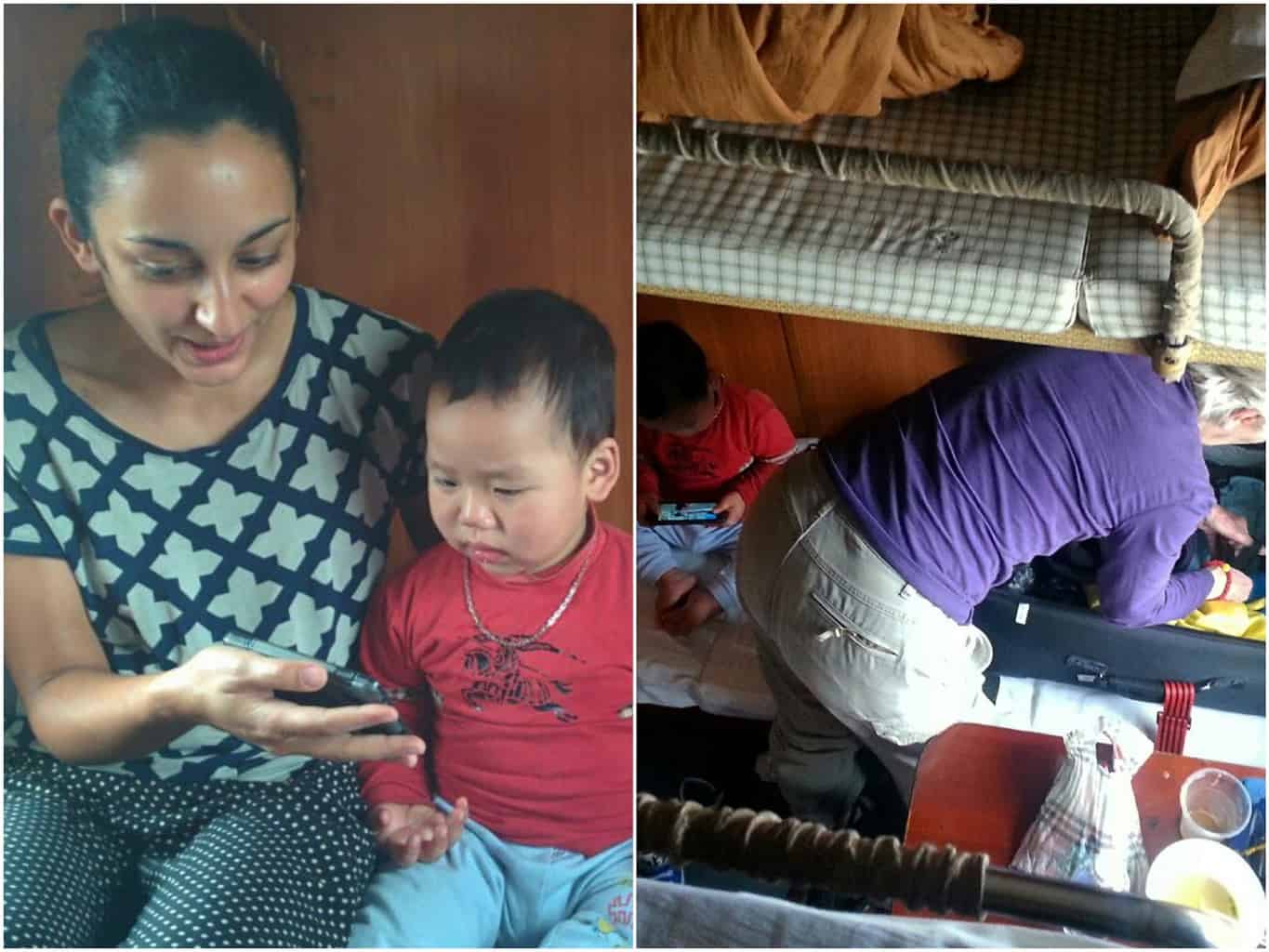 Thirteen hours. Sounds a lot, is a lot. But actually, so much more comfortable than I dared hope. Even more so than the overnight trains in India, and we didn't see a rat on this one.
We shared our cabin with a Dutch tour leader (she had a group of 40 on the train) and a woman with her baby. The baby was irresistibly chunky and built like a brick house – he fell off the lower bunk head first into the floor. He didn't even flinch.
Now, I don't know of it was the festive spirit in the air, but the people in Hue have been some of the friendliest in Vietnam so far. And the country as a whole has been very good to us, so that's saying something.
Kids and adults alike practice their limited English on you (hello, how are you, where are you from, nice to meet you), wave at the camera when they're caught in your shot, wish passers by happy new year. It's a bit like when Londoners try smiling at each other in the run up to Christmas, and realise they enjoy it; everyone's in a great mood because they know a multi-day celebration is coming.
Hue was the capital of the last ruling family in Vietnam, lasting 143 years and ending in 1945. It's a UNESCO World Heritage Site and the splendour of the citadel reflects its royal past. The town is bisected by The Perfume River and as it stands, it's not a particularly spectacular body of water. It's the boulevards that line it and the roads that surround it that are a lot more interesting.
Dong Ba Market is a cacophony of trader battle cries, a kaleidoscope of produce, piles of herbs so springy you could collapse onto them and comfortably sleep there for the night. It's a tight knot of trading and commerce almost exclusively managed by women, it seems. Don't miss it.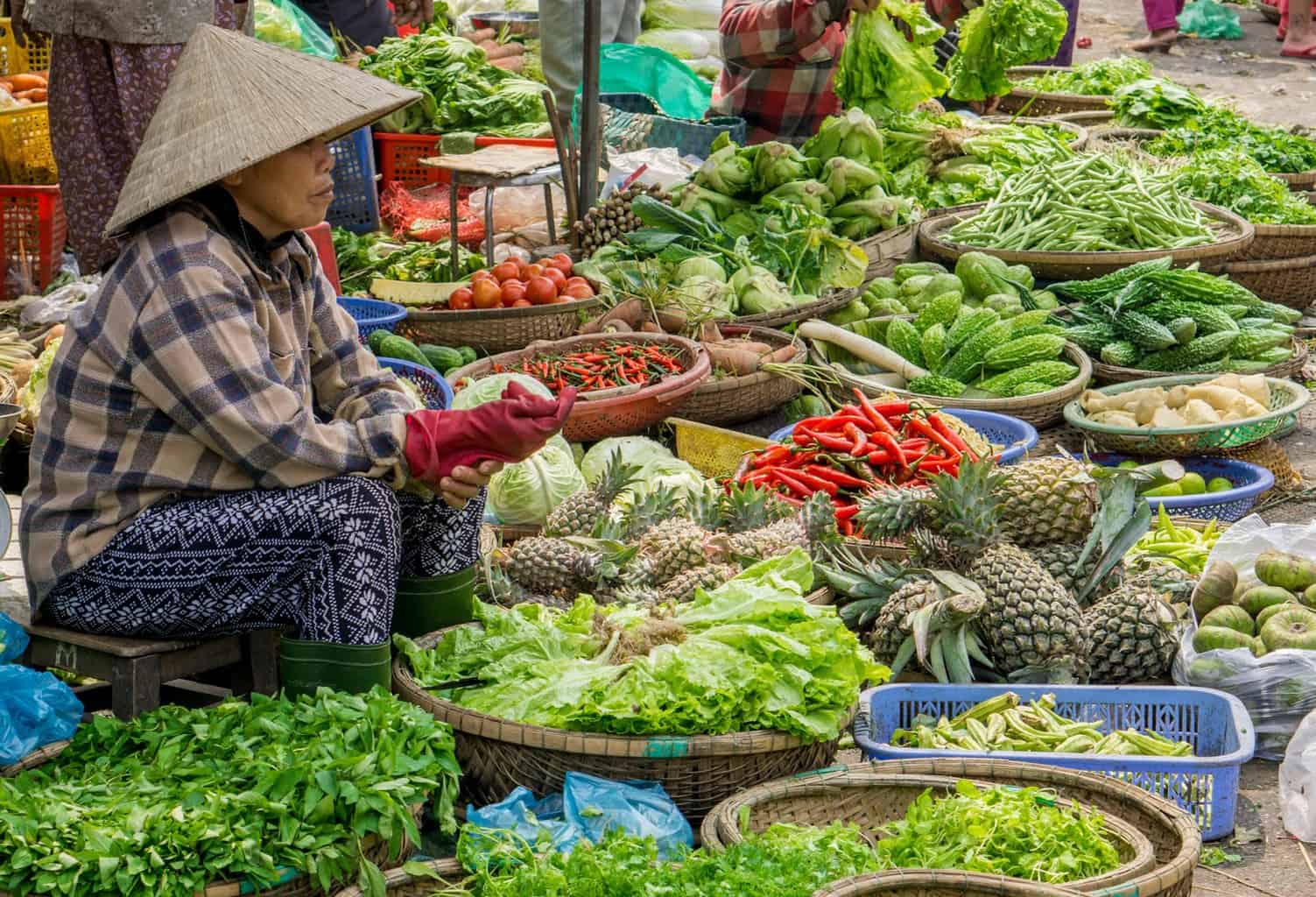 The drive from Hue to Hoi An is about 3 hours by taxi, probably a bit longer by coach. If you're doing it privately, ask to forgo the tunnel in favour of the Hai Van mountain pass, because it has a cracking view.
We did this journey on lunar new year's day. We drove past open business shutters, not because they were trading, but because the space that was usually the area of trade – a shop, a café, a garage – was now hosting a new year's family gathering.
As is so often the case in Vietnam, behind the business is the house where the family who run it lives. In the shade of the living room, in full view from the street, families were clustered around tables, heads bowed over a steaming bowl of something good, chatting, slurping, watching the TV, playing games – activity always orbiting a central spread of food. Kids clambering up motorbikes, running around with balloons, a smattering of fairground rides every few kilometres.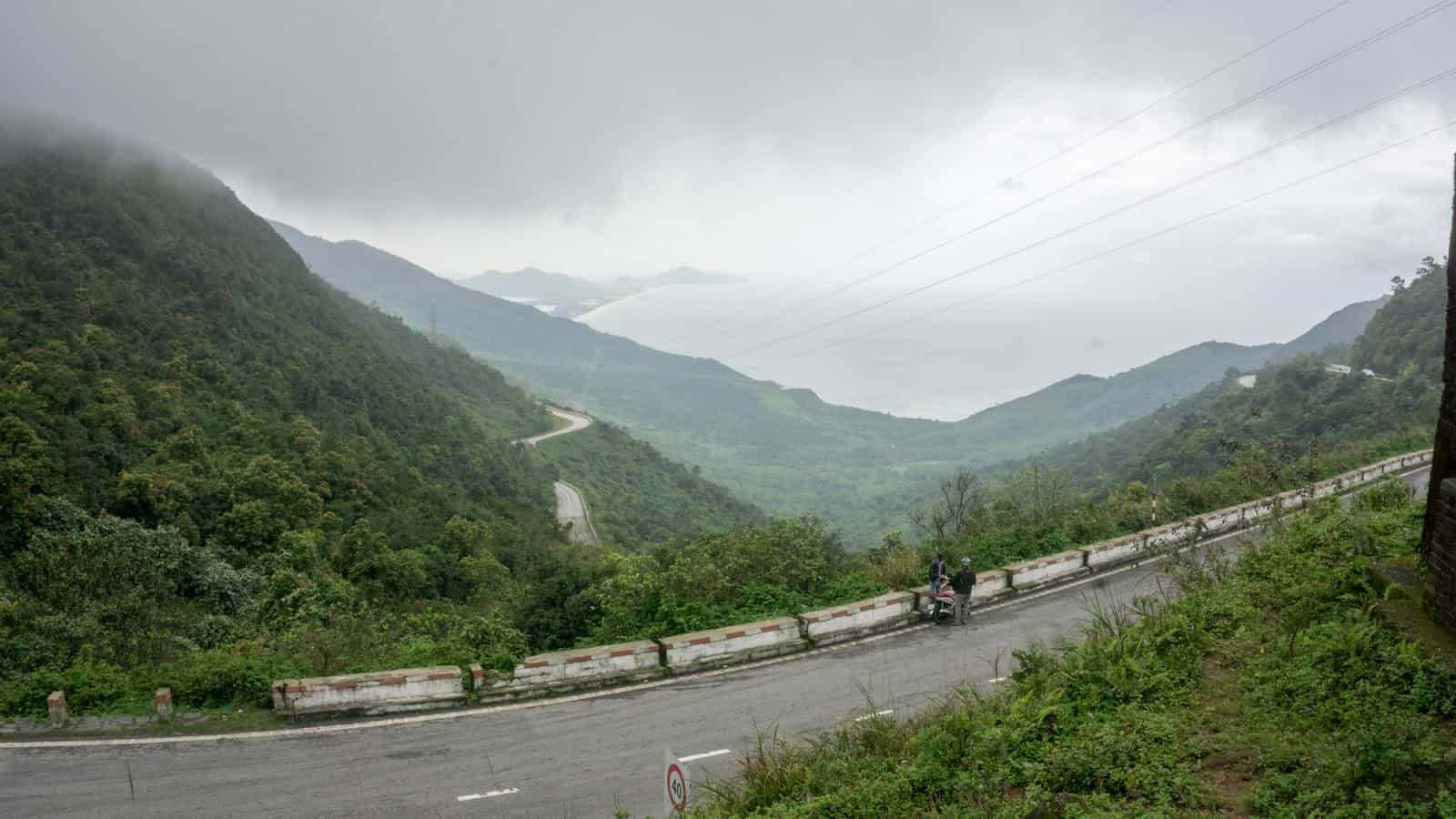 the view from Hai Van pass
As for Hoi An, I think it's my favourite town in Vietnam yet. It's colourful, laid back, not chaotic but still buzzing. It has a very apparent European vibe without forgetting it's Vietnamese. It's by the sea, has rivers and waterways – it's a real stroll-around-and-take-your-time place. It's also finally been warm enough to wear shorts again – I think that's made a big impact.
Get on a bicycle, and spend a few days exploring – I think all of the hotels / homestays provide them for free. You'll go past quaint fishing villages, intensely green rice paddy fields that photos just can't do justice, and bucolic scene aplenty. There's hardly any traffic, more apparent the further out you go, and with the sun shining, it's got to be the best way to spend a day. We did this, four days in a row.
The best things I ate this week
What to eat in Hue..
Banh mi, food cart. Lunar new year's eve (a public holiday in Vietnam) turned Hue into a bit of a ghost town – there was still lots of traffic, of course. But 90% of businesses were closed.
The only food places open were the ones serving pizza and beer to grubby gap yar students wearing oversized vests and Havaianas. We wondered around, hoping to find somewhere that could feed us with something good. After a while, I spotted this lady wheeling her cart on the opposite side of the road and flagged her down. She rustled us up two banh mis for just over £1.
A fried egg, paté, pork with crispy fatty bits, pickles, coriander, chilli paste, and tourist traps averted. Good work.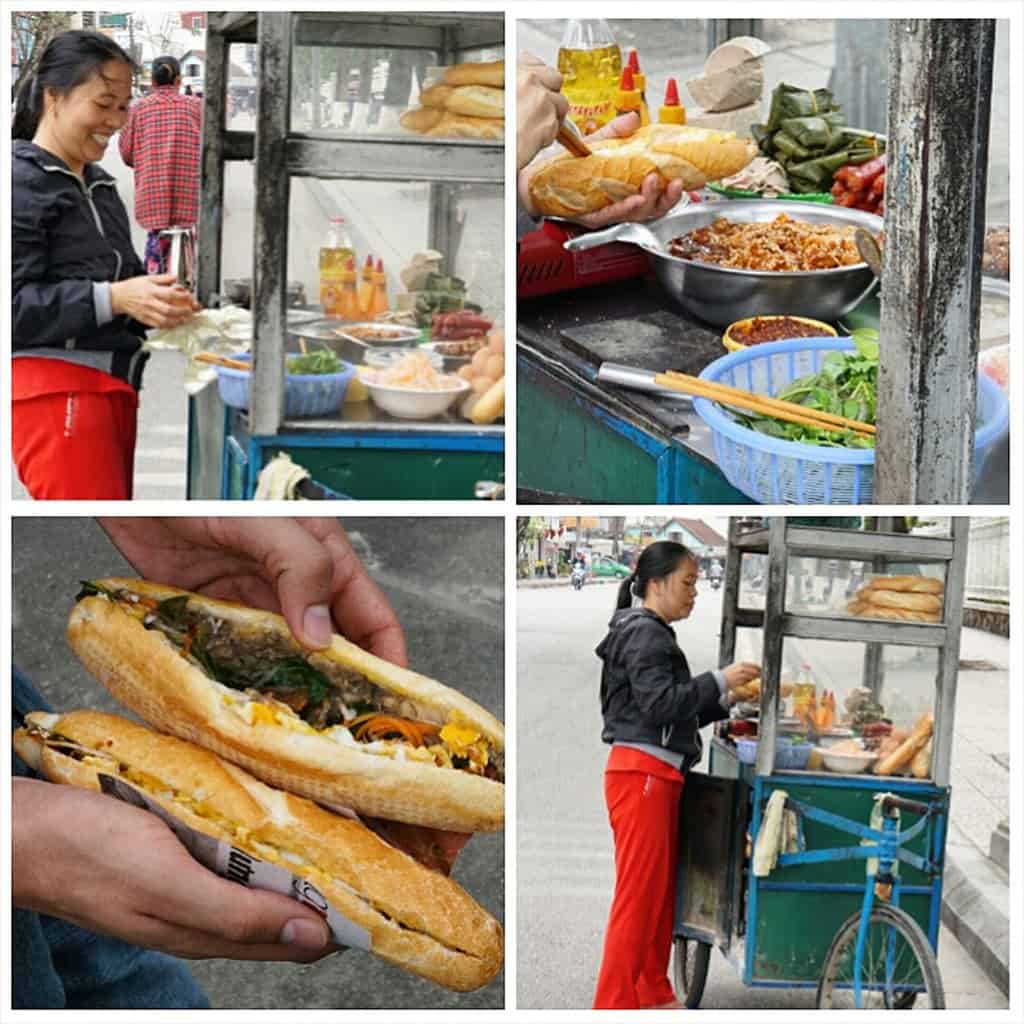 Ech nuong sa te, on Pho Duc Chinh street. This was ordered in a restaurant with pictures, but no English translation. I pointed at something that looked like fish, when it arrived thought it was sparrow, then realised half way through they were frog's legs. Cooked with lemongrass, lime leaves, chillies. Skin crisped up separately. Best version I've had.
Banh nam, Golden Rice Restaurant. We were recommended Golden Rice by our hotel, as a third choice (first two more 'local' places were closed as expected – one of these was The Hanh, 11 Pho Duc Chinh recommended by many – do go if you find it open). Whilst it was full of tourists, it focuses on local cuisine and was actually very good. Also, such lovely staff.
Bang nam is a central region speciality. They're flat rice dumplings with pork and shrimp, black pepper, and steamed in a banana leaf. Really enjoyed the texture, a bit like melted cheese that's halfway to solidifying.
Banh beo, Golden Rice Restaurant. Discs of steamed rice cakes, topped with dried shrimp, pork crackling, crispy fried shallots, herbs and served with the ubiquitous nuoc mam pha (mixed fish sauce).
These were specifically banh beo chen, meaning they were steamed and served in small ceramic saucers (chen). A big platter came with about 10 of them on. Delightful little mouthfuls.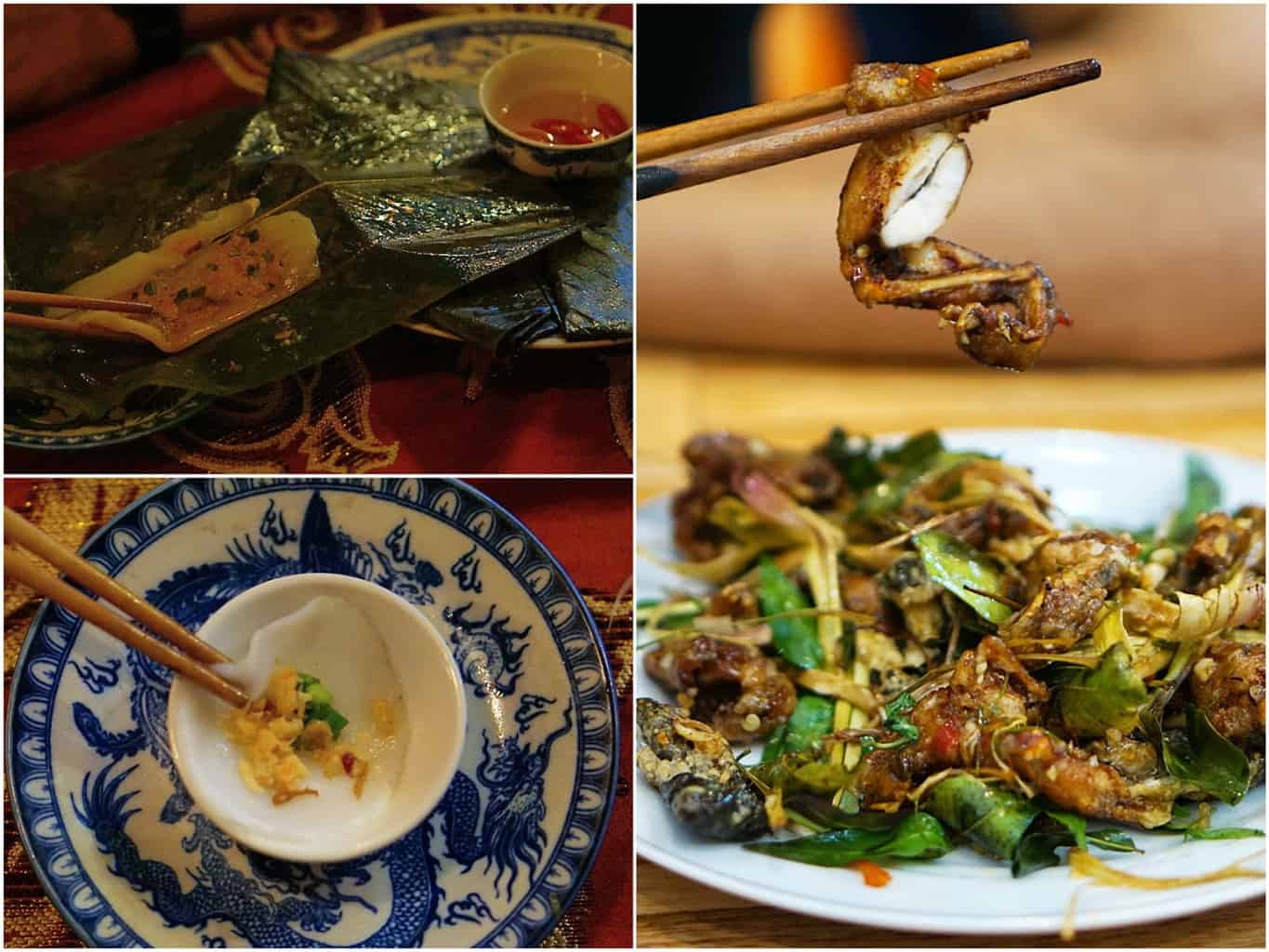 from top left: banh nam, frog's legs, banh beo
What to eat in Hoi An..
Com Ga at Com Ga Huong, at 58 Le Loi Street. These guys only serve one thing – com ga (chicken rice). We did have this in a restaurant on another day, and unsurprisingly, the street food vendor won at the flavour game.
Fluffy rice, a bit wet from the chicken stock it's cooked in, bit of turmeric for colour, thrown in a wok and served with boiled, coarsely shredded chicken. The meat is mashed with crushed onions, coriander, spices. Served with a jar of hot chilli sauce, peppermint, papaya, salted onions. This place was recommended by a local.
Cao lau, anywhere that's busy. A noodle dish exclusive to Hoi An, the pasta is made with water drawn from one of the town's five centuries-old square wells.

The signature texture is the chewiness of the noodles, so much so you could be eating udon. And that reflects the Japanese influence. The key to that bite is soaking the rice used to make the noodles in a lye and well-water concoction, before being ground.
Then there are thin strips of xa xiu (soy-simmered caramelised pork), crispy fresh lettuce, herbs, bean sprouts and the wide yellow-tinged noodles, and enough of a tangy broth spiked with anise and soy sauce to allow for a good slurp.
This is sold all over the place. Look out for a street corner that's busy, and you won't go wrong.
Pork and rolls, Bale Well Restaurant. Grilled pork satay (nem nuong), spring rolls (ram cuon), grilled pork (thit nuong). Absolutely packed with an equal amount of locals and tourists. Just take a seat and the staff will bring you the fixed menu. Stuff, roll, dip, scoff.
White rose dumplings, Morning Glory Restaurant. Another local speciality, they're made from a translucent white dough, filled with spiced minced shrimp or pork, topped with crunchy garlic. Only one family in Hoi An has the closely guarded secret recipe for them, passed down through three generations, and they supply all the restaurants that sell it.
Incidentally, Morning Glory is one of four restaurants owned by the doyenne of Hoi An's food scene, Vy Trinh Diem, who everyone calls Ms. Vy. It's a really nice spot to enjoy the local street food in an up-scale setting, although expect to be sitting exclusively with tourists – you won't find any locals here.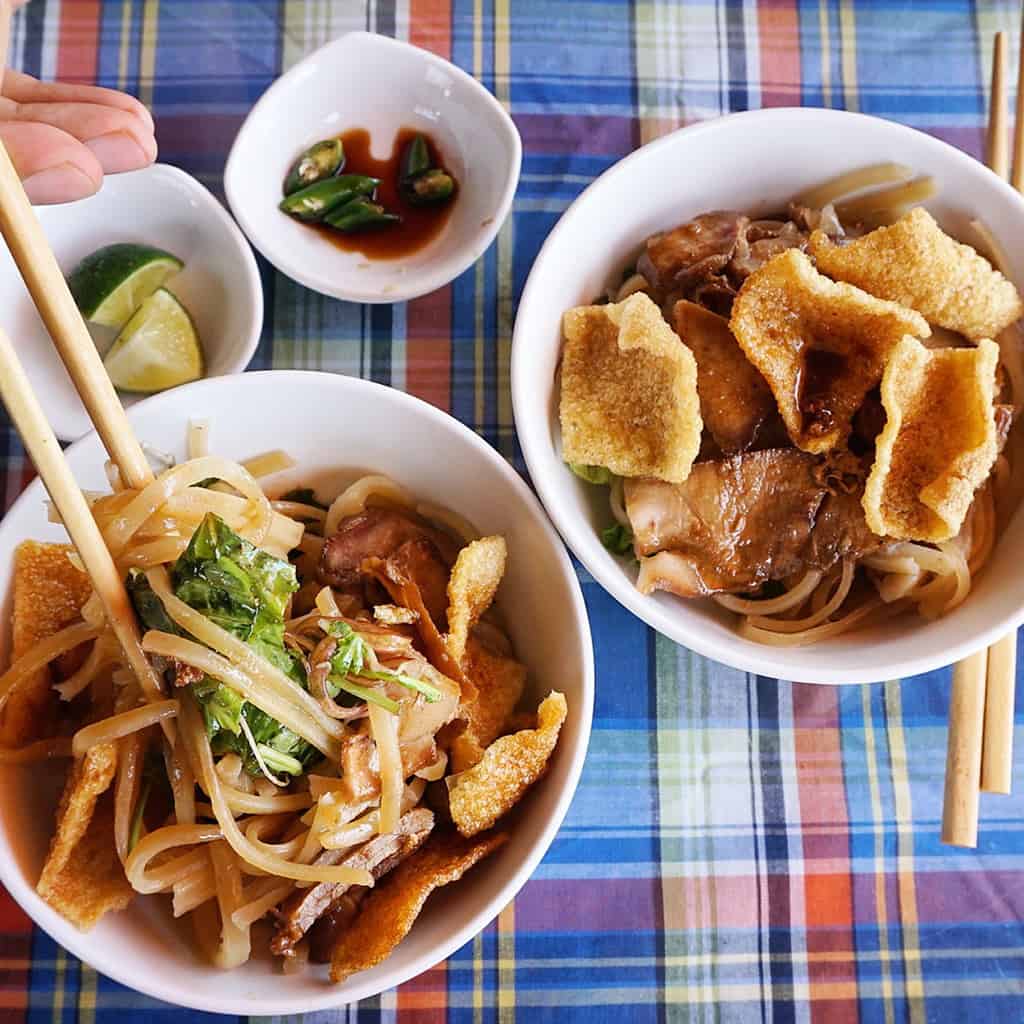 cao lau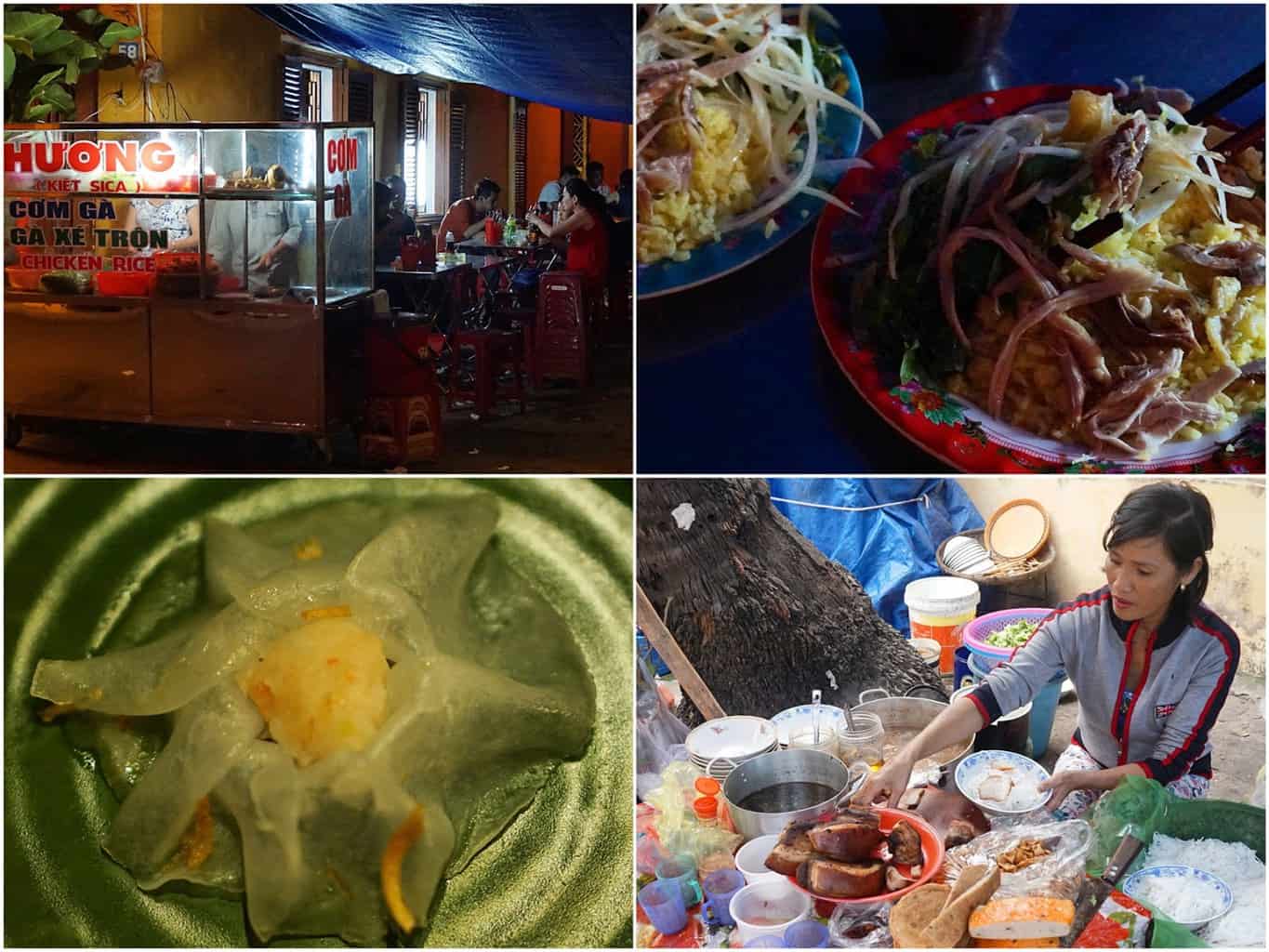 from top left: the com ga spot, a plate of com ga, white rose dumpling, a cao lau street vendor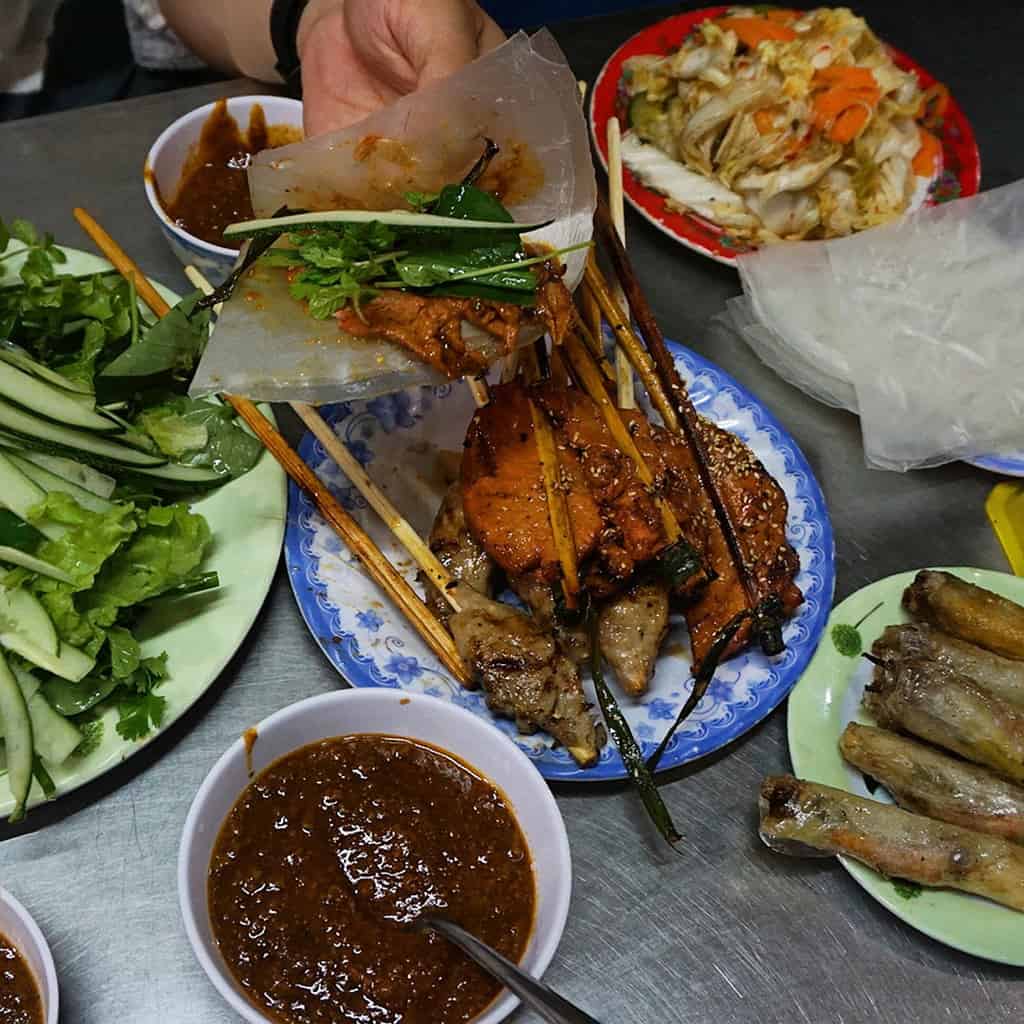 porky things at Bale Well Restaurant
Street food must-eats


Street food in Hue..
Banh khoai, Lac Thien Restaurant. A crunchy rice flour crepe, yellow from turmeric, pan-fried, stuffed with shrimp and sausage (or pork belly) that's been cooked in garlic. Also in this pancake sandwich are spring onions, bean sprouts. Served with a peanut sauce, cucumber, green banana and a green salad with herbs.
Street food in Hoi An..


To be honest, all of Hoi An's local dishes can be bought from the roadside – the white rose dumplings, cao lau, com ga, et al. But here's one I haven't mentioned yet.
Mi quang, Mr Hai 6A Truong Minh Luong. Mi quang is yet another dish you'll only really find in Hoi An. It's noodle-based (again), from the south central coastal region of Quang Nam.
The pasta is tinted yellow with turmeric. In the bowl you'll also find prawns and pork, half an inch of rich stock, fish sauce, black pepper, shallots and garlic.
Extras included a hard-boiled quails egg, crushed peanuts, cha (steamed pork sausage), herbs, lettuce, toasted sesame rice crackers called bánh tráng me, and bloody hot pickled chillies.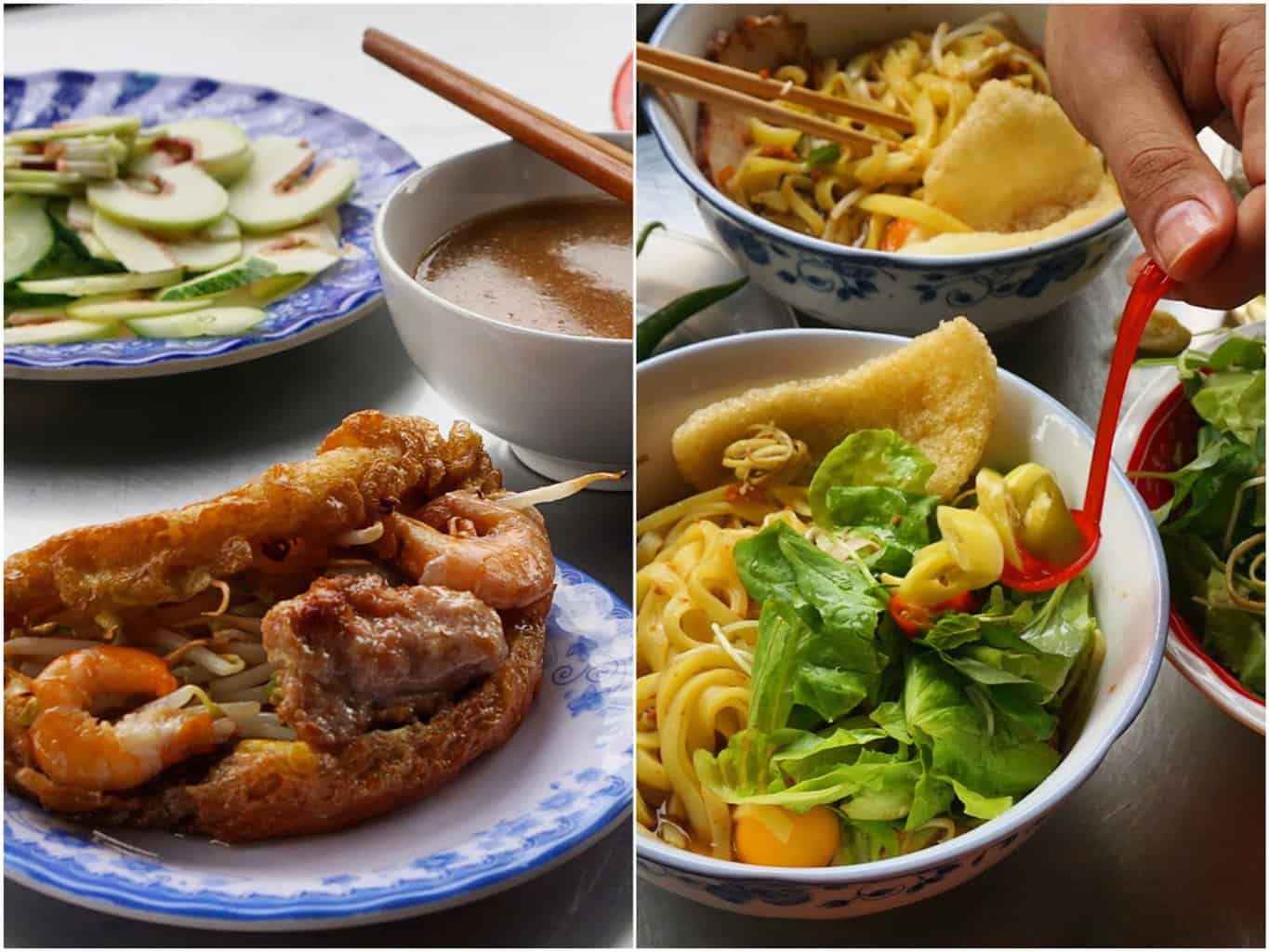 banh khoai and mi quang
Did you know?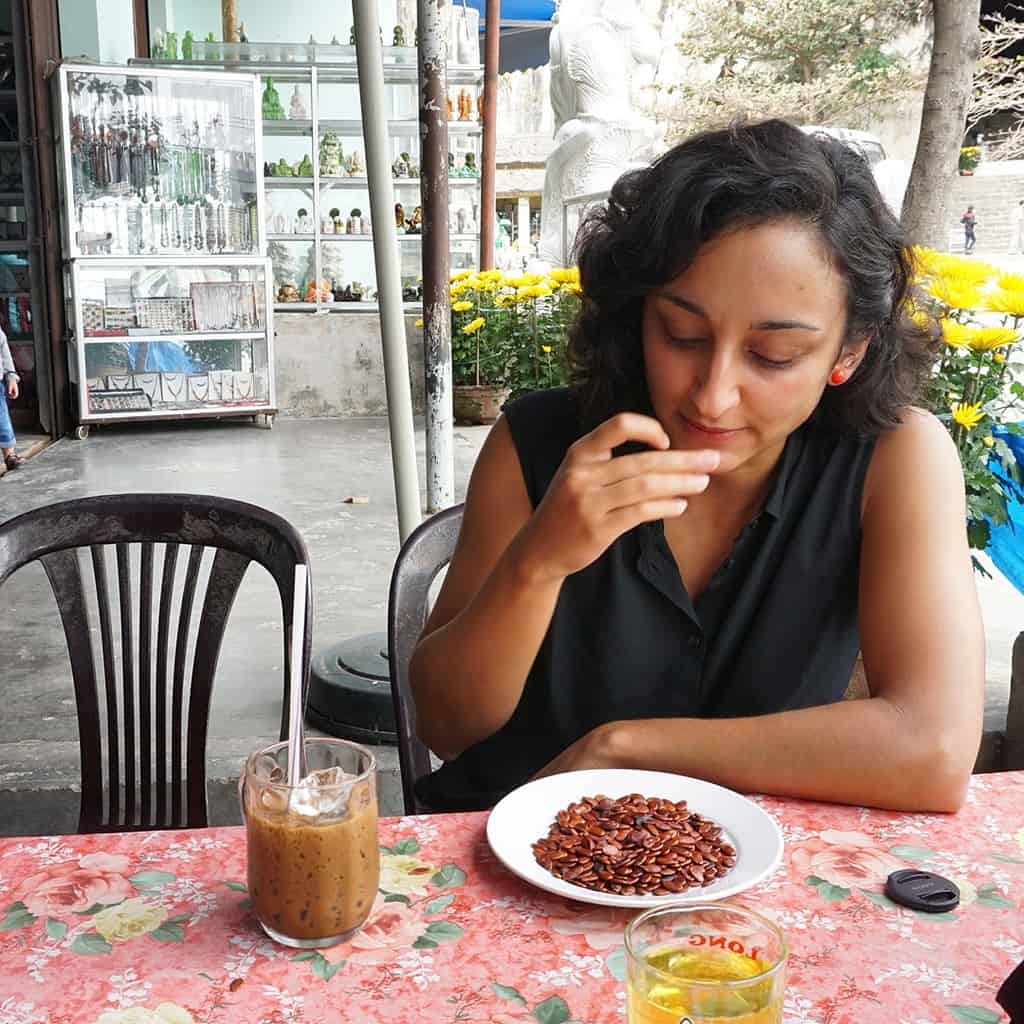 Turkish traits. There is an unmistakable sound throughout Vietnam – heard walking past porches, cafés, park benches – that is so intrinsically familiar to me, and one that can be heard throughout Turkey too. It is the crackling of the shells of roasted seeds being prised opened with front teeth.
Much to my joy and surprise, the Vietnamese can happily while away a good hour extracting sunflower or pumpkin seeds – a mess of discarded shells gathering at their feet – just as much as the Turks love to.
I've been doing this since I was a kid, so I'm pretty quick at it. I've bought a few bags whilst here, and when the locals see me working my way through a pile, I can tell they're pleasantly surprised, and I like to think, impressed.
One of their favourite seeds to nibble through are roasted watermelon seeds, which interestingly, you don't find in Turkey. Who knows why not – there are enough watermelons there. I'm just not sure it's ever occurred to them. Must tell my dad..
My insider tips
Hoi An beaches. Hoi An is bloody gorgeous, which ultimately means a lot of tourists. Thankfully, they tend to congregate, making them easier to avoid.
If you want to sloth about by the beach for a day, but don't want to be surrounded by the hell that is other people, I would suggest bypassing the main bit of beach you see when you're approaching from the town – there will be lots of people, guys urging you to park up your bike (for a fee, I'm sure), high on bed numbers, low on privacy.
Instead, continue cycling east along the waterfront, and just past where the Victoria Hoi An Beach Resort has a few beds in a separate bay, you'll find a stretch of sand that will be unoccupied. There aren't any restaurants around, so do take water and a few snacks if you need them. Throw down a towel and enjoy the peace.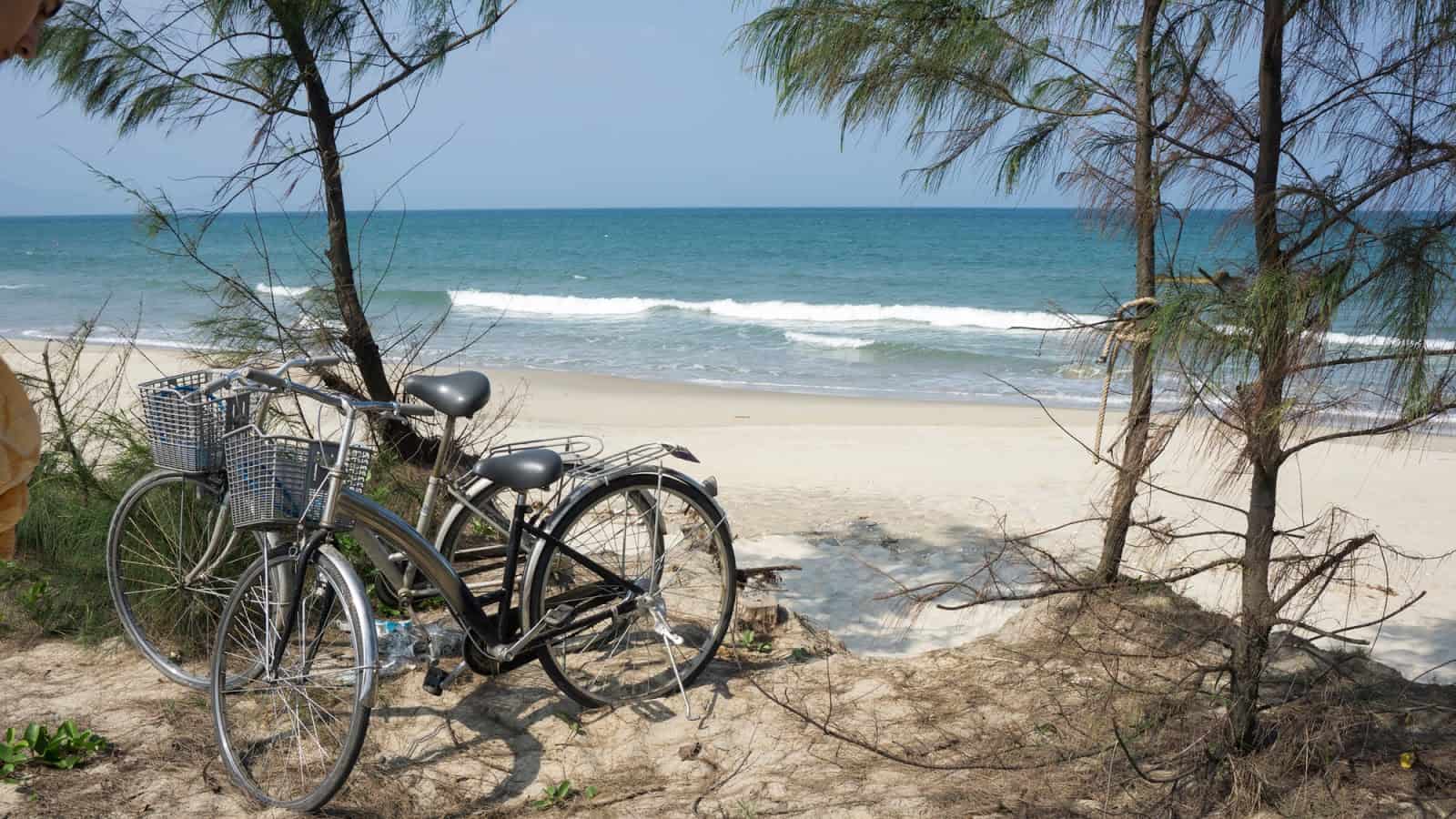 fgf
Highlight / Lowlight
Highlight. A country is only as good as it's people. And if my experience of Vietnam so far is anything to go by, then I've fallen pretty hard for the Vietnamese. That's why there are few things better than finding a good homestay – what we in the UK would call a 'bed & breakfast'.
The family who run Camellia Homestay in Hoi An are quite exceptional – Mrs. Nhan, Mr. Chinh and daughters Nga and Vy. It's about £18 a night for a huge spotless room with a private balcony, along with unbridled warmth and hospitality. On our second night, the mother told us she'll be making 'some spring rolls' and to come down at 6pm for them.
What she in fact meant was a full on spread of marinated grilled pork, pickled vegetables, herbs, the spring rolls, Chinese dumplings that some Chinese guests taught them to make earlier in the day, and beer. Then, when we couldn't possibly eat another bite, she told us there was also beef pho. We of course, found some room.
Chatting and laughing with the family, they were falling over themselves with sheer joy at just how much we could put away, the fact we liked chilli sauce and coriander, and called us 'true Vietnamese people in disguise'. A totally wonderful meal, with truly delightful people.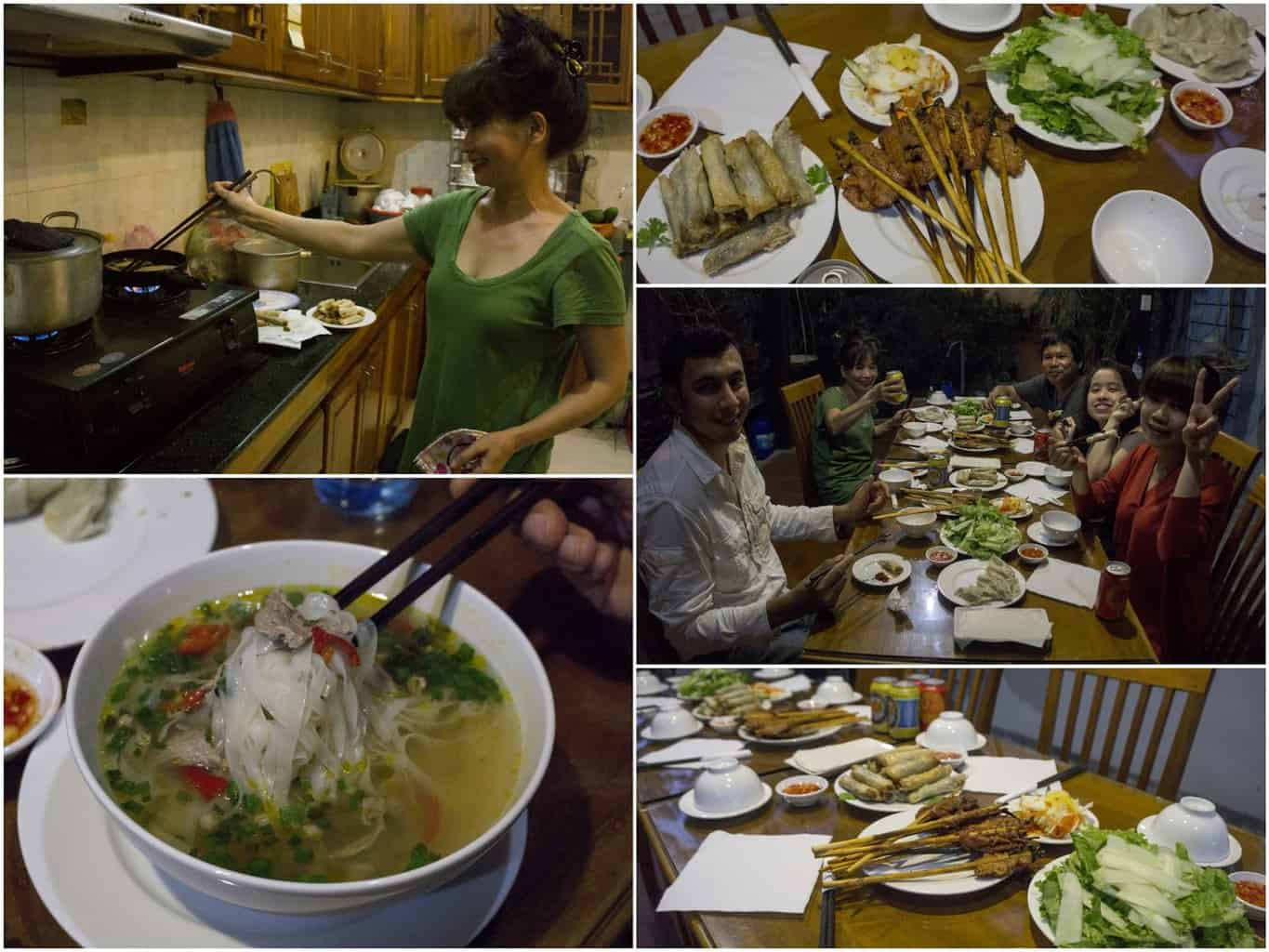 Lowlight. Matt lost his money clip this week – we suspect it fell out of his pocket while cycling. But such is the nature of Vietnamese dong, that despite it holding a wad of notes, it only amounted to about £10. Worse things have happened.
Next week

Next week will mostly be taken up by a five day motorbike tour from Hoi An to Dalat. We'll be on one each, both of us with a driver, but neither of us have really been on motorbikes before.
So that should be fun.
Postcards
Hue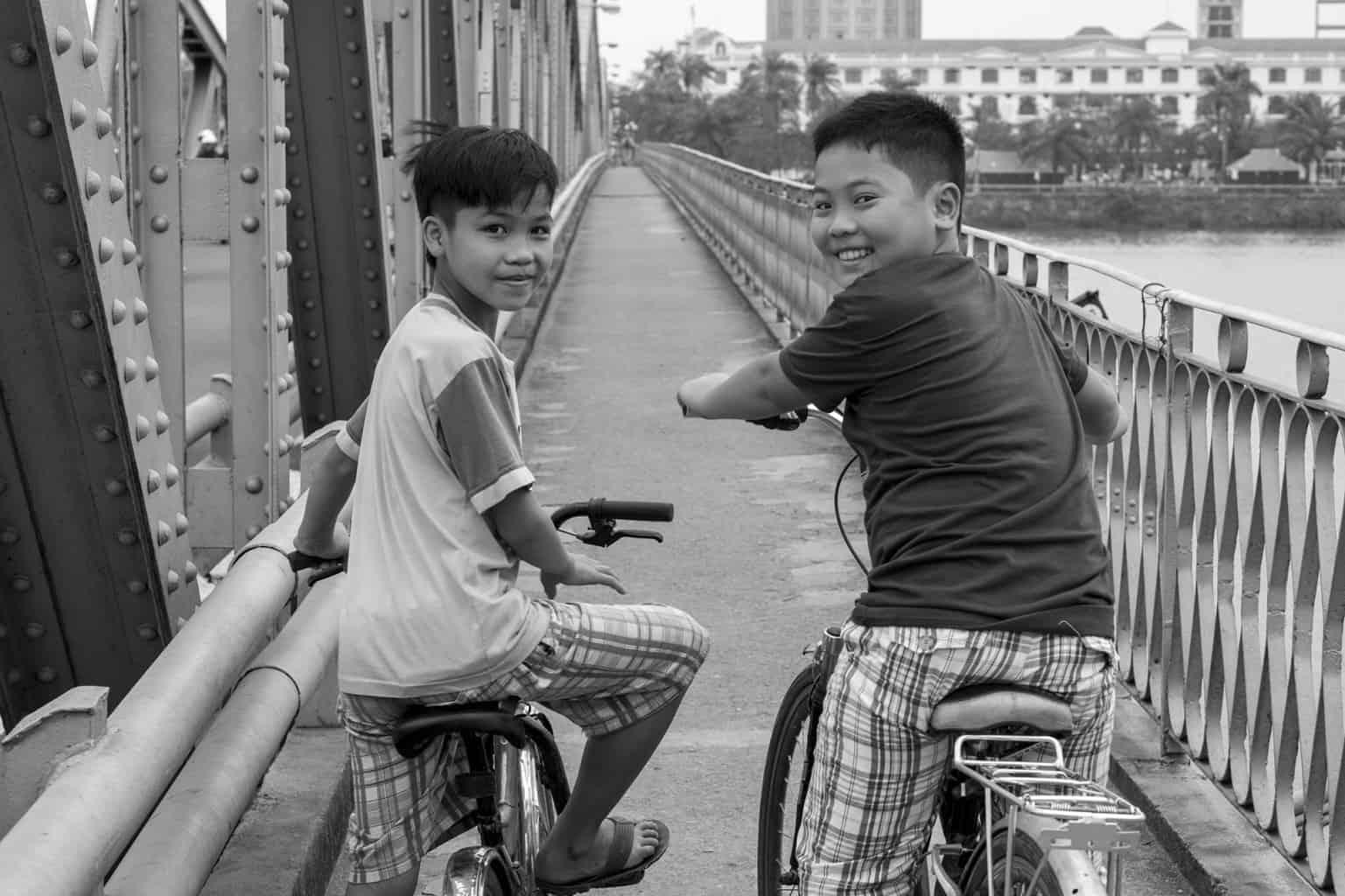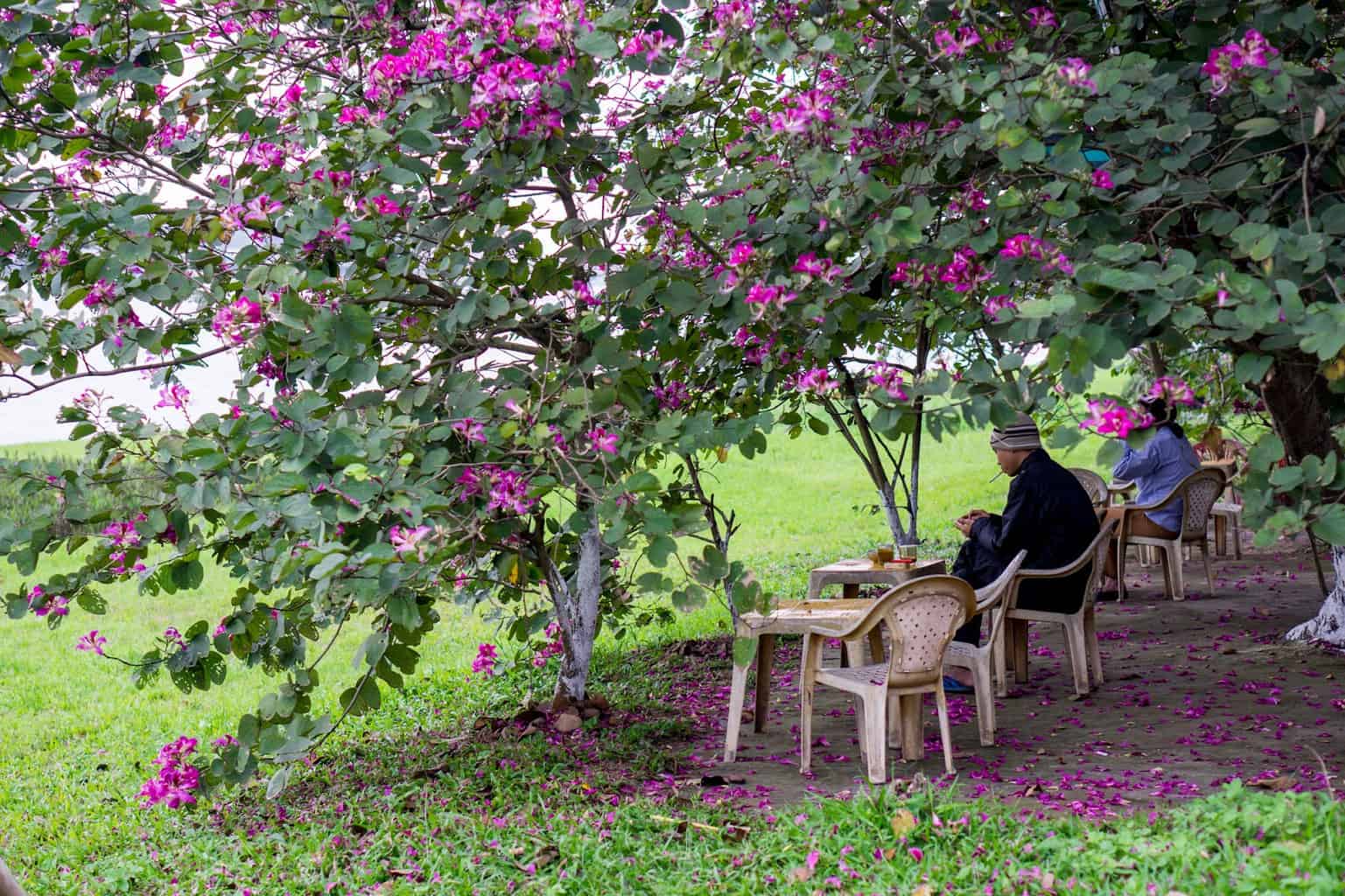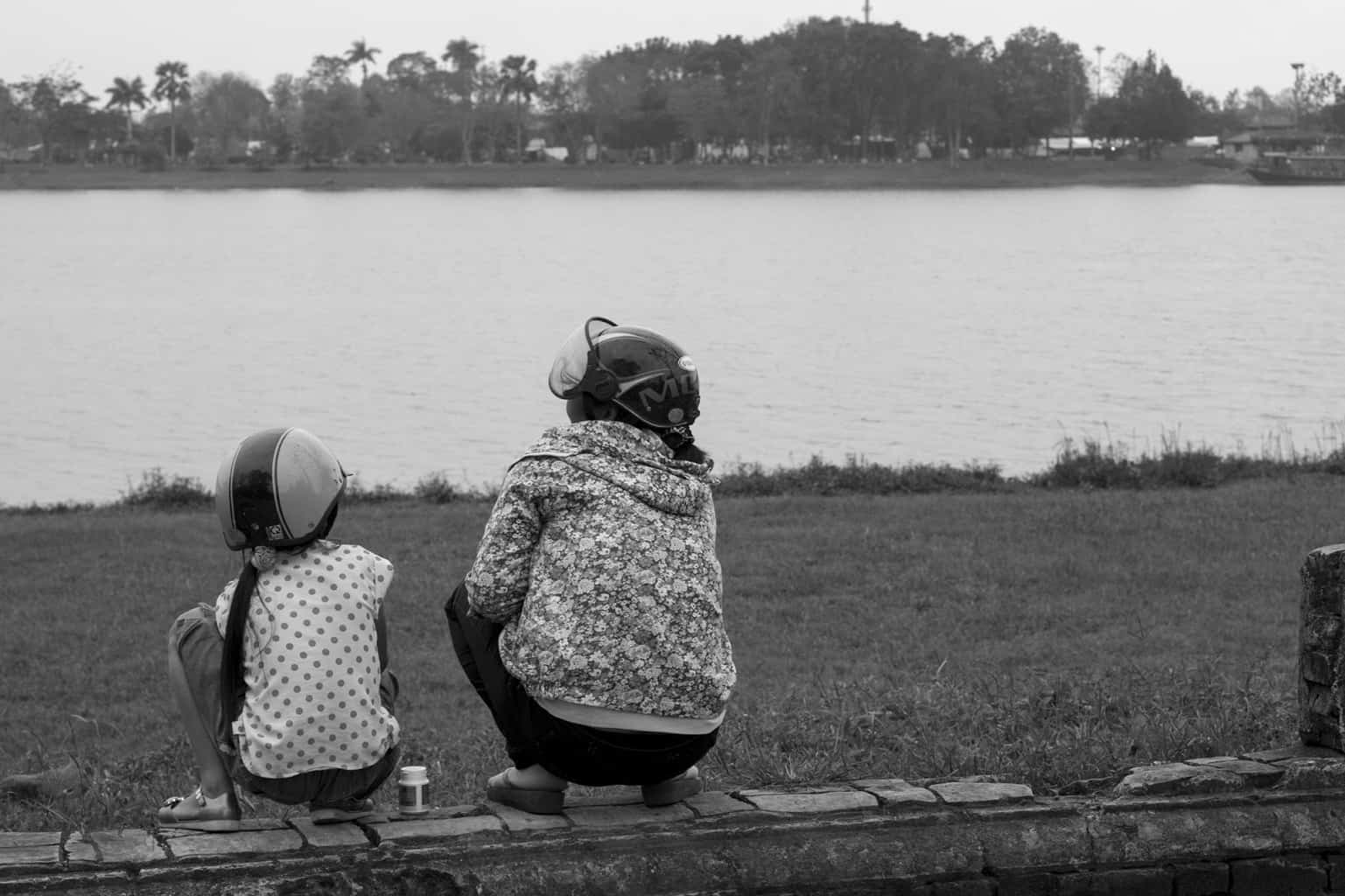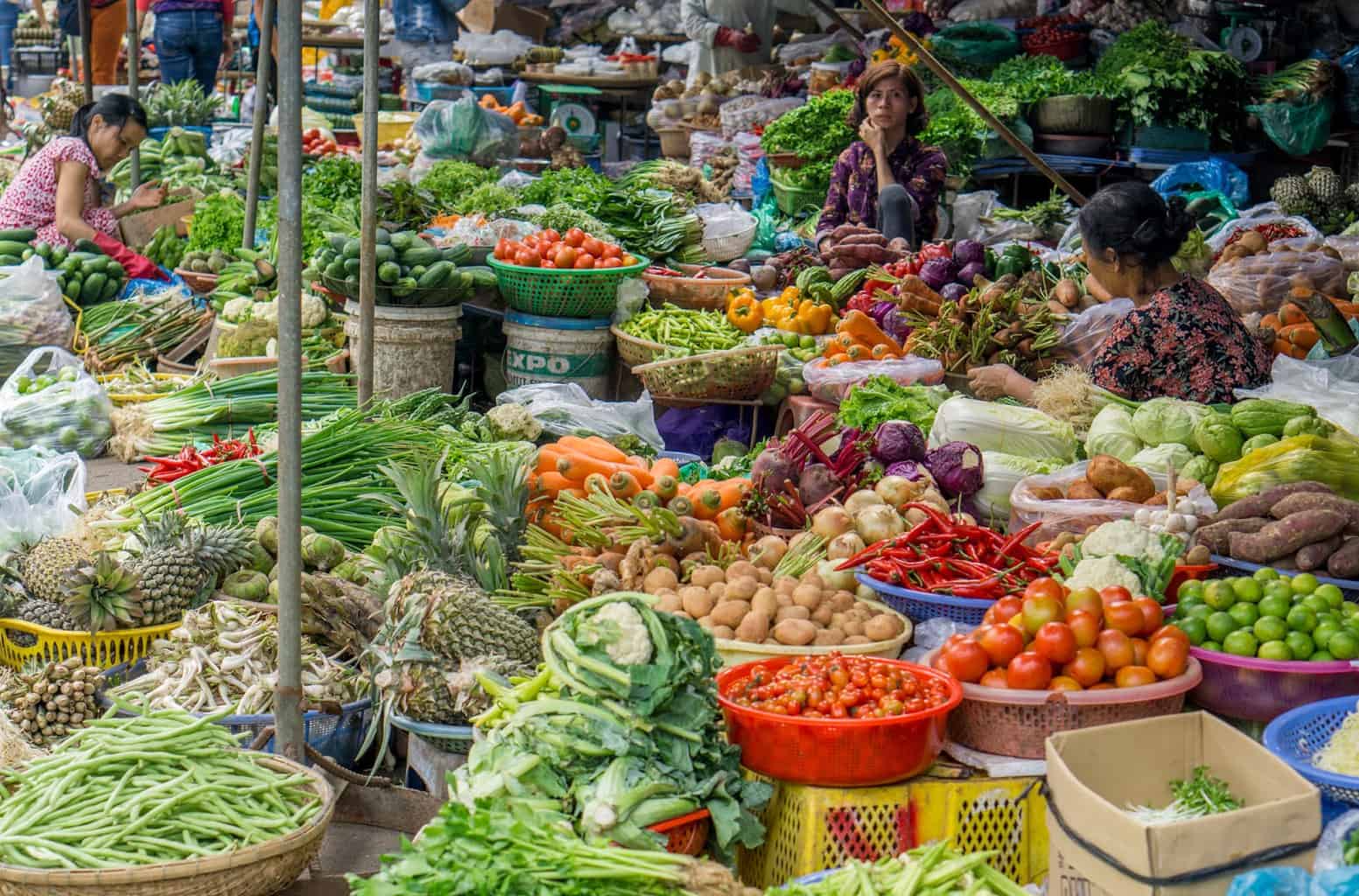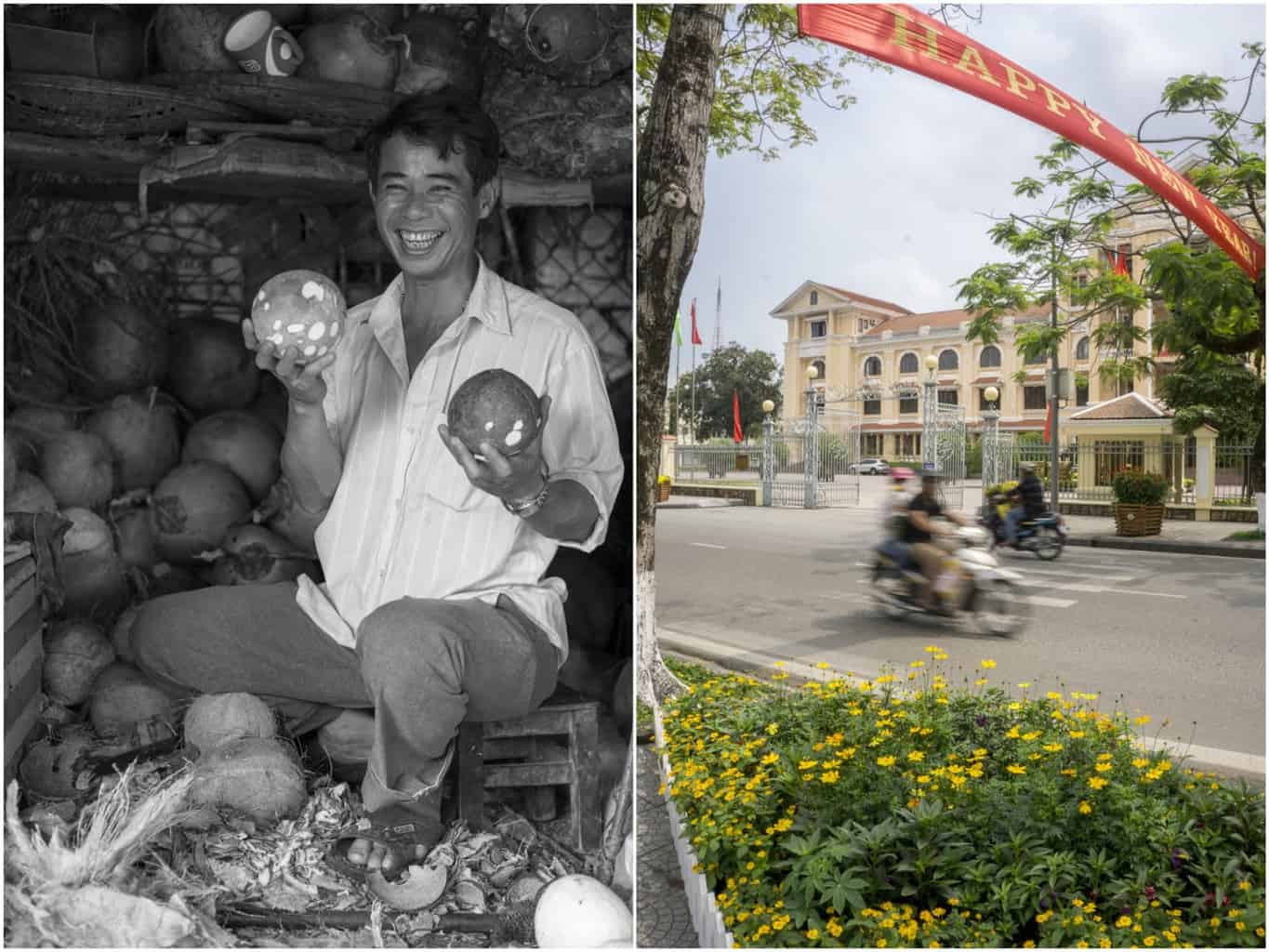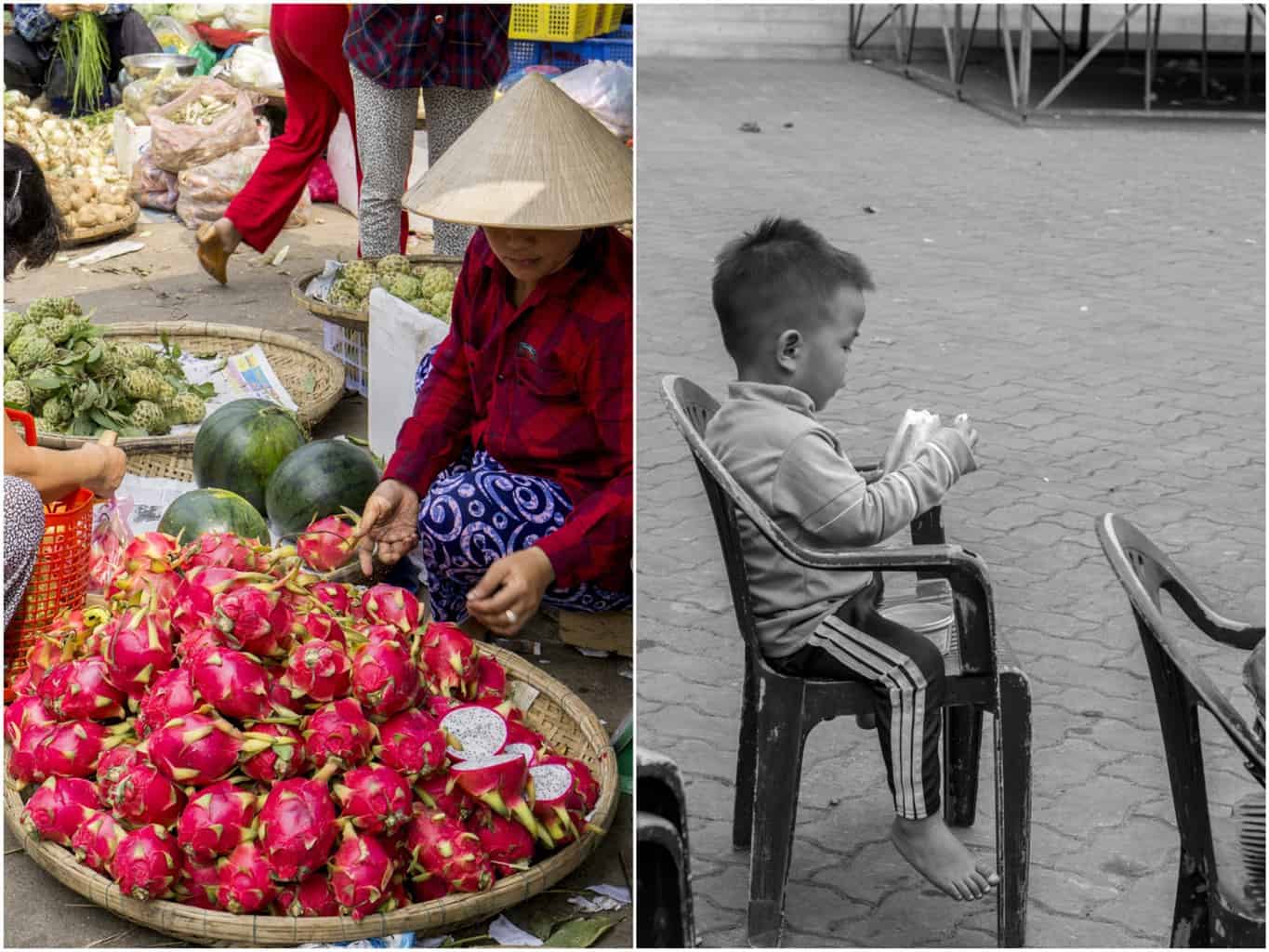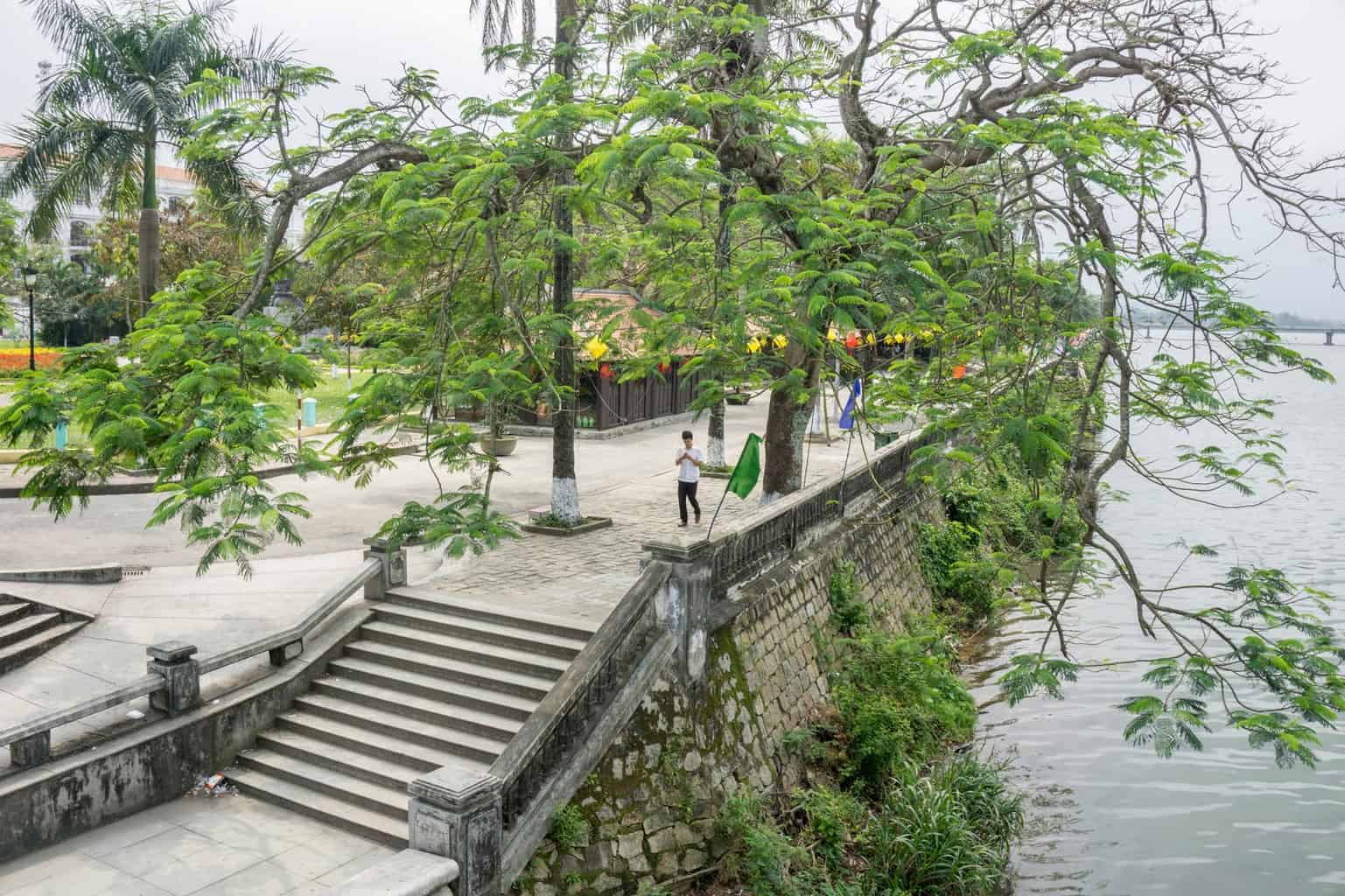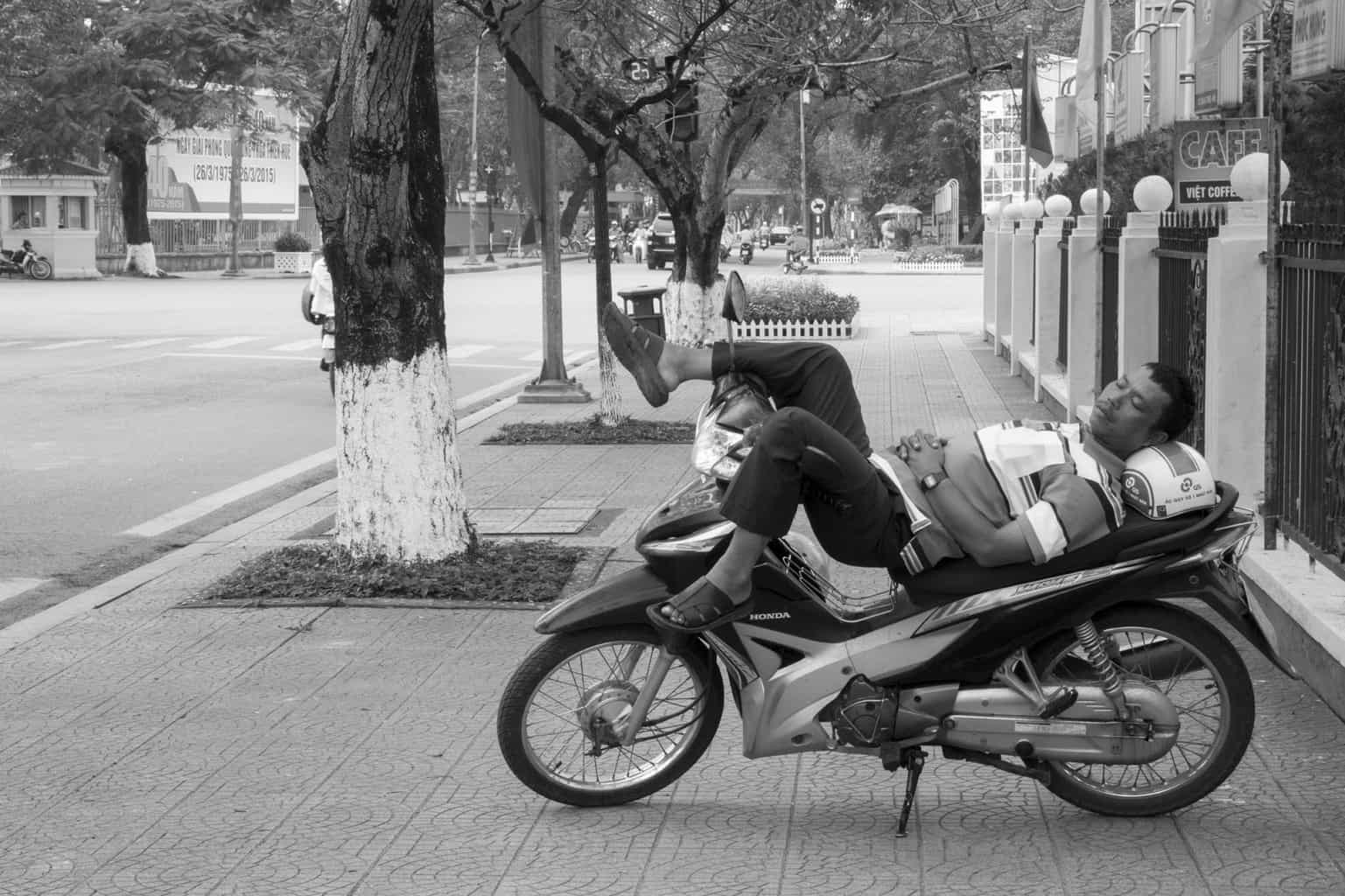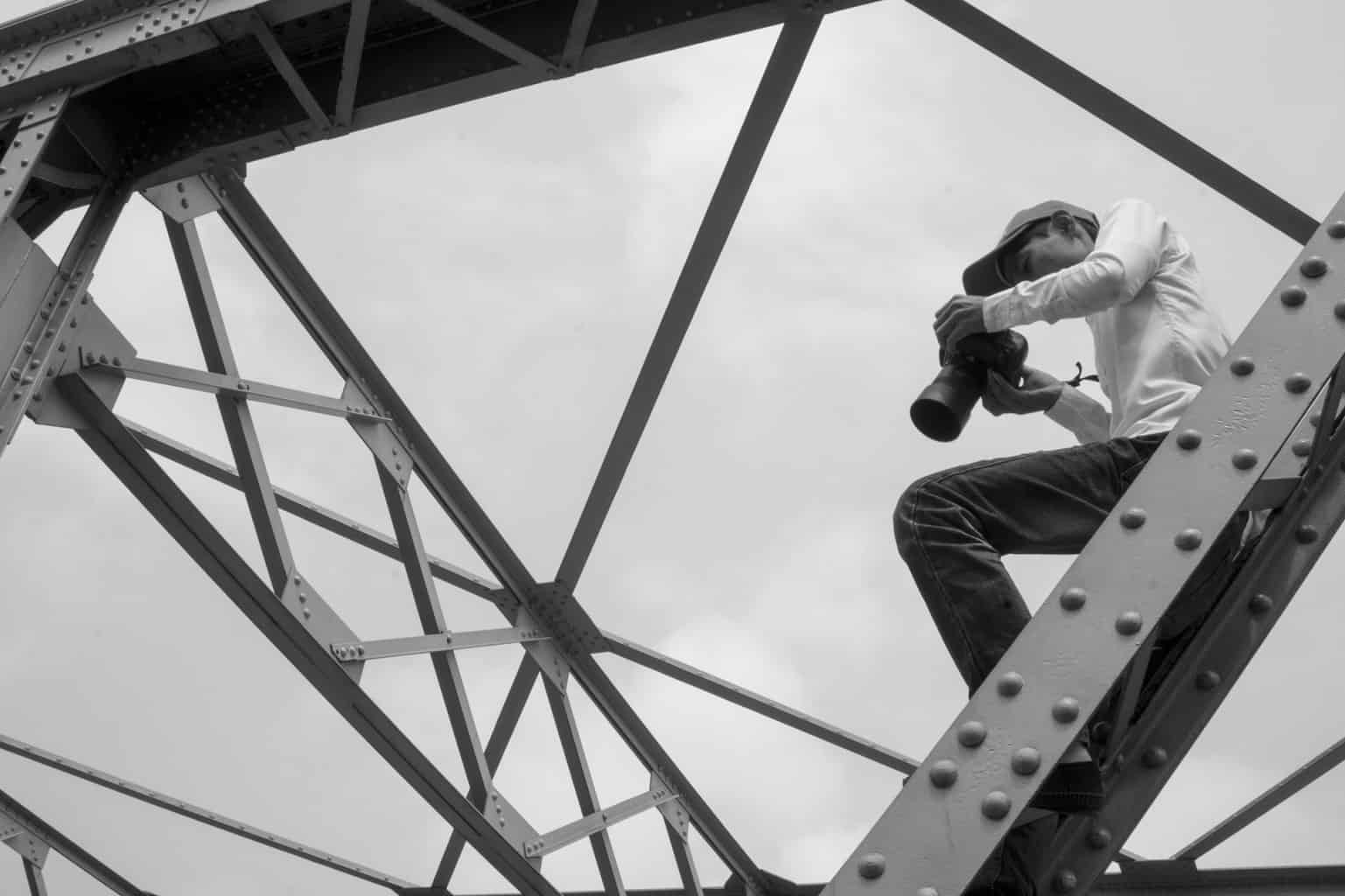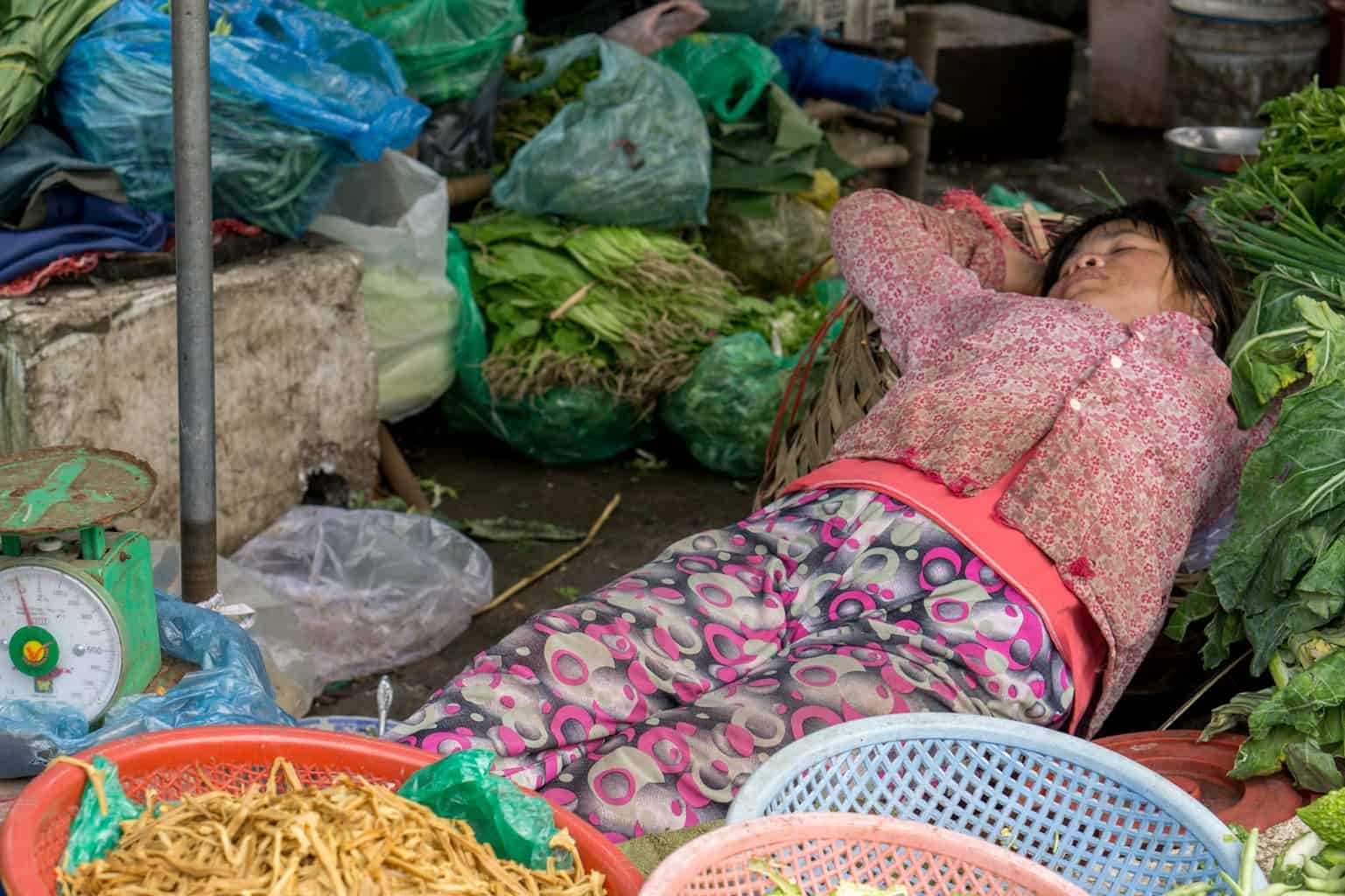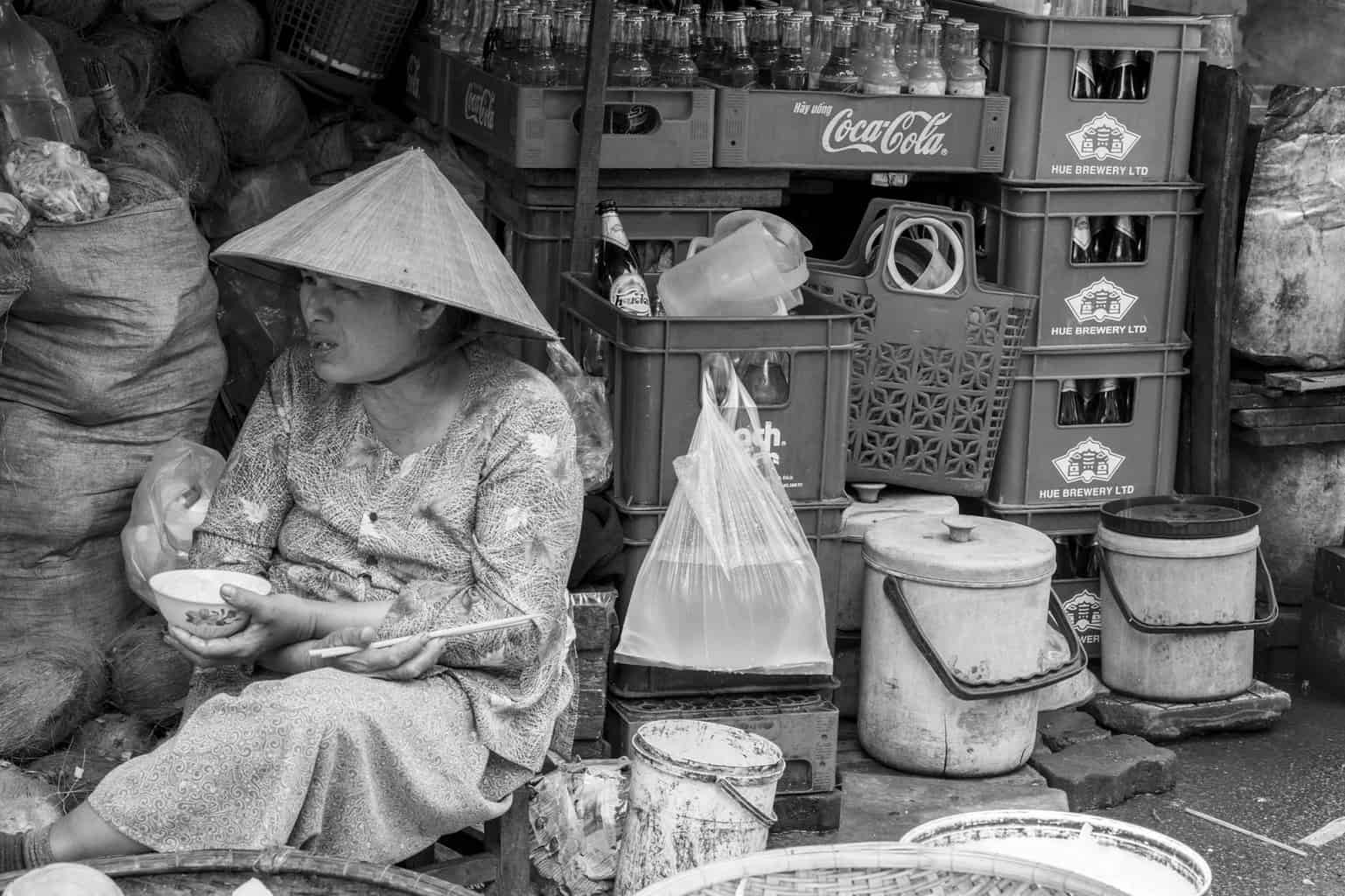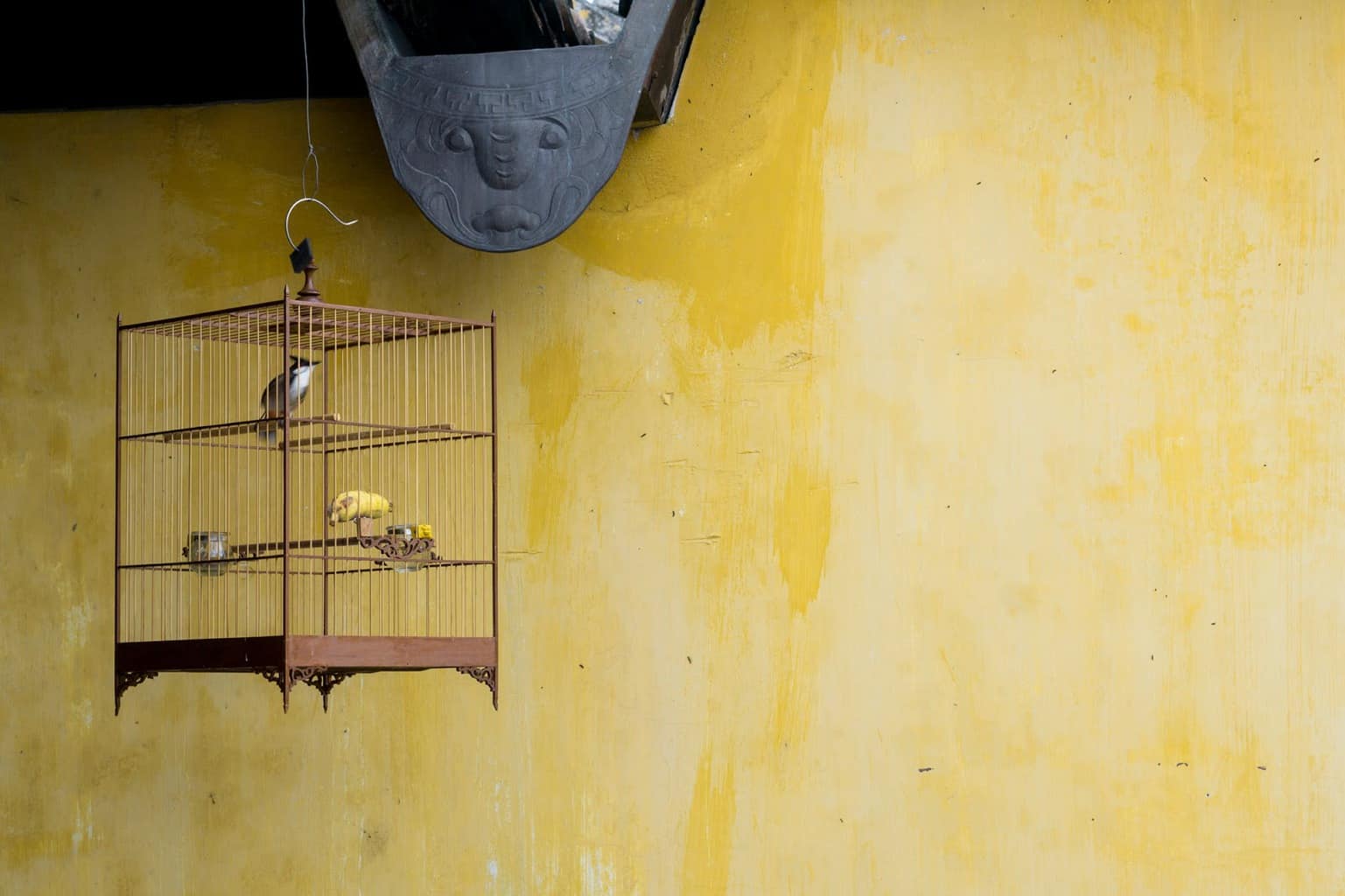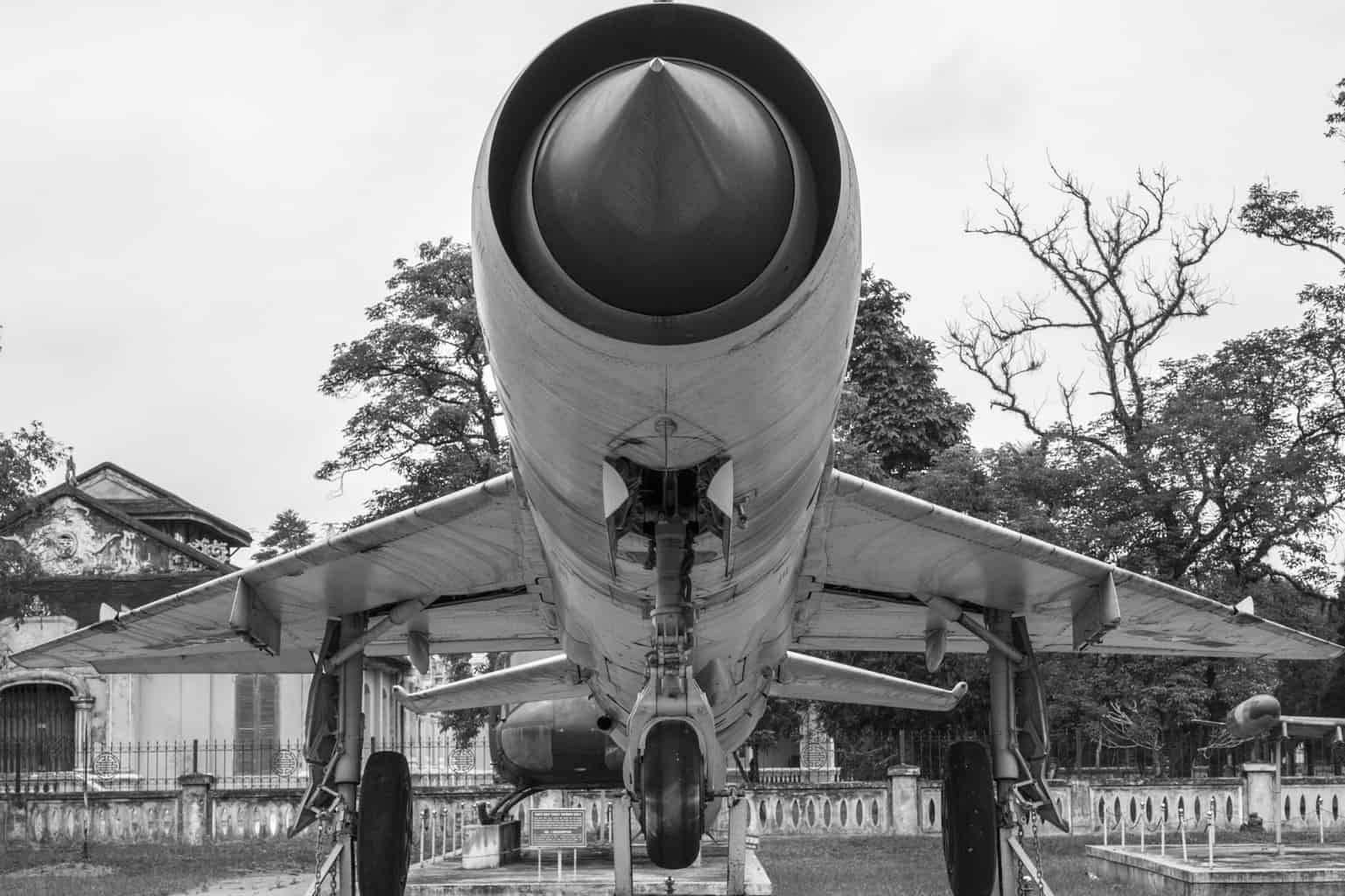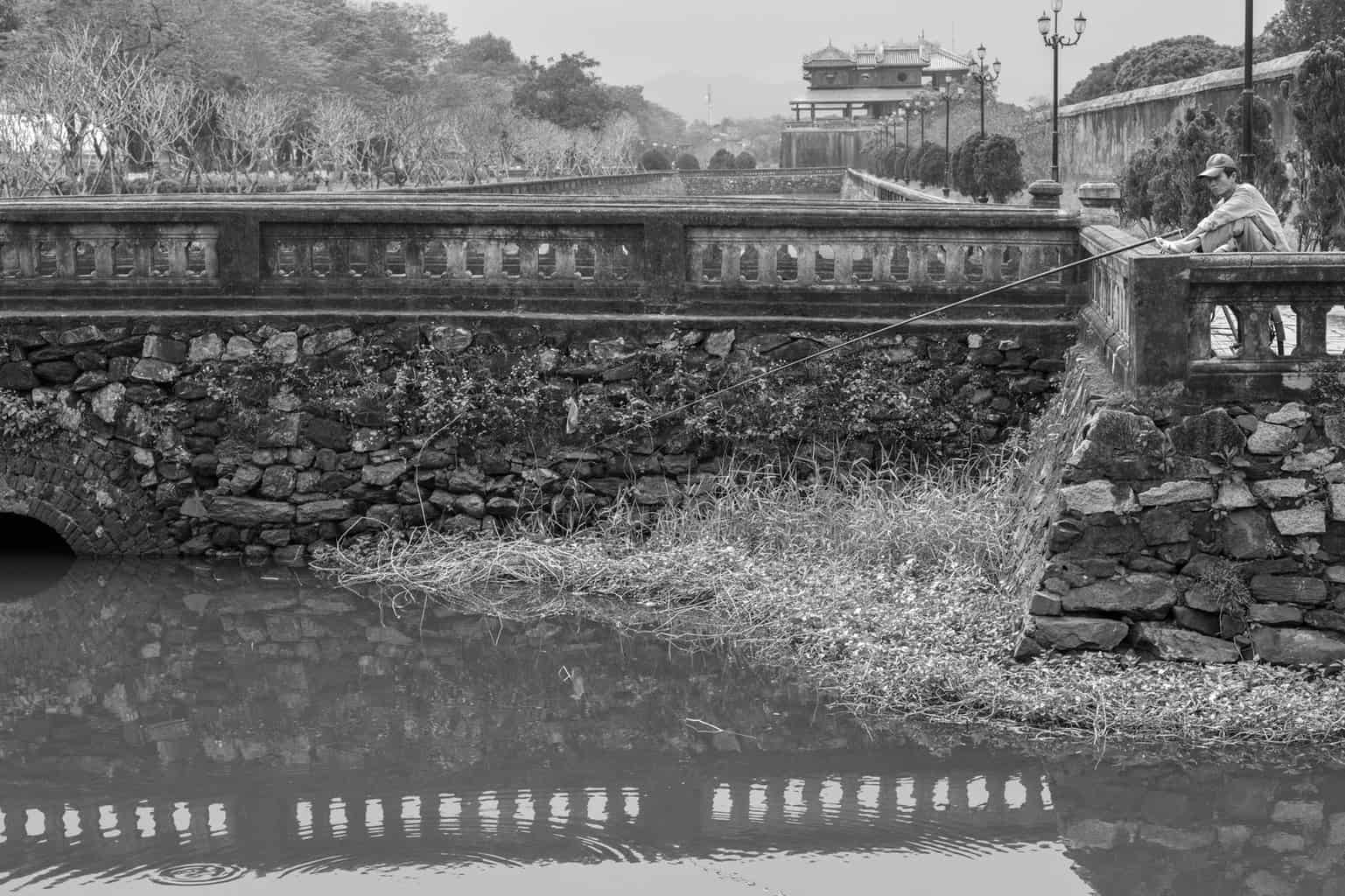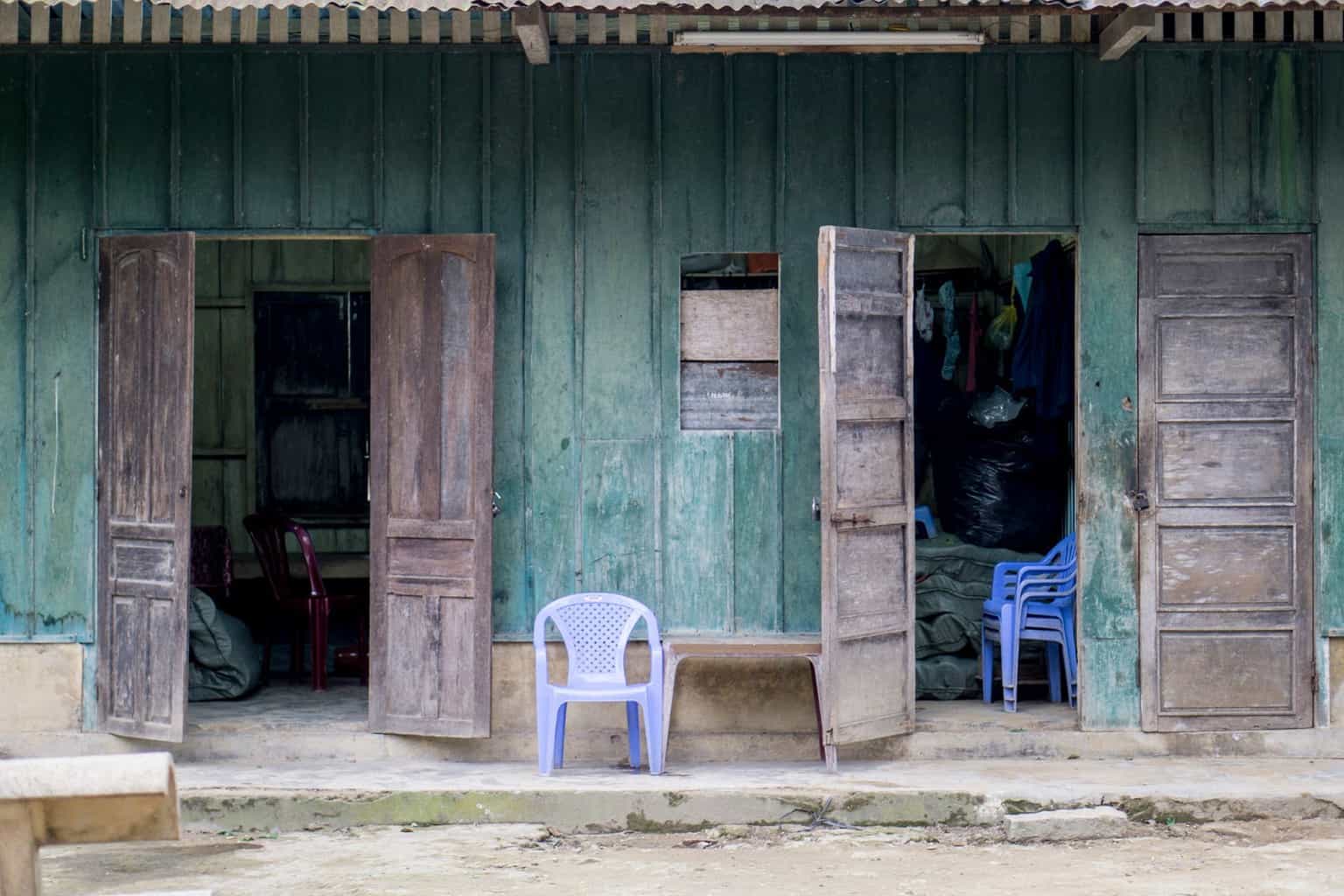 Hoi An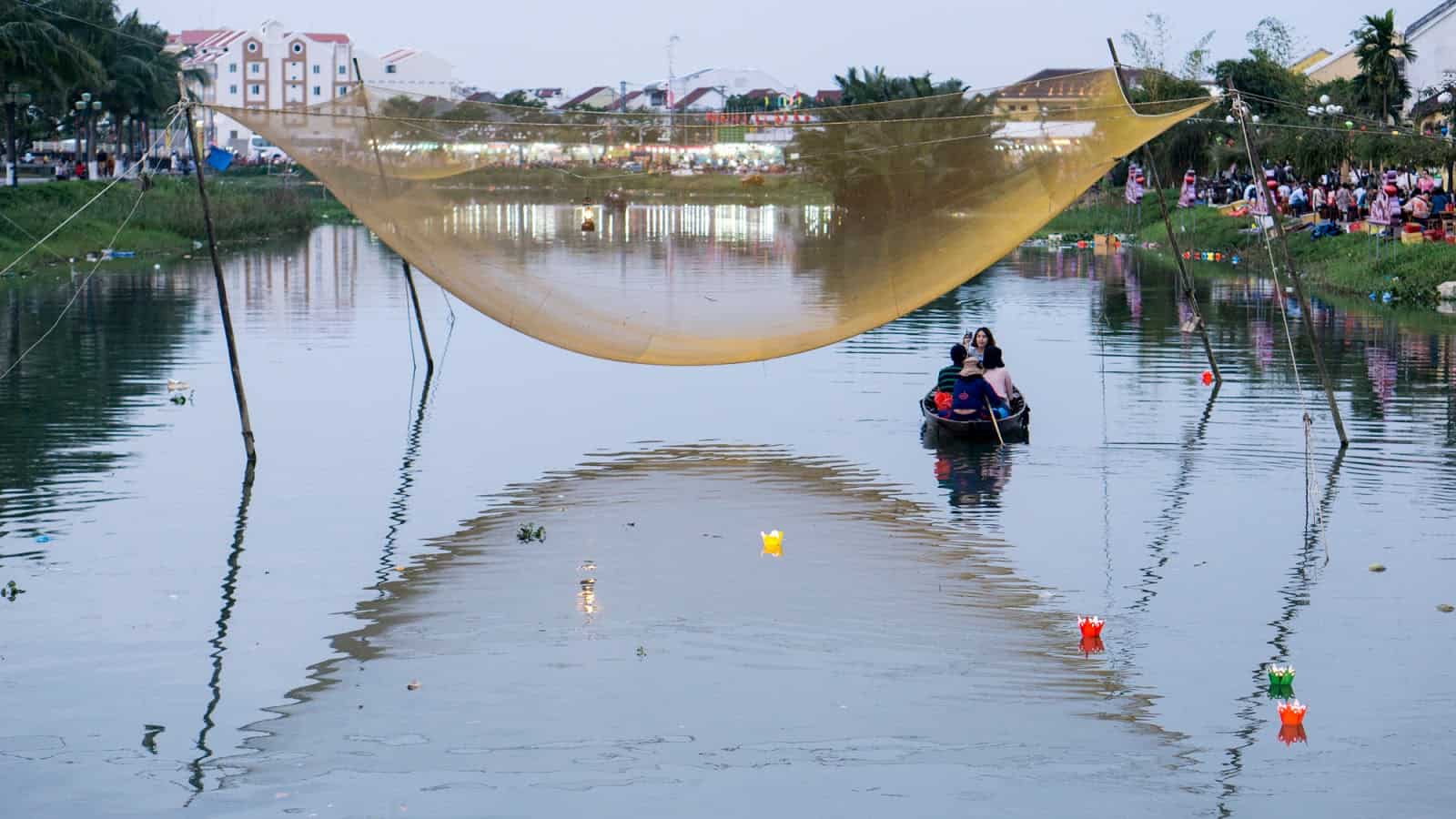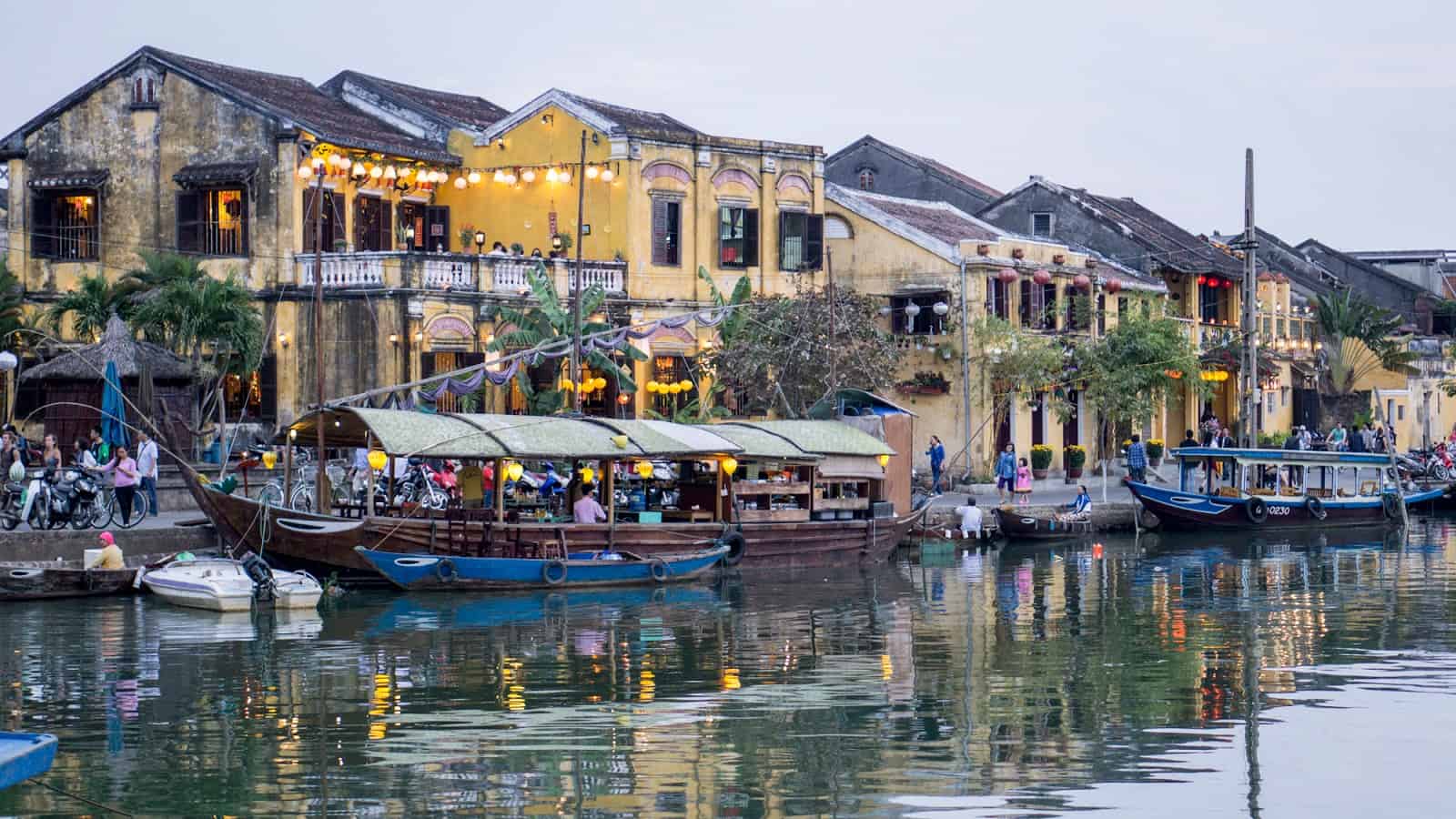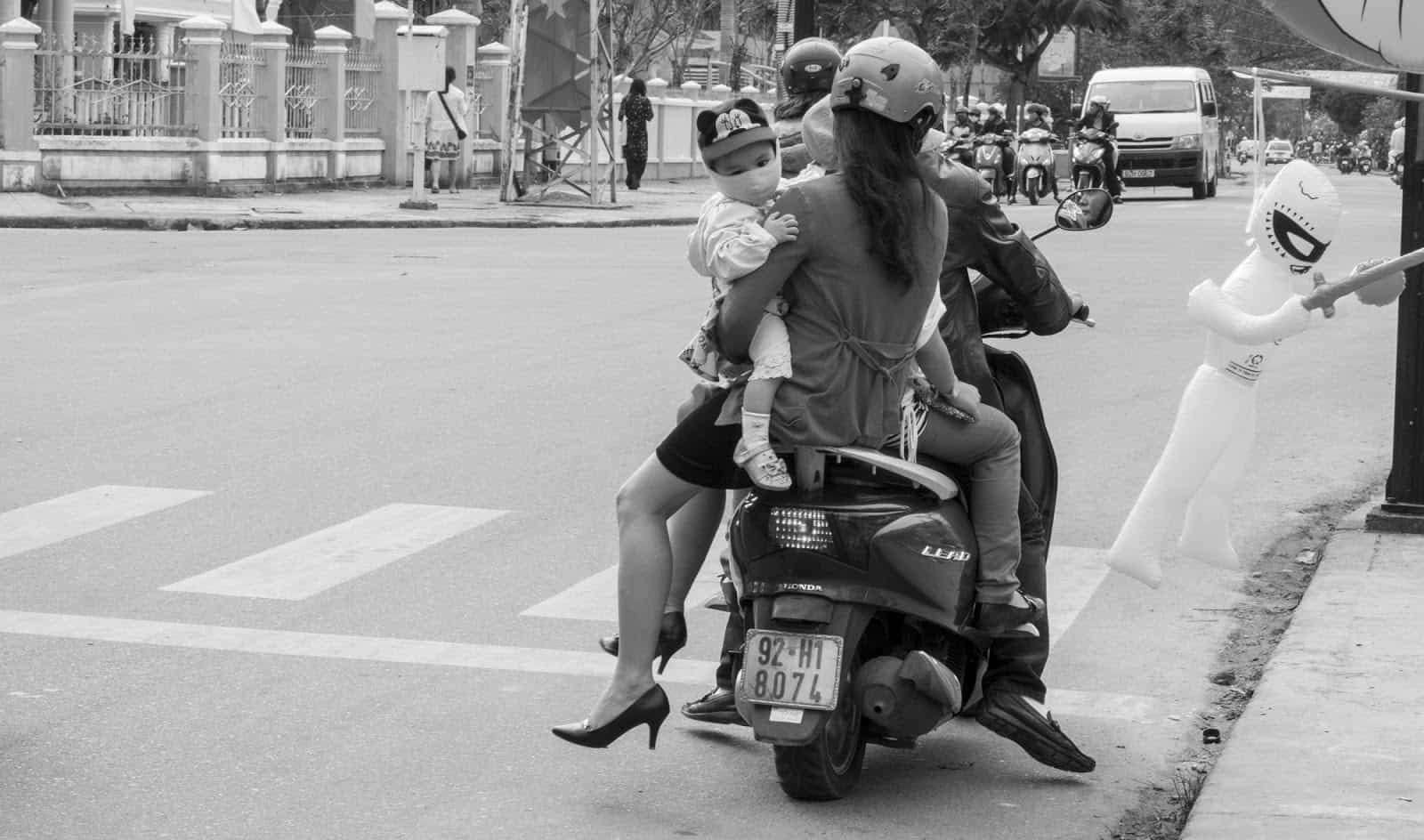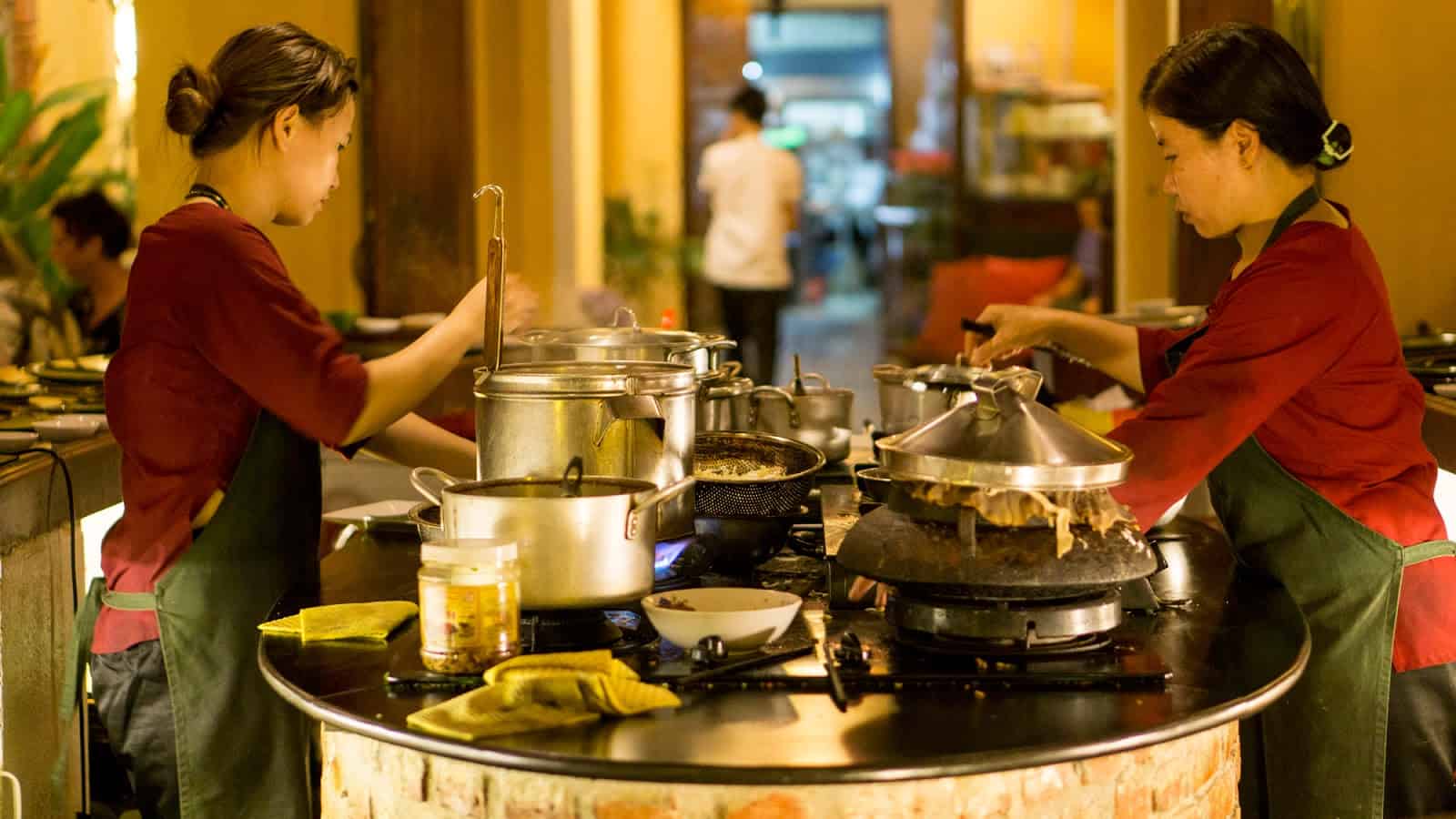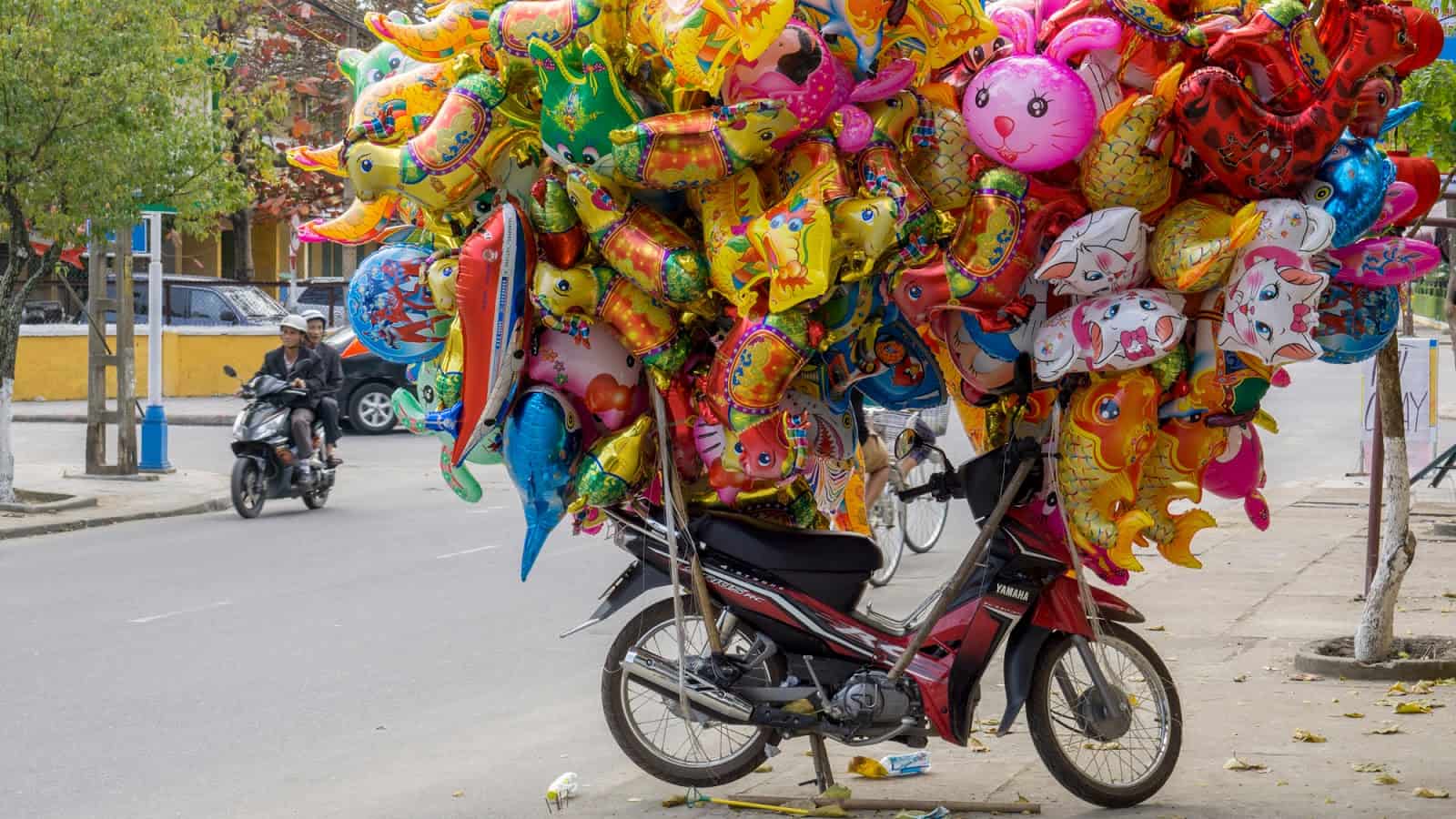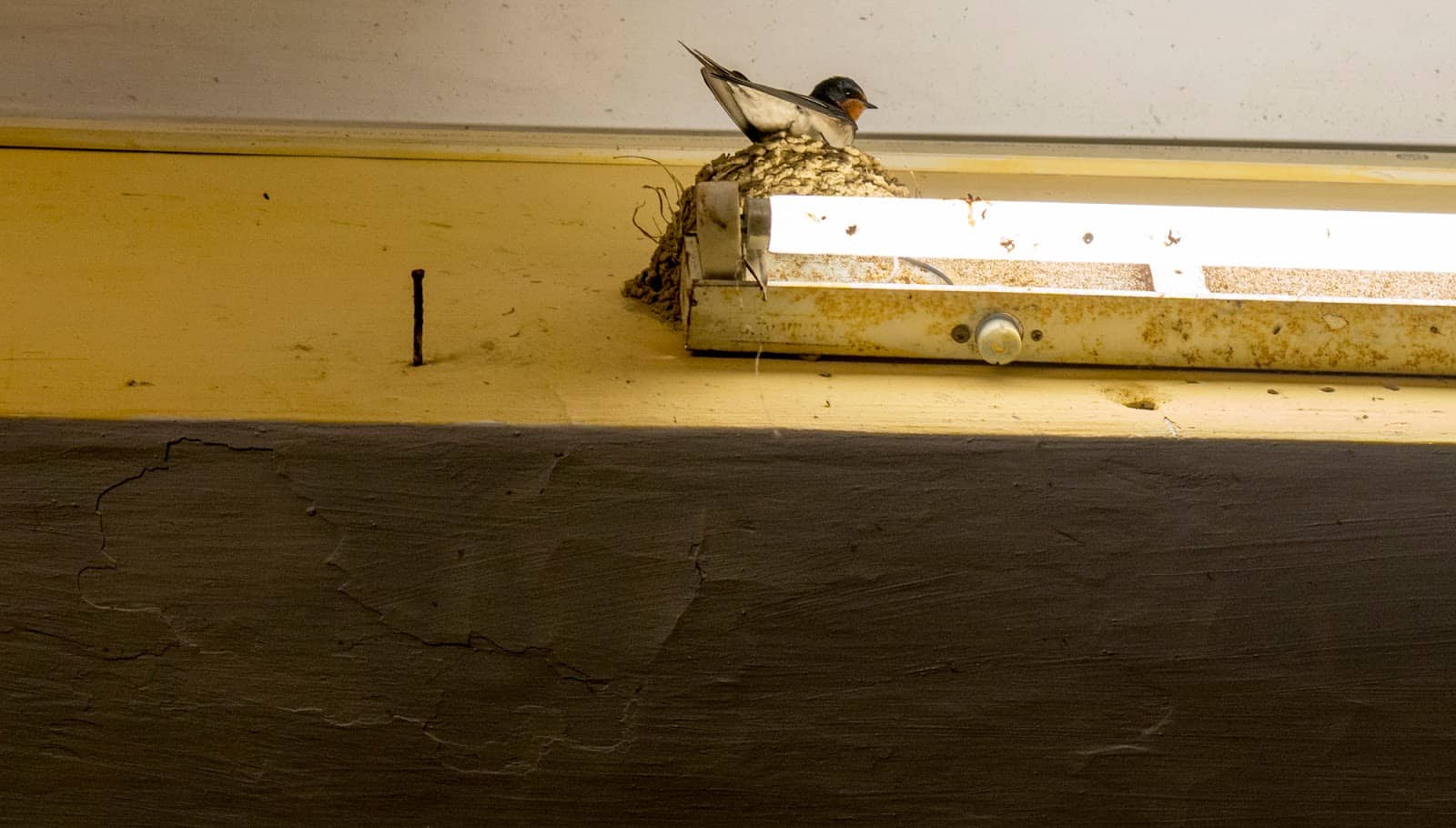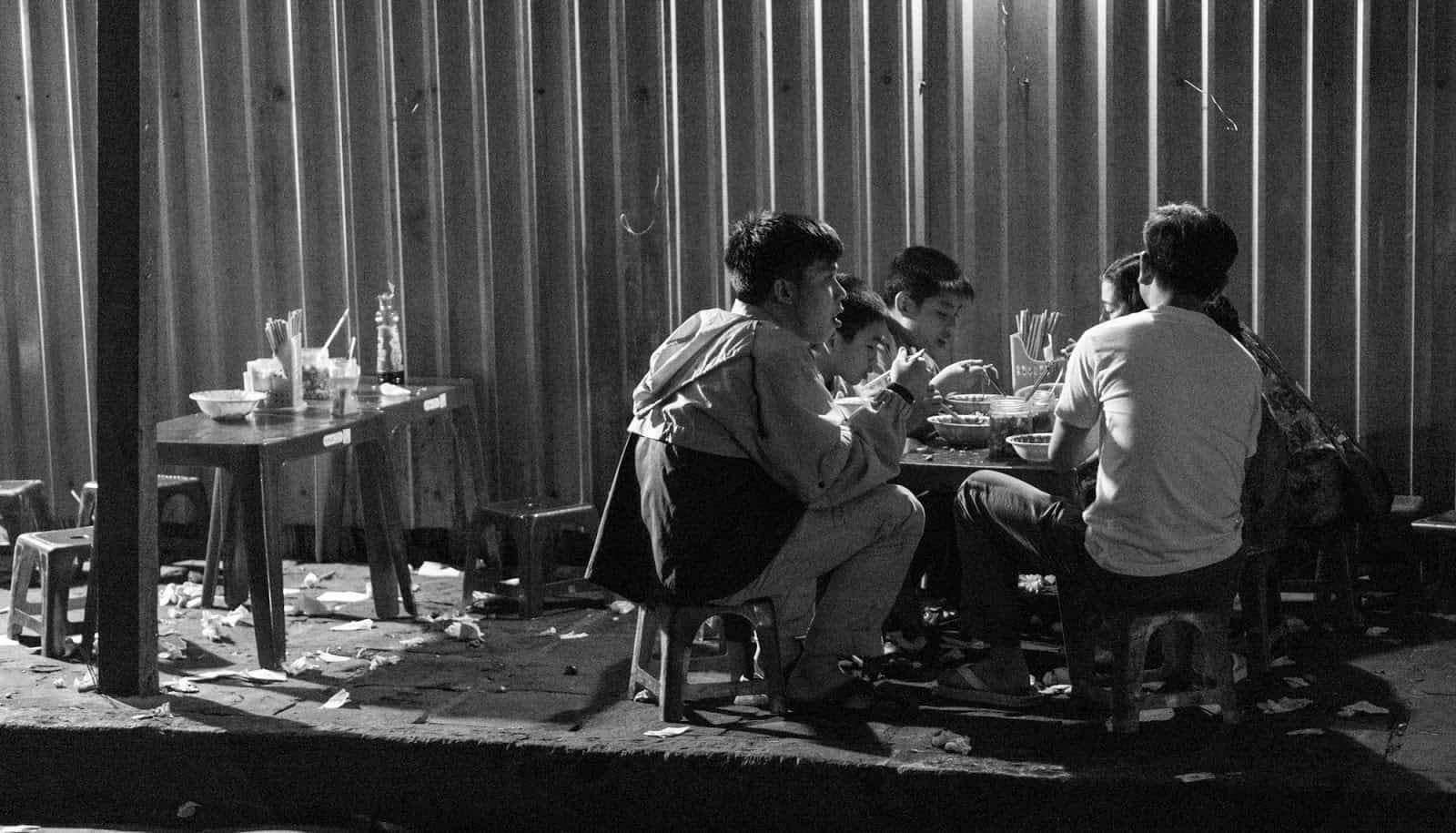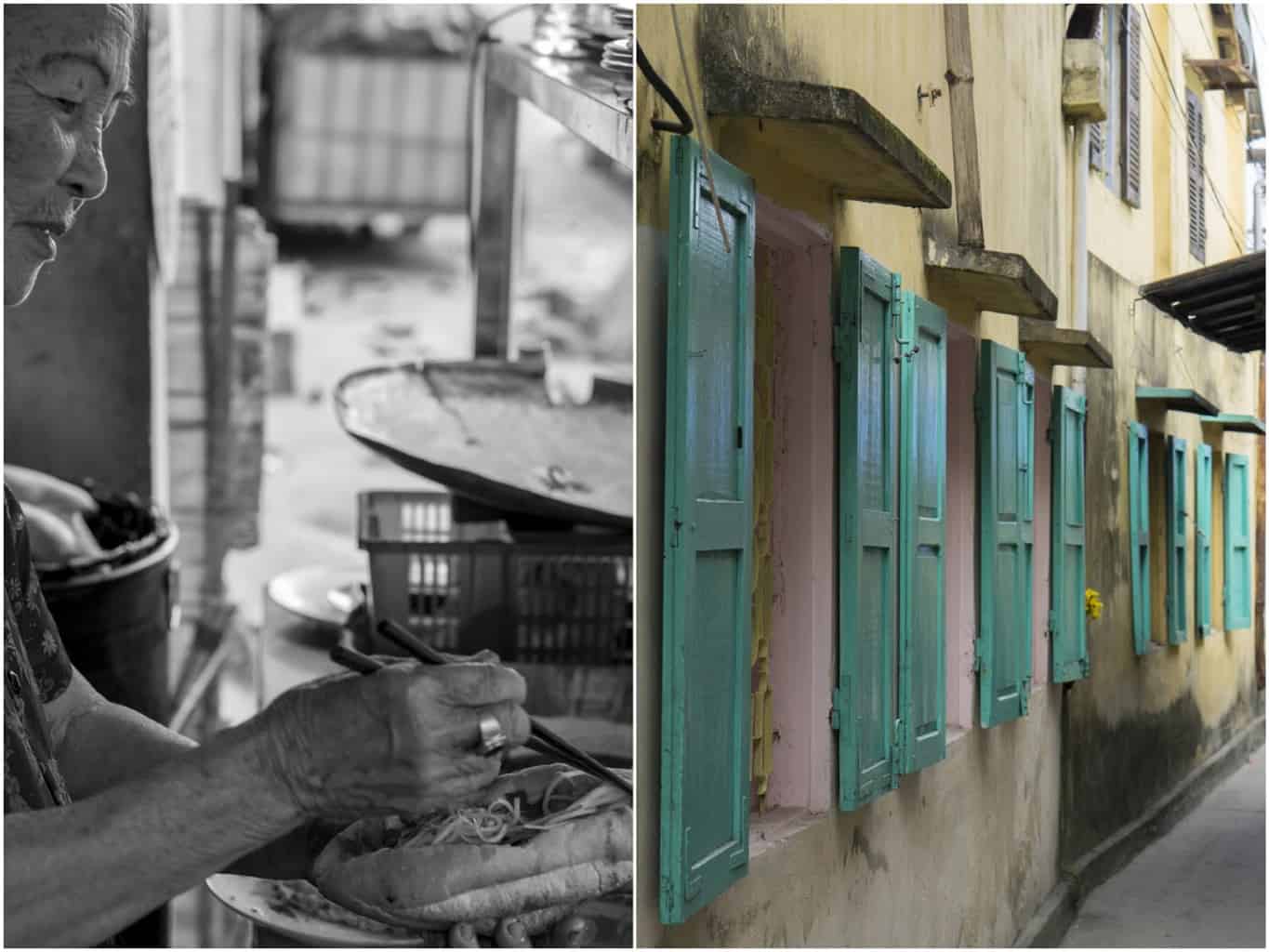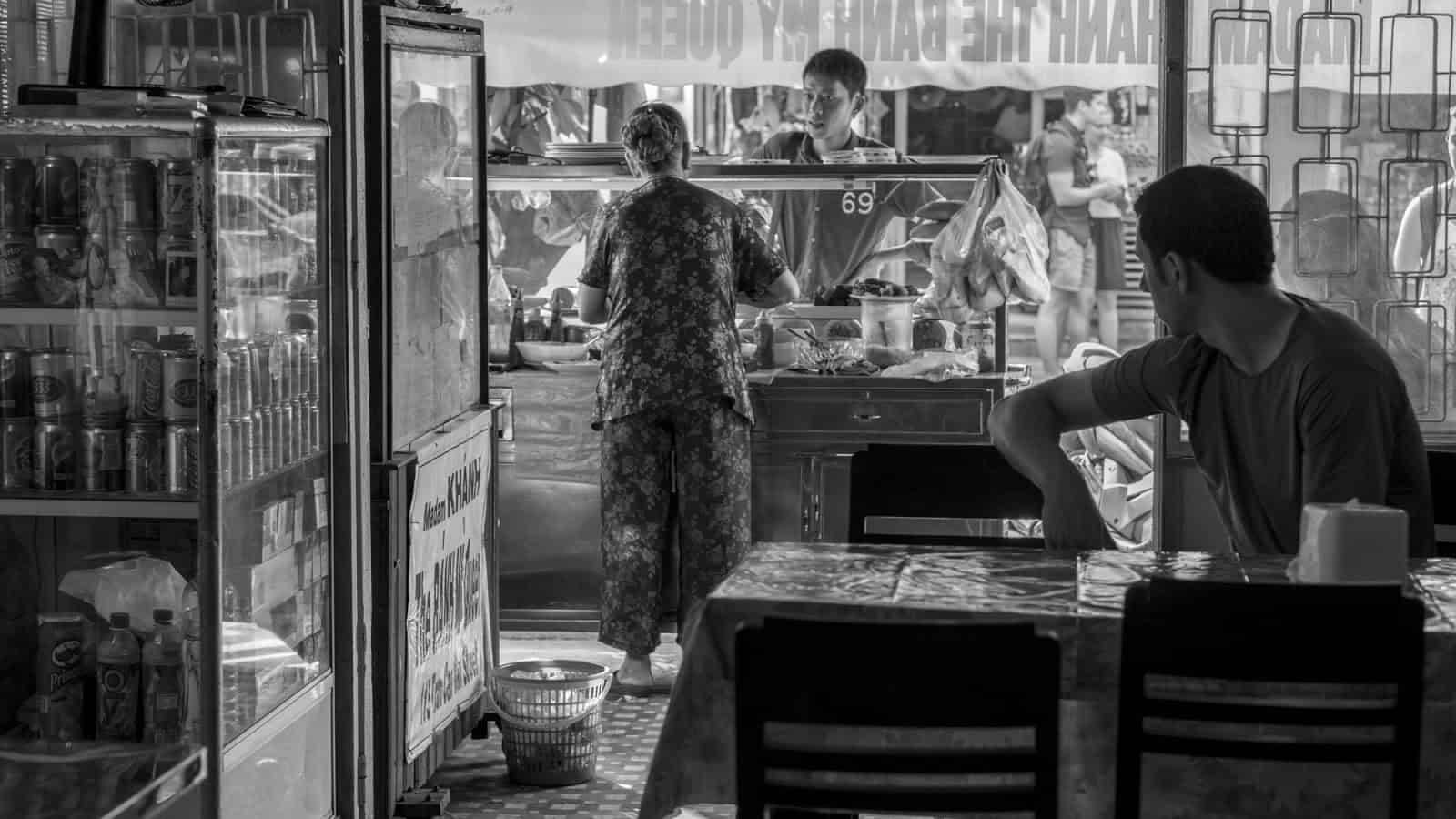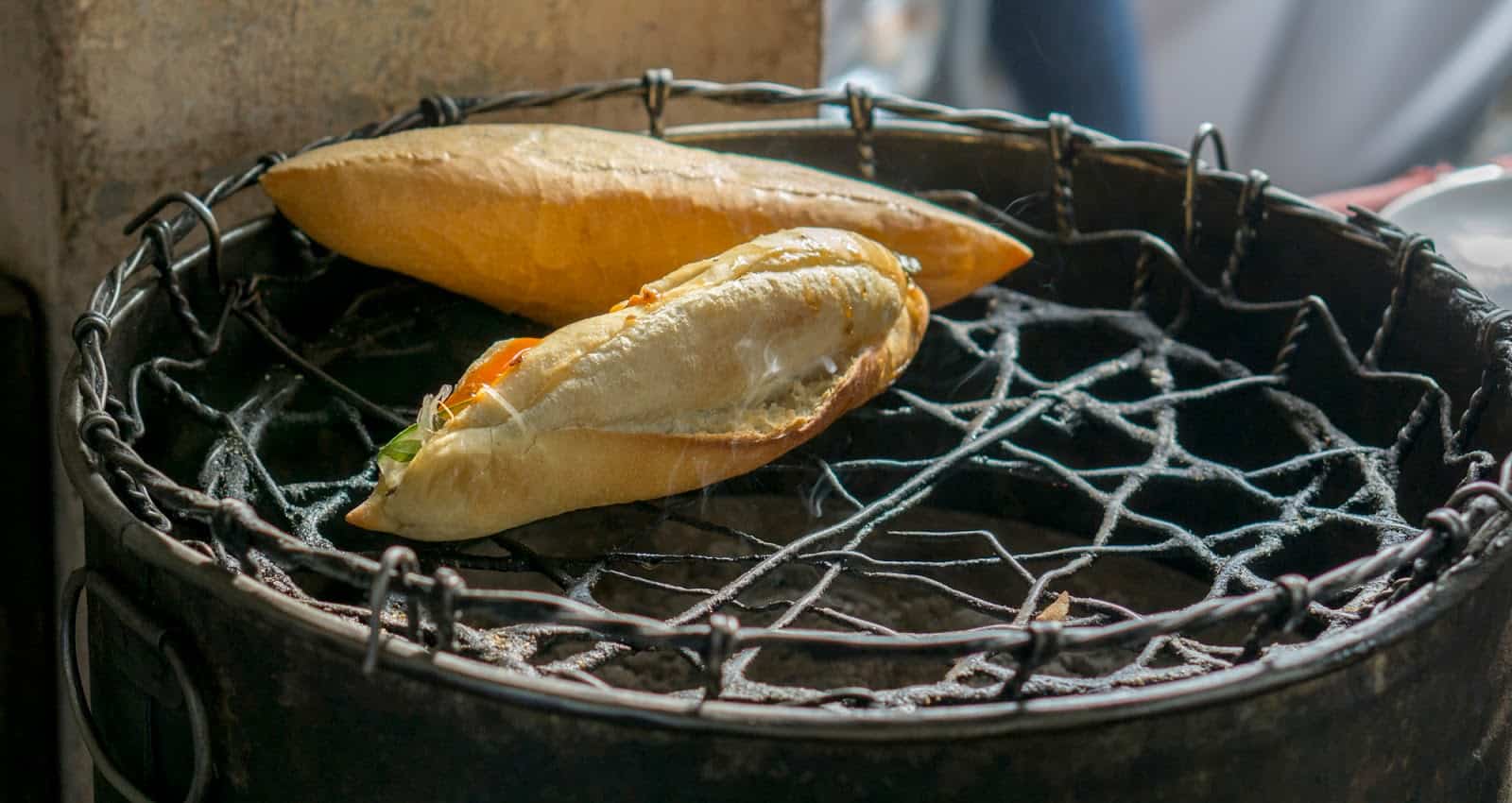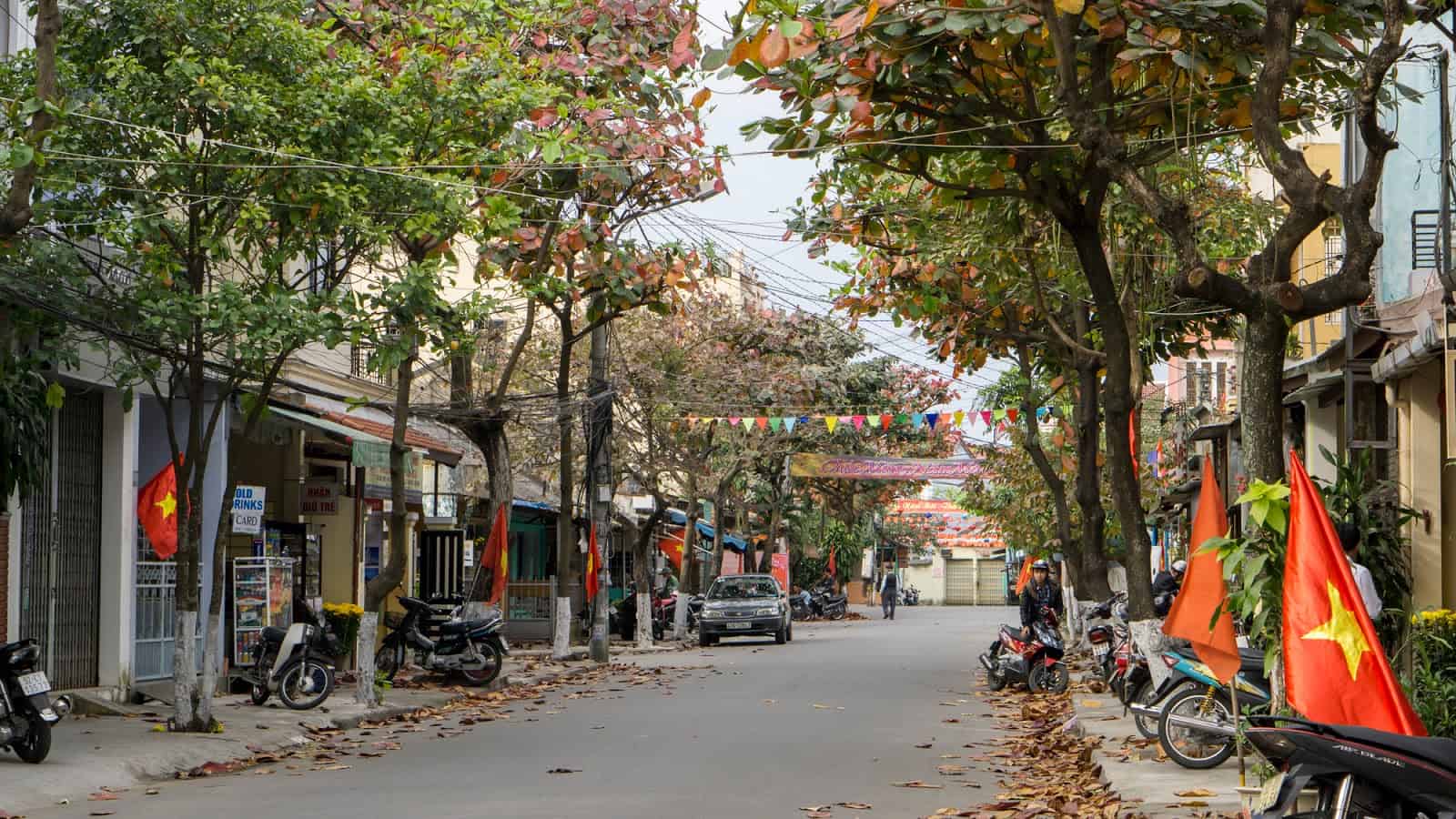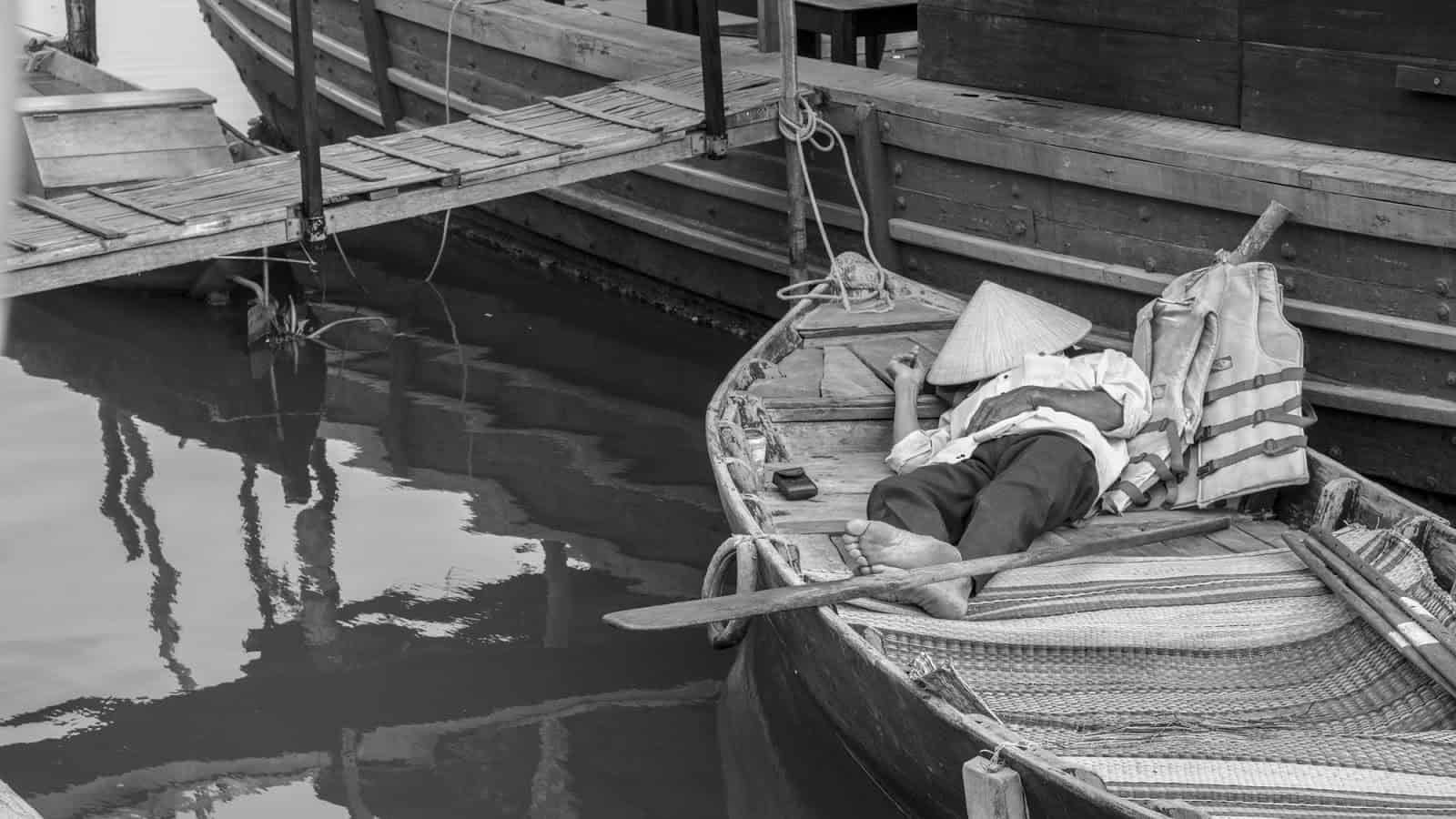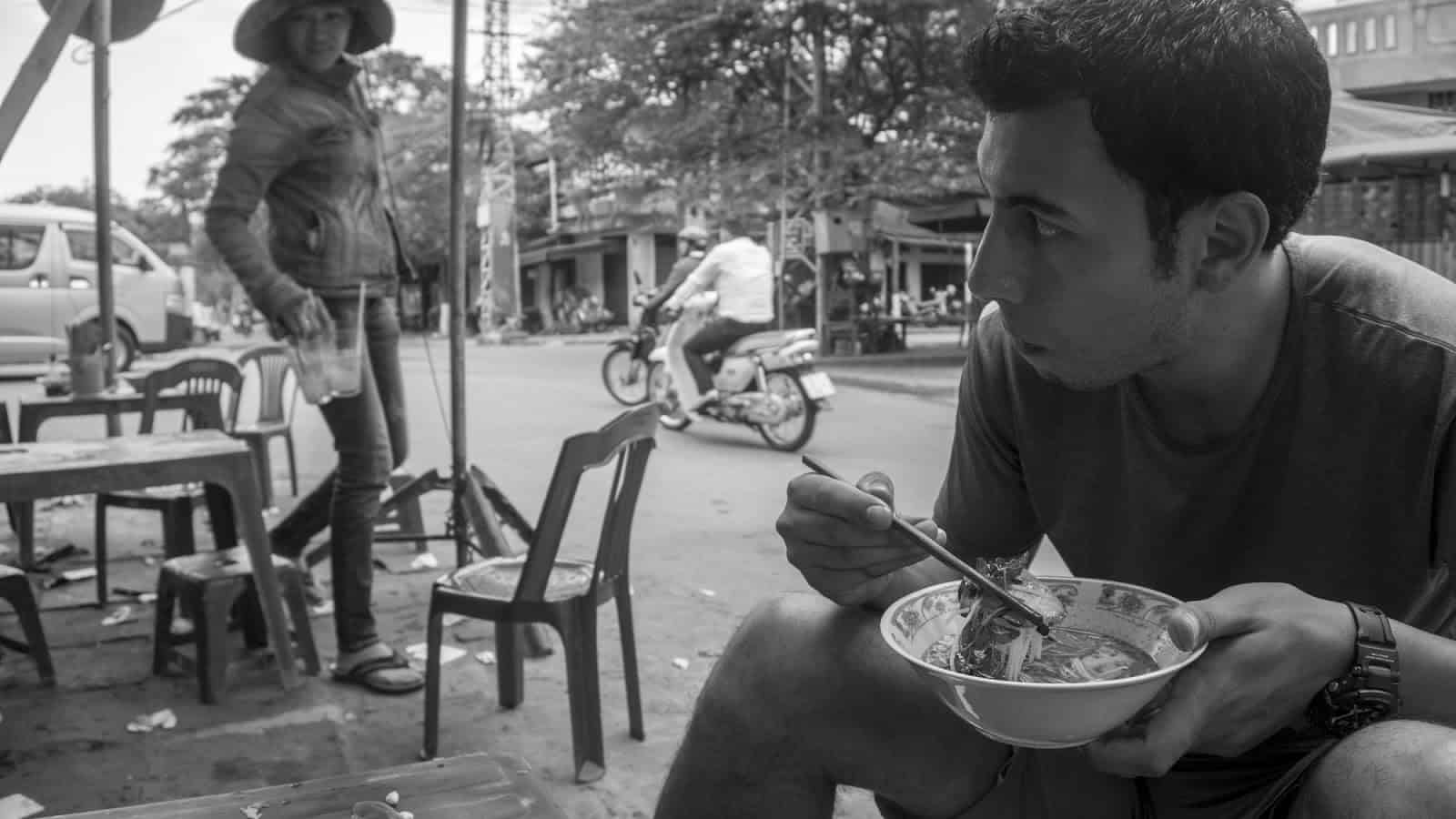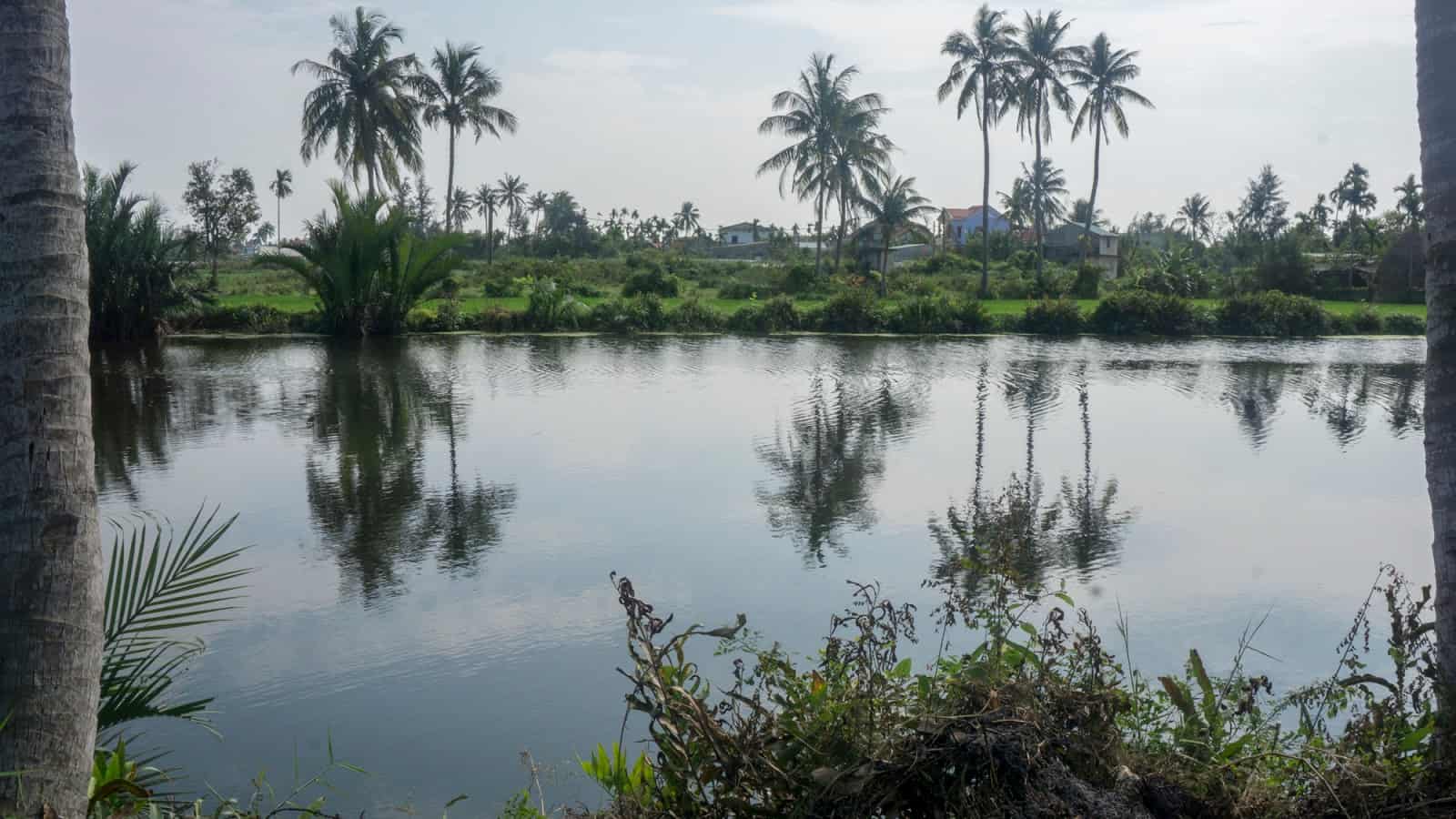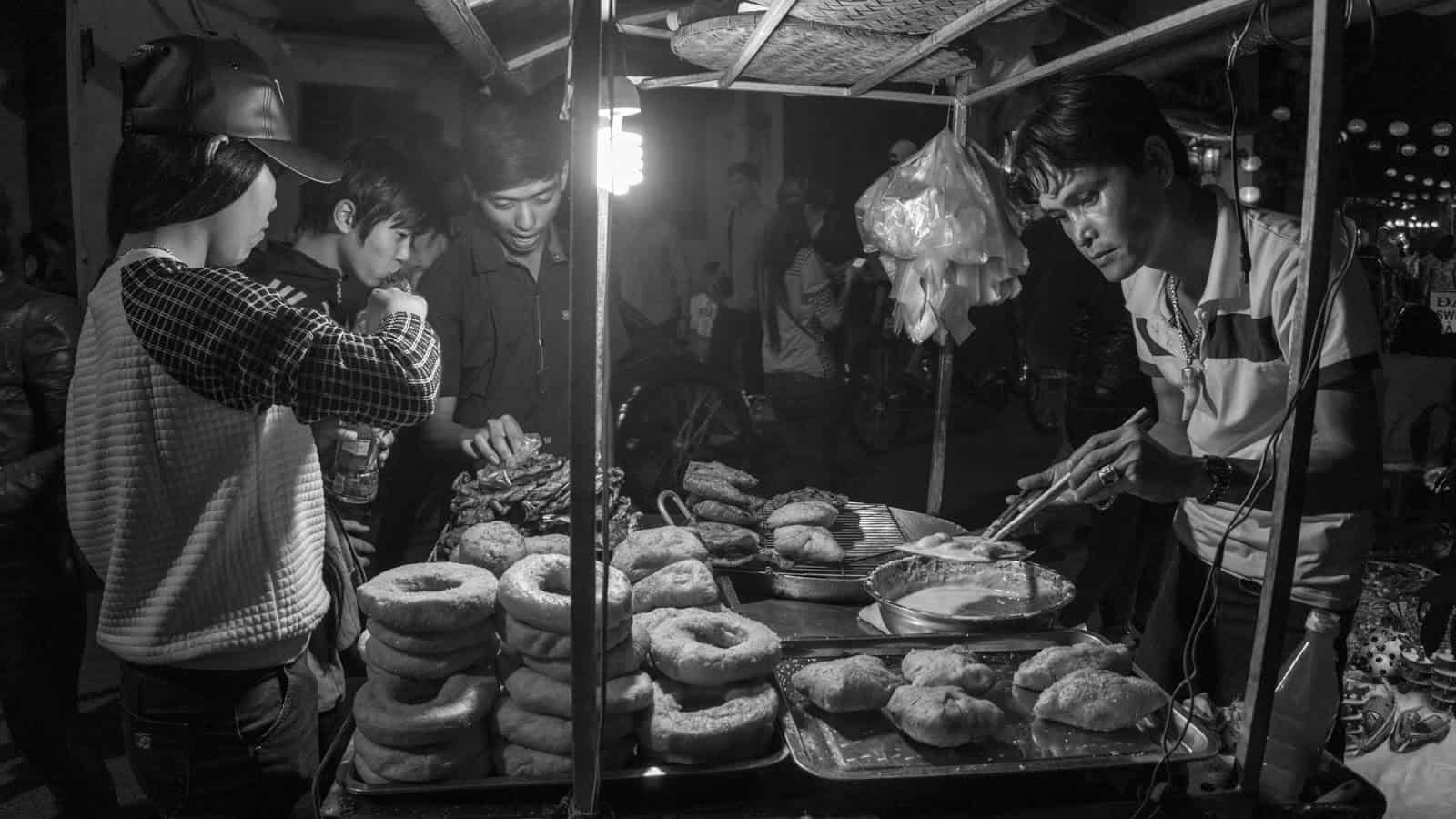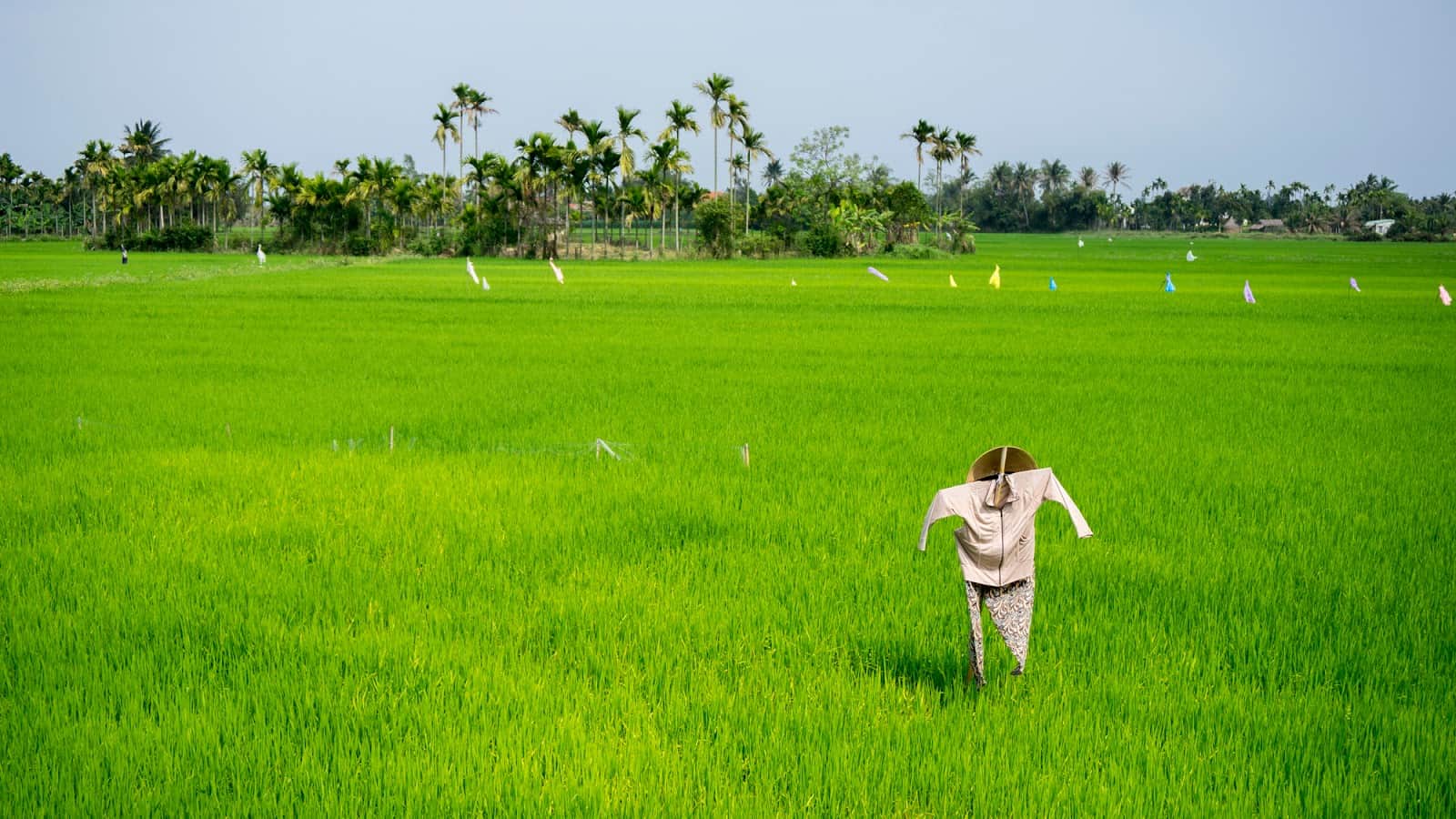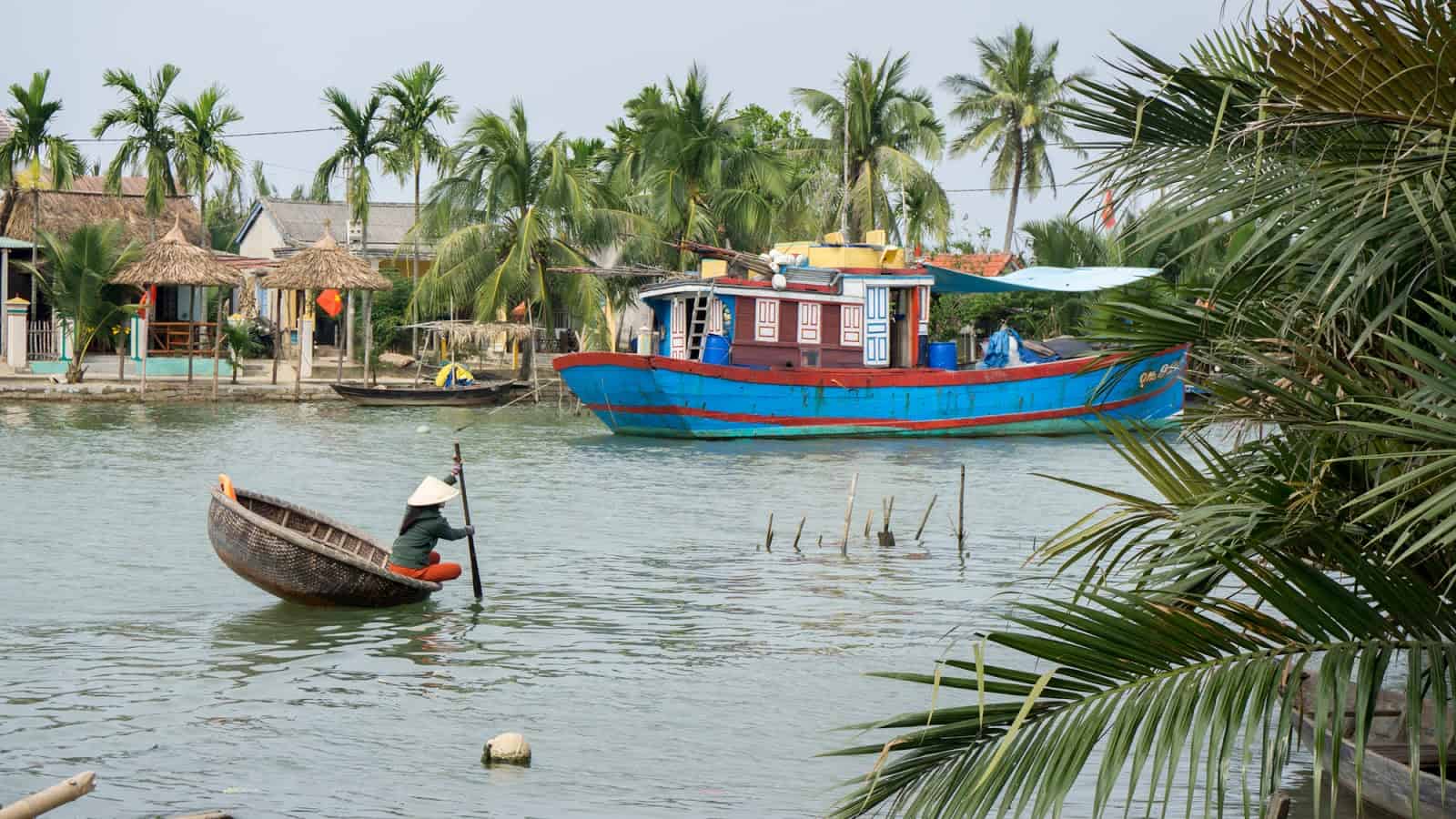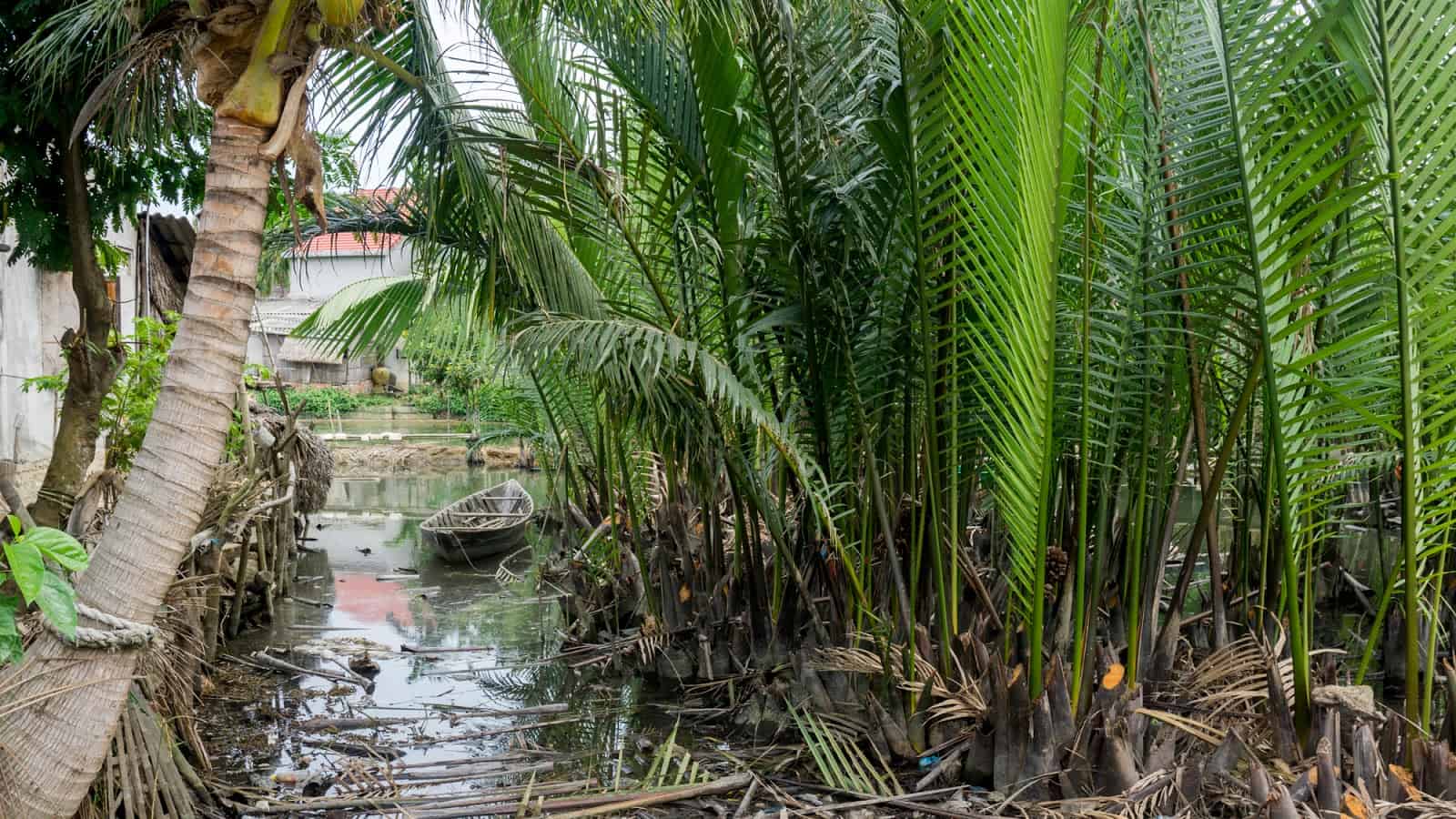 Related posts
Week 0: Gone travelling. London – see you in nine months


Week 1: INDIA – Mumbai → Goa
Week 2: INDIA – Bangalore → Mysore → Wayanad → Kochi
Week 3: INDIA – Kochi → Allepey → Kollam → Madurai
Week 4: INDIA – Pondicherry → Chennai → Mumbai
Week 5: INDIA – Varanasi → Udaipur → Jaipur → Delhi


Week 6: TAIWAN – Taipei
Week 7: CHINA & VIETNAM – Hong Kong → Hanoi
Week 8: VIETNAM – Sapa → Hanoi → Ha Long Bay → Hanoi