Last Updated on November 17, 2022 by Leyla Kazim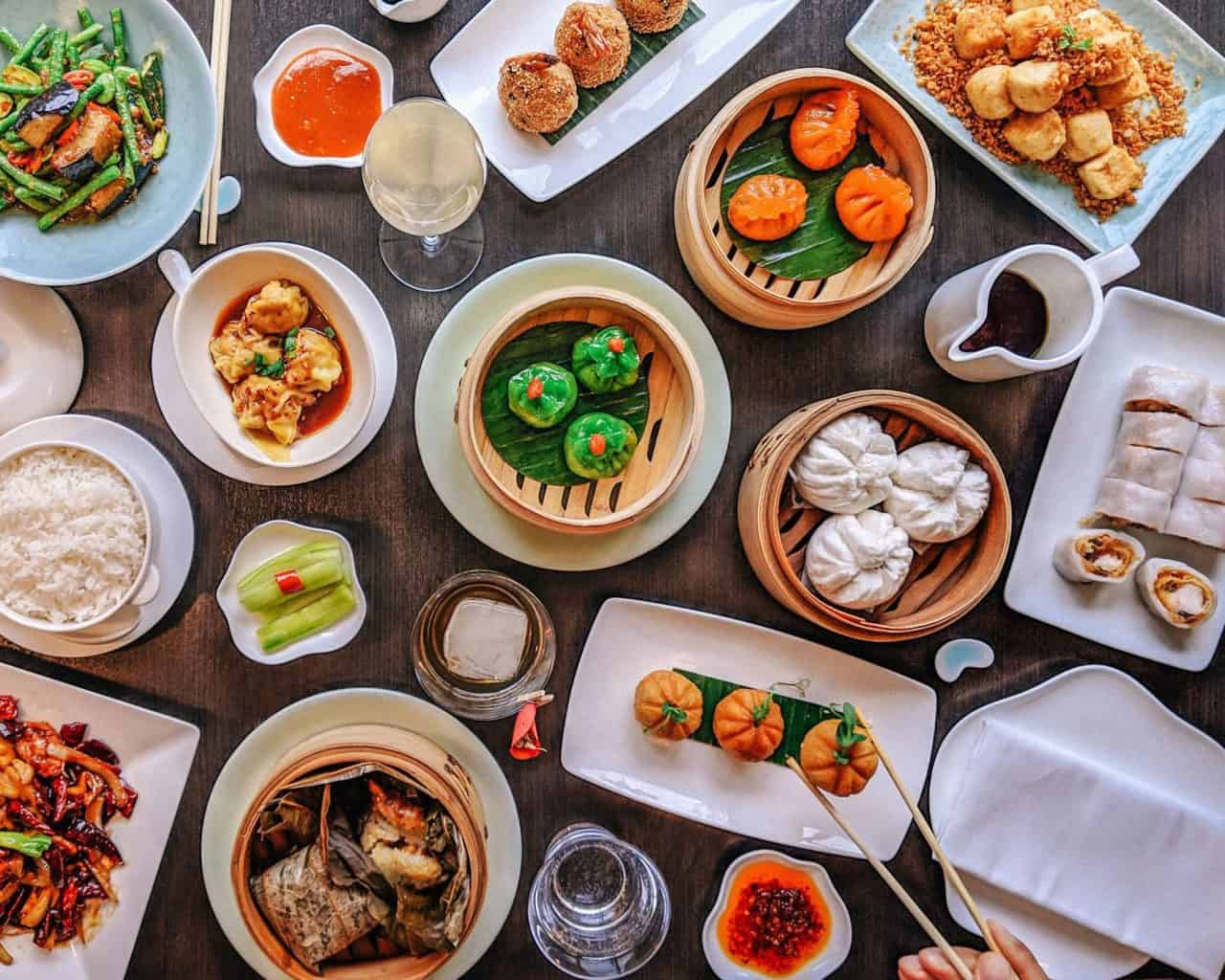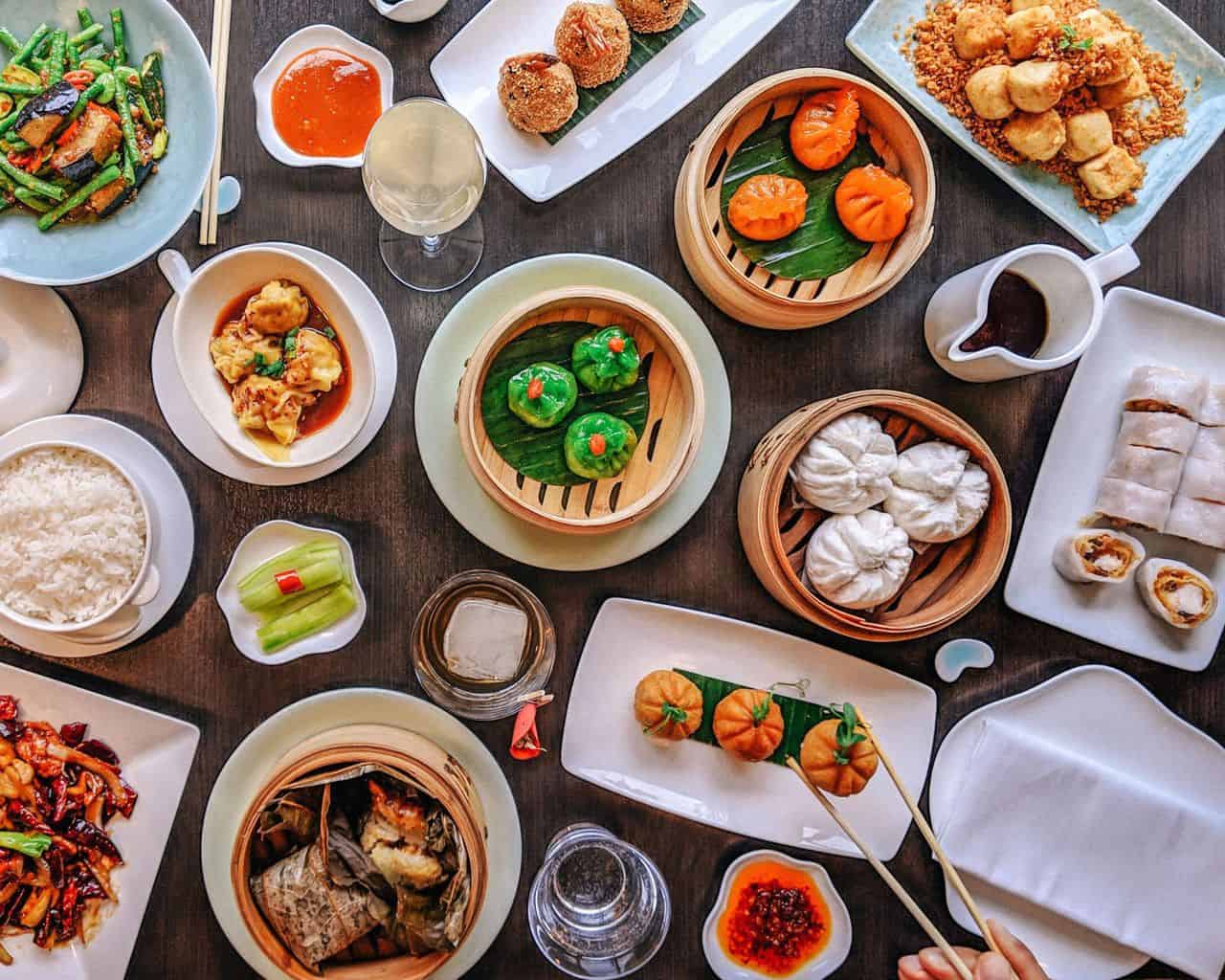 This post is an advertisement feature for American Express®
Cantonese dim sum teahouse Yauatcha is one of the most highly-acclaimed Chinese restaurants in London, and I find myself returning to it time after time.
My favourite of the two Yauatcha London outposts is the Yauatcha City branch, just a two minute walk from Liverpool Street Station.
The food here can draw a crowd. As a consequence, as with lots of great restaurants in London, sometimes it can be tricky to get a reservation.
Fortunately, Yauatcha is part of the American Express Global Dining Collection and bookable on the Amex app, so it was super simple for me to book a table – but more on that later.
Yauatcha City is a particularly great spot if you like to take photos of your lunch, because it has more space and plenty of natural light.
And so, here are my five tasty reasons to visit Yauatcha City, in my opinion the best Broadgate Circle restaurant.
1. Yauatcha hails from a particularly impressive gastronomic table, that of Alan Yau
Yau is the man who started both the Wagamama and Busaba Eathai chains, as well as the acclaimed Chinese Hakkasan fleet.
He's also got Turkish restaurant Pide, Chinese gastropub The Duck & Rice, and decadent Chinese restaurant and bar Park Chinois, under his belt.
It's been over 15 years since the launch of the original Michelin-starred Yauatcha in Soho. And today, the restaurant is still regarded as serving some of the best dim sum in London.
The Yauatcha City branch – which opened in 2015 – brought some much needed fine Chinese cuisine to the Square Mile.
2. This Broadgate Circle restaurant is beautifully designed
The vision of Parisian interior designers GBRH, the spectacular semi-circular space of Yauatcha in Broadgate covers an impressive 7220 square feet.
Because of this, its presence makes an immediate impact as it essentially takes up half of the top floor of Broadgate Circle.
The interiors make an instant impression, with white marble bathrooms and sweeping curved glass walls that follow the contours of the building.
Despite its grand size and unusual shape, they've cleverly divided the sections into what feels like a series of small dining rooms and bar areas. Plus, they have a heated outside terrace open throughout the year.
3. Yauatcha City is one of the best places to get dim sum in London
It's an especially excellent spot if you want to enjoy your dim sum in the evening, which is traditionally served in the morning.
There are many highlights from the array of meticulously crafted dim sum on offer. Including spicy Szechuan pork wontons with peanut, prawn and bean curd cheung fun, and the rice in lotus leaf with chicken and dried shrimp.
The larger plates aren't to be missed either. The spicy crispy tofu and the spicy aubergine with okra and French beans were both terrific.
You can also expect to find the likes of crispy aromatic duck and jasmine tea-smoked ribs amongst their signature dishes.
4. The desserts at the Yauatcha London outposts are legendary
The rainbow-coloured macarons, hand-dipped artisan chocolates and exquisitely crafted patisseries at the dessert counter stop people in their tracks.
Clever combinations include lemon mousse with basil and meringue, and raspberry delice with chocolate and lychee.
I couldn't resist a pecan coffee delice with pecan sponge, crispy feuilletine, mascarpone and coffee mousse with my after lunch macchiato.
If you somehow missed the counter on your way in, do wander over for a perusal before you decide what to order.
5) Yauatcha is part of the American Express Global Dining Collection
There's no arguing that London has an incredible dining scene; some of the best places to eat on the planet can be found in the capital. But securing a table at many of these sought after dining hot spots can often be a bit challenging.
Luckily, Yauatcha City is one of many restaurants in London in Amex's Global Dining Collection. Which means if you're an American Express Platinum or Centurion Cardmember, you get access to hundreds of exclusive tables reserved daily at great restaurants around the world*.
Some of my other London favourites on this list include Brasserie Zedel, Gymkhana, Hawksmoor and The Wolseley. And you can now make instant bookings for any of them via the American Express app.
If you're a Platinum and Centurion Cardmember, download or update the American Express app and visit the memberships tab. You too can then start taking advantage of this very cool digital reservation service.
Have you tried a Yauatcha London restaurant before? Did you know Yauatcha have restaurants in India, USA and Saudi Arabia too? And another one in London's Soho! What do you think of the area of Broadgate, have you explored it before? Have you ever dined at a Broadgate Circle restaurant? Let me know in the comments below!
This is a sponsored post in partnership with American Express. All views, text and images remain my own, as always. Thank you for reserving the best table in the house for me!
*Terms apply
American Express Services Europe Limited is authorised and regulated by the Financial Conduct Authority.
Don't forget to subscribe to my YouTube channel!
Hungry for more tasty London food experiences?