Last Updated on June 17, 2020 by Leyla Kazim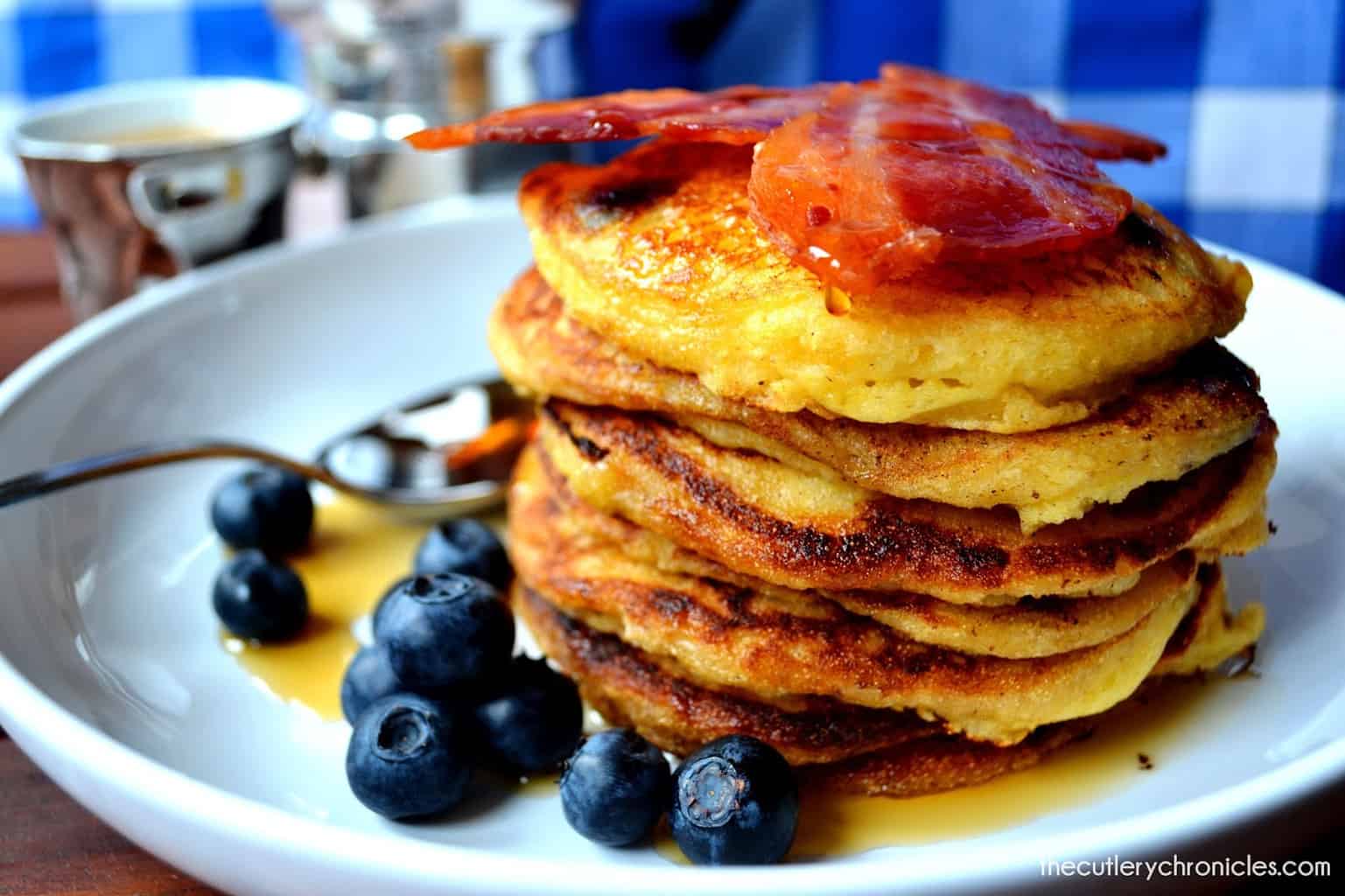 Tonight I need to squeeze into a clingy burnt orange floor-length piece for my work's black tie Christmas ball. In order to do so, it would make sense to hold off any large volumes of food today. Especially as the evening will include a three course meal my dress will need to contend with. Lettuce for lunch then, right?
Sod that. It's the 1st of December. It's a Saturday morning. It's beginning to look a lot like Christmas. It's an excuse for Matt's infamous pancakes. And lots of them.
Yes please.


Matt's American buttermilk and blueberry pancakes with crispy bacon and maple syrup

Makes around 12-14
120g plain flour
120g fine polenta / cornmeal
1 egg
100ml milk
300ml buttermilk
1/2 tsp bicarbonate of soda
1 tsp baking powder
Large handful of fresh blueberries
Pinch of salt
Pinch of cinnamon
Quality bacon rashers
Canadian maple syrup
Preheat the oven to 180C. Lay your bacon rashers on a sheet of baking paper on a baking tray. On top of these, lay another layer of paper and another baking tray to weigh them down – this will prevent the rashers from curling up while cooking. Cook in the oven until crisp.
Meanwhile, sieve the flour into a bowl and add the polenta. Add the remaining dry ingredients – bicarbonate of soda, baking powder, salt and cinnamon.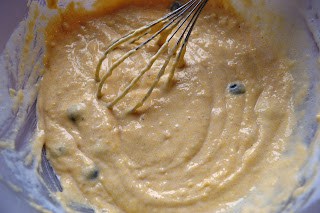 Whisk the milk, buttermilk and egg in a separate bowl with a hand whisk for a minute or two to get some air into it, until it has thickened and looks frothy.
Tip You can quite easily make your own buttermilk if you don't want to make a special trip to purchase it ready made – have a look at No knead to prove to find out how.
Slowly pour the wet mixture into the dry mixture and add the blueberries, gently combining with the whisk as you go until all the dry ingredients are combined.
Tip At this stage you don't want to over mix the mixture as this will result in tough pancakes.
Heat a heavy based non-stick frying pan on a medium-high heat for 2 minutes.
Rub a stick of butter over the area of a circle in the middle of the pan.
Pour batter (use a ladle) into the pan and cook one pancake at a time. You can make them as big as you want, but remember the longer they cook the drier they will become.
Matt stood a large cookie cutter in the pan and poured the batter into them to keep the shape and thickness. When the surface of the batter starts to bubble, flip it over.
Keep each pancake warm on a plate in a low oven while you're making the rest – stack 'em high.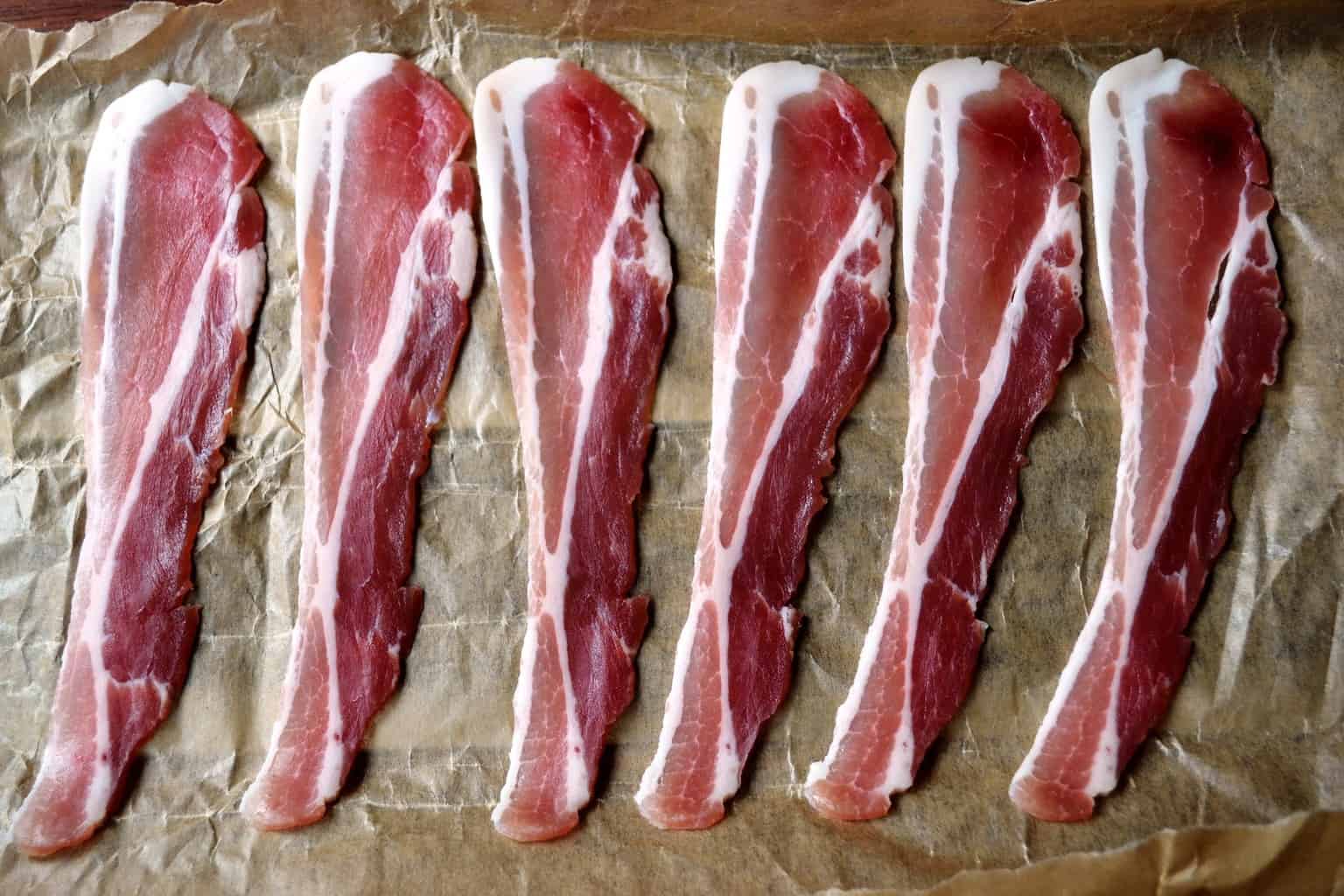 You will be presented with delicious thick pancakes that are soft, light and fluffy on the inside. The addition of the polenta or cornmeal is traditional and creates a crisp surface. The salty bacon, sharp sweetness of the blueberries and the caramel flavouring from the maple syrup is a perfect combination.
Enjoy with a cup of strong coffee and no agenda for tight outfits that evening.
Afiyet olsun.