Last Updated on November 17, 2022 by Leyla Kazim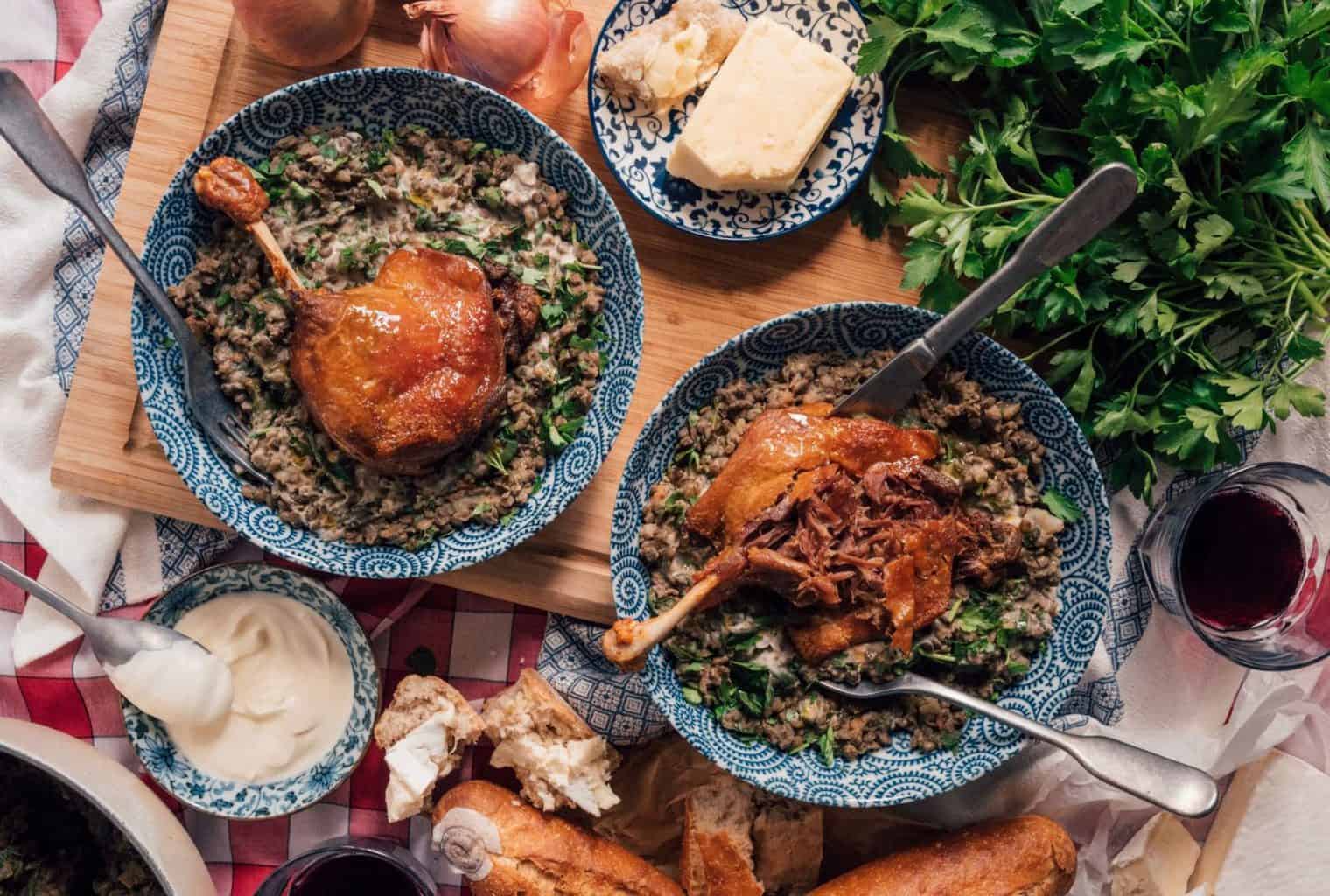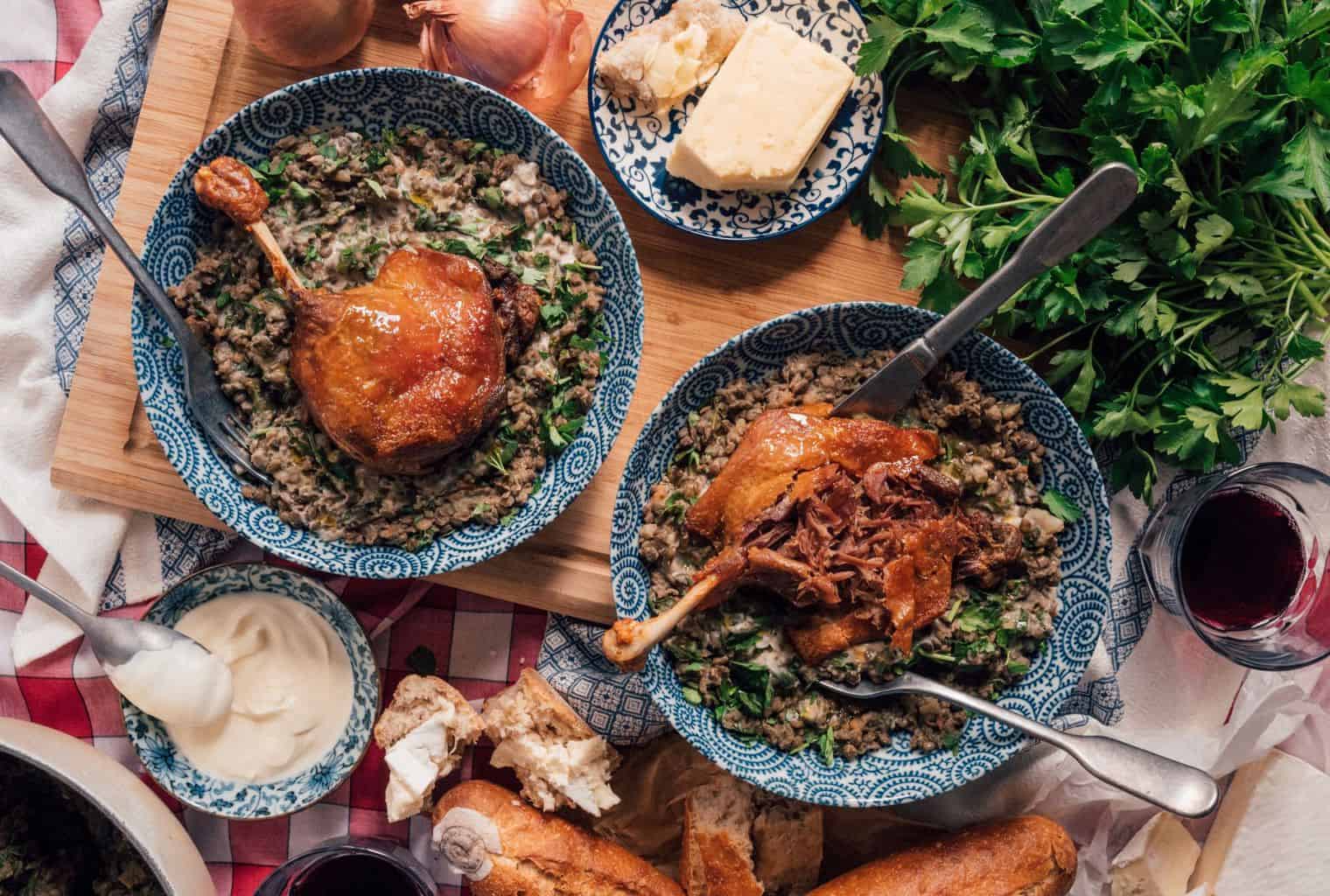 This lentil recipe is probably one of the best ways to cook lentils. And it goes beautifully with confit duck.
I'm not sure I've ever met someone who doesn't love confit duck. Glorious duck with crispy skin and tender meat is hard to resist. But when cooking it at home it can be a challenge to know what to eat the duck with.
This lentil recipe using French Puy green lentils, from Le Puy in the Auvergne region of France, makes the most glorious accompaniment. It's very simple to cook lentils in this way and it's a lentil recipe that works as a terrific side with so many great meats.
You could pair these green lentils with something like slow-roast lamb or beef cheeks. Or you could keep it truly Français as I've done here, with beautiful duck confit from southwest France.
But I reckon you'll want to cook lentils this way so often that you'll happily end up eating them on their own as a main, which is a great idea to keep it vegetarian.
Why I love cooking with French produce
A few weeks ago I was totally thrilled to announce on my social media channels that for 2018, I am an ambassador of France Bon Appétit. This involves discovering and learning about French produce and ingredients and sharing recipes that use them with you guys.
France's cuisine and produce is one I've long adored. So much so that the first recipe book I ever owned was a French one gifted to me by a couple of friends on my 18th birthday.
I cooked them duck breast with raspberries and dauphinois potatoes from it in my university student halls to take the book for a spin. It took about twice as long as I anticipated and we didn't eat until 10pm, but I think it was worth the wait 😁
This is the first recipe in my series showcasing gorgeous and readily available French ingredients. Be sure to keep an eye out for future ones where I'll be taking us through the summer and into autumn via the medium of beautiful French produce.
I'll be creating one each month and there'll be nine in total, making a nice little French-inspired repertoire to keep referring back to.
Don't forget to subscribe to my YouTube channel!
What exactly is confit duck and where can I find it?
Confit duck is considered one of France's finest dishes and is native to Gascony in the southwest.
To 'confit' means to cook slowly in fat and it's a way of both cooking and preserving food. So when you buy confit duck, the meat has already been cooked and it's simply a case of heating it through.
You can find jars of fresh confit duck where the duck will be submerged in fat. In this case, you remove a piece of meat from the jar, wipe away the excess fat and heat in a hot oven until the skin becomes crispy and the meat is piping hot throughout.
I couldn't find any fresh confit duck but came across it frozen by a good quality brand (Picard available from Ocado). Each leg was individually vacuum packed for freshness.
Following the instructions, I removed the legs from the plastic packaging and put them in a hot oven from frozen, no need to thaw first. After 30 minutes the skin was crispy and the meat was soft and tender, a perfect result!
So when shopping for confit duck in your local supermarket, don't forget to check the freezer aisle too.
Eat your duck with a showstopping lentil recipe. You'll always want to cook lentils this way!
Now it's all about what to eat your duck with. Traditionally, some sort of potato side is often favoured. But using French green lentils is a glorious alternative and really good for you.
As well as Puy lentils and the confit duck, this lentil recipe includes a few other fabulous French ingredients. Notably, I've used exquisite pink onions from Roscoff in Brittany in northwest France, celebrated for their colour and unique mild flavour.
I had a wonderful stay with my aunt who lives in Brittany a couple of years back; take a look at the gorgeous food I ate there!
I've also used French crème fraîche which is like a sour cream, as well as French red wine vinegar.
Confit Duck With The World's Greatest Lentil Recipe
These quantities will serve six people.
Ingredients
2 each of onions (such as French pink Roscoff onions), carrots and celery sticks, all finely diced
Olive oil
1 fresh bay leaf
Small bunch of fresh thyme
500g green lentils (such a French Puy lentils), cook lentils after they've been rinsed under cold water
1 litre of good quality vegetable stock
6 legs of French confit duck (see above on how to buy them)
200g baby spinach, roughly chopped
Sea salt and freshly ground black pepper
Red wine vinegar
Extra virgin olive oil
Small bunch of fresh flat leaf parsley, roughly chopped (including the stalks!)
Crème fraîche to serve (optional, exclude to make this lentil recipe vegan)
French baguette and Brie to serve (optional)
Method
First get your oven up to the right temperate to heat through your confit duck. If you're heating from frozen, follow the packet instructions. Otherwise, preheat the oven to 200C/400F.
Time to cook lentils!
In a large heavy-bottomed pan, add 1-2 tablespoons of olive oil on a medium heat. Cook the chopped carrots, onions and celery for around 10 minutes until soft, but don't colour them.
Tie your bay leaf and thyme together into a bouquet garni with a bit of string so you can easily fish it out later.
When the vegetables are soft, add the lentils and stir so they're fully combined. Add the bouquet garni and vegetable stock and simmer for around 45 minutes until the lentils are soft and most of the liquid has been absorbed.
Keep the lid partially on and stir occasionally during this time. If the liquid dries out before the green lentils are cooked, add a splash of water.
Get those confit duck legs on
In the meantime, put your confit duck legs in a roasting tray and put them in the oven skin side up. Cook them for around 30 minutes (or according to packet instructions); they're done once the skins are crispy and the meat is hot and tender.
When your lentils are cooked, add the spinach and fully combine. Cook for a couple more minutes until the spinach has wilted.
Remove the bouquet garni and season the green lentils with salt and pepper, a good glug of extra virgin olive oil, one or two tablespoons of red wine vinegar and most of the chopped parsley. Give everything a good stir, taste and adjust the seasoning accordingly.
You want the lentils a little heavy on the acidity which will match with the rich duck meat beautifully.
Time to plate up your duck with this gorgeous lentil recipe
Once the duck is cooked, remove them from the roasting tray and let them sit on some kitchen paper for a minute to absorb any excess fat.
Serve up the lentils in warmed bowls. At this stage you can add a generous spoon of crème fraîche if you wish, use a fork to swirl it through the lentils. Sprinkle the remaining chopped parsley over each bowl and then top with a duck leg.
Serve with some warm French baguette and a few hunks of French brie if you're feeling extra fancy. Bon appetit!
Do you ever cook lentils? If so, what's your favourite lentil recipe? Have you ever shopped for confit duck before and how did you find it? What's your favourite way of eating green lentils? What do you usually eat duck with if you cook it at home? I'd love to hear your thoughts in the comments below!
Hungry for more recipes? Check out the cooking section of my blog or go direct to some recipes below.
Don't forget to subscribe to my YouTube channel!