Last Updated on November 17, 2022 by Leyla Kazim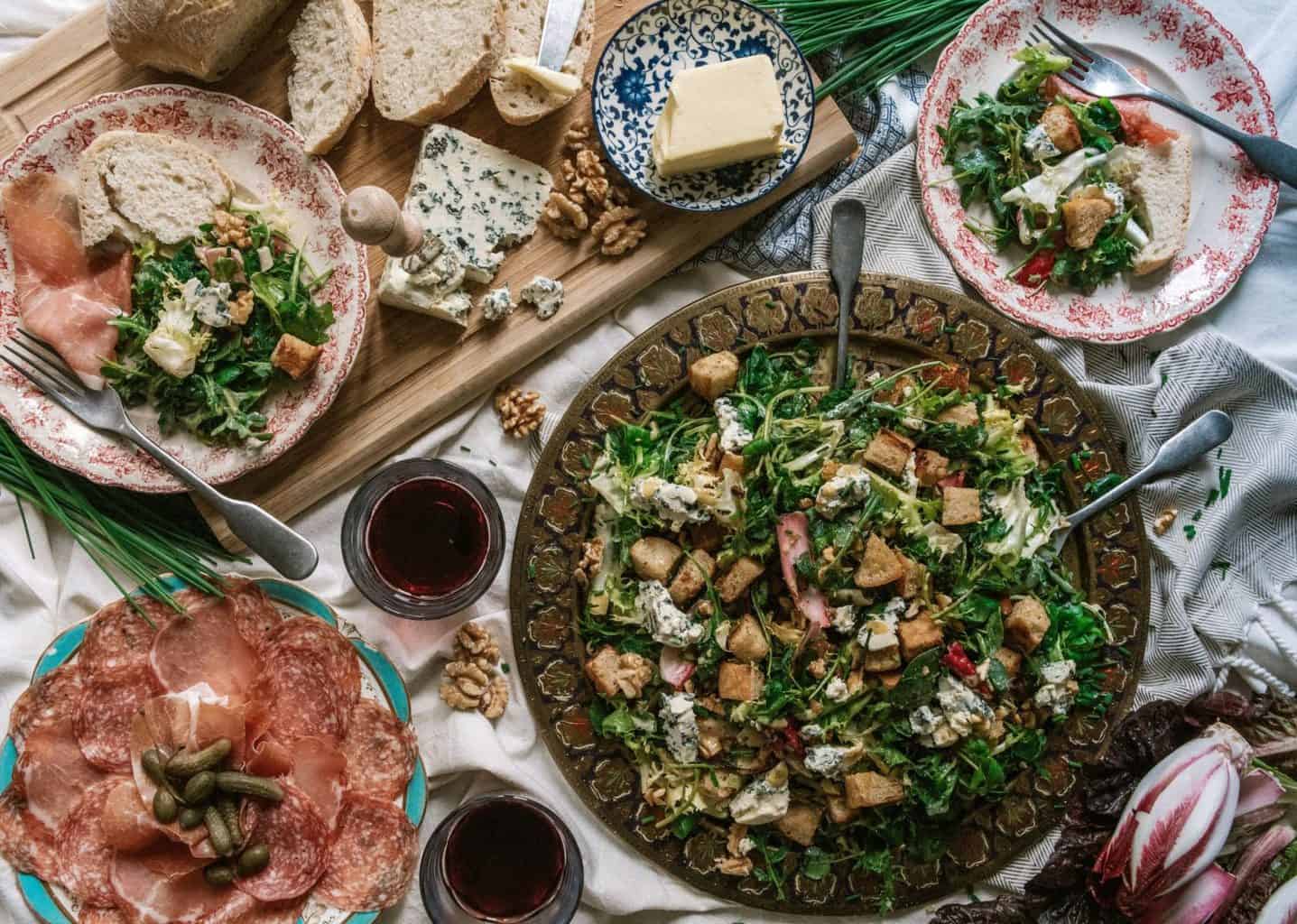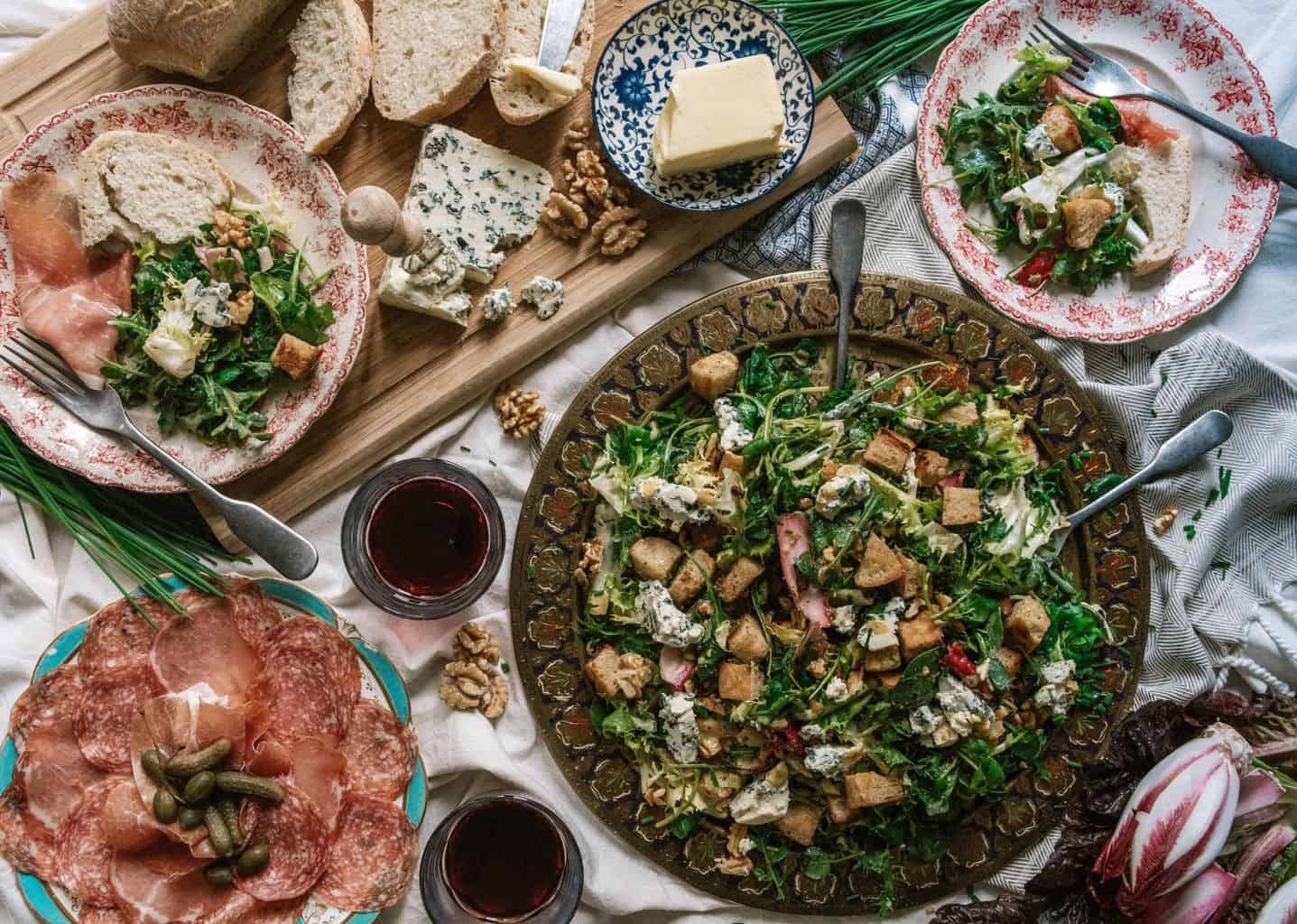 A French cheese fan? Then you're going to love this ultimate blue cheese recipe.
French cheese is some of the best on the planet and this French blue cheese recipe is a truly glorious way of showcasing this gorgeous ingredient.
This blue cheese salad includes croutons, walnuts and lardons and it's one you'll keep returning to any time of year.
The fact it's served with warm elements makes it ideal for the colder months. But it can equally be enjoyed al fresco with a group of friends and plenty of good wine under some dappled shade.
This is the second recipe in my series showcasing gorgeous and readily available French ingredients in collaboration with France Bon Appétit.
Don't forget to check out the first one: Confit Duck with the Best Ever Lentil Recipe. And keep an eye out for future ones where I'll be taking us through the summer and into autumn via the medium of French ingredients.
I'll be creating one each month and there'll be nine in total making a nice little French repertoire to keep referring back to.
Don't forget to subscribe to my YouTube channel!
A blue cheese salad with French ingredients
This is a hearty and punchy blue cheese recipe that incorporates a number of French ingredients. The mustard dressing is sharp and bold and cuts through the creamy blue cheese and salty bacon really well.
When it comes to the star of the show, any creamy blue French cheese will work here such as Roquefort. I've used Saint Agur blue cheese from the village of Beauzac in the Monts du Velay, part of the mountainous Auvergne region of central France. It's glorious and very easy to come by.
Other French ingredients I've used are Dijon mustard, smoked Alsace bacon pancetta for the lardons and French red wine vinegar.
The Ultimate French Blue Cheese Salad Recipe
This amount will serve four as a main.
Ingredients
Olive oil
250g smoked bacon (such as Alsace bacon pancetta), rind removed and cut into 1cm lardons
2 thick slices of sourdough bread, cut into 1cm pieces
4 large handfuls of salad leaves (such as rocket, watercress, lamb's lettuce, baby spinach)
2 large handfuls of colourful salad leaves (such as radicchio, chicory, baby beet leaves)
1 large handful of walnut halves
1 bunch of fresh chives, finely chopped
100g of French blue cheese (such as Saint Agur blue cheese)
For the dressing
6 tbsp extra virgin olive oil
2 tbsp red wine vinegar
1 tbsp Dijon mustard
Sea salt and black pepper
Method
Put a frying pan on high heat, add a good glug of olive oil. Add the lardons and fry for around 3 minutes, stirring occasionally until the bacon has good colour.
Turn the heat down a bit and add the cubed bread ensuring they are spread out and each piece soaks up the bacon fat. Turn them occasionally so they become crisp and golden in colour, after about 3 minutes.
Put the dressing ingredients into a jug and add a pinch of salt and pepper. Thoroughly mix with a fork to make a nice thick dressing. It will be a bit too sharp at this point but will work well once combined with the blue cheese salad.
Place all your salad leaves in a large mixing bowl then pour over the dressing. Add most of the walnuts and chives plus all the croutons and lardons. Thoroughly combine with some mixing forks to ensure each leaf is coated with the dressing.
Tip out the salad onto a big serving platter and sprinkle on the remaining walnuts and chives. Use the tip of a knife to crumble off nuggets of the French cheese and get everyone to tuck in!
I find this salad pairs really well with some French charcuterie and a French wine of your choosing. Summer lunch done!
Do you like French cheese? If so, what's your favourite type? Have you ever made a blue cheese salad before? What's your favourite kind of cheese salad or French salad in general? I particularly love the sharp dressings! If you've tried this blue cheese recipe let me know what you think in the comments below!
Hungry for more recipes? Check out the cooking section of my blog or go direct to some recipes below.
Don't forget to subscribe to my YouTube channel!