Last Updated on June 10, 2020 by Leyla Kazim
I LOVE EGGS. The world loves eggs. Instagram especially loves eggs – how can anyone resist a bit of golden #yolkporn? It's hard, so most of us can't.
If you were to ask my favourite standalone ingredient ever, I may well say the humble egg; possibly the single most versatile food item that has ever existed. All hail its simplicity and mighty existence, and just how well it goes with tapenade.
To celebrate British Egg Week taking place from 10th – 17th October, the lovely people from British Lion Eggs have collaborated with Farang London chef Seb Holmes, to come up with some tasty Thai street food-inspired recipes, all celebrating this year's theme of #putaneggonit. Think of Beyonce's 'if you liked it then you should have put a ring on it', but replace ring, with egg. It's not a bad culinary motto by which to live.
The idea is to encourage people to eat eggs in more unusual ways, by putting an egg on dishes they wouldn't normally think to try. It if was up to me, I'd put an egg on almost everything. Maybe even my cereal.
They've then asked me to take inspiration from Seb's collection of egg recipes, and come up with my own street food-inspired concoction that would work great with eggs. Now, I've eaten a heck of a lot of street food on my travels, and when I was presented with this challenge, one immediately popped into my head – Mumbai's world-famous vada pav.
I'd arrived in Mumbai having already heard about vada pav (here's more about my first visit to Mumbai, and then another visit about a week later). They're sometimes referred to as the city's take on a vegetarian burger; seeing as it's fast food, cheap, and a filling betwixt two buns, that's sort of accurate. But let me tell you, I'd have these over a burger most days.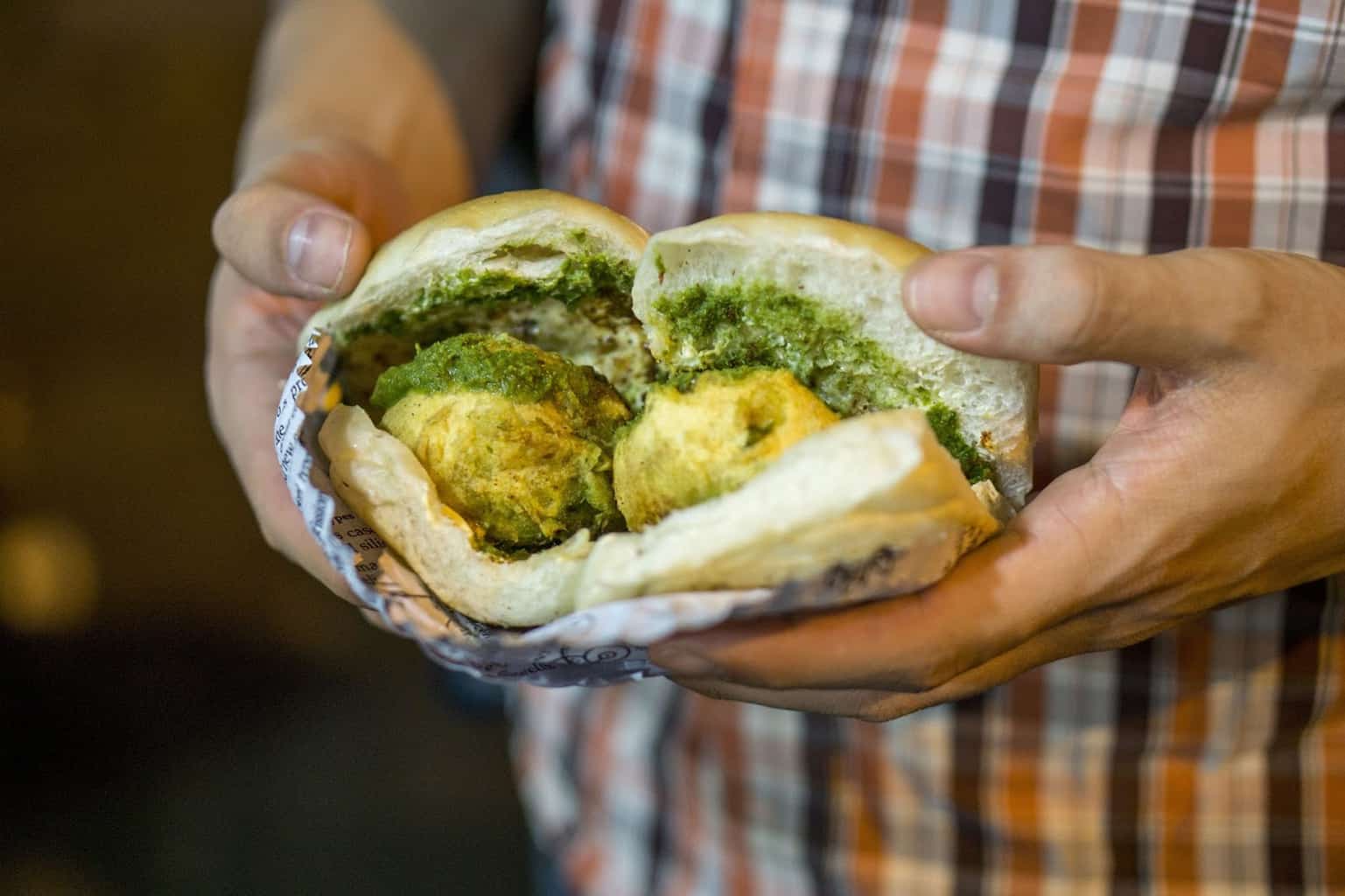 the vada pav I had in Mumbai – so very excellent
They are spicy potato balls deep fried in gram flour (vada), with a lick of hot garlic green chutney, all between two halves of a soft bun (pav).
They involve bread, they're salty and they're spicy – all perfect pairings for a lovely fried egg. In fact, when I first ate these in their home city, my immediate thought was 'these are fabulous, but they could do with a little lubrication'.
Allow me to introduce that lubrication via the medium of a runny yolk.
And so, I present to you, my recipe for vada pav with the glorious addition of a fried egg. Let me tell you, this is truly a thing of beauty. Please everyone, make it.
Mumbai's vada pav sandwich, with chutneys and a fried egg
Makes six vada pavs
For the green chutney
Mint leaves, small bunch
Coriander, small bunch (including stalks)
1-2 green chillies, roughly chopped
1 tbsp ground almonds
Juice from 1/2 lemon
Salt
For the red chutney
3 tbsp desiccated coconut, dry roasted
1 garlic clove, finely sliced
1-2 tsp chilli powder
Salt
For the vada fillings
3 potatoes, boiled and mashed until smooth
2 inch piece of fresh ginger, peeled
4 garlic cloves
1 tbsp sunflower oil
1 tsp mustard seeds
1 tsp turmeric
3 green chillies, finely chopped
1/2 tsp asafoetida
Handful of fresh coriander, finely chopped (including stalks)
Salt
For the batter and frying
150g gram (chickpea) flour
1/4 tsp turmeric
80ml warm water
Salt
Sunflower oil
To serve
Six small and soft white rolls
Butter (optional)
Six green finger chillies, deep-fried
Six eggs, fried
First make your chutneys. For the green, combine the mint, coriander, chillies and ground almonds, add some of the lemon juice, and blitz. Keep adding lemon juice until you have a consistency that is spreadable – you don't want it too wet. You might not end up using all the lemon juice. Add salt to taste.
For the red chutney, ensure the coconut gets a nice colour from the dry toasting, then combine with the garlic, chilli powder, and a pinch of salt, and pound using a pestle and mortar. Add a splash of water if needed to loosen the mixture slightly. You should end up with a dry and crumbly chutney. Set both the chutneys aside.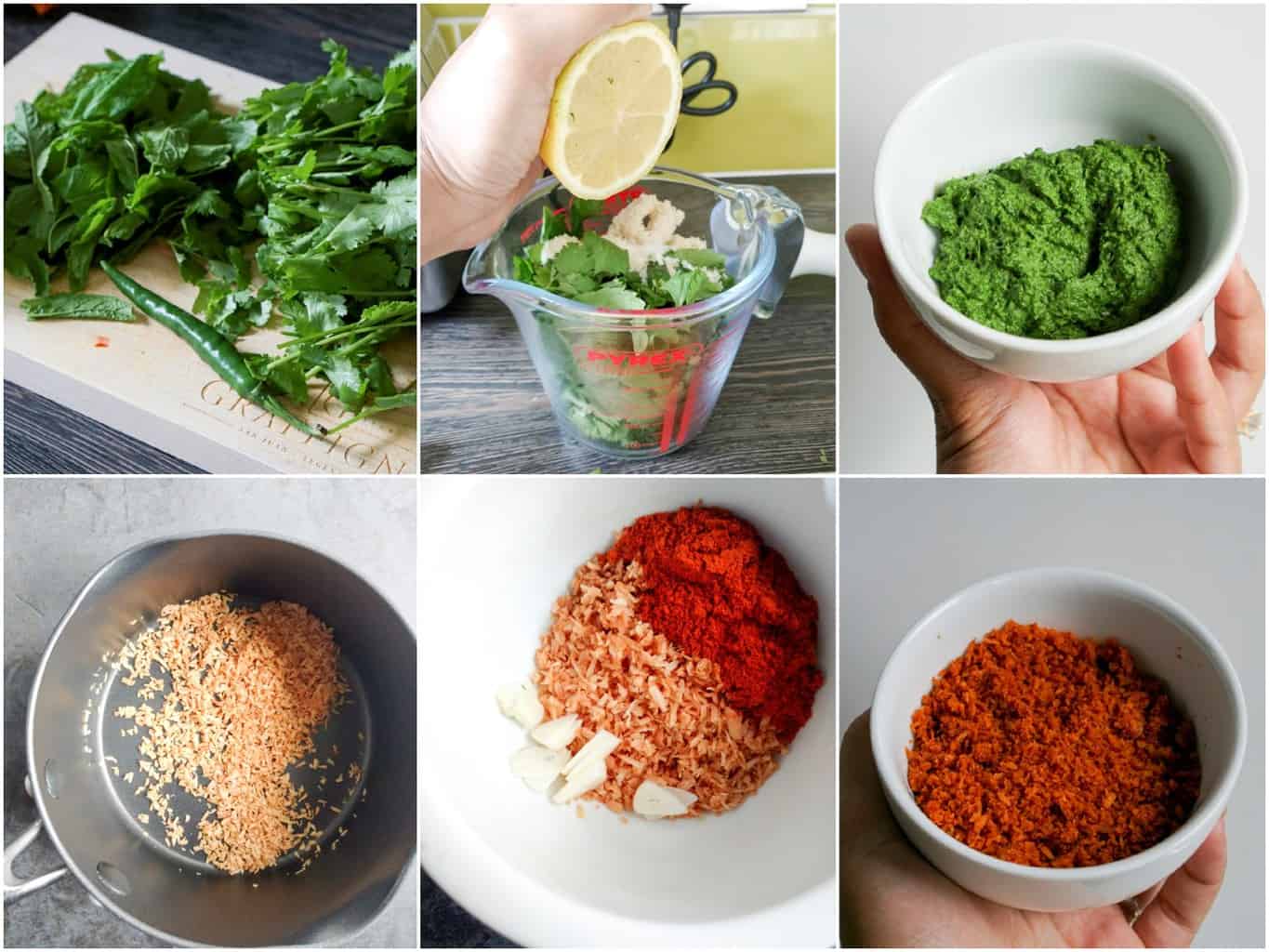 making the green and red chutney
To make the vada fillings, grate the garlic and ginger. Heat the oil in a frying pan on a medium to high heat. When it's hot enough for a mustard seed to sizzle in it, add the rest of the mustard seeds and asafoetida. When the mustard seeds start popping vigorously, reduce the heat to low to medium, and add the ginger, garlic and chillies. Cook for one minute, then add the turmeric and cook for another minute.
Now add the mashed potato and fresh coriander, fully combine, and cook for another minute. Add salt to taste. Remove the mashed potato from the pan and set aside to cool.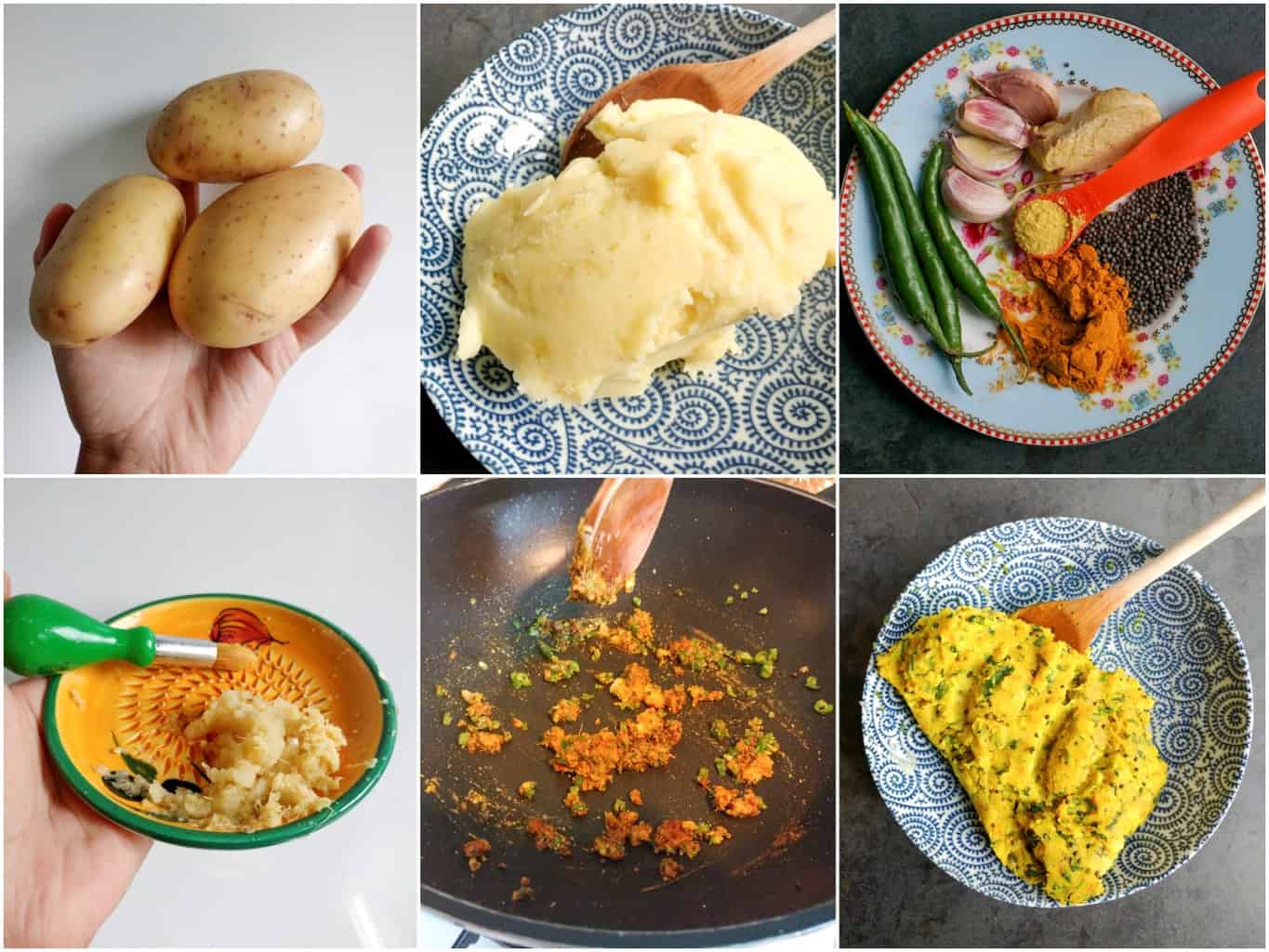 flavouring the vada mashed potato
Weigh the total amount of potato you have, and divide this number by six so you know how much each portion should weigh – mine were about 75g each. Measure out one portion and roll into a ball with your hands. Do this for all six portions, and set aside.
To create the batter for frying the balls, combine the gram flour with the turmeric and a pinch of salt. Add the water a little at a time, continually mixing with a whisk, until you have a smooth and fairly thick batter. Set aside.
Fill a heavy-bottomed saucepan with enough sunflower oil to reach half way up the vada balls. Heat on medium to high. To test if the oil is hot enough to fry the vada balls, add a little batter and if it sizzles and cooks to a golden colour, then it's ready.
First drop in the six finger chillies for serving. When they've cooked and blistered, remove and let them rest on kitchen paper.
Coat each ball in the batter, and gently drop into the hot oil. Turn the ball around in the oil until the whole thing is cooked and golden in colour. Remove with a slotted spoon and allow to drain on kitchen paper. Repeat for all the vada balls.
To serve, slice each soft roll in half and butter, if desired. Smear on some green chutney, and add a vada ball. In the meantime, fry an egg how you like it (runny yolk all the way), and add on top of the vada ball. Sprinkle on some of the dry red chutney, serve with a deep-fried chilli, and devour!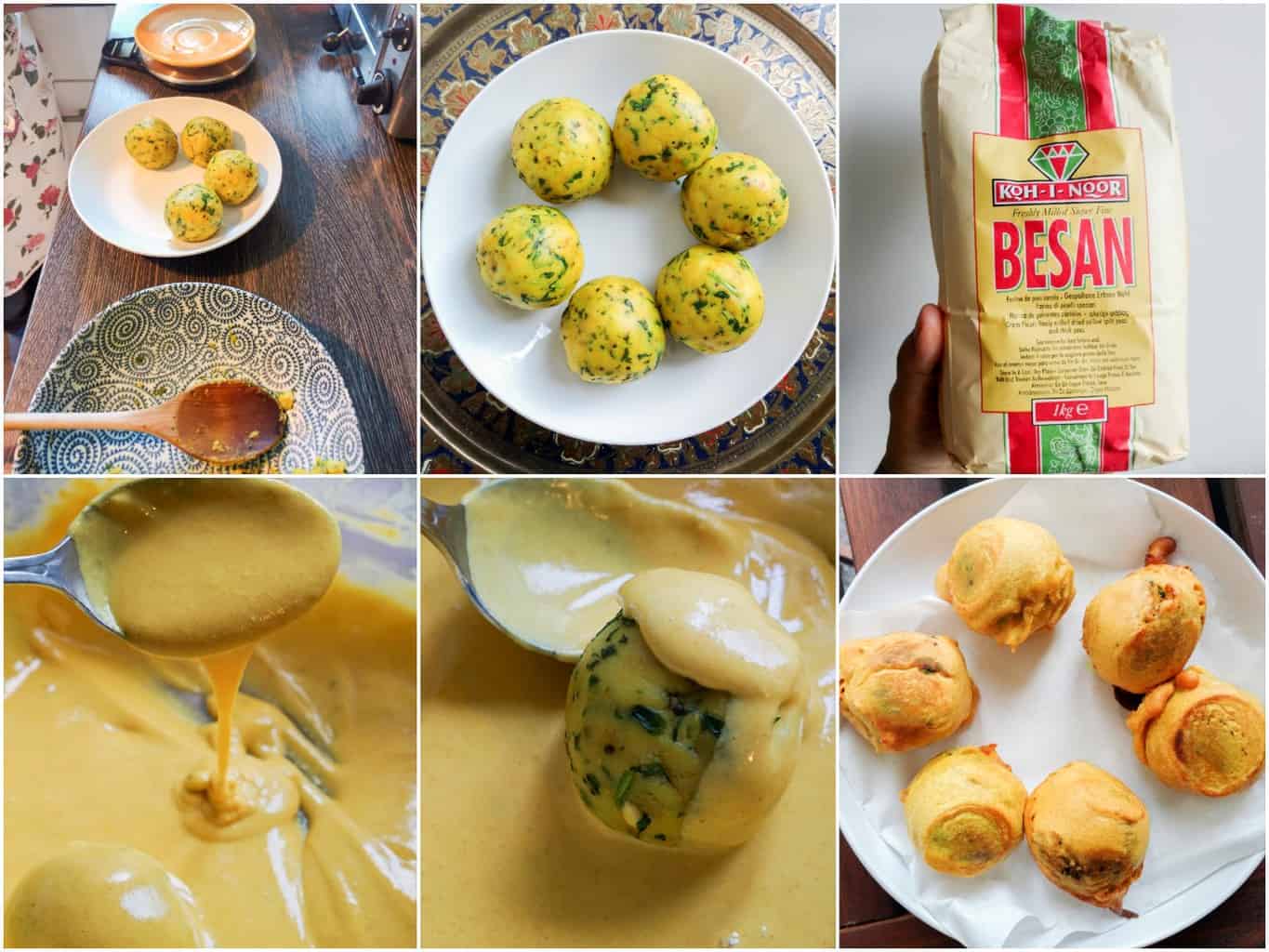 making and frying the vada balls
This is a sponsored post in partnership with British Egg Week, as part of their #PutAnEggOnIt campaign, to encourage people to eat eggs in more unusual ways. I hope you get to try this recipe – it's GOOD.
Related posts
WEEK 1 | INDIA – Mumbai → Goa
WEEK4 | INDIA – Pondicherry → Chennai → Mumbai
RECIPE | Chicken saag with coriander chapatis
RESTAURANT | British Raj-era cuisine at Gymkhana W1
RESTAURANT | Bombay-style setting at bustling Dishoom WC2
RESTAURANT | Modern Indian dining at Salaam Namaste WC1
RESTARUANT | Up-market Indian dining at Chakra W8
RESTAURANT | An Indian stalwart in London, Gaylord W1