Last Updated on November 17, 2022 by Leyla Kazim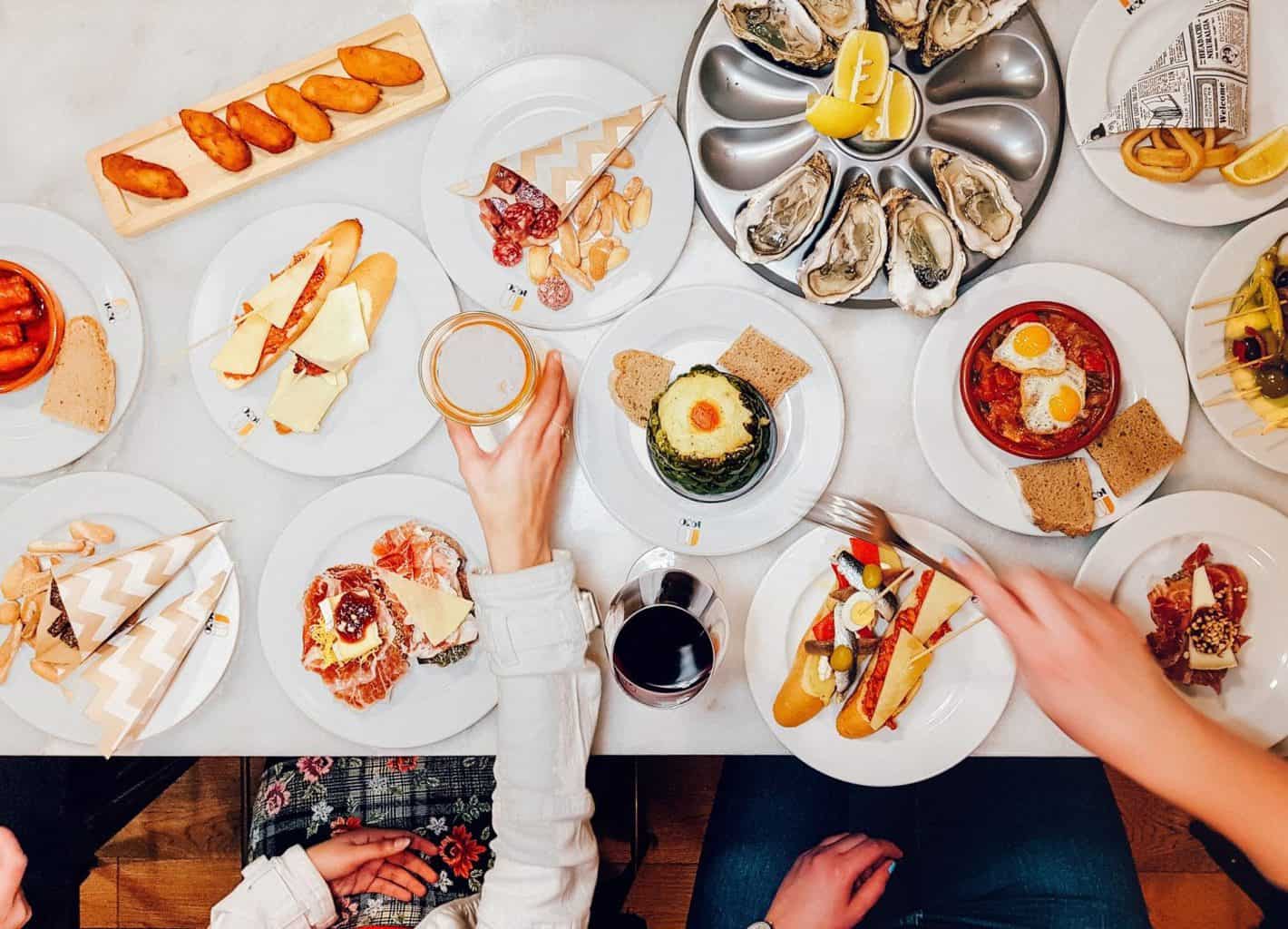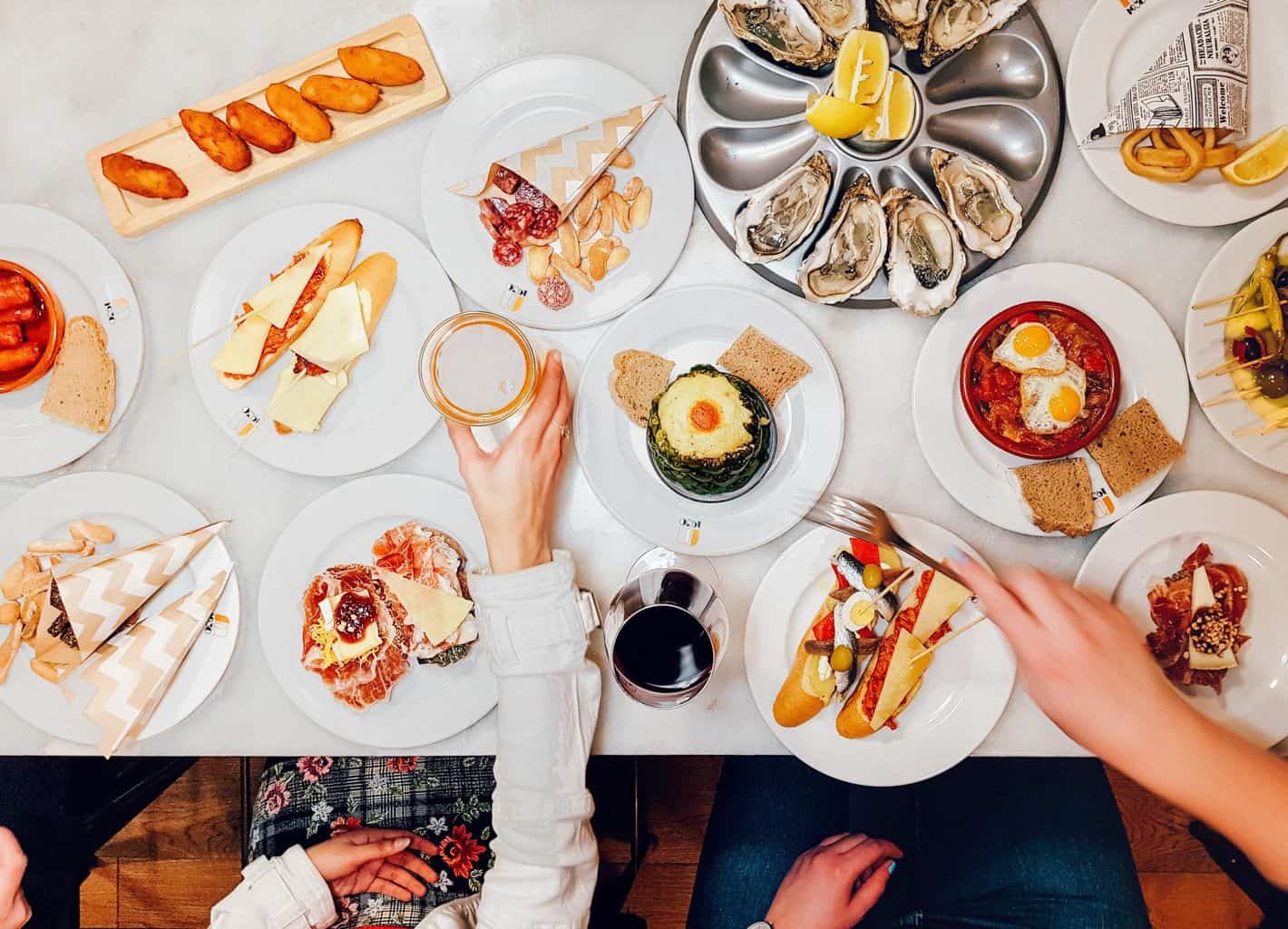 Spanish food is some of my favourite food in the world
Spanish food is in my top five cuisines on the planet and discovering the vast regional variations is one of my favourite ways to spend my days.
For example, I recently fell hard for the gastronomy from the Basque country and the wine from neighbouring Rioja. You can read more about this love affair in NORTH SPAIN | 7 Awesome Things To Do In Bilbao And La Rioja.
In this post I explore the food from one of Spain's main Balearic Islands, sharing 11 typical and authentic local delicacies found there. I'll be covering the best in Palma (Mallorca's capital) and the best in Mallorca as a whole island; traditional dishes you simply must try.
The regional Spanish food of the Balearic Islands
Hop straight over the Balearic Sea from the East coast of mainland Spain and you'll discover a cluster of islands and islets in the Mediterranean known as the Balearic Islands.
The four largest islands in this archipelago and province of Spain are Mallorca, Menorca, Ibiza and Formenter. Mallorca is the biggest of them all and its capital – Palma de Mallorca – is the foodie epicentre of the Balearic Islands.
I finally get a real feel for Mallorca food
I have, oh so very briefly, said a quick hello to Mallorca and Menorca as part of a gourmet 7-day cruise around the Mediterranean. But I didn't permit myself to purchase a magnet from either, meaning I wasn't there long enough to feel I'd really been there.
So getting the opportunity to revisit Mallorca with Jet 2 and Jet 2 Holidays, eat the best in Palma food, discover the Palma restaurant scene (and get that magnet!) was one I was very pleased about.
(My travel magnet purchase behaviour is a pretty good litmus test of whether I feel I need to return to a place to do it any amount of justice. I should really share a snap of my collection one day – it's almost filled one door of a full height fridge freezer!)
11 delicious local dishes you must eat in Mallorca
Local Mallorca food (known in the native tongue as 'Mallorquin' food) is based on pork, fish and vegetables. In this regional Spanish food you'll find generous helpings of garlic and olive oil, a cuisine one full of hearty home-cooking.
Rooted in local traditions and ingredients that can be found on the island, you can expect plenty of terrific almonds and juicy olives to feature. Not to mention the fat walnuts, plump lemons and salt from the wonderful natural salt plains in the south.
I spent a few days in Palma de Mallorca to seek out the typical Mallorca food that cannot be missed. Here's a tasty check-list to help you get started.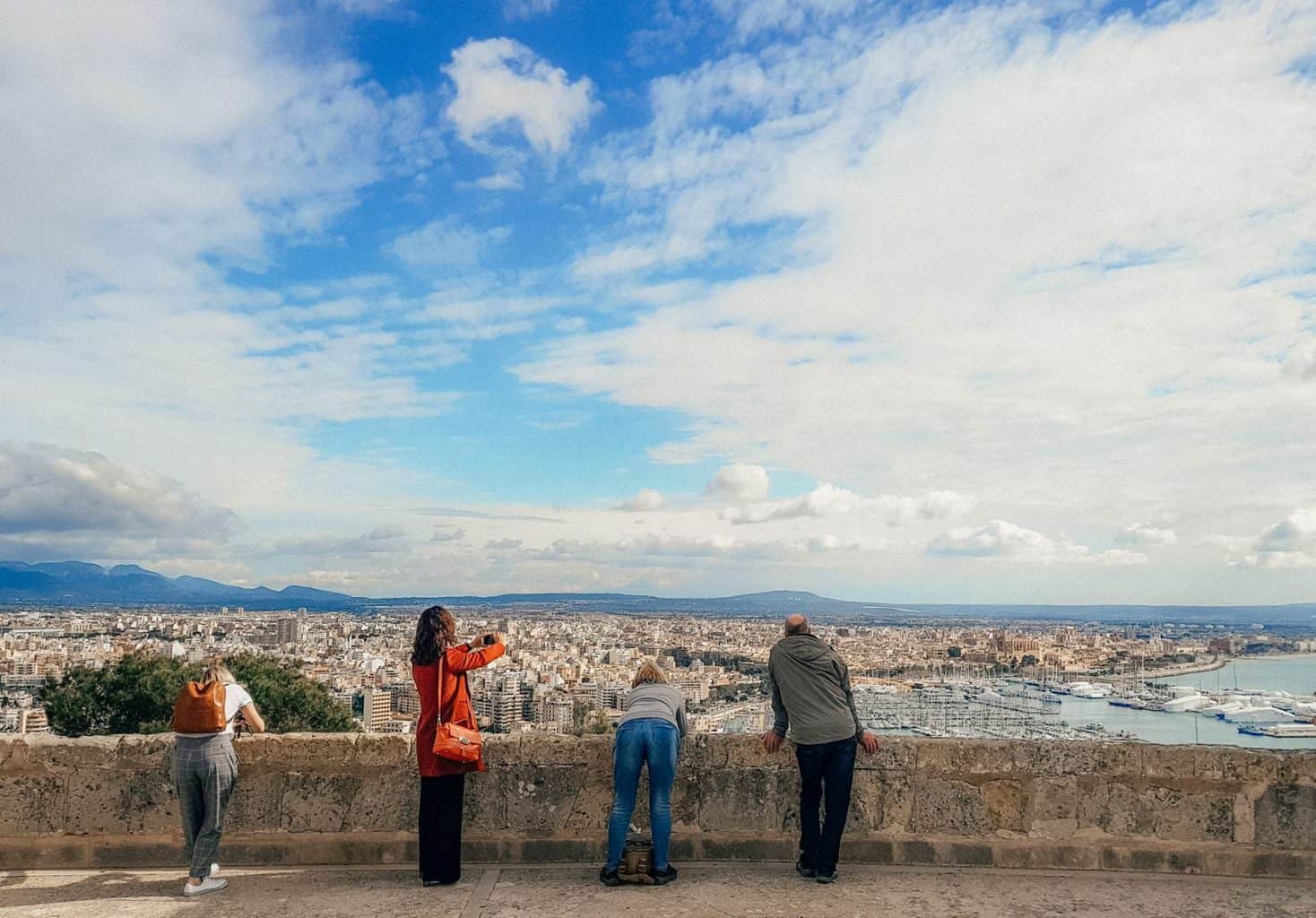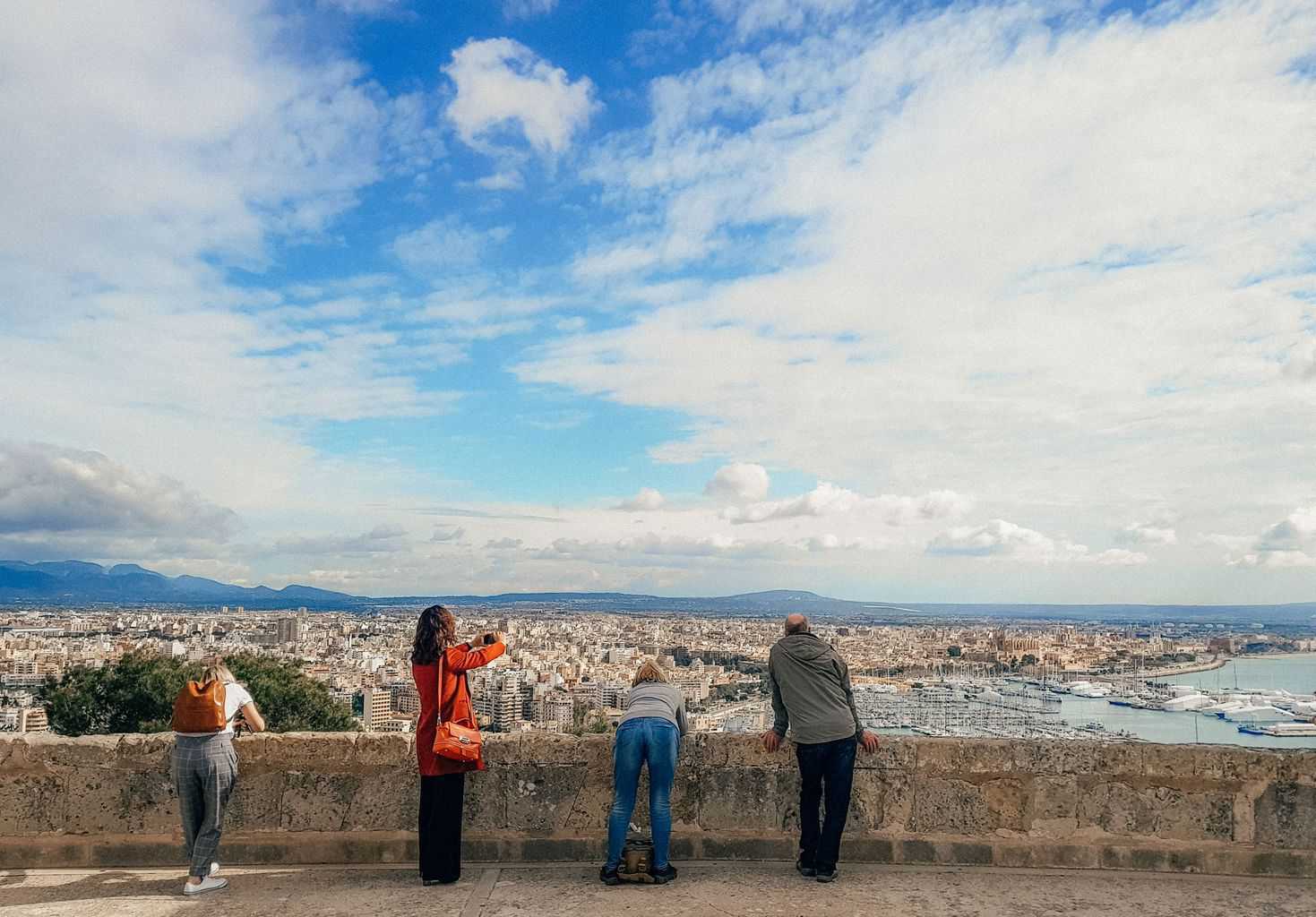 1) Sobrassada: a very Spanish food
I first encountered sobrassada as a pizza topping in a trendy new pizza parlour in London a few years back and fell for it pretty hard. I only discovered this spreadable cured sausage was in fact native to Mallorca when I did some research for this trip.
Components are pork mince, bacon, salt and spices and it has a similar colour to Spanish chorizo thanks to paprika. It's a little addictive.
You'll often see it smashed onto rustic bread and as a type of tapa, sobrassada pairs exceedingly well with a slice of local cheese and a drizzle of honey.
We also stumbled across it being popped into empanada pastries along with lamb at the incredible Fornet de la Soca bakery. More on this awesome place below here.
If you want to purchase a sausage of sobrassada, some of the best in Palma can be found at Mercat Olivar. This is Palma's main produce market and is full of things you'll want to eat there and then and stuff in your suitcase.
While you're there, don't forget to stock up on some excellent local goat and sheep cheeses. I went home with a 1kg loot of the stuff – joy.
2) Tumbet: a simple but glorious Mallorca food
Tumbet (or 'tombet') is Mediterranean through and through. Combining fried aubergines, potatoes, red peppers, tomatoes, olive oil and garlic, it can be compared to ratatouille from Provence and samfaina from Cataluña and Valencia.
A recipe that goes as far back as the 16th century, tumbet first appeared after potatoes and tomatoes were introduced to Europe. Wonderful eaten with a hunk of local bread, it also pairs very well with meat or fish. It's a top choice for vegetarians when enjoyed on its own.
I tried a tapa plate of tumbet in the buzzing gastronomy market Mercat 1930, along with a load of other great dishes.
3) Coca Mallorquina: Mallorca food at its most quintessential
I'll refrain from calling this what it may well look like: a Spanish pizza. I suspect it might be as annoying for the Spanish to hear that as it is for me when people refer to lahmacun as 'Turkish pizza'.
These are of course local dishes in their own right. The coca is a very simple but glorious Mallorca food. Flatbread dough is topped with vegetables and baked, a popular version being coca de trempó. You can find out more about trempó below here.
Generally enjoyed as a snack, individual portions of coca will be on sale in 'panaderias' (bakeries) all over the island. They make seriously great use of the season's vegetables.
4) Sopas Mallorquinas: home-cooked Mallorca food
One of the most traditional Mallorca food items you can find is sopas Mallorquinas. These are dense and hearty soups perfect for chilly days up in the Tramuntana Mountains.
Ingredients tend to follow the seasons, but you can expect the soup to include slices of local bread, onion, garlic, tomatoes, cabbage and beans. Paprika will be in there too and you might also find pork, beef or botifarrón. The final flourish comes with a generous glug of local olive oil.
I sampled a fabulous version at Mar Blau restaurant in GPRO Valparaiso Palace & Spa, which is also where I stayed during my trip. Be sure to pay their light-flooded Palma restaurant a visit – the food is fantastic.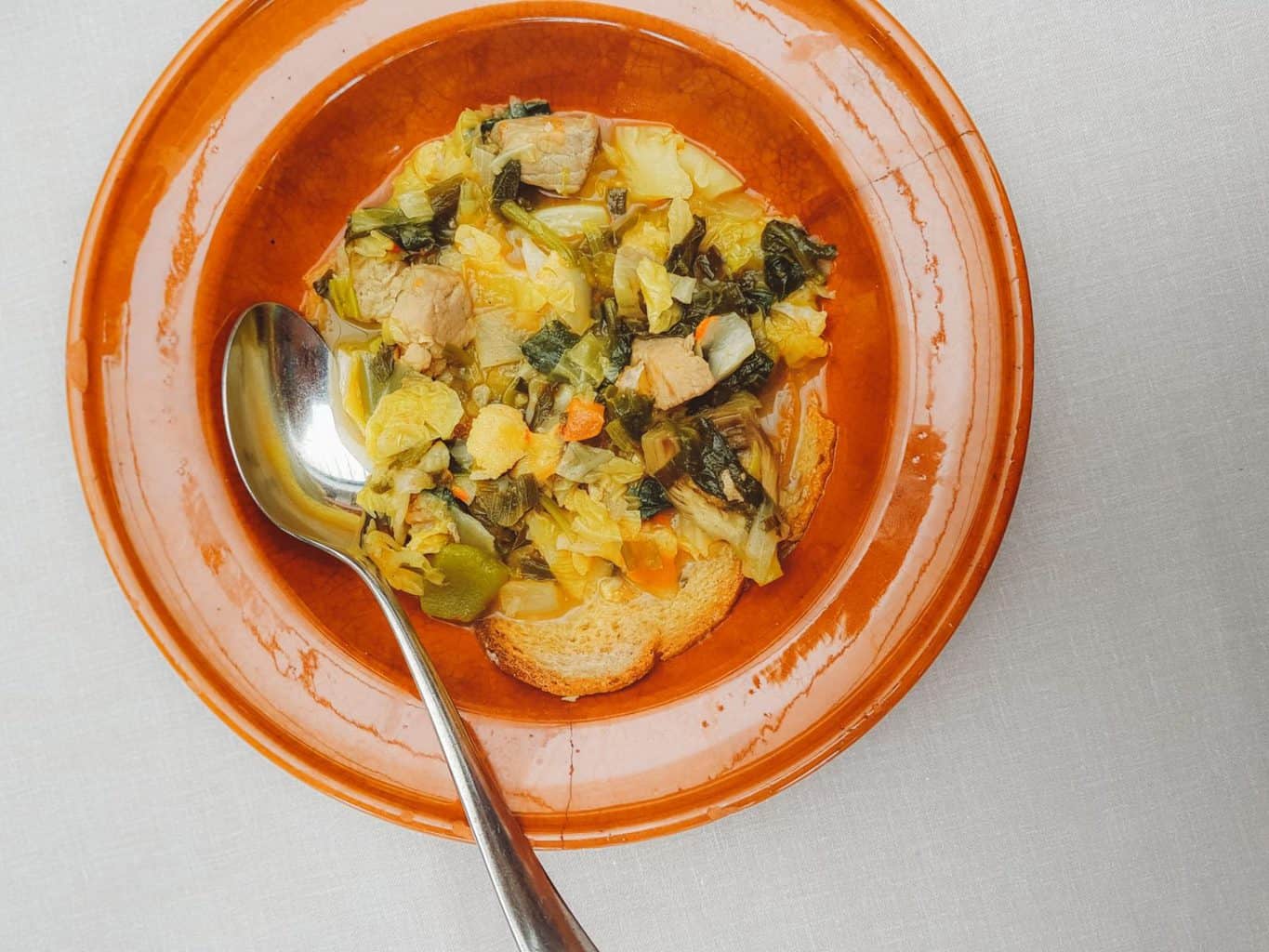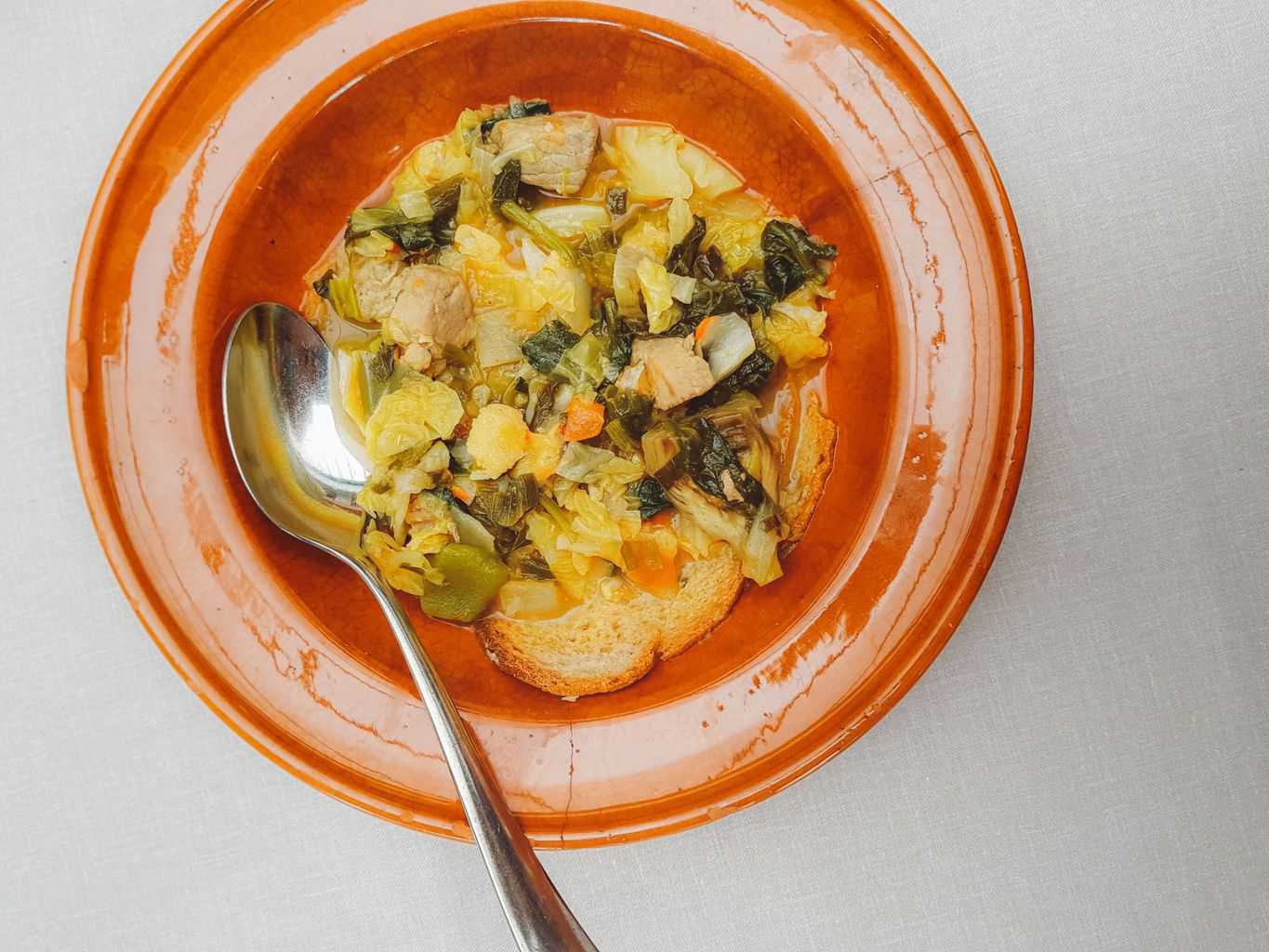 5) Ensaïmada: the best in Palma, maybe the best in Mallorca?
This is easily the most famous pastry from Mallorca. And it's probably my favourite thing I ate on this trip.
Ensaimada is a spiral pastry made with flour eggs, water, sugar and a mother dough. All sweet pastry basics so far. But what makes it unusual and oh so excellent is that the fat used is 'saim' (pork lard), rather than butter. Ideal for anyone who is lacto-intolerant! But tough luck for the vegetarians.
Savour a slice over breakfast with a coffee or as a 'merienda' (afternoon snack). You can find variations on the basic recipe, with some filled with cream, chocolate or sweet pumpkin.
We tried the lightest most glorious ensaimada at 400-year old bakery Fornet de la Soca, widely considered as the best in Palma. The bakers are kitted out exactly like the chef emoji, complete with chef hats 👨‍🍳
They're all about keeping the old traditional Mallorcan baked goods recipes alive and do so with great passion. Trying their ensaimada cannot be missed; it's arguably some of the best in Mallorca.
6) Tapas: a Palma restaurant stalwart
Think of Spanish food and tapas is often the first thing that comes to mind. Tapas comes from the word 'tapar', the Spanish verb meaning 'to cover'.
In medieval times, tavern drinkers would rest (and eat) a simple slice of bread with ham on the rim of their glass. It would act as a cover to protect their tipple from flies. And the rest as they say, is history.
Tapas is a quintessential part of Spanish food and it can be found all over the country, including Mallorca. A great spot to sample local tapas in Palma is at Mercat 1930, a tight knot of covered food and drink stalls.
A different take on a more conventional Palma restaurant, this is a great spot to sample lots of things at once. Grab a collection of tapas, a few good friends and a couple of drinks and enjoy indoors or out on the terrace.
7) Trempó: ingredients that are some of the best in Mallorca
This is such a great example of that thing Mediterranean food does so well: allowing superb ingredients to speak for themselves.
Trempo is a simple salad made with the basic components of tomato, onion, Mallorcan green bell pepper, olive oil and salt.
In the very hot Mediterranean summers, farmers would eat this refreshing dish in the middle of the morning and even for breakfast. It's meant to be enjoyed communally in the same way as paella.
A big plate of it would be placed in the centre, with everyone scooping some up with rustic brown Mallorcan bread and fingers as needed. Forks were never used.
This very lovely example was had at the stylish underground Tast Club; I could have cleared piles of the stuff. Don't miss their raw bar while you're there.
8) Botifarron: a very regional Spanish food
I'm a sucker for a good bit of fried blood sausage and botifarron is Mallorca's own cooked version made with pork blood, pepper and a mix of herbs and spices.
There are two main types of botifarron identified by the colour of string they hang from. Red string means spicy, white string will be its milder sibling.
This favourite Mallorca food item is usually eaten as it's bought, then sliced onto bread. Or you can grill it for a really rich flavour, as I had at splendid Palma restaurant Aromata. Served with calçot onions and prawns as a starter, it was terrific.
I followed it with a nice bit of wild duck from the Albufera wetlands in the northwest of Mallorca. Definitely pay it a visit.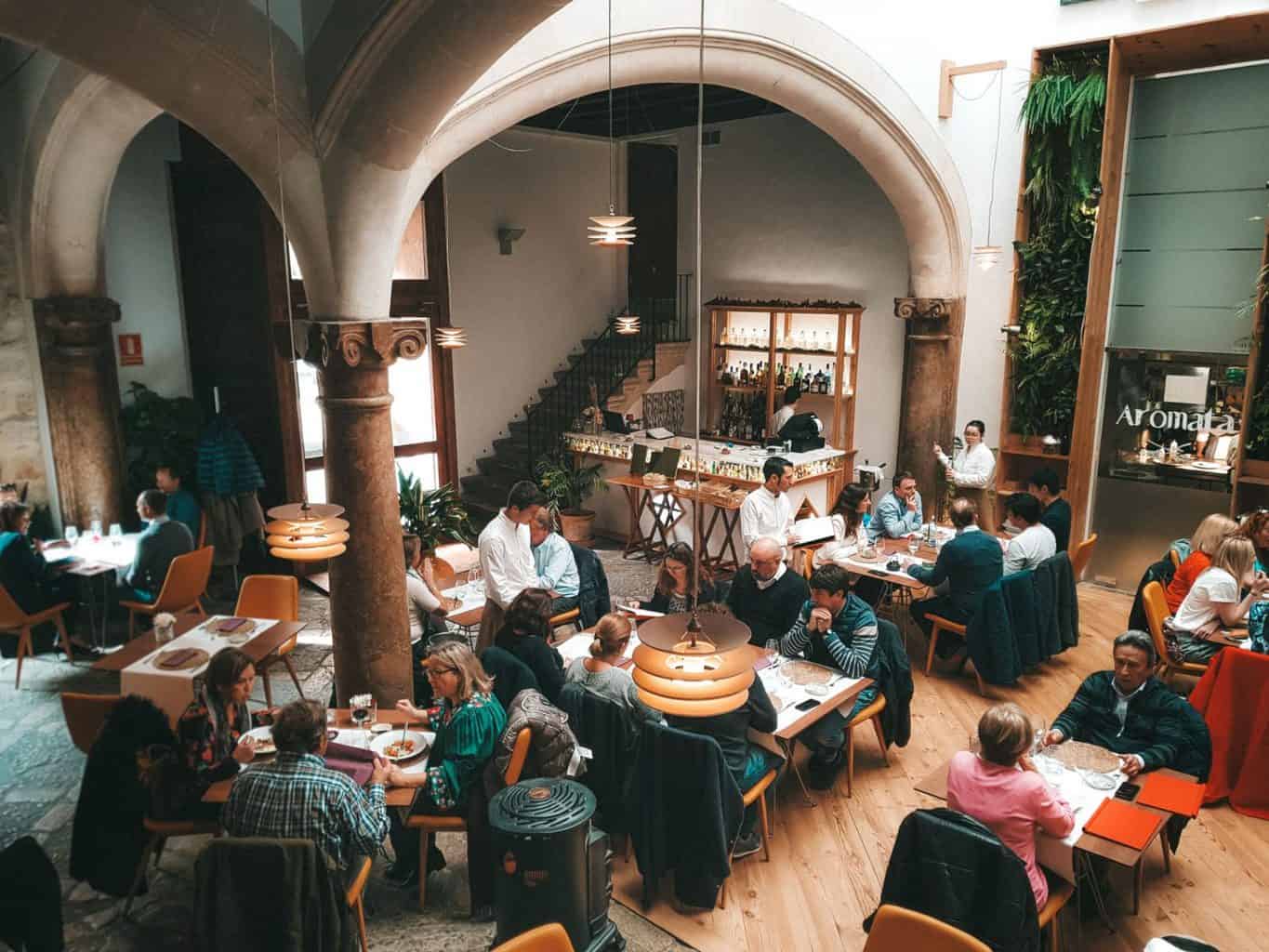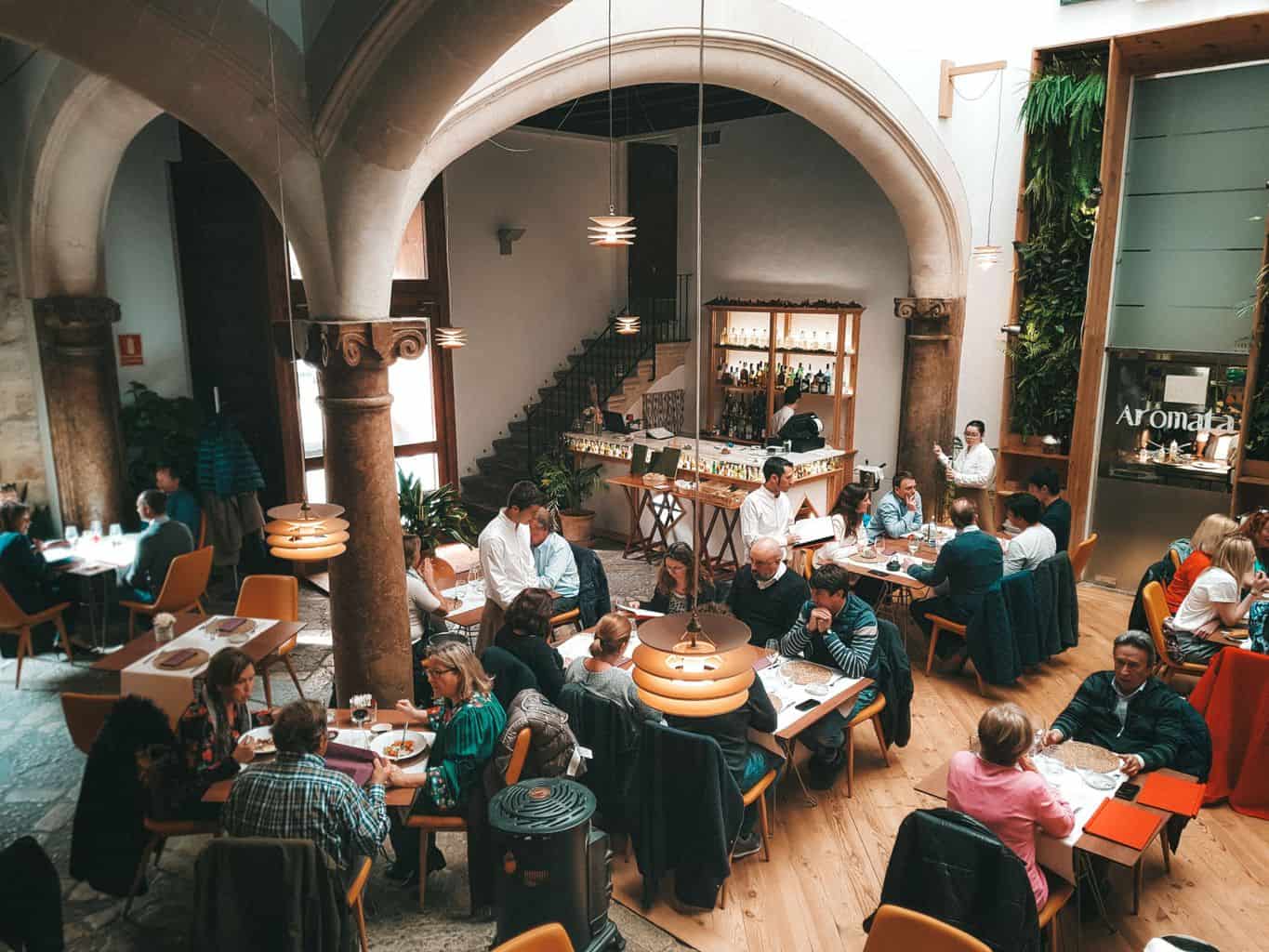 9) Cocarrois: Mallorca's take on a widespread Spanish food
You've probably heard of empanadas, stodgy and delicious half-moon shaped stuffed pastries baked or fried across much of The Americas and Spain.
The cocarrois is Mallorca's local version, generally filled with a mix of vegetables, raisins and pine nuts.
Here's a delightful assembly alongside some coca slices topped with red pepper, had at GPRO Valparaiso Palace & Spa.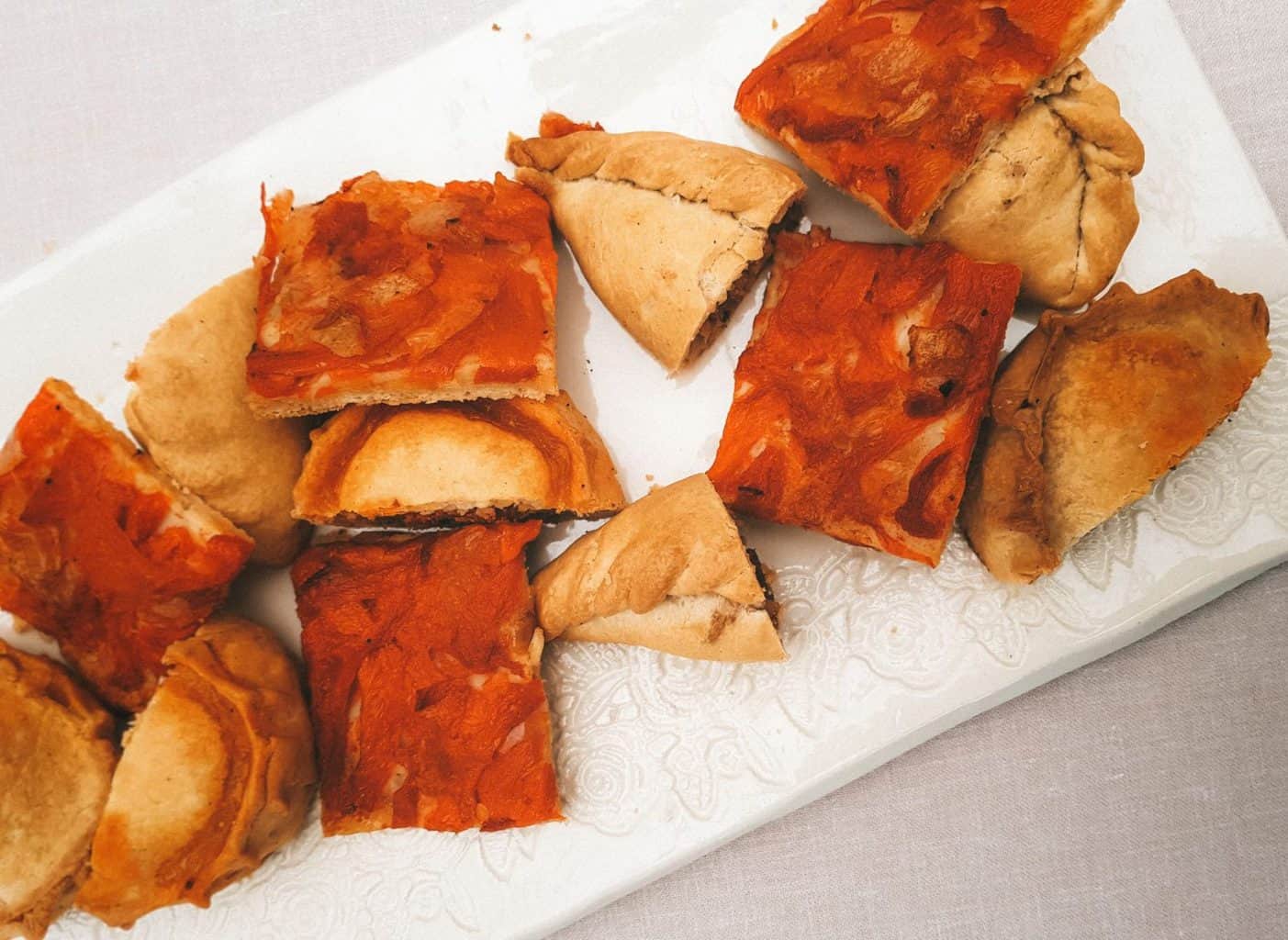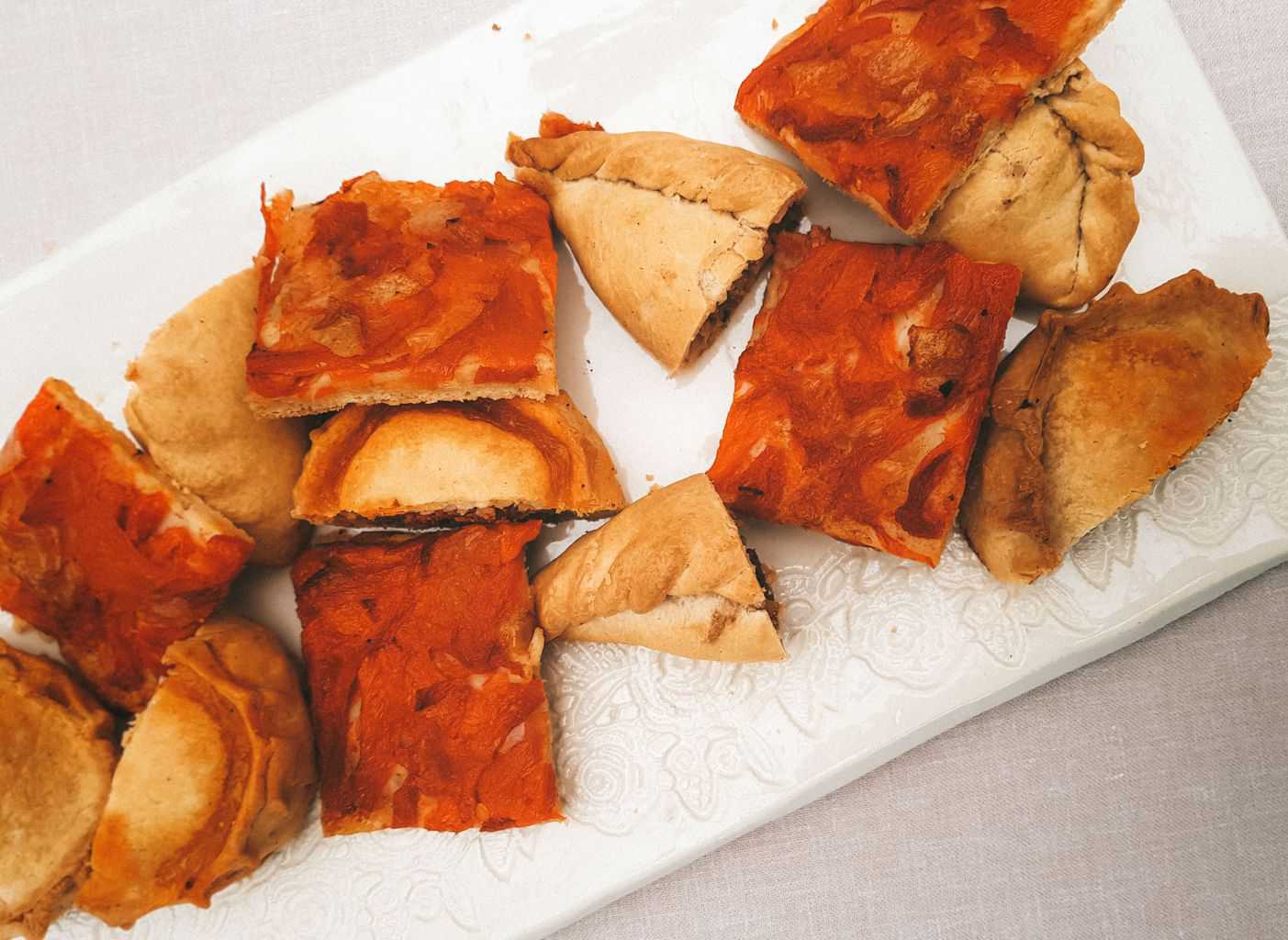 10) Arroz Brut: a regional version of this much loved Spanish food
Spaniards love their rice and almost every region throughout the country has their own rice dish, particularly around the Mediterranean.
Mallorca is no exception; here it's a soupy event called 'arroz brut'.
The name translates to 'dirty rice' in the local Mallorquí language, a dish comprised of a glorious mix of meat and vegetables that change with the seasons.
The rice is made 'caldoso' meaning excess water is used to create a broth. You'll also find a typical Mallorca food spice mix in there including paprika, saffron, cinnamon, pepper, cloves and nutmeg.
This version was had at Palma restaurant CUIT in the exquisitely kitted out and effortlessly stylish Nakar Hotel.
They showcase home grown produce from the island with renowned Mallorcan chef Miquel Calent at the helm. I'm definitely staying here next time I'm in Palma.
11) Hierbas: only for the bravest and best in Palma!
Are you a fan of Turkish Raki, Greek Ouzo or (heaven forbid) even Sambuca? Then you'll probably love Hierbas, Mallorca's 40% proof aniseed-flavoured herbal liqueur.
Said to aid digestion, this centuries old drink is made from distilled molasses and wine along with a whole load of herbs. Think aniseed, mint, chamomile, rosemary, thyme, fennel and more.
If there's one flavour I really struggle with, it's aniseed. For the sake of research and taking one for the team, I tackled a glass of the sweet version poured over ice as an after-dinner drink.
The aroma hit me way before I even saw it coming around the corner from the bar in GPRO Valparaiso Palace & Spa. Expect an entirely unapologetic whallop across the chops from the overpowering and medicinal aniseed. That said, the sweet version is marginally more acceptable than the unsweetened version.
Locals and tourists alike love the stuff, enjoyed across the Balearic Islands. I'll stick to an after dinner cortado, thanks very much.
Have you been to Palma in Mallorca before? If so, what did you eat there? What dishes do you think are the best in Palma? Would you add anything else to this list of Spanish food to eat in Mallorca? Do you have a Palma restaurant to recommend? What food item do you think is the best in Mallorca? Let me know in the comments below!
Note: This is a sponsored post in partnership with Jet 2 and Jet 2 Holidays. Thank you to Palma 365 for organising the itinerary. And thank you to GPRO Valparaiso Palace & Spa for the lovely accommodation and great eating had there. All views remain my own, as always.
Related posts