Last Updated on November 17, 2022 by Leyla Kazim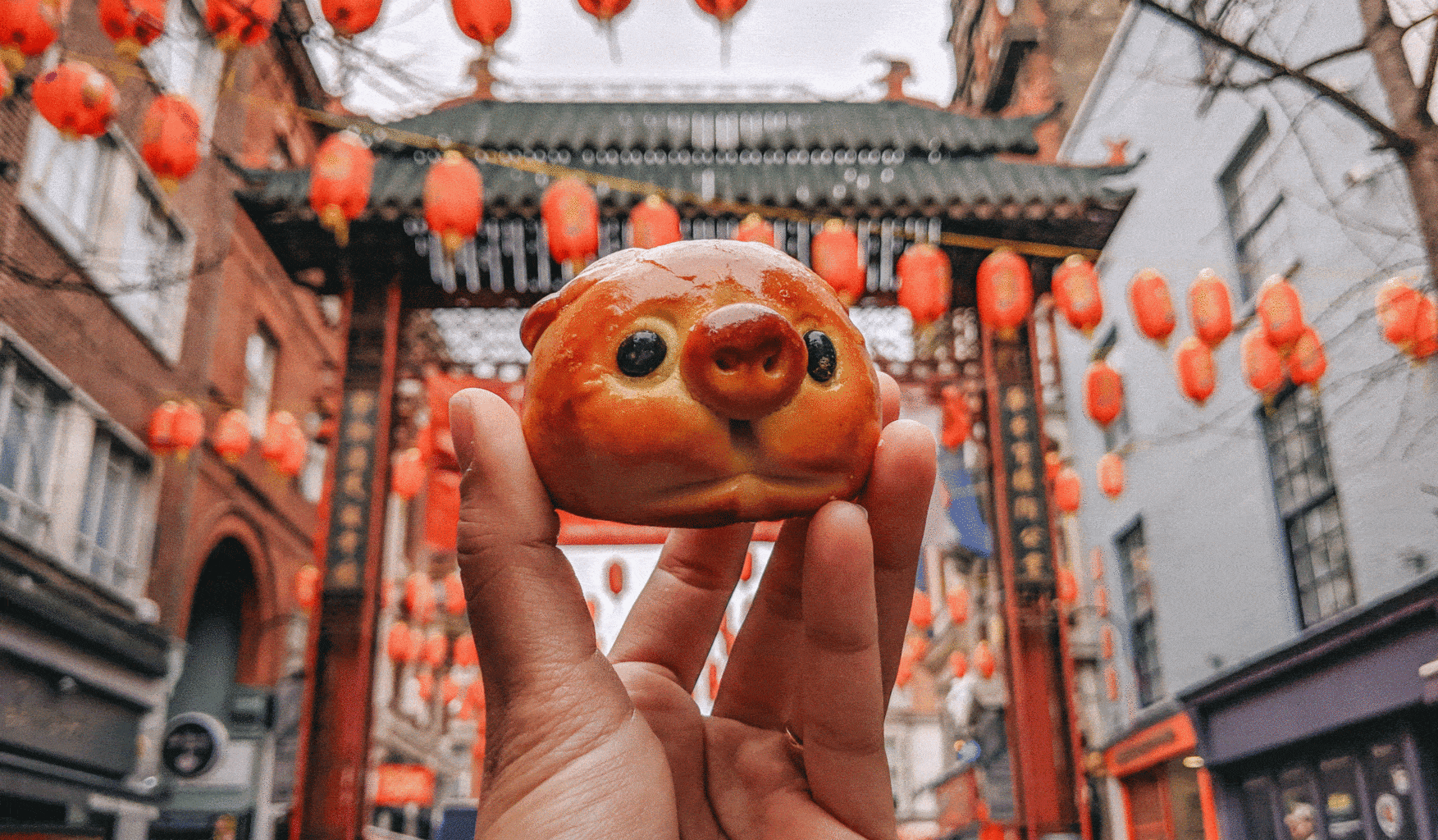 Why I love the food in Chinatown
The restaurants in London Chinatown are some of the finest places in this great capital to score a tasty (and often cheap!) meal. The sheer volume of choice on offer can be a little overwhelming for first time visitors and the quality does vary.
But if you're armed with this insider scoop on where to go for drinks and food in Chinatown, you can eat very well indeed. And that's where I come in.
Chinatown is a part of London I have spent a lot of time in over the years; I went to university down the road and have remained in the city ever since. It's a part of town I know well and to this day, I choose to eat in Chinatown regularly. So when VisitLondon.com challenged me to spend a day eating in Chinatown, I knew exactly where to go.
I have also spent quite a bit of time eating my way around Asia during eight months of travel, including China (Xi'an and Chongqing), Taiwan, Malaysia, Thailand and Japan. So I have a fairly decent grasp of what is good when it comes to Asian food.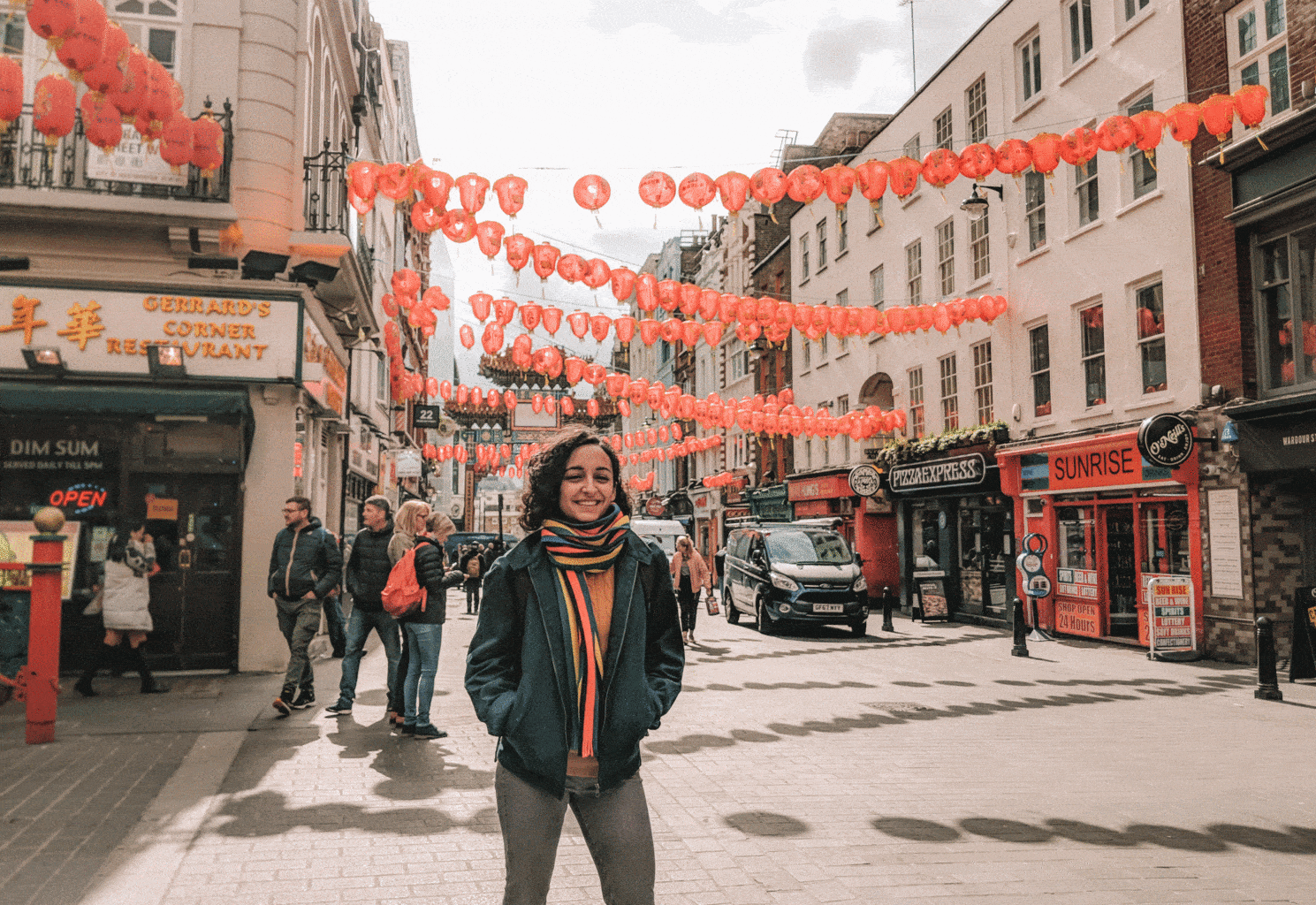 How to spend 24 hours eating the best food in Chinatown London
In this post I will show you how you can spend a whole day eating and drinking the best in Chinatown. I'll take you from your first coffee of the day, right through to post-dinner cocktails.
And in case you didn't realise, the food in Chinatown is not just Chinese. Cuisines reach beyond China into the rest of Asia and beyond Asia into the rest of the world.
Chinatown is a vibrant and buzzing part of London that doesn't really sleep. Couple that with it being a foodie's paradise and you have the makings of a perfect way to spend the day with a few good friends, experiencing some of the best food in Chinatown.
But first, here's my YouTube video covering all nine stops on this tour of restaurants in Chinatown London. Have a watch to get a feel for the places we visited. Then you can read on below for more information about each stop and what we ate.
Don't forget to subscribe to my YouTube channel!
You can also check out 9 Delicious Things to Eat and Drink in Chinatown I wrote for VisitLondon.com for even more Chinatown dining inspiration.
Stop 1 | 8am: Morning coffee at Caffé Concerto
The opulent Caffé Concerto on Shaftsbury Avenue is one of several branches across London and it's the ideal place to kick-start your day.
One of the grandest restaurants in Chinatown, think old-world Italian charm, plush red banquettes and plenty of sweet treats to pair with your morning coffee (or tea!).
They open from 7.30am Monday to Saturday and from 8am on Sundays. Ample time to allow the caffeine to get your brain in gear before you head off for breakfast.
Skip straight to my Caffé Concerto visit in the video here. Make it a double shot of coffee for me please.
caffeconcerto.co.uk
50 Shaftesbury Avenue W1D 6LW
Stop 2 | 10am: Breakfast congee at Hung's, the best in Chinatown
You simply cannot miss this incredible eat in Chinatown; it's one of the best things I've had there.
Congee is a very typically Chinese breakfast dish. It's a steaming bowl of rice porridge with toppings of your choice and Hung's may well do the best in Chinatown. Possibly even the best congee in London!
I ordered mine with shredded pork and preserved egg and whilst it might not look like much, it was absolutely glorious. Full of flavour from the stock the rice is cooked in, with little pockets of saltiness dotted throughout, soft meat and pungent boiled egg.
There are a couple of floors in Hung's but expect to share a table if there are two of you or less during busy periods. This isn't really a place for a languorous meal; quick and casual dining with brisk service and hearty food is the order of the day.
The best thing? This is one of the few restaurants in Chinatown that opens early enough for breakfast and is still serving food into the small hours.
They open at 10am every day and from Monday to Saturday, they serve food inside until 3.30am and to take away until 4am. On Sunday they serve inside until 2.30am and take away until 3am. And the same menu is served all day.
Skip straight to breakfast at Hung's in the video here. Congee at 4am after one too many cocktails? Yes please!
chinatown.co.uk/en/restaurant/hungs/
27 Wardour Street W1D 6PR
Stop 3 | 11am: A favourite mid-morning eat in Chinatown, baked goods from Golden Gate Cake Shop
There are a few Asian bakeries in this part of London, but one of the best in Chinatown is Golden Gate Cake Shop.
Focusing on Cantonese baked goods, this is the place to visit for a mid-morning treat. You could go savoury with a big and fluffy char siu (Cantonese BBQ pork) bun.
Or you could keep it sweet with a custard bun, custard tart, or anything else that might take your fancy. There's a lot to choose from and it's all really good.
Use the tongs to load a tray with your selection then take it to the till to pay and get it packed up. Find a spot to perch outside for some people watching and devour.
Skip straight to my Golden Gate baked goods haul in the video here. That little piggy was especially tasty.
chinatown.co.uk/en/restaurant/golden-gate-cake-shop/
13 Macclesfield St, London W1D 5BR
Stop 4 | 1pm: Taiwanese lunch at Xu, a beautiful place to eat in Chinatown
This is a fitting spot for high end Taiwanese food in Chinatown.
Very favourably reviewed by national restaurant critics such as Marina O'Loughlin at The Guardian, Xu is a throwback to the dining experience, decor and service of the Taiwanese social clubs of the 1930s.
The menu showcases a range of starters, mains, sides and desserts. Do not miss the terrific Shou Pa Chicken marinated in ginger and spring onion, white pepper and with crispy chicken skin, both on the lunch and evening menus. Or their array of dumplings.
But on their lunch menu exclusively you'll find Xu's glorious suckling pig for two.
Two whole suckling pigs are slow-roasted overnight each day and the restaurant gets about ten portions from each. So when it's gone, it's gone! It comes with mini steamed buns to stuff the meat in, along with pickles and bramley apple jelly.
Xu will also blow you away with their exquisite tea offerings, crafted cocktails and they even do whisky and tea pairings.
Order plenty, stay a while and bask in the splendid grandeur and impeccable service of one of the finest places to eat in Chinatown. Be sure to reserve ahead of time.
Skip to the impressive lunch spread at Xu in the video here and find out just how it's pronounced (I wasn't sure either).
xulondon.com
30 Rupert Street W1D 6DL
Stop 5 | 3.30pm: Serving some of the best in Chinatown, afternoon bubble tea at Cuppacha
What better way to follow great Taiwanese food in Chinatown, than with a very typically Taiwanese drink: bubble tea. Knowing where to eat in Chinatown is very important. But knowing the best places to quench your thirst is just as crucial.
For your second caffeine hit of the day, pop into Cuppacha for some afternoon tea. Bubble tea is made from a base (the traditional is milky black tea) with the addition of delightfully chewy tapioca balls aka the bubbles.
You can fully customise your drink at Cuppacha. First select what tea base you'd like (their Matcha Red Bean is meant to be very good too), choose the type of 'bubbles', how sweet you want your tea and whether you'd like it warm or with ice.
The drinks are served sealed in a plastic cup. Punch through a fat straw and suck everything (bubbles and all) up!
Skip to my afternoon tea stop at Cuppacha in the video here.
cuppacha.com
23 Newport Court WC2H 7JS

Stop 6 | 5.30pm: Apéritif and nibbles at The Blue Posts, a pub that also serves great food in Chinatown
When you reach that time of day where lunch felt a while ago and dinner isn't quite on the horizon, pop into The Blue Posts for an aperitif and nibbles.
From the same people behind buzzing Israeli eatery The Palomar (also in Chinatown London), The Blue Posts is a traditional British boozer with finesse. The pub can be found on the ground floor and has a few seats and stools for your drinking needs.
But it's the bar menu served from 5pm that really makes The Blue Posts shine. Expect the likes of cheese, onion and mustard toasties, Dorset rock oysters and slices of salchichon sausage. If you see it on the menu, don't miss their Cantabrian anchovy soldiers; crispy, salty, oily glory.
Downstairs you'll find Evelyn's Table, one of the most unique restaurants in Chinatown. It's a kitchen counter set in a narrow space in the former beer cellar with just 11 seats, serving Southern European dishes. And upstairs is their wine and cocktail bar, The Mulwray.
If you've made the necessary reservations, you could while away a good few hours in this spot alone, flitting between the three. And what a terrific time you'd have doing so.
Skip to my time at The Blue Posts in the video here. And I'm happy to report that cheese toastie tasted as good as it looked.
theblueposts.co.uk
28 Rupert Street W1D 6DJ
Stop 7 | 7pm: Chinese hot pot at Hot Pot, one of the DIY restaurants in Chinatown
Hot pot is a really fun and interactive way to eat in Chinatown, best enjoyed with a group of friends.
A cauldron of simmering broth sits at the centre of each table over a gas cooker and diners dunk in raw ingredients for a spot of DIY cooking. You then fish them out, dip into a sauce of your choosing from their unlimited sauce station, and enjoy.
The restaurant called Hot Pot on Wardour Street is a great place to experience this type of food in Chinatown. Whilst there are a few restaurants in Chinatown serving this ancient Mongolian dish, Hot Pot pride themselves on the quality of their ingredients. They also don't use any MSG.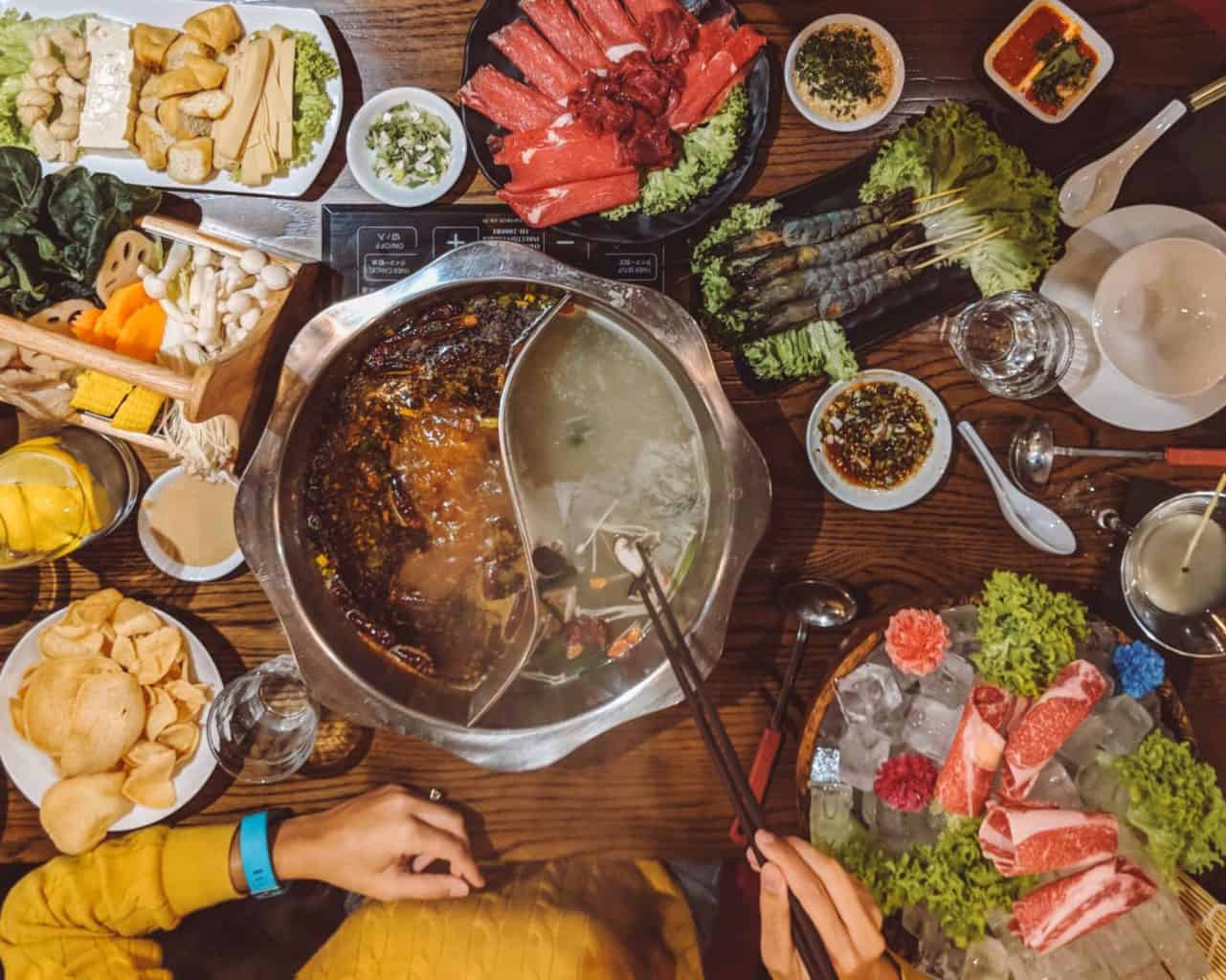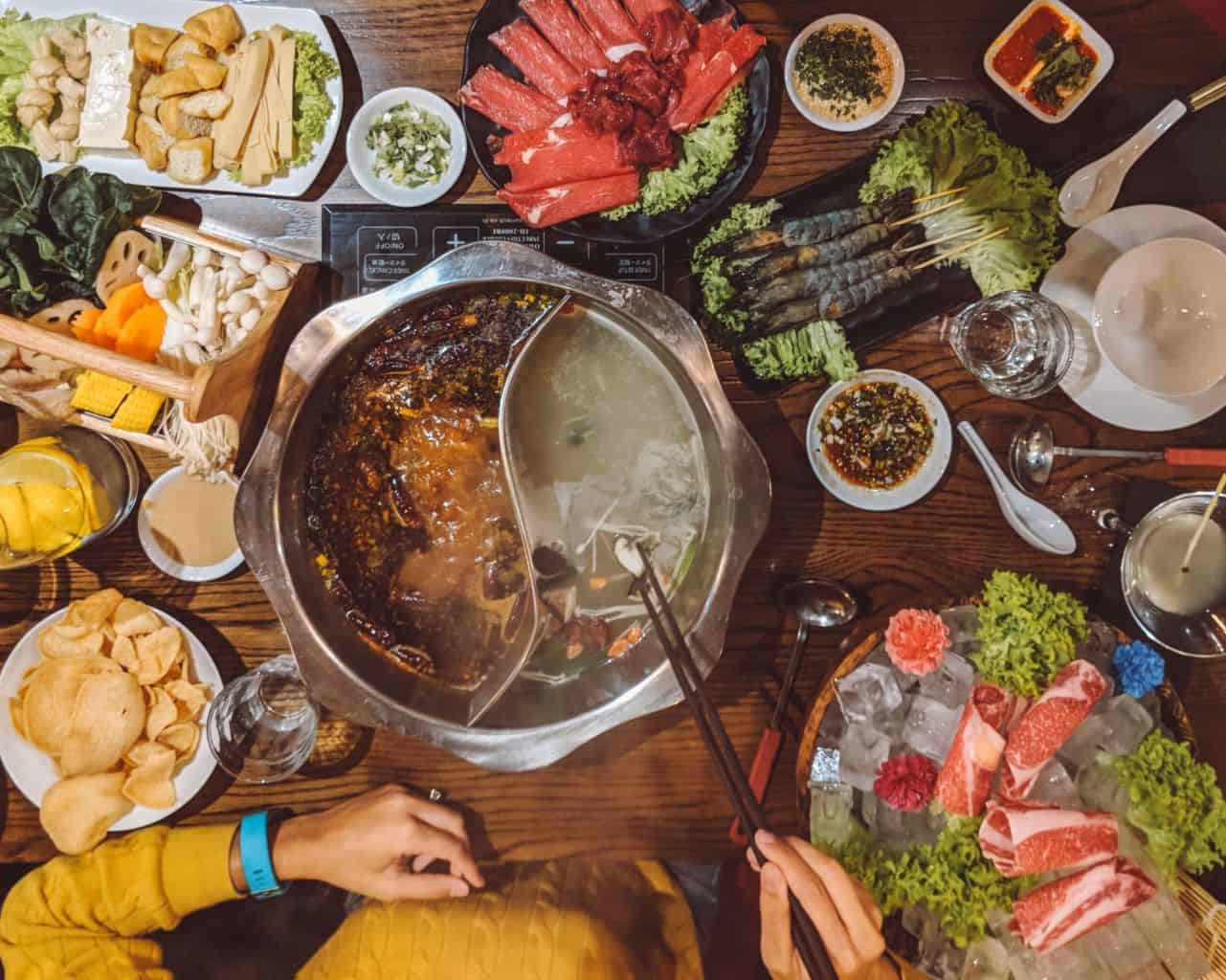 There are over 60 raw ingredients to choose from; I'd recommend the beef, tofu and vegetable plates. The broths on offer range from numbing and spicy sichuan to mild mushroom offerings. You can even divide the pot in two if you'd like more than one broth.
They also have a tank with live crab and lobster for the seafood plates, which were very popular with our fellow diners. Don't forget to take a few pictures, you'll unlikely see such an impressive table spread for a while!
Skip straight to my hot pot feast in the video here and don't forget to wear that crucial accessory – you'll regret it otherwise!
hotpotrestaurants.co.uk
17 Wardour Street W1D 6PJ
Stop 8 | 9pm: Japanese-inspired dessert in Chinatown London at Ichibuns
What do you get when you cross American diner culture with the finest produce from Japan's island of Hokkaido? Something along the lines of Ichibuns, a restaurant and bar for laid-back drinking and Japanese-inspired food in Chinatown.
What's great about this place is you don't need to take up a whole table in the restaurant to get your sweet fix. You can instead perch at one of the stools at the bumping bar downstairs where the full menu is served.
Don't miss their decadent thick shakes, a bit like sucking melted ice cream up through a straw.
Their warm apple crumble with vanilla ice cream is a delight, and their vegan Coco Noshi (pictured) is a winner too. Expect gluten free soft serve with either pumpkin and pecan or rocky road as a topping, a terrific sweet eat in Chinatown.
Ichibuns opens until 2am on a Friday and Saturday where a dance floor and rocking beats from the DJ booth emerge after dark.
Skip straight to dessert at Ichibuns in the video here and stay for the DJ!
ichibuns.com
22 Wardour Street W1D 6QQ
Stop 9 | 10pm: Zodiac cocktails at Opium in Chinatown London
Look for the jade door on Gerrard Street flanked by a doorman and you've found Opium, a cocktail bar and dim sum parlour spread over two floors.
There are distinct separate spaces within Opium that each come with their own cocktail menu. Visit for flaming Zodiac cocktails and the 1920s Shanghai, late night, drinking den vibe.
They're open until 1am Mondays and Tuesdays, 2am on Wednesdays, 3am Thursday to Saturday, and until midnight on a Sunday. Just be sure to make a reservation if you plan to visit on the weekend, or you likely won't get in.
And don't be scared of the doorman, he's a pussy cat.
Skip straight to post-dinner cocktails at Opium in the video here. Don't forget Hung's is ready and waiting to help soak up that booze once Opium closes.
opiumchinatown.com
15-16 Gerrard Street W1D 6JE

I hope you enjoyed this tour of some of the best food in Chinatown London!
Do you have a favourite place to eat in Chinatown? What restaurants in Chinatown have you visited recently? When it comes to late night haunts, what do you think are the best in Chinatown? Do you think you could match this day of eating (it was a lot of food 😅)! If you haven't spent much time in Chinatown London before, let me know if this article and video will encourage you to visit!
Note: This is a sponsored post in partnership with VisitLondon.com. All views remain my own, as always.
Hungry for more?
Don't forget to subscribe to my YouTube channel!