Last Updated on June 17, 2020 by Leyla Kazim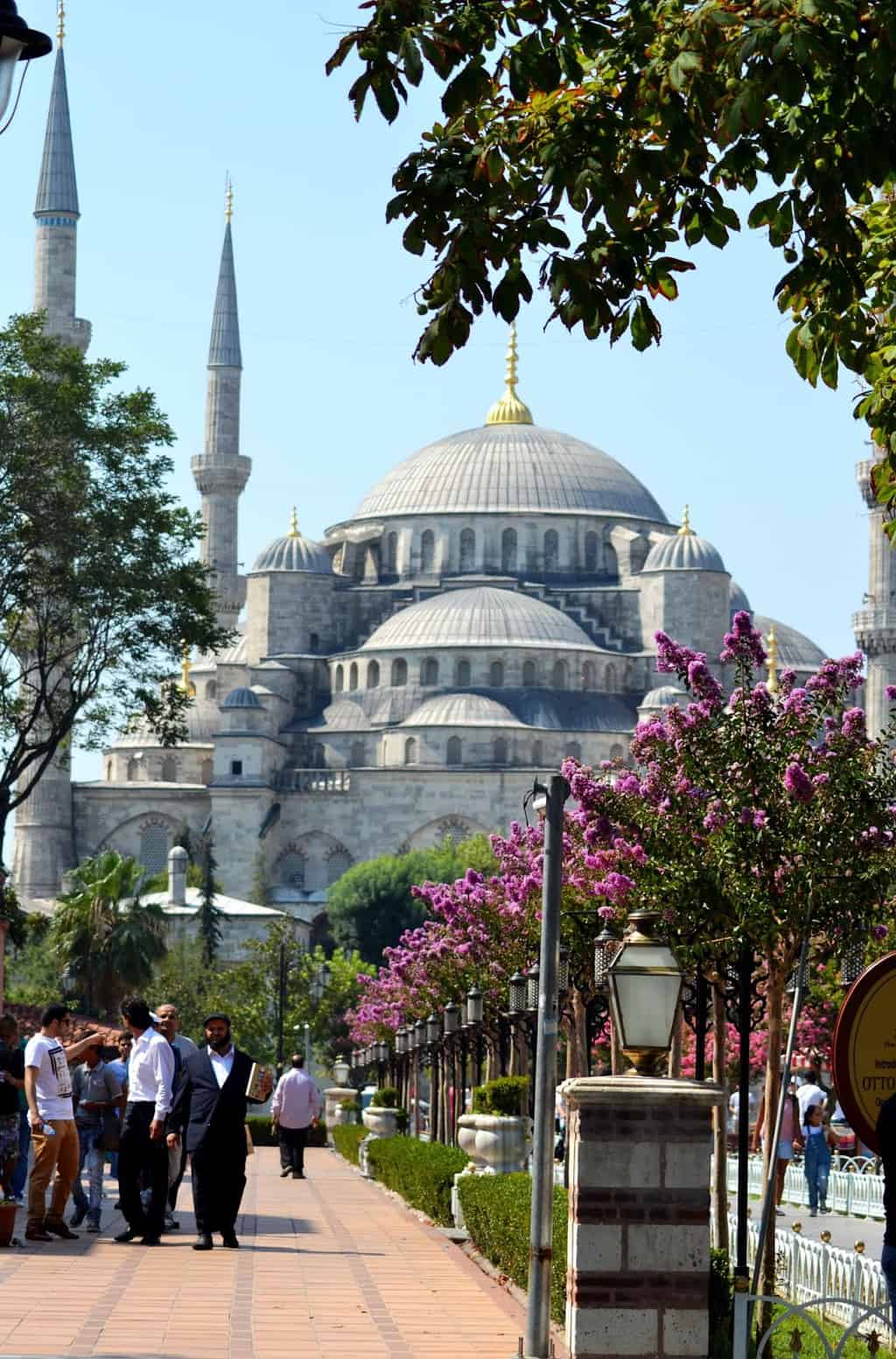 The world is a large place, and there is a lot of it to see. So many images of wonder and beauty to drop jaw over, new cultures to plunge into with head submerged, historical figures and events to get acquainted with, and new faces to smile at.
And so when the yearning resurfaces during the year to explore what this rather glorious planet has to offer, more often than not it's the yet unchartered (by me) corners that find their way onto my shortlist.
But there are two cities in particular whose majestic beauty and ethereal qualities, each quite unique, stave off the beckoning calls of new lands and repeatedly have me coming back for more. They are Paris, and Istanbul.
The city of Istanbul is quite simply, like no other. One of complementary contradictions, transcendent beauty, unrivalled history and a welcome with arms thrown wide.
Traditionally dressed worshippers frequenting statuesque mosques live in harmony alongside atheists and agnostics and those respectfully revelling in the happening nightlife. The repetitive chants of market traders, endless car horns and scooter revs contrast against the entirely bewitching and seemingly divinely intervened dulcifying tones of the call to prayer, carried by the warm breeze.
Even the thousands of stray dogs in Istanbul are tagged, regularly immunised and receive medical treatment when needed, such is the accepting nature of this city.
The only city in the world to traverse two continents, the fertile waters of the Bosphorous dissect the metropolis from north to south, a channel of cobalt joining the Sea of Marmara and The Black Sea and acting as the boundary between Europe and Asia. It is the largest city in Turkey (albeit not its capital) and over a course of 16 centuries has served as the capital of no less than four separate empires: the Roman (330–395), Byzantine (395–1204 and 1261–1453), Latin (1204–1261), and Ottoman (1453–1922).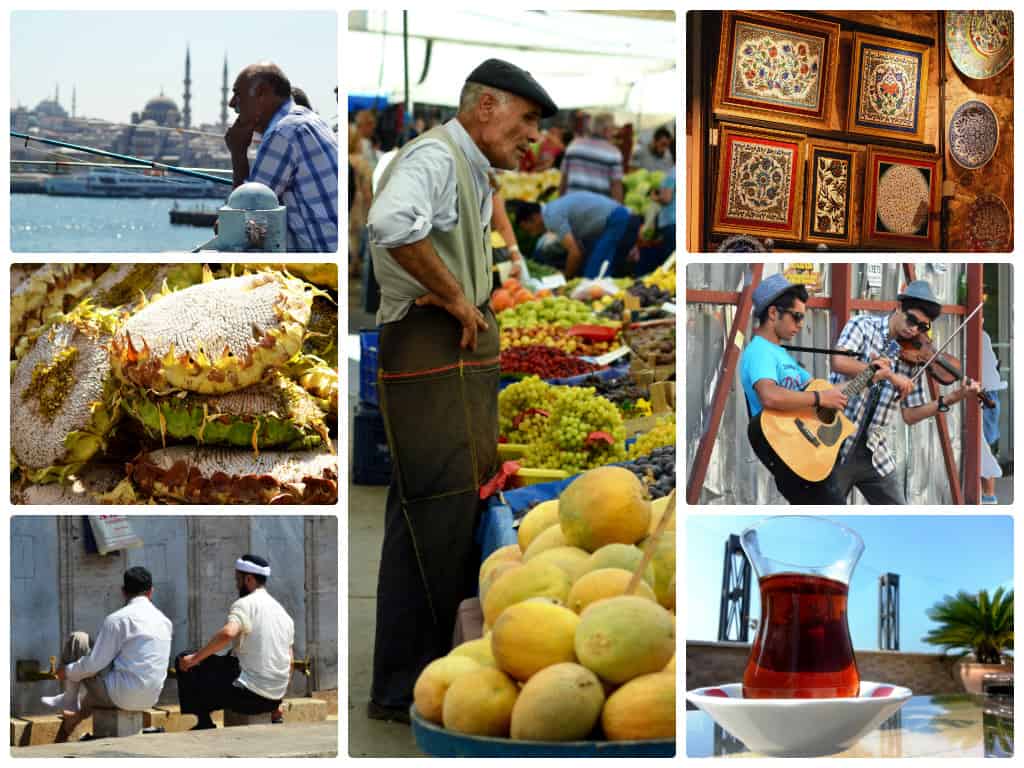 Such a rich tapestry of old renders the very cobbles of the streets saturated with palpable history. And whenever a city has such a vibrant past, an eclectic international populace along with an exceptional cuisine is sure to follow.
Istanbul is a veritable treasure trove of delights that can feed both the body and soul. I've collated a few recommendations I would strongly advise entertaining for the former when you next visit. Note, 'when'.
10 Things to Eat in Istanbul
1) Simit
Wander the streets of the city early enough and you'll see stocks of freshly baked simit being transported across the city (often piled high on trays perched on heads – is there an easier way to move a load of bread?) from bakeries and into mobile carts where they are sold on almost every street corner.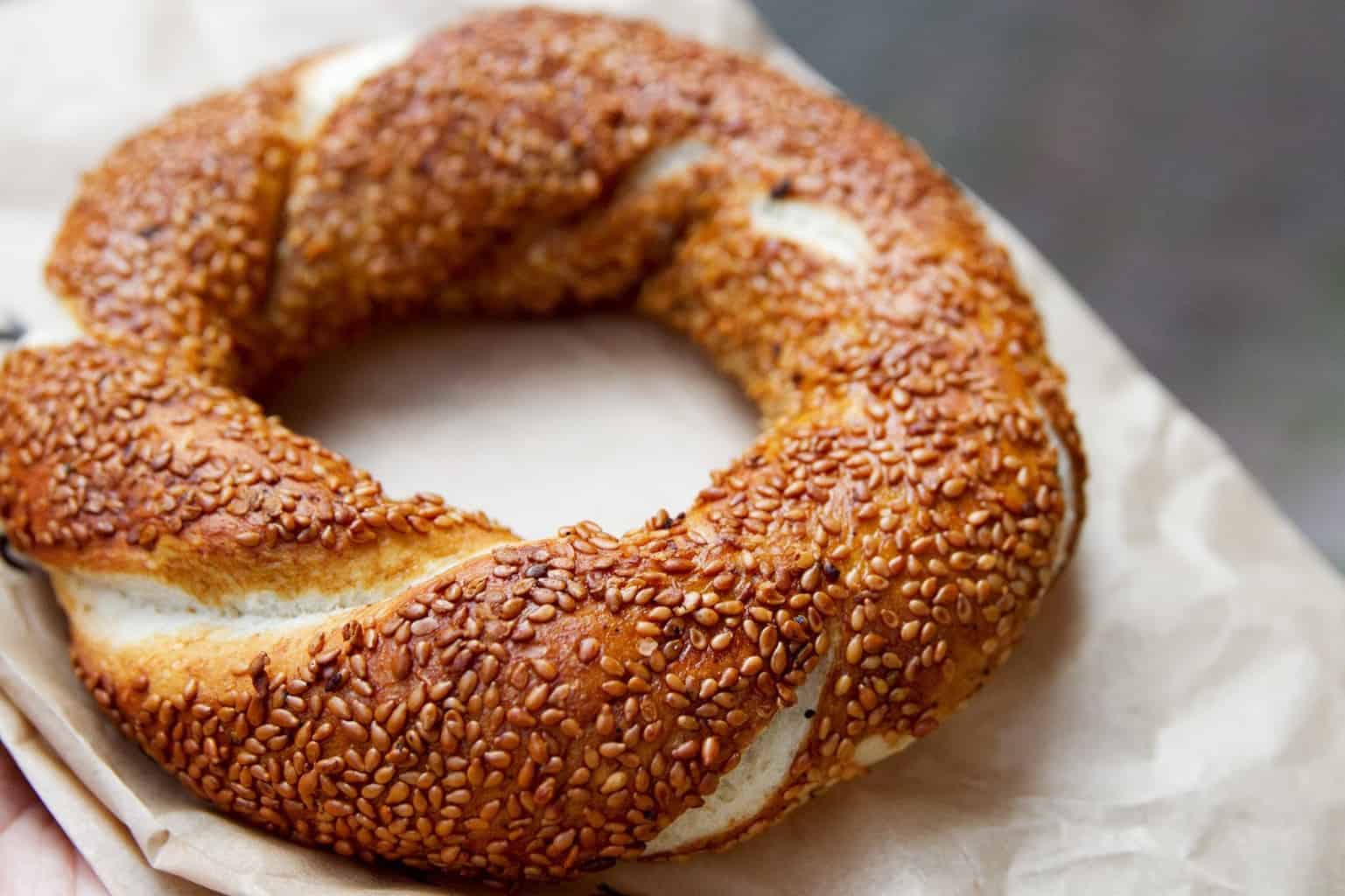 A ring of slightly chewy bread covered with sesame seeds, it is almost bagel-like in it's quality. It is traditionally eaten plain with a çay (amber tea grown in Turkey and served without milk) to help wash it down, or at breakfast with the addition of peynir (cheese), perhaps some domates (tomatoes) or salatalık (cucumber).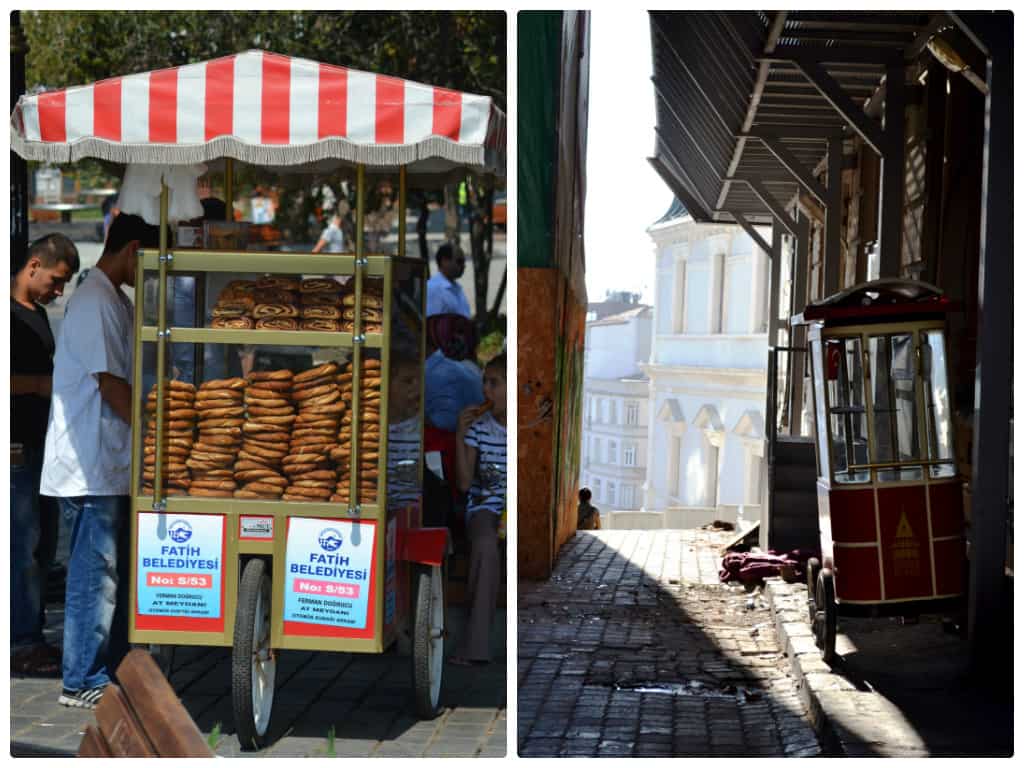 Archival sources show the production of this bread in Istanbul dates back to 1593. Utterly ubiquitous across the city, you will be unable to avoid them. A perfect and very cheap snack to fill the voids between the exceptional eats that will punctuate your visit and a wonderful example of the staple that Turkey does exceptionally well – bread. If you can, eat from a freshly baked batch for unrivalled flavour.
Address: Everywhere
2) Türk kahvesi (Turkish Coffee)
The ritual of drinking Türk kahvesi and the product itself is quite different to the Americanised chain offerings. There are no venti vats of searing hot muddy water, burning any hints of real coffee flavour that may have been present into the depths of Hades with the excessive temperatures of boiling water used. The coffee is in fact made slowly on a stove over a very low heat, and served in espresso sized cups.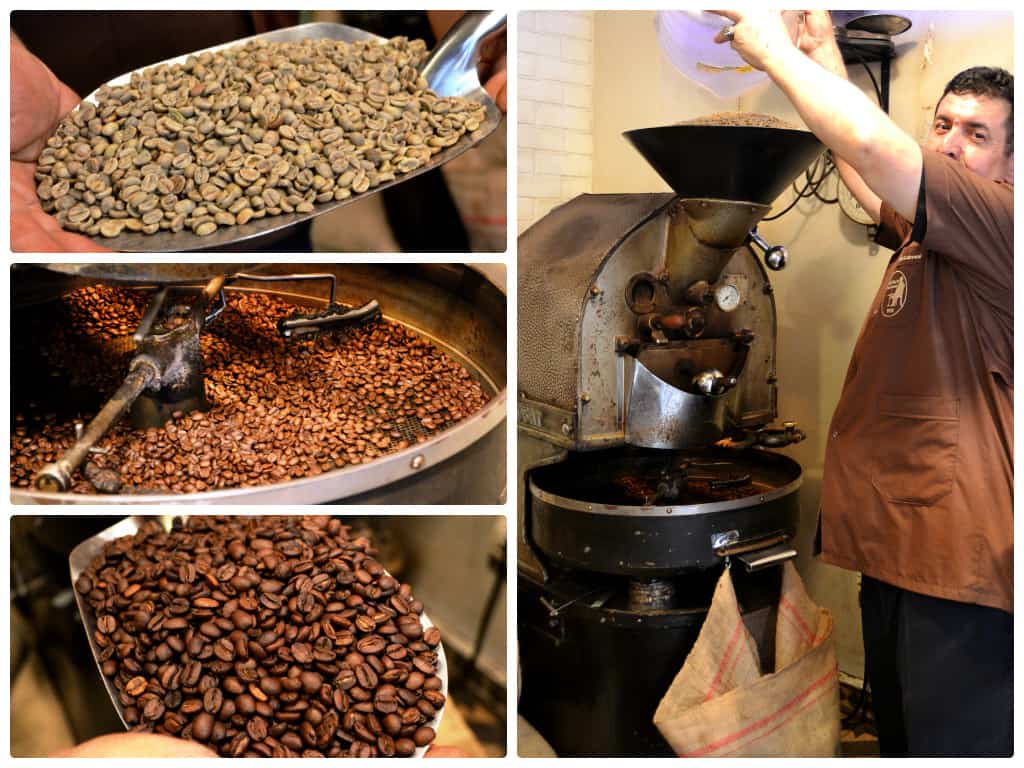 A vessel designed specifically to make Turkish coffee is called a cezve (prn. [jez-veh]) and designs can range from traditional copper ones to more modern stainless steel offerings. The end product is unashamedly strong and leaves a sediment at the bottom of the cup. Stop drinking before you reach this to avoid a gum line of grit – it's not meant to be consumed.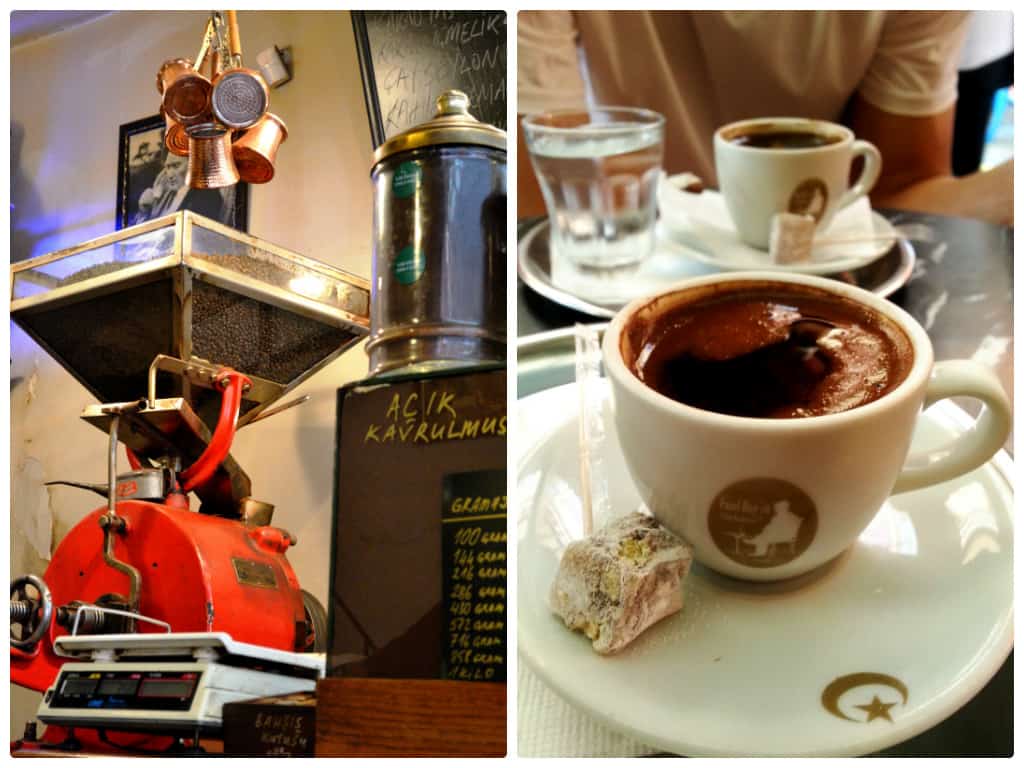 There isn't really a coffee that tastes like it anywhere else, and it's to be enjoyed with companionship and over conversation. It can round off glorious meals or be enjoyed as a pick-me-up during the day. You'll find this dark nectar served in every restaurant and cafe across Istanbul, but for the very best visit Fazil Bey in Kadıköy where they roast and grind their beans on site. This was quite simply the best I've ever had – silky smooth with hints of cocoa.
Related post: There is a rather lovely blog post from Delicious Istanbul called 5 Simple (Yet Little Known) Rules to Enjoy Turkish Coffee – do have a look.


Address:
Fazil Bey, Serasker Cad. No1 A Tarihi Kadıköy Çarşısı Phone : +90 216 4502870


3) Kahvaltı (breakfast)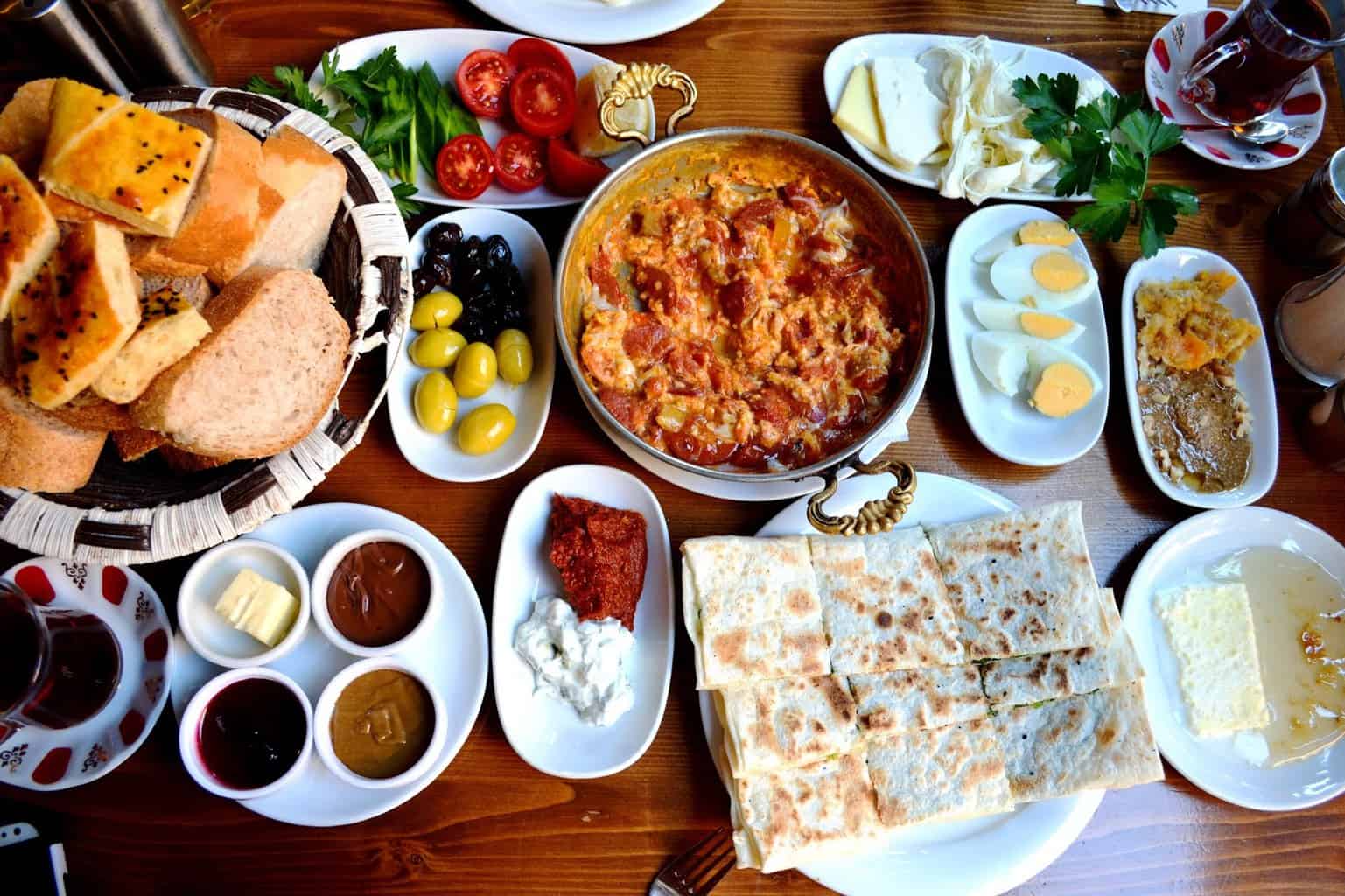 Cast your mind back to the history lessons of your youth, recall the huge banquets typical of Tudor meals, and you'll have something close to how the Turks often treat the first meal of the day. Forget bowls of spiritless cereals or slices of granary and marmite inhaled as the front door slams behind you, breakfast time in Turkey is a pretty big deal. When done to its fullest, you'll be met with a dizzying spread of fresh produce that will often keep you going until dinner time, perhaps with a small snack (simit? see above) somewhere in between.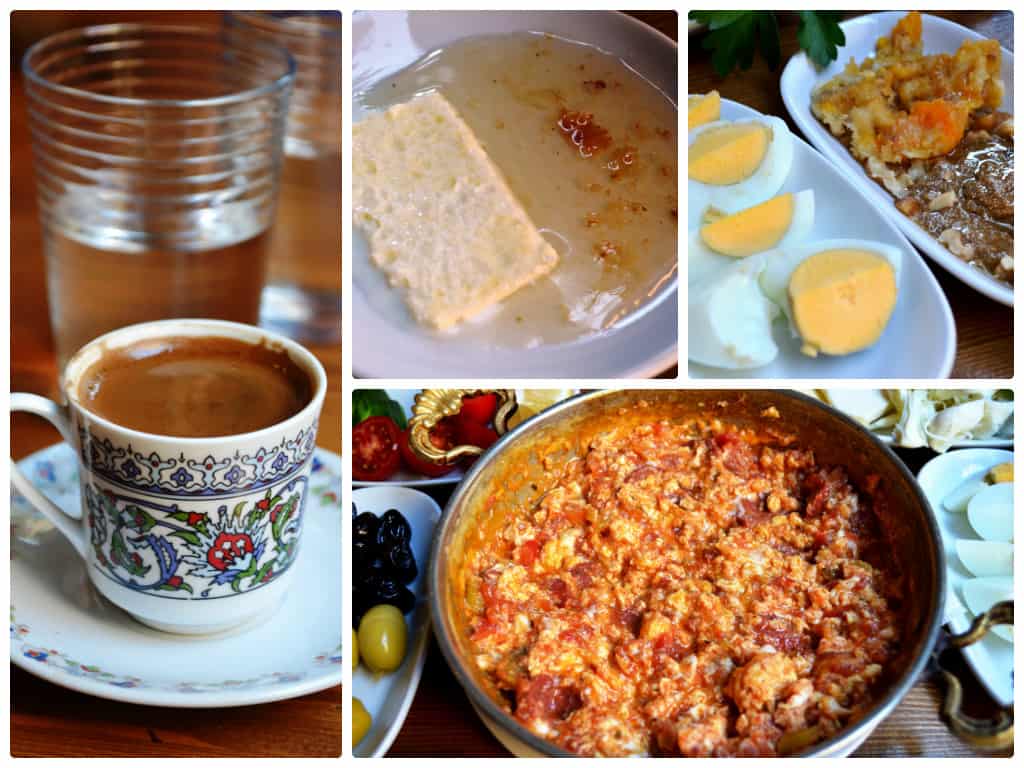 There are some very typical dishes that can be found at the Turkish breakfast table and to experience the full works, Van Kahvaltı Evi in Beyoğlu delivers in spades. Run by a team of young Kurds and replicating the breakfast joints prolific in the city of Van in the east (not far from Turkey's border with Iran), the spread includes typical Turkish breakfast appearances (such as tomatoes, cucumber, olives) along with cheeses from the city of Van itself, eggs, pastries and more.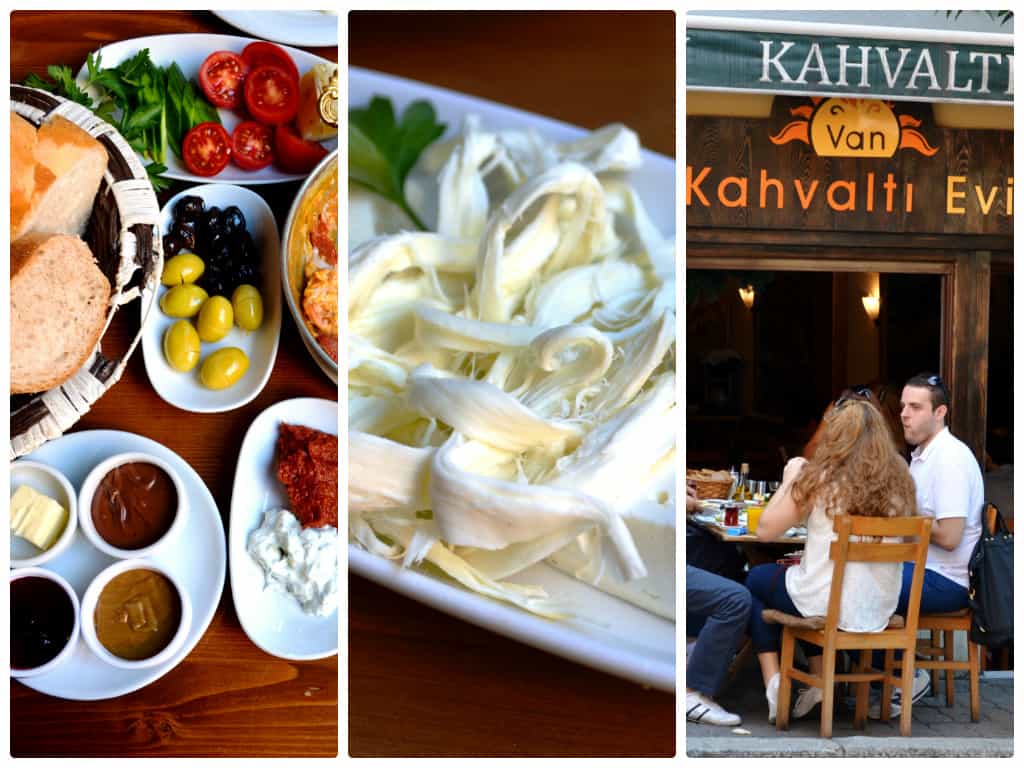 Here's what you can expect from the Serme Kahvaltı (Breakfast Spread) menu – this is the bad boy:
Peynir – cheese, several different types
Kaymac ve bal – clotted cream served in a dish of honey, quite exceptional
Tereyağı – butter
Zeytin – an assortment of olives
Murtuga – local to Van, bread coated in egg and flour and fried in oil
Kavut – local to Van, ground wheat, black pepper and sugar simmered together in butter
Pekmez – fruit molasses
Tahin – tahini
Reçel – jam
Haşlanmış yumurta – boiled eggs
Domates, salatalık – tomatoes, cucumber
Sınırsız çay – unlimited Turkish tea
Ekmek – endless baskets of freshly baked bread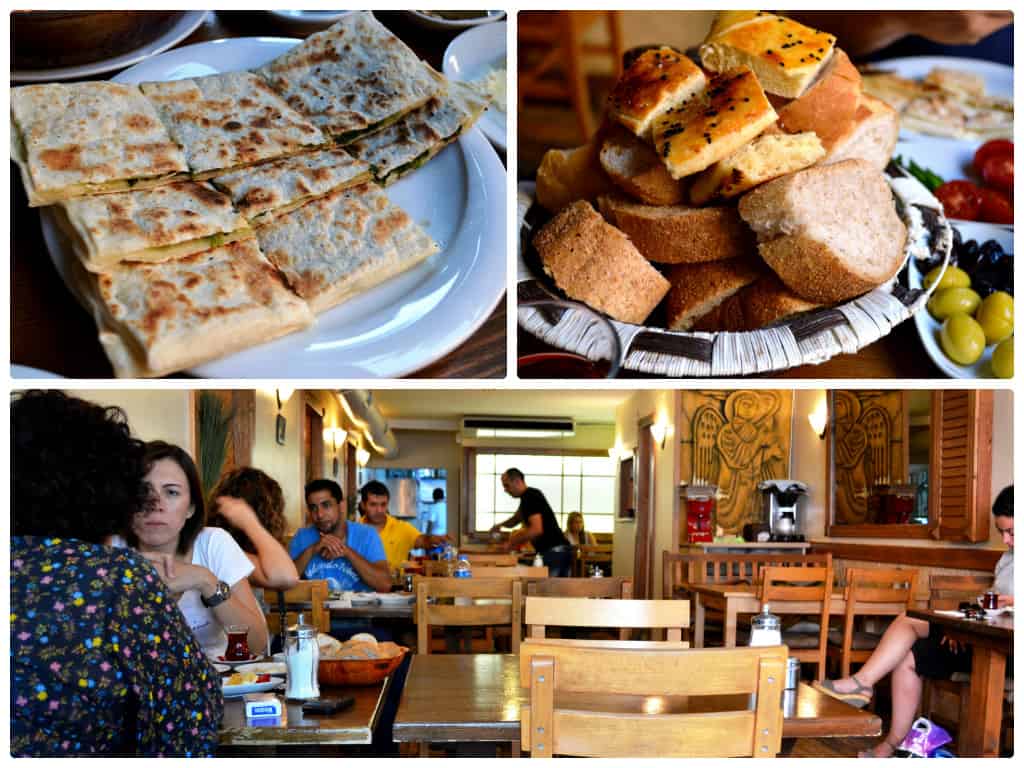 In addition to this set menu, you can (and should – come hungry) order extras which simply cannot be missed. These include menemen (scrambled eggs cooked with peppers and a bit of spice) and gözleme (very thin and fresh bread dough folded around a filling such as spinach, potatoes or cheese and cooked on a flat griddle). Round off with a Türk kahvesi (see above) and possibly a nap.
Is it acceptable to have breakfast three times a day? It should be.
Address:
Van Kahvaltı Evi, Defterdar Yokuşu 52/A, Cihangir, Beyoğlu
Phone: 212-293-6437


Related posts:
There's a place in Fulham that makes a very decent attempt at a traditional Turkish breakfast. Did I mention it was buffet and only £7.95?
Here's my own menemen recipe if you want to try it at home. The purists out there will shout at me for not scrambling the eggs, but I just can't resist a cascading yolk.
4) Lahmacun
The words 'freshly made' and 'bloody gorgeous' do not often associate themselves with those of 'fast food', but in Istanbul the only way to have the latter is by involving the former. Lahmacun (prn. [luh-muh-jun]) is a hugely popular and very typical example of that thing the Turks do so well – quick and tasty bites that blast golden arches and 'having it your way' right out of the picture.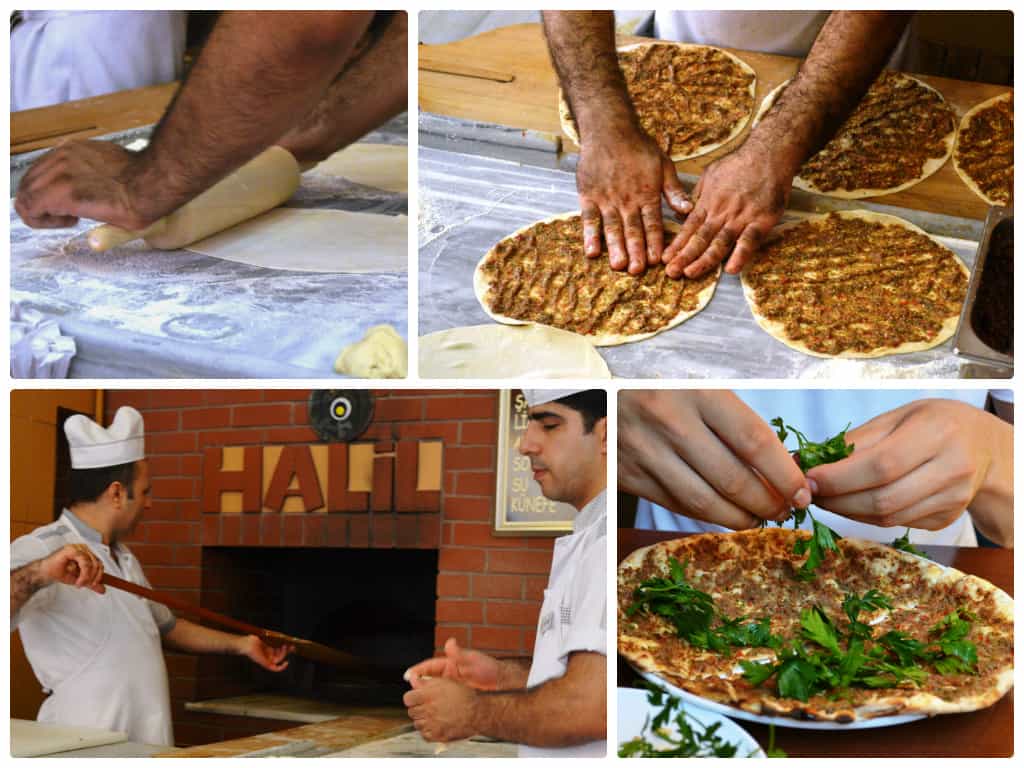 It is comprised of a thin dough topped with a mix of wonderfully spiced minced lamb and finely diced peppers, blasted for a minute in a scorching pizza-type oven, dressed with fresh parsley, drizzled with lemon, rolled up and devoured.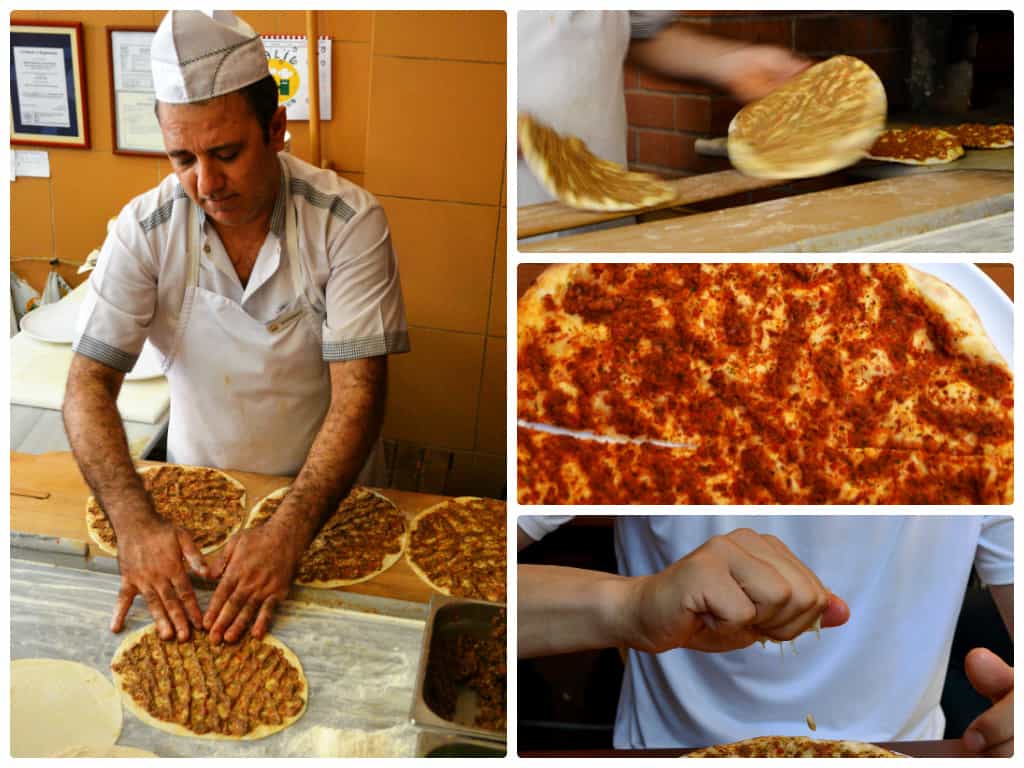 Chains are not all bad and certainly not in Istanbul. Halil Lahmacun have many branches and do these so fantastically well. A dough master separates small balls of dough from a large mass keeping them in a pile on the side ready for an order. When one comes in, he rolls out the ball to a paper thin layer. A second person tops this with the mince mix whilst also commandeering the oven. By the time you've sat down and taken a swig of your ayran (yoghurt drink – works wonderfully with the spice, get it), your plate presents itself before you.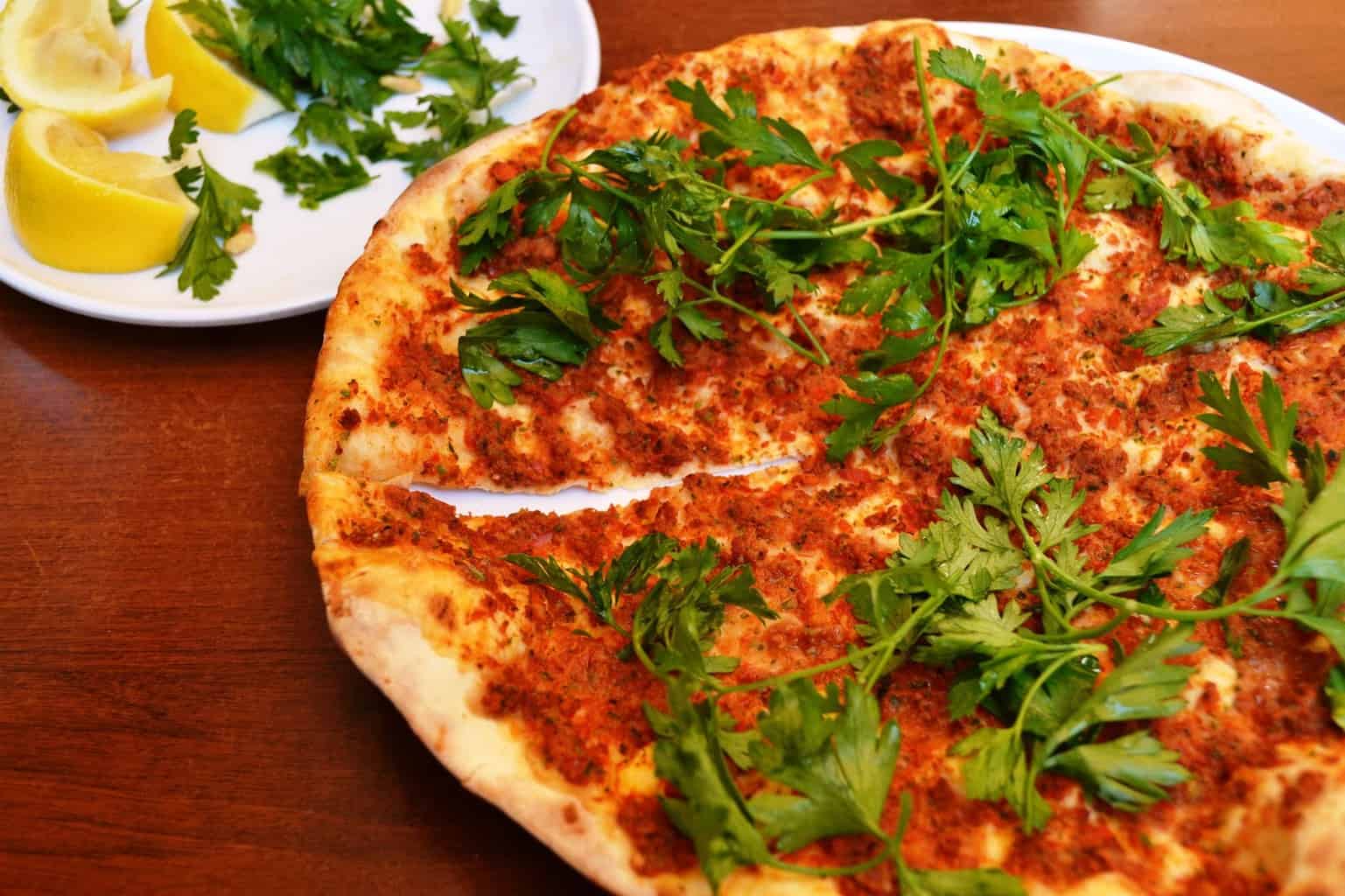 I'm not entirely sure it gets much better. Oh wait, it does (see next entry).
Address:
Halil Lahmacun, Guneşlibahçe Sokak 26, Kadıköy
Phone: 0216-337-0123
Related post: My own lahmacun recipe – try it at home.
5) Durum
Part two of unrivalled fast-food in Istanbul comes in the form of durum. Dürümzade was visited by Anthony Bourdain himself in his Istanbul episode of No Reservations (which is how I know about it) and described them as 'tastebud torpedos'. The flavour sensation from these rolled up beauties has the pleasure receptors going into overdrive. Quite simply, some of the best tasting food you will get your chops around in this city.
Oustandingly well flavoured and spiced lamb mince is manipulated around skewers and cooked over coals (you can tell this is onto a winner already). The flat breads are squeezed around the skewers for a few seconds to absorb the meaty juices (be still my beating heart) and placed over the coals until blistered from the heat. When the meat is cooked, they're placed on the bread along with red onions, tomatoes, parsley and very importantly, sumac (a sort of citrussy spice – I can't think of any other flavour more fitting to Turkish cuisine). They are rolled up, served with pickled chillies and on their own provide wonderful heat.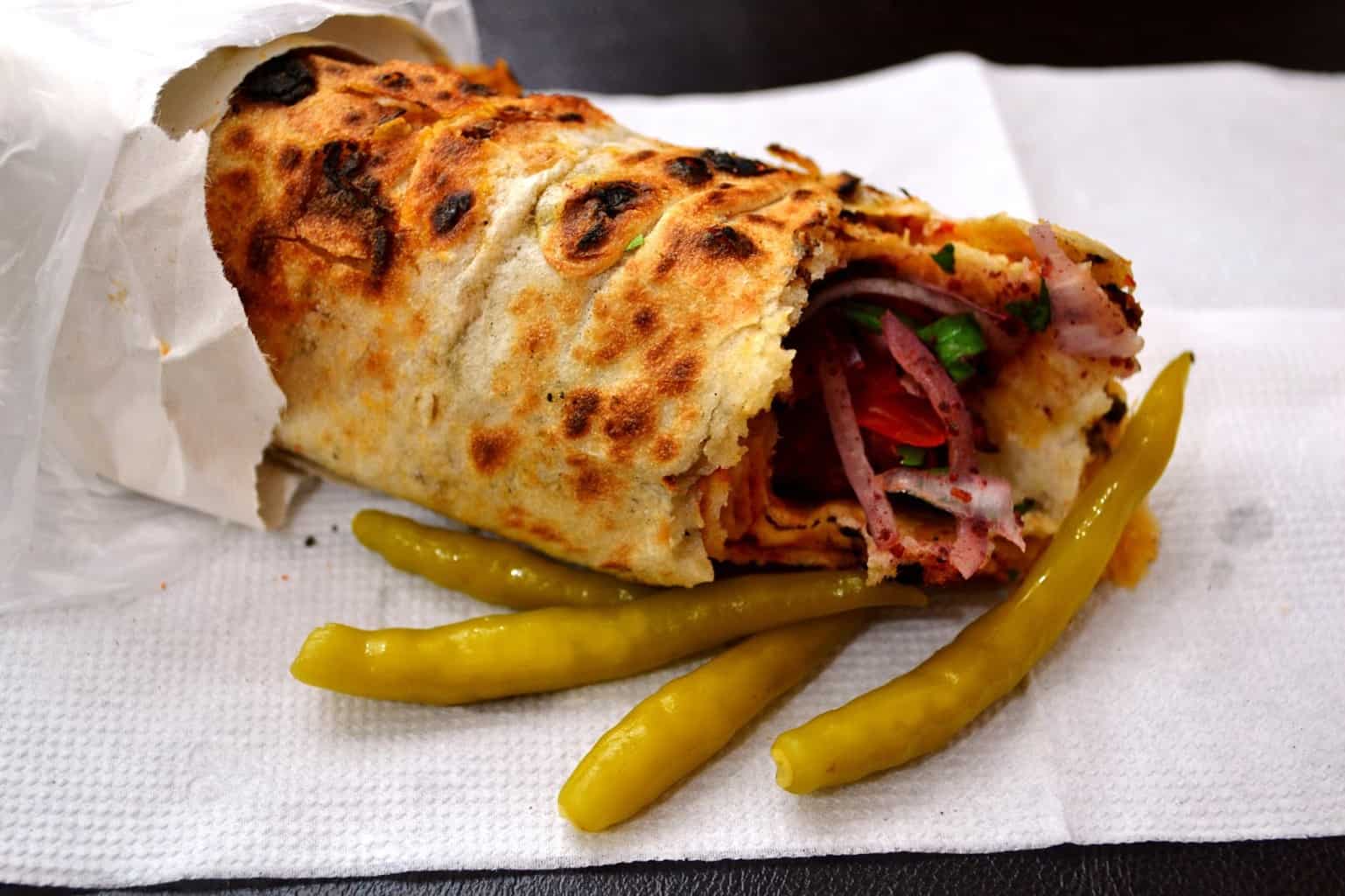 Salty, meaty, spicy, citrussy – you need these in your life. One of these alone warrants a plane journey.
Address:
Dürümzade, Kalyoncu Küllük Caddesi 26/A, Beyoğlu
Phone: 212-249-0147
6) Fasulye (beans)
If when asking for the menu in a restaurant you are presented with a response of 'it's just beans and rice', you know you're onto something good. Any restaurant that can sustain business over multiple years by serving just two things must do those two things really, really well.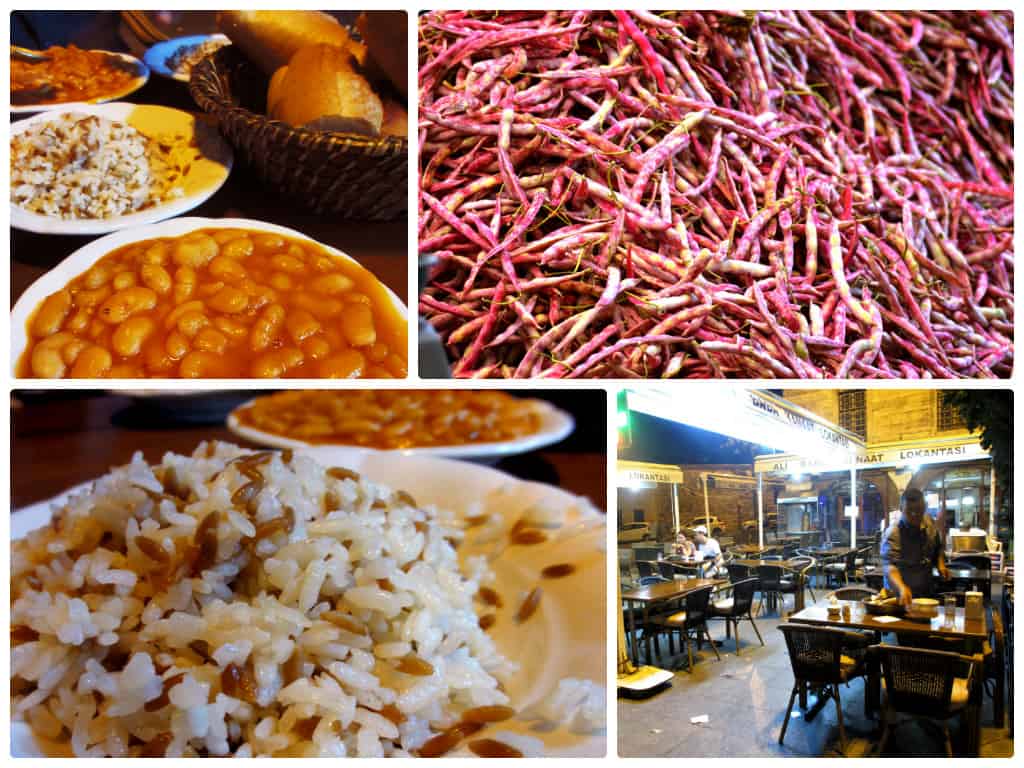 Beans (fasulye) and pulses in general are a huge part of Turkish cuisine and can be found at most table spreads, either in the form of mezze (starters) or part of main dishes. Erzincanlı Ali Baba can be found on a street full of fasulye based restaurants that hugs the side of the statuesque Süleymaniye Mosque, and this is one of the best.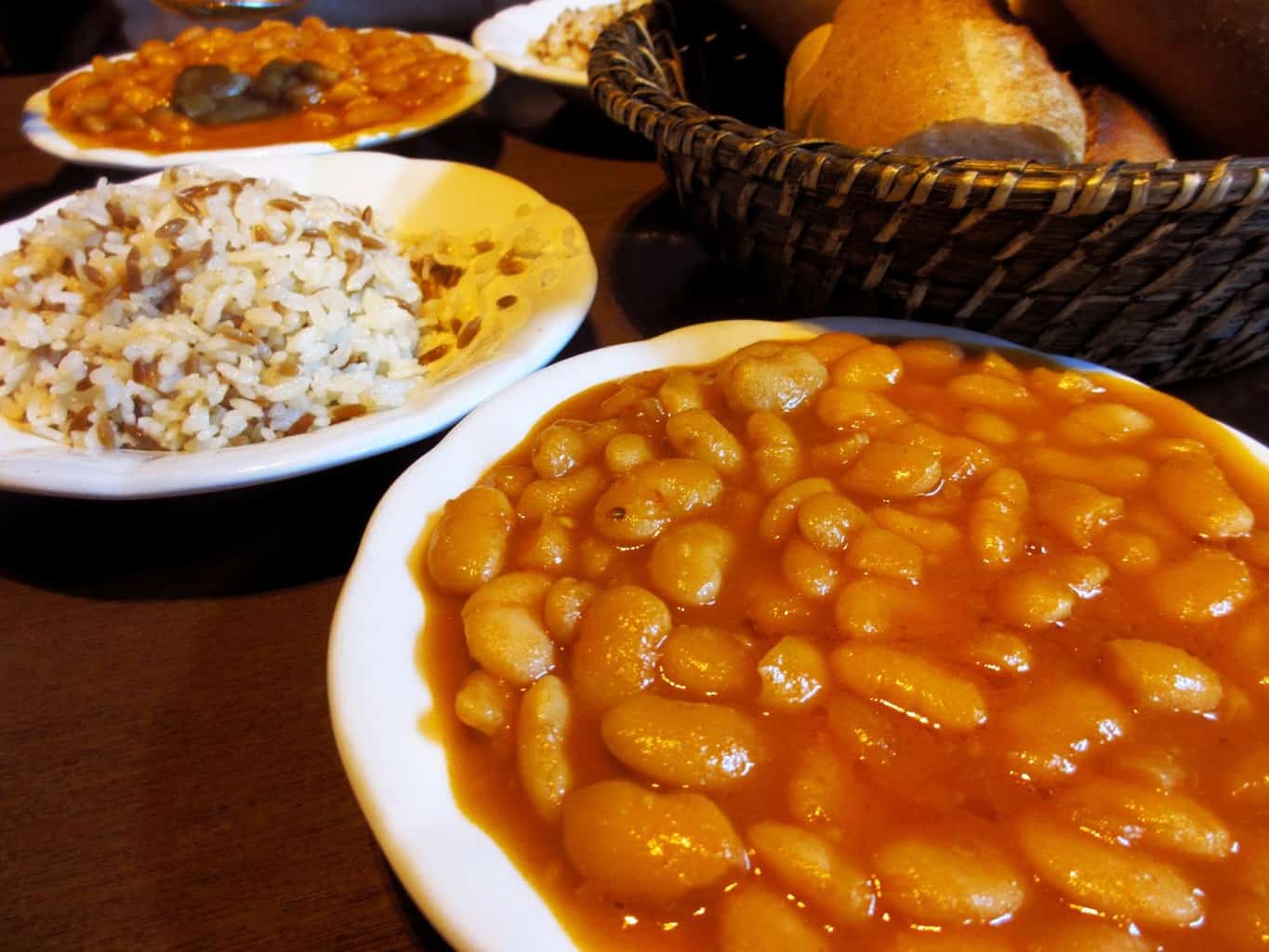 Ladling out bowls of beautiful and simply cooked Erzincan-style baked beans with a soupy tomato base that includes onions and chilli pepper, and fat white creamy pulses. Along with this, order a portion of al dente pilaf (you'll still be given bread – it's not possible to have a meal without it in Turkey) and treat yourself to a wholesome and meat-free plate of comfort.
Address:
Erzincanlı Ali Baba, Prof. Sıddık Sami Onar Caddesi 11, Süleymaniye
Phone: 212-513-6219
Related post: Here's a very simple Turkish recipe to try at home, this time involving green beans and lamb.
7) Içli köfte
These bulgar wheat shells housing ground meat, onions, parsley and spices have been served from this street side trolley on the arterial pedestrianised road of İstiklal Caddesi for years. Made and cooked five flights up in the Sabırtaşı restaurant itself where they are served boiled, the al fresco offering is instead fried to a golden perfection and all the more superior for it.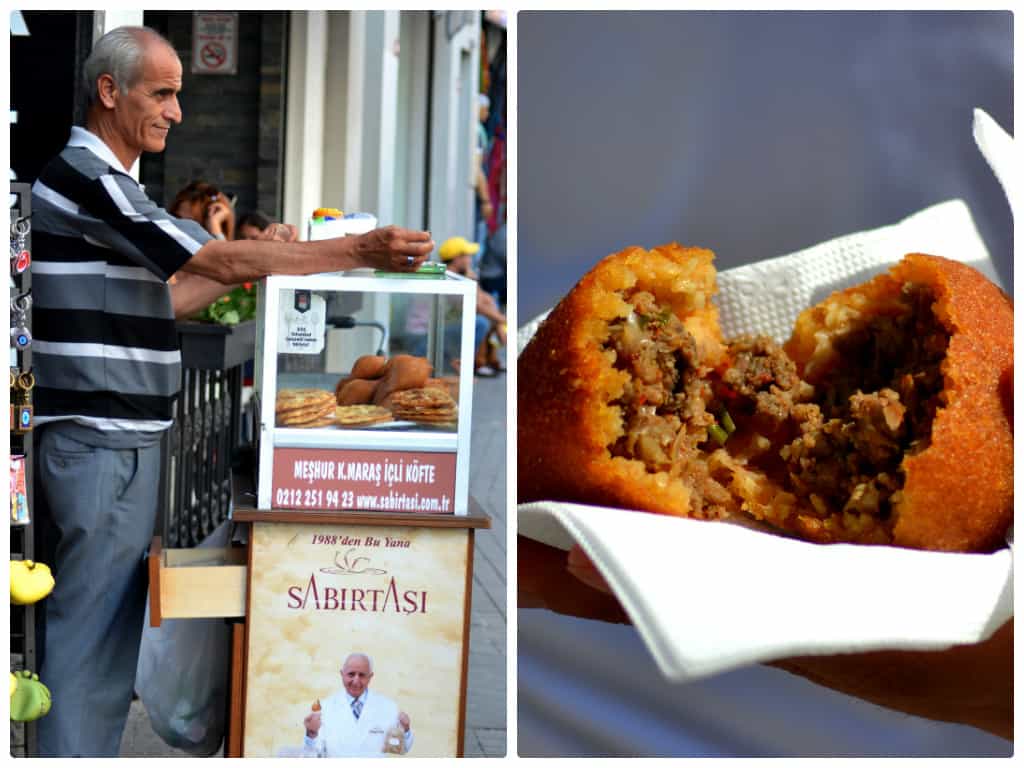 Crunchy shells broken to reveal full flavoured and moist contents within, they're quite perfect to fill the void between walking from one end of the street to the other. An excellent example of Istanbul's street food scene.
Address:
İstiklal Caddesi 112 (across from YapıKredi Bank), Beyoğlu
Phone: 212-251-9423
8) Bal (honey)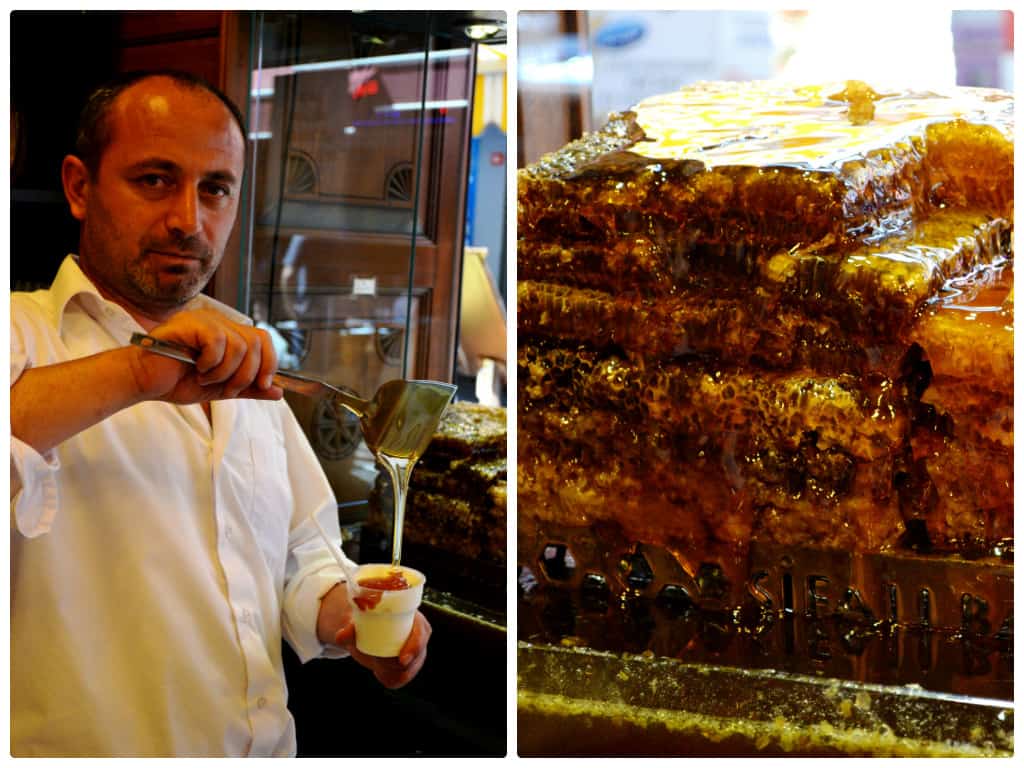 If you didn't already know, Turkey produces some incredible honey and Etabal in Kadiköy glows a warm amber from the street-side from this single ambrosial product it specialises in. Glass cases house colossal slabs of honeycomb sitting in pools of golden nectar. Walls are lined with jars of honey and honeycomb of all different grades, such as special Karakovan honey from the Kaçkar mountains, or honey with Propolis (thought to be a natural antibiotic).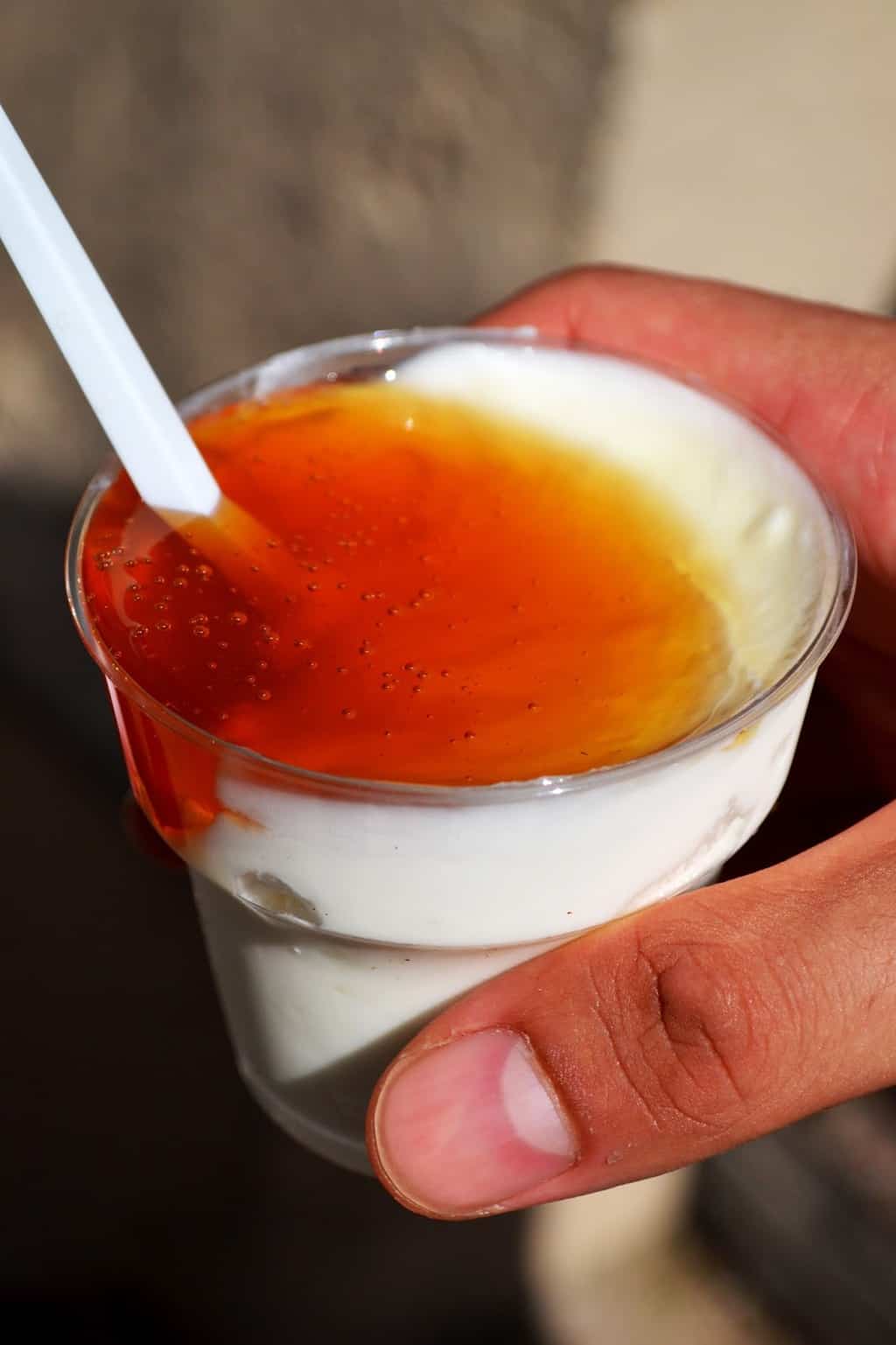 This is a perfect place to purchase some delicacies to enjoy back home. But if you'd like some of the sweet stuff for the road, they sell little pots of fresh yoghurt with a generous scoop of honey from those glass cases ladled over them. A warm glowing beacon ready to devour and enjoy. It was sublime.
Address:
Eta Bal, Güneşli Bahçe Sokak No.28/A, Kadiköy
9) Fırın Sütlaç (baked rice pudding)
Simply put, this is one of my favourite desserts I've ever had from anywhere. And as is often characteristic of the best plates of food, it is the very epitome of simplicity. It's a light, milk based dessert with rice and sugar and sometimes flavoured with rose water. It's thickened with a bit of corn starch and this (fırın) version includes a bake in the oven.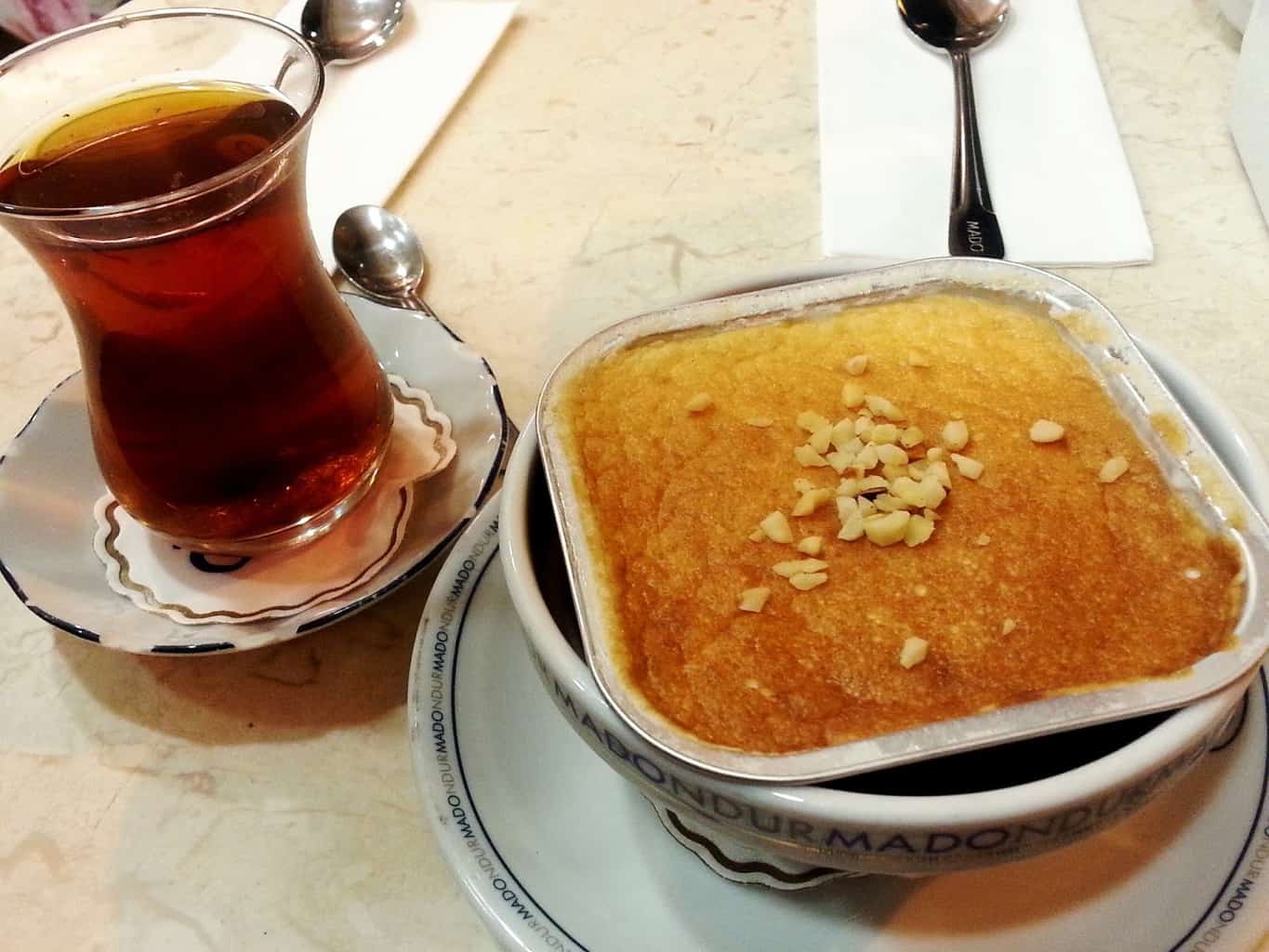 It should be noted that a lot of places serve this dish and they do seem to vary quite considerably. Most are generally good, but the ones served in the quality dessert chain Mado remain in my opinion unmatched by others, and I eat sütlaç everywhere that serves it.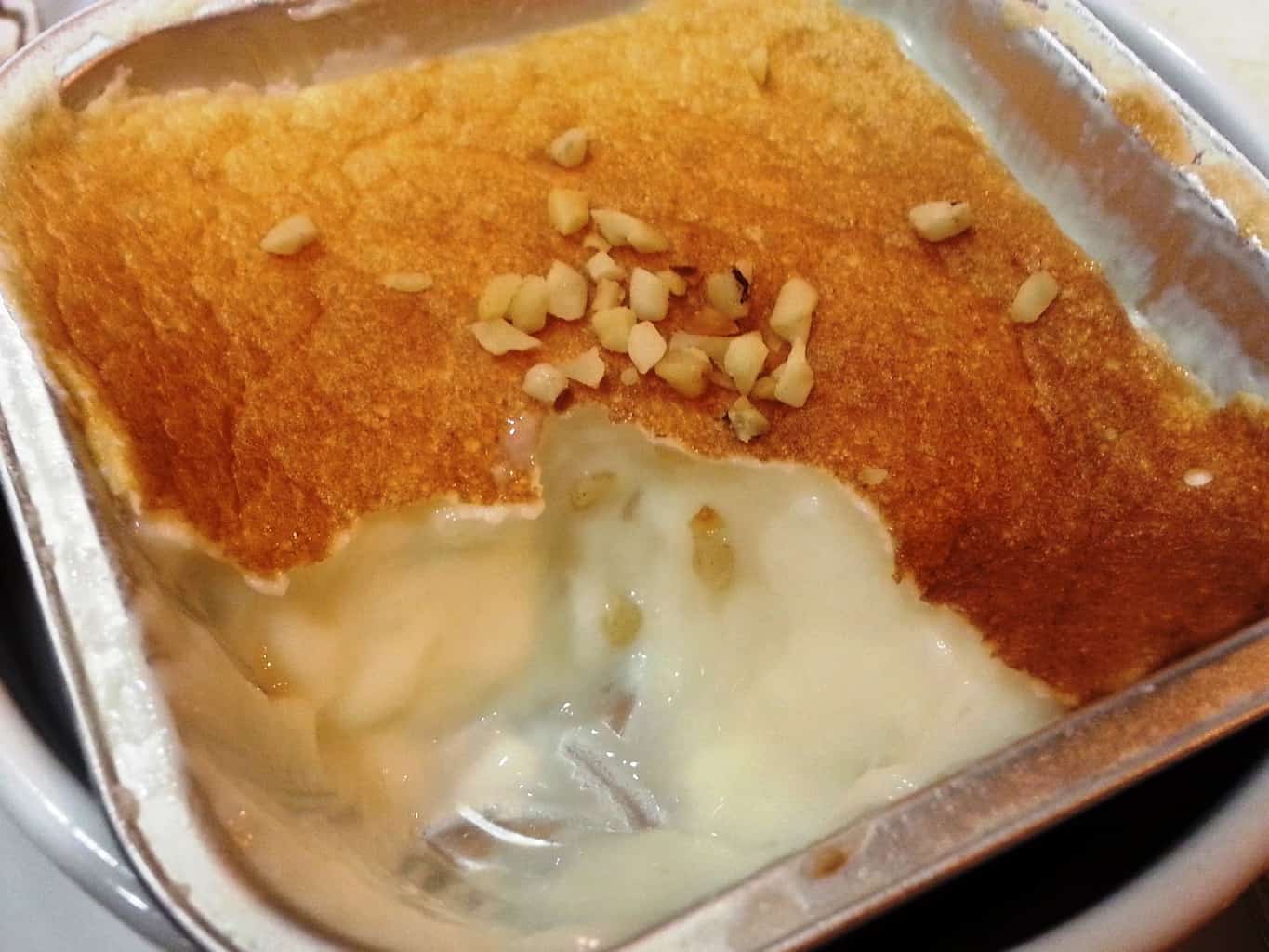 Mado's offering tastes like nothing else I've ever had – delicate, milky and actually with very little rice. A beautiful brown skin on top concealing creamy contents within, a glorious wobble when you give the plate a shake, and topped with chopped toasted hazelnuts. It's cool, calm, coating in its qualities, not in your face, not too sweet; simply exquisite and I just can't get enough of it.
Address:
This chain is prolific – lucky us. Take a look here for Istanbul branches.
10) Künefe
It's no secret that salt and sweet make a beautiful pairing and one the Turks embrace at every given opportunity, usually with the salt provided by cheese. Creamy white cheese is often served with sweet ripe melon and eaten with honey or jam on bread (halloumi and strawberry jam sandwiches were one of my favourite packed lunches – my classmates would turn their noses up, uneducated in the delights of such a taste sensation – try it). I also dip my McDonald fries into my milkshake for a similar effect, but the less said about that the better I suspect.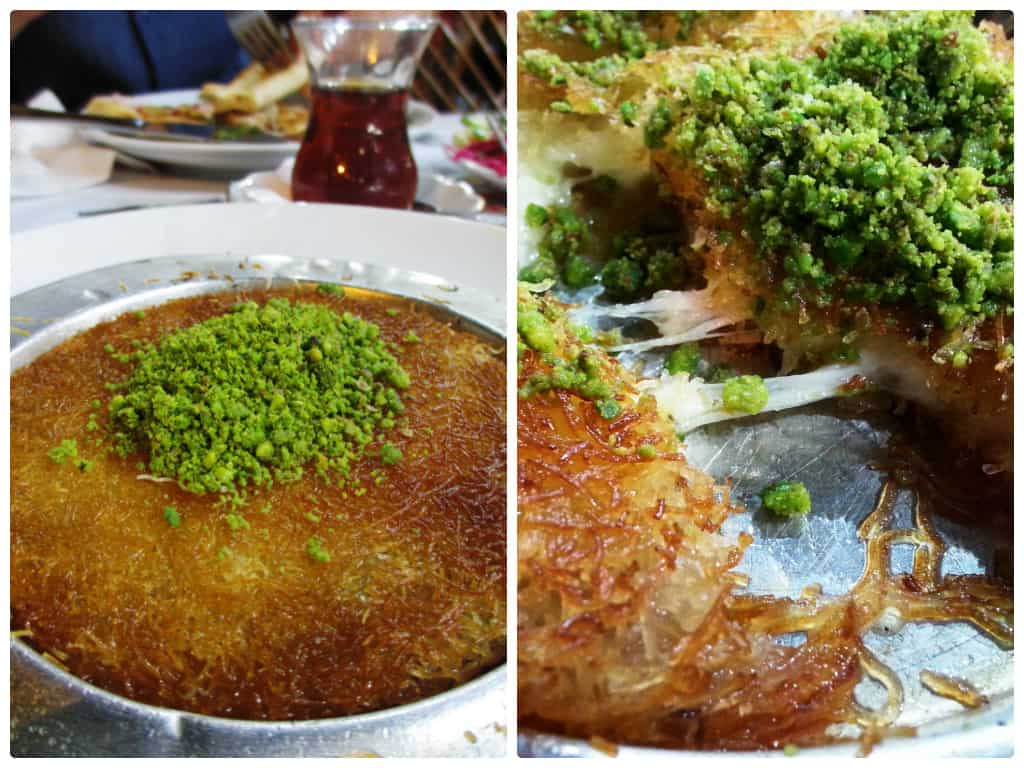 So it comes as no surprise to me that the Turks would include cheese at the centre of what is essentially a gorgeous slab of shredded filo pastry cooked in butter and soaked in syrup (much like baklava). A new dish to me introduced on this latest visit to Istanbul, and one I'll certainly be returning to. Again, I tried a couple of these while out there and the one at Sur Ocakbaşı (famous for their lamb cooked in a pit incidentally – have that for mains) won hands down.
Crisp golden outer edges and base, softer pastry inside all sweet from the syrup, coupled beautifully with melted salty cheese at the centre, and topped with vibrant green chopped pistachios. Like hot, sticky and buttery Shredded Wheat with a hint of savoury. Really very excellent and a worthy contender for my second favourite dessert in Istanbul.
Address:Sur Ocakbaşı, Zeyrek Mh., 34083 FatihPhone:+90 212 533 8088
And there you have it, my humble offering of the direction you should send your taste buds towards when in Istanbul. In all fairness, there is a hell of a lot of great eating to be had in this enchanting city – follow the locals to make a list of your own and you won't go far wrong.
But do be sure to visit – I guarantee you'll fall hard for the place.
Afiyet olsun.