Last Updated on November 17, 2022 by Leyla Kazim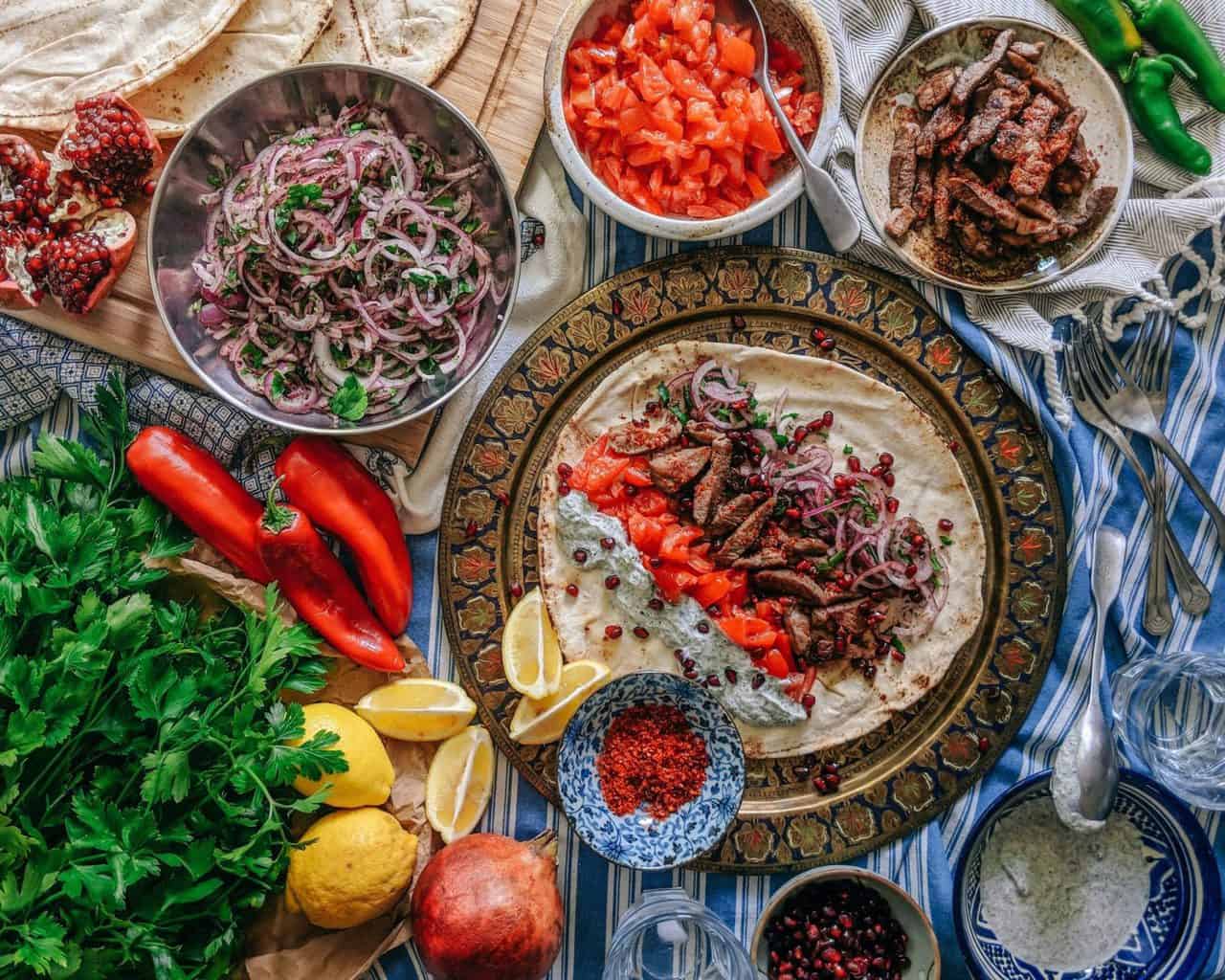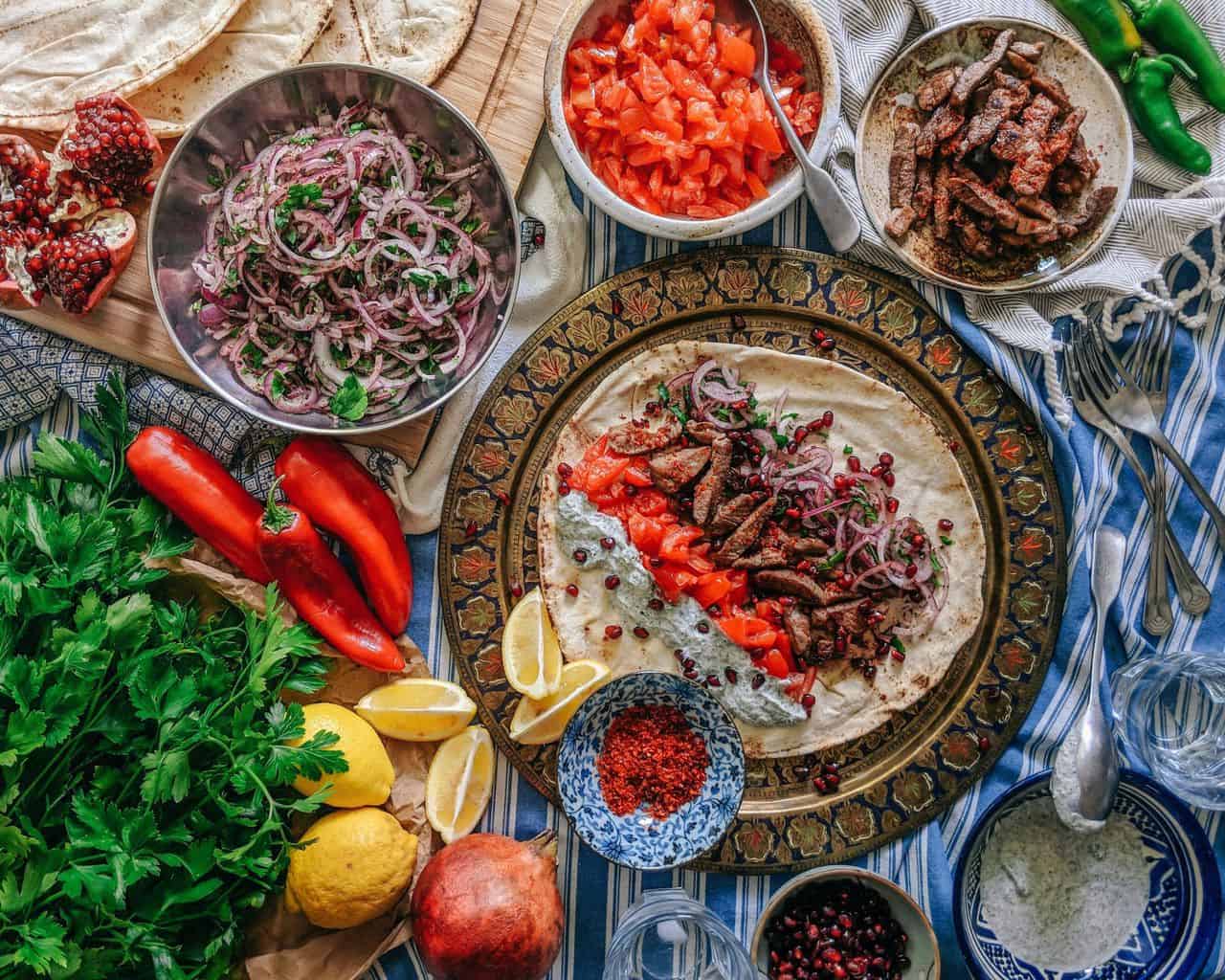 Why lamb recipes are my absolute favourite to cook
I love lamb and lamb recipes. Lamb is my favourite meat. There, I've said it. No offence to the other meats, of course. But if I'm cooking meat at home, most of the time it will be lamb. Quick and easy lamb recipes are the stuff my foodie dreams are made of.
I put it down to my part-Turkish background where the meat of choice is generally lamb. And the fact that lamb is freakin' DELICIOUS.
For the avoidance of doubt, you may have spotted that most of the meat recipes that currently exist on my blog are with lamb.
Here are some tasty examples for some further reading: Pomegranate Slow Cooked Lamb Shoulder, Lahmacun | The Favourite Turkish Street Food, Turkish Spring Lamb Recipe With Green Beans, Mauritian Butter Bean And Lamb Curry
In this blog post I'll share with you one of the best easy lamb recipes using glorious British lamb leg steaks – it's a cracker!
Sourcing the best lamb recipes back to the farm
When the nice people over at the Agriculture and Horticulture Development Board (AHDB) got in touch asking me to create and share a recipe using lovely British lamb leg steaks to celebrate Love Lamb Week (1-7th September 2018), I jumped at the chance!
But it got better. Not only did they want me to come up with a tasty lamb leg steak recipe, they also wanted me to visit a British lamb farm. And for those of you who regularly follow my antics, you guys will know I love farms.
So off I trotted to a gorgeous part of the Cotswolds where I met young farmer Rollo and got my first taste of British sheep farming.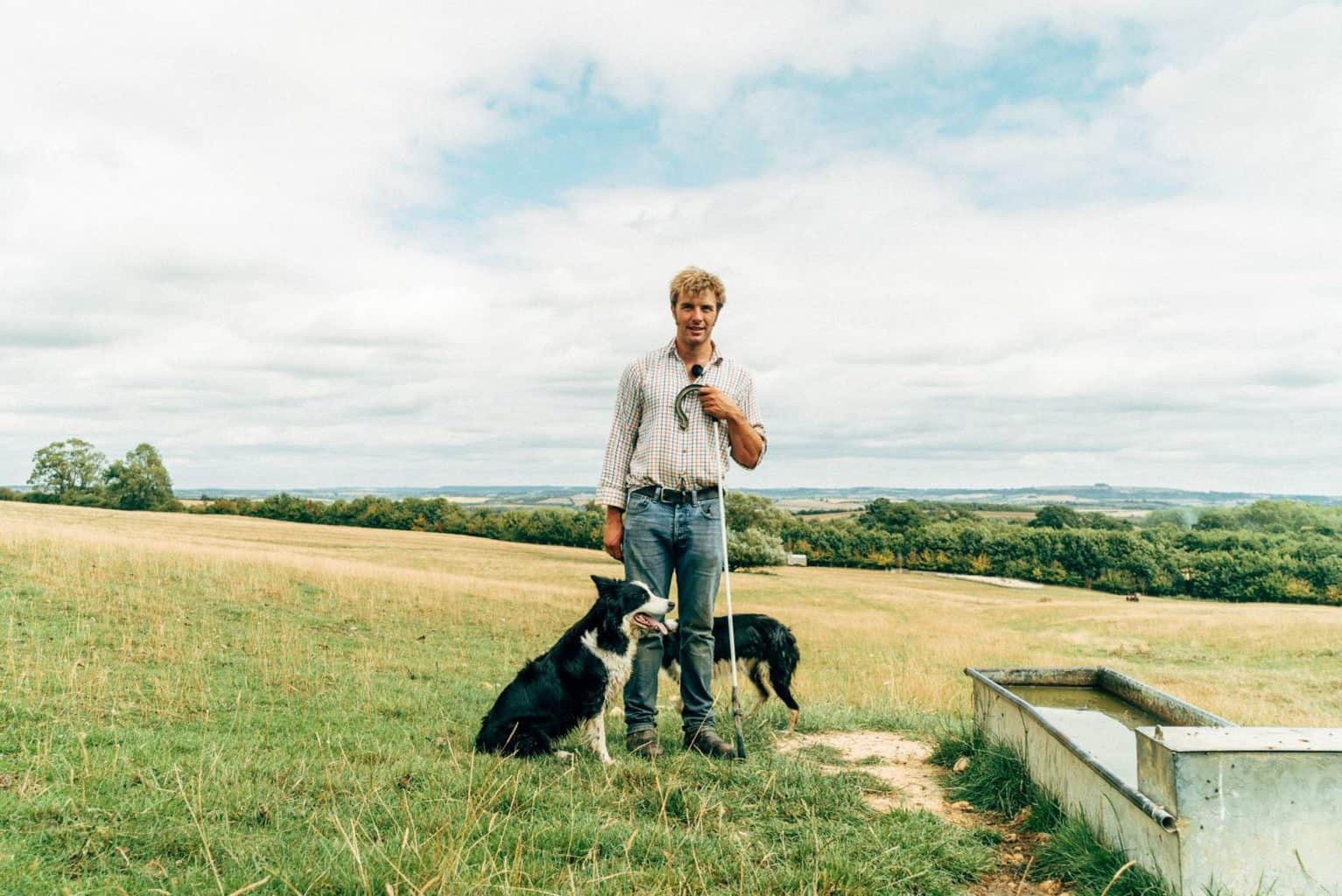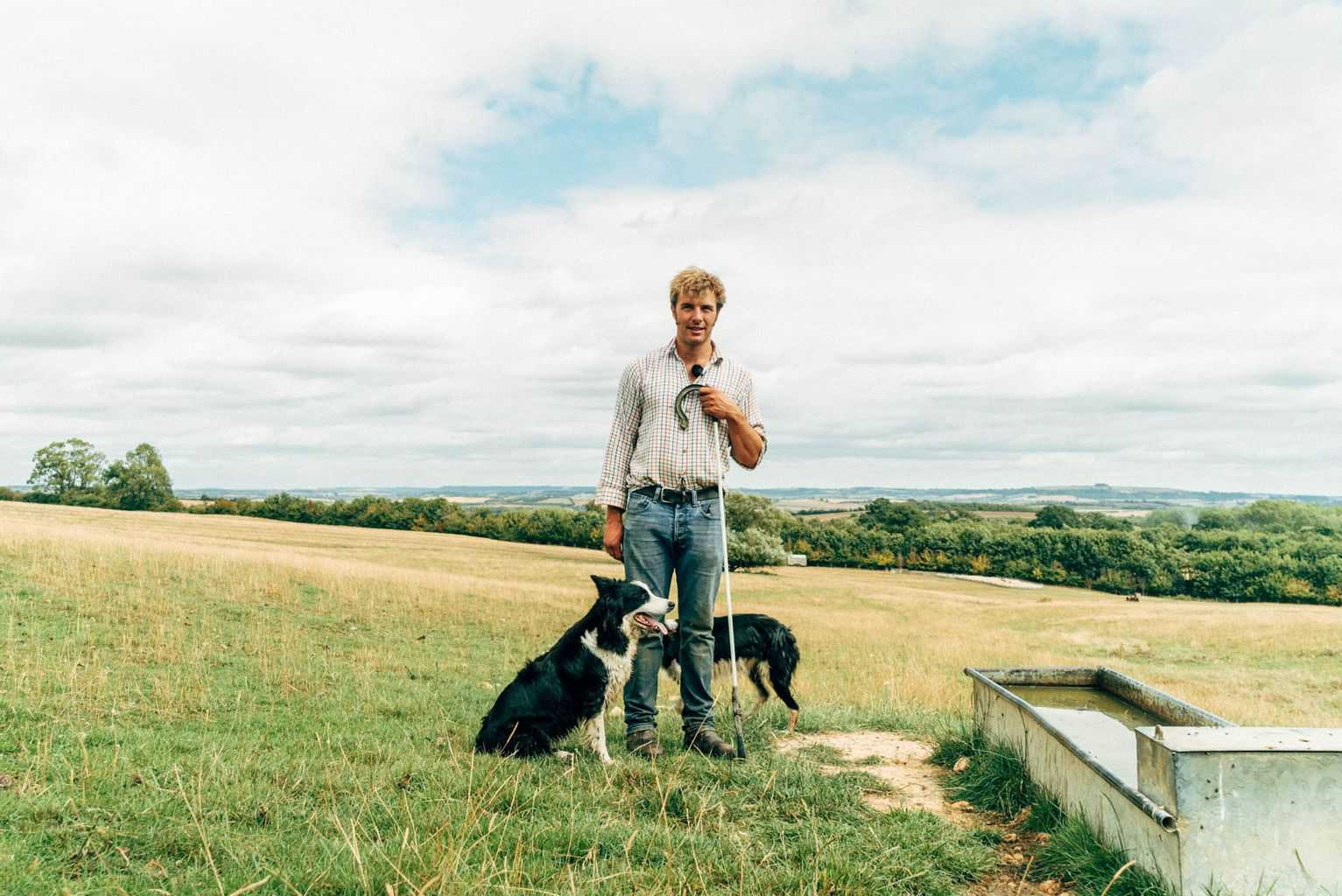 Not only did I get my hands dirty with the gorgeous sheep, but I also learnt loads about how sustainable farming is key to Rollo's business and some of the methods he uses.
Lamb is produced sustainably, supporting jobs in rural areas with almost 50% of lamb being produced on the country's mountains, moorlands and marshes. All that hard work results in some delicious lamb leg steaks!
And whilst lamb is often associated with Easter, I found out from Rollo that it's actually more readily available in the second half of the year. Who knew?
British sheep farming: living a farmer's life for the day!
But don't just take it from me. Here's a fantastic video of my day on Rollo's sheep farm shot and produced by Lewis Parsons.
It was a terrific experience and a real pleasure to see just how much care Rollo has for his animals and the environment. You may well learn stuff you didn't know about sheep, lamb and sustainable farming by watching – I certainly did!
[P.S. Could this be an audition tape for Countryfile? 😅]
Don't forget to subscribe to my YouTube channel!
Why lamb leg steaks are the perfect cut for mid-week meals
The best lamb recipes are traditionally associated with a long and slow cook. And if I'm honest, that's the way I've tended to cook lamb recipes myself.
Unless we're talking about lamb mince, which is my go-to meat for burgers or koftes and take no time at all to cook. YUM.
But actually, simple and easy lamb recipes are a great option when you want to rustle up something quick. And the cut to go for are lamb leg steaks.
I'll admit, this was a new cut to me. But they're readily available in supermarkets – I'd just never noticed them before!
Plus, lamb is great as part of a healthy, well balanced diet. It's naturally rich in protein and zinc, low in sodium, and provides seven vitamins and minerals. In addition to the fact that it's exceedingly tasty.
And so, I present to you this Turkish-inspired lamb leg steak recipe! This is great to cook for a group of people as everyone builds their own wrap from the tasty components.
These wraps are something I make often, usually with lamb leftover from a roast. But it turns out that one of my favourite easy lamb recipes is spiffing made with some freshly cooked lamb leg steaks too.
I'm confident this will end up being one of the best lamb recipes in your repertoire and hope you'll return to it often!
How to make quick and tasty Mediterranean-style wraps with lamb leg steaks
The quantities for this lamb leg steak recipe will make four wraps and it takes about 30 minutes. Each wrap will contain one lamb leg steak which equals around 8 slices of steak.
Ingredients for one of the best lamb recipes!
2 x small red onions, finely sliced
1 tsp sumac (found in the spice aisle in most major supermarkets)
Small bunch of flat leaf parsley, finely chopped (including stalks!)
8 x tomatoes, pulps removed and roughly chopped
100g strained Greek yoghurt
1 tsp dried mint
Olive oil
4 x lamb leg steaks, around 100g each, sliced into appx. 1cm thick strips
1/2 tsp pul biber (or dried red chilli flakes)
4 x Mediterranean-style round flat breads (or tortillas)
Seeds from half a pomegranate (you can buy these in ready-to-go packages for ease too)
Lemon wedges to serve
Method for one of the best easy lamb recipes
First, make a quick marinade for the lamb. To do this, add your slices of lamb leg steak to a bowl with a good glug of olive oil and the juice from a wedge of lemon. Make sure each slice is coated and set it aside for 5 minutes.
To make the onion salad, mix the sliced onions, most of the chopped parsley and sumac in a bowl and season with salt. Set aside.
Mix the yoghurt and dried mint in another bowl, season with salt and set aside.
You'll also have your chopped tomatoes in a bowl on the side, but season with salt just before serving or it will draw the liquid out and make your bread soggy.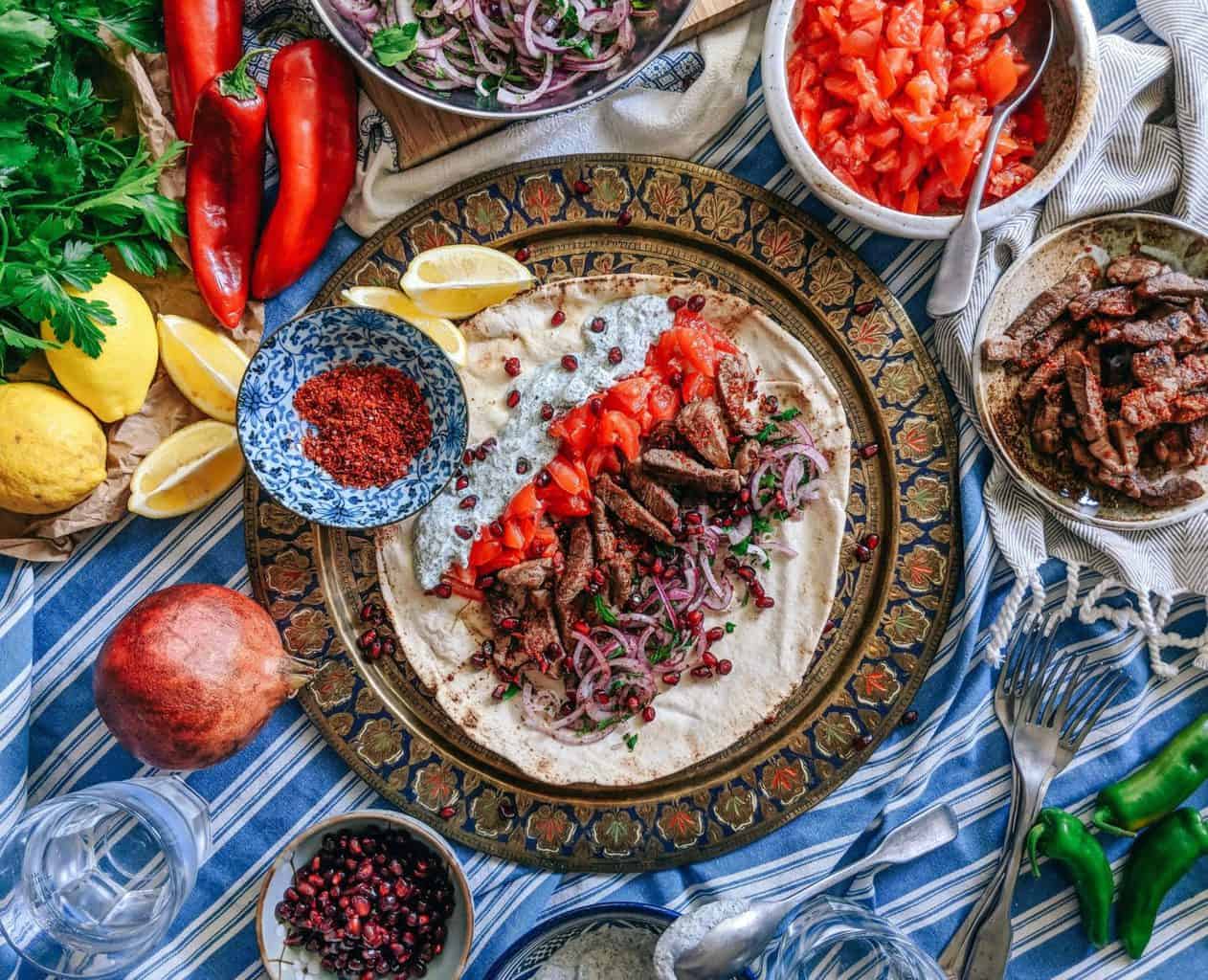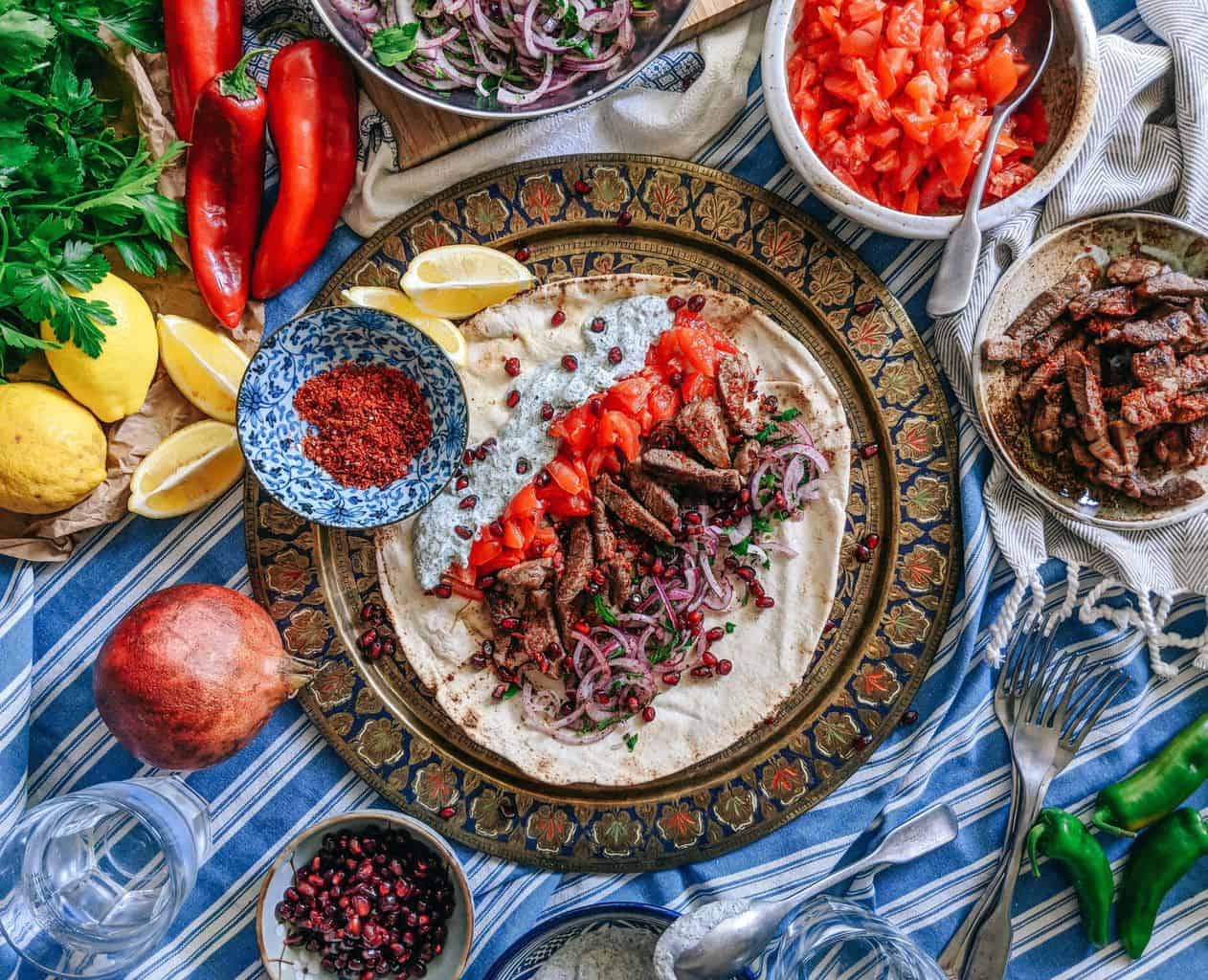 Now it's time to cook the lamb leg steaks! Heat up a frying pan to a medium / high heat. Add the slices of lamb leg steak and fry until all sides are nicely browned. There's no need to add oil to the pan as the lamb is already coated in it from the marinade.
Tip into a serving bowl for people to help themselves when building their wraps. Toss the lamb slices in the pul biber (or dried chilli flakes) and some salt to season.
Now's the time to give the tomatoes a quick season with salt.
To assemble these glorious wraps, take a flat bread, add some lamb leg steak slices, tomatoes, onion salad and yoghurt, sprinkle with some pomegranate seeds and add a final flourish of any remaining chopped parsley.
Give your wrap contents a good squeeze of lemon, roll it up and enjoy!
Have you ever cooked lamb leg steaks before? Do you enjoy eating lamb? Do you like the sound of this lamb leg steak recipe? What's one of your best lamb recipes? Do you have any other easy lamb recipes to share? Let me know in the comments below!
This is a sponsored post in partnership with the Agriculture and Horticulture Development Board (AHDB). The whole thing has been great fun, from farm to wrap on a plate!
If you'd like to know more about Love Lamb Week 2018, search for @LoveLambWeek.
Hungry for more recipes? Check out the cooking section of my blog or go direct to some recipes below.
Don't forget to subscribe to my YouTube channel!