Last Updated on November 17, 2022 by Leyla Kazim

The true birthplace of the Cuban sandwich
In this blog post I'll reveal to you where you can find some of the best Cuban sandwiches in Tampa Bay, Florida. But before we dive in, did you know Tampa – specifically the historic Ybor City (pronounced Ee-bor) – is the birthplace of this world famous sandwich?
I've done some wonderful eating during my travels around Florida. For example, St Petersburg has terrific restaurants – here are my top 10 places to eat in downtown St Pete. And if you're destined for Florida's best beaches, here are my suggestions for 10 great places to eat on Florida's Emerald Coast.
But it was only on my recent trip to Tampa Bay that I discovered its association with the Cuban sandwich (aka the Cubano), and the history behind the very existence of this famous Floridian snack. There is even an annual Cuban sandwich festival in Tampa.
You might also want to check out my post on how to spend 24 hours in the best Tampa Bay restaurants. And if you'd like to watch a video of my time in Tampa Bay, including a little intro to the Cuban sandwich, hit play below.
In it I cover the awesome things I ate, saw and did in this super cool part of Florida. And all the places mentioned in this blog post also feature in the video.
A quick history lesson on Cuban sandwiches in Tampa
In the early 20th century, Ybor City in Tampa was the "Cigar Capital of the World," producing more than rival operations in Havana.
As a result, thousands of people globally moved here to work in the industry, mainly from Cuba, Sicily, Spain, Germany and Eastern Europe.
The sandwich was developed as a clever way to feed these workers for lunch, meaning they didn't stray too far from the factories. But each group demanded a little taste of home.
As a result of these cravings for the familiar, the fillings of the Cuban sandwich nicely represented Tampa's multi-cultural immigrant history. And it's remained the same to this day.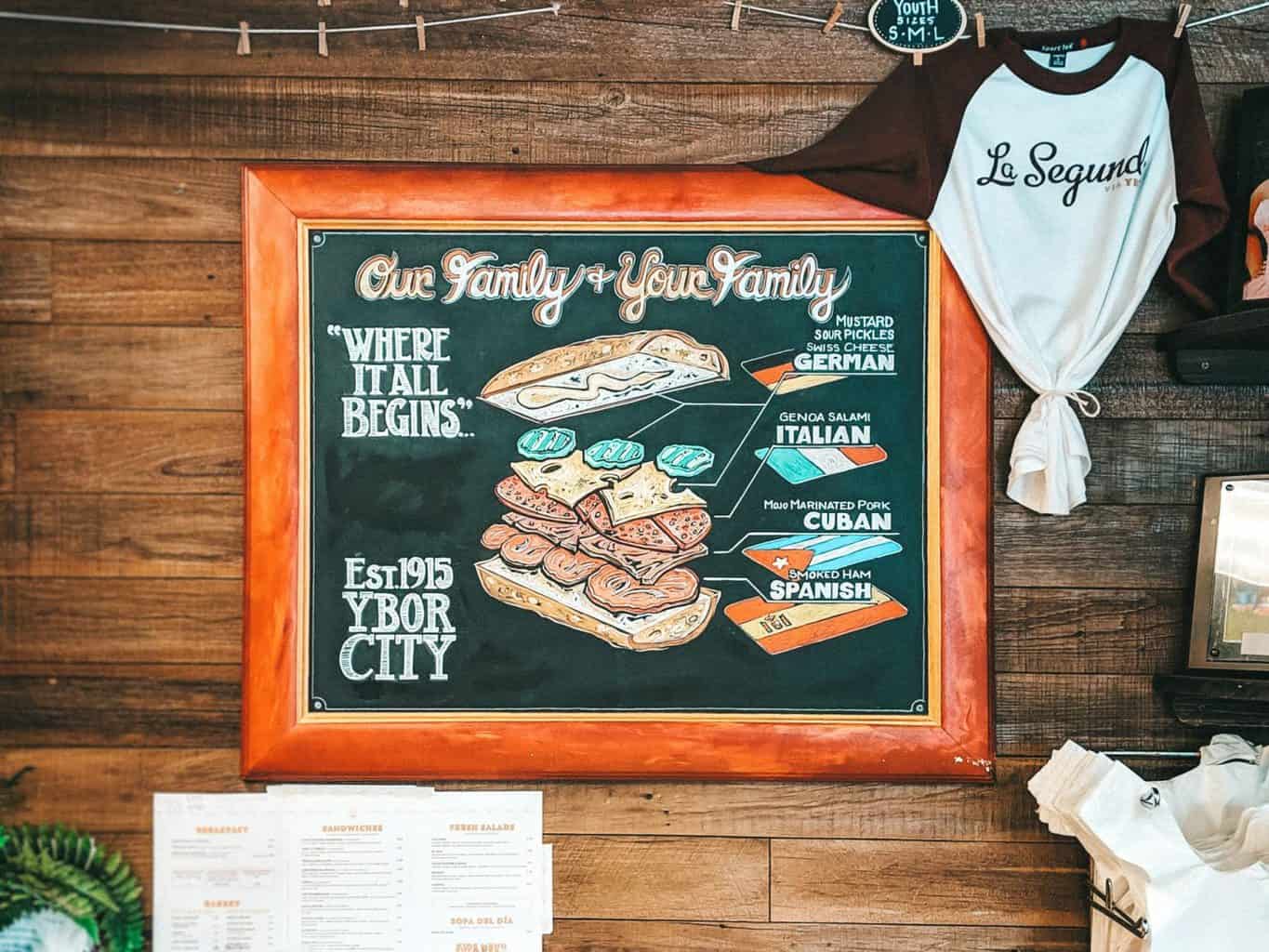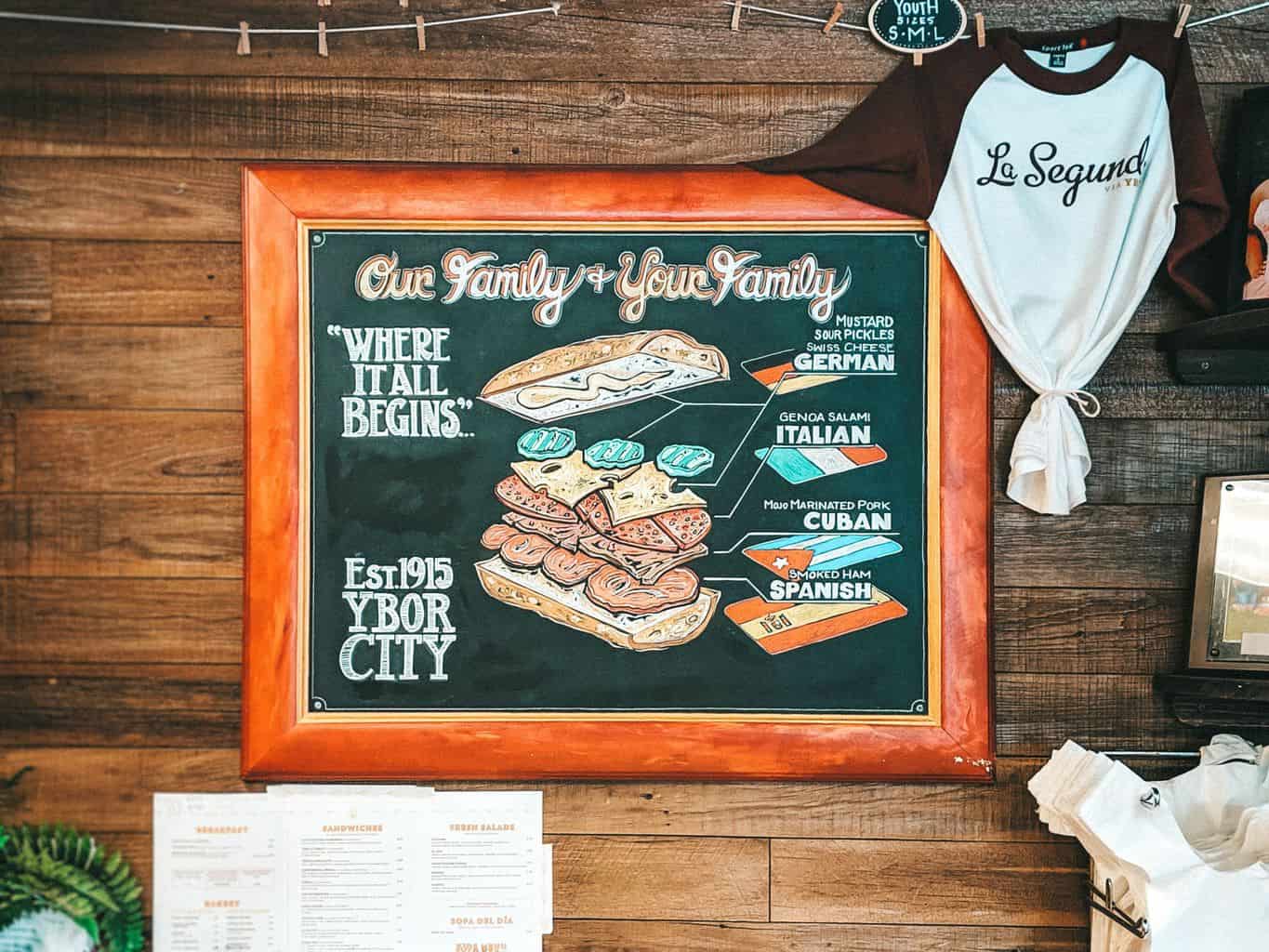 The Tampa Cubano is pressed and grilled, with fillings of Cuban mojo roast pork, Spanish ham, Italian salami, Swiss cheese, German dill pickles and mustard, all between two slices of Cuban bread.
The best Cuban sandwiches in Tampa are each a little different from each other, the establishments putting their own unique stamp on them. For example the sandwich is pressed more in one, the fillings less loaded but the bread thicker in another, or the sandwich is cut into a different shape.
Where to find 4 of the best Cuban sandwiches in Tampa Bay
After consuming many of these sandwiches during my visit, and with the help of insider knowledge from locals, here's my list of the 4 best Cuban sandwiches in Tampa Bay.
In other words, don't miss them!
1) Where some of the best Cuban bread in the state is baked: La Segunda Bakery
These guys make some of the best Cuban bread in Florida.
La Segunda Bakery was established in 1915 and they make around 18,000 Cuban loaves a day – that's a whole lot of bread.
This is because they have huge demand, supplying many restaurants (for example the Columbia Restaurant Ybor City below) as well as selling the bread directly from their bakeries.
I was lucky enough to get a tour of the La Segunda kitchen and coincidentally, I happened to time my visit just when all stages of the process were happening at once. It makes for some great video footage (see above!).
The reason their Cuban bread is so good is because theirs is a deliberately slow and mostly handmade process. As a result, it takes about 8 hours to make each loaf.
A nice local touch is that each loaf has a Florida-grown palmetto leaf applied to the surface in order to score the dough, before it goes in the oven.
The leaves remain on most of the loaves when they reach the customers and consequently, its become a bit of a signature of La Segunda and their Cuban bread.
In addition to buying a Cuban sandwich which La Segunda will make for you to take away, you could also pick up a plain Cuban loaf to dip into your afternoon café con leche – a very "Tampa" thing.
Skip straight to the bakers making their famous Cuban loaves at La Segunda in the video here. How huge is that pile of dough!
lasegundabakery.com
2512 N. 15th Street, Ybor City, FL 33605
2) The largest Spanish restaurant in the world: Columbia Restaurant Ybor City
Columbia Restaurant Ybor City is a must-visit during your time in Tampa Bay. Firstly, it's too much of an institution to even consider missing out.
Secondly, it happens to be the oldest restaurant in Florida (established 1905) and the largest Spanish restaurant in the world – it seats 1700 people!
The restaurant is 5th generation owned by a Spanish Cuban family, and they're really well known for their Cuban sandwiches as well as their "1905 Salad".
La Segunda supply the bread to Columbia Restaurant Ybor City (who else?), and it comes with plantain chips and a little salad.
But most importantly, it goes really well with their historic "1905 Salad" which is made with great theatre at the table. Expect lettuce, tomato, ham, Swiss cheese, olives, their secret dressing, Romano cheese, Worcestershire sauce and lemon juice.
This place seems to be perpetually full so don't forget to make a booking – I don't think I saw a single empty seat from the 1700 there!
Skip straight to me tucking into The Columbia Restaurant Cuban sandwich in the video here. Their "1905 Salad" is rather tasty too.
columbiarestaurant.com
2117 E. 7th Ave. Tampa, FL 33605
3) At the annual party celebrating the best Cuban sandwiches in Tampa: the International Cuban Sandwich Festival
The annual Cuban Sandwich Festival in Ybor City each spring is a two day extravaganza. Few other places will you find so many traders making the best Cuban sandwiches in Tampa, with the wonderful scent of pork and sweet plantain filling the air.
Day 1 hosts more than 100 food, cultural and business vendors from around the world. There's live music and an attempt to break the record of largest Cuban sandwich in the world – around 170 feet long!
Day 2 is always Smackdown Sunday where each vendor competes to see who makes the best Cuban sandwich, decided by a panel of judges.
I joined the longest queue there; in other words I honed in on the most popular sandwich. Thanks to locals in the know, lunch that day happened to be from Pipo's stall and it was a terrific Cubano.
But don't forget to try other Cuban classics across the festival too
To find out the dates of the next festival, check out the website below.
Skip straight to this awesome annual food festival in Tampa Bay in the video here. There was great live music going on too!
thecubansandwichfestival.com
Centennial Park in Ybor City: 1800 E. 8th Avenue, Tampa, FL
4) A delicious Japanese twist on the traditional Cubano: Ichicoro Ramen
Running out of steam on your marathon of best Cuban sandwiches in Tampa? Are you craving a twist on the classic? If so, head to Ichicoro Ramen in Seminole Heights.
It's here you'll find some of the best ramen south of New York City. Ichicoro is a small little place with just 40 seats and a tight menu, meaning it's one of the most popular dining spots in town.
One of these menu items is their take on the Tampa Cubano.
This sandwich has chasyu asado (citrus-marinated pork belly), ham, Swiss cheese, pickles, spicy yuzu mustard and a side of tostones (twice-fried plantain slices).
This beauty is absolutely stellar. As it their ramen. I went for the classic tonkotsu and it was pure joy.
Skip straight to the fantastic ramen and Cubano lunch had at Ichicoro in the video here. That broth was excellent!
ichicoro.com
5229 N Florida Ave, Tampa, FL 33603
Do you have any places to add to this list of best Cuban sandwiches in Tampa? Did you know the largest Spanish restaurant in the world is Columbia Restaurant Ybor City? How about that Cuban sandwich festival – my kind of party! Did you see how the Cuban loaves are baked at La Segunda Bakery in the video? Let me know in the comments below!
This is a sponsored post in collaboration with visitflorida.com. All opinions and images remain my own, as always.
Don't forget to subscribe to my YouTube channel!
Hungry for more from Florida and the USA?
How to spend 24 hours in the best Tampa Bay Restaurants
10 Places to Eat in Downtown St Petersburg, Florida